Chelsea vs Everton
by

68 Comments [Jump to last]
| 15/01/2016
Match Preview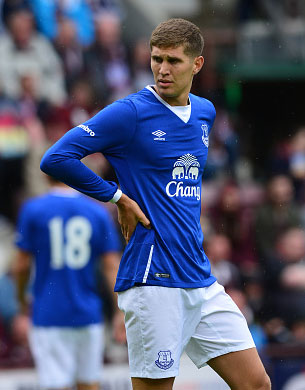 With Seamus Coleman still out, John Stones could be asked to fill in at right back again
Not for the first time in his two-and-a-half-year tenure at Goodison Park, Roberto Martinez recently spoke of how he and his side were primed and looking forward to a "really strong second half of the season." By the halfway stage of 2013-14, his Everton team were in the middle of an excellent run and riding in the top four but last season, the Blues' dire straits and equally dire form made a good showing in the latter half of the campaign imperative.
Now, with just six wins from 21 games in the Premier League so far, Everton's need to finally get going in 2015-16 has become acute and there would no better time – and no better demonstration to support the manager's claim that this team is top-four quality – than to finally win a game at Stamford Bridge after 22 years of trying.
The conditions appear to be favourable in that regard. Guus Hiddink has shown signs of quickly getting Chelsea's pitching ship back on an even keel following Jose Mourinho's departure under a cloud of chaos and player disharmony with wins over Sunderland and Crystal Palace but the Londoners' home draws against Watford and West Brom – both 2-2 – show that they remain vulnerable and can be "got at". And, as Hiddink admits, despite their galaxy of stars, Chelsea are not out of the relegation woods on current form.
The Toffees, meanwhile, arrive in West London with one of the best away records in the top flight and a goals-against tally that is in stark contrast to their home record where they've shipped twice as many. It speaks to how the attacking abandon that has been a feature of Everton's play, particularly at Goodison against supposedly lesser teams, has been their undoing at times and how a more defensive-minded approach on the road has stood them in good stead.
That was abundantly apparent at the Etihad Stadium on Wednesday evening where a magnificent defensive performance helped shut out the division's most prolific attack and scored a morale-boosting goalless draw with Manchester City. It came at the expense of any consistent goal threat in the second half, however, and, as Leon Osman acknowledged after that game, it's up to Everton to find the balance between defensive solidity and attacking potency moving forward. The point gleaned there was, like the 10 other draws so far, annoyingly inconsequential in the context of that push for Champions League qualification and it increases the urgency for some big performances against some big teams in the weeks to come.
As he told the media in his pre-match press conference, Martinez will have the same players available for this one as he did in midweek, with James McCarthy and Seamus Coleman definitely ruled out and Tom Cleverley again rated as 50-50 to be fit. Cleverley suffered a flare-up of a calf problem against City in the League Cup semi-final first leg 10 days ago that he picked up at the tail end of last month, handing the manager something of a selection problem in that undefined left midfield slot.
Osman deputised there on Wednesday evening competently enough but it was his first start of the season and it's unclear whether he would have the stamina for a second in the space of four days. Arouna Kone has filled the role at times this term with middling results while Kevin Mirallas, still favoured on the left by Evertonians frustrated at his contining exile from the starting XI, offers a more potent option if Cleverley can't make it.
On the other flank, with Gerard Deulofeu struggling visibly in recent games to make an impact, Martinez may elect to change things again and recall Aaron Lennon and deploy the Spaniard, who looked leggy in the second half at City before he was substituted, off the bench.
At the back, meanwhile, Coleman's injury means the right-back slot remains a problem area. The bid for Leeds United's Sam Byram is a tacit acknowledgement of the lack of cover Martinez has had in that area given Tony Hibbert's ongoing fitness issues but with that deal unlikely to be completed until next week, the manager is going to have to make do again this weekend. That means playing one of John Stones or Bryan Oviedo out of position, although the former's injury scare at the Etihad might give Martinez pause before using all three of his experienced centre-halves in the same game.
With Eden Hazard missing through injury, Pedro in poor form and his potential replacement Kenedy lacking Premier League experience, Chelsea's chief threat from wide areas is likely to be Willian on the other flank and that might tip things in Oviedo's favour. It will also sharpen the focus on containing the Brazilian – it was his crushing winner in the 89th minute that broke Everton's resistance in this fixture last February – and the likes of Diego Costa and Oscar.
Having narrowly lost at Stamford Bridge by late goals in each of the last two visits and failed to win on this ground since 1994, it's high time that Everton plucked up some adventure and ambition in this fixture to finally make a statement of intent towards bridging what remains a bridgeable gap to the top four places.
Agaim, Martinez speaks of his plans coalescing in the second half of campaigns and with the better defensive organisation offering hope of more balance in the Blues' approach, the hope is that we can finally kick on and put a run of wins together. As West Ham and Crystal Palace before them have shown this season, any team that can string a run of good results together can propel themselves right into the European picture. Lagging behind in 11th, Everton are running out of runway if they are to finally get what has, at times, been an oh-so-promising campaign off the ground.
Kick-off: 3pm
Referee: Mike Jones
Predicted Line-up: Howard, Stones, Jagielka, Funes Mori, Baines, Besic, Barry, Cleverley, Lennon, Barkley, Lukaku
---
Reader Comments (68)
Note: the following content is not moderated or vetted by the site owners at the time of submission. Comments are the responsibility of the poster. Disclaimer
Michael Williams
1
Posted 15/01/2016 at 19:59:41
A bit worried. Chelsea is playing much better under Hiddink and Costa is scoring again.
Tony Hill
2
Posted 15/01/2016 at 20:00:32
Don't fancy us tomorrow. We never seem to do it there and they'll be keen to get something after the WBA draw. I just want to see us play with courage and some coherence between defence and attack over the full duration. Any points will be a bonus.
Terence Tyler
3
Posted 15/01/2016 at 20:04:06
I think this team is starting to come of age. Fully expecting a win tomorrow.
Colin Glassar
4
Posted 15/01/2016 at 20:05:37
Same here Terence. Their results have improved but they are still average. 1-2 to Everton.
Brian Swift
5
Posted 15/01/2016 at 20:07:09
Anyone know were to watch the match on line? Thanks.
David Greenwood
6
Posted 15/01/2016 at 20:07:52
Got to agree with Colin and Terence. Away win.
Dave Abrahams
7
Posted 15/01/2016 at 20:19:16
Can we just play for BOTH halves of the game, just for once Please, not asking too much is it?.Or is fitness the issue?.
Brent Stephens
8
Posted 15/01/2016 at 20:27:21
Brian - eplsite.com
Brent Stephens
9
Posted 15/01/2016 at 20:29:47
Good chance of a point for us, if not a win. An indication of where they are at (poor season) and where we are at (improving).
Terence Tyler
10
Posted 15/01/2016 at 20:43:57
Or cirfree football, Brian
Tony Abrahams
11
Posted 15/01/2016 at 20:53:25
5/1 with some bookies tomorrow, just for the win.
Jim Bennings
12
Posted 15/01/2016 at 20:57:19
1994...
The year of the World Cup in USA.
The year of the Great Escape "Oh Horne".
Unbelievably the year Joe Royle took charge of Everton and one of the first things he did was win at Stamford Bridge...
The very last time we won a match there!!!
Truly unbelievable really isn't it?
Limpar to Rideout and at a crumbling Stamford Bridge with not even a roof on the old Shed End.
Can't actually believe it's been so long!!
Paul Hewitt
13
Posted 15/01/2016 at 21:11:21
Really fancy us to win tomorrow. Chelsea ain't playing good at the moment. The usual fortress of Stamford Bridge is no more. A 3-1 win I predicted.
Jay Harris
14
Posted 15/01/2016 at 21:25:59
It's over 20 years so we are due a win.
Oh where have we said that before, though.
I would rest Stones for this one. He wasn't the same player after that knock the other night so give Oviedo some pitch time.
Mirallas is a must on the left for me although as usual expect to see managers favourite out there.
I will be brave and say 0-2. We are due a few clean sheets now Tim is determined to stick two fingers up to the dissenters and Jags is back.
Ernie Baywood
15
Posted 15/01/2016 at 21:37:20
Let's be honest, if you were going to tip any Everton game right now, you'd be expecting a draw.
Andy Meighan
16
Posted 15/01/2016 at 21:55:12
It's high time Everton plucked up some ambition and adventure in this fixture. All very admirable, Lyndon, and I admire your bravado for want of a better word. But honestly I doubt it'll happen. Man Utd apart in Martinez's first season, we've got a mental block or a total lack of belief when it comes to playing the Sky babes. Why? God only knows.

Funnily enough, my mate and I were only speaking earlier about how long it is since we won over THERE and I actually found myself going red on the phone. It's a total and utter embarrassment the way we've performed in these games and to think some of the so-called top 4 sides have had poor sides or been in poor form in them years and we've still failed to win. You can always rely on good old Everton to cure you of a poor run.

And while I truly believe Chelsea are distinctly average, watch them win at a canter tomorrow; we defended brilliantly at Man City on Wednesday. But did anyone think we would actually win? No, I thought not.

As Ernie said, if you were tipping any of our games now, you'd say a draw. Tomorrow... not for me; I think we'll lose. Please – just for once – prove this pessimist wrong.
Jim Bennings
17
Posted 15/01/2016 at 22:06:07
I think we really need to get more men in support of Lukaku tomorrow. As soon as I saw the line up on Wednesday night I had a feeling it would be a long night of isolation for Rom but tomorrow we need to support him against what has been a very creaky Chelsea defence all season.
Barkley needs telling that he must start be bolder and more assertive if he's going to become the real deal, he's got to start doing it in these kind of matches.
I'd not start with Deulofeu tomorrow just to see him fade badly again in the second half, I'd get Lennon to put a shift in, as its highly unlikely Mirallas will be given the nod. Get Deulofeu on in the last half-hour to run at a tired team.
It was a great result at The Etihad but I just feel it's high time we started making our presence felt in matches of this ilk, and of course, it's just 6 wins all season and since the end of September we have only won 3 matches, putting that into context it's pretty grim reading.
Tony Hill
18
Posted 15/01/2016 at 22:21:48
Jim (#15), you're right about support for Rom but my worry is that Deulofeu is off the boil at the moment and we've perhaps lost sight of how crucial he has been in fashioning chances. Time for Ross to shine, maybe... or Mr Lukaku may become frustrated and uninterested.
I don't see where we create chances otherwise, now that Coleman is unfit and our left-hand side remains something of a vacuum.
John Jones
19
Posted 15/01/2016 at 22:50:35
My team to play Chelsea would be:
Howard (I would prefer Robles but it wont happen)
Stones
Jagielka
Funes Mori
Baines
Barry
Besic
Deulofeu (CAM)
Kone (LM)
Mirallas (RM)
Lukaku
To answer the probable questions: Why no Barkley? Personally I think he has been awful for a few weeks and needs a rain check; bring him back down to earth and get him set for the next few weeks. I think we could score a few if we play well on the counter-attack. Deulofeu in a free role would get the ball back to front a lot quicker than Ross in my opinion.
Score 3-1 Everton; Lukaku (2), Barry.
Peter Cummings
20
Posted 15/01/2016 at 23:02:25
Chelsea players to shut down: Willian and Costa, who doesn't like being man-marked. I think their goalie is a bit suspect too if we can provide ammo for Lukaku to harass him.
I don't think Deulofeu likes playing in 'monsoon' conditions and have noticed his frustration when he can't control the ball properly in the wet and deliver his crosses accurately. I reckon Mirallas could roast Ivanovich if given a long overdue start tomorrow.
We can get a win if we put a 90-minute shift in.
Mike Oates
21
Posted 15/01/2016 at 23:02:38
Can't quite see why all the hype of usual of we'll get a win, etc etc . We haven't got the balance right all season: too gung ho and we throw it away with shambolic defence.

If we tighten it up, à la Man City, we can't create anything. So at best a draw again or a marginal one-goal loss: 1-0 or 2-1 against us.
Darryl Ritchie
22
Posted 15/01/2016 at 23:18:53
I like your lineup, Lyndon.
I don't know what the problem is with Deulofeu. Is he battling a cold or something? For a professional footballer, this late into the season, to be that tired after 70 minutes, just isn't right. Lennon is the right call.
I see we're about re-up the Oviedo's contract. This is good thing. I've always liked the way he plays. Back before the broken leg, I seem to remember him playing on the left wing at times. Why couldn't he play there again? It just might get Bainsey involved in the offensive side of things again.
Gavin McGarvey
23
Posted 15/01/2016 at 23:20:10
We struggled to keep Man City out on Wednesday, but I don't think Chelsea are as good this season (at least so far). I thought we played okay against City, so perhaps if we really go at Chelsea we can get a result. Gerard is playing well, as is Barkley, Barry and Lukaku. Fingers crossed... COYB
Dick Fearon
24
Posted 15/01/2016 at 23:59:25
I hope the outcome does not depend on tactical nous. If that is the case old Guus would be odds on favourite.
Iain Thomson
26
Posted 16/01/2016 at 01:33:51
Besic sticking a crunching tackle on Costa should be interesting... potential carnage.
Phil Walling
27
Posted 16/01/2016 at 02:23:38
Six wins in 21 game's hardly makes 'a promising season' to me but purely by the law of averages we are due a win there soon.
The over reliance on Lukaku, who will be closely marked tomorrow, means we shall have few chances to complete the double but a point looks a likely return.
Strong individual performances from Barry and Besic have been a highlight of the recent Manc matches and the Jagielka - Funes Mori axis seems to have bolted the back door. So I'll be having some of that 5-1 methinks!
Lloyd Brodrick
28
Posted 16/01/2016 at 02:32:38
I would love to see Bryan on the left and start with Lennon on the right. Balanced with good cover and potent attack. Basic can have Willian.
Contain and gain confidence before introducing Deulofeu when we rip that poor back line apart. Tomorrow, we make a statement! We are the Blues.
Jim Hardin
29
Posted 16/01/2016 at 03:03:29
DelBoy needs to suck it up and put in a full shift and stop acting like a Toffee Sterling. If he is hurt, he isn't helping the team and should say so. If he is out of shape then say so and come in as a sub. If he can't give 90 then start Mirallas on the right in place of DelBoy. Between the two of them they should manage 90 minutes, and at least one yellow card for either a foul or a dive.
Maybe this is a chance for Naismith, the Chelsea killer, to put a final page in his resume for any potential suitors. Either him, or Besic, or Barry certainly will get stuck into Costa at some point and I will take any of those three to finish anything that gets started.
John Keating
30
Posted 16/01/2016 at 05:00:33
I watched Chelsea play West Brom. I thought Gerrard, Carragher et al were bad approaching the ref but Chelsea have excelled even them.
Costa is not only a disgrace but is a coward. He's quite happy kicking, slapping, pulling and talking shit to opposition players but as soon as he's touched – or not – he's bitching to the ref, ably assisted by that shit Terry.
We might start with 11 on the pitch but unless the ref stays strong we won't finish with 11. Barry and Besic beware
Nev Renshaw
31
Posted 16/01/2016 at 07:20:27
On our day, we're just as good as any team in the PL. It's just that we don't have those days very often. COYB.
Harold Matthews
32
Posted 16/01/2016 at 08:36:52
No win since 1994 doesn't inspire confidence and I'm definitely not looking forward to the Chelsea freekicks and corners. West Brom defended with the usual monsters but we don't have any. Much will depend on Howard commanding his area.
Play like we did against City and we won't score a goal. Not much Lukaku can do with three men on his back. It will take a Martinez masterplan and I have no idea of what that might be, except Barkley will need to move the ball on quickly and get himself into the box. According to Hiddink, all 10 of his outfield players are doing the dirty work these days, which is about 3 more than us and the shambles we beat at Goodison is long gone. Not a clue how it will go but hoping for the best.
Abhishek Saha
33
Posted 16/01/2016 at 09:13:28
Go ahead Bobby, unleash your secret weapon called Kevin Mirallas! Please please please for once let us see the trinity of Kev, Ross and Del play together behind Rom.
In the Man City cup tie all 3 played, but Kev came on for Delboy. Let's see all three playing together with Rom. Please Bobby....
COYB!
Dave Abrahams
34
Posted 16/01/2016 at 09:47:20
Mike (#21) and Lloyd (#27), I agree with you both, it's all about balance. In the last 30 minutes v Spurs and the first game against Man City, we had balance with Cleverley at wide left and Osman in the second half, without the balance we look poor.
I do not understand why Lennon hasn't been used more, he puts a full game in and is not without skill to go with his endeavour; he can make and score a goal as well.
Eddie Dunn
36
Posted 16/01/2016 at 09:50:15
Today, I would play Naismith in the hole behind Lukaku, if the lad is fit. He has the Indian sign over them – they must hate the sight of him!
With Lennon on the right and Oviedo on the left. Barkley would be the man to make way, and Del would also be on the bench, with Mirallas to cause problems in the second half. If Stones is fit, I would continue with him in the right back slot.
We have to watch Willian but Chelsea are vulnerable. Cahill turns like the QEII and if Terry plays, we have to expose his lack of pace.
Keep it tight, and with 30 mins to go, put on Del and Kevin and tear them apart.
Everton to win by two.
Colin Glassar
37
Posted 16/01/2016 at 10:01:02
Great idea, Eddie. Naismith picks up a knock and we lose out on £7-8m, and the possibility of bringing in another player(s) just because you think the lad has some sort of 'Indian sign' over the chavs.
If he hasn't played since the last time we faced Chelsea he certainly won't be playing today.
Chris Leyland
38
Posted 16/01/2016 at 10:07:06
With just 18 league wins in 59 league games since the start of the 2014-15 season, I don't share the optimism that we are going to win today. That said, Chelsea are below us and, as all our 6 league wins this season have come against teams below us in the bottom half of the table, I suppose we may have a chance.
Joe Foster
39
Posted 16/01/2016 at 10:18:05
Please please please give us 3 points. I have forgotten what that must be like.
Laurie Hartley
40
Posted 16/01/2016 at 10:21:14
This won't be a game for faint hearts.
There have been a few calling for Stones in midfield - perhaps this is the game to give it a go.
I hope Cleverley is available because I think we need to go a genuine 4-4-2 to have any chance against Hiddink's Chelsea.
This would be my team.
Howard
Oviedo, Jagielka, Funes Mori, Baines
Cleverley, Stones, Barry, Besic
Barkley
Lukaku
Now that I know what it means (thanks Phil Walling) I would go KITANO.
Still got the jitters – I always feel like that when I think we have a chance. It's strange but I have been feeling like that quite often recently.
Up the Blues.
Mike Powell
41
Posted 16/01/2016 at 10:44:00
COYB I fancy us to win today
Rob Hooton
42
Posted 16/01/2016 at 10:48:53
I hate Chelsea, they are a horrible club and I'm going for a long overdue 3-1 win for us.
I live in SW London and it's amazing how many Chavs have appeared in Chelsea tops since Abramovic opened his wallet. I hope Garbutt helps gets Fulham back up as that's a proper club to go and visit!
COYB
Eddie Dunn
43
Posted 16/01/2016 at 11:00:18
Colin, it seems that his so-called ankle knock has ruled him out, so you will get your wish, and the money you are so keen on. I hope it is reinvested in Yarmolenko.
Naismith has scored at least 5 goals against them, and since we played Chelsea he has actually appeared in 5 league, and 2 cup games for us.
Kim Vivian
44
Posted 16/01/2016 at 11:02:35
I'm seeing a draw, and would probably take that. If we dominate tho' (unlikely I think) and still fail to come away with all 3 points, I wouldn't be surprised.
Gary Edwards
45
Posted 16/01/2016 at 11:08:50
As much as I would like to see Mirallas start on the left (and I agree with the shouts of Lennon to start on the right), I think we'll see Pienaar in. I think Martinez will want to get that Baines - Pienaar left-side axis going again... gives us that different attacking dimension to what we've offered so far this season.

Ivanovic is a clumsy sod and will be knocking Pienaar over all day, chance for Baines to convert a few free kicks... penalty maybe. We've got every chance of winning this. They're there for the taking and with Hazard out they are not such a fearsome force.
Neil Wood
46
Posted 16/01/2016 at 11:10:52
Laurie, I'm glad your not picking today's eleven! Oviedo, Cleverley, Stones and Besic are all out of position!
Here's mine:
Howard (Nothing will change this)
Stones, Jagielka, Funes Mori, Baines
Besic, Barry
Deulofeu, Barkley, Mirallas
Lukaku
Fran Mitchell
47
Posted 16/01/2016 at 11:27:05
Same team as against City except Osman, who I imagine can't handle 2 games in a week and we shouldn't risk seeing if he can.
Either Oviedo or Pienaar in his place.
Lennon and Mirallas should be utilized from the bench.
Kone should be left home.
David Hallwood
48
Posted 16/01/2016 at 11:45:36
Neil (#44),
Can't say I'm too happy about Stones at RB and would prefer Oviedo despite he's on his wrong peg. I've put us down for a 2-0 win on my Super 6, so no chance of that scoreline then, but I'd take the spawniest, poxyist, dirty lucky scouse bastards type of win today-in fact any day.
By the way, gents, you do realise that Yarmolenko is an anagram of Riquelme.
Geoff Evans
49
Posted 16/01/2016 at 11:51:07
Go for it, COYB.
Jim Bennings
50
Posted 16/01/2016 at 11:52:46
Lukaku should really be up for this one, Chelsea are the only real team he hasn't really had a good game against so far in my opinion.
I'd love him to score the winner!
Colin Glassar
51
Posted 16/01/2016 at 12:03:20
We need to get Funes Mori to whisper some sweet nothing's into Diego's ear, early doors, to wind him up. He loses focus when he gets angry nowadays.
Mike Hughes
52
Posted 16/01/2016 at 12:20:27
Charlie Austin just signed for Southampton – £4m for a 4-year deal... Missed opportunity.
Keep Naismith as I can see nobody of value at present who would do better.
We should be beating the likes of Chelsea. 1-3 to the Mighty Blues.

Sam Hoare
53
Posted 16/01/2016 at 12:21:10
Southampton have signed Austin. BBC estimate fee at £4m. If that's true... a bargain that we should have gone for.
Mike Hayes
54
Posted 16/01/2016 at 12:39:14
Mirallas – having a laugh.

Kone – nailed on, a Martinez fave... as is Howard.
Phil Walling
55
Posted 16/01/2016 at 12:47:54
Having displayed a total inability to gain maximum points from clubs above us, it is obvious that to finish top half we need to beat the team's below!
London pressmen insist Chelsea are in a false position but you can claim that about any team. Unless Everton' s season is to be written off as yet another one in transition, we must beat these faded champions today, come what may!
Denis Richardson
56
Posted 16/01/2016 at 12:50:09
Been a good while since we won here but Chelsea are in a bit of a flux right now... then again we're the draw specialists of the league so far...
Bright sunny day here, although it's pretty cold too. No idea what to expect so will plump for another draw – 1-1.
Armando Canaj
57
Posted 16/01/2016 at 13:02:36
Mirallas to score first – Win 3-0 > 225 to 1
:-)
Jim Bennings
58
Posted 16/01/2016 at 13:08:28
Can't believe we've missed out on a bargain there in Austin, 17 goals in the league at QPR last season then 10 so far this in the Championship despite missing a few.
I've said it before, Lukaku gets injured or starts losing form again, we are stuck with Kone and a couple of untried kids.
It's okay people talking about Embolo, why would he join Everton when he's going to have other suitors?
Austin was a real steal at that price but hey, we are stuck with Arouna "cold legs" Kone as back up!
Barry McNally
59
Posted 16/01/2016 at 13:10:53
Not convinced on Austin, time will tell.
Joe Foster
60
Posted 16/01/2016 at 13:14:54
£4M is a steal into today's football economy.
Jim Bennings
61
Posted 16/01/2016 at 13:17:42
Barry
He gets you goals mate, what is not to be convinced by?
In this day and age, £4 million, he's 26, it's a true bargain. Martinez paid £6 million for a 30-year-old Arouna Kone.
Jim Bennings
63
Posted 16/01/2016 at 13:20:45
I've watched Austin closely since he's Burnley days, he's a better striker than people give him credit for and he's the typical hard-nosed type that has come through the leagues with a tough background but he's good on the ground, good in the air and pretty strong with his back to goal.
That's a steal in modern day football.
Brin Williams
64
Posted 16/01/2016 at 13:40:31
Colin (#49). Costa is made for Besic to sort out today – no problem there.
Harold Matthews
65
Posted 16/01/2016 at 13:54:38
Don't know much about Austin but £4mil seems to be quite cheap for a goalscorer.
Kim Vivian
66
Posted 16/01/2016 at 13:56:39
With Naismith going it would almost feel like free.
Geoff Evans
68
Posted 16/01/2016 at 14:02:12
Andy @ 16. Brilliant thread. Besides Besic, I don't think the rest of the team or management have enough belief. It's about time we made things happen against the top teams away and not accepting odd goal losses as glorious defeats. We are Everton and all that means.
David Hallwood
69
Posted 16/01/2016 at 14:06:54
Just been onto a Chelsea fansite. Jeez they're more negative than us! None of them fancy a win against us today.
If the 1st half Norwich and the 2nd half Citteh side show up we should do them. 2-0 for us.
Gerard Carey
71
Posted 16/01/2016 at 14:09:40
Good deal for the Saints; £4 million a steal for Austin. I would offer a lot more than Kone... Remind me again how much we paid for Kone!!!!

Roman Sidey
72
Posted 16/01/2016 at 14:38:33
Yeah gutted for RFM. Him and Jags seemed good together. I'm pretty happy with the rest of the side, but since it wouldn't be a matchday without a bit of a moan: how the fuck does Kone warrant a place on the bench? He is way too shit.
If anyone has read my occasional pre-match comment, you can be sure Kone will score our late winner now.
Brian Porter
73
Posted 16/01/2016 at 14:47:35
In typical Martinez fashion, Funes Mori's reward for his best game in a blue shirt is... a place on the bench!

I'd have dropped Stones for this game and tell him he has stop his ridiculous going-to-ground lunging tackles in the box if he wants his place back.
Add Your Comments
In order to post a comment, you need to be logged in as a registered user of the site.
Or Sign up as a ToffeeWeb Member — it's free, takes just a few minutes and will allow you to post your comments on articles and Talking Points submissions across the site.
© ToffeeWeb