Leeds accept Everton offer for Byram
by

107 Comments [Jump to last]
| 14/01/2016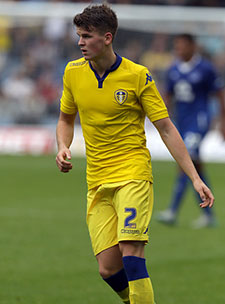 (Clint Hughes/Getty Images)
Updated
Everton have had a bid of £3.7m for Leeds United fullback Sam Byram accepted by the Yorkshire club it has been confirmed.
Reports broke with Leeds-based BBC journalist Adam Pope today that an offer for the 22-year-old, long linked with a move to Goodison, had met the asking price but that no deal has yet been finalised.
Leeds layer confirmed the acceptance of the bid which could be worth up to £5m once appearance-related add-ons are factored in. Formal talks with the player's representatives are planned for this Sunday.
Everton's head of recruitment, Ian Atkins, was apparently at Portman Road to watch Leeds play Ipswich Town earlier this week and scout Byram for a final time before a firm bid was lodged.
West Ham United were also seriously interested in Byram – there are reports that the Hammers have matched the Toffees' bid – but according to The Mirror the Essex-born player apparently favours a move to Goodison Park.
Byram, who has already made 143 appearances for the Peacocks but rejected a new contract to stay at Elland Road on his existing wages, would be able to leave as a free agent at the end of this season, although Leeds would be due compensation from his next club due to the fact that he is under the age of 24.
He can pick a pass, he can score a goal, he can take balls in difficult areas. His passing with both feet is technically very good, and his awareness of the game around him and his game management is, for such a young age, outstanding
Leeds manager, Steve Evans
With his situation at Leeds coming to a head, Sky Sports spoke with their current boss Steve Evans this month and he had glowing things to say about a player who he said was destined to play in the Premier League.
"Four Premier League managers have asked me about him, mostly about his character and what he's like off the pitch," Evans said. "I couldn't have given them more glowing references than I already have. He really is such a fantastic young professional.
"He's first in the building and he's the last out. On days off, he comes in and he makes sure his recovery is right. He's always with the staff stretching and being prepared for training and when he trains, he trains with real intensity and real quality so I'm not surprised that people want to take him.
"From the first minute we watched him train, me and my staff hadn't seen him at that close quarters before and we immediately saw what a gifted young lad he is.
"He can pick a pass, he can score a goal, he can take balls in difficult areas. His passing with both feet is technically very good, and his awareness of the game around him and his game management is, for such a young age, outstanding. He is going to play in the Premier League."
Byram's former manager, Brian McDermott, meanwhile, is under no illusions about what his most natural position is.
"You've got to give him a chance because he's still quite inexperienced," sad McDermott who oversaw Byram at Elland Road for a year and a half. "It's hard for him because he's playing right-wing or wherever he's playing and he's a right-back. He wants to be a right-back and he needs to be judged as a right-back because he's not a right-winger."
---
Reader Comments (107)
Note: the following content is not moderated or vetted by the site owners at the time of submission. Comments are the responsibility of the poster. Disclaimer
Peter McHugh
1
Posted 14/01/2016 at 18:39:35
Let's hope we get this wrapped up quick and he can play Saturday.
Ian McDowell
2
Posted 14/01/2016 at 18:51:09
Looks a cracking prospect and is excellent back up for Coleman.
Mark Riding
3
Posted 14/01/2016 at 19:06:52
He's hardly a prospect, Ian, he's one of their longest serving players even at his young age. Played against us when they knocked us out the cup a few years ago.
Very good signing at £3m.
BW Johnson
4
Posted 14/01/2016 at 19:08:14
We should be covered for defenders for the next 10 years now... Coleman, Stones, Pennington, Byram, Holgate, Funes Mori, Garbutt, Galloway, Browning... All could have a decade left at the top level.
Stones may well move on soon – but stocks are looking good!

Jim Bennings
5
Posted 14/01/2016 at 19:09:52
A good signing if it comes off, he's 22, a good age with ready made experience of the toughness of the Championship so there aren't any need for loans.
He should be ready to go straight away.
Helen Mallon
6
Posted 14/01/2016 at 19:13:32
Very happy with this signing.
Mike Hayes
7
Posted 14/01/2016 at 19:17:05
He'll be a really good acquisition – goalie and a striker next if Nais is going.
Phil Sammon
8
Posted 14/01/2016 at 19:20:08
Really good signing... but is he going to strengthen the First Team immediately?
I understand we must plan for the future, but surely we have more pressing issues. Coleman is good for another 5 years!
Brent Stephens
10
Posted 14/01/2016 at 19:23:17
Take him while we can, Phil AND sign up for the more needy positions.
Les Martin
11
Posted 14/01/2016 at 19:33:21
I know there has been some misgivings about Martinez, but one thing you cannot fault him on is his signings and bringing youth through the ranks. He is building such a great foundation for the future with some really excellent young talent when you consider Holgate, Foulds, Galloway, and now Bryam, the young players in the first 11 – Lukaku, Barkley, Deulofeu, Stones, Funes Mori, Besic – and then the youth set up.

It's only a matter of time before these players really click and all other clubs will envy what we have done. I think it's fantastic and very optimistic that we will be in for a very exciting future.
Tony Abrahams
12
Posted 14/01/2016 at 19:36:06
Coleman, when fit is good for a few more years, but Tony Hibbert will stop getting paid in the summer.
Building a great young squad, in a short space of time, and also at a time when The Premier Lge has never been so poor. If you could start to get your system right, then anything is possible Roberto. because for the first time in a long time, their really is no standout team in England right now.
Mike Powell
13
Posted 14/01/2016 at 19:39:52
Grest signing looks the real deal.
David Chait
14
Posted 14/01/2016 at 19:42:35
There has also been a lot of interest in Coleman last few windows... now with the replacement ready (almost) we might be willing to snap off that supposed big money offer!!
Got the boy we have wanted for ages!! RM is giving himself a real selection headache very soon!
Christy Ring
15
Posted 14/01/2016 at 19:48:42
I hope we sign him and play him on Saturday. He's only 22 and a steal at £3m+. He's a natural right back, and competition for Seamus.
Gavin Johnson
16
Posted 14/01/2016 at 19:57:37
A fantastic signing. I bet there's many fans of other clubs wishing their team had gone in for him tonight.
I've rated this lad since he first emerged about 3 years ago. At that time the critics and newspapers were coming up with fees around £12M so I'm very happy we've got him for a relatively modest fee. Especially for a player who can also play on the wing.
I really think we're only a couple of players away from being a team that could win something. Buy Yarmolenko this window and give the fans and players the belief we can win the League Cup and move up the table.
Trevor Lynes
17
Posted 14/01/2016 at 19:58:06
He is 23 next September, 6 feet tall and plenty of pace. He likes to play right back but can play in defensive midfield and also right wing. He should develop into a top player especially playing with Jags, Baines and Barry around.He is a bit aggressive in the tackle though, jumps in a bit! This can be ironed out as he can pass well and has decent ball control. He also scores quite often even though Leeds are not a great side. Great back up for Coleman which is what we needed.I want to see a Yarmolenko type playing left side in front of Baines and Barry plus a quick striker (Aguero) to dovetail with Lukaku. Let's hope that January's window is a really exciting one that augurs well for the future.
Joe Clitherow
18
Posted 14/01/2016 at 20:01:19
Why can't we do things on the quiet until the photo shoot in the shirt anymore? I'll tell you why – agents. Many a slip 'twist etc etc.
Still a way to go on this, I think.
Ged Simpson
19
Posted 14/01/2016 at 20:23:57
Great stuff. That crap manager we have!
Brian Gavin
20
Posted 14/01/2016 at 20:27:57
Another good young buy.
Colin Glassar
21
Posted 14/01/2016 at 20:33:51
Brilliant news. My Yorkie mates tell me this kid will probably end up on the right side of midfield, he's that good. Now get Moussa Dembele and I'll be chuffed with this transfer window.
David Booth
22
Posted 14/01/2016 at 20:35:01
He's an absolute snip at £3.7m.
Sure someone who has the time can make a list of the no-marks who've gone for many times that in the last transfer window.
Versatile too and scores goals.
He's been one of the – if not the – best players at Leeds for some time.
Goalkeeper, left winger and striker more important, but too cheap to say no as far as Byram is concerned.
Very good piece of business. We're on the verge of something special here if this sort of youthful recruitment keeps up and Martinez can get keep them all, get them organised, motivated and to start collectively believing in themselves.
COYB!
Martin Mason
23
Posted 14/01/2016 at 20:37:40
A good answer to those who don't see ambition at the club.
James Stewart
24
Posted 14/01/2016 at 20:39:45
I live in Leeds so have seen a lot of this lad and this is a cracking signing. He is more than backup to Coleman, a lot more. Could play right midfield also and will be a top player. Nasty streak in him as well. He flattened Barkley in pre-season.
Andrew Ellams
25
Posted 14/01/2016 at 20:40:30
This is why Martinez frustrates me. He encourages quality young players to the club but he can't get his back four and goalkeeper to play like they've ever met before. I'm not a fan of having a Director of Football at the club but maybe that is where Martinez's future lies. He identifies the talent and lets somebody else turn them into a team.
Brin Williams
26
Posted 14/01/2016 at 20:47:44
Great signing and at the right price. You can't get a Toffee Apple for less than £5m these days.
John Malone
27
Posted 14/01/2016 at 20:50:19
It's not done yet!
Colin Glassar
28
Posted 14/01/2016 at 20:58:17
Chief scout Andrew? He's having a medical, apparently, John. I hope so as this kid is going to be a fans favourite.
Patrick Murphy
30
Posted 14/01/2016 at 21:02:32
Andrew (#21),

Have you seen our recent performances against Man City home and away and Tottenham at Goodison? It looked like the back-four were pretty well-drilled and everybody knew their jobs. Not for me aesthetically pleasing on the eye, but at least we look a little more solid at the back if a little more ponderous going forward.

If the manager is to be blamed when the team is leaking goals, surely it is only right he should be credited when that defence starts to look impregnable?
Andrew Ellams
31
Posted 14/01/2016 at 21:02:42
Director of Football is a bit more than that Colin. I think if we got a manager from Europe who is more used to working with that sort of system it could work. Frank De Boer would work for me.
Brent Stephens
32
Posted 14/01/2016 at 21:08:36
Joe (#15),
"Why can't we do things on the quiet until the photo shoot in the shirt anymore? I'll tell you why – agents."
I guess you're right, Joe. And of course, to the extent that the club does keep things quiet, people complain that we're not doing anything. Can't win.
James Morgan
33
Posted 14/01/2016 at 21:15:52
Positive signing, but at 22 won't he want to be playing week-in & week-out? Coleman has the right back slot sewn up so this lad won't see much action.
Jim Bennings
34
Posted 14/01/2016 at 21:21:59
Coleman only has right back sewn up whilst he's performing well, there were times last season he wasn't at the top of his game and earlier this season he was injured too.
I like Seamus but the lad Byram will be serious competition and that itself can only be good for Coleman and Everton.
I want two good players in every position at my club!
Eivind Nyhus
35
Posted 14/01/2016 at 21:31:51
Great signing for us, I think. We need RB cover, and Coleman needs competition. Win-win.
Craig Fletcher
36
Posted 14/01/2016 at 21:31:58
Great signing; especially for the price. James (28) the issue is back-up to Coleman, and he has had niggling injuries this season; so I wouldn't be surprised if Byram, like Funes Mori before him, sees quite a bit of action in the remainder of this season if he does sign for us.
Going forward if we are targeting European qualification and the extra games that entails; we need quality back-up in each position on the pitch.
Colin Glassar
37
Posted 14/01/2016 at 21:39:54
How many players is that this window? Foulds, Tarashaj, Byram? I hope Lukaku and Stones give us another season at least to see how far we can go with all these punts, talented players.
Dick Brady
38
Posted 14/01/2016 at 21:42:14
As much as I love Seamus Coleman, he'll be 28 next season and if we ever want to cash in on him now's the time.

Seamus has been fantastic over the last few years but he does seem to be going just a tiny bit stale recently. He's at the age where his valuation will soon start to decline more rapidly and if Byram proves to be as good as we hope then maybe Roberto could consider cashing in on Seamus.
Dennis Ng
39
Posted 14/01/2016 at 21:43:27
I'm hoping he plays Saturday too. Too fast?
Jim Potter
40
Posted 14/01/2016 at 21:44:40
The stronger the squad - the better the team.
It's also great that the lad knows Seamus is the incumbent but still wants to come. Shows a lot of self belief.
It would be superb if we could get Yarmolenko in as well. But sadly I can't see that one happening. The Kiev president is too eccentric and the player himself apparently sees himself at 'a big club'.
And as an aside - well in Tim Howard. Life in the old dog yet?
Darryl Ritchie
41
Posted 14/01/2016 at 21:48:23
Now Hibbo can retire, knowing there's quality cover at right back. A quality, and timely, signing.
Dick Brady
43
Posted 14/01/2016 at 21:59:43
Hibbert and Osman both have just 5 months left on their contracts so we can expect them both to retire soon (although I hope Osman gives us another year). Pienaar too only has 5 months left and is running down his contract.
Jay Harris
44
Posted 14/01/2016 at 22:07:35
Great signing once we get it over the line.
Sorts out one of the weak positions (cover for Seamus) and the lad's versatility will help us too.
John Malone
45
Posted 14/01/2016 at 22:11:51
Colin 26, since the Manuel Fernandes debacle I'll never belive we've signed a player until he's holding the shirt at Finch Farm!
There's a rumour circulating West Ham are trying to gazump us with a players plus cash deal! Hopefully it's bollocks and it's all done and dusted tommorrow!
Julian Wait
46
Posted 14/01/2016 at 22:12:10
Good news. Very happy with this.
Colin Glassar
47
Posted 14/01/2016 at 22:16:22
John, it's on TalkSport – what more proof do you need?
Harold Matthews
48
Posted 14/01/2016 at 22:17:55
We're starting to stockpile like Chelsea and City. Be surprised and delighted if this young lad got a start but can't see it happening anytime soon. Even Oviedo can't get a game and he's a better footballer than half the first team.
Jason Thomas
49
Posted 14/01/2016 at 22:19:29
Come on lads, let's not get carried away. He's a very good Championship player who's got no Premier League experience. I personally don't think he improves our squad, but he does give us depth at right back now. All I'm saying is that we need top 4 quality to get top 4 places.
Paul Smith
50
Posted 14/01/2016 at 22:27:23
It's definitely a welcome change from the Moyes years – last minute debacles and tumbleweed transfer deadline days.
It can only be a positive move getting young talent in, only January as well. Got to give RM credit for his no-nonsense transfer dealings, if it happens.
Patrick Murphy
51
Posted 14/01/2016 at 22:29:20
Jason (#44),

Lukaku was not a top four player when we signed him, same with Stones. This lad is a good footballer and 'if' we sign him, he'll be a great addition to the squad. We won't know how he will adapt or whether he'll make it, but he's definitely worth a punt.

We have far too many proven 'not top 4' quality players in the squad as witnessed just last night with Osman, Pienaar and Kone playing.
Craig Mills
52
Posted 14/01/2016 at 22:36:59
A good signing for the money; that's about £7M spent in this window – I'm not convinced we will have a great deal more but I'm still hoping for a big signing!!!
Tom Bowers
53
Posted 14/01/2016 at 22:38:59
With Seamus seemingly getting a few injuries these days, it would seem a good deal. The lad has an eye for goal too, albeit in the Championship.
Whilst Stones can play full back, I would prefer him in the centre especially as Jags also has injury problems and is getting up in age.
Si Cooper
55
Posted 14/01/2016 at 22:52:06
I'm all for cover / competition for places so I'll be glad if this comes off. Presume he is cup-tied for both competitions though.
John Raftery
56
Posted 14/01/2016 at 22:57:16
It is a big step up from 15th place in the Championship to the Premier League. Players like Baines, Jagielka and Lescott required a period of acclimatisation before they settled in, eventually becoming England players.

It would be unfair to throw him straight into the team on Saturday without the opportunity of a full training session with his new team mates.
Drew O'Neall
57
Posted 14/01/2016 at 23:03:52
Big credit to the staff and the player's focus on his career, that we look to be favourites over a team (West Ham) from the east end of London which is right on his family's front door, hailing as he does from Essex.
Phil Walling
58
Posted 14/01/2016 at 23:04:52
I suspect he will come straight into the team at the expense of Funes Mori. Stones can thus get restored to the shop window in his preferred role.I also expect to see McCarthy replacing Besic as soon as available.
With Howard getting rave reviews last night, it would seem unlikely that we shall see Robles in the near future. Martinez now has a wealth of players to choose from in every position other than up front.
Neil Wood
59
Posted 14/01/2016 at 23:17:07
Jeez, Phil, cheer up!
We are accumulating a fine crop of young talent. Next season is going to be a defining one for Everton FC.
Jim Hardin
60
Posted 14/01/2016 at 23:20:49
Excellent signing. Have seen him play versus Burnley and Birmingham City (only on Satellite) but seems the real deal. Can learn a thing or two from Coleman and Baines about crossing and overlapping runs but solid defensively. Now a striker next please.
Wonder what the transfer ban on Real Madrid for the next two windows (IF upheld) will do to the rumours of Stones being a target for them? Maybe he stays put. Move Stones to midfield with Besic, or teach him to defend as a center back, and along with this kid, Mori, Galloway, Garbutt, and Browning, the future defense looks good post Baines, Jags, and Coleman.
If Everton can get a striker in January then the only needs to be addressed in summer are a left-sided midfield/winger, a third striker, and Howard's future replacement as the No. 1 keeper. Wonder how much Udinese would want for either Meret or Scuffet? Perin would be good at 23 and is in the Italian National side but is valued at over 17 million Euros. Maybe get one in now before Roma locks up Scuffet.

Darren Hind
61
Posted 14/01/2016 at 23:22:41
I'm hoping this guy can make the step up, he does have a mistake in him (and a card) but he is certainly better than the level he is at now. On paper this looks a shrewd bit of business
We were having a discussion about Martinez's transfer dealings in the ale house the other night. If he sold all the players he has bought tomorrow, would he get back the £78M he spent on them?
We'd easily get £45-50M for Lukaku, but to the outside world Besic has only played three good games, would that be enough to tempt somebody into paying a fortune?
Tony Hill
62
Posted 14/01/2016 at 23:37:30
Phil (53), if Besic is removed from the first team, it will confirm, though I have long since been persuaded, that Martinez is not fit to manage us. I fear you are correct.
Michael Winstanley
63
Posted 14/01/2016 at 00:09:20
I agree with you Harold. Oviedo is a player with masses of talent, why he hasn't been given a run wide left is beyond me. I hope it's part of Martinez's master plan.
As for Bryam, excellent signing if this happens, Seamus will have to up his game which I'm certain he will.
Brian Porter
64
Posted 15/01/2016 at 01:05:55
Phil #53. No way is this lad going to walk in and oust Funes Mori, a full Argentine International who gets better with every game he plays. Let's not get carried away. He's okay, yes, but unproven outside the Championship... Funes Mori arrived having won the South American version of the Champions League!
Jamie Sweet
65
Posted 15/01/2016 at 02:13:10
The next Gareth Bale.
Michael Williams
66
Posted 15/01/2016 at 02:24:16
There's a lot here but I'll take three things from this signing:
1. Byram wanted to go to Everton. Talented youngsters want to play there. It feels really good when other players want to play for your team. How many times have we read this in the past year? Many.
2. As others have said. Give him some time: "You've got to give him a chance because he's still quite inexperienced," sad McDermott who oversaw Byram at Elland Road for a year and a half.
John Jones
68
Posted 15/01/2016 at 03:54:29
If we do sign him, then I wouldn't be surprised to see Coleman on his way for £17m+ in the summer.
Ivanovic's future at Chelsea is far from secure and he has long been linked with Chelski.
This lad Byram is a ready to go player, which makes a welcome change to the defensive reinforcements RM has brought in previously. He has bags of experience in the Championship and will be well equipped/prepared for Premier League football.
Since RM's first season what exactly has Seamus contributed that wouldn't mean a bid of say £20m wouldnt be attractive? This is typical of Everton's business model.
On the back of the Euros and in his supposed prime Seamus's value will peak in the summer, move him on, push Byram in and allow Browning, Pennington and Holgate to compete to cover.
As for poor Hibbo, we haven't had a better all out defender at the club since Dave Watson, so get him in alongside Unsworth to help coach some of these exciting defensive prospects we have at the club currently.
Ajay Gopal
69
Posted 15/01/2016 at 04:23:08
And the 3rd thing, Michael? (61)
Eric Myles
70
Posted 15/01/2016 at 05:15:44
Dick (#40), Pienaar has not been offered a new contract.
Jamie Crowley
71
Posted 15/01/2016 at 05:18:39
This signing is yet again affirmation of Everton's new commitment, under Roberto, to young and talented players.
What Roberto is building at Everton is simply "phenomenal". He's creating one hell of a footballing and economic model. Young and talented players who's ROI is simply off the charts percentage wise.
He may get some footballing, in-game things wrong but I'm squarely behind this man as his plan for Everton is superb.
William Cartwright
74
Posted 15/01/2016 at 06:16:49
Joe Clitheroe 17) You are spot on. Agents are mouthing off to put pressure on the buyers. Market forces in play.
What I really admire about Everton's style in buying player's is their respect for player's at other clubs. You never hear the talk about any other team's players at all. They also quietly monitor players, if necessary for quite some time, and the loan and see mentality works well, Barry, Deulofeu, Lukaku, Pienaar etc.
Nothing needs to be said about their invest in youth policy which is up there with the best in the country, if not the best.
Well done Roberto and the team behind the scenes.
Seb Niemand
75
Posted 15/01/2016 at 06:50:56
This is an excellent capture! Good news, good news.
Chris Gould
76
Posted 15/01/2016 at 09:44:21
Jamie (#66) agree completely.
Great signing, but no way will he be coming to sit on the bench as Coleman's cover. He has been playing week-in & week-out in front of passionate Leeds fans in a bloody tough league. He's coming believing that he can force his way into the first team.

Buying a young player with considerable experience and potential will likely see Coleman moving on within the next 18 months.
Liam Reilly
77
Posted 15/01/2016 at 10:09:50
Great buy and for all the comments regarding he's too young; remind me how young are Barkley, Lukaku and Stones?
Paul Tran
78
Posted 15/01/2016 at 10:33:39
Darren, I wouldn't mind joining that discussion in your ale house.
My guess is that he'll get close to that figure with a few provisos.
Lukaku will go in the next couple of years, hopefully for two thirds of your figure. The rest of it is wrapped up in ifs. Will Galloway and Besic develop? If so, sales with outstrip fees paid. Will Funes Mori build on his good start in England? If so, his value will increase.
Seems to me Martinez makes two types of signings: the short-term quick-fix (Barry, Kone, McGeady, Atsu, Lennon, out of which Barry and has been the only success) and the ones for the future (Lukaku, Robles, McCarthy, Besic, Deulofeu, Galloway, Funes Mori, Holgate).
The second group is the one where we'll make any profit, so only time will tell with them. Hopefully we'll also buy more players for right now, which will increase your £78m considerably.
The other question is whether we should be aiming to make a profit on player deals? Makes good business sense to me, but how many of the clubs above us do this regularly?
Meanwhile, our 'directors' will be happy, knowing that they got £32m back for Fellaini and Anichebe and are sitting on a potential windfall for Lukaku and Stones.
Kevin Elliott
79
Posted 15/01/2016 at 10:35:48
Has he actually signed yet? Because judging by most of the comments on here it sounds like it's in the bag.
Colin Glassar
80
Posted 15/01/2016 at 10:55:17
I just hope WHU don't hijack this deal with their offer of cash plus two players. We should offer them cash plus McGeady and Hibbo.
Barry Pearce
81
Posted 15/01/2016 at 11:42:30
Probably offering a £1 as a down payment, and ten bob a week.
Get him signed we don't want to lose this player.
Geoff Evans
82
Posted 15/01/2016 at 12:01:05
Get the deal done quick as... don't mess about.
Terence Tyler
83
Posted 15/01/2016 at 12:07:42
Newcastle also now reported to be sniffing. Roberto now saying it will probably be Monday before any news.
Eddie Dunn
85
Posted 15/01/2016 at 13:10:06
Leeds manager now saying he wants the lad to play on Saturday, if the deal isn't completed in time. He says it is only 90% done.
Brent Stephens
86
Posted 15/01/2016 at 13:25:37
And SkyBet now has Yarmolenko as evens to go to Borussia Dortmund, 12/1 EFC.
Michael Williams
87
Posted 15/01/2016 at 13:31:36
Ajay (#64): I was going to go on and on about one more thing but I edited myself but not my post. Sorry about not answering sooner but because you ask I'll note Byram appears to have a real footballing character which I like.
"He's first in the building and he's the last out. On days off, he comes in and he makes sure his recovery is right. He's always with the staff stretching and being prepared for training and when he trains, he trains with real intensity and real quality so I'm not surprised that people want to take him."

The story goes on about this.
James Thornhill
88
Posted 15/01/2016 at 13:53:11
I would not get our hopes up just yet; after all, there are four clubs after him & according to some of the Leeds forums, West Ham have offerd Jelavic in exchange.
Geoff Evans
89
Posted 15/01/2016 at 13:54:37
Same old, same old – is he coming or isn't he? Transfer dealings at this club are getting to be a joke: lots of verbals, little substance!
Richard Reeves
90
Posted 15/01/2016 at 14:31:11
I hope this gets wrapped up soon. You can't argue with Roberto's track record on the young players he brings in.
Gordon Crawford
91
Posted 15/01/2016 at 14:43:06
What's the odds we screw this transfer up?
I also don't believe that Yarmolenko will come to us. For the reason that we can afford him.
Why are we always broke?
Brent Stephens
92
Posted 15/01/2016 at 14:50:59
Geoff, I'm not aware that Everton have put out lots of verbals on this, just that an offer was made and a long way to go. It's more the media. And us fans getting ahead of ourselves based on media chatter.
Gordon Crawford
93
Posted 15/01/2016 at 15:17:09
We probably do get ahead of ourselves. But we have been let down too many times by our club.
Paul Ellam
95
Posted 15/01/2016 at 16:57:35
This needs wrapping up quick!
We seem to be masters at identifying players and then watching on as others take the initiative and steal the player from under our noses. Even if it means paying a little extra to get the deal done quicker it is worth it. The Yarmolenko deal is a great example of this.
The whole world knows we have wanted him for about a year now. We are trying to haggle over his price instead of just paying what their chairman wants.
I know it sounds a bit blasé but we may save about £2 or 3 million if we're lucky. Just pay the full amount before somebody else does!
Gordon Crawford
96
Posted 15/01/2016 at 17:22:32
I agree, Paul.
Frank Crewe
97
Posted 15/01/2016 at 18:01:24
It is not up to the club, it is up to the player. We have met Leeds Utd's asking price and our bid has been accepted. Now even if another club offered twice as much the player can refuse to go to that club if he wishes to sign for Everton. If that was to happen, we could wait till the summer and get him for nothing.
I doubt Leeds would want that to happen. Also it would be considered poor form and bad business practise to mess clubs around this way and just get the selling club a bad reputation.
We have to accept the fact that these days deals don't happen overnight. Lots of people want a piece of the pie and until everyone is happy we will just have to wait.
If he does eventually sign for another club, then they must have offered him a better deal than we did. Such is life. We don't break our wage structure just to get another player.
Albert Perkins
98
Posted 15/01/2016 at 18:06:39
I think the Yarmolenko deal needs a big backhander to the owner to get done. That's why there are problems with the deal.
This young and talented team needs one more year to gel. Hope we get it.
Glad to see everyone has a positive attitude.
Geoff Evans
99
Posted 15/01/2016 at 19:07:56
There's a lot of people talking about a great signing, have I missed something or is that word 'potential' in there somewhere?
Dave Abrahams
100
Posted 15/01/2016 at 19:10:35
Frank (#88) exactly, painted the picture perfectly.
Mike Berry
101
Posted 15/01/2016 at 20:00:48
Most of the Leeds fans are spitting feathers. He is a catch.
Colin Glassar
102
Posted 15/01/2016 at 20:04:06
And being very positive about it Mike. Most of them are saying he is going to a great club
Christy Ring
103
Posted 15/01/2016 at 20:27:08
After agreeing a fee with Leeds yesterday, why wasn't Byram and agent brought to Finch Farm this morning, have the medical, agree terms, registered and in the squad for Chelsea.
Why is it never straight forward, and other clubs in the mix now?
Patrick Murphy
104
Posted 15/01/2016 at 20:34:39
Christy (#94),

Why blame Everton FC, how do we know from the outside what the plans were? It might be that Leeds wanted the lad to play on Saturday regardless of any deal being agreed, or the agent may have leaked it to the press to spark a bidding war.

Everton FC and its employees cannot control everything like they used to back in the day, certainly not in a 24/7 news hungry media environment. Too quickly do some supporters moan about all things Everton FC would it perhaps be better to moan when we know what has happened and not before?

Tony Abrahams
105
Posted 15/01/2016 at 20:47:23
Strange to have a reached a deal with Leeds, but we are now waiting until Monday, to speak to the kid. I think it's strange because other clubs are sniffing, and it just might be possible that an Essex boy, might also be a West Ham fan?
What are we waiting for I wonder? Maybe some money from the sale of Naismith?
Christy Ring
106
Posted 15/01/2016 at 20:51:01
Patrick (#95), it's not a moan, as most of our transfer business is never straight forward. Also how would there be a bidding war, if a fee was already agreed?
Lee Courtliff
107
Posted 15/01/2016 at 23:07:19
At 22 he isn't signing to sit on the bench and we simply aren't a club that can have two quality players for each position.
That is reserved for the Champions League clubs who play 60 odd games a season. Every season.
Looks like we'll be cashing in on Seamus, which obviously makes sense financially given our outlay and his age, but I'll be sad to see him go. A real rarity these days, Coleman has been a fantastic signing for us.
Up there with Cahill and Arteta as the best value for money signings of the 'Moyes Era'.
Gavin Johnson
108
Posted 15/01/2016 at 23:12:14
Wouldn't be at all surprised if something wrong happened. Yorkshire Post say Byram wants to sign for us. David Sullivan's son tweeting that West Ham are still in the mix. Who knows what could happen?!
I should think he'll sign for us over West Ham. We've moved on a lot since the dark days of Walter Smith when we couldn't even persuade Steve Lomas to sign for us.
John Pickles
109
Posted 16/01/2016 at 00:12:58
Is he any good in goal?
Mark Wilson
110
Posted 16/01/2016 at 00:30:30
I know we don't have the full facts about this Byram "deal" but it's really strange that pretty much every media outlet, plus LUFC themselves, say we've had a bid accepted on Thursday... so... how on earth do we end up not speaking to the lad until Sunday? It gives others the chance to throw wads of cash at him and his agent and maybe turn his head – even if he does actually favour us!! There must be genuine doubt because, if he wanted to come here as much as he's reported to have indicated then... well... why isn't he signed now?
Gut feeling is that we've not offered quite enough wages to make it a dream move financially... doubled his Leeds money, I suspect, but looking at things he's not one of our seemingly endless "reserve development" buys that we often never see on the pitch for the first team. He's a proven performer at the level below us and has a lot of game experience in a tough league. There's an element of gamble, yes, but he's got to be worth what feels more than a "punt" at £4m and maybe £30k pw?
Fingers crossed it's done Saturday, not bloody Monday, by which time half the league will be in for him and all offering more wages whilst we "refuse to be blackmailed"... sigh
Alternatively, lots of worry about bugger all. He's been tapped up for months... is hidden away in the Marriott, Queens Square right now and will be ours before you can say "Will we ever do lighting-strike surprise deals ever again, like we used to about a hundred years ago?"
Darren Hind
111
Posted 16/01/2016 at 07:11:50
Paul Tran,
I don't think any one was looking to make a profit, I think the guys were trying to gage weather Martinez has been a success with his transfer dealings.
Many were critical of the boss's signing (including me) but the Lukaku gamble seems to have paid off; while others dithered, Martinez acted. Besic seemed to be out of favour, but he too looks like he could very easily become a £20m + player.
I think it would be churlish to say all of Martinez's young signings have been gambles; there is always a gamble when you are buying potential, if it backfires he gets lambasted, he should therefore be credited for his judgement if that potential is realised and I'm happy to do so.
I was worried about his early signings (still not 100% convinced by Macca) but the second intake has been better.
For me, he is just about breaking even at the moment, but as you quite correctly point out, there is more than a hint of a chance that value of players signed will continue to rise.
Fair play to him.
Mark Hughes
112
Posted 16/01/2016 at 09:19:06
Leeds should be a Premier League side. I hope they get back up soon as they add a lot to the Premier League.
Joe Clitherow
113
Posted 16/01/2016 at 09:41:58
Sorry, guys, but as I pointed out straight away in this thread, delays are entirely down to agents these days. You can't blame clubs. You can't really even blame agents because they are doing what they are supposed to in getting the best deal possible. Lots of shenanigans between bid accepted and posing in the shirt. That's the time to post "Great signing" or whatever else.
The agent will have leaked the "bid accepted" news to alert other clubs. He alerts other clubs so he gets time to gauge the market value, including what wages he can get for his client. All part of the process we are going through.
It surprises me that people are still surprised by this. It's how it is these days.
Relax. He will come to us or he won't. I'd say he likely will. All fans can do is watch it play out, sadly.
Geoff Evans
115
Posted 16/01/2016 at 11:49:33
It's like watching the stable lads trying to push the horse you've had a bet on struggling to load it into the stalls before the race starts.
Craig Fletcher
116
Posted 16/01/2016 at 21:40:18
He wasn't in the Leeds squad for the game over the weekend. He's leaving Leeds, just need to hope it's to us.
Geoff Williams
117
Posted 17/01/2016 at 13:08:46
Please get this deal signed and sealed asap.
Add Your Comments
In order to post a comment, you need to be logged in as a registered user of the site.
Or Sign up as a ToffeeWeb Member — it's free, takes just a few minutes and will allow you to post your comments on articles and Talking Points submissions across the site.
© ToffeeWeb