Martinez resolute over his star players
by

45 Comments [Jump to last]
| 22/01/2016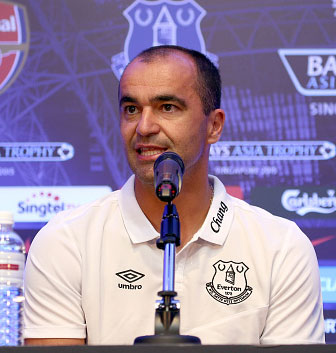 The media keep asking him but Roberto Martinez has the same response with regard to the likes of Romelu Lukaku and Ross Barkley: his best players are not for sale this window at any price.
The Everton manager was asked whether the £65m that recent media reports have suggested would be the club's asking price for Lukaku would "turn his head" but Martinez insisted that the only thing that concerns him now is the Belgian's next target with the Blues.
"He wants to score goals, he wants to become better," Martinez said of his star striker. "It's been a fantastic journey; in the last 13 months and you've seen an evolution in his play that has been quite magnificent.
"You're looking at Romelu Lukaku on the verge of playing 100 games for Everton in all competitions. For a 22-year-old that's an incredible landmark. More than anything it's because he's reliable, he's been consistently there, he's a focal point for us and a ll I'm looking for is for him to carry on getting better as a player – which he can – but carry on with the big role in the team.
"The speculation, whatever the talk is from the outside is all positive. You don't get that sort of reaction if you're not playing well. He's a special footballer for us.
"[His ambition] goes hand in hand. At Everton we want to play Champions League football as well so it's a shared view, a shared target."
The Catalan was also asked about Manchester City's reported interest in Ross Barkley but he deflected that speculation in a similar manner.
"I've said before – nobody's going to leave. None of our players who have been performing well and have been important are going to leave in January, so I think that's the end of the matter. January is a not a time when we're going to be introducing any instability into the squad. It's the opposite."
"Players don't have a price in January. We're not going to even consider losing a member of our squad who has been important and [will continue to] be important in the second half of the season."
That stance clearly extends to Kevin Mirallas, with Martinez reiterating for the umpteenth time that he has no interest in letting him leave the club despite the talk of him being unsettled earlier this season.
The 28-year-old enjoyed his best display of the season so far in the controversial 3-3 draw at Chelsea last Saturday, scoring one and going close to adding a second.
"Kevin Mirallas has always been a very important player for us. From our point of view nothing [has changed]. When he performs in [the manner in which he did against Chelsea] he is a unique footballer for us we hope that he can carry on in that vein of form until the end of the season."
Asked to confirm that the Belgian forward was not going anywhere this month, the manager smiled, "not at all."
---
Reader Comments (45)
Note: the following content is not moderated or vetted by the site owners at the time of submission. Comments are the responsibility of the poster. Disclaimer
Alan Humphreys
1
Posted 22/01/2016 at 18:39:58
"None of our players who have been performing well and have been important are going to leave in January...."
A few fringe players moving on as well as Naismith then.
"Performing well" so I'll include Howard and Kone with McGeady et al.
Anthony Flack
2
Posted 22/01/2016 at 19:04:31
What's Plan B if Lukaku gets a knock. Maybe Kev down the middle....
Imagine if it is Kone against Citeh, barely worth thinking about. No real feeling if any of the reserves are up to it.
Trouble with the January window is pickings are bare. Missing out on Austin might end up haunting us.
Ged Simpson
3
Posted 22/01/2016 at 19:11:04
Just before you 'effin start... this is good. GOOD! Try it and enjoy Friday.
Darren Hind
4
Posted 22/01/2016 at 19:29:36
This is where he comes into his own, we were so quick to take the dosh in the past, but when he says "nobody is leaving"... nobody is leaving.

Mark Tanton
5
Posted 22/01/2016 at 19:56:24
Is nobody going to pick up on the "in January" comment? Is that a little dissembling there by Martinez or am I reading too much?
Peter Cummings
6
Posted 22/01/2016 at 19:57:32
Noticed nothing said about Stones's position, and he is the most talked about target for a 'big money' move.
Lewis Barclay
7
Posted 22/01/2016 at 20:07:28
I'm quite concerned about how many times Martinez says "January" in that statement.
A much more positive statement would have been:
"While our squad has the potential it currently has the only thing we're interested in is strengthening. Make what you want of the stories you read. We're happy and we know we can achieve big things at this football club with the players we have and the ones we're trying to bring in."
:(
Doug Harris
8
Posted 22/01/2016 at 20:09:46
I do feel that his comments are very positive.

Why would any manager half way through the season not say it? Work in progress is the norm, as frustrating as it has been since August. Tomorrow is another day. Everton are we not?
Paul Hewitt
9
Posted 22/01/2016 at 20:11:21
Got to give Martinez credit here. I don't think we will sell anyone in January. OFM would have sold Stones in the summer, so well done Roberto.
Lewis Barclay
10
Posted 22/01/2016 at 20:11:46
Peter #6
I'd let Stones go for £45m right now based on the following:
- he's going to go at some point
- Funes Mori is good cover for the rest of he season
- the Euros are going to be hard for Stones from a work/ physical PoV and next season I think he'll suffer from not having a break (like Barkley last season)
£45m would get us a great CB replacement and a new striker to cover Rom
Patrick Murphy
11
Posted 22/01/2016 at 20:13:51
Lewis (7) Roberto covered all of his bases in that piece, he also said "If you think about it: why would you let someone go who has a big role to play?" Martinez said. "Unless there is an inflated price or there is a specific situation that could suit you as a football club. We always need to take that into consideration."
The other element to watch out for is that the window doesn't actually close until 11pm on February 1st.

Don Alexander
12
Posted 22/01/2016 at 20:30:27
He's saying all the right things but for Everton, and other clubs not regularly getting CL football, retaining their best players on the back of mere contracts can turn to dust if those players/agents decide they want away.
What's so deeply upsetting is that most of us fans believe the current squad has had enough quality for three consecutive seasons to have got in, or very close to, the CL positions but we've failed to do it, by a bigger margin than the season before under Martinez. His performance/choices, not the players' performances, kills our hope.
Steven Jones
13
Posted 22/01/2016 at 20:57:42
Lewis,
I agree with your interesting thinking...
So, if he stays, he will be a great boost to keep our best, and if he goes, we win on it too!!
I am confident in RM finding good replacements and we have Holgate et al to follow into the 1st team squad.
RM is standing strong and is building a dynasty – if one or two young stars leave at decent money – RM then goes and buys 2-3 more with the money. If he can use his magic touch again then we will be in a continual improvement cycle buying talent and bringing it through.
Replace Stones at the back with Holgate and buy Yarmolenko, Rooney and a goalkeeper... we would be sitting pretty for 2016-17.
Jim Bennings
14
Posted 22/01/2016 at 21:15:25
Reading between the lines, one of Lukaku or Stones maybe both are off in summer and we can't do bugger all to stop it.
Can we please stop these pie in the sky Yarmolenko and Rooney dreams though, Rooney is on a kings ransom wage and better players won't join a club that's seen selling its star performers, has no European football and does not pay a really big wage!
Jim Bennings
15
Posted 22/01/2016 at 21:17:43
Has anyone actually seen Holgate play yet?
I think we need to see the kid first before we start talking him up, the way it is you'd think he was Carles Puyol coming into the team, let's see him in first team action .
Kunal Desai
16
Posted 22/01/2016 at 21:25:13
He's right star players wont be leaving in January. However, he is powerless to stop the likes of Lukaku and Stones leaving in the summer after the Euros. Both will be gone. Just how much is reinvested back in this team remains to be seen.
Patrick Murphy
17
Posted 22/01/2016 at 21:31:42
Holgate's probably crap, after all, he signed for Everton and let's face it we're a club going nowhere any time soon. I've never seen him play and can only trust the manager's judgement, but what does Martinez know about football?
Nothing whatsoever in comparison to those posters who have an opinion about every aspect of the club from the young players to commercial operations – funny how they have so much time on their hands with the limitless talent and sage-like knowledge at their disposal.
Joe Foster
18
Posted 22/01/2016 at 21:33:04
I don't think any of us expected any of our main players to leave in this window. I also think most of us will not be surprised if 2 or 3 get sold in the summer.
I hope he doesn't mean introducing instability into the team means no incoming, but that will most likely be the case.
Oliver Molloy
19
Posted 22/01/2016 at 21:48:40
Patrick,
Holgate has the potential to do everything Stones has done at Everton providing he keeps his feet on the ground, and I know you know that – right! Lol
Raymond Fox
20
Posted 22/01/2016 at 22:15:30
Ooh Patrick (#14), that's very cutting, old chap!
Ian Riley
21
Posted 22/01/2016 at 22:41:44
Every player has their price:
Stones £45 million, great price... why? Are we keeping clean sheets? Is our defending well organised?
Or do we sell Lukaku? Top Premier League goalscorer and a manager that focuses on attacking.
Our stars are assets and one of our top stars will be sold. The club is mid-table and likely to remain there. Do we sell Stones on the last day of the transfer window and rebuild in the summer. Buy two or three top players in the summer? If we were in the top six pushing for top four then no one goes! But we are not!
Sadly this will be the season of ifs and buts with the squad we have. Tired of people saying Everton should be higher in the league with the players we have. The reality is top players will be sold and with the television deal coming this summer. The Everton board have hit the lottery!!!
Jack Cross
22
Posted 22/01/2016 at 22:42:49
Jim Bennings (#11).
Do you remember me saying a couple of season ago about an attacking midfield player to keep an eye on?
Tom Rogic, 23, at Celtic, having a great season scored 7 and 5 assists. Attacking midfield. Plays Australia national team as well.
I'd like to see him at Everton.
Also Bony, seems to be unrest with him and Man City. I know your a fan of him, like myself.
Bony, be good replacement for Lukaku, if/when he goes. He would have been my first choice over Lukaku (who as done brill this season) and we could buy with money to spare I'm sure.
Colin Glassar
23
Posted 22/01/2016 at 22:45:23
I've seen Holgate play twice and he's the bees knees. The kid is going to the very top.
For all you Martinezologists out there, stop trying to read between the lines. No-one is leaving (star players that is) this window, full stop.
Pity we can't get rid of McGeady though.
James Flynn
24
Posted 22/01/2016 at 22:49:28
Patrick (16) - Fair enough. Of course this renders everything you have posted meaningless.
Michael Penley
25
Posted 22/01/2016 at 22:52:04
Jack Cross - Rogic could be a great addition indeed. Reminds me a bit of Ossie, delicate touch and poise but with much more strength. Unfortunately he's not from a Spanish/Latino background so I don't see Martinez going in for him.
Colin Glassar
26
Posted 22/01/2016 at 22:59:09
So how many Spanish/Latinos has Martinez bought, Michael?
Oh wait... Lukaku, Barry, McCarthy, Kone, McGeady, Cleverley, Holgate, Henen, Galloway, Besic... Do you want me to go on?
Oliver Molloy
27
Posted 22/01/2016 at 23:02:34
Colin,
I would be very surprised if McGeady is still at Everton come the end of the window, that is of course he wants to play for RoI.
Martin O'Neill has basically spelt it out that players hoping to go to the Euros need to be playing football regularly.
Trevor Peers
28
Posted 22/01/2016 at 23:03:06
Roberto's best at working the media, so his stance on not selling any of his stars is a gift from BK that he will exploit to the max.
It's pretty obvious, during negotiations for new ownership, that we keep all our assets on board. At least until the summer.
Is Roberto working under orders, or does he have the supporters' best interests at heart?

Andy Meighan
29
Posted 22/01/2016 at 23:05:16
Jack (#19) – do you honestly think Bony would leave Man City, who obviously are going to be in the Champions League next season, and join Everton with no European, let alone Champions League football to offer. Oh, and take a huge pay cut. Get real its not going to happen.
We'll have to shop at the lower end of the scale, ie, Championship or clubs in Europe that are desperate for a quick cash fix. With the money on offer next season, it won't be hard to attract average players from the european leagues.
I think there are better options in this country in the Championship or League One but these managers won't gamble. If a sexy European buy turns out crap, it's a gamble that went wrong. When it's a homegrown player, it's a terrible buy.
Getting back to the original thread, for me they can sell who they like. Every single one of them can be replaced. Let's face it, it's not like we're tearing up trees every week, is it? No. There's a reason we're where we are in the Premier League table.
Colin Glassar
30
Posted 22/01/2016 at 23:12:11
Oliver, I really hope he goes (for his sake and mine) but the sticking point appears to be his wage demands. Is he prepared to sit in our reserves and pull in £20k plus per week and ruin his Euro16 chances? It would appear that money is his major concern here.
Oliver Molloy
31
Posted 22/01/2016 at 23:20:15
I think the penny will drop with McGeady. In fact, I have heard he is looking to go providing a club will give him a minimum 3-year contract. He is on more than £20 grand with us judging by the comments of the Celtic manager.
Hopefully it will work out for all and we might even get a fee if lucky. Clubs are looking at Gibson also for exactly the same reasons as McGeady, but he is on big money with us so that may not work out.

James Flynn
32
Posted 23/01/2016 at 00:20:16
#32 - Stay in your lane, light-weight.
Kieran Kinsella
33
Posted 23/01/2016 at 00:39:03
Oliver,
O'Neill is going to have about five players if he only picks those playing every week. McGeady, Gibson aren't obviously but neither is Given. McLean is bench warming, Long is likely to be, Walters is in and out of the Stoke team. Stokes had to drop to second tier in Scotland to get a game.
Harold Matthews
35
Posted 23/01/2016 at 01:47:00
Promises to keep. Martinez stated some time ago that we are gradually putting a strong squad together and every 2 or 3 years we would "go for it". This is one of those years, hence, with the board's permission, he could tell Chelsea to get lost. He also knows that clubs will be coming in for Lukaku and Barkley. This has to be a season where we achieve something.
Right now we are managing with a squad which is not strong enough in certain areas. The bar has been raised and several members are no longer of the required quality. Greater numbers of a usable standard will have to be attained through the sale of highly sought after stars and the whole process begins again. 2 out, 4 in with added strength in depth. Not my idea. Our boss has spoken of this on a couple of occasions.
Eric Myles
37
Posted 23/01/2016 at 04:35:40
The same story reported by the Mail carries the headline Martinez drops hint thar stars may be sold in the Summer!!
Colin Glassar
38
Posted 23/01/2016 at 09:25:00
The simple fact remains that these "star players" are all on long term contracts and, with the new TV money rolling in, we are under no pressure to sell.
The club is holding all the cards this time around and can play hardball if a richer club start offering silly money or one of these lads do an Odemwinge. I think one of them (Stones most likely) will leave in the summer but only. Because both club and player think it's the right time for both parties.
Denis Richardson
39
Posted 23/01/2016 at 10:07:10
Usual nauseating questions from the journos and usual standard answers from RM.
Nothing new, we already know someone 'big' will leave this summer. Personally I can't see it being Ross, my money's on Stones and there'll 100% be interest in Rom.
As far as 'Everton wanting Champions League' is concerned, I guess dreaming is free.
Ari Sigurgeirsson
40
Posted 23/01/2016 at 10:19:31
Patrick (#17),
I get you. Good post and true. There are so many experts out there and Martinez knows nothing about football. The main thing is that he doesn't let the media manipulate him to say things they want. He controls every meeting with the media imo and doesn't get carried away. Let's get behind his back now. We're Evertonians.
Gary Carter
41
Posted 23/01/2016 at 10:31:33
Everyone saying its Martinez that's the reason we won't sell anyone in the window because of Martinez is stupid. It's nothing to do with him, it's the financial position the club is in now in comparison to previous times!!
Colin Glassar
43
Posted 23/01/2016 at 11:35:02
Dennis, I get the impression that Stones could play for any club and give 100% without becoming a badge-kissing hypocrite. I don't think he's after the money rather the challenge of playing against, and with, the best players in the world, so I can see him playing for Barcelona or Madrid next season (or perhaps Man City here) and good luck to him. I thinks he's going right to the very top.
As for Lukaku and Ross. I can see us getting another season, at least, out of Rom. I think he'll stay to see if there's any hope of progressing with us. Ross, I think his dream is to captain the club and I can see him staying long term.
Dean Adams
44
Posted 23/01/2016 at 11:54:33
Patrick @ 17. Just stopped laughing. You really nailed that one. Another class post from the Murphy stables.
Ian Riley
46
Posted 23/01/2016 at 13:36:21
History tells us top players are sold at Everton. History also tells us some or all wanted to leave. Why? Money or trophies? All those that leave Everton speak highly of the club. Martinez has no control over selling players.
Martinez needs to concentrate on results! That's his job. Yes I want him to succeed but our results are not good enough for the players we have! Talking about players being sold is a distraction from the bigger picture. Players come and go! Everton will move on!
History also tells us Everton don't sack managers unless we are in the bottom three and relegation is a possibility. Martinez is going no where!! Let's put that to bed and move on!!
Peter Morris
47
Posted 23/01/2016 at 15:03:23
These bloody journalists turn up at our pre-match press conference, and all they are interested in which of our players are going to be sold to Man Utd, Man City, Chelsea. They are so predictable, and are only interested in the fortunes of a few clubs. I'd ban them from the conferences, unless they agree to keep their questioning to the game coming up.
Denis Richardson
48
Posted 23/01/2016 at 16:04:52
Agree with you, Colin (#41), Stonesy will be gone this summer, and good luck to him when he does. As long as we get a truck load of cash and this is pumped back wisely into the club, I won't be too bothered, players come and go.
What will be more interesting is what happens with Rom. I cannot imagine not getting a massive bid for him this summer given who his agent is. Will the club bite?
Jack Cross
49
Posted 24/01/2016 at 03:42:40
Andy Meighan 29.
What I said was, there seems to be unrest between Bony and Man City. I read that he wasn't happy at city. And because of his unrest he may leave City.
If that was the case well, he wouldn't be playing Champions League football would he? Unless one of the other top three came in for him, or some top CL European club.
I think he would want to stay in the Premier League. We would be his ideal club. We have to believe that strikers like are not to big for our club. After all it was only just over a season ago that he was playing for Swansea.
As for his wages, I haven't a clue what he is on, have you Andy?
Oh by the way, I'm always talking about there being Championship players around that could do a job for Everton. But I always get shot down.
Andy. What do you think about Conor McAleny, replacing Kone?
Add Your Comments
In order to post a comment, you need to be logged in as a registered user of the site.
Or Sign up as a ToffeeWeb Member — it's free, takes just a few minutes and will allow you to post your comments on articles and Talking Points submissions across the site.
© ToffeeWeb