Everton's Wembley hopes ended by City's second-half surge
27/01/2016

297 Comments [Jump to last]
Manchester City 3 - 1 Everton (4-3 on agg)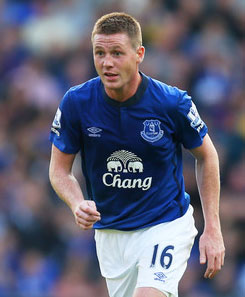 James McCarthy started on the bench as Tom Cleverley and Leon Osman came in in place of the injured Muhamed Besic and Kevin Mirallas
Everton scored a vital away goal and had one foot in the final with a 3-1 aggregate lead but eventually succumbed in dispiritingly predictable fashion after Fernandinho's deflected equaliser and a controversial Kevin de Bruyne goal turned the tide Manchester City's way.
Roberto Martinez will point to the controversy surrounding City's second goal where Raheem Sterling clearly carried the ball over the line before cutting it back to Kevin de Bruyne to score but the harsh reality was that the Blues simply weren't good enough in the end to either keep Manuel Pellegrini's side at bay.
Nor, indeed, were they much of a threat going forward, particularly after Gerard Deulofeu had spurned the chance to strike a second, potentially decisive second away goal early in the second half and then been taken off nine minutes later.
Instead, it was City whose waves of attacks yielded the goals they needed after half time, Sergio Aguero scoring what proved to be the winner over the two legs with an unchallenged header 12 minutes from the end.
Neither James McCarthy nor Seamus Coleman were included in Martinez's starting XI as John Stones was deployed at right back again and Leon Osman returned to the side in midfield.
Deulofeu was handed the right-wing role and it was he who had an early chance to light up the evening with an electric run that out-paced Martin Demichelis down the right flank but he was foiled by Nicolas Otamendi as he reached the byline.
As expected, City soon assumed control and had the more sustained possession, probing the Blues' retrenched back line but they found Martinez's men in the kind of stubborn mood they were exhibited in the League game earlier this month.
And it was at the other end that the opener came, Barkley taking advantage of space in front of him to evade Otamendi and advance before drilling a low shot past Willy Caballero from 20 yards.
Everton's luck deserted them five minutes later, though, when Aguero's effort was blocked by Stones, it fell into the path of Fernandinho and his shot took a heavy and decisive deflection off Baines before flying past Robles to make it 1-1.
The visitors retained their composure despite the setback and when trying to play through City didn't pay dividends they relied on hitting them on the break which Barkley threatened to do in the 32nd minute but his attempt to bend a cross behind the defence for Lukaku fell short.
Everton escaped falling 2-1 behind 10 minutes before the break by the skin of their teeth, though. Aguero smacked a shot off the post and Robles got in the way of SIlva's follow-up to divert it behind for a corner.
Cleverley's foul on Fernandinho right then handed the home side an opportunity from a direct free kick from the edge of the "D" but Silva's shot flicked off the top of the wall for another corner.
Fabian Delph's foul on Barkley at the other end then gave Everton a chance of their own from a set piece in a dangerous area, one that Deulofeu hammered over with a shot that didn't dip sufficiently to trouble the 'keeper.
The second period almost began explosively for Everton as Barkley and Deulofeu hared away on the counter again and the Spaniard was played in down the left channel but his shot was fired into a comfortable location for Caballero to beat it away. It would prove to be a turning point in the game.
Two minutes later, Aguero missed his kick with a great chance in front of him and it sliced harmlessly wide, much to Robles's relief.
Three minutes after that, City hit the wood work again when Silva's headed Pablo Zabaleta's cross off the base of the post.
Cleverley then blocked from Sterling after Robles had punched clear under pressure on his goal line as Everton clung on to parity despite waves of City attacks.
Martinez then felt moved to make an early change just before the hour mark, withdrawing Deulofeu and Osman and throwing on McCarthy and Arouna Kone.
City took the lead on the night in controversial circumstances, however. Sterling raced past Stones to byline but the ball appeared to have crossed the line before he pulled it back for Kevin de Bruyne, only on the pitch as a sub for a couple of minutes, to slam home.
A few minutes later it was 3-1 on the night and 4-3 on aggregate when De Bruyne had space to swing a ball in from the right and Aguero planted a free header firmly into the far corner.
Having barely been in the contest as an attacking force for long spells in the second half - not helped by a stubbornly bleeding nose for Barkley that required two trips to the sidelines - Everton won a free kick when Otamendi scythed down Kone but the free kick came to nothing.
Instead, the main threat kept coming from the home side and Aguero headed a corner wide with three minutes left.
With their Premier League campaign derailed and their dream of a Wembley final to end a 21-year trophy drought, Everton have the consolation of an FA Cup run to look forward to but it will be small comfort on a bitterly disappointing evening in Manchester.

Kick off: 7.45pm
Referee: Martin Atkinson
Everton: Robles, Stones, Funes Mori, Jagielka, Baines, Barry, Osman, Cleverley, Barkley, Deulofeu, Lukaku
Subs: Howard, Coleman, McCarthy, Kone, Oviedo, Lennon, Pienaar
Full details: ToffeeWeb match page
---
Reader Comments (297)
Note: the following content is not moderated or vetted by the site owners at the time of submission. Comments are the responsibility of the poster. Disclaimer
Stewart Lowe
1
Posted 27/01/2016 at 18:58:22
For me, neither Howard or Robles should be keeper. Howard for obvious reasons and Robles because he is just as much of a liability.
Yes, he is hungry but he has a reputation not not want to catch anything in the air and opts to punch everything as you will see tonight.
You heard it here first!!!!
Chris Williamson
2
Posted 27/01/2016 at 19:01:58
OK, Stewart .... so Jags in goal?

John Austin
3
Posted 27/01/2016 at 19:02:52
Come on blues. Make this a night to remember for all the right reasons. Play without fear with discipline at the back and we can do it tonight. Easier said than done on recent performances I know, but we can do it. COYB!
Fran Mitchell
4
Posted 27/01/2016 at 19:03:11
Who would you put in goal then Stewart? Seeing as this thread is about tonight's game, and not about if we should sign a keeper or not?
Mark Rimmer
5
Posted 27/01/2016 at 19:06:47
Happy to know Stones will playing on the right back. I feel a lot more confident with Jagielka and Robles in the side. Seems to be lacking a bit of pace in midfield, especially in the centre.
Doesn't really seem to any real balance in midfield with only one natural winger in the side, looks like it's there to contain more than anything. I assume Barkley is going to play more advanced just behind Lukaku.
Looks like it's going to be backs to the wall stuff, but I've definitely got more confidence in us keeping them at bay. A goal for them should be interesting, we'd have to make a few changes.
Jeff Armstrong
6
Posted 27/01/2016 at 19:07:29
Stones at RB, Coleman on bench, Osman starting?
Hmm looks like we have some kind of genius for a manager!
Chris Gould
7
Posted 27/01/2016 at 19:07:29
I hope his refusal to drop Stones doesn't come back to bite us. At least he's been moved out wide. I'm assuming Osman is playing on the left? Going to be a busy night for Baines. Osman will be replaced by Pienaar after 60 mins.
As fantastic as Barry has been, I hate watching him being forced to struggle through the final 10 mins of a match. Hopefully McCarthy is fit enough to inject some energy in the final 10 mins and potentially extra time.
Fran Mitchell
8
Posted 27/01/2016 at 19:09:59
Decent enough team, nothing controversial. Stones at right back is a logical choice if Coleman isn't fit enough to start. Also curious to see how fit McCarthy is, Osman won't last all game so am sure he will be needed, his energy will be important in the latter stages.
Curious to see the set up. Will it be
Barry-Cleverley-Osman
Deulofeu-Lukaku-Barkley
Or Barry-Cleverley-Barkley
Deulofeu-Lukaku-Osman
Or even
Barry-Osman-Barkley
Deulofeu-Lukaku-Cleverley.
Gavin Johnson
9
Posted 27/01/2016 at 19:12:57
Stewart.
Robles, is vastly improved from the keeper who was punching everything that came close to him against Arsenal in the FA Cup game a couple of seasons back.
Your observation is nothing new, Stewart. Most people spotted that in Robles game. But I've not noticed the punching at crosses since he played in that game against West Ham in the Cup last season, where he played a blinder. Before going on to make several clean sheets before being unceremoniously dropped.
I think Robles playing in goal could give us the edge tonight.
Craig Mills
10
Posted 27/01/2016 at 19:14:14
Midfield looks a bit of a mismatch, but I guess it is what it is!!
COYB, want this so much tonight
Oliver Molloy
11
Posted 27/01/2016 at 19:14:27
Tonight we will win people, I can feel it.
Barry Pearce
12
Posted 27/01/2016 at 19:17:37
This squad just shows how short of quality we have up front.
John Austin
13
Posted 27/01/2016 at 19:17:58
I think I'd rather have Robles punching crosses than Howard doing sweet FA with them.
Fran Mitchell
14
Posted 27/01/2016 at 19:23:32
Tonight we need to see a performance from Barkley. He has the makings of a big game player, well today is the day for him to do it.
I expect a counter attacking style, Barkley, Deulofeu and Lukaku running fact and directly at cities often vulnerable defence.
Barry to win e ball and Ossie, Clevely to spread the ball into the dangerous areas.
0-2 to Everton. Barkley first goal!
Stewart Lowe
15
Posted 27/01/2016 at 19:26:24
#2 I'm not talking about tonight's game here, I mean we desperately need a new first choice keeper and although Robles has been chosen ahead of Howard tonight it doesn't mean he is the answer. Robles may be our alternative tonight but in a few games people will be on his back too as he really is calamitous and not a lot of self confidence.
Mike Keating
16
Posted 27/01/2016 at 19:27:19
Oliver and Fran,
Just got to the pub and seen the team selection; I think I'll order a couple of pints of what you two are on – what is itV draft LSD?
Colin Hughes
18
Posted 27/01/2016 at 19:40:59
We have no legs in midfield, Osman and Barry will not have a hope against the pace they counter. 6-0 to City is my prediction.
Joe Foster
19
Posted 27/01/2016 at 19:44:30
I wasn't going to bother watching this but I am. I have no kind of excitement or expectation at this moment.
Christy Ring
21
Posted 27/01/2016 at 19:55:58
Hopefully Cleverley is in the middle, as Osman and Barry will be overrun, also, don't understand why Coleman hasn't started, when he was fit enough to come on against Swansea. Stones will find it tough if Deulofeu doesn't track back.
If we are in their faces from the start, and fighting for every ball, we'll give them a run for their money, but if Martinez sticks to his principles, we're up shit creek.
Joe Foster
23
Posted 27/01/2016 at 20:05:00
Fucking yesss you beauty Rossini
Joe Foster
24
Posted 27/01/2016 at 20:05:48
Excitement levels rising a bit now
Tom Harding
25
Posted 27/01/2016 at 20:08:02
Fantastic goal by Barkley. That was like Gascoigne when in the early 90s.
Fran Mitchell
26
Posted 27/01/2016 at 20:08:37
Should've put a bet on.
Get in there Ross!
Peter Morris
27
Posted 27/01/2016 at 20:41:02
What is it about us and deflected goals? That's Chelsea, Swansea and now Man City FFS!!! 3 on the trot!!!
John Jones
28
Posted 27/01/2016 at 20:41:19
Ossie offers a bit on calm in the midfield.

Oliver Molloy
29
Posted 27/01/2016 at 20:49:03
Ossie had done okay, but he's wrecked already.
The Incredible One has got to get his subs right.
45 mins or so of NO FEAR and total commitment and we are there.
Come on Everton...
Tom Roberts
30
Posted 27/01/2016 at 21:11:14
Lukaku going through the motions so far. Very disappointing.
Joe Foster
31
Posted 27/01/2016 at 21:15:25
Expectations reset to normal. Another bad decision not seen by ref and his assistants.
Joseph Terrence
32
Posted 27/01/2016 at 21:21:27
It's the hope that kills you.
Colin Hughes
33
Posted 27/01/2016 at 21:23:36
Yet again another game in which we led we still concede 3...and counting. Martinez is taking us down and it could be this season. Defensively it's the worst I have ever seen.
Steven Scaffardi
34
Posted 27/01/2016 at 21:23:49
3-1 down? Throw on a right back for a right back! Sigh.
Dennis Ng
36
Posted 27/01/2016 at 21:26:40
Bad decisions by the ref is one excuse but the substitutions are suspect if not completely nuts. One more goal by us and we're through so not completely lost yet.
Jay Tee
37
Posted 27/01/2016 at 21:28:28
I've given up watching now but I can still hear it, gutted we could not hold on to 3-1 aggregate.
Steven Scaffardi
38
Posted 27/01/2016 at 21:31:10
Hey, look on the bright side – at least with us not going through to the final it decrease the chances of the RS winning the cup right?!
Martinez is a genius after all!
Philip O'Reilly
39
Posted 27/01/2016 at 21:31:45
3-1 down and we take a back on. Our defending is dreadful, I said it before Martinez do the decent thing before you take us down like Wigan.

Frank McGregor
40
Posted 27/01/2016 at 21:32:12
Now that the Capitol One Cup run is out of the way, hopefully Carlisle will put us out of our misery and then we can concentrate on getting 40 points and staying in the Premier League with a new manager.
Steve Roomes
41
Posted 27/01/2016 at 21:35:07
Martinez is hopeless... I've no idea what the subs are all about!! He has to go... we're leaking too many goals; poor team management.
Mark Stone
42
Posted 27/01/2016 at 21:41:49
That's got to be it for Martinez now. He offers nothing.
Anthony Hanlon
43
Posted 27/01/2016 at 21:42:38
Just 2 shots in a fucking semi-final.
Steve Roomes
44
Posted 27/01/2016 at 21:42:48
We will go down with this clown in charge!
Dennis Ng
45
Posted 27/01/2016 at 21:43:40
Not so, Steven (#30). Did you forget the drubbing Klopp gave Man City a few weeks back? I'd rather us beat them.
Paul Setter
46
Posted 27/01/2016 at 21:44:20
Mark (#31), sadly, you know and I know our gutless board will continue to employ this clueless clown well into next season.
Pete Ellingham
47
Posted 27/01/2016 at 21:44:40
Yes the 2nd goal for them shouldn't have counted but let's get rid of the manager now, so fed up! Just wait for the excuses he will come out with!
Christopher Dover
48
Posted 27/01/2016 at 21:45:10
What bad luck! Again! But RM is going to milk that but three goals yet again conceded, and Stones evidently with a bad pass to start the rot.
Well he can now get his phenomenally unlucky team to go on a run for fourth place, must go, elephants nest on roof to shift.
Steve Roomes
49
Posted 27/01/2016 at 21:47:12
I've now had enough. With false hope, we have a decent squad but a crap manager; if we keep this joker ,we will go down...... And now I have lost faith.
Stu Smith
50
Posted 27/01/2016 at 21:47:38
Well there goes Everton. This game was massive for us not just because it was a semi-final but a chance of winning something and keeping our star players.
So, unless we win the FA Cup we have no chance of European football next season and therefore no chance of keeping the likes of Rom, Stones etc. I expect a mass exodus.
Ian Riley
51
Posted 27/01/2016 at 21:48:42
Averaging two to three goals a game! Did we actually expect anything else!!!! Please please sack him now!! I don't care who we have!! It cannot go on!! Martinez will send us down!!
Steve Guy
52
Posted 27/01/2016 at 21:49:00
Leak like a sieve and there's only one person to blame Imo. Martinez out!
Sean Patton
53
Posted 27/01/2016 at 21:49:29
Everton game - check
Deflected goal - check
Bad refereeing - check
That's 3 games in succession that has happened it is just tiresome and predictable.
Bun McGale
54
Posted 27/01/2016 at 21:49:33
Let's be honest about it, Man City bossed that game from start to finish. Yes the second goal shouldn't have stood but they hit the post twice, you make your own luck.
In the last minutes of injury time Everton were caught offside twice and as for Martinez substitutions everyone was like-for-like. Hardly game changing in any way... and as for Osman – my Granny could walk quicker than he can run.
Now let's hope the takeover is complete and the new owners send Bobby on his way along with his comedy coaching staff and let's enjoy his interviews when he gets his next job in League One.
Philip Yensen
55
Posted 27/01/2016 at 21:50:19
An utter disgrace. Sloppy, lazy, clueless. Get shut of that thick as shite manager. Time to off load most of these Championship players before they take us there.
If we'd have got to Wembley, the RedShite would have smacked our arses anyway. They have the luck and refs on their side. It won't mean anything to most ToffeeWeb readers but, that's it, my last comment – no more wasted time writing about this joke of a team.
Christopher Dover
56
Posted 27/01/2016 at 21:50:23
As long as RM is in the front of the queue to leave, I would take it.
Ray Roche
57
Posted 27/01/2016 at 21:50:29
Bad Luck? We've conceded 3 or more goals on seven occasions so far this season. That's not bad luck. It's shite defending.
Dean Williams
58
Posted 27/01/2016 at 21:50:36
That's rite Bobby ballbag. Leave a specialist right back on the bench for a center half who's having a fuckin nightmare. Too scared to drop him and he seems to be calling the shots. Pair of wankers.
Tony Hill
59
Posted 27/01/2016 at 21:50:57
I thought we did very well in the first half but died in the second. We created nothing when we needed to and we just cannot keep going for long enough. Why are we unfit?
The second goal was an obvious error from the official but we looked generally disorganised I'm afraid for that half and I don't think we can honestly say that we deserved to win. If that had gone to extra time, I could not have seen us prevailing.
John Stones is not a right back but the arse just fell out of all of them.
Jos Rowland
60
Posted 27/01/2016 at 21:51:12
Stones has been pathetic for ages now and he's starting to sulk and blame others for his awful defending, poor reading of the game and failure to win a single header he can go now for any amount near the £40 mill and Martinez must go.

I'm gutted and really don't know how I'm going to get motivated to go another game at Goodison this season now when the season is over... and I'm a season ticket holder.
Karl Jones
61
Posted 27/01/2016 at 21:51:23
3-1 up and we lose 4-3..where have I seen that before?
Thomas Surgenor
62
Posted 27/01/2016 at 21:51:24
Long time defender of Martinez. But – as knee jerk as this must sound – surely there's someone out there more capable of managing our club that him?
If we don't score four then we won't win. He has had two full seasons to sort this and we look further away than when we started.
He must go.
Craig Mills
63
Posted 27/01/2016 at 21:52:44
7th game this season we have let 3 or more goals in, 3rd game we have had a 2 goal lead and not won.......
It's been written thousands of times on here but our problems are all in defending, nothing changes so our problems will continue.
Patrick Murphy
64
Posted 27/01/2016 at 21:52:51
You get the luck that you deserve and, apart from the City goal which had clearly gone out, we lived on the edge all through the game particularly in the second-half. Del Boy's chance was the moment you thought ah well here goes another one out of the window. Bottom line is we haven't the nous or ability to change a game around, and no team can conceded the number of goals that we do and expect to win trophies.
Ross went missing, Lukaku barely appeared, McCarthy well off the pace as was Cleverley. Funes Mori and Barry gave their usual performances and the rest well they were just ordinary. Points is what it's all about now, get another five wins to ensure we can start over next season, preferably with a new man at the helm.
Seamus McCrudden
65
Posted 27/01/2016 at 21:53:13
Bye bye, Bobby.
John Atkins
66
Posted 27/01/2016 at 21:53:18
He has to go now, surely.
Scott Williams
67
Posted 27/01/2016 at 21:53:29
Another game, another bit of hope and then it's taken away. No excuses. Yeah the second goal shouldn't have stood but we should not be letting this amount of goals in. We should have sold stones in the summer when we would have got £40 mill for him. Now we'd be luck to get 40 quid!
Oliver Molloy
68
Posted 27/01/2016 at 21:53:29
It's all about taking your chances when you get them and once again we were found wanting in attack and defence. John Stones was very poor tonight, I thought. If I was the manager I'd give him a rest.
Absolutely was convinced we would go through so to say I'm gutted is an understatement. How the officials can get make a mistake like that is beyond me, and you know what if that had been any of the Sky 4 - 5 their players would have been all the referee. We hardly even protested, which makes me even angrier.
Dave Williams
69
Posted 27/01/2016 at 21:53:49
First goal was very fortunate, second should not have been allowed and third was a brilliant header from a great cross.
None were a result of bad defence though we can always highlight a misplaced pass at the start of a move and blame players for it.
The ref gave far more to them than us but ultimately we didn't do enough going forward. They teased us with Navas, Bruyne, SIlva and Aguero trying to tempt us into tackles and we didn't have much threat. Basic was a big miss not to mention a fully fit Coleman and Mirallas. I thought Kone did well and Funes Mori was our best player for me.
Not quite good enough on the night but, when the luck is against you like that, there is not much you can do.
Dean Rolstone
70
Posted 27/01/2016 at 21:55:11
I was going to bemoan our bad luck recently with deflected goals, but then the second half happens and I've got more grounds for complaint. How their 2nd goal was given I don't know, it was clearly out of play on first full speed viewing.
Then the winning goal looked a tad offside admittedly only seen this once so can't be certain but it would be just our luck. Now Sky and an ex-RS player are trying to defend the 2nd goal, unbelievable.
Tony Twist
71
Posted 27/01/2016 at 21:55:33
I think luck evens out if you make your own luck. The way we play is just so unprofessional.
We concede too many goals but that is because of the Martinez way. The team needs more than just this one-dimensional type of play. Martinez is a cat with nine lives, I have no hope that we will get rid him now or even if we bombed out of the FA Cup.
We need a team of leaders not a team of weak-minded players that just fold when the opposition attacks. It happens game after game, even when we were two goals ahead the majority of fans knew we still weren't favourites to win. And so it proved to be.
Kevin Dale
72
Posted 27/01/2016 at 21:56:38
It was always going to be tough to play a whole game defending and only attacking on the break, we didn't have the luck, but then again you make your own luck and our tactics this season have been baffling to say the least! things need to change and quick!!
Very very disappointed.
Brian Abbott
73
Posted 27/01/2016 at 21:57:58
We are 2-1 up and score first. They then score a massively deflected goal, and a goal from a cross which is clearly out of play. I was watching the match on TV and was just waiting for the whistle because in REAL time it was obvious. Why are these officials so damned inept. How much do they get paid to be so useless?
And finally, PLEASE PLEASE if we can get £50M for Stones, don't just take their hands off, go for the head as well
Totally disillusioned at the moment. Citeh are a decent team but we deserved more tonight. Sad times I'm afraid.
Gary Mortimer
74
Posted 27/01/2016 at 21:58:04
Stu @35,
The way Stones and Lukaku played tonight, it'd be no loss if they left – take the money. Our biggest game of the season and Lukaku doesn't bother turn up – he was poor on Sunday and even worse today.
It's a shame their 2nd goal will detract from the fact that City were all over us like a rash. Martinez will have a ready-made excuse.
Chris Gould
75
Posted 27/01/2016 at 21:58:30
Terrible officiating, terrible game management. Stones should never have started and Deulofeu should never have been replaced by Kone. Absolute nonsensical substitution.
City players were nervous about Deulofeu's pace, bringing on Kone invited more pressure. Funes Mori was very good, as was Barry.
Stones was terrible. He gets caught out of possession time and time again. Incredibly frustrating to watch.
Colin Hughes
76
Posted 27/01/2016 at 21:58:44
Another year supporting a team in a cup final playing the redshite as yet another average Liverpool side reach a final whilst our so-called best squad in years blow a 3-1 lead in a semi. Mediocrity resumes again.
Roger Helm
77
Posted 27/01/2016 at 21:58:51
I thought we played well today and we were leading before yet another jammy deflection and yet another wrong decision.
Of course we were going to be under the cosh playing such an expensively-assembled team full of the best forwards in the country but the lads stuck at it well.
I thought the subs made sense. Delofeu and Osman can't play 90 minutes and we needed cover in midfield and a forward player the ball wouldn't bounce off when played out.
Ray Said
78
Posted 27/01/2016 at 21:58:56
RM is Uncle Albert in disguise – every vessel sinks under him.
Dean Richardson
79
Posted 27/01/2016 at 21:59:46
Even now Roberto... you come out with the same rhetoric... "young players etc" ..
For the sake of our club,please go and go now.
Jeff Armstrong
80
Posted 27/01/2016 at 22:00:38
We where shit. Cleverley was the player we all thought he was... anonymous passenger. Baines & Stones awful; Lukaku has given up. Barkley and Deulofeu flatter to deceive; McCarthy might as well have stayed on the bench... and why bring on Kone as a right winger when you've got a proper right winger on the bench?
Martinez has lost the players; the sooner he does the decent thing and resigns the better for everyone. We might even see a bit of interest from the players under a new regime.
Tony Hill
81
Posted 27/01/2016 at 22:01:33
Questions do really have to be asked: in particular about why Deulofeu can only last an hour. It's absurd. We lose our most potent creative force for lack of stamina every game.
We badly need to find a good right back having lost out on Byram. Stones has never played well in that position and I don't understand why Coleman didn't start in a semi-final. If he was unfit, why was he on the bench?
Craig Mills
82
Posted 27/01/2016 at 22:02:13
I'm now struggling to remember the last GOOD game Stones had........
Bun McGale
83
Posted 27/01/2016 at 22:02:16
The whole problem is the manager, Funes Mori looks like a decent player, he gives everything but at times looks like a headless chicken and that is surely down to the manager's lack of understanding defense.
It is the first time ever in 30 years supporting Everton that I am not gutted losing a game because I never believed we would win it. It's the same old stuff time and time again and when a manager is analysing luck then it's time to go.
For all Bill Kenwright has done for this club, and he has done a lot of good, he definitely does not follow the club's motto and sadly some fans don't either. Sure, finances have hindered him but, at a bare minimum, ambition has to be shown and changing the manager is no longer a question – it should be a demand.
Paul Doyle
84
Posted 27/01/2016 at 22:02:20
A couple more displays like tonight's and Stones will become a Geoff Thomas of the modern age.
Not one of our players appealed when Sterling ran the ball out... The team mirror the manager: too fucking nice!!!
Kevin Jones
85
Posted 27/01/2016 at 22:02:30
On tremulous wave I felt the swell,
caught the roaring updraft saw and then,
swelled thrice forth a glistening bubble,
a giants breath in breadth and suze,
aswim with rainbow hue and shot with royal blue,
stretched so thin - that had to pop - and down to Deptford I did drop.

And now on pavements rude and grey,
toffee sticky mucked and hard awash with torn litter there,
all scuffed with spit and bile and slime,
the meanest breath of ToffeeWeb
all sharpened knives to whet their disappointment
and blame thrice over the golden vision
of an Everton Martinez sublime,
so bitter a mirror they do provide.
Anto Byrne
86
Posted 27/01/2016 at 22:02:47
Another hard luck story, but when we replace a defender with a defender and bring on Kone, it strikes me as total insanity.
Deulofeu is really the only match winner we have and Lukaku was held comfortably. One shot on target first half and nothing of note second.
Again defensively Stones out of position, nothing much on offer from Barry or Cleverley. Osman was a passenger with no legs.
Perhaps our biggest game of the season and we didn't start with our strongest line-up... what exactly was the problem with Coleman?
Other than being bitterly disappointed and yes luck and officials went against us but, on the night, we were typically out played, gave away the ball, and again could not defend.
God help us with Carlisle. The Martinez reign ended here tonight as far as I am concerned. It was a truly insipid display when it should have been blood and guts.
Nick Page
87
Posted 27/01/2016 at 22:03:00
That was Villarreal bent that one! Watch the free-kick Twatkinson gives against Lukaku right before half time, just in case he scored like.
Absolute filth. I've had enough of this game.
Chris Gould
88
Posted 27/01/2016 at 22:03:30
Well clearly, Roger, they didn't make sense. We nullified our own threat and allowed them to overrun us. We needed to stay brave as it was always likely we were going to need another goal.
Dave Williams
89
Posted 27/01/2016 at 22:05:12
I have said for 6 months now that £35-50m would do far more for us than Stones. Yes we need to buy a few natural winners who can organise on the pitch and keep the shape of the team intact. That was something City managed tonight which made it very difficult for us to break them down.
City can turn over the very best though weren't unbeatable tonight. Roberto surely cannot have long left to sort things out especially if the takeover rumours are true. The Yanks will be after a profit and won't like dropping £750 k or whatever it is for each place we slip in the league.
Andy Meighan
93
Posted 27/01/2016 at 22:05:29
A shocking 2nd half performance and we got what we deserved: absolutely nothing. I'd love to say that the only saving grace is it might hasten this clown's departure. But that won't happen. The man is so far out of his depth, it's untrue.
Paul Olsen
94
Posted 27/01/2016 at 22:05:34
Plenty of silver linings here. One step closer to getting rid of Martinez and more importantly it saves us the inevitable horror of once again losing to the lovely neighbours.
Let's face it, should we have slumped to win that would have been the final outcome. This is Everton after all, a club that has forgotten what winning and success are.
Frank Kearns
95
Posted 27/01/2016 at 22:05:59
I'm going to say look at the way they closed us down once they lost the ball to the way way we let them run on to us, and why are our players running out of puff after 60 mins or less?
ps: Where was Rom? He still can't control a ball, how can a simple pass bounce 15 yards off his foot? Lots of work needed with this self-obsessed bunch of players.
Bun McGale
97
Posted 27/01/2016 at 22:08:27
Martinez just said in his post match interview that "goals were going to be very important today" – no shit, Sherlock!
Phil Barry
99
Posted 27/01/2016 at 22:09:13
So the season is over (unless we somehow win the FA Cup) in January! It may sound knee-jerk but let's get rid of Martinez – we are not going to go down with these players; we may with this manager.
Dunc for a few weeks until we can get the right man, give him three months at the end of this season to assess the squad, decide who he wants to keep/sell etc. Full pre-season and sign players he wants and let's go again next season.
No point treading water until the end of the season just to sack him then.
Don Alexander
100
Posted 27/01/2016 at 22:09:18
Watched it, and despite our serial loser in the manager's jacket I just thought it went with the money, and therefore we lost, especially when you take into account the over-the-line de Bruyne "goal".
We offered next to nowt as a goal threat before or after Ross scored but given the situation of the tie at that point I can understand the theory that engulfed the players. The problem is that we then had to rely on our defence.........and hope for a competent referee.
But we all know what Atkinson delivers to us, and he gifted them a goal as per usual.
Moving on, my faith in a defence that concedes so often against the likes of Bournemouth, Stoke, Norwich etc left me resigned to the fact that Aguero, Silva an' all would do for us.
And so it came to pass that we lost..............again.
Cue the next pile of shite from Martinez in his press conference.
John Moore
101
Posted 27/01/2016 at 22:09:54
Get this fucking charlatan out asap! We're leading 3-1 and lose 4-3... unbelievable! That's par for the course these days.
And any one who wants Moyes back must need professional help, what the fuck did he do in 11 years? Klopp's been over there for 10 months and is in a final with a piss-poor team; we have the best squad we've had in 20 years and we're going backwards. Martinez will take us down given time.
Ray Jacques
102
Posted 27/01/2016 at 22:10:55
Patrick (#45), you sum up the situation perfectly and I don't think there is much more that could be added. All I would like to say is:
1) John Stones was awful – the first goal he was the wrong side of the attacker before the first shot was deflected and on the last goal he was ball watching whilst a forward some 6 inches shorter than him managed to get in front of him and head home. (We didn't close down for the cross, but hey we never press the ball so whats new?)
2) Taking off Gerri was poor as he was our biggest goal threat on the break. He went off and we wouldn't score if we played till Xmas once he had gone.
3) The second goal shouldn't be allowed, but we were struggling big time second half.
Just listening to the absolute dross spoken on Sky. Quote Andy Hinchcliffe on the second goal: "There is no way you can hold the officials responsible for that decision"!!!!
John Keating
103
Posted 27/01/2016 at 22:11:22
We played City the other week and did a good defensive job on them.
Tonight we are 3-1 up and are so open it is unbelievable.
As usual we could not put two halves in.
We are totally unfit both physically and mentally.
Now we prepare for the relegation scrap
Anthony Jones
104
Posted 27/01/2016 at 22:12:52
Everton almost knocked out a candidate for this year's Champions' League over two legs with nowhere near the resources that they have at their disposable. De Bruyne, Aguero, and Silva could easily be playing for Barcelona.
Martinez has assembled a decent squad on top of what he inherited, and by Everton's standards it is one of the best in recent memory, but Stoke's squad is pretty good, as is West Ham's, and Crystal Palace's. This is no coincidence. The new TV money has raised the bar.
Martinez has glaring faults, but only one club can win the cup.
Norman Foley
105
Posted 27/01/2016 at 22:13:12
As you are all aware, we've taken a lot of shit over the years. I cannot believe the bullshit I've heard this season which is just excuse after excuse from Ronald Macdonald (RM).
BK – pick a manager who has got some credentials and balls. I'm so pissed off its not true. I hope the Redshite lose 4-0.
Peter Carpenter
106
Posted 27/01/2016 at 22:13:32
3-1 up with just over an hour to go. You could defend like Stoke. Or you could put more forwards on, take off your fastest player and best crosser of the ball.
And by the way, your specialist full-back is on the bench with a centre-back out of position there instead. Another fuck-up.
GET OUT, ROBERTO.
Colin Davidson
107
Posted 27/01/2016 at 22:14:18
Just watched the game; what can you say? You got the feeling that we would have contrived to throw it away even without their deflected first goal and their second goal that should never have stood.
For all the reasons that have been done to death on here regarding the manager AND, as Eugene highlighted, the players' (lack of) concentration; Stone(d?)s in particular. A real defender would have been switched on enough to have marked Aguero for the third.
Just listening to Martinez on Sky: he's gutted. Credit to the away fans tonight. We have to pick ourselves up and sort this mess out.

Tom Roberts
108
Posted 27/01/2016 at 22:14:24
If Deulofeu scores the absolute sitter early in the second half then it's game over...
If he, Stones and Lukaku think they are worthy of Champions League teams next season then they are in for a shock. After almost two seasons of regression, we have to get rid of Martinez.
Before anybody starts about knee-jerk reactions, this is a comment based on last season and the train wreck that is this one... I repeat, he will take us down to the Championship. It's just a case of when.
Can somebody at the club please make the only sensible decision...
Paul Thompson
109
Posted 27/01/2016 at 22:15:26
We played well in the first half – hitting them on the break sensibly. Then gave away an unlucky goal. After that, it was the usual second-half deflation.
Man City are a great attacking side and had us under the cosh for most of the second half. Even with the ridiculous second goal, adding Navas and De Bruyne added to the threat immeasurably.
I can understand why Martinez made the subs (so we would be more solid and hold the ball up), but after that we posed little or no threat. Plus points – Robles, Barkley, Funes Mori. Stones needs dropping and if there is anyone mad enough to pay £40M, sell.
Tony Dove
110
Posted 27/01/2016 at 22:15:48
I thought semi-finals were give your "last drop of blood" games? Didn't really see that tonight...
I don't want to single out Lukaku but I wasn't impressed. In reality, City could have scored five and the bad decision meant we got one and they got two over the two legs.
As for RM, I think he has lost his Get out of Jail card. Goodison will be pretty toxic for the next game.
Andy Meighan
111
Posted 27/01/2016 at 22:16:00
Nick (#61) – clutching at straws, I'm afraid, pal. The reason we lost is when he took Deulofeu off and brought Kone, on therefore losing all our attacking impetus. He's the only one in the squad who creates anything.
For all Barkley's undoubted talent, the lad is braindead. As for Lukaku, did he actually play tonight? Another one who's started to believe hes actually worth £60 mil. Do me a favour...
The truth is we never lost that game because of the ref. We lost because, let's face it, we just aren't good enough. End of.
Tim Kells
112
Posted 27/01/2016 at 22:16:14
Typical Everton, they build your hopes up and take it away in spades. 32 years and counting since we've been to the League Cup final says it all. Totally gutted tonight, but let's be frank: any team that concedes three away from home, gets what they deserved.
Dean Rolstone
113
Posted 27/01/2016 at 22:16:17
I always had a bit of respect for Pellegrini, but failing to acknowledge they got lucky tonight and still complaining about the first leg just shows what a bad sportsman he is. As much as I dislike Chelski but at least Hiddink had the grace to admit the officials played a part in the result.
I'm now pessimistically expecting the same in Cumbria this weekend; they're out to get us. Someone tell me I ain't paranoid.
Sid Logan
114
Posted 27/01/2016 at 22:16:38
I didn't expect a win because we don't know how to win.
We are lacking in the essential ingredients that enable a team to win games. At the root of it all is the manager.
I'm going to throw my season ticket on the pitch at the next home game. My concern is someone will throw it back.
We need a team that will die to win. At the moment we are well away from that.
Christopher Dover
115
Posted 27/01/2016 at 22:17:16
Just listened to his post match interview. No worries – they will get stronger now and learn from the game and will keep on improving.
If they keep improving like they are, we will need to score five before we win a game.
Ernie Baywood
116
Posted 27/01/2016 at 22:17:49
Fuck it!!!
Seoirse Stanton
117
Posted 27/01/2016 at 22:18:08
Martinez out! No more to be said. Loved the guy, believed everything he said, but he is clueless.
Tony Marsh
118
Posted 27/01/2016 at 22:18:15
Is everyone at this club a shihouse? The dodgy goal that Twatkinson was nailed on to give, knowing his history with us, was just accepted by every Everton player on the pitch!!! Liverpool, Chelsea, Man Utd players would all have at least surrounded the Twat, arguing and pulling him towards the linesman. We should've told the League we would forfeit the game if Twatkinson, Twattenburg or Baldy Twat Lee Mason were awarded the game.
What the fuck was going on with the team selection??? No Coleman and Osman in... WTF. Three centre-halves on the pitch... WHY???
You can see it coming at Carlise at the weekend and then in the summer – a mass exodus of biblical proportions.
Kenwright, sick or not, is a Gobshite for allowing this to go on. Bill gave Moyes 8 years too long and now he will let Martinez drag us in to the abyss... I give up. The Kopites are just loving this.
Michael Polley
119
Posted 27/01/2016 at 22:18:37
We rode our luck with them hitting the post twice, but we had so much bad luck – a shite deflection followed by ball that was over the line before it was crossed, and what the hell was Martinez doing taking Deulofeu off for Kone???
We are in serious shit now, and if Martinez isn't replaced, we could be relegated. I'm struggling to find any hope. Maybe this possible takeover will be some sort of divine intervention. God, do we need saved...
John Jones
120
Posted 27/01/2016 at 22:19:23
I do genuinely feel that Martinez is done and his post-match interview adds to that. We kind of have two weeks to get someone in; forget the cup game and concentrate on getting a manager and one or two bodies in now.
As for the takeover talk, it's a "someone told me they aren't lying" story; heard it all before. When it's on the news, confirmed by Jesus, Stalin and Princess Diana at a press conference, then I'll believe it.
Joseph Murphy
121
Posted 27/01/2016 at 22:19:59
Well, the charlatan has just been on, banging on about the 2nd goal (not mentioning the 1st or 3rd) and how special things are. La la la....
The sooner he goes, the better, his current 29% win ratio (which is the same as he had at Wigan) will relegate my club and he'll be off to spout shite somewhere else while we struggle to recover.
Never ever wanted him; I was shocked and appalled when Bill listened to that drivel from the senile Wigan chairman.
Neil McAlan
122
Posted 27/01/2016 at 22:21:53
Time's up for Martinez now. Defensive record is abysmal and the season is now effectively over in reality. I'd be inclined to bring Moyes in to steady the sinking ship (let's face it, this ship is sinking at the moment) and let him stabilise us until the summer when we can reassess.

Who knows, Moyes never quite had this calibre of attacking players at his disposal at Everton so it gives him a few months to prove what he could possibly do with a better squad. I know one thing though, he wouldn't take us down which I fear Martinez may do in a year or two.
Bill Gall
123
Posted 27/01/2016 at 22:22:07
Well, at least he can't blame the Everton supporters for this one.
David Edwards
124
Posted 27/01/2016 at 22:23:51
Well that's that then – probably another barren year as an Evertonian, and I thought the 14 years between 1970 and 1984 seemed like an eternity!
Disappointed, but not surprised – it was almost a foregone conclusion that we'd be pulled back in time, and even if we'd kept it to 2-1, they'd have got us in extra time or penalties.
We didn't have the luck tonight, but City were by far the better team, and once again our weaknesses were exposed, with a number of our players going AWOL. I'm sure that several of our unsung, least remembered teams in the past would have put up more of a fight tonight – but I can't even get enough passion to having a go at the lads – when we know it's the clown on the touch line who has turned us into a Wigan-like sieve and makes leaking at least 3 goals most games the rule rather than the exception.
So.... can we now at least get something positive out of the night, by getting the taxi for Roberto – sticking an interim manager to get us the 11 points we might still need, and await the next season without our 'stars', but hopefully with a few bob in the kitty, and some new owners at the helm who will look to a proud club and give us the vision and the manager to match our motto.
RM – please go now! if LVG can offer his resignation, why can't you?
John Beesley
125
Posted 27/01/2016 at 22:24:07
Well said, Dave (#48), a very bad defence we have but a lot of key players have been out at one time or another. I know that all these goals that we have been conceding have not been luck but conversely we have been very unlucky this season.
David Price
126
Posted 27/01/2016 at 22:24:50
Luck evens itself out? I've been waiting since the semi-final of 1977 for that to happen.
Disgraceful tonight by Atkinson, he was yards away. I'm not blaming the team tonight but would've played Coleman as Stones is mentally gone at the moment.
Not sure how we recover from this now.
David Connor
127
Posted 27/01/2016 at 22:25:27
Stones needs to be dropped after tonight. Howard needs to be dropped. And Martinez needs to be drop kicked out of Liverpool.. .He is one shite manager.
Enough is enough. Cut your losses, Bill, this arsehole of a manager is taking us backwards... Take the money for Stones before his value plummets, as it will if he carries on with his suicide balls. Between him and Howard, they are setting us further and further back...
It takes a strong personality to make tough decisions. Do we have a Chairman strong enough? No we don't... We have suffered far to long. Things need to change!

Joseph Murphy
128
Posted 27/01/2016 at 22:26:46
Has anyone else noticed how Baines can't defend any more. He does that stupid closing down to 8 feet away, stops and puts his hands down by his side and dangles a leg hoping the ball will hit it.

How about closing the ball down closer, pressuring the crosser and not allowing him to pick his pass or even making a challenger, like you used to?

He's been doing it for a few years now and the opposition know it. They wouldn't have score their first if he could defend.
Andrew Clare
129
Posted 27/01/2016 at 22:29:44
I must admit, I thought Martinez would get it right eventually... but I was wrong. He has got to go. We are conceding too many goals and we never look like winning.
I guess we've got to start all over again with another manager. We are a great club with great supporters we deserve better than this
John Jones
130
Posted 27/01/2016 at 22:29:47
What happens if these yanks are mental and sack Martinez and get Bruce Arena in or worse?
Obama's after a job next season, he chats as much tripe as RM!!!
John Beesley
131
Posted 27/01/2016 at 22:30:53
Confidence plays a big part in the Martinez style of play; Stones's Cruyff turns have now turned into mistakes!
Kunal Desai
132
Posted 27/01/2016 at 22:31:31
Season's over. 7 more points to stay up is now the target. Hopefully new owners, new manager and new players in the summer.
Sadly we'll have to start again. Those that don't want to be at Everton, let them go.
Tim Kells
133
Posted 27/01/2016 at 22:31:33
Michael – #83. Yes, it was a bad deflection but you make your own luck. Watch again and see Cleverley (I think) trotting back rather than busting a gut to stop the shot in the first place.
I agree, though, regarding the substitutes. If the plan was for Deulofeu to play 60 minutes, why not play him for the last part of the game when they are starting to tire, rather than from the start?
Alan Bodell
134
Posted 27/01/2016 at 22:33:13
So we play Lukaku on his own again?v I don't think he needs to put his shirt in for a wash.
He is not a hold-up player, Martinez, you twat, and in a team that plays to his strength he could be lethal.
But at least we can concentrate on the league more now? We fucking need to...
Mike Connolly
135
Posted 27/01/2016 at 22:33:45
Andy Hinchcliffe on the second goal: "There is no way you can hold the officials responsible for that decision"!!!!
As well as you getting Blue blood money more for your operation on your ankles or knees, see if you can sneak in a pair of specs as well.
Yeah, I know I'm bitter and gutted.
Karl Parsons
136
Posted 27/01/2016 at 22:33:54
I was prepared to let Martinez turn us into Wigan tonight (beat City in an important Cup match) and he fucks that up as well.
Ciarán McGlone
137
Posted 27/01/2016 at 22:37:41
The chances of Martinez getting the boot are zero. Bad tactics, bad formation, bad substitutions and the return of Osman out wide... Sounds familiar.
However, I have to admit enjoying our football recently – despite the defensive comedy... I guess I'm still dining out on getting rid of Moyes.
Calm down, it could be worse... Much worse.
Tim Wardrop
138
Posted 27/01/2016 at 22:37:47
Cleverley is terrible. Not saying he's the only reason we lost tonight, just saying he's terrible.

Jay Woods
139
Posted 27/01/2016 at 22:38:30
Dave Williams, I totally disagree with you about the idea of selling Stones to raise cash for other players, given the mess Tottenham and then Liverpool made doing that very same when they sold marquee players at ultra-high prices.
In other words, one top class player is better for the team than the 3-4 average filler players his sale would finance.
Tony Hill
141
Posted 27/01/2016 at 22:39:28
That man Jones with his iPad once more on the touchline, issuing his hopeless, pointless instructions. That sums up the Martinez reign for me.
Peter Morris
143
Posted 27/01/2016 at 22:39:56
I feel sorry for Stones in a way. He needs taking out of the first team for his, and the team's own good. From the moment he made that crazy hospital pass into a crowded, dangerous area just outside our box, we never retrieved the ball again, and they went 3-1 up. To make matters worse, it was Stones who lost Aguero when the cross came in.
In general, our ball retention is piss poor, and so many goals have be conceded this season by poor ball retention in our final third and our full backs are too far advanced, and we are attacked around the back of the full back positions or down the inside left or right channels. The centre backs are always outnumbered and Martinez doesn't either be able to see it, or else he doesn't care.
I'm thoroughly depressed about the whole situation. How does a piss poor outfit like Liverpool get to the final. They are utterly crap, yet there they are at Wembley again. Only Everton eh? Fucking Cinderella club if ever there was one.
Graham Mockford
144
Posted 27/01/2016 at 22:40:28
It turns out not only is Martinez not a very good manager – he's an unlucky one too.
Ciarán McGlone
145
Posted 27/01/2016 at 22:40:33
And am I the only one who thought Aguero's goal was offside?
Andy Connor
146
Posted 27/01/2016 at 22:42:14
Long-time reader, long absent writer (for a long long long time).
Tonight hits me on so many levels, to the point I wanted to write.
Usually I couldn't care less with the opinion of the masses, particularly the ToffeeWeb masses (which, like all social media sites, it's important to remember, is not definitive of the greater whole. Everton supporters are defined by FAR more than those who bother to write on this site. Including me.
Overall? I'm deeply, painfully, gutted. Like you.
I probably direct my anger in a different direction however.
In short, because it's ToffeWeb (amongst its other well-known names – none to do with the outstanding leadership of the site). I've decide that I need to make a passionate defense of Martinez.
I've thought about it very several months, hoping that this evening wouldn't come, but here you go.
Tick off delusional / blind / ignorant as you will. I don't care -but I'll listen (will you?).
I won't bother to win over those who've made up their mind. It's your opinion and I respect that. I just differ.
And here's mine.
I was born in 84. I've seen us win only ONE trophy (when I was 10), even as I enter my thirties.
Since I became conscious enough to follow the blues, Ive seen Walker, Kendall, Royle, Smith, Moyes, Martinez. And I'm a huge fan of what Moyes did for us in stablising us. That was incredible.
But here it goes. Martinez, as a manager, has given me hope. I believe he's a visionary, and like all visionaries flawed. And not able to deliver it all immediately.
I believe(d), for the first time in years, we could win a trophy (when did you feel that under Moyes?), even if I felt supremely nervous about our ability to get there.
The defence needs so much work. I see that as such a major flaw. And yet I see that as something that'll come in time.
So, my fear: We're going to spend the next few months getting rid of the only visionary manager we've had since Kendall.
And we'll start again. Because nobody has time for anything any more. No time for learning, no time for building. No time to learn from mistakes. Immediately I expect the response, 'He's had enough time'; we're close to relegation than to Champions League. I don't deny that. And yet I stop, and consider the past, the present, and the future.
A change is always better isn't it? Remove, and start again. Reboot, re-energise. It's all so straightforward. But with who? Have any of you ever managed people? Forgive the rant right now, but have any of you attempted to build a culture, a dynasty (those that are lauded when we look back, but given no time in the here and now).
My feeling? The onus is on the anti-Martinez crowd to make the case – who, why, and what do you think would change?
I'll listen intently, waiting to be persuaded. And I'm totally ready to ditch Martinez for the right choice (as we all should be).
But right now, who? And why? Question: does anyone feel we're throwing out the baby with the bath water with if we remove Martinez?
Cue vitriol. I'll read those of you who aren't abusive.
Andy
Peter Morris
147
Posted 27/01/2016 at 22:42:44
We can carp on about deflected goals (3 in 3 games) and goals that should be disallowed, with some justification, but the fact remains that under Martinez this team's defensive set up is far too exposed, and we concede goals in numbers associated with teams who get relegated. It doesn't seem to concern Martinez at all. He never refers to it as if it weren't a problem at all.
Can anyone point to a quote where he has even mentioned the team's appalling defensive record? No, neither can I. This issue is the single one that repeatedly undermines the potential of this team, and if Martinez and his coaching team cannot solve it, they should go.
Joe Clitherow
148
Posted 27/01/2016 at 22:42:58
It's clear to me that - with a heavy heart - we should sell Stones even though he is a very very talented player because he is simply not a very effective defender at Everton under Roberto Martinez. And he will never improve to his potential under Martinez/Lawrence, and frankly other teams will pay for potential. His value can only go down with high profile poor defending. Funes Mori at a fraction of Stones' mooted price was excellent tonight, doing all the things you want John to do. Funes Mori's decisions were really good: sometimes he lumped it away, sometimes he played it.
And by the way, for those slaughtering Lukaku, it seems absolutely clear to me he has been carrying an injury since the Man City league game and Martinez is playing him part-fit because he has no other credible option. Plus he sold Naismith without a replacement.
So give him a break. Lukaku that is, not Martinez, who is a clown of the first order and hopefully has now done enough to get his marching orders.
Colin Glassar
149
Posted 27/01/2016 at 22:43:11
I've now come to the conclusion that Everton FC – as a club, team, institution – whatever, is cursed. Poor management at every level, crumbling stadium, zero investment, no long term strategy, no luck in crucial games etc...
I doubt I will ever see another successful Everton team in my lifetime unless there's some sort of Manchester City-esque takeover and I can't see that happening either. Goodison needs a fucking exorcism!!
Christy Ring
150
Posted 27/01/2016 at 22:47:43
Enough, he has to go now. I know it was a terrible decision, allowing the 2nd goal to stand, but his tactics, team selection, managerial decisions have us in freefall.
I said it before the game, Stones, is not a fullback, why did he start ahead of Coleman, who was fit to come on Saturday, and again tonight.
He's gone back to isolating Lukaku up front on his own, and against Swansea, and City, totally ineffective.
He sells Naismith, and no-one lined up to replace him.
P45 NOW.
Jason Thomas
151
Posted 27/01/2016 at 22:48:19
Aguero's goal was a great finish. But what the fuck were we doing when the smallest man goes unchallenged for a header in the box?
We should have started with Coleman at RB. The really crazy thing is that Jags and Funes Mori played very well. We keep getting done out wide and let's be honest, giving Osman the start on the left was more of a token 'thank you' selection.
Victor Jones
152
Posted 27/01/2016 at 22:48:35
Well, well, well, Everton throw away another two goal lead. Not much really to say about that. So bloody predictable. Bad luck or not, our game management is rubbish. The defence was poor again tonight. Especially our "star man" Stones. Lukaku was also poor tonight. Our two main assets, poor, poor , poor. What can you do? When our star players don't turn up. In the last few minutes when the ball should have been launched into City's box, at every opportunity, we were faffing about, trying to pass the ball out of defence. Tip tap tippity tap. Everton throw away another two goal lead.
And yes , I know that , once again, we were unlucky. But luck or not. We are not in the final. You only get deflected goals, if you try a few shots. Our forwards and midfielders want to try that, more often. You never know, they might get a favourable deflection. And yes I am sick of the shite refereeing that we are now witnessing. I don't know. Maybe some sort of formal complaint from Everton might be needed. But would anybody listen? I said after the Chelsea game that a cup could be won or lost, on a poor refereeing decision. Well tonight a place in a Cup Final was decided by a poor decision. Or at least the chance of extra time was denied to Everton. I have been saying for years that Everton are an unlucky team. Well it seems like that to me. Remember the Bryan Hamilton goal????
Oh well. Back to the drawing board. No League Cup final.(I really thought that this was our year). But yet again we cannot defend a lead. Sitting 12th in the league. And we cannot buy a win. As said numerous times on TW, and on other sites......why was Naismith allowed to go?? He could have been just the player to have nicked a goal on Saturday past, and tonight. But Everton(and some supporters ) preferred the transfer fee. And We are stuck with Martinez. We (for now) are also stuck with Howard. Lukaku is off the boil(again). Not blaming Lukaku for anything. Just highlighting that when he needs a rest.......we have no cover. Criminal that Martinez allows that to happen. And a tricky little FA cup tie coming up at the weekend. Carlisle must be licking their lips. They must be all out , practising their set pieces. They must be rubbing their hands at the chance of having a go, at flaky old one dimensional Everton. Can we turn this season around? Mid table safety is now all that I can hope for. Does that ring a bell? Yes ,of course it does, , our season was as good as over , in similar fashion last season..Can we win the FA cup? Or are our players now thinking of the summer? As soon as we meet a team higher than ourselves in the cup......we are out.
Getting tiresome now, supporting this Everton team. And I have never felt like that before. But this is bloody draining. Martinez has sure put us through the ringer.(the past couple of seasons) And it sure isn't entertaining. Its bloody torture. But what can you do. What can you do. Me and all my fellow Evertonians out there, will just plod on Not really much more we can do. Keep hoping that something will change.
Just one more rallying call from me. Let's try and get past Carlisle and maybe get another Cup run going. And let's try and win a few League matches. At least maintain our Premier League place for next season. And if we are going to have new owners....let's hope they have the good sense to bring in a top manager. And dump Martinez. Who I only ever rated as a lucky manager. But who's luck has now run out. His nine lives have now expired. Goodnight.
Dave Williams
153
Posted 27/01/2016 at 22:48:51
Jay (#97), if we were to spend the money like Liverpool and Spurs did then I agree it would be better to keep him.
If, however, we bought decent players with a winning mentality, then I would sell him.
Colin Battison
154
Posted 27/01/2016 at 22:49:05
Colin 104 # spot on, its never going to happen, look at RS last night..2 hours at anfield without a goal but yet they still go through, yes , yes, yet another bad bad decision has hurt us but seriously would of it had made much difference, this team is finished with the current regime, simply awful.
We all know big changes have to be made.
Also, I called this earlier today - there is no way Stones should have started this game. Come on, we all saw his body language on Sunday against Swansea. He didn't give a flying shit. Forget the controversy, he cost us the tie tonight. We all watched the game, a joke for me.
Patrick Murphy
155
Posted 27/01/2016 at 22:49:40
Colin (104) I blame our lack of success during the last 20 years on hiding St Luke's behind that barrier between the Street End and the Main Stand. The problem is that the majority of us now believe us to be unlucky and those over the park to be lucky; over time it become a self-fulfilling prophesy.
Much of football is about belief and we were never blessed with huge amounts of it even during the good times. We can only hope that any new owners decide that they want a winning team, not a glorified boys club with a heart of gold. The charity work is admirable but the winning of football matches is paramount; if you don't win games, you don't win trophies.
Sid Logan
156
Posted 27/01/2016 at 22:49:45
When does the learning process actually end. Does it go on forever or does it at some stage reach competition.
It looks as though Martinez will continue to say he will learn from the last last game right up until he is sacked. Today was not a paricularly bad performance but like most things it has to be seen in context.
So we either be patient with Martinez, while he continues (as if a brand new Premier League Manager) to learn from each previous catalogue of errors, or we demand that the club listens to the supporters and plans for the future without him.
Experience has taught me that the probable path for the Everton hierarchy is to keep ignoring the clamour from supporters for as long as you can.
As supporters there's probably not a lot we can do at the moment except wait and hope – for what I'm not exactly sure but we can only hope it doesn't, longer term, include Martinez.
Clive Lewis
157
Posted 27/01/2016 at 22:49:48
Out of his depth.
Peter Carpenter
158
Posted 27/01/2016 at 22:50:31
Wanted: Hard-nosed, practical organiser with full knowledge of all aspects of football, including defending. Must be good at realising full potential of players.
Colin Glassar
159
Posted 27/01/2016 at 22:51:11
Unfortunately, John was at fault for both goals. The first one was due to his poor clearance, and then not shepherding Sterling off the pitch and the third goal he let Aguero out jump him.
I hope the lad is rested against Carlisle or he might not recover from this.
Nigel Rickman
160
Posted 27/01/2016 at 22:51:14
Time to get off Stones's back, the lad is 21 and he is good, but still learning. Everyone on here seems to want him to be the scapegoat. You can't blame him for everything, sure he makes mistakes, but doesn't every player.
Yes, we're all disappointed and fed up, but the reality is we are not good enough, just look at the two benches tonight. Maybe we expect too much from an average squad.
I said on here at the start of the season that we would finish between 10th and 15th, I've seen nothing yet to change my mind, and the FA Cup... well, quarter-final at best, I would think. We wouldn't get past the likes of Spurs, Arsenal, Man City etc.
To all the pissed off Blues like myself – time for a reality check.
Peter Morris
161
Posted 27/01/2016 at 22:52:17
Ciaran(101). It was very tight mate, but I think he was just onside. Just. The image is of poor Stonesy looking around to see if he could see Aguero, who was busy heading the ball into the net. Then he throws his arms around in frustration as if he wasn't culpable at all! Unbe-fucking-liveable!
Ray Jacques
162
Posted 27/01/2016 at 22:53:25
Jay 97, I understand the sentiment but surely you don't think Stones is as important to us as either Suarez was to that lot or Bale was to Spurs??? On current form I would sooner have Funes Mori at centre-back.
Perhaps Martinez has the same effect on defenders that Moyes had on centre forwards, ie, ruins their game rather than improving them.
I know he has critics, but Lukaku is the one we will miss when he goes as we have no other regular goalscorers and three or four sub standard replacements would be detrimental.
For what it's worth, I would get Martin O'Neill in after the Euros. I don't want an Eddie Howe type of up-and-coming manager, we've done that twice now and gone nowhere.
Dean Rolstone
163
Posted 27/01/2016 at 22:56:30
@ Ciaran (#101) – I'm with you on Aguero's goal and I'm surprised nothing more has been made of it. It seems the majority are happy blaming Martinez for tonight's defeat; even though I agree he has his faults that need rectifying, if the officials had done their jobs correctly we would be looking forward to a Wembley final.
Christopher Kelly
164
Posted 27/01/2016 at 22:57:13
Joke manager and tactics. We still played scared like a bunch of school kids who wet their pants in the big moments. 20+ years of losing and now it's in our blood. Our team rots from the head down. Good night and good luck. Pathetic up and down.
Dave Bowen
165
Posted 27/01/2016 at 22:57:28
Sterling was clearly interfering with play with the 1st goal, but with this week's rules probably correctly not deemed offside. How the officials can miss the ball is a foot or so out of play surely can't be incompetence, it's basic? That being said, Geri's miss was the turning point.

So one goal behind in a cup-semi with 15 mins to go, turn to the bench, a winger? No, a midfield playmaker? No, a fucking fullback. He should be sacked just for that. Truth be told we were shite, but until the 2nd goal, relatively, by Martinez's standards, comfortable.
Brian Wilkinson
166
Posted 27/01/2016 at 22:57:41
First goal Baines hands behind his back instead of charging to make a block, third goal, Cleverley hands behind his back instead of closing the player down.
Thank Christ for Jags and Funes Mori who put their bodies in the way to make blocks.
Colin Hughes
167
Posted 27/01/2016 at 23:00:26
Goals are now drying up; we only score 2 or 3 when we concede more. Newcastle will do us next week in the Premier League, buoyed by new signings, whereas Carlisle is no barometer for any kind of resurrection of the season.
Peter Carpenter
169
Posted 27/01/2016 at 23:02:06
How about a fat Spanish waiter anyone?
Shane Corcoran
170
Posted 27/01/2016 at 23:02:22
Ray, #114, Martin O'Neill? Sleep on it.
Milos Milenkovic
171
Posted 27/01/2016 at 23:04:10
I am with you Ciaran, or at least we should have more detailed replay.
We were robbed again and that was crucial thing. It's always important to analyse yourself but this amount of bad decisions in two weeks is just to much.
Incredible line of goals in last 3 games:
1 - Bizarre mix-up between Jagielka and Howard
2 - Huge deflection
3 - Offside goal plus after time ran out
4 - Bizarre penalty
5 - Huge deflection
6 - Huge deflection
7 - Ball out of play
8 - Questionable for offside
I really don't remember seeing anything similar.
To add to this run of totally awful goals, it is also symptomatic that we lost two probably most in-form players at the same time, just before a vital game.

Dave Williams
172
Posted 27/01/2016 at 23:04:12
Carlisle concerns me now and we have to win to keep any interest alive apart from getting to 40 points.
Lose there and Roberto is surely a goner?
Colin Glassar
173
Posted 27/01/2016 at 23:06:38
How about Glenn Hoddle? The best English manager out there...
Dave Abrahams
174
Posted 27/01/2016 at 23:06:58
Very hard to take, but Man City were the better team, much better. If every Everton player played like Funes Mori did tonight, we could have gotten through to Wembley. It was a semi-final, I don't think some of the players realised that.
There could and should have been more effort, especially in the second half, or is fitness really and truly the main reason we don't seem able to put 90 minutes together in one game?
John Raftery
175
Posted 27/01/2016 at 23:07:10
We were simply not good enough. The key moment was Deulofeu's miss in the first minute of the second half. If he had scored, then we would have gone through. After that, it was only a matter of time before we fell apart as we did at Sporting Lisbon, Dynamo Kiev etc.
Our forwards let us down tonight. Osman, for the hour he as on and Barry were excellent but we always needed to score two goals. The opportunities were there but we wasted the ball in the final third.
Man City could not even fill their ground for this game with two huge sections of their top tier completely empty.
Peter McHugh
176
Posted 27/01/2016 at 23:08:00
Our organisation is atrocious. Man City were 3-1 up on the night, we just needed one goal to stay in tie and take upper hand and then city get a corner with about 10-15 mins to go and Baines misses Aguero and nobody else anywhere near – thankfully Aguero missed that free header but we just don't have a clue. That's not inexperience, playing from back or being too attack minded that is just lack of professionalism at the most basic of levels.
As too was there 3rd goal, leaving Stones aside who was again culpable, but if you look after he clears the corner, 4 of our players just sprint forward with no thought of defending. We simply do not function as a unit defensively.
The match officials are ridiculous and I actually think are bent. Atkinson saying Stones took too long for a throw in and giving it to City and then they continuously waste time. Also non-existent foul given when Rom should have scored at the end of first half. Loads of awful decisions throughout.
Dave Williams
177
Posted 27/01/2016 at 23:08:24
Peter (#119) – he'd do for me. A born winner and he can organise a team and is a good tactician.
Or a Gary Neville type; we need a real winner in charge – not someone content with style over results.
David Morgan
180
Posted 27/01/2016 at 23:09:49
People blaming the referee and deflections. Well it was 19 shots to 4 and when you attack and shoot; you get, deflections, free kicks, luck etc. If the one that went over the line wasn't given, there was still another goal after it and 50 minutes of extra time waiting, which we would have lost anyway. Man City deserved to beat us tonight. Which leaves the tactics, selection and subs to blame in my eyes. I am a season ticket holder and watched on TV, I feel sorry for all the amazing away fans who went.
This was Martinez's get out of jail card and if we continue to slide down the league and get a beating at Anfield on 28 February, even our generous board will have to consider his future. I hope Martinez changes something and turns it around, maybe higher pressing, maybe playing our defensive midfielders in central midfield to dominate games or maybe just plays a 4-4-2. Either way, it's punishment going to Goodison at the moment. Something needs to change.
Kevin Jones
181
Posted 27/01/2016 at 23:11:30
John left our hearts like Stone, and in his defence Bob raised our dreams from the Mersey abyss, Bobby Dazzler writing the football poetry of the future with with a flamethrower on the side of ferry boats, while the toffee tugs blare loud, belching foul smoke, pulling no football Cunarder but lazynaisey sugar daddy daydreams.
Ben Attwood
182
Posted 27/01/2016 at 23:12:32
Did we expect anything different? Since the Villa game we have been very poor. Bournemouth was the start of the run. How many points have been given away in the league? Week after week the same approach. Who would have ever thought that Leicester, Stoke and Swansea would all get 3 points at Goodison in the same season let alone within a month? We even struggled against Dagenham. Everyone wants to play us at the moment. It was the same last season around this time. This is just not good enough. Away at Carlisle next on the TV. Jeez!
A team of under performers. Yes, luck has been against us for the last few games with bad deflections and poor refereeing decisions but there is no fight in the team and some of them look like they cannot be bothered. What other incentive than a Derby final is required to get the team up and playing or at least defending properly? Martinez has had a large transfer budget, such a budget predecessors could only dream of. What is going on?
Are Lukaku and Baines fit? Where was Hibbert or Browning tonight at right back? It comes to something when our best player on average each week is Barry who is way beyond his best. Why was Naismith sold? I would pick him above Kone any day. We needed his effort tonight.
Terrible substitutions. Our biggest threat going forward was taken off with the scores level on the night and almost straightaway City score. Who do we then need to create something? - only the player just taken off. He also brings on McCarthy at a key stage when he has not played for some time. There is an obvious lack of game management by Martinez. We have seen this many times most notably at Kiev last year when a 0-0 would have done and more recently at Bournemouth and Chelsea and against Stoke. Easily giving away winning positions. Criminal. Moyes had his limits but how many 1-0s did we witness, normally when the chips were down eg v Blackburn when Turner was sent off in the first minute. I would gladly accept a few 1-0s now.
It takes me a lot to be down on the team including the manager having lived through many many poor years with this being a semi final and all. BUT enough is enough. Martinez has to go. I had hoped he would have resigned last summer after a poor season. Never thought I would say it but get Moyes back to work with a set up and players he is familiar with and then review in the summer. Mourinho is available...
Dave Williams
183
Posted 27/01/2016 at 23:12:38
Hoddle is a great call, Colin – I can't understand why he has been out of work for so long...
Dean Richardson
184
Posted 27/01/2016 at 23:12:45
Sell Stones, Lukaku, Howard, Kone and Baines. Retire Osman, Pienaar, Hibbert. Let Roberto go.
So so poor tonight.
John Malone
185
Posted 27/01/2016 at 23:12:48
Where's Lukaku been since Christmas! Non-existent again!
Craig Mills
186
Posted 27/01/2016 at 23:13:10
No one is happy with what's happening at the moment at Everton, but if we sack Martinez who do we get in?
Klopp chooses the RS because they can spend £60-100M every season and will probably pay him £8-10M a year, Everton will pay £3M a year and scrape together £10-15M a season for transfers.
The fact is we will never attract top managers who can make that difference because we are a club that offers very little.
David Edwards
187
Posted 27/01/2016 at 23:13:50
Lyndon/Michael – please can we have a new banner motto below 'ToffeWeb' – which sums us up perfectly to any people browsing the site, what it is has been like to be an Evertonian in recent years/decades – and is well known to us all:
IT'S THE HOPE THAT KILLS YOU!
I'll sort out the T-shirts design tomorrow....
Fraser Auld
188
Posted 27/01/2016 at 23:14:50
Just a quick random poll to take my mind off the game and result... who is the bigger waste of space:
a) Graeme Jones; or
b) Steve Round
Tough one but I'll get the ball rolling with Graeme Jones.
Patrick Murphy
189
Posted 27/01/2016 at 23:15:34
We are out of the League Cup, which is disappointing enough, but why do some people insist on looking at the upcoming fixtures with such doom and gloom? It's almost as if there is a masochistic enjoyment of wallowing in Everton's ill-fortune or bad play. If that attitude is common currency amongst the players, manager and boardroom, then we are in for one horrible last quarter of the season.
Carlisle is an opportunity to get nearer to Wembley in the FA Cup and the Newcastle game is a major opportunity to put the spectre of relegation almost to bed for this season. Evertonians have seen far worse teams than the current one and have managed to will them on to unlikely victories. We are at the moment in danger of having the opposite effect on our current squad and if we as supporters don't show that famous Merseyside defiance when things are going awry, we will reap the rewards of failure and relegation will arrive quickly.
Yes, the manager isn't good enough; yes, there are major psychological flaws in some if not most of our player, but at the end of the day Everton and Evertonians will be here longer than any of those people and it is our club for good or bad and as such we should put aside any dislikes of current personnel until we are mathematically safe in the Premier League. Five or six wins will do the trick perhaps less, but the next league victory will be the most important one and the sooner it arrives the better.

Peter Carpenter
190
Posted 27/01/2016 at 23:16:07
John, since Kone has been left out Lukaku has stopped scoring – coincidence?
Paul Kelly
191
Posted 27/01/2016 at 23:16:16
Didn't even bother after their second went in as I thought it was a forgone conclusion that we'd throw it away.
Same shit, different day... surely he's gone on the morning (Bob).
Ray Jacques
192
Posted 27/01/2016 at 23:16:44
Shane, I shall try!!!
If our squad/players are as good as we all seem to think and therefore underachieving then we need a manager who can firstly organise them into a system of playing and then motivate them to play to that system.
We seem to be a collection of individuals with no set roles or delegated responsibilities given by the manager.
Steve Davies
193
Posted 27/01/2016 at 23:17:35
I genuinely thought that this clown may have been able to deliver on a cup. He must now be sacked. On his record. He has become a figure of fun now. My son is heartbroken. He actually thought this dick head could deliver and beat Man City.
Look at our league form. Expect Howard in goal next game. Nil; satis nisi optimum. I really do hate this halfwit of a manager. The only plus side is he took a below form Stones off... his job depending on it... and even then her came up short.
Shane Corcoran
194
Posted 27/01/2016 at 23:18:48
Ray, I agree but MON is a poor man's Moyes.
Patrick Murphy
195
Posted 27/01/2016 at 23:19:02
David (#129), Keep up, mate – we can't face the enemy on 28 February due to the League Cup Final taking place on that date.
Tom Bowers
196
Posted 27/01/2016 at 23:19:27
Whilst the result was in no way surprising especially when the starting eleven was announced they once again showed that some decent defending may have carried the day.
Alas, it wasn't to be with yet again some alarming defending and the question arises what is RM doing, if anything to get this team to close ranks when not in possession?
Before the tying goal even, you could see how wide open they were, simply because they cannot tighten up once they lose possession. Baines is no longer the force he was and Stones is not a good enough right back.
They really didn't make it difficult for City at any stage to carve them up and whilst one can point to some missed opportunities they didn't deserve to advance. Cleverley is not good enough and Osman is finished at this level. Barry plays a steady game but one also has to question his legs for 90 minutes at his age in that position.
Even with some injured players returning I doubt the defensive strategy Everton have will stop the rot. It needs a complete overhaul and RM is devoid of ideas so why is he still around?
Dave Abrahams
197
Posted 27/01/2016 at 23:22:39
Patrick (#136), I understand your points, but you must admit it is very hard at the moment to have any degree of confidence in this team, even more so with the manager.
Colin Glassar
198
Posted 27/01/2016 at 23:25:13
I didn't realise that the John Stones throw-in was given to Man City for time wasting. I thought it was a foul throw.
Well done, Shatkinson, you've just invented a new rule there, you fucking bent tosser!!!
Brent Stephens
200
Posted 27/01/2016 at 23:26:53
Colin, at the time I thought he gave it to Man City for Stones not taking it in the right place. Guess I was wrong.
Shane Corcoran
201
Posted 27/01/2016 at 23:26:55
Colin, definitely for time wasting. I think I read his lips say "every time". He also did a funny thing with his hands.
Sean Patton
202
Posted 27/01/2016 at 23:27:59
Taking into account both ties, it was a close run thing and a lot tighter than both cubs' respective resources would suggest it should be; it was only in the final quarter of the game that we were beaten.
I remember the last League Cup semi we played and went out with a whimper; this time, at least we gave it a go.
Patrick Murphy
203
Posted 27/01/2016 at 23:30:45
Dave (#147),
It was harder having any confidence in the Kendall Mk 3 teams and Walter Smith's journeymen teams. I can't argue that there is little evidence on show to justify having confidence in this current crop either... but somehow we have to push them over the line, the quicker the better, and then hope that those in charge take note of our issues and address them for next season – preferably in the Premier League.
Of course we can't make the players better players or the manager a better strategist but we have it within our power to get behind the team even for a few short months. Perhaps a change of manager has to come first for that to happen.
Eddie Dunn
204
Posted 27/01/2016 at 23:32:15
Dean (#115), no we wouldn't mate, we would at best have been level, and we would still have screwed it up.

Brian Keenan
205
Posted 27/01/2016 at 23:34:30
I think we should hold more protests and louder ones. I think they will only care if no one enters the ground and stays away in a peaceful and a dignified way.

I have never seen this at Everton and as the lack of effort is cruel on the hearts of many an Evertonian. I think if any one else had a home record like this one this year, the manager would be fired. The manager has even tried to help the players to defend nor sell them or buy others.

Everton not on TV on March (Sky) April might be the same or maybe it will be a title propect and we are just in the way. If the Chairman was an Evertonian he would act on this, rather than two years off hell.
Eddie Dunn
206
Posted 27/01/2016 at 23:35:07
Why were we poncing about for about 10 mins trying to get Barkley's fuckin nose to dry up? We were down to ten men and didn't trouble them at all in the last 15 mins....ridiculous!

Brent Stephens
207
Posted 27/01/2016 at 23:35:49
Yes, just seen it again, Stones wasting time on the throw in! As Colin and Shane say, where's that in the rule book to award the throw to the opposition?! Amazing! Surely you book Stones for time wasting and then let Stones get on with the throw!!
Joe Clitherow
208
Posted 27/01/2016 at 23:36:36
Martinez and his "coaching" staff, and John Stones getting slaughtered by Gregg O'Keeffe in the Echo
Dave Abrahams
209
Posted 27/01/2016 at 23:38:50
Patrick (#158).
Oh I haven't give up on them and my lungs will be screaming out for them next week versus Newcastle. I did a piece on another thread this morning urging the fans to get behind the team, regardless of the how we feel at the way they are performing right now. Staying up is the most important thing at the moment, and I do feel that we are approaching a relegation battle.
Barry Jones
210
Posted 27/01/2016 at 23:39:14
Hoddle, O'Neill, they have been decent managers in the past, but do they still have the desire and passion left inside of them for a big challenge (us) in today's game?
Maybe, but it seems a bit of a lottery out there at the moment with managers. How did Southampton pluck Pochetino out of thin air? That is the kind of magic trick we need to do.
Shane Corcoran
211
Posted 27/01/2016 at 23:40:21
Brent (#161), I thought it was in the rule book but I could be wrong.
It'd be pretty mad if he just made the rule up but you'd never know.
Brent Stephens
212
Posted 27/01/2016 at 23:40:29
OK. A positive comment. Let's not lose sight of the fantastic goal by Ross. Better then Delli Alli's.
Brent Stephens
213
Posted 27/01/2016 at 23:41:02
I'll try to have a look, Shane.
Joe Clitherow
214
Posted 27/01/2016 at 23:44:23
Worst decision of the night for me was bringing Kone on. Not because he played badly because he didn't, but he played his game which doomed us. The last thing we needed was Kone hold up play which just allowed City to regroup. However good going forward they are, they are certainly vulnerable at the back.
Fast counter-attacking football definitely bore fruit tonight with a goal from Barkley and what should have been a goal from Deulofeu from fast counters. Kone just killed the game off for us and it was not his fault.
Tony Hill
215
Posted 27/01/2016 at 23:46:51
Patrick (158), I agree that it is very important indeed to get behind the team. I want Martinez right out of the club but we absolutely must avoid a collapse of confidence which causes us to slide further in the league. We must not panic.
I think Goodison will actually be loudly supportive next week against Newcastle and I expect us to win.
We did look badly short of options in that second half tonight and I am alarmed that we are not showing any signs of buying before the end of the month.
Let's hope we'll be pleasantly surprised on transfers and on the takeover. Any change of manager seems much further away, though prayers are being offered.
Tony Abrahams
216
Posted 27/01/2016 at 23:47:56
Roger 56, the subs made sense? To bring Kone, on for Delafoeu, was one of the worse subs I have ever seen in my life mate.
Gerry was fading, so bring him off, but isn't Lennon the perfect replacement under the circumstances? It opened the pitch out for City, and gave an inexperienced centre back, playing out of position no protection.
City, still had to score at this stage, and as much as I like to attack, this decision showed how much the youth development coach, is really out of his depth.
Peter Carpenter
217
Posted 27/01/2016 at 23:48:43
We need someone who won't tell them how phenomenal and incredible they are but will tell them how to become phenomenal and incredible. Not some clown who leaves defence to chance in the naive hope of outscoring all opposition.
Chris Leyland
218
Posted 27/01/2016 at 23:48:46
Brent/Shane, The awarding the throw to the other team for time wasting might be in the rulebook, if so why didnt the ref do the same thing near the end when Aguero went to take the throw then stopped and gave it to someone else who then took a while to take it? Someone might think the ref favoured Man City
David Hallwood
219
Posted 27/01/2016 at 23:50:11
This is an interview with Martinez taken from today's Guardian:
"My philosophy and my way of working is not to keep clean sheets, my philosophy is to win games," he said. "It's a very general assessment to say we don't defend well. If you look at our defensive record away from home this season and our record at home, it's completely the opposite. That doesn't mean we play in a different manner away from home – we've got the same personnel, the same way of playing – so there are aspects that are affecting the manner of goals we are conceding."
And true to his word, we'd be. conceded 43 goal in all competitions this season, and we're only in January. Please God get shut of this delusional nut job before he totally ruins the club.
And Dave(#144) the t-shirt should read its spe qui interficit vos,
And true to his word we've
"As a manager, I want to defend but would I base the performance on wanting to keep a clean sheet? No. I base the performance on getting on the ball, having a big role, dictating and having a positive approach and scoring goals. Our team is top in the league for goals scored from open play."
Shane Corcoran
220
Posted 27/01/2016 at 23:51:20
Chris, he'd probably say because he pulled Stones up on the tenth occasion that Everton wasted time whereas it might only have been City's third.
Andy Crooks
221
Posted 27/01/2016 at 23:51:46
Two posts I would like to reply to. Roger (#56 if Deulofeu and Osman cannot play ninety minutes they should not be professional footballers.
Andy Connor, an admirable defence of the coach which I respect. However, I disagree. I do not see Martinez as a visionary; I see him as a self serving ninny who is utterly out of his depth and would have a man like Harry Catterick turning in his grave. In his desperation to win another trophy for himself he has, as he did with the Europa League, sacrificed our Premier League position for a futile attempt at a cup.
I thought our performance tonight was insipid, gutless and totally devoid of passion or inspiration. In fact a reflection of our coach.
We have, in my view the worst coach in our history and he will relegate us. He has nothing to offer our club and if he has not the dignity to resign he must be sacked. Tonight on the touchline he looked clueless, bewildered and utterly inept. Shameful.
Jason Thomas
222
Posted 27/01/2016 at 23:53:28
Ross's goal was superb. I was among the City fans. Quite a few got kicked out after the goal.
Brent Stephens
223
Posted 27/01/2016 at 23:53:48
Law 12
If that link works, it seems to say that delaying the taking of a throw-in should result in a caution.
Barry Jones
224
Posted 27/01/2016 at 23:54:17
I think we should get Charlie Cairoli as interim manager...........
Gordon Crawford
226
Posted 27/01/2016 at 23:58:04
To quote Martinez: "We have a very good group of young players. I hope we take this display as inspiration."
The man is clearly off his trolley.
Jim Bennings
227
Posted 27/01/2016 at 23:59:59
When it all boils down to it we were rancid shit in the second half against a City side ripe for the taking.
Gerry Deulofeu needs to start working on his fitness, it's criminal he can't last more than 45 minutes, great skills but hits a ball like a pansy wearing slippers.
Our attack has dried up, the Chelsea game aside.
Oh and good to see the same old aerial deficiencies were back for all to see tonight, Jagielka getting beat in the air by Silva really???
Piss poor again from Martinez, who's quickly making Moyes look like Pepe Guardiola.
He'll blame bad luck blah blah blah heard it all before, bad luck why we've won just 6 games all season and lessons learned from last year's two legged Europa tie in Kiev?? Yeah yeah.
Just finish this disaster of a season now and start from scratch with a new manager and new players that actually are fit, don't turn their backs on every shot and maybe just the odd few who can win a header.
The rest of the season, as long as we stay up I could not care less now.
Patrick Murphy
228
Posted 27/01/2016 at 00:00:23
If the goalkeeper wastes time over a goal-kick, it results in a yellow card, not a penalty or free-kick to the attacking team, so how can a referee award a throw-in to the attacking team when a defender is thought to be wasting time?
In protest of that and the ball over the goal-line decision, Everton should a) Not bother entering the competition next season; or b) Play the Under-21s in it – after all it's not as if we are ever going to win it is it?
Mark Scarratt
229
Posted 27/01/2016 at 00:06:38
Fabric since 1969. Fabric until I die... Which won't be long at this rate.
Unless we all boycott the next home game and all cancel our Sky subscription, nothing will change.
We have all been brought up on mediocrity sandwiched in between the occasional success. We'd have blown the final anyway.
In ten years time, I will be still sat in the Park End and this lot will all be gone. Sky got the final they wanted.
If you all feel that pissed off to come on here and moan then do the only decent thing left. Boycott the next game, cancel your Sky subscription and let football get back to how it should be.
Jos Rowland
230
Posted 27/01/2016 at 00:06:56
Yes good news indeed: John Moore made a comment (#71) about him wanting Martinez gone and he's buying our club isn't he super!!!
Oh... different John Moore... oh fuck, 4-3 to Newcastle then.
Jim Bennings
231
Posted 28/01/2016 at 00:07:07
I'd never claim Moyes was the Messiah that some did but he left the club with solid foundations and in a far better position than he found it in.
Those solid foundations built on a strong home record, playing to players strengths and being canny in the transfer market have been completely dismantled within three years of Martinez's reign.
It just proves his first season as a fluke, you are now seeing the real Martinez team, akin with Wigan, a club that will find fighting the bottom six the norm.
Dennis Ng
232
Posted 28/01/2016 at 00:10:20
They should have added time for wastage. Add that to the mistakes they made, they can't get any more biased than that.
Still, that cannot mask the complete sham that is RM. He's done. I don't want to hear anything about the FA Cup because I don't want anyone to get us relegated for a cup.
Tony Abrahams
233
Posted 28/01/2016 at 00:10:47
Patrick, I don't think Atkinson cost us the game tonight, I lay the blame firmly on the manager for bringing Kone on, and changing our decent shape.
But I fucking hate Atkinson, and genuinely feel he hates us even more. Not tonight mate, but I would love to see Everton's win percentage when this cheating bastard as ever refereed us. Or maybe I'm just too paranoid.
Craig Fletcher
234
Posted 28/01/2016 at 00:11:41
"The rest of the season, as long as we stay up I could not care less now"
Jim, does that mean you'll comment less on ToffeeWeb then?
Les Martin
235
Posted 28/01/2016 at 00:12:04
Can't blame the manager for a badly deflected goal or appalling refereeing via an unfit linesman who made a diabolical guessed decision.
Bad luck's got a hold on us at present and I feel sorry for the players who gave their all.
Kone was brought on to hold the ball up and allow us to gain possession which he did, and Jimmy Mac to bolster the midfield, right choices.

When the hex has got you, and the authorities cant take a multi million pound industry seriously enough to facilitate correct outcomes via new available technology, then it makes you wonder why bother paying good money and going through all that stress just to be cheated.
Jim Bennings
236
Posted 28/01/2016 at 00:15:57
Craig
I honestly can't see anything good at all about this season, a wasted season littered with mistakes and hard luck stories.
Probably the only good thing we can do is win at Anfield and end another embarrassing record there but we'll no doubt cock that up too!
Good luck with it!
Patrick Murphy
237
Posted 28/01/2016 at 00:19:04
Tony (#189),
As soon as I heard it was him in charge, I knew we would have an uphill struggle, it happens too often to be coincidence and how many games have Everton triumphed in, due to an officials error of judgement?
I can't wait for the City manager to be up in arms when the other lot get all the decisions from their very own Mr Clattenberg in the final.
Clive Mitchell
238
Posted 28/01/2016 at 00:24:38
Let's celebrate some positives. Ross Barkley is the most magnificent footballer, truly a privilege to watch him. Ramiro Funes Mori was immense tonight, what a warrior. Martin Atkinson will not get another Everton match for at least nine months.
Gordon Crawford
239
Posted 28/01/2016 at 00:29:40
Liverpool will probably beat City in the final and rub salt firmly into our wounds. I hate what we have become since the mid eighties.
Brian Porter
240
Posted 28/01/2016 at 00:31:47
With you all the way, Jim Bennings. Where was our much-vaunted attacking threat tonight.
Lukaku has been showing signs of tiredness in the last three or four games (or is he just tired of playing for a team that can't defend and wastes the effort he puts in to score?). And who do we have who could come in for a couple of games to give him a rest? Steven Naismith?
Oh no, Martinez in his wisdom sold him to Norwich, where he scored a goal and earned a penalty in his first game, without lining up a replacement first. Brilliant management that, Roberto. Kone is totally incapable of leading the attack and that is about all we have unless you want to count the injured Kevin Mirallas.
Tonight, again, Martinez's substitutions made no sense. Deulofeu was possibly our only hope of getting in a telling cross, knackered or not. Kone produced nothing. OK, Osman was tired and needed replacing but surely Lennon would have been a better option and Coleman for Stones? Why the hell wasn't our right back on from the start? Stones has been poor in the last few games, mistakes becoming the norm in his games and needs dropping to the subs bench until he stops believing he's already a legend in his own backyard.
The best defender we have at present is Funes Mori, who grows in stature with every game he plays.I saw one instance tonight when he made up about thirty yards across the area to make a brilliant last ditch tackle in the right back position where Stones should have been, but had gone walkabout.
In fact, Funes Mori and Deulofeu looked like the only two who were really fired up and really wanted to get to the final. Deulofeu's face showed what he thought when he was pulled off. Martinez really screwed up again tonight, bad decisions aside and it really is time we said goodbye to this one trick pony, whose trick has ling been sussed out and nullified by every manager in the bloody Premier League.
I can even see us making it hard for ourselves against Carlisle. Giant Killing anyone? Go now, Roberto before you totally destroy the last shreds of credibility that clung to our once great club.
Victor Jones
241
Posted 28/01/2016 at 00:32:13
A little of topic, but how come our last 4 semifinals have been against top teams. If my old memory is right, Chelsea... Man Utd... Liverpool and Man City). Just our luck. Maybe Everton FC is cursed. Remember other seasons when teams like Millwall, Birmingham, Cardiff, Portsmouth and Sheff Utd reached Semifinals. We were nowhere near.
No, we reach a semi-final when every other team also decides to get serious. Not really making a serious point....just a little observation. Maybe we are unlucky. Or is Kenwright unlucky? Or do you reap what you sow? Just clutching at straws folks, but we could sure do with our share of luck now. Anytime soon will do for me.A dubious penalty..a deflection of Kones backside....an OG. Anything. That's how much I want our next win(especially in the league).
Fifty years since Mike Trebilcock scored two in the 1966 FA Cup final. Can we win this years cup? Surely our players cannot now be tired. Surely they have enough about them to have a go? Or am I still only clutching at straws? Is mid table mediocrity now all that we can hope for. Changes have to be made. Or is this the lecacy that BK is going to leave us all. A clown of a manager.....whose big project has now turned into a complete joke.
Jamie Crowley
242
Posted 28/01/2016 at 00:35:24
Andy Connor @ 107 -
I'm with you. I concur. But...
It is getting too much to bear.
There's deflected goals. There's Terry offside. There's goals awarded that were clearly out of play. There's so much bad luck it's tragically comical.
I too, believe Roberto is a visionary. And as you rightly point out, visionaries – hell ALL human beings – are flawed.
I have to ask why John Stones started at RB. The same man directly culpable for the third goal.
I have to ask, even though unlike some I was all for the Kone substitution, why did he come on for Delo and NOT Osman!
There's questions to be asked. Is the manager at fault as much as you'd be lead to believe on this site? No. But he is making some damn dubious in-game decisions.
What KILLS ME reflecting on this is the attitude. The spirit and fight is just gone in some players. When that ball went out over the line and the little jack-ass greedy Sterling pulled it back, there was not A SINGLE PLAYER that I saw – from the comfy confines of my barstool in the pub in the good ol' USA – who contested the non-call. Why aren't our men going BALLISTIC at the grievance???
Something is up when we are aggrieved multiple times and we look like good little lap dogs just accepting it.
We need some fire, piss, vinegar, and vitriol infused into our desire to win.
I'll stick with the vision, but changes HAVE to be made in-game, and in our attitude.
Peter Cummings
244
Posted 28/01/2016 at 00:42:07
While we are all gutted at the (expected) result I was appalled at the vitriolic attacks on John Stones. Here is a kid who is thrown in at the Premier League deep end and, through no fault of his own, is being pilloried for a few bad moments while being played out of position against arguably the best team in England.
I don't believe, as his detractors claim, that he is big-headed and needs benching when others like Lukaku and Barkley, amongst others tonight, let down the loyal Blues who travel thousands of miles and spend hundreds of pounds, on their travels to be disappointed time and again.
Peter Carpenter
245
Posted 28/01/2016 at 00:43:37
'My way of working is not to keep clean sheets' – That's enough for the sack on its own. It is negligent as well as just fucking stupid.
Grant Rorrison
246
Posted 28/01/2016 at 00:45:36
Hope the Naismith money goes on getting us a referee. All the top sides have got one. The lack of foresight on Martinez's part in not getting one tied up in the summer is really starting to cost us.
Peter Carpenter
247
Posted 28/01/2016 at 00:50:26
Agree with you, Peter (197). Stones seems to get no direction at all from the manager. Martinez is dismantling his confidence.
I bet Stones can't wait to get away to a coach who will actually improve his game, rather than one who just talks head-in-the-clouds garbage all the time.
Dennis Ng
248
Posted 28/01/2016 at 00:51:18
Jamie, who does the players listen to? Us or RM? I'm against beating up players in times when the manager is visibly inept. I can't see the players having any confidence right now and after all these losing, I can only conclude (months ago) that it is the coaching (which is the manager's job) that is the problem. Visionary? Wenger is a visionary. RM is a failed copycat.
Ian Smitham
249
Posted 28/01/2016 at 00:53:26
Just got back from the game with my friend Rodger Armstrong, how classless are the Citeh fans? Almost made me think the unthinkable.
Craig Fletcher
250
Posted 28/01/2016 at 00:55:42
Andy Connor (107) I agree with you (and thanks to Jamie above for highlighting Andy's post in amongst the post-match fume), both in sentiment and in your veiled references to the often-negative drivel from a certain minority on this otherwise fantastic website led by Michael and Lyndon.
I'm getting as frustrated as the next man, but I still don't believe that changing managers is the right step at the moment, and I'm still prepared to give RM time. But.... and here's the but, it's our "golden generation" who may not have the patience of some of our fanbase.
This summer is going to be fascinating – will Lukaku, Stones, Barkley and Deulofeu in particular still believe in the RM project? If not, and if two or three of the names above move on, are we back to square one in terms of building a team? Could we do a Southampton and finish in a Euro spot even after selling our best players? Or, will the pessimists be proven correct?
Jamie Crowley
251
Posted 28/01/2016 at 00:57:10
Denis,
All due respect, I'm done arguing it. I still see a future with this man.
I will give you this - he's making some fucking stupid decisions of late. And it's got me damn pissed.
We've argued this forever. If I'm in the minority fine. I don't care. I concur with Andy Connor @107.
But as I've been told 1,000 times, I surely can't know shit from watching on telly in the USA, so what's the difference?
Off to punch my fucking dog.
Peter Carpenter
252
Posted 28/01/2016 at 01:07:08
Andy and Jamie, my opinion was similar to yours until recently. I thought he would be wise enough to realise that just a slightly more pragmatic approach would help but I really don't think he recognises the problem.
I would just love to have 5 minutes with him to ask him what practical action has he taken in training to eradicate defensive errors. I wonder if he could tell me?
I too, think he is close to something really good, but he is never going to get there by outscoring the opposition when you are regularly conceding three – 'My way of working is not to keep clean sheets'. If he does achieve success this way, he will be the first. You have to know the problem before you can solve it.
Dave Southword
253
Posted 28/01/2016 at 01:08:23
If the internet had been around in 1983.
It's disappointing, but the result is we couldn't quite live with a better team. Most of the defending was fairly well organised but we couldn't break out at times and that will make lucky deflections more likely, simply by them having more shots.
I thought we did quite well at times at slowing the game down, like we didn't at Chelsea, with innocuous fouls in the middle of the pitch. We need to see more of that at the right times in games.
This isn't particularly a game to hang Martinez with, but we'd better not make a meal of Carlisle.
Craig Fletcher
254
Posted 28/01/2016 at 01:10:40
Oh, and Peter (198) not sure if it's a sackable offence to say something ridiculous, but you're right in the sense that it is negligent and fucking stupid.
Mark Rimmer
255
Posted 28/01/2016 at 01:12:31
Lukaku's losing interest; he knows, no matter how many goals he scores, the defence will just cancel it out and more.
Stones seems to be developing a bit of a bad attitude. I've a bad feeling this could be another major blow for a team already low on confidence and things are going to get even worse before they get better.
Nine points should see us safe, I think we will get there but it will be a grind. Focus should be on safety and the FA Cup should not distract us from this, damned shame Martinez won't see it this way, the psychotic mind is irrational and illogical.
Dennis Ng
256
Posted 28/01/2016 at 01:15:15
Jamie, there's nothing to be argued on. The question is of IF. IF RM makes changes (which he had more than a season to figure out) that makes this "golden era" team (as he said) into a winning formula, then sure, he has proven his doubters wrong. IF he makes the relevant changes and fires up his team every single minute, he can start winning. When does the IF happen?
But we need to remember as Craig (203) alluded to, selling best players and still winning, this game we love is still a business. Do you see Everton being successful if we don't nip the problem in the bud? As much as we're afraid of losing our best players, who wants to play for us if we're losing? Who wants to buy our players? What does that mean for us?
As for Andy's (107) comment, I actually agree with him, and I don't mind giving more time, but I need to see progress! After 23 league games this season (have we not learnt anything from last season?) and yet we're going from OK into relegation form.
Apparently Spalletti is back at Roma so I can't throw his name around anymore. I would love to see what Roberto Di Matteo can do for us. Heck, if we're going for a short term solution (steadying the boat) even LVG looks better than this.
Also Jamie, don't punch your dog. I don't have pets but I'm against cruelty.
Scott Phelps
257
Posted 28/01/2016 at 01:22:12
Seriously gutted about the result. Shambolic officiating once again but still time to get Martinez Out!!!!!!!
Gary Rowett in. He did a good job with Burton and turned Birmingham around. Young English manager with loads of potential.
Derek Thomas
258
Posted 28/01/2016 at 01:33:38
I like these evening KO's, they fall just nice for my time zone +10hrs, especially when the sun is blasting in at 5am anyway, its no great hardship. I woke up, looked at the time and went back to sleep...why?
Well apart from not having it on to watch or record and not wanting to struggle with dodgy stop start feeds. The main reason was because I knew deep down we would find away to fuck it up. Over the years we always do and it seems worse under this Boss for some reason.
I've looked at highlights, seems we were 1-3 up with 70 mins to play. Oh and there was a deflection, the ball was over the line and one of the smallest guys on the pitch scores a header...see what I mean about finding ways to fuck it up.
Somebody else reminded me of this, cast your minds back to the end of September 2013 we battered a poorish Newcastle 3-0 in the first half, then hung on for a 3-2 win in the 2nd half...nothing much has changed, no lessons learned, no improvement - in fact we seem to have got worse.
Then we have all the stats; 6 in 18 or is it 19 now etc. etc. Martinez averages 60 goals against over 6 or 7 seasons. etc. etc. The total bullshit at Pressers. His oft times repeated variation on a theme 'No change and / or I don't do defending'.
As for the FA Cup, well the few time we have played Carlisle we don't seem to do well and some will be rested no doubt, tight ground away 4th round, not the worst bet for an upset.
We've gone backward and show no sign of reversing it. Based on this some are starting to ponder that compared to this train wreck, Moyes might be the 2nd coming of Catterick and Kendall Mk I rolled into one...*shudders.
So, fast forward 29 months and we again have a poorish Newcastle at home in the League...not much changes but it remains the same.
The options;
1) Stick; hope it comes good...accompanied by severe word in ear / kick up arse.
2) Get rid at the end of the season, but start making a list of potential candidates.
3)Get rid now and appoint temp. Internal
4) Get rid now and appoint temp external...you know, the 'M' word or even worse the FSW.
5) Hope the take over is Kosher.

Jamie Crowley
259
Posted 28/01/2016 at 01:34:00
As for Andy's (107) comment, I actually agree with him, and I don't mind giving more time, but I need to see progress!
That's a fair comment Dennis.
Scott Phelps
261
Posted 28/01/2016 at 01:43:35
Absolutely gutted about the result. Shambolic officiating again! Still time for Mythinez to go
Gary Rowett it. Did a good job with Burton and turned Birmingham around. Young English manager.
Gordon Crawford
263
Posted 28/01/2016 at 01:53:13
It breaks your heart to be a toffee. I wish something good would happen for a change.
Gavin Johnson
264
Posted 28/01/2016 at 01:56:15
Peter #198
To be fair to Martinez he said something like "My way of working is not to keep sheets, but to focus on winning games" But I hear what your saying, Peter.
If we were challenging for the top 4 again like the first season or playing like the only other team who was successful with such a 'devil may care' playing style - Kevin Keegan's Newcastle United. I'm sure even naysayers like Mr Hind and Walling would have acquiesced and become Martinez fans by now. It's not happened though. We've not moved on and seem to be stagnating at the lower end of the mid table.
I always counted myself in the Pro-Roberto camp insofar as I always felt we would come good over the Xmas period when we had a run of easier fixtures (at least on paper) and we would now be around the top 6. A lot of people were calling for him to go last season. I don't think managers should be changed so readily, especially when the manager had got the team to achieve their highest Premier League points tally.
But I think we need a change now. And Martinez should move on. I think he can leave the job with his head held high. He'd be leaving us with a better team than the ageing one he inherited. The problem is that we're not as good as the sum of parts and the manager has to take some responsibility for that, and the reason why it's probably a good time to part company.
We've had 2 managers who are the antithesis of one another. How about we get a manager in who's less conservative than David Moyes and a bit more defensive minded than Martinez. In other words a manager who is adaptable and can change their tactics and be the embodiment of both. Easier said than done. But I see great things in Eddie Howe and think Bournemouth play good football but also have a dogs of war mentality when needed. I think Howe could get a lot out the players in our current squad. I think the Everton job would have been too big for him last season but now he's got premier league experience he could walk into the job and command the respect of the players.
We've got 4 young potential world class players. What we're crying out for is the leaders and winners so we're not the piss weak team we're seeing out there. We can't close down games and we wouldn't have surrendered a 3-1 lead. Something's got to give. If a takeover is announced in the coming days lets hope John Jay Moores is decisive and we don't have to endure this purgatory for much longer.
My only fear is that we could get a left field appointment that sometimes happens with foreign owners. Someone mentioned Bruce Arena. Yes, that would be the kind of left field appointment I could imagine from American owners if we get the wrong kind. Hopefully the appointment would be someone like Jurgen Klinsmann if we have to go for an American based coach.
It's time for change..on and off the field.
Frank McGregor
266
Posted 28/01/2016 at 02:25:37
A change has to be made... maybe someone like Nigel Pearson who actually put the present Leicester City team together, or the current Burnley manager, Dyche.

The change has to be immediate before the Newcastle game.
Bill Gall
267
Posted 28/01/2016 at 03:03:20
Jamie (#123),
How much more time do you think he should be given? You talk about you would like to see progress when he has not demonstrated that there is a problem in his tactics from the middle of last season.
In his tenure in the Premier League his teams on average have been in the bottom 5 for the poorest defense. The back line he inherited was at one time one of the strongest in the league, and now they are playing with no confidence. He states that the younger players will learn from these setbacks, what players?
All the players we have got have been playing professional football since they were 12-14 years old, did they not learn anything? He has been given the job that a number of managers would be ecstatic to have and he is going backwards.
He is stating time after time that he will not change as he believes his teams are always capable of scoring more goals than the opposition, and unfortunately this is not happening. We are most probably going to loose players at the end of the season that will put us in a position that we may have to rebuild.
So how long do you think we should give him to rebuild?
Jack James
268
Posted 28/01/2016 at 04:42:22
There is for me a complete mentality issue throughout the whole club. From fans, to players, to senior management and the board.

We accept this mediocrity. 21 going on 22 years now without a trophy. Being in the top division in the country is not something to be celebrated

Silverware is what we should judge ourselves on. It is anything but Nil Satis Nisi Optimum.
Paul Ferry
269
Posted 28/01/2016 at 05:09:32
I'm a little surprised – I might have missed it so apologies if so – that it has not been mentioned that that Atkinson stole 2 maybe 3 minutes from us.
There were 5 minutes of injury time. De Bruyne was on the deck at '89. The game resumed at 92' something. That's 92 plus 5 plus 2 or 3 –- ie, 99 or 100.
Atkinson blew up in minute 97. He had total control over that.
City then were down to 10 and in effect 9 as Navaz was not moving.
We had 2 minutes at least taken from us by Atkinson. Nothing might have happened; something might have.
But 2 or 3 minutes against 9 men.
Philip Kolvin
270
Posted 28/01/2016 at 05:43:20
Mr Martinez's statistics don't lie, whether win ratio, goals conceded or points or games lost from winning positions.
But last night demonstrated clearly why:
1. The lack of basic skills, particularly just being able to run into space and recieving or making a pass. This ensured that we never gave ourselves any breathing space.
2. Failing to pick up strikers. The amoiunt of room given for the second and third goals beggared belief, but this was true for the whole game.
3. That winning mentaility which means you leave it all on the field, closing down, contesting every decision and ball, being on it from the first whistle to the last. This did not feel like a cup semi-final display from Everton.
4. A baffling lack of fitness from some players. Why does Del have to come off after 60 minutes? Why is our (lone) striker 15 yards short of most crosses? Why is our most ubiquitous player an ageing Barry?
5. Lack of leadership. Who is willing the team on. Where are our nasty players - our Gravesens and psychos, our Mountfields, even our Lyons, our Peter Reids instilling that dogs of war mentality.
6. The substitutions. What could Kone possibly have brought to that game? How can you swap a defender for a defender when you simply have to score? Why throw on your last substitute at the precise moment when Barkley is in need of treatment?
7. The game plan. I did not see one. The players do not seem to be aware of one or, if there is one, are insufficiently drilled to execute it.
Man City are a plastic bauble of a club to whom it is no disgrace to lose. But our record against the top end clubs speaks for itself. There is a vast and apparently widening gulf between us and then, we are not even in the chasing pack while TV money means that we are getting overtaken even by the next group after that, the West Hams, Stokes and Crystal Palaces.
The buck has to stop with the manager. He promised Champions League football. He will not deliver it, nothing like. If the Board has any credibility, it is time to call it quits.
Richard Lyons
271
Posted 28/01/2016 at 06:10:21
Hasn't he resigned yet?
Gordon Crawford
272
Posted 28/01/2016 at 06:23:18
Breaking news! He hasn't resigned.
Ralph Basnett
273
Posted 28/01/2016 at 07:12:45
With all the youth that RM is so interested in and keeps buying when are we ever going to see them on the bench?
Recently seen Dad's Army being advertised as showing in February but come to Goodison and we have them playing regular, what with Osman, Howard, Pienaar, Kone all getting on the bench. What chance do the youth have to come on in games like this and make a name for themselves???
Sigh, still got top ten and the FA Cup to play for...
Scott Robinson
274
Posted 28/01/2016 at 07:18:08
@ Jamie 208 – great observation. Every man and his dog could see the 2nd goal was over the line, the players knew it and just accepted it! Terry and Co at other clubs would be in the refs face till he reconsidered it. This to me says it all about the current state of play at Everton.
Harold Matthews
275
Posted 28/01/2016 at 07:20:46
Andy Cr. ' 178. Agreed with Ossie but with Deulofeu it's all about not pacing himself properly. From the first minute he was sprinting at top speed and I was surprised he lasted to the break. No athlete can do that and get away with it.
Mike Green
276
Posted 28/01/2016 at 07:32:09
3-1 up with a crucial away goal with not much over an hour to go against a City side packed with riches but everyone knows can be got at.
Deflected goal. Bad luck. Disallowable goal. Bad officiating. Winner. Well, winner.
Was I surprised by any of them? No. At 3-1 up, like any normal person I thought 'we could be in here......' but we are a shambles at the back and this is not going to change. Baines, by the way, is a busted flush.
Successful football is based on a very simple two sided formula. Score goals. Don't concede goals. This is as basic as it gets. If you're on £40k a week, lets say, this equation should be a bit of a bedrock in your thinking, pretty standard stuff I would have thought.
We're pretty good at the former.
We are fucking shit at the latter,and what's worse is the manager doesn't give a fucking shit about it!
At 3-1 up, despite my burst of optimism borne out of having watched football for 40 years thinking we'd just given ourselves a great chance, I instead was more interested in seeing how we would contrive to fuck it up.
Our lack of care at the back is frankly woeful. Our mangers dismissal of it is worse. We got to the semi-final of this competition via a stirng of gilt edged draws against lower league opposition. When asked the question from a quality side, when 3-1 up, we had no answer. We rolled over. We gave in because we knew it was just a matter of time.
You shouldn't be in charge of a pub team if you aren't interested in clean sheets. To be in charge of one of the oldest, most successful and richest (8th in the country/18th in the world?) clubs on the planet is beyond comprehension.
Forget the players he's brought in. Forget the style going forward. You cannot win a fight with one arm tied behind your back. Persist and we, ultimately, are doomed to failure.
It looks like a takeover is building a head of steam. New owners will know their numbers and once they've done the maths Bobby will be gone. Shame, but not as shameful as our defending.
Kim Vivian
277
Posted 28/01/2016 at 08:06:07
We didn't really come close last night. Besides the one-on-one against Deulofeu, I cannot recall Caballero making a save. We were saved by the woodwork twice and deflections are part of the game (as we benefited from last weekend).
I said before the game that we needed two and we could probably peg them back to 3 but as it was, the score last night could easily have been 4-2 to City (I have not counted their second goal – with that it could have been 5). We did not really get close to scoring apart from Ross who did and Del who didn't.
We play around quite attractively with some exhibition football but were it matters – both up front and in defense we aren't cutting it. The Martinez way could work if he would just team up with some specialist coaches rather than stubbornly thinking he knows best all the time. We have Duncan and he seems to have helped Rom but there must be good people out there with their badges who aren't quite ready for full time management yet. Find them and get them in.
I believe we really are on the cusp. It just ain't gonna happen without some change and help, and that is not necessarily just by ditching RM.
Joe Clitherow
278
Posted 28/01/2016 at 08:06:14
Guys for those of you who think Martinez is a visionary, you may be close but he is not a visionary, he is a dreamer. There's a world of difference between the two, based entirely on the ability to execute.
And here is how you are being fooled (sorry Gavin 218 don't mean to pick up on you especially since you say you have had your epiphany recently)
"Like the only other team who was successful with such a 'devil may care' playing style – Kevin Keegan's Newcastle United"
Except they were not successful. People just have that image that they were for a while and the media darlings still reminisce about the wonderful times they were beaten 4-3 at Anfield. That's just the point, they always lost when it counted because all out attack does not work as a strategy. They won feck all, got found out big time, plummetted down the league with a manager who clearly had no Plan B and got relegated. Sound familiar?
Don't forget either that in the arms race of the EPL this tactic has long been found out and countered, same as Watford under Taylor and Wimbledon were after initial successes.
Teams have to be able to adapt and play different styles, different tactics. In short have a Plan B, C and D for when A doesn't work. Martinez does not, cannot and will not accept this – IMO – unquestionable and obvious fact and will go the same way as Keegan (except he probably won't get the England gig where Keegan's naivety and ineptitude where even more ruthlessly exposed)
Richard Lyons
279
Posted 28/01/2016 at 08:17:50
Oh well, at least we've been spared the near certain pain of a final against the RS, in which they would equalise in the 8th of the 2 minutes added on for stoppages, then score a goal in extra time from a clearly offside position.
So I'm glad we lost!
Colin Glassar
280
Posted 28/01/2016 at 08:24:28
Richard, I'd rather get to a final and see what happens than chicken out beforehand...
Geoff Evans
281
Posted 28/01/2016 at 08:46:53
The Martinez book of inane excuses gets thicker and thicker. Just admit it, your a clueless waste of space in charge of a over hyped losers.
Gary Heywood
282
Posted 28/01/2016 at 08:52:44
EFC pre Premier League was a great club with great ambitions but since the Premier League started it has turned into a mediocre club with mediocre ambitions.
Our only achievement is to remain in the Premier League. Out of the other 6 clubs to achieve this EFC has the least points tally. Out of these 7 clubs EFC has been trophy less the longest. The League Cup is an embarrassment for EFC with 24 clubs being more successful in it.
Our only ambition is to stay in the Premier League, 10 trophy less years with Moyes proved that. That was the Aston Villa plan and look at them now.
Ray Roche
283
Posted 28/01/2016 at 08:57:05
Richard (#246),
Richard, I can see the point you're trying to make but I've never wanted Everton to lose.
True, the prospect of losing to the RS again is horrific but we are surely approaching the time when we'll reverse our fortunes against them.
Tony Abrahams
284
Posted 28/01/2016 at 09:00:42
Les Martin, if Kone was brought on to hold the ball up and give us possession then why wasn't Lukaku, taken off then?
We were coping fine, until Kone came on, and then our shape changed dramatically. It was a fucking absolutely ridiculous decision, at that stage of the game.
City still had to score, and we could have put Lennon on and played the same way, on the counter.
We were not getting overrun, and City never had much space out wide, until Martinez, decided to chase something, that didn't need to be chased. They had to score, we never did, and our ability to defend as a unit, and brake with pace, finished as soon as that sub was made.
It showed a distinct lack of knowledge in knowing how to hold what we have, and is the final nail in the coffin, for me regarding the manager.
You can't keep saying we were unlucky, when you make such stupid fucking decisions in how to manage a game. After all it was a semi final, and not a pre season friendly. I WAS FUCKING DISGUSTED WITH SUCH AN INEPT DECISION.
Joe Clitherow
285
Posted 28/01/2016 at 09:25:50
Tony 251
Agree totally. Kone didn't do what he does badly at all but what he does is absolutely the opposite of what was necessary. With pace and the threat of counterattack from Barkley, Deulofeu and Lukaku we could keep City pegged in their half. They pushed much further forward and pressed us higher up the pitch and we always concede in that situation, irrespective of the quality of opponent.
Deulofeu and to a lesser extent Barkley are pretty much the only players we have capable of threading a ball through to Lukaku (who I am absolutely convinced has been carrying an injury since the first leg and is not fully fit). Even Osman can do this too and he took him off. Kone slows things up and makes Lukaku play with his back to goal rather than running on to through balls and our attack was effectively nullified when Kone came on despite him not playing badly.
Barry Pearce
286
Posted 28/01/2016 at 11:30:28
He didn't have the balls to drop Stones. He should have learnt from the league game. Stones is not good at right back, to be honest he's not good at defending at all at the moment.
Why not start with Coleman?
Just please go, Martinez.
Sue Brown
287
Posted 28/01/2016 at 11:53:14
Paul Ferry (#238)
Yes, I was arguing that point with my neighbour last night... said I was paranoid about refs. I made it a good 3 minutes we missed out on; if the score had've been in our favor you'd not be hearing the end of it from the press/TV.
Sam Hoare
288
Posted 28/01/2016 at 11:57:32
Stones did alright in the league game. He's usually a better defender than Coleman. It did not prove so last night but that's not entirely Martinez's fault.
The consistently defensively flawed system and tactics we are playing is though. At 3-1 up we should have been playing tightly and organised looking to counter with speed. But no. Inflexibility rules again.
I'm fed up with it now and the worse thing about last night was that I was so unsurprised I could barely muster disappointment. Just apathy. Even scoring a goal holds less joy when you know that its almost inevitable that we will concede at least one if not 2 or 3 at some point.
We should really bring in a new manager now so that they have the rest of the season to adjust and scope out their team under relatively little pressure as we are fairly far from relegation. But that won't happen. Martinez will stay till the Summer and probably win a few games between now and then and suggest that we are in exciting moment looking forward to the new season where we have learnt our lessons. Spare me. Martinez out.
Nick Page
289
Posted 28/01/2016 at 12:12:58
Sue #255, have you listened to Jagielka's pm comments? We all seem to be in agreement. When was the last time we had a penalty in the league by the way?
Oh, and who noticed Crouch's dodgy pen miss against the RS in the shootout?? His missus must have threatened him with a barren spell in the box.
Kevin Jones
290
Posted 28/01/2016 at 12:18:35
Martinez must keep the helm, the ship is not sinking but the rats are devouring the captain and crew. However, beware Roberto you are leaving us open astern, no pose for anxious toffeemen.
Iain Latchford
291
Posted 28/01/2016 at 12:30:11
I was one of the few that argued on here that we should have taken 㿏m for Stones when it was on the table. We could have signed Van Dijk for a third of the price and reinvested in the team.
I want my centre backs to defend, not look "graceful". Playing Stones at RB last night ahead of Coleman was lunacy. Osman is so slow it was embarrassing to watch. Lennon should have played. At least he's quick to close down players and puts a shift in. In a game where we were getting deeper and deeper it was essential that we had someone who could break quickly. Deulofeu absolutely rinsed Clichy in the first half and should have scored at the start of the second half on another quick break. Taking him off was another crazy decision.
A combination of bad luck, terrible refereeing and poor management cost us potentially our first trophy in over 20 years. What's commonly known as a "cluster fuck". The most disappointing thing was that we could all see it coming. After the dust settled was anyone really surprised ??
Mark Andrews
292
Posted 28/01/2016 at 13:03:54
It's just so tiresome and predictable, isn't it?
What kind of a game plan was that? Defend and hit them on the break with a team who can't defend to save their lives is no game plan at all. Whilst some of our attacking play is occasionally as good as I've seen for some time, Martinez has made a once solid defence into a ramshackle leaking sieve.
The undoubted quality we have in our squad is being squandered by a physco-babble coach who is so far out of his depth it's frightening. It's got to a point were I can no longer listen to his interviews as they're simply cringe worthy. He's tactically inept and over reliant on the use of players who need to sit out due to their poor form or lack of confidence or a combination of both.
Playing Stones, a rare talent but one who's having a crisis of confidence due to the harsh spotlight he's under, out of position, did the young lad no favours. Then subbing him whilst chasing the game for, wait for it, a right back was a bizarre decision amongst bizarre decisions.
Taking off the prodigious and developing Deulofeu, again whilst chasing the game for the shot Kone again was baffling. It's clear that Martinez can't change the way he plays and that way will only bring hearthache.
Martinez, it's time to go.
Jim Hardin
293
Posted 28/01/2016 at 13:14:04
Well,
I am not sure if the game gets distorted coming over to the USA but I didn't think our play was as diabolical as others on here seem to think. I actually thought we came out and went at them.
This is Man City after all. Say what you want about their current seasonal run of form, but at each position, they have better players (not looking at future potential) than we do except at right back with Coleman in versus Zaboletta. Defense let us down again at times but really, a deflected shot, and an excellent header for goals are things that are allowed to happen with the current "philosophy" of defending of RM.
I am not sure that this is the game to decide to fire RM on if someone were on the fence as Everton gave a decent if not good account of themselves in everything but the final score and shots on goal. It is not like Everton were not worrying the Man City defense in and around the box even if shots failed to come as a result.
Two questions I have for the game are first, why is John Stones undroppable? He should have been on the bench given that he is behind Funes Mori at centre-back in performance and is not a full-time right back yet. Wonder how Coleman feels about that? This substitution took away the ability to bring on another player for the final 15 minutes or so.
Second question is being nitpicky but what the hell was Howard thinking on the second goal? He came out from his line at least 5 feet, turning and chasing the path of the ball instead of sliding along his line where he would have easily been to the goalpost to cover the shot. Wait a minute, it was Robles... so no fault there.
Guess we know the clean sheet problem and goals conceded is independent of the GK choice, so now many of you can get off Tim's back about every goal that is scored and worry more about the lack of defensive structure and the inability to defend of some of our players who are called defenders.
I truly wanted a match-up with Liverpool in a final so we could beat them and win a trophy at their expense as what better feeling could there be in football for a Toffee? Now I have to root for freaking Man City.

Christopher Dover
294
Posted 28/01/2016 at 13:33:44
For the first time in years I bought a season ticket, I do not expect to win every game, but do think with the players we have could perform to get us into the top six of the league.
Asking why we criticise so much? Because the team is getting worse each time we play, the same mistakes the same bad luck, if you allow the opposition to have loads of shots then the law of averages is they will score or get a deflection to score.
We have had very bad ref. Decisions but looking in the cold light of day at the city defeat we deservedly lost, we where not in the same league in the second half, how do you defend with a record like ours?
As to up and coming games, this won't be liked and is very negative but if it means losing to Carlisle to get rid of our manager then I would take it. If he is still in position then my season ticket will not be renewed, not a great loss to the club but if I turn up why don't the team.
Final point the away supporters deserve medals to travel, give up their time and money to be kicked in the teeth again and again with very little hope of change.
So sad I looked forward to the home matches but they have taken away the enjoyment and hope.
Nick Page
295
Posted 28/01/2016 at 13:57:25
And why did he give them a throw-in for a foul throw before Stones had thrown the ball? Pellegrini has been harping on in the press for weeks how he thought they deserved more at GP, that it wasn't a goal (Funes Mori's), that they should have had a pen in the league game... etc etc and then we get this last night.
No coincidence there, I'm afraid. And in my view, a lot of this started when we had the supposed temerity to knob one of the Sky4/Elites/European Giants (arf) for one of our players. They go along way those petro dollars even at thirty bucks a barrel!
Nick Page
296
Posted 28/01/2016 at 14:06:25
I can't stand this moaning arl get:
hTTp://www.manchestereveningnews.co.uk/sport/football/football-news/manchester-city-manuel-pellegrini-hits-10802590
What about all the dodgy pens they've had against us in the last couple of seasons?
Ray Roche
297
Posted 28/01/2016 at 14:08:09
Nick, yes, Audrey HAS been moaning about what they think they should have had but they forget last season when Jags was adjudged to have fouled Milner and a penalty was awarded despite no one from City claiming one.
And Mangala and Fernandhino should both have been penalised and red carded for kicking Eto'o and another player (can't quite remember who) in the head. Nothing is allowed to upset the favoured Sky teams.
Tony Hill
298
Posted 28/01/2016 at 14:27:17
Patrick, that is why we need harder so-and-sos in our team and off it. Your point last night about our boys' club image and our community work is also valid. All very proper stuff and I am proud that the club is so well-intentioned, but I don't go to watch a team of social workers.
Matthew Mackey
299
Posted 28/01/2016 at 14:33:49
As I say to all my work colleagues today who are either taking the piss or are sympathetic – when you support Everton FC there is ALWAYS a banana skin around the next corner and its been like that for the last 25 years.
My patience finally ran out ref Martinez being our manager last Sunday when once again we lost to a club that we really should not be losing to, especially at home where this season lets be honest our results overall have been appalling. So last Sunday against Swansea was the final straw for me.
I always wanted more entertainment when David Moyes continued to serve up his brand of football, but you know what? If I had a choice now between Moyes and his supposed "long ball" game that allows us to finish in the top five or Martinez and his "entertaining" football that is turning us into Wigan and thus relegation candidates then I'd choose the former every time.
Premier League football is a results driven business weather we like it or not and I'm afraid that Martinez cannot deliver positive results on a consistent basis because of our defensive frailties.
Bobby is a nice guy but nice guys don't win anything and he has taken us as far as he can. Enough is enough, its time for a managerial change.
Roger Helm
300
Posted 28/01/2016 at 15:22:58
Finally calming down and reading the posts. I agree it seems odd that we always draw top teams in semis and all the big calls go against us – I was there for Bryan Hamilton's disallowed goal against Liverpool!
Even so the result was fair as City were the better side by a distance, as they should be for the money they've spent.
Stones makes mistakes because he is so young. Are there any others his age in the Premier League? I think this tendency will get less with time. I hope he is not sold – with Everton the money would disappear, or be wasted.
M y hope is that the board, perhaps with new owners, will realise after three years that the Martinez project isn't working out and get a new manager, one who can get the players fit and strong and get the defence including Stones properly organised.
In modern football, money talks and we don't have much money.
Peter Roberts
301
Posted 28/01/2016 at 17:09:09
If Stones could defend as well as the fans who are defending him, then he wouldn't have his critics.
The same fans make excuses for him in the same manner that Martinez's excuses irritate them...
Nick Page
302
Posted 28/01/2016 at 17:19:32
A good old thread for when I'm feeling particularly bitter:-
http://toffeeweb.com/season/12-13/comment/mailbag/21793.html
Ray Roche
303
Posted 28/01/2016 at 17:38:22
There was no need for that, Nick. I'm now all bittered out.
Jay Harris
304
Posted 28/01/2016 at 17:45:49
Peter,
Can I refer you back to six months ago when every supporter to a man was celebrating that we put 2 fingers up to Mourhino and sang "Money can't buy you Stones".
Yes, the lad is having a tough time the last few games but form is temporary and class is permanent and we need to help the lad with his confidence right now – not pillory him for the manager's incompetence.
Tom Bowers
305
Posted 28/01/2016 at 17:53:27
There are no valid excuses for yesterday or the last 6 weeks. Everton's defending has been woeful.
I watched the game for a second time and it was appalling to see the slow closing-down of the City players. Okay, the officiating was bad but that is to be expected when you have Atkinson and playing the money clubs. It always seems to go in their favour as we also remember the Chelski game.
Then you have these no-name linesmen who miss blatant offsides and the incident yesterday when Deulofeu was clearly body-checked in the box but got nothing from the official with the flag five yards away.
The question is can RM get them back on track? Personally I think he just doesn't have the mettle to do it
Eddie Dunn
306
Posted 28/01/2016 at 18:20:29
Patrick (#284), I thought that Atkinson actually played quite a bit of injury time, certainly more than the basic minutes on the board.
I must add that I hate this ref, and have noticed the Sky 5 getting the benefit of the doubt for years now. These guys are part of the Premier League package, and don't like to upset the League's hierarchy.
The success of the Premier League is about selling their "product", and for that they prefer the biggest names. Whether it is corruption or not is questionable, more likely is it is just a mindset, that refs absorb as they get the bigger gigs.
Fancy Atkinson being sarcy with Jags? Would he have said that to Rio, or John Terry? I doubt it! Maybe we are too nice, imagine Carra or Stevie Me – they would have chewed his head off.
James Hughes
307
Posted 28/01/2016 at 18:20:43
Well said Jay Harris, I believe young John is class but a bit burnt out at the moment. Who knows he what's going on in his head right now.
He should not have started last night but it is been blatantly obvious that for the past two seasons at RB we have had Seamus or Hibbo. Roberto has not addressed that until last week with a failed bid. Stones could have cried off last night and got a note off his mum,but he didn't.
Class will out as they say and John Stones, unless his brain melts, will prove that adage.Meanwhile Roberto has definitely proved that, no class, no talent, not a scoobbie.

Frank Crewe
308
Posted 28/01/2016 at 20:06:49
Jay 292
You want to help Stones? Get rid rid of Martinez and bring in a professional manager and backroom staff.
Ian Smitham
309
Posted 28/01/2016 at 20:11:28
Patrick #284, noted your comments and I must say that I was at the game and dead level with the Assistant Ref when he gave the Offside that you refer to. It was as clear as daylight, our player was offside. I know it was late on and we were pressing but is it beyond the wit of the players at the back post to continuously avoid being offside??
Noting your comments regards the standards of refs and in particular one, on this thread and the other one running, just wondered what "ungentalmanly conduct" is??
Jay Harris
310
Posted 28/01/2016 at 20:15:34
Totally agree, Frank.
The sooner, the better.
Peter Mills
311
Posted 28/01/2016 at 20:16:01
I went in one of the Man City corporate lounges last night (a very generous birthday present from my brother). At half-time, their very special guest speaker was... Mark Halsey.
Question 1: "How has the referee done 1st half, Mark?"
"No big decisions, but I can't believe how little added time he allowed, that's a disgrace." (No mention of the phantom foul by Lukaku when it looked as though he might score with the last action of the half.)
Question 2: "Now, what about that penalty by Stones on Sterling a fortnight ago?"
"That really was bad, I don't know how a ref can miss something like that."
It all just seemed to be part of the Premier League script: decisions must follow the money. I don't think we lost the match because of the referee, but he was enthusiastic for City in the 2nd half.
My ticket put me amongst the City supporters; those I have talked with in the past always seemed quite grounded, but many now have had their heads turned by new money and expect results and decisions as God-given rights.
Patrick Murphy
312
Posted 28/01/2016 at 20:21:47
Ian (284) Perhaps that term has been replaced with misconduct, however, here is a funny story from the Daily Mirror in 2009.
A referee ordered a penalty to be retaken in a Sunday league football game after an opposition player "broke wind" as the ball was kicked.
The referee also gave the player a yellow card for the noise which was classed as "ungentlemanly conduct".
But Chorlton Villa, who conceded a goal on the second take, went on to win the match 6-4 against International Manchester FC at Turn Moss in Stretford, Manchester. Ian Treadwell, who has been manager of Chorlton Villa for eight years, said: "One of our players 'broke wind' and only the referee heard it and he booked the player.
"The other player had the penalty saved because it was a bad penalty it was nothing to do with any noise. Not one of their team remonstrated with the referee when the first penalty was taken. They were as shocked as we were as to why. "We are waiting for the Football Association to contact us after they have received the report."
The Manchester Publicity league club faces total fines of £97 for three dismissals and two yellow card bookings from the game. Mr Treadwell said: "The conduct of our players is normally exemplary. We are not a dirty team and we like to play football. "While I won't condone the actions of the players it is an emotive game and some of the players were sent off for entering into conversation with the referee. "This has come at a bad time in the season as we don't have sponsor and we are looking for a new sponsor for next season." Mr Treadwell said his team had learnt lessons from the game but the outcome was a "shame".
Pauline Riley, secretary and treasurer of International Manchester FC, said: "Both teams are very friendly. There's no animosity. It was just hilarious. "I did not get any bad vibes when they were telling me."
Mark Andersson
313
Posted 28/01/2016 at 22:02:12
Christopher Dover, I loved your last comment (I turn up for the match, why don't they); I concur with everything you say.
It makes me laugh when RM comes out with the statement "winning mentality" Even the games we have won were not exactly cruise-in-the-park affairs.
When this manager finally gets the boot, he will genuinely be dismayed, as he really thinks he's doing a good job; it's the players and the fans that let him down.
David Edwards
314
Posted 29/01/2016 at 00:11:07
Lyndon/Michael – POLL TIME! Roberto in or out?
I think we need to see where we stand as a fan base. If TW is to have an ultimate purpose, it is to air our views – a mix of supporters who attend home or away as well as fans far removed from Goodison, for distance or personal issues.
Do we represent the view of the match day supporters or are we just an unrepresentative sample of fans? I don't know, but let's have our say at least.
Colin Glassar
315
Posted 29/01/2016 at 00:19:43
There's been a poll on all day David.
David Edwards
316
Posted 29/01/2016 at 00:26:47
Sorry, Colin – just bloody seen it – down in the corner of my old iPad. Thanks! Look what Roberto's done to my senses!!!
Jim Hourigan
317
Posted 29/01/2016 at 10:09:30
Martinez should petition the football authorities for a rule change.
"It doesn't matter how many times the opposition score against us, when we score a goal, we're the winners." He's tried best of 3 then best of 5 but we keep losing that.
Add Your Comments
In order to post a comment, you need to be logged in as a registered user of the site.
Or Sign up as a ToffeeWeb Member — it's free, takes just a few minutes and will allow you to post your comments on articles and Talking Points submissions across the site.
© ToffeeWeb