Merseyside's Old Firm? The Sectarian Roots of Everton and Liverpool Football Clubs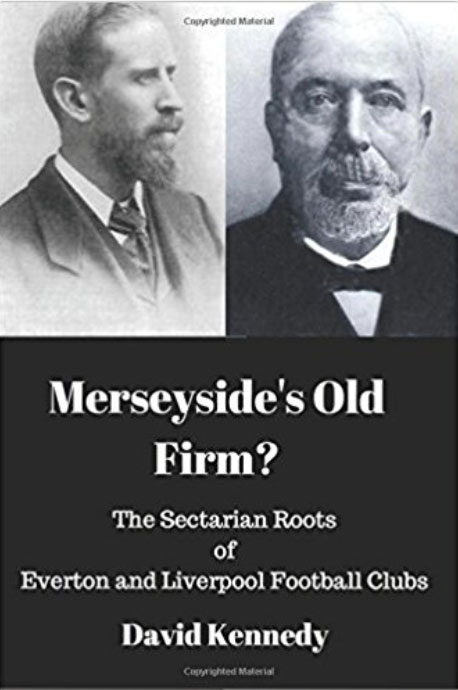 There remains an enduring fascination with Merseyside football's relationship with religion and in a new book, David Kennedy takes a look at the political dimension to the split in Everton FC in 1892 that led to the formation of Liverpool FC.
There is a prodigious amount of anecdotal evidence claiming Everton to be the team traditionally supported by the City of Liverpool's Catholic population and Liverpool to be predominantly supported by Protestants.
This is a proposition summarily dismissed by many so-called serious commentators as a product of urban myth rather than a reflection of reality.
This somewhat controversial subject, though, has never been investigated to any great depth and deserves closer scrutiny than the cursory attention it has hitherto been afforded.
The idea of this study is to provide that examination by adding documentary evidence to the anecdotal evidence the subject has trundled along on for decades."
David Kennedy is a writer who focusses on the history of football and football club governance. This volume is based on work carried out for his Leeds University thesis concerning the political dimensions of the split of Everton FC in 1892. 
Merseyside's Old Firm?: The Sectarian Roots of Everton and Liverpool Football Clubs is available for purchase from Amazon in paperback or Kindle format.
---
Reader Comments (56)
Note: the following content is not moderated or vetted by the site owners at the time of submission. Comments are the responsibility of the poster. Disclaimer
Dennis Stevens
1
Posted 17/02/2018 at 17:50:02
I always thought the split was primarily as a result of the political divide between Tory brewers & publicans and the pro-abstinence Liberals. All very unfortunate.
Lawrence Green
2
Posted 17/02/2018 at 17:58:54
If there was a 'sectarian' divide between the two clubs, how come most families on Merseyside have been split down the middle for much of the existence of both clubs?
I'm sure that there have been moments of a religious divide at certain periods, but I don't believe the formation of both clubs had anything to do with it.

Kevin Tully
3
Posted 17/02/2018 at 18:36:48
Thank God I'm a committed atheist.
Tony Sullivan
4
Posted 17/02/2018 at 18:53:03
Catholic family, four blues, three reds. Never believed in the religious divide.
As Lawrence Green says, there may have been moments of religious divide at certain periods, I think that is the way it has always been. There is certainly nothing like the 'Old Firm' rivalry in Glasgow.
Dave Abrahams
5
Posted 17/02/2018 at 19:33:14
I've never ever thought there was a religious reason for supporting either Everton or Liverpool. When I first started going to see the Blues, I went with a lad I knew, three or four years older than me, who was Church of England while I was Roman Catholic.
The schools I went to growing up, both RC, were a mixture of boys who supported both teams and never heard of any boy who supported one of the teams because of religion.
I'm talking of the the late 1940's onwards.
Paul Tran
6
Posted 17/02/2018 at 19:57:26
Interesting stuff. I wear a claddagh wedding ring from Co Galway. When I work/drink in Glasgow and mention I'm a Blue, so many people assume I'm Catholic and tell me that we are 'the Catholic team'. They won't have it when I tell them it's nonsense. It's as if they're desperate for us to be as bigoted as some of them are.
Charles Barrow
7
Posted 17/02/2018 at 20:08:49
Funnily enough I have the opposite experience in Glasgow. All the Celtic fans I meet assume Liverpool is the Catholic club and many recent (of course) Irish fans I know also assume Liverpool is the Catholic club – presumably because they want to assume that!
Like many posters, I don't think anyone will get far trying to divide support in that way. I think there are Catholics and Protestants who support both clubs (I mean one or the other) – end of!
Thomas Lennon
8
Posted 17/02/2018 at 20:11:06
Dad's family go back to the worst of the sectarianism in Liverpool in Dingle – which was huge 100 years ago:
Sectarian violence in Liverpool
.
Of the 11 sons & daughters all brought up Protestant, there were several who would go every week to whoever was at home, but ultimately I think most were Blue, though one did play alongside Hunt up front for Liverpool A team.
Football was where all sides mixed.
John Keating
9
Posted 17/02/2018 at 20:20:18
Have to agree with previous posters I think trying to put a sectarian slant on the teams is a non starter.
I'm RC. Went to all RC Schools and all were Blues and Reds. Fortunately, apart from 1 cousin all our family were Blues so never had the family arguments.
Agree with Charles at 7 – up in Scotland, I've met loads who say the RS are the Catholic team. I always try my best to explain to them and anyone else that, as far as I know and am concerned, it's a load of nonsense.
David Greenwood
10
Posted 17/02/2018 at 20:42:02
I'm pretty sure that's not how you spell alcoholic, Kev @3.
How are you mate?
Brian Williams
11
Posted 17/02/2018 at 21:12:55
If there ever was allegiance to us or the RS depending on your religion (there certainly isn't anymore) then it should stay buried in the annals of history where it fucking belongs!
Alan McGuffog
12
Posted 17/02/2018 at 23:57:05
Total bollocks. I hate this shite. There never has been a sectarian divide. Ever.
Makes us a million miles up the evolutionary scale from those Neanderthals in Glasgow. My kids are Catholic. I'm not. We are Blues. Go explain.
John G Davies
13
Posted 18/02/2018 at 00:53:39
More conflict caused through religion than any thing else. That's one of the reasons why I am happy that I give it a miss.
Biggest confidence trick ever played on the working class in my opinion.
Don Alexander
14
Posted 18/02/2018 at 00:59:02
My mother is 94, still 100% savvy, born and raised "on the docks", was nearly adult in the blitz of WW2, and she assures me the religious divide in her young life had a lot of sway in which team you supported.
She's a "proddy dog" (in the vernacular of her youth) and lent towards the Reds as a consequence. My dad's a Scot, another "proddy dog", but he supported Celtic as a lad because they played the better football, to quote him, and when he ended up in our city, he supported Everton for that very same reason.
And so do I, and my son, and his son, etc etc.
Derek Thomas
15
Posted 18/02/2018 at 01:07:41
Jeez not this auld bollocks again... I know we've no game and its a slow news week, but really.
If you pick your 'facts' you can make a case for either or, lets leave all this sectarian stuff to those muppets up north and over the water.
Also, the sound of silence is deafening from the FA Re Holgate... the RS media mafia making sure they get a free walk again.
John Keating
16
Posted 18/02/2018 at 06:36:01
I reckon it was more "tribal" between parishes rather than religion. As everyone has mentioned families were blue and red so religion was not a factor.
I was born and brought up in Upper Beau Street and in the Friary parish. Half the kids in the 4 squares went to the Friary and were mates, the other half went to SFX and we had nothing to do with them.
Half the kids in Great Homer Street went to the Friary and were mates the other half went to St Anthony's are we never saw them. Regardless still it was a mix of red and blue.
The only time I ever saw religious shit was during the lodges walk when they marched along Netherfield Road going down to Central station for their day out in Southport. Bit of nonsense then but bloody hell a few we went the match with!
Thomas Lennon
17
Posted 18/02/2018 at 07:50:10
Having lived in both Belfast and Glasgow, I think some of the comments here refer to the shocking attitude of many in those cities where everything has a 'side' – even the colour of primary school pencils. Religion is an utter obsession. Coming home to Liverpool, the obsession was football, and all the better for it.

Alan J Thompson
18
Posted 18/02/2018 at 08:05:24
If there is a religious involvement, it is that St Domingo's were Methodists who frown on the imbibing of alcoholic beverage.
I, myself, partake only to understand the problems bedeviling others and believe me, despite my best efforts, there's an awful lot out there.
Dermot Byrne
19
Posted 18/02/2018 at 08:35:30
There must be something to row about here. The consensus that religion plays no part in Liverpool football is all well and good but imagine if we were like this about players... Schneiderlin for example. Oh we are!
Ed Fitzgerald
20
Posted 18/02/2018 at 08:46:58
It certainly true that the Methodist movement was the driving force behind the formation of many of the early football clubs.
I think we are kidding ourselves if we don't believe that there aren't still significant elements of sectarianism in this city and therefore at the match, eg, The banks of the Royal Blue Mersey – it's "to hell with Liverpool and Rangers too"? – I don't think we are singing about QPR... are we?
For most sane people in the city, including the hierarchies at both clubs, I don't think for a second that they believe in bigotry; nevertheless, within the fan base I am sure there are plenty of bigots. Some on here seem to be dismissing the author because it was all a long time ago and things have changed.
However, it's still essentially impossible to be a prime minister in the UK if you are a Catholic, and the Orange Lodge are still marching celebrating a victory secured in 1690. There is currently no government in Northern Ireland because the DUP won't officially recognise the Irish Language – Progress?
Brian Williams
21
Posted 18/02/2018 at 11:28:25
I think we are kidding ourselves if we don't believe that there aren't still significant elements of sectarianism in this city and therefore at the match.
Sorry, Ed, I've been going to the game for 50 years and religion hasn't been mentioned once with regard to local allegiances, either at the game or in the wider scale.
Don't create stuff that just doesn't exist!
Ernie Baywood
22
Posted 18/02/2018 at 11:36:27
One side of my family all Catholics and Liverpool fans. The other all Evertonian Protestants. I might be the first atheist Evertonian in our family.
I've come across Merseyside football and religion being intermingled but never with a particularly defined line between one-another.
John Keating
23
Posted 18/02/2018 at 12:30:35
Doesn't really matter now as I see our cousins over the park are all now going Muslim.
Tony Ateman
24
Posted 18/02/2018 at 12:35:15
Ed (#20), Wasn't / isn't Blair a Catholic?
Jon Bentley
25
Posted 18/02/2018 at 12:45:30
I started going to the match in the early 80s (a short period of drivel (Coventry at home etc) followed by "this football lark is easy we can beat anyone we want" etc) but I distinctly remember a time when half-and-half bobble hats were the rage. Have Blue/half Green (Celtic) whilst the RS wore half Red/half Blue (Rangers).
Add in the line "to hell with Liverpool and Rangers too", makes me think we are or were somehow more the Catholic side. It might be a fan creation thing rather than based on anything real though.
Not that it matters, or influences fans who to choose now. Being shite and having Fat Sam as manager has more of an impact on fan base.
Mark Wynne
26
Posted 18/02/2018 at 13:02:04
Tony,
His wife and kids are and while it's true he attended mass as Prime Minister, he didn't actually become one until he left Number Ten. It's not technically against the rules, but you have to wonder why he would wait unless it was because of the sensitivities around Northern Ireland.
Not very football-ish I know. In short though, some people are bigots and will find any convenient outlet.
Phil Bellis
27
Posted 18/02/2018 at 14:23:10
I always assumed Rangers were mentioned in our battle hymn because in the early 60s, they were allegedly the "biggest" club in Britain. We beat them over 2 legs in the British Championship in '63 – an Everton side which included Young, Brown, Gabriel and ex-Rangers' Alex Scott
The violence from the pissed Rangers fans was appalling, particularly the bottle-throwing onto packed terraces
Does anyone know when in the post-promotion Shankly seasons this song originated? Could the Rangers reference merely have been a consequence of this match and their status as a big club? Much as Leeds and Forest were included in opposition chants when they were having success?
Gerry Quinn
28
Posted 18/02/2018 at 18:43:52
Religion in Norway is mostly Lutheranism, with 71.5% of the population belonging to the Evangelical Lutheran Church of Norway in 2016. The Catholic Church is the next largest Christian church at 2.9%.
Derek Turnbull
29
Posted 18/02/2018 at 20:54:47
Did we ever sing a version of Sean South of Garryowen or the Soldier Song?
I believe that they were the biggest Celtic songs of the 60s so would have thought they would have been obvious ones to rework?
Si Cooper
30
Posted 18/02/2018 at 21:42:45
I think you could get those half-and-half hats and scarves in whichever combination you preferred.
There was apparently a significant religious divide in the city at one stage, but I've never seen any evidence of that applying to the football teams. David Shepherd and Derek Warlock did much to expunge the ridiculous notion of Christians hating each other.
By the way, it's not religion that causes the problems. It is always people co-opting a cause to further their own ends. A certain sort will always find something to cloak their bigoted and self-serving motives in.
Mike Hughes
31
Posted 18/02/2018 at 21:44:44
I was brought up RC but am now not religious at all. Catholic, Protestant, Muslim, Jew, Buddhist, pagan, Wicca, Scientologist – I couldn't care less.
However, I've always regarded the RS as the spawn of Satan.
My Dad, 1923-2003, went to watch both sides in the 50s and 60s – mainly on the lash with his mates. He was a devout RC but I remember him telling me that any religious split / allegiance was crap. I think he would have known about it if any existed.
Jay Wood
[BRZ]
32
Posted 18/02/2018 at 00:05:30
Like (seemingly) the majority in this thread I don't recall any out-an-out sectarianism in the city, certainly not drawn up along lines of support for the respective footy teams.
Was there banter, insults, and on occasion raw violence between the followers of whichever religious order you belonged to? Too right there was, but again, not based on footy allegiance, but rather, it was more influenced on the particular intensity of the individual, family or closed community and it most certainly was not widespread.
Like others it seems, I've had to negate the claims of others (generally folk from Belfast and Glasgow – and I say that not to denigrate anyone from either of those magnificent cities) who try to make the sectarian association about the Mersey city footy teams. For me, it's a total myth.
As for the Celtic - Rangers / Everton - Liverpool mixed colour scarves, that was a brief fad and as someone else points out, it wasn't as if it was 'only' the green and white of Celtic that featured 'only' with the blue and white of Everton, and vice-versa with the Rangers - Liverpool combo. Both combos were available for both Merseyside clubs.
Indeed, the one and only time I personally saw the Celtic - Everton scarf combo in great numbers was, bizarrely, in 1985 at the Rotterdam Cup-Winners Cup Final in Rotterdam against Rapid Vienna.
Some of you might recall Rapid actually got to the final by default. They played Celtic in an earlier round, Celtic comfortably beat them at Celtic Park to go through but – unfortunately for Celtic – a fan threw a bottle onto the pitch which did not hit or even go near a Rapid player. Link
Uefa, in their wisdom, annulled the result and ordered a one-off game at Old Trafford, which Rapid fluked 1-0.
As a consequence, Celtic fans turned up in Rotterdam in huge numbers (anyone else recall this...?), most wearing Celtic - Everton combo scarves.
At half-time in the game, I saw a huge block of Celtic fans in the concourse beneath the stadium corner some Rapid fans. It was brutal. Really brutal. The only blemish on one of my greatest ever nights as a Blue.
Eric Myles
33
Posted 19/02/2018 at 01:48:11
Kevin #3, shouldn't that be 'devout atheist'
Eric Myles
34
Posted 19/02/2018 at 02:20:31
John #25, I was talking to a Glaswegian in a pub one day, when I told him I was from Liverpool he asked 'Red or Blue?'
When I told him 'Blue' he said 'one of us then!'. He was a Rangers fan.
Jay Harris
35
Posted 19/02/2018 at 04:01:04
I grew up in the same area as John Keating and went to SFX late 50s and 60s.
There was plenty of trouble between Catholic and Protestants but I was never aware of any sectarianism with regard to the football teams.
In fact I would call it a healthy bit of banter between Royalty and the upstarts (RS) never spilling over into religion or the hatred that exists within some today.
Peter Lee
36
Posted 19/02/2018 at 05:30:53
Not again. There was an article on TW a few years ago about some bloke's thesis which had a link. Read it at the time and it nailed this nonsense once and for all.
Anyone remember?
Simon Lloyd
37
Posted 19/02/2018 at 06:48:39
If there was a religious bias, and we were the RC club, then I expect that having a Protestant church in the corner of our ground would be unacceptable.
Jerome Shields
38
Posted 19/02/2018 at 09:40:04
I am glad that Everton Football Club is devoid of sectarianism. Glasgow on old firm days has a distinct change in atmosphere. Even Glaswegians who don't attend feel it.

Derek Thomas
39
Posted 19/02/2018 at 10:00:14
Jay @ 35; do you remember the big punch up at the Ruperts Tower between SFX and Collegiate just before July 12th around then.
Also, the Royal Blue Mersey is sung to an Orange tune... and Grand Old Team is a Celtic song so we've – as had been said before – a foot in both camps... but allegiance to only one colour and its neither orange nor green.
But Blue
Liam Reilly
40
Posted 19/02/2018 at 12:25:31
I'd forgotten about Rapid Vienna outsting Celtic in that UEFA debacle Jay; thanks for the reminder.
I doubt Celtic could've lived with that Everton side either however. Good times.
Mike Owen
41
Posted 19/02/2018 at 12:59:08
Peter, 36
It is the same author, I think I am correct in saying.
It seemed to be a very well researched piece.
If I remember rightly, two of the main men in founding and establishing Liverpool FC were key figures in the Orange Lodge in the city. So, given the more entrenched attitudes in those days, I could understand if a lot of Catholic people decided to support their rivals, i.e., us.
Then throw in the fact that we had a lot of players from the South of Ireland in the 50s, with many Irish fellas coming over on the boat to watch games here.
So I can understand a strand of thought developing that we were the Catholic club (even though we evolved from a Methodist Church). Which might explain the Everton-Celtic and Liverpool-Rangers scarves in the early 70s.
Dalglish signing for Liverpool in 77 tilted the perceptions of many. But, as in many things, history is complex.
I do think religion still plays a part... because at Goodison I hear so many Evertonians saying For God's Sake, and Jesus Christ!
Bill Watson
42
Posted 19/02/2018 at 21:02:27
I'm with John (#13),
The reason why the song mentions Rangers and not Celtic is that Rangers slips off the tongue better. As simple as that.
Steve Boardman
43
Posted 20/02/2018 at 12:33:30
Mike (#41) and Peter (#36) . You are both absolutely right. I read that thesis too and it completely demolished the sectarian links. I thought I had an electronic copy so I will post a link if I can find it.
On a purely personal note I went to SFX in the 60s where half the class were Blue and half RS and I come from a completely mixed family.

Alan Bodell
44
Posted 20/02/2018 at 13:07:25
Celtic often sing that RS anthem, I'd rather walk alone personally, but that should remove any connect that Anfield has with Protestantism as those in Glasgow take things like that somewhat seriously.
Dennis Stevens
45
Posted 20/02/2018 at 13:36:15
I'm an atheist but, as an Evertonian, have often felt like praying for a miracle!
Darren Alexander
46
Posted 20/02/2018 at 16:02:05
@ Mike, 41 – interesting point about Dalglish going from Celtic to the RS, which might possibly have informed perceptions of a connection between the two clubs – although those who made assumptions will have most likely been unaware that Dalglish, like Celtic's greatest ever manager, is/was actually Protestant.
Oh, and the divide has always been fairly alive and unwell in Scotland in all sorts of places outside of the Dear Green Place – growing up in the east of Scotland, the lowly local team I supported gave no clue to what religion I may have been, but upon learning that I was an Evertonian, strangers would often quiz me about what "side" Everton were on. Of course, that question always came third, after asking me: (i) what Scottish team I supported and (ii) what school I went to ;)
Jay Harris
47
Posted 20/02/2018 at 16:32:36
Derek,
It was the same every year.
When the orange lodge marched past the Collegiate/SFX in Shaw Street they would bang the drums louder and the Catholics would be throwing all and everything at them.
It was similar but not as bad on St Paddy's day.
My mother had a friend who lived on Netherfield Road who was Catholic and best friends with her protestant neighbour but on the respective days they would smash each others windows.
Crazy times.
Dave Abrahams
48
Posted 20/02/2018 at 16:34:56
Dennis (45), I know you were joking but God would have listened to your prayers, he listened to a lot of atheists, praying from the trenches in both world wars and other minor wars.
Michael Kenrick
49
Posted 21/02/2018 at 02:21:28
Jay Wood
[BRZ]
50
Posted 21/02/2018 at 12:26:35
Wow, Michael! Thanks for the link to that archived article. Downloaded it and just read it over breakfast.
A cracking good read. I learnt a lot about (both Mersey clubs) early history.
The author demonstrates very clearly that the administration and directorship that governed the early years of both clubs was made up of men along political and religious loyalties: Everton Catholics and Liberals, Liverpool Protestants and Conservatives.
I think he does a very neat job in laying out why there was an impression that Liverpool was the Protestant club and Everton the Catholic club when detailing the pinkies player recruitment drew heavily from (Protestant) Scotland whilst Everton tapped into (Catholic) Irish players.
(A quick aside here, due to their Irish player recruitment, the piece revealed another first about Everton I wasn't aware of: "Probably for this reason Everton were the first English club to have a supporters' association set up in Ireland, becoming the first example of a club with a large 'overseas' support', as hundreds of Irishmen travelled to Liverpool for Everton games"- page 13 in the report).
But the author very fairly demonstrates that neither club ONLY recruited players or marketed to a particular (religious) demographic to draw in fans, as was the case with the Glasgow clubs.
In conclusion, it is fair to say whilst in the formative years of both clubs they were governed by men who were very active in Liverpool, both politically and religiously, and that their 'philosophies' may have had some influence on the decision making within the clubs, it certainly was not as long lasting or as impactful as the sectarianism which existed/exists at other clubs, with the Glasgow clubs being an obvious example.
A highly recommended read for anyone with the time or interest.
Keith Harrison
51
Posted 22/02/2018 at 23:50:53
Mike (41). How are you pal? Hope to bump into you at a game sometime.
Try to catch Mike's "Der Ball ist Rund" about Everton's exploits in Europe. A great read, and as a bonus, doesn't include this year's debacle!
Pat Small
52
Posted 23/02/2018 at 18:57:18
Steve @ 36, I think we were in the same class. Didn't we go to the Leicester quarter-final in 68? You can e-mail me if you want –patsmall100@hotmail.co.uk.
David Kennedy
53
Posted 24/02/2018 at 13:26:43
Hi, sorry I'm late to this debate. I'm the author of the book under discussion.
Thanks for all the feedback you've given. As some posters have pointed out, I'm the same author of the article submitted a few years back "Red and Blue, Orange and Green?" – and thanks to them for their kind words on that article.
It's a controversial subject and a very 'Marmite' one in that it either interests or raises the hackles of supporters. Certainly, there's a lot of rolling of eyes when religion and football are spoken about in the same breath. I'd just like to clarify that the nature of the enquiry of this book is in step with the earlier article I submitted to ToffeeWeb back in 2010: broadly, to look at this issue historically. It certainly isn't an attempt to attach labels to our modern day clubs which are, of course, inclusive organisations. It'd be absurd to claim there is any hangover in terms of any identity from the past carrying over to today: as many here have underlined with their own anecdotal evidence, those labels simply don't compute with the clubs' fanbase or with outsiders.
The study I've made – like the ToffeeWeb article first submitted – is an affirmation of the view that football in the City of Liverpool did not follow the line of development of football in certain other British cities, particularly those in Scotland and Northern Ireland. There was no such discriminatory governance of either Merseyside club in that vein and that is emphasised throughout. The meat of any such organisational division (or rather distinction) in the City of Liverpool's football culture was limited to the class of politicians who commanded positions of power at each club from their inception as private companies in 1892 through to the period my study ends in the Inter War period. This later study focusses more on that subject and on those characters, contextualising their very different political impulses and the connections they made within the rest of Liverpool society – a society which shared many of the sectarian problems of towns and cities which did give rise to discrimination within football scenes.
The conclusion is that, remarkably, given the sort of men in control of our clubs back then and the civic environment, our clubs took a much different path in their development than the one chosen in places like Glasgow, Edinburgh, Dundee, or indeed Belfast. In other words, this later contribution of mine is consistent with my own previous findings and in no way is an attempt to breathe life into a tired debate over 'which club is the Catholic/Protestant one?'
Finally, thanks to Michael and Lyndon for giving exposure to my work both back in 2010 and presently.

Jay Wood
[BRZ]
54
Posted 24/02/2018 at 13:52:55
David @ 53.
I downloaded and read the PDF Michael linked to from your TW article (in 2010...?). A really good educational read. Well done!
An Amazon link to your latest work appears in the opening post which I didn't notice before. I'll try and get the Kindle version as, alas, living in Brazil I've had too many overseas packages 'lost' in the Brazilian postage system.
As you say, it's a very 'Marmite' issue that either interests or raises the hackles of supporters. I think a few posters in the thread wrongly assumed you were promoting the idea that sectarianism was/is prevalent at the respective Mersey Clubs.
The PDF article most certainly debunks that, but does neatly lay out how some powerful politically and religiously motivated men in the early years of both clubs most certainly did hold sway in the boardrooms along very clear political and religious divides.
We should be thankful that such influence was never long-term or fossilised into the evident sectarianism seen, for example, at the 'Aul Firm' clubs in Glasgow.
Congrats again on your research and writing, David.
David Kennedy
55
Posted 24/02/2018 at 14:17:47
Jay (#54), thanks for your kind words about the TW article and the interest in the book.
You're summary is spot on.
Anthony Flack
56
Posted 06/03/2018 at 14:34:44
I remember very well the first article and refer to it quite often – a real cracking piece that puts to bed a few misplaced myths connected to the dreaded "half and half" scarves that used to prevail in the 1980s.
Very well done for this work.
---
Add Your Comments
In order to post a comment, you need to be logged in as a registered user of the site.
Or Sign up as a ToffeeWeb Member — it's free, takes just a few minutes and will allow you to post your comments on articles and Talking Points submissions across the site.
© ToffeeWeb