Report
Fine Rooney goal elevates dour encounter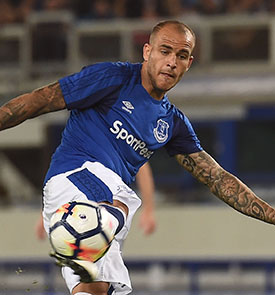 Sandro Ramirez will carry the goalscoring hopes for the Blues against Stoke in Romelu Lukaku's absence
Everton 1 - 0 Stoke City
A really difficult game against very spirited visitors saw Everton make hard going of it in the first half until a move of pure quality was finished by a perfect Wayne Rooney header.

And Koeman picks his new players to start, with Sandro and Rooney upfront alongside Calvert-Lewin. Tom Davies awaits on the bench.

The Blues season kicked off in bright sunshine, but not exactly a flowing start. A little bit of aggression on Fletcher saw Rooney give away the first free-kick and Everton did not really get forward in the first 5 minutes. Pickford kept trying to hit Calvert-Lewin wide right with his clearances but it was mostly going out of play.

Stoke were far more direct with their movement getting around the back and winning a corner that Rooney defended away. but the Blues were still stalled pretty much in their half after 10 minutes until Rooney finally put Butland under pressure and Sandro had a chance but screwed it well wide.

Some desperate blocks needed in the Blues defence, Everton suffering a very effective pressing game from Mark Hughes's charges, denying them space and time, causing repeated turnovers and giveaways. Eventually, space opened for Gueye but his shot was hardly threatening.

Keane finally got forward and crossed, very deep, Sandro winning a corner that fell to Gueye but his shot could not have been more awful. The patient Goodison crowd would clearly need a lot more patience... Some really poor passing the parcel at the back saw Jagielka play he ball into touch. Some lively tackling brightened things a little but half-an-hour in and things were looking far from inspiring.

Allen dragged back Rooney for the first yellow card, but nothing came of the set-piece. Gueye was fouled, giving Rooney a chance for a deep free kick that was wellied horribly long... shockingly poor from him, the Stoke attack leading to another corner that Rooney again got his head to.

The absolute dearth of ideas when going forward from the back was dreadful at times, with little movement and the ball far too easily squandered with nothing really shaped in attack, Sandro struggling to make any impact.

Another long ball saw Calvert-Lewin further forward and coming inside, he won a corner but Sandro and Rooney doing the short thing to no avail. More scrappy play in the Everton half saw another corner for Stoke, successfully rebuffed.

An absolutely dreadful half finished in total contrast with the most wonderful move from deep, a brilliant cross from Calvert-Lewin and a simple-looking but perfectly executed header from Rooney past Butland... Goodison finally erupted!

Koeman decided to switch whatever formation he had been playing, replacing Williams with Martina after the break, as Stoke got into their inimitable pressing closing harrying style.

Calvert-Lewin got more central and forced a corner that Jagielka helped on but no-one picked it up. At the other end Shaqiri beat three men but Keane was there to head away his cross. The game opened up a little, Rooney playing in Calvert-Lewin but Zouma was in quickly to block his one-on-one chance.

Some brighter stuff, Rooney with a great ball picking out Baines, but the perfect cutback to Klaassen was bizarrely wasted. Stake were tenacious in the quest of a goal, Fletcher lashing one a foot wide of Pickford's goal, as Tom Davies replaced the hugely disappointing Klaassen on the hour.

Martina put in an excellent cross for Calvert-Lewin who headed wide under pressure. But the Blues showed more intent going forward, Calvert-Lewin coming in on the left of the area this time but Sandro unable to help him out. But Everton were now passing the ball better, finally drawing some chants from the crowd.

Schneiderlin was lucky not to be booked for a lazy trip, Pickford alert to snap up the ball. More crisp passing around the Stoke area saw Rooney denied, but the ball kept going forward and Calvert-Lewin did brilliantly to cut in and lash the ball forcing a parry from Butland and a corner, very deep from Rooney, Martina crossing and Keane heading it back but somehow no-one there to convert.

The game was now more open with Crouch on and causing trouble in the Everton area; Sandro replaced by Mirallas as Stoke kept probing, the Blues perhaps having missed their chance to make the game safe, and having to put in some good defending with 10 minutes left.

Nervy moments in the Everton area were calmed when possible by the commanding presence of Jordan Pickford as Stoke sought to spoil the party late on. Everton under some serious pressure at times but pleased to see Rooney still driving them forward as and when he could. And right at the end, a fantastic strike form Shaqiri was batted away superbly by Pickford, a certain goal against most shot-stoppers.

Scorer: Rooney (45')


Everton: Pickford, Keane, Jagielka, Williams (46' Martina [Y:85']), Baines, Schneiderlin, Gueye, Klaassen (60' Davies), Calvert-Lewin, Ramírez (77' Mirallas), Rooney.
Subs not Used: Stekelenburg, Besic, Holgate, Lookman.

Stoke City: Butland, Zouma, Shawcross, Cameron, Diouf, Fletcher, Allen [Y:29'], Pieters, Shaqiri, Bojan (72' Choupo-Moting), Berahino (71' Crouch).
Subs: Grant; Johnson, Tymon, Adam, Ramadan.

Referee: Neil Swarbrick
---
Reader Comments (210)
Note: the following content is not moderated or vetted by the site owners at the time of submission. Comments are the responsibility of the poster. Disclaimer
Denis Richardson
1
Posted 12/08/2017 at 14:09:19
That 4-3-3 with Jags at right-back?
Sean Smythe
2
Posted 12/08/2017 at 14:09:34
Hmmmm.... right back/right wing back is?
Karl Masters
3
Posted 12/08/2017 at 14:10:02
Is that a 3 centre-back defence? If so, is Calvert-Lewin the right wing back?
Drew O'Neall
4
Posted 12/08/2017 at 14:10:46
Keane at right back?
Calvert-Lewin through the middle or on the wing? I presume the former.
Phil Sammon
5
Posted 12/08/2017 at 14:14:07
Doesn't like wide players does he? Baines...that's it.
At least 3 players are going to be playing out of position.
Really worrying setup against a side that loves to exploit the flanks.
Mark Fitzgerald
6
Posted 12/08/2017 at 14:19:32
Okay, bit early to jump to judgment.
But certainly curious (read concerned) about the formation/line-up. Who is playing RB or RWB depending on the setup? Calvert-Lewin?
Chris Gould
7
Posted 12/08/2017 at 14:21:33
Wasn't expecting that? No idea how we're lining up, but I presume we're looking to fit our biggest players into the team to be able to compete with Stoke's physicality.
With the three centre backs, Schneiderlin and Calvert-Lewin hopefully we'll be able to hold our own at set pieces.
Not convinced but cautiously optimistic.

Michael Burke
8
Posted 12/08/2017 at 14:26:25
Who is playing right wingback or right back? This is baffling. One of Gana or Schneiderlin have to show more attacking intent if we are to be a force this season (and today)!
John Owens
9
Posted 12/08/2017 at 14:28:46
Looks like 4-3-3 to me!
Plenty of pace on the bench if not much in the starting 11. Think Koeman is being very cautious. Can't blame him really with the performances so far! Davies and Lookman to come on and win the game. We need a new striker, attacking midfielder and a defender!!!
Ernie Baywood
11
Posted 12/08/2017 at 14:40:10
I'd quite like the way we've setup if we had Davies in for one of the two players playing in identical defensive midfield positions and someone playing right back that had been tried in pre-season.
Interested in seeing how we actually line up. Part of me hopes it's Gueye at right wing back... which probably highlights how odd that selection is.
Dean Cooper
12
Posted 12/08/2017 at 14:43:39
Stoke aren't the same hoofballing team as they were under Pulis, so I don't understand trying to shoehorn our tallest players in. It looks like Koeman has picked a team for flexibility, we'll see how it works.
I also see Sigurdsson hasn't been selected at all for Swansea. But I also don't see where he would play in this lineup?!
Darren Murphy
13
Posted 12/08/2017 at 14:44:09
When I saw Diouf, I thought of the spitting RS camel one. Going for 2-0 lads.
Frank Crewe
14
Posted 12/08/2017 at 14:44:19
So much for Martina. A 3-year deal for a bench warmer. What a waste of wages.
Christy Ring
15
Posted 12/08/2017 at 14:45:09
Hard to make out the formation, Koeman doesn't seem to like wingers. Davies probably the only midfielder with pace, and only on the bench, Worried.
Neil Thomas
16
Posted 12/08/2017 at 14:47:52
Really confused by the formation considering the player selection. Baines is obvious for left wingback but I can't get my head around right wingback.
And why two of our best players in pre-season on the bench? Davies and Lookman would be starters for me.
Darren Murphy
17
Posted 12/08/2017 at 14:48:24
Sandro is too quick for Shawcross, yellow card imminent. COYB
Anthony Hughes
18
Posted 12/08/2017 at 14:53:36
Overly cautious negative team selection for me. We're the home team – why not let Stoke worry about us and not set up to try and stop them?
Max Murphy
19
Posted 12/08/2017 at 15:30:52
First 30 minutes absolute shite. Get Jagielka off and Gueye just can't shoot.
Will King
20
Posted 12/08/2017 at 15:35:28
Is it an attempt at 'total football'? But just down the right flank?
Phil Sammon
21
Posted 12/08/2017 at 15:37:57
This is awful. We don't look capable of creating anything at all. Overloaded with centre mids and centre backs. Boring!
Jay Wood
22
Posted 12/08/2017 at 15:53:01
Following on a really bitty, stop-start stream. A bit like Everton's first half performance.
But what a great move and finish for the goal. The single example of decent joined-up football from either team in an otherwise dire first half.
Rooney looks up for it. Calvert-Lewin playing well (and a lovely cross for the ball). But I don't 'get' the starting line-up. The balance isn't right and but for the goal, it might have persuaded Koeman to change things at the start of the second half.
As it is, with the goal advantage, he may stick with it a bit longer before making changes.
Jon Leavitt
23
Posted 12/08/2017 at 15:57:31
Great goal, hopefully they'll get more confidence and start to play off each other.
Anto Byrne
24
Posted 12/08/2017 at 15:59:45
Its not like Stoke have come to play but it was a lovely goal. Now Stoke have to open up the game so expect a couple more goals. I can see Davies and Lookman coming on for the last half hour.
Phil Sammon
25
Posted 12/08/2017 at 16:02:38
Agree Jay. Consider a turd well and truly polished.
That was one moment of class in an appalling half of football. I just can't understand what Koeman is thinking. We have no plan going forward. It's not even as if the players are playing badly...it's like they have absolutely no direction.
Martina on. Fuck's sake.
Max Murphy
27
Posted 12/08/2017 at 16:05:13
I hope all you Rooney doubters are hanging your heads in shame. Dreadful first half but, as well as his goal, Rooney defended three of the four Stoke corners. He was the only decent player in Blue in that half.
Eugene Kearney
28
Posted 12/08/2017 at 16:54:53
Good save Pickford. Good win Everton.
Good start - COYB
George Cumiskey
29
Posted 12/08/2017 at 16:56:19
Poor performance against a poor Stoke. Poor team selection and poor substitutions... what's Koeman up to? Let's hope Split are as bad on Thursday.
Philip Bunting
30
Posted 12/08/2017 at 17:00:19
That's all you can ask for with the first game of the season. Yes, rusty, but we kept a clean sheet, got the 3 points, job done. Must improve and these players must get to know each other quickly. COYB
George Cumiskey
31
Posted 12/08/2017 at 17:02:47
It's not the first game of the season, it's the third competitive game and they haven't improved one bit.
Lev Vellene
32
Posted 12/08/2017 at 17:03:08
And now we have 4 fixtures hand-picked for the Gloomers among us to revel in!
Would 4 out of 12 points be good for the rest of us, or is only 3 points each from home matches, and 1 each from away matches, good enough??
Dave Williams
33
Posted 12/08/2017 at 17:07:59
Haven't seen the game yet but what a bizarre team selection!!
Pre-season has shown that Davy, Gana and Morgan do not gel and last season should have shown Ron that Tom is a must in any team.
What made him think that Calvert-Lewin was a better selection at wing back than Kenny, Martina or Holgate? Why persist with three guys the wrong side of 30 in defence?
Really weird selection and, from what I gathered from the radio commentary, absolutely no style of play in the first half.
Difficult to see what he was trying to do.
Jay Wood
34
Posted 12/08/2017 at 17:08:49
So Koeman reverted to a better balanced flat back 4 for the 2nd half, Calvert-Lewin took up a more central role and Rooney dropped deeper and there
was
some improvement.
Martina was okay to be fair. Calvert-Lewin continues to show good improvement and I would hope most can agree Pickford looks the biz as our Number 1. His save at the end to Shaqiri was top drawer, but who else likes how he is so quick off his line to claim the ball, no matter how many bodies are in the mix in front of him?
For me, the clear MotM was the return of the prodigal son. Wayne Rooney has still got a lot to offer. And I speak as one opposed to his return.
The positions he takes up. His eye for an opening. His range of passing – long or short. His ability to draw in defenders, turn them and retain the ball. His interplay with others. His alertness to take advantage of game play situations. His finishing. All were on display today.
There were also 1-2 moments when you could see his (justified) exasperation that his team mates weren't quite on the same way length as the lad from Crocky.
Happy with the win. Not overwhelmed by the performance. The goal lit up an otherwise dull affair. But the goal itself offers promise of what might be this season. The movement, speed and quality of passing and finishing between Rooney, Gana, Sandro and Calvert-Lewin was a delight to behold.
No need to get the razors out and start slitting wrists just yet after just 90 minutes of the season proper.
Alan Moss
35
Posted 12/08/2017 at 17:08:58
"Haven't improved one bit" ... and yet they haven't been beaten at all during pre-season or in the opening game of the season. We're obviously shit.
John Hammond
36
Posted 12/08/2017 at 17:10:57
Bit better in the second but overall pretty poor performance. Schneiderlin has been terrible throughout preseason so surely he has to be dropped for Davies in the next game.
Jamie Crowley
37
Posted 12/08/2017 at 17:10:57
Rooney was fantastic. His vision of the pitch isn't human. All this "he's past it" is utter garbage. Keane is brilliant and Pickford saved points with that save – he's wonderful.
That game was always going to be a more ugly, "git er done" (as they say in the south here in the 'ol USA) type of affair. We played well.
My MotM was the referee. I say that a bit tongue-in-cheek but he really was marvelous. He let the players play, didn't disrupt the game at all, and blew up when needed.
Lev Vellene
38
Posted 12/08/2017 at 17:13:03
Dave (#33);
Koeman gazumped the EFC fans, so maybe that worked the other way, too?
Still, I sincerely hope I never, ever see a starting side like that again!
Jags and Williams (in addition to Keane and Baines) ... that almost reduced me to tears before kick-off!
Joseph Terrence
39
Posted 12/08/2017 at 17:13:40
Obviously Koeman made a mistake with the formation, but at least he made the necessary change at half-time, and things improved from there. Rooney showed he still has it though I think he'll need to be managed carefully throughout the season.
I liked what I saw from Sandro, always makes himself available. Gana was great covering the entire field and winning the ball
Special mention has to go to Pickford and Keane, they were fantastic. Terrific business by the club.

Christy Ring
40
Posted 12/08/2017 at 17:14:28
Glad to get a home win, but 3 at the back doesn't work, Calvert-Lewin – no matter how many times you try him as winger/wingback – is a striker. Need a new target man, more than Sigurdsson.
Colin Glassar
41
Posted 12/08/2017 at 17:15:37
Wayne as to be made captain. He has more leadership in his big toe than Bainsey and Jags combined. This is no sentimental guff, just a hard-nosed assessment.
Andy Meighan
42
Posted 12/08/2017 at 17:15:40
Awful formation and more or less admitted it himself by changing it at half-time Picked up a bit in the 2nd half but nothing to write home about.
Great move for the goal but, other than that, I'm struggling to pick a highlight from the game. Great save from Pickford to see us home but I fear for us under this manager, I really do. Calvert-Lewin out wide just baffles me.
Lev (#32), please don't call me a 'gloomer' – I'm a realist. I've been going for 50 years so I know what I'm talking about. I'm not some Johnny-come-lately.
Dan Parker
43
Posted 12/08/2017 at 17:16:37
Good starting win. Slightly concerned about the goals in the team but looked much better than at Sevilla. Made up for Wayne, never thought I'd see the day. Showed certain other players what talent, effort and a footballing brain can do.
Ernie Baywood
44
Posted 12/08/2017 at 17:17:09
First half dreadful. Not even worth discussing player performances when the team selection is so obviously wrong. No way of dressing that up in any way – Koeman got it clearly, completely, terribly, bizarrely wrong.
Second half... If the questions around Rooney were regarding whether he still had anything to offer and where would he play... then the answers are "yes" and "wherever he wants". Oozed quality. Loved his swagger.
I thought Calvert-Lewin did a great job. Could make a case for MotM. Nowhere near finished yet but the Stoke defence will have nightmares about him. Found space, pressed, created chances.
Pickford. Never seen a goalkeeper's distribution applauded throughout a game. The boy's a star. Makes his decisions, commits to them, and a great save too.
Not going to talk about Cuco. He is what he is.
Schneiderlin... I still don't get it. From the live forum, I got a sense more are starting to catch on. What does he do that Gueye isn't already doing? He's phoning in these 'performances'.
Gavin Johnson
45
Posted 12/08/2017 at 17:17:16
Good post there, Jamie, lad. You covered all my sentiments. Rooney, Keane and Pickford were brilliant. Rooney isn't as fast as he used be, but he has more vision than any other player at the club, and I include Ross Barkley.
My only gripe is that Martina was on the field instead of Kenny. That game was crying out for more quality and creativity down the right flank.
Nathan Snell
46
Posted 12/08/2017 at 17:17:34
A clean sheet, 3 points and Rooney on the score sheet. Done.
Geoff Lambert
47
Posted 12/08/2017 at 17:18:54
Rooney excellent, Keane class, Pickford a steal at £30 mil, Gana everywhere, Calvert-Lewin much better in the middle.
Much harder matches to come and a better team selection needed.
Davies must start – maybe give Sandro another chance. Need some width and pace... Lookman maybe?
3 Pts and as close to the top of the table as we will be all season.
Colin Glassar
48
Posted 12/08/2017 at 17:21:51
According to Stan 'the dogger' Collymore, Wayne's legs have gone. You might be right Stanley, but the brain and talent is still there. He might be our Piirlo for years to come.
Jay Wood
49
Posted 12/08/2017 at 17:23:15
Just seen that Kieran Dowell came on for Forest today and got their fourth and what proved to be the decisive goal in a 4-3 win at Brentford.
His first competitive goal in senior football, I think I'm right in saying.
Andy Osborne
50
Posted 12/08/2017 at 17:24:25
http://ToffeeWeb.com/season/13-14/comment/fan/25204.html
I am slightly biased, but my man of the match was Rooney. Closely followed by Pickford. The only problem Rooney has is that the rest of the team is not at his level.
Jack Convery
51
Posted 12/08/2017 at 17:29:14
Prepare the fattened calf.
Andrew Cunningham
52
Posted 12/08/2017 at 17:29:55
Holy Christ, I wonder what the reaction would have been if we had lost.
Happy with the win though. It will take time for these players to gel but I think that this squad will take us places, (hopefully the right places).
Jeff Armstrong
53
Posted 12/08/2017 at 17:36:17
Not one mention of Klaassen, that's because he was anonymous..again, a waste of 25 million that could have gone towards a top class striker which is what we really need instead of another bang average midfielder,which we have an abundance of.
Klaassen is no improvement on Davies, and he proved that when he came on.
Barry Williams
54
Posted 12/08/2017 at 17:40:13
Unbeaten pre-season, 3 competitive games, 3 clean sheets, an excellent team goal today, 5 new players to gel, but still winning! The possibility of 3 new players coming in, Bolasie and Coleman to return too.
But, yes everyone, Koeman is hopeless and we are sh!te!
Martin Mason
55
Posted 12/08/2017 at 17:41:19
Why does an intelligent manager flog the dead donkey that is 3 at the back? We don't have the wing backs to play it and, when we do play it, we are hopeless and change to a back four at half-time.
Andy Osborne
56
Posted 12/08/2017 at 17:42:33
Ernie (#44),
First-half selection (in your words, clearly, completely, terribly, bizarrely wrong) saw us go in at half time 1-0 up. Second half (presumably with your preferred line up) saw Stoke come back into the game and made for a very nervy last 15 minutes.
I say Koeman got it right in the first half, and bottled it in the second. Anyway, time will tell.
Ian Bennett
57
Posted 12/08/2017 at 17:43:30
First half, poor; second half, better. We just couldn't get that second to kill them off.
Defensively we looked okay; passing and attacking is still work in progress. Pickford and Keane looked good, whilst the game management of Rooney in second half minimised any scary moments.
Jay Woods
58
Posted 12/08/2017 at 17:43:52
Klaassen was not anonymous, Jeff Armstrong. He had what I consider his first solid game, bar his feeble goal attempt.
Davies was no improvement on Klaassen, that much was clear, when the switcheroo happened.
Rooney was on a different level to the other attacking players, despite looking like his stamina was fading badly near the end.
And I can only echo the praise for Pickford and Keane.
John Owens
59
Posted 12/08/2017 at 17:44:57
I now know why I've been keeping off TW. Some of the comments are ridiculous! 3 competitive games, 3 wins and no goals conceded! 5 new players in the team too! Yes, we need to improve and we need at least 3 more first team players. Defender, midfielder and goal scorer! Tough game on Thursday but all we need for now is the win and another clean sheet! I'm old enough to remember the 'Kendall Out' leaflets at Goodison Park, so for god's sake, give Koeman a chance!
Barry Williams
60
Posted 12/08/2017 at 17:45:18
Plus, the 3 at the back and Calvert-Lewin at right wing-back in the first half kept a clean sheet and Calvert-Lewin from the right wing-back position put the excellent cross in for the goal.
Koeman is clueless!
John Pierce
61
Posted 12/08/2017 at 17:46:09
Textbook Koeman that. Poor selection & formation, changed at half time. A constipated performance won with a moment of class.
Jeff Armstrong
62
Posted 12/08/2017 at 17:53:13
Klaassen was anonymous on here until I mentioned his anonymity; nobody can possibly say he played well. He wasn't dire either, just anonymous. In my opinion, Davies did more in 20 minutes than Davy did in 70.
Brian Wilkinson
63
Posted 12/08/2017 at 18:03:57
A win is a win. I'd rather take a scrappy 1-0 win, than a brilliant performance draw any day of the week. We are off and running.
John G Davies
64
Posted 12/08/2017 at 18:05:03
Jay,
Sorry mate, Tom was a big improvement on Klaassen.
Mark McParlan
65
Posted 12/08/2017 at 18:09:11
So, just back from Goodison.
It was certainly a strange selection from Koeman initially, extremely narrow. Keane playing out of position at right back, and Calvert-Lewin deployed as a winger again.
And for virtually all of the first half, we were pretty terrible. Slow, ponderous, seemingly unable to get the ball up the field, or transition the ball from defence to attack with any vigour or urgency. But it was the way we set up – a rock solid back 4 of all-English hoofballers in Baines, Jagielka, Williams, and Keane, who never looked like they were going to concede all game. The drawback with them was that they were incapable of building up attacks to carry to the midfield players. And two defensive midfielders again. Dull, negative football. Moyesball.
Rooney thankfully converted an excellent header from Calvert-Lewin's cross, and from that point we never really looked back. In the second half, it was all Everton. Stoke faded into the background as we took control of the match, and should have added a couple more. We suddenly started playing expansive and attacking football. A well-deserved victory, everyone left feeling happy.
---
And as for the player-by-player ratings:
Pickford – 8. He was really excellent. He met every cross commandingly, towering above the Stoke attackers. He looked confident, and saved everything that came his way. He didn't have much to do, but made one incredible save towards the end. And his distribution is a joy to behold.
Baines – 6. Fairly standard performance. Pretty good defensively, not a lot going forward. We've seen better, but he did his job.
Williams – 6. Looked a bit shaky today, and his distribution forwards was pretty rubbish as usual. But he defended well in the 45 minutes he played.
Jagielka – 7. He had some really bad balls forward that went into the skies, but was rock-solid at the back all match.
Keane 8 . What a player he is, and has been every time he's pulled on the blue shirt. A class act, and when he plays I have full confidence we are not going to concede goals. Our best defender in a few years.
Martina - 5 . He does not convince me at all defensively, and makes amateur mistakes. But he can cross a ball, which is a bonus. Good cover. (on 45)
Schneiderlin – 6. A bit anonymous today, but I suppose he does his holding midfield job well, if not spectacularly.
Gueye – 7. A good one from him today, he surged forward a lot, carrying the ball and creating chances, as well as winning the ball all the time with crunching tackles. He's an asset to the team.
Klaassen – 6. Looked alright, but I still don't really understand what he actually does.
Sandro – 6. He really tries, he's a forward with great energy who constantly harries and presses opponents, even if he can come off as a bit of a headless chicken. It nearly worked for him today, but he's still young and new to England.
Rooney – 8. Surely our MotM. He looked an absolute class act in everything he did. Superb passing and vision, anticipation. A great header to win us the match, a dream home league debut return for him. He was our leader on the pitch, everyone in trouble defaults to finding Rooney.
Calvert-Lewin – 7. He played very well today, even from the wings. He's very impressive in the air and is a great target man to have in the team. Looked a real goal threat on many occasions, and set up Rooney's goal. He has a bright future.

John Charles
66
Posted 12/08/2017 at 18:14:10
Good win.
Poor performance first half due to Koeman's tactics / team selection. Better second half without being anything special.
Rooney was the best player on pitch. Keane and Pickford both good. Sandro okay. Klaassen poor, 'anonymous' does him far too much credit; Davies was a massive improvement.
Barry Williams
67
Posted 12/08/2017 at 18:21:48
John Owens – #59
I have echoed your sentiments, see posts #54 and #60. I just don't understand what people actually want.
Yes, I want us to be brilliant all the time too, but Koeman has taken over a poor team, managed the biggest increase of points in his first season outside of the champions, brought in a shed load of new players... despite the changes, we remain unbeaten in 3 competitive games. Isn't that quite laudable?
Colin Glassar
68
Posted 12/08/2017 at 18:22:33
Tom has to start from now on. Klaassen needs time to adapt and Schneiderlin needs a rocket. Next midfield should be: Davies, Rooney, Gana, Barry. With Calvert-Lewin and Sandro up front.
Jeff Armstrong
69
Posted 12/08/2017 at 18:25:29
Schneiderlin is another £22 million worth of average midfield nothingness. Why does Koeman insist on both him and Gana playing the same non-creative role... against Stoke at home?
Koeman needs to start mixing things up.
Chris Williams
70
Posted 12/08/2017 at 18:27:06
Back just now. Awful game, particularly a disjointed display in the first half. Strange team set-up caused a lot of head scratching in the stand. Calvert-Lewin is not a winger and he definitely isn't a wing back.
No movement in midfield and up front led to a plethora of sideways passing to and fro at the back. Lacking in cohesion, pace, width and creativity.
Marginally better in second half with a formation that was recognisable and with some round pegs in round holes.
Good points: We won with a lovely goal by Rooney who was the best player on the pitch. We didn't concede again and the defence looks solid. We have a proper goalkeeper for the first time since Nigel Martyn by the look of it and Keane looks a giant in the back four.
The rest of it was hard work and effort with a couple of players, Schneiderlin and Klaassen, off colour.
Generally the team looks solid and resilient rather than inspiring and I guess we will see more of this until Koeman gets in his attacking options and the players gel.
Would I settle for a similar display and result against Man City and Chelsea? You bet I would, but please God – let's have some hope soon that the necessary reinforcements are coming and we can look forward to something a bit more silky.
Peter Jansson
71
Posted 12/08/2017 at 18:31:13
This was maybe a dull match but it was a very very important one. We had to get 3 points. The next 4 matches are against Man City (away), Chelsea (away), Spurs (home) and Man Utd (away).
With 3 points in the bag, it will be mentally easier to go into these 4 games compared to losing or drawing against Stoke.
Koeman knew this and therefore he put up a rather defensive selection. Better to win 1-0 than take the risk of losing this first and very important game.
Great stuff! Now we have nothing to lose going into the next 4 games! COYB!

Brian Williams
72
Posted 12/08/2017 at 18:34:20
Barry (#67).
In answer to your question at the end of your post, no! That first half was among the worst 44.7 minutes of football I've watched since, since errr the Ruzomberok game.
Yes, we've got a load of new players but they're not going to miraculously increase in pace, which we are dreadfully lacking. And it wasn't all down to the new players. Keane is an outstanding player, as is Pickford.
Schneiderlin must just be totally shagged out from his extended and ongoing honeymoon because he doesn't seem able to run forward or pass forward for that matter.
For a large part of the game, we were disjointed, lacking in movement, ideas, and pace. Winning is always good but we won't win too many without a huge change of setup, ideas, and formation.

Bill Gall
73
Posted 12/08/2017 at 18:34:32
We still need a couple more quality players, so sort the Sigordsson deal out. Although Dominic Calvert-Lewin had a better game when the was moved into the central forward position, I think he is the future, and we require a strong consistent goalscorer as soon as possible.
Considering we played with 5 of the new signings, it wasn't to bad a performance, but we have to improve quickly as we have some tough games coming up.
Christy Ring
74
Posted 12/08/2017 at 18:35:02
As the panel said on Soccer Saturday, we don't need another midfielder. We need to buy a top striker, with the £50m, a left sided centreback, and Mahrez would give us extra pace and width, for me a lot better option than Sigurdsson.
Phil Walling
75
Posted 12/08/2017 at 18:35:05
No access to pictures today so had to be content with OS commentary for 20 mins and when it failed, the idiotic TalkSport.
Delighted with the win but with the grave reservations about most of the midfield, would we better off with Barkley or, if not, the guy who wants to shit on Swansea?
Dave Abrahams
76
Posted 12/08/2017 at 18:35:22
It's going to take a few weeks for this set of players to gel, and with more to come, maybe three, we will all have to be extra patient.
Nevertheless, I was bored out of my skull, surely like everyone else, with that performance. I doubt if even Koeman knew what formation we were playing. Then, out of the blue, we scored a brilliantly worked goal – how did that goal get into this game? Incredible.
Second half was better with Calvert-Lewin playing in his proper position and Wayne playing much better in a deeper role.
I was worried about Pickford being a left-handed keeper, my worries have ended; he is very good who commands his area well and takes no prisoners. Likewise Keane, another good buy.
I thought Gueye was great again, but what has happened to Schneiderlin, lifeless since the games have started.
Went to the game thinking Liverpool had won 3-2, my spirits were lifted when I heard Watford had equalised in the last minute, so all-in-all not a bad day.
Jon Withey
77
Posted 12/08/2017 at 18:37:09
Not sure Klaassen is any better than Cleverley at the moment – hopefully proves me wrong. It's really going to annoy fans if Koeman keeps on playing him ahead of Davies – he really shouldn't.
On the positive: Pickford, Rooney, and Keane are great signings.
John Charles
78
Posted 12/08/2017 at 18:41:30
The knock-on from the appalling first half was how quiet the ground was for the first game of the season.
To answer a question from an earlier poster – what do we want? Some fast aggressive entertaining football, not Jags and Williams aimlessly hoofing it or Schneiderlin (what in god's name has happened to him?) forever turning around, slowing everything down, and passing back to Jags or Williams to hoof it.
Ian Riley
79
Posted 12/08/2017 at 18:44:18
The performance was not good enough and Koeman has a look of something is not right. The team needs time. In my lifetime supporting Everton have so many players made their debut at once.
A striker is a must with pace would be great. Expectations and reality have come home today. The following you all would have taken yesterday:
Rooney scores.
Clean sheet.
Three points.
Have a nice evening.

Jay Wood
80
Posted 12/08/2017 at 18:44:29
I think I can agree in part with the seemingly diametrically opposed positions of Jeff Armstrong and my doppelganger Jay Woods.
I thought Klaassen was largely anonymous and contributed very little as Jeff says. I disagree when Jeff adds he is a waste of 㿅m. It's far too early to make such a bold statement.
I can agree with Jay that Tom Davies was not much of an improvement when he came on for Klaassen. And I speak as a fully paid-up member of the Tom Davies fan club who believes he should be starting.
As against Seville last Sunday, Tom was again not as his best today. But I am confident Tom Davies will continue to get a lot of game time under Koeman, as he did in the second half of last season.
Morgan Schneiderlin remains the real head-scratcher for me in Koeman's team. I 'get' that he is a younger version of Gareth Barry bought in to inherit the deep lying defensive midfielder that offers an extra layer of protection to the defence.
What he distinctly lacks in comparison to Barry is the elder's passing range and vision to play killer balls, long or short, properly weighted and at the right time.
Morgan's fellow Frenchman Eric Cantona once derided Didier Deschamps as nothing more than a 'water carrier'. Now Deschamps was much better than that implied dismissal of his abilities, but I do wonder if the term is more applicable to Morgan Schneiderlin.
I just see him as the fly in the ointment to the style I believe Koeman is striving to achieve: solid defensive base, but with quicker transition from defence via midfield to attack.
Schneiderlin doesn't offer that to me. Rather, his first movement on receiving the ball is to turn towards his own goal. He is ponderous on the ball. Then rolls a slow paced, badly placed pass sideways or backwards. The seconds lost when he is in possession of the ball is often enough for the opposition at this level to reset and reform their solid defensive lines.
Gana was much better in this role when he first came to us in the first half of last season. Gana is still a fine player, but not as effective as he first was. Now he is being asked to play further forward and whilst he remains a terrier in the tackle, he seldom has the passing ability (and certainly not the shooting ability!) to really hurt teams.
Maybe Schneiderlin will prove me wrong. But personally, I am still waiting to see the player that many eulogized about last season.
Dan Davies
81
Posted 12/08/2017 at 18:48:37
Davies should be starting over Klaassen. Don't get me wrong, I think Klaassen will come good; he would just benefit from being introduced from the bench every now and then.
Overall, 3 points bagged. Another clean sheet. Not a bad base to build on. Just need the players to get used to each other's game and improve everything. COYBB.
Jay Harris
82
Posted 12/08/2017 at 18:56:19
I thought the team that ended the game was much better than the one that started. Calvert-Lewin is never a wingback or a winger and they had a proper defender today so no excuse.
Schneiderlin and Klaassen are not yet up to standard. Rooney is shot but worryingly was our best player.
Gana, Keane and Pickford all looked good but the rest was dross and I hate to pick on Cuco but my heart was in my mouth anytime the ball went near him. Poor but effective.
Charlie Lloyd
83
Posted 12/08/2017 at 19:01:07
First half just woeful. Line-up wrong and players listless.
Second half, after the goal, we improved and pressed and took it to Stoke to try and put the game beyond doubt. Still by no means that great but it couldn't get any worse.
What have we learnt?
Calvert-Lewin is still learning his trade through the middle and can't be relied on to do it week-in & week-out but he shouldn't be used out wide. It's not his strength.
Rooney was better when he dropped a bit deeper. He did really well with his run and finish for the goal but some of his vision in the second half was excellent.
Gueye was very impressive. Was everywhere doing what he does well. Had a patchy pre-season but really stepped it up here.
Schneiderlin. Oh! Dear. He needs to get a grip. Poor pre-season and poor today. Barry may not have the legs, not that Schneiderlin moved much, but he wouldn't have lost it so much today and his distribution is always decent.
Keane. Very impressive. No-nonsense defender.
Jagielka. Some of his distribution was truly crap. Still a bit steadier than Williams!
Pickford. They say a top keeper will save you 15 points a season. It's early doors but there's 2. Not much to do but when it mattered, a great late save.
Gordon Crawford
84
Posted 12/08/2017 at 19:03:50
I didn't see the game so can't comment on who played well. It's great to hear that Rooney was Man of the Match.
Klaassen is a slight concern at the minute. When we were first were linked with him, I was like, "No, no, no." I really want him to succeed but I'm not sure if he will.
Nigel Munford
85
Posted 12/08/2017 at 19:08:49
Charlie, that's exactly what Koeman said post match, and why he changed things at half-time. At least he's admitting things weren't right and taking steps to change them.
Derek Knox
86
Posted 12/08/2017 at 19:12:42
Negative team selection at home, but resulted in all three points thankfully. Like someone said, Stoke are no great team, but they could so easily have got one at the end, but for the brilliant save from Pickford.
Watching Man City, who we play next week, and you can't give them space or make mistakes, otherwise they will steamroller us.
Hope he doesn't stick with the side today, we need a couple of changes at least.
Brent Stephens
87
Posted 12/08/2017 at 19:12:59
A dour, slow-build up first half with a formation that seemed alien to the team (Baines looked bewildered by it all), rescued at half-time with a change to 4 at the back and the introduction of Martina (a decent half going forward) who replaced Klaassen (who looked off the pace again).
Pickford dominated his box and kicked out well. Keane inspires confidence (would the same could be said for Williams and Jags). Rooney falling deeper was able to increase the pace in the second half, with Calvert-Lewin winning balls and controlling them well in a more comfortable position up front. Gana winning a lot as usual, but Schneiderlin seems to have fallen back from his first months with us.
Happy with the 3 points, more confident coming out of that second half than the first half.
Lookman being saved for the semi-final and final of the Europa League and FA Cup, and the run-in to 4th position at the end of the season.
Barry Williams
88
Posted 12/08/2017 at 19:19:02
Brian Williams (#72),
Got to disagree with you, but that is what these forums are about I guess, opinions. I ain't trying to change yours or anyone else's mind.
For me, results are more important than aesthetically pleasing displays; we had that with Martinez. I think once we have the players gelling, a few more in place, which Koeman has stated he wants too, then we may get results as well as pleasing-on-the-eye performances. I thought the goal today was a rather pleasing on the eye move for what it is worth.
As for pace, he'll probably bring that in and we have Lookman to come in and Bolasie. Sandro doesn't look like a slouch in that department, neither does Calvert-Lewin, nor Mirallas. What we don't want is a Franz Carr type player; yes, I am old enough to reference him! All pace and no output, a bit like Deulofeu IMO.
Is Koeman without faults? Certainly not. Have we improved significantly under his leadership? I would definitely say yes. Is his 'project' complete? No. Does he want to improve the team further in this transfer window? Yes!
For me, he is more than meeting what I consider realistic expectations. Performances will come when the players gel I think. Last season's team still wasn't Koeman's; this season's will be.
Philip Bunting
89
Posted 12/08/2017 at 19:20:29
We should end the chase for Sigurdsson and pounce for Mahrez as our Number 10. I would give £50m in a heartbeat. Then offload McCarthy, Robles and Barkley as quick as, to cover the cost. I think he would bring great balance to the team; stick Rooney up top with Sandro. That's the type of player this team is crying out for.
John Pierce
90
Posted 12/08/2017 at 19:28:25
With the exception of the really good players on that pitch today – Keane, Pickford & Rooney – everyone was affected by the appalling selection & formation of the manager.
Each player had to do something extra to make up for the manager's oversight. Namely shift right. 'Disjointed' is polite, but imagine Pinochio dismembered... that's more like it.
Baines must be the most fucked off lad in L4 at the moment, years of neglect to support a very decent player. We were fortunate that Stoke were erm, unable to take advantage.
In pretty standard Koeman fashion, he addressed the debacle at half time, basking in the glow of Rooney's peerless piece of football. Lucky Ron. Wonder how many Evertonians missed it based on the cruddy first 45?
Even though, Martina is not the long-term solution, the ship so sorely listing in the first half, started to right itself and predictably we had a decent 20 minutes.
The three players mentioned at the top of my post stood out above the slow tempo, each one in their own way constantly pushing to get team mates to play with more intensity.
Koeman should be credited with the clean sheet. We are losing that vulnerability with stalked most Everton teams for years. We are sound at the back even though we have no right back!
Much to admire about Calvert-Lewin, attitude is exemplary, and actually no little skill other than when he's defending by his own corner flag.
Up and running is good, it matters for form and confidence. Who next for right-back? Me, I bagsy Besic.
John Hammond
91
Posted 12/08/2017 at 19:31:11
The problem Klaassen has is that Rooney is playing in his position. Wayne might have had a good game but I can see him being detrimental to the team, the further into the season we go. Like Huddersfield, he was up for it for the first game of the season.
Aidan Baker
92
Posted 12/08/2017 at 19:35:25
Haven't seen the match (only the goal) but listening to the commentary it strikes me that the new players with Premier League experience – Pickford and Keane (along with Rooney) knew what to expect and performed accordingly whereas Klaassen and Sandro were not quite with it, hence them both being subbed.
Pre-season has not been brilliant as these players are still getting used to each other, so any positive result is welcome.
Unfortunately for us the next few weeks are critical in our season – Europa League qualification and difficult league games which we need to get results. I know here that Barry is injured when his cool head is needed.
Ray Roche
93
Posted 12/08/2017 at 19:43:51
I still think that Lookman would be worth giving a chance to play behind Calvert-Lewin and Sandro. He can run at players, has an eye for a pass, and brought the game to life against Seville along with Kenny when they came on.
Sam Hoare
94
Posted 12/08/2017 at 19:45:50
For the first 40 minutes, it looked like my prediction that Rooney would offer next to nothing this season was spot on. Then he (happily) proved me wrong. For now.
Opening days are often tricky and, with the next games coming up, a win was crucial. Well done, Koeman and the lads, for getting 3 points.
Pickford and Keane were excellent business. Jury is out on the others for me.
For those who thought Klaassen was anonymous, check out whose movement in the box opened up the space for Rooney's goal. Of course Davy will need to do a lot more but there's a good footballer in there.
Onwards and upwards. COYB.
Don Alexander
95
Posted 12/08/2017 at 19:51:16
Well said, Barry Williams (#88).
Not good to watch admittedly but we had the ball for nearly two thirds of the game, didn't concede and, 1-0 up, had a manager then able and willing to better balance the team to secure a win. Stoke had only one goal-bound effort in the entire match too.
Five new players, three points and a clean sheet. An acceptable start in my opinion.

Darren Hind
96
Posted 12/08/2017 at 20:14:20
The ugly sisters of the Premier League were never going to serve up a treat for the purist, but fuck me!

Doctor, my eyes!!!
Clive Lewis
97
Posted 12/08/2017 at 20:21:17
I liked the new signings, apart from Klaassen, who looked like a Championship-quality player; we desperately need Sigurdsson. I fear we have been properly ripped off, like with Niasse. Rooney was excellent, reminded me of Gazza and Pirlo.
We desperately need a striker; if Romelu had played, it would have been more than one goal. Calvert-Lewin is not ready; he needs to be loaned out.
No real shape, not sure if it's worse than last season; not sure how that is possible considering the additions; the next 4 or 5 games will tell us more.
I'm not buying the Koeman talk of needing more players, should be an improvement, I believe it's his tactics that are not working... Davies is far better than Klaassen.
John Pierce
98
Posted 12/08/2017 at 20:26:54
Rooney, the definition of professional gamesmanship. As the game wore on, he clearly tired. And since the 2nd goal never came, Stoke clambered back into contention.
Like so few before him in blue shirt, Pienaar springs to mind & Barry also worthy, he mined every piece of contact, extracting fouls, ruining momentum for Stoke.
He played balls into corners with pace that forced defenders to make rash decisions as time ebbed away. As time ticked over the 90-minute mark, he fell to the turf knowingly, took an age to get up, smiling going on smirking at Jags.
He might not belt around the place, but a cool, clever head is at work there. I bet in the big games that will be worth more than the physicality of previous incarnations of Rooney.
Welcome back, lad.

Jay Woods
99
Posted 12/08/2017 at 20:27:21
Some of you fellas are talking utter tosh.
Martina wasn't a headless chicken in a flap at all; stop parroting what the person before you said and look at the actual game.
Rooney showed that he is not yet spent, as many of you seem to think.
And the failure to see that Klaassen actually did quite well (including in the buildup to the goal) is also shocking.
Conversely, Davies and Mirallas did next to nothing when they came on. Reserve some condemnatory cadences for them, why don't you?
Bob Skelton
100
Posted 12/08/2017 at 20:34:34
Strange game. Poor first half mainly caused by Koeman picking a strange formation. 3 at the back and a totally unbalanced right-side. Calvert-Lewin wing back?? Dutch strategy not very well thought out.
Let's see how it goes but not 100% convinced Koeman is earning his £6 mill yet.
John Pierce
101
Posted 12/08/2017 at 20:36:01
Jay,
Have to echo that last post. In particular about Klaassen. Many seem blinded by the whirling dervishes that are Gana, and Davies. All arms and legs, running about like a demented animal gives an impression of energy and effectiveness.
No-one in that team deserves criticism today based on the manager's brainstorming effort to select a centre-forward at right-wingback. Maybe Koeman had Chinese last night and found inspiration in a fortune cookie!
Klaassen moves effortlessly around the pitch, sees the space and creates more for his team mates; his part in the goal is worthy of note.
And even as the team stutters in this, the nascent hours of the season, Klaassen plays at a tempo that many of our players lack. Good player deffo.
Clive Lewis
102
Posted 12/08/2017 at 20:41:51
Seemed like a lot of bunching, no real width apart from second half with Calvert-Lewin, he found himself in numerous positions where Romelu would have scored, but he is a young lad still and needs time.
Klaassen was, I felt, not in the game; I have seen McCarthy play a similar game and he is being shipped out. Not sure I've seen a player of the quality that reflects the fee.
Clive Lewis
103
Posted 12/08/2017 at 20:49:04
If Koeman wants to gamble on players, then I would sign Anthony Knockeart and Krameric from Hoffenheim; both players were released by Steve Walsh when at Leicester, certainly Knockeart was.
Mark Morrissey
104
Posted 12/08/2017 at 20:50:06
The next couple of signings could have a huge effect on our season and I just hope to God we find a striker worth his salt. Glad of the 3 points.
I thought Rooney did well and I didn't want him back. I felt it was a backward step. He did really well today and here I am praying he stays fit. What do I know? – apart from we need a top striker. NSNO
Max Murphy
105
Posted 12/08/2017 at 20:54:47
Terrible first half. Jagielka and Williams shouldn't be on the pitch.
I can never understand Williams. When he has the ball with no opposition within 20 or 30 yards, he will pass the ball across to another team-mate, putting him under pressure. Why doesn't he stride forward (like Keane does) take a man out of the game, by making a timely pass?
Why did Koeman get his team selection so badly wrong? Surely he knows his team by now. I really am worried about our manager.
Schneiderlin and Klaassen had terrible games. Gueye does great tracking back and tackles well, but his distribution and shooting are abysmal.
One thing about today's game, it proved a lot of people contributing to ToffeeWeb were wrong – I'm referring to those supporters who said Rooney was over the hill, and we shouldn't have bought him. He was the best player on the pitch, closely followed by Pickford and Keane.
Joe Clitherow
106
Posted 12/08/2017 at 20:58:26
This was not an awful game despite what people have posted. This was an August game. Don't judge based on August games especially when a lot of new players come in. Strange things happen in August until things settle down (cf Chelsea).
However, there was a period of about 15 mins starting from the hour mark where we looked really good, lots of easy slick passing. Pickford and Keane look like they will be terrific additions - Rolls Royce players both of them.
Rooney looked every bit the superstar he is for a decent chunk of the second half, first time passes just oozed class, through balls that just cut a defence wide open. When was the last time we had that consistently?
Encouraging for me rather than instantly spectacular which some posters seem to expect but I'll take that. Difficult run of games now but I'd rather take them in August than when top teams have built up a head of steam.
It is August after all.
Sam Hoare
107
Posted 12/08/2017 at 21:12:31
I think I see now. We're not going to be playing 'pretty' football this season are we? We're not going to be opening up the opposition at will.
We are going to be tough. And organized. Koeman is gonna send out his team to keep clean sheets and grab one. This is why he wants Siggurdsson, the best set piece taker in the league, who can score or create from the free kicks that Rooney's canny gamesmanship will buy.
No pace. No flair. No unpredictability.
Hard working, reliable players who can press, keep shape and take instructions.
KITAP1 is back.
If we get top 6 and/or win a cup then fair enough. But don't expect to enjoy it!
John Pierce
108
Posted 12/08/2017 at 21:20:20
Joe, you are being tolerant and tactful but why should you be?
Every game is an opportunity, especially if other teams we wish to compete with stumble of the gate.
We had 2/3rds of the ball did and next to nothing with it. The team is set up not to lose, with too many defensive elements to it. We started the game our haunches. The selection and formation was out of a NFL play book, one dimensional. It required surgery at halftime, depriving us of an attacking sub. And we won but it was almost joyless.
My judgement is not this game but the body of work under Koeman.
The pieces above are clear characteristics of Koeman's Everton right from the start of his tenure. The cast has changed, quite dramatically in fact, but the deficiencies are steadfastly the same. That is cause for alarm in my book.
It needs addressing sharpish. Round pegs etc. Ball on the floor, quicker ball pace, and make the pitch bigger FFS, teams love us playing narrow, centre-halves can just stand there. They don't get put of position or tired.
Time is fleeting according to Moshiri, the window of opportunity is small. Koeman's Everton ambling about like they have all day.
Charlie Lloyd
109
Posted 12/08/2017 at 21:25:47
Sam @ 107
Fair point.
Koeman certainly doesn't want his team to be opened up. Hopefully no repeats of last seasons Chelsea away.
As for excitement. Well I'm not sure. If we do win something I'll obviously be happy but if we don't I won't be able to say I enjoyed much.
Dennis Ng
110
Posted 12/08/2017 at 21:45:30
I only saw the last 3rd of the game and thought we played quite well. Not spectacular or fancy, but good enough to possibly score a few more if everyone reached full fitness. I was disappointed Sandro had to come off because of tired legs but overall things look good. Looking forward to the Split game.
Peter Mills
111
Posted 12/08/2017 at 22:01:16
When we were in the pub, and saw the team on our phones, we discussed how the match would pan out. We got it spot on for the first 44 minutes, which were very drab. Why did the manager set it out that way? But the move for the goal was excellent.
The 2nd half was better. Rooney was very good. For me, we had better movement when Davies came on.
Apart from our attacking, we defended well, very determinedly, in the 2nd half. Maybe not what we want at home against Stoke, but we have to remember there are always two teams on the pitch, we held them off.
I was impressed with our new goalie for 90 minutes. Between 90-95 minutes I was hugely impressed.
Roger Helm
114
Posted 12/08/2017 at 22:23:58
Sandro and to a lesser extent Klaassen looked off the pace and it will take a while to adapt to the Premier League. However Keane and Pickford were very impressive, as was Rooney. I didn't think his legs have gone – I saw him tracking back towards the end of the game. Certainly his nous came in handy seeing out the game.
Why does Koeman play two defensive midfielders when we don't have the fullbacks who can bomb forwards? Why two anyway against Stoke? And Keane playing right-back leaving two smaller centre-backs to cope with the big forwards?
Still, Koeman got it right in the second half, especially when he brought Tom Davies who for me has to be a starter. Martina did okay but is he better than Kenny? It will be good to have Seamus back.

Don Alexander
115
Posted 12/08/2017 at 22:24:28
John (#108), most people recognise we have only one experienced (but slowing) full back just now, with great pace being notably absent from elsewhere in our defence and elsewhere. Under those circs it makes sense to narrow the pitch, especially against the better teams who thrive on bigger pitches. In that way our defence is less exposed. Stoke had just one goal-bound effort after all.
I imagine Koeman in his heart would love to emulate the Total Football he saw when he was growing up based around the likes of Cruyff, Neeskins, Rep, Krol, Suurbier etc etc but his head states that he HAS to achieve fourth by the end of next season so being pretty to watch, especially since we don't yet have genius anywhere on the pitch, will probably have to wait.
Providing we get there I can put up with that for two seasons but, in fairness, this squad will surely play better as the season progresses, as Joe Clitherow inferred (#106).
Seamus McCrudden
116
Posted 12/08/2017 at 22:31:04
I hate to criticise our own but for me Martina was the weakest link by a mile. Sandro was busy but still not up to speed and Klaassen just doesn't have the runners that his intelligent play provides for others to feed off but both will improve as we go on. Rooney oozed class.
With Sigurdsson, a target man, and Seamus & Bolasie back in the near future, I'm hopeful.
John Pierce
117
Posted 12/08/2017 at 22:42:06
Don, you may well be right. I can see the merits in that approach.
I still feel the positive of playing with width far overides your observation when you play more attacking football, by definition we would have more of the ball, like today and the fullbacks would have less defending to do and are less exposed.
And yet today Baines was left to cover the left side almost in its entirety as everyone shifted right, that both exposed him and knackered him out at the same time.
He provided no offensive threat at all. With no left sided midfielder for cover he was pasted twice in the first half being pushed into the left back spot.
I'm certainly not asking for total football, just a manager who can look at a game and see were to win it rather than not lose it.
We won yes, but with the exception of Rooney no swagger or flair or joy in that performance. If the players don't feel it how are we expected too?
Pragmatism gets you so far, it is unlikely to get you anything but a repeat of last year, that at its best is standing still.
No dice Ronald, sort it!
Josh Barber
118
Posted 12/08/2017 at 23:04:31
The Times reports that Chelsea want £35 million for Costa – get to it Everton!
Colin Glassar
119
Posted 12/08/2017 at 23:18:57
We've got more chance of acquiring Costa Cafe, josh
Joe Clitherow
120
Posted 12/08/2017 at 23:26:20
John (#108),
Tactful not sure. Tolerant absolutely, because as I've said you can't bring in a bunch of new players and expect them all to click straight away. Pickford and Keane definitely did. Sandro and Klaassen will take more time but they both seem good players to me. I expect Calvert-Lewinto really kick on this season, there are lots of signs for me that there is a genuine player there.
I agree with you about the speed and tempo, I was shouting for a sense of urgency there in the first half. But I was genuinely encouraged by a 15-minute spell in the second half like I said. We should have scored more when we cut them up.
When did we last cut through a defensive team like Stoke? When was the last time we pulled a defence apart? Not for very long at all today granted, but it made quite a change from passing from left to right along the edge of the opposition 18-yard line to no effect.
Optimist? Glass half-full? Yeah definitely. But it is a while since I've seen properly creative football at Goodison. Including the urban myth that Martinez had an attacking side. 10-15 mins ago of incisive one-touch passing with a bit of purpose is like an oasis in a desert.
Dan Davies
121
Posted 12/08/2017 at 23:34:58
I say it as I see it. At this point in time, Schneiderlin is struggling and lucky to be starting.
Davies needs to be in the side for Klaassen until Klaassen proves otherwise.
We need a target man up front ASAP.
John G Davies
122
Posted 12/08/2017 at 23:39:25
Very poor first half. Improved in the second half.
Looks like an unbalanced squad to me. The signings to come will hopefully redress the balance.

John Pierce
123
Posted 13/08/2017 at 00:16:56
Joe,
Definitely see what you're getting at. My tolerance has ebbed away over 20some thing years.
So first season Koeman gets a pass because he joined late in the summer, its not his players, Martinez was some sort of vudoo artist who held massive influence over the squad which was stopping them playing Koemans wat etc.
This season after three windows, his players, presumably known to the manager so more able to take on his ideas? Better players so more likey to take on his ideas.
The key element to this is not a hint of change in his approach. Everton were spent after the derby last year and he chose not to experiment, ideal since we were set in stone in 7th.
Already in an important pre-season we've seen a clear issue at right back, the club failed to bring someone and or failed to identify someone capable?
It has compromised his selections and our performances against Belgian, Dutch & Slovakian farmers. And now the agriculturalists of Stoke. I'm not seeing progress, apart from being very hard to score against.
Tell me if anywhere you think its going, can he improve the team without having change the whole lot?
I'm in need if some foresight and inspiration!
Jay Harris
124
Posted 13/08/2017 at 00:38:03
Not pretty.
Plenty to criticize but we are still unbeaten preseason and first game.
Hopefully the step up to Hajduk Split and Man City away will be assisted by some new signings and improvements in our play.
Ernie Baywood
125
Posted 13/08/2017 at 00:56:42
Yes, it's important to get the three points.
As an indicator of future performance, I'm even comfortable that we've got a good set of players. When that front few players click, as they did for the goal, it's unstoppable.
My main concern is the manager. Picking Calvert-Lewin as a wing back would have been very odd, but he didn't do that. He played without one. Calvert-Lewin started much further up the pitch than Baines. We played lopsided. Genius? Nah, it was never going to work. We were so narrow and congested playing out of defence that the only ball we could play was long... great if you have a team that suits that but our only player over 5'-10" in the attacking half is a kid who is still filling out!
Two defensive midfielders to protect no wing backs?
The fact we were so much better with Martina in the side speaks volumes. He's not top drawer, but he is a right back.
I'm fearing that Ron is another manager who believes he's a genius. Like the idea of playing players in their best positions is old fashioned and backwards.
Plenty to be positive about but again, it feels like it's all despite of the manager. If that selection is an indicator of what's to come then being happy with 3 points might become a rarer pleasure.
Clive Mitchell
126
Posted 13/08/2017 at 01:15:58
Just back. Think it's best to post as if the game had ended 1-1, as it well could have.
Pickford and Keane did very well. Klaassen had a decent game and on that showing deserves to be judged after ten games not one. Sandro's attitude is great and he made a key contribution to the goal.
Calvert-Lewin looks like he'll make it at this level. Gueye was MotM. Rooney had his own perfect day, and he deserved it. Jags never gives less than his all, but he needs to be excused the need to give it quite so often now. We need another centre back and a striker. And Seamus back.
It's true the game was hardly inspiring in the first half, but Stoke are a decent team I expect to finish above the bottom 8 and we didn't fold to them. Give them time, give Koeman time. This is his team now, and if he's any good he'll manage it to 65 points or more this season.
Kieran Kinsella
127
Posted 13/08/2017 at 01:42:12
Dan Davies (#121),
I agree. I fear Schneiderlin maybe Ron's Cleverly. Someone he worked with before who is decent but doesn't really fit into the team. On Klaassen it's a bit frustrating to see him learning on the job as it were while Davies sits on the bench.
On the positive side, I thought Rooney was magnificent in the last 20 minutes. He held the ball up, made the smartest passes, didn't take silly risks but created some clever openings. He knows how to close a game out. We haven't had anyone with that composure for a long time.
Also, Pickford. Quiet game but match saving save. He's a young lad but he controls the box. None of the faffing around you see with Robles.
Joseph Terrence
128
Posted 13/08/2017 at 01:46:43
While I agree Klaassen wasn't up to snuff today, I think it's plain to see that he will have a lot to offer in linking up play. He is an intelligent player and looks to move the ball quickly. It will take time but, once he learns the tendencies of other players and they learn his tendencies, he should be quite an asset.
Don Alexander
129
Posted 13/08/2017 at 01:46:45
John (#123), even in 69-70 we won ugly, as we did in the mid 80s and today, and last week and the week before. It ain't a crime, it's a good habit.
Koeman was a truly great player and on that account I think he may not become a truly great manager of a truly great team. Not many do. Personality wise, as far as the public see, he's a cold fish. It doesn't concern me though.
What concerns me is that he continues to improve the madhouse he inherited from the "phenomenal" one, and he's on course for doing that. That's why I support him, turgid as some games undoubtedly are.
With total respect your own observation that we're definitely hard to score against is the first base in establishing a successful team (ask Liverpool, Arsenal or Chelsea today).
I hope we sign better offensive/productive players in what's left of the window, but who knows what managing billionaire entities requires .... apart from Mr Moshiri?
I do believe Koeman knows what the limitations of players are though, and how to develop/gel them. His record at Southampton speaks to that.
Dan Davies
130
Posted 13/08/2017 at 02:01:33
Thank you, Kieran. Much appreciated. I wonder what the line-up will be the next game? Bring it on ...
David Barks
131
Posted 13/08/2017 at 02:16:26
I'm excited about what Klaassen is going to become for us. First match, terrible lineup from the manager as he has admitted. But Klaassen showed the quality he has when he is given the chance to use the ball. Don't have him crowded out by Schneiderlin and Gana bother taking up the center of the pitch. Let his sit in their with one of those two players and I think we'll see that box to box play making midfielder we've been lacking for so long.
And I don't know how it will work out over two years, but what an awesome moment it was to see Rooney nod in that goal in his return to Goodison. Made me feel like a child again.
The game was awful if we are honest. The first half was dreadful. We were better in the second half, but still very much lacking. But I do think we have that commander in the box in Pickford. First match and got three points. I'll take it, but expect a hell of a lot more going forward.
Jamie Crowley
132
Posted 13/08/2017 at 02:21:34
Patience is a virtue.
We're about to enter a four game stretch literally out of the bowels of hell.
I can see the comments now if we lose... bile, impatient, petulant...
We won't win all 4 games.
After 5 games total if we're on 7 points good, 9 brilliant, 10+ it's completely sky's the limit.
This is a good team. It's not my personal preference of openness and flash - a la Roberto's first season. But I'm an immature douche who likes a bit of "Hollywood" in his team.
We may be on to something pragmatic, but special.
Gana ran 20 miles today, Rooney is just class, and Keane and Pickford are the bomb.
Ernie Baywood
133
Posted 13/08/2017 at 03:42:51
Jamie, that's why I like to celebrate the result but analyse the performance.
Maybe this run of games will yield a big points return... but if it doesn't I'll be happy just to see a team that's improving. By improvement I mean having a go at the big teams and showing a bit of attacking intensity. We're destined for 7th-ish if we don't... maybe higher but probably not lower if we do. Might as well have a crack at them then.
Bill Gienapp
134
Posted 13/08/2017 at 04:15:39
Encouraging on the whole. First half was dire, but that goal was a moment of magic. Not just the context of Rooney scoring in his Premier League return, but the entire build-up was sublime... the give-and-go between Rooney and Gueye... Sandro having the quickness to shed two defenders and get the ball wide to Calvert-Lewin, who delivers a superb cross... Klaassen helping to draw the defense away, giving Rooney the space to charge into the box and bury the header. Fantastic stuff and already an early contender for goal of the season, hyperbole be damned.
Second half was much better. Still not scintillating stuff, but it definitely felt like we had a second goal in us.
Pickford looks like everything you want in a keeper and more. Commands the box with complete authority and came up with the game-saving goods late when called upon.
Some people seem to already be writing Klaassen off (Cleverley 2.0? Oh boy), but I think once the side starts to gel and the link-up play becomes stronger, we'll start to see what he can do.
Biggest disappointment is how Lookman remains glaringly underutilized. Hopefully he'll get a decent run-out in the next Europa League fixture.
Darren Hind
135
Posted 13/08/2017 at 05:17:27
Jamie,
Wanting to see a little "Hollywood" does not make you an immature douche. It makes you a lover of the beautiful game. As a yank ,you don't belong with the English mustn't-fuckin-grumble crew.
Do not lower your standards. Do not settle, Do not apologise for the shite we're having to endure, Do not allow yourself to buy into this ridiculous notion that accepting coma-inducing dross whilst desperately hoping that players we haven't even signed yet (count the posts) will somehow turn our season around.
Just keep telling yourself "Hollywood" good, Zombie football, bad.
Don't drift into a place where the prospect of finishing where we did last season makes you "The most excited you have been for years". Do not become one of those "positive" people who will tell you the future is blindingly bright – but who won't dare believe we can challenge top four. Don't ever believe that winning ugly is a "good habbit".
Listen to me son: never stop looking for entertaining football, never stop demanding it, pull yourself back from the brink; Do NOT become one of those self-proclaimed optimists.
Anto Byrne
137
Posted 13/08/2017 at 05:19:27
Klaassen has been brought in for the Europa League, that is patently obvious given he went all the way. I had no problem with his effort on the pitch and he was involved with the goal allowing space for Rooney. It's not like Stoke came to play but more like nick one.
It's going to very hard for teams to break us down and the difference between Martina and Holgate is one can actually cross the ball so unless Mason adds that to his game its hard to see him actually getting the full back job. Keane and Holgate will obviously play minutes as there is going to be 60 games over the next nine months.
On a lighter note Tom Cleverley played quite well for Watford and it was a great result for them you should have seen the smile on my face when I saw the turgid expression from that clown they call the Klopp.
How come Surguddson hasn't asked for a transfer?
Kieran Kinsella
138
Posted 13/08/2017 at 05:40:45
Bill,
I don't think Klaassen is Cleverley 2.0 but I do think Davies offers more at this point.
James Flynn
139
Posted 13/08/2017 at 05:41:35
We've signed players and hope to get a couple more.
Among all of them, getting Rooney is the key to us moving up 2-3 positions.
We have some fine ones and hope our youngsters will come good.
Rooney, though, is that all-world player we keep hoping for, while not considering him one any more.
Yet, of whatever 22 were out there today, he was so far and away the best. No one close. The same effortless brilliance he's displayed since a 16-year-old.
He's the key to us moving up this season. Rooney. THAT guy we always say the team is missing; a talisman.
Steve Brown
140
Posted 13/08/2017 at 06:07:35
Without wanting to sound "optimistic" (apparently that's a bad thing?!), look at the results of last season's top six to assess Everton. A real mixed bag.
Koeman got the tactics and team selection wrong but fixed it at half-time. A back three without a left sided centre back and no quality wing backs is pointless, we don't need to play two central defensive midfielders against Stoke and playing a false Number 9 because we don't have a quality striker is frustrating. Klaassen will come good when he has runners to pick out and isn't crowded out in central midfield by Gueye and Schneiderlin.
The good points – Pickford, Keane, Gueye, Rooney. The rest a big work in progress.
Brian Porter
141
Posted 13/08/2017 at 06:31:42
I've not seen one acknowledgement of Sandro's part in the goal today. He received the ball from Klaassen, droop of the shoulder, turned the defender, great pass to Calvert-Lewin who made the cross for Rooney to score the winner.
Having watched Sandro a few times playing in La Liga, my impression is that he is at his best when the team moves forward at pace and his speed and link-up play come to the fore, as in the movement for yesterday's goal. A slow, ponderous build up negates his abilities and he works best with runners beside and around him. He never gives up and will run himself into the ground for the team.
I also noticed he was limping slightly for about five minutes before being subbed, so perhaps Koeman brought him off as a precaution, but he is the kind of player who can make things happen in a heartbeat. If he can develop an understanding with Rooney they could prove to be our ace in the hole this season.
I agree it will take a few games for him to adjust to the Premier League (he's said so himself), but remember that he hasn't had a full pre-season with us, joining late after the U21 championships. Once he fully integrates into the team and gets to know his team mates better, I think we'll see the best of Sandro Ramirez.
Shaun Wilson
142
Posted 13/08/2017 at 07:33:38
I concur, Brian. Sandro looks the business; just give him time.
Bill Gienapp
143
Posted 13/08/2017 at 07:53:40
Kieran
That's fair. I just think those that already seem willing to declare Klaassen "£24-mil down the toilet" are being a bit extreme.
Laurie Hartley
144
Posted 13/08/2017 at 08:36:55
Brian (#141), I haven't seen the game yet but only the highlight of the goal and what a goal of quality it was. Sandro's contribution was, as you pointed out, significant not only for his turn and pass but also for the way he held his position.
Between them, Sandro and Klaassen drew the defence and thereby created the space that gave Rooney a free run at that peach of a cross from young Calvert-Lewin.
Let's not forget also that Rooney started the move just inside their half. Great football. If they can produce that sort of move 3 times every game I will be a very happy Evertonian.
Jim Knightley
145
Posted 13/08/2017 at 08:58:46
We have lost our most important attacker this summer (Lukaku), will lose our second best (Barkley), whilst perhaps our best player (Coleman) won't be back until next year.
Every team above us has improved with the exception of Spurs and arguably Chelsea, who were miles ahead of us anyway.
Top 4 is not on the cards. Teams have got better again in recent seasons and we have clear issues in the squad. We need to buy well and continue to invest in the future – many of our buys have been aimed at that. We need patience – not the unrealistic expectations of Everton fans who remember the good old days, and those believing the Leicester story is the rule rather than the 1000/1 exception.
That said, we have the right to watch football that isn't turgid. It needs to get better and I expect it will. It is only Week 1 and we won.
James Hill
146
Posted 13/08/2017 at 09:03:48
Still unbeaten, clean sheet, 3 points. The 1st half balance of the team wasn't right. But we always looked in control,. Hence, one save by Pickford.
Much better and improvement 2nd half. I watched 3 other games, including Liverpool and Chelsea; we are not that bad.
Paul Tran
147
Posted 13/08/2017 at 09:06:39
Positives; we won, clean sheet, Rooney's performance had me eating humble pie last night, Pickford looks like a keeper with a bit of presence, leadership and shot-stopping, Keane has made a very assured start. Calvert-Lewin played well again.
Negatives; dull, dull, dull, dull. General lack of purpose from the players. Usual Koeman wannabe smart-arse team selection where we started the second half with the line-up that should have started the first, wasting subs in the process. Duplication of roles in midfield with players crowding each other out and getting in each other's way.
I love the fact that we're strong defensively, though that will get tested in the coming weeks. I can see the idea of flexible players switching positions through a game. I hope that when they pick up the pace, they'll complement each other rather than duplicate each other.
Of course it's early days and we have won three straight games, but I'm watching confused players playing with the handbrake on and a manager who hasn't realised that you can justify your salary by giving simple instructions and trusting the players you bought to do their jobs.
This time last year, the team was 'unfit', yet tore into Spurs for 70 minutes, before tiring into a draw. They had purpose, visible desire and a bit of cohesion. Three things that weren't there yesterday. I watch games on my laptop at home. If I'd paid my hard-earned to watch that yesterday, I'd be asking more questions than I am now.
David Metcalf
148
Posted 13/08/2017 at 10:00:56
A lot of the people on here having a go at Klaassen would do well to remember how badly both Dennis Bergkamp and Thierry Henry struggled when they first arrived at Arsenal. They'd both also struggled to make an impact in Serie A too, which is why Arsenal got them relatively easily. It took them both a good few months to really find their feet in English football, yet they became hugely influential players for the Gooners.
Now I'm not saying Klaassen is going to become as good a player as that for us, although it would obviously be fantastic if he did!! But I do think we all need to cut him some slack and give him at least half a season before being too judgmental.
In fact, the same can be said for all our new signings, including Martina. No, Martina is not world class, but some people were getting on his back after about 10 minutes during the home leg against Ruzomberok, which was ridiculous. Personally, as an Evertonian of almost 50 years, I hate to see players who've barely been here 5 minutes getting slagged off so early in their careers.
These lads need encouragement right now, not abuse. If it turns out in the long term some of them aren't going to cut the mustard, then so be it. But, at least for now, let's give them our support.
Colin Malone
149
Posted 13/08/2017 at 10:19:17
Credit to Calvert-Lewin, brilliant against big strong Stoke defenders, very impressed.
Klaassen looks like a 㿅 player, not £25 million, awful. Rooney proved his doubters wrong. Rooney for England... Class!
Josh King from Bournemouth.

Dennis Ng
150
Posted 13/08/2017 at 10:55:27
Darren (#135), what is so bad about being an optimist? OK, let's not paint something bad as good cause that's just revisionist. But let's also not chant echos of doom way before we start. That's just a self fulfilling prophecy and we all know where to go from there.
The game was not pretty most of the time and on occasions looked like we almost allowed 1-2 cracks for Stoke to get through, but I do think the new players will get better, and perhaps play fancier football as we progress. Ideally with Sigurdson and Barkley though the second would be optimistic.
Sandro had to be subbed after running his legs out, and played well when he still had gas. Calvert-Lewin look to be able to hold his own, unpolished but decent. Rooney will be a good mentor for the kids. Keane and Pickford looks set to be the new spine. It's not pretty but definitely should have instilled some optimism even in the forever pragmatist, right?
Steve (#140), clearly optimist are bad in the eyes of Darren but it is just 1 game. I think Jamie 132's gauge of optimism based on points after the next few games is justified. Chelsea will bounce back because its Conte not Mourinho. And we need to be careful because Leicester seems to be back.
Jamie (#132), I hope Hollywood to you means flashy, ball to feet, direct football and not ego trip mania like Bayern, Barca and Real. We won't get that level of football this early in the project but I do hope to see flashes of it when the team gels over the course of this season.
Mark Andersson
151
Posted 13/08/2017 at 11:25:13
Early days. Darren Do not become a self proclaimed "optimist" but for once I agree with you...
Koeman out...will that make you feel better..
Personally I thought the game was dull but a win is a win 3 points and more to come..

Ray Robinson
152
Posted 13/08/2017 at 11:49:07
Darren (#136), your best post this season! (Please note in case editor deletes post #136, I do not mean #135)
Nicholas Ryan
153
Posted 13/08/2017 at 11:57:41
OK, so we've played some absolute dross recently... BUT, we've completed 3 competitive games, and won them all 1-0; Rooney has got the bit between his teeth, and still exudes class; we've bought the world's best goalkeeper; Keane is already worth twice what we paid for him; 'The Ice[landic]Man Cometh', we've got funds for a top striker; we're 3 points above Chelsea, and two above Liverpool. Bloody Hell, it could be an awful lot worse!!
Brent Stephens
154
Posted 13/08/2017 at 11:57:48
Darren (#136) – the most sensible thing you've ever posted!
Gary Edwards
155
Posted 13/08/2017 at 12:02:12
Paul (147), totally agree, esp.
Duplication of roles in midfield with players crowding each other out and getting in each other's way.
And as you point out this is down to Koeman's poor tactics and blind faith in under-performing players, notably Schneiderlin. He's either out-of-form or simply shite, there's nothing progressive about his play, he stifles progressive movement. I'd be interested to know what % of his passes went forward. He's also slow, very slow, average players breeze past him.
His apologists argue that he breaks up attacks, rubbish! When you have Gueye in the team chasing down and tackling everything, why have Schneiderlin? What were their respective tackle counts? On current form he falls behind Davies, Barry, Besic, and McCarthy. Frankly I'd sell him on even at a loss.
3 at the back – we don't have the personnel for that. Keane – yes but Williams continues to be poor and Jagielka obviously struggles playing left in a 3 The '3 tactic' also requires you to have good, attacking wing backs, we don't. Baines is playing okay but will his form continue ? Koeman refuses to select Kenny and Holgate is not a wing back. Yesterday City played the '3 system' as it should be played but look at their personnel.
Wayne looks good in the '10' role as he has done in recent seasons. Which begs the question, why are we buying Sigurdsson for £50m when what we need is pace and power in attack ?
Other positives – Calvert-Lewin, looking good through the middle, Pickford – assured, Davies – great energy.
Brent Stephens
156
Posted 13/08/2017 at 12:11:41
I can't understand why some are saying that was "a dull game". The first half was dreadfully dull and the second half was entertaining. That is not the same as "a dull game".
I can see more of both halves through the season but I'm a self-appointed optimist rather than a self-appointed doom-monger.
Brent Stephens
157
Posted 13/08/2017 at 12:19:44
Gary (#155) – agree with your analysis. Disappointed with Baines's contribution as wing back – he seemed either unsure of his role or lacking in confidence going forward. And Calvert-Lewin was better when he went central – I see Koeman said he expected more space on the right and that is why he put Calvert-Lewin there. You can't predict how the opposition will play, the space on the right didn't eventuate, and Koeman changed it.
James Marshall
158
Posted 13/08/2017 at 12:31:50
It wasn't a dull game, it was an ugly game. There's a difference.
Rooney was immense. It you can't enjoy him scoring the winner for us, then I feel sorry for you. Football is about emotion and togetherness as much as is it about winning.
Loved the Rooney celebration yesterday.
Derek Knox
159
Posted 13/08/2017 at 13:26:08
I watched the post-match interview with Koeman, he looked very sheepish, despite the win.
In all fairness to him, he did admit responsibility, for wrong team selection and tactics, so I think we all hope he truly realises this and, makes amends for the future.
Another poster mentioned that with having these tough fixtures ahead, may not be as bad, because most teams are adjusting to new personnel etc, so may not be fully up to speed yet.
The only thing that worries me, is that we are not up to speed either.
It still baffles me why he plays Gana and Schneiderlin at home, it's not that they are not good players, but too similar, of the two I would have Gana every time, as he covers every blade of grass and tries to feed the ball forward. Schneiderlin has been disappointing of late, too slow, and passing sideways or back to defence.
Klaassen is another one who needs to speed up, you can see he has the vision and skill, but has to realise the Prem is much quicker than what he has been used to.
Like everyone else on here, the lack of a striker to replace Rom is baffling, you don't let a player go, without having plans to replace, certainly not starting the season with no established front man.
I do like Sandro, but wish he would try and stay around the areas where he would be most effective, his energy and enthusiasm can't be faulted, but too often he is either wide or too deep when a ball goes into the opposition box.
He's only young and keen, but again Koeman should be coaching him better.
Having said that, I don't think we are that far away, let's hope any additions come well before deadline day.
Darren Hind
161
Posted 13/08/2017 at 13:34:57
Dennis Ng.
You didn't read my post carefully enough mate. There is absolutely nothing wrong with Optimists. They're the people who make the world go round.
My warning to Jamie was to not become a "self proclaimed" optimist.
I find it highly amusing that the people on here who expect more and constantly call for it, are dismissed as negative and the people who excuse and settle for mediocrity, can't wait to tell everyone how positive they are.
"Challenging the top boys is unrealistic" – We as a football club must have the most negative optimists in football.
Don't take my post too seriously, Dennis. Jamie has demonstrated he has a good sense of humour. The advice I offered was offered with tongue firmly in cheek

Alan Bodell
162
Posted 13/08/2017 at 13:38:56
Poor game, good result, Pickford so confident and commanding his box, he will be worth a goal a game for us.
How the fuck didn't that slimy Swiss twat get a red for his elbow on Baines?
Derek Knox
163
Posted 13/08/2017 at 14:03:18
Alan @162, he bribed the ref with Toblerones. :-)
Colin Glassar
164
Posted 13/08/2017 at 14:06:07
Or showed him his cuckoo (clock)
Alan Bodell
165
Posted 13/08/2017 at 14:34:50
Derek/Colin, you're both right and it's his lucky ground as last season his 'wonder goal' here was a fucking cross and all the tv. pundits spunked themselves over it.
Jay Wood
166
Posted 13/08/2017 at 14:40:39
Tell yer what – The goal looked very good in real time, live, yesterday.
Watching it again today, from start to finish, it gets better and better.
Jags wins the ball back from a Stoke throw, defending deep in our half on the left. Rooney tussling with Diouf to first win the ball back then play a smart lay off to Gana. Gana playing the ball wide right to Keane, still deep in our own half. Keane carrying the ball forward to the half way line, where he turns back on the closing Shaqiri to lay the ball back inside to Gana just outside the centre circle. Gana takes a couple of touches and advances 10 m before playing a crisp 1-2 with Rooney. Gana plays a first time pass to Sandro who takes one touch, plays a drag back to put one defender on his arse and draws in the player from the flank who was marking Calvert-Lewin. Sandro plays a perfectly weighted ball out to the now unmarked Calvert-Lewin. As the latter shapes to make the cross, Klaassen makes a near post run which is tracked by the central defender. And Rooney, 40 m from goal when he played his 1-2 with Gana, is alert to the play.
First jogging, as Sandro turns and lays off the ball to Calvert-Lewin, Rooney accelerates past the player who should be tracking him, attacking the space Klaassen's run opened up for him. Calvert-Lewin's quality cross falls perfectly into that space and Rooney is cute enough to head the ball back across the flaying Butland.
That's seven players all having a part to play in a very good team goal.
Impressive.
John G Davies
167
Posted 13/08/2017 at 14:44:13
Like watching paint dry in the first half. Better in the second half.
Five players making their league debuts contributed to the lack of cohesion. The new signings will give the team more balance hopefully. They will have to as we looked an unbalanced side yesterday.
I don't think Rooney, Klaassen and Sandro will all start, especially if Sigurdsson signs. Bonus for me was the class Rooney showed.
Chris Williams
168
Posted 13/08/2017 at 15:24:16
It seems to me that it's a bit of an error to bracket Schneiderlin and Gueye as ' too similar' or 'two defensive midfielders' when in fact they seem to do two distinctly different jobs.
Schneiderlin is the holding midfielder, sitting in front of the defence, shielding and acting as a springboard for the attacking players. For whatever reason he seems only to be doing half of this effectively. But he is a good player and his form will return.
Gueye is all over the pitch with great energy, and is just as likely to be tackling at the edge of the oppositions penalty area as ours. He's often in advanced positions and on a couple of occasions was supporting Calvert-Lewin in attack when he broke away in the second half. He was often further up than Klaassen. He defends our area when he has to, but then so do all of the midfield.
Maybe we have too many players occupying similar space further up the park?
Raymond Fox
169
Posted 13/08/2017 at 15:47:29
Great result, but we are lacking the class needed for a top 4 team, yet! Same old story of good but not quite good enough.
As far as the game went, it was hardly entertaining, but at least we improved a little in the second half.
Rooney can still do a job for us behind a front two, we found that out. Sandro is a steal at ٣m, he looks a serious player given the right service. Keane and Pickford look money well spent. Not wild about Klaassen, not yet anyway. Davies and Calvert-Lewin both have a good future. Gana gives his all each game, is a bit of a headless chicken at times, but you cant fault him for effort.
What the hell is going on with Sigurdsson? We are obviously being held to ransom. We badly need a 15-20 goal striker along with Sigurdsson to compete with the best sides.
Robert Workman
170
Posted 13/08/2017 at 16:04:12
Felt sorry for Klaassen when he was substituted. It was expected and he did receive polite applause for his efforts. However the roar that went up when Davies, the local hero, came on must have affected him. Competition for places.
Mike Powell
171
Posted 13/08/2017 at 16:23:02
It's 3 points but painful to watch we need to improve drastically, we are lacking pace and we desperately need a striker . Rooney Keane Baines and Pickford were the stand out players. .
Derek Knox
172
Posted 13/08/2017 at 17:11:16
Robert, that's the way it should be, like many on here have mentioned already, there was little urgency, from a few there yesterday.
Just because they cost an arm and a leg, shouldn't guarantee them a starting slot.
I'm sure it will all pan out, I've been watching all the other games, or rather highlights, apart from the matches shown live (BT & Sky) and other teams are going through bedding in processes too. No teams look formidable, so maybe we can nick a few points, in the coming month.
Kim Vivian
173
Posted 13/08/2017 at 17:37:12
Yell ya what ......I reckon in a few weeks time it'll feel like Rooney's never been away.
Barry Williams
174
Posted 13/08/2017 at 17:47:30
Chris Williams - 168
Agree with you on Gueye, I would never class him as either a defensive midfielder or a holding midfielder. Increasingly he is getting forward. If he has to be classified he's a box to box midfielder. Let's hope he improves his shooting! Personally, I think he's excellent!
Clive Mitchell
175
Posted 13/08/2017 at 19:19:47
Jay, 166 - brilliant description, and 100% right.
As for the whole game guys, it was far too nerve-wracking to be dull!
Dennis Ng
176
Posted 13/08/2017 at 19:28:07
Darren, I was a bit sarcastic when calling you out in jest as well. I'm a self-proclaimed optimist, at least in another thread. No offence taken as I can see where you're coming from.
There is an uncomfortable extreme between high and low bars set by fans sometimes. Optimists primed for failure and pessimists hedging their bets. I think we can challenge but take stock at how difficult it will be.
Our preseason and first 3 official games show some lack of flow but I hope that will improve as we progress and add new players. I see flashes of style in our play but isn't quite the finished product given our early transfer window hype, yet.
Jamie Crowley
177
Posted 13/08/2017 at 21:03:31
Darren – brilliant. Both Darren and Dennis here is my response:
I was up until 2 am last night here on the East Coast of God's country, and I read Darren's post and thought, "I'll reply in the morning."
I didn't wake for the day until 11:15 am. I can still sleep like a teenager. I digress...
Darren, I do crave pretty football. Not that shite that passed for pretty when I first started to watch the game a decade ago a la Barcelona's brutally boring (at times!) tippy-tappy possession shite. I'd argue pretty football was us Roberto's first season, Spurs under Rednap with Bale & Co, the Dutch in 2010, the Germans any time, and yes Iceland last summer.
It doesn't matter if it's defensive Herculean effort or counter-attacking opportunism or more possession based with purpose football. I do prefer the latter to be honest, but...
It's been a decade of my time (and fuck knows how long for most people on TW!). I don't give one fiddler's fart how we do it. I want to:
WIN!!
I've no business whatsoever even being a fan. How in the holy hell this team ever came to consume me is a miracle along the lines of loaves and fish.
I want us to win. And I define that to mean top four. Why?
Because I want Champions League. I want success. I don't want to have to search some obscure fucking channel to see us play in Europe.
When I watched the Arsenal - Leicester game the other night, the "honey shot" was of Alexi Sanchez's ridiculously hot wife sitting with him in the corporate box. About two weeks ago when we travelled to bum-fuck Dark Europe where they breed vampires, the honey shot as the cameras panned across the crowd was of Rob-fucking-Halligan!!!! Now Rob is a handsome gigantic teddy-bear of a man admittedly, but he's NOT Alexi Sanchez's wife who made my contemplate hitting pause and taking some time to flog jimmy!
Success is Champions League and I don't give a single flying fuck how we get there.
Success is hot chicks on televised games on channels you can actually find. Not Rob Halligan (God bless him) in the crowd on a dodgy internet feed sponsored as a hacking fundraiser by Terrorists Are Us replete with "guess which X to click" pop up ads with every computer virus known to man.
It's time Everton just win. Any way, any how.
Cheers.
Michael Kenrick
178
Posted 13/08/2017 at 21:13:27
Second half 'entertaining', Brent (#156)? Really?
Okay, it was better than the first (bar the excellent goal), but it was still only marginally less turgid. I can see that, if you're a real lover of football, including really poor football, then you might find anything like that entertaining, especially given three months of deprivation.
For me, it was mostly dour, dire, ugly... yes for long stretches dull (all four-letter words!) but I was getting a wee bit edgy as Stoke came back into it. Not how I prefer to be 'entertained', but you pays your money...
Dennis Ng
179
Posted 13/08/2017 at 21:16:33
LOL Jamie, that will be success indeed. Not going to be easy but hopefully we will get there soon.
Michael, I think winning makes up half the ticket price for him.
Brent Stephens
180
Posted 13/08/2017 at 21:20:13
Michael #178 "if you're a real lover of football, including really poor football, then you might find anything like that entertaining".
Michael, yes, as others have said on here, that was a good second half. Not brilliant. Not very good. Just good. And do you really have to stoop to saying "if you're a lover of football, including really poor football"? Who on earth is a lover of really poor football?! Ridiculous.
Dan Davies
181
Posted 13/08/2017 at 22:46:37
Jay @ 166, yep that was a very good goal. Let's hope for more of the same, home and away.
Max Murphy
182
Posted 13/08/2017 at 23:06:54
Brent (#180) – The second half was marginally better than the first half, but was still dreadful, and certainly not to Everton FC standard.
I've now watched all the other Premier League games and the sides that won would give Everton a roasting.
I'm really worried when we play the next few games - we're going to really struggle against any side in the Premier League.
Jay Wood
183
Posted 13/08/2017 at 23:09:35
Another thing I forgot to mention about our goal: look closely as Rooney makes his run. Alongside him is his marker, Joe Allen. Wayne gives Allen the slightest of nudges and the resultant trajectory of their respective runs leaves Wayne in acres of space and Allen 3-4 m away from him.
You might recall the goal Wayne scored at Genk from Sandro's cross. Again, just outside the area, he clips the heels of the retreating defender who goes down, leaving Wayne another clear run on goal.
It's this gamecraft that Wayne also brings to the team.
Barry Williams
184
Posted 13/08/2017 at 23:53:12
Jamie Crowley – #177
Thanks for your eloquent rant! It put a big smile on my face! Saying that, did you ever see Tom Cleverley's missus?
Oh, and I was there in the early 80s and the mid-80s too of course. People wax lyrical about the team that won the league, and rightly so, but they could win ugly and often did. We had Van Den Hauwe, Reid, Gray, Watson etc; they could mix it!
Barry Williams
185
Posted 13/08/2017 at 00:02:13
Jay Wood - #166
Which considering there were 4 new players (if you count Rooney as new) in the move is rather impressive me thinks! Yip, you can be involved in a move without touching the ball, that's why stats can be so deceptive!
Dan Davies
186
Posted 13/08/2017 at 00:03:42
Fuck me I'm defo backing Mr Crowley at 177! Hallelujah! Bring it on, Jamie, I love it.
The 'deal' across the park is running out.
Dave Speed
187
Posted 14/08/2017 at 05:34:55
There's plenty of humble pie being eaten here today. Don't worry, there's plenty for everyone.
I can't fathom the criticism of Koeman. Remember in the recent past that Stoke City came here and left with 3 points twice? We had to put up with the the first half of keeping the ball so that their high pressing spoiling tactics would burn out their runners. Wayne's run and goal were a glorious bonus.
We are admittedly (by everybody) incomplete. Yet we won with a clean sheet. The humble pie on offer is for the Rooney doubters. I notice there is at least one poster (Colin?) who mentions Pirlo. I mentioned this as a possibility weeks ago and not one agreed. In fact, there were quite a few who decomposed the notion. Well, I reckon that Rooney's second half performance was as 'Pirlo-esque' as it gets. He will do this repeatedly as long as the youngsters make the runs. He will see them and pick them out, as he did with ease about four or five times on Saturday.
Enjoy your meal!
James Watts
188
Posted 14/08/2017 at 05:47:30
Dave (#187). Koeman deserves criticism in my book simply because of Calvert-Lewin at right wing back. That was dumb in the extreme, especially when he had 3 other players on the bench who could have played that role. It's not like he experimented in pre season with Calvert-Lewin there, neither had he ever played there before there so to suddenly play him there was the definition of stupid.
He sorted it out at half time, which is good as he wasn't stubborn or stupid enough to let it continue. So credit there.
I was personally fairly happy with the second half as I thought we did okay for a team in the early stages of bedding in new players.
Overall Koeman has made us harder to beat and results have generally improved but his tactics and team selections are so wrong at times it's bewildering.
If you'd asked most fans after Davies came on, that is probably our strongest xi at this time. Most of us can see it but Koeman doesn't seem to want to, even though it's staring him in the face.
Dave Speed
189
Posted 14/08/2017 at 06:01:15
I take your point, James (#188) but to play him at No 9 from the start would have done him no favours. Their central defenders had 45 mins of watching the industrious Sandro and Dom I feel got the benefit of that, even though Koeman admitted his mistake.
Having said that, I feel that he needs direction in the No 9 position as yes, he is still learning I and will not criticise him. Many have used Sharpy as a comparison, but he didn't really blossom until a certain Andy Gray came along and showed him how to ruffle the feathers of the cloggers.
It will do him no harm to play in that uncomfortable position again in the future to gain an appreciation of how it's done. I remember my own engineering apprenticeship. Part of my job was going to the shop to get the butties for dinner. It's character forming. I'm taking the dog out now so I may be back on before work.
James Watts
190
Posted 14/08/2017 at 06:48:52
I have no problems with Calvert-Lewin at all Dave. I like the lad, think hes got a good future and would much rather see the young fellas given the chance than poorer experienced players (Martina v Kenny as an example). I can understand why he plays as a right winger sometimes, I don't agree but understand. But right wing back? That does him no favours what so ever and I can't see him learning anything from that role that will aid him as a striker in the years to come. I challenge anyone else to name me a striker who's learnt his trade as a wing back when he was younger!
My preference right now is bang up front from the start until we get someone else, as he's the only player we have who can give us that focal point players like Rooney, Sandro, Klaassen and Davies need. Once we get another striker then back to bench with 20-30 min cameos plus full games when the other fella needs a break. Certainly none of this right wing or wing back nonsense.
Enjoy the dog walk, and as it's lunch time here I'm salivating at at the thought of a chip butty!!!
Darren Hind
191
Posted 14/08/2017 at 06:58:23
Knew you wouldn't disappoint, Jamie.

Paul A Smith
192
Posted 14/08/2017 at 09:07:48
Barry 88, When did we have pleasing performances under Martinez when we lost? They must have been rare if any? Under Koeman its getting hard to find a game where we played well and won.
You also say Deulofeu was basically unproductive. That's just ludicrous. No matter how poor or how long he played on the pitch his assist ratio was excellent.
I love these fans who scream the positive life but only remember an individuals negative points. To all the fans who ask what do some people want.
I want a manager who takes great wages to feel like Everton are up for it and don't need 6 defenders on the pitch trying to beat Stoke.
I want a manager that realises £20 million players these days are basically not good enough.
I want a manager that has a shrewd side to him and doesn't keep buying players that couldn't quite make the top sides in the past.
I want a club that's so ruthless that when they say its £100 million – it's £100 million.
And I would absolutely love it if our fans as a whole had genuine ambition. No more of this patience game. It takes time. Nonsense excuses that were last season – it's not Koeman's squad,
He is buying (like everyone keeps saying) readymade Premier League players. Why does it take so long then?
Formation, selection and man-management seems to be our issue.

Rob Hooton
193
Posted 14/08/2017 at 09:21:19
I want Jamie Crowley's definition of success – post of the weekend, lol.
Paul A Smith
194
Posted 14/08/2017 at 09:31:56
Darren Hind, I love the realism. Optimism and Negativity in football come from great or boring managers or fans who want to score points against another fan. Realism will definitely do us more favours in the future.
Believers keep saying the same things over and over again. It takes time, we do things right, its not Koeman's squad blah blah blah.
All I ever remember in the last 25 years is nothing but praise for how Everton are ran and how we are a lovely club but no silver. We are that nice we have sold Man Utd 2 superstars for 8-10 years for a few quid more than Pogba cost.
That nice we knock 㾶 million off the asking price and still haven't replaced him.
Chris Gould
195
Posted 14/08/2017 at 10:18:20
Jamie Crowley, I agree completely. I would take top 4 any way we can get it.
However, like you, I am not a season ticket holder. I'm lucky if I get to 3 games a season. I live in the South and have to put my children's weekend sport first.
If, like Darren and most others on here, we paid our hard earned money, and gave up hours of our weekend, to watch and support us grind out results and win ugly, then we might quickly change our tune.
Fans that give up so much to watch the games live deserve to be entertained or what's the point in their efforts and sacrifice?
Far easier to accept ugly results when we're only watching highlights, or a dodgy stream in the comfort of our home. We've not lost much of our day and haven't paid for the displeasure.
In saying that, a couple of seasons of winning ugly in order to achieve top 4 would possibly lead to all of the rewards you brilliantly highlighted in your post. At this point we could start to provide the entertaining football that fans like Darren deserve, and on the biggest stage of all.
Tony Abrahams
196
Posted 14/08/2017 at 10:45:29
Jamie @177, that's the first time you have ever posted like a true American mate, and it got me out my seat more than Everton did on Saturday as well brother!!
Tony Hill
197
Posted 14/08/2017 at 10:53:28
The Rooney goal was indeed superb (the header demonstrated the nous and technique that made him a great), and his second half performance was strong – though Stoke left him in a lot of space. I hold to my view that we should not have brought him back and that he will prove a blocker in the side but let's hope he continues to make people like me look foolish.
The game was, of course, awful. We must not have another season of cringing, frightened football. I take some hope from the goal – if we can do it once then we can do it time and again; just throw off the shackles.
A final point – I'm in the camp that thinks Klaassen will come good. He doesn't look like a bad buy, he looks like a good player finding his focus and taking longer than expected.
John G Davies
198
Posted 14/08/2017 at 10:56:25
Jamie (#177),
That's the passion required, mate.
Great post.
Barry Williams
199
Posted 14/08/2017 at 11:01:00
Paul A Smith – #192
'I love these fans who scream the positive life but only remember an individuals negative points'
I haven't screamed anything Paul.
Also, I have posted a lot of positives about players on this very thread me thinks! With regards to Deulofeu, maybe to say 'unproductive' was unfair, he did have a decent assist but not so good goal ratio. Maybe, 'inconsistent' would have been a better description. He did have moments of brilliance, granted, but they were moments IMO.
'aesthetically pleasing displays' was what I said about Martinez, which is different to pleasing displays. Again, an opinion and open to interpretation.
I am basically on the side of being realistic if anything. My version of realistic may not be the same as yours, I am fine with that.
Do I want the best for the club, absolutely. We just have different views on how to get there. And Paul I am quite chilled and calm typing this, no screaming, it would be rather unbecoming of a man of my age!
Paul A Smith
200
Posted 14/08/2017 at 11:09:02
Barry, sorry mate, that wasn't solely intended for you. I realised it looked that way after I read it in the thread again.
I am just tired of hearing fans say he didn't do it enough or things of that theme. When certain others are adored or defended for getting us nowhere really.
Far too often do we only remember the grey areas compared to the things that change games. I admit I struggle screaming too but even if I don't agree I still find other opinions worth reading. However we feel, there will be definitive answers within tons of opinions.

Barry Williams
201
Posted 14/08/2017 at 11:15:39
Paul A Smith - 200
No worries mate.
You are right about opinions on players, sometimes we can turn a blind eye to a certain players faults, whilst we'd lambaste certain other players for having those faults, possibly because of their background, perceived character, or whatever it may be.
Anyways, let's just hope we keep winning and just agree/disagree on the performances and not results!
Daniel Lim
202
Posted 14/08/2017 at 11:23:40
Good one Jay @ 166,
As I read your post I recalled the goal; it's indeed really good.
Alan McGuffog
203
Posted 14/08/2017 at 11:30:26
Cracking game against Stoke a year or two back. We lost 4 - 3 to a last minute penalty. Was that the same season we threw away a two-goal lead to the Hammers and lost 3-2 due to inept defending Yet we won the other day.
Sorry, I know which I prefer. We played the best football I have seen in all my years in 1968-69 and fell short. We dug in the following season and had a fair few 1-0 wins on the way to the title. That's football!
Paul A Smith
204
Posted 14/08/2017 at 11:32:56
Perceived character probably right Barry. Judging Barkley before he had a run of games has left people feeling short changed. Same with Klaassen now to an extent. I have no problem with either player but no matter where we finish, Barkley is high up there with all the other player stats.
I know stats aren't the whole summary but I don't get to see Sanchez Aguero Hazard etc for 90 mins as often as Everton players.
I know when I watch Hazards ability and speed he should maybe produce more than he does?
We all forget its so tough now compared to when Rooney broke through. Near every defender is an international now or if not, they are a super athlete on the brink of international caps.
Barry Williams
206
Posted 14/08/2017 at 12:44:05
Paul A Smith (#204),
Agreed. Even the teams at the lower echelons of the league are full of internationals.
Yes, some players could get away with things others couldn't. Duncan Ferguson for example got sent off unnecessarily on some occasions putting his team at a disadvantage, other players wouldn't have gotten off with it as they didn't have the hero worship of Ferguson. I could never understand the stick Osman got, but there you go!
Klaassen is a wait and see. I think with the eventual Sigurdsson signing and hopefully another striker, coupled with the busy schedule, a lot of rotation will be needed, which will probably help some of the new player to settle in. I think sometimes we place too much expectation on players' shoulders. I'd also agree with anyone who'd point out that they are paid rather well to deal with this expectation.
Shane Corcoran
207
Posted 14/08/2017 at 12:52:10
I was away for the weekend so only saw MotD.
Was Williams' substitution for an injury or tactical? I assume we went 4-4-2 in the second half?
Klaassen any good at all?
Dave Wilson
208
Posted 14/08/2017 at 15:19:44
Jamie, Darren and Dennis
Good points.
There is a tendency for people to view themselves as somehow superior because they see themselves as "positive", but their claims seem to be negated when they speak about their expectations. Low expectations are, in my opinion, the result of too many false dawns.
We have to aim higher and I would definitely sacrifice Darren's desire to see entertaining football in return for a cup or a place in the Champions League. Although I'm not sure one has to be at the expense of the other ?
Brent (#156)
"The second half was entertaining"? Is that really optimism, or are you just being very easily pleased? Sorry mate. I think it's the latter
Dave Abrahams
209
Posted 14/08/2017 at 16:29:46
Shane (#207) Williams was substituted for tactical reasons. Wwe went from three at the back to a flat back four and although we played better in the second half, maybe because of the change, I thought myself we looked better for the simple reason we were pathetic, except for a brilliantly worked goal, and just couldn't have played that bad for another forty five minutes.
Davy Klaassen, didn't have a great game, but watch the goal and see how he draws two defenders away and leaves the space which Rooney uses to great advantage.
There is a very clever player waiting to come out of Klaassen in my opinion, others are seeing him differently. We will find out in future games.
Paul A Smith
210
Posted 14/08/2017 at 17:25:48
David 208 very well put mate.
Sometimes the passion in me rules my words but your dead right.
Being a bit daft I hope to get along with every Evertonian. The positive shout seems to mostly come from those who can't back a point up or refuse to hear yours.
Needless bickering then commences. We forget we are all in this together and we can learn each other a thing or 2.
Paul A Smith
211
Posted 14/08/2017 at 17:38:09
I still love Evertonians though.
John G Davies
212
Posted 14/08/2017 at 17:45:18
Dave,
Remember the stick Bergkamp got in his first half season.
Remember Pires telling Wenger after his first game that he would not be able to play in the Premier League.
None of them have ever played in a league where the football is so quick, so intense. I'm reserving my judgement until the new year on Klaassen.
Brent Stephens
213
Posted 14/08/2017 at 17:49:54
Dave #208. Not optimism - that's future-oriented, whereas my comment was about something that had happened. And not easily-pleased-either (nor hard-to-please).
Darren Hind
214
Posted 14/08/2017 at 18:43:28
"The second half was entertaining."
There is a distinct difference between optimism (even if it's self-proclaimed) and happy clapping. Perhaps the optimist inside the happy clapper would look forward to much more of the same?
But as stated above. You pays your money....
Darren Hind
215
Posted 14/08/2017 at 19:17:17
Chris @195,
Unfortunately, there are no guarantees ,mate, We all know that football is an unrehearsed live entertainment. The chances of seeing a less than thrilling game are always very real. Those who pay their money, do so with their eyes wide open.
I don't think the guy who is fortunate enough to attend the games is any more deserving than the guy who gets up at 1 am to watch, or the guy who (like you) has family obligations which must be his priority, or indeed the guy who simply can't afford to go.
We are none of us are entitled to expect the team to play with ambition, flair, imagination and passion every time, but I firmly believe we are all entitled to expect them to try.
Martin Mason
216
Posted 14/08/2017 at 19:29:16
Very well put Darren. I'd go a little further in that when we complain about lack of effort what we may be seeing is just lack of that elusive quality of "form".
Shane Corcoran
217
Posted 15/08/2017 at 09:32:21
Cheers Dave #209.
---
Add Your Comments
In order to post a comment, you need to be logged in as a registered user of the site.
Or Sign up as a ToffeeWeb Member — it's free, takes just a few minutes and will allow you to post your comments on articles and Talking Points submissions across the site.
© ToffeeWeb