Report
Meek surrender to silky Spurs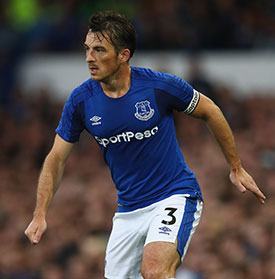 Leighton Baines made his 300th Premier League start for Everton
Everton 0 - 3 Tottenham Hotspur
Everton looked a little brighter going forward until they gave up a strange goal to Kane and there was no coming back as Tottenham Hotspur scored two more easy goals with no meaningful reply from the sadly outclassed Blues.
Ronald Koeman returns to a flat back four with Phil Jagielka making way. Leighton Baines becomes the first outfield player to start 300 Premier League games for Everton. Morgan Schneiderlin and Davy Klaassen return in midfield. Sandro, and Rooney start with Calvert-Lewin, Vlasic and Davies on the bench.
Spurs kicked off with the Blues keeping the action in he visitor's half, winning a free kick and then a cross flying over Rooney's head. Williams got a really poor yellow card after holding back Kane. Alli set up Eriksen who drove his shot wide.
Things livened up with a great overlap from Martina but Sandro could not convert his excellent low cross. Spurs responded with their first decent attack. Dier went in on Gueye but no yellow card for him, as Sandro won the first Everton corner but Williams was called for pushing.
Vertonghen was doing a good job on Rooney, denying him space and time with the ball as Graham Scott gave Kane a talking to for delaying a free-kick.
The Blues were showing some good intent going forward and Sandro drew a foul and a card for Alderweireld, Baines putting the free-kick beyond the far post and beyond everyone.
But Spurs looked very dangerous in response, Ben Davies pulling the ball back for Sissoko in space and he could have easily scored. Everton were unable to play their way out of their half after Baines was blocked by Dier and Spurs ended up with a corner that Rooney headed away.
A better move saw Baines cross and the ball fell awkwardly for Sigurdsson who blazed well high and wide. Martina and Sandro combined down the right but Rooney's cross was wayward. Spurs looked more intent and Martina did well to thwart Eriksen without giving up a penalty.
Martina got called for a challenge and Eriksen could not get his shot beyond the Everton wall. But it was increasingly Spurs asking the questions, and Kane fired in a wicked cross-shot from wide right that flew beyond Pickford into the Park End net.
Spurs surged forward down the right after that fillip but Sissoko had moved offside as the Blues rather too predictably faltered. But the ball did fall for Rooney, then Sandro whose shot was blocked by Alderweireld.
Everton's attempts to build attacks were woefully poor with Spurs easily able to rebuff them. A better move saw Martina swing in a cross that Rooney could not reach but earned a corner that Keane could not get on target and it ended up as a Spurs attack, Sissoko again offside.
Trippier should have been booked for a cynical foul on Sandro. Williams wasted the free-kick, however, letting Spurs build again. Davies fired in and Pickford saved the first but not the parry, that Eriksen lashed home. Really poor capitulation from the Blues in terms of utter failure to use the ball from Williams's free-kick.
Pickford's inability to find anyone showed up how poor Everton's options were and it turned into another chance for Spurs, Alli contriving to miss an open goal as the Blues crumbled into a pathetic heap of nothingness before break, Kane being the next to spurn another clear chance as he passed his shot beyond the post. A massive task for Ronald Koeman to change the direction off this one...
Davies replaced Klaassen, who had been poor in the first half, and Calvert-Lewin replaced Sandro but it was chaos at the back for the Blues, Keane and Pickford messing up before Kane was allowed to run through and score with consummate ease.
Calvert-Lewin showed some desire to fight for the ball, which roused the crowd breifly, but it was now a massive mountain to climb. Pickford pulled off an excellent reaction save from a clever Eriksen attempt. Kane was next for shooting practices as Spurs waltzed through on Pickford.
Gueye was booked for holding back Kane. Trippier in acres on the Spurs right delivered a brilliant cross for Sissoko that he incredibly headed over when it seemed easier to score. Rooney's frustration started to show with a poor challenge on Trippier.
The game was pretty much over as a contest, Spurs relaxing after the hour-mark, comfortable in the knowledge that Everton could not even come close to harming them.
Calvert-Lewin's pressure won a corner and Davies swung the cleared ball back in but the whistle blew for offside.
Nikola Vlasic was given his Premier League debut in place of Gana Gueye for the last 10 mins or so.
A half-decent move down the left saw Baines lay back a perfect cross for Rooney, who completely missed the ball, Calvert-Lewin unable to convert the follow-up, or get his header on target from the resulting corner.
Everton: Pickford; Martina, Keane, Williams [Y:5'], Baines; Schneiderlin, Gueye [Y:57'] (80' Vlasic); Sigurdsson, Klaassen (46' Davies); Rooney [Y:88'], Sandro (46' Calvert-Lewin).
Subs: Stekelenburg, Holgate, Jagielka, Mirallas.
Tottenham Hotspur: Lloris, Trippier, Alderweireld [Y:13'], Vertonghen, Davies, Dier, Sanchez, Sissoko (78' Winks), Alli, Eriksen (71' Dembele), Kane (85' Son).
Subs: Vorm, Llorente, Aurier, Walker-Peters.
Referee: Graham Scott
---
Reader Comments (316)
Note: the following content is not moderated or vetted by the site owners at the time of submission. Comments are the responsibility of the poster. Disclaimer
Neil Wood
4
Posted 09/09/2017 at 14:31:32
Liking the team today a lot of I am honest COYB. 3-1
Rooney, Sandro and Klaasen
Carl Allan
5
Posted 09/09/2017 at 14:32:46
Haha – the Red Shite stuffed 5-0 at Man City, surely our day can't be bad now?
Rob Hooton
6
Posted 09/09/2017 at 14:32:53
Good line up, only change I would make is Jagielka for Williams. After the RS result, I am hoping will be a good day to be a blue!
Baines deserves a win, excellent player for the Blues.
Christy Ring
8
Posted 09/09/2017 at 14:35:59
I would prefer Jagielka instead of Williams, but happy with a back four. Ramirez playing as a No 9, a bit worried we have no width.
Karl Jones
10
Posted 09/09/2017 at 14:37:54
Just shows the RS bias media effect. They're all putting the 5-0 hammering down to an unjust red card. None of them said anything about Schneiderlin getting red-carded for a clean tackle, no matter how many times the replay is shown.
Neil Wood
11
Posted 09/09/2017 at 14:46:29
Karl... I find it easier not to even bother getting annoyed now. The bias for the sky favourites and BBC bias particularly for the Red Shite borders on the ridiculous.
Easier to concentrate on beating whatever is in front of us.

D J Fanning
12
Posted 09/09/2017 at 14:49:04
Mirallas on as the number nine at 55 minutes in. Go on, Mr Koeman – you know you want to.
George Stuart
13
Posted 09/09/2017 at 15:08:29
Just a quickie from me.
Why has the Tottenham "badge" got a cockerel on a basketball? No football I've ever seen looks like that?
Max Murphy
14
Posted 09/09/2017 at 15:44:12
Now 2 down. Predictable shambles. Are we trying to imitate Liverpool's defeat 5-0 drubbing at Man City? We may do better than that!
Ernie Baywood
15
Posted 09/09/2017 at 15:46:49
What's the plan here? It can't be to just keep sending out the same team and blame Walsh for not signing a striker?
Dean Cooper
16
Posted 09/09/2017 at 15:48:15
Pretty poor half where individual errors have now cost us the match.
One positive for me is Klaassen. He looks a very smart player with neat touches, but I fear we don't have the quality around him for him to be effective.
Roman Sidey
17
Posted 09/09/2017 at 15:48:23
In the transfer window, I got shouted down by saying we desperately needed a new left-back and a new right-back. Well, we got a right-back and he's shit, and our left-back is far too slow to be still playing at Premier League level, and both are a major reason why we're down 0-2 at half-time.

Christian Watson
18
Posted 09/09/2017 at 15:48:55
Turning into a typical Everton day. Just after sending many, many texts to RS fans we now appears to have imploded. My phone may be turned off by 4:30.
Max Murphy
19
Posted 09/09/2017 at 15:56:32
Defence is awful but Pickford should have done better with both goals.
First, not quick enough to take a couple of backward steps.
Second was a classic bad goalkeeping error – palming it out straight in front of him, gifting it to them.
Prediction: 0-4
Michael Morgan
20
Posted 09/09/2017 at 15:56:33
At least under Moyes's defensive playing style, we looked more threatening going forward. I honestly think the players are starting to lose confidence in Koeman. I'm starting to feel like he's not the right man for the job.
Ivan Split
21
Posted 09/09/2017 at 15:56:58
This is the worst Everton in the last 10 years. Ridiculous Ronald Koeman must go!
Geoff Evans
22
Posted 09/09/2017 at 16:00:52
Typical Everton, Fucking shite – are you Chester in disguise?

Joe McMahon
23
Posted 09/09/2017 at 16:04:38
Christian (#18) – this is why I never gloat about the Reds' results. EFC are juts an embarrassment, spearheaded by the gassed-out drink-driving Wayne Rooney.
Max Murphy
24
Posted 09/09/2017 at 16:06:24
Koeman out! 3 down! Absolute disgrace!
Christy Ring
25
Posted 09/09/2017 at 16:09:21
It's men against boys, and I can't see where the goals are going to come from. I questioned Koeman not signing a left-back, centre-back and a replacement for Lukaku. It's come back to haunt us. I think we're in big trouble this season.
Trevor Lynes
26
Posted 09/09/2017 at 16:12:19
Everyone was gloating about what a good transfer window we had except ME !We spent all the Lukaku money on Pickford, Keane and Klaasen and absolutely nothing on the attack.There are no goals in the side and every team we play can just attack us without a backward glance.
Liverpool being beaten is no compensation as far as I am concerned.
Mark Morrissey
27
Posted 09/09/2017 at 16:14:10
We are officially appalling. Not a decent defender on the park at the mo. If Stekelenburg had been in goal, we would be 5 down. Koeman, Walsh, get your coats. What are we doing?
It's like a fucking practice match for Spurs!!! I know we've not got a top striker but it's looking like we haven't got a top defender either.
Christian Watson
28
Posted 09/09/2017 at 16:14:20
Joe McMahon. I guarantee that if we ever get our shit together and are in position to win the league, that's the day that lunatic in North Korea will push the button. It's a nap!!
Ciarán McGlone
29
Posted 09/09/2017 at 16:21:38
No surprises here. Typical Koeman fare.
Joe McMahon
30
Posted 09/09/2017 at 16:22:44
Christain you may have a point (in a way, another Heysel). To think fans slagged Rom, well I'm sure he'll enjoy the Champions League and winning silverware where he is.
Phil Smith
32
Posted 09/09/2017 at 16:30:56
Good line-up??? Are you lot mad? This game was crying out for pace and width to push Spurs' wingbacks back!
Williams had 2 intense international games and looks off it. Slow and predictable here and a mess at the back. All the best kids are in the Championship, so we have to rely on Martina and Baines (who has been one of the few who have played well though).
Koeman only plays one way. Shocking from the manager today.
Craig Mills
33
Posted 09/09/2017 at 16:33:07
Dean @16 – you must be watching a different Klaassen to me. He's been shit every game he's played so far and no surprise he was hauled off after 45 mins today. The lad looks totally out of his depth, no pace, no strength and no clue. The games seem to pass him by and he can't get involved
Michael Morgan
34
Posted 09/09/2017 at 16:40:33
77 minutes on the clock and one shot on target so far says it all. Too predictable, no pace, boring to watch.
Phil Smith
35
Posted 09/09/2017 at 16:42:55
Only started playing like us on 80 minutes!!
Frank Crewe
36
Posted 09/09/2017 at 16:44:01
Phil @32. Every game cries out for pace and width but we never put any of it on the pitch. Calvert-Lewin is quicker than Rooney yet Rooney gets picked.
It's always a bad sign when the manager starts feuding with the players. He bought a bunch of overpriced average players in the summer and failed to address the striker position. Yet the only striker we have is either started out of position or not started at all.
Koeman had better start livening up or his job will definitely be on the line, not to mention that of his brother and Walsh's as well.
Atalanta on Thursday night. Better show a lot more then or the thin ice Koeman is skating on will start to crack.
Amit Vithlani
37
Posted 09/09/2017 at 16:45:32
Unforgivable performance.
So far, as I type this, we have been handed our arse in two consecutive games. No way you can have top 6 never mind top 4 aspirations.
We have been done by a Spurs team that spent less than they sold this summer. Their 3 best players – Alli: cost £5m and a prodigy who still needed to be developed when he first arrived; Kane brought through the youth ranks; Eriksen from Ajax had no Premier League experience and was bought with the Bale money, if I remember correctly.
It is as much about coaching and tactics as it is about spending big money – Koeman needs to take note.
Daniel Levy has never been afraid to sack under-performing managers and prise away good ones, as he has done with Pochettino. If I recall, he replaced Redknapp who had just missed out on a top 4 spot.
As far as Koeman is concerned, I can only hope that the penny will drop on playing 2 defensive midfielders at home. Something he and Martinez persisted with for far too long.
Christy Ring
38
Posted 09/09/2017 at 16:49:10
The problem under Koeman: we have no shape to the team, no width whatsoever. I said it during the summer, he got Rooney on a free, Klaassen and Sigurdsson for a combined total of 㿲m, and they play in the one position, not together.

Mark Andrews
39
Posted 09/09/2017 at 16:50:02
Abject performance from an ineffective yet expensively assembled midfield and defence. If Koeman was as good as he thinks he is, we'd be brilliant; instead, we'll be mid-table.
The club's inability to sign a forward will cost us dear this season. We're very lucky not to lose by a much larger margin. How can we spend so much money and look so dreadful?
So we're going to be pushing Spurs this season, are we? Only if their coach breaks down.
Who will Koeman scapegoat today? That was men against girls.
Lee Brownlie
40
Posted 09/09/2017 at 16:51:32
And, on that... we're a Premier League team, are we?
John Charles
42
Posted 09/09/2017 at 16:55:35
Just escaped!!
Didn't think anything could be worse than Chelsea.
I was wrong!
Lee Brownlie
43
Posted 09/09/2017 at 16:58:19
As far as I'm concerned, everybody.. EVERYBODY.. else today, inc the RS did better than us! Gutted!!
Tony Everan
44
Posted 09/09/2017 at 16:59:23
No pace, no striker, no goals... no wonder.
John Charles
45
Posted 09/09/2017 at 17:00:07
Koeman will take us down.
Make no mistake: on the last two showings, we are in serious trouble.
Anthony Jones
46
Posted 09/09/2017 at 17:00:16
Lack of width. Lack of pace. Again.
James Morgan
47
Posted 09/09/2017 at 17:00:44
Fucking shambles. Spurs are a good side but, with shite like Williams and Martina in the side and no striker, this is what happens! We are miles off the top six and will be until we get about four more players in.
Mike Price
48
Posted 09/09/2017 at 17:02:31
Klaassen is as bad as Naismith.
We need pace throughout the team and quick, or this could be a really painful season, especially with the Europa League excuse ready to be peddled.
David Johnson
49
Posted 09/09/2017 at 17:04:46
We were fucking shite, Amit. What's your point? You're going on as if Everton have been throwing all sorts of money at it. We haven't and it shows.
Rick Pattinson
50
Posted 09/09/2017 at 17:05:51
Dirty... filthy... disgusting – should be ashamed of themselves. Where the fuck a win or even a goal is coming from is beyond me.
We are back to square one again... this club never progresses, we just keep on plodding along... shit, shit, shit.
Pete Clarke
51
Posted 09/09/2017 at 17:06:46
Ronald Koeman out!
Absolutely clueless tactician and will go on throwing money away to sort his own weakness.
I would not play Schneiderlin, Williams or Martina again. Fucking awful.
Rob Hooton
52
Posted 09/09/2017 at 17:09:33
Spurs were good value for the win, pains me to say it as watched with couple.
Hopefully things will pick up after our crazily tough opening to the season.
Mark Andrews
53
Posted 09/09/2017 at 17:09:34
We got lucky today – 7 wouldn't have flattered Spurs. Koeman and Walsh have done an illusion trick on us... it's the Emperor's new clothes.
David Israel
54
Posted 09/09/2017 at 17:09:44
Back when we could only afford to sign the likes of Marcus Bent, I would leave Goodison in a sad mood after a result like today's. But now, it is not sadness that I feel: it is bordering on anger, I'm afraid.
I suppose the team 'has to gel', to quote our benefactor, but I fail to see what it is going to gel around.
All right, off to Bergamo now. They say it's a nice city. Perhaps my friends and I will gel with the place.
Tony Everan
55
Posted 09/09/2017 at 17:09:49
The worry is, in the 8 games played so far, there hasn't been hardly anything to be optimistic about.
It's time to break out of this average and negative style and play a more offensive, attacking team. I want to see us on the front foot for once! Or is that asking too much?
Andy Meighan
56
Posted 09/09/2017 at 17:11:50
And to think there were the Koeman apologists on here coming out after the Chelsea game saying, "Oh that performance came after 3 games in 6 days away in Split" etc. Well, what the fuck are your excuses for that showing today???
The most one-sided game I've seen for a long time. Let's be fair here, we got off lightly; it could've and should've been 7 or 8. As soon as the first goal went in, you could see the fight drain out of them.
I warned on here a long time ago that, to give this clown a massive war chest would be folly and look what's happened. He's bought ordinary players at extortionate prices: Klaassen, Sigurdsson, Schneiderlin to name but three...
And please don't give me the "time to gel" line because it wont wash. No pace, no pattern, no shape; we wouldn't score in the Grafton with a tenner sticking out of our ears.
He fucking knew Lukaku was away and hasn't addressed it. Criminal shockingly bad management, we are going to struggle badly for goals... did we actually have a shot on target today because I can't remember one. A season of struggle awaits because Koeman himself doesn't know what his best team is; if that's the case, then we really are in trouble.
Oh and while I'm on, what is his obsession with playing two holding midfielders? It doesn't work. Never has, never will – the pair of them haven't got a forward nerve in their body. Get the ball and turn backwards all the time.
Not a prayer Koeman will get binned – not even if were languishing by Christmas because, by all accounts, Moshiri went all out to get him. What a bad move that's looking tonight. Worried? Too right I am!
Peter Barry
57
Posted 09/09/2017 at 17:17:05
Top six – you're 'avin a larf!!!
John Charles
58
Posted 09/09/2017 at 17:17:17
Where to start??
Koeman – can't spot a player, can't pick a system, can't motivate a team, can't manage EFC
Williams playing – enough said
Martina, who was hung out to dry by the system, is awful
Two defensive midfielders who contribute nothing.
Two full backs who continually tuck in and leave acres of space
Sigurdssonout on left wing? 㿙m ?? Seriously??
Sandro is a Championship level player – as is Klaassen.
No centre-forward
No width
No pace
No idea
Sean Smythe
59
Posted 09/09/2017 at 17:17:47
Can I ask did Vlasic make any sort of impression in his cameo?
Denis Richardson
60
Posted 09/09/2017 at 17:19:09
One shot on target, at home. That makes it a total of 4 shots on target in our first 4 league matches.
You don't win games without scoring and you can't score if you don't fucking hit the target. What is it about us that makes us allergic to shooting at goal? Again, it's as obvious as day and night that we don't have pace and width on the flanks. We cannot rely on our full-backs to provide this so need some wide midfielders, which we don't play!
It's getting a bit ridiculous and we now have two very tough away games coming up. Can't imagine moral is high in the camp, especially as the club tried to shift Barkley, Mirallas and Niasse during the transfer window. September looks like it could be a real struggle.
Too early to say the word 'crisis' but imo something isn't right behind the scenes. Whether that's down to the owners, manager or certain players, I can't say.
Wouldn't be surprised if Rooney's £150k wage and being welcomed back like the prodigal son didn't cause some resentment in certain members of the squad. Never mind his off-pitch antics.
All-in-all, a shit show with no clear solutions.
I can't wait for Coleman and Bolasie to come back!
John Charles
61
Posted 09/09/2017 at 17:19:32
He was okay, Sean.
Max Murphy
62
Posted 09/09/2017 at 17:21:15
I see no improvement in the team. Supposedly talented and very expensive players have lost any semblance of form. The last two performances have been diabolical.
Today, we made Spurs look like world-beaters. I found myself applauding after we put 3 passes together, before inevitably losing possession.
We are seriously lacking in the centre-back position. Williams and Jagielka are finished. (I cannot understand why we didn't go after Harry Maguire.)
We have no dominance, pace or control in midfield. No target man up front. I believe Ronald Koeman lacks any tactical understanding of the game as a manager, and should be sacked immediately.
We will not improve, and the Chelsea and Spurs games are an indication of how our season will deteriorate. I dread our next 2 games.
Christy Ring
63
Posted 09/09/2017 at 17:26:54
Pickford and Keane are good additions, but we are going backwards; Lukaku and Barkley haven't being replaced. Koeman has brought in players with no pace; we can't go down the channels, as we have no width, and even if we do cross a ball, Calvert-Lewin is the only striker who can win a ball in the air, and he didn't even start today.
Tony Abrahams
64
Posted 09/09/2017 at 17:29:52
A shambolic display from a very disjointed team who looked totally out of their depth.
Chop the system, change the system but, if we continue to play with so little width, then we are going to be in serious trouble very soon.
Klaassen is a very clever footballer but he's not ready for the athleticism of the Premier League at the minute, and Schneiderlin was really poor. We have him tidying up, to give it to the fullbacks, who have nobody to play with, it's horrible.
Tactics, formations, we all have our personal favourites but 4-3-3 was embarrassing today. We were wide open, and had no width to either penetrate, or stop them penetrating us, and if we don't get back to basics then we're in trouble.
Phil Smith
65
Posted 09/09/2017 at 17:32:15
Aye, John. He tried a few runs and looked positive at least.
Brian Williams
66
Posted 09/09/2017 at 17:39:22
Stuck for words.
Lewis Barclay
67
Posted 09/09/2017 at 17:39:25
Is Lookman injured? If not, how was he not on the bench, at the very least?
I'm watching Koeman's interview right now and he looks like someone preparing to start to defend his position. So he should.
We'll be bottom 6 at Christmas.
Nev Renshaw
69
Posted 09/09/2017 at 17:40:05
We think today's result is bad. We're playing Man Utd next week. God help us.
Dave Williams
70
Posted 09/09/2017 at 17:40:26
Didn't see the game but playing 4 central midfielders, no winger, no overlapping full-back, Gana and Schneiderlin together yet again when we all know it doesn't work, Davy instead of Tom (who played so well for England in the week) and no centre-forward even though Calvert-Lewin has been playing well, was all a sign that he doesn't know his best team and seems clueless as to how to balance a side.
The only time we have played well so far was the Europa League home game when we had Lookman and Mirallas playing wide.
If we can see it, why can't Ron?
Steve Bingham
71
Posted 09/09/2017 at 17:41:35
We have too many midfielders that are alike. Sigurdsson's arrival should be a replacement to the team, not an addition. Klaassen at the moment just looks too lightweight for the Premier League and Williams for me just cannot cut it.
Jagielka all day long for me. Why on earth Lookman never seems to get a chance is a real mystery. Today we seemed to be lumping the ball forward to Sandro as target maxbb, which he clearly is not.

Damian Wilde
72
Posted 09/09/2017 at 17:43:10
Koeman useless. Koeman out. Poor player purchasing. Poor line-up. No system. No width. This was embarrassing. Shocking. I said after Stoke, if we played like that against a decent side, we'd get leathered.
Damian Wilde
73
Posted 09/09/2017 at 17:46:31
Why so many defensive midfielders? Koeman's lost it.
Mark Frere
74
Posted 09/09/2017 at 17:47:45
Christy @63,
Barkley hasn't been replaced???
Really??? I think you'll find he's been replaced about four times... so much so that they'll be five Number 10s vying for one spot when he returns from injury. Either that, or a load of expensive new additions played out of position.
A real shame Koeman and Walsh didn't address the wide areas in midfield and defence. And a striker.
Jamie Evans
75
Posted 09/09/2017 at 17:47:50
Trying to be positive after that. I really am. But Ashley, enough is enough now mate. Maybe in a back 3. Maybe? Otherwise, I'm sorry but enough.
Dave Williams
76
Posted 09/09/2017 at 17:49:46
He can't build a team by changing the players and system every week.
There is no balance to his teams and we need Coleman and Bolasie back asap but, even then, can we trust him to play them in the right system?
At the moment he appears to be failing in his job to manage and coach the team. Why?????

Kunal Desai
77
Posted 09/09/2017 at 17:51:33
Shambles, absolute fucking shambles. I'm going to be honest here, we deserve that; you don't bring some decent strikers in, then you deserve the battering dished out. No goalscorers, no goals.
This board must be thick as two short planks. They would have known Lukaku was going months ago. You clearly have an up-and-coming problem, therefore your number one priority is bringing a solution to that problem, so you address other less leaking holes and don't address the one glaring hole. Idiots, absolute idiots the lot of them.
I knew from the moment the club brought back Rooney, nothing much has changed. Any club going forward looking to win silverware and challenge the top six does not acquire a washed-up old Rooney. Everton Football Club is charity case, still harbouring old sentiments which is why they will never progress forward any time soon.
David Israel
78
Posted 09/09/2017 at 17:51:39
Steve (#71), Lookman never seems to get a chance for the same reason that Kenny doesn't get one and that Dowell was loaned out, as well as for the same reason that Calvert-Lewin is either left on the bench or played out of position.
Koeman, like many managers, doesn't trust youth, and especially home-grown youth (even Davies is now a sub).
Bob Skelton
79
Posted 09/09/2017 at 17:53:59
Just back from the match. Very sobering experience. Mid table if we are lucky. No width, no pace, no real tactics. Goal threat?? None.
I've never see a player, Trippier, have so much time and space in all my life. Hoped Koeman would do something about it, nope tactically poor.
We've bought some very lightweight players in Klaassen and Sandro who contribute little. Defensively Williams is easily beaten, not lived up to expectations.
Sad day. Lot of players and tactics found out today.
Amit Vithlani
80
Posted 09/09/2017 at 17:56:34
David @ 49,
"We were fucking Shiite Amit. What's your point? "
Do try and read posts you intend to slag off Daniel. I agree we were shite. Clue was in the phrase "unforgivable performance" and "having our arses handed to us".
"Your going on as if Everton have been throwing all sorts of money at it. We haven't and it shows."
All I can say to that statement is it is nonsense. We spent near enough 𧵎m big ones this summer – 4th or 5th most in the league. Did you want us to top the spending league? Was that how much money it would have taken to make us compete for the top 4? Should we have pissed away cash on more no 10s?
Surely the problem was not how much, but who we bought and in which position. Not buying a proper striker to replace Rom – criminal.
That is what "fucking shows".
Zahir Jaffer
81
Posted 09/09/2017 at 17:58:03
Koeman out!
Derek Knox
82
Posted 09/09/2017 at 17:58:23
Don't like to single players out after an abject performance like that, but can someone please, please, tell me why that useless Martiana, gets the nod today over the likes of Kenny and Holgate, okay Holgate is not a RB, but neither is that lump of monkey-dung.
I made a statement pre-season to the effect, that he is probably the worst player I have seen in 50 years in that, or any position, well, I stand by that. All their goals came from that side and the gaping hole left by his inept defending and positioning, pulling Keane out of position.
It was glaringly obvious, and he makes three subs and leaves him on, I despair honestly.
Just watching the Stoke v Man Utd game, how did we beat Stoke?
Something drastic has to happen, like at Chelsea, you never like to be beaten, home or away, but if you have lost to bad luck, bad refereeing, or just outplayed, but put in a good shift, it is reluctantly understandable.
To just play like rank amateurs, having a bit of a casual kick around with little guile or desire, is just not acceptable at all.
Taxi!
Better make it a mini-bus.
Dermot Byrne
83
Posted 09/09/2017 at 18:00:38
Boss found out. Shame but we all feel same.
But..
As said in many threads...you mean nothing.
Let's hope their movie works
Brent Stephens
84
Posted 09/09/2017 at 18:10:31
FFS Koeman! You hung the right-back out to dry – either knowingly (bad) or couldn't see it (worse) – every time Spurs advanced, our right-back had at least two and sometimes three players advancing into and down our right side, and having to decide which to go with and which one(s!) to leave.
I'm not saying Martina didn't make mistakes (though going forward he was okay, and has been okay generally in previous games). But our midfield flocked to the left side throughout the game, like a gang of schoolboys. And then, when the ball went to the overloaded right, they were then pulled there en mass and generally pulled apart.
I read the Live Forum on the way home from the game and only Frank Wade and one other could see that. All around me in Upper Bullens were screaming at Koeman about it. The fact that Koeman, the bench, and the players could not see that or did not respond to it is criminal. Just watch the first half hour, for example.
Not the only mistake today but that's my two penneth.
Paul A Smith
85
Posted 09/09/2017 at 18:11:24
Left after the 3rd because I cannot watch us humiliated. Shame a lot more fans couldn't see this coming and chose to call certain signings "class" before a ball had been played against a decent team.
And if you think the board are as disappointed as you are now, you're from another planet. A heart-shaped planet.
Dave Williams
86
Posted 09/09/2017 at 18:11:29
Dermot – sorry but I don't understand that – what do you mean?
Paul Swan
87
Posted 09/09/2017 at 18:14:00
I'm just numb after watching that. Were we playing any system at all today?
No more excuses for this fraud, this is now his team, his piss poor tactics and his mismanagement of the team. Same insipid slow crap we had to watch for most of last season. The common factor – Koeman.
𧵄 million to be the best of the also-rans
Christopher Marston
88
Posted 09/09/2017 at 18:14:08
It's worrying that no-one can figure out his style of play. What he wants doesn't happen, game after game, so what is he communicating to the players?
Tony Hill
89
Posted 09/09/2017 at 18:15:07
There will be those who say that we are just enduring predictable results against much better sides, but it goes deeper and worryingly so. I think we are going to struggle to beat anyone at the moment because we simply carry no threat.
There are signs that this is a discontented team, unsure of what they are supposed to be doing, and without faith in the manager. That is a very dangerous situation indeed and I hope our unimpressive board recognises it.
We have big problems.
Christy Ring
90
Posted 09/09/2017 at 18:15:15
Mark @74, You know what I meant, Koeman doesn't want him, full stop. That's why he bought Klaassen.
I said it myself, we have three No 10s, playing together. The one thing about Barkley, he was never afraid to look for the ball in our half, and go forward; Schneiderlin is not able to do it.
No shape, no pace, no width and no striker – that's what Koeman and Walsh have assembled.

Dave Williams
91
Posted 09/09/2017 at 18:15:23
Paul, a lot of us put faith in the manager and director of football, thinking they must know better than us.
I have tried to keep faith but his disregard for youth is an additional concern.
Stan Schofield
92
Posted 09/09/2017 at 18:16:55
How come Koeman got Southampton to play decent attacking football, whilst losing players, but he doesn't seem to have a clue with us, whilst spending loads? What the hell is going on?
Nick Lacey
93
Posted 09/09/2017 at 18:17:06
I have been critical of Ross Barkley, but I am slowly beginning to think/hope that he is maybe trying to hold out to see if Koeman gets the sack at the end of the season, or before. I can't imagine it is particularly fun or inspiring to play for the man.
I appreciate that it is early on in the season, and no-one expected us to win today, but the way we have been playing so far has been poor and slow.
I am 33 years old, so unfortunately I have seen a lot of poor play from Everton, but this has to be some of the worst; at least the Dogs of War had passion and heart, which at the moment the current squad lack.
Stephen McNally
94
Posted 09/09/2017 at 18:17:55
Not one for knee-jerk reactions, I must admit I am concerned about the quality of player brought in by Koeman & Walsh over the last couple of transfer windows. Not only do some of the signings lack the quality to push us on as a club but, the balance of the team isn't right.
Everton's transfer dealings prove the theory that big transfer fees don't guarantee anything. Not only has Koeman shown that he doesn't have the ability to harness a good relationship with certain players but, it appears that his high demands can't be met by the lack of quality in the squad – which, as a result, appears to be causing friction in the camp.
I hope he can sort things out soon, because I was more impressed with Martinez's first 18 months at Everton and that wasn't enough to keep him in the job.
Paul A Smith
95
Posted 09/09/2017 at 18:17:55
Brent ,I haven't got past your first line but it's dead right. I wanted to reply before I seen another comment killing Martina.
Yes, he is grim; no, he can't play to a fraction of Coleman's ability... but only the fans who say shit like 'good time to be an Evertonian' without anything achieved – basically the ones who won't (not can't) see the wood for the trees – will blame Martina for today.
Paul Birmingham
97
Posted 09/09/2017 at 18:20:25
Shocking – we looked like spare parts, no offensive game plan.
Spurs were good but we lay down and gave it to them on a plate. They won't get an easier away day this season.
It's gonna be a hard slog this season; l hope he starts Mo and Calvert-Lewin on Thursday and Pickford aside, today could have been 8-0.

Paul Tran
98
Posted 09/09/2017 at 18:23:33
This is the second manager running where I wonder what they do at Finch Farm during the week and wonder when he can communicate his tactics to his players. I don't believe he wants the players to be a toothless, clueless, confused mess.
I suspect his last straw will be when we play against the 'lesser' teams, but I'm not holding my breath.
Phillip Warrington
99
Posted 09/09/2017 at 18:23:49
It's going to be a long season at this stage. We will be lucky to finish mid table, there's just no system or direction. The last three games against top sides... Christ, it's like watching, I don't know "you just shake your head".
Best signing for Everton? Pay out Koeman's contract because watching Everton at present is sheer frustration and disbelief . I'm starting to believe he is really employed by Liverpool to make sure Everton never challenge them.
David Israel
100
Posted 09/09/2017 at 18:24:04
I wonder if any of you are still worried that Ronald Koeman is only using us as a stepping-stone for eventually getting the Barcelona job?
More like the West Brom one, it increasingly seems.
Joe Foster
101
Posted 09/09/2017 at 18:25:06
This is becoming very depressing.
Brent Stephens
102
Posted 09/09/2017 at 18:25:15
Paul (#95). Yes, agree. Guy next to me today said, I think rightly, that even Coleman wouldn't have been able to cope with 2 or 3 opposition payers in his patch all game. Keane surely could see that! Why no response by him?!
It needs leadership (don't need a captain) to sort it – Keane is looking right at that and is saying nothing to his midfield to move right. As Christy (#90) says – far too narrow, no width.
Paul A Smith
103
Posted 09/09/2017 at 18:28:45
Dave (#91), No offence to anyone here, I truly mean this, I love chat, debate, and celebration with fellow blues but can't fans use their diehard experiences and the knowledge gained through watching various teams too see that this is still Mickey Mouse football?
Didn't anyone think that the players we signed in a heartbeat (bar Pickford who we well overpaid for to get) without any fight from other clubs, were really class?
This summer has astounded me. From fans saying players look class before we have faced any class, to the board trying to strip the class to buy shite during a European campaign, has got me bewildered. And it's been praised and egged on by too many people.
William Cartwright
104
Posted 09/09/2017 at 18:29:06
The worst yet. Awful to watch and awful to read the ToffeeWeb comments which have a consistent theme. Basically, thus far, Ron is cocking it up big time, judging by result and more importantly how badly we are playing.
We all think we know better than the manager, in our heart of hearts we know we don't. However, Ron is really making it difficult for the supporters to 'get behind the team... ' Goodison was emptying fast long before the final whistle.
I am concerned at what is going on behind the scenes. The rejection of attacking players, the lack of replacement for Lukaku, the isolation and humiliation of Niasse, appears to me as sheer arrogance in the way Ron deals with people and situations.
1. Walsh and Dowell and Kenny should be in the squad AND getting some game time.
2. Two holding midfielders at home shows a lack of confidence to lay forward.
3. Two holding midfielders every game and no natural wide players is never going to work. Please give up on it, Ron!
4. I think he will lose the dressing room well before Christmas if this shit keeps going on – if he hasn't lost it already.
5. Well done, Spurs, for coming to the bear pit Goodison and strutting your stuff in fearless fashion. Confident of the win beforehand, and even more confident as the game wore on. We need a manger at the helm with balls to make his players play – not some long-term project administrator.
Michael Hulse
105
Posted 09/09/2017 at 18:29:20
Oh how lucky we where to have Lukaku & Barkley!! Both players who offer unpredictability and strike fear into the opposition before the game has started!
Now, the opposition no longer care about what we have to offer – we must be a dream to defend against, very narrow and everything in front of the defense!
Lukaku often had 2 defenders focusing on him all game which created space for others. Ross could get the ball and beat 3 players, score out of nothing, play a worldly 40-yard ball.
Deulofeu, remember him? I don't believe he is good enough, but another player who offered unpredictability, a player who is now starting games for Barcelona and captained Spain U21 to win the Euros this summer. We couldn't have kept him due to his release clause, but it is clear to me we are to rigid and 'safe'. No Plan B – nevermind a Plan A!!
I cannot add where any of our goals are going to come from. A big big week for Koeman this week: two losses and surely questions will be asked.
Jerome Shields
106
Posted 09/09/2017 at 18:32:36
I said when Rooney was signed, having broken my ban on wasting my time following Everton's transfer sagas in previous seasons, that it was delusional to think that Everton would make the top four this season. I was told I was delusional. Unfortunately, all I said was true :
1. My statement that it was a mistake to give Rooney a chance to continue the life he is used to.
2. That the midfield is now full of players and options that added up to nothing.
3. Our defence was a disaster.
4. I also underlined that Koeman's performance in his first season left a lot of questions about his ability to manage Everton, particularly in the case of some players (Barkley, Niasse) and some young players. I now am appalled and shocked at how right I was.
Koeman has to go before Xmas. Thank God we didn't give him a contract extension. Any longer would only add to the disastrous impact he will have on Everton Football Club. Martinez and Moyes were better; Koeman hasn't a clue.
Nick Lacey
107
Posted 09/09/2017 at 18:35:22
Stan (#92). He was living off Pochettino's team and play, like Martinez lived off Moyes's discipline and pressure in his first season.
Tony Abrahams
108
Posted 09/09/2017 at 18:38:58
Coming out the ground with about 15 minutes left to play, that's what was really worrying me, Brent. We could have made 11 subs today, and it wouldn't have made any difference, simply because the manager never tried to fix a broken system.
Go back to the system that got a very average group of Everton players our highest ever position in the Premier League, please!
Andy Crooks
109
Posted 09/09/2017 at 18:39:31
For me, that was the Martinez at Southampton game. Truly woeful.
I thought that I would decide at Christmas if Koeman was the man. He is not. Inept, demotivated, dull, uninspired, defensive, devoid of attack, and, most appallingly spending our money on players who, frankly, are not good enough.
The performance at Chelsea was shite; this was worse. I now believe that the Koeman project might have long-term value; short-term it is dead.
Jason Bowen
110
Posted 09/09/2017 at 18:41:08
Think Koeman is a bit of a shithouse myself, playing egos out of position rather than young hungry players in their correct positions! He's asking for abuse! Think he needs to realise that we've waited far too long for success to accept the utter shite that we have seen so far!
Don't care if it is a new team or not, it's a fucking shite team purchased by him, if he don't sort himself, his crap team selections, his pathetic tactics, his shite substitutions, his inability to win a derby and his all round general malaise out soon then he can fuck right off and take his project with him!
John Keating
111
Posted 09/09/2017 at 18:43:20
That was shockingly embarrassing and we were dead lucky we escaped with a 3-0, it could and should have been double figures.
There is no excuse for the way we are playing this season, whether, it's new players, injuries, missed signings, difficult start, sorry, no excuse.
I only expected us to pick up points against Stoke but I did not expect us to be so tactically inept, pedestrian and just bloody shocking. The players and management really need to have a good look at themselves.
No width, no pace, no strikers no excuses. Two defensive midfielders at home is a bloody disgrace, a Southampton reject on the starting teamsheet is unbelievable. Williams before Jagielka against Kane... woeful.
This shit needs to be sorted asap. Rather than swan off playing in Europe the bloody lot need to get things sorted for the games that really matter.
Tony Twist
112
Posted 09/09/2017 at 18:43:21
'Pathetic' is the word I would use to describe today's performance and Koeman's performance as a manager thus far.
I am no expert but I would imagine you would have a decent side if you played players in their natural positions, played players who are performing well when asked – even if they are youth players, training hard and improving weaknesses and further improving strengths within the team. I don't see Koeman doing any of these.
The team looks like they have only just met each other and have no idea what to do. Very bad management.
Bobby Mallon
113
Posted 09/09/2017 at 18:44:52
Time to give Big Sam a call he always wanted a top team to manage.
John Raftery
114
Posted 09/09/2017 at 18:46:24
As I suspected when the transfer window closed, it will now be about whether or not the players can dig out a few results between now and January by keeping a tight defence and grabbing the odd goal via a set piece.
A disappointing aspect today was the way the defence was opened up repeatedly, especially on our right flank. Of the starting line-up only Baines, Gana and Rooney appeared to be making an effort to compete with the well-oiled machine which is the current Spurs team.
The midfield partnership of Gana and Schneiderlin does not look as if it will ever work. How much we miss a player of Gareth Barry's guile was writ large.
As for our front players, Sandro, Sigurdsson, and Klaassen might as well not have been on the pitch.
Jay Harris
115
Posted 09/09/2017 at 18:49:18
It sums it all up for me when you can say Loris only had 2 saves to make and they were from his defenders heading the ball back to him.
We looked an absolute shambles of a team with no direction and no motivation in fact having watched most of the Premier League games so far this season, I haven't seen a worse team.
Moyes built up an organized team of solid pros with good team spirit all within a sensible pay structure. It seems that has been rapidly destroyed by his successors.
The only players playing for the shirt today were Baines and Davies and Calvert-Lewin when they came on. The rest looked disinterested or incapable.
Tony Abrahams
116
Posted 09/09/2017 at 18:49:21
After reading William @104, I think we can now end this thread. Agreed with everything he says, except in my heart of hearts, I don't think I wouldn't have changed the system, the way it wasn't working, to at least try and deny Spurs so much fucking space.
What's supposed to happen on a footy pitch when your fullbacks tuck in? The wide men get back, to help defend, only we haven't got any wide men on the pitch.
Crazy football, and a half-decent squad is going to be in real trouble very soon if Koeman doesn't get his act together quickly.
Colin Glassar
117
Posted 09/09/2017 at 18:50:06
Just got home (from work) and, after reading a few of the above comments, all I can say is, the ball is in your court, Moshiri. How long are you going to tolerate this mindless, dull, pedantic style of play?
I know you've staked a lot on Koeman but are you really satisfied with what you've seen so far?
John Charles
118
Posted 09/09/2017 at 18:53:53
Koeman makes average players look awful.
Martina is distinctly average but, as I said on a post right after the game, he was hung out to dry today. He had no chance and not one player bar Gueye occasionally did anything to help him.
Ian Lloyd
119
Posted 09/09/2017 at 18:55:39
Absolute disgrace – Koeman needs to go now.
All these posters over the last few weeks saying we've signed top class players are unbelievable
I said it all along – he's signed mediocre average rubbish that no-one else wanted for top money.
Koeman out – simple!
Christy Ring
120
Posted 09/09/2017 at 18:56:20
As Michael @105 says, how lucky we were to have Lukaku and Barkley.
I don't believe any manager apart from Koeman, knowing that a striker who scored 25 goals was leaving the first week in the transfer window, and eight weeks later, still found no replacement.... Astonishing.
Oh yea, he wasted a full month spending 㿙m on Sigurdsson.
Brent Stephens
121
Posted 09/09/2017 at 18:56:38
John (#118), I agree entirely. My post above (#84), uses exactly the same phrase – Martina was "hung out to dry" today. I felt sorry for him.
John Charles
122
Posted 09/09/2017 at 18:59:46
Baines Gana, Pickford, Rooney get a little credit from me (I thought they were slightly better than the rest of the shit).
Sigurdsson, Schneiderlin, Sandro looked lost. And Williams is truly appalling.
Tony Hill
123
Posted 09/09/2017 at 19:01:19
We need to look at the simple evidence right in front of us. This manager does not have what it takes, at least not at our club, and I suspect certain players have decided the same.
Jay (#115) is absolutely correct: I think we are playing the worst football in the Premier League at the moment, or certainly as bad as the bottom two sides. We should be looking for someone else to take over. Without delay.
We need someone in charge who can make coherent decisions and motivate the players. I also have big concerns about the board but that is another story and not a priority.
A final major concern is Rooney, who is going to become more and more of a burden and a complication, I am very sorry to say.
Brent Stephens
124
Posted 09/09/2017 at 19:02:06
John C. Yes, and while Williams is appalling with the ball and defending, Jags is poor on the ball but at least can defend better.
Paul Wyndham
125
Posted 09/09/2017 at 19:03:19
Another clueless display with even less fight and heart than previous games; once again, no width or pace in the team, too narrow by far, formation and tactics just unfathomable, no Lennon or Lookman on the bench, WTF?!?!
I'm afraid Schneiderlin is a poor man's Barry, he never looks up or attempts to move the ball forward quickly and is far too static. Then there's Wonky Donkey Williams... enough said; Jagielka should start every game next to Keane to mentor him.
Also there was a total lack of leadership on the pitch and nothing coming from the sidelines, shocking. I can't believe he put Davies on at half time, the kid looks lost.
Personally, I think we should get shut of Koeman asap; I have not seen anything since he's been here that says he knows what he's doing – in fact, quite the opposite, he is clueless. This disgraceful failure to bring in a striker will see us struggle big time. This is much worse than anything we witnessed under Walter Smith. Koeman Out!
Clive Rogers
126
Posted 09/09/2017 at 19:04:10
A big mistake picking Martina and Williams. Martina simply can't defend and will give goals away every game. Williams is too slow and has had two international games with all the travel while Jags has had two weeks rest.
Colin Glassar
127
Posted 09/09/2017 at 19:04:55
Look what that lazy lump Lukaku can do with decent service. Even with poor service with us he was a 20-goal-a-season player.
But hey ho, some on here would've had him hung, drawn and quartered but he's gone now and we can't buy a goal anymore. And as for Ross, well I'd better not even go there. Some of the bile shown towards that lad on here was pathetic.
Now we trudge on hoping for a lucky goal or a bit of creative magic but who really wants that? Hard work and nonstop running is what we seem to admire in players.
Steve Bingham
128
Posted 09/09/2017 at 19:05:05
David (#78), I totally agree with you. If that team today was the manager's strongest eleven, then he may as well give all the young players you list a solid run of games where at least we know effort will be at a maximum.
A certain Harry Kane was a youngster who was believed in and look how that has ended up! The manager will now really have to show us why he was the board's number one choice.
Paul Hewitt
129
Posted 09/09/2017 at 19:05:29
We have just played the top 3 teams from last season. Manchester United next weekend, so probably another loss. But then the games get easier. Let's not go overboard yet.
Paul A Smith
130
Posted 09/09/2017 at 19:08:09
All I wanted to see coming this season was Lukaku and Rooney up front together. Just one season.
Paul A Smith
131
Posted 09/09/2017 at 19:15:06
Can anyone one here tell me what Schneiderlin does? Or Schnieds as someone said last week.

Productivity haha.
Anthony Hughes
132
Posted 09/09/2017 at 19:17:14
That so called lazy lump has scored more than double our whole team full of goal scoring midfielders brought in to replace him.
Brent Stephens
133
Posted 09/09/2017 at 19:21:18
Can we please sign a lazy lump.
Nick Lacey
134
Posted 09/09/2017 at 19:22:10
Paul (#131). Unfortunately, I feel that Schneiderlin would be good for us if we hadn't have already bought Gana Gueye, who in my opinion, is a far better player. I feel that as it was Koeman's first big signing that he has to play him to save face.
Jonny Flynn
135
Posted 09/09/2017 at 19:24:25
I love Everton and this season my hopes were through the roof but our start is very worrying. Okay, we've had a tough start but if you continue to put players out of position to accommodate them, it's no wonder Mirallas threw his toys out of the pram.
Somethings got to give soon or we are up the Creek. Nobody minds losing if you set up to give it a go but we set up to not lose and to frustrate teams but can't even succeed at that.
Jay Tee
136
Posted 09/09/2017 at 19:24:26
Absolute Rubbish today. Pity we can't prosecute for fraud as they were not a team today, just looked like 11 people who had never met before having a game of football against a proper team. Hope it does not get worse.
Soren Moyer
137
Posted 09/09/2017 at 19:25:59
Believe me, Swansea have more of a chance to get into top 6 than we do. 180 minutes of football and no shot on target!
This manager is a fucking disgrace and has no clue whatsoever what he is doing. But I'm afraid we can't get rid of him until his contract is up next year!
Dave Abrahams
138
Posted 09/09/2017 at 19:26:53
Very embarrassing performance (more like a non-performance). A lot of the players looked like they didn't want to be on the pitch; some of them felt sorry for themselves. We lost without a fight, not for the first time this season, and, to be honest, we looked fitter and played better in the home game versus Spurs last season. We have spent all that money to go backwards?
I have to agree with Brent Stephens (#84). Although I thought Martina was woeful defending, he was left to defend the Spurs left wing virtually on his own and Koeman never changed the tactics to rectify our game. I must admit, I couldn't figure out what the tactics were and I don't think the players could either.
Paul A Smith
139
Posted 09/09/2017 at 19:27:29
Nick (#134), too right – that's why he plays him. And that other lump Williams.
I would hang my head in shame if I was a Lukaku critic. I would be wondering if because he was so good compared to what we had or have now, did I think he should have done everything alone.Sandro, isn't lazy though, is he? Just far worse at looking a threat than Lukaku.
Mark Tanton
140
Posted 09/09/2017 at 19:31:05
Has Koeman lost the dressing room then? He has certainly gone out of his way to alienate people.
If Ross is popular in the dressing room then perhaps some of the players have sided with him over the gaffer.
Jamie Evans
141
Posted 09/09/2017 at 19:32:31
I understand the argument for not playing two holding midfielders at home, honestly I do. However, if we had more than 1 decent centre-back, then maybe the manager wouldn't feel the need to protect them with Gana & Schneiderlin every game. Cue Steve Walsh...
Joe Edwards
142
Posted 09/09/2017 at 19:35:15
The dream pairing of Koeman and Walsh is rapidly evolving into the Chuckle Brothers – toothless, inept and utterly outclassed in every department today.
I don't give a monkey's if it's early days, I am calling this now – we are in serious danger with this clown in charge. Not one of those players today looked as if they understood anything of what Koeman is trying to implement, or if indeed Koeman has any understanding himself.
This is his team now and it is woeful; his obsession with fucking midfielders has left the squad unbalanced, without a cutting edge, without a credible defence, without width, pace or aggression. I am seriously seriously fucking angry!!!
Tanvir Akram
143
Posted 09/09/2017 at 19:36:10
Mark (#140),
I was thinking the same. I mentioned his bad management skills in another thread.
Seems like not getting a target man will cost us, but so will the lack of pace in the team.
Mike Powell
144
Posted 09/09/2017 at 19:37:24
Pathic performance; the defence is poor, we have nothing going forward. Is there any chance off us signing a useless lazy forward who can't control a ball? Someone like that Lukaku player? I know he is shit, I've been told many a time on here.
Nick Lacey
145
Posted 09/09/2017 at 19:40:26
Mark (#140),
The squad probably thought the same as the rest of us with the appalling treatment of Niasse. No player should have been treated like that.
Raymond Fox
146
Posted 09/09/2017 at 19:40:41
Paul 103, I agree.
First, let me say Koeman leaves a lot to be desired and has cocked up in so many ways; at least Roberto wanted to score goals. He will have to go before long if his tactics continue.
When we play a class side, a regular top 6 side, we get shown up almost every time by the difference in quality of the players.
Yes, a better manager will make fewer mistakes but, until we can play top 6 sides with top 6 quality players of our own, we will continue to be frustrated.
We have replaced many ordinary players with ordinary players, none wanted by the top clubs! I think I am right in saying that we have sold 𧴜m worth of players and in return spent 𧵎m on incoming players. Nowhere near enough to close the gulf in quality with the top teams.
The one player they wanted we have sold. Are we any better than last season? not to my eyes, we're not. Where the hell are our goals going to come from? Your guess is as good as mine.
Yes, we have had a very difficult start league fixture wise which is continuing next match at Man Utd but it's not looking great, whoever we face.

David Pearl
147
Posted 09/09/2017 at 19:42:35
How to win friends and influence people.., Koeman. Oh man, what a waste of money. If we thought it was expensive to get rid of Martinez, we ain't seen nothing yet.
Pickford maybe, Keane perhaps, Baines probably, Gana definitely. Those who would not look out of place in a top 4 team. The rest... well Wayne will have to odd good game and Sigurdsson too. Koeman has replaced players with worse players. Erm... surely that's wrong?
Schneiderlin isn't a patch on Barry. Not even now! Gets rid or wants rid of Lukaku, Barry, Barkley, Mirallas and Deulofeu and replaces with Sandro, Rooney, Sigurdsson, Schneiderlin and Klaassen. What is it that Homer Simpson says? Fuck... I mean, Doh!Maybe it wouldn't be so bad if we ever enter the field of play with a cunning plan.
Koeman's first game in charge was Spurs at home (without Lukaku) last season. I thought we were bad then... Give me Martinez and Moyes football any day of the week over this shit.
Sam Hoare
148
Posted 09/09/2017 at 19:48:42
I've worried much of the Summer that our transfer policy was looking unbalanced, especially getting Klassen, Sigurdsson and Rooney for 㿲m and 𧷤k in wages!
A lot of us believed in Koeman based largely on Southampton's strong showing despite losing players but is it possible this was down more to Pochettino's foundations and Les Reed's well known eye for a player? It's looking more and more like it.
I can just about stomach the results but the performances have been so insipid. No coherence. No fight. No pace. No idea. I don't think we have the best players currently but I'm pretty sure they are better than what we have seen.
I'll give it another month or so till I get my Koeman Out banners painted up but I'm edging towards Camp Larkin-Hind.
David Pearl
149
Posted 09/09/2017 at 19:49:01
This bollox of why do we play two defensive midfielders. Why do people think that makes any difference?
For a start we don't!! They play a different game. The biggest problem is they don't get hold of the ball and put us on the front foot. Matic and Kante... which of those two are the attack minded players?
The fact is our balance is all wrong. The shape, the pace, no striker, no width no body to cross and nobody to cross to!! Wtf – Koeman out, ffs. I haven't got over the "Lukaku will waste his career if he stays with Everton" remark. Unbalanced mess.
Dave Cooney
150
Posted 09/09/2017 at 19:49:07
John Rafferty (#114), good post.
IMO Koeman is trying to play total football at Everton in that he is trusting footballers to play in any position, as long as he believes they are footballers. This may work in time but will not work against the champions & runners up at the moment.
Mark my words, Chelsea & Spurs will be in the top 3 this season. I'd back both teams against either of the Manc sides who are both favourites in the betting.
It is plain to see that, against top teams, this will not work at the moment but, if you believe in your system, you have to test it against them. You see who your players are in these games.
Personally, I don't agree with how Koeman is playing at the moment but, let's face it, he was expecting a top class centre-forward and, as usual, Everton let him and us down. He may stay with this plan or may ditch it and trust in the pace and youth many on ToffeeWeb want! I for one, am willing to watch and wait.

Julian Exshaw
151
Posted 09/09/2017 at 19:49:22
I missed the first half. I may as well have missed the second. I watched totally bewildered. We could hardly put three meaningful passes together and didn't threaten until the 85th minute.
There was no pattern of play. One would struggle to identify who was there to do what. No width whatsoever, no-one to hold the ball up, no pace, no hope! I
was prepared to stay calm after the Chelsea game seeing that we had had a long trip home etc, but there was no excuse for today. If you lose three-nil and you have a go, fair enough. What was most alarming today was the fact that, try as they might have, there was zero end product. Koeman needs to get it sorted!
Mark Tanton
152
Posted 09/09/2017 at 19:50:25
I did wonder earlier today what Martinez's influence over a side with these players might been.
And yes, I think the treatment of Niasse, where Koeman ostracised him in his first week on the job, was disgraceful.
Imagine if Unsworth did come in, Niasse would be rubbing his hands together at the prospect of a start.
Peter Laing
153
Posted 09/09/2017 at 19:52:15
Koeman needs to walk. Drab, rudderless utter shite.
Jer Kiernan
155
Posted 09/09/2017 at 20:02:34
A really poor performance all round. However, up until the first goal, I felt we were in the game. Pickford was at fault – that is not the first time I have seen a shot go straight over his head where his position was piss-poor. Most keepers would have positioned their feet in time to tap that over the bar (he is still learning though).
We have a new team so must give the benefit of the doubt. Rooney should have been dropped on principle and he was shite... he actually looked hungover. His behaviour has been poor this week; he should have been forced by EFC to apologize publicly for the clownish antics.
I can't help but feel his moving to Everton was thrust upon Koeman by a fantasist Chairman Kenwright.
I will wait until Xmas but was that hard to watch today or what!!! Good job I have no hair left!!
Ian Bennett
156
Posted 09/09/2017 at 20:03:08
Yep, same here. It looks like you can write the league off already. The cups might be an option if we can get someone in the next window, although our transfer business I think looks questionable under Walsh & Koeman.
Williams and Martina were liabilities at the back – looked more bottom 6 than top 6 to me. I didn't understand why Jagielka didn't start given the break, and play the weaker Williams in the Europa League. It's seems an age since Moyes, but the best defence still includes Baines, Jagielka and Coleman...
Still early days, but the 㿄m for Klaassen looks like good money pissed up the wall. It seems a strange acquisition when you have a better bet in Tom Davies. Klaassen and Schneiderlin offer practically nothing. Big reputations, I hope they turn it around against weaker opponents.
Up-front we look poor. Hardly any chances created, we look in trouble when we go one nil down. Three Number 10s on the pitch, we lacked width, pace and presence. Calvert Lewin has to start upfront against Man Utd. The fact that Mirallas has acted like he has, yet still makes it on the bench speaks volumes, as does why I'd consider starting him.
Painful transition.
Andy Meighan
157
Posted 09/09/2017 at 20:04:31
Paul (#125),
"Let's not go overboard yet." Right: we rolled over at Chelsea who declared at half-time; went a goal down today, albeit to a fluke, and rolled over; and everyone on here knows we will go to Old Trafford next week, go a goal down in the 1st half and roll over and let them take us up the proverbial.
All that while mustering a miserable 4 shots on target all season What a damming stat that is! We've got a frightened manager, frightened players, and worst of all, a frightened mentality when it comes to playing the sides in the top 6.
The sad part for me today was not one player in that side looked like he cared... not one. You say "don't go overboard"... Today should have been one of the worst home results in our history – that's how easy it was for Spurs. At times, I couldn't believe what I was watching...
Yes, we might scrape a couple of wins against Bournemouth and Burnley; then again, the way he sets us up, I wouldn't bank on it. Yes, we've played the top 3 from last season and it's a tough ask for anyone. But in reality we haven't laid a glove on them. A point against Man City and 10 men for what, 50 mins and we created one chance!?! Look what Man City did to 10 men today... Exactly!!!
I've said this a million times: getting beat, I can take; yes, it's hard to stomach sometimes... but it's part and parcel of football. But getting beat without trying – well, that's unforgiveable. And that's whats happened in our last two games.
But expect more of the same under this manager because he really hasn't got a clue what he's doing.
Mark Frere
158
Posted 09/09/2017 at 20:23:12
Christy @90,
Fair enough, mate. I actually think we didn't need to buy Klaassen and Sigurdsson, after we had bought Rooney.
Surely, Hakim Ziyech – instead of Klaassen – would've been a much better purchase from Ajax. He usually plays out wide for Ajax but can play in the Number 10 role as well; his stats for creating chances etc, were far superior to Klaassen's – the best in the Dutch League actually.
We've wasted 㿲 million on the two wrong players. Koeman and Walsh should've concentrated their efforts on getting a striker, winger, left-back, a decent partner for Keane at centre-back and a player in the mould of Ziyech.
Martin Mason
159
Posted 09/09/2017 at 20:24:59
I've tried to be positive this evening and not become another bi-polar TWer.
My conclusion is that, no matter how hard I try that was a disgrace from everybody at the club associated with coaching, buying players and selection. These people should be ashamed of themselves for letting down the thousands of fans who go to watch the club or who pay a lot to watch via satellite TV.
There is nothing I can do though as an individual but if there is a groundswell of change to get the main clown to be accounted for, then I will support it. The foul taste is that we'll make him a rich man to get rid. I'd try making Unsy Head Coach with Koeman working for him and he'd soon go. His ego couldn't take that.
Paul Wyndham
160
Posted 09/09/2017 at 20:25:21
Some people on here were talking about us competing for top six and even top four at the start of the season. If Koeman stays, I have no doubt we will be fighting for our lives along with: Bournemouth, Palace, Brighton, Swansea, West Ham, Newcastle and Huddersfield who are an unknown commodity.
I don't know who we would get to replace him, which is worrying, but I have no knowledge of managers from other European leagues. Maybe as some have said, bring in Unsworth for the interim.
I would also give Barkley reassurance that he is wanted (and needed) and, although I don't like it, I think Mirallas is needed. The return of Coleman can't come quick enough (although the ageing defence needs replacing); for the remainder of this season we would be so much more stable with a back four of Coleman, Keane, Jagielka and Baines, with Barkley and Mirallas also in the team. Add "others" from the squad and we could make top half.
My biggest worry now is that we panic and splurge another load of cash on an inadequate striker in January. Personally I'd like to see Vardy brought in.
Andrew Keatley
161
Posted 09/09/2017 at 20:28:26
Sometimes it just doesn't feel like the right fit, and I don't think Koeman is right for this club.
I don't think we have played well at any point this season (other than the last 10 minutes away v Hajduk Split where we played keep ball when the game was effectively over), even though results up until the Chelsea game were ultimately fairly decent.
The shift came against City; 1-0 up, away from home, at half-time, with them down to ten men. Almost perfect conditions for a morale-boosting win.
That second half display at the Etihad was, in my mind, massively misguided. We retreated, and effectively found out that if you give the ball to ten Man City players for 45 minutes then they are going to threaten more than eleven of ours. Who'd a thunk it?
We really should have come away with a win - but instead we whimpered in the face of the City onslaught and were lucky to get a point. That's a tough psychological barrier to scale, and I think Koeman is to blame for that.
Our squad is good enough to stand toe-to-toe against the top sides – maybe not so much over 38 games, but in each individual game – but the last two have shown something different. Surely it is the manager's job to deliver that.
I can't see things improving. The fit just feels wrong, so I would like to see Koeman gone (sooner rather than later) and Unsworth given until January to prove that he is the man for the job.
Dermot Byrne
162
Posted 09/09/2017 at 20:31:41
Martin – sometimes we got it wrong. Be strong and always optimistic!
Brian Wilkinson
163
Posted 09/09/2017 at 20:32:09
Every time we have played a top team in the last season and this Ronnie has gone for the same old three at the back, every time we have got mulled until fixing it, what part of the three at the back is Ronnie not getting?
Forget about Barkley; at this rate, the next to move on will be Tom Davies, why fix something that was not broken?
Ian Smitham
164
Posted 09/09/2017 at 20:32:37
Just got back from the game. Poor today, really poor. That a poster thinks we started getting better on 80 minutes shows the gap between us and a very good Spurs team, led by a great striker on the pitch and an even better manager off it.
They looked strong, disciplined and inventive. By 60-odd minutes the game had reduced to almost a friendly, the Spurs players simply retaining the ball and their defensive structure.
As for Everton, I have read with some concern the consistency of the earlier comments on here and by and large it is difficult to argue with many. I too felt sorry for Cocu Martina, I think he is not great but by no means as bad as the bandwagon would have us believe. yes the young Goalie botched on at least the first, but he is still learning on the job. Sorry, but Williams is not and his lack of pace at this level was exploited today. I'm worried about the playing of the DMs and cant quite see what Schneiderlin does, Gana, is quick, gets around and is always available to pass to.
I doubt I am the only supporter who likes young players coming through, Tom must be wondering and as for Calvert-Lewin, I have heard a few groans about him, I firmly believe he can only be judged at Centre Forward, that's his position and a young lad needs not to be played out of position, it is not fair.
Talking of fair, Niasse may or not be any good, but he seems to have been judged very quickly by the "present manager", as Ken would call him. As for Ross, maybe he has not kicked on to the levels we hoped, and he did, but for a lad who supports Everton, grew up in the area, his treatment has been poor, really poor. If you want to see desire, look at the celebration after the Burnley goal last season. In this time of mercenaries, I think we have a few, I'd have Ross ahead of any of the current crop of No 10s.
Davy is not up to it, Rooney, sad as it is, and he shows lovely class at times, a few lay offs today were sublime, he is past it, cant run for 90 mins and today was lucky the ref was scared of him.
So, we have spent a few quid, not sure how many, net of fees received, but its not much, and for me it looks disjointed, as people above have said, no width, no pace, and too many playing in what seems the same places (DMs and AMs). I cant help but feel the money, what there was of it has been wasted on duplication at the expense of missing out on what is the blindingly obvious, a new centre-backand a new Goalscorer are needed. made worse by the fact that the club knew Rom was leaving at a huge fee and he has been replaced by a ٣M player who from what I have seen is a Sub at best
Sorry to ramble, agree with every word of Colin Glassar and Dave Abrahams, it is my view that this Manager has wasted an opportunity, and money, his people management is absent, and for me I would look to remove him, not quite sure when. Easy to say that, who would I replace him with? I'm not sure right now but there was a bloke sat 5 seats away from me today, has an excellent reputation and his team have just enjoyed some success, and then been strongly supported and bolstered by new signings, that look to have been well researched by a reputable Director of Football. Step up, Mr David Unsworth. Thanks for reading.
Rick Tarleton
165
Posted 09/09/2017 at 20:34:02
First the good news: we didn't get Sissoko and today was allegedly his best game. The bad news, the rest of the display.
Peter Laing
166
Posted 09/09/2017 at 20:40:35
Fantastic analysis, Ian Smithman. As my dearly departed old fella used to say 'we have been sold a pup' with Koeman.
James Stewart
167
Posted 09/09/2017 at 20:42:23
@158, I would agree with that to a certain extent for me we should have bought Sigurdsson – not Rooney or Klaassen. Klaassen is a poor use of resources because Davies is just as good if not already better.
Today was utterly pathetic and when you consider we have spent more than Spurs, alarm bells should be ringing. Koeman is paid twice what Pochettino is. Just let that sink in for a moment...
The fixture list was cruel and I expect us to pick up against the rest but for me that is simply unacceptable given the money we have spent to build a side to compete with the top 6. There are many qualities I like about Koeman but I don't think it will work out. Does anyone seriously think Unsworth wouldn't have had us better prepared today?
Steven Flynn
168
Posted 09/09/2017 at 20:48:22
David (#54),
If you're going to Italy next week, don't go to Bergamo, the match is being played in Reggio Emilia – an hour & half further south!
Bill Gall
169
Posted 09/09/2017 at 20:48:55
I read in Koeman's comments that you learn from your defeats, and after watching the Chelsea defeat and today's performance, I think if he does not smarten up he will be doing a lot of learning this season.
Mark Morrissey
170
Posted 09/09/2017 at 20:49:35
A very balanced post by Ian @ 164. I too was at the game and I too felt it was like a training game for Spurs. I agree with your post and I firmly believe that, if we had Pochettino, we would be a balanced team come the end of the season.
With Koeman I honestly think we are doomed because from what I have witnessed to date, he doesn't know what players to pick. He has pissed off the dressing room with his handling of Ross. He's treated Niasse like a leper and looks to me to be all at sea.
It's going to be a horrible season and don't tell me we are a few games in. Koeman is bereft of ideas and if he thinks Coco Martina and Ashley Williams are Premier League defenders he is deluded. He asked for them. We're stuck with them. God help us.
Roll on January when he signs Berbatov on a free, cos there's no more money for him.
Paul Hewitt
171
Posted 09/09/2017 at 20:51:05
Anyone thinking Koeman will lose his job any time soon, forget it. He was given £140 million to spend, you don't sack a manager after that outlay.
Let's see where we are in 10 more games. Near the top 7, I would say.
Andy Crooks
172
Posted 09/09/2017 at 20:51:48
Martin Mason, that is the best post you have ever put on here. When Martin Mason, who has defended some shit, calls it shit, then, it is truly fucking shit.
Colin Glassar
173
Posted 09/09/2017 at 20:52:53
Ian, I (vaguely) remember when we first went for Koeman. He said, initially, that he was loyal to Southampton and he wasn't interested in leaving. Then, when Moshiri dangled the contract in front of him, he still hesitated.
He was on holiday at the time, fishing off the Turkish coast I believe, came to England, signed his contract then buggered off back to his fishing for a further two weeks!
Little time for pre-season training or recruitment. This summer, he went to Portugal to play golf rather than staying and fighting for the players he wanted.
So, is it just me that gets the impression that Koeman doesn't take this job too seriously? I really want him to succeed but this cold fish attitude of his doesn't help, does it?
Mike Oates
174
Posted 09/09/2017 at 20:54:49
The transfer window was an exercise conducted by two men who clearly don't see eye to eye. Walsh acquired cheap, young lads who will possibly be around for years – Pickford, Keane, Vlasic, Sandro (plus Lookman last year) and a host of 16- to 18-year-olds to be developed.
Koeman has brought in what I would call his long-term favourites – Schneiderlin, Klaassen, Sigurdsson and Martina. The problem arose when the Prodigal Son decided he wanted to come back – all heads Walsh, Koeman and Kenwright just had to take him for his experience, winning mentality, and to try and demonstrate we are a club going places, but forgot to consider where all were going to play.
It looks to me that the purchasing between Walsh and Koeman was never built around a playing philosophy, a style to be pursued, never integrated together and, just to complete the chaos jigsaw, the board didn't get what was obviously required to all and sundry, a left-sided defender, a pacy wide man, and a truly quality forward.
So now we are faced with a totally unbalanced squad, with no pace, no width, no strong centre-forward and 3 centre-halves, one of which can't cope at all defensively nor has the skill to pass the ball 20 yards to an Everton man (Williams), and the other near the end of his career.
I can only see the side hanging around 12-16th position in the league and the possible pearls of the side – Pickford, Davies, Calvert-Lewin, Keane, Gueye – wanting to depart to pastures new, as the "Project" will well and truly be doomed.
One truly disgruntled 60-year-old Evertonian.

James Newcombe
175
Posted 09/09/2017 at 20:58:17
Dear Ronald,
Play Kenny. Adapt your tactics when they're plainly not working. Just do something to justify your obscene salary. Cheers.
Jay Griffiths
176
Posted 09/09/2017 at 20:58:39
Ben Davies knew he could play high and wide today. When there's no danger behind you, then it's fine to commit.
We're blunt. Koeman hung Martina out to dry with this and failed to react. Martina is not a good defender but Koeman was remiss in his duty by not adjusting to such an obvious concern. I've never seen a left back allowed to play so high with such impunity.
When Leicester put us out of the FA Cup last season, I was alarmed at Koeman's failures and posted so on this site. In said post, I also mentioned a certain German at a Yorkshire club was on the rise and would be happy if we considered him.
We really lack passion and that knife we brought under Moyes is more a spatula now.
Ian Smitham
177
Posted 09/09/2017 at 21:03:26
Sorry if there is a bit of duplication in my thoughts and those of a couple of others, Mr Martin Mason, in particular, but it took me an age to type mine, (including correcting typos!!) so sorry.
Colin, I know in this age of advanced and varied communications, he need not have been at the Ground/Finch Farm, but I understand our manager was in Portugal on Transfer Deadline Day, playing golf.
I agree with your sentiments, again.
Chris Corn
178
Posted 09/09/2017 at 21:14:28
I'm afraid after today, I'm firmly in the Darren Hind camp. I believe he is yet another impostor. He has spent 𧵎m to create a team that lacks every attribute to be seriously competitive at Premier League level.
Yes, he didn't get an extra striker but anyone who thought we were ever going to replace Lukaku's goals in one player is seriously deluded. If we could attract that type of player Lukaku would not have wanted out.
Koeman himself said that he'd rather have more players contributing more goals than relying on one striker. He demanded more creativity. Where the hell is it?
Jim Wilson
179
Posted 09/09/2017 at 21:20:16
We brought in too many players in summer instead of 2 or 3 class players. Now we're waiting for them all to gel. But changing the system from week to week won't help them to gel.
3 at the back last game now 4 at the back will only cause a disorganised defence. Williams on international duty so playing Jags would have been a better idea.
Davies has impressed but not started in preference to ineffective Klaassen. Martina was not protected down right flank. All width and pace has been removed from team.
Sigurdsson not as effective as Barkley and no pace. No cohesion, character, spirit or fight to team. No leader. It's only going to get worse.
Otherwise, OK!

Tony Hill
180
Posted 09/09/2017 at 21:20:59
Mike (#174), far be it from me to offer some optimism (I'm a miserable git), but I think there are strong reasons for hope in the shape of the youngsters you mention (and several others), together with the best of the current first team.
It is imperative that this serious potential is not squandered. That is why we must get rid of Koeman. It is not too late, far from it, to make a success of this season and, perhaps more realistically, of the next few seasons and then to build up our great club as we all want to do.
But, if we wait too long and do a classic Everton dither with a man who isn't right for us, then I think your pessimism may be well founded, perhaps more so than you suggest.
Gary Edwards
181
Posted 09/09/2017 at 21:24:24
Declined a ticket for the game, watched the first third of the match online only. Everton are so predictable, the result, the poor performance inevitable. It's soul destroying.
I believe that, in Koeman's managerial history his teams have a prolonged bad run in the first half of the season followed by a run of good form which is currently the case as we've played City, Chelsea and Spurs on the spin with Man Utd up next. Despite our annual optimism I think most of us now understand that progression into the top 6 is beyond us. Hey hum – that's part of supporting Everton.
What is totally unacceptable is the terrible football we are playing and the apathetic, detached attitude of Koeman and the ear-splitting silence from our Director of Football. I've begun to wander if heading a football causes irreparable cognitive problems or is it simply the case that footballers, those that coach them and the managers are the dumb fuckwits?
They obviously need some help and guidance so I've done my analysis, assessed the above comments and put a little crib sheet together for Koeman and his coaching staff:
Williams is out-of-form and more concerned with his image than giving his all for Everton, a good slap, a haircut and 3 weeks on the Atkins.
If you want to play a back 3 then Keane and Holgate are the only defenders you have that may suit that system.
Feeney is a viable option at centre-back.
Jonjoe Kenny and Gethin Jones will give their all at right-wingback. Either one.
Get Antonee Robinson back from Bolton – we need cover at left-back.
Schneiderlin shows form in 1 of 4 games and is not good enough; try him in the '3' in Europe – more dynamism needed in central midfield.
Klaassen and Sandro need time to adapt / keep them for Europe.
Rooney is no longer good enough to play No 9, play him or Sigurdsson as No 10.
Calvert-Lewin and possibly Niasse to play up front and stretch teams.
Get violent on Mirallas, Lookman and Lennon we need hungry wingers.
Get Funes Mori, Bolasie and Coleman fixed – it's taking too long, get them on the same special vitamins they have at Barça.
... and get it done by Thursday !
Jim Wilson
182
Posted 09/09/2017 at 21:24:31
Spot on, Tony Hill, we should act now.
Martin Mason
183
Posted 09/09/2017 at 21:30:41
Praise where it is due: Spurs were very good today... But! If we are to crack the top 6 then we have to beat Spurs at home – even when they are as good as they were today. The reality is that today was a practice game for them and shame on our performance.
I can't go often now, especially living down South, but displays like that are an insult to our fans who pay to watch it.
7th again this season? Don't bet on anything better or even that we stay in the Premier League. That was a disgrace.
Paul A Smith
184
Posted 09/09/2017 at 21:37:10
There are people outside the ground before the game saying things a manager on £100 grand a year should see or know.
Nevermind £6 million a year.
Ian Riley
185
Posted 09/09/2017 at 21:41:14
Since Moyes has gone the atmosphere and expectation of coming from behind has gone. Our defending over the past three years has been frightening at times. Today's formation summed up our approach and final result.
At this point we are playing to many signings all at once. If we can't defend and struggle to score goals then only one outcome. On Monday, koeman needs to get back to basics of defending as a team.
Unless we start winning the battles and working harder. A season of hope may turn to dispair. I know many on here of were not fans of David Moyes but I was of his passion for the work ethic of players whatever their ability.
Brian Mahoney
187
Posted 09/09/2017 at 21:44:25
Sadly this result was predictable. I can see Lukaku bagging a hat-trick next week,£150 million spent and we are still no nearer the top 6.
I'm so glad I declined my ticket for Thursday – it would have been another 𧺬 down the drain.
William Twigg
188
Posted 09/09/2017 at 21:47:33
OMG, being an Evertonian is tough! Every season I believe that things are going to be better, and for so many years I end up disappointed. This time, I felt just maybe we could stand up to the constant "bitter" blue jibes from across the park and compete!
Well I had a real reality check today at Goodison Park because we are without doubt light-years behind the top 6 teams. Every team above us has pace and organisation what I witness today was slow predictable and without doubt inept. Why?
Because we keep employing crap managers who have egos bigger than the club. Pochettino has a hungry youthful side who do not mind mixing it but can play fast simple effective football, Clippity Klopp has the same philosophy as does Conte at Chelsea... What I witnessed today was totally unacceptable, predictable and quite frankly piss poor and the worry is without a proven striker, I cannot see it getting any better.
David Connor
189
Posted 09/09/2017 at 21:53:31
Truly shocking & inept performance today. 8 games played in total this season and we haven't looked convincing in any of them.Very worrying at this early stage of the season. I don't think anyone expected us to be this poor. Things have to change now or the fans will be calling for Koeman's head as this is his team now.
This season's massive for him personally as I think & hope Mr Moshiri will be the ruthless man at the helm that we all hope he is. On this performance I might stick money on Ronald McDonald not being in charge come this Christmas. We are that bad. Yet another false dawn looming.
I am really finding it hard at this moment to follow Everton & I have watched and supported them for almost 50 years. So so disappointed with everyone at our great club. No passion. No desire. No idea.
Jay Woods
190
Posted 09/09/2017 at 21:56:39
Koeman is looking increasingly out of his depth and – far from wanting to repeat what has already been ably stated by others before me on this thread – I'll keep it short and say we need to start looking for a new manager now. Wagner at Huddersfield might be a good lead.
Ian Glassey
191
Posted 09/09/2017 at 22:01:41
I have watched Everton since 1959 and been a season ticket holder since the early 1970s.
Today was one of the worst performances I can remember, and believe me, I have seen a lot. I never got off my seat, not even to boo the team, it was that poor. I can't remember seeing us so poor up front; it's going to be a long hard season,
Roger Helm
192
Posted 09/09/2017 at 22:01:51
It has to be down to the manager – he buys the players, sets the tactical approach, motivates them and sends them out.
Not many years ago, Spurs were at our level, if a bit below, just behind the top six. Now we look mid-table at best and Spurs may win the league.
The Koeman project looks a dead duck just now – if it is the same at Christmas, perhaps Mr Moshiri will remember his business principles; don't reinforce failure and don't throw good money after bad.
Paul A Smith
193
Posted 09/09/2017 at 22:04:08
It would cost a right few quid to get rid of this new regime of blaggers.
Prepare for more sales if they do sort their heads out.
Gordon White
194
Posted 09/09/2017 at 22:06:36
Martin Mason (#159). Spot on.
For God's sake – everybody, stop making excuses for another PPP. Absolutely disgraceful. Winning or losing is one thing but that pathetic display?
This was no better than it was under Martinez. And how much have we spent?
I walked away in the end, incandescent with rage. One person to blame in my view. I wonder how long he will be given?

Bobby Mallon
195
Posted 09/09/2017 at 22:06:43
I can't believe some on here are whinging about the fact we don't have Lukaku or Barkley. They wanted out. Barkley (aka Ray Wilkins – wants money not Everton) he can't want to win anything or he would have signed for Chelsea. No matter what manager is in charge people will moan like fuck. Martinez is shit Moyes is shit Koeman is shit. If you are so fucking upset, then don't go or protest at the game.
Paul Goodchild
197
Posted 09/09/2017 at 22:08:51
Get McCarthy back in the team as soon as he is 100% fit. I think he is a far more complete central midfielder than Schneiderlin. He has more pace and energy and moves the ball forward when he can.
We need Mirallas back in also. Surely he offers more than some of those on show today. After all he has pace and an eye for goal. Attributes we were severely lacking today.
Some of the comments about Martina are unfair. He was badly exposed today. He is okay going forward but Kenny deserved a run in the team.
Brent Stephens
198
Posted 09/09/2017 at 22:11:41
Bobby, like you I think there's been too much moaning and negativity of late on this site. But to call today's performance dire is not to moan. Well, ok, it is moaning - but bloody well justified moaning.
Dick Fearon
199
Posted 09/09/2017 at 22:14:56
Angry and frustrated to see my Everton disgraced in that fashion. Whatever they do at Finch Farm clearly has little to do with Premier League football.
I cannot understand why Spurs could roam freely in acres of space on the wings while our lot struggled to find room enough to swing a cat.
Christine Foster
200
Posted 09/09/2017 at 22:17:38
A month ago, I was worried, because I could see all the attacking flair gone or going, unhappy or wanting out. A couple of weeks ago, I was angry, angry with the lack of shape, flair, structure and arrogance of a Dutchman who could not see the wood for the trees, Angry too at so many on this forum that said "wait and see, give it time brigade" would back a man that has dismantled a squad and has no-one with penetration or flair in his team.
We didn't and don't have much in the first place but it was criminal to assume kids or players with no experience could handle the Premier League, its criminal to play defensive midfielders when you have Lookman and Mirallas.
Koeman is a con man, and he is taking us for a ride. No squad balance; Christ any good Everton supporter could pick a better team than he could, I could! And that's saying something.
So, all of a sudden all those people slagging Mirallas and Barkley are having second thoughts, could it just be that both of them should be playing? At the moment if both were fit, they should be in the team. No question. Because they are better than what we have. Simple.
It's no surprise their toys went out of the pram, mine went out a couple of weeks ago, the pram has just gone out the window now.
Note to the board. Get rid.

John Charles
201
Posted 09/09/2017 at 22:18:26
Haha bobby, I agree and wholeheartedly. I wish the team I pay hard earned money to go and watch would give me just a smidgen of good cheer and excitement with vibrant happy football.
Here's hoping.
Steve Bird
202
Posted 09/09/2017 at 22:23:04
Martina gets blasted remorselessly yet Klaassen and Sandro get a pass (give them time to settle in, apparently). Martina was exposed purely by poor tactics and going forward he looks athletic and more dangerous than Holgate.
Boy when the fans hate you at Goodison they hate you big time!! Rooney escaped criticism yet was yards off the pace!!

Andy Williams
203
Posted 09/09/2017 at 22:29:53
Shambles. I don't think I have ever felt so dispirited after a game and I have seen many shite teams over the years. So much money; so many steps back.
Martina has taken a lot of stick – some of it deserved. He is a decent wing back but not a right back. He delivered a lot of good balls into the box but we simply do not have anyone to get on the end of them. Many balls were played into the channels but we didn't have anybody running into the channels. The lack of pace is incredible. Sandro and Klaassen have both got obvious ability but need to be introduced gradually – they are simply not up to pace.
Sigurdssson on the left wing!? He looked lost and was far more effective when moved centrally. The only meagre ray of hope was Vlasic who showed glimmers of pace, skill and strength. He will have to show more than glimmers to save us.
Mike Oates
204
Posted 09/09/2017 at 22:35:12
I know I have just also had a pop at Koeman, out of total frustration about today, but his record at Southampton was in his two years there 7th and 6th. He did inherit most of Pochettino's young and developing team but he added (with Les Reed) the likes of Bertrand, Mane, Pelle, Tadic and Van Dijk and went to the likes of Arsenal, Chelsea and won, yes won games.
The problem he's got at Everton, was that other than Lukaku, Coleman and Baines the rest he inherited were useless or old. I'm sorry but it's not a 3-year job he's got but a 4- or 5-year job to get us consistently near the Top 6.
I suspect even if we got our desired centre-forward and centre-back, it will take 6 months to gel, but what he's left with now is totally useless, unbalanced squad which will do well to keep in the top half of the table.
Koeman himself knows we've cocked up big time, with still the backbone only half-completed – he desperately needs Bolasie and Coleman back asap; they are his only speed merchants. He clearly doesn't rate Lookman yet and I'm not surprised after his Split away performance. He's as bad as Barkley in giving the ball away in dangerous positions.

Paul Setter
205
Posted 09/09/2017 at 22:35:19
Anyone thinks we will finish above last season's position of 7th clearly hasn't watched the same guff I've watched in every single game so far this season. Tripe!!
Is this any better than Martinez?? Not for me it's not.
Gordon White
206
Posted 09/09/2017 at 22:41:32
A lot of people on here are talking a lot of sense. And it's the unhappy ones. We're not expecting miracles. But we are expecting our team, at home, to give it a go.
I would have accepted a loss at Chelsea and home to Spurs if we had made a match of it and offered some sort of resistance. It could easily have been 5-0 or a lot worse.
Supporters who are angry at the way we played today are not moaners or whingers. This isn't about individual players. It isn't about who left or who came in or who we didn't get.
It's about the set-up and management of a team. And the ability to realise you've made a mistake and change things. And not repeat the mistake. That's what lost Martinez his job.
Tony Everan
207
Posted 09/09/2017 at 22:41:44
Michael (#105),
No threat, no fear factor, Lukaku & Barkley gave opposition defences something to worry about. Now there is nothing. Teams will play us without fear or trepidation as there is no goal threat, pace or unpredictability. Just 4 shots on target in 4 matches is pitiful.
The whole approach needs a rethink, and pick a side with some sort of width and better balance. Give Calvert-Lewin a run as centre-forward.
Raymond Fox
208
Posted 09/09/2017 at 22:41:53
Three shots on target in three games says it all. (Or, as Tony above says, 4 shots on target in 4 games, whichever is correct.)
Scarcely believable.
Tony Marsh
209
Posted 09/09/2017 at 22:43:31
Years ago, when I tried continuously to drum it in that Moyes was a loser and a fraud, I was slaughtered on here. In the end, I was proved right regarding Deadly Dave.
Last season, after watching capitulation every week away from home, I called Koeman a fraud and the same deluded fans were at me.
Koeman is a fraud; if it wasn't for Lukaku's goals last season, we would've been battling relegation. Those Evertonians who called Lukaku lazy and were happy for Romelu to leave – what say you now? Goals at this level are hard to come by. We gave a goal machine to Man Utd for buttons. Wasted the money on crap.
Today was a journey back to the dark days of Walter Smith and the Moyes period of avoiding relegation with the lowest points tally ever. Absolutely abysmal and toe curlingly embarrassing.
Everton FC is a disaster waiting to happen and has been for years. Kenwright, Elstone and now this new Yesman, Moshiri, another full-of-shit fraudster. The problem is Bill is still in charge at the club, no matter what we think. Rooney was Bungalow Bill's idea. Koeman needs shooting for allowing it.
The whole team is a disgrace. The players who were looking good at times last season have been drained and beaten down by the Dutch Moyes – just like Davey used to do. You can see it in their body language. It's not a happy camp. No-one cares and no-one tries.
Install Unsworth now or go and get Allardyce to save us from relegation. Laugh all you want but that's how poor we are. That's how serious this is.
Let's see how many fans are still glad we gave Lukaku away after the Man Utd game and then the derby.
Keep Koeman and it's bottom 4 at Christmas – no doubt about it.
Ashley Roberts
210
Posted 09/09/2017 at 22:50:18
Having been a supporter for over 50 years, this is the most disillusioned I have ever been.
The problem stems from the coach who does not have a clue. How anybody can try to shoe horn 3 Number 10's in to midfield with no width and no pace shows a total lack of tactical awareness.
Having watched Klaassen in The Europa League final, I knew he was a light weight and totally overrated. He is slow, diminutive and has no skill and we bought him to replace Barkley; what a joke. He has been shocking so far and the game passes him by.
Martina was also let go by Southampton because he was not good enough, so why is he gracing our first team when we have two youngsters who I think are much better defensively. Only Keane and Pickford and maybe Rooney have improved the team over last season and overall the team is considerably weaker than last year and we have spent £150M. If Koeman carries on with this approach, I believe we are going to be bottom 6 rather than top 6.
It has not been so much the score line against Chelsea or Spurs it has been the abject displays; we have been terrible. The board should give him 6 more games and, if there is no improvement, then he has to go.
Mike McLoughlin
211
Posted 09/09/2017 at 22:50:27
I wonder if Koeman has lost the dressing room?
Tony Hill
212
Posted 09/09/2017 at 22:57:25
We're just going to carry on, aren't we, accepting shite because we need to "get a grip", because it's all too embarrassing and hasty to get shut of a bad manager.
Because we're Everton and we are The People's Club and we do lovely, heartwarming things. And there's a Project. And we are not run by conmen.
Let's just wait for another 6 months, 12 months, some time, never. Impotent dreams.
Whatever we do, let's do nothing.
Paul A Smith
213
Posted 09/09/2017 at 23:05:44
Tony (#212), my sentiments exactly. There is no time in football. It's now or never if you're trying to create a big deal.
We have been awful to watch under Koeman most weeks.
Mark Wilson
214
Posted 09/09/2017 at 23:06:37
Paul (#171) "He was given 𧵄 million to spend, you don't sack a manager after that outlay".
There you have it. I understand where your coming from but it's an utter fallacy. What outlay ?
This is football and it's a weird industry but too many Evertonians are falling for the great "amortisation" accountancy scam. This is where we are meant to suspend the normal rules that apply to building a successful squad of players for the campaign ahead, and instead celebrate that the owner has indeed substantially added to his yearly commitment to fund the squad. In this case it's gone from 㿊m pa to 㿲m pa and yep that's a 3-5 year period of, well, a lot of "commitment".
But here's the thing. It just isn't the same thing as making a truly game changing difference to a squad if your net capital spend in-season is nothing like the headline figure that seems to transfix our fanbase. The amounts spent are crazy, but so are the figures for sales. Whether the contract outlays are spread over a number of seasons, or not, so is the income. The bottom line remains that net outlay is the best most accurate measure of just how much impact your having on squad quality and strength in depth.
Our net spend is a bit shy of 㿞m which is half the latest premier league windfall from sky. It shows little actual real pump priming of a squad that finished 7th last year and wants to be more than the best of the rest.
Why? Because if you decide to cash in on your outstanding but disrespectful and gobby striker for 䀆m or so, and add another 㾿m or so in other sales, it just isn't enough to say you've done "good business" in the window but utterly failed to replace those 20-25 goals (facts say that should read "almost guaranteed 20-25 goals") or addressed some glaringly obvious and crucial issues of balance in your squad – no pace, no width, and an aging defence with long-term injury adding to weaknesses.
Mr Moshiri has cleared our debt, something that helps by ending loan costs obviously, but is a very long-term gain and won't get you 25 goals a season. He has agreed to support the yearly costs of a squad with hugely increased salary levels. Great amortisation performance. But not the significant two transfer window impact that can help overcome losing one of the best strikers in Europe.
Today's pathetic "performance" losing to an admittedly classy Spurs side just put the spotlight on another failed transfer window. I will get slaughtered for that but I don't care anymore. We've ballsed up yet again. Where's the transfer strategy? We're is the bloody balance? One very decent looking keeper and a good centre back apart, we've brought in a series of expensive midfielders and forward players who are actually more like No 10s and have one young centre-forward who the manager is already messing about in terms of position and selection.
I have no idea how we failed to bring in a top quality striker. And actually a second, perhaps less experienced forward because all the top teams will have three or four decent forwards in their squads. Plus that left-sided centre-back. We had the time. We chased Gylfi for so long. Spent a lot on him. But it hasn't happened and I sense a gamble that if it all went pear shaped by 1/9 we just needed to hold out for January when Seamus and Bolasie will have returned, and maybe some kind of No 9 bought in.
I think Koeman has told us now that we are again not competing for top four. Seems early to admit defeat to me, but he's said it and how he setup against Chelsea and Spurs feels a bit like damage limitation. But so many players are performing way below their best already.
Williams is just a horrible disappointment, isn't he. Slow to turn and well, just so, so slow, full stop.
Klassen? I know he needs time and we should give him that. But really, he's so far off, well I don't know what, he just doesn't seem to fit and I honestly don't see him, Rooney and Gylfi and Sandro all playing behind a striker.
Sandro? Yep, needs time to gel, like Mr Moshiri suggests, but boy, he's got a long way to come on if he's to get anywhere near the hype that accompanied his "chase" and actual arrival.
There's loads more but it's just too depressing. Only Everton can raise you up and three months later bring you down, hard. Of course it's just four very tough games in. But beating Burnley and Bournemouth won't be easy and it won't change the fact that those above us look even better than last season and I say that knowing today's results are very mixed.
Time to really earn that mega salary Ronald, things can go downhill pretty quickly but somehow turn it around at Man Utd and beyond, and maybe we can see a way to get to January without too much damage? How that's happening, I admit I've no idea because today I was stuck trying to think what we do to really shift the story away from transfer windows and Rooney and depressing and very easy capitulation.
Soren Moyer
215
Posted 09/09/2017 at 23:07:27
At least we helped Harry Kane to end his goal drought. Unfortunately he couldn't help himself to a hat-trick!!!
Denver Daniels
216
Posted 09/09/2017 at 23:08:24
Back to the Moyes days of the first shot on on goal after 70 minutes. At least Moyes got some value in the transfer market.
This guy is the vanilla ice-cream of managers. Solid, not too bad but ultimately very boring.
Thomas Tuchel and Luis Enrique are two managers available right now. Just saying .
John Charles
217
Posted 09/09/2017 at 23:10:03
Does anyone believe Koeman has the wherewithal to adjust tactics and coach this current team to challenge for anything?
From the muddled tactics, players out of position, changing formations, seemingly uninspired players, two defensive midfielders who offer nothing going forward, full-backs who are far too narrow, Ashley Williams, no centre-forward – I don't.
Is more transfer activity the answer? Maybe but not if Koeman is doing the buying for me.
Williams – awful
Martina – hung out to dry today but poor
Schneiderlin – poor
Klaassen – poor may get better
Sandro – poor; may get better
Bolasie – gets better every game he doesn't play but was at best an inconsistent show pony before his injury
Pickford – good but we paid steeply for him
Keane – could be good
Gueye – good
I know there are other younger players who may come good(??)
Koeman has sold or pissed off the jewels that other people bought or developed. The only reason his net spend is low is because he has sold Stones and Lukaku for 𧵎m – he neither bought nor developed either of these.
In light of this, I fear for a long hard season but will at least get 3 nice euro trips before Christmas. Unfortunately, I can't see any more after Christmas.
Tom Bowers
218
Posted 09/09/2017 at 23:11:23
On reflection of the performances to date, including the Europa League games one has to say they have not been impressive to say the least.
Getting past the two Europa League sides wasn't exactly exciting and we were quite happy in saying the team was a work in progress against not-so-good opposition which was okay, they got the job done. Things will get tougher in the group stage.
However, if we look at the 4 league games starting with Stoke you know we expected something more high tempo which didn't occur and only for a world class save from Pickford right at the end we would have lost 2 points.
The Man City game was there for the taking and they blew it with very little time left remaining. Man City with 11 men for 90 minutes could have been a different proposition.
Then of course things caught up with us in the shape of Chelsea and Spurs and I suppose now the big question is how long is the ''work in progress'' going to take?
Right now Koeman has to re-think his strategy and his team selection otherwise it will be a long hard slog till January with an attack force as potent as a soggy biscuit.
Stoke proved today that, with minimal spending, good players can be obtained and I have to say I haven't seen a Stoke side with more skill than this one especially Shaqiri who is better than anyone in Everton's midfield at present.
Koeman will probably make a few changes for the Atalanta game but whether the performance will prove anything is debatable as Atalanta are not top Premier League opposition.
Jeff Armstrong
219
Posted 09/09/2017 at 23:12:56
Shearer: "Everton where awful".
Bye, Ronald, you charlatan, living on a reputation as a decent player but an awful, awful manager.

Mark McParlan
220
Posted 09/09/2017 at 23:26:37
That was quite possibly the worst 'performance' I've ever seen served up from a Ronald Koeman side at Goodison. The range of adjectives suitable to describe the capitulation we all witnessed is rather extensive... from abysmal to dismal.
The same old teething problems we've been highlighting ever since the season began with the unconvincing wins against Ruzomberok manifested themselves in all their true glory. Ashley Williams being one, he quite evidently does not have the standard of technical abilities as a footballer to stake a regular place in the first team of a side allegedly harbouring ambitions of breaking the top four. He simply isn't good enough... he still plays as if he plies his trade at Stockport County... he's a hoofballer and nothing more.
The other problems... the disaster that is unfolding at right-back is a major concern. Coleman got injured (bad luck), and so we are left with Holgate (incapable of running forward down the wings, let alone crossing the ball), or Cuco Martina (incapable of defending or stopping crosses going in) as our right backs.
So much of the defence is below par... and that's without even mentioned the shenanigans taking place further up the field. I don't know how many times we have to say that playing two defensive midfielders together in Schneiderlin and Gueye stifles creativity and ruins our chances of scoring.
The well-documented failure to land an out-and-out 'target man', proven centre-forward will be catastrophic... Koeman instead plays an attack composed entirely of Number 10's (Rooney, Sigurdsson, Klaassen, Sandro etc) and just sort of hopes it will work. It won't. We should have signed a Number 9... surely Walsh and Moshiri or Kenwright are to blame there. This team is not going to score goals.
As for today's ratings... scores on the doors.
Pickford – 5. Question marks over the nature of the first goal – yes, it was a fluke shot, but from that distance? He seemed to parry out the second into the path of their scorer.
Martina – 4. Yes, he can burst down the wing and put a cross in. But he is truly shocking defensively, and was constantly beaten by Ben fucking Davies... imagine a Mane or Sterling running against him. He just can't defend.
Keane – 4. Definitely his worst game in an Everton shirt. He was just poor defensively and seemed to cause Pickford a lot of problems.
Williams – 2. Not of the standard required sadly. Quite simple.
Baines – 6. One person's performance that I can't particularly fault today. Leighton always gives his all... a true professional and role model. Perhaps his crosses were lacking though.
Gueye – 6. The second player who came at least close to meeting expectations today, he did his job just as well as he always does.
Schneiderlin – 3. It's still a mystery what happened to Schneiderlin between the end of last season and the start of this one. He doesn't actually do anything anymore, his passing and control has gone out of the window. He looked a class act, but now he's a mere passenger. Strange one.
Klaassen – 5. You know, the more I actually watch this guy play, the more I realise that he has real quality about him. His passing play is superb, he has potential to be great. Yet games still seem to be passing him by completely; he has no impact on them at all. We need to see a lot more.
Sigurdsson – 4. There can be no doubt of his qualities, sure. But I think Gylfi was the completely wrong signing for us in that window, being deployed in an already crowded area. I don't think he was what this team needed (we needed pace and width), not another narrow midfielder, or Number 10. 㿙 million for a glorified Sebastian Larsson...
Sandro – 3. He works hard... he always runs around a lot and puts defenders under pressure. But he hasn't really showed any actual quality to us so far, and has looked pretty toothless in front of goal with poor finishing. Remember Lukaku describing Niasse as "raw"? I think that applies to Sandro, but there could be a player in there. Maybe we did get a ٣.2 million player.
Rooney – 5. He's always on of the better players on the pitch, and he has something about him, he can pick the right pass at the right time. Think of when he set Martina free to cross for Sandro. Yet another Number 10, however... neither he nor Sandro stay central up front.
Davies – 3. It's not going to happen for him this seaosn and I feel he is due some time back in the U23s.
Calvert-Lewin – 4; didn't do anything more than Sandro did.
---
Does no-one else find it strange how, when we use a back-five system, where we need some more attacking players to compensate for the 3 centre-backs, that Koeman always uses Holgate at right-back? But then whenever we go to a flat back four and needs the full backs further back, he plays Martina, the attacking one of the two?! Surely when we play a back 5 with wing backs, Martina is ideal; and when we go back four, Holgate should be used? Baffling.
Koeman also insists in using Sigurdsson down the left wing. But he's not a winger, that's not his position, he's ineffectual there and should be deployed centrally. He played on the left at Spurs, and we all know how that worked out.
These are worrying times, but I think these past two results have almost been a good thing in a way - we huffed and puffed against pub team Ruzomberok, toiled against Hajduk Split, and unconvincingly scraped past Stoke. In terms of our actual play ignoring the results, we've been woeful and we needed a wake-up call.
Now we have it. Ronald, show us what you can do.
Gordon Crawford
221
Posted 09/09/2017 at 23:31:34
All this talk the other day of building a world class stadium with a great atmosphere... who cares right now? I want a world class team or at least a flipping good one.
We haven't had a manager in years who can make us into winners. It's an absolute joke that we crumbled, like we did today. All these new top players with leadership qualities, well, where was the leadership today? Cause I didn't see it.
I really don't see a good manager in Ronald Koeman, but I hope I'm wrong. 'Embarrassing' is an understatement.
Christy Ring
222
Posted 09/09/2017 at 23:36:37
What's to look forward to? Absolutely nothing. Koeman has put us back in a relegation battle. We should have been hammered today.
Williams and Martina shouldn't get another game this season. No organisation, no pace, no width, no striker, totally clueless. How can we back a manager and Walsh, who never replaced Lukaku, all he wanted was Sigurdsson, and didn't give a shit about a left sided centre-back, and left-back.
He was very vocal in his criticism of Barkley last season; not a word about the performance of his replacement.
Carl Allan
223
Posted 09/09/2017 at 00:01:56
I believe Koeman could be 3 games from being sacked. Likely defeats are imminent against Atalanta and Man Utd away, so we go into a home game against Bournemouth where surely defeat in that one would be too much for the so-called ambitious Moshiri.
In 2017, we have looked as inept as any Everton side under Moves, Martinez or even Mike Walker. No away wins since early January,; haven't won back-to-back league games this year... and don't even look like competing against any of the top sides where, as soon as we go behind, it's game over.

Damian Wilde
224
Posted 09/09/2017 at 00:04:20
"Pickford maybe, Keane perhaps, Baines probably, Gana definitely. Those who would not look out of place in a top 4 team."
Baines is finished! Shocking! He was poor last season too.
Paul Birmingham
225
Posted 10/09/2017 at 00:07:03
Dire Straits for the last 30 years...
And the next? Why and why?
It's the pits, and no easy way out.
Dave Bowen
226
Posted 09/09/2017 at 00:13:47
I am mystified as to why Moshiri decided Koeman was his No 1 choice. His managerial career consists of a couple of Dutch title wins with Ajax (something most TW's could manage) & then being sacked from virtually all his other head coach positions.
He is the best paid & top-spending manager in EFC's history. Yet, the games we have won this season were virtually unwatchable & the squad is the most unbalanced in my 47-odd years in supporting Everton.
In his defence, he did sort out the home form last season apart from the usual meek surrender in both derbies & Chelsea not breaking sweat on the way to the title. He did also get us back into Europe although not everybody appreciates the Europa League.
In January, we spanked title favourites Man City 4-0 in one of the best Blues performances for decades. What has happened other than Lukaku leaving? My patience with Koeman & his marginalising of our flair players is wearing very thin.
If today was bad, I'm dreading the Media Darlings at Old Trafford next Sunday.
Max Murphy
228
Posted 10/09/2017 at 00:19:41
Under Koeman, Everton have become unbearable and embarrassing to watch.
Bill Watson
229
Posted 10/09/2017 at 00:20:19
What a shambolic performance: Spurs could have easily scored six or seven and we were lucky to get none!
Once again Koeman has had to alter his side at half time and, once again, the substitutions made little difference: the damage was already done by the slow and narrow formation.
We are frighteningly one dimensional and pedestrian. Klaassen is out of his depth and, at the moment, Sandro would be best used, late on, as an impact sub.
What concerns me most, however, is the continued perseverance with Martina and Williams. They are a million miles from what we need to progress. Martina, in particular, should be nowhere near the first team.
Koeman, like a lot of managers, appears to be very reluctant to select young players. Kenny must wonder what he has to do to get a game.
Worrying times.
Gary Willock
230
Posted 10/09/2017 at 00:23:57
No shape. No defence. No attack. No passion. I've seen some shite over the years, but that takes some beating. Give Koeman 5 games to turn around or he needs to go.
Jonathan Miller
231
Posted 10/09/2017 at 00:25:37
No excuses, Koeman, wrong team, wrong tactics and a complete lack of understanding in how to change it.
Martina might be average but was left completely exposed. Ashley... sorry, mate, you're not good enough.
After a 400-mile round-trip costing hundreds, once again to no avail, my son has said he's not coming again until there is something worth watching... and I have to say I can't disagree with him.
As bad as anything Martinez dished up.
Anthony Dwyer
232
Posted 10/09/2017 at 00:25:44
Some strange comments on here but to be expected after today's poor performance.
Clearly we have bought a few quality players, but its starting to look like we have a few duds in there too.
Davy Kalassen for one needs to improve drastically and fast as buying him may already stiffle Davies, although I don't think Davies can play a full season.
Sigurdsson or Klaassen should have been bought, not both by the looks of it as they want to occupy the same space on the pitch.
Buying Sigurdssonfor all that money to stick him out of position is crazy.
Buying Lookman for 㾷m and looking as though you don't fancy him is equally as nutty.
Playing Martina over Holgate in a game were you will need to defend a lot of the time is criminal.
Playing Williams in current form is suicidal; if he is better than Jags then how can you give Jags a deal and not buy someone. Maguire or Gibson would have been good long term partners for Keane.
Imo, we should be playing less new players from the start, players like Martinez and Klaassen who are clearly struggling could be used from the bench with players like Davies and Holgate being used, as they were successfully last season.
There is so much wrong atm, I didn't expect many points from the games we are currently losing, but the manner of the defeats especially to Chelsea and again to Spurs today is unacceptable.
It will be very interesting to see the line up for the Man Utd game as that team can't start again!
Lastly, wasn't the new lad supposed to be a winger? He came on in central midfield from were I was watching in the Park End.
Phil Walling
233
Posted 10/09/2017 at 00:34:35
Dave @227, Southampton were 'the go to club' 18 months ago. Koeman had done well to keep them in the higher reaches of the Premier League after a number of 'stars' like Lallana had been sold off and Read had continued to spot young talent.
Our man was by no means universally popular with either their establishment or fans and it is said their was a general feeling of relief when we bought him out of his '٠M a year' contract.
He was very much Moshiri's pick – Bill would have stood by Martinez – so I guess we've been as badly burned as scalded. It is doomed to get worse, methinks !
Mike Berry
234
Posted 10/09/2017 at 00:35:59
The "faithful" are talking about today's performance as one of the worst the have ever seen; however, I would suggest the Chelsea game and the first half against Stoke to rival that.
Early days but appalling displays so far , and hopefully you will let Ronald know that we don't like his defensive tactics. We need to be set up to win games – not lose them.
Derek Knox
235
Posted 10/09/2017 at 00:42:10
I was totally gutted today, and have still not got over it – not the fact that we were beaten, but the manner in which that transpired.
This team/squad, are new, so given that, you make allowances; there were no signs of any cohesion within the squad whatsoever, I know it's early days, but I Don't envisage any positive signs forward.
I think, only my opinion, that Koeman has to take the blame and, if this continues, I can't see him being in employment for much longer but he won't be signing on either.
What a crazy world football has become!
Mike Green
236
Posted 10/09/2017 at 01:01:55
It sounded horrendous today but we knew we were in for a rough ride at the start of the season and we've got it. I imagine we will get spanked next week at Man Utd but then we are out of those games and need to move on.
We have played three of the almost certain Top 5 in our last three games, two of them away. We've been shown up in two of those games but we are 3 points off of 5th – and 4 points from the bottom too admittedly but no-ones had a rougher start than us. The Liverpool team that spanked Arsenal got thumped by Man City today.
Koeman and the team have got to pull their socks up, get a couple of positive results and try and put some kind of performance together in the midweek games coming up. Do that and we'll get a bit of confidence and things could look altogether different after we've played a few of the lesser lights of the Premier League.
It might look like Halloween at the moment but let's wait until the real one before we start burning people at the stake.
Pete Clarke
237
Posted 10/09/2017 at 01:04:14
Fuck trophies. I just want us to start playing some decent football. Ronald Koeman is being found out. If he sanctions Pickford to boot that ball upfield to two midgets, it's because he has no game plan to work the ball forward.
He is lost and is losing the players and supporters.
Clive Mitchell
238
Posted 10/09/2017 at 01:15:04
Just back from the game, have read a lot of posts to get the flavour. I said after Chelsea this is Koeman's team and he has to be given 10 Premier League games to show what it can do. As for today, unlike the players I've earned my say.
Martina was hung out to dry as many have said. Williams is quite the most astonishingly uncultured player I can ever recall seeing for us – fond memories of Terry Darracott and Hibbo. The decision to start Klaassen and Ramirez was incomprehensible.
Against this Tottenham, leaving Jagielka, Holgate and Calvert-Lewin on the bench. When Sigurdsson was also in the 11. But the one thing that has to be said above all else – Schneiderlin's performance today was a total disgrace. So Ronald, starting 11 today included 10 who you've brought to the club. What would you say if you were us?
Clive Lewis
240
Posted 10/09/2017 at 02:27:02
This is so good, I have posted it twice.
https://www.theguardian.com/football/2008/apr/21/europeanfootball.sport
It's a good read and confirms what most are thinking.
John Pierce
241
Posted 10/09/2017 at 02:33:16
Tellng today was the insipid, supine way we subsided at the hands of Spurs side who were as good as we were awful.
Koeman committed his usual trio of sins; questionable selection, contrary formation and a complete lack of playing style.
The players today can stand along side their manager as equally as culpable. All XI.
Spurs after the second goal just started taking the piss, Ali in particular all flicks and nutmegs. Yet only a misguided Rooney attempted to 'lay one on them'. Was he trying to atone for the performance or more personal matters?
Koeman is a deadman walking, the players look like they don't share his penchant for defensive shithousery.
We have a good enough squad to fashion a strong team, so I don't buy into the yearning for Lukaku & Barkley thing.
So for me Moshiri should give him the next three games to get 7+pts from or give him the old Spanish archer.
It simply hasn't worked, and most hauntingly shows no sign of changing or improving quickly. Why give a man more rope to hang himself?
Moshiri talks ambition, expectations and spending to boot. No way should we put up with that tripe. I guess those more inclined to ignore the problems or plead for time will cite a lack of suitable replacement.
Not an excuse not to get rid. But I believe Tuchel would jump at the chance, and would be worth the leap.
I'm sure many will scoff at Unsworth stepping in, but really how could it be worse?
With the most awful away record under Koeman the next 6 days do not bode well. Come Bournemouth will the pressure to just give us something to smile about be too much?
He should resign that would be the Dutch thing to do.
Will Mabon
243
Posted 10/09/2017 at 02:52:05
Well, he's done it. Having turned the team into the ultimate expression of Dour Power, he went one further; today they didn't even know how to be dour. I can't recall when I last saw such a confused Everton team.
They managed to combine no attacking movement with moving out of position, all at sea, not knowing where to be on the pitch. The only time the midfield were forward was when they should have been back covering. Spurs had so much space, the pitch looked enormous when they went forward.
Koeman is right in one thing he said – the team looked "Too nice, too weak". It's another way of saying demoralized. To address this is the job of the manager. I don't think he can do it. All the signs were there of a baffled group of players – not a team. There is zero spirit, and zero fire. I believe the players are not getting him at all, and I don't think they will.
Will Mabon
244
Posted 10/09/2017 at 03:05:15
"
One positive for me is Klaassen. He looks a very smart player with neat touches, but I fear we don't have the quality around him for him to be effective.
"
Sorry, Dean - that one has now been officially retired as an excuse. Ask Barkley.
Peter Larkin
245
Posted 10/09/2017 at 03:08:19
Koeman has killed my passion for watching my team. Yes... my team. The highs, mostly lows of 30-plus years I've always had that buzz about gameday; today I knew it would be a backs-to-the-wall, hit-and-hope job with players in their unnatural positions, for that alone, Mr Koeman, you can fuck right off.
Football is a very simple game, complicated by high-paid idiots who talk the same PR shite after every game. There are a few exceptions to rule, of course, but Koeman isn't one of them. For me, a top manager has two things: man-management and organisation.
Tactics this, tactics that... bla bla bla – is all shite until you reach that elite level Champions League etc. Look at today's game for example. Every single player in that Spurs team would run through a brick wall for there gaffer; our guys look terrified to cross the halfway line, ffs.
Football ball has changed – every young player is now a millionaire, spoilt little twats, they need to be man-managed. Some need an arm around the shoulder; some need a father figure, and some need a bollocking, but all must believe in the manager and his grand plan.
For me, the players have either not bought into his "project" or Koeman has pissed-off some of the popular lads in the dressing room and now it's a sulk. Either way, it's fucking shite for us fans.
I've said it many times on these pages and on the live forum: losing happens, it's football, but there's a way to lose, lose with pride, with fight, with passion, with dignity, leave it all on the line and the fans will accept it. To bend over and get shafted like we have is sackable in itself. It should never happen, ever.
John Pierce
246
Posted 10/09/2017 at 03:12:51
Will, that was my biggest takeaway from today's serving of Total Football.
The players' utter lack of reaction, complete confusion of what they needed to achieve.
The ambivalence towards the manager was clear, much worse than anger, that implies they still care.
When you cannot convince a set of men who are financially set for life of your methods, time to get your brother to pack the bags, and Jan K to book the Uber.
Derek Thomas
247
Posted 10/09/2017 at 03:21:58
We were well beaten by a better team...well yeah of course, trouble was that Spurs never broke a sweat and didn't have to get out of 2nd gear to be 'a better team'.
Who knows how long the powers that be will give him to sort it out.

Will Mabon
248
Posted 10/09/2017 at 03:25:02
Agree, John. It's a big step, but it needs taking. How I'd love to be completely wrong, and for everything to suddenly click, Thursday and beyond... not just results, performance; any sort of performance. I don't think it will.
Phil Sammon
249
Posted 10/09/2017 at 04:49:31
It's almost heartening to come on ToffeeWeb and see so many opinions closely aligned to my own. We were fucking dreadful and it was absolutely obvious as soon as the team sheet came out. How can you possibly put so many central midfielders in a side and expect it to work? How can you spend 㿙M on a player and play them out of position?
I think I'm one of the few who likes Klaassen, but even I'll admit that he shouldn't have been bought. We are completely overloaded in that area. How can everyone see it but the manager?
I'd honestly be delighted if I woke up tomorrow to find Unsworth in charge, even on a temporary basis. I don't know what Koeman has said or done but these players are not responding to him. It's easy to imagine him rubbing people the wrong way and when you're not getting the results, they won't put up with it.
One special mention for Morgan Schneiderlin, who I thought looked top class when he arrived. The last two games, he has been disgraceful. I can cope with people having a bad game but the lack of effort there is inexcusable.
Sack Koeman. Whatever it costs. Barkley will sign a new deal under any other manager.
Peter Lee
250
Posted 10/09/2017 at 05:17:58
I didn't want him as manager in the first place; I wanted him out last season; I want him gone now.
First job was to restore some semblance of defensive solidity. Not difficult and he managed it. Although buying Williams was strange. Jagielka was getting panned because, playing left side, he made mistakes. But, instead of buying a left-sided centre-back, he didn't fancy Funes Mori, he bought a player who was no better than Jagielka and subsequently looks poor by comparison.
He has now bought Keane, another right-sided centre-back. When Man Utd gets shut because you are judged to be worse than Phil Jones or Johnny Evans, it should ring alarm bells. I wasn't convinced by him; still not.
Same reasoning over why I didn't want Schneiderlin.
I understand why some on here complain about playing two defensive midfielders at home but I disagree. If they are quality, they protect the back four, break up play, and allow the full-backs to get forward. Problem is, the two he choose are not up to the job. Yet again both Schneiderlin and Gueye found themselves repeatedly the wrong side of Spurs players.
Given our lack of pace throughout the team – but particularly at the back – two sitters gives us a problem in getting up the pitch but not having them is suicidal. We didn't have them yesterday because those selected weren't up to the job.
The presence of Barry last season gave Tom Davies a chance. This season, he is swamped.
I didn't want Klaassen. He's lightweight and totally over-run.
Bolasie is a headless chicken and had two or three good games a season at Palace. His return will make little difference. If he does return to play right, we will see little of Coleman over the half-way line because he doesn't track back.
Sandro may be a good signing eventually. He looked great in the Spanish U23s but so did Deulofeu. He isn't a centre-forward and he isn't fit. He's not cutting it in the Premier League at the moment.
I thought the purchase of Pickford strange. One season in a struggling team getting plenty of practice, rather than buying others of real quality elsewhere, wasn't a good shout. He could develop but he hasn't got a right foot at all. Bizarre.
Martina was an okay shout as a stop-gap. Kenny may be physically smaller than the ideal but he should have been given the chance with Martina as the fall-back.
Tactics. Koeman said that the team weren't fit when he came. He wanted a pressing game. I've yet to see it. It needs the whole team to move up. Spurs are not a particularly quick team, Kane and Alli have great movement which makes up for that and they are a big team which tires towards the last third of games but they do press.
They bought Sigurdsson and sold him back to The Swans. We paid 㿙m for him?
I like Calvert-Lewin. He's a long way to go, he's certainly not Lukaku, but someone needs to tell him that he's got to cut out the stupid flicks like the one that led to the third goal and totally killed the game. It's not even coaching it's just "Do that again and I'll kick your arse so hard!"
I said before the game that losing five even down to ten was disgraceful and indicated a team shouldering arms. For most of the second half, we looked disillusioned as a team in a way I've not seen since the dog days of Walter Smith.
Sack him now; Christmas will be too late.
Other than that I'm really happy. At least that's what I've told the wife – otherwise she'd know I was mad going to Italy and Man Utd in the next week.
John Smith
252
Posted 10/09/2017 at 07:32:40
Poor tactics from Koeman. Good players looked lost.
Paul Rimmer
253
Posted 10/09/2017 at 07:34:49
Unsworth needs to be given the reins. Koeman tries to rule with the iron fist but has little tactical awareness.
Why we gave Martina a 3-year deal is a mystery to me. Kenny is a far better player and Holgate, although a centre-back, can fill a gap there until Coleman is fit. Martina can't defend.
We've bought too many attacking midfielders who get in eachother's way. We look a little better with Calvert-Lewin as the focal point but he's often on the bench to start.
We have no fit left-sided centre-back – Williams looks unfit to me but Jagielka struggles to pass off his left foot. Pickford will be great in future but needs to be coached to parry the ball away from danger. We lack width and pace. Usually when teams spend a few quid, you see an improvement, but we've gone backwards.
Mike Green
254
Posted 10/09/2017 at 07:59:54
"For me, the players have either not bought into his "project" or Koeman has pissed-off some of the popular lads in the dressing room and now it's a sulk. Either way, it's fucking shite for us fans."
The vast majority of our squad now have been brought in and came to play for Koeman, many of them in the last few weeks – they probably haven't even met the 'popular lads in the dressing room'. Who would they be anyway? And please don't say Ross Barkley, FFS.
It's not Koeman's "project" either, it's Moshiri's, and given the ink's only just dried on their contracts, I call bullshit on that one too.
We're in a mess but pulling out "why's it not working" standards like "losing the dressing room" at this point is just picking a nail out of a box to hang your hat on just so you can vent your spleen.
Maybe they're demoralised because they can't see any attacking outlet until January. Maybe Koeman's just as demoralised about that as they are. Maybe that's his fault but give him more than a week to try and sort it out FFS.
Tony Everan
255
Posted 10/09/2017 at 08:43:57
I have woken up trying to find a twig of optimism swirling in the mountainous waves of disappointment. The only thing I can muster is that Man City, Chelsea and Tottenham are top teams. Champions league class. It is a baptism of fire for our new team.
However, how many would be optimistic if we were playing Brighton away next week? Team selections are baffling to nearly all. How on earth is Williams starting games? Martina first-choice right-back? What (if anything) is Koeman doing to motivate? And for the millionth time – why wasn't Lukaku replaced? Why have 5 No 10s and no striker?
Selling Lukaku and not replacing him with one or maybe two top quality strikers has to be the most shocking miscalculation I have seen the club make. There is no easy way out of this monumental mistake.
It's time for the squad to roll up their sleeves and prepare to battle. The senior guys have to support the likes of Calvert-Lewin and Lookman every step of the way. These two have the quality and the ability to get a few goals and cause a few problems for opponents during a tough time. January may see a partial fix and an attempt to rectify the calamitous error of the summer.
Darren Hind
256
Posted 10/09/2017 at 09:05:22
Mike Green,
When I posted months ago that we were not buying players who could hurt the opposition, that Koeman was "building a house and forgetting to put the fucking roof on" –your smart-arse comment was "This is why they build asylums."
I see you are still pleading that Koeman is still the victim as opposed to being the perpetrator... Smell the coffee, man; most of the other kite flyers have – we can see you sneaking over to the other side.
This thread should be called the U-turn of the fickle.
Damian Wilde claimed he was delighted with our signings. Now he say's in post 72... "Koeman is useless, Koeman out, poor player purchasing, poor line-up." He then, rather amusingly, tries to tell us he told us so.
Martin Mason is Classic: Only a few days ago, he was telling us he saw "nothing but positives." Now, post 159: he tells us he's prepared to support any movement, if it gets rid of the "clown" in charge.
I can see the headlines in the Echo tomorrow: "Council spend fortune clearing up kites abonadoned by grass-skirted know-alls".
People need to get a grip. They either see Koeman as the wrong guy, or they back him. Tammy Wynette would be spinning if she could see this thread.
Wanna know what they really build asylums for, Mike? It's for people who fool themselves into thinking they are fooling everyone else.
Unsworth In!

Colin Glassar
257
Posted 10/09/2017 at 09:17:10
We have lost three of our best, most talented players in recent years. Stones, Lukaku and now Barkley – to be replaced by Williams, Klaassen and... errrrrrrrrm... nobody.
Some were screaming to get rid of Stones and to replace him with a solid, no-nonsense pro like Shawcross or Williams. I hope you're happy.
Lukaku was considered to be a lazy lump of shite who couldn't trap a bag of cement and only scored jammy, deflected goals (you know who you are) and wasn't fit enough to wear our sacred shirt. I hope you're happy.
Ross, another favourite target of the "we need a grafter" group. He's thick, lazy, cowardly, clueless etc Now some are saying Koeman's treatment of Ross is near criminal but many on here thought he wasn't good enough. I hope you're happy.
Mike Green
258
Posted 10/09/2017 at 09:17:35
Darren – glad you're so interested in my opinion; I'm flattered.
Daniel Lim
259
Posted 10/09/2017 at 09:20:48
Colin, would Lukaku make any difference to the performance so far? Especially vs Spurs, do you see him give a shit and try to lead the other 10 players to fight against Spurs?
Even if we had Aguero, this joker would do the same to the team and Aguero would not score before Christmas.
Laurie Hartley
260
Posted 10/09/2017 at 09:26:03
Darren, thanks for the welcome back to Goodison on the pre match thread after 13 years away. You asked for a full match report – here it is:
Inept... and worse still – heartless.
I was in the lower Bullens Road yesterday. The last time I was there I was directly behind Alex Young when he score the header against Spurs to clinch the title in 62-63 season. Many of those players and Evertonians at that game, now passed away, would turn in their graves at yesterday's excuse for a performance.
I have been amongst those willing to wait and see if Koeman could get us playing. Seeing first hand a full game from inside the ground has given me clarity on our situation.
You have been right all along: Koeman Out.
Colin Glassar
262
Posted 10/09/2017 at 09:30:36
I'm not defending Koeman by any means, Daniel. People speak of him providing a new spine for the team but, imo, the spine we had (Stones, Barkley and Lukaku) was fine. What we needed was a top goalie and more creativity and goals from midfield.
Yes, all three suffered from lapses in concentration and, sometimes, made poor choices but we've replaced them, so far, with inferior players.
Daniel Lim
263
Posted 10/09/2017 at 09:37:00
Sorry, Colin, to have misunderstood you.
Yeah, new spine my arse. I was texting my mate last December, "Is he a fraud?" before the match against Arsenal. And after the heavy defeat of Man City I thought for a while I was wrong.
But results and performances were mixed after that. I didn't know why. I thought the jury was still out. But I'm saying this the third time since yesterday, "The good performances were more by accident than his ability".
I think the jury is not out anymore. He's crap, he's lousy, he needs to go.
Gerry Ring
264
Posted 10/09/2017 at 09:37:08
Paul (#197). I couldn't agree more. Get McCarthy back & into the midfield. Sort out the personality clash with Barkley & pray that Coleman recovers early!
My fear is that Koeman will try to justify his signings by playing these new guys at the expense of the likes of McCarthy, Kenny, Davies to name just 3.
Coleman should be given the captains armband. He leads by example and has massive pride in the jersey – unlike a lot of the newbies who don't seem to care!
Amit Vithlani
265
Posted 10/09/2017 at 09:42:06
Colin – Lukaku wanted away and so did Stones. (Stones put in a transfer request prior to the Chelsea bid and Lukaku was told he would be allowed to go this summer.)
Nothing anyone could do about that, as they had the opportunity for immediate Champions League football.
I agree with you that neither deserved the flak they received. However, they wanted to go. So, for me, the only issue is focussing on how good their replacements are.
So far, not very!
Phil Walling
266
Posted 10/09/2017 at 09:42:55
Colin, for once you sum up our situation accurately. In short, we are in the shit with not too many prospects of getting out of it.
I'm not a great fan of Moshiri – perhaps if he'd put enough in to divest the Club of 'The Entertainer' completely, I could have warmed to him- but the guy can be excused if he feels let down by the thick end of 𧴜M being blown on the likes of Schneiderlin, Klaassen and Sigurdsson.
In a way we've been spoilt throughout this century by having only occasional flirtations with relegation. Whatever the shortcomings of Moyes and Martinez, they kept us safe as in the words of ex-Villa owner Randy Lerner, "You are only ever a poor manager away from the drop."
Unfortunately for Moshiri and all Evertonians, he's found one!
Darren Hind
267
Posted 10/09/2017 at 09:45:20
Mike,
I'm not. I stumbled across it when reading the views of others who shouted down the blindingly obvious when it was pointed out to them. Yours just seemed to fit my post best.
Laurie,
Sorry it didn't turn out better for you. Will this mean you give the Old Lady a wide berth next time you're over? Of course it won't. You're hooked, mate and there isn't a cure.
Enjoy the rest of your visit!
Andrew Clare
268
Posted 10/09/2017 at 09:47:16
We had a team of players who have only played together a handful of times playing against the second best team in the league. It was obvious what the result would be.
Give Koeman until December before making a judgement. A top striker wouldn't make a blind bit of difference as we aren't creating any chances anyway.
Apart from one or two, I believe we have an excellent squad. We have to be patient. I know it is hard after so many years in the wilderness but managers need time.
Paul A Smith
269
Posted 10/09/2017 at 09:58:29
Peter Lee (#250), well put, mate. Thanks for being real about Keane too. Its about time we studied a player before deciding he looks class after a Ruzomberok game.
Darren Hind – again, well said.
The ignorance towards the fans who could see these performances coming a long time ago has been as disgraceful as the tactics.
How many will be man enough to say you know what Darren, you wasn't so out of order through having an open mind and cutting out the soppy "I love Everton so everything is great" type of comebacks you and a few others have received. That would be nice to see. I think even the most stay "positive" fans must know your interests are for the good of the team now.
How many times did I say another striker won't change us. I didn't forget the last ten games of last season. You have to create for a striker. Now look at the shots ratio.
That was really easy for to me to see and I found it to be a problem last season. Now its come to light, do you think I am bothered it sounded negative in July??
Mike Gwyer
270
Posted 10/09/2017 at 10:05:47
Darren.
What do you want, a tee-shirt with "I spotted it first, Koeman is a fucking shite manager".
We can all see that things are not going well and every game this season has just gone from bad to totally fucking shocking. But being blue you just hope that it's a blip, you just pray that it's a blip because come Saturday you want, need, pray for and hope that the mighty blues win.
Fuck me, I can see we are playing shite, I'm even paying good money to see us play shite. So someone continually saying "I told you so" means jack shite.
All I want is Everton to win and, from what I'm seeing, that's not happening any time soon. It's totally depressing and it totally fucks up my whole week having to watch Everton try to play football. Every and I mean every blue who was at Goodison yesterday knows we are playing shite.
For fuck's sake some had their faces buried deep into their hands, looking totally shocked and the abuse aimed at Koeman was, to say the least, vulgar. So yeah, you can take it as given, we all know that Everton are shite.
Paul Rimmer
271
Posted 10/09/2017 at 10:18:04
A top striker (like Lukaku) would make a huge difference as they often occupy two defenders, thus creating space for others. Even if not scoring, they frighten defenders.
Our forward line isn't imposing enough, even with Calvert-Lewin, so opposing defenders relax and start to build the play; opposing wing backs like Ben Davies yesterday have the confidence to get forward knowing there's little threat behind them.
Stan Schofield
272
Posted 10/09/2017 at 10:25:20
Colin@257: Spot on. The evidence has been accumulating that Koeman lacks tactical nous and that he has dreadful man-management skills, but nevertheless the criticism of Lukaku and Barkley has been astonishing.
When Lukaku was here, most times the ball was just being lumped up to him, but he got more criticism than Koeman. He was called a gobshite for expressing frustration and having ambition.
When Barkley didn't sign a new contract, he was criticised for being a traitor, and he was called a gobshite as well.
Kevin Tully
273
Posted 10/09/2017 at 10:28:45
Am I going mad, or was it a plan to be the only Premier League club to start the season without a recognised striker? Sitting here with a humongous hangover, thinking that we have just spent 𧵎m to go backwards.
Sean Dyche for me, worked wonders at a club who have no right to be in the Premier League.
As I've been saying, we don't get enough men forward. In pure Scouse, Koeman is a big shithouse.
Chris Williams
274
Posted 10/09/2017 at 10:29:17
I still back Koeman to get it right eventually, but it is getting harder by the game, and sadly we're getting two a week currently, in three tournaments shortly. It could be two soon if we perform as ineptly against Sunderland
A sign of a plan would be nice mind. As would some spirit and ticker.
If he gets it wrong totally, over time, he will be sacked and that will be Barcelona done for him too. In the meantime, he will be given time by the club. All the shouting in the world on here isn't going to change that one iota.
So I will continue to go to the match and support the team, even if it means watching through my fingers and holding my nose. If that is even possible at the same time!
Martin Mason
275
Posted 10/09/2017 at 10:30:24
Darren @267,
You were making a statement of the blindingly obvious to others who could patently see the obvious. The only difference was that some were prepared to give some time before starting the endless complaining.
Laurie Hartley
276
Posted 10/09/2017 at 10:36:10
Darren (#267) – you have got me pegged; I am an incurable Evertonian.
I won't be at Old Trafford next week due to family commitments. My wife has said she is glad about that because she has "got a bad feeling about it". After 47 years of marriage, I have come to realise she is usually right.
However, there will be a crew of incurable Evertonians travelling to Old Trafford. It will take guts to make that trip but Everton Football Club has to have someone to fight for it.
At the moment, it looks like you're it, fellas.
Mike Green
277
Posted 10/09/2017 at 10:43:33
Darren (#267) – "I stumbled across it when reading the views of others who shouted down the blindingly obvious when it was pointed out to them. Yours just seemed to fit my post best."
I'm even more flattered – thank you! :D
Mike (#270) – don't spoil his fun, he's got a lot to get out.
Kevin Tully
278
Posted 10/09/2017 at 10:48:38
Kenwright won't sack the manager. No doubt he'll be in Moshiri's ear, telling him how he stuck by Moyes during his poor spells. We still won fuck all. Forget about Koeman getting the bullet, it won't happen. Until the fans start to kick off.
There is a correlation between us not getting rid of mangers until we are in serious danger of relegation and not winning anything. Happy to be mediocre. Or those in charge are anyway.
Brendan Fox
279
Posted 10/09/2017 at 10:53:26
Sherlock stating the bleeding obvious as usual with his empty post-match platitudes. The problem with this is this is the house that Ronald built with the starting team sent out; only Baines was not a purchase of his. He cannot be allowed to continually lay the blame at everyone else's door over player purchases as that is far too convenient. He's currently acting like a right snide bastard.
Ronald is trying to shoehorn all of his signings into a side with lots of players either out of form, out of position, or both in many cases. With no consistent formation played each week, square pegs in round holes –only for changes to be made at half-time to both the formation and players on the pitch – is not how to build confidence in the players or supporters. This is just a basic lack of football knowledge that Ronald is displaying on many fronts – for the princely sum of ٤m per season!
Ronald needs to eat a big slice of humble pie and go back to basics. Pick a team that has balance, width, pace and players playing in their natural positions – whatever the formation he decides to play. Drop those not performing, whether they are his purchases or not; give some of the kids a chance as they can hardly do any worse than the current expensively gathered selection of individuals, and try and fashion a team out of all of the assets he has at his disposal. If he cannot see this, then he is the wrong man for the job and needs to be binned asap – irrespective of what it costs to get rid because, on current form, if it continues, we'll be in a relegation battle this season – and that is not exaggerating or being defeatist, if we are honest with ourselves as supporters.
Farhad also needs to eat the rest of whatever humble pie is left after Ronnie's portion and realise that he is just as culpable for the current state of affairs on the playing side as Sherlock is. He went all out guns blazing for him as his first choice to replace Bobby Brown Shoes and it's just not working out, given the money he laid out to get rid of Martinez and his team, and get Ronald and his team in, only to fare no better.
If Sherlock doesn't turn things around quickly and get a team capable of playing some proper joined-up footie, getting more than one shot on target per game, and maybe some goals to boot, then things will start to get ugly, Martinez-style, with the Goodison faithful.
If things turn ugly, I believe it's time to batten down the hatches, get Rhino and his passion for the club in the hot seat, and see what he is made of. Get stuck into the best of this current first team squad and blend it with the best of the U23s to fashion a balanced team as it cannot be any worse than the shite the current occupant is dishing out and expecting the faithful to lap up and stomach.
Jay Griffiths
280
Posted 10/09/2017 at 10:58:56
Probably on about a 99% agreement that Koeman is way too deep.
I don't think we need posters acting like trapdoor spiders, flying out on prey: He said that last year, he posted this, I owe you this comeback.
Most people write from current emotions. Martinez in the first season had most of us purring; second season was a big hmmmmmm.... third season: get the fuck out!
My biggest gripe from yesterday, of many to choose from, is Koeman's failure to react to our right flank. Could he not see what almost every supporter could? Ben Davies shot for the second, and set up the third. The kid had a pink slip for the whole game.
Half-time was when I expected the adjustment to the system. Being blind to this obvious exposure terrified me. We may need to aim our vitriol in the same direction.
Kevin Dyer
281
Posted 10/09/2017 at 10:59:22
Last season, Koeman could use the excuse that they weren't his players playing his system, bad old habits etc. Yesterday, we started 6 new players (plus Pickford). 3 others were brought in last season. Only Baines was not a Koeman purchase and arguably he's been our most consistent outfield player so far. Whatever Koeman's telling them to do, they are not getting. Maybe it's overly complex and confusing them; maybe it's just a confused message.
If this carries on until Christmas, we need to make a change. If no quality replacement is available, appoint Unsworth. He could do no worse and at least his ego and poor man-management won't be a complication.
I'm not blaming Koeman for not addressing the gaping holes in the squad; as far as I can tell, that's the job of Walsh and the Board. But a manager needs to find a formation, system and style that fits the available playing staff. There's no way some of these players are as bad as they appear. Atletico were interested in Sandro, the lad had pedigree and has scored plenty in a top league in a not-so-good team. He is a striker, just not the type Koeman wants him to be.
Sigurdsson is seen as a key man, so why shunt him out wide? It didn't work for Spurs and they had a better team. He should be played central attacking midfield or even central midfield alongside a defensive player. Klaassen needs to be dropped and reintroduced gradually. Our "style" of play bypasses the midfield and he looks lost.
We lack pace up front so cannot sit deep. Play Holgate alongside Keane and push up. Martina is good going forward, is the only player offering any width, overlaps well and gets great whip on his crosses. He had energy and pace too. However, he is is exposed when we just defend. Kenny should be getting playing time. We need to play one of Gana and Schneiderlin; at the moment, it should be Gana first choice. Get Besic and Davies involved. Start Calvert-Lewin up top and integrate Sandro gradually. If Sigurdsson is playing as a No 10, then drop Rooney or shift him out wide in a free role. Get some pace on out left, either Lookman, Mirallas or the new lad.
The squad has holes but is not as bad as it looks right now. It's up to Koeman to quit with the meaningless comments about "pressing, productivity etc" and get on with finding a solution that works for the players we have. That's the minimum I expect for the money he's getting.
Paul Tran
282
Posted 10/09/2017 at 11:05:38
Darren, I'm not sure where I stand on your 'fickle list'.
He's brought good players to the club, but if you can't communicate your ideas, you're never going to be a success as a manager in any walk of life. I'm sure he doesn't want the players to play like this; but nothing's getting through to 'his' players.
If I was in charge, I'd be sounding out Tuchel, Silva, Dyche, possibly Unsworth. I'd be telling Koeman I want a definable pattern of play and wins in the next two months. Otherwise, I'd swallow my pride, bin him and give the next guy some time before the January window.
Brent Stephens
283
Posted 10/09/2017 at 11:05:56
Mark (#220) "Martina – [rating] 4. Yes, he can burst down the wing and put a cross in. But he is truly shocking defensively, and was constantly beaten by Ben fucking Davies... imagine a Mane or Sterling running against him. He just can't defend".
I'm no great admirer of Martina but he was a victim of Koeman's tactics – sent out to defend against two, even three, Spurs players on his own yesterday.
Others on TW (and in the press) have commented on our narrowness and on the resultant lack of cover on our right side. "[In the second half still] remarkably Everton failed to shut down Ben Davies on the left" – just one quote from the papers today.
On every occasion, once midfield players moved to help Martina, they left holes in the middle exploited by Spurs. They couldn't believe their luck. Tactics.... not Martina yesterday.
Barry Williams
284
Posted 10/09/2017 at 11:08:37
I have been advocating a number of things, one of them being a wait until the New Year to see how we are getting on before hailing or condemning Koeman. I also defended his use/non-use of wingers as I thought it was at times being overstated.
I still advocate a wait until January view due to the fact that we do have so many new players, we are in a very very difficult run, and we have to adjust to the Europa League. Seeing as Koeman improved us in the first season, I think this is only fair.
However, a number of things are concerning me. There seemed to be a lack of passion yesterday – the majority of the players and the manager didn't seem outwardly that bothered by the display. Where are all the captains we are led to believe we have bought? Again, there was a distinct lack of leadership all over the park.
For the first half yesterday, we had 7 new players starting the game. That definitely meant and will mean gelling issues all over the pitch. I get that. But, did that many really need to start all at once against an established, plus very good Spurs team?
We could have utilized a number of players that have been here a season or more and thus introduce the likes of Klaassen and Sandro slowly as I feel they are being hung out to dry a little at the moment. The same with Martina. In the right system, he could be decent; yesterday he was exposed by the system which highlighted his weaknesses, which all players have.
There is also the issue of too many similar players on the pitch at once. Should Klaassen, Sigurdsson and Rooney be shoehorned into the team? It can be argued that they are different players, to be fair; Klaassen could be seen as a box-to-box player, but if he, Rooney and Sigurdsson all play at the same time, then maybe only one of Schneiderlin Gueye should play, not both. What do I know? I am not a professional!
Tactics. I saw a few excellent balls crossed into the box yesterday. But in the first half, who was going to be on the end of them? The two tallest outfield players who are non-defenders, Sigurdsson and Schneiderlin, don't play in positions to utilize their height within the box. I was expecting lot more play on the floor and clever reverse passes and the like to open up the opposition.
We have lost to the runners up and the Champions, plus a draw at a Man City side that tore a strip off Liverpool. It isn't going to get much better next weekend either. I think things will improve, but we will be playing a lot of catch-up.
I am not pressing any panic buttons yet. It is now up to Koeman and his expensively assembled backroom staff to start finding solutions; that is what they are paid handsomely to do and that is what they need to do sooner rather than later.
To be fair, they are probably on a learning curve too with so many new players. It is now up to them to utilize the squad properly and get them to gel a lot more because what I saw yesterday was a very disjointed side indeed.
Barry Williams
285
Posted 10/09/2017 at 11:22:03
Kevin Dyer – (#281),
I agree with a lot of what you have said, the solutions are in the squad already!
Andrew McLawrence
286
Posted 10/09/2017 at 11:25:08
Having just watched the Championship highlights, I honestly think we're the worst footballing team in the top two divisions.
Damian Wilde
287
Posted 10/09/2017 at 11:33:42
Darren Hind having a little hissy fit...
"Damian Wilde claimed he was delighted with our signings;Â now he say's in post 72... "Koeman useless, Koeman out, poor player purchasing, poor line-up" He then, rather amusingly, tries to tell us he told us so."
Was I pleased with some of our signings? Yes, I was. What I did say after the Stoke game was that, if we played like that against the top sides, we'd get battered – and we have.
I think you need to calm down, fella – otherwise, you'll have a myocardial infarction; that or an in-patient stay.
Chill bro. Or alternatively someone get Daz an 'I was right about Ron' tee-shirt, that and a lollipop to keep him quiet.
Kevin Tully
288
Posted 10/09/2017 at 11:34:11
You can be sure of one thing: next week, we will set up against Man Utd the same way Malta played against England.
This is not my Everton.
Grant Rorrison
289
Posted 10/09/2017 at 11:44:43
How anyone can think this clown is going to come good, I do not know.
His solution to losing our best striker and a guaranteed source of 25 goals per season is to spend £70m on 3 number 10s and try and shoehorn them all into his starting line-up. Surely buying one and then another striker and maybe a wide player would have made more sense?
We have played the worst football I've ever seen this season. We have failed to score in 10 out of 16 halves of football. They weren't all played against Chelsea and Spurs either. We have only managed more than 1 goal in a game once in 8 attempts. We have only scored twice in 4 league games, both from Rooney, despite looking to spread the goals around the team.
Even he doesn't rate the players he signed just this summer and keeps bringing them off early, only to go again the following game with the same depressing results.
What does anyone believe is going to magically change over the next few months and bring about a positive change? Besides this man fucking off?
Dave Williams
290
Posted 10/09/2017 at 11:47:08
Paul Tran (#282), spot on! He has signed good players but – with no balance, no established pattern of play, too much tinkering and no striker – the players are not performing.
Here's a thought: to get rid of Ron now would likely cost a season and a half's worth of wages for him and his crew. If he stays, then Ross will likely go in January for around 㾻m. If Ron goes, maybe Ross will sign a new contract and his value goes up immediately by 㾻m thus financing the severance package.
Not that I am a huge fan of Ross who, to my mind, hasn't learned a thing in the last three years but, if he is a slow learner, then what is Ronald on the evidence so far?
Defeat against Spurs I can take because they are good and a few years further along than us but a shambolic team selection playing without width and with weak defensive players when there is better on the bench does start to make you wonder if he really knows what he is doing. As someone posted above, Mike Walker is coming to mind... shudder!!!!!!
Why he won't give Kenny a game is beyond me.

Eddie Dunn
291
Posted 10/09/2017 at 11:49:51
Koeman had a mini break as the transfer window closed. His target was Giroud. I heard that he didn't want anyone else... no Plan B.
I wonder if Koeman's appetite for the "project" has tailed off, and his team realise it? They certainly played without any belief, as well as without any tactical nous. I can't recall a more spineless effort.
It's been a bad week, with the Rooney business and now this. So many things are wrong with us and this manager seems not to have a clue what to do about it.
It was mentioned by some on here that this tough opening to the season could leave us down at the bottom. We still have Man Utd to face before we can feasibly gain any points.
One thing is clear – we are going to struggle to get 7th this time.
Mike Allen
292
Posted 10/09/2017 at 12:12:11
No more excuses – this is fucking dreadful. Two over-hyped and over-paid managers since Moyes, plus a Director of Football, plus the best training facilities – and this is the standard we are at.
It's not about getting beat that is bad enough but the manner of the performances over this period and the fucking claptrap that goes with it is fucking embarrassingly shameful.
Pete Clarke
293
Posted 10/09/2017 at 12:13:16
Koeman trains these fucking professional footballers. He has had long enough with them to work out some formula to get the team to gel. But that team yesterday reminded me of the days when me and the lads would have a few pints in the Crown and then go and have a game in Long Lane playing fields.
At least we would have given everyone a laugh instead of this zombie shit football!!
Mark Wilson
294
Posted 10/09/2017 at 12:16:06
It's just so Everton, this mess. We get money, so does everyone else. We somehow manage to end the transfer window with a first-team squad no better than we ended last season, because departures do count when you make the judgement. Yet our U23 / reserves in old money looks like a group in transition as Unsy says but there's a feeling that there are two or three really strong quality players there.
I've re-read this depressing thread and there's actually so much sense being talked here. When you remove the natural inclination to rant at why we are here so quickly in the season, you find it hard to argue with the views on Koeman's performance. He's chopping and changing set ups which for the most part seem to mean we concede so much territory there's almost zero chance of not conceding, and the better teams will capitalise on that. He's struggling and I'm wondering, if we haven't improved by Christmas, whether Mr Moshiri might be the man to break the usual approach at the club and sack him?
As for not finishing 7th, I'm not sure there are teams that are actually going to better us over the season? I think it will be a very congested middle eight but frankly the manager has already decided we are not top four so that's that I guess. Maybe in 10 years time, eh?
Steavey Buckley
295
Posted 10/09/2017 at 12:21:55
The alarming statistic from Everton's season so far: all of Everton's expensive signings are failing. So, if anyone believes another expensive signing, Bolasie, will prove me wrong, don't hold your breath. He wasn't that good when he was fit.
The next biggest problem: Koeman has no Plan B and not much cash to flash when the transfer window opens up again, and an injured disgruntled Barkley just to make matters worse. I can see Everton quite easily plummet down the league, because Everton have no back four, no midfield and no attack to speak of.
Colin Glassar
296
Posted 10/09/2017 at 12:26:01
For some reason, when it comes to Everton managers the "Big D" seems to plague us.
After the Dour football of messrs Smith and Moyes, we got the Deluded Spaniard now followed by the Dull and Dreary Dutchman. Dear me, how much more Dire can this Dreadful situation Deteriorate?
This has been Detrimental to our Devoted following, whose only Desire is to watch open, entertaining football – not this Dull as Dishwater Drivel!!
Jim Wilson
297
Posted 10/09/2017 at 12:26:22
I agree with nearly everything you said, Tony Marsh. Koeman is definitely the new Moyes and we are in serious trouble.
But if Lukaku was in yesterday's side, we would not have seen him. He wouldn't have broken sweat. He was also a fraud who didn't give a shit about Everton.
Once sold, Koeman should have brought in a proper striker and not fuck around with signing players we didn't need. (Like Moyes who sold Rooney only to buy a pile of shite...)
And yes, bring in Unsworth as soon as possible and maybe Barkley (once fit) will play his heart out for the club and will be happy to stay.
Oliver Molloy
298
Posted 10/09/2017 at 12:35:36
Privately, Koeman knows that, when the fans turn on any manager big time, the board will act (if only to look good). It's not looking great at the moment. However, I have no doubt that Koeman will at the very least be given until January to get this team to do what he wants it to do and to prove he knows a thing or two more about football than all us managers on here.
I'm sure those at the game can see what's going on all over the pitch, so would have a better take on this than me, but yesterday, watching the game on telly, we looked a yard short once again.
Both full-backs are too slow to close down their man and block crosses and this is unsettling the centre-backs. Sorry, lads, but Baines is a liability and any opposing coach will target him; great servant of Everton but his position needs addressing. Koeman knows this as we know.
Schneiderlin looks out of sorts and someone mentioned that he plays well in one of every four games (Mourinho ain't stupid) which is probably correct at the moment.
Another person said that Barkley would have made a difference yesterday – not in my opinion. The spine of Everton is non-existent and we are easy to play against.
My opinion, having watched Klaassen in the Europa League a right few times, was he was a good quick passer and decent engine getting in the box but I always thought he was a little lightweight and it's really going to take him a season working with the fitness team and coaches to get into the right shape for the Premier League.
The Spanish kid is full of running, but how many strikers from Spain have success in the Premier League? He is slowly starting the Deulofeu falling to the ground shite also, which I don't like.
It wasn't Koeman's fault he never got Giroud from Arsenal, by all accounts, but not to have a Plan B ready to go was poor by all at the club.
Five games coming up in 14 days shortly... doesn't bear thinking about!
Chris Gould
299
Posted 10/09/2017 at 13:02:44
For Koeman's planned system to work, he needed Giroud. I think he believed Giroud was in the bag and the players we bought in were designed to get the best out of him. Sigurdsson would have fired the free kicks and corners into him and Sandro would have fed off Giroud's array of flicks and intelligent one-twos.
I think Koeman planned on setting us up 3-5-2 with those two up front. Cuco would have been employed as a right wing-back and not a right-back. The 3 centre-backs would have covered his defensive frailties and allowed him to provide the width. Of course, that plan failed when we didn't buy a decent left-sided centre-back. We look dreadful when trying to use Jagielka in that role. It totally unbalances us.
Giroud and a left-sided centre-back were vital for the system to work and unfortunately we're left with an unbalanced squad. The players that were brought in were all part of this plan and it just doesn't work without those two players.
I'm not excusing Koeman for not having a Plan B, but I do think we have massively let ourselves down in building a team around a system that only works with a Giroud type striker and a left-sided centre-back.
If we had got those players in, and I believe that Koeman thought they were a sure thing, then everything may well have suddenly made sense.
I must reiterate that I'm not excusing Koeman. I think it's a mistake to shoehorn all the summer buys into the team when it's clear that some are being forced out of their natural positions. Unfortunately, promises are made to certain players that they will be starters if they sign.
Koeman needs to get the best out of what he's got until January. Maybe Giroud will have had enough of Arsenal's bench by then, and hopefully we can buy a left-sided centre-back. Coleman and Bolasie will be back and potentially we can have a strong second half of the season.

Colin Malone
300
Posted 10/09/2017 at 13:03:04
Sigurdsson on the left and little boy lost in the middle, Why?
Playing two holding midfielders without any guile, Why? tThey never do a very good job of protecting the defence or contributing to a pressing game.
We have to go to one defensive midfielder with Sigurdsson in front as our box-to-box midfielder.

Frank Crewe
301
Posted 10/09/2017 at 13:06:35
Spurs made the same mistake Koeman did after they sold Bale. They spent the money on average players who did nothing to improve the club.
Koeman sold Lukaku, he had no choice in that, and has spent the money on pretty average players and didn't buy a striker. Not good.
Unfortunately he doesn't appear to have any idea on how he can get the best out of the players he has bought and keeps repeating the same error of playing his players out of position simply to get them all on the pitch.
I have been advocating a simple 4-4-2 for quite a while now. Calvert-Lewin and Rooney as a front two. This would allow Rooney to move between the midfield and attack as needed. Schneiderlin or Gana as our single defensive midfielder (because two is one too many) in front of the back four and Sigurdsson as our attacking midfielder and playmaker.
Klaassen should be dropped until he realises he's not in the Dutch League anymore. We have Lookman, Sandro, Mirallas, Davies, and Lennon who can all play as wide men. Pick two of them.
Finally, give Jonjoe Kenny a chance at right-back and Holgate in the middle with Keane. We have tried Holgate and Martina at right-back and both have been exposed and failed to impress. But Holgate has the excuse of being played out of position; Martina does not have such an excuse and should be relegated to the bench.
Both Jagielka and Williams are too old and too slow and should also be benched. This side may not be world beaters but at least it uses the players we have in their best positions, gives us some pace up front and out wide, and a better defensive set up until we can get a better centre-back to go with Keane and can get a top striker in. Although, if Calvert-Lewin starts scoring we may not have to.
Brian Williams
302
Posted 10/09/2017 at 13:08:22
Damian Wilde
303
Posted 10/09/2017 at 13:09:48
Agreed, Oliver, Baines is finished. But Koeman seems to have his favourites, not only Baines, but Williams who is woeful. And Martina, an old mate from Southampton. Shambles.
Brian Murray
304
Posted 10/09/2017 at 13:18:18
Until Bill Kenwright leaves this club, we will stumble from one disaster to another. Fact!
Stan Schofield
305
Posted 10/09/2017 at 13:54:16
If Koeman has lost the dressing room, the immediate future is likely to be bleak. Players have shown they'll down tools to get rid of a manager. We did it with Martinez; Chelsea did it with Mourinho; Leicester did it with Ranieri.
If this is the case again, we'll likely get some very shite results, regardless of what Koeman tries to do now, until he's sacked and some spirit and system are introduced.
Paul Wyndham
306
Posted 10/09/2017 at 14:52:26
Clive Lewis (#240) has posted a link to an article in The Guardian regarding Koeman's tenure at Valencia;
https://www.theguardian.com/football/2008/apr/21/europeanfootball.sport
It is well worth a read and reconfirms everything we are seeing from "Koeman's Everton" at this time: arrogance, baffling formations and tactics, the ostracization of players and general pig-headed behaviour.
The Board need to act fast because the tide of opinion has definitely turned against Koeman and the rumble amongst our supporters is without doubt going to turn into a roar within the next month.
Colin Glassar
307
Posted 10/09/2017 at 15:15:03
Good post, Chris. Personally, I'd tell Giroud to get stuffed if he gets bored of the Arsenal bench and grows a pair to tell his girlfriend he wants to play regularly in London, Liverpool or Hong Kong. We shouldn't be considered an escape route for anyone.
If Giroud was Plan A, why didn't we have a Plan B? We had weeks to find an alternative to Giroud (after he turned us down) and yet we failed miserably.
Jesus Christ, if he wanted a short term target man, why didn't he go for Crouchy?
Paul A Smith
308
Posted 10/09/2017 at 15:27:20
I don't see the club sacking Koeman, as some have rightly called for, in my opinion.
The dangerous thing about this situation is how quickly the games come. With playing away in Europe on Thursday, the club will want to give him a game to pick the mood back up.
Lose that game and your playing Man Utd away on Sunday and things could take a horrible turn. It's bad enough now and obviously we could win but it's a low confidence side going into another pressure game now.
Darren Hind
309
Posted 10/09/2017 at 15:35:20
Mike Gwyer @270
You're wrong, I don't do I-told-you-so's, I've been wrong too many times myself to go in for that shit... and even if I did, it would be a tad premature, don't you think? I've seen managers turn worse situations than this around.
Read what I said. I have no problem at all with people changing their minds, nor do I have a problem with people who want to continue to support this manager. It's the hypocrites I have a problem with, the volte face merchants.
When somebody (Damian Wilde) posts – "I'm happy/delighted with our signings and overall squad. I mean FFS. We're even spending millions on players for the Under-23s. Some people are never happy" – he was having a direct pop at the suggestion that we haven't bought the right players. You Know where he stands, right?
Well, you would think so. but when he comes back straight after the window closes and starts calling for Koeman to be ousted, bleating about poor player purchasing and telling everyone I-told-you-so, you kinda realise the guy is a little, err... flakey.
There are a few people changing their minds about this manager. There are also a few who have run out of patience with him and they are perfectly entitled to do so; but those who backed him and are now turning on him because he's having a bad time and claiming they were right all along are simply embarrassing themselves. They are not giving an opinion, they are simply being swayed from one match to another and trying to appear clever. They seem to be under the illusion that other posters are as daft as they are.
Hissy fit? Far from it. These foolish claims by people trying to appear knowledgeable are providing me with the only source of amusement I've been able to find this weekend.
If the cap fits...
Darren Hind
310
Posted 10/09/2017 at 15:44:28
Paul T
I think we all look at Koeman and think "Surely a guy with his background has more to offer?"
There is of course no way of knowing, but your theory about Koeman not being able to communicate his ideas is sounding more and more plausible by the day.

Max Murphy
311
Posted 10/09/2017 at 15:46:13
Déjà vu.
So why bother writing on this thread? Just swap Chelsea for Spurs and save time and effort.
Just waiting for a Newcastle draw or win to put us into 16th position.
Top six finish? Sorry folks, you missed out the 1.

Paul Birmingham
312
Posted 10/09/2017 at 15:47:55
Almost a day on and the reality of the defeat and performances this season doesn't bode well for the next month.
I can take defeat but the manner and can't be arsed, I don't know or care approach by allegedly professional footballers for EFC, is not acceptable.
There's no captain on the park, no game plan and in my view a lack of belief and spirit.
Koeman must get back to basics..survival this season is priority; on current form I can't see where the next win is coming from.
He ain't gonna be given the chop soon, but results will speak and I have to say that at the moment it is shambolic and depressing, the now predictable lack lustre, gutless and tactless performances not just now but for a good quarter of last season.
This is Everton... I'd rather have a decent team than a new ground. What do we know? I'd love to be a fly On the wall next time Moshiri and Kenwright talk about the team.
Next week at Man Utd, and Atalanta on Thursday, they must must get their act together.
nb: Hopefully against Sunderland we will put a decent team out..
Brian Williams
313
Posted 10/09/2017 at 15:48:11
No pace throughout, no strength in midfield, no organisation throughout, no movement going forward, no attacking threat, no Plan B.
Apart from that everything's hunky fucking dory.
I could hardly speak walking to the car after that yesterday. Just didn't know what to say!
Raymond Fox
314
Posted 10/09/2017 at 16:00:47
What a mess: the tactics of the manager, the overall quality of the players are both lacking.
Koeman needs to radically change his ideas on how we play the game, if he doesn't he needs to go.
Our main difficulty apart from Koeman, is to attract the very top quality players, it's been the same again this summer.
Our main rivals in the Premier League on the other hand don't have that problem.
Moshiri has become a disappointment as I thought he would as far as buying top players is concerned. Yes, he has done some good things such as lending the club 㿼m to pay off debts, and arranged a 㿨m overdraft facility, while also using his clout to get plans for a new stadium off the ground, all of which are for the benefit of the club.
It's become obvious though that he's not going to splurge his millions on players that many hoped he would. Yes, we have spent plenty of money this summer but have also sold over a 𧴜m of players.
What would brighten the outlook for us I think would be if Usmanov was to buy the other half of the club, but then who knows!
Clive Mitchell
315
Posted 10/09/2017 at 16:25:25
'Schneiderlin plays well in one of every four games.' Just looking at the credit and debit register... He's going to be unplayable every week till Christmas then.
Derek Knox
316
Posted 10/09/2017 at 16:30:33
Watched the Burnley v Palace game, and the urgency from both teams make us look pedestrian to say the least.
I note that Niasse and Lookman were both outstanding, against Tottenham U23s, we could have done with them both, and a few others yesterday.
Like I've always maintained on here, defeat is never acceptable, but to lose in the manner we have in the last two games leaves a bitter taste and upsets us all.
Then again, who are we, but the mugs who genuinely care and get more upset than the players after humiliating defeats?
Who's next? Atalanta, Don't know a great deal about them, but drastic changes both in personnel, attitude and application are required, or else we may as well get ready for more misery.
Mike Gwyer
317
Posted 10/09/2017 at 16:41:42
Darren.
Yeah. Still pissed about yesterday really and probably not a good idea to debate when you've just seen such a shocking display of football. Probably not that good either to read TW as words can so easily be misinterpreted. Yep, the blues were bad and there seems to be no immediate answer, so next up is Old Trafford and Lukaku. Great.
Paul Tran
318
Posted 10/09/2017 at 16:43:41
Darren (#310). If/when we look for another manager, I'd be looking for evidence of him clearly communicating messages.
Martinez couldn't do it and I don't think Koeman can. I wasn't a fan of Moyes, but he was good at it most of the time. The better communicators tend to get the best out of their players.
There's a belting team in this squad of players, but they need to know what they're doing and where they're meant to be.
Koeman talks a pressing game and we get out-pressed every game. He talks flexibility, the players look confused.
Tuchel, Silva, Dyche and Unsworth have this in spades. Question is whether they can do this with better players and under the pressure to succeed at the level we want?
Andy Meighan
319
Posted 10/09/2017 at 19:57:00
No Mike (#317),
Next up is Atalanta in the Europa League. A game we will struggle in. Why? Because it's away.
Martin Mason
320
Posted 10/09/2017 at 21:20:12
I'm breathing easy now after seeing one of the worst Everton performances ever. I'm still positive over the situation the club is in in terms of organisation and finance but I just don't have the confidence I had in the manager.
Positivity is still in order as there are two positive outcomes: one that we recover and one that we don't and he gets replaced. There is the possibility that neither happens but we aren't at that point yet.
The other thing is that I can't influence events and coming on here to whinge doesn't help at all.
To be fair, Koeman tried to change events by half-time substitutes which didn't work. I really believe now that was because he is tactically naïve and will never make a manager of tactics or of personnel. My personal opinion is that we have to get rid of him to get a very positive project back on course.
Then again, I think of Kendall and Ferguson. Darren would have fired both and lost Man Utd 15 titles.
Brian Mahoney
321
Posted 10/09/2017 at 21:54:58
Who remembers when Spurs sold their star man for £80 million and spent it on utter dross? What happened next? They sack the manager and replace him with a forward-thinking one and they are now one of the best teams in the league, consistantly challenging for the title.
Well, who's to say it's not going to happen here? Just a thought, like...
Derek Knox
322
Posted 10/09/2017 at 23:12:56
Martin, we were all fuming and have been, basically, since pre-season. Many have said, and quite rightly so, we have some very good players.
Although we, collectively, tend to blame the players, which they have to burden some of the blame, but they haven't asked to be played, either out of position, or in an unfamiliar role.
Koeman has to shoulder 80% culpability, there are so many mistakes he has made, both in overpaying for players, and bringing Cuco Martina in and giving him a three-year contract to boot.
To add insult to injury, he is almost playing him every game. God help us please.
Denver Daniels
323
Posted 11/09/2017 at 07:50:55
What position did Sigurdsson play for Swansea? Shouldn't he be playing the same position as I'm assuming that's why we paid £45mil for him to play in his best position.
Chris Williams
324
Posted 11/09/2017 at 07:59:11
After that, what next?
The plan, whatever it is, isn't working.
3 at the back, or a back 4? Or horses for courses? Williams or Jagielka as first pick in the league?
Players like Klaassen and Sandro, unused to Premier League football, are struggling, and picking up injury. Regular starters or introduced from the bench?
Martina looks better going forward and seems to have some pace, but can't defend to save his life, particularly those bloody headers across the box we've seen too many times now. But he offers width and pace, both of them in short supply.
Under-23 players like Kenny, Lookman, and Niasse are playing well at the only level they can appear for the club. Henen, who I've not seen often enough to judge, certainly has pace and directness through the middle by the look of it, and he's a big lad too. Any chance in Europa League or League Cup at least?
Should we start developing a separate line up for each competition or keep playing predominantly the same players, sometimes in different formations, in all of them.?
Round pegs in round holes for a change? One up front or two occasionally at least? Might help Sandro a bit?
The first-pick back three don't work for me, either through lack of skill on the ball or lack of pace with knock on effects all over the pitch. But Holgate could play there, has played there satisfactorily. At any rate, he must play at right back in a 4, even if it's nothing like his best position. Possibly Martina at right wingback if we play 3 centre halves with Holgate in the 3?
Clutching at straws? Possibly.
Lack of experience of Premier League football is important; in a team struggling to establish itself it becomes doubly important. Maybe Sandro and Klaassen need to be phased in gradually in the league, which would at least mean Calvert-Lewin and maybe Davies is a regular starter. With at least 2 games a week until the end of the year, we will need all of them in any case. Same might be said of Vlasic and the other 3 players mentioned above.
It's pretty obvious that it's not working currently. Some bits are worse than others. Those are the few problems that appear obvious to me, but it's not exhaustive by any means.
I still think we have good players, albeit the squad is imbalanced, but surely we can perform better, even in defeat, for fuck's sake.
Gary Heywood
325
Posted 11/09/2017 at 08:43:49
Generally, I agree, Frank Crewe (#301),
In attack, I'd play Niasse and Calvert-Lewin and a big review by January.
In midfield, I'd play Sigurdsson, Gana, Davies and Sandro. Keep reviewing it.
In defence, Kenny, Keane, Holgate, Baines... another big review by January.

Rudi Coote
326
Posted 11/09/2017 at 10:03:47
Playing players out of position is nothing new. Henry Newton, a brilliant wing half for Nottingham Forest; Catterick bought him because he was so brilliant. He then proceeded to play poor old Henry on the other side. He never played so well for us because of it.
A strange breed are Everton managers... and truly annoying.
Nicholas Ryan
327
Posted 11/09/2017 at 13:22:58
I don't know about playing in the Bramley-Moore; we're more likely to be playing against the Bramley-Moore!!
Tony Waring
328
Posted 11/09/2017 at 15:41:53
Take heart fellas. We might have had De Boer – now sacked after zero wins – and Benteke, no goals.
Incidentally, bemoaning Lukaku's departure and failure to replace is pointless. Ask yourself how many strikers there are scoring 20+ goals a season (very few) and how many of them would want to come to Everton?
Oh and could we afford them if they were actually available? We have to make do with our present squad at least until January so let's just hope they can get their act together asap.
Grant Rorrison
329
Posted 11/09/2017 at 16:33:39
I'd rather have Benteke than what we've got. See how many he has by the end of the season. I am guessing it wont be less than 15.
Bit harsh sacking a manager after only 4 premier league games. They played quite well at the weekend and were a bit unlucky... unlike us. Maybe Koeman should take heart from the fact he isn't working for Palace's board.
Brian Wilkinson
330
Posted 11/09/2017 at 16:47:48
As long as Ronnie is going to stick to shoehorning all his new midfielder signings into the team, we are going nowhere, mate. Even with Lukaku in that team, we would have got nothing from that game.
Last season, Ronnie said we were not fit and to give a few windows, he's over bought on midfielders, plays out of shape and had the same mentality of Moyes when we play the big teams.
He persists with Williams, one of his signings, but chastises Barkley in public; the other two players he seems to have a problem with are players he did not buy, Niasse and Mirallas.
He has benched one of our best players last season, Tom Davies, to accommodate his signings, He has brought in one of his former players on a free, when every man and his dog knows Kenny should be getting his chance there.
Now the old chestnut of give players time to gel, that maybe so but for me and I said it before we brought Ronnie in and others wanted De Boer, we should have given Unsworth a go, he knows what Everton are all about, he gets the best out of the players and plays a balanced team.
It is no coincidence the previous two mangers that landed us Silverware, were Evertonians in Royle and Kendall.
Time to be bold if things do not pick up for the rest of the season and bring Unsworth in along with Royle as his sideman.
John Malone
331
Posted 12/09/2017 at 14:04:38
Rooney got to play as a 10 –he is much better when he drops deep and starts stroking the ball around and picking passes he lovea the the diagonal pass out to the right and at the minute our strengths going forward are Calvert-Lewin and Martina's pace!!
Also, I believe Sigurdsson played inside left for Swansea cutting inside on his wand of a right foot and he also linked up quite well with Baines at the weekend so I'd say if Rooney's No 10 he has to play there!!
We need to stop whinging about not having a target man and using the quality we have got in the squad by picking the right player's in the right position's to maximise their abilities!!
I honestly don't know what manager's see sometimes!
4-1-3-2 is the system I'd be trying to use going forward with Calvert-Lewin a starter every week!!
Clive Lewis
333
Posted 13/09/2017 at 23:16:54
Why did we recruit another failed manager Valencia and then I find this .
https://www.theguardian.com/football/2009/dec/05/ronald-koeman-az-alkmaar
Will Mabon
334
Posted 14/09/2017 at 04:41:21
Clive, not just a repeat, but a pattern. Hard to ignore his history.
---
Add Your Comments
In order to post a comment, you need to be logged in as a registered user of the site.
Or Sign up as a ToffeeWeb Member — it's free, takes just a few minutes and will allow you to post your comments on articles and Talking Points submissions across the site.
© ToffeeWeb