Report
Niasse rescues Blues with fairy-tale brace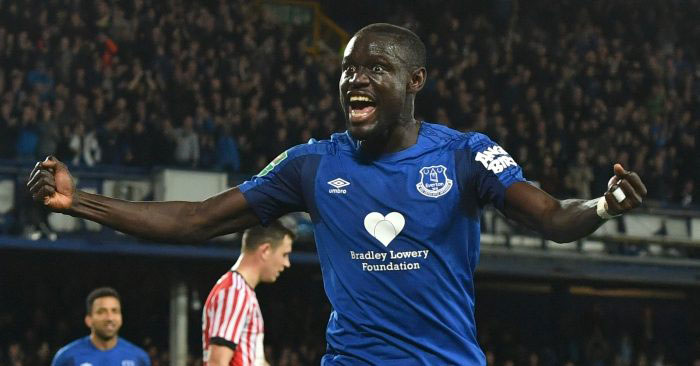 Oumar Niasse comes on and incredibly scores twice to save the game for Everton
Everton are back at Goodison Park for the second in a run of four consecutive home games that Ronald Koeman is hoping will provide a belated springboard for his team's season.
Davies, Lookman, Niasse and Kenny were all benched after their midweek victory as Martina, Schneiderlin, Klaassen, Rooney, and Sigurdsson all return to the starting line-up. At least Calvert-Lewin startsplaying centre-forward.
Michael Keane is out injured, and Mason Holgate is finally given a chance in his correct position at centre-half, with captain Phil Jagielka also out with an ankle problem. Dan Gosling starting for the Cherries.
The visitors kicked off and won an early corner. They then pushed the Blues back into their half, showing plenty of early intent, but Calvert-Lewin enabled the outball and the Blues won their first corner, delivered by Rooney, Williams heading weakly.
Much better football saw a ball out to Baines that he delivered well and Calvert-Lewin should really have scored but his header bounced wide. Martina's cross from the other side was collected by Begovic.
Sigurdsson got into a shooting position but he fired over as Calvert-Lewin was flagged offside. But Everton were now getting forward better and Sigurdsson fired in a decent free-kick to the far post that went for a corner, punched away, then another weak attempt from Williams, deflected to Begovic.
Improved speed of thought and movement was evident until Scheneiderlin slid in needlessly and foolishly to earned a really stupid early yellow card. After some Bournemouth pressure, there was a moderately speedy break, ending with Sigurdsson going down when he felt Gosling behind him but no penalty, said Martin Atkinson.
But Bournemouth were giving it a go dragging the 4-man Everton defence around a little to create some space. Some good possession and passing followed for Everton but it wasn't good enough to reach the Bournemouth area.
The pattern of play continued, until Rooney was clearly elbowed in the eye by Francis, drawing a massive flow of blood, but no action from Atkinson as Rooney stormed off, raging at the referee, to get patched up.
A free-kick out wide, with Everton still down to 10 men, but £45M Sigurdsson horribly over-blows it way too high and beyond everyone. Rooney finally came back on, and almost released Calvert-Lewin, who slipped. But in the next move, Gueye slipped a great ball to Sigurdsson and his first-time low cross was straight to Rooney but the angry not-so-young man could not dig out a shot.
At the other end, a deep cross needed some smart defending from Martina to head it behind for a corner that almost fell to Gosling. Rooney tumbled in a challenge and that restarted the bleeding from his damaged eye. Martina had to block King, again giving up a corner that Pickford had to punch away.
the Blues had shown some forward intent at times with plenty of promising possession but had not really tested Begovic in the first half as Atkinson was roundly booed off the field.
No changes at the break, and the pattern continued with Calvert-Lewin seeing very little of the ball and possession going backwards and sideways far too much, Josh King picking up possession and driving through the Everton defence to slot home brilliantly, a simple lesson for the Blues in how to score goals.
Rooney then gave the ball away poorly in midfield and it looked like Defoe would score with ease but Pickford saved well with his feet.
Koeman was forced to act, bringing on Davies and Niasse for Klaassen and Rooney. Davies was full of it and earned a yellow from Atkinson for a harmless challenge as his first action on the pitch.
Bournemouth saw this as a massive fillip and proceeded to torment Everton, who struggled to respond, with Davies understandably restrained. Gosling almost got off a dangerous shot. Everton finally got to grips and pushed into the visitors' half, but Sigurdsson could not get a decent shot off and the ball inevitably went backwards.
Davies showed desire but his ball control let him down. Niasse did well in hold-up but Sigurdsson's looping header was well wide. Gueye was the next to give the ball away under zero pressure. Pickford tried to release Niasse wide right but badly overhit his long pass. Martina put in a decent cross that Niasse could not get to cleanly.
Calvert-Lewin went down too easily with Ake; no way that it could be a penalty but that was not going assuage an increasingly frustrated Goodison crowd. It was Holgate whose header from a corner was cleared off the line with 20 minutes remaining.
Niasse had a chance to break but his poor ball control let him down. Their slow build-up and floated crosses from Martina were being easily countered. In a popular move by Koeman, Jonjoe Kenny came on to replace Cuco Martina.
And it seemed to enliven the Blues, a wonderful move through the middle, and Niasse picking up a brilliant ball to feet by Davies, the forgotten man absolutely smashed a brilliant finish past Begovic to bring the Goodison crowd a moment to savour.
More was to come as Cook gave the ball away and Everton drove forward with a good cross from Kenny, then Davies firing in, his shot looping up off a defender's leg, and Niasse getting a shoulder to the ball but Begovic somehow pushed it out, yet, sheer determination from Niasse, he pounced on the loose ball to poke it in — his second goal inside 5 minutes. Goodison went delirious with joy.
A glorious chance for Calvert-Lewin was created by a tremendous driven cross from Kenny but the 20-year-old striker could not keep it down. At the other end, Pickford had to be brave to deny Gosling in the air.
Everton played out the 4 minutes of added time and secured a must-win victory that for a while looked out of their reach but for the intervention of a three fine young substitutes who showed Koeman's older favourites how the game should be played.
Everton: Pickford, Martina (76' Kenny), Holgate, Williams, Baines, Gueye, Schneiderlin [Y:16'], Klaassen (55' Davies [Y:56']), Rooney (55' Niasse [Y:79']), Calvert-Lewin, Sigurdsson.
Subs not Used: Stekelenburg, Vlasic, Lookman, Sandro.
Bournemouth: Begovic, Adam Smith, Francis, Ake (83' Mousset), Daniels, Ibe, Gosling, Surman, Stanislas [Y:90+4'], King (79' S Cook), Defoe (75' Afobe).
Subs not Used: Pugh, Ramsdale, L Cook, Fraser.
Referee: Martin Atkinson
Attendance: 38,133
---
Reader Comments (308)
Note: the following content is not moderated or vetted by the site owners at the time of submission. Comments are the responsibility of the poster. Disclaimer
Bob Skelton
1
Posted 23/09/2017 at 14:05:13
Just seen the team. No width no pace. 0-0 all over it.
John Pierce
2
Posted 23/09/2017 at 14:08:33
Suitably deflated at that team selection, older, less mobile & little pace.
Koeman's hand forced with injury, Holgate hopefully will out perform Williams and make Koeman choose him and Keane going forward.
Frank Crewe
3
Posted 23/09/2017 at 14:26:23
All the width and pace is sitting on the bench. Koeman never learns.
Andy Crooks
4
Posted 23/09/2017 at 14:29:07
I am disappointed at that team selection. The usual favourites shoehorned into a team that lacks width and pace.
I hope that this post looks shite in a couple of hours but it seems to me to be a dull, negative and unimaginative selection with little learned.
Charles Barrow
5
Posted 23/09/2017 at 14:33:07
What a disgraceful line-up. Davies was outstanding on Wednesday. Lookman did very well when he came on. The Croatian player also fired up and played well. Thank God he's playing Calvin-Lewin. Hopefully as a centre-forward!!
Ashley Roberts
7
Posted 23/09/2017 at 14:34:17
Three #10's shoehorned in o one team says it all for me!
Ian Hollingworth
8
Posted 23/09/2017 at 14:39:31
I have been trying to avoid knee-jerk reactions but if that team loses today he should be sacked immediately.
I was a big fan of Schneiderlin when he signed but he has been useless this season and should be made to fight for his place.
How do Davies and Vlasic not keep their place from midweek performances? It's not like the players replacing them have been performing is it?
I am beginning to think Ron must want the sack.
David Booth
9
Posted 23/09/2017 at 14:40:48
Six defenders...
Three number 10s...
Davies dropped...
Rooney, inevitably in, to slow it all down...
No Keane (injured)...
No Kenny – but new manager's pet Martina first choice again.
i cannot stand Koeman as our manager.
David Hallwood
10
Posted 23/09/2017 at 14:41:02
MotM on Wednesday was Davies. Maybe wasn't that good cos he's dropped to the bench.
A perfect example of a managers logic: "I've paid squillions for these players so they're playing."
Dave Evans
11
Posted 23/09/2017 at 14:41:33
2 holding midfielders at home v the mighty Bournemouth! Seriously poor team selection; no width, no pace, Calvert-Lewin will end up isolated up top.
Koeman sending a clear message to the lads who played well on Wednesday night, why even bother?
Nathan Snell
12
Posted 23/09/2017 at 14:47:51
I have a feeling that we're going to win today and by two goals courtesy of young Dominic.
Mike Allen
13
Posted 23/09/2017 at 14:48:44
Just don't get it whatsoever; looks like all change on the hour mark. A pretty poor looking squad. Nothing to get excited about. What a drab looking squad for any game, never mind a home fixture.
Danny Halsall
14
Posted 23/09/2017 at 14:52:09
I must admit I wasn't expecting such a poor team selection after Wednesday.
If we lose today as a result, then I won't be backing Koeman anymore. Seems as though he is so stubborn he will do anything to force in his favourites.
Jim Jennings
15
Posted 23/09/2017 at 14:53:06
David Booth,
Who are the six defenders?
Barry Pearce
16
Posted 23/09/2017 at 14:53:44
He's just done what most of us thought he would do, bring in his favourites. No bottle.
Jay Harris
18
Posted 23/09/2017 at 14:58:25
Very disappointed that Schneiderlin has been selected. He must be playing for his place now.
I would have picked a totally different set-up based on attacking rather than controlling the game but let's see what he does second half.
Chris James
19
Posted 23/09/2017 at 15:01:44
Moan. Moan. Moan. Moan.
I am disappointed and deflated by ToffeeWeb comments thread...
nb: Small fact-check – there aren't 6 defenders on the pitch, there are 4 defenders (2 of which have a track record of getting forward and adding to the attack), yes there are 2 central holding midfielders in Gueye and Schneiderlin but we are hardly alone in playing this way – Spurs started with Sissoko and Dier (and Davies), Chelsea have Kante and Bakayoko, Man Utd will be playing Fellaini and Matic, etc.
Yes, I would like to see Lookman, Vlasic and Niasse given a go and I suspect at least two of them will come on (with Sandro), but I suspect Koeman is giving his 1st team one last chance against weaker opposition to prove this starting run was an aberration with a team gelling vs harsh opposition.
Maybe lets give the game 5 mins at least before we throw the towel in, eh?
Andy Meighan
20
Posted 23/09/2017 at 15:03:40
Every post can't all be wrong, can we?
Andy Crooks
21
Posted 23/09/2017 at 15:07:49
Chris, not moaning, just commenting on what I think is a negative lineup. I will be as happy as you if we attack and score a few goals.
Tony Twist
22
Posted 23/09/2017 at 15:22:00
Team selection says it all. We have another blinkered manager.
Ciarán McGlone
23
Posted 23/09/2017 at 15:38:07
Why does Koeman persist in using formations and tactics that have previously failed... two defensive midfielders and 3 number 10s.. plenty of the ball but little else in terms of threat.
Schneiderlin is a red card waiting to happen, and Klaassen turns like a tugboat. Gana Gueye superb as usual.
Charles Barrow
24
Posted 23/09/2017 at 15:55:22
Happy with the performance, Chris
James E Evans
25
Posted 23/09/2017 at 16:02:06
David Booth (#9) – you took the words right out of my mouth. Koeman is awful.
Ciarán McGlone
26
Posted 23/09/2017 at 16:06:58
Oh dear.
Steve Stobie
27
Posted 23/09/2017 at 16:11:41
Time to go, Koeman.

Carl Allan
28
Posted 23/09/2017 at 16:15:18
Even a draw today shouldn't save him, if we can't beat a team second from bottom at home then who do we expect to beat?
Ciarán McGlone
30
Posted 23/09/2017 at 16:19:21
I have absolutely no idea what formation we are supposed to be playing. Bewildering stuff from Koeman.
Peter Cummings
31
Posted 23/09/2017 at 16:19:27
Is this the 'weaker' opposition we were expecting to send us back up the table when we beat them'?? Right now, we are that weaker opposition; things have to change drastically if we can't pull this one out of the fire.
Lee Brownlie
32
Posted 23/09/2017 at 16:20:58
Everton 'entertaining' Bournemouth.. seems that's exactly what we're doing.. basically, how shit can we get?
Personally, I believe our managers "Be realistic.. Everton top four?' words have made sure we have about as much chance of improving on last year as Sunderland had of staying up last season once our old manager, their new one, had come out and said, " Yep, we're gonna be struggling!".. Haven't you got to build players confidence UP not say, 'Oh we lost again.. well, what did you expect, we're only Everton?'..
I really don't know what this guy's problem is, now, but it's not about him having some 'realism' the rest of us don't! Unless of course he's come here solely to sink us, and it's just his way of saying, "So what?.. fuck it!!"...
Ciarán McGlone
33
Posted 23/09/2017 at 16:33:22
1-0 down, and he brings on a left back... top class buffoonery
Christy Ring
34
Posted 23/09/2017 at 16:39:26
Koeman's team selection, back to normality: no pace, no width, and started with 2 defensive midfielders and 3 No 10s. It tells me Koeman won't change, and we're in big trouble.
John Hammond
35
Posted 23/09/2017 at 16:43:18
I said before the Sunderland game, Niasse is going to save our season!
Ciarán McGlone
36
Posted 23/09/2017 at 16:45:02
Ironic that Niasse could save Koeman's job.
Frank Crewe
37
Posted 23/09/2017 at 16:46:44
We all laughed at Niasse when he came to the club. Thought he was a waste of money and it was all a big fiddle. He's out on the park saving our arse and I feel totally in the wrong about him. I think there should be a banner unfurled next home game saying...
OUMAR, WE ALL OWE YOU AN APOLOGY.
Mark Morrissey
40
Posted 23/09/2017 at 16:53:23
Another fat slice of humble pie for Ronald. He'd better give the lad a big pat on the back when he comes off. Koeman should carry him aloft on his shoulders!
How the worm has turned... I'm made up for Oumar!!!
Christy Ring
41
Posted 23/09/2017 at 16:55:24
I know Niasse has turned it around, thrilled for him, but I believe Niasse was brought on because of the crowd, and Davies not starting, the only midfielder with pace, was absolutely shocking.
Koeman has to learn from this; we got out of jail, because of our new hero Niasse, and Davies.
Ralph Basnett
42
Posted 23/09/2017 at 16:58:08
Unfortunately Niasse rescuing us only gives Koeman a further stay of execution.
Get rid, before he sinks us too far.
Christian Watson
43
Posted 23/09/2017 at 16:58:17
Cream or custard with you humble pie, Mr Koeman? Made up for Niasse treated like a leper for too long and I'm sure the irony of him perhaps saving Koeman's arse won't be lost on too many Evertonians.
Onwards and upwards. We have a striker who can score!!!
Amit Vithlani
44
Posted 23/09/2017 at 16:59:02
A win was the minimum expected, even by Koeman himself, although I am sure not even he could have predicted the manner, ie, Niasse getting us out of jail.
I am holding fire on any comments towards Ron because that would simply detract from a wonderful day for Oumar.
He thoroughly deserves the praise he gets. I hope today will be all about him.
Fran Mitchell
45
Posted 23/09/2017 at 17:02:32
Davies has to be First name on teamsheet.
And Niasse... Get in there! Pace and workrate and a knack to put it in the back of the net. Thank god his move collapsed.
Brian Wilkinson
46
Posted 23/09/2017 at 17:04:26
Disregard me on that banner Frank, I have been saying he needs a chance, you just cannot judge a player on two pre season friendlies.
I have been shouting for a while for Niasse to be given a fair go; absolutely made up for the player after the way he has been treated and written off by some fans on Ronnie's say-so and by Ronnie's stubbornness.
James Stewart
47
Posted 23/09/2017 at 17:06:52
No more Klaassen, Martina and Rooney now please for the love of god!
Play the kids! Better than most of these deadbeat signings. Koeman got out of jail big time, now learn from it Ronald!
Criminal Niasse wasn't included in the Europa League squad!
Ernie Baywood
48
Posted 23/09/2017 at 17:08:16
Made up for Niasse. He's got a bit left to do to prove he's a striker worthy of what we paid, but his treatment was a disgrace regardless of ability. Fair play to him for his class and attitude.
On today, I saw plenty of effort. Unfortunately it's within a broken system – even when individuals are doing good things we just don't look like scoring.
I felt sorry for Martina – the one wide player we had and he bombed up and down. Bournemouth played on that in attack and their goal came from him being sucked into pressing the ball.
Fair play to Kenny, Davies and Niasse for the way they played but it was all about the shape. Not perfect but so much more functional. Davies and Kenny could work together on the right (something Msartina never had). And they had two targets in the box which forced Bournemouth back. It looked a lot like a 4-4-2...
Now let's see how Koeman saw the game. And let's see his response.
Robert Leigh
49
Posted 23/09/2017 at 17:09:37
I think we have the hero we wanted from a source we didn't expect...
Mads Kamp
50
Posted 23/09/2017 at 17:10:49
Kick-ass Niasse!!! What a hero!!!
Frank Crewe
52
Posted 23/09/2017 at 17:11:34
Brian, he was written off long before Koeman arrived. He was Roberto's last signing and that was held against him.
Craig Walker
53
Posted 23/09/2017 at 17:12:57
Niasse did something last season that Lukaku never did for us: score in a win against the RS. He probably saved Koeman's job today.
Like many posters to this site, I've treated this guy unfairly based on what others have said. Fair play to you, Oumar.
Max Murphy
54
Posted 23/09/2017 at 17:13:34
Good interview on BBC Final Score – Niasse, what a nice guy!
Susong Hermawan
55
Posted 23/09/2017 at 17:14:26
Sorry to say this: Fuck you, Koeman!! Niasse saves your ass, really ironic.
John Graham
57
Posted 23/09/2017 at 17:16:51
Come on Niasse my lad. maybe doesn't look like a top striker but has plenty of energy, has pace, never gives up and not scared of anyone. might be different if he started a game so maybe keep him as our supersub for now.
Kenny and Davies have both proved they deserve to start a game. Maybe we should give Lookman another chance too. At the end, just glad we got the three points but we have got to get better.
Mike Dolan
58
Posted 23/09/2017 at 17:17:48
Two wins in a row. Let's fire the manager.
Give Klaassen time – he's a very good player.

Frank Crewe
59
Posted 23/09/2017 at 17:21:01
How many more games are we going to change everything at Half-Time because Koeman bolloxed up his original formation in the first half?
He has to stop picking these snails pace out of form players. Put them in the Under-23's for a while and lets see if Unsworth can liven them up because plainly Koeman can't.
Denis Richardson
60
Posted 23/09/2017 at 17:21:10
I've said Niasse was/is shite in the past, like most others here, but who the hell cares now! He's gotten us 3 points and given the club a lift and hopefully he can net a few more going forward.
Please drop Rooney and play Sigurdsson behind Calvert-Lewin and Niasse for the Burnley game so we have some pace up front and stop playing Sigurdsson out wide.
Rooney can start the Europa League game given Niasse's not in the Euro squad list. Tom Davies also deserves a lot of credit as Klaassen has not been very impressive so far.
Steve Brown
61
Posted 23/09/2017 at 17:21:42
I want Kenny, Holgate, Davies, Lookman and Calvert-Lewin in the team next week. And Prince Oumar.
Pete Clarke
62
Posted 23/09/2017 at 17:22:27
Bournemouth were swarming all over us in that early second half period. Atkinson has only done 2 Premier League games this season before today and can see why as he was shocking. How can he book Davies for his first foul that had no contact?
For me it was Davies who changed the game with that through ball and hats off to Niasse with that finish. I think he is going to enjoy his Karma!!
Last word on Koeman. He is a lucky manager tonight but his team selection and tactics are woeful.
Bob Hannigan
63
Posted 23/09/2017 at 17:22:33
Nice turnaround story, a very welcomed 3 points.
Thanks, Oumar & the rest of the boys. Remember, it's a team game.
Jamie Evans
64
Posted 23/09/2017 at 17:23:02
Congratulations Oumar. What a fantastic cameo and so well deserved. Enjoy your Saturday evening young man. Thanks to you, I certainly will.
George Cumiskey
65
Posted 23/09/2017 at 17:23:37
The result today should not take any pressure off Koeman after the extremely poor and frightened team selection he chose.
Even bringing on a full back for a full back (though Kenny played well) smacks of cowardice.
It's took a player he's treated disgracefully to probably save his job.
Brian Wilkinson
66
Posted 23/09/2017 at 17:23:58
But how can you write a guy off who hardly pulled on the first team shirt? Wednesday was the first minutes he has played under Ronnie, he was scoring last season for the Under-23s and yet Ronnie still says I do not care how many goals he scores he will not play in my team.
How can anyone say Niasse was shite over bit part games and a bad game in a pre-season friendly. We never got the chance to see the guy, Unsworth praised Niasse yet Ron still wrote the guy off without a second chance.
Pure fluke he got a game Wednesday and today; had we landed a striker, he would not have been called back into the first team. He is not even in our Euro list squad – big cock up there.
Ronnie should be kissing Niasse's arse, Frank, because he has dug Ron out of a hole.
Andy Crooks
67
Posted 23/09/2017 at 17:25:53
Who would believe it, just brilliant from Niasse.
As an afterthought, I think the team selection was abysmal and that Koeman is not fit to be our coach. He will get lucky though. He will find a formation, the formation that many, not me to be fair, have called for.
Eugene Kearney
68
Posted 23/09/2017 at 17:26:00
Thank - you Oumar.
Kevin Tully
69
Posted 23/09/2017 at 17:27:45
Title of 4th Chapter in Koeman's biography:
"The Day a Wayne Rooney Eye Injury Saved Me From the Sack."
Peter Jansson
71
Posted 23/09/2017 at 17:28:23
Seriously. Koeman has set this team up totally wrong. He told someone else to buy players, and these players does not fit into his system, whatever it is.
Under Martinez, we played 4-2-3-1. Now it seems that Koeman is continuing to play this system even though it does not work. Gana's passing today was at times totally disgraceful, and one can fairly say that Gana and Schneiderlin on the midfield does not work very good.
But even though is does not work Koeman continues to play them game after game. When the only threat we have going forward is Cuco Martina's bad crossing passes you have to realize that something is fundamentally wrong with the setup. This smells like it did under Martinez. Let's do more of the same stuff we to all the time that does not work to turn things around.
Now with this failed system in comes Niasse, who Koeman has fucked up since the day he arrived at Goodison, and single-handedly save Koeman's arse and Everton today.
I believe that the only reason Niasse ever came on today is pressure from fans and maybe from Duncan Ferguson (who was celebrating his ass when he scored!!). I don't think Koeman deserve to get his ass saved today, but I am very glad that we won.
Pete Clarke
72
Posted 23/09/2017 at 17:32:34
Niasse reminds me of Dwight Yorke. Not a great footballer but a good finisher.
He obviously has a lot of faith and it's paying off for him now.
Lee Courtliff
73
Posted 23/09/2017 at 17:34:41
Never been so pleased for an individual player in many years!!
We were generally shite but this is the kind of win that can help turn it all around.
Another win on Thursday then we face a functional Burnley side at Goodison which should see the Premier League table look much healthier.
I'm not one to judge a player quickly but I'm still wondering what Klaassen offers the team at the moment?? Hopefully he'll come good – just like Niasse!
Derek Knox
74
Posted 23/09/2017 at 17:34:44
I am over the moon for the lad,. I was listening on the radio, and what was looking like another home loss, was turned around by three players who should have started the game.
I sincerely hope this result doesn't camouflage the need for a real shake up, starting with Koeman, who has recently gone right down in my estimation.
As soon as I saw the projected team for today, my heart sank, as it was the same old favourites who have shown clearly, they are too slow and devoid of ideas.
It should have been basically the team that finished on Wednesday, barring injuries, with maybe a couple of tweaks.
Be interesting to hear what Koeman comes up with on MotD later.
Damian Wilde
75
Posted 23/09/2017 at 17:36:42
Koeman's a prick. Absolutely shocking. Why not start Davies & Kenny? Where's Lockman? Rooney is finished. Baines is finished. Klaassen is shit. We never play with width, does Koeman hate width? Why is Sigurdsson so quiet (poor system?)?
Then he brings Davies on and plays him right mid! Kid is a headless chicken there, but great in the middle. When he is moved to the middle and Kenny comes on, boom! Stealing a living is the dour Dutch bastard.
Now whether you rate Niasse or not, he is a 'centre forward' – our only one. Don't we look better with a 'centre forward'! And tbf, the kid is decent, he's scored three in a week and after being treated disgracefully from that idiot.
Good win, but we have problems with Koeman in charge. I think it's clear to see he plays his signings regardless of form. Wise up!
Ernie Baywood
76
Posted 23/09/2017 at 17:37:45
Andy, we might all have a view on what formation to play but I think most just want him to play any formation... you can't describe what he's putting out there right now as a formation. It's got no structure or pattern whatsoever. Just a collection of players he signed in similar shirts.
I can't criticise the players too much today. I thought they all put a shift in. Even the much derided Martina. Schneiderlin, who I've never rated, looked like he wanted to make amends for recent showings.
You can just see they're being held back though. The full backs are being asked to provide the attacking width... so the centre-backs never have an out ball. Schneiderlin and Gueye end up dropping into the defence to get the ball but that leaves a massive gap up to our batch of attackers. Everytime we do find ourselves in the opposition half we're so narrow – every player is 10 yards away with their opposite numbers. It's so crowded.
Before the goals today this team had lost the plot and were panicking. Defoe should have sewn up the game (well done Pickford!) and the mood would be very different now.
Tony Everan
77
Posted 23/09/2017 at 17:40:51
What price Oumar? 㿷m + add ons?
You couldn't make it up!
Ernie Baywood
78
Posted 23/09/2017 at 17:41:09
Has Koeman been interviewed yet?
Ajay Gopal
79
Posted 23/09/2017 at 17:42:31
Wow, wow, wow – what a story! I predict Kenwright's buddy Sly Stallone to book the rights for this movie – Will Smith playing Niasse!!
Back to the game, these are my observations, other than about Niasse (much has been said, much will be said):
Calvert-Lewin – what a player we have on our hands! He worked so much harder than Lukaku ever did – his efforts deserved at least 1 goal.
More than a striker, our priority in the Jan window has to be a left back. I love Baines, and he still is a fantastic player, but the game is now much more about pace and power, and sadly he lacks that.
All our moves seemed to come from the right hand side – a few years ago, it was the other way around. A fast pacy left-back would add so much balance to the team.
Martin Atkinson was shocking in his refereeing – not giving a penalty and red card for the elbow on Rooney was insane! If Rooney were still playing in a red shirt, does anyone think that that would not have been a penalty?
Kenny and Davies add so much energy to the team, they must surely start the next game. Martina was not bad, and I must admit, that I was surprised when Koeman subbed him, but fair play, that decision was well vindicated.
Klaassen needs at least 1 full season to bed into the Premier League – he looks well off the pace. I don't see the need to play 2 defensive midfielders, whether at home or otherwise. Gana brings enough energy to protect the back 4.
Many here are slating Rooney – I just love the passion he brings to the game. If used wisely by Koeman, he will play a massive role for our club.
Holgate did well in his debut as a centre-back in the Premier League – and Williams had a good game.
I could see signs that Sigurdsson is growing into this team – if he and Rooney can complement each other, we have potentially a superb attacking line-up: Gana in the screening role, Rooney, playing slightly advanced in the middle, Sigurdsson on the left, Davies on the right, and two up top: out of Calvert-Lewin, Niasse, Sandro, Lookman, Bolasie (when fit), Vlasic.
We have good players – Koeman needs to figure out quickly how to get them playing together effectively.
Our season starts today, COYB, etc,
William Cartwright
80
Posted 23/09/2017 at 17:44:16
I was appalled at the one-sided refereeing today.
The assault on Wayne went unpunished and unrewarded.
The instantaneous booking for Tom was incredible.
Stopping an Everton attacking move to attend to a Bournemouth player down on the pitch but not 'in distress'
Atkinson has form against Everton in the past (Jags v City). Referee's performances should be monitored and after this showing Atkinson may find he is kept away from Goodison for some time, similar as for Clattenberg some years ago.
Meanwhile great to see the alternative Everton come to save the day, when the expensive version was just not doing the business!
Chris James
81
Posted 23/09/2017 at 17:44:18
Some facts – Koeman hasn't treated Oumar disgracefully, you're thinking of Martinez there who signed him for big bucks and hardly played him.
Koeman was super clear with Niasse and all the other players when he arrived who he wanted in and who didn't have a place in his plans,; as part of that he cleared out a lot of deadwood and didn't waste their time. Niasse was one of these and I don't think a single person on here disagreed.
For his part the player showed total professionalism and when his deal away fell through and we failed to sign a striker Koeman came to him and gave him a chance... which he is taking handsomely at the moment.
Koeman may have many faults and be making some selection mistakes but to say he's managed the situation badly is just plain wrong.
Alasdair Mackay
82
Posted 23/09/2017 at 17:45:01
There is no balance to the way we are set-up. No pace or width and far too defensive a system when playing a home game against a team with ambitions just above survival.
You can see the quality that the players possess as individuals, but they give the ball away and run into cul-de-sacs constantly.
Calvert-Lewin and Pickford kept us in the game and Davies won it for us when he came on.
Surely Koeman can't last till January!
Gavin Johnson
83
Posted 23/09/2017 at 17:45:39
Fairy tale football from Niasse. I'm over the moon for him.
I remember when we signed him, a Locomotive Moscow fan contributed and said that Niasse had looked one of the worst players in the team in his first season, but that changed once he'd adapted and got used to the league and he started scoring a lot of goals and he was always a grafter.
Well it's his 2nd full season and the work in the U23s and at Hull look to have benefited Niasse. He's not the long term answer but he looks our most dangerous striker at this moment in time and should start against Burnley.
Tom Davies and Jonjoe Kenny are 2 others that need to be in the starting 11. Kenny was a different animal to Martina and put low whipping crosses in. Bournemouth could cope with Martina's high lofty balls all day long.
It was a horrible game today and I think we can conclusively say that Rooney, Klaassen and Sigurdsson can't all play in the same team. Stop trying to shoehorn players into a system that clearly isn't working, Ronald!!
Terry Underwood
84
Posted 23/09/2017 at 17:51:14
Just proves my point from an earlier post. You don't have to be a good footballer to be a goalscorer, just have the instinct and positioning.
I'm made up for Niasse. As for the manager, not a fan, but give him time.
Paul Thompson
85
Posted 23/09/2017 at 17:51:48
Ever get the feeling that some people would rather we lost today so that it would bring closer the Koeman doomsday scenario? Koeman is not going to be sacked, in the short term anyway. Beyond that, it depends on whether he learns from today (and before) and whether key players actually start to raise their game.
Koeman is far from immune from criticism. The starting line-up is a failed system. We need to start with something like the team we finished with. Niasse, Kenny and Davies bring us more cohesion and commitment.
But I wouldn't write off the new signings, as most on here did with Niasse after a few games. It will take time for them to gel, but meanwhile let's start with a team that we won't necessarily have to rescue with subs.
Tom Evans
87
Posted 23/09/2017 at 17:57:10
Ever the one to look out for omens.
Thinking back to that Bournemouth game a couple of seasons back, the 3-3 draw which sent us into a downward spiral.
Hoping that today's result against the same team will somehow see an upturn in our fortunes.

George Cumiskey
88
Posted 23/09/2017 at 17:57:31
Chris @81 are you Koeman's Dutch Uncle?
Peter Jansson
89
Posted 23/09/2017 at 17:57:58
Well Lukaku is not a good footballer either but a great goalscorer.
Lev Vellene
90
Posted 23/09/2017 at 17:58:08
Calvert-Lewin did everything right, but never got the goal he deserved! I think he was our Man of the Match today!
Niasse proved once again that he is a great poacher! I'm not sure I'd keep trusting him to start. But with Davies in the team, they look like a very good combo! So one with the other!
Alan J Thompson
91
Posted 23/09/2017 at 17:58:14
He's big, he's quick and he scored two quite brilliant goals. Is it just me or on the second did Koeman turn his back and head down, spit?
We looked better with Schneiderlin and Gana venturing not only across the halfway line but up to the opposition's penalty box.
Klaassen shows some intelligent movement but does seem to have a problem with the pace and strength of the English game. But the big plus is Niasse and Calvert-Lewin. Can you hunt in packs if there are only two of you?
Sigurdsson played a lot better when he replaced Rooney in the middle, Kenny looked more than capable but that is not to denigrate Martina who looked very good going forward, albeit he didn't need to do a lot of defending, and Holgate really looked the part in central defence.
I'm not getting carried away with a win but that was a better all-round showing than we've seen so far. And bugger me if the "kids" didn't shine.
Ernie Baywood
92
Posted 23/09/2017 at 17:58:21
To write off Sigurdsson or Klaassen would be silly. Sig is proven and Davy needs time. You just can't play them and Rooney on each other's toes... it's plainly obvious.
Show me a team with 4 defenders including Kenny. At least one winger, two central midfielders of which Davies is one. 2 forwards – currently Calvert-Lewin and one of Rooney, Sandro or Niasse depending on the game.
Brian Wilkinson
93
Posted 23/09/2017 at 17:58:36
Chris@81, last January Ronnie picked a kid after the window closed to try and make a point to the board, that kid was Tom Davies.
This August, we did not land a striker, again Ronnie making a point picking Niasse as a gesture to the board.
On both occasions, those players have taken the bull by the horns.If you can defend Ronnie on the Niasse situation and his treatment, that is your fair opinion, but I have to disagree; he was treated like shite by Ronnie.
Mark Morrissey
94
Posted 23/09/2017 at 18:00:39
Seen the Koeman interview. Nervously rocking backwards and forwards just knowing that he's gonna get asked about Oumar. He then still manages to get the words out, "Okay, so I make a good decision to change the formation and we win" ... don't quote me on the exact turn of phrase but it was deffo "I made a good decision."
He is so arrogant that he thinks Carly Simon was singing about him and not Warren Beatty.
As most have alluded to on here and many times before, the man is missing that part of his footballing brain that tells him who to play and where to play them.
Sadly this win has saved his skin today and who knows perhaps it will do him some good. He could perhaps develop as a manager whilst at Everton and perhaps he'll begin to learn under the tutelage of the of the best footballing fans in the world.
It would do him good to read TW every night and to repeat to himself "Nil Satis Nisi Optimum"
Hywel Owen
95
Posted 23/09/2017 at 18:01:00
Good result today... eventually. What bothers me is that Niasse, who has been very dismally treated by Ronald Koeman, will have saved that prat's job for a while.
William Cartwright
96
Posted 23/09/2017 at 18:01:34
Chris, facts are facts and on the surface you are correct. However, it is also factual that Ron's treatment of Niasse was downright insulting in the most crass, public manner.
Denied a locker and to be told via the media that to play football you must leave Everton after one pre-season game? Give me a break. Koeman is an arrogant prick without much of a managerial record to his name. Now that's a fact.
Lev Vellene
97
Posted 23/09/2017 at 18:03:54
Alan (#91),
I usually defend Klaassen, but I really screamed at him when he kept the ball still for several seconds while waiting for someone to pass to. And got robbed...
Someone is always coming up behind you in the Premier League if you stand still, so move the damn ball quickly! He usually does good in closed spaces, so I'd keep him playing until we can feed off of that!
Steve Brown
98
Posted 23/09/2017 at 18:04:43
Some serious revisionism going on here.
I may be wrong but I am confident that all those who say Niasse was horribly treated by Koeman were not up in arms at the time last season. Niasse was treated the same by Martinez and Koeman and derided on here by everyone.
Delighted for the lad but park the hypocrisy for a bit please.
Selby Wells
99
Posted 23/09/2017 at 18:05:14
In a strange way, Niasse's success today is another feather in the cap for Unsworth for his man-management of the player in the U-23s that has aided his rehabilitation into the first team squad.
Ian Bennett
100
Posted 23/09/2017 at 18:06:14
Great day out, and humble pie for tea. Ice cream with yours Ron?
Steve Brown
101
Posted 23/09/2017 at 18:07:02
And plenty on here 'doing a Niasse' on Klaasen by the way.
Denis Richardson
102
Posted 23/09/2017 at 18:07:06
If we beat the Cypriots and Burnley over the next week or so, will people still be calling for Koeman to be sacked asap? It's an 'if' admittedly but just asking as there seems to be a lot of negativity being thrown at the manager even though we (luckily) won the game.
Whatever happened behind the scenes, the manager still made the decision to put Niasse in the team and Martinez was the first to send him into exile not Koeman. (Also 99% of people on this site, including me, thought Niasse is/was shite.) Koeman deserves some credit for seeing things not working and hooking Rooney and Klaassen just before the hour mark.
One swallow etc but I'm personally just glad we won and hope this will boost the players onto better things. I also hope the manager is big enough to recognise that he needs to bench some of the senior (and very expensive) signings and mix things up a little. The team badly lacks pace and we've seen a couple of the fringe players coming in and doing well. They should keep their places going forward.
At least we can stop going on about Niasse's £55k/week wage, those 3 points have pretty much covered that. Now onto the 㾹.5M...
Gordon Crawford
103
Posted 23/09/2017 at 18:11:44
Don't count me in that apology, Frank, I've been all for Niasse staying and playing. I'm so so happy for him. Cult hero in the making. He is a great example of humility while being treated like crap.
John G Davies
104
Posted 23/09/2017 at 18:13:19
If that's the reaction I hope he treats a few more of them the same way.
Made up for the lad. Done me owld knee in jumping up when the second went in.
Peter Jansson
105
Posted 23/09/2017 at 18:14:38
I don't care what has been said here last season or this season. But if Koeman ever is going to be a good manager he has to improve in several places:
1. He has to learn how to be more gentle with people. Not hanging players out publicly (Niasse last season).
2. Now when he has been wrong about Niasse, he should apologise or give him super credit in public.
3. He has to be better at motivating his players.
4. He has to show more enthusiasm. He should have jumped up and down 10 feet today when Niasse scored that – Duncan Ferguson did.
5. He has to improve at putting up good selections on the field in a mix that works. Maybe he should take some classes or listen to someone around him.
6. He has to get personally involved in what players to buy since he is ultimately choosing what setup to play. This cannot be given away to someone else only (ie, Steve Walsh).
Lewis Barclay
106
Posted 23/09/2017 at 18:16:33
I'd really like to see this team start at Burnley.
Pickford
Kenny Holgate Keane Baines
Gueye
Davies Sigurdsson Lookman
Calvert-Lewin
Niasse
Really take it to them.
Frank Crewe
107
Posted 23/09/2017 at 18:17:06
Remember when Koeman was saying Niasse had no future at Everton. Right now, he appears to have more future at Everton than Koeman has.
Peter Jansson
108
Posted 23/09/2017 at 18:18:21
I personally think David Unsworth would have done great as an Everton manager.
Gordon Crawford
109
Posted 23/09/2017 at 18:18:36
Davies needs to get a run in the team. The boy needs regular football. Also hope that Ross stays and gets back in the team when fit. How we could do with him.
George Cumiskey
110
Posted 23/09/2017 at 18:18:36
Why are people saying Martinez treated Niasse badly when he kept making excuses for him, saying he had a bad wrist? Maybe he didn't rate him but he never publicly derided him.
And by the way, Koeman still kept two defensive midfielders on when we were desperate for a goal.
Eddie Dunn
111
Posted 23/09/2017 at 18:22:28
The crucial point is that Rooney and Sigurdsson and Klaassen cannot all play in the same team. Nothing against any of them, but we only need one number ten on the pitch at any one time. One of the others should go on the bench and the third sit in the stand.
Niasse and Calvert-Lewin need to start as does Davies. What a fucking great day for Oumar!

Paul Birmingham
112
Posted 23/09/2017 at 18:22:58
A win was a must, and Niasse, deserves every plaudit he gets and has heaps of spirit – true faith and belief in himself, the club and our great supporters. It's some parable and I hope his scoring touch continues. He is hope and that's what we have been lacking.
Time for review and try and get some consistency in the team, Kenny and Davies, are edging closer and closer to automatic starters and in my view should start the next game. 4-4-2, but I live in hope.
Thee aim is to get some consistency now in defence and midfield. Dominic and Oumar to start the next game in attack, at least there's a presence and keeps defences on their toes.
I'm hoping we can edge up the table and start playing some decent football for 90 minutes. Looks like a roller coaster season ahead..
Gordon Crawford
113
Posted 23/09/2017 at 18:23:01
Koeman might have been a smashing player, but he isn't a smashing manager.
Tom Heaton
114
Posted 23/09/2017 at 18:23:23
Nil Satis Niasse Optimum!
George Cumiskey
115
Posted 23/09/2017 at 18:25:23
Why do people keep putting Holgate in their teams when he was very poor today – even in his so-called best position?
Tom Heaton
116
Posted 23/09/2017 at 18:29:51
Nil Satis Niasse Optimum. 3 goals in how many minutes? Is Koeman a good judge of players ability? Didn't he humiliate this player?
Chris Williams
117
Posted 23/09/2017 at 18:30:12
Koeman praised Niasse in his interview for his performance, aggression and for taking his opportunity. He gave him credit for his performance.
Niasse in his interview was humble and praised Davies and the players. Looks a really decent man. He also looks like a goalscorer, a sniffer, which is not something you can teach. He may not be the most silky footballer but he will probably give us something we otherwise don't have in the team.
Him and Davies and Kenny brought a different level of mobility, pace and aggression to proceedings. Jonjoe and Tom must be among the first picks along with Dominic.
Interesting to see the team on Thursday. Keane and Jagielka seem crocked so unlikely to be available until after the break.
Matthew Williams
118
Posted 23/09/2017 at 18:30:58
Now I see it... it's fucking SportPesa that's the jinx...That and Koeman!
Peter Jansson
119
Posted 23/09/2017 at 18:31:12
I have said that Niasse single-handedly saved Koeman's ass. The team selection was wrong and I have criticised the Gana/Schneiderlin selection.
Actually the initial selection Koeman did was so bad that he should have done more that 3 subs to correct it. Niasse, Davies and Jonjoe Kenny on was good moves but still he should not have had two defending central midfielders on the pitch.
Jim Harrison
120
Posted 23/09/2017 at 18:31:27
Steve Brown (#98), I agree. I think you would be hard pushed to find comments at the time other than in agreement with the manager.
Fair play to the lad. He is doing a great job of proving all who said he wasn't good enough wrong. Long may it last. If he becomes the forward we need then great. But let's not spend too much time bashing the manager over last seasons actions. I saw him play for Hull a couple of times, he scored a few goals, but his overall game wasn't up to that much. Maybe the whole experience will be the making of him.
Not that I would expect him to thank Koeman or see him in a positive light, but it could be the catalyst to kick start his Everton career
Alan J Thompson
121
Posted 23/09/2017 at 18:33:36
George (#110); Quite right. Whatever the truth, Martinez said he had a wrist injury which was keeping him out of the team. Koeman said he would have to go elsewhere if he wanted to earn a living playing football.
Who's laughing now but I would have thought more of Koeman if he had given Niasse the biggest public hug possible rather than disappearing down the tunnel before they came off.
Mark McParlan
122
Posted 23/09/2017 at 18:33:56
That was certainly one of the more interesting games of football I've seen recently, but I definitely left Goodison feeling slightly more confident and reassured.
I'll give ratings for the 11 that started.
Pickford – 7. Did everything he had to do reasonably well.
Baines – 7. Solid defensively, but doesn't really offer anything up front nowadays.
Williams – 8. He made no mistakes and defended excellently all game. His best performance in a long while.
Holgate – 6. Very shaky today, a few nervy moments. I still think he should be starting regularly though – he is the future of our defence.
Martina – 6. He is always encouraging going forward but his crosses were extremely poor today. There are always going to be question marks over his defensive ability.
Schneiderlin – 7. Vastly improved from him today, better.
Gueye – 4. Sad to say it, but he was pretty awful. Kept losing the ball with terrible passes. I'm disappointed.
Klaassen – 5. He was alright, never did anything wrong and displayed good passing & vision, but he doesn't get involved enough and dawdles on the ball too much.
Sigurdsson – 4. He literally does nothing. The most pointless and useless player I've seen for a while – 㿙million! Jesus Christ Almighty! I'm sorry, but that's a waste of money. Even the free kicks were bad. And he has no pace.
Rooney – 4. Yeah, he was rubbish today. The whole fiasco with the bandages affected him I think, and he was just way off it. Still, he's scored 50% of our teams goals in the league.
Calvert-Lewin – 7. Whilst he didn't find the net and spurned a few chances, I thought his hold-up/target-man play was magnificent and a true joy to behold. If you aimlessly hoof the ball up to him, he will leap up and challenge for it, he WILL win it, and he'll pass it to a teammate.
Subs : Davies 8, Kenny 8, Niasse 9.
---
Now onto the tactics and personnel going into the next game against Apollon Limassol. I think it should be clear to everyone by this point that 4-3-3 (not the ultra-negative back 5 system) is what works for us. The standard back 4 is less confusing, and the 3 in midfield allow us to take control of the match.
For me, Pickford has to start – I don't understand why we would play Stekelenburg. Stuff these modern rules up a 'Cup Keeper' or whatever. Baines obviously plays at left-back – he's the only one at the club! Williams impressed enough to continue on Thursday, he should partner Michael Keane. And if Keane's not back by then, stick with Holgate.
I reserve a special place for Jonjoe Kenny, a marvellous footballer every time I see him. Kirkdale Kenny has done everything conceivably within his power to get a place in the first team. He was absolutely instrumental in Everton U23s Title winning team. Then, in the summer, he wins the World Cup as a starter for England U20s. He was brilliant for both. And whenever he gets a chance in the first team, he absolutely takes it. He changed the game when he came on, he is brilliant defending but can get down that wing and put some bloody decent crosses in. This lad is the future of the right-back position – not Martina.
Davies follows the same story. Impresses at every youth level, fights tooth and nail for his place in the first team. And my God, he deserves it – he was another that changed the game when he came on. This following from a great performance against Stoke. With 2/3 of Schneiderlin, Klaassen, Gueye with him in midfield, there is something forming here.
Niasse, like Davies, like Kenny, has to start on Thursday; no if's or but's. I suggest a riot should he not. The entire situation has blown up in Koeman's face and made an absolute laughing stock of him – what does he know about judging a player. If the locker situation is anything to go by, evidently he knows nothing.
As I said, Calvert-Lewin impressed me again so he joins Niasse in the front 3. The third spot is up in the air between Rooney and Sigurdsson at the moment. I'm inclined to go for Rooney, but others may disagree.
Team (4-3-3):
Niasse
Rooney Calvert-Lewin
Gueye Davies Schneiderlin
Baines Williams Keane Kenny
Pickford
As a final comment, did anyone else notice after the substitutions how excellently the right side of the pitch linked up, with the youthful trinity of Kenny, Davies, and Calvert-Lewin, a synergy built up in Unsworth's U23 school of football? They are the future.
Matthew Williams
123
Posted 23/09/2017 at 18:34:04
Many thanks, Oumar, you saved our skins and maybe Koeman's job for now.
Said it before... our young lads will see us right, so play 'em!!!
David Connor
124
Posted 23/09/2017 at 18:37:41
As Koeman said, some of the players who come into the premier league need time. Bench Klaassen for the remainder of the season as he looks lost in our league. At least that will allow him to work his way into the team but at this moment in time its obvious to everyone that the lad is struggling big time.
It's amazing how a team who after dominating a game go to pieces when they go a goal down. And that's what happened to us until the subs came on.
Credit must go to Koeman however for bringing on Niasse. He could of quite easily have taken the shithouse option and brought on Ramirez instead who, like Klaassen, looks way out of his depth. We just have to hope they both come good in the future.
As for now they are just squad players I'm afraid. As for Niasse, he may just save Koeman's job because, like Klaassen & Ramirez, he looks lost.
Ajay Gopal
125
Posted 23/09/2017 at 18:38:43
Steve Brown (98) - "some serious revisionism going on here", "Niasse was treated the same by Martinez and Koeman and derided on here by everyone".
I suggest that the revisionism is being done by yourself. Not all TW posters derided Niasse. In fact, a vast majority of posters wanted Koeman to give him a fair chance. Also, Martinez never publicly derided Niasse in the most abominable manner that Koeman did.
A big, big day of learning for our boss. Hopefully, he is sufficiently chastened now and will relook at the Barkley situation.
Si Turner
126
Posted 23/09/2017 at 18:40:37
I thought we played well first half without really hurting them but we became really sloppy at the start of the second half.
Calvert-Lewin and Holgate our best players (90 mins) but the subs undoubtedly made a big difference. Ronald has some big decisions for his team selection now with the likes of Keane, Rooney and Klaassen far from warranting to start automatically.
Colin Metcalfe
127
Posted 23/09/2017 at 18:41:24
Great post, Ajay! Loving the positivity!
George Cumiskey
128
Posted 23/09/2017 at 18:41:26
Ajay, stop repeating what I've just said!
Nick Lacey
129
Posted 23/09/2017 at 18:42:24
So pleased for Niasse, looks like a nice guy and a great professional.
For our next game, I'd love us to play with two strikers from the start. Play the big man, little man combo; with Calvert-Lewin holding the ball up and attacking (like a much better Heskey) and then feeding to Niasse to score.
Love to see:
Pickford
Kenny Holgate Keane Baines
Gueye
Davies Lookman
Sigurdsson
Niasse Calvert-Lewin
Everton Wint
130
Posted 23/09/2017 at 18:44:28
Well done Oumar.
I said on a previous thread a couple of weeks ago and I have to say it just one more time. Our Oumar is similar to Gary Lineker, they are not pleasing on the eye football-wise, but know where the onion bag is and how to put onions in it.
The stone the builder refused, becomes the head corner stone. NSNO COYBs
Andy Peers
131
Posted 23/09/2017 at 18:48:21
What a Manager!!!
Knew exactly when to put Davies, Niasse and Kenny in the game.
Koeman, you are a twat!
Lev Vellene
132
Posted 23/09/2017 at 18:50:07
Niasse kept his head down, and his gob shut! No wonder Evertonians like his recent success! There's an underdog for you!
Tony Hill
133
Posted 23/09/2017 at 18:52:51
Another inadequate selection from the manager and a largely poor performance (though we started pretty well for about 20 minutes).
That was a critical win for us, we were the width of Pickford's heel from what would surely have been a very bad defeat.
Well done, Niasse indeed, but my word – that was close!
Ray Robinson
134
Posted 23/09/2017 at 18:53:05
There's so much to learn from today's lucky but welcome win:
* Gana and Schneiderlin both overlap too much and though Schneiderlin played a lot better today, why does he always pirouette when he gets the ball?
* Playing three Number 10s does not work
* Martina got forward well today but his crosses are generally too lofted. Kenny is a better crosser but is he a better defender?
* Holgate looked very shakey for supposedly his best position. Imo, Keane and Jagielka are far away the best central combination.
* Williams needs to cut the tackling from behind and the obvious manhandling of the man he is marking. There's a penalty in him most matches. I wouldn't have him as first choice.
* Calvert-Lewin is well worth persisting with. Great player in the making.
* Niasse is far better than I ever gave him credit for (humble pie to be eaten by me). I still don't think he's a great footballer but neither were Latchford, Lineker or Cottee but they all scored goals.
* Klaassen is out of his depth at the moment. The pace and physicality of the Premier League is far too much for him at the moment. He appears to have a good footballing brain but will he be able to adapt?
* Finally, he didn't play today but is Sandro really a forward? I'm not sure what he is but he doesn't look like a striker to me.
There's a decent enough team in the squad somewhere but clearly Koeman has no idea of his best combination. Or he thinks he does and is badly misguided.
Where were Mirallas and Jagielka today? And has Besic been given the Koeman cold shoulder? A liability in my opinion, but where did he disappear to after playing midweek?

Dennis Ng
135
Posted 23/09/2017 at 18:54:33
The future is exciting and it always pisses me off when Koeman errs too much on the side of caution and experience.
And kudos to Niasse for knuckling in and getting rewards for his patience. I feel he is not very sharp, prob cos of his lack of minutes, but he is a good turn of events for us at the moment.
If the kids don't get the starts they have proven themselves worthy for, Koeman has to go.
On Holgate, I didn't get to see the first hour of the game so can't comment but hopefully he will grow into the team as well.
Geoff Evans
136
Posted 23/09/2017 at 18:58:48
Keep doing your talking on the pitch, son. Brilliant.

Paul A Smith
137
Posted 23/09/2017 at 18:58:57
How ironic the man Koeman tried to bin is keeping him safe for another week. Niasse and Martina are the measure of Koeman for me. Anyone else is entitled to their own view of him.
As for the game, I am made up for Niasse and made up for the points. Thank god we played we played Bournemouth who set up great and passed with ease at times. They just lacked quality.
What a load of shit until Niasse changed the game. Again, we have a manager who finishes games with the team he should have started with. Again, thank god it was Bournemouth.
Onwards now.
Brian Williams
138
Posted 23/09/2017 at 19:00:51
Got to laugh at the headline. I said to the young lad next to me after Niasse scored his first "There you go fairy tales do exist" and the lad said "Nah it'll be a fairy tale if he goes on to score the wInner." Funny ole game eh?
Never mind rescuing the Blues – I think the lad has rescued Koeman... if Koeman learns:
Lesson 1. Kenny starts before Martina.
Lesson 2. Davies starts before Klaassen.
Lesson 3. We play two up front, at home, at least.
Lesson 4. We don't play two defensive mids, at home, at least.
Everybody there today saw what was needed? why can't Koeman!?!
John G Davies
139
Posted 23/09/2017 at 19:01:58
Paul (#131),
Are you saying Koeman is working week to week, one game away from being sacked? If you are, you will be very disappointed.
Nathan Snell
140
Posted 23/09/2017 at 19:02:14
Delighted with the three points such an important result.
My fear is though, having read Ronald's post match interview, I believe he'll revert to type and we'll see the same formation and team that started this game again on Thursday.
The Sigurdsson and Rooney combination reminds me of the issue England had with Lampard and Gerard – as they couldn't play effectively in the same team. Both Everton players are very good (and I'm happy they are here) but in my view they should not be playing in the same team (at the same time) and one of them should give way for a winger (Lookman or Vlasic) to give us a different dynamic and injection of that much needed pace.
I'll enjoy this win and hope for another in the next game.
Paul A Smith
141
Posted 23/09/2017 at 19:04:40
Peter (#117). That's two defensive midfielders that don't even defend, mate. What on earth are they there for? It's pointless anyone telling us they are there to stop teams playing because they don't.
How many times do teams play right through us? We concede every week and the keeper kept the score at 1-0 with his feet. Two defensive midfielders is managerial OCD.
Paul A Smith
142
Posted 23/09/2017 at 19:08:18
John (#134), not in so many words but he has certainly kept the heat off him this week. I don't believe the club would be brave enough to sack him yet so no disappointment here.
I think those who believe he is not losing popularity may be disappointed though. I don't do social media but I have heard 3 stories already tonight of him being roasted on social media.
Steavey Buckley
143
Posted 23/09/2017 at 19:12:54
In previous Premier League matches, Everton couldn't buy a goal. But they have now, and the goals scored £13 million – the price to buy Niasse. Cheap at double the cost.
Without him, Everton will struggle in the Premier League to find the back of the net. Thanks Martinez for having the foresight to buy him for our troubled times in front of the goal.
Don Alexander
144
Posted 23/09/2017 at 19:13:05
Who knows, really, about how Niasse feels about Koeman? The entire squad no doubt know all about Koeman by now so, if he's as cold and blunt as I suspect he is the very idea that he'll somehow come over like some poser like Klopp is ludicrous.
Indeed it would destabilize the lads because the reputation they admire/endure/despise would be shown to be false. They're all very well paid young adults fulfilling the dream of their choice after all. The personality of the manager shouldn't be that big a deal. I'm sure they have an ear they can trust if they want to whinge.
As to playing our younger players week-in & week-out, who knows? Will they burn out to the cost of injury? It interests me that we seem not to be sustaining endless hammy/soft tissue injuries since the Ice-man took charge but who knows?
Today was nowt remarkable in quality of play but it may be significant in terms of gelling. The next four games will tell us much, especially if we turn over the Arse on top of everyone else.
Paul Williams
145
Posted 23/09/2017 at 19:13:12
1-0 down. Niasse on for Rooney. Two goals. You couldn't make it up.
Really happy for him. Everton legend in the making!
Dennis Ng
146
Posted 23/09/2017 at 19:13:24
Brian (#138), we should only have 1 defensive mid when we're playing 4 back, always. What's the point of having 2 DM and end up soaking all the pressure when we can't move the ball into the opponent box? Not so sure about Klaassen but he's in the "Koeman has no idea how to fit him in" bin.
Him, Sigurdsson, Rooney and possibly Sandro are all not fitting in because Koeman has only a few formations he likes to start with. He should play whatever he did in the second half right from minute 1 in every game onwards!!!
Jamie Evans
147
Posted 23/09/2017 at 19:14:07
Am I missing something here or did our Manager make three excellent, effective substitutions today? Well done, Ronald.
David Booth
148
Posted 23/09/2017 at 19:14:08
Jim Jennings (15)
David Booth, who are the six defenders?
Allow me count them for you:
1 - Martina
2 - Holgate
3 - Williams
4 - Baines
5 - Schneiderlin
6 - Gana
I hope that answers your question?
And you can bet your bottom dollar our dickhead Dutchman will play them all again next week, along with Rooney, who is the biggest busted flush of the lot.
Martin Mason
149
Posted 23/09/2017 at 19:14:30
Many positive things today, mainly taking the 3 points from a losing position. Davies, Niasse, Kenny all 2nd choice but in their own way men of the match in the way they changed the game.
The negatives are that Koeman still doesn't know his best players or best team (is that really possible in that he is with them all week?) and his narrow tactics are still awful. I remember how effective some of Moyes's formations were when wide midfielders and full backs attacked and defended in pairs.
Brent Stephens
150
Posted 23/09/2017 at 19:16:32
Pleased with the 3 points. Less so with some parts of the performance. Over the moon for Niasse. And Calvert-Lewin is getting a very good level of consistency in what is an all-round game.
What has happened to Gana?
Again, tactics left Martina at times exposed on our right, looking at two advancing opposition players – not enough width.
John G Davies
151
Posted 23/09/2017 at 19:17:25
David (#148),
Are two of them not midfielders?
Andy Peers
152
Posted 23/09/2017 at 19:18:01
Jamie Evans,
Those subs should have started.
David Booth
153
Posted 23/09/2017 at 19:18:54
Yes, but defensive midfielders John. Come on, you know the point I and many others are making.
Or do you advocate six defensive selections too, like Koeman?
Nick Lacey
154
Posted 23/09/2017 at 19:19:34
Absolutely made up for Niasse, seems a very professional and a nice guy.
I would love us to start with two upfront. Go for the old model of one big striker and one small. Calvert-Lewin (the big striker) to hold the ball up, attack and bring others in. Niasse ( the smaller) to get the ball off Calvert-Lewin and score.
I'd love to see the team below a 4-4-2 with a diamond midfield:
Pickford
Kenny Holgate Keane Baines
Gueye Davies Lookman Sigurdsson
Niasse Calvert-Lewin
John G Davies
155
Posted 23/09/2017 at 19:20:32
Paul A,
I don't do social media but I have heard 3 stories already tonight of him being roasted on social media.
Let's hope nobody has done a video.
Brent Stephens
156
Posted 23/09/2017 at 19:21:35
Paul, if you're on TW, does that count as social media?
John Smith
157
Posted 23/09/2017 at 19:24:41
"We all laughed at Niasse when he came to the club."
I didn't. As always I reserve my judgement until a player has a run of games. I defended him while you lot ragged on a player who had never actually ever played for us. Genius that.
"OUMAR, WE ALL OWE YOU AN APOLOGY."
See above.
David Booth
158
Posted 23/09/2017 at 19:25:41
Time we saw a change of mindset here and that team of yours Nick (#154), ought to be the crest of a new wave now.
Get on the front foot, make the opposition worry about us for a change and give our domestic champion/world champion youngsters the chance to show how genuinely good they are.
Klaassen and Sandro can acclimatise via the bench. Rooney can play the 'returning legend' for an occasional 10 orr 15 minutes as a sub and Martina & Williams can share a locker between them to free one up for Niasse!
John G Davies
159
Posted 23/09/2017 at 19:25:57
David (#153),
I know the point you are trying to make. It is incorrect.

Tony Hill
160
Posted 23/09/2017 at 19:30:08
It's worth looking again at Niasse's first goal – his all-round contribution to it is huge, chasing back to win it, a neat pass and then the finish. Excellent, actually.
John G Davies
161
Posted 23/09/2017 at 19:34:07
Tony,
He makes very good out-to-in runs; my first thought sitting there was that he was offside.
Nick Lacey
162
Posted 23/09/2017 at 19:35:58
David (#158). Yes, we should be attacking teams and playing players in form. In the last 20 years, Everton have been at their best when they don't give the opposition time or space.
That team I picked has youth, pace and players playing in the correct position; and most importantly players playing who are in form.
Raymond Fox
163
Posted 23/09/2017 at 19:37:08
Very pleased for Oumar and us of course.
Chris (#81), you are wrong. Martinez had more sense than publicly humiliate a player in the way Koeman did with Niasse. What's wrong with telling a player he's not in his plans in private?
He's also backed Barkley into a corner publicly, telling Barkley to sign that contract (we don't know how much but I suspect it was not great) because that's all your getting. What's Barkley supposed to do if he really wants to stay with the club.
You also say that everyone wanted Niasse gone. They didn't, yes most climbed on the most popular bandwagon of opinion of Niasse that he was shite etc as they do, but a few commented that we had hardly seen him play, and he had a good record of scoring goals in Russia.
Today Koeman again started with the same safety-first tactics as most fans expected he would, with the usual result on the field till Bournemouth scored and he was forced to go for broke.
I'm afraid I don't see many redeeming features in the guy, and I hope he doesn't stay long.
John Daley
165
Posted 23/09/2017 at 19:37:27
"
Some serious revisionism going on here. I may be wrong but I am confident that all those who say Niasse was horribly treated by Koeman were not up in arms at the time last season
"
Easy way to find out if your confidence is misplaced:
Paul A Smith
166
Posted 23/09/2017 at 19:37:32
Don't know Brent maybe it does? Or if it was specific it would be social Evertonians.
But I think you know I was referring to Twitter and Facebook etc.
John G. Hilarious. Always the smart one.
Clive Lewis
167
Posted 23/09/2017 at 19:38:27
Oumar had a dream to play in the Premier League, he had no locker and was told that he would be sold.
He plays in attack with Rooney at the back, Oumar Niasse is on the way back.
Jay Harris
168
Posted 23/09/2017 at 19:39:50
I really feel for some of our fans with the amount of hatred they are carrying round with them.
To call the Everton manager a twta, prick, bastard and many other obnoxious names is a disgrace and if I was him reading some of these comments I would leave immediately which is apparently what the mob want.
They also suggest the likes of Sean Dyche, Harry Rednapp and big Sam as replacements,
Instead of welcoming a necessary win people are turning the thread into. Koeman v Niasse pissing contest. FYI Koeman punched the air and had a big grin when Niasse scored his second.
Koeman was told when he joined the club that Niasse was an expensive mistake and when Niasse refused a transfer at his girlfriends behest Koeman got irritated.
Let's be honest until recently the majority of us thought Niasse's purchase had been some money laundering exercise. So, once again, despite not being happy with the performance on the pitch can we please get behind the manager and the club and give it a bit more time before getting the long knives out.
John Daley
169
Posted 23/09/2017 at 19:43:31
As someone who had seen Niasse play before we bought him and said on here I could see him becoming "something of a fans favourite" due to his non-stop effort and slightly unorthodox style, I'd just like to thank Oumar for finally reassuring me I wasn't completely mashed off my tits on MKUltra strength halocegens when I thought he might have something about him.
Also, as someone who was heavily critical of Koeman's needless public ostracising of the player, I'd like to say 'the stubborn Dutch twat' has shown he isn't simply that.
Whether through simple circumstance, being backed into a corner, a pang of conscience or a lightbulb moment whilst straining on the crapper, Koeman has demonstrated he's actually prepared to put the needs of the team first above saving face in public (if it also saves his arse at the same time then it simply serves as rightful reward for a risky throw of the dice).
I said at the time of Ron hanging a 'He's shit!!! He's... err... also for sale, if you happen to be interested' sign around Niasse's neck, that he'd effectively (not to mention needlessly) eliminated the option of ever being able to call on the player in a time of absolute crisis. A ridiculous situation to put yourself in with any player remaining on the books and still pocketing a sizeable wage from the club.
After being so forthright about Niasse's chances of ever featuring for the club again being a little below non-fucking-existent, there was no way Koeman could ever back down from there on out. Shows what I know, because that's exactly what he's done.
A fairly brave decision for me, given the current mood, because even the lad looking just bang average in an Everton shirt was bound to lead to people eagerly perceiving it as plenty more egg just waiting to be wiped from the managers jowelly face. For Koeman, personally, such a scenario could never be considered an outright win, unless all he's arsed about is Everton winning. Thankfully, that seems to be the case.
It doesn't matter that he's not leaping on the lads back, ruffling his hair and enthusing about how their former-rival-turned-trainer relationship spookily mirrors that of Rocky and Apollo after Mick was basically murdered by BA Baracus in Rocky 3. Koeman putting the player in the match day squad and giving him actual minutes on the pitch counts far more than a few empty words of apology ever could at this stage of Niasse's nascent Everton career.
Lev Vellene
170
Posted 23/09/2017 at 19:45:04
"Niasse the hero with two-goal salvo."
"The discussion is now closed!"
Slip of the fingers, or was there some very bad words in there???
David Booth
171
Posted 23/09/2017 at 19:45:40
John (153), please enlighten me (and many, many others then), are Schneiderlin and Gana not defensive midfielders?
If that is not the case, we all clearly need to start re-appraising Koeman and giving him belated credit for his expansive, positive, attacking outlook!
John G Davies
172
Posted 23/09/2017 at 19:46:25
John (#165),
Does that link show you in a good light?
Brent Stephens
173
Posted 23/09/2017 at 19:48:16
Paul, yes, I suspect the reaction to Koeman on the rest of social media is pretty much as on TW. Maybe a bit less biting on the Women's Royal Voluntary Service!?
Robert Workman
174
Posted 23/09/2017 at 19:50:30
Kenny reminds me a lot of Tommy Wright. I just hope that he progresses as well as he did for Everton.
William Cartwright
175
Posted 23/09/2017 at 19:50:59
The criticism of the two defensive midfielders is understandable if football is played in theoretical models. However, in practice they can be the springboard for fluid, effective counter-attacking (and absolute attacking) football as well. If the 2 'defenders are able to turn defense into attack in a matter of seconds, using fast forward movement as soon as in possession, then the defensive tag becomes a misnomer. I thought Schneiderlin was showing signs of his last season's form in today's game.
Love it or hate it, defending is Koeman's first instinct and that may not be such a bad thing. Roberto's instincts were the complete opposite, for example. What makes both systems workable is if the right players are playing as a team and are expert exponents of the system at hand.
The thing is that, during the match, different 'systems' become more relevant and less relevant as the pattern of the game shifts back and forth, together with the bounce of the ball, the luck and not forgetting the quality of refereeing (take a bow Mr Atkinson, you pratt).
I have posted several times recently how disappointed I am with the football we are playing and assuming it is 'the system'. However, it is the selection of the system, as well as the players to operate it, and up until today the management of changing the system when required, that is the name of the game.
This is where he is failing. Both selections and management will change from game to game, and within games, but Koeman has definitely screwed up with his starting selections which makes his game management strategies seem like recovery plans and not opportunities to up the gears and score more goals.
His smugness in taking credit for using substitutes to 'change the game' misses his own point; if the selection and approach were right from the off, there should be less demand on recovery action. If recovery action is necessary, and it sometimes works (like today) then smiles all round, but he should focus on getting his basic management priorities in order first.
John G Davies
176
Posted 23/09/2017 at 19:53:03
David (#171),
I can confirm Schneiderlin and Gana are defensive midfielders. I can also confirm they are not "defenders" as you originally labelled them.
If you need any further basic football knowledge bits and bobs clarifying let me know.
Clive Lewis
177
Posted 23/09/2017 at 19:53:31
Oumar had a dream to play in premier league. He had no locker and was told to stay at home With Oumar in attack and Tom at the back, Everton... are on the way back.
But maybe we aren't, still think we were crap again. Niasse saved Koeman's job.
John Daley
179
Posted 23/09/2017 at 19:56:39
John @172,
I would have got away with it too, if it wasn't for you pesky kids (alright... arl arses).
John Hammond
180
Posted 23/09/2017 at 19:57:13
4 points off a Champions League spot. Don't know what all the fuss was about.
Seriously though, let's see the lineup that finished the game start on Thursday minus Schneiderlin. Not sure who i'd start in his place though.
Lenny Kingman
181
Posted 23/09/2017 at 20:01:57
Thank goodness he didn't score a hat-trick. New sensations from the past like Tony Cottee for instance, who do that early doors go on to bring nothing to the success of the Bblues.
Nice work, by the way, our African friend. Keep it going if you can. You may become a true blue legend, its all up to you.
Dermot Byrne
182
Posted 23/09/2017 at 20:03:22
Jay... you need to realise that for some, Everton FC is an arguably insanely huge part of their lives. So you will get OTT reactions. Speak to most face to face and you'd probably find very different people to their online personalities.
It's just a release. It is easy to think TW opinions have some weight when you spend too much time here. But they don't but that doesn't take anything away from the value of the site.
Mike Dolan
183
Posted 23/09/2017 at 20:04:43
I'm sure Koeman would love to play the same 11 best players every game, what manager wouldn't? But after playing just 3 days ago and with another game midweek do you not think might have had something to do with team selection today and again this midweek and again next weekend??? Do you not think that bringing on fresh legs against a tiring Bournemouth had just a little to do with Koeman's strategic nous or was it just blind luck as some of you are suggesting?
Good luck to Niasse but re the terrible treatment he was subjected to, it seems to have been forgotten that his transfer to another club was all arranged and he refused the move because his girlfriend didn't want to move. At which point he was banished. I don't think you can blame the club or Koeman – it seems to me that Oumar didn't exactly behave professionally on this one either.
Team selection next week your probably not going to be happy with because there is a little more that goes into it than merely picking your 11 best players. For now, though, it's congratulations to the players and the manager for an exciting win. If you can't play great then win ugly, I'll take that every game until the squad is settled and relaxed and we start to play with a little more panache.
Oliver Brunel
184
Posted 23/09/2017 at 20:05:39
Niasse is class!
Jamie Evans
185
Posted 23/09/2017 at 20:07:09
Jay Harris @ 168. THANK YOU!
Save the venom my fellow blues. Turn it into a positive. Let Oumar be your guiding light. We are all in this together. Including Ronald.

John Charles
186
Posted 23/09/2017 at 20:08:30
Just back from a pint after the game. A few more people than Wednesday but still like a morgue – Koeman, this is your doing with the shit served up.
Great day for Niasse and much needed win for us, but make no mistake we were poor again for most of the game. Pickford saving from Defoe kept us in it.
Rooney and Klaassen going off for Tom and Oumar galvanised the team. But Rooney for one was better than Siggy , Schneiderlin and Baines.
Williams was solid but Holgate was very weak
Calvert-Lewin was good again, particularly before the subs when he was much more central.
The Guinness definitely went down easier after the win but am still worried Koeman has no real idea what he is doing.
John G Davies
187
Posted 23/09/2017 at 20:08:49
John (#180),
Easier to work backwards. Rooney, Schneiderlin, Klaassen, and Sigurdsson can't start in the same team. I have repeatedly backed Koeman and still do. If he starts these four in the same team I can't defend it.
Next league game v Burnley, he can start with two screening the defense no problem, Gana and Tom for me. No Rooney, Klaassen or Schneiderlin in starting eleven for me.
Paul Windrum
188
Posted 23/09/2017 at 20:14:24
Sorry to disagree with some on here but that was an awful performance for 80 mins. The only outlet was Martina going forward, who played as a winger much of the time.
It was slow, ponderous and absolutely no movement. And the players seemed to have no idea of how to change it.
The positives were Kenny and Niasse (he looks dangerous from 5 yards out but not sure about anything else on the performance). Keeper saved us when we were 1 down.
Holgate had an absolute howler. On his arse for their goal. Simply not strong enough for the Premier League.
Ajax sold us a pup in Klaassen. No pace and weak in the tackle. Get rid.
Jamie Evans
189
Posted 23/09/2017 at 20:14:43
Gana needs a blow. Stunk the place out today unfortunately.
David Booth
190
Posted 23/09/2017 at 20:20:47
John (#176), for goodness' sake, you know exactly what I mean and meant. Why bother even making an issue of it?
Defenders/defensive midfielders... you are irrelevantly haggling about semantics here, when you know precisely the fundamental point I was highlighting.
Which is: our Dutch dunce of a manager starts with only four attacking players – or sometimes three – in EVERY game!
George Cumiskey
191
Posted 23/09/2017 at 20:20:52
Jamie Evans @147 – thank you, Ronald? Oh my God!
Anthony Jones
192
Posted 23/09/2017 at 20:31:12
We won in spite of Ronald, not because of him.
I was very hopeful that he would get us challenging for the top 4, but signing Rooney, Klaassen, and Sigurdsson had me concerned about how we would be lining up this season.
He continues to start an unadventurous team that is overloaded down the middle and severely lacks pace. This is not an entirely different situation to when Martinez was leading.
Tony Hill
193
Posted 23/09/2017 at 20:32:14
Klaassen was poor for us today and hasn't done much generally but I remain convinced, admittedly on instinct, that he's going to be a big asset for us.
I also think Sigurdsson will benefit from playing where he should be playing and we must remind ourselves that he has not had a proper pre-season.
I would drop Rooney and Klaassen for now and play Sigurdsson at No 10, otherwise we are wasting our 㿙m. That will free a lot of space to start to create the fluency we patently lack.
Paul Kennedy
194
Posted 23/09/2017 at 20:32:29
Please do not let us get misled by actually getting the win. For most of the game, we were rudderless – no real plan evident, panicky, sluggish and inept. We were saved by a few of players out to prove the clown in charge of us wrong.
Well done, Jonjoe, Tom and particularly our top scorer in the Premier League, Oumar.
So Koeman, swallow some arrogance and play players with a bit of form before you waste the money the club spent trying to get the big buys who are so desperately out of form to gel. We need to get the nucleus and team back playing as a unit, then introduce the players not used to the Premier League.
Give them a chance to ease in – unlike Oumar who most people (myself included) wrote off as a clown with no talent. The only one I really worry about now is Koeman; the others are proven talent... he is not.
Jamie Evans
195
Posted 23/09/2017 at 20:35:34
Dearest George @ 191. I thought I said "Well done, Ronald"?
John G Davies
196
Posted 23/09/2017 at 20:36:25
David, are attacking midfielders classed as forwards?
Keith Monaghan
197
Posted 23/09/2017 at 20:37:27
Chris @ 81 – agreed totally.
Jay @ 168 – sadly, you're also spot on.
Koeman has made mistakes -– all managers do.
The club is bigger and more important than all of us; today we got a much needed win in spite of a poor performance by us & a shocker by the ref – although Schneiderlin & Niasse both deserved their yellows.
Under the last 3 managers we've played 2 defensive midfielders in most games, and many successful teams do/have done.
Perhaps we need to 'cos 2 of our central defenders (Jagileka & Williams) are liabilities in terms of giving the ball away - neither of them are any good in the air and both are very slow – apart from Stones, we've had slow central defenders for years. We are also struggling at full-back. All this contributes to such slow build-up – then we have slow (apart from Gana & Tom) midfield players.
It was no coincidence that we were at our best today when we started to move the ball quickly with other players supporting the strikers – the introduction of Niasse was key in adding strength to the attack and support to Calvert-Lewin – Tom Davies was key, showing his usual energy and speed both on & off the ball.
We are work in progress, but not as bad as some would have us believe. Koeman has had money to spend but Man City's net spend on full-backs alone in the last window was bigger than ours on the whole squad. There was a big job to be done when Moyes deserted us & an even bigger one when his successor left, in spite of him making two excellent signings in Gareth Barry & Romelu Lukaku.
We need to support the manager & team – climbing a big mountain it takes time.
Paul Rimmer
198
Posted 23/09/2017 at 20:39:57
Can Niasse be added to our Europa League squad?
Paul A Smith
199
Posted 23/09/2017 at 20:40:30
David (#190). Those cryptic one-paragraph grammar kings seem to go around in circles talking about things that play on words. With very little match input.
I think most people know what you mean and it was rather obvious. If one person knows where your coming from, that's enough, mate. No need to chat with those looking to mark your essay rather than discuss the game.
Ian Riley
200
Posted 23/09/2017 at 20:47:32
Well done, lad! You have shown real class over the past 15 months. You haven't moaned publicly or turned your back on Everton. Got your head down had worked hard. All credit to you and thank you.
The signings this summer need to prove their worth to the team. Koeman should sit them on the bench. Earn your way into the team.
Poor first half and playing a better team may have been two or three down by half time. Start of games must improve. We always have the look of a team just finished a twelve hour night shift.
Koeman is having to make changes to rescue games which is a big concern. A big come back today but if Koeman doesn't learn from his team selections, it's going to be a long hard season for players and fans.
John G Davies
201
Posted 23/09/2017 at 20:48:27
Paul, that's 100 lines and detention for you.
I asked a simple question, if defensive midfielders can be classed as defenders can attacking midfielders be classed as forwards?
Have a go yourself if you know the answer.
David Booth
202
Posted 23/09/2017 at 20:50:08
I don't understand the point you are trying to make John (#196).
Mine is purely that Koeman sets up defensively. home or away, irrespective of who we are playing.
But as you asked, if I had to decide between two distinct classifications of defenders and attackers, I would say Schneiderlin and Gana sit in the latter category.
If you think they are capable of being bracketed as 'offensive players', then you and the Dutchman can take comfort from your admirable like-mindedness.
Raymond Fox
203
Posted 23/09/2017 at 20:53:57
Been talking to Koeman, have you, Jay (#168)?
John Keating
204
Posted 23/09/2017 at 20:54:31
A win is a win and even at this early stage we really need one any way we can achieve it. However let's be honest this should not gloss over the inadequacies of Koeman, his tactics and his team selection.
Today's named starting line-up just proves that he has learned absolutely nothing from the fiasco's we have witnessed both in the Europa League and Premier League.
Nobody is advocating that supporters know a fraction more than the manager but when so many of us, plus sports commentators, plus ex-players are in general harmony regarding where we are falling short, well, we can't all be wrong.
The next league game will once again determine if this manager is for changing his so far failed project. If he continues with his stubborn tactics and selection then he should be binned asap.
Jeff Armstrong
205
Posted 23/09/2017 at 20:54:32
He seems a decent person, runs his little socks off and knows where the goal is. What's not to like? The transformation from lockerless outcast to hero is a rare moment of genuine pleasure in a game dominated by money and bullshit. Sometimes, just sometimes, it's great being a blue.
Darren Alexander
206
Posted 23/09/2017 at 20:55:09
Like many, I'm delighted for Niasse this week. I thought getting a runout of less than half an hour on Weds was a stingy move by the manager - as if to say to the fans: here you go, and this is why I don't pick him. Happily, he scored a goal any striker would be proud of, and the fans and his teammates were made up for him. While that goal was the icing on the cake for the team, today's brace was critical to turning around a game that seemed to be trickling away from us.
As with many others in here, I'm just pleased the guy's been given a chance - however grudgingly - and has responded so well. We all give him credit for his attitude through this lengthy nightmare, but perhaps more significantly, many a player would have had their confidence completely shattered by such treatment, but he clearly believes he can do a job for us. And he's right - if all he does is score, that's fine by me. We all know of many strikers who haven't offered much in other departments but know where the goal is, and while I'm not saying he's a Lineker or whatever, he does seem to be at least adequate.
I don't think we'll ever know quite what went on with his transfer to us from Russia, but I can only guess that Martinez brought him in as backup/replacement for the whinging Lukaku, who even back then was pissing and moaning about deserving Champions League etc. But what followed was a sorry, stressful and needless tale, and his treatment by the manager probably caused bad feeling across the squad - his teammates seem to like him, and can't have been impressed by the bullshit treatment - no squad number, no locker etc. I think the board should have intervened, and shouldn't have let the manager behave like that.
Anyway, it's nice to see the boy get off the mark. Does this mean I think he's a world-beater? No. But he has scored 3 in what, an hour of football, in a team that looked like it had completely forgotten where the goal was. And given our farcical transfer window on the striker front, he does at least look and play like a #9, and with him and/or DCL up front I have a bit more hope. Sandro at the moment looks to me like a squad player, but I hope it works out for him. But today belongs to Niasse, but I just wish his journey to this point hadn't been so unnecessarily unpleasant. COYB.
John G Davies
207
Posted 23/09/2017 at 20:56:14
I didn't ask that though David.
I asked a reasonable question.
If you describe defensive midfielders as defenders would you describe attacking midfielders as attackers?
You are labouring the point, not me.
Simple answer to simple question and we're sorted.
You started the "can you enlighten us" plums that set the tone.
Gary Edwards
208
Posted 23/09/2017 at 20:57:14
Spare the lecture, Steve Brown, everyone is entitled to their opinion and to change their mind.
It was clearly evident to those of us who watched the U23s last season that Niasse was reasonably competent and in a defined system where the ball moves forward, pumped into the channels, supported by width and at pace, he functioned; more so, he added value. He was a willing worker, scored goals and liked by his team mates.
Today's game same old, same old Koeman shite until the U23s are played and with it bring some resemblance of a system... and hey presto.
Chris James – what's your agenda mate ? Koeman is making too many mistakes now that's a fact.
Dave Abrahams
209
Posted 23/09/2017 at 21:05:58
Just before the start of the game I turned to the lad who sits next to me and asked him if he was nervous about the result of the game. Without thinking he said "Yes definitely, even more so when I saw the team. " I said "Why I asked you is it shouldn't be like this, we are only playing Bournemouth, but I'm afraid we will not be good enough to beat them."
For the next hour or so my fears where confirmed. Then Koeman turned a mish-mash of a team into one that looked and played lot better, simply by putting players with energy and purpose on the field, energetic players replacing dilatory ones, players who wanted the ball to ones who couldn't hold onto the ball, players who could make quick simple passes without giving the ball away to the opposition; basically players who wanted to win and proved, today, they had the will to do so.
Will Koeman learn? More importantly, will he change his stance on team selection and formation? I hope so; my ageing ticker can't take much more of the first 60-odd minutes of today's mind-numbing football.
Christy Ring
210
Posted 23/09/2017 at 21:10:23
Niasse would have been gone but for his greedy agents, and has taken huge pressure off Koeman. I believe Martinez was a lot more professional than Koeman, whose comments in public about Niasse and his treatment of Barkley, are the reason he wants out.
Koeman after today, has to see his formation since the start of the season, doesn't work, no shape, no width and no pace, and you can't play 3 No 10s together.
To say that Davies has had a difficult start this season, is also pure nonsense, he showed today, play him in his proper position, and you'll see a hell of a player, and with Niasse beside Calvert-Lewin, we're a lot more potent.
Jim Wilson
211
Posted 23/09/2017 at 21:14:50
Only the blind can defend Koeman. He is a joke and the striker he wanted to sell saved him today in what was a horrific team performance after him spending £200m.
Our best players are mainly the ones he doesn't want to play. Sack Koeman and bring in Unsworth and Ferguson – they will not be as bad, and hopefully will be a lot better.
John G Davies
212
Posted 23/09/2017 at 21:17:10
Dave, spot on mate. I couldn't see us scoring to be honest,even after the subs. I thought he should have brought Lookman or Vlasic on before Jonjoe as we lacked width, he relied on Kenny for that width. All was well in the end though.
Too many like for like players in the one area, Rooney, Klaassen, Schneiderlin, Sigurdsson. No pace at all. The four mentioned can not start in the same team again.
We needed to up the tempo and pass forward (on the floor) more quickly to get the result.
Steavey Buckley
213
Posted 23/09/2017 at 21:20:17
Unsworth should be credited with bringing along so many young players and got that young Niasse up to a standard to be the core players of Everton's first team plus Pickford, Vlasic and Keane. On today's showing, Everton have an excellent front two of Niasse and Calvert-Lewin, who played so well together in the Premier League 2 with Everton Under-23s.
Pickford
Kenny
Holgate
Keane
Davies
Calvert-Lewin
Niasse
Calvert-Lewin
Lookman
Vlasic.
Clive Lewis
214
Posted 23/09/2017 at 21:27:35
I remember we were oay then there was a real spell that was just awful. Gana was good upto that point. Headless chickens again and it all reminded me of a relegation tussle.
Yes we won the game but it was no turning point.
Sad fact is that we are stuck with Koeman for several months of this..
Duncan etc celebrated in a way that was a kin to a man realising that we cannot sack a management team that is winning.
This is just a blip on the inevitable, that is the eventual sacking if Koeman.
Darren Hind
215
Posted 23/09/2017 at 21:32:43
"If he likes to play football he needs to find another club"
"They (Davies and Holgate) are not ready"
"Liverpool will fight for the title"
"If he doesn't sign by the end of the season he will be sold"
"They (the fans) don't understand"
"Jose's a twat for calling me out"
Okay, the last one wasn't a direct quote, but, the others are fantastic examples of Ron "telling it like it is"! ...The funnier it gets

Jim Jennings
216
Posted 23/09/2017 at 21:36:44
David Booth (#148 & #153) etc
As pointed out by others, two of that six are midfielders. By your logic, Koeman picked four attackers today. A bold 6-0-4 formation – very adventurous.
Do you see now how redundant, simplistic and incorrect the point you are trying to make is.
David Booth
217
Posted 23/09/2017 at 21:37:40
John (#207), not wasting any more time discussing such irrelevant interpretations with you. Nor can I fathom your desire to have the last word. If you want it, you may have it.
I meant nothing more than the fact that – as I have succinctly tried to make clear on more than one occasion now – Koeman picks overly-defensive teams. Without fail.
Schneiderlin and Gana are the embodiment of that negative philosophy. Classify them as you will.
I see white. For some reason, 200-odd posts into a thread about the game, you are doggedly determined to see black.
I'm going to focus on what I think are points relevant to the thread now and the quaking foundations of our manager's perpetual 'build-a-wall' policy.
If you want to continue going round in circles, the stick's over there... go on boy... fetch!
David Booth
218
Posted 23/09/2017 at 21:38:29
But be quick... Jim wants it too!
Joe Hurst
219
Posted 23/09/2017 at 21:39:24
Oumar
His treatment was a shocker
Oumar
He didn't have a locker
Oumar
He was dumped on like a docker
Oumar
Good reviews, they're gettin chocker
Ain't having something to smile about great?

Jim Jennings
220
Posted 23/09/2017 at 21:40:45
And of course The Hind doesn't miss an opportunity to have a pop at the manager, even in victory.
Dan Davies
221
Posted 23/09/2017 at 21:40:50
First of all, congratulations to Niasse. This is a lesson to anyone who has been shat on or who currently is being shat on in life. His humility and strength of character is humbling.
Today's mighty oak is yesterday's nut that held its ground.
Secondly, congratulations to Koeman for swallowing his pride and allowing this to happen. Maybe this is a turning point.
Onwards and upwards Blues!
Tony Abrahams
222
Posted 23/09/2017 at 21:41:10
I'm just wondering if these alleged injunctions are playing on Koeman's mind a bit too much? A similar thing happened to Rooney during the 2010 World Cup, when England's best player played terrible, probably because he had other things on his mind?
Back to the game:, slow, predictable, and exasperation, and I'm sure the only reason the crowd never went berserk, is because they knew it was the managers, rather than the players fault?
I asked what his back-room staff were doing to help the boss, and hope that the penny might drop with Ronald after this. Give the crowd something to shout about, and Everton, will always feel like they have 12 players when they play at Goodison.
It was an educated crowd today, Koeman, try and understand us, we stayed with the team, (and deserve credit for this) but it really was ready to explode on to you.
Mike Connolly
223
Posted 23/09/2017 at 21:42:06
I think the club should be ashamed how Niasse has been treated. The club are always praising themselves on what they do in the community and also what they do for ex players.
However, higher positions at the club did not have the balls to tell Ron that we don't treat our employees like this. Now go and get his locker, Niasse has saved your job today.
John Pierce
224
Posted 23/09/2017 at 21:49:49
Strewth – that was a shit show for 70 minutes, wasn't it?
We all knew he would play his key signings and shoehorn all three identical players into a patch of Goodison Park no bigger than a play pen.
It selection was horrible in its inception, little better in reality and it was finished by rolling the dice on his Everton career.
Koeman is one lucky 'muther of a manager. He had no control over that game was his arrogant self in his selection, pure indulgence. Turgid, side ways defensive shithousery.
The lack of energy, verve, tempo and urgency in that team makes Goodison what it is, a library – sorry, that's a place of learning, moreover a morgue.
Surprise, backs against the wall and the introduction of energy and desire which all three subs had, saved his job for a week or two.
But actually when two youth products and a write off save your ass, that really should make an owner question his manager's judgement.
Make no mistake this papered over a chasm of a crack and today is no more than respite from under the yoke of Koeman and his joyless attempt at management.
To end on the high notes; Pickford – take a bow son, one very handy match turning save got us from under the axe.
Tom Davies's through ball from behind the Street end looked fantastic, nice one lad. To finish on the lad, our Oumar bustled his way with some skill and a third man run to score the first and with added brio bundled home the winner.
Nice to win. Koeman Out!
Peter Healing
225
Posted 23/09/2017 at 21:50:20
Niasse has got to be on the cover of the next matchday programme – it will be a sell-out!
Jay Harris
227
Posted 23/09/2017 at 21:55:29
I don't understand your point, Raymond.
Paul A Smith
228
Posted 23/09/2017 at 21:55:32
John G Davies. That's a good question, mate. I don't know if its one that has a different point of view from person to person or if one is a set in stone.
Brian McClair was known as a forward but he sat in midfield when Man Utd never had the ball. He then became the furthest midfielder.
That's just one that springs to mind as I remember his role being talked about when I was a youngster. Back then a forward was different from a striker. For instance ( sorry to use United again) Rooney forward Van Nistlerooy striker. Again, somebody else might use either term to describe one position.
I think David was stating Schneiderlin is there in the team purely defensive minded and therefore is like a defender in midfield. I would say anybody who never runs beyond the furthest midfielder or certainly the forward in every attack, is defensive.
Tactics basically determine a players mentality.
Just finishing my first page of lines now... x
Antony Matthews
229
Posted 23/09/2017 at 22:08:51
Tell Oumar Oumar, you have no locker key,but your going to Wemberlee, tell Oumar Oumar. (Hopefully fully)
Jerome Shields
230
Posted 23/09/2017 at 22:10:30
Niasse has saved Koeman's bacon, I hope he appreciates it. I doubt it. It's obviously that Niasse is better than the players he has brought in and good in front of goal.
Koeman's original selection shows you everything you want to know about his management capabilities. If Rooney had not been injured , Niasse may not have got a game.
The encouragement of Niasse by a section of the fanbase and his management by Unsworth are in contrast to Koeman having no choice but to make him reluctantly part of the squad, omitting him from the Euro squad. Then play him because he had no one else. Everton are paying ٤ million a year for this standard of management.
Great for Niasse. Hopefully he will last longer at Everton than Koeman. He deserves to; Koeman doesn't.
Jay Woods
231
Posted 23/09/2017 at 22:12:39
Niasse showed real striker's instinct, sure, but he also showed impressive physical prowess in terms of his mobility and even more so, in terms of the power and agility behind his first shot. Like most of you, I am really pleased for him (and happy to see that big smile of his after all he has been through).
Maybe this could turn out to save Koeman's hide. Well... for now, that is, as he seems to have enough self-destructive obstinacy in store to ensure his own undoing eventually.
John G Davies
232
Posted 23/09/2017 at 22:13:12
Good lad Paul.
Just do 50.👍
I was just pointing out the sticks people use to beat Koeman. He without a doubt plays too defensively, anyone can see that.

Steve Pugh
233
Posted 23/09/2017 at 22:15:04
I am not going to comment on the game nor get involved in bashing fellow ToffeeWebbers. I am going to ask a question:
How many goals will Niasse need to score before he gets a start? Has he done enough or will he be back on the bench next week?
Okay two questions. Sue me.
Nicholas Ryan
234
Posted 23/09/2017 at 22:19:07
On the subject of strikers, and their goals, the late Bill Shankly once said: 'Don't tell me how, just tell me how many'.
Oumar Niasse may go into Koeman's office and say: 'Boss, don't ask me how, just ask me how many'.
But, then again, he's so unbelievably humble, he probably won't!
Mark Murphy
235
Posted 23/09/2017 at 22:33:33
I was looking forward to coming on here all smug like and lambasting all those negative sods who had made their mind up in advance that today was going to be shit.
But you know what? I've gone from pro to anti Koeman as a result of the win he so desperately wanted. We we're shite for 70 minutes and a decent guy who he publicly shat on saved his bacon! I'm fucking made up for Oumar (and Tom Davies) and I'll be watching Koeman closely to see if he learns from this!
Defensive formations are understandable at Old Trafford or The Bridge – but unforgivable at home to fuckin' Bournemouth who hadn't scored an away goal before today!
John Pierce
236
Posted 23/09/2017 at 22:34:50
Can any 'Street-enders tell me if Niasse's header crossed the line before he poked the rebound in?
Looked well over but never got anything conclusive.
Stephen Wissett
237
Posted 23/09/2017 at 22:42:05
Get out of Jail result for Koeman today. Bereft of productivity, the team formation again was nothing short of negativity.
I just don't get it! Two holding defensive midfield players, 3 number 10s, two starting out of position, the one left on the pitch after the subs playing on the left side of the midfield.
Why can't Koeman be more productive himself by playing a more progressive formation and playing players in their correct positions, beats me.< Perhaps he's not big enough to admit that things aren't working, and that players can't play in any position selected.
Brian Wilkinson
238
Posted 23/09/2017 at 22:46:09
Jim @220,
Darren dos have a point, yes we won today but the starting line up smacks of Ron shoehorning his players he signed into the team no matter what.
How many times does Ronnie have to rectify his mistakes in a match, over and over again, he even says I made changes.
How many more times does he have to rectify a fix before the penny drops, play the majority of the players that played last Wednesday and start with the players that came on today that pulled Ronnie out of the shit, stick to a formation that is not misshaped all over the park.
It's as easy as playing Kenny at right back, Tom Davies and Gueye in midfield, stop overcrowding the midfield and attack, play Calvert Lewin as a centre forward and not a winger and finally play Niasse, Ronnie is that clever he has not even put Niasse as a registered player in the Europa League.
Now he will no doubt get it right, may bring us Silverware, but not if he sticks to playing his favourites over players in form.
Soren Moyer
239
Posted 23/09/2017 at 22:58:10
Thanks to Niasse, we are out of the relegation zone but we got lucky today with Defo missing a sitter when we were one-nil down.
Koeman has no idea what he is doing. Signing Rooney was a mistake not to mention selecting him every week. Baines is not a Premier League player anymore. Klaassen and Williams are not good enough.
Yet again Martina was exposed and not to mention playing 3 number 10s. Sack this fraud!
Tony Hill
240
Posted 23/09/2017 at 22:59:05
John (#236), I sit in the Park End but YouTube suggests strongly that it did. No doubt, MotD will tell us, if Gary gives a fuck.
Hugh Jenkins
241
Posted 23/09/2017 at 23:50:56
Steavey (213). We are only short a left back there, for a full house.
Any suggestions?
David Hallwood
242
Posted 23/09/2017 at 00:04:26
Just watched the highlights on Sky & MotD: their goal and the Defoe sitter... erm could someone explain the point of 2 DM's in front of the back 4? Obviously they give nothing offensively, they're there to protect the back 4. So why was King & Defoe able to waltz through without a midfielder being within 20 yards?
BTW, Ronnie if you're reading this, Calvert-Lewin, Davies & Kenny aren't the future of EFC, they're the here & now. They should be the first names on the teamsheet.
Dave Long
243
Posted 23/09/2017 at 00:07:07
New children's book in the club shop for Xmas, "Oumar and the invisible locker". Modern-day fairy tale.
Brian Wilkinson
244
Posted 24/09/2017 at 00:12:48
Spot on David@242, overcrowding with defensibve midfieders is the problem with Tom Davies, it is too compact giving Davies and Gana no room to play their box to box style of football. Playing Davies in the middle instead of out wide also helps.
Damian Wilde
245
Posted 24/09/2017 at 00:44:24
Koeman's interview on MotD, weird. He said after the changes we went more direct, we were more aggressive. Why the feck were we not like that from the off? It was Bournemouth at home ffs!!!
Great finish from Niasse. Played very well.
Will Koeman revert to type against Burnley and play the same starting 11?
Will Mabon
246
Posted 24/09/2017 at 00:48:57
Chris @ 81:
"Koeman may have many faults and be making some selection mistakes but to say he's managed the situation badly is just plain wrong."
I think you're a little behind the story. You seem to be defending Koeman for a "Super clear" decision re. Niasse that Koeman himself has reneged upon.
To recap: Koeman publicly said Niasse had no future here and should look for another club, allowing him to leave on loan to Hull, but today he brought him on to the pitch, and witnessed him win the game for us.
Dave Bowen
247
Posted 24/09/2017 at 01:40:50
You only had to watch Niasse play for a (very poor) Hull side to know there was a player in there. 3 from 8 for Senegal isn't bad either.
Today's starting XI was so unbalanced you have to wonder what Koeman was thinking. Is he trying to get his compo or just trying to justify his massive outlay this summer.
Either way despite today's result, he's a dead man walking. As for judging players on 45 or 90 minutes of a pre-season friendly, has he even watched Sandro or Klaassen?
Clive Mitchell
248
Posted 24/09/2017 at 01:54:10
Not had time to read much of the comments since we got back, but apart from match-winning Oumar and very creditable performances from Dom and Tom we were utterly dire.
It's shocking that Koeman started that match with Rooney, Klaassen and Sigurdsson in the 11. Two of those three is one too many, and to have all 3 at the expense of a place for Davies is ridiculous. It left Calvert-Lewin trying to battle their defence on his own - and he did well – while this was Rooney's worst game of the season and Klaassen and Sig made literally no impression on the match at all.
We barely deserved a draw never mind a win, and wouldn't have got either without Davies' and Niasse's energy and desire. Then Koeman in the post-match we've seen since we got back seemed to be claiming credit for changing it at 0-1. Sorry, just absurd, Ron.
Jim Jennings
249
Posted 24/09/2017 at 02:38:23
David H (#242)
"could someone explain the point of two defensive midfielders in front of the back 4? Obviously they give nothing offensively..."
See who won the ball back in our left wing position for the first goal. Then see whose pass sets the move going for the second goal. Hint: Gana & Schneiderlin.
This "playing two defensive midfielders at home = negative" is one of the most oft repeated fallacies presented by ToffeeWeb's band of armchair tacticians.
Pete Clarke
250
Posted 24/09/2017 at 02:38:52
Just a few points on the game.
We we're very unbalanced again and I don't see how he can continue with this selection. Rooney for me has to be left out as he gives the ball away too much. Schneiderlin has to be rotated with Gana in Games with Tom Davies given one role in there.
How many players would attempt that pass for Niasse first goal let alone a young lad like Tom? His work rate and desire are unbelievable and is learning the game fast.
Pickford kept us in the game with that save but I'm already sick of this big punt up the park because we can't play it out. He's obviously being told that it's okay to do it but who wants to watch that?
Bournemouth swarmed all over us early second half and this will be costly against better teams so Koeman is picking a very unbalanced team and needs to sort this out.
Derek Thomas
251
Posted 24/09/2017 at 03:22:52
Koeman was 'forced' into changes mid week due to the rotation policy. He was 'forced' into changes by Rooney's eye and the fact that we were 0-1 down and very nearly 0-2... Defoe and Howe must be kicking themselves at that miss.
He keeps reverting to type though: each week we say he must start with most of the team that finished Vs xxxxxx – But he doesn't.
Apollon & Burnley next, He must start with most of the... you know the rest.
Koeman still doesn't seem to know his best 11, nor how to play them... This is the 3rd Manager I've written this about. Getting a bit sick of it.
Niasse is just the paper over this crack... Who'd a thought that a bang average, if slightly unpredictable player, would score in a partially rebalanced team missing 2 of the, up to now, compulsory 3 No 10's.
But will he? He won't have Niasse on Thursday to pull his plums out of the fire... and Trebilcock-esque fairy tale super-subs sometimes don't have a long shelf life.
But in Calvert-Lewin Walsh (if it was him) has spotted a cracker. A run in a balanced team and a bit of support for him up front and he'll score.
However unlikely it might be, I still wouldn't mind if Koeman went tomorrow.

John Pierce
252
Posted 24/09/2017 at 04:04:45
Jim,
Some quiz questions for you, 'cos I think you're way off on the defensive midfielder thing. Sorry cannot agree.
Sitting comfortably in your armchair? Chortle!
Who was ambling back for their first goal? Hint it wasn't Gana, cos he wasn't in our half, it was his mate Morgan
Who has wrecklessly been sent off this season and was pretty close today, pulling out of a tackle in the first half on a yellow; hint he's French.
Who slid in needlessly at OT last week to concede a penalty with his hand. Yeah, three for three, Mr M Schneiderlin.
Who let Harry Kane have the freedom of Goodison park a couple of weeks ago. Tough one but a shot in the dark... erm, Schneiderlin.
Who often turns in little semi circles towards his own goal when receiving the ball? Come on now you know it. Yup, Schndeidey McSchneiderlin.
Hard to defend a player who is bang out of form. Even harder to defend him when his fellow defensive midfielder has little or no passing range, or an eye for goal.
Utterly negative and unnecessary against most teams. They sit deep, dragging our team position backwards, slow the tempo and provide no incision in the final third. They invite pressure and squeeze our own defence into sagging back.
Good defensive midfielders are rarely sat breaking up play on the edge of their box, but pushing the team upfield and keeping the pressure on the opposing team. They're not defensive midfielders – they're just midfielders.
And who asks them to play like that, I wonder? Hint: it's not Schneiderlin this time.
Sat in my armchair!
David Currie
253
Posted 24/09/2017 at 05:21:50
Nick (#162), players in form but Sigurdsson has been shit in every game so far, has done nothing apart from one fluke of a goal. He should be dropped and made to fight for his place. For £45M we should be seeing more.
Phil Sammon
254
Posted 24/09/2017 at 05:28:50
David (#253),
The very fact you consider that goal a 'fluke' makes me think your opinion may not be worth listening to.
Mark Tanton
255
Posted 24/09/2017 at 07:06:38
That first goal of Niasse's was excellent. Leaving aside the fact he started the move, his first touch was perfect and he still had a lot to do before smashing it in. His second goal was pure aggression and reactions – two things we've been sadly missing this season.
Anthony Hawkins
256
Posted 24/09/2017 at 08:09:32
Every team needs some youth and exuberance to succeed. The Class of '92 had a good number of its academy come through to provide that. It looks like Everton's model and trajectory could be very similar. It can't be fought but clubs have to pay over the odds for players who retain that drive.
Michael McCarthy
257
Posted 24/09/2017 at 08:33:16
John (#169),
'a lightbulb moment whilst straining on the crapper'
Brilliant, let's hope for a few more similar moments from the Dutchman.
Phillip Warrington
258
Posted 24/09/2017 at 08:53:52
The man Koeman tried to bury has just come and dug Koeman out of a hole. It proves one thing – the Everton U23 squad has what it takes to be competitive when they step up, as proved now and on many other occasions.
But not only that – I would say Unsworth would get more out of these players than two-faced arrogant Koeman. It's near impossible for a manager to come back from publicly blaming his players for how the team is playing and that they're not good enough to compete against the top six.
Paul Swan
259
Posted 24/09/2017 at 09:04:42
I know there was a lot of debate about this after Wednesday but did anyone see Koeman's reaction to the first goal yesterday? I played this back several times on Match of the Day.
Behind him - Ferguson is doing his nut jumping up and down, Koeman walks back head down and gobs on the floor. Strange reaction, even my wife said he looks like we just conceded rather than scored.
I know it was only a brief clip on the highlights so apologies if I missed him sliding up the touchline on his knees before that but his kecks (at least at the front) looked clean.
Nick Lacey
261
Posted 24/09/2017 at 10:00:51
Dave (#253). I agree that Sigurdsson hasn't been the best this season, but why pay £45m on a number 10 and then play him on the wing. You can't criticise a player for not making an impact when they are played out of position.
Also, due to the debacle of buying him, he played no pre-season games.
Dave Williams
262
Posted 24/09/2017 at 11:03:09
Niasse looked very sharp, quick, aggressive and had desire. He was strong to hold off the defender for the first goal and had no right to win the header under such pressure for the second. Okay his close control might not be perfect but he sounds a lot like Lukaku based on my description above.
Many goal scorers of the past lacked good close control – McDonald, Lukaku, Kerry Dixon, Steve Bull – players not of the highest calibrate but they all knew how to score.
It will be fascinating to see if this is a brief cameo from Niasse or is there more to come? He looked good to me yesterday and far better than anything we have to play alongside the excellent Calvert-Lewin who so many on here derided as crap a month or two ago.
So dangerous to write off Klaassen et al just yet!
Dave Williams
264
Posted 24/09/2017 at 11:05:43
ps: When I said he's sounds a lot like Lukaku, I meant to exclude desire from that!
John Daley
265
Posted 24/09/2017 at 11:15:20
Should an Everton manager really be reacting ecstatically to snatching a late equaliser at home to Bournemouth?
Even if Koeman began leaping around like a loon, before pointing to all four corners of the ground and throwing his top layer of clothes to the ground, to reveal a t-shirt with a big picture of himself and his brother dressed in armour with the words "strong>The Knights Who Say Ni...asse" splashed across it, people would have simply switched their criticism to "Cor, what a fucking cheek Koeman's got. Mr Cold Shoulder himself, acting like he deserves some credit when he was so desperate for Niasse to disappear, he probably spent all summer trying to knock up one of those cryogenic prisons they chucked John Spartan's arse into in Demolition Man".
The manager certainly seemed rather less restrained when Niasse scored the winning goal. Maybe he'd got his spittle drenched display of disgust out of his system by then, or maybe a goal to hand his side the lead and a likely win merited more of a reaction than the first?
Personally, I hope Ron runs with the "gob at a goal" idea and look forward to seeing him stood on the touchline with his fist rammed right up Spit The Dog's arse as Niasse slots a hat-trick against the red shite.
Derek Knox
266
Posted 24/09/2017 at 11:16:14
I have just watched again, both of the Niasse goals, and when you include Wednesday night's goal too, they all required a degree of skill.
I am not getting carried away, and proclaiming he his World Class, he would probably be the first to admit that himself, but he is no mug, or just an incredibly lucky dude.
He is however, a shining example of what can be achieved by hard work, resolution and that determination to show everyone, they were wrong about him.
It would have been a lot easier for him just to hide in the shadows, I presume he is on a decent wage, and fade into obscurity, but no, the lad has proved the mockers wrong, and catapulted himself into consideration for at least a place on the bench.
All this and coming through it all with his head held high, good on you Oumar, and let's hope you can get a few more.
All these accolades for Niasse, are still masking the glaring problem of Koeman's unbalanced team selections and tactics, unaddressed.
Now there's a thing, after the abjectly poor performance against Atalanta, we have Apollon on Thursday, and I believe that Niasse is not even eligible to play, because he was never on the projected team squad sheet submitted.
Does that sound like astute management?
Niall McIlhone
267
Posted 24/09/2017 at 11:19:02
That man from Senegal
We are now all in his thrall
The man has no locker
But no, he ain't no shocker
NIASSE! NIASSE! NIASSE!
Daniel A Johnson
268
Posted 24/09/2017 at 11:53:26
Let's not forget Niasse was almost shipped to Crystal palace on deadline day. Due to some last-minute hiccup, he never went.
This is pretty damning of the way Steve Walsh and Ronald Koeman run the player side of things. To think a team blatantly short of strikers were willing to get rid of one of the few strikers in the squad is incredulous.
Considering Niasse scored goals for Hull against Liverpool and Man Utd to not even attempt to integrate him into the squad this season given our lack of options was criminal.
It genuinely makes you ask what is going on.

Pete Clarke
269
Posted 24/09/2017 at 12:08:09
On the subject of Schneiderlin and Gana.
I'm not sure exactly what they do because they certainly don't create many goalscoring chances and very rarely score but, given that they are there to mainly to break up opposition play and shore up defence, how come we are leaking goals the way we are??
Tom Davies at 20 is light-years ahead of both of them technically, gets forward, helps at the back and his passing is pretty very good. Experience in positioning will come with games but what a player we have. There are not many players who could execute that pass through the eye of a needle.
Peter Gorman
270
Posted 24/09/2017 at 12:24:38
Jim @249
"could someone explain the point of two defensive midfielders in front of the back 4? Obviously they give nothing offensively..."
"See who won the ball back in our left wing position for the first goal. Then see whose pass sets the move going for the second goal. Hint: Gana & Schneiderlin."
Hint: It wasn't Gana it was No 19 Oumar Niasse. I say that not to be pedantic but to clarify why his goal was even better than you thought.
Mark Morrissey
271
Posted 24/09/2017 at 12:41:48
Koeman likes to play a defensive game. He packs the team with defensive minded players. It's just the way he wants to play the game.
The problem for me is that he appears to be a stoical creature. He's not a man who can change his ways. The team formation for the next game will be telling and so don't plan for Niasse to be named as a starter. We need to learn to accept that we have a manager who is what he is.
The players recruited are his players. He didn't want Niasse, not because the mans got a personal issue with Oumar. He just doesn't do strikers. He could have gone for Long from Southampton but he went for Martina. He is what he is.
A hypothetical question this but how would Ron have reacted if Oumar had run across to him when he'd scored the winner and attempted an embrace? I fancy Ron would have been somewhat confused, not because he dislikes Oumar but because he wouldn't know what to do. "Do I shake hands, do I hug, do I kiss him?"
My point is Ron is Ron and I'm not sure he will change. Let's see how he lines up next week. I fancy it will simply be more of the same defensive jitterings.
Steve Brown
272
Posted 24/09/2017 at 12:45:38
John @ 165, thanks for finding the link.
Dont think my confidence was misplaced. Hope Niasse proves us all wrong, including Koeman.
John G Davies
273
Posted 24/09/2017 at 12:53:41
John,
My mate I go the match with, a bigger Blue you could not find. For as long as we have been going the game (more years than I care to remember) he celebrates every goal with a clenched fist, doesn't shout or jump around.
I on the other hand jump as high as the owld knees will allow, whilst screaming obscenities along the lines of "Get in there, you fuckin bastard!"
I don't consider myself a better Blue than him; he doesn't consider himself a better Blue than me.
Brent Stephens
274
Posted 24/09/2017 at 12:58:58
John (#236) – slowmo clearly shows Niasse's first attempt crossed the line.
John Pierce
276
Posted 24/09/2017 at 14:37:26
Nice one, Brent. 👍
Jay Harris
277
Posted 24/09/2017 at 14:38:38
I don't believe Koeman is as defensive-minded as is being made out. If you watch him on the touch line he is always urging the players to get forward and play a higher line.
The problem is Williams and Jags are so slow they are reluctant to expose themselves and are consequently pulling other players like Gueye and Schneiderlin deeper.
I do however think we are unbalanced with Sigurdsson Rooney and Klaassen in the same team and, as I said before he came back, Rooney should not be in a team with Champions League ambitions.
Bill Watson
279
Posted 24/09/2017 at 15:29:15
Mark (#122).
Unfortunately, Niasse won't be selected on Thursday because, in his wisdom, Ronald didn't include him in his Europa League squad.
Paul A Smith
280
Posted 24/09/2017 at 15:40:37
John (#236) I hope you got your answer on the goal after the highlights.
Shame so many can't take a fair question seriously. Must be weird going into conversations thinking how cool can I look now. And never adding any insight from the game.

Derek Knox
281
Posted 24/09/2017 at 16:20:46
Bill @279, it will be interesting to see what formation he opts for on Thursday. It is glaringly obvious, even to the Finch Farm cat, that the ridiculous combinations haven't, and never will work.
Intrinsically, we have got good players, with a couple of exceptions. I think Klaassen has a good football brain, but unfortunately his feet and movement are not in synchronisation with it. Gana and Schneids should never be played together, Gana had a stinker on Saturday, but normally, I would give him the nod over Schneiderlin, who's form this season has been woeful.
Until Seamus is fit again, Jonjoe should continue in that role, likewise, Davies in midfield, he brings energy, youth and forward thinking into play.
I suspect, despite his heroics of late, that Oumar Niasse, would probably not be as effective if played from the start, I may be wrong, on that, but it is my opinion.
Koeman is proving to be very arrogant and stubborn in his selections, not unlike LVG was at Man Utd, and we all know what happened to him.
It's a pity that Koeman never reads the comments on this site, I know that would undermine his status, but collectively, apart from some, the fans have more experience of what Everton is all about, than him, he may then choose the right combinations, to get the best possible results.
We may not win every game, but at least we would play with spirit and style, and entertain.
Amit Vithlani
282
Posted 24/09/2017 at 17:46:43
He scores when he wants
He scores when he waaaaants
Oumar Ba-yeh
He score when he wants
Dennis Ng
283
Posted 24/09/2017 at 19:19:33
Well I guess Niasse would be fresh for our league games then. Forgot he was not included.
Darren Hind
284
Posted 24/09/2017 at 19:25:14
Nobody is asking Koeman to celebrate like Klopp – in fact the only people mentioning Klopp are those trying to apologise for him.
Koeman was forced to put Niasse on. The players he has spent a fortune on were well on the way to drawing yet another blank. He was out of options.
No, he doesn't need to do knee slides but it would help if he looked slightly pleased. All and sundry are reminding Koeman of his outright nastiness towards Niasse and he is as sick as a sea-going parrot.

Martin Mason
285
Posted 24/09/2017 at 19:30:13
Derek@281
Surely nobody is playing without two defensive midfielders nowadays? It may be that Schneiderlin and Gana aren't gelling as a pair but our defense is weak without going to one defensive mid.
John G Davies
286
Posted 24/09/2017 at 19:40:53
Did Ron celebrate the second goal?
Paul A Smith
287
Posted 24/09/2017 at 20:04:11
Martin (#285) I think some people want to see if we can hold teams back in a different way other than trying to keep tight. Which quite clearly isn't working. We really lack a player that dictates play from box to box.
Schneiderlin's short passing is far too slow to be that man and Gana lacks any real quality in passing. Besic tries to dictate play and moves like that player but again he is nowhere near good enough.
I still think we are suffering from terrible prioritising of new players for the positions we really need. Tom Davies is not there yet in terms of bullying opposition with strength and technique but he looks like he wants to be that player.
Raymond Fox
288
Posted 24/09/2017 at 20:22:07
Would the few in the thread who appear to be standing up for Koeman, please tell us what the managers good at?
If they can come up with one attribute, it's one more than I can!
John G Davies
289
Posted 24/09/2017 at 20:27:54
Telling jokes.
Jay Harris
290
Posted 24/09/2017 at 20:29:44
Much more than your hero Martinez, Raymond.
Paul Tran
291
Posted 24/09/2017 at 20:29:45
Speaking Dutchlish in pressers.
Paul Tran
292
Posted 24/09/2017 at 20:33:50
The best manager at not celebrating a goal by raising his arms, clenching his fists and breaking into a semi-trot down the touchline. My feed was fake news!
Raymond Fox
293
Posted 24/09/2017 at 20:41:05
You mean the successful Belgian manager Jay.
Can you think of any?
John G Davies
294
Posted 24/09/2017 at 20:42:09
Raising the dander of my fellow ToffeeWebbers.
Brent Stephens
295
Posted 24/09/2017 at 20:46:47
"Telling jokes". And keeping a straight face, looking at the ground, as he does so.
Darren Hind
296
Posted 24/09/2017 at 20:46:56
Martinez vs Koeman? Wow there is a question...
Roberto took us to bottom half... but then he challenge top four playing good football and Koeman doesn't even think that "realistic" – playing decent football, that is.
Who talks the most shite out of the two?
I can't split them. These two have done what many of us thought impossible – they've managed to make TGT look good.

Darren Hind
297
Posted 24/09/2017 at 20:49:40
Hope his jokes are funnier than those 2008 Edinburgh festival rib ticklers told by TW's very own Bernie Winters.
John G Davies
298
Posted 24/09/2017 at 20:50:22
Turning a mild mannered, genteel poster into a irate man. 😁

John G Davies
299
Posted 24/09/2017 at 20:52:40
Eeeeee chucchy face.
Ray Robinson
300
Posted 24/09/2017 at 21:17:14
When I first saw him play, I compared him to Bernie Wright and Rod Belfitt but, after yesterday, I've never been happier to admit that I was wrong.
I don't think I've ever been happier for a player to score the winning goal for Everton. And he looks so genuinely thrilled himself. Well done, Oumar!
Alan J Thompson
301
Posted 25/09/2017 at 06:17:32
I seem to remember reading that Arsenal nominated a squad of 40 for the Europa League while Everton only 26, I think. Is there a limit to squads for the group stages?
I still don't understand why you can't only play those who were registered before a certain date who haven't played in it for another team.
Paul Tran
302
Posted 25/09/2017 at 10:49:34
Darren (#296), someone asked me that question last week, I said neither. Then they asked would I prefer Moyes to them and I almost screamed.
Moyes did the basics very well, to the point that it ensured we were never going to consistently do anything else.
Is it too much to ask our powers that be to find a manager who can do the basics consistently well and also give us that extra shove?
Tony Abrahams
303
Posted 25/09/2017 at 11:08:40
I think that Koeman's biggest problem Paul, is that he wants to eliminate the basics. He's trying to get us to run, before we can walk, and it's making us crawl!
He picks what he considers his best players, even though they are never going to fit into a winning system?
I'm glad we won on Saturday, but it wouldn't have hurt me that much if we lost, simply because the crowd would have turned on the manager,who has got a good squad of players, but is doing nothing with them.
He's ruining both the team and the crowd, and if he can't see what giving us something to shout about, does for us all, then he really shouldn't be in the job.
He's killing himself and he's killing us in the process, signing a player with no pace for 㿙 Million, and putting him on the wing is the only example we need, to explain why this very highly paid manager, is not doing much to really earn his money at the minute? It's got to change... now!
Paul Tran
304
Posted 25/09/2017 at 11:46:29
Tony, I think he's going for shit or bust here. He's got it into his head that, if he plays this line-up often enough, Rooney, Klaassen and Sigurdsson will click together like a brand new gearbox. He's going to use Calvert-Lewin as a patch until the new mega-striker arrives(?) in January. That's why he bought these players.
I'd expect any manager to have more patience in his system & players than us fans. Time will tell If he makes it work.
James Marshall
305
Posted 25/09/2017 at 12:06:04
Tony makes a good point – you can't just shoehorn all our Number 10s into team simply because we have them.
They're all good players, and no new striker aside (let's call Niasse our new striker), the squad is good, and actually quite well balanced. We have wingers, and plenty of cover in all positions – okay maybe we could do with a left back, and Martina isn't the best but Kenny and him are both decent until Seamus is fit.
If you look across the squad though, we do have enough players in all positions, he's just not picking a balanced team from that balanced squad in my view.
Some of the players we have may not be world beaters, but it's the makeup of a team that makes it function properly – give the right players the right roles, and it'll start to function as a team.
Use some pace & width, and play with a striker. Use Rooney as a Number 10 and tell him not to try to do everything (defending and playing as a box-to-box midfielder is killing his game), use Sigurdsson as a number 10, not a wide player. Use Davies to drive the midfield forward. Use one defensive midfielder. Use a striker as a focal point.
These are players that can play these roles, just rotate them as required and stop over-complicating the way they play by creating such a narrow, congested playing area.
Open the pitch up for them and we do have the players to score goals and keep teams out. Simplify: round pegs in round holes.
Paul A Smith
306
Posted 25/09/2017 at 12:28:52
So many interesting points on this thread. The one paragraph cool crew must have lots of marking to do today, in Sunday supplement replies.
Overall this thread seems to be mostly filled with questions of whether Koeman can change his approach or not?
I don't think he can. He seems too set in his ways and he believes hard work will get us to the peak. Quality matters though Ronald.
This time last year he is in the paper telling Barkley to do more. Where is that message this year to about 8 of his favourites?
Tony Abrahams
307
Posted 25/09/2017 at 12:40:39
Shit or bust, Paul? Koeman's been in the game a long time mate, but it's surely never going to work with this squad of players? (Whatever he's trying to do.)
My first reason, is the most obvious, whilst not even talking about a centre-forward. If the width is to come from the fullbacks, then the final delivery has got to be so much better than the standard being set by Martina at the minute
A work in progress, or a system that will only work with the right type of players to perform it?
Nicholas Ryan
308
Posted 25/09/2017 at 12:44:36
My excuse for being Stoical and Humourless, is a Jesuit education: what's Koeman's?!!
Paul A Smith
309
Posted 25/09/2017 at 12:48:00
Too right, Tony – and Coleman would be a big miss for any team. I take all that into consideration in Koeman's favour but he doesn't seem very inventive?
Even in our best spell under him I didn't really see anything that was going to be a lasting success on the pitch.
We have never took a well-worked training-ground set-piece or anything that has set us apart from the opposition.
Paul Tran
310
Posted 25/09/2017 at 12:49:27
I'm not justifying it, Tony, I'm trying to work out why he's doing what he's doing. I'm not at all convinced by it, or his ability to communicate what he wants to the players.
In the last two games, I've had the impression that the 'Under 23' players decided to do what works for them, and it did. More of that on Thursday and beyond will do for me.
Paul A Smith
311
Posted 25/09/2017 at 12:53:43
Paul, are you obsessed with this communication thing? Who communicated at Southampton for him mate?
I do get you a bit but there has to be more than that surely?
I imagine trying to tell 7 defensive players or 6 midfielders with 2 on wings must be a bit confusing at times.
James Marshall
312
Posted 25/09/2017 at 13:03:25
Have you ever played football? You do realise that a manager can only tell players so much, and that there is another team out there whose players and tactics also dictate what goes on in games.
The way supporters on here lay every inch of what goes on on the pitch with the manager, it sounds as though you think he remotely controls them all.
Paul A Smith
313
Posted 25/09/2017 at 13:45:33
Brilliant, James, I bet nobody else thought of that...
I thought the whole idea of a manager's tactics was to outwit the opposition.
James Marshall
314
Posted 25/09/2017 at 13:58:01
Paul, my point is, that when you see players like Schneiderlin always playing sideways, or Baines turning back and not the crossing the ball when he has the chance, or a player making a mistake, mistiming a tackle, giving the ball away or generally not playing very well, that those things are not entirely dictated by the manager, are they?
Does anyone honestly believe that Koeman sends Baines out and tells him not to cross the ball? Or tell Schneiderlin to pass sideways? Maybe he tells Williams to distribute the ball badly? Does he tell Martina to position himself wrongly when defending, or tackle weakly?
I just can't see a manager giving his players those instructions, can you?
And when we're playing far too deeply, inviting pressure, is that Koeman's fault as well? Or does he stand there screaming and gesticulating at them to get up the pitch?
Maybe, just maybe, the players aren't doing the jobs their told, and maybe, just maybe, the opposing 11 players are having an effect on what our players do.
Yes, some of it is down to tactics, but not everything – I find it odd that supporters blame managers for literally everything that happens on the field. It seems like a media-fed blame-game as far as I can tell.
Paul A Smith
315
Posted 25/09/2017 at 15:22:31
Come on, James – how many comments have you seen saying Koeman is telling Baines not to cross? Nobody is that stupid, mate.
People are simply looking at how he lines these players up and where the pattern of play is. I always use Glen Johnson and Coleman of perfect examples of why a starting position is everything.
How many times did we hear that Johnson should be a right winger or Coleman could be blah blah? It can never happen because their work needs to start from deeper. Just like Baines.
What other manager would try to make Baines a wing back at 33 in his most moderate form. It's absolute criminal to do that and have no type of wide man around him.
Barkley is another that needs a bigger look at the pitch, how often is he crowded out or lost for angles?
Another way to look at your point, James, is to ask why he keeps picking the likes of Schneiderlin to repeatedly do the same poor play. Again that's down to Koeman.
A sensible manager would just ask players to do what they are comfortable with surely?
John Pierce
316
Posted 25/09/2017 at 15:47:12
James, they play that because there is no confidence, both in Koeman's tactics, in turn their own confidence is likely to shot too.
As a player when nearly all your options are behind you why wouldn't you play a sideways or backwards pass?
As soon as he picks players who can play further up the field in a formation that's more positive you will see players taking the safe option. Otherwise you are just booting it up the pitch.
The manager, James, is accountable – a quality he has shown to be sadly lacking.
James Marshall
317
Posted 25/09/2017 at 15:52:36
Paul, I didn't say anyone had directly said any of that – my point is that everyone blames the manager for everything that happens on the field, which is not realistic.
There are 22 blokes charging about out there, and the manager can only have so much influence is my point. If Baines runs from the fullback position to level with their area, then turns round, that's an issue with the player, not the manager.
Likewise if a player makes sideways passes all the time, that's down to him, not the manager.
If you only want to ask players to do what they're comfortable with, then I think that's exactly what you're getting at the moment.
James Marshall
318
Posted 25/09/2017 at 15:54:52
John – I disagree to a degree. A manager can only do so much, and you can't simply 'inspire confidence' in another human being merely by talking to them – well, only to a certain extent. Players are adult human professionals and should also be held to account.
The players never take any of the blame on here – it's always the manager 100%.
I agree his tactics are questionable, no width, no pace etc, but at the same time I just wish people would be a bit more balanced in who they criticise.
Paul Tran
319
Posted 25/09/2017 at 15:56:19
Paul, I am obsessed with it, because I think it's the root cause of his problems, like it was with Martinez.
Koeman talks about a fast, aggressive, pressing game, which makes sense to me, while the team plays another. How often have we been out-pressed? How deep is the defence? How come he's reluctant to play pacy players, other than Bolasie? How come the players look so confused?
I take your point about Southampton. I would argue that any half-decent manager with the players he had there and here, can organise a team and get 7th. We're looking for more than that. He's inherited and bought some good players. I think he's confusing them.
I took that piece on the Guardian Valencia story with a pinch of salt because it had been edited to suit the poster's argument. The one thing that stood out was that the Valencia players were confused by his tactics. Sounds familiar to me.
If anyone has a better explanation, beyond the he's a fraud / charlatan / Dutch melt stuff, I'd love to hear it. Either way, I want the board to make sure the next manager has a proven record at getting through to his players. Their present & previous choices are/were not consistently able to do this.
Tony Abrahams
320
Posted 25/09/2017 at 16:07:32
James, if the team was more balanced, I think you would have a much greater point?
Tony Abrahams
321
Posted 25/09/2017 at 16:17:54
Paul (#310), I get yer mate, it's Ronald, who is the one I can't get my head round either!
James, I know what you are saying, but it's obvious that our players are not getting properly managed at the minute.
We were poor for 70 minutes on Saturday, but it wasn't because of a lack of effort. It was more a lack of pace, and a lack of a real understanding, and this was probably why the fans stayed with the players, even though they were ready to completely turn on the manager.
Paul A Smith
322
Posted 25/09/2017 at 17:31:28
Tony (#320), the balance is massive mate the team needs more players that compliment each other.
Paul (#319), I wasn't being funny mate I think you have raised one of the many factors that have been wrong since the summer. We did however go on a great run of results from Christmas to March.
What has happened between March and now for the communication to go wrong? New players maybe? Or maybe too many new players.
I was worried this summer because those across the park finally bought quality over quantity. Certainly since the Premier League started anyway. I never wanted us to fall into that bracket.
Ben Jones
323
Posted 25/09/2017 at 17:47:24
I think the biggest criticism for me regarding Koeman is playing 3 number 10s in the free attacking positions behind the striker.
We are missing Bolasie very badly. He's the only proven winger we have really in the squad. I think we can make do playing Rooney and Sigurdsson. Utd do it playing Mata on the right with Mkhitaryan in the middle. The only difference is they have a Martial or Rashford on the other side and we have no one until Bolasie is fit.
Also, Davies needs to start playing in the easier home games. He has to start against Burnley. I'd drop Gueye personally. I think Schneiderlin played well in a deep lying playmaker role.
I'm fairly confident we'll be okay until January. Just hopefully Koeman won't make any rash decisions in team selection. There is a good balanced team in there that will cope until January.
Paul Tran
325
Posted 26/09/2017 at 09:19:35
Paul (#322), what's happened since March is that we drifted aimlessly from the heels of the top six to fifteen points behind it. Last season was all about a solid defence and a top class goalscorer. Our attacking play was every bit the mess it is now.
Not much has changed in my view, the players have looked confused and disjointed since he arrived. I thought/hoped this would change with the arrival of 'his' players. It hasn't, yet.
---
Add Your Comments
In order to post a comment, you need to be logged in as a registered user of the site.
Or Sign up as a ToffeeWeb Member — it's free, takes just a few minutes and will allow you to post your comments on articles and Talking Points submissions across the site.
© ToffeeWeb