Report
Abject naivety the final straw for pitiful Blues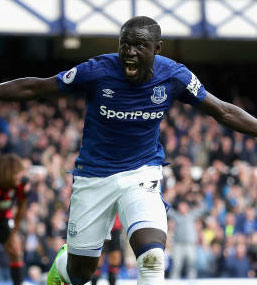 Oumar Niasse was handed a start but his naivety and technical failings were all too obvious
Everton 0 - 1 Burnley
Everton played their fourth home game in succession looking for a vital win, but lack of all the required ingredients meant a dismal result before the International break, and massive pressure now on the manager Ronald Koeman.
Michael Keane rejoins the team after passing a late fitness test but no place for Phil Jagielka. And Cuco Martina replaced Jonjoe Kenny at right-back, but it was upfront where Koeman selectsed not two but three attacking young players in Vlasic, Niasse and Calvert-Lewin, with Wayne Rooney finally rested to the bench.
Gana Gueye and Morgan Schneiderlin were still paired together in front of the leaky defence, where Williams continued to hold a starting place despite his persistent errors. Davy Klaassen sat this one out on the bench.
After the tribute to Alan Ball, who died 10 years ago, Burnley forced Everton to change ends and they kicked off, Baines getting in an early shot before Niasse had a chance to fire in at Pope. But Ward easily beat the hopeless Martina to whip in a really dangerous cross that was put out for an early corner.
A rapid transition saw Calvert-Lewin batting to create a golden chance for Sigurdsson whose shot was simply shameful, bobbling into Pope's hands. A pathetic attempt.
More pressure on Burnley and the ball flying around their area but Everton unable to chisel out a real chance, Baines head . Vlasic was next to go on a great run and play in Niasse but he was taken out along with the ball in an excellent defensive tackle, no penalty.
Next it was a swift attack by Burnley that saw Pickford parry a difficult attempt and Everton attacked again but Geuye's shot was blocked. Burnley were defending well and preventing the Blues possession generating any real chances.
The rabid early pace slackened a little after 15 minutes.But another hopeful move saw Sigurdsson and Niasse link well, but Sigurdsson could not fashion a shot from close range. Vlasic again tried to run through the Burnley defence but was blocked.
Vlasic won a corner after more good work from Calvert-Lewin, Sigurdsson playing this one deeper, and easily defended. But a better move by Burnley saw Ward cross well again for Hendrick to score far too easily after sending Pickford the wrong way.
The early optimism of a young attacking side drained away visibly as mistakes prevented any meaningful buildup and the Blues looked very uncertain. A session of pass the parcel at the back finally saw Vlasic swing in a good cross but it bounced off Niasse, and Williams was almost beaten by Wood, giving up another corner, that Calvert-Lewin cleared away with a big hoof.
Niasse did well to hold up the ball and set up Gana but his shot screwed well wide. But Hendrick this time crossed unopposed by the absent Martina, thankfully not good enough to find another claret shirt. But Everton possession was horribly hesitant until the groans forced some better play down the left by Baines that won a corner but Schneiderlin could not connect on the dropping ball.
Calvert-Lewin did well to win a Pickford clearance and feed Vlasic but his cross drifted just behind. A good clearance to Calvert-Lewin was judged to have been offside play and after Pickford collected the Wood header, a scrappy attack ended with another blocked shot, this time from Sigurdsson.
Niasse was keen to shoot whenever he got the ball but his low drive was off-target and the turnaround and another dangerous attack ended with a clumsy tackle from Williams and Arfield went down... only to be booked for diving!!! Very harsh from Moss.
Another Burnley attack and a difficult shot from Cork won a corner, headed away by Keane. Niasse got another chance to work his way in from the left but his cross was easily cut out. And it was Burnley that finished the half the stronger, thwarting Everton and giving Koeman a chorus of boos to think about in the break.
No changes after half-time, and Everton continued to look disorganized but tried their best to press the impenetrable Burnley defence, Vlasic's shot blocked. A very poor challenge by Calvert-Lewin on Ward saw him booked early on.
Martina won a corner that Wood headed out and Gueye wasted the ball with a ridiculous shot from way out that wasn't even close. Everton's frustrations were evident in a spell of possession that went absolutely nowhere until Baines launched a deep cross well beyond Pope's goal. Calvert-Lewin was reduced to firing in from distance, easily caught by Pope.
Niasse battled for the ball but did not win a corner. and it got really scrappy, Baines booked for a late tackle on Brady, despite a touch on the ball. Pickford launched to ball all the way to Niasse but Pope came out tp head it away, catching Ward in the process.
The hour mark, and the moment when the manger's text book says substitutions should be made... but not until another corner came to nought. Everton eventually fashioned a move, Baines crossing for Niasse, headed wide. Rooney finally replaced Schneiderlin, a surprising choice by Koeman.
Sigurdsson was the next to fire in a ridiculous shot from far too far out, a complete waste. At the other end, Pickford stopped a wicked cross. Niasse weirdly dummied a good cross from Baines. Martina whipped in a better cross but Calvert-Lewin headed wide.
Davies was the next change for Vlasic. Niasse was repeatedly involved but each time was shown up for his limited ability, while Burnley looked more and more comfortable, as if swatting irritating blue files away from their penalty area.
Rooney picked out Baines brilliantly and the cross was onto Calvert-Lewin's head but so where Popes grasping hands. Better play with Rooney now forward, winning a corner, but it was scrappy stuff that came back in but was again defended away.
Burnley pushed back a little, forcing the play into the Everton half and giving the Burnley defence some respite, as if it were needed. Everton had no answer in terms of intelligent penetration, Davis and Rooney trying but failing to really create an opening, Niasse again trying to drive straight through the bodies standing firm in front of him, his naivety painfully exposed.
Another corner, none of which had threatened, saw Sigurdsson and Davies trying to play the ball in a totally crowded area. Calvert-Lewin tried to play in Niasse who was easily countered again by far more intelligent Burnley defenders.
Gueye again lumbered forward and lashed another totally wasted 'shot', well over. Last move form Koeman: Sandro on for the frankly awful Niasse as Rooney was next to launch one from way too far out — simply terrible football.
Davies and Rooney combined , with a good cross, defended away again but the cross hit Lowton's hand; no penalty. Davies lined up a better shot but again blocked away as Everton finally applied some better pressure. Calvert-Lewin got a low shot off but Pope had it well covered. At least the shots were now on target but far too late in the game.
The minutes ticked away, and the busted flush seemed to have blown itself out, silly fouls by Rooney and Calvert-Lewin showing the frustration into the final 4 minutes of added time.
Williams saw a late header deflected inches the wrong side of the post and Everton huffed and puffed but failed to create a decent chance in a really poor second half.
Everton: Pickford; Martina, Keane, Williams, Baines [Y:59']; Vlasic (69' Davies), Schneiderlin (64' Rooney), Gueye, Sigurdsson; Calvert-Lewin, Niasse. Subs: Stekelenburg, Holgate, Klaassen, Lookman, Sandro.
Burnley: Pope; Lowton, Tarkowski, Mee, Ward; Arfield, Cork, Hendrick (88' Barnes), Defour [Y:40'], Brady; Wood. Subs: Lindegaard, Vokes, Gudmundsson, Westwood, Bardsley, Long.
Referee: Jonathan Moss
---
Reader Comments (261)
Note: the following content is not moderated or vetted by the site owners at the time of submission. Comments are the responsibility of the poster. Disclaimer
Ray Smith
1
Posted 01/10/2017 at 13:23:27
Is Koeman actually listening?
Apart from Williams I'm very optimistic!
I'll settle for 2-0 now, anything better will be a bonus. COYB
Joe O'Brien
2
Posted 01/10/2017 at 13:35:51
But Ray even the inclusion of Williams is baffling... he has become a liability at the back.. and 2 defensive midfielders AGAIN at home to Burnley!!
Christy Ring
3
Posted 01/10/2017 at 13:46:52
Can't understand how Williams is picked week after week, error after error. Davies was superb when he came on in his proper position last week, but back to 2 holding midfielders again.
Ray Smith
4
Posted 01/10/2017 at 13:53:37
Joe (#161)
I can't offer you an argument, but I'm still optimistic!
Not sure what influence Williams has on Koeman.
Has he played for Koeman somewhere before?
Dave Bowen
5
Posted 01/10/2017 at 14:11:27
Williams is a Koeman signing, that's why he has to play every week. In fairness, I am a Wales fan & he is superb for us, as he was for Swansea. Just been destroyed by Koeman like a number of others.
Ciarán McGlone
7
Posted 01/10/2017 at 14:16:02
This is an odd set-up. Loads of changes but not necessarily the right ones. Our best player this season gets dropped and we have Gana and Schneiderlin both playing.
If it's a 442, then it's lopsided... if it's a 451, then Calvert-Lewin is playing in from the wing. Not sure there's any signs of learning in that line-up. Let's see how they line up.
Mark Morrissey
8
Posted 01/10/2017 at 14:43:06
Sat in my rocking chair, nurse by my side, pills at my side. I promised I'd say nothing for a few weeks....
Schneiderlin? Williams? Martina? I'm saying nothing... nurse!!!
Michael Morgan
9
Posted 01/10/2017 at 14:57:49
Has he been sacked yet?
Ian Riley
10
Posted 01/10/2017 at 15:00:50
Still got our history! Can't take that way from us!
Alex Gray
11
Posted 01/10/2017 at 15:03:43
I just hope he drags Williams off! I was a massive fan of Schneiderlin last season but he needs to come off too! Stick to Gueye in the middle put Sigurdsson as a central attacking midfielder and bring Lookman on as a winger!
Ciarán McGlone
12
Posted 01/10/2017 at 15:05:00
I was pleasantly surprised with the first 15 minutes, although I think this more to do with Burnley playing deep, rather than an epiphany in our playing style... after they scored, it was back to normal.
It's hard to figure out a defined role for any of our midfielders – they're all over the place, almost like everyone has a free role. It's a nonsense.
Sigurdsson and Schneiderlin are awful. Rooney and Mirallas on. And please tell our midfielders what their distinct roles are, otherwise they'll continue to look like a free-form jazz-dance troupe.
Steve Stobie
13
Posted 01/10/2017 at 15:06:00
Are you for real? Resign, you Dutch idiot.
Steve Stobie
14
Posted 01/10/2017 at 15:06:01
Are you for real resign you dutch idiot
Ernie Baywood
15
Posted 01/10/2017 at 15:07:28
There aren't many Everton players I actively dislike but Morgan's getting there. I questioned what he actually offered last year – this year it's pretty clear. Nothing. He looks like an actor pretending to be a footballer. What was that 'effort' for the goal? Sums him up – looked like he had a go but in actual fact he did completely the wrong thing.
Even if he was half decent as a defensive midfielder he'd still be the wrong choice today. Who plays two sitting midfielders in whatever sort of 4-4-2 this is?
It's a sad statement that the only players escaping criticism today are those who are prepared to put in a big effort. Niasse is Stracqualursi. Desperate times.
George Cumiskey
16
Posted 01/10/2017 at 15:07:42
How poor has Scheiderlin been! Surely he's off at half-time.
What's the betting he takes Niasse or Vlasic off first – our two most dangerous players.
Alan Smith
17
Posted 01/10/2017 at 15:20:45
Hello, mediocre fans... Start asking the board some questions please.
None of the players signed by Moshiri's Walsh & Koeman are good enough to play in a top 6 side.
Stop making excuses for these three idiots. Keep things simple. Demand good players.
And this is not hindsight – a blind man knew the quality of these players before hand.
And before someone says "What about Pickford?" just think he's nearly 6'-1" and half his great passing ends up into touch. And he's our best signing: England's third-choice keeper. Wake up, ffs.

Christy Ring
18
Posted 01/10/2017 at 15:20:59
Has to bring Davies on for Schneiderlin, and Lookman for Sigurdsson. We need more width and more pace, which is totally alien to Koeman's team selection, week after week. I think he's lost the dressing room.
James Owen
19
Posted 01/10/2017 at 15:23:14
If Niasse is on, Davies needs to be on too. No point having Niasse on and then isolating him. If he's not going to get service, he's not going to score.
We are seriously going to get relegated unless Koeman goes. He has no ideas or answers. Koeman Out!
Stephen McNally
20
Posted 01/10/2017 at 15:33:49
I'm only glad I didn't pay to watch this game. Everton, have the look of a relegation-threatened team. Surely, performances can't remain in this vain for much longer!
Ernie Baywood
21
Posted 01/10/2017 at 15:34:48
Let's see if we get a break. The team I'm watching right now needs to get rid of the manager - it's completely out of ideas.
Joe McMahon
22
Posted 01/10/2017 at 15:35:04
Let's be honest if we didn't support Everton, you'd hate them. Achieve nowt, never win anything, old antiquated stadium and the football is the worst to be seen, it's embarrassing. I've never known it so bad in the 42 years I've been an Evertonian.
Mike Kehoe
23
Posted 01/10/2017 at 15:48:20
Absolute shite... and the analysis of Carragher and Souness to look forward to. I hope the can add Robbie Fowler's opinion and maybe Jimmy Tarbuck's.
Ian Riley
24
Posted 01/10/2017 at 15:51:55
Believe it or not, Joe (#22), you are the lucky generation. You have seen our greatest era. Sadly the younger generation will only have misery.
Joe McMahon
25
Posted 01/10/2017 at 15:56:43
Ian (#24) you ain't wrong. But how does the Everton Model (2017 version) attract a new generation?
David McMullen
26
Posted 01/10/2017 at 15:57:56
Bye bye Koeman today is all I need to know that's the end of him as manager absolute dross but more importantly nothing from the players and that is the bottom line.
Chris Perry
27
Posted 01/10/2017 at 15:58:59
Relegation scrap I am afraid. Sigurdsson the difference between Champions League and not. What a complete fraud. I want Martinez back!!
Anthony Hughes
28
Posted 01/10/2017 at 16:01:40
As it stands this team are relegation candidates
Daniel Posada
29
Posted 01/10/2017 at 16:05:13
Charmless football, fashioned in the manager's image.
Hard to believe we were all fancying this season just several weeks ago. Surely there can't be too many Koeman apologists left?
Michael Morgan
30
Posted 01/10/2017 at 16:09:12
The board have to see that this is simply not good enough. Please bite the bullet and get rid now whilst we still have most of the season to rectify poor start.
Peter Murphy
31
Posted 01/10/2017 at 16:10:22
This should not even be a topic of discussion any more. He absolutely has to go. Don't even give him the international break.
Clive Mitchell
32
Posted 01/10/2017 at 16:10:30
Even worse than previous performances. Dire.
Darren Murphy
33
Posted 01/10/2017 at 16:10:55
Sack this twat now.
Jamie Crowley
34
Posted 01/10/2017 at 16:11:07
I usually take a lot of time to not make decisions, not wanting to be rash.
We are boring. We are not a team. We are not a cohesive unit. We are trying to shove too many Number 10s into the side. We are not balanced.
Ronald Koeman needs to be fired.
I loved Roberto Martinez. No secrets there. I'd prefer those days miles before the utter dross, vomit inducing bore show that I have to live through every fucking game.
Honestly, I tuned in today knowing we'd lose. And the only reason I tuned in was out of some fucked-up sense of loyalty and obligation.
I don't care if it seems "rash". Koeman serves up shite football, this is his team, it has zero balance...
Time for him to go.
Well done to Burnley they played this out exactly the way they wanted.
Anthony Newell
35
Posted 01/10/2017 at 16:11:28
Sack him now, two weeks to regroup.
Toothless, disgraceful performance and completely unacceptable after spending that amount of money.
"Koeman looks resigned."
I hope so!
Ernie Baywood
36
Posted 01/10/2017 at 16:11:33
He's gone now right? Surely no way back.
And don't tell me he's not responsible for transfers... a load of central players brought in – that's not a coincidence, it's how he plays.
It's so, so dull to watch and so, so poor.
Phil Smith
37
Posted 01/10/2017 at 16:11:48
Williams, Sandro, Schneiderlin and Sigurdsson are just not good enough at the moment. All should be dropped for the next match. Proper shite!
Ian Riley
38
Posted 01/10/2017 at 16:12:45
He will resign tonight. A proud man.
George Cumiskey
39
Posted 01/10/2017 at 16:12:54
I'd sack him just for his decision to bring Rooney on instead of Lookman. That alone should warrant the sack, as Rooney done absolutely nothing.
Jerome Shields
40
Posted 01/10/2017 at 16:12:55
Hopfully this will mean the end of Koeman.

Mike Kehoe
41
Posted 01/10/2017 at 16:13:25
Before the inevitable calls for sacking, keep a bit of perspective: "Kendall Out" was everywhere in 1983. Confidence is a curious thing and change can come quickly.
Anthony Hawkins
42
Posted 01/10/2017 at 16:14:25
The absence of confidence and abject fear is being passed on from Koeman. He's picking players with the aim of being safe. The team always looks more galvanised and forward thinking with some of he youngsters in the team – Davies, Holgate and Calvert-Lewin. The mix of new to the team, experienced players and youth isn't right at present.
Jay Woods
43
Posted 01/10/2017 at 16:14:38
Ashley Williams isn't even fit to play in the second tier, never mind the top.
Sandro is every inch a £5 million player.
And I don't understand why everyone goes on about Gueye. He's as culpable as Sideways-erlin that he plays beside.
But above all, the team has not been balanced or organised pretty much all season, and that's the manager's fault.
Maybe we'll hold on to Barkley, though. Maybe he is biding his time until Koeman gets the flick. Who knows, he might be on such a promise. We certainly do miss him.
Dermot O'Brien
44
Posted 01/10/2017 at 16:16:12
Sack. Hasn't a clue what he's doing or the players haven't a clue what he wants them to do. Either way it's not working.
Got lucky last week, midweek was shite and only beat a poor Championship side in four home games.
Sack. Sack. Sack.
Paul Rimmer
45
Posted 01/10/2017 at 16:16:33
Time to go, Ronald. No clear strategy. We have 2 weeks to get it right. Put Unsworth in charge or get Ancellotti.
Jamie Crowley
46
Posted 01/10/2017 at 16:17:06
Mike Kehoe -
I understand your call for patience, prudence, perspective.
It's time for him to go. His terrible brand of football, along with shoehorning 26 fucking #10s into the lineup... blah blah blah.
He simply has to go. He's not a credit to Everton Football Club. He's a grumpy, arrogant, dour person.
I'll repeat again, I was more proud and more willing to watch Martinez' Everton than this man's. He doesn't represent our Club. He's the fucking Gingy who stole Christmas!
Joe McMahon
47
Posted 01/10/2017 at 16:18:15
The Peoples Club, Nil Satis, School of Science, If yer know Yer History (crappy song), Koeman, Walsh,
Kenwright
and Ferguson (Yes Ferguson) Yeah Right!
The whole club needs tearing down and re building.
Jamie Crowley
48
Posted 01/10/2017 at 16:18:57
Paul Rimmer,
Put Unsy in charge permanently! Give him a chance he's a winner, the players seemingly love him, he's a great representative of the Club.
Unsy in charge tomorrow.
George Cumiskey
49
Posted 01/10/2017 at 16:19:20
If Michael Greaves is reading these posts in Houston Texas, can you tell me if the stink from Goodison Park is wafting all the way over there?
Phil Greenough
50
Posted 01/10/2017 at 16:19:25
Everton look like Leicester did until Ranieri was sacked. Most of our players are not this bad, they just don't want to play for Koeman.
I think Koeman should do the honourable thing and resign; he must know that it's not going to get any better. If he doesn't, then he should be sacked. Everton cannot allow this problem to become a crisis in the new year.
Andrew Lum
51
Posted 01/10/2017 at 16:19:33
A manager who could not see that we were crying out for pace and width has to go. We played exactly how Burnley wanted us to play.
Anto Byrne
52
Posted 01/10/2017 at 16:20:02
I went to this game in 1976 when Burnley won 40 years ago. We had a team that at least had a go; this was abject shite.
No excuses, Koeman hasn't got a fucking clue.
Actually Wayne wasn't too bad if he can play as a defensive midfielder. Utter shite... if only Ross was fit? Thanks for an international break.
Joe McMahon
53
Posted 01/10/2017 at 16:20:13
£45 Million on Sigurdsson, it's just pitiful.
Jamie Crowley
54
Posted 01/10/2017 at 16:21:27
Christy Ring -
Two holding mids against Burnley at home!
FFS, why don't you just set the team up exactly the way the opposition would prefer?!
It's Goddamn mind-boggling!

Anthony Newell
55
Posted 01/10/2017 at 16:25:48
If you think of when this all went to piss it wasn't long after the transfer window closed.
My own theory is that Koeman spat his dummy out not long after and there has been some kind of internal rift ever since. Recall his sound bites along the lines of "We've only spent the Lukaku money".
That negativity and sour puss mentality has rubbed off on all of the players and we now have a situation that I don't think is reversible.
For that reason Moshiri, as the man who sought out Koeman needs to cut his losses now and show he means business.
Joe McMahon
56
Posted 01/10/2017 at 16:26:29
Mike Kehoe – that was nearly 35 years ago. Football has changed a bit since then, sadly Everton hasn't. Premier lLeague success – even being proud – is for other clubs so it seems.
Ian Riley
57
Posted 01/10/2017 at 16:26:33
Joe (#25) – wins. No matter how you play. Wins will always get fans in the door.
We need to get back to basics. At present, we can't defend or score goals. Burnley remind me of us under Moyes. Working hard and defending well equals positive results. Football not pretty but 1-0 is 3 points and Burnley lie seventh place in the league.
Our expectations are well above the squad we have. Top 7 or 8 is a realistic expectation. Do the board stick or twist with Koeman? My thought is we will be in the bottom half on current form and looking over our shoulder this season with Koeman.
A change of manager must happen now.
Mike Allen
58
Posted 01/10/2017 at 16:26:34
Whatever spin you can put on this season, it will not alter the fact that we are a very poor side indeed. Not getting in a striker is not an excuse for the dross we are seeing all over the pitch. We need to get Unsworth in now or it will be Big Sam in January.
Paul Smith
59
Posted 01/10/2017 at 16:27:59
We think we're shite, the table says we're shite, the stats, effort, results all point to us being shite & some still cite Howard Kendall Mk 1 or Oxford...
Please, we must stop and be ruthless; Koeman needs hoofing NOW. I'm going to the Amex in 2 weeks... hopefully I won't see the arrogant Dutchman in the dugout.
Steve Brown
60
Posted 01/10/2017 at 16:28:21
1) We cannot play with Schneiderlin and Gueye in the same side;
2) We cannot play with Schneiderlin, full stop;
3) Sigurdsson has to be dropped for his own good;
4) Williams is shot and also has to be dropped; 5) Baines defensively is a liability.
John Charles
61
Posted 01/10/2017 at 16:28:28
I have had a season ticket since 1977 and lived through a lot of crap, with a sprinkling of stardust. I have never been so appalled by an Everton team. I couldn't even be arsed staying to boo at the end.
Williams, Keane, Schneiderlin, Klaassen, Sigurdsson, Sandro – all shocking... all bought by Koeman. How is he still in a job?
Steve Brown
62
Posted 01/10/2017 at 16:29:08
And where the hell is Lookman?!
David Edwards
63
Posted 01/10/2017 at 16:30:13
POLL TIME, Michael and Lyndon? We need the club to know the fan's real feelings – otherwise I fear for our Premier League future! The poster's seem unanimous in their view, but getting some percentages from everyone is needed.
Kevin Turner
64
Posted 01/10/2017 at 16:31:19
I simply do not see a way back for Koeman after that debacle.
It's done, finito, finished, over!
Jamie Evans
65
Posted 01/10/2017 at 16:32:03
I'm at the other end of the ground to the two loud penalty shouts... can any TW Park Enders shed some light on them for me? Not that a penalty or two should paper over the many cracks of that performance.
John Robinson
66
Posted 01/10/2017 at 16:32:46
I dispair. I thought Koeman was going to be The Man but all we get is the same crap. I have supported Everton for 50 years but I have never been closer to packing them in as I have been today.
Okay, sack Koeman... but who else is out there? Tell me that.
Ciarán McGlone
67
Posted 01/10/2017 at 16:34:37
Neither were a penalty.
Paul Gallagher
68
Posted 01/10/2017 at 16:37:03
This isn't going to be 1980s Kendall style of turning the corner and winning leagues. If the board haven't the foresight to remove this Charlatan, we are going to be relegated.
Fran Mitchell
69
Posted 01/10/2017 at 16:38:42
Primeiramente Fora Koeman!
So, in the last 2 windows, Koeman's main targets have been Schneiderlin and Sigurrdson. Both are woefully below par. Slow, static and ineffective. At a cost of almost £70 million.
Vlasic, who actually looks a decent player, gets taken off.
Lookman who has pace and skill is ignored once more.
He persists with Sandro, who looks very poor (maybe he will improve, but not someone we should play in the midst of a crisis).
Williams is desperately poor.
And to think, people thought we'd be better off without Lukaku and Stones...
Simon Dalzell
70
Posted 01/10/2017 at 16:39:46
Please can we hear from the "Give him time" brigade. We know who you are.
Christian Watson
71
Posted 01/10/2017 at 16:41:31
Utter garbage... AGAIN! Kind of pleased we got beat (only if it means he goes). A win would have only given him more time to truly put us in relegation territory.
At 54 years of age, I've watched some shit Everton teams but we always had the excuse that we couldn't spend big. This idiot has spent big dough and we're no better, probably worse than under Martinez.
Go now, Koeman, and take ya shithouse brother with you. Enter Rhino, stage left!!
Tanvir Akram
72
Posted 01/10/2017 at 16:45:11
Koeman said Sigurdsson would be the difference between 4th or not. He should have got 2 today and in the second half he did nothing!
We started well but lost our flow and confidence after the goal.
People were asking for more balance and Koeman did change things, but still we look poor. Something is seriously wrong. Something needs to change or we will not finish in the top half this season.
Also, so many stupid long-range efforts today.
Simon Bates
73
Posted 01/10/2017 at 16:45:12
Well Ronald, I distinctly remember these words from your mouth.
"We have 4 home games now and normally, if you don't win ALL those it's time to stop."
News flash: won 2, drawn 1, lost 1!!!
So let's see if you're really a no-nonsense man of your word like the persona you portray... bye bye.
Or were you talking Double Dutch like your team talks?
Steve Jones
74
Posted 01/10/2017 at 16:45:28
Koeman must be sacked if he doesn't have the decency to resign. If we can't attract Ancellotti or someone proven, what have we got to lose by giving Unsworth a chance – could we really play any worse than we are under Koeman?
The team has no fight, no intensity – we are far too happy to pass it backwards and lack any attacking ideas.
Players Koeman wanted, like Schneiderlin and Sigurdsson to name just two, are not performing and Koeman's coaching and tactics have made players who, at one stage looked decent, now look woeful.
Martinez's first season bought him time with us; Koeman's first season was average and we have got worse, with no indication that we will ever achieve top 6 with the current manager. I only hope the board don't feel they owe Koeman time because they didn't sign a top striker. Sack him now before this season's a write-off.
Colin Glassar
75
Posted 01/10/2017 at 16:47:09
If he isn't sacked after another abject performance, what is the board saying? That they accept this garbage? That the "project" was just useless talk?
I'm not one for sacking a manager with less than 1/3 of the season gone but Koeman is showing us that his teams are not prepared, drilled or fit for purpose.
Any manager in his position would be sacked for gross incompetence. Give him his 㾶m and let's move on before it's too late.
Mike Berry
76
Posted 01/10/2017 at 16:49:21
As much as I like Tom Davies, him replacing Vlasic and cluttering the midfield was a tactical disgrace when Lookman should surely have to come on to add width and pace.
It showed that Keoman is clueless the exact opposite of Sean Dyche, and the way he set up his team.
Moaning about two suggested but obviously not handballs was the sign of a very desperate Manager.
David McMullen
77
Posted 01/10/2017 at 16:49:56
Good point, Simon! I forgot in the furore that of those 4 home games that everyone thought we'd win, we won two, drew one, and lost one in that order. Oh if Sir John Moores was around, the taxis would be circling.
Michael Lynch
78
Posted 01/10/2017 at 16:50:23
It's not just him shoehorning as many Number 10s and defensive midfielders into one side as he can, it's the fact that they're all fucking shite.
And this bollocks about "net spend" sounds like a Red Shite excuse, you've blown fucking millions, now fuck off!
Hywel Owen
79
Posted 01/10/2017 at 16:51:33
The players on the pitch today (ie, the dressing room) cannot possibly be that bad except if it's done on purpose. It was blatantly obvious today that the players want rid of Koeman and that he definitely has lost the dressing room.
Under the circumstances, you either sack the whole squad or the manager. Guess who goes...
Iain Love
80
Posted 01/10/2017 at 16:55:44
If only we had a manager that could build and manage a team? Imagine Dyche with an M&S budget rather than an Aldi one.

Christian Watson
81
Posted 01/10/2017 at 16:57:25
If he doesn't go. There's gonna be a coup man!!
Colin Glassar
82
Posted 01/10/2017 at 16:57:57
Hywel, I agree. We have some very good players, good enough to be top 7 at least, but Koeman is destroying them with his team selections and tactics.
Sigurdsson, Klaassen, Schneiderlin, Ramirez etc are not bad players but they are being made to look bad by this man and his idiocy.
Will Mabon
83
Posted 01/10/2017 at 16:58:29
I wasn't enthused about signing Sigurdsson, especially not at the price, he isn't near what Barkley is IMO. However, he is much better than we've seen here; he looks awful.
There's just too much evidence right there to be seen: Koeman is confusing and destroying the players. They look frightened and hesitant. Pace or not, will anyone even try to run past someone?
Simon Dalzell
84
Posted 01/10/2017 at 16:58:45
Christian (#71), I am considerably younger than you (53) but I reckon you summed it up in a concisely. I'm even afraid to admit for the first time that I am in the "kind of pleased" camp. Which is very worrying.
We have seen some shit, I agree, but this is the deepest and smelliest. I can't see him being sacked anytime soon, but it's really a no-brainer now.
Bill Gall
85
Posted 01/10/2017 at 16:59:24
I am afraid the writing is on the wall for Everton's season, about the only thing that they can hope for is a good cup run but that will depend on who they get in the draw,. Apart from that, unless there are radical changes ,they will be fighting in the bottom half of the league.
Will a change of manager help, it may as a number of clubs who have changed their manager seem to improve.,but it is not a certainty.
A change of system is required but is Koeman capable of doing it? I hope the people who wanted Niasse to start can now see why he is not a premier player by a long way.
Any of the upper management personnel must now see what a colossal blunder it was not to have a central striker to replace Lukaku even before he was sold, and it is up to them to sort this mess out now. Koeman is going to persist in playing the same way until it either becomes successful or eventually he gets fired. His team is so predictable that opposing managers do not seem to have a problem facing them.
I am not bothered whose responsibility it was to find players, but whoever it was who recommended some of them to be bought should no longer be at Everton FC. These disgraceful performances should no longer be allowed to go on any more, and something must be done about it as quickly as possible, as the majority of supporters, who the club are very lucky to have, are not going to turn up if this drab, slow, lack of effort continues.
It is a very risky business hiring a manager, but sometimes the person you hire may have been good at their previous club, but that does not mean he will be good at the next one. We can no longer continue with what we are seeing on the pitch, and it is up to the owner, chairman and board to do something about it, as the manager seems incapable of fixing the problem. If you continue to hide your heads in the sand and it takes a large number of the supporters to do it by staying away, you may find you will loose a lot more money than simply firing the manager and paying off his compensation.
Everton are quickly becoming the joke of the Premier League with the supporters taking the brunt of the scorn, and you, the owner are the one the people rely on to do something about it. So let's see some leadership from you, as there does not seem any on the first team playing side.
Terry Smith
86
Posted 01/10/2017 at 17:00:19
Once again we start with two holding midfielders at home. There is no pace. No creativity. No leaders. No goalscorers.
We have a expensive squad of No 10s and nothing else. I don't see how Koeman will turn this round and if he will be given more money to waste.
Nev Renshaw
87
Posted 01/10/2017 at 17:00:24
So early in the season and we're fighting relegation already.
John Keating
89
Posted 01/10/2017 at 17:01:09
This is a team and Club in crisis. Yes, I really mean it. We are absolutely clueless all over the pitch.
We called for width. We didn't get it. Vlasic I don't think played wide all game – he was forever coming inside. Baines – such a pity really and only got into crossing positions towards the end of the game.
Martina, what a waste of space! How many times did this fool get the ball out wide and rather than run the full back he would check and pass inside or back. Where was Kenny?
We called for one defensive midfielder at home against a team like Burnley. Well that was a waste of time. Williams ,who has had a really difficult time recently, had a chance to be rested, but no – in he comes again and no doubt this will continue.
I reckon,even had we bought a top class striker or kept Lukaku, we still would have been in this position. This crisis has to end now and the Board have to do the right thing for the good of the Club and bin Koeman. Anyone, absolutely anyone could at present do better. Anyone that can motivate and pick a balanced team that has some sort of plan will do.
As usual Koeman's game plan and tactics were beyond useless and yet again he had to change shape.

Christy Ring
90
Posted 01/10/2017 at 17:01:13
Jamie Cowley (#54),
I don't understand your criticism, I suggested Gueye and Davies from the start, and no Schneiderlin, so what's your point?
Jim Bailey
91
Posted 01/10/2017 at 17:01:27
However much it would cost to get shut of Koeman, it must be small change to Moshiri. Surely if he's serious about the club he has to act quickly.
Not much chance of filling a 50,000-seater stadium when playing in the Championship.
Brian Williams
92
Posted 01/10/2017 at 17:01:35
He actually picked a side with a view to winning a football match, I thought, though the two holding midfielders at home is still a mystery. Part of the problem is lack of width; part is lack of pace and part is lack of fucking bottle.
There were numerous times where Williams or Keane had the ball and any number of players actually stepped behind a Burnley player in order to not receive the ball. Some of the players need to take responsibility and play with heart and effort.
Burnley, although not threatening apart from the goal, had overlapping runners and midfielders running into space and receiving the ball. We're just NOT doing that, game after game.
We look clueless and lifeless. Why? – is the question that needs asking. Why are decent players playing without heart and playing crap, week-in & week-out?
David Reid
93
Posted 01/10/2017 at 17:01:51
Hywel (#79),
Guess who goes? .....Barkley. He has seen the writing on the wall..
It takes a wise man to act a fool.
David Hallwood
94
Posted 01/10/2017 at 17:04:18
It's broken record time. IMO 2 holders is the problem, made worse as they're both horribly out of form. Coupled with a rapidly ageing Williams it gives us no movement going forward, and it isn't protecting the back 4.
Notice Burnley's 4-4-2; solid in defence, but going forward the central midfielders (as opposed to the defensive midfielders) pushed up, giving the team a solidness that made them quite comfortable against us.
Obviously there's a decent team bursting to get out, but Koeman will continue to play with Gana & Schneiderlin. A stubborn, stubborn man, with a stubborn, stubborn style of play that will do for him.
Fran Mitchell
95
Posted 01/10/2017 at 17:07:34
Koeman had 4 games to save his job. We beat Sunderland, but I'd trust the Everton Ladies Under-10s to get a result at home to them.
Scraped/fluked a win at Bournemouth, who are out of form themselves.
Draw against a very low quality Cypriot team.
Lose to a solid, well structured and organised but bottom-half quality Premier League team in Burnley,.
At no point have we looked like the team is gelling, or improving in any way, shape or form. 14 games into the season.
William Cartwright
96
Posted 01/10/2017 at 17:11:02
The manner of the play upset me more than the result, but then again, if it brings Koeman's dismissal forward, then the cloud may have a silver lining.
Mark Andrews
97
Posted 01/10/2017 at 17:12:26
We started well enough but faded after the goal. Listening to Phil Neville and the other commentator had me confused, surely they had the game arse about face?
Why two central defensive midfielders at home? Koeman got the subs wrong again. Vlasic should have stayed on in his preferred central role and Schneiderlin should have gone, replaced by Lookman. Rooney adds nothing to this team. If Swansea weren't in such dire straits, they'd be laughing at how much they took off us for Williams and Sigurðsson.
Massive shout out to the recruitment team for replacing the telegraphed move of Lukaku. You earned your corn there, boys.
If only Koeman was as good as he thinks he is. Good enough for Southampton; not good enough for us.
Geoffrey Hall
98
Posted 01/10/2017 at 17:13:01
It's time to go... and that Martina boy – holy fuck! Take him with you, ffs.
Stephen McNally
99
Posted 01/10/2017 at 17:13:20
Get Benitez across from Newcastle, he would do a better job than any of the last 3/4 managers Everton have had. One thing I will say about him, is that he's tactically very astute and he would get the best out of some of the dross Koeman & Walsh have brought in.
Anthony Hughes
100
Posted 01/10/2017 at 17:14:01
No signs at all that he has any semblance of a plan to right the wrongs with this set up. He needs to be removed immediately to give the incoming guy a chance to turn things around.
Ray Smith
101
Posted 01/10/2017 at 17:16:40
Hywel (#79)
The answer to your question is neither of them.
This is Everton remember!!!
Christy Ring
103
Posted 01/10/2017 at 17:19:55
We're in a relegation scrap, and Koeman has to go now. It gives us two weeks to find a replacement. His formation from the start of this season has been absolutely shocking.
Sigurdsson, Schneiderlin, Sandro and Klaassen have been so poor, and he has persisted with the same game plan, week-in & week-out. When I saw Sandro introduced instead of Lookman, that was enough for me.
I'd give Unsworth the job short-term; his personality and player skills would be a huge improvement, and a breath of fresh air in the dressing room.
Mark Morrissey
104
Posted 01/10/2017 at 17:20:46
Phil @ 50 says it all. No need to type owt else. They hate him. They are playing with the contempt that they feel he deserves. They are playing in respect of how he's treated Ross, Geri etc and they hate him. It's so plain to see.
Nobody wants to play for a bully. It's why Chelsea stopped playing for Mourinho. He treated their physio like a bully and so they showed him on the pitch what they thought of him. This is the same game being played out and they want him sacked.
It's time he walked. If he doesn't, he's finished everywhere – nobody will want him.
Paul Holmes
105
Posted 01/10/2017 at 17:22:02
Read the posts on ToffeeWeb and the views about the players and the tactics are widespread and different but the common consensus is that the payers we have can't be that bad. In my opinion, maybe no matter what personnel or formation we put out on the pitch we have not got the quality players we are lead to believe.
𧵎 million spent and could you say our players are a lot better than Burnley's? It's a lot easier to get rid of the manager instead of all the players but whoever takes over has only got the same personnel to work with.
What quality players have we actually got that could get into the top six teams? (Imo, only Coleman.) I for one would not know where to start after the performances in these seven Premier League games.
Colin Glassar
106
Posted 01/10/2017 at 17:22:28
Anthony, that's the problem. He looks like he hasn't got a clue about how to turn this around.
Young players like like Davies, Kenny, Lookman, Vlasic, Keane, Pickford etc...must be looking at the manager and some of their senior teammates and be thinking "wtf am I supposed to do if these fellas look lost?"
This is soul destroying stuff and I'm not blaming the players. This is all Koeman's doing.
Gary Willock
107
Posted 01/10/2017 at 17:23:04
Today was fucking abysmal!
Williams is awful at left centre-half, and we have no other fucking option here (this is criminal by everyone at the club).
I didn't recognise Baines and the crowd didn't either; no drive, no verve, in bad need of a break.
Martina a decent choice for third-choice right back – dropping Kenny after one game was joke.
Schneiderlin is not the player we thought he was.
Gana is a destroyer, should be saved for games against top or when holding a lead. Do not ever let him shoot again.
Sigurdsson is a Number 10, but not sure a step up on Ross?
Niasse deserved his go, but it's desperation to think there is a fairy-tale here.
Calvert-Lewin will be a top player, but not a number 9 yet. If we keep asking him to be a battering ram he'll be fucked long before he becomes one.
We have no width, any team who packs the middle will stop us scoring.
Positives:
Vlasic a little terrier and potential diamond. Keep him in and get Mirallas or Lookman back on the other side.
That's it. One fucking positive. We were that shite! We don't look threatening, we don't look hard to break down, we don't look balanced.
He HAS to go. Put him on gardening leave for a month and give Big Joe and Unsy a run. If he doesn't resign, then pay the compo and move on.

Dave Evans
108
Posted 01/10/2017 at 17:23:35
I think Moshiri needs to swallow his pride, hold his hands up and say "I got it wrong'" with regards to his manager choice.
The performance today is as bad as I've seen in 30 years watching the blues, and I can safely say I've seen some absolute shite! Koeman doesn't care about the club like we do and never will, and the same goes for Moshiri.
All teams will lose games but it's the manner of the defeat, abject disjointed and without any imagination or creativity. I'm embarrassed today to call myself a Blue and have never felt that way before. Something has got to give. The board can't be so blind can they?
If I were in charge today I would go all out to get Ancellotti. There are no guarantees Carlo would be any better but surely he couldn't be any worse? Something needs to be done now before this season is over before November. I'm not one for knee-jerk reactions, but I see no other way forward.
Alan J Thompson
109
Posted 01/10/2017 at 17:27:13
I might not mind two defensive midfielders except for the fact that one of them has done nothing all season. Schneiderlin is an absolute waste of space!
Koeman couldn't even have him in the office to show him the video as, apart from being made to look what he is on the goal, there is nothing else to see.
How long does it take?
Mark Morrissey
110
Posted 01/10/2017 at 17:30:35
Moshiri wasn't even there today. Perhaps he has a henchman waiting at Goodison to deliver the news to Koeman. I hope so.
Ashley Roberts
111
Posted 01/10/2017 at 17:31:06
How shockingly awful was that!!!
Koeman set the team up as a 4-4-2, with Sigurdsson out wide on the left again. He just does not learn. Sigurdsson is an out-and-out No 10 so if you are going to play him then please do in his natural position.
The change of Rooney for Schneiderlin made some sense to me as Schneiderlin was hopeless again. But now if you have the front and back of your diamond surely it makes sense to bring on a wide player to give some width to stretch the Burnley defense who were solid in the middle.
But, oh no, he brings Davies on (who did well to be fair) and takes our wide player off to clog up the middle even more and then the ultimate sin was bringing Sandro on for Niasse who was the only player looking anything like scoring. Sandro cannot hit a barn door from 10 paces so that was just a totally wasted substitution .
What this clearly shows to me is that Koeman just does not have a clue, either that or he is so bloody stubborn in that it is my way or no way!
His time is up because he has no idea how to set up a team or to change the style of play. My recommendation would be get rid now and give Rhino a chance.
I also have to say that I have seen better carthorses than Williams and Martina. They both were truly dreadful today and should be gracing the Championship – not the Premier League.
Rian Magee
112
Posted 01/10/2017 at 17:31:25
I have to agree with a lot that's being said. I'm certainly no a fan of rashly sacking a manager, but at this stage of the game I don't see it as being rash at all. Yes it is early in the season, but am I not right saying Koemanis coming up on halfway through his contracted tenure? Have we improved... are we even seeing glimpses of improvement? It's a big fat fecking No to both. If anything we've went backwards.
We don't have creative players.. No, Ron we do, you just choose not to play them or play them in a nonsense formation, out of position and obviously with absolutely no clear instruction or tactics.
My fear is that even if Koeman goes, he's already alienated, demotivated or sucked the soul out of some of our most promising and dangerous players (by playing them out of position in shite set ups, or not playing them at all), that we'll lose them before he goes
On a positive note, Vlasic is looking like a damn promising player, heart, pace, skill and graft. Really need to see more of Lennon, Mirallas, and Lookman along with Vlasic in order to provide the pace and width we so obviously miss, game-in & game-out.
I honestly think we need to change the management immediately and start the recovery before any more damage is done. COYB!!

Colin Glassar
113
Posted 01/10/2017 at 17:35:17
Oh well, Koeman appears happy with the performance and commitment shown. I suppose we can all rest easy now and enjoy the two week break.
Brian Denton
114
Posted 01/10/2017 at 17:37:43
Jesus that was dire. After the first 20 mins, where we looked okay, we were hopeless.
Another season down the pan.
Colin Glassar
115
Posted 01/10/2017 at 17:37:53
He has that KGB-looking Russian, doesn't he, Mark? Ryantsev I think his name is. I hope it's quick and painless.
Ajay Gopal
116
Posted 01/10/2017 at 17:39:52
I make it that we have scored 4 goals in 7 League games – 2 by Rooney and 2 by Niasse, that's it! Only the Stoke game was a clean sheet. Our Goal Difference is -8. These are terrible, terrible statistics.
Big decision to be made by Moshiri & Kenwright. Stick or twist? I would stick, because surely our players are not as bad as this?
Also, Koeman has been allowed to spend almost £200 million, we can't afford another guy to come in and demand another £100 million?
Soren Moyer
117
Posted 01/10/2017 at 17:40:13
Nice title for our remaining fixtures. Just a matter of copy and paste!
Will Mabon
118
Posted 01/10/2017 at 17:41:53
Mark @ 107:
That looks an increasingly likely possibility. Not sure the players are actively doing that, as was so glaringly obvious with the Chelsea players, but the effect is the same. They're out there playing football but there is just zero drive behind it.
Looking back, I believe it might have started as far back as the Norwich League Cup game last year, wide team changes, the defeat, and then the team just fell apart til the New Year. I think there was a disagreement or discussion and Koeman tried playing hard man.
Mark Murphy
119
Posted 01/10/2017 at 17:43:17
"Let's hear from the Give Him Time brigade"
Okay, here goes... Koeman OUT – I've had enough of this garbage!
Two holding midfielders, Ashley Williams, 3 slow number 10s – none of whom is an improvement on Ross Barkley, and the continued refusal to give Lookman a decent run out means I've had enough defending him.
Okay, Simon?
Mark McParlan
120
Posted 01/10/2017 at 17:44:17
Oh dear me. Jesus Christ Almighty, where do we even start with that alleged 'performance'? Truly gutless. I'll give some ratings:
Jordan Pickford - 5. He appears rather incapable of commanding his box any better than the previous goalkeepers we've had. And we've spoke for weeks about his excellent distribution - yet somehow over the course of the past few weeks this distribution has turned from defence-splitting to a liability. Bizarre!
Cuco Martina - 4. He can't defend, it really is that simple. The entire move for the first goal came from his side of the pitch, an area he often vacates to leave the (Winger) Vlasic to mark Burnley attackers. Speaking of which: marking, something our Cuco considers himself above.
Ashley WIlliams - 5. I've definitely seem a lot worse where he is concerned this season, but sadly it is inescapable that he is not cut out for football at this level, where centre-backs are required to be a little more 'cultured', and display some sort of ball-playing skill.
Michael Keane - 5. Koeman is right, his confidence is well and truly shot, we're seeing a mere shell of the player commanding the back line at the start of the season. Still, he's the best we've got there probably.
Leighton Baines - 4. One of the worst performances I've seen the ever-reliable Baines produce in an Everton shirt for a good long while. He's never been good at marking, or especially stopping crosses coming in, but he compensated with his offensive ability, and the pace to get up and down the pitch. Now that has gone with age there are a lot of questions to be asked. We need to find Baines' replacement sooner rather than later.
Morgan Schneiderlin - 4. We saw a marked improvement from Morgan against Bournemouth, but all this progress seems to have dissipated again - he appears little more than a poor man's Gareth Barry at the moment. Always going backwards and sideways.
Idrissa Gueye - 3. A truly woeful performance today. Every pass he made seemed to go wrong, straight to a Burnley shirt. And why does he still keep shooting from 35 yards out about 5 times a match! It's ridiculous, every single shot ends up in row Z of the Park Stand. Cut it out of your game.
Gylfi Sigurdsson - 4. Wow, to think Koeman claimed this fella was going to be the one taking Everton from upper-midtable into the Champions League spots! I don't think there has ever been a bigger waste of £45million in human history. Ross Barkley is ten times the player Gylfi is. And to make it worse, he plays a position we didn't even need filling between Rooney, Klaassen and Davies. Terrible buy. Oh, and his set-pieces! Ha! Not even good at them.
Nikola Vlasic - 6. The only player out there today who didn't disgrace themselves. The only player who had a bit of pace and energy about them, the willingness to charge at the opposition, getting shots off, hitting crosses into the box. A very bright spark, and he's only 19. An upgrade on Kevin Mirallas without a doubt - keep the good work up lad. You are liked already.
Dominic Calvert-Lewin - 5. He was pretty ineffectual today after the first 25 minutes where he looked quite brilliant actually. There's still a lot of progress for Dominic to make, he's only 20 after all. HE just needs to start doing it in the Premier League more.
Oumar Niasse - 4. There's no getting around it, he was very poor today and whilst showing a desire to run and attack, his technical ability proved well below the standard required. He can't be the answer, no matter how much we try.
SUBS: Rooney - 5, Davies - 5, Sandro - 4.
/////////////////////////////////////////////////////////////////////
There's still a few other points to make. How can Koeman not see now that two defensive midfielders, especially against Burnley of all teams, simply does not work? Drop one of the two, and give Davies or Klaassen a chance from the start.
I didn't really see the makings of a striking partnership in Calvert-Lewin and Niasse today, and it's tactically naive to play two number 9's in 2017.
Imagine how we could have spent the £45million Sigurdsson money differently!
Tell me, if Leighton Baines gets injured, who plays at left-back? It's unreasonable to ask a player at his age to play 90 minutes of football week in week out in 4 different competitions, yet we are forced to because no one was bothered about signing any recognisable left-back as backup. If he gets injured, our season is officially finished (if it isn't already).
/////////////////////////////////////////////////////////////////////
Where do we go from here? We sack Koeman if results don't improve significantly and quickly, and I see only one candidate for the job, David Unsworth. Let me explain:
Q: Who was the last Everton manager to win a trophy?
A: Joe Royle. An EVERTON MAN, made hundreds of appearances for his boyhood club.
Q: Who was the last Everton manager before Joe Royle to win a trophy?
A: Howard Kendall. An EVERTON MAN, a legend here as a player, part of the revered midfield 'Holy Trinity'. 233 Everton apps.
Q: Who was the last Everton manager before Howard Kendall to win a trophy?
A: Colin Harvey. An EVERTON MAN, again a legend here as a player, again part of the revered midfield 'Holy Trinity. Born in Liverpool, 300+ Everton apps as a player.
Q: Who was the last Everton manager before Colin Harvey to win a trophy?
A: Harry Catterick. Ok, hardly an Everton legend, but managed a respectable 59 Everton apps. Nevertheless, an EVERTON MAN.
Do you see a theme here? David Unsworth has to be the next manager, for Everton are never successful without Everton men at the helm.
Si Cooper
121
Posted 01/10/2017 at 17:46:03
Well, nothing new today – we are ineffective going forward yet defensively under pressure at the same time – but I don't agree the players are deliberately under-performing to get shut of the manager. If anything, some / most / all are potentially trying too hard at times and the pressure is definitely getting to them.
The two defensive midfielders just isn't working and no one is providing that pivot through the centre.
I didn't see too much wrong with Martina today; Burnley had numbers on the flanks and he didn't have many chances to overlap whilst always having to be aware that any space behind him was likely to be exploited.
Burnley also defended smartly keeping a disciplined defensive line so that there was little opportunity for long balls in behind to exploit the pace of Niasse and Calvert-Lewin. Where were any of our supposed Number 10s, providing the clever reverses, dinks, one-twos etc in the limited space available?
Tanvir Akram
122
Posted 01/10/2017 at 17:46:48
I can't see Moshiri sacking Koeman. Unless we are in the relegation zone come December. He will be given time to turn things around but the players are not responding to his tactics.
If a new manager comes in now, he will still have the same players at his disposal with no real striker.
Things might get worse before they get better.
Stan Schofield
123
Posted 01/10/2017 at 17:47:07
The details of this game are irrelevant. Koeman has to be sacked, immediately.
Ashley Roberts
124
Posted 01/10/2017 at 17:47:47
I just hope Ross decides to stay because we are just bereft of any quality at the moment. That would mean Rooney, Sigurdsson and Klaassen would not get a look-in.
Maybe I would put Rooney or Sigurdsson on the bench. Klaassen should be given a stint with the U23s.
Christy Ring
125
Posted 01/10/2017 at 17:50:14
What positives can MoshirI see in keeping Koeman? Absolutely none. He has a team playing with no unity, no movement, no pace, no shape, we're an absolute shambles.
Craig Walker
126
Posted 01/10/2017 at 17:51:23
I feel as bad as the Walter Smith days. Too many problems to list but Sigurdsson looks a shambolic waste of money.
I'd swallow my pride and take Rafa. He fashions good cup teams and a winning mentality. Failing that, I'd give Unsworth a go.
Fed up of having weekends ruined by a bunch of prima donnas who think only of their wages and cars. This season was going to be different and we'd push on from 7th. I'd settle for mid table respectability at this point.
Also, I read the ratings on icLiverpool. What game were they watching? Players getting 7s. I wouldn't give any of em more than 3!
John Keating
127
Posted 01/10/2017 at 17:57:35
I accept posters may want to give Koeman more time but please tell us how much time how many more games down the pan and points lost before we get rid? This guy is like Martinez "NOT for changing" Stubborn unbelievably stubborn.
He doesn't give two shits about Everton Football Club. It means nothing to him. Once he goes, he'll never give us another thought.
If we give him another month, then why not until Christmas, then why not until the last 10 games?
Let us get rid now... tonight ,if not sooner.
Will Mabon
128
Posted 01/10/2017 at 17:59:15
Rather assuming of people to think that Benitez would rather be at Everton than Newcastle. Chasing and persuading an unenthusiastic manager to come with enhanced big bucks hasn't really worked so well for us, has it?
Simon Dalzell
129
Posted 01/10/2017 at 18:00:24
Mark @ 120 Respect your reply, though I genuinely had nobody's name in my head and my comment may well have sounded "told you so." Fair play.
Paul A Smith
130
Posted 01/10/2017 at 18:03:27
Is Moshiri willing to give another manager a pot of gold? I very much doubt it with nobody to sell.
Paul Smith
131
Posted 01/10/2017 at 18:03:47
There was a point in the 2nd half when Baines gave the ball away and I thought... he wants Koeman sacked.
It was so unlike him, it was the first thing that came to mind.
Matt Nash
132
Posted 01/10/2017 at 18:05:17
Why on earth are people mentioning Beneathus??? For fuck's sake, get a grip. Most of us know what team we would play, week-in & week-out – and so does David fucking Unsworth. Give him the job and let him get on with it.
Mark Frere
133
Posted 01/10/2017 at 18:06:42
Whoever was in charge of recruitment in the summer – whether it be Koeman or Walsh or both – needs sacking for gross incompetence.
We needed a centre-back to partner Keane. We needed a striker to replace Lukaku. We needed a winger to add some pace and width. We needed a left-back to challenge and cover for Baines.
Instead, we pissed 㿲 million up the wall on Sigurdsson and Klaassen – neither of who add much creativity. Sigurdsson is good at set pieces and chips in with the odd goal... but he isn't much of a playmaker and isn't blessed with much technical ability.
Klaassen looks like he might be able to become a Tim Cahill type, at best, when he's settled into the pace of the Premier League. I don't see how we can ever fit him into the team though.
Today's performance was shocking! It's clear (even with the mess made in the transfer market) that Koeman isn't capable of getting the best out of the players he has.
I lost count of the amount of times that one of our players had no movement in front of him... no one showing for the ball; this led to the ball going sideways or backwards. Koeman, it would seem, has no idea how to instill confidence, a cohesive way of playing and a system that works.
I would act now if I was Moshiri. If he is truly ambitious, he should show Ronald the door!
John Charles
134
Posted 01/10/2017 at 18:11:14
I realise we are not the biggest catch out there at present but ,when and if we bin Koeman, please god – not Benitez or Allardyce or anyone of that ilk.
Tony Hill
135
Posted 01/10/2017 at 18:12:47
The question to ask is whether you would back Everton to beat any other side in the Premier League. With the possible exception of Palace, I would answer in the negative.
That being so, we have a relegation-threatened side. Whatever the reason, Koeman isn't getting the players to perform effectively. We have to give ourselves the best chance of getting out of trouble, or of not sliding further into it. That must mean that the manager is dismissed.
The players are truly woeful and must cop a large share of the blame. So, too, must those who failed to buy the striker whose absence is predictably torpedoing our season.
We just don't have the luxury of waiting. What, in truth, are we waiting for, there is not a hint that things will improve? We must act.
Des Farren
136
Posted 01/10/2017 at 18:14:43
Love your generosity, Colin!
Soren Moyer
137
Posted 01/10/2017 at 18:15:06
Just sack this twat please! Even replacing him with fat Sam would do it for me at this point! At least he knows what he is doing.
Ste Traverse
138
Posted 01/10/2017 at 18:18:02
I recall the 'experts' on here telling us how we wouldn't miss that 'disrespectful beaut' Lukaku as the goals would now be 'shared around'.
Well so far it's four goals in seven games. We can hardly score any, let alone share them around. That prediction has proven to be well wide of the mark.
And I thought today we did well for 20/25 minutes, their goal certainly came against the run of play, but when we went a goal down, we rarely looked like scoring.
Koeman is skating on very thin ice now.
Colin Gee
139
Posted 01/10/2017 at 18:22:51
Koeman Out!
That's all that needs saying.

Jamie Barlow
140
Posted 01/10/2017 at 18:24:06
I can't see Moshiri sacking him after letting him down in the transfer window.
Still nowhere near good enough but I thought that was the best we've played all season.
Mike Kehoe
141
Posted 01/10/2017 at 18:29:20
Joe McMahon (#56),
Of course, you are completely right: there are no lessons whatsoever to be learnt from history. Sack Koeman, sack Walsh, sack them all.
It worked well for Palace....
Des Farren
142
Posted 01/10/2017 at 18:30:43
Paul @ 131.Not sure it was unlike him. He performed similar feats many times under Martinez and it worked.
Paul A Smith
143
Posted 01/10/2017 at 18:31:03
Ste (#138). That first line sums the whole club up. That's why players like Lukaku want to go. We are Mickey Mouse.
There are still fans refusing to believe some of these signings are an average bunch that the top sides either didn't want or wouldn't touch.
These fans who have done nothing but criticise Barkley and Lukaku are a joke. The same people praising the club for signing players a year or 2 younger with potential. The logic stinks. We lose young quality and buy players who have hit their peak already and thousands find this acceptable.
Then these experts can't even be civil and reason with anyone. So we end up with fans bickering over something that is clear in performance and results. We are not good enough and struggled at times even with Lukaku and Barkley. Why, because they needed more quality around them.
Not players who are showing good stats from dead balls at Swansea, or ones you seen play poorly in a Europa League final.
But this is what they wanted instead of a lad who loves the club. And has more ability. Now fans are wondering why we have players looking like they don't care.
Brent Stephens
144
Posted 01/10/2017 at 18:35:07
The cost of relegation or even relegation-just-avoided dwarfs the cost of paying off Koeman.
Christy Ring
145
Posted 01/10/2017 at 18:36:16
Jamie (#140)
How did Moshiri let him down in the window. Koeman spent 㿙m on Sigurdsson, 㿆m on Klaassen, spent 𧵎m, had two months to buy a striker, a centre-back and left back, but made a shambles of it.
Andy Riley
146
Posted 01/10/2017 at 18:37:50
Reminds me awfully of the Mike Walker era. Lost the players, bereft of passion or ideas. Sack him now and give Unsy a chance for six games. There is a window now with the international break.
The next two Premier League games at Brighton and at home to Arsenal are difficult but winnable and the problem is that less than 4 points from those two will leave us in Sam Allardyce territory. I think Moshiri has to seize the moment.
Brent Stephens
147
Posted 01/10/2017 at 18:40:22
Ste (#138) "I recall the 'experts' on here telling us how we wouldn't miss that 'disrespectful beaut' Lukaku as the goals would now be 'shared around'".
Sadly the case, Ste. How we need his goals, however scuffed some of them might have been. My guess is he'll continue with his current goal-scoring form at Man Utd.
We badly need somebody up front who can score something close to what he bagged for us. January window we need to push the boat out – but by then who decent would sign for a relegation-threatened side?
Paul A Smith
148
Posted 01/10/2017 at 18:40:33
There are no excuses. If every single signing he made got injured, he could still pick an 11 worth more than Burnley's in price.
His coaching is obviously dated. Like his reputation.
Jay Woods
149
Posted 01/10/2017 at 18:41:19
What is this utter tosh about a left back "to challenge Baines"?
Baines would have been shipped out by now if he had been at any other top club.
What does he offer?
Leadership? Pffft!
He can't defend for toffee and now he can't attack either. Maybe his zimmerframe needs castors.
Paul A Smith
150
Posted 01/10/2017 at 18:43:18
I said the same about Baines under Martinez, mate.That derby injury ruined him. He lost a yard of pace after that recovery.
He makes the same runs far slower now.
Colin Glassar
151
Posted 01/10/2017 at 18:44:52
Any chance we can get Stones, Lukaku and Ross back?
Ray Roche
153
Posted 01/10/2017 at 18:45:32
Brent (#147)
Brent, we have regressed so far this season that even Lukaku would have trouble scoring. We are enduring some of the most inept, boring, negative rubbish I can remember since Mike Walker got off his sunbed and became manager.
Tony Hill
154
Posted 01/10/2017 at 18:45:34
There is another indicator which is troubling: we have the second worst goal difference in the league. We must not underestimate the peril we are in.
Brent Stephens
155
Posted 01/10/2017 at 18:46:37
Ray, sadly you might be right. It hurts like hell.
Andy Crooks
156
Posted 01/10/2017 at 18:47:20
Poor again. The coach was poor and the players were poor. Alan Smith # 17, " hello mediocre fans...", Let us see copies of all the questions you have fucking asked the board. Tell me where I can sign the online petition YOU are setting up. Don' t criticise other Evertonians while YOU do fuck all.
Some Evertonians spotted this disaster a while ago. They were spot on. I have no problem admiting I was wrong. Also, I have no doubt that they wanted to be wrong.So, what happens now? If was a regular match goer I would vent my disapproval. I am no longer, and have no right to suggest that others do.
Sam Hoare
157
Posted 01/10/2017 at 18:48:40
I've been lingering from casting my judgement but I think i've got one foot and an arm on the Koeman out bandwagon.
It's just showing no sign of improving is it?
I'd be fairly happy if the board sacked him tonight and gave Unsworth the international break to try and get things in order and then as long as they needed to find the right long term solution. Unless Unsworth really nails the opportunity.
No guarantee that the next man in will get things right but its hard to imagine it being much worse.
I suspect the board will want to give him more time but if we fail to beat Brighton, Lyon or Arsenal in the next three games (which seems highly likely) then surely, surely that must signal the end of the road if we are not already there.
Colin Glassar
158
Posted 01/10/2017 at 18:48:50
I feel sorry for Bainsey. It's obvious now that he can't play every game but who can replace him? We probably didn't even try as we wouldn't want to upset him like McCarthy, would we?
John Charles
159
Posted 01/10/2017 at 18:49:03
Barkley, who hasn't set the world alight, is looking a better player every game he doesn't play.
Unlike Sigurdsson, Klaassen and Schneiderlin, who are looking worse players every game they do play.
Almost 𧴜M to be worse – go figure!
Will Mabon
160
Posted 01/10/2017 at 18:52:20
Ste @ 138:
Not a nice situation in which to say "Told you so", is it? In football a bird in the hand is very much worth two in the bush. The same situation has been played out with Barkley*. Thankfully he's still here and may remain depending how things pan out.
We're unlikely to be in a position to buy top quality players like Lukaku again for a very long time. Moshiri ain't about to spend big money anytime soon. In fact, we're more likely to lose the better players we do have if this fiasco continues.
* Don't need anyone to tell me "Barkley wants to leave". Thanks.
Paul A Smith
161
Posted 01/10/2017 at 18:53:46
Andy (#156) it is a good point to suggest somebody should do more while moaning about it. The fact is so many are quick to shut a fan down with what they call a negative point. Even if it's a fact.
It's basically ignorance and how would a petition help if 90% of a thread is against your idea?
I read either side of the argument and I don't mind being enlightened by another fan. I think loads do though.
Jack Convery
163
Posted 01/10/2017 at 19:00:16
Everton the club that sold Lineker and Lukaku - therein lies a clue.
Peter Jansson
164
Posted 01/10/2017 at 19:01:37
I defended Koeman the whole of last season, believing that he would make progress of this club.
I don't really know how wrong I was. Looking at Everton right now, thinking of the money spent on bringing on players, we are an absolute joke.
There are tons of problems absolutely everywhere.
First, the main problem from my point of view is that Koeman lacks the ability to form a team that can play offensive football and he does not learn enough from his mistakes. And now he has painted himself into a corner that he never will be able to get out.
What are the problems?
1. We continue to play with two mediocre defensive midfielders that are absolutely useless of passing forward. And I don't mean just bad, but useless. How are we ever going to score with Schneiderlin and Gueye out in the same time.
2. Koeman does not understand point 1.
3. We do not have a quality striker. Sandro can be good but do not fit into Koeman's style of play.
4. We do not have a good right back. Maybe Jonjoe but he is not playing.
5. Baines is not showing good form and there is no replacement.
6. Sigurdsson is playing out of his position.
7. Tom Davis – the best offensive midfielder we have – Koeman does not play often enough.
8. We lack at least one player for central defense.
9. We lack good speedy wing players. And Koeman does not play the few we have (Mirallas, Lennon). How did we end up with a team that play only one wing player? And the one played is 19 and stumbled into Goodison because we met his team in the Europa league?
10. Koeman seem to do something that piss players of. How can he so quickly send players out in the cold? He seem to lack personal charisma.
11. The players seem not to like Koeman's style of play. Complaining about few passing alternatives during games.
12. Koeman seem to not be able to solve any point of these 11 points above.
I think Koeman should be sacked ASAP. The longer this drags on, the worse for us.
Andy Crooks
165
Posted 01/10/2017 at 19:01:42
Fair enough, Paul. I made my point because I feel as frustrated and powerless as you. He needs to go, he must go, but what do we do about? Frankly, I made the same point as you about Moyes, then Martinez. This man will relegate us.
Rick Tarleton
166
Posted 01/10/2017 at 19:03:24
Schneiderlin is atrocious. Whatever the injury was he suffered, this is a shadow of the player who bestrode the midfield at Southampton. He is incapable and if you think about it, can anyone say a game in which this 㿊 million player was Everton's best player, since he arrived over a year ago?
Sigurdsson looks incapable of controlling or running a midfield, Klaassen looks a Championship player, Martina isn't even that level and as for the disaster that is Williams.
Who bought them all? If Walsh is to blame, he should be sacked, if it's Koeman he should resign in shame.
This manager is less adventurous than Moyes, and has less footballing acumen than the disastrous Martinez. Please go.
Christy Ring
167
Posted 01/10/2017 at 19:07:38
Koeman can't be given more time, he's not going to change his tactics. We might get Ross back, who would add creativity and pace.
Sam Hoare
168
Posted 01/10/2017 at 19:09:15
People are very quick to write off players. The likes of Stones and Lukaku (one of whom will likely be a regular in the title winning team this year) are prime examples.
The likes of Schneiderlin, Klasseen etc may or may not go onto better things at our or another club but the issue is more that at the moment it does not seem that this manager is getting the best out of a single player at his disposal.
Neither the defense nor the attack is functioning well. There is no silver lining. No sign of progress. No belief. No plan. No option but to move on. Koeman out.
Simon Harris
169
Posted 01/10/2017 at 19:18:08
Moshiri must be twitching with the lack of return on his 'project' investment to date.
£45 mil on an average Sigurdsson looks like dreadful business, and must (should) make him wary of trusting Koeman and Walsh with further big spend.
Any similarities with Randy Lerner's Villa?
Spunked money early on, only to see it and Villa ebb away.
I suppose we can hope that some of the youth spend will come good and we have or will get a coach to bring them through or if needs must recoup.
Kunal Desai
170
Posted 01/10/2017 at 19:19:47
It's that feeling where you knew how shit and grim Everton matches have now become that the result doesn't anger you.
I won't step foot inside Goodison Park until Koeman is gone.
Gavin Johnson
171
Posted 01/10/2017 at 19:20:52
KOEMAN OUT!!!
Eric Paul
172
Posted 01/10/2017 at 19:23:25
The "disrespectful beaut Lukaku".
Never wanted to play for us in the first place so it's irrelevant talking about him. However, a good manager would replace his goals and more by spreading them throughout the team; 6 defenders is never going to achieve this.
Paul A Smith
173
Posted 01/10/2017 at 19:23:36
Andy (#165), I know where your coming from and although I do believe the club know how fans feel through this sort of platform maybe we could be more vocal? We need balance in views though and the same ambitions.
This is what the original post is about. Nail everything down including the Premier League being an even bigger business today. Is anything any different from us?
And while fans enthusiasm is sometimes great to see, as a whole we have been to happy to see less quality come in than go out.
I appreciate fans like players for different reasons but there is a reason the top 4 sides always want our better players. Why is that so hard to see?
Andy Riley
174
Posted 01/10/2017 at 19:29:45
I see that it's been reported that post match he said something to the effect that his Everton future is out of his hands. Not really sure what that means but I recall Walter Smith saying something similar after the Middlesbrough FA Cup defeat and two days later he was history.
Jamie Barlow
175
Posted 01/10/2017 at 19:32:07
Christy@145, by not buying him the Striker, centre back and left back he wanted. Simple.
Koeman and Walsh gave them a list of players to get and they failed to do so. They fucked up badly.
Paul Birmingham
176
Posted 01/10/2017 at 19:41:03
This was the nap result of today's Premier League games. Dire, heartless crap.
Something isn't right and it looks like the candles have gone out as I sense the players now fear turning up.
We all want success but this is relegation form and I cant see where the next win will come from as we never have a settled side.
This form and bad atmosphere is ranking close to the dire days of Bobby Ms last year in charge. It's pitiful and some how I don't see supporters being given the relative facts and truths about what's happening at Finch Farm and the boardroom.
The rot has set in and we need a leader on the pitch and some stomach for the fight that faces EFC now.
Stephen Davies
177
Posted 01/10/2017 at 19:41:27
Next 5 games:
Brighton, Lyon, Arsenal, Chelsea, Leicester.
I cant even see us beating Watford or Newcastle Home or away.
Mentioning Newcastle, they started off the season with Championship players and have have spent hardly anything since..a couple of not so noteworthy signings.
I saw Rafa's prematch comments on Sky... He didn't appear afraid of Liverpool in fact looked very confident and relaxed. That transfers to his team. in fact I think he said to avoid losing you score goals.
He's a master tactician alright.
Derek Knox
178
Posted 01/10/2017 at 19:42:06
As I have said often on here, I wish for the Club's sake, he would resign, but if he refuses to do this, and I don't think he will, he knows he gets the thick end of 㾶M compo.
What other jobs, apart from Banks and Company Directors, reward failure, it makes my blood boil really.
I do think it would the ideal time, before we sink any deeper, we have the International Break which would allow a bit of breathing room for whoever takes the reins, whether it be a Caretaker, or full blown appointment.
I do think too, that we have a decent squad of players, okay, maybe not Worldbeaters, but at least enough on which to get the correct permutations, and carve out some much needed wins and points.
Eric Paul
179
Posted 01/10/2017 at 19:42:32
Jamie,
How do you know what or who was on the list if indeed it actually existed
Christy Ring
180
Posted 01/10/2017 at 19:52:02
Jamie (#175),
Absolute copout.
1, Koeman wanted Giroud, but he didn't want to move, no plan B.
2, What centre-back did he want? 3 What left back did he want?
All he wanted was Sigurdsson; he's to blame not the board, and what other manager was on holidays on the last day of the window?
Jamie Barlow
181
Posted 01/10/2017 at 19:52:28
Do you not think there was a list of players Koeman and Walsh wanted Eric?
I'm sure Koeman said many times he wanted a left sided centre back and a Striker. Should the board guess who they wanted?
Martin Mason
182
Posted 01/10/2017 at 19:54:25
Lukaku's goals covered a lot of faults in the team last year, we are exposed to them big time now he's gone and it isn't pretty.
I'm also of the opinion that we don't have a strong squad that just needs a good coach. We have paid vast amounts of money on bang-average players like Schneiderlin and Sigurdsson who are journeyman and are weak across the whole of the back line. Everybody I watch now, including Newcastle, look better than us in most respects except reputation.
I have no answers other than to hope that the club turn it round. It's not just a simple matter of Koeman, success is something which comes from the top down and Moshiri needs to look seriously at whether his top management team have what it takes to run a big club.
I've bought tickets for Brighton which is my home game and hope we can improve some by then.
James Marshall
183
Posted 01/10/2017 at 19:56:10
Football teams are a sum of their parts, you just have to get the right blend of players all doing their jobs correctly in the positions that suit them. Ronald Koeman does not pick a team of players that understand their jobs, their positions or the part their roles play I making that team work as a unit.
Football is a simple game made complicated by managers who see something in individuals that simply does not exist. This is what we have under Koeman at the moment.
The same team, or at least the same formation will yield the same results. He appears as stubborn as Martinez was.
Barry Williams
184
Posted 01/10/2017 at 19:56:30
Anyways, here goes.
I have read most of the comments on here as I usually do. I have firmly been in the Koeman corner and was calling for more time, however that was with the belief that with his life spent at top level football as either a player/manager that he'd be able to turn thing around. I lost that belief quite a few games ago.
The Lukaku/Barkley/Stones staying or leaving debate is superfluous imo as players come and go all the time. Recruitment wasn't ideal, injuries haven't helped either. However, and it is a big however, we should have enough in this squad to be doing a lot better even with the recruitment issues, injuries and players leaving.
I want to try and keep this reasonable short and not meander. Okay, the players we have bought haven't become terrible overnight. Klaassen and Sandro should be played sparingly until up to speed. I actually think Klaassen is more of a box-to-box player than a Number 10. Sigurdsson had no pre-season and is being played out left for some reason. Davies playing wide right today speaks volumes.
My point is, with a lot better management of players we could quite frankly be doing a lot better out on the pitch. Baines needs a rest. Williams needs a rest. Schneiderlin needs dropping.
We could have used Holgate today at centre-back. played with one defensive midfielders and thus played Davies, with the added bonus of his link-up play with Niasse. Garbutt could have played left back, even Besic could do a stint there as I believe he plays in defence for his national side on occasions! We could have gone Kenny at RB and Martina at LB if needed!
We played a wide player in Vlasic who seemed to be under instruction to come inside?? We have 3 other pacey attack minded wide players fit, but only one on the bench, he was unused!
The answers are in the squad already, the management and coaching staff, as well as the players are just not doing it. I can't see it changing anytime soon,I hope I am very wrong about this I really do!
For the record I thought Niasse played quite well today and deserves a run in the team with two wide players and Sigurdsson/Rooney as the false 9/number 10! Will it happen, nah! Then again what do I know? I am but a humble English teacher (so no excuse for poor grammar).
Barry Williams
185
Posted 01/10/2017 at 19:58:07
James Marshall - 183
You have summed up what I was thinking, but more succinctly!
Eric Paul
186
Posted 01/10/2017 at 20:04:31
Jamie,
If there was a list how long was it when we signed 6 first team players and you think the board failed.
Colin Glassar
187
Posted 01/10/2017 at 20:05:09
Simon 169, that's a scary thought re Randy Lerner and Villa. The same could go for Ashley and Newcastle I suppose ie rich owners who get tired of wasting money on poor managers and players. Scary times indeed.
Jamie Barlow
188
Posted 01/10/2017 at 20:12:32
Longer than 6 first team players, Eric. Probably more like 9 and it included a striker, a centre-back and a left back.
Ian Riley
189
Posted 01/10/2017 at 20:13:11
If or when Koeman goes the director of football should follow. A striker was a must when Lukaku was sold. He has to take responsibility for his part.
Amit Vithlani
190
Posted 01/10/2017 at 20:14:48
Has he been sacked yet?
Mike Allen
191
Posted 01/10/2017 at 20:19:08
Everyone was like a child in a sweet shop when the transfers started rolling in. "Great," everyone thought – "We are on the move; yes, we really are a big club!"
TW was littered with all kinds of so-called star players we should buy or rumoured that we were buying... well, here we are, folks.
A dross second half of last season and this season? Very expensive dross – nothing changed... It's not just this season, it started going downhill after the Leicester defeat in the FA Cup and nothing has been addressed since.
Koeman has been a big mistake. It looks like the manager and his staff have no tactical awareness or man-management skills. The international break seems a good time to get shut. Unsworth is our only option at this time and I would hope it would turn out to be a good move.
Andy Meighan
192
Posted 01/10/2017 at 20:24:04
Mike Kehoe (#41),
You are naive, man. Kendall Mk 1 was a totally different time and era. Any one of 18 clubs could challenge for The League then. Now, the monied clubs win it all.
What part of "We are shite" don't you get? We can't defend and we don't score. To me, that spells recipe for disaster.
Paul Tran
193
Posted 01/10/2017 at 20:29:41
Thankfully missed the game today. One thing I would say is that I'd rather judge the players when they play under a coach that gives them a simple plan they can work with.
I have never seen a confused and dispirited bunch of players since, er, the last manager.
This is as good a time as any to replace the manager. We need some quick action from the people running the club. Not a rant on Sky Sports, but a coherent statement and action showing some purpose and direction.
At the moment, we're drifting on and off the pitch. Someone has to grab hold of this club and start running it like the elite business we want it to be. Now.
Mark Frere
194
Posted 01/10/2017 at 20:31:23
Jamie @181,
The board might've done us a favour, by not flushing countless millions down the drain by securing mediocre targets identified by Koeman, Walsh and Co.
Jamie Barlow
199
Posted 01/10/2017 at 20:40:49
Mark, I'd have rather seen how the season panned out with them rather than not.
Eric Paul
200
Posted 01/10/2017 at 20:41:29
Jamie,
I doubt any manager would want to change 9 first team players when they finished 7th the previous season. That said I have to agree we needed a striker who wouldn't come (Giroud) a centre half who we signed (Keane) and cover for Baines (one of our best performers this season), so they let him down on one count
Steve Jenkins
202
Posted 01/10/2017 at 20:44:53
I don't see him going "yet" but if he does go over the next couple of months who do we bring.
Ancelotti is an obvious one and with 3 Champions League wins we could do alot worse.
Dyche has just been suggested by the Indepedent.
No nonsense, v organised and knows how to get results against the top teams and away from home with extremely limited funds.
Koeman hasn't been able to do that with a war chest.
Dyche is the perfect type of manager for Derby games.
Perhaps a bit direct and boring on the attacking front is an argument against him, - however their goal today would argue otherwise.
Moreover with far more significant funds to play with at Everton would give him a much greater option of creative/attacking player to go with.
Thoughts on Dyche as our next manager?

James Stewart
204
Posted 01/10/2017 at 20:52:32
I'm utterly astounded he hasn't gone. I know this is Everton we are talking about but how long do we really have to suffer inept clueless stubborn fuckwit managers?!
It took forever to ditch Martinez even when it was obvious we were regressing fast. I thought Moshiri might be different but he seems happy just to let Koeman turn us into the laughing stock of the league.
Disgusting!
Steve Jenkins
205
Posted 01/10/2017 at 20:52:33
I'll just add, personally, I don't see what we have to lose by trying a manager like Dyche, he could really flourish with that extra money he had to fund our team.
It might not work out, but then we'd be no worse off than under Martinez or Koeman, and then we go again for another manager, as no manager is guaranteed to bring success.
He's done an unbelievable job with the resources he's had at Burnley, if he was a player we'd be talking about him having big potential if given a chance at a top club.
It could turn out to be a great move, if it happened.
Jamie Barlow
206
Posted 01/10/2017 at 20:53:41
No Eric, they wanted a Striker (whoever), a left sided centre half and maybe a left back (makes sense) and they got none. So definitely 2, maybe three important players they failed to sign.
Paul Tran
207
Posted 01/10/2017 at 20:57:22
I've thought about Dyche, Steve. I'm wondering whether he's another one of these 'know how to set up a team' managers who will flounder when he has the pressure of delivering real success, or whether he's one of the rare ones who will step up. He'd definitely stabilise us, but would he take us further?
He'd be my choice from the experienced English managers. If we're not thinking of him, then we'd have to look at Unsworth, who I think would be worth a go as an interim if we can't persuade Ancelotti right now.
Mark Frere
208
Posted 01/10/2017 at 20:59:41
Yes, Jamie, but why did we need Rooney, Sigurdsson and Klaassen?
Rooney: past his best but more a natural playmaker than the other two... on 𧵎k a week.
Sigurdsson: not really a playmaker but his best position is in the hole behind the striker which he is yet to play.
Klaassen: Has no chance of playing the number 10 role with an overload of players already suited to play that role.
Are you really happy with these jokers transfer activity since the summer of 2016? They've put together a very average, unbalanced, expensively assembled squad. And some of the targets they didn't manage to secure were major bullets dodged.
Eric Paul
209
Posted 01/10/2017 at 21:00:56
Jamie,
Are you suggesting Koeman & Walsh didn't give names merely positions that needed strengthening? If so, why do we need a manager?
Andy Riley
210
Posted 01/10/2017 at 21:01:44
I think Dyche is a reasonable shout. We need something similar to the 2002 Moyes – a young, hungry manager with something to prove. However I think we would be better giving Unsy 6-10 games to see if he's up to it. If he's not then we have to look elsewhere.
I think we are now in ABK (anyone but Koeman) territory and our owners need to be decisive this week.
Steve Jenkins
212
Posted 01/10/2017 at 21:11:33
Same thoughts crossed my mind, Paul.
I guess we won't know unless he becomes our manager.
What he has over Unsworth at the moment I'm sure as far as the Board will be concerned is he's proven Premier League experience, or at least more than a game.
For that reason I don't see Moshri taking a punt on Unsworth, yet, at least.
I'd also like to see Unsworth given a go, definitely at some point, but he's doing such a great job with youngsters, in a way, I don't want to lose that.
However, if Koeman does go at some point throughout the season – Unsworth could well take on the caretaker role until the end of the season giving him an opportunity to prove himself in the role.
Colin Glassar
213
Posted 01/10/2017 at 21:11:40
Give Unsy a go till xmas then if it ain't working get Ancellotti or Marco Silva in. Both know the prem and both know how to organise a team, unlike this buffoon.
Clive Lewis
214
Posted 01/10/2017 at 21:15:37
I don't like the idea of another unknown manager who has not won anything. Ranieri, Mancini, etc. if you are going to gamble... the Watford manager.
Seamus McCrudden
215
Posted 01/10/2017 at 21:17:23
And what happens with Unsy if it doesn't work out?
Simon Dalzell
216
Posted 01/10/2017 at 21:20:19
Seamus (#215) erm... get Ancellotti or Marco Silver in?
James Stewart
217
Posted 01/10/2017 at 21:20:28
@213 I think that is a very good shout.
Mark Murphy
218
Posted 01/10/2017 at 21:20:34
Martin (#182), I live up the road in Horsham. If I can get a ticket fancy a pre/post match grumble??

Glenn Clark
219
Posted 01/10/2017 at 21:20:59
Less than 4 years ago today when drawing 1-1 (Dec 2013) away at Arsenal we had a front 6 players of:
McCarthy Barry
Mirallas Barkley Pienaar (Deulofeu subbed on and scored)
Lukaku
Today:
Vlasic Gueye Schneiderlin Sigurdsson
Calvert-Lewin. Niasse
What sort of progress is that?? Would any of the players in today's front 6 get in that team? Possibly Sigurdsson for Barkley as a No 10 but none of the rest for me despite the fact Vlasic and Calvert-Lewin could both be stars in the future!
Relegation battle this season, I am afraid!
Paul Tran
220
Posted 01/10/2017 at 21:23:45
If we can't persuade Ancelotti, I'd be interested in taking a look at Silva. Cracking job under a mad chairman at Hull. Good start under a mad set-up at Watford. A good manager used to working in madhouses - good fit for us!
Mick Conalty
221
Posted 01/10/2017 at 21:25:41
Keoman will be able to put red lights on his Christmas tree again. Cos he won"t be anywhere near Everton.
So OK, So OK, So OK. Ronald it's not bleedin OK. OK, OK
OK, OK, OK.

Brent Stephens
222
Posted 01/10/2017 at 21:41:50
Just watched again that incident when Williams escaped a penalty decision against him. I reckon he made first contact with the player's foot and not the ball, so a case for a penalty (after he failed to clear properly). Disaster waiting to happen.
On the other hand, watching a replay of the game, I think, as I did during the game, that Martina has again taken undue flak on here (as in previous games). No mistakes, and offering himself going forward and getting crosses in (as in previous games). But being provided with no cover on our right so being confronted with two players (as in previous games). Tactics Mr Koeman, a result of your narrow play. Martina may be no Coleman but he's taking undue flak in my view.
Eddie Dunn
223
Posted 01/10/2017 at 21:43:50
There are problems everywhere I look. The board/Walsh screwed up not getting a striker Koeman must have got the hump over that. Lukaku jumped ship, Barkley tried to follow and Del went home. Mirallas was almost offloaded.
We bought Williams who came back from his hols a fat lard-arse, he has lost a yard in a year, Schneiderlin hasn't been the same since his injury.
We were fleeced by Swansea for Sigurdssonand the protracted mess of his transfer meant he was unfit.
Rooney has off the field issues and obviously is failing to preserve his knackered body.
Klaassen and Sandro are on a learning curve. Add to this the signing of the journeyman Martina, Jag's injury, Baines's demise, the loss of Seamus, not to mention Bolasie and you have a cocktail of woe much of which is not down to just Koeman.
The new boys are finding it difficult to bed in for various reasons and our club have failed to recruit adequate personell to cover the obvious frailties in the squad. Add the perplexing subs, line-ups and tactical dimness of Koeman and the lack of width(Mirallas/Lookman must have become invisible) and we have a right royal blue mess of a situation.
If another manager came in he would still have a lot on his plate. We bought in an inflated market, players from struggling clubs, has-beens (Rooney) and young foreign lads with no Premier League experience.
Last season we had a bad run but we got over it. However our away form was lamentable It seems to me that we have brought that form home. A new man would have to get more out of the same bunch of lads and would have to wait till January to buy.
The board will surely err on the side of caution and wait a few more weeks to see if we turn it round. I think at the moment we would mostly all settle for 44 points and 16th place.
Amit Vithlani
224
Posted 01/10/2017 at 21:46:11
It's actually not difficult. Koeman – fuck off. Cheque's in the post.
Unsy – here is your chance.
Martin Mason
225
Posted 01/10/2017 at 21:47:27
Mark@218, definitely.
I live in Horsham too btw. Drop me a line on masonmart@aol.com and we can organise something.
David Metcalf
226
Posted 01/10/2017 at 21:57:02
Koeman has to go now... simple as.
This situation stinks of Mike Walker back in 1994, when it was becoming more and more obvious with every game that the players were not buying into his methods. Even Peter Johnson finally realised that a change had to be made in order to save the season,and avoid relegation.And I think this is exactly where we are with Koeman now.
Has he lost the dressing room? Well,unless any of us are "in the know", we can't say for sure that he has... but the evidence does not look good. Because not only do the players look utterly bereft of confidence, they also look confused as to what it is they're being asked to do. They look baffled, full of doubt and uncertainty. And this has been the case all season.
What also really grates with me is the fact that not only are the results dreadful, but the football itself is so painfully dull!! Koeman has turned us into the most boring side in the Premier League. I'm not expecting champagne performances every week, but for fuck's sake, the entertainment levels are absolute zero!! I sit in the Upper Gwladys,and I think it's only a matter of time before me or someone else nods off during a game as long as Koeman is in charge!!
Anyway,if Moshiri wants to save our season, he has to act now we simply can't afford to just sit and hope that things might come good, when there's no evidence whatsoever that they will. David Unsworth in the short term for me, with Big Joe acting as a mentor. Unsworth has worked with quite a few of these lads at Under 23 level, and Joe is a pair of safe hands, good with the media, and would be perfect in this scenario, having been in this situation himself back in 1994 when Walker was sacked.
Callum McNab
227
Posted 01/10/2017 at 21:57:28
The amount of years we waited to have this amount of money to spend on building a top four team, and Koeman has blown the lot.
I think we have no choice but to get rid and bring Unsworth in. He knows the Under-23s and we have no choice but to use some of them to get us out of this mess we're in. It's obvious that there is quite a few that aren't trying or have lost there confidence. They need dropping and players put in there place who are prepared to try.
But mostly having a Manager who has a clue how to play football,as if this man stays I fear it will be to late by Christmas.

Simon Dalzell
228
Posted 01/10/2017 at 21:57:46
Seamus (#215), Your comment has just sunk into my thick skull. My first reply was just tongue-in-cheek, honest! Apologies.
Roger Helm
229
Posted 01/10/2017 at 22:05:53
The money it would cost to sack and pay off Koeman is peanuts in today's game – about the cost of a journeyman squad player. He has clearly lost the dressing room and I can't see any way back for him.
It seems Dutch managers are not really the thing these days, after him, De Boer and van Gaal. Defensive football is old hat these days (or at least defensive football that can't even defend properly) – we need an attacking Latin or a hungry young English manager, but a bit more research before hiring this time, and in the meantime Unsy as caretaker.
Our younger players are really promising and if they all got some game time together I think they would make a good team.
David Johnson
230
Posted 01/10/2017 at 22:08:58
Koeman has called the board out on a number of occasions now. Maybe he plays with two defensive midfielders because he knows the defence is shite. This club will always stink whilst Bill fucking Kenwright and his cronies are around. Callum (#227) we aimed for a zero net spend.
Ash Moore
231
Posted 01/10/2017 at 22:16:26
It's tough. Looking at the fixture list Everton should be beating Burnley at home. We're also at that stage of Koeman's tenure where we should be starting to see dividends. Instead the performances are
getting worse. We also spent an enormous amount of money, and on the evidence we've seen you'd have to think a lot of that money has been wasted.
Not sure Mosh has the stomach or other bodily parts to write ten mill severance cheques. The ship really might have to be sinking before the alarm is sounded. Interesting times ahead.
John Malone
232
Posted 01/10/2017 at 22:21:36
Can someone please explain to me how the state of our league position and current form is Bill Kenwright's fault?? I must of missed something!!
I thought it was Koeman and Walsh's job to choose the signing's and pick the team?
Wasn't it Moshiri who wanted Koeman and Walsh??
David Johnson
233
Posted 01/10/2017 at 22:22:12
Interesting if he does go, Koeman might just be the type of guy to blow the lid on them. Koeman clearly wanted reinforcements brought in because he said as much weeks before the window closed.
Another Kenwright fiasco saw us chasing only loans on the final day. He's full of shite and is about Tranmere standard at best. Wasn't it Kenwright who wanted Moshiri? Where's the TV money, Bill?
Kim Vivian
234
Posted 01/10/2017 at 22:22:48
Mark (Murph), Martin. I'm pretty local also (T/Wells) and trying for tickets. I'm also drilling for oil in my garden and not sure which is the most likely to come in!
I'd be glad to make up a 3 (or 4) if I get any joy, if you're up for it. I'll watch your posts.
Alastair Kelly
235
Posted 01/10/2017 at 22:30:01
Koeman does need to go now. Last season we underperformed, a Champions League spot could have been within reach and possibly another season with Lukaku.
Far too many players in and out in such a short period of time. Alienating quality players we need now such as Barkley, Mirallas, McCarthy, Lookman, and Lennon...
Realistically we are not going to get Ancelotti. Dyche is a good call and I think Moyes should be a possibility too. Imagine what Moyes could have done with money to spend at his disposal during his time in charge?
Another candidate I like is Gianfranco Zola. He made mistakes at Birmingham (too many changes too quickly) which he admits he would not repeat again. He would build from the back, play a balanced team and make the players understand their roles and improve them. His philosophy is about good players making a great team.
Unsworth in straight away to stabilise the team would be sensible initially.
Steve Jenkins
236
Posted 01/10/2017 at 22:31:49
Jim White has just tweeted;
Moshri
"We are in a difficult moment but these are early days and Koeman has my full support"
As I said I really can't see Koeman going before January - the results would have to be disasterous for Moshri to sack him before then.
Provided they're not, I think he'll get a minimum of one more window to get a striker in and provided we don't finish outside the top 10 perhaps even top 12, I think he'll get the summer window as well, and then if no improvement he'll get sacked.
I think results will have to be seriously dire from here on out for him to go this before Jan or even this season.
Carl Taylor
237
Posted 01/10/2017 at 22:37:09
Results not dire enough yet? Or do we have to lose to Crystal Palace before the board act? Absolute disgrace.
Jamie Barlow
238
Posted 01/10/2017 at 22:39:31
No Mark, I'm not happy at all. We're a Striker, centre half and left back short and we have too many number 10's.
Not at all Eric, I suggested Koeman and Walsh gave them a list of names that they wanted. You were the one that questioned whether a list ever existed.
Christy@180, you think Koeman had one striker on a list of players he wanted?
I've no idea what other players he wanted but he wanted a left centre half and Striker and said so on many occasions. We ended up with none.
Although I do think it's a bit of a twatty thing to do, I don't know what difference Koeman being on holiday makes to us getting transfers in. He picks the players he wants and the rest is up to the board to sort out. There's also electronic devices now where you can communicate without being in the same place.
David Edwards
239
Posted 01/10/2017 at 22:40:42
Good points, Eddie – another manager wouldn't be a cure-all, but we have reached a point where it can no longer go on the way it is.
I really thought we were close to relegation with Martinez – but late surges got us to safety. We will win games with Koeman, but I honestly think not enough.
Only Palace look inferior to us at present – but I bet they end their losing streak with us at some point (which is often the case!). Get the current management team out now – anyone is better than Koeman & co at present. Will the board hear us though - like hell they will!
So let's start making our views a bit clearer than just boos at full time. Our club is in crisis at this moment – and while things could improve, will they really improve enough under this guy. I think not!
Tony Hill
240
Posted 01/10/2017 at 22:42:48
What a shock that we have some patronising nonsense from Moshiri and yet again via Jim White. "Early days". They take us for fools and I truly think that we are in grave danger this season. It's the perfect storm of a crap, complacent Board and a manager ditto. I despair.
Chad Schofield
241
Posted 01/10/2017 at 22:45:15
I've said it and might have written it here... But time to get rid and give Unsworth and Ferguson a go. If they're no good, get rid and pay for another Ancellotti-type... But with their own backroom. There's no point in paying for an expensive manager and giving him part reign. I'm not saying G it's what's gone wrong for Koeman, cause God knows almost all of it's his own doing.
Frank Crewe
242
Posted 01/10/2017 at 22:59:19
Chad why would Unsworth and Ferguson risk the jobs they have now to clear up the mess Koeman has made? If they don't improve things they'll be out of the club and out of work. Personally I doubt they would be interested.
I'm sure Unsworth is quite happy managing his U23s and Ferguson doing his coaching role. Not to mention how many times has a caretaker manager turned out to be no better than the man he replaced. Better to go with a proper manager and no stop gaps.

Andy Williams
243
Posted 01/10/2017 at 23:02:25
I have said it before and I'm sure I will again: other than the lack of a target man we have a good squad – far better than most. Blaming our crapness on individual players is simply wrong.
That Lukaku fella seems to be doing alright at the mo. And that Barkley fella, wanted by Chelsea and Spurs but slated by so many, looks positively Messi-like now.
Koeman is clueless, his man management skills non-existent and his arrogance astounding. His team selection today smacked of lip service to those who wanted pace. And for the first 15 mins, it looked like it was going to work.
But the narrowness of the play and the fragility of the players is incredible. These players are so lacking in belief in themselves and the system that they are making mistakes.
For example Baines is a shadow of his former self as he is being asked to do a job that he has never done before. All afternoon he was left in space because there was nobody ahead of him or close enough to help him. The ball kept being played out to him but his only option was to whip the ball in to players who are no match in the air to Burnley's well drilled defence. Baines has always worked best with little 1-2s around the corner of the box.
There are similar problems all over the field. How this is not recognised by Koeman is unbelievable. The players are all uncertain of themselves, there is a lack of options whenever we get the ball and we are incredibly predictable. Not poor players simply poor management.
Dennis Ng
244
Posted 01/10/2017 at 23:02:57
It's disappointing that nothing is done yet because even Tuchel now will be off the market soon with Bayern looking. We need decisiveness. Good managers don't stay home without a job for that long.
Christy Ring
245
Posted 01/10/2017 at 23:05:29
Jamie (#238),
Have to say, you're talking utter rubbish, "Koeman brought in who he wanted".
O yea he wanted Messi and Ronaldo, but it's the boards fault we didn't get them.
David Edwards
246
Posted 01/10/2017 at 23:07:17
Went on to the BBC Sports website and for a split second you think you might see the top story saying "Koeman Resigns" or "Koeman Sacked" - but of course it's wishful thinking/dreaming! Next step - wake up tomorrow for work and click on the iPad and see the same thing! Sadly, if Moshiri's quotes are true, then that ain't going to happen either.
I'd like to ask our supposed benefactor when the situation gets to such a state when he might well act? Another poor transfer window? 3 months in the bottom 3? Out of the Europa League at the group stage? Mass demos? Planes queuing up to fly over Goodison? We really are a 'Mickey Mouse' Club aren't we? Thankfully our fans are not!
Carl Taylor
247
Posted 01/10/2017 at 23:11:22
At the start of the summer transfer window, what did we/Koeman/Walsh/The Board know?
1. Lukaku WAS going
2. Bolasie & Coleman would likely not be seen again in 2017
3. We had a defence that was getting old and slow
4. Barcelona COULD buy back Del Boy, and we couldn't stop them.
5. We needed creativity, if Barkley wanted out.
6. A top class keeper was needed.
7. All the top teams have pace and strength running through the core/spine of their teams.
What did Koeman/Walsh/The Board do about these issues?
1. Pickford, a top class keeper (in the making) TICK
2. Keane, a younger, although not blessed with blistering pace, centre back with the potential to become a steadying influence. TICK
3. Lukaku replacement - NO
4. Pace - NO
5. Creativity - No sign of it yet.
6. Strength - NO (Klassen, Ramirez, Martina all easily brushed aside)
Now where are we?
A manager who doesn't know his best 11 and doesn't know the best tactics/formation to get the best out of the squad either he assembled or was bought for him to work with. A manager who appears not to value the qualities that EVERY other top manager does, i.e. Pace and strength. (I can't recall Koeman bemoaning our lack of pace, just the lack of a target man)
So lets imagine Koeman got his top target, Giroud. What do you think would be different from what we have seen so far? He can hold the ball up, but for how long and who would be running beyond him? I cannot see what difference a striker, of the profile Koeman wants, would make to this team, other than maybe encouraging a bit more long ball tactics. 'Giroud flicks on to nobody, as we have nobody capable of supporting him with pace'.
Modern football in England is about pace and power, we possess neither and the manager, appears, to value neither. The whole project/vision is flawed. Time to rip it up and start again .for me, anyway.
Lawrence Green
248
Posted 01/10/2017 at 23:20:27
Moshiri has invested a lot in Koeman and if the Jim White tweet posted earlier is correct it looks as if Moshiri will stand by his man for a little while longer.
My question is what has Koeman invested in Everton FC ? I don't know for sure whether he cares about bad performances or not, I don't know if he is a hard task master or a delegator of responsibilty to others in his management team, I don't know if he does much to promote Everton FC outside of office hours.
In fact I don't know very much at all about the Everton FC manager and isn't that part of the problem, the Dutchman seems to be completely detached from the club and its fans and possibly his players, therefore it is difficult to emphathise with him in this very difficult period which we are all experiencing.
I realise that many of the above questions wouldn't matter as much, if at all, if Everton were playing well and getting better results but for a club who's stated aim is to raise its profile and become part of the elite is Koeman doing enough to earn his significant salary?
Jamie Barlow
249
Posted 01/10/2017 at 23:22:21
Christy, the players who we got in were Koeman and Walsh choices but we obviously didn't get certain players for certain positions who they wanted. I never mentioned Ronaldo and Messi. They probably weren't on the list. I'd be a bit upset if we didn't ask whether they were available though.
Rudi Coote
250
Posted 01/10/2017 at 23:38:15
Easy. Don't turn up to watch the game. The players don't turn up to play.

Get Koeman out NOW!
Peter Jansson
251
Posted 01/10/2017 at 23:41:55
Seriously, is Koeman not getting sacked?? I am not going to waste my time watching a Koeman's team again. Ahh... I am getting angry here. Moshiri – wake up for fuck's sake!!
Clive Mitchell
252
Posted 01/10/2017 at 00:04:19
Three more Premier League games Ronald, and it's judgement time. I'd say you've got a bit to do.
Rob Young
253
Posted 02/10/2017 at 00:07:26
Why three more games?
The last 7 said it all.
Taxi!
Nicholas Ryan
254
Posted 01/10/2017 at 00:15:59
I would happily give Koeman more time, IF there was evidence of improvement. If we were just unlucky, or we were playing cracking football, but losing 5-4 every week.
What worries me, is that not only is there little evidence of things getting better; they look to be getting worse. There is no confidence in the team, which must be largely the manager's fault (selections and tactics).
Just think, for a moment, where we would be, if Niasse's two shots at Bournemouth, had hit the post, instead of going in!
Gavin Johnson
255
Posted 02/10/2017 at 00:21:33
It makes you wonder if there was any real plan when Koeman/Walsh assembled this side.
The way we've been playing I just can't help getting the feeling that the template was to buy a better class of player and we've half succeeded there. I wouldn't write of any of the players we bought in this summer except Martina. The problem is that it just feels like we've done it scattergun and just bought good players that became available with little thought of how they'd play together.
Why else would we have bought three No. 10s but not done the thing we were crying out all summer and bought a half decent centre forward that would at least be guaranteed to get into double figures.
If Koeman bought a archetype big centre forward, CB, LB in Jan things could possibly turn around...But where are we going to be in Jan? It's looking like we'll be in a relegation battle by then and what decent player would want to come. It's unforgivable that we didn't buy a big striker and have the foresight to see the mess we'd be in.
Everyone knew in the summer that we were buying slow players but most of us thought they'd be a plan. It seems the plan was to have Giroud. It didn't happen but there should have been a plan B and that's unforgivable and we're reaping what we sowed and for that reason Koeman has to go. Koeman Out!!
John Pierce
256
Posted 02/10/2017 at 01:00:28
Back from a long day, phone off and even under these sad times, hope it might be different today.
I had the team news before left and went off grid.
So the first 10minutes were okay. Then the rest has been said about the manager not today but for weeks and if you look carefully last season.
It falls to the board now to show a ruthless streak and strong hand. Will they? Moshiri risks being labelled as supine as Bill if he fails to act. This will colour his stewardship of the club and everything after it.
There is no argument to keep Koeman, he himself looks shot and the players aren't interested in saving him. You reap what you sow.
Apathy is now smothering the club. Time to act or it will suffocate anything good we have.
John Pierce
257
Posted 02/10/2017 at 01:30:41
Ah, still catching up. Read Moshiri's words through is translator Jim White.
Firstly something of this importance should be issued by him through the club.
Hiding behind his mouthpiece is a sign of man not confident enough in his own skin to lay it down.
I could even get behind Koeman, yes amazingly so, if Moshiri came out clarified both how poor we've been, adding improved performances and results are expected.
Whichever way you look at it, it reeks of the old Everton and the stunning lack of ambition that comes with it.
Phil Walling
258
Posted 02/10/2017 at 04:53:54
Can anybody be sure that a change of manager would make any difference when it would again be the likes of Moshiri and Kenwright making the appointment?
They are both clowns football-wise and their nativity will see us into the Championship sooner rather than later. The only blessing is that Moshiri's PR guru, Jim White, will be able to put a good spin on it when it happens. And it will.
Paul Ward
259
Posted 02/10/2017 at 05:18:54
Some more bad news, boys!
Do you really think Kenwright & Moshiri are going to pay Koeman his 㾶m plus pay his coaching and fitness staff, right now? They will hang out as long as they can, or until we look like being relegated or there are some ugly demonstrations.
The cost of this mess could be catastrophic, even if they replace Koeman with Rhino on the cheap, he will want his own staff and new players.
It would not surprise me if Moshiri was looking to sell his shares, and cursing the day Bullshit Bill conned him into joining our great club.
Jay Griffiths
260
Posted 02/10/2017 at 06:20:19
Hopeless. We are now in the zebra with a limp category.
Picked off as low hanging fruit.
Worried.
Alan J Thompson
261
Posted 02/10/2017 at 07:03:53
The curse of the vote of confidence? We can but hope.
Electronic communication devices didn't seem to work for Barkley or Chelsea and we never heard if Koeman got to use his on his holidays. But all was not lost, I believe he birdied the 17th and was the life and soul of the 19th. Why did his day off fall on the last day of the transfer window? One of Bill's cunning stunts?
After selling all our flair players it is too easy to say the fault doesn't lie with the man responsible for the team on the park. I hope he goes before the nativity.
Will Mabon
262
Posted 02/10/2017 at 07:20:13
"
I hope he goes before the nativity.
"
Before the witches for me, fireworks at the latest.
Alan J Thompson
263
Posted 02/10/2017 at 07:28:13
Will; Just a line borrowed from Phil's (#258) early relegation scenario.
I hope he is appointed Dutch national team manager after this international break.
James Marshall
264
Posted 02/10/2017 at 09:32:43
I've done a fair bit of reading this morning about the potential sacking of Koeman, and it seems the general consensus is that he's good manager, struggling to get the best out of his new signings - and that we lack pace and direction overall.
Attempting to look at things from the outside, rather than on an emotive level as an Evertonian, they have a point.
This is a manager who took a ramshackle mess of a squad and turned them into a well drilled, hard to beat side that made the top 7 pretty easily last season - so why are we so bad now? Is it purely down to the manager? Or is it more down to poor recruitment?
I'm swayed towards bad recruitment, and in that I don't mean we've bought crap players, more that we've bought players that simply cannot play together - I mentioned this earlier in this thread about teams being more than the sum of their parts, and I still think that's entirely true of this team.
We do have good players, all of them bar Martina and Niasse are decent footballers, and even those two have their moments as we've all witnessed. The problem is the blend of players we have, not the players as individuals - we lack a 'team', we lack any sense of what the plan is when they go out there, and it feels as though they're a rudderless bunch who don't really understand their roles.
Look at the title winning Leicester team - were they the best players in the league? No way. Were they the best team? Well, clearly, they won the league.
Koeman's (or the clubs) failing is not putting together a good team, a group of players that understand each other, and compliment each other - Koeman's problem now is that he's the man left trying to make it work in the system, and the vision in which they/he/his coaches have been working towards.
Being a very principled Dutchman, the chances of him tearing up the vision, and starting with pacey wide players is pretty much nil, so he's snookered.
Someone said the other day we don't have wide players, especially for the left as we don't have much in the way of left footers, and as a result our players (Mirallas/Lookman) always cut inside thus negating the width we cry out for - well look at Man Utd as an example, they play Rashford and Young on the left, both right footed and they play with loads of width. It can be done, we have the players, we all see it, Koeman MUST see it, if he doesn't well his goose is cooked.
I give him 2 more games, otherwise the project goes up in smoke.
Mark Murphy
265
Posted 02/10/2017 at 09:35:47
Martin and Kim - great stuff - we could form a supporters club - Horsham And District Including Tonbridge Blues - or Hadit for short!
My main chance of a ticket is with a Brighton season ticket holder but he's a tw@t and the thought of sitting with him WHEN we lose this one is not an attractive one...
However, I'll keep looking - anyone on here with a spare give me a shout please!

Mark Murphy
266
Posted 02/10/2017 at 09:50:22
On another note I see the "vote of confidence" as an encouraging sign as usually such interventions signify that the chairman is aware that something isn't going to plan and usually there are conditions in the backing. Hopefully in this case it's "you've got three games to show improvement or your offski"!
I've completely lost faith in Koeman and If the current team set up is a true indication of how we will play even when it clicks I'm not looking forward to it!
Out before Christmas - Rhino in with the rest of the season to apply for the job full time and to bring his protégés in with him! Youth and pace with Pickford, Keane, Holgate, Gana, Barkley, Vlasic, Lookman and Calvert-Lewin starting every game and Rooney and possibly Schneiderlin (he's off form is all - he's a great player imo) as older guidance.
Seamus and Bolasie to come in and that Henry chap along in the summer to replace the stopgap striker we will bring in in January.
Paul A Smith
267
Posted 02/10/2017 at 10:37:44
James 264 where is the evidence Koeman is a good manager? Until he actually wins something or produces a vast improvement in position then how is he classed as good?
We have the 7th best squad so 7th should be were he finishes at least. Martinez was sacked because he made the 7th best team drop to 11th.
Does this make Koeman good?
Martinez even won the FA Cup at Wigan but I doubt you seen him as a good manager?
Steve Bird
268
Posted 02/10/2017 at 12:49:04
I thought I was a "glass half-full" kinda guy but my glass must have sprung a leak as it is virtually empty!!
Culpability and blame lay right across the spectrum here surely
The Board – Who pulls the strings here, Kenwright? Moshiri? Why announce a consolidated 㿨m line of credit with a Chinese Bank and only spent about 㿔m if this was our season to push and challenge? I'm hearing rumours the board wouldn't sanction further spending in the last days of the window when we were looking for strikers!!
Director of Football – Really ? He is just a chief scout surely, had a bit of success with a couple of players at Leicester and got us Gana Gueye, just the younger brother of an ex-pro who is rather keen on himself!!
Manager – Oblivious to the obvious , obstinate to a fault. I do believe he has a desire to achieve here but his public persona and his strange Dutch direct delivery don't help him.
Players – experienced pros playing like cowards with minimal risk and maximum ineptitude don't help a host of new signings and young hopes all parachuted into a maelstrom of doubt and negativity.
Crowd – piss-poor really, no understanding of collective responsibility to provide optimum atmosphere for new and developing players, almost a "gallows humour" about the place, an indecent haste to criticise and express disapproval.
In summary, the club is in a mess. I would give Koeman till end of November; re-look at the "Director of Football" position; plan heavily for the January window; and expect more proactivity on the field from senior players.
Finally I would look for more positive support from the terraces, at least we can do our bit even if everyone else is failing.
COYB
Kim Vivian
269
Posted 02/10/2017 at 12:49:38
Murph very good - HADIT (that would be ' up to the back teeth ' of course).
I'm the same. I know a season ticket holder at Brighton (nice lady actually) so have put feelers out with her despite it meaning having to sit with the enemy. I shall continue my prospecting for (up to 3) tickets through EFC and forums and let you know if I get any luck anywhere. I'll put a post on T/web somewhere or contact through M. Mason's email (if that's ok , Martin)
Ian Lloyd
270
Posted 02/10/2017 at 12:50:21
The only way to sort this out is for us fans to vote with our feet and no one turn up for them next home game!
I was there yesterday and it was like watching paint dry with more atmosphere on the moon!
Abysmal from start to finish and there is only one solution!
Colin Malone
271
Posted 02/10/2017 at 13:31:10
Schneiderlin and Gueye don't deserve criticism. Both are as good as Lee Carsley, who did a great job on his own. He would sweep up in front of defence, then give the ball to Arteta or Cahill.
Gueye sweeps up and gives the ball to Schneiderlin but the ball goes square or back, or visa versa, Gueye will have a go at goal from 30 yards.
So, if we play either with Tom Davies, Davies has the skill to join up with Sigurdsson, who is also getting a bit of stick at this moment of time, and create opportunities.
One defensive midfielder with a box-to-box midfielder. Jack Wilshire would do a cracking job.
Kevin Dyer
272
Posted 02/10/2017 at 14:54:01
The team had a go yesterday but it was all a bit forced. Still managed to create 2 good chances for Sigurdsson who should be putting one if them away. Confidence dissipated as soon as they scored. No real reaction until desperation time late on.
To those shouting "play the kids": we had 2 out there today and Davies later. Holgate has been poor. Lookman should've been given a chance albeit he's played one good half this season. Davies has struggled for consistency. Kenny will need introducing gradually. DCL is improving but not there yet.
Didn't agree with the report regarding Niaisse. Thought he looked lively the first 20 and kept going. Service to him was poor.
Carragher's HT analysis was bang on. Williams drops right back onto Pickford, who is no longer dominating the area like initially. He's also dragging the defence back leaving acres of space in front. Despite 2 DMs we are wide open through the middle. When we lose the ball the back 4 are far too narrow, balls to wide areas behind our nominal wise attackers are no all day long. We play 2 up front, both useful in the air yet both wide midfielders are in the wrong side and look to cut inside, so we end up with four players trying to finesse through a packed defence. It's also slow so CFs are always backs to goal.
Felt sorry for Baines today. He's not what he was but the system is killing him. Remember when he had Pienarr and Osman to play triangles with? Now he had Sigurdsson in front (in theory) who was always drifting inside, nobody ahead. He doesn't have the pace or trickery to beat a man so needs to play himself into a good crossing position. No chance. That's why he is constantly checking back and passing back to Williams. Must be frustrating.
At one point near the end I counted Rooney, Sigurdsson, DCL and one other (Davies, Sandro or Vlasic) lined up behind each other, about 5 yards separation. A shambles.
We had only 1 of our "no. 10s" starting today and he played wide left. You couldn't make it up.
To those knocking Rooney for slowing things down and hogging play, how do you think we played the first hour?
Koeman needs to go, immediately. If we can attract Ancellotti or Tuchel, we should. Otherwise get Unsworth in as caretaker and let this season be his "interview". And not in some sort of tandem with Royle and certainly not Big Dunc ffs.
Jim Wilson
273
Posted 03/10/2017 at 18:12:19
Andy Williams – you are spot on mate, you nailed it.
Don't blame individual players, it is all down to clueless Koeman.
---
Add Your Comments
In order to post a comment, you need to be logged in as a registered user of the site.
Or Sign up as a ToffeeWeb Member — it's free, takes just a few minutes and will allow you to post your comments on articles and Talking Points submissions across the site.
© ToffeeWeb