Report
Rooney saves Everton with late spot-kick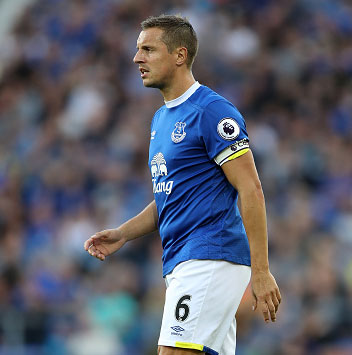 Phil Jagielka returned to captain the side

Against Brighton, Ronald Koeman omits Williams, Martina and Niasse, in favour of Holgate, Jagielka and Rooney.

And there continues to be no place for Ademola Lookman, with Vlasic retaining his place in the side.

A hoof from the kick-off saw Calvert-Lewin fouled but Sigurdsson's delivery was awful. From there on, it was a scrappy start with the home side denying Everton space. Sigurdsson tried a shot that was blocked; Suttner dispossessed Holgate before he could cross.

Vlasic was looking bright but there were no easy ways into a crowded Brighton area, but Everton were making most of the early running. Calvert-Lewin did brilliantly to stop an attack and break but Rooney's set-up for Sigurdsson again saw his shot blocked. /p>

The home side gifted the ball often but the Blues were too slow and Rooney was well tackled, then fouled. Sigurdsson put this one in with more pace and loft but Duffy and Jagielka were taken out by Ryan's determined punch.

It was 16 minutes before Brighton mounted their first attack, ending with Pickford pulling the ball out of the air, to set up another bout of ponderous development from the back that ended with a poor low cross from Baines.

Much, much better movement saw Sigurdsson and Vlasic combine but it was Gueye who shot forcing a stretching save and a corner that Calvert-Lewin could not dig out with Bruno defending well.

A third free-kick, rather generously given, saw Sigurdsson deliver this right into the danger area but Jagielka's flick-on was too fast for Calvert-Lewin who could only head wide.

Brighton were caught offside again after another free-kick for Everton came to nothing. Keane got forward but woefully overhit his cross. Calvert-Lewin tried a lofted ball to Vlasic but it gave the Croatian no chance.

A poor pass from Gueye saw a resulting corner conceded that caused chaos with shots form Dunk and Murray blocked away for another corner, Everton having to defend for the first time in the game. Murray was offside again. The Blues moved forward again and it was Gueye to shoot again, but not strong enough to beat Ryan.

Calvert-Lewin slipped and lost the ball wide left, setting up another Brighton attack, but Murray did nothing with it under pressure from Keane. The game opened up a little with the ball flying around midfield, Jagielka with a superb piece of defending to deny a move down Brighton's left. Stevens screwed a shot high and wide from distance as they saw more of the ball in threatening if distant positions. Fortunately, when they did advance, Murray was frequently offside.

But ominously, the away side was not getting forward to the same extent, and really had no clear goalscoring chance to speak of despite showing more intent in an ultimately poor first half.

The quality after the break was no better from either side but Sigurdsson did get a cross in that was blocked away.

Holgate broke into the right side of Brighton's area and lashed a shot at Ryan. Vlasic crossed for Calvert-Lewin but there was little power in his header. But if anything, Everton were less cohesive even than in the first half as Gueye was caught on the ankle.

Vlasic spun his man well but slipped horribly as he set to fire home.A t the other end, March gave Pickford some catching practise. Rooney overhit his pass to Holgate, and nothing was really working.

Keane was called for leaning on a player and the Everton goal saw some pressure, with Brighton getting another corner hat was harmlessly headed behind by Duffy.

Niasse was readied as Everton's not-so-secret weapon, Koeman's charges looking even less likely to penetrate as Dunne saw yellow foor holding back Roooney

A dangerous free-kick was sloppily driven wide by Sigurdsson as Niasse replaced Idrissa Gana Gueye. A soft challenge led to a Brighton free kick. At the other end, after some substitutions, Rooney picked out Calvert-Lewin who took it well on his chest but passed it to Ryan off his weaker left foot.

Brighton saw their best spell of pressure on the Everton goal and the visitors were very lucky not to go behind as Knockheart's shot struck Keane's legs and was deflected wide.

Izquierdo tried to do it all himself and drove wide. At the other end, a blatant pull of Sigurdssson's shirt by Gross as he was about to shoot went unpunished. Niasse was set up by Calvert-Lewin CL' header but his shot was well off target.

Brighton kept pressing and on the third attempt they made the breakthrough Bruno beating Holgate, Keane blocking Izquioerdo's shot but Knockheart saw his chance and lashed it home, much to the delight of the Amex crowd.

Koeman replaced Baines with Mirallas in a desperate attempt to rescue the game but the momentum was all with the home side as his Everton players had no response, except for Pickford, who pulled off a fine save from Brown.

Vlasic set Mirallas offwith a fine forward pass but Knockheart dragged him back and saw yellow.

in the next Everton attack Bruno needlessly elbowed Calvert-Lewin well off the ball Michael Oliver had no hesitation in pointing to the penalty spot> Wayne Rooney stepped up to drive the ball inside the post, sending Ryan the wrong way to equalize in the final minute of normal time. Very fortunate for the visitors.

Davies came on for Rooney as the last change from Koeman, but the drive to win was from Brighton — except for Vlasic who was fantastic. The Blues did mount one final attack, their most threatening of the game, Calvert-Lewin driving in and forcing a save in something of a melee where the ball fell to Mirallas who lashed in a really strong reaction shot that forced a fantastic close-range save from Ryan.

Not good enough by far, yet again from Everton, with the players still showing no real sign of gelling as points continue to be dropped under Koeman's ineffective coaching.

Brighton & Hove Albion: Ryan; Bruno, Dunk [Y:67'], Duffy (74' Huenemeier), Suttner; Knockaert, Stephens, Propper [Y:56'], March (72' Izquierdo); Gross; Murray (85' Brown).
Subs not Used: Krul; Bong, Schelotto, Molumby.

Everton: Pickford; Holgate, Jagielka, Keane, Baines (81' Mirallas [Y:90+3']); Schneiderlin, Gueye(69' Niasse); Vlasic, Sigurdsson, Calvert-Lewin; Rooney (90' Davies).
Subs not Used: Stekelenburg, Williams, Martina, Klaassen.

Referee: Michael Oliver

Attendance: 30,565
---
Reader Comments (267)
Note: the following content is not moderated or vetted by the site owners at the time of submission. Comments are the responsibility of the poster. Disclaimer
Paul Thompson
1
Posted 15/10/2017 at 12:39:39
4-2-3-1 with Rooney up top, Calvert-Lewin and Vlasic on flanks, Sigurdsson in 10 role. It's not a defensive set-up, but it's one we've seen before and it's record isn't that good.
Phil Walling
2
Posted 15/10/2017 at 12:42:41
Team looks ordered and promising. I forecast a clear-cut victory and Koeman forgiven his sins!
Oscar Huglin
3
Posted 15/10/2017 at 12:43:28
Now that is a good team selection.
Tony Hill
4
Posted 15/10/2017 at 12:46:22
If he plays Sigurdsson at 10 rather than Rooney, then we do indeed have a chance.
Alan McGuffog
5
Posted 15/10/2017 at 12:48:41
So long Lookman. Shame really...
Christy Ring
6
Posted 15/10/2017 at 12:48:44
Still no pace in the team. I cannot understand why Davies is not playing as an attacking midfielder, I'm assuming Calvert-Lewin is on the wing, instead of our target man to accommodate Rooney and Sigurdsson. Doesn't make sense to me, hopefully I'm wrong.
Tony Hill
7
Posted 15/10/2017 at 12:50:14
Yes, Alan, it looks ominous but I haven't given up hope he'll stay.
Brian Williams
8
Posted 15/10/2017 at 13:12:31
If that selected eleven can't and don't beat Brighton, it ain't just the manager's fault. Those players "should" knock their pan in today and win that game well.
Philip Bunting
9
Posted 15/10/2017 at 13:14:01
For me, the defence looks as good as it can be. So, from here on in, stick with it until Coleman returns.
Jamie Evans
10
Posted 15/10/2017 at 13:15:17
Bang on, Brian. Players been getting off very lightly. Glad to see the kopite Williams on the bench.
Tony Abrahams
11
Posted 15/10/2017 at 13:19:53
Rooney on the left, Vlasic on the right, and Sigurdsson in front of the other two... Please!
Ralph Basnett
12
Posted 15/10/2017 at 13:29:16
The only person who knows what is going on with his team selections is RK until it kicks off, it baffles the other team until we kick off and all sit deep behind the ball.
More trash by RK and will result in another embarrassing defeat!!!
What has Davies got to do to establish himself, what has Lookman got to do just to get on the bench, how shoite does Schneiderlin have to play before being dropped?
Once again lots of questions and never look like getting answers!!
And yet will all be forgiven if we eek out a win, for me, unless we get a hatful of goals he goes.
John Roberts
14
Posted 15/10/2017 at 13:31:13
Thank god williams isn't starting! Even if we concede I still think it will be less than if Williams started!
Andrew Keatley
15
Posted 15/10/2017 at 13:36:21
Koeman refuses to learn from previous games when it comes to team selection.
Some predictions:
If it turns out that Calvert-Lewin is out wide then we'll have nothing up front through the middle.
Sigurddson and Rooney will get in each other's way and kill any potential threat each might offer.
Scheiderlin and Gueye together again in midfield will pass the ball to each other a hundred times, but never do anything of real attacking note in the game.
Klaassen on the bench is wasted spot. Why not Lookman? If we are losing the game then who are we sending on? Mirallas? Bet you Koeman goes for Klaassen - who will then do the square root of fuck all.
Ernie Baywood
16
Posted 15/10/2017 at 13:39:30
I wasn't ecstatic about that team before I knew Calvert-Lewin was on the left.
Ciarán McGlone
17
Posted 15/10/2017 at 13:59:48
At this stage, Koeman's tactical mistakes are all too predictable. Overcrowding a single position (defensive midfield and No 10), playing players out of position (Calvert Lewin, Holgate).
This is mind-numbingly boring at this stage of proceedings. Made even worse by having to listen to Phil Neville telling us all how great Koeman is.
John G Davies
18
Posted 15/10/2017 at 14:13:31
Gueye off.
Davies on.
Andy Mead
19
Posted 15/10/2017 at 14:13:43
Brighton are hopeless, a long-ball pub team, but we are creating nothing. Calvert-Lewin left midfield with Mirallas and Lookman out of the team. Same old rubbish. We don't need two defensive midfielders either.
Mark Morrissey
20
Posted 15/10/2017 at 14:16:35
Interesting to see the huge difference of opinion already on this thread on the team selection, some saying "yes" and others saying can't believe he's left "blah" out, really's interesting but that's by the by.
What was bizarre was hearing Koeman saying "Okay, so we need experience for a game like this" blah blah blah... so then he drops Williams to the bench! I think Williams is shite by and large but he says "Okay so we need experience" and then drops Williams?!?
Why he can't play Davies and Lookman and scare Brighton to death, I don't know... but I'll stick my neck out and say this formation has 0-0 written all over it.
This man is no manager. He's clueless. Go there with a young, pacey team. Play Calvert-Lewin up top and Lookman on the wing and we'll play this lot off the park. I'm betting he couldn't manage a fart properly.
Bob Hannigan
21
Posted 15/10/2017 at 14:17:04
Are we missing something with Baines not going forward as much on the left side?
Steve Bingham
22
Posted 15/10/2017 at 14:19:14
I really thought that all the calls for a change of management were far too premature. Looking at this today though now helps me realise that I was wrong and everyone else was right.
Ray Smith
23
Posted 15/10/2017 at 14:27:12
Sitting here surrounded by Brighton fans, the atmosphere is wishy washy. After 30 mins, Brighton got their first corner. That's it.
We are solid at the back with Jags, but nothing up front. 0-0 written all over it. Hope I'm wrong.
I'm at the right end for 2nd half goals!!!
Tony Abrahams
24
Posted 15/10/2017 at 14:33:53
Agree with John G, and would then answer a definite yes to Bob @21.
This is really painful to watch, a team with very little direction. Koeman wanted us to play the channels the other week, so he puts Rooney up front?
Duffy is having a field day, playing against a team who won't run in behind, which tells me that Koeman really isn't concentrating on his opponents but rather trying to get this crazy system of his to work.
Baines needs a footballer to play with him, someone to hold the ball and play little one-twos (Rooney) and Everton need to play on Duffy's weakness, which is pulling him wide, and getting him turned (Calvert-Lewin)
How long have we got to put up with this pure, unadulterated site for?
Tony Hill
25
Posted 15/10/2017 at 14:44:05
I can't watch the game – is Sigurdsson at 10 or is he in no-man's land?
Barry Thompson
26
Posted 15/10/2017 at 14:45:32
"ow long have we got to put up with this pure, unadulterated site for?"

K'inell, Tony A, that's a bit harsh on Michael and Lyndon!
Christian Watson
27
Posted 15/10/2017 at 14:49:36
Half an hour to go. Needs to be changed and we may have a chance. Brighton are showing very little.
Kevin Field
31
Posted 15/10/2017 at 15:08:59
Nothing going on here – look the other way!
Not sure how much time you give the team to gel? How much time you give the manager to get it right?
I read today that Rafa Benitez has been linked with us (and West Ham). Benítez is one of football's great technicians and tends to micro-manage. Oh and he doesn't do projects. He does football management. I think he'd get a chance and time to develop the team at Goodison – and could have an instant impact. And potentially some money...
Ian Lloyd
34
Posted 15/10/2017 at 15:11:41
Please go now! Or be sacked! One of the two!
Ralph Basnett
35
Posted 15/10/2017 at 15:13:20
Lets just get rid of this fucking knob!!!!!
He is making a holy show of us, this is Brighton, for fuck's sake!
Joe McMahon
37
Posted 15/10/2017 at 15:22:00
We really are in the deep stuff. The most money we have ever had has been wasted by this cold idiot of a manager.
I don't know where we go (as Kenwright doesn't sack). But please, no more talk of Unsworth and Ferguson. Unsworth is important to the U23s, but he wouldn't attract players and Ferguson is part of the problem, he's on the first-team coaching crew. The manager doesn't have to be ex-Everton, look at Spurs.
John Harrop
38
Posted 15/10/2017 at 15:23:50
Was that our Oxford moment? Maybe not.
Henry Lloyd
39
Posted 15/10/2017 at 15:28:41
Calling all true Evertonians. Enough is fucking enough! Let's get Koeman out of our club! Everybody post that you want him out let's get it done!
Clive Mitchell
40
Posted 15/10/2017 at 15:29:19
Watched the whole thing on a dodgy live stream. I want to read the assessments of blues who were at the game. But really...
Grant Rorrison
41
Posted 15/10/2017 at 15:29:37
Our 'Oxford moment' is probably going out to Oxford in the 3rd Round of the FA Cup. :P Fuck off, Koeman!
Max Murphy
42
Posted 15/10/2017 at 15:31:47
Sadly the draw will prolong the agony of Koeman remaining our manager.
Mike Moore
43
Posted 15/10/2017 at 15:33:21
"Kenwright doesn't sack" – give me strength! If the board doesn't get rid of this imbecile soon, we will be looking at Championship football next season, seriously! Can anyone hand on heart tell me three worse teams than us at present?
Peter Cummings
44
Posted 15/10/2017 at 15:33:47
Yesterday, I said we'd win 2-0 and possibly get a pen so at least I got it half right, am I a genius or what???
Will Mabon
45
Posted 15/10/2017 at 15:33:53
Joe, do you
seriously
think Koeman would attract anybody based on the last 15 months?
"Come to Everton, be played out of position in a slow, disjointed team. Don't play badly or you may be lambasted publicly."
I bet they're queuing up.
Tony Hill
46
Posted 15/10/2017 at 15:35:42
I didn't see the game but that's an unimportant point in our present position. I will be interested to hear if we were truly as bad as the live forum suggested.
Glad to hear Vlasic played well again. That lad is going to be a gem for us, talent and the right attitude.
Stephen McNally
47
Posted 15/10/2017 at 15:35:49
It's all sounding pretty much the same, I'm glad I didn't watch it.
I think Koeman is really making a "pigs ear" of things at Everton. Moshiri, swallow your pride and get Benitez in before we're sucked into a relegation fight.
Must say, I've never seen an Everton manager waste so much money on a bunch of overrated misfits.
Tony Twist
48
Posted 15/10/2017 at 15:36:00
Embarassing, sub standard, totally rotten. Moshiri really is blind if he sees any success coming from this venture. They all should be ashamed to collect their wages.
Jim Wilson
49
Posted 15/10/2017 at 15:36:30
Everyone's comment, point or article should now just be Koeman Out until he is gone.
Nothing more needs to be said. No debate needed until he is gone. Just Koeman Out!
Derek Knox
50
Posted 15/10/2017 at 15:38:07
Unfortunately, that result will give him a stay of execution but it was clear again, that it is the combination of players that is wrong; too many similar, sluggish going forward.
Could someone pray tell me, why does he keep picking Schneiderlin? I thought first half he was poor, second half, missing in any form of action.
Two hard games coming up, which I can't see anything happening in, if he perseveres with no balance to the side.
For God's sake what has Lookman done, that he was not even on the bench?
I fear, as long as Koeman stays, we will lose this finely talented young gun.
Okay, he needs experience, if any criticism was to be levelled, how does he get experience, when he doesn't even get a bench slot?
Koeman out, sooner rather than later.
Brian Porter
51
Posted 15/10/2017 at 15:39:09
Niasse was fighting like mad to hold the ball up near the end and not one of our team went anywhere near to offer him a pass.
Will Mabon
52
Posted 15/10/2017 at 15:40:16
Tony, there was a little bit more effort than recently, but that aside, business as usual, or should I say,
as normally we play.
Just a completely flat team with no structure, no belief and no direction. They were also all over the place position wise, too.
Ross Edwards
53
Posted 15/10/2017 at 15:44:28
If Moshiri is serious about taking us forward like he's previously claimed, he needs to act now. If we can't even beat what was an average Brighton side, I can't see us getting anything out of the next couple of games coming up.
Before today, the only hope I had he'd turn it round was that we went on a similar run last season and we went on to get 7th but this time I can't see it happening again.
Go out and get Tuchel in before we're left with nothing to play for.
Tony Hill
55
Posted 15/10/2017 at 15:45:17
Thanks Will.
Jonathan Miller
56
Posted 15/10/2017 at 15:46:55
The team set up wrong again. Where is Lookman? Morgan should have cleared the ball when we conceded. Calvert-Lewin should be up front. The substitutions were wrong imo. Ronald is clueless!
Lyon next and, unless we win, we are out the Europa and hopefully rid of Ronald.
Lawrence Green
57
Posted 15/10/2017 at 15:51:27
Tim Cahill summed things up early in the first half when he tweeted Everton's in need of a striker and need to get out of 2nd gear. They can't do much about bringing in a striker until January but surely they can give a bit more effort and show some real desire?
Too many are going through the motions, only Rooney, Vlasic and probably Holgate and Dominic are showing any desire to make things happen. Gueye is a shadow of the player who arrived at Goodison all guns blazing and Schneiderlin looks as if he lost his football brain somewhere on the continent during the summer. If Siggy hadn't have been a new signing you would forgive us for thinking he was trying to get a move to somewhere else.
Make no mistake this was a very ordinary Brighton team that we faced today and in the end we didn't look as if we were any better than them. The three points could have been won at the death, however, that would have been papering over the cracks and the cracks are widening with each game we play.
If today's performance was that of a team out to prove a point to the manager and the fans then I am seriously worried about the upcoming fixtures and how we will fare against teams that are vastly superior to Brighton.
Apparently Ronald is 1/3 to be sacked and Sean Dyche is leading the field as his possible replacement.
Phil Smith
58
Posted 15/10/2017 at 15:52:57
No start for Niasse, no threat! I've had enough now. Get rid of the manager.
Andrew Clare
59
Posted 15/10/2017 at 15:53:22
You just knew that, if they scored first, we would lose but luckily – or maybe unluckily, depending on how you look at it – they had an idiot in their team who gave us a break.
Very poor showing lacking any cohesion or ideas. It's very unlikely that we will get anything out of the next 4 or 5 games. Grim times.
Colin Glassar
60
Posted 15/10/2017 at 15:54:24
Brent, plane, pilot, banner all raring to go. Remember?
Bill Gall
61
Posted 15/10/2017 at 15:55:45
Just finished watching the game and it was as poor as other people have already stated. Everton are the slowest team in the league with the the same set up every week with players played out of position. Regardless of whose fault it was for not replacing Lukaku, they should be fired.
As far as Koeman, goes, his record of no wins away from home in 9 months and the poor home displays, I can't see why he should be given any more chances to turn the club around. Game after game he plays to the same slow build up from the back allowing the opposition to get back, and will not change till we go behind and that seems like every game.
We don't have bad players, we just have a poor manager who cannot set up a team with the players he wanted... time to go.
Tony Hill
63
Posted 15/10/2017 at 16:01:57
Incidentally, great to see Mike Gaynes back contributing on the Live Forum. I hope all is good with you, Mike?
Dermot Byrne
64
Posted 15/10/2017 at 16:04:00
Totally with you, Tony H. Hope you're okay, Mike.
Tony Abrahams
65
Posted 15/10/2017 at 16:04:16
We don't have bad players, but they are getting worse each week though, Bill.
John G Davies
66
Posted 15/10/2017 at 16:04:34
Colin (#60),
I'm hoping that's a joke between you and Brent, mate?
Colin Glassar
67
Posted 15/10/2017 at 16:04:51
Has the Fraud Squad been notified yet?
Colin Glassar
68
Posted 15/10/2017 at 16:05:58
An old joke, John.
John Charles
69
Posted 15/10/2017 at 16:08:19
On my way back from the game. Nice day at least.
Pickford, Keane, Jags, Holgate all okay.
Baines is shot unfortunately.
Schneiderlin and Gueye are making each other look worse by the game; this partnership needs to be broken up as it offers nothing – neither offensively nor defensively. Schneiderlin to go for me, what the fuck was he doing for the goal?
Vlasic our best player especially early on.
Sigurdsson slightly better but just not the type of player we need.
Calvert-Lewin was poor though again out of position.
Rooney, like Baines is unfortunately shot.
Mirallas did more than Sigurdsson or Rooney in his brief spell. Same old issues of width, speed, people out of position.
Koeman has to go. I don't know if Rhino is the right replacement but he is here! Why in the world would a manager like Ancelotti come to us?
I can't see us getting anything on Thursday and surely the end of our European adventure will signal the end of Ron.
Peter Barry
70
Posted 15/10/2017 at 16:09:51
Koeman is just not good enough so how much lower do we have to sink before the owners wake up and smell the coffee?
Kevin Tully
71
Posted 15/10/2017 at 16:12:47
What an absolute disaster. Not just Koeman, although he has to take the majority of the blame. Every game Rooney plays, he has his back to the goal and just lays it off to the nearest body. Is that what we are paying 𧵎k a week for? Awful decision by Kenwright and his buddy Duncan Ferguson for bringing him back. He's totally washed up.
Then we have a manager who obviously cannot get his message across to over 𧶀m worth of players he's purchased – only Everton could scrimp with loanees for 20 years then royally fuck it up when they get actual money to spend. what a farce.
If anyone thinks this squad is suddenly going to 'click' under the Dutch dunce, then think again. It's absolutely pointless giving him any more time. He's out of ideas and it showed last season. Only Lukaku was holding this squad together.
People saying Everton are not a 'sacking club'. That's true, but replace that to: 'Everton are not an ambitious club'. Because in reality, no club with an ounce of ambition would carry on down this road. We've now got six clubs miles ahead of us, with the rest catching up quickly. How long before we are bottom-half fodder?
Show some balls for once Everton, and demonstrate to the fans that this shit is not acceptable. It might make the next manager think twice about just toddling along in 7th, knowing that's good enough for a museum of a board. If you don't act, it will turn ugly and show you up for the reactive fools you are, without a Plan B, the same as the manager.
David Barks
72
Posted 15/10/2017 at 16:13:06
Here is a thought. Put Vlasic, `Calvert-Lewin and Mirallas up top, with Calvert-Lewin occupying the middle. Have Gilfy and Rooney underneath, with Gana holding.
Get Garbutt in at left-back because Baines will not even attempt to go by a defender down the wing. He's finished. Let Kenny occupy the right-back spot to provide more pace and width going forward. And let Keane and Jagielka continue at centre-back.
In case Koeman sees this, That is a starting 11 with every fucking man playing his natural position!!! Yes, Rooney and Gilfy can both occupy the spot underneath a striker if they have width up top and are not being bogged down by two defensive midfielders.
The man is clueless. But Everton don't aim to win anything, just to exist. So if the Board don't think relegation is a real threat they'll keep serving us this utter shite week after week. It's pathetic.
John G Davies
73
Posted 15/10/2017 at 16:13:15
Thank fuck for that, Colin. We have got people talking about "starting a movement" to get Koeman out. "Stupidity of the highest degree".
Back to the game. Unacceptable. No pattern, no pace and an unbalanced system. Tony Abrahams called it earlier.
An obvious change was to getCalvert-Lewin more central. Wayne offered nothing at all.

Dermot Byrne
74
Posted 15/10/2017 at 16:13:42
Accurate and calm summary John C and was same from TV camera angle. I agree about Thursday.
George Cumiskey
75
Posted 15/10/2017 at 16:16:01
I watched the full game, and it was dire. he starting line up was too defensive (again) and the substitutions poor and too late (again).
Rooney and Gueye should of been off at half-time, they both kept giving the ball away, and Schneiderlin cost us a goal for the second match running with a missed tackle in the box.
We scraped a draw against the mighty Brighton who thoroughly deserved to win. How long will this Mickey Mouse board put up with it before they take action?
John G Davies
76
Posted 15/10/2017 at 16:17:55
Kevin,
Your frustrated mate, we all are. But blaming Ferguson for Rooney's return?
Gavin Luke
77
Posted 15/10/2017 at 16:19:23
Always wanted Koeman as manager but he should have gone after the Burnley game. Things have not worked out for him for whatever reason but he looks tactically poor.
I could not get a link today but listened to the game and we should have lost against a very average Brighton side. Please Moshiri enough is enough. Koeman Out. Give Unsworth and Ferguson a shot on a temporary basis.
Dan Davies
78
Posted 15/10/2017 at 16:20:11
Moshiri needs to get his arse to Finch Farm sharpish to have a private meeting with the first-team squad to find out what exactly is going on because there is obviously something not right here.
I've not called for Koeman's head yet but patience is starting to run thin.
I would say everyone needs a good old fashioned bollocking... but do any of these players actually give a shit?
Does Koeman give a shit?
Si Cooper
79
Posted 15/10/2017 at 16:23:41
I only saw the last 20 minutes in which time we had chances to score 3 or 4 (definite pull back on Gylfi trying to shoot and Niasse opting to shoot instead of playing a simple pass to the same player being two prime examples) but the real urgency only seemed to come after some slapstick defending gifted them the opening goal.
The question is, why doesn't Koeman send the players out to play like that from the start? I think the last ditch efforts show that the manager hasn't yet lost the dressing room so we have to assume the players are playing as they are being trained to. The slow build-up just does not work for us and we haven't got / are not playing the players to play through the middle consistently.
Can it be that Koeman is incapable of assessing the strengths of his players correctly and previously lucked out at Southampton by stumbling on a group of players who fitted his preferred system?
Neil Copeland
80
Posted 15/10/2017 at 16:24:30
Good job it was an early kick off, I made to B&Q after all. Timber in place, gallows under construction. Koeman out!
Tommy Bowman
81
Posted 15/10/2017 at 16:25:14
Watching Everton this season has been hard work. Time and time again, the manager is persisting with the same tired formula that's never going to work in a month of Sundays. We're slow... slow to move, slow to think, slow to act...
'Give him more time... things will improve... players need to gel.'
We've played 15 games already and we look as useless as we did in Game One and things are not coming together – they're getting worse.
I've had enough. My season ticket is bought and I'll still be there but Koeman has lost my support – he needs to go. He's got no answers, he isn't the man for the job and he needs to move on.
Kevin Tully
82
Posted 15/10/2017 at 16:26:56
Joe Clitherow
83
Posted 15/10/2017 at 16:27:36
Very, very poor again today against a nailed-on relegation side.
But why report that it was a 'fortuitous' penalty?
It was a nailed-on pen and should have been a red card, as should the challenge on Gana also have been a red. We also should have had another penalty for the clear foul on Sigurdsson. Neither of the red card challenges will get any further action as Oliver gave yellow cards for both. I suspect Oliver will be marked down but that won't help us either.
However, I'm not defending how piss poor and disjointed we were today; it just does not need embellishment with incorrect reporting.
George Cumiskey
84
Posted 15/10/2017 at 16:28:10
David Barks@72 I agree with a lot you say, but keeping Rooney in the team is a big mistake. He and Gueye were guilty of giving the ball away.
I'm afraid Rooney is well past his sell-by date. And I'm truly sorry to have to say it.
Gordon Crawford
85
Posted 15/10/2017 at 16:28:19
Ferguson didn't bring Rooney back, that's for sure. Rooney isn't playing well, but in a good team he could still be a major player.
The team has no shape, no organisation and no cohesion, and that is down to one man: Ronald Koeman. He is well and truly out of his depth, and he should be fired forthwith. Bill and his phonies should also go.
This club is going backwards at an alarming rate. I don't believe we will get relegated, but I do believe we will finish in the bottom half. Unless we get a great manager. Very sad times.
Dave Abrahams
86
Posted 15/10/2017 at 16:30:28
I'll be going on Thursday but I'm not really interested in this competition, wasn't before it started... But the state our club is in, I think the whole focus now and for the rest of the season is to stay up. That is how serious the predicament is and it will not get any better with the present manager.
He is like Nero, just fiddling around while Everton sink further into trouble. He really does look like he wants to go... maybe / hopefully the Holland job will be the saviour of Everton and Koeman? Patently obvious he is not good enough to manage the Blues.
David Barks
87
Posted 15/10/2017 at 16:30:33
George,
I'm all for Davies being in there instead of Rooney. But I'm also realistic about our highest earner not being allowed to sit the bench. That's all. He hasn't been a striker for years now.
Denis Richardson
88
Posted 15/10/2017 at 16:30:39
David (#72),
Have to counter with 'here's another thought. Hook Rooney out of the starting XI and think of a legitimate reason to cancel his ridiculous 𧵎k/week contract'.
Utter fuck up to bring this guy in and I'm certain the fact he is by far our highest earner, whilst nowhere near being our best player, has caused resentment in the camp. No coincidence we haven't moved above shite since he came.
Not laying the blame solely on Rooney by any means, but it's so obvious we've done Man Utd a massive favour taking him off their bench. He can't play up front anymore and he's not a good enough creative midfielder to justify starting there. He's simply being played to sell shirts and get other merchandising. His merchandising ability is also only going to keep going down as it is. Man Utd knew he was done a couple of years ago.
I was angry when we brought him back and nothing has happened since to change that; if anything, I'm even angrier as it was so obvious he's well past it and Man Utd wanted to get rid so badly, they were willing to still pay the other half of his 𧷤k/week wage!
Think about it... Man Utd are still paying 𧵎k/week just to be rid of him!!! And we fawn over him and give him the red carpet 'hero coming home' nonsense.
We are pathetic.
Mick Hoban
89
Posted 15/10/2017 at 16:31:55
Watched the game on a Canadian channel. Yes, it was crap. Yes, Brighton were awful and we struggled against them, and to contain them in their rare forays up front. Our pattern was the same as previous games – we didn't have one and we were shite
but
when things aren't going your way.
Definite red card for the foul on Idrissa. Definite penalty for the pull back on Sigurdsson. Definite red card for Bruno's assault on Calvert-Lewin. It wouldn't, nor shouldn't, have saved Koeman from necessary criticism but the ref had a shocker.
John G Davies
90
Posted 15/10/2017 at 16:32:20
Kevin (#82),
If Koeman has used that as the base to sign Wayne Rooney, he deserves the stick that will come. He's a spent force unfortunately. The second best player I have ever seen in an Everton shirt but gone.
Joe McMahon
91
Posted 15/10/2017 at 16:33:20
Even if we approached Rafa, he won't come here. Again it's always too late. I wanted Benitez when the last "waste of space" Everton manager went.
I still cannot believe that we had to endure Moyes for 11 long years, it's embarrassing and pathetic. Little old Everton in thier little quaint old stadium, "the People's Club"... It's just cringeworthy, and has been during the Kenwright years, full stop.
Nicholas Ryan
92
Posted 15/10/2017 at 16:35:01
When Koeman goes (and I do think it's when, not if) who replaces him? If we want a potentially brilliant youngster, without much of a track record; then it's Marco Silva. If we want an experienced 'old hand'; then it's Rafa Benitez. Before the howls of protest come in, just list the current managers who have a record to equal Benitez's: you're struggling after Mourinho!
Darren Hind
93
Posted 15/10/2017 at 16:36:42
Colin,
Your joke may have been old but, Judging by your recent comments, came from the heart.
Koeman still retains the support of the poor judges and the exceptionally stupid, but I don't think the planes and banners will be needed here. He was taken to School recently by Dyche, and was handed a desperately fortunate get out of jail card today which saved him from being outsmarted by Chris Houghton..
The grass-skirted kite-fliers who thought the were being positive by supporting this impostor are now silent. The more astute ones will know their loyalty will not be rewarded.
Only the hard of thinking continue to want to see our club dragged through the mud still further. Hope dwindles, performances continue to deteriorate, pride being stripped... and still they apologise.
Who cares? The end is nigh.

Ray Said
94
Posted 15/10/2017 at 16:37:51
The Koeman foxtrot;
Slow, Slow, Slow slow slow
John G Davies
95
Posted 15/10/2017 at 16:38:53
Nicholas,
If Koeman goes before January I would give Unsy a go. If he goes in May I wouldn't.
Dennis Ng
96
Posted 15/10/2017 at 16:39:15
It never seemed like we're going to sack a manager based on our track record but the next 5 games aren't going to be good for morale. Moshiri needs to be ready for a relegation fight even as we speak right now. And Koeman is not the man to lead us out of it, so I remain optimistic that Moshiri will do the right thing soon.
Steve Brown
97
Posted 15/10/2017 at 16:40:18
It is the experienced pros letting the club down – Baines, Williams, Schneiderlin, Gueye, Sigurdsson, Mirallas, Rooney have let their standards collapse this season. Yet stubborn, stupid Koeman keeps on picking them in the same defensive tactical set-up.
You can say the kids are not ready, but on form they are better right now than all of the above and the fans would get behind them 100%.
So come on, Koeman pick Davies, Kenny, Calvert-Lewin, Lookman and Vlasic for Lyon and we'll stand corrected if it doesn't work.
Joe McMahon
98
Posted 15/10/2017 at 16:40:55
Denis (#88) absolutely spot on. We sold him to Man Utd way too cheap and him coming back involves Lukaku going there again way too cheap. Manchester United have had us in their pocket for years, don't even mention Darren Gibson. The word 'pathetic' doesn't even come anywhere near.
Andy Walker
99
Posted 15/10/2017 at 16:41:16
So in summary, Darren, anyone who doesn't agree with you is an idiot... eh? – according to Darren on ToffeeWeb?
John G Davies
100
Posted 15/10/2017 at 16:41:18
Darren,
You posted yesterday that "a movement" should be started to get Koeman out.
Can you explain that please.
How do you see that working?
Kevin Tully
102
Posted 15/10/2017 at 16:45:00
John G – I believe two people at the club were desperate to bring Rooney back, Kenwright & Ferguson. Koeman was quite happy to take him, but his two main priorities were Sigurdsson & Klaassen. Hence the reason why we ended up with three players all wanting to play behind the striker, who we haven't got.
Amateur hour still in full swing, even with a Billionaire owner. We should have seen it coming though, after promoting the head of EitC and Elstone to the board. We're more concerned with awards for our charity work than actually winning something.
Alan J Thompson
103
Posted 15/10/2017 at 16:45:18
Another load of crap!
What does it take for this clown of a manager to see that Schneiderlin is a complete waste of space and if you thought he wasn't at fault for Burnley's goal last week then you probably thought he did well for Brighton's goal! He did nothing all game, Davies did and showed more in his cameo.
Niasse may not be the best footballer we have and on a couple of occasions he showed it but he is a presence in the middle and his size and pace worried their defence allowing Rooney and Sigurdsson the chance to work off a target man.
Why was Calvert-Lewin asked to play so wide and how long before Vlasic realizes he is better off not trying? Doing nothing means no mistakes so you'll get picked next week.
We may not have the best players but we should at least play them to their strengths and the team's advantage. How long does it take to sink in with this idiot manager? How long before this Board react?
George Cumiskey
104
Posted 15/10/2017 at 16:45:18
I watched the match on Bein 11 and Phil Neville was commentating, and he of course toed the party line. He said Koeman is a fantastic manager and said he needs more time for the players to gel, that you can't sack someone after just seven games.
Of course he'd conveniently forgot we've played about fifteen games and were crap for the last half of the previous season.
Andy Mead
105
Posted 15/10/2017 at 16:45:52
I have thought for some time now that there is something very wrong behind the scenes.
Koeman has lost the dressing room. Players have off days but I have never seen so many have off days together. Do they agree with the tactics?
If we can see that it is square pegs in round holes then surely the players can? Why strikers on the wing, creative midfielders out wide, no wingers? Totally puzzling.
If I could see an obvious gameplan it wouldn't be so bad but I honestly can't see what is trying to be achieved Make no mistake, this is relegation form we are in. 1 point from Burnley and Brighton. Time for Koeman to go. I never wanted or rated him at all.
David Barks
106
Posted 15/10/2017 at 16:46:56
John,
Are you unfamiliar with how near movements work at other clubs? Did you not see how it went across the park when they sacked their manager after a draw against us at Goodison? The continued screams for Wenger to go?
You make it known in the ground and the call-ins. You form a group similar to what was done to oppose moving to Kirkby. You apply constant pressure on the ownership at every public opportunity, at every match. Basically the same thing that was done to get rid of Martinez for over a year before our shite Board finally acted.
Mike Allen
107
Posted 15/10/2017 at 16:48:55
It's not about the Burnley or Brighton games – we have been poor since at least the Leicester defeat in the cup. Everyone can see the problems except the head coach and his coaches.
He's brought in players no better than we already have in the club – albeit they may lack first team experience. So Martinez and now Koeman has had a go at taking us forward continental style...where are we now?
Having to look backwards to a Moyes or Royle style to put some pride back into the club and by Xmas we may well need a Big Sam style to keep us in the division.
Terry Underwood
108
Posted 15/10/2017 at 16:49:05
Dia-fuckin-bolical, a jammy point against Brighton. I have never been one to pile shit on the manager. I supported Martinez till the bitter end, but this guy has really tried my patience.
Okay, it was not his fault that Lukaku left. But it was his fault we didn't sign a replacement. Forget top 4, or 6 or 10 like it or not, we are in a relegation dogfight.
If we can get a quality #9 in January we have enough quality elsewhere to be okay; if not, we will be going to Leeds, Villa, Sunderland again. The mind truly boggles.
Steve Brown
109
Posted 15/10/2017 at 16:49:10
Darren, "exceptionally stupid", "hard of understanding..." make your points without insulting your fellow blues – you complete arse.
John Roberts
110
Posted 15/10/2017 at 16:49:26
At present, this team is now where near turning the corner.
Also, people say we need time to gel with all the new signings but there is no improvement from our 1st qualifier for the Europa League, which I must say was like pulling teeth out going forward. I'm starting to think we need a whole new squad! and manager!
George Cumiskey
111
Posted 15/10/2017 at 16:50:08
Ray @ 94, Brilliant mate, lol.
Paul Tran
112
Posted 15/10/2017 at 16:51:05
Very hard to judge any of these players right now. In their right positions, given simple, clear instructions and let off the leash, you'd see a different team. I can't see it happening under Koeman. It's a matter of who and when.
I hope our board are discreetly talking to other managers now. I hope they use the inevitable defeats against Lyon and Arsenal to let Koeman take the Dutch job and bring in his replacement. Who and when?
Chris Jones [Burton]
113
Posted 15/10/2017 at 16:52:10
I do worry as to when we're going to see an end to this slump. I would not be heartbroken if Koeman was shown the door. If it is going to happen, the sooner the better.
So, however, I am forced to say that we created enough chances to win this game at a trot, not least because they ought to have been down to 10 men after a nasty challenge on Gana.
The manager is proving to be a real disappointment (after a relatively satisfactory first season) but some very highly paid pros are simply not earning their corn this season, whether they are being played in their favoured positions or not.
Christy Ring
114
Posted 15/10/2017 at 16:53:14
The same old again today. We're a shambles because Koeman will not change his slow pedestrian formation. He has to go now, as he has us in a relegation scrap.
Calvert-Lewin on the wing again today, he's our only target man; Sigurdsson and Rooney, two no.10's both playing. Davies, the only attacking midfielder we have with pace, on the bench again today. Lookman not even in the squad?
His selection and tactics are embarrassing. Enough!
Anthony Lamb
116
Posted 15/10/2017 at 16:53:40
I wonder if anyone at Everton has yet woken up to the fact that this team as it stands now should have only one target in mind above all others and that is to stay in the Premier League? Mourinho's approach at Man Utd appears to be that at all costs do not lose to those you see as rivals and to be confident that they can generally beat the "lesser" teams.
Already, this Everton team has shown that generally it is incapable of beating the "top teams" but now seems incapable of beating those that we now have to class as "rivals" – namely Burnley and Brighton, etc. Can any Evertonian really confidently approach any match now expecting to see a full blooded, committed, exciting performance – against any team and expect a victory?
It is appalling what is being served up for the paying public. Most can see the lack of foresight shown in the pre-season signings and what appears to be the lack of "due diligence" regarding some of these signings.
One good example is the re-signing of Rooney. Leaving aside the ridiculous emotion surrounding his return, the cold facts are that we took a cast off from Man Utd when he had well served his purposes there and was deemed surplus to requirements.
The decline in his physical ability to cope with the speed of the game now, is remarkable. Did nobody negotiating such a transfer actually research or notice this? I have to say if the name was not Rooney would Evertonians be happy to be paying the player 𧵎,000 a week for his current efforts or to not see that his presence could actually be compromising a more effective set up of the team or the integration of younger players?
I am not saying by any means that Rooney is the only problem with the current dreadful level of performances just that I think it is symptomatic of the equally dreadful mismanagement of team planning at every level.
Even at this early stage of the season, it appears that Koeman et al simply appear incapable of inducing confidence that things can improve, be it with the supporters or, more importantly, with the team. It thus needs an injection from someone else to convey to these players that we are in a real battle to preserve our long standing status in the top division.
Totally incapable of dealing with the demands of the Europa League, Premier League and two cup competitions, we simply have to concentrate on the acquiring of three points in each Premier League game and quietly put the rest to bed. Then hopefully start again next season.
Colin Glassar
117
Posted 15/10/2017 at 16:54:55
I said a few days ago that only a really good performance against Brighton might save Koeman. It sounds like we are worse than ever. Surely he has to go now.
Geoff Evans
118
Posted 15/10/2017 at 16:56:59
Joe (83): Which of these teams were the nailed-on relegation team?
David Barks
119
Posted 15/10/2017 at 16:58:09
I think it should be worth noting that even Martinez saw that Baines would be finished as a left-back by this time. He spoke publicly about wanting to follow the Phillip Lamm example and move him into the middle of the park to use his experience and what at the time was quick passing ability.
No idea how that would have worked out mind you. Just that as a left-back he is absolutely useless. On the left, he is where attacks go to be killed, a slow miserable death of backward passes or passes directly into the body of the defender.
Neil Lawson
121
Posted 15/10/2017 at 16:59:28
John G 100. Not a movement John, rather a motion, because, under Ronald Koeman, we are shit.
Tony Hill
122
Posted 15/10/2017 at 17:01:31
What's most worrying is that there is a chaos of theories on here as to why, exactly, we're shite. Manager, players, Board, tea ladies. I think it's a mix of them all (except the tea ladies) and, although Koeman should go as a first step, we need to be very careful that we don't underestimate just how bad we are overall.
This storm has been brewing and we're now in the middle of it. We need to find a manager who is going to get us out of trouble, and the aesthetics can wait. As Dave Abrahams notes above, everything else is irrelevant. I have moved beyond the view that the dismissal of Koeman alone will see us right. We have too many lazy, gutless players and a woeful, gobshite board. We're in very big trouble make no mistake.
I wanted Unsworth but I now think we are in too deep for that chance to be taken. We absolutely cannot afford to be relegated. My first choice (holding my nose) is Benitez, followed by Allardyce (I accept I am in a minority of one on that) and then Silva. Staying up, it's all that counts. We are that bad.
Tony Abrahams
123
Posted 15/10/2017 at 17:02:40
John G @100, I know the question was asked to Darren, but I think the answer is quite simple, and people must vote with their feet this Thursday, if Ronald hasn't already gone by then.
It's easy for me to say because I've already decided I'm not going anywhere near our ground on Thursday night, but if the loyal hardcore fanbase stay at home, then I'm sure this will tip the balance, and help get rid of this manager.
I don't like to use the other crowd for an example, but I remember sitting in the car, coming home from Stoke, one New Year's Day, when Liverpool's match report came on. I'm sure It said the gate was 35,000, and I'm sure Roy Hodgson, was gone within the week.
I don't study football like I used to ,John G, but I do know with the amount of talent in our squad that Koeman has got to go now, because watching Everton right now just leaves me feeling numb. It's the reason I'm not going on Thursday night, mate.
Anthony Lamb
124
Posted 15/10/2017 at 17:04:53
Dennis (#88),
Sorry I missed your post, you had already covered my Rooney example!
Kieran Carr
126
Posted 15/10/2017 at 17:08:02
4-4-1-1
Pickford
Kenny (Coleman when fit)
Keane
Jagielka
Garbutt (because we have no-one else)
Vlasic (Bolasie when fit)
Davies
Gueye
Lookman
Sigurdsson
Calvert-Lewin
Just get back to basics until we sort this out post Koeman.

Ben Howard
127
Posted 15/10/2017 at 17:08:24
Just got back from the game (sorry to rub that in –there are some good things about being a south coast Toffee)!
We were shite. Never have I felt such a resigned negativity in an away game before. Any attempt at a song was met with indifference. Koeman
– you're killing us.
He's got to go after that mess but I fully expect him to be given the Lyon game. I don't really see the point. Even if we somehow won it, I'd still want him gone. I just can't understand some of his decisions on the pitch. Calvert-Lewin out wide made no sense at all as an example of the worst.
The highlight of the game was Mirallas coming over to the fans at the end and getting a great reception. A handful of others sheepishly followed him. They know. Hopefully they'll get a fresh start with a manager who plays to their strengths sooner rather than later. Rhino for me.
Thoroughly depressed.
Derek Knox
128
Posted 15/10/2017 at 17:10:13
Tony Hill, don't be so quick to exonerate the tea ladies, do you know for sure, they are not infusing Mogadon and Sominex, in the brews?
Colin Glassar
129
Posted 15/10/2017 at 17:10:34
Is it just me or do we, under Koeman, play the worst football in the league? No wonder the broadcasters don't want to touch us with a barge pole, unless we are playing one of their favourites. Our football is boring, dire and senseless.
Dermot Byrne
130
Posted 15/10/2017 at 17:10:39
That is hard to hear, Ben. Must have been soul destroying.
Paul A Smith
131
Posted 15/10/2017 at 17:15:36
John G. (#100), Do you ever have any insight into a game of football? Other than having a go at others because you and so many ToffeeWebbers are so smart.
How long has Darren been seeing this crap for now. And your still looking at how you can put any of his comments down.
Steve, a bit below John. If I had been so stupid in waiting and waiting like we have done for 30 years I would be calling myself stupid.
I saw a comment on here (and it wasn't the first time) about how the vile atmosphere at Goodison is no help to the players. These are the same people who can't be civil on here or come back and give somebody credit. Why would they expect Goodison to be any different?
The fans as a whole are mediocre mate no doubt about it. That's why we call James McCarthy class and have to change our minds 6 months later. That's why we say Koeman and Walsh know best. Then change our minds 6 months later. If we were more ruthless and less focused on the diplomatic peoples club jargon we might be able to create a strong voice to pressure the club.
Until then we go through the motions while the likes of Barkley (who is supposedly thick) sees right through the billionaires plans. And the majority of fans don't.
Keep wasting your time looking to belittle Darren though.

Andy Meighan
132
Posted 15/10/2017 at 17:15:41
I want Koeman gone as much as the next man. But if he is to be sacked, whoever comes in would be working with the same shit players
Does anyone honestly believe the likes of Rooney Sigurdsson would gain an extra yard of pace? Or Schneiderlin or Gueye would suddenly start passing the ball better? Or Calvert Lewin and Niasse would automatically start scoring for fun? It's not going to happen.
Whoever comes in might tinker with the formation but that's about it. He'd have to wait until January to bring anyone in. And it's been well documented what we need.
Schneiderlin has cost us 2 goals in the last 2 games yet he's an automatic choice and while I'm on the subject, how tired is that partnership of him and Gueye looking? But not a prayer he'll change it for the Arsenal game
He might for Lyon but, to be honest, I'm not worried about going out of the Europa League. What I am worried about is our Premier League status. Does anyone actually believe at this minute that there's three worse sides than us? Because I don't.
Ste Traverse
133
Posted 15/10/2017 at 17:16:51
I'd have no qualms in seeing Rafa in situ at Goodison. He'd sort this mess out.
I put his name forward for the job on this site after Moyes and Martinez left but got pilloried because he slagged us off 10 years ago. Big deal, we slag Liverpool off all the time so that was hypocritical.
This Dutch Dunce is taking us backwards at a rapid rate and now really needs to be handed his P45.
Kunal Desai
134
Posted 15/10/2017 at 17:17:35
That game was screened for India coverage. I doubt many people would have tuned in for that. Firstly, not many people in India have any interest in following Everton; most are Man Utd, Arsenal, Liverpool supporters. Secondly, if that was an advert of trying to convince an audience to follow either of those teams, then that's been an epic failure.
John G Davies
135
Posted 15/10/2017 at 17:18:09
Tony, no problem with anyone staying away from the game to show their protest. I fully understand that.
It's just the "forming a movement"...
Dave Abrahams
136
Posted 15/10/2017 at 17:19:31
Tony (#123), I wouldn't be surprised if the gate for that game, was it Bolton was lower than that, possibly 28,000, whatever it was it helped them get rid of their manager.
I think there are some very passionate fans on here who just want the best for Everton and you might agree losing Koeman might be the best for Everton; I certainly think so... as do 75 per cent of fans in the poll on ToffeeWeb.
Clive Mitchell
137
Posted 15/10/2017 at 17:20:24
Tony, 123 - inexcusable in my view to suggest we don't turn up to support the team. Presumably your idea only really works if we then get beat?
Tony Abrahams
138
Posted 15/10/2017 at 17:20:38
Watching the game, I could hear the song "You're getting sacked in the morning" being sung Ben@127. I've just spoke to my son, who is on his way home from Brighton, and he reckons it was the Evertonians who were doing the singing. Don't think he's winding me up either, which just shows how wrong Koeman now is for this job of managing our club.
Jay Harris
139
Posted 15/10/2017 at 17:22:13
I am one of the supporters saying that Koeman should be given more time and that he was shafted by the signing of Rooney and the non signing of a striker.
Today I did see a change in the players attitudes and really we should have won that game but that would have been papering over the cracks. Brighton were absolute shite and any team with Top 6 ambitions would have put 6 past them.
I now feel that even though Koeman has been let down that he continues to put out a shambles of a team by poor selection and tactics.
Calvert-Lewin has proven he is wasted on the wing. Schneiderlin and Rooney do not have the pace for a Top premiership side and should only be used sparingly as subs. Tom Davies must start. Holgate is never a right back. When Mirallas and Davies came on we looked a different side.
A manager has to work with the tools he is given at any time and Ronald's learning curve is too long for the Premier League. I have now officially joined the Koeman Out Brigade and wish he would take Billy Liar with him.
Mike Green
140
Posted 15/10/2017 at 17:22:57
Precisely Dermot #125, which is by and large why I've pretty much given up on TW after being an avid fan of it for the last 10 years. I just dip in now for the general mood, which is a shame but there we are.
Ben Howard
141
Posted 15/10/2017 at 17:23:02
Yes, Tony, we were all signing that very loudly. Also when the Brighton fans were signing "Fuck Off, Rooney, Fuck Off, Rooney" I'm sure I heard some Blues join in.
Mark Fitzgerald
143
Posted 15/10/2017 at 17:24:06
Dear Ronald, some blatantly obvious questions:
Why persist with playing both Schneiderin & Gueye? Please bench one.
Why persist with playing two No10s? Please bench one.
Why persist with selecting players out of position? Please stop.
Why, why, why, why, why???
John G Davies
144
Posted 15/10/2017 at 17:25:50
Tony (#138),
If it's the Blues singing it, he's gone.
Trevor Lynes
145
Posted 15/10/2017 at 17:27:48
Apart from a few brief periods we have been awful to watch throughout the past decade.
We went through periods of relying on set pieces to score goals and now since Lukaku left we are bereft of any sign of free scoring.
How we ever let him leave without having a 'proper' replacement is mind bogglingly stupid.
Lukaku was worth far more than the money received to us.
I said before he left that we should have insisted on a player exchange or no deal !
If United wanted him then we should have insisted on Martial plus money.
If it was to be Chelsea then it should have been Batshuey plus money.
We actually spent more money on the kid we loaned to Anderlecht than we did on a replacement striker.
If anyone believes that the acquisition of a fading Rooney and Sandro were supposed to be adequate up front then delusionment reigns at Goodison.
By January we are going to be in a relegation battle if nothing is sorted.
We must give a few of the youngsters a chance as this pedestrian lot are not going to turn the corner.
Talk of improvement is a joke, the present squad is weaker than last season.
Ben Howard
146
Posted 15/10/2017 at 17:28:32
John,
I can confirm it was the Blues signing "You're getting sacked in the morning."
Kristian Boyce
147
Posted 15/10/2017 at 17:32:06
It's sad when my response to Rooney's goal is "Well, that's Koeman safe for another week".
The cameras focused a number of times on Kenwright today during the match. How can he sit through this week by week and not see an issue? Maybe he does but he can't do anything?
I do believe though that the reason Koeman is still there is that he is Morshiri's man. I've hardly heard Kenwright talk about Koeman like he did about Martinez or Moyes. Actually, I don't really recall him mentioning him, full stop.
I think a lot of this goes back to who actually runs the club. To me, it looks like people are in different camps. Koeman in with Moshiri and Kenwright and Walsh in another.
Has anyone heard or seen anything from from Elstone in a while? For someone who used to be seen in everything to do with the club, it seem like he's taken a back seat.
Len Hawkins
148
Posted 15/10/2017 at 17:32:20
George (#104) Footballers never call out their former clubs or managers or team mates they are like Doctors they never say a bad word about another Doctor (Crippen & Shipman excepted) so Neville still has a lot of money to earn out of football without getting on the wrong side of someone.
For people who have played the game not to be able to see what everyone else sees is a load of bullshit. You only have to read Savage's column in The Mirror to see he never says a bad word against anyone except fans who want the clowns out.
William Cartwright
149
Posted 15/10/2017 at 17:32:35
Watched the game. Nothing new, same old crap. No energy for comments or cynicism or sarcasm or anything.
I believe there are big problems behind the scenes, too many conspiracy theories to even contemplate, are putting Koeman in the frame of mind where he clearly doesn't give a shit.
Rooney is a spent force as the central attacker, but may find some salvation as a deep lying midfielder.
How Koeman can run fast and loose with the careers, aspirations and emotions of the team and the fans, the club in general if you like, is beyond me.
Starting with Kenny, Davies, Holgate (as a central defender), Sigurdsson as a No 10, Lookman and / or Vlasic as wide attackers, only one at a time of Gana and Schneiderlin and possibly Garbutt to replace Baines will keep us out of a relegation battle.
Koeman Out!
Dave Abrahams
150
Posted 15/10/2017 at 17:32:41
Mike (#140) – how does Koeman affect your mood?
Tony Kost
151
Posted 15/10/2017 at 17:34:16
Kieran Carr (#126) – that team is a very good call!
Vlasic and Davies have to start together – such young inexperienced players and they show up our so-called experienced pros in pace and ability!
John G Davies
152
Posted 15/10/2017 at 17:35:59
Ben (#146),
Thanks.
If he has lost the support of the hardcore away fans, no better fans in English football, he is history.

Raymond Fox
153
Posted 15/10/2017 at 17:37:13
Koeman needs to be shown the door quickly. He has been crap in every aspect of management. He insists on playing the same old system with the same players and we are failing to even look like a decent side. Give David Unsworth the job; risky, I know, but I'll bet my bottom dollar/pound, that he's better than this fella.
As far as today's game is concerned, a draw is not a terrible result, the betting pointed to it being a banker draw. We will improve for better management but overall to repeat myself again, the players are not good enough. Just imagine Man City players managed by Koeman, do not think they would make something happen?
We are lacking quality from the top of the club, I was going to say to the bottom, but that's not strictly true because our youngsters are beating every one in sight!
Colin Glassar
154
Posted 15/10/2017 at 17:50:17
Kunai (#134), I'm not so sure about that. People love cricket over there so they'd probably enjoy the boring crap we serve up every week.
James Stewart
155
Posted 15/10/2017 at 17:50:50
A snatching a draw at the death is a terrible result against an awful Brighton team that will be relegated.
Different day, same mistakes. Calvert-Lewin on the left wing. Give me a break. Wake me up when it's over.
Mark Fitzgerald
156
Posted 15/10/2017 at 17:51:03
Dear Ronald, how about giving the following selection a try:
Pickford
Kenny Holgate Keane Baines
Gueye Rooney
Lookman Sigurdsson Vlasic
Calvert-Lewin
Let's be honest, couldn't do any worse than yours of late.
Tony Abrahams
157
Posted 15/10/2017 at 17:53:26
Clive, I just think it's the best way to show the board that we are not happy with the manager and his team.
You call it inexcusable, which is fair enough, but continuing to put up with what I would call inexcusable football sometimes calls for desperate measures. Each to his own is how it usually works but I was just giving an example of the best way a set of fans can have an influence in the club.
Clive, nobody wants to see the team lose but, even if Everton would have won today, it wouldn't have altered the fact of how painful we are to watch right now. So presumably my idea, is because of how poor we are right now, how devoid of ideas we are right now, and how little direction we also have right now.
It's nice to win, much better than losing Clive, but I've been inside a half full Goodison many times, when the crowd have made more noise than a full Goodison is making right now. A crowd usually reacts to a team, so maybe a new owner with plans to build a brand new stadium might just react to the crowd?
Jim Burns
158
Posted 15/10/2017 at 17:53:49
Gone by the end of October – not even a glimmer of hope from today; he has nothing else to offer.
Tony Marsh
159
Posted 15/10/2017 at 17:54:08
Terrible yet again and all down to Koeman being a stubborn Dinosaur.
At the same time, what the fuck is Moshiri all about? I thought our new Billionaire was supposed to be business savvy and a shrewdie? How on earth can this be allowed to go on yet all the major shareholder does is talk shite on TalkSport.
Kiss the season goodbye guys just like we can kiss a new stadium good bye. I never believed for one minute Bramley-Moore was a goer. I actually believe Moshiri and Kenwright would be prepared to see us relegated so they could swerve the new stadium bullet.
Will Mabon
160
Posted 15/10/2017 at 17:54:44
Just watched Koeman's post-match interview. After equalizing, going for the second goal to win was described as "Okay, maybe we take a risk..."
Attacking to win a game of football is taking a risk.!?!
That's Koeman in a nutshell.
Neil Copeland
161
Posted 15/10/2017 at 17:55:12
I was very pleased when Moshiri brought in Koeman because he went after his man and didn't stop until he got him – very impressive at the time. I cannot remember ever feeling so positive about Everton's future at that time.
Whilst I appreciate that Moshiri needs some PR help when speaking with the press, I find it hard to believe that such a successful man will accept the current plight of Everton FC regardless of what Koeman's departure will/would cost.
Neither do I think that his visit to Finch Farm was to give high five to each of players and tell them to keep up the good work. So, I could be very wrong, but I think the wheels for a replacement manager have already been put in motion.
Who the replacement is, I have no idea and wouldn't really want to guess. A number of names have been banded about on this thread:
Rhino – brilliant man manager but possibly too soon?
Benitez – track record speaks for itself but not sure he would come to EFC. The flak that he and his family would potentially get from the RS may deter him.
Silva – great prospect and therefore very risky, possibility though.
Allardyce – no thanks for me even though his track record in a relegation fight is excellent.
Dyche – doing a great job at Burnley, could he handle the additional pressure at EFC? Certainly seems to know his own mind and would probably keep us up but would he move us to the next level?
My preference would be a choice of either; Rhino (I think he would cut it), Benitez (but as I say above not sure he would come) or Dyche (because I think he would "get us").
Whoever comes in, I think it will be sooner or later based upon Moshiri's success in business. If not, I will be very disappointed in Moshiri – we need him to act now.
George Cumiskey
162
Posted 15/10/2017 at 17:58:44
Len @ 148,
100% right especially about that arsehole Savage, who only last week called people who want a manager sacked, clowns. Doesn't he realise that, if people didn't phone in, he would be out of a job?
And how one of the least talented players ever to play football can be commenting on European and international football is beyond me.

Jim Burns
163
Posted 15/10/2017 at 17:58:45
Mark @ 156 – that's a good shout Holgate needs game time in a settled slot, with Davies on the bench. One more change – Unsy in for Koeman.
Mark Fitzgerald
164
Posted 15/10/2017 at 18:02:01
Can't disagree with that, Jim.
Anthony Hughes
166
Posted 15/10/2017 at 18:20:47
The thing is, though, when Moshiri went after his man, what qualified him to make a technical football decision to employ Koeman as coach?
I'm pretty sure most Everton fans have superior football knowledge than Moshiri. Hired purely for the big name and reputation as a player without any in-depth research into why he would be a suitable coach for us.
Kevin Tully
167
Posted 15/10/2017 at 18:22:59
Apart from the dire football on offer, this is our worst run of winless away games in 15 years! After all the money spent, surely this stat is a sacking offence alone?

Stan Schofield
168
Posted 15/10/2017 at 18:27:30
I didn't watch this match. I don't even know if it was being shown anywhere, I didn't bother to find out. I couldn't be arsed.
But I know it was shite again, because I trust the observations and judgements of my fellow ToffeeWebbers, certainly more than I do Koeman. I'm just not watching this shite.
When the hell is he going to be shown the door?
John Keating
169
Posted 15/10/2017 at 18:37:43
Preseason, Europa League and recent Premier League games I just thought Koeman was completely useless, tactically and man management wise. For sure he is stubborn and refuses to change an inept and defunct playing pattern. Supporters, ex-players, pundits, journalists et al are all seeing the same mistakes made every week without change.
I'm now not sure he is that useless. He can't be – nobody could be this bad consistently. I am now convinced that Koeman is now doing this deliberately and with malice. He is wanting out. He is wanting paid off to go and do whatever it is he wants to do.
He obviously doesn't give a shit about the good name and reputation of Everton Football Club, doesn't give a shit about making us a laughing stock. In my opinion, he wants out and in his own mind is convinced he can earn a good pay packet somewhere else.
He should have gone at the beginning of the international break. This man should go and go now.

Dave Evans
170
Posted 15/10/2017 at 18:39:15
Does anybody else think Garbutt should be given an opportunity at left back? I think Baines has been a fantastic player for our beloved club, but performances of late have been below par.
I'd like to see Luke given a run of games to prove his worth, I think we have a cracking player ready to step up and move us forward (not sideways or back). Sorry to all the Baines fans, my tin hat is on standby.
Soren Moyer
171
Posted 15/10/2017 at 18:49:52
Please sack him now. Don't let this buffoon do another Valencia with us!
Neil Copeland
172
Posted 15/10/2017 at 18:50:33
Anthony (#166), let's hope he gets it right next time!
Lawrence Green
173
Posted 15/10/2017 at 18:51:01
Kevin (#167),
One of the things that I was sure would improve under Koeman was our appalling Premier League away record but, from his 23 Premier League games played away from home, Koeman has overseen only four victories (Palace, Sunderland, Leicester and West Brom), two of those came in the opening weeks of his tenure.
Roberto won 4 away games in his final season with the club.
There wasn't much to be done to improve on Everton's recent record away from Goodison but it doesn't appear that the manager or his team are capable of more than matching the rubbish the fans have had to put up with in recent years, despite an enormous amount of money being invested in the team.
Perhaps the club should send the U23s to play away from Goodison and rest the tired and creaking limbs of the experienced players, so that they can be fully fit for the home games.
Peter Jansson
174
Posted 15/10/2017 at 18:53:05
Koeman needs to be sacked ASAP or we risk being relegated.
Koeman is continuing to show he has not learned anything. He keeps on doing more of what is not working. How can that be a solution to anything? To do more of what is obviously not working. You do not need to be Einstein to understand that will not improve anything.
What does he do wrong? Well, many things.
1. He plays with Gana & Schneiderlin even though they are playing really bad game after game.
2. He plays Sigurdsson out of position game after game even though it does not work. How can you buy a player for £45 million to play him out of position?? What a joke.
3. Wayne Rooney should not be played as a striker. I rather see him either on the midfield.
4. Dominic Calvert-Lewin is played out of position once again. He should be played as a striker.
5. Mirallas should be used since he is more or less the only natural left-winger in the team.
6. Ademola Lookman needs more. The few games I have seen him he looked like the most lively player in the team. How can he not get the chance?
7. Change formation. If we have too many midfielders, we need to put out a formation so that we can use the most of the good players out at the same time. Not use the 2 most useless midfielders as done now.
Gana is on a steep slope downwards. If this is how he played for Aston Villa 2 seasons ago I understand they got relegated 2 seasons ago. He hardly gets a simple pass right.
About Schneiderlin, I have no idea what good he does do on the pitch. He is definitely not good at passing forward or dribble, neither has he been good defensively lately. He should be put on the bench at best.
Davies should play from start in the middle with Sigurdsson in the center. Rooney has to be taken down to midfield or maybe at the left wing.
If we start to play players in their right position, we might actually start to play good football. That means that we could get Sandro and Klaassen going as well. Sandro is definitely a good player, but he clearly does not suit so well in Koeman's strategy.
Sack him now. Get Unsworth in as he can get the chance. Give him 5 months. If it is not working, get a new manager.

Mark Morrissey
175
Posted 15/10/2017 at 18:53:37
Sack the clueless boring clown. I've had a gutful. He's now annoying me. It's not about the team, it's about him. They don't want to work for him.
Where has he been during the international break? Clearly not not been working hard enough to sort this shit out. He doesn't care enough and the team knows that.
He needs sacking, tonight or tomorrow morning wouldn't be soon enough.
Brian Harrison
177
Posted 15/10/2017 at 19:01:26
I think most have made their mind up about Koeman and that's fair enough, the performances have been hard to watch – especially this season.
I know many have said to stay away from Thursdays game with Lyon, and for those that agree that's fine. But I will be there as I have said on many occasions over the decades I have seen owners and players come and go. But it us the fans who are the lifeblood of this and every other club either big or small, and yes, I understand that protesting fans often get what they wish for.
But I will go along and support and hope that the performances improve as well as the results. I am sure Lyon will be delighted if there is a toxic atmosphere at Goodison on Thursday, and no doubt Arsenal will be hoping for the same on Sunday.
I am far from happy with our performances or results, and I am sure neither is the board. I don't buy this notion the board are happy to finish in mid table. But Kenwright didn't have the money to change that and Moshiri, although being a billionaire, can't match the spending of the two Manchester clubs and Chelsea. So realistically we are trying to compete with Arsenal, Spurs and Liverpool – all of whom usually spend more than we do.
Jon Withey
178
Posted 15/10/2017 at 19:01:42
Sadly I'm not sure Garbutt is good enough to shift Baines.
Schneiderlin and Klaassen is 㿞m we won't get back. Calvert-Lewin out wide and Davies on the bench again. Perhaps Koeman wants the Holland job.
I'm not going to blame Moshiri for bringing him in – he seemed like a safe enough bet at the time... but something is rotten now, and it's not just luck.
Paul Smith
180
Posted 15/10/2017 at 19:05:48
Just back from the game.
I don't think he's lost the players although their no-show to the away fans at the end confirms they know they are shit.
Found myself singing "You're getting sacked in the morning" looking at Koeman & feeling sad for him, then we equalised, I thought "Fuck, he's staying" but I was happy we'd scored.
Super Kev walked over at the end shaking his head and got a great reception. He looked really pissed off.
Tony Marsh
181
Posted 15/10/2017 at 19:16:17
Brian @177
Regardless of what the Manchester club's can spend we should still at least be competing with the big teams and beating lesser sides. I was under the impression Leicester City won the Premier League 18 months ago without spending any money?
Spurs are regular top contenders now and they don't go out and spend massive amounts. No mate, it's all about great management and good men behind the scenes. We have neither. Koeman is a dud. The sooner it's recognized, the better.
Martin Mason
182
Posted 15/10/2017 at 19:16:18
Paul, I'm also back from the game and the Everton players were giving shirts to the away fans at the end right in front of me. Super Kev was first.
Max Murphy
183
Posted 15/10/2017 at 19:18:51
How long do Evertonians have to endure the degradation, the embarrassment, and the spectacle of chronic football, week after week, month after month, year after year, decade after decade...???
Answers on a postcard to:
Up Shit Creek,
Without-A-Paddle.
Sinking-like-a-Stone.
Goodison Park.
Merseyside.
Jason Wilkinson
184
Posted 15/10/2017 at 19:22:23
We need injured players back in contention for selection. Bolasie, Coleman, Lennon and McCarthy are all better players in their respective positions than the players currently selected. It is not the manager's or the board's fault four of our better players are sidelined through injury.
My fully fit 11:
Pickford
Holgate
Keane
Coleman
Garbutt
McCarthy
Bolasie
Lennon
Davies
Sandro
Calvert-Lewin
??????? Manager/ Coach.
Bye bye, Ron, you would never have the balls to play such an eleven.
Joe McMahon
185
Posted 15/10/2017 at 19:22:55
Dave Evans (#170)
No tin hat needed. Baines hasn't been up to Premier League standard for the last 3 seasons. Yes once good, but once was years ago. I've also never liked the way he turns his back on shots and crosses.
I'd rather Garbutt start and keep Leighton benched. But I'm not paid £6 million a year to make Everton compete.
Andy Dempsey
186
Posted 15/10/2017 at 19:24:00
If Leicester City win tomorrow, we'll only be kept out of the relegation zone on goal difference. Stoke City's is -9; we're -8.
If Man City hadn't hammered them, we'd in the bottom three, assuming Leicester beat West Brom, which I think they will.
Yet Koeman will not be sacked, he could lose his next five games, I'm telling you he won't be sacked. We have a joke billionaire, our club is a disgrace.
Koeman can do whatever he likes, he's under no pressure. Unless you call waiting for a 㿀m payout, pressure?
It's a terrible situation and he needs sacking now, not at the last straw scenario in February.
Big Sam in the new year, I'd put money on it.

Andy Meighan
187
Posted 15/10/2017 at 19:24:06
Evertonians wanting that fat twat Benitez as manager... Unbelievable!
It's bad enough now – imagine it under him! And an ex-Liverpool manager as well... I question the wisdom of some of our fans, I really do.
The day that disrespectful prick walks into Goodison will be the day when I'll never have anything to do with the club again. I can't believe I've read posts advocating him as the manager of Everton Football Club.
Paul Smith
188
Posted 15/10/2017 at 19:24:50
Cool, Martin. I left before that. They were still in the centre circle.
Hugh Jenkins
189
Posted 15/10/2017 at 19:34:14
Many people have said many things about the shape of the team and the choice of players etc. Much has also been made of the fact that Lukaku wasn't replaced in the summer.
The thing that strikes me is, if the major cause of our travails is just the lack of a central striker, should we not be expecting the rest of the team to be performing well, in their correct positions, and creating many scoring chances for the central striker, which we don't have?
If that was happening and all we needed to "complete the jigsaw" was said central striker, we could fill the gap with Niasse or Calvert-Lewin until January, confident in the knowledge that all the rest of the pieces were in place, the machinery was "purring" and once the missing part was introduced, we would be flying.
But, that isn't the case and that isn't happening, so the malady is far worse than that. We didn't get a new striker when we should, but but clearly the problem is much deeper.
To my mind, regrettably, that can only be down to the manager and the formation he tries to play with the players at his disposal.
It seems our manager has upset, Barkley and Lookman, will continue to waste Calvert-Lewin and others by playing them out of position, whilst continuing, to play two defensive mid-fielders in each game, neither of whom are currently performing well, and (probably under orders from the chairman), picking Rooney at all possible opportunities.
I fear that, if Koeman stays, we will soon see an Exodus of young talent from our club, and that must not be allowed to happen.
To me it is becoming a question of who goes? – Barkley, Lookman, Davies, Calvert-Lewin, et al. – or Koeman.
I know which my choice is.
Mike Berry
190
Posted 15/10/2017 at 19:34:58
When Koeman has gone, the next manager has some tough decisions to make to sort out the current mess. By that, I don't just mean the performances but actually shipping out some players who are quite recent additions.
Rooney is on big wages so he would be expected to start but he cant be accommodated without Calvert-Lewin and Sigurdsson playing out of position. We have Klaassen yet another Number 10 who will only get up to speed with game time but he cant because we have Rooney and Sigurdsson also wanting that spot.
We have two defensive midfielders when we only need one.
We need a proper Number 9, shame we missed out on Wood, I and a few posters touted him at 㾻m a could be steal. Calvert-Lewin is going to be a star but needs help.
We need an cover and an eventual replacement for Baines. Most of all we need round pegs playing in round holes and a game plan. Have I missed anything else?
Rick Tarleton
191
Posted 15/10/2017 at 19:35:20
No, come on, you don't realise how well we did. Koeman told us in his post-match interview. We were the better team. (Debateable from what I heard on Radio 5's infrequent commentaries).
Their goalie pulled off two miraculous saves in added time and we were playing the might of Brighton, who spent slightly less than us in the transfer window.
Us fans, me with 60-plus years of watching Everton and football, have no idea how well we are progressing. Leaving Niasse on the bench for the first half was really shrewd as we established control of the midfield. We also left Davies on the bench which strikes me as slightly stupid; Lookman didn't get a look-in.
By the way Deulofeu is good enough for Barcelona this week-end, but not for Koeman's Everton. Koeman knows what he's doing, trust in him. Ronald MacDonald's a better manager than Ronald Koeman.

Martin Mason
192
Posted 15/10/2017 at 19:36:08
For the first 30 minutes today, Everton looked to be playing superb away team football with width and passing the ball around smoothly. Schneiderlin was actually very good.
As soon as Brighton came at us after 30 minutes we changed completely with the midfield narrowing up and the full backs not coming over half-way. Make no bones about it Brighton were unlucky and if one of these two teams is a relegation candidate it is us.
I can see the problem very quickly when the going gets a little tough. When the defenders take the ball out of defence, out of 6 options ahead of them Rooney is a busted flush and shouldn't be in the Premier League and Schneiderlin and Sigurdsson don't have a creative bone in their body. That's a very serious 3 out of 6 key players. Baines is also a shadow of his best self but that may be tactics. Calvert-Lewin is going to be a great player and Vlasic was a good buy.
If not for the equaliser I think this was Koeman's last game and I'm sorry in the end that this isn't the case. He has to go because he keeps doing the same thing yet expecting things to improve. He is absolutely incompetent.
If you want to do something about it then don't go on Thursday, don't go or don't complain. Ranting like Darren on SM forums like this isn't doing anything. Removing your support is a very powerful action and is the only thing you can do if you want to make a statement.
Alan Bodell
193
Posted 15/10/2017 at 19:36:17
Peter J. (#174), every word you say I totally agree with except putting Rhino in the firing line with a bunch of players who may not have the respect for him that we do.
Fucking Schneiderlin... since he got married, he's turned into a National League bench warmer at best.
Sam Hoare
194
Posted 15/10/2017 at 19:36:52
Andy (#186), if he loses the next five games I'm pretty sure he will be sacked. He is on thin ice now and, much as the board want to show 'loyalty' if we are out of the cups and in the relegation zone, then they will not be able to risk inaction.
John Hammond
195
Posted 15/10/2017 at 19:38:43
Denis (#88): Well said, mate – exactly what I'm thinking. The whole Rooney thing is a farce.
Mike Allen
196
Posted 15/10/2017 at 19:54:48
The man is not only sapping the confidence of the first team but, unless someone points him in the right direction, he will undo all the good work the academy is doing.
The young lads that he selects for first team duty end up not getting any real competitive match play. To take them out of the U23s is robbing them of match time. Pick them, play them.
Jonathan Tasker
197
Posted 15/10/2017 at 19:56:55
Of course the Koeman situation doesn't really matter. The fact is that under Kenwright this is the longest the club has gone without winning a trophy.
Nothing will change whilst Kenwright is still alive . And there is no new ground, even if the club hires an architect to tweet stuff during the match.
Paul A Smith
198
Posted 15/10/2017 at 19:57:27
John . Yes your one liners give everyone great wisdom. And now everyone is talking the stuff you spoke of 6 months ago?
More importantly. Who are the board going to be looking at to replace Koeman and Walsh?
Have a look at our club staff. Apart from Big Dunc, who Kenwright insisted on being there, and Unsworth's work being indisputable, the rest of the club is made up of either Koeman's friends or Walsh's friends. Even family in Koeman's case.
Ditch the whole lot of this scientific cult and get some proper football people in before we drop another level. Get somebody who can read between the stats and can organise a team. Somebody proven to be a top coach, even in adversity.
Did Moshiri even care to look at Koeman's history in times of adversity? From here, it looks like he hasn't the slightest idea how to overcome a mess.
Rick Tarleton
199
Posted 15/10/2017 at 19:58:44
Have Everton ever made a worse purchase than Schneiderlin? I think of Ernie Hunt and Henry Newton, they weren't needed in the system as played then, but they were better players than Schneiderlin.
Never once in his time at Everton has he been the player who you'd call the Man of the Match, when he has taken hold of the midfield.
Dan Davies
200
Posted 15/10/2017 at 19:58:49
What did we do to deserve Martinez and Koeman one after the other?
Jim Hardin
201
Posted 15/10/2017 at 20:01:47
Welcome back, Mike Gaynes! I hope things are going well with you.
Coming off the international break with no injuries reported, I was optimistic for today's game. Once I saw Rooney up top and two holding mids, my optimism soured a little so I decided to watch the game to watch Sigurdsson, Calvert-Lewin, Baines, and Holgate.
I know many think Baines is past it, but all season he has had to hold back due to a poor defense and the formation and players ahead of him. However, there was some neat combination passing with Calvert-Lewin and Vlasic when he did go forward. I would not write Baines off as he is a calming influence in the back and almost always is there as an outlet. Yes, a replacement is needed, but not one to step in immediately.
As for Holgate, I don't rate him as a centre-half and am not convinced he has a great career as a right back. However, his pace, determination, passing, and neat foot skills make me wonder why he isn't moved into one of our two holding midfield roles? (Could we have a Davies - Holgate duo someday?) He had some exceptional linking play with Vlasic and was a threat around and into the box.
Sigurdsson to me looked much better in a central role but he looked frustrated trying to find Rooney. He linked nicely with Vlasic and also with Holgate.
As for Calvert-Lewin, I am still impressed by his sheer athleticism, skills, and desire to get into the box. His inexperience and lack of strength (still young) are the drawbacks but I think he should have been the striker today. He can learn from playing and will get older and stronger and I think he will be fine. If he is the striker then Mirallas would seemingly be a good foil for him on the left (or Lookman).
So, there are some positives from today. Also Pickford looked fearless as usual, despite getting battered at times.
Martin Mason
202
Posted 15/10/2017 at 20:03:29
Rick @199
No, for the price he is the worst. Today for 30 minutes I really thought he was good but, as soon as Brighton notched the pressure up, he became worse than useless. This man is not a defensive midfielder, his defensive work is atrocious, He has no craft or skills so what does he possibly bring to the table? And he is first on the teamsheet.
Paul A Smith
203
Posted 15/10/2017 at 20:11:14
Rick (#199). The hype is insane. Those who play with slide-tackle styles at Goodison seem to get unbelievable praise. Then hide away from home. Those who try to play football amongst a poor team of footballers get the most stick.
I get annoyed with the fans and I am no football genius so maybe that is wrong but how come nobody seems to be civilised in their assessment of a player now? For example, did many think Man Utd were that stupid they sold a maestro to the team one place below them?
The same people were fine with selling our best asset to the same team. How on earth do we grow as a club when this kind of stuff makes sense to the masses? 6 months later, they're all gutted.
The board have got it easy fooling our die hard fans and it wrecks my head. 23 years I went without missing a home game until Sunderland this season. Lyon is off too. If you knew me daily you would find that as shocking as these performances.
I was 13 when that run started and I am gutted watching that shite. I don't want a medal for that – we are all in the same boat – but it's become too much of a con now.
Dave Abrahams
204
Posted 15/10/2017 at 20:11:27
Jim, thanks for your support of Baines. I think he has been okay considering he has had hardly anyone in front of him all season but has had to bomb up and down the line on his own mostly, and he has played in nearly every game.
Good points about some of the other players as well: Vlasic, Sigurdsson and Calvert-Lewin. What is your opinion of the manager?
Jamie Crowley
205
Posted 15/10/2017 at 20:27:10
The only good thing to occur today because of that shit-show of a game is I have a new word in my vocabulary thanks to one Mr Terry Underwood: Dia-fuckin-bolical.
I will aggressively attempt to use that wonderful word three times daily for the next week so it becomes one of my "go to" words.
Koeman simply has to go, in my opinion. It's a results-based business and we are getting none. All the while being served up with terrible football.
And, on a really fucking cheery note, we have:
Lyon, Arsenal, Chelsea, Leicester, and Lyon our next 5 games.
He'll be out by month's end, I think.
We're a train wreck.
Chad Schofield
206
Posted 15/10/2017 at 20:29:41
I'm just glad to have missed 80 minutes of commentary.
He needs to go.
Paul Birmingham
207
Posted 15/10/2017 at 20:33:34
Totally not unexpected and God help us in the next 4 games. Einstein is said to have defined madness, as repeatedly doing the same thing over again, and expecting a different result. It's mentally debilitating and totally frustrating and I can't see any miracle happening.
Walsh must also be made accountable for treason for not nailing a top striker and Koeman for repeatedly playing players out of position. Rooney should be kept on the bench as his engine can't do it any more but he has the brain and guile but not as a striker. Shock impact sub.
Pitiful performance and no doubt Lyon, Arsenal, and Leicester will have it sussed, and that wouldn't be difficult based on this seasons games.
The best money the clubs ever had to buy players and we have journey men in some cases and all more all less being played out of position. Criminal no proper striker was brought in.
Hope has almost gone, and the lights will go out on this season, soon, as we can't score, are playing the worst football I can recall in 45 years, and are starting to make the Walter Smith years look scintillating.
Under-23s doing great but it's a different world but Unsworth has moulded a new team in no time so credit where it's due. I'd send the first team to watch the U23s next 5 games, to learn about spirit, fight, guts and passion.
Phil Sammon
208
Posted 15/10/2017 at 20:35:24
I feel dirty for saying this, but a draw is worse than a loss. Defeat would have cost one point and may have seen this oaf shown the door. The last-minute penalty has gained a point but it's ultimately detrimental to EFC.
Somebody grab the fucking steering wheel! The club is coasting into a ditch.
Duncan McDine
209
Posted 15/10/2017 at 20:36:05
My lack of excitement pre-kick off was justified when the line-up announced itself on my phone. First time I'd been to Brighton, let alone watched a game there, and it was as drab as I feared.
A lucky point which probably takes just a bit of the sting out of the abuse that would have been directed Koeman's way. If things don't improve quickly, the 'boos' will become deafening very soon.
Vlasic was our best player, Jags cleaned up a couple of Keane/Holgate cock-ups too. Not one for the scrapbook.
Martin Mason
210
Posted 15/10/2017 at 20:41:48
Duncan, I disagree about Brighton which is a place I visit a lot. The North of the city where the ground is, is a bit drab but the centre and sea front are very good and getting better. The restaurants, bars and clubs are very good.
Nice ground but so difficult to get away from.
Correct, Jags was really good today.
Simon Crosbie
211
Posted 15/10/2017 at 20:47:42
Even in the darkest moments of our history it might have been unfair to call our performances insipid. Not the case now.
Mark Morrissey
212
Posted 15/10/2017 at 20:57:53
I felt sorry for him???? Jesus H Christ, fair enough but he's turned this team into a shambles. Our club is a laughing stock and it's because of him, Moshiri and Jim White.
Let's get rid of one of the clowns and that is Koeman. Bring back Ross and sack Koeman. It's staring us all in the face FFS!!!!!
Gerard McKean
213
Posted 15/10/2017 at 20:58:41
Kevin (#102) you are so close to a truth that many Blues can't accept; there are people on the Board who have no right to be there.
I'm not sure about Ferguson being a prime mover in bringing Rooney back, I genuinely just don't know, but I'm puzzled that anyone who's spoken openly about how he doesn't really like football has ended up as our first team coach.
However, you are on the money with your observations about the head of EitC. This woman is seriously ambitious. Unfortunately, her ambitions are entirely personal and not related to how the team is doing on the pitch. Most fans would be shocked at what she earns from EFC, and I mean shocked. But through the networks she was given an MBE for her "services to charity" which prompted one contributor to TW to post how richly deserved this was as she "is the soul of the club." He omitted to mention in his post that he has a free seat just behind the directors' box given to him by the head of EitC.
This woman has Kenwright, Elstone et al eating out of her hand. Fans think ah well she is doing well for us cos it's all for charity. She is on the Board that will choose the next manager. What she knows about football could be written on the back of a postage stamp with room left to explain why she pretends to have been a lifelong active Evertonian.
Anthony Newell
214
Posted 15/10/2017 at 21:01:59
Phil, I certainly wouldn't feel dirty, and respect for being honest. The moment fans start thinking that they would take a loss if it meant getting rid of a manager signals dark times indeed; you've hit rock bottom. It's not about not wanting your team to win its about 'would you accept defeat if it led to change'.
Following Palace's show yesterday I thought there was reason to be optimistic about today... until the team sheet arrived. He's learnt absolutely nothing.
Ian Wright on 606 has joined the Unsworth-in brigade and suggests throwing in some youngsters, firing up the side and the fans, creating some semblance of an atmosphere at home. I'm all for that but with Royle overseeing until the end of the season.
Joe McMahon
215
Posted 15/10/2017 at 21:06:10
Duncan McDine – if Brighton is drab, what does that make Walton?
Damian Wilde
216
Posted 15/10/2017 at 21:34:28
I'll go to my ST home league games, but no other games 'till he's gone. Waste of money as we are dreadful and very boring.
Off to see The Vancouver Whitecaps in a few hours, nice change!
Neil Copeland
217
Posted 15/10/2017 at 21:42:35
Phil (#208), thank god for that, I thought it was just me thinking that way tonight. Although I do stand by my comment earlier in this thread that I think the wheels are already turning regarding the removal of Koeman.
Kevin Tully
218
Posted 15/10/2017 at 21:44:49
Gerard (#102) l instead of a brave new Everton we all thought we were getting once Bill, and 'friends of the club' were paid off, the new man just handed over the keys to the asylum! Along with a 𧶀m transfer kitty.
Bill, John Woods and whoever else have kept the keys to the boardroom, and the huge profits from their shares. The plot would be at home in any old black & white movie: "It's quite brilliant, Mr Holmes"
"Farhad, did I ever tell you the story about (add any spoof of your choice).
Hats off to them all, they've played an absolute blinder.
Steve Jones
219
Posted 15/10/2017 at 21:46:23
How can the board watch what we've been watching and not see Koeman must be sacked if he doesn't have the decency to resign. There are no signs of improvement and no indication that Koeman has any tactical flexibility or the motivation skills to stop the rot.
Schneiderlin undroppable? No Tom Davies until the 90th minute? The lack of intensity makes it look like we're still in pre-season. Any loss is unexpected, as is scraping a draw against Brighton – nil satis nisi optimum.
Lawrence Green
220
Posted 15/10/2017 at 21:53:58
Some valid points in this article by Ed McCosh.
Ernie Baywood
221
Posted 15/10/2017 at 21:57:18
I was 'fortunate' enough to be able to watch the game as it was on live in Australia.
That said, I fell asleep after 30 minutes. Only took 5 minutes to see that the selection was wrong and the team had run out of ideas. The players were frustrated at the lack of options.
So slow. Head backwards every time you encounter the opposition.
So why am I falling asleep in games? Well, the performances offer nothing by way of entertainment and unless we actually get in a relegation fight, the results are irrelevant at the moment. Scraping a win against Brighton wouldn't change the fact that we're playing shit.
Can't understand why he would be there for the next game. If you're results focused you'd sack him. If you want decent football you'd sack him. If you wanted someone who was committed to the club you'd sack him.
Only green shoots of recovery could have saved him. There aren't any. Sack him. What are they waiting for?
Mark Morrissey
222
Posted 15/10/2017 at 22:10:17
On Sky Sports Premier League HD now.
John Pierce
223
Posted 15/10/2017 at 22:10:28
I'd say normally hitting the bottom means that the only way is up. Under Koeman we seem to be bumping along the bottom. It is the roughest of rides, sadly with nothing to point to any improvement.
No light at the end of the tunnel some say, perhaps we've been led down a mineshaft?
A truly abhorrent performance, each game is a parody of the last with the same mistakes exacerbated beyond tragedy. The desperation with which Baines was hauled off, as Brighton scored was telling.
Each game under Koeman further damages an already under-performing set of players, and makes the successors job harder with fewer games to repair the damage.
Each further game the board dithers only serves male them look less sound, less competent in my eyes. It is a mess, from the top down.
Don Alexander
225
Posted 15/10/2017 at 22:15:51
Today was very much more of the same, "style"-wise, and that's regrettable to me. That said, and in an effort to be positive and supportive of the club, this was Brighton's fifth home League game and only Man City have beaten them, on day one. On that basis the result may be acceptable, but not the performance.
More than one penalty should have been ours today though and stats-wise, for those who place great store in them (unlike me), ours suggest we were the home team. These are very small crumbs admittedly but I hope, and really hope, that this is a sign of "gelling" taking shape.
It disappoints me that Rooney was signed with all that goes with it but those in charge of our transfer "policy", if there is one, seriously fouled up in the summer, well beyond the catastrophic failure to sign a "leader" centre-forward, as possessed by every other team in the league.
That's why the season's a wash-out as far as I'm concerned, regardless of who manages us.
Interesting to see the comments of others on Darren Hind, and his relentless slagging-off on a personal basis of all those he does. Darren's made me wonder whether he's actually got a grasp of the meaning of the words he uses or whether he's just another arrogant know-all standing purse-lipped on the side whilst waiting for the next match. I take the former opinion.
Raymond Fox
226
Posted 15/10/2017 at 22:16:51
Spot on, Hugh (#189).
I agree our biggest problem apart from Koeman is our none productive midfield, it has been for 4 or 5 years.
Looking for any old excuse I can find = playing in the Europa, is always going to strain our squad and have a detrimental effect on League performances. I actually believe this to be true and said so before the season started, Baines for instance cant sustain playing in every fixture.
I know we are all down and pissed off but all is not lost yet. Of the 8 League matches played I thought we would probably get 11pts, we have 8 so it's not quite "slash your wrists" time yet.
I do agree though with most fans, that Koeman needs to be sacked pronto if we are going to get the show on track.
Anthony Newell
227
Posted 15/10/2017 at 22:17:08
To be elated to get a draw at Brighton means Koeman has now succumbed to the Martinez style of verbal diarrohea. Why? Because he knows he has to spin everything positive, this is the end game on the road to another job.
I thought at the beginning that Koeman's tell it as it is, no-nonsense style was refreshing but now it has descended into farce.
Whats with the unshaven bollocks? Is that supposed to make us think he cares in some strange way? More like too many visits to wacky baccy cafes if you are to comprehend his post match interview.
Neil Copeland
228
Posted 15/10/2017 at 22:18:56
I wonder if the result today was considered to be an expected or unexpected outcome?
Jay Griffiths
229
Posted 15/10/2017 at 22:23:36
Back home. Coach got us there at 11am! There is a farm shop and only a farm shop by the ground so if you need millet, corn or anything agricultural before the game well hey, Brighton is the place to go to.
Staying with the theme, Koeman is agricultural, bland and devoid of motivation. He's our seedless bull. I said I was concerned some weeks ago. Now my anxiety has gone up a notch.
Anthony Newell
230
Posted 15/10/2017 at 22:27:34
I'm surprised you weren't enquiring on the availability of cattle tranquilisers, Jay. Ultimate respect for going
Dick Fearon
231
Posted 15/10/2017 at 22:30:42
Ernie B,@ 221,
Like yourself I am also in Oz and kept nodding off which is most unusual when our bunch of frauds are on TV.
I am worried on two fronts because the Socceroos have adopted Everton's slow motion of more reverse and square passes than forward ones. Timmy may be old and losing a bit of zip yet as a target man he is still streets ahead of anyone at Everton.
Lawrence Green
232
Posted 15/10/2017 at 22:35:58
Neil #228 Perhaps with Moshiri's recent statement about the fixtures that we should or shouldn't win, then it is possibly a point gained. If we consider the Chelsea, Spurs, and Man Utd defeats as expected and the point at the Etihad as unexpected then the defeat by Burnley would replace the expected defeat at City.
Overall we have lost four and taken 8 points from the other fixtures which works out at two points per game so we're right on target to achieve our aims?
Is Arsenal a game that we can write off as they are always in Europe? Or the game at Leicester City, is that also to be treated as an accepted loss of points as they have won the league in recent times?
Seriously, if I don't see a decent Everton performance in the next month or two I think I'll go insane... Mind you, I'm not certain that hasn't already occurred.

Soren Moyer
233
Posted 15/10/2017 at 22:36:54
Can someone explain how Watford's squad have been gelled so quickly after bringing in 14 new players by Marco Silva during the summer transfer window, but ours is taking an eternity?
Lawrence Green
234
Posted 15/10/2017 at 22:41:55
Dick (#231),
Allegedly, an American company are blaming Everton for their recent slump in business and are thinking of taking out a lawsuit against Ronald Koeman and the club.
Danny Broderick
235
Posted 15/10/2017 at 22:46:03
They say the definition of insanity is doing the same thing over and over again and expecting different results. That will be Koeman's downfall. I have a degree of sympathy, because I believe that Walsh and the board failed to deliver the left-sided defender and striker that he publicly stated he wanted.
However, he doesn't seem able to see the wood for the trees. This team he keeps picking hasn't been playing well all season. He changes the odd player, but not the system. The results are not happening so why persist with the same old tired formation?
Schneiderlin has been woeful all season, how he is playing ahead of Davies is beyond me. And we are crying out for width and pace. I don't mind the formation that Koeman is playing – but it needs width and pace. The likes of Mirallas, Lennon and Lookman should have been given far more game time. It's no wonder we are struggling to score goals. It's not rocket science – we have no pace and width!
The whole team is struggling because it is too narrow in attack. The players haven't become bad players overnight – Schneiderlin, Gueye, Sigurdsson, Rooney etc. But the manager is not allowing them to make the most of their ability, because it is too congested and they are all tripping over each other.
If he carries on the way he is, he'll be gone by the end of November. He's got to change something.
Gavin Johnson
236
Posted 15/10/2017 at 22:49:08
I was on a date this afternoon so missed the game, although I was meeting the said woman in a pub in Birmingham, so had hopes that the half one kick off would mean the game was televised. It was Derby vs Forest and didn't want to upset any of the natives by asking if Everton were on another channel.
It doesn't sound like I missed anything except prolonged misery. It doesn't look as though he's gonna turn this slump around. There's been collective mistakes made between Koeman and Walsh in recruitment and while Rooney, Sigurdsson and Klaassen are all decent individually, IMO there doesn't seem like there was any plan on how they would play together. Klaassen already looks like an obsolete signing. Neither Rooney or Sigurdsson are going to make way for him.
I can't see any method in what Koeman is trying to do. Yes, we might have signed Giroud and he would have done the job Pelle did at Saints, but would he have made much difference? I don't think he would. Koeman has to go!!!
Steavey Buckley
237
Posted 15/10/2017 at 22:52:32
After spending £220 million, Everton are now at the same level as Brighton. Today, Everton were awful, slow build up and lack of quality in the last 3rd. If it takes £220 million to get to this level, it may take another £220 million to escape relegation at this rate.
Neil Copeland
238
Posted 15/10/2017 at 22:56:27
Lawrence (#228), agreed. I went insane some time ago I think. Perhaps Moshiri will provide the answer tomorrow.
Christy Ring
239
Posted 15/10/2017 at 22:57:38
I have had enough of Koeman, because he won't change his team selection and formation. He doesn't want Barkley, Lookman, Mirallas, or Niasse. He won't play Davies,and Kenny, Schneiderlin can't be dropped, Baines is a passenger, he's totally clueless. It's time for MoshirI to grow a pair of balls.

Brian Wilkinson
240
Posted 15/10/2017 at 22:59:47
Gavin, be sure to pencil in another date for Thursday evening. Even taking her to the bingo will be more exciting than watching this shite, think we need to nickname Ronnie the Leopard. There again, more chance a Leopard changing its spots than Ronnie changing his square pegs and round holes.
Neil Copeland
241
Posted 15/10/2017 at 22:59:53
Gavin #236, more importantly, how did the date go?

Sorry couldn't resist!
Brian Wilkinson
242
Posted 15/10/2017 at 23:01:17
Beat me to it Neil. How did the date go, Greg?

Steve Cotton
243
Posted 15/10/2017 at 23:12:05
Strange MotD2 didn't show the straight red tackle on Gana and the blatant pull of Sigurdsson's shirt for a nailed-on penalty.
Someone at the BBC didn't think either warranted a mention...
Mike Connolly
244
Posted 15/10/2017 at 23:14:35
A little tip for you, Ron:
GK
RB RCH LCH LB
RM AM DM LM
STR STR
Fill with players who are specialist in that particular position and we might just improve
Stephen Davies
245
Posted 15/10/2017 at 23:23:06
Soren (#223).
Yes. the Manager, Silva, is a motivator and gives them belief that they can give any opposition a game.
Andy Williams
246
Posted 15/10/2017 at 23:24:40
A few weeks ago I was told that Koeman wanted out because of the alleged incident in Ellesmere Port. I dismissed the claim out of hand. But with his repeated team selection fiascos I am beginning to wonder whether there is an element of truth in it. All the fans, all the media, all the opposing teams know exactly what our failings are. Yet he doesn't? Hmm!
David Israel
247
Posted 15/10/2017 at 23:24:54
Terry (#108), And Burton Albion!!
Christy Ring
248
Posted 15/10/2017 at 23:26:37
I watched the Brighton goal again and again, Baines was in the penalty box, totally out of position, unbelievable.
Brian Wilkinson
249
Posted 15/10/2017 at 23:29:16
Andy @246 – at least it's not just Everton he is shafting then.
David Hallwood
250
Posted 15/10/2017 at 23:35:32
I've just seen the highlights(??) on MotD2 & Sky. Their goal was similar to Burnley's as yet again Schneiderlin didn't close down the scorer. Defensive mid, eh?
I did an opinion piece entitled 4-2-3-1, Just say no and some posters were critical that I want to see both Schneiderlin & Gana benched in favour of Davies & Sigurdsson.
The formation isn't working and it will do for Koeman; we need forward movement, we need to to stretch teams.
ps: Has Lookman killed Koeman's gerbil?
David Israel
251
Posted 15/10/2017 at 23:40:34
Neil, Brian, and Gavin, last time I had a date with a girl in Birmingham, she brought her mother along. Oh well...
As for the game, everything has already been said. As a matter of fact, it's been said since virtually day one of the season. There is a specific problem here: we've all watched Everton teams go through bad spells in the past.
Most of the time, we had a rational expectation that things would improve, and most of the time they did (the famous 'Oxford moment' always comes to mind). But this time, it does feel like we're on Mike Walker terrain.
It's not just the oft-mentioned square pegs and round holes, it is a total lack of motivation, drive, guile, speed, you name it. It is the feeling that the man at the helm has completely lost the plot. Do not, please, mention again the failure to sign a striker: he who has no hound, hunts with his cat.
He's had it, obviously. Even the hapless Arse of the Arse must be looking forward to his next league game.
Len Hawkins
252
Posted 15/10/2017 at 23:46:12
Andy (#246),
Ellesmere Port ??
What has he been doing? Flicking lit ciggies over the fence at Stanlow???
Lawrence Green
253
Posted 15/10/2017 at 23:48:18
David (#251)
You actually made me laugh out loud with 'He who has no hound, hunts with his cat'. Does this actually work? Cats are far less demanding by way of food, attention, walks etc.
If Koeman continues to ignore the obvious flaws in the make-up of his teams, he will be hounded out with a cacophony of cat-calls.

David Israel
254
Posted 15/10/2017 at 23:56:59
Lawrence (#253), it was actually meant to make people at least have a wry smile. :-) .
And your wordplay is spot on.
Soren Moyer
256
Posted 16/10/2017 at 00:23:00
Stephen (#245),
That's what I thought too. I really like the way he transforms and motivates his teams with a fraction of our transfer budget at his disposal.
Jim Knightley
257
Posted 16/10/2017 at 00:23:32
I was there today and saw what was expected – impotent passing play, slow build up, and the usual fragilities. Koeman needs to go.
That said, I think there were some bright sparks. Vlasic looks very good on the ball – he has a bright future, and along with Davies, Lewin, Pickford, Holgate, Onyekuru and Lookman, he can form the basis of an Everton side for years to come. Holgate was also good – his skill at the end almost created a winner. Keane looked a lot less nervous next to Jags and I think Koeman has finally worked out that Williams has lost it mentally.
We didn't deserve to win but we didn't deserve to lose either – we had some good opportunities and I think Vlasic and Calvert-Lewin caused some problems.
Hopefully a new manager can do better and develop the obvious young talent in our side.
Also – Baines cannot get forward and back anymore. We need a new left back.

Eric Myles
258
Posted 16/10/2017 at 00:30:29
Steve #243, did they even mention that the penalty that was given deserved a straight red?
Gavin Johnson
259
Posted 16/10/2017 at 00:51:31
Neil (#241).
I'm a gentlemen so never tell lol.
And just to add from my other post, the other beef I'm having with Koeman's team selection is his persistence to play two defensive midfielders come what may.
Schneiderlin and Gana is feeling like Martinez playing Barry and McCarthy in the 2nd and 3rd season. You've got to mix it up a little bit. Davies being omitted takes the piss because he can do everything and has got some bite despite his years to do the defensive work, but also get us up the field. Play him with Gana.
I agree with Jim Knightley. We do have some very good young players who are the future and some of them are ready as mainstays now. Davies and Holgate should be playing instead of some of Koeman's faves. The future is still good, but not under Koeman's watch.
Ernie Baywood
260
Posted 16/10/2017 at 01:17:45
Amongst the many baffling things he does, the omission of Davies is probably the most baffling.
Davies is exactly the type of player we need. He fits into Koeman's chosen formation and style of play. He keeps performing well. His selection couldn't really be more obvious.
I can't make sense of his decision to ignore Lookman and Kenny but the continued omission of Davies is just astonishing.
John Pierce
261
Posted 16/10/2017 at 01:28:04
All Koeman chat aside. Some interesting decisions from the referee today.
Straight red on Gana for the ankle high tackle, completely missed. 2nd half.
The blatant double shirt pull on Sigurdsson in the box, ignored. 2nd half.
The penalty itself, straight red.
Michael Oliver rarely, for my money, has a poor game. Today he was off the pace.
Jim Hardin
262
Posted 16/10/2017 at 02:22:40
Dave,
I admit to some bias since Baines is my favorite player but try to still be objective about him.
My opinion of any manager is he should be given time to see if the players fit together. I feel any manager needs two summer transfer windows, even a Dutch one. However, I do concede it is frustrating to see the same formations and certain players pencilled in every game to the exclusion of some bright young players and dangerous older ones (Mirallas).
As for my opinion of Koeman, well, I did not want him in the first place. I wanted any of three managers, none of whom were named Koeman. I still favor Puel despite Southampton firing him. He finished just behind Everton and made it to a cup final. Guess Koeman is glad he left there when he did given the standards enforced at that club.
Barry Jones
263
Posted 16/10/2017 at 03:29:27
David Barks (#72). I like the way that you organised the front 6. I agree that this formation is worth a try.
Will Mabon
264
Posted 16/10/2017 at 06:02:02
Andy @ 246 - It
couldn't
be... could it? It just...
couldn't
?
Brian Porter
265
Posted 16/10/2017 at 06:56:04
Time has surely run out for Koeman. Even the press has now all but turned against him. Seems his only supporter now is Moshiri who doesn't seem to have a particularly great knowledge of football as a game.
Am I also alone in thinking Gueye is nowhere near the player he was a year ago? Another example of Koeman's coaching and man-management?
If we don't get rid of Koeman now, now, we could potentially lose Lookman, one of the potential future greats of English football. Is he yet another who has upset Koeman and ended up banished? If so, it shows what a poor manager Koeman is.
His job, as the ٤m a year manager of the team, is to select and send out the best possible team every week, regardless of his personal feelings, likes or dislikes. Anything less than that is merely a show of pettiness and a direct dereliction of his duties as the manager. If he can't put his personal differences to one side for the good of the team, then he is no good as a manager. You don't have to have a close intimate relationship with every player who works for you, but you do need to have a good working relationship with them.
Oumar Niasse is perhaps the best example of that point. Even though we all know Koeman doesn't really like the lad, he kept his head down, took all the crap Koeman threw his way, and Koeman had little choice but to bring him back into the set-up when he was clearly out of striking options.
In Lookman's case, we don't know what, if anything, has happened behind the scenes, but we sure as hell need his pace and creativity right now.
Koeman looked terrible yesterday, unshaven and with the body language of a man who knows his time is running out. Please get rid of this fraudulent failure before he turns us into an even bigger laughing stock than we are already.
Ian Hollingworth
266
Posted 16/10/2017 at 08:41:28
I believe Moshiri was brought in by Kenwright, sold on a story of a dream. I am not sure Moshiri is a football man but does provide the additional business acumen and contacts.
Now therein lies the problem as Bill will still be puling the strings from a football point of view; he is still Chairman, conducts transfer dealings etc.
How the hell did the man pull it off? He got paid millions for his shares and still gets to run the club.
Paul A Smith
267
Posted 16/10/2017 at 09:32:12
Baines since the Moyes days has never pressed an attacker. He retreats and does that horrible hands behind the back stance. Always has done.
Duncan McDine
268
Posted 16/10/2017 at 09:50:34
Just read some comments... I didn't mean that Brighton was drab (far from it)... I meant the football!!!
Martin Mason
269
Posted 16/10/2017 at 10:18:03
Jay @229
I had a beer at one of the many food and drink bars outside of the ground and watched a live band while drinking it. Not sure about the only a farm shop near the ground comment?
Andy Williams
270
Posted 16/10/2017 at 10:44:10
Len (#252), A lady never tells – though if it got our sham of a manager out, I wish she would.
Will (#264) – it is more credible than him being unable to see what is wrong.

Rob Halligan
271
Posted 16/10/2017 at 11:31:20
Jay (#229). You didn't try hard enough mate. We're you on one of the official Everton supporters coach?
We were on coach # 2 which got to the ground at 10:50. We asked one of the Brighton stewards outside the ground where the nearest pub was? It was only a 10-minute walk away. It was a designated home supporters only pub but we managed to get in no bother.
Michael Kenrick
272
Posted 16/10/2017 at 16:00:42
Minor correction, Ian (#266):
"He got paid millions for half his shares and still gets to run the club."
I say 'minor'... worth at least another £22M to the luvvie impresario, based on the last transaction.
Colin Malone
273
Posted 16/10/2017 at 16:29:28
One holding midfielder, who can retrieve the ball, alongside another holding midfielder, who can also retrieve the ball. Neither of them have any guile for our forward player to benefit from.
Simple answer: play one of them, with Davies or even Rooney; then, in my opinion, you would see a major improvement.
Let's not forget, its no coincidence, since we have been starting with the two holding midfielders, we have been poor and bemoaning our lack of a centre forward, but to me this is the area that needs more attention.
Again I say, Jack Wilshere would be a great asset alongside one holding midfielder.
Mick Davies
274
Posted 16/10/2017 at 16:37:26
West, Wright, Wilson, Kendall, Labone, Harvey, Husband, Ball, Royle, Hurst, Morrisey...
Southall, Stevens, Ratcliffe, Mountfield, Van Den Hauwe, Reid, Steven, Bracewell, Sheedy, Gray, Sharp.
See the pattern?
Neil Copeland
275
Posted 16/10/2017 at 17:31:13
Gavin, ah okay but what we all want to know is did she take her mum along?
Mick (#274), I bet I know someone that can't see the pattern.
I heard somewhere today that Benitez would be interested should the job become available. It was only a rumour (therefore maybe complete bollocks) and I have nothing to support the claim but I was wondering if anyone else has heard it and, if so, is there any foundation to it?
Martin Nicholls
276
Posted 16/10/2017 at 19:05:51
Rob (#271) and Jay (#229). Didn't need to leave the ground for a post match pint lads! Brighton kept/keep the bar open after the game to allow the crowd to disperse.
Kudos to the lads who unfurled the banner at the end protesting about rescheduling of the game to suit Indian TV.
Jay Griffiths
277
Posted 16/10/2017 at 19:11:08
Cheers (#269) can see what you're on there. Eavesway were the first 2 coaches to arrive.Yes Rob, we were on official coach 1, long haired hippy like coach steward said there's only a uni one way and the farm shop we passed on the corner on the way in. Said get the No 25 bus into town. Was the festivities the other end of the ground from the away end?
Anyhow , #269 my son and I went in early after the guide's words and used our get a free scran, drink and crisps vouchers that we were given on the coach. Just for the record, #269, coach 2 got back to Goodison about 10 minutes ahead of us, must've been around 9pm.
Rob Halligan
278
Posted 16/10/2017 at 19:13:29
Saw that, Martin. Unfortunately, I doubt the coach would have waited for us while we had a pint or two. We were still back to The Rocket at 8:30 to walk down to the fiveways pub for a few.
Was a long day as I was up at 4:00am yesterday morning. An utter disgrace for an away game in this country.
I'm really surprised the club did not object to this but I suppose where money is involved then us fans become secondary.
Tony Abrahams
279
Posted 16/10/2017 at 19:21:46
Every football club has loads of die-hard fans, but I can't think of any who will have as many as Everton? Our away support is absolutely incredible, and it really saddens me that none of the players ever put their hands into their pockets to acknowledge this great support.

Martin Mason
280
Posted 16/10/2017 at 19:23:13
Rob, that's really good time for getting back to Liverpool but, on a Sunday, most traffic is heading back into London rather than away, I guess.
I was lucky, by late afternoon I was having a beautiful Italian in Brighton and driving back to Horsham later on.
I thought it was a good day, lovely weather, nice little stadium, pretty good home fans and of course our wonderful travelling fans like your good self.
Joe McMahon
281
Posted 16/10/2017 at 19:25:32
Jim Hardin (#262), it didn't take Claudio Ranieri 2 summer transfer windows with a lot less than 140 million being spent.
Also Marco Silva has been Watford manager for 3 months and has seen over 10 new players arrive – they seemed to have gelled very quickly.
Us Evertonians make every excuse under the sun to settle for mediocrity – that's why we have gone over 22 years without winning anything, play at home in a decrepit antiquated sham of a stadium and your man Baines is still at the club. How many more seasons of nothing do we have to settle for?
Kim Vivian
282
Posted 16/10/2017 at 19:29:14
I hope she took your mind off the game, Martin, the beautiful Italian.
Martin Mason
283
Posted 16/10/2017 at 19:35:10
Jay@277
Yes it was the North end opposite to our end. It was actually very good although getting out at that end to the special buses and trains was very difficult with very long waits. Staying for a beer is the obvious thing for the South based fans.
A big thank you to you guys for coming and showing such a fantastic face of our football club especially considering the rubbish they serve up. They don't deserve such magnificent support. I'm fairly local to Brighton so can't claim any credit but we really were amazed at the quality of support.
I had to laugh though, the lad in the seat next to me was from the Midlands and arrived half an hour late due to train problems, he stormed out when Brighton scored and missed Everton's goal. I was very impressed at the breadth of support that Everton get from across the country too. What a wonderful bunch of fans.
Jay Griffiths
284
Posted 16/10/2017 at 19:50:32
I would be happy for Niasse to prove to Koeman that he deserved a spot all along. Yesterday seemed to back Koeman's judgement, unfortunately.
I thought he may have put Sigurdsson in when he shot over the bar and in the last 5 when he ran the right flank he drew a second then a third man in. I thought, get what you can, a throw a corner anything, but he twisted himself in a panic and ended up giving an easy out free kick. It smacked of poor processing when having to think on the spot. Still, I hope he comes good.
I also felt that Keane seemed a lot calmer with Jags alongside him. I was saddened to see one Evertonian raging at another for joining in with the Brighton fans rendition of "Sacked in the morning" after their goal. It did seem like a good few took up the song. I agree with the thought but not the deed. Appearances and all that, you know.

John Smith
285
Posted 16/10/2017 at 20:28:48
Meanwhile a player that wasn't good enough for us, Tom Cleverley, scores the winner vs Arsenal, our next Premier League opposition.
Everton that.
Steve Bird
286
Posted 16/10/2017 at 20:35:24
Before we resort to self-harming or similar reactions to the season so far, bear this in mind!
At least we don't have to watch West Brom or Leicester every week!
---
Add Your Comments
In order to post a comment, you need to be logged in as a registered user of the site.
Or Sign up as a ToffeeWeb Member — it's free, takes just a few minutes and will allow you to post your comments on articles and Talking Points submissions across the site.
© ToffeeWeb