Report
Rooney stunner before Blues are destroyed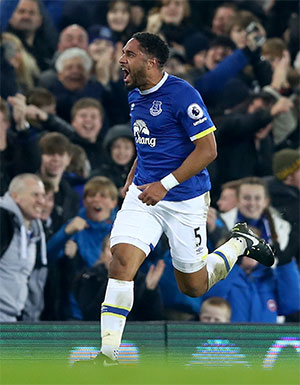 Ashley Williams keeps his place after his goalscoring intervention Thursday against Lyon
Everton 2 - 5 Arsenal
Ronald Koeman's quest to find a morale-boosting win lay in ruins after the visit of Arsenal saw them bang in five goals despite a fantastic opener from Wayne Rooney.

After a dreadful start with Pickford forced to make two incredible saves, Everton took the lead in fantastic and nostalgic style with Wayne Rooney bringing the ball under control from a superb Gueye tackle that won the ball and firing in brilliantly from distance to beat Petr Cech.

Arsenal continued to look threatening going forward, with Williams getting booked early on and Gana following him into Pawson's book before the break.

The pressure on Everton's defense finally told when Pickford spilled a shot and Monreal followed up to score.

Arsenal had played some scintillating football while Everton had showed some fight and determination, with both Gana and Williams putting in gritty tackles in an entertaining first half.

Williams did not reappear after the break, Davies replacing him as Everton reverted to a back four. Sigurdsson got a chance to curl in a free-kick but Keane got too much on it and headed over.

The lively stuff continued into the second half, Arsenal pressing the Blues back but good work by Calvert-Lewin and then later by Vlasic, was not followed by clear chances and Everton paid the price when they were sliced open again, a cross swung in by Sanchez and headed home easily by Özil.

Ramsey was left all alone but could only fire over when it looked easier to score as the Blues struggled to contain the visitors. Another Sigurdsson free-kick was this time floated too deep and came to nothing.

Gana lunged in stupidly on Xhaka and saw his second yellow and a red card, putting Everton down to 10 men and surely ending this as another ultimately disappointing contest.

A shocking giveaway by Vlasic saw Arsenal counter and Lacazette score with ease. Rooney and Calvert-Lewin departed in exchange for Lookman and Niasse, a strange and desperate attempt by Koeman to give the kids a chance to rescue the game?

Sanchez seemed certain to score a fourth but he headed Bellerin's cross inches wide. Then Xhaka lashed a shot onto the cross-bar as Everton reeled. Arsenal were now having a laff, dancing around the Everton defence at will. Ramsey was the next to benefit, making it four.

In a tragicomic moment, Niasse nicked a backpass off Cech's toes to score a simple second and meaningless goal that was hardly cheered by the rapidly emptying Goodison Park, before Sanchez smashed home a fifth.

A third home defeat in a row would and Everton into the bottom three put further unwelcome pressure on Ronald Koeman's beleagured and disnmtegrating tenure as manager.

Everton (3-5-2): Pickford; Keane, Jagielka, Williams [Y:31'] (46' Davies); Kenny, Gueye [Y:34'; YR:69'], Sigurdsson, Vlasic, Baines; Rooney (75' Lookman), Calvert-Lewin (75' Niasse).
Subs not Used: Robles, Mirallas, Martina, Klaassen.

Arsenal (3-4-3): Cech; Koscielny [Y:86'], Mertesacker, Monreal; Bellerín, Ramsey, Xhaka, Kolasinac; Özil (82' Coquelin), Sánchez, Lacazette (77' Wilshere).
Subs not Used: Macey, Giroud, Walcott, Holding, Iwobi.

Referee: Craig Pawson
---
Reader Comments (424)
Note: the following content is not moderated or vetted by the site owners at the time of submission. Comments are the responsibility of the poster. Disclaimer
Kevin Prytherch
1
Posted 22/10/2017 at 12:44:22
3 at the back, 2 wing backs, 1 wide midfielder/winger (Vlasic) 2 attacking midfielders (sig & Rooney), 1 striker and then just 1 midfielder who'll be prepared to try and break up play.
Poor Gana will get overrun by their midfield with very little support.
At the very least Davies needs to be in there with Gana and ideally another midfielder who'll graft.
I feel a big scoreline...
Michael Mcloughlin
2
Posted 22/10/2017 at 12:46:56
I would be interested to know what your team would be Kev
Christy Ring
3
Posted 22/10/2017 at 12:49:23
Has Koeman fallen out with Davies as well? The best attacking midfielder we have, and only good enough for the bench today.
Paul Holmes
4
Posted 22/10/2017 at 12:51:32
Unfortunately the shape of the team is the same as for Bournmouth and Burnley in the attacking sense,he is relying on Kenny to give width and Vlasic on the other side.Looks more of the same for me.
Dave Williams
5
Posted 22/10/2017 at 12:56:03
A bit more like it- the wing backs will give us more balance at least.
I can see a structure with this line up and we must wait and see how it works.
Ron has to get them fired up - get out there and fight from the first whistle, let them know we are right at them, get the crowd noisy and give Arsenal absolute hell.Can he do that- that's the biggest question for me.
Ernie Baywood
6
Posted 22/10/2017 at 12:57:23
Playing 3 at the back only works when at least one can use the ball well. The 3 selected are going to have plenty of touches for little value. At best, it goes to isolated fullbacks or a laboured one-two with Gana.
The rest, well, it's narrow.
We're asking a lot of one very young full back and one pretty old full back. They almost need to do it by themselves.
Ciarán McGlone
7
Posted 22/10/2017 at 12:58:03
Perplexing
Dave Williams
8
Posted 22/10/2017 at 13:00:17
Agreed Ernie- the wing backs must play well for this to work and the three at the back must be solid.
After what he said in the week I wonder if we will play it long today?
John Mckay
9
Posted 22/10/2017 at 13:01:34
Need to go out there all guns blazing. Get at them from the off. Throw a few meaty challenges in early on to bully them a bit. Just want to see some decent attacking football as well I'd demand that Baines and Kenny get up to their by line as much as possible let the 3 centre backs and gana break up player.
Hopefully a win today and a good performances can be the catalyst to kick start our season but they players need to be up for it. Hope Koeman gives them a rocket up their ass before they go out as well and at half time. Time is running out for him.
Dave Pritchard
10
Posted 22/10/2017 at 13:04:44
Many have been calling for 1 holding midfielder. Is this it or will Rooney of Sig be playing deeper? We'll find out shortly.
John Hammond
11
Posted 22/10/2017 at 13:05:30
Line-up is an absolute joke. They are going to kill us on the break.
Paul Holmes
12
Posted 22/10/2017 at 13:06:39
He should have played Mirallas out wide instead of Vlasic as he will shoot from anywhere when given the chance.
Jim Lloyd
13
Posted 22/10/2017 at 13:07:14
Doesn't look to bad for a formation but I'd like to have seen Davies in there. However, it looks as he might be playing Siggi in a more central role.
I like Vlasic and he got on well with Kenny the time they played together on the right. They acted in support of each other, so I hope they carry that on.
Well, last night I thought we'd get battered. Today though, it looks we've got the makings of a team there. Arsenal might well beat us but, to me, it's much more how we play today. Do we have bottle? Do we get in their faces and let them iknow this will not be an easy game for them?
If the team show a bit of the oomph the same that they showed, for all to short a time, on Thursday, then we can win.
But above all, I want to see us fight for every ball, show the passion that they ought to show, playing for this club. The result is secondary in this game for me. I wanna see our teanm scare the S**t out of the opposition...not out opf us.
If the team show a similar
Christy Ring
14
Posted 22/10/2017 at 13:07:40
I thought Mccarthy would have made the bench, especially after Wenger complained about his rough boy tactics, when we beat Arsenal last season.
Andy Meighan
15
Posted 22/10/2017 at 13:10:13
Doesn't matter who plays or what system he plays, the players aren't good enough, full stop.
Michael Lynch
16
Posted 22/10/2017 at 13:10:59
On current form and availability, I can't really argue with that line-up. I'd prefer Davies to start and Rooney to sit on the bench, but Wazza gives us a bit of experience I suppose.
With my pessimistic hat on, I don't think the line-up matters that much, we're going to get absolutely fucking hammered. Looking at it more optimistically, Arsenal might not turn up.
Dave O'Connell
18
Posted 22/10/2017 at 13:16:34
No Davies or Mirallas? This man has signed his his own fate...
Steve Bingham
21
Posted 22/10/2017 at 13:51:00
Brilliant managerial selection . ROONEY!
Ernie Baywood
22
Posted 22/10/2017 at 13:52:41
The only thing that's worried them so far is putting pressure on high up the pitch... now we've got the goal we've stopped! Push on!!!
Steve Bingham
23
Posted 22/10/2017 at 14:16:48
Poor team selection by the manager..
Stephen McNally
24
Posted 22/10/2017 at 14:17:24
Up to now, this is the most committed display I've seen in a long time. Perhaps, we're not as bad I thought. I just hope I haven't spoke too soon: please don't capitulate in the 2nd blues.
Carl Allan
25
Posted 22/10/2017 at 14:23:00
We haven't kept a clean sheet for a very long time now so anybody who slates Martinez for his defensive frailties needs to look at us under Koeman.
Make no mistake, Arsenal will score at least one more here as we never fail to concede 2 or more against the top sides these days.
Peter Hughes
26
Posted 22/10/2017 at 14:24:03
How we are still on level terms is beyond me?
Ernie Baywood
27
Posted 22/10/2017 at 14:24:06
Found their legs again but that's all it is. Hard work, pressing. Can we go another 45 like this, even with 11 men? DCL has covered a huge amount of ground - he's even chasing his own knock downs.
Sig will have covered similar miles but not really getting his foot on the ball... and at times we still have players on top of each other.
I'd consider Lookman or Kev for Sig.
How good is Vlasic?!!
Arsenal's one touch stuff is sublime. We'll need at least one more goal here.
Brian Wilkinson
28
Posted 22/10/2017 at 14:29:45
Time to unleash the beast Niasse.
Tommy Coleman
29
Posted 22/10/2017 at 14:32:18
Another random formation.
5-1-3-1.
Players can't understand the shape and its so easy for Arsenal.
HT, bring Williams off for Davis.
Ciarán McGlone
30
Posted 22/10/2017 at 14:33:57
Very entertaining game. Some of Arsenals one touch play is a delight to watch.
Some get off the seat moments from Everton too, including that mazy run from Vlasic.
But are problems are still glaringly obvious. Siggurdsson adds nothing whatsoever on the wing.. ( and in my opinion, not a great deal of played centrally either)... Put Mirallas or milkman out there..
Also take off a centre half and put another central midfielder on.. the five at the back is not working, and never has.
Darren Frankland
32
Posted 22/10/2017 at 14:55:14
Not being funny, but what is it with Hinchcliffe and the other clown calling Jags 'Yagielka' on Sky Sports??
Seems to have gone on for years . Pisses me right off.
Steve Bingham
33
Posted 22/10/2017 at 15:04:10
It's now time for the board to act I think .
Eugene Kearney
35
Posted 22/10/2017 at 15:17:23
Unsworth - manager in the morning .....please!!!!
Ian Riley
36
Posted 22/10/2017 at 15:19:50
Great football arsenal. Still we got our history!!
John Hammond
37
Posted 22/10/2017 at 15:21:34
That's it for Koeman now that we're in the relegation zone surely?
Michael Kenrick
38
Posted 22/10/2017 at 15:27:07
Well, I'm utterly stunned by that. Absolutely shocking. Surely Koeman cannot survive this.
Jason Wilkinson
39
Posted 22/10/2017 at 15:28:17
The gulf in class and individual ability is there for all to see. The collective organisation is down to the coaching staff. We have shown very little of that today.
2-5 at home!!!! Not even Joe Royle or Howard Kendall would have escaped criticism for a display like that. Time for a major shake up. Who coaches our defending? Get rid of the Klogg heads NOW!!!!!!
Stephen Brown
40
Posted 22/10/2017 at 15:28:50
A man with an ounce of pride would resign !!
Stephen McNally
41
Posted 22/10/2017 at 15:30:27
Unfortunately, I spoke too soon. To drop into the relegation zone and concede five at home is worrying times. What does Moshiri think of his Everton project now? Where do we go from here?
Peter Barry
42
Posted 22/10/2017 at 15:30:37
Moshiri all smiles as Sanchez scored the goal that outs us in the bottom 3! He's no Evertonian, just here for the money.
Peter Gorman
43
Posted 22/10/2017 at 15:31:26
Leaving aside the car-crash that is big Ronald; our defence today was an utter disgrace. Keane, Jags and Williams - 3 centre-halves who can't stop Sanchez and Özil getting a head to the ball.
Players need an absolute rocket up the arse and stay behind after school to work on the basics. Sigurdsson is a complete waste of space.
David Hallwood
44
Posted 22/10/2017 at 15:31:47
The worst of it is that this should be a decent team. Some of the forum were saying it's the worst Everton they've seen, obviously they weren't around when Tiler, Ward, Farrelly and a host of past-it journeymen were playing for us.
It's a team devoid of confidence, shape, pattern or purpose. Sack Koeman? Possibly even definitely. But where do we go from there?
Mike Allison
45
Posted 22/10/2017 at 15:31:52
Ciaràn is that an autocorrect of 'Lookman'?!
My phone didn't like Calvert-Lewin for a long time, but now it comes up as a shortcut option.
I've got nothing to say about the football, complete waste of time until Koeman goes.
Tommy Coleman
46
Posted 22/10/2017 at 15:32:23
The End.
Koeman only had himself to blame.
Stephen Brown
47
Posted 22/10/2017 at 15:32:24
Genuinely worried about relegation! Need Unsworth in asap.
Carl Allan
48
Posted 22/10/2017 at 15:32:30
In 2017 we have conceded 5 and 3 to Arsenal, 3 twice to Spurs, 4 to Man United, 3 and 2 respectively to Chelsea and 3 to Liverpool... Yet our fans point out how bad Martinez's teams were at the back.
At least we could score plenty under Bobby and beat the top sides whilst keeping clean sheets such as 3-0 at home to Arsenal and Man Utd.
Jim Jennings
49
Posted 22/10/2017 at 15:32:33
Darren (#32),
It's a Polish surname. "Yagielka" is the correct pronunciation as opposed to the anglicised "say it as it reads" version.
Ian Riley
50
Posted 22/10/2017 at 15:32:35
Give Koeman the cheque and let him go!
Ernie Baywood
51
Posted 22/10/2017 at 15:33:12
If he survives this, then Moshiri isn't the businessman I thought he was, and Bill isn't the Evertonian I thought he was.
There's literally no case for his defence. Both his tactics and the standard of player are fucking dreadful... and he's responsible for both.
For fuck's sake. I'm not asking much to have some hope that we might do something within a few years. Yet every step forward; every time I think there's a possibility of something on the horizon, leads us to needing a complete overhaul.
How the fuck can we be in a relegation scrap? Are we really back here again?
John Hall
52
Posted 22/10/2017 at 15:35:03
End of the line for Ronald Koeman. If the manager has no passion then it would seem difficult for the players to show the same. Poor display once again and now firmly in a relegation dogfight. Sad day to see an Everton side taken to the cleaners like that.
Rick Tarleton
53
Posted 22/10/2017 at 15:35:26
Everton were dire. We cannot ever play a back three, because your back three have to have the pace to pick up fast moving attackers. Pickford stopped a lot and 5-2 was flattering to us.
Niasse must wonder why he's never allowed to start a game. Gueye revealed a degree of stupidity that was hard to credit. And if Sigurdsson is a –45 million footballer, then I'm an expert on the Icelandic sagas.
Koeman must be sacked. He must.

Mike Hughes
54
Posted 22/10/2017 at 15:35:46
Listened on Radio 5 Live.
Whatever you think of Steve Claridge, he made the following points:
(1) He cannot think of 3 worse teams than Everton
(2) He can't see what Koeman is trying to do – no system, players out of position etc.
(3) We are relegation candidates
(4) The crowd were expectant of such a performance / result and were resigned to the result.
Koeman has to go. I've said it for the past 6 weeks. I wanted Martinez out 18 months before Everton acted.
There are big flashing Danger signs and we need to turn this around. We must act now and fire him. Anything else is dereliction of duty.
Ernie Baywood
55
Posted 22/10/2017 at 15:37:10
Peter Gorman (#43), which of those would you back to run with Sanchez or Ozil? It's just not a 3-man defence that you would ever pick. Who's the quick one? Which one is good on the ball? They're just three traditional centre-backs being crammed into a formation that doesn't suit them.
Ray Smith
56
Posted 22/10/2017 at 15:37:33
Dave (#44),
You are right. We need a manager to mould them into a team, who know what they are doing, not a squad of individuals!!!
Apart from a 20-goal striker, all the other pieces are there.
Hopefully a statement one way or the other will be forthcoming later today. Put Koeman and Walsh out of their misery now.
Nick Entwistle
57
Posted 22/10/2017 at 15:38:49
Won't be long now till Goodison does a Sunderland and exits at half-time. That was horrendous!
Just had an awful thought that a ginger Scotsman will become manager. Not the Moyesiah, but Gordon Strachan!
Andy Meighan
58
Posted 22/10/2017 at 15:39:15
Read on another thread this morning someone advocating giving him another 10 games. It's a big enough mess now – imagine it after another 10 games! Really that could have been double figures.
And can people please stop championing Kenny. The games he's played so far have made him look like a fish out of water. Then again, he's not alone, is he?
Koeman's signings have been abysmal. Sigurdsson... words fail me; 㿙 million for that! Keane has got no awareness of what's going on around him...
Just 7 goals scored in 9 games. Leaking goals at an alarming rate and some fans say "Give him time"? Give him time by all means... but pay the price. And by that, I mean relegation.
Joe McMahon
59
Posted 22/10/2017 at 15:39:19
Anyone please BUT not David Moyes, 3 teams saw through it since our 11 long years. The real culpit of us being where we are in 2017 is Kenwright, years and years of damage.
Steve Ferns
60
Posted 22/10/2017 at 15:40:00
I stayed until the end to see if we would call for Koeman's head. I'm still in the ground now. And all we did is a short loud boo. How can this persuade the board to sack him?
Just listening to Pembridge talk now. He had far less talent than most of these muppets, but he'd not put in a performance that bad.
Tony Everan
61
Posted 22/10/2017 at 15:41:42
Nobody is expecting to us to win anymore; we concede freely and can't score anywhere near enough or create many chances.< It is the perfect storm for relegation.
Change now and try to arrest this decline before it is too late. It still might not work, but at least we will have tried to do something about it!
Brian Porter
62
Posted 22/10/2017 at 15:41:54
Only bit of positivity came from Niasse. Tried like hell to put that goal away. Koeman has to go now. I've been saying it for two months. Moshiri could and should have acted after the Atalanta game.
John Robinson
63
Posted 22/10/2017 at 15:42:50
I expected that today but at least a few of the lads were showing a bit of fight. Time for big Ron to go, I'm afraid.
Ernie Baywood
64
Posted 22/10/2017 at 15:42:58
I don't know, Ray. I reckon if picked the team I'd have the following positions below par:
Centre-back
Right-back
Left-back
One winger short
Striker
Yet I'd have masses of talent (and money) on the bench that don't fit a formation.
When you pick a straight forward 4-4-2, you start to see why Ron has done what he's done. Just no planning... made worse by insisting on picking the wrong team.
Ian Riley
65
Posted 22/10/2017 at 15:44:19
Big Sam for me!
Ernie Baywood
66
Posted 22/10/2017 at 15:44:36
Oumar took Arsenal on by himself... and was unlucky to lose 2-1 to a late goal by Sanchez!
Steve Brown
67
Posted 22/10/2017 at 15:45:02
Pochettino will be on a shit salary, courtesy of Daniel Levy. Offer to double it!
Andy Crooks
68
Posted 22/10/2017 at 15:46:17
It is over. This is as bad as anything served up by the hapless Martinez. No-one can defend this. We are the worst team in the Premier League by some distance. The coach, the board, and the players are utterly shameless.
John Charles
69
Posted 22/10/2017 at 15:48:11
Koeman has to go. If for no other reason, he is forcing me to leave the game early, which I have never done before this season
But god please no to Moyes, Big Sam, Royle et al – we must surely be looking at more than this!
Gary Ellis
70
Posted 22/10/2017 at 15:49:12
We have to give Koeman time, unless there is an exceptional candidate. It's no use going through another change, with all the cost implications and upheaval that would cause.
Benitez would be a dream candidate but, with a possible takeover at the Magpies, he is probably going nowhere.
It's no use whining and moaning. Look at the situation at the end of the year.
Patience please.
Nick Entwistle
71
Posted 22/10/2017 at 15:50:02
Didn't Big Sam say he's not coming back to club football, Ian?
Carlo Ancelotti would be worth a poke till the end of the season. Would he want it longer than that?
James Byrne
72
Posted 22/10/2017 at 15:51:12
A total disgrace today, but the same shite we've been served all season. Koeman picks the team and it's not good enough.
The club need to step up and get rid of this clown today.
Terry Smith
73
Posted 22/10/2017 at 15:51:17
I wouldn't be surprised if Moyes gets the job until the end of the season. I wasn't happy when the 5th went in and Moshiri was grinning!!
I can't see Koeman turning this around and I can't see the board giving him any more money to spend. Moyes probably would do better but would rather see Unsworth given a chance until we can sign a big name manager. Ancelotti would be my choice. But would he come??
Rick Tarleton
74
Posted 22/10/2017 at 15:53:16
You can't play a back three with two mid-thirties centre-backs. Chelsea can play three at the back because Luiz and Azpiliceta have genuine pace. Koeman is persisting in playing a system for which he hasn't got the players. The system has to fit the players otherwise it cannot work.
To persist with a system that doesn't fit is simply football lunacy. And it defines football lunacy at that.
Chris Jones [Burton]
75
Posted 22/10/2017 at 15:54:06
I'm really liking the idea that Everton's last ever goal under Koeman could have come from nothing other than the never-say-die persistence and honest endeavour of Oumar Niasse.
Paul Kennedy
76
Posted 22/10/2017 at 15:54:06
We were well and truly stuffed, out-classed, out-played, out-thought... The buffoon needs removing before he can do irreparable damage to the club.
Chris Watts
77
Posted 22/10/2017 at 15:54:22
We've been rubbish from the first pre season game. And haven't improved one bit. I reckon there has been 90 minutes good football in the whole season so far including Europe pre-season and league.
Koeman has lost the troops and time to go. Whether the signings were poor or not, we're only Lukaku down from last season so this has been wretched to watch.
Clive Mitchell
78
Posted 22/10/2017 at 15:54:30
Anyone who isn't Koeman, except not Big Greedy Sam, we have to be better than that surely.
Paul Holmes
79
Posted 22/10/2017 at 15:54:52
Posters on here have to get real – Moshiri and Kenwright are businessmen first, supporters second. Their investment is going down the pan!
Expect Moyes back to keep the team in the Premier League; the fans have no say – even if it's 100% against Moyes coming back – money is more important to the elites.
George Cumiskey
80
Posted 22/10/2017 at 15:56:29
Sigurdsson was by far the worst player on the pitch today, followed closely by Rooney. They are supposed to be the experienced ones to get us out of this mess.
l feel sorry for players like Vlasic who are playing their hearts out with no support.
Tony Hill
81
Posted 22/10/2017 at 15:56:30
John (#69), I left early too. We started well but then failed, as ever, to manage the game properly and gave momentum to Arsenal.
There is nothing more to be said now. We are in obvious danger and we look as though we are going to go down. It's as simple as that I'm afraid.
Radio Merseyside were reporting that Moshiri has again given Koeman his full backing. Hopeless.
Ray Smith
82
Posted 22/10/2017 at 15:56:39
Ernie (#64),
Don't disagree with your analysis.
However, if they knew what the game plan was, we would have seen a tighter game with everybody playing as a team, not a bunch of headless individuals.
Rooney 3
Niasse when he can get on 3
The rest 0
Wow
Sam Hoare
83
Posted 22/10/2017 at 15:56:47
How on Earth did we spend so much money assembling such a poor and unbalanced team?! Surely it's not just Koeman who takes responsibility!
The Dutchman needs to go pronto but my bigger worry is who can turn this around. The players should hang their heads in shame too, they are far from devoid of responsibility and much more should be expected of such well paid professionals.
This is the worst I can remember things since Walter Smith.
Damian Wilde
84
Posted 22/10/2017 at 15:56:54
Big Sam? Don't be ridiculous. Jeez.
Carl Taylor
85
Posted 22/10/2017 at 15:57:29
Sack the clueless one now!!
Will Mabon
86
Posted 22/10/2017 at 15:57:33
Our record and stay in the top flight is under serious threat. This feels more inevitable than the two closest escapes from relegation we had in the past, even at this early stage.
My personal view is that Unsworth is best placed to undo the behind-the-scenes damage to culture, attitude and belief within the squad. These are the biggest problems Koeman has caused, in my opinion.
A manager from outside would come in cold to an environment needing much more than tactical coaching. That will have to wait for the future, if needed.
Colin Glassar
87
Posted 22/10/2017 at 15:59:19
Is Christian Gross available?
Tom Bowers
88
Posted 22/10/2017 at 15:59:47
Well no surprise, this was coming. I said as much before the game. Playing 5 across the back at any time is defeatist and at home is even worse. Sure they got the early goal but you knew that wouldn't last as Everton were outplayed from the first whistle before being outgunned.
Goodbye Koeman and good riddance.
Damian Wilde
89
Posted 22/10/2017 at 16:00:10
Heard his interview!! He said there was positives to take from it!!!!! Fuck me.
Bill Gall
90
Posted 22/10/2017 at 16:00:24
Surly a manager is judged on results and not on promises. Koeman has been strong on words and promises but not on results.
Everton are in the entertainment business and having a chairman who is supposed to be a leader in the entertainment business, he must be able see that if your leading actor fails your show will fail and you will quickly replace him. Bill, your club is failing to entertain – do something about it.
Clive Mitchell
91
Posted 22/10/2017 at 16:01:28
Colin, 87 - behave!
Eric Paul
92
Posted 22/10/2017 at 16:03:40
Pickford 7
Vlasic 6
Calvert-Lewin 10 for effort
Rooney -10 and fuck off
The rest 0
Pete Clarke
93
Posted 22/10/2017 at 16:03:48
Although we started off with bit of huff and puff, you could see Arsenal were going to rip us up.
Rooney got that goal but he was giving the ball away and losing one on ones before and after he scored but he was shit really. No leaders on that pitch and shambolic defending from Keane, Jagielka and Baines.
One thing is certain though, and that is that Koeman has created chaos within the squad and he should have gone after Burnley. I couldn't believe the muffled boos at the end of the game. This guy is worse than Mike Walker without a doubt given the resources he's got.
Last word for Arsenal. Beautiful football to watch and if Wenger was after another challenge, I would be open to watching that kind of entertainment for a few years.
Colin Glassar
94
Posted 22/10/2017 at 16:04:20
Damian, the worst thing is is I don't think the majority of us are surprised or particularly upset. We're becoming accustomed to seeing us lie down and lose. Dangerous times for us as we seem to be accepting some sort of inevitable outcome.
Michael Lynch
95
Posted 22/10/2017 at 16:05:17
Realistically, it's about avoiding relegation this season and we need a manager who can lead. One who can shout and scream. One who can sort out a defence. One who knows what a pie is, and can eat them like no other manager.
Big Sam's the man, for the rest of the season on a five million (pies) bonus to keep us up.
Ray Smith
96
Posted 22/10/2017 at 16:06:28
Damian (#84),
We are hurtling towards the trap door.
Big Sam and Sammy Lee for the rest of the season, then, when we are still in the premier league decide.
IMO we have gone past stick, we need to twist, whatever your view, Ronald Koeman is not the answer!!!
I'm getting stick from my son-in-law, Brighton, and my son Gillingham, and I don't have any means of defending myself.
So perhaps we should agree to disagree.
I'm on my second whisky and it's only 4pm!!!
George Cumiskey
97
Posted 22/10/2017 at 16:06:52
Definitely Unsworth worth a try even if it's just to steady the ship till we can get a top manager in.
God, I'd even have Moyes back as long as he was told that he was only here till we find someone better. But then again you couldn't trust blue Bill not to get rid.
Mike Price
98
Posted 22/10/2017 at 16:07:03
This team is so bad I really fear for it even in the Championship. Every Championship team I've watched lately are better than us.
The only solace is that it's so bad so early in the season and the right change could rescue us.
John Smith
99
Posted 22/10/2017 at 16:08:14
Can someone teach Pickford to use soft hands so he can actually gather it in? While he's great down low, he's short for a goalkeeper and opposition strikers have found out that a quick strike or header over his head and it's a goal.
Colin Glassar
100
Posted 22/10/2017 at 16:10:14
Big Dunc, Unsy and Big Joe to steady the ship until we can get a top man in. £6m a year should get you a good manager despite our league position.
Joe McMahon
101
Posted 22/10/2017 at 16:11:24
Mike Price – It doesn't help that most Championship stadiums are bettre then good ole Goodison. Bramley-Moore Dock is at the moment is a pipedream.
Eric Paul
102
Posted 22/10/2017 at 16:11:50
Big Sam, never in a million years. I'd rather play Conference football than have that twat anywhere near the Old Lady.
Neil Lawson
103
Posted 22/10/2017 at 16:12:19
I posted last night that I thought that team selection was pretty much irrelevant due to Koeman's woeful lack of managerial ability, motivation and tactical acumen. Unfortunately, I was proved to be correct... and some!!
One fact stands out above all for me. The selection of Kenny. If Koeman believed he was the best right back currently available, then why has he steadfastly decided otherwise and sidelined Kenny, despite the clamour, for virtually all games to date? If, however, he chose him today because of the clamour but not actually believing he is the best right back, then shame on him for being such a coward and a fraud. (Niasse too.)
Either way he is a charlatan and a loser and a disgrace to be associated in any way with our great club. Go now. Go before I have completed this post.
Stephen Davies
105
Posted 22/10/2017 at 16:13:34
Ray #96.
No way of defending yourself?.
Have you told them that they have silly names for a boy?
Nigel Munford
106
Posted 22/10/2017 at 16:14:44
Colin, it hasn't in Koeman's case has it???
Ian Riley
107
Posted 22/10/2017 at 16:15:08
Nick (#71), thanks for the laugh. Ancelotti at Everton, bottom three. We need to get real with whom we can attract as manager. At present we are relegation candidates. Sadly I think big Sam would want another challenge than saving teams from relegation.
Koeman is not resigning without a payout but who would. Dyche, Moyes, or big Sam to keep us up, may be. Unsworth a risk – no Premier League experience. Stay as we are and hope for the best. Decision to be made but relegation is not a option. Financially it would kill us!
John Harrop
108
Posted 22/10/2017 at 16:16:32
Chelsea, Leicester, Lyon, Watford, Palace, Atalanta, Southampton. Can anyone see us winning even one of those matches? Maybe the Hammers at home at the end of November. Maybe.
I'm not usually one for sacking managers so early in the season, but enough is enough. If I was Koeman, I'd be changing my mind about being the next coach of the Netherlands – that would be his best option now.
Phil Hoyle
109
Posted 22/10/2017 at 16:18:16
I am normally really conservative about shouting for the manager to go but enough is enough. We look clueless! I look at the players in the squad and cannot believe we look so poor. Good players could not make a simple 10 yard pass. For me that is a confidence thing but that comes from the management. He has to go!
Get Unsworth to step up for a couple of weeks to cover the next 4 games and then get Ancelotti in.
Also seen the rumours about Moyes. I didn't want him to leave but please no to getting him back!!
Mark Riding
110
Posted 22/10/2017 at 16:18:58
40 points looks miles away.
Ray Smith
111
Posted 22/10/2017 at 16:22:57
Stephen (#105),
Well said, sir.
You actually brought a smile to my face, and then reality set back in 👍
Guido Blumberg
112
Posted 22/10/2017 at 16:24:32
I do not think Ronald Koeman is fired after this game. A few days ago he received the support of Farhad Moshiri, it would be strange that now he changes his opinion.
Unfortunately, we will continue with the same trainer suffering in each game. It is clear that this era is over, but I do not think there is a change now.
I would like the return of David Moyes. I do not understand why there are fans who do not want their return to Everton. I am from Argentina and maybe there are things that at a distance I do not understand or I miss them. I believe that David Moyes is the man indicated although his last experiences were not good. David Moyes is Everton.
On the other hand, players are also responsible for this moment. I think they are not playing 100% because they want Ronald Koeman to leave. But I do not have the evidence to affirm that.
David Connor
113
Posted 22/10/2017 at 16:25:17
Get that fucking joker, his sidekick brother, and Walsh gone tonight. We are not even Championship standard with this bastard at the helm. He WILL take us down. Act now while we still have time to turn our season around.
Unfortunatley, his head has fallen off and he doesn't know what he is doing. He has totally wasted at least 𧴜 million on Klaassen, Sigurdsson, Ramirez and Keane... All 4 of them are very poor. Only at Everton.
What a fucking joke we are... Absolutely devastating.
Brian Porter
114
Posted 22/10/2017 at 16:28:49
Koeman now says he didn't think it was that bad! How much worse can it get? Ffs, get him out now. He will take us down for sure. How deluded can he get?
Trevor Powell
115
Posted 22/10/2017 at 16:28:59
And the press saw this as a stepping stone for Koeman to the Barcelona or even Arsenal jobs! Fat chance now! He's making Martinez look excellent... at least there was some entertainment factor.
Who is it thinking that Moyes's return is the answer? Damaged goods and a relegation doomsayer!
We could do worse than get the fella from Watford. Somehow, he gave Hull a chance and he has put Watford up the table!
If the real right man is not available then please can we go for the EFC trio and show Walsh the taxi rank!
Gavin Johnson
116
Posted 22/10/2017 at 16:29:01
Ronald Koeman has to go! It will be total incompetency from the board if this is allowed to go on. We won't beat Chelsea in the League Cup with Koeman still in charge. Put Unsworth in immediate charge and the change in momentum might be faster than expected.
I wouldn't advocate giving the job to Unsworth full time. The board should try and get Ancelotti (we can only ask) if not, it's Sean Dyche for me. He'll get the club and he's done a great job at Burnley given their resources, and much better than the other English contender, Eddie Howe, who has been propping up the table since Bournemouth got promoted.
Steve Bingham
117
Posted 22/10/2017 at 16:30:05
It's half past four and I am now in work – have they sacked him yet?
Stephen Davies
118
Posted 22/10/2017 at 16:33:04
Ian (#107),
I listened to an interview with Allardyce a few days ago when he said that the Leicester job wouldn't interest him. However he said that he would be tempted to manage another team if he found the challenge interesting. (I think he would be tempted by a national team manager's job.)
Personally I think he could be tempted by EFC... Make no mistake –we are in big trouble and I can't see where next win is coming from (perhaps West Ham Utd). Having said that, I would only take Sam as a stop-gap and that may well be the sticking point.
James Stewart
119
Posted 22/10/2017 at 16:36:11
He has to go tonight. For god's sake, let's have some self-respect.
Darren Hind
120
Posted 22/10/2017 at 16:37:33
They say you get the team you deserve. Dear me, that's what we are getting.
Evertonians were once amongst the most knowledgeable fans in the world. When something wasn't right or a player wasn't good enough, they knew it and they said so.
Times have changed... mediocrity is applauded. The cost of a player now seems to impress a large proportion of the fanbase more than the quality.
You don't need to leave these pages for clear evidence of fans rejoicing in the signing of ordinary players for over-inflated prices. Players like Schneiderlin and Gana are seen as top class and those who don't see it are branded "negative doom mongers". Try to explain to people that they go to ground too often to play top class football and they will deny it. Give them examples and they will deny it more vehemently.
Criticise the manager and you are a "rotten apple". It doesn't seem to matter that we are the ugliest team in the league, if you criticise the manager and call for more, you are seen as a miserable bastard... You have to support this dross to be a "positive ".
I don't know what happened to this club, but sometimes I hear comments from Evertonians in the name of positivity and I could weep. How can a player, a manager and an owner know how badly they are doing when so many fans are telling them they are delighted with our "progress"?
I've had it with people telling me "the season starts now" when we have been knocked out of both cups. I've had it with people making ridiculous claims of a defensive masterclass at the Etihad because Man City missed a dozen chances.
I've had it with experts telling me they haven't been this excited for years. I've had it with people telling me we need Ronald Koeman to attract top players and I've had it with listening to people telling tell me that those who voice concern about performances, signings and the soul of the club being eroded are in some way Negative.
I really don't mind happy clappers getting the club they deserve, in fact I think there is something poetic about it... but by letting the chairman, the manager and the board know how delighted they are, they have ensured the rest of us are lumbered with this nightmare too.

John Charles
121
Posted 22/10/2017 at 16:39:44
We cannot play a back five withose 3 centre half's - all slow and all shit on the ball
We cannot play a back five with Kenny who isn't ready yet and Baines ( who along with Sigurdsson) the worst player on the pitch
We cannot play a back four without 2 defensive midfielders
We cannot play gueye and Schneiderlin as 2 defensive midfielders as they cannot defend and just invitevpressue by offering nothing going forward ( though gueye was a little better unshackled from Shneiderlin today)
DCL worked his tripe out today but the fact remains he is a CF who doesn't score.
We cannot play Sigurdsson- sick of hearing how he is a class player out of position. The game passes him by time after time.
Rooney has scored 5 of our measly goal tally but needs players running off him or he is slow and ponderous.
Vlasic was good despite rick for goal
Pick a formation , pick a team of players in their correct positions to fill that formation. Give them a run without changing every game ( during every game)
Sack Koeman!
Mike Allen
122
Posted 22/10/2017 at 16:39:50
Before you fantasy football fans start getting carried away with banding all kinds of managers names about remember what we are we are just a mid-table club that now and again may get a season above our station.

Our big time days have gone. For whatever reason we have not been able to keep up and at times been hanging on by our finger tips. We haven't been able to even challenge our city rivals since the birth of this media-driven league so let's get real: we are a Moyes, Pulis maybe Dyche type of club.

Maybe Unsworth is the answer but if we go down the road of more Martinez/Koeman types god help us.
Phil Walling
123
Posted 22/10/2017 at 16:40:17
I don't think relegation becomes a serious threat until after Christmas. Plenty of teams with barely a point a game have survived although usually after a new manager has been appointed at the halfway stage.
It occurs to me that as a newcomer to the game, Moshiri will be loathe to admit he made a mistake with Koeman although he may well be under pressure from Kenwright to sign up Moyes whilst he's available.
Whatever the outcome, the brave new Everton we dreamed of has blown away with Hurricane Brian this afternoon and we can now settle down to six or seven months with the slide rule and crystal ball.
Oh, and a decent size prayer mat might come in useful, too.
Christy Ring
124
Posted 22/10/2017 at 16:42:28
He has to go now. We're a complete shambles, and in big trouble. Steve Claridge is 100% correct, we are the worst team in the Premiership under Koeman, no shape, no system, and players playing totally out of position. I felt sorry for Pickford, who must think he's still at Sunderland.
The board can't drag there heels any longer.
Will Mabon
125
Posted 22/10/2017 at 16:42:49
I fully get the sentiment, Darren, and agree with what you say - with one exception. I don't think the board give a toss what the fans think.
John Charles
126
Posted 22/10/2017 at 16:42:59
Darren I really respect your oft voiced opinion that Koeman / Kenwright et al are shit and I agree wholeheartedly. But every other post does not need to be tell us Evertonians how disappointed you are in us. Every one of us wants success at the club as much as you do.
Colin Glassar
127
Posted 22/10/2017 at 16:43:04
Good post Darren. Most of us are born optimists when it comes to Everton but that seems to have gone now as well.
This dour Dutchman has sucked the life out of the club.
P. S. I think his sacking will be announced tomorrow on the Jim White show.
Carl Taylor
128
Posted 22/10/2017 at 16:43:45
Darren Hind, hear hear. Couldn't have put it any better myself. Sick of the give him time nonsense, good players need time to gel together (if they're good they can play with anyone).
Absolutely in despair this evening, our club is a laughing stock but I should be giving them 100% support and not criticise or demand more/better of them.
4:43pm and still no news, absolute joke!
Andy Crooks
129
Posted 22/10/2017 at 16:43:46
Eric # 102, you would rather see us play conference football than appoint Sam Allardyce? Really? You actually mean that? I am assuming it was a heat of the moment comment.
Lewis Barclay
130
Posted 22/10/2017 at 16:45:22
Tap up Eddi Howe
Jay Woods
132
Posted 22/10/2017 at 16:47:23
Since we don't possess balance or a proper striker, wouldn't it just be better to focus on drawing games until such times as the playiong staff woes are resolved?
Oh, and I want Koeman fired too, but really, I want BK and Moshiri gone as well and replaced with real ownership, like City enjoy.
Paul Tran
133
Posted 22/10/2017 at 16:48:00
As with Martinez, I would happily meet the relegation doom-mongers on Betfair, but that's not the point.
A manager who reaches seventh by playing dire football with a top goalscorer now spends over £100m and gives us a shapeless, clueless mess with no hint of a change.
This is a decent enough squad that needs at least one better striker. I think the players we bought will look better under the next manager.
Steve Claridge's comments on 5Live were significant, coming from a journeyman ex-pro and low-level manager.
Darren, you're right. If we don't change now, we really do have the set-up we deserve.
Peter Cummings
134
Posted 22/10/2017 at 16:49:21
Think it's all been said about today's debacle, surely after this insult to us supporters there has to be an inquest on how the club is being run,
While not fully blaming the players there are serious problems with the hierarchy which has turned us into a laughing stock by totally ignoring the obvious deficiencies in the whole structure,starting of course with a manager who was clearly not up to his job
The biggest problem, unless the present individual is sensationally allowed to carry on, is who will replace him???
Martin Mason
135
Posted 22/10/2017 at 16:50:09
I love this from the DT
You know the end must be close when you see your team outplayed, out thought and even – heaven forfend – out muscled by Arsenal.
To be fair today, Koeman played Kenny from the start, he dropped Schneiderlin, he tried a back 3 and changed to a back for when he saw that this was failing too so he really is trying. The problem is that everything he tries fails. I have a feeling that he is on the verge of the sack now but I don't like where the money is going on his replacement. Possibly as assistant to Unsy but not as manager.
I don't think that I've seen Everton worse than they are now since the late 50's, how can this moron of a man have achieved this?
Andy Crooks
136
Posted 22/10/2017 at 16:51:58
Darren # 120, I endorse you post. Frankly, I am embarrassed to have defended this over paid second rate fraudster. He must go and take his second rate coaching team with him.
As for the players. Fuck me, what can you say about that utterly gormless, shameless, overpaid pack of sad specimens.
Ross Edwards
137
Posted 22/10/2017 at 16:52:33
I actually felt embarrassed watching that 2nd half. Not since Palace under Martinez have I left a game early but after their 4th I couldn't take any more. If he isn't gone after this then the board is a joke because it's over.
And if Koeman goes then Walsh should as well because he's just as blameworthy for leaving us with an unbalanced squad and short of quality strikers. Get Tuchel on the phone and get him in asap because I can't stomach much more of this manager.
Colin Glassar
138
Posted 22/10/2017 at 16:53:26
Whatever you do, don't read Phil McNulty's report (plus stats) on the BBC site – devastating, simply devastating.
Ray Smith
139
Posted 22/10/2017 at 16:54:11
Lyndon, do you have any links to Jim White.
As much as I dislike him, he does have the ear of Moshiri!
Can you get him to become a TW contributor and then we may get more info from the centre.
Unlikely but worth a try?
Oliver Brunel
140
Posted 22/10/2017 at 16:54:37
Moshiri grinning when the 5th went in, Mirallas and the Gimp chuckling away. Can someone tell me what the fuck is going on?
David Barks
141
Posted 22/10/2017 at 16:56:01
When he first arrived I though Moshiri might be our Shinwatra. Not the owner to take us forward, but maybe bridge the gap to one that would. Now, I think he might be our Ashley.
When Newcastle were relegated in 2009 it was a shock. They had decent players, but the club was a shambles at the top. There was discontent between the manager and director of football regarding transfers. Of course in that case the manager resigned.
But relegation was never even a remote possibility when the season started. Week after week, it just got worse and worse. That is the situation I see unfolding here. I think we are in massive trouble.
I can not name a worse Premier League side. Yes, Crystal Palace and Bournemouth are below us, but I've seen Palace play much better games than us. Either way, doesn't matter which is worse. The bottom three all go down and we are undoubtedly one of the worst three clubs in the league.

Jay Woods
142
Posted 22/10/2017 at 16:56:15
And I would take relegation if it meant no more Bill. His whole regime has been dogged by rumours of using the club as a cash cow for fuzzy loans and their repayments.
Maybe the club needs that kind of trauma to jump-start its heart again.
Dave Abrahams
144
Posted 22/10/2017 at 16:57:03
I've some dark days following Everton but these days are pitch black with no-one in the club, players, manager, coaches and definitely in the board room capable of making them any brighter. A very sad time to be an Everton fan.
Will Mabon
145
Posted 22/10/2017 at 16:57:41
Jay - relegation? NO.
Amit Vithlani
146
Posted 22/10/2017 at 16:58:21
Moshiri: if you want to preserve an ounce of this club's dignity, get Koeman out NOW.
The Moshiri - Kenwright - Koeman trio is the complete antithesis of the Holy Trinity.
Alan J Thompson
149
Posted 22/10/2017 at 17:01:34
We played a football team today. Some of their play acting over non-five aside tackles was too much but we should have been three down before we scored. The Referee didn't help by booking our players for tackles that were no worse than some committed by Arsenal players.
Pickford was the pick of our lot but that must be a problem when the goalkeeper is our best. Three at the back doesn't work and after saying all season that Kenny isn't ready he picks him against the slickest passing team in the League. To beat three across the back merely play somebody wide, from what I've seen it works everytime except for "Honest" Ron.
Calvert-Lewin is played wide and our only outlet seems to be high balls to him isolated on on the touchline. Niasse may not be the world's best footballer but he is at least a presence that keeps the opposition central defenders busy and concerned.
Is there a positive? Only the defensive midfielders getting forward to help in attack. After arguments with Eire over McCarthy's fitness why would he start before Davies?
I could go on but the hearts been knocked out of it, he should be sacked now but may be Thursday after the European exit (Evexit?) and Unsworth with his own choice of a No.2, can't be Royle after the Niasse leak nor Ferguson who would be no help at all. Can't remember being more resigned to Everton's pathetic failures.
Jay Tee
151
Posted 22/10/2017 at 17:03:25
Not at all surprised by the result. Some glimpses of good play from Vlasic and Lewin who even had to chase his own headed down balls, says it all really.
What did surprise me was there were little or no cheers for players when the squad was called out. Think that is first time I have noticed that. Although last game at home against Burnley you could hear what the players were shouting to each other for a while.
Koeman out now!!!!!
Will Mabon
152
Posted 22/10/2017 at 17:04:08
Amit, it's a quartet. You forgot Walsh.
Andy Crooks
153
Posted 22/10/2017 at 17:04:54
Oliver, what us going on is that we care. Moshiri is here to make money, I doubt he gives a flying fuck about Everton. Our players are in a vastly paid comfort zone. I suspect most if them don't give a fuck either. Only, I guess, in how their ineptitude might have a detrimental effect on their future earnings.
I had planned to go to a couple of games after Christmas. I won't now.
Colin Glassar
155
Posted 22/10/2017 at 17:06:39
Apparently it's true - Koeman saw positives in that game!! Has he been promised the Arsenal job?
Sandra Williams
156
Posted 22/10/2017 at 17:08:55
Home from the match well either he goes, or I will! What an utter mess from top to bottom. There is no fight, no heart, no pride, and no passion and I, for one, am sick to death of getting up to Goodison without any hope of seeing an even half-decent performance. Koeman shouldn't be in charge of even one more game pity half the players can't be given their P45's as well! I can't see where another win is going to come from to be honest. But surely there is somebody anybody .out there who can galvanise the team? The life is being sucked out of us fans and it isn't a nice feeling.
Soren Moyer
158
Posted 22/10/2017 at 17:15:01
Our useless board are gonna wait untill there is only Moyes/fat Sam available. I just know it!
Tony McNulty
160
Posted 22/10/2017 at 17:15:31
We are missing three things: confidence; a coherent plan; and a centre forward.
I admit I thought RK was a good appointment at the time, but he is now a busted flush.
We all make mistakes. The Board has made one. The measure of a decision-maker is what they do to rectify their errors.
It's sad but we need a change of manager.

David Barks
161
Posted 22/10/2017 at 17:16:04
He won't be sacked yet. The only thing supporters can do is stop showing up to the match. Honestly, stop going. Don't give your ticket away, just stay home. That is it. Let an empty theater be the loudest indicator of our discontent.
Stephen Davies
162
Posted 22/10/2017 at 17:16:22
Andy #157.
Yes I think there must be as I appear to be using the name Ray Smith.
What the hell is wrong with me?
Neil Copeland
163
Posted 22/10/2017 at 17:17:08
Just got back from the match, what a totally dreadful display. I think I have probably seen worse one-off performances (the Glenn Keeley derby) but I can't remember us putting in so many poor displays over such a short period.
Make no mistake, we are going down unless action is taken very soon.
Tony Marsh
164
Posted 22/10/2017 at 17:17:42
Andy Crooks, no sympathy for you, mate. A month or so ago, when I pointed out the shite we were in and how I predicted nothing but disaster ahead, you got right on your high horse over it. The thing is you see some of us have seen and heard all this shite before and we can smell bullshit a mile off. Koeman, Moshiri, Kenwright, Elstone – all cut from same cloth.
Some of our fans are the the most gullible supporters on the planet and can't see a problem until it smacks them in the face. Well, guys, you're being smacked in the face now. Anyone who steps foot in Goodison again while Koeman is here deserves everything they get. Withdraw the support – that is all we have left now.
Jamie Crowley
165
Posted 22/10/2017 at 17:19:20
Just got done watching on delay.
Koeman changes the formation at halftime and doesn't substitute Gana who despite being, in my opinion, our best player, was absolutely a red card waiting to happen.
Those are simply unforgivable managerial errors. We had actually played, again in my opinion, really well in the first half. The changes stunk to high heaven of a man throwing shit on the wall and seeing what will stick. Along with a braindead decision to not either remove or protect Gana. Why do you leave him exposed in a 4-4-2 on a yellow with the way he plays on a yellow?
Koeman simply HAS to go this evening. He has to. There is no longer any other option. Farhad has to be willing to spend the money to make the bold move and change.
Unsworth, as I've said previously, is my pick money aside. I think he'll be a revelation. Money IN the equation, appointing him will help mitigate the financial outlay as you don't have to spend millions to replace Koeman.
Dark days.
Tom Bowers
166
Posted 22/10/2017 at 17:20:17
Dropping Schneiderlin was a good move but should have been done a few matches ago. Davies is a better player than Gana who was a stand out in a poor Villa team but is not Premier League standard.
I actually think McCarthy is a better player than Gana and Schneiderlin and has been missed although his presence may not have changed some results.
Vlasic and Calvert-Lewin will be part of this team looking forward but some of the others are treading water, such as Williams and Baines. Keane is also struggling.
Kenny is not yet ready and Holgate hasn't improved to the level expected.
If Koeman is still here for the Chelsea game, he will ring in the changes again... but can we reasonably expect to beat a Chelsea team of second stringers?
Most teams are rubbing their hands at the prospect of playing Everton at the moment.
Jim Lloyd
167
Posted 22/10/2017 at 17:20:33
Dave, if you say that, then we are indeed in a bad place. You've seen, and rememebered, EFC teams since the fifties. I've seen our teams since the very late fifties but my memory lets me down.
But what I do remember of those past sides, I've never felt so strongly of impending disaster for this club. I think the longer we have Ronald Koeman as our manager, the chances of us going into the championship increase exponentially, IF he stays unti January, I think we will have well and truely had it.
Arwel Williams
169
Posted 22/10/2017 at 17:21:12
Possibly a way to get rid of Koeman is to sack his backroom team. They, like the manager don't seem to be performing. Forcing Koeman to find a new backroom team could a way to see him resign.
I do feel that many of the players he's bought are decent players, they have shown that for their previous teams. They don't become bad players overnight. The team is sorely lacking in confidence and that is down to the manager.
Oliver Brunel
170
Posted 22/10/2017 at 17:22:58
What about Howe-Unsworth? I have a good feeling about that; both Everton through and through, ambitious. Not sure about attracting top players but we won't have dosh now for that.
Jamie Crowley
171
Posted 22/10/2017 at 17:23:47
David at 162 -
Why do you think Koeman won't go?
Is it years of seeing us "ride it out?" A lack of confidence in brass?
Curious.
I think he's done tonight. I see no other option losing 2-5 at home.
Neil Copeland
172
Posted 22/10/2017 at 17:23:51
Arsenal could have been in double figures today, Pickford, thankfully, had a good day (sort of).
The team and whole squad play like complete strangers. No-one seems to know their role or where their colleagues are. I think we have a number of quality players but they need some sort of plan. They need managing.
Come on Mr Moshiri enough is enough, do the right thing now before we reach the point of no return.
Barry Pearce
173
Posted 22/10/2017 at 17:24:42
Sadly, the writing has been on the wall all season. We haven't played well in any game, and are fortunate to have eight points. As others have remarked, this a dark time to be an Evertonian.
Neil Copeland
174
Posted 22/10/2017 at 17:27:37
Oliver, not a bad shout and would expect them to have the team well prepared and fired up.
Jamie Crowley
175
Posted 22/10/2017 at 17:29:02
Why would we ever appoint a coach who is a point below this dreadful display and in the relegation zone?
No to Howe.
Steve Brown
176
Posted 22/10/2017 at 17:29:35
We have been discussing lack of standards and ambition, then look at the names being put forward - no to Moyes, Benitez, Eddie Howe, Big Sam, Little Sammy, Marcos Silva and, sorry, no to Unsy, Big Dunc and Joe. There's four relegated managers amongst that lot (we tried that novel idea with the ex-Wigan Manager).
Given internal step ups NEVER succeed in the premiership (always sacked midway through their first full season in charge), I would like us to protect Unsy -and the Academy by not giving him the permanent job.
So as a novel idea, pay what it takes to hire a manager from one of the top five clubs in England, France, Germany, Spain or Italy. The one condition must be that they have won a trophy in the last three years with that club.
Trevor Peers
178
Posted 22/10/2017 at 17:33:20
Shades of Sunderland all over us, how ironic we have the same goalkeeper, even if he was outstanding today.
It will take a genius to save us from the drop this time, especially as the club is the worst run in the premiership, amateurs from top to bottom.
David Israel
179
Posted 22/10/2017 at 17:33:49
Ray #96, I'm on my third, but hopefully Harry Kane has put a stop to that.
Seriously now, we go to Chelsea in mid-week, they'll probably play a weaker team, but still too strong for us at the moment. We'll get another drubbing. And then, on to Leicester, who are as trigger-happy as we're slow off the mark. And then, and then, what? Do we get to hear again, on Radio Merseyside, that Moshiri is still behind the cheesehead??
Finally, for all of you bemoaning the hiriring of someone like Sam Allardyce - let's call him by his proper name, for a change - beggars can't be choosers. As of today, we are definitely in a relegation scrap, if we don't get rid of RK soon. Allardyce may have announced his retirement, but we are still a big pull for a man such as him, and he could steer us well clear of trouble, which is what we need now. And then, in the close-season, try to get someone like Silva in, or the other Portuguese guy, the one at Shakhtar Donetsk. Or even give the job to Allardyce on a permanent basis.
Mutley, do something!!
Jamie Crowley
180
Posted 22/10/2017 at 17:34:18
Steve -
I think Unsy will buck the promoted manager trend being sacked quickly. I think he's going to be a fantastic manager some day.
You make good points, but the only question needing to be answered when you say get a manager from a top team in a big league is:
Who??
Who would leave a top 4-5 team in Germany, Italy, or Spain to come to a 18th placed Premier league side?
No one with a brain!
Brian Williams
181
Posted 22/10/2017 at 17:35:15
..... .and who the fuck managing one of the top five clubs in the countries mentioned would give that up to manage us ffs?
Mike Oates
182
Posted 22/10/2017 at 17:35:46
I still think Koeman will be here until Monday week, if we don't beat Chelsea and Leicester then he'll be gone . Kenwright just doesn't want to do it, and I suspect Moshiri thinks "What the hell am I'm doing – 㾾m wasted on Managers Redundancies in 2 years what I have let myself in for at this wreck of a club???"
The new manager, whoever it is, must realise what dross he's been left with – Williams, Jagielka, Baines, Schneiderlin, Klaassen, Ramirez and Besic, and about 3-4 youngsters are nowhere near ready to do it consistently in Premier League, Holgate, Kenny, Vlasic, and Lookman, even Davies is struggling again.
I do fear we will have an almighty battle to get out of the bottom 6 this season.
Mike Kennedy
183
Posted 22/10/2017 at 17:35:47
I'm seriously depressed about this current team and I have lived through a few bad ones. I don't remember getting spanked week after week and I have been following Everton since the 60s. (OK I tuned out a little in the early 80s when I discovered girls and girls explored me. I don't have that distraction now as girls have no interest in the aged me)
I have stopped betting on Everton to lose, I now bet on Everton to lose by more than 1 goal.
I'm getting rich but I can't take it to the grave and that is where Keoman et al is, prematurely, sending me.
I want Big Sam, perfect! He rescues teams from relegation and I believe there is more about him. Yes of course Sean Dyche would be fantastic but he is currently plying his trade at a more successful club.
Only Big Sam knows how to rescue teams; he is the Red Adair ( showing my age again) of the EPL.
Michael Lynch
184
Posted 22/10/2017 at 17:36:12
I really think this is a two-part job. Firstly a man to steady the ship, give the team a bollocking yet at the same time give them some confidence by playing a clear system that works to the team's strengths, and avoid relegation.
Then next season, a younger more ambitious manager with some vision to kick us on. So a Big Sam type comes in tomorrow, and a Martinez type (for want of a better word.. sorry!) at the end of the season.
Eddy Bernard
185
Posted 22/10/2017 at 17:37:57
Andy (#136),
You could say the players are utterly gormless, shameless, overpaid pack of sad specimens...
And you'd be right.
Andy Crooks
186
Posted 22/10/2017 at 17:39:26
Tony, I make no apology for believing that Koeman would get it right. However, I do not have entrenched views. I was wrong about him. In fact, totally wrong. I do not recall getting on my high horse, merely disagreeing with you. But, if I was on my high horse I have dismounted.
Tony, though, if he is not sacked tomorrow, what do we do? Seriously, what is the answer? I would not be surprised to see Moyes back. I think it would be beyond belief but possible considering that Bill Kenwright clings to power.
Dave Abrahams
187
Posted 22/10/2017 at 17:40:27
Jim (#170), basically that is what I was saying, I've never seen such a heartless uninspired team with a manager who is just going through the motions. He must be as amazed as most Everton fans that he is still here.
I can't see him improving our position and, as he will not resign, it is up those in charge, if they care, to remove him post haste.
Oliver Brunel
188
Posted 22/10/2017 at 17:42:44
Okay, guys, I'm going to say it. It isn't nice but, the more I think about it, the more worried I am...
We are going to be relegated!
Paul Birmingham
189
Posted 22/10/2017 at 17:46:34
Playing x2 vets alongside an unreliable Kean, and Arsenal must have sensed the tension and unease in our team.
Thank God for Pickford, they could have 15.. I've no honest expectation any more about the match only that the say in the pub to the last minute syndrome has come back, such is the burden of watching this garbage.
The confidence is shot and the reality is we look certain to go down. I'm struggling to say anything, but all on TW, know for sure, that the club has got to have a crisis plan to kick in soon.
January won't save us, it's too late and whose gonna want to play for us? SOS is needed now.

Paul Hay
190
Posted 22/10/2017 at 17:47:25
We are really up the proverbial creek at the moment and I cannot see how this is going to improve. I understand the calls for replacements – and I want Koeman out too, but even if that occurs, I still can't see an immediate quick fix to the situation. Just who would come anyway?
The continued dismal performances really twist the knife and offer absolutely no indication that improvement is on the horizon before Christmas.
My drive back to London will be a miserable one.
Martin Mason
191
Posted 22/10/2017 at 17:48:33
David@162
Absolutely correct, the only problem is those poor folk who have bought season tickets. The answer though is they also need to not go. The only acceptance of mediocrity is to go.
The problem then is should you have a say if you don't go?
Relegation? Yes, this is how it happens when whatever you do you keep losing. Newcastle and Sunderland are examples. Really painful watching the excellent Spurs.
Steve Brown
192
Posted 22/10/2017 at 17:48:39
Jamie 181, we could start with the two who recently left their jobs - Ancelotti and Tuchel. It's amazing what an enormous amount of money will achieve. Thinking these guys are beyond us just proves we are lacking ambition.
Phil Greenough
193
Posted 22/10/2017 at 17:49:51
Good grief, the negativity on this forum knows no bounds. It's nine games played, not twenty nine! Koeman will get sacked, Everton will bring another manager in who will play the players in their right positions and they will rediscover their self belief. We are not Sunderland, or a team of that ilk.
Colin Glassar
194
Posted 22/10/2017 at 17:53:09
Who goes first, Koeman or Klopp? They really are embarrassing Merseyside football.
Paul Tran
195
Posted 22/10/2017 at 17:53:32
This is a belting job for a manager right now. A decent squad that needs clear communication, proper drilling/coaching and a bit of motivation. A team that can only go upwards from here. And we seem to be good payers.
What's not to like? Come on down!
Steve Brown
196
Posted 22/10/2017 at 17:54:00
Moyes, Howe, Benitez, Marco Silva, that bloke from Shaktar whose name we can't even remember, Sam Allardyce and Sammy Lee, Sean Dyche, sorry Unsy as well. How small time are we?
Unless we start aspiring to be a big club again we will never become one. That's why Koeman needs to go a we need to get a better manager, a bigger name who has WON a trophy with a top club.
Jamie Crowley
197
Posted 22/10/2017 at 17:55:00
Steve -
It will take Moses parting that Channel thingy separating you and mainland Europe to get either of those men to Everton.
If we fire Koeman, it's a big financial hit. I understand you're comment regarding ambition, but I just don't realistically think it'll ever happen. That's not me lowering the bar, it's me trying to assess the landscape and what is actually possible.
If you're right and I'm wrong, make no mistake I'll be as happy as a pig in shit.
Eddy Bernard
198
Posted 22/10/2017 at 17:55:12
Can we have Arsenal's problems please.
Tricia Netherwood
199
Posted 22/10/2017 at 17:55:21
Our optimism over appointing Cloggy now dashed. Back to the wilderness years.
Tony Marsh
200
Posted 22/10/2017 at 17:55:45
Andy @ 186,
Nothing will change until the fan base at Everton wake the fuck up. We have been conned and kidded for decades and just take it as being the norm.
I am refusing to go the game until there's a change. If everyone did the same, things would change quickly. Kenwright has got the blue half of Merseyside dangling on a string.
I still believe we don't have the money to sack Koeman, pay him off and employ a new guy on big money. Hence why Rigid Ron is still here.
Brent Stephens
201
Posted 22/10/2017 at 17:56:19
Mike #182 "New manager whoever it is must realise what dross he's been left with - Williams, Jagielka, Baines, Schnederlien, Klassen, Ramirez and Besic, and about 3-4 youngsters are nowhere near ready to do it consistently in Premiership, Holgate, Kenny, Vlasic, and Lookman , even Davies is struggling again."
That's suggesting it's more the players than the manager, that he's sometimes got a team on the pitch including up to 7 duds. I'm not sure about that at all.
And Davies didn't struggle today, in my view.
David Israel
202
Posted 22/10/2017 at 17:57:25
Christy (#124), Bring in Moyes and Pickford will be sure he's still at Sunderland!
Colin Glassar
203
Posted 22/10/2017 at 17:58:54
Steve Brown, it wasn't you was it who said, the other day, that Ancellotti was overrated was it? It was definitely a Steve.
Even when I pointed out to this Steve that Ancellotti had won five league titles in five of the world's strongest leagues, he wasn't entirely convinced.
Steve Brown
205
Posted 22/10/2017 at 18:01:05
We have spent £200 million on this squad in three transfer windows, we are not a poor club any more. Just one with low standards and a shit recruiter.
I reckon we could hire Tuchel next week if we wanted to. For Ancelotti, offer him a bomb to manage us till the end of the season and see where it goes.
Stan Schofield
206
Posted 22/10/2017 at 18:01:41
Paul, I agree that this is a belting job, getting us back on track could make a manager's reputation. And if it doesn't, he still gets paid a king's ransom.
Colin, spot on, it's a far cry from the 60s and 80s. But the media commentary on Liverpool is childish, as if they were still a top club. They're not much less shite than us.
I think there's some over-reaction regarding rekegation, it's as if we've got 9 games left rather than 9 games into the season. So long as Koeman is shown the door pronto, there's every chance we'll move up the table, because there's a good squad of players there who's talents are being squandered by dreadful mismanagement.
Jamie Crowley
207
Posted 22/10/2017 at 18:01:43
I concur with Brent. Take today for instance.
A very hard-fought first half full of passion, effort, and guile. We're in it. We've played well.
Second half, we switch to a 4-4-2. Gueye in midfield on a yellow. Now why in the world would you leave Gueye, who can't help himself but fly into tackles, in a 2-man midfield formation on a yellow!!
He has zero protection against a team infamously known for moving the ball beautifully and quickly. Why do you do that?? That is a managerial error without question. Exposing your most aggressive midfielder on a yellow in a two man midfield set up against Arsenal?? Madness.
The players are not near to blame as much as Ronnie in this one, in my opinion.
Dave Abrahams
208
Posted 22/10/2017 at 18:03:59
Martin (191)
"The problem is then should you have a say if you don't go" (to watch the team).
Read that back to yourself, Martin: well it's never stopped you!!!!!
Darren Hind
209
Posted 22/10/2017 at 18:04:37
Martin Mason @117
A few short weeks ago, you were lambasting the critics and claiming you saw "nothing but positives".
Were you stating the "bleeding obvious" then?
No wonder you are talking so much about "hindsight" recently – you're an expert.
Paul Smith
210
Posted 22/10/2017 at 18:06:57
Dave Abrahams,
I pray Kenwright clings to power because, if it's up to Moshiri, I fear things will become even worse.

Peter Hughes
211
Posted 22/10/2017 at 18:13:34
You pray Kenwright clings to power? God help us from 'Fans'like you!!
Martin Mason
212
Posted 22/10/2017 at 18:15:00
Darren, and what do you recommend that the misguided happy clappers do? Something, or nothing like you and Tony.
At the start of the season, I saw nothing but positives given the new financing and the players bought. Of course it wasn't with the benefit of hindsight or stating the obvious, use your brain man.
I still see positives overall but I would say that the club has made two serious mistakes which are easy to see with the benefit of the hindsight that you wallow in. The first is obviously Koeman, the second is the Director of Football position. The manager must be responsible for the players the club recruits or he has no accountability.
Martin Mason
213
Posted 22/10/2017 at 18:21:46
This interesting from the DT
As Arsenal's fifth goal went in, the club's owner Farhad Moshiri was photographed in the directors box sitting alongside the chairman Bill Kenwright, who held his head in his hands. Meanwhile, one of his guests in the box turned to the press area immediately behind it and shouted "Taxi for Koeman. He's got to go tonight. If not sooner." As votes of confidence go it was not the most visibly robust.
Oliver Brunel
214
Posted 22/10/2017 at 18:25:21
I believe we will be relegated. Only a real world class manager could turn it around. Bielsa-something radical?
Michael Lynch
215
Posted 22/10/2017 at 18:30:03
Listening to the Radio Merseyside phone in, I reckon if the RS have their way we'll be competing with them for a new manager soon. Unless anyone fancies a swap?
Colin Glassar
216
Posted 22/10/2017 at 18:30:44
We won't be relegated. We still have 2/3 of the season to go. We do need, however, a new manager and a new direction.
We've still plenty of time to turn this around (remember the 1-0 against Sunderland a few years ago in December when we looked doomed?) but Koeman needs replacing ASAP to give the next manager time to see who's who.
Ian Pilkington
217
Posted 22/10/2017 at 18:32:28
If Koeman isn't sacked after this we deserve to go down. We won't because Moshiri will have to act to protect his investment, £10M or so to pay off Koeman and his Dutch cohorts is nothing by today's PL standards.
However I do find it difficult to understand how anyone could seriously be happy with Allardyce, Moyes (God forbid) or even Dyche.
If Moshiri is genuinely intent on returning our club to the elite he has got to be looking at the level of Ancelotti or Tuchel, the yardstick of £6m p.a. will certainly prove attractive enough. Benitez has too much baggage from his RS days. Unsworth's time may come but it's certainly not now.

Raymond Fox
218
Posted 22/10/2017 at 18:35:21
Sack Koeman and end this nightmare now!
I don't a this moment think its fair to give the job to David Unsworth. There is too much pressure and too much to sort out on the field, make him assistant manager by all means if that's possible.
I said before and I'll say it again get Big Sam in, he's a perfect fit for the situation were in.
Give him a 18 month contract at the same or even more than Koemans on and promise him 㿞m to spend in January.
There's no time to get a foreign manager in who's no Idea what you need to manage in the Premiership, its too risky.
Will Allardyce come, I think so if we make the offer attractive enough, desperate times calls for desperate measures if your inclined to think having Allardyce as manager is desperation

It would be a disaster to go down but I think we have enough quality especially with a couple more signings and the injured players back for selection.
Plus add Barkley who I think will sign a new contract once Koemans gone.
Grant Rorrison
219
Posted 22/10/2017 at 18:37:47
Isn't Tuchel just a shitter version of Klopp? Assuming such a thing exists after today.
David Israel
221
Posted 22/10/2017 at 18:39:32
Colin #203, that was Steve Ferns, if memory serves me right. He didn't say Ancelotti was overrated, just that we need a coach as opposed to a manager, with Ancelotti being the latter.
Paul Smith
222
Posted 22/10/2017 at 18:40:34
Really Peter
Was Kenwright laughing when Arsenal knocked a 5th in ?
Yes he's shifty but ffs when we have looked like relegation material he's pulled the trigger will Moshiri ?
Mike Berry
223
Posted 22/10/2017 at 18:40:47
If I am correct in assuming that Rooney was to play alongside Gana in midfield then we lost before we kicked a ball.
I have said all along the inclusion of Rooney is stopping us into progressing into a settled side, so many changes each match leading to confusion.
Very few came out of this today with much credit
DCL lead the line very well yet again a real talent. Vlasic showed dome great dribbling control in the first half be gave away costly balls in the second, but believe he is a real find.
Pickford kept the score down.
As for Keane sadly he looks a waste of money and so slow .if you watch his efforts in their goals.
How much money have we spent and hardly anything looking likely to show.
Colin Glassar
224
Posted 22/10/2017 at 18:40:50
North London 9 Merseyside 3. Dark days these.
Martin Mason
225
Posted 22/10/2017 at 18:41:24
I'm amazed at Liverpool as they had looked as though they were on the verge of very good things. I get no enjoyment of seeing Liverpool struggle as well as us. It diminishes the City in terms of football standing.
Colin Glassar
226
Posted 22/10/2017 at 18:43:55
That was my point, Martin.
David, thanks for that. I knew it was a Steve.
Tony Abrahams
227
Posted 22/10/2017 at 18:51:54
Martin, if you read posts properly then you will notice that Darren, was saying what everyone is now saying about Koeman, in the summer. I disagree with Darren sometimes, but not when he talks about Everton managers though.
Everything being said right now, has already been said over the last few weeks, but it's simple really, and if we don't get rid of Koeman now, then relegation could easily happen.
I usually think that only an idiot, could mutter that word, after less than a quarter of the games have been played, but this is so different because Everton are not playing like a TEAM, in any shape or form.
Imagine your child going to a new school, and getting a different maths teacher every lesson? because this is what's happening to our players right now.
All this chopping and changing of both the players and the system, is destroying us, and how can anyone build up either understanding or momentum, under these present circumstances?
Mike Gwyer
228
Posted 22/10/2017 at 18:52:10
Tony March #200
Why do you keep banging on about Everton not having the cash to let Koeman go? Of course they do, for fuck sake Everton don't even have to pay him off, just stick him on gardening leave with a huge shovel for his weekly wedge. Job fucking done.
RK is gone, make no bones about it, but the bottom line is that there is plenty wrong at Goodison Park. I mean Klaassen at 24 million and Siggy shite at 45 million, well those two transfers should get the serious fraud squad knocking your front door down.
Derek Knox
229
Posted 22/10/2017 at 18:52:13
Colin and Martin, you have to look at the positives , we scored two to their one. :-)
By the way, is Koeman still there?
This has to be the most drawn out inquisition, since they stopped using the rack.
Maybe Moshiri and BPB, can't lift their feet high enough to kick him out.
Geoff Williams
230
Posted 22/10/2017 at 18:52:23
If there is a reluctance on the part of the board to sack Koeman because of the cost then they should sack his coaching team. They aren't up to the job either.
Mike Hughes
231
Posted 22/10/2017 at 18:57:07
Apart from the threat of relegation to the club (which IS real because we are in the bottom 3 and playing like cannon fodder) there is one other aspect to this that really pees me off.
Do managers ever do the decent thing and resign?
He comes out with bland, passionless "that's football" comments after another inept performance from the team HE assembled at quite a cost.
I know none of this media / PR Shiite is worth a piss but is that the best he has got? If so, he should be embarrassed / ashamed.
He spent quite a bit of time on his hols / golf course over the summer by all accounts while we still had no striker. Team selection, game management etc are shambolic.
Everything smacks of complacency at EFC and I fear our mediocrity is in our DNA (to coin our recent marketing gimmick).
To answer my own question, it is so obvious this clown is hanging on for the pay-off. He's as big a fraud as the last bell-end.
Show some class and decency and get out of our club now. But he has none - so won't budge.
(I dread the crappy sound bites we are going to be fed this week. They sound thinner and more disingenuous every time.)
John Keating
232
Posted 22/10/2017 at 18:57:45
I cannot believe some posters are saying we won't be relegated !
Are these people actually watching our games ?
Are they seeing every single player devoid of every shred of confidence ?
This is a team in serious desperate trouble. A team in freefall. There is not one single plus point not a single sign of improvement. No fight, no cohesion, no plan, tactically inept.
We do not have the players or mentality to dig ourselves out of a relegation battle. Our squad would just fold. The support are already showing signs of stupor and acceptance.
I keep saying it but losing becomes a habit.
To anyone who thinks we can't go down just have a look and truthfully see where and against whom we can pick up any points

Paul Rimmer
233
Posted 22/10/2017 at 19:00:07
Why hasn't he been sacked yet? Any other club with top ambitions would have. Chelsea sacked Mourinho and they weren't in the kind of mire we're in.
Denis Richardson
234
Posted 22/10/2017 at 19:01:31
Koeman will be gone soon enough but I swear if we bring back Moyes that'll be it for me and Everton. There's only so far you can push a man.
Sounds extreme I know but when I think of the countless hours spent watching mind numbing boring football over the last 15 years or so, I wonder why I actually bother.
Is it fun? No. Entertaining? 99% of the time No. Do I learn anything? No. Makes me angry? Yes. Cost me money? Yes. Running out of excuses to justify spending my time on this shite.
Even in the dark days of the 90's I expected us every season to turn the corner and at least do well in the FA cup. Now I'm just getting more and more apathetic. You just know with the likes of Kenwright and Elston running the club, nothings really going to change.
I don't even get angry anymore. 15 years of continually managing expectations down have gotten us to the point of abject apathy. No protests today, just resigned acceptance of the situation after a couple of boos.
This is not the Everton I started supporting in the early 80s.
Tony Abrahams
235
Posted 22/10/2017 at 19:04:26
The support will always be Everton Football Clubs, greatest asset, and this is why it's imperative, that our next manager has got to be somebody who already understands this.
Neil Copeland
236
Posted 22/10/2017 at 19:05:37
Moshiri was at Arsenal prior to us and that makes me think that perhaps he doesn't understand the seriousness of our situation. By that, I mean that he was used to failure at Arsenal equating to not winning something, I think they finished in the top four every season he was there. So, assuming he realises what relegation actually entails, does he know that if you leave for too long there is no turning things around. I know that BK understands relegation but does Moshiri actually listen to him? He may think that Bill doesn't know what he is doing and we would still have Bobby Brown Shoes if Bill had his way.
May go some way to explaining the lack of action thus far.
Martin Mason
237
Posted 22/10/2017 at 19:06:06
Tony@227, nothing that I ever saw, Tony Marsh maybe because he is a serial whinger but I never saw any of Darren until things turned pear shaped in the new season. Darren is a serial whinger too but even serial whingers are right sometime.
Tony Twist
238
Posted 22/10/2017 at 19:06:27
My missus broke, smashed accidently, my Everton pint glass today before the match. It was only forty years old and given to me by my beloved, devote , now deceased Everton season ticket holder grandparents. But my first and only thought was perhaps this action would change our fortune, we are a superstitious breed us Evertonians! No such luck, another embarrassing, sole destroying defeat. It's the hope that kills you! The number of experienced premier leaguers and they can't even resemble a team, albeit a poor team, is an absolute disgrace. Koeman should have been sacked weeks ago. It's now for Everton to behave as Everton behave, that's wait and wait and wait until all the decent managers have been snapped up and we have to try and wrestle someone who already has a club. It's time, Everton, to make the change and make the right decision for once.
John Keating
239
Posted 22/10/2017 at 19:06:55
My grandkids are too old. Can anyone lend me a 2 or 3 year old for the Leicester game. I need a lifetime ban.
Ray Smith
240
Posted 22/10/2017 at 19:07:09
If Jim White comes out with an update tomorrow , "from my good friend" Moshiri, that will about sum up the boards commitment to the fans!
Darren Hind
241
Posted 22/10/2017 at 19:07:51
Martin
You live in Masonworld, a world where you think its ok to lambast anyone for criticising the manager one minute then somewhat bizarrely do a complete volte face and declare your "hatred" for him.
You have no clue what people are doing, but by declaring there disapproval both on here and at the game. They are registering a protest. These protest are part of a collective movement and they will go all the way to Moshiri and therefore some way to hastening the departure of Koeman .
Everyone who has voiced his dissatisfaction will see his efforts rewarded.
Dave Williams
243
Posted 22/10/2017 at 19:12:08
The points total is bad enough but our goal difference is second worst in the league!
It is embarrassing to be a supporter at the moment because this team gives nothing of which we can be proud. When we have to cite the U 23s and U 18s as reasons to be cheerful it shows how poor the first team is.
Yes the players should be ashamed of themselves- we are talking about experienced international in Schneiderlin, Sigurdsson and Klaassen and they appear to be hiding. They all need to get a grip and earn their wages- they are a disgrace to the club.
That said the manager appears utterly clueless how to set up his side and I genuinely wonder what he does in training all week as there appears to be no semblance of a pattern of play during a game. I don't like to see people lose their jobs but I really can't see any reason to keep Ronald and his alienation of players and apparent inability to inspire them let alone his inability to connect with the club all point to an inevitable parting of the ways.
Martin Mason
244
Posted 22/10/2017 at 19:15:59
Darren, the appetite for sackings and resignations is insatiable, the concept of patience and tolerance archaic. Halos are polished sufficiently to ensure never have so many felt empowered to cast the first stone.
My friends are Brighton fans, they are good fans and don't suffer from the poison that accompanies top sides that have fallen like our fan base does.
Darren, remind me again what you do about our poor performances? Does it begin with a "W".
I'm still staying positive because unlike you Darren the board actually has to do something about it. I trust that they will, I know that you can't and won't.
I don't want Koeman to be sacked because I don't want us to give the Moron 㾶.00MM for abject failure.
Jason Wilkinson
245
Posted 22/10/2017 at 19:16:01
Arsenal 5 Tottenham 4
Everton 2 Liverpool 1
It looks a lot better when you write it like that. What price is Klopp for the sack?
Tony Abrahams
246
Posted 22/10/2017 at 19:16:09
Tony @238; I hope today, was things getting worse, before they get better mate!
A fella was talking on Radio Merseyside, after the game saying that Everton are no longer a big club. If we don't sack Koeman now, then who could disagree with such ineptitude?
Roger Helm
247
Posted 22/10/2017 at 19:16:17
I can't see where the next win is coming from - RK has to go before the situation is irretrievable. But would replace him? Unsie with zero PL experience? And a top manager wouldn't touch us with a bargepole.
Premiership survival is essential and defence is the first priority. So a one-year contract to someone who can organise a defence at this level - why not Moyse? - and source a long-term appointment then.
Peter Mills
248
Posted 22/10/2017 at 19:17:10
I'm going to keep going to the match.
Martin Mason
249
Posted 22/10/2017 at 19:19:30
You are a good fan Peter.
Ron Marr
250
Posted 22/10/2017 at 19:21:31
There will always be a risk of Moyes returning as long as the stench that is BK pervades the club.
Mosh needs to grow a pair and unload Koeman. Ignore letters and emails that say Everton are in 3rd place if you turn the table upside down
Brent Stephens
251
Posted 22/10/2017 at 19:21:46
John #239 "My grandkids are too old. Can anyone lend me a 2 or 3 year old for the Leicester game. I need a lifetime ban".
John, I'm many decades older than 2 or 3 but small - take me in your arms and let's both get banned.
Clive Rogers
252
Posted 22/10/2017 at 19:22:07
If Koeman does get the chop, Walsh should also. He is in charge of transfers and that is where it has all gone wrong. Not signing a striker and a left sided CB has ruined the season and it was his responsibility. Some of his other signings are not working out, Bolasie, Klassen, Sandro, Williams and Lookman.
Kenwright also should be shown the door. He has presided over the worst 20 years in the club's history and it will continue while he is there bending Moshiri's ear. It's certain he will want Moyes back as he did when Martinez went.
Tony Marsh
253
Posted 22/10/2017 at 19:22:42
Roger do one with Moyes please.He is one of the reasons we are the middle of the road shitbabg club we are now.12 years of that defeatist twat has engrained a losers mentality throughout the place.Last thing we need is that ginger hang dog expression about the place. First thing he would say is well we are already down so let's not get carried away with trying to win games..
Just ask Sunderland fans how Moyes is in a relegation fight.
Stephen Brown
254
Posted 22/10/2017 at 19:23:21
If Koeman had any self respect he would resign! Although he won't as it'll cost him millions!
Surely there is no way back from this disaster. Unsworth can only do better than this!
What a let down!!
Joe McMahon
255
Posted 22/10/2017 at 19:25:05
After the seasons go by I am convinced Everton FC will never compete at the again and win anything. The Kenwright years have done way too much damage. Our image is pathetic e.g - "The Peoples Club" WTF does that mean? There is nothing enjoyable about Everton anymore, football has been awful for years and the stadium we watch it in is a decripit embarassing dump. Every away ground I go to has better facilities and no obstructive views.
If David Moyes ever becomes manager of this club again, after 42 years of support I will throw in the towel. I will keep to my word, I didn't go for 4 years while Moyes was manager.
Clive Rogers
256
Posted 22/10/2017 at 19:25:07
Tony, 253,
Agreed, and he is a much worse manager now than in his time at Everton. He has lost it.
Derek Knox
257
Posted 22/10/2017 at 19:26:52
John Keating, I can see the humour in that, but a lot on here won't.
You don't need a lifetime ban anyway, because Koeman will be gone soon. Not soon enough for me, incidentally.
The best but painful measure for a lot of us, is to stop going to a couple of matches, but do it in numbers, a handful will have little or no impact.
I know it's hard for a season ticket holder having shelled out, and not to go, but trust me, it's more painful to keep watching, week after week, the inept displays after spending what we could only have dreamed of, for so long, and so many lean spells.
It's almost a Catch 22 situation, football being a money orientated animal these days, unless there is a noticeable change in attendances, very little will happen.
Martin Mason
258
Posted 22/10/2017 at 19:28:00
The concept that the club has only gone downhill since BK took control is the ultimate in the rewriting of history and false news. What absolute nonsense.
Dave O'Connell
259
Posted 22/10/2017 at 19:28:02
Boycott the next home game. Koeman, get out of our club now!
John Keating
260
Posted 22/10/2017 at 19:28:35
Right now I couldn't give a shit who we bring in as manager including Moyes, Benitez, Allardyce, anyone !!
We are in deep shit and our only priority should be to get rid of the manager and stop the rot - if possible.
Nobody could be worse than this clown.
But hey, according to some leave him in and when it gets so bad bin him. When 6 games to go ?? 10 games ?
This guy will never change. He can't change. Apparently one of the best defenders the world has seen can't organise a defence.
The longer we leave this the more difficult to get out of the shit.
Tony Williams
261
Posted 22/10/2017 at 19:29:34
The trouble is that the majority of the supporters like me are season ticket holders and are committed to going even to watch rubbish. If only 5,000 turned up at the next game, the board would do something then, which begs me to ask the question. Are we bad supporters going when they are serving up these disgraceful performances?
Martin Mason
262
Posted 22/10/2017 at 19:30:50
Surely Chris Hughton is the man to take on?
Denver Daniels
263
Posted 22/10/2017 at 19:32:59
I'm with Denis, If they bring that loser Moyes back, I'm done.
Brent Stephens
264
Posted 22/10/2017 at 19:33:23
"Surely Chris Hughton is the man to take on?"
Whatever you say, Martin. Whatever you say.
David Johnson
265
Posted 22/10/2017 at 19:33:35
Martin Mason #225 Behave yourself.
Ray Robinson
266
Posted 22/10/2017 at 19:34:27
Derek #257, bang on. To me the only "happy clappers" on here are those that continue to go to the game - and that includes me, I suppose. However, the other side of me thinks, pathetically, that my presence and support will help change things for the better! As if? So unless Koeman has gone by then, I intend to boycott the Atalanta game. It'll be a dead rubber and it's one way I can protest without my absence having some butterfly effect on our season. It would however make the Board sit up if the attendance became a protect tactic.
Steavey Buckley
267
Posted 22/10/2017 at 19:34:57
On current form, Everton would have to be the worst team in the premier league, yet, RK believes he can turn it around - not with the players he has brought in. Everton are going in one direction at the moment, towards the championship; even though RK has spent a record 220 million pounds in 12 months. If he was a gambler at the roulette wheel he would still spend the same amount of money, by throwing good money after bad.
John Keating
268
Posted 22/10/2017 at 19:36:30
The guy who got banned. The little fella, he didn't get a ban too did he ?
If not I vote the wee man to take over from Koeman, he surely could do a better job !
Clive Rogers
269
Posted 22/10/2017 at 19:37:26
Martin,#258,
It is the worst 20 years in Everton's history, fact.
It's you that is trying to rewrite history.
David Barks
270
Posted 22/10/2017 at 19:37:44
Martin,
You're absolutely full of it and this site should do something about you. BK joined the Board in 1989. He then maneuvered to seize total power in 1999. During his nearly 30 years on the Board and nearly 20 years owning the club and as chairman, Everton Football Club has faded into obscurity. No league titles since he joined the Board. No trophies since he became Chairman.
Those Martin, those are facts. We are still in the same decrepit stadium while clubs both below and above us have moved into new stadiums. We are now in the relegation places.
Clive Rogers
271
Posted 22/10/2017 at 19:40:03
The buck stops with Kenwright. He is the chairman for God's sake, supposedly.
Soren Moyer
272
Posted 22/10/2017 at 19:40:06
Chris Hughton!? Are you joking? Lets get rid of this fraud first. He faund out by valencia once but I don't think our greedy board will sack him soon, no matter what. We need an early spring clean from top to bottom.
Sean Bowman
273
Posted 22/10/2017 at 19:40:09
I agree with Martin, 258. Kenwright could have sold out for us to become a Portsmouth, Birmingham etc but didn't. He sold Everton the club to Moshri as he believed Moshri was right for Everton, As for Moyes coming back, I don't want him back, he had flaws but only spent what he could raise in transfer fees. For all his faults Moyes put Everton back on the map in my humble opinion. You have to remember where we where when he took over. Before you say anything, I know his record against top teams away from home was poor. Moyes is not the answer, but Koeman isn't either!
Oliver Brunel
274
Posted 22/10/2017 at 19:41:07
I am very concerned that we will be relegated on this form. No doubt about it. Theres no spirit or fight in that team, the entire set up from top to bottom is mercenary.
Darren Hind
275
Posted 22/10/2017 at 19:43:01
When you say Positive Martin . . are you saying you hate the manager in a positive way ?
Which part of you is positive ? the bit where you call people who criticise the manager "whingers" or the bit where you tell us you yourself have been on to him all along and he is useless ?
Perhaps its the part of you who hates Koeman (a truly bizarre statement) . .or maybe it the bit that want to see him given more time.
who knows ? but when somebody wants to represent all sides of the house, its generally because they are looking for argument rather than debate.
Still as long as your positive eh ?

Mark Murphy
276
Posted 22/10/2017 at 19:44:30
Martin your Brighton fan mates sound better than mine. They are intolerable and I find myself rooting for Palace these days!
Re Everton - I'd let Unsie take the reins now while we do a proper job of selecting the next man. Unsie would set us up right for the dog fights we need to win to avoid relegation and he wouldn't owe any of the Koeman signings any loyalty to shovel them all into the same side. If he can get Barkley back on board we have the players to finish lower mid table and see what next year brings.
If £10m is the cost of losing Koeman then so be it! I'd rather that than let him spend £10m on another number 10 come January!
Tony Abrahams
277
Posted 22/10/2017 at 19:45:45
If Kenwright would have sold out, it would have meant him relinquishing the thing he cherishes the most.
Oliver Brunel
279
Posted 22/10/2017 at 19:51:08
I think the board will keep Koeman til January and get a striker in. They won't want to pay him off with 10million. Then they will look at Koeman with a striker. I disagree but I believe thats what they are planning.
Kim Vivian
280
Posted 22/10/2017 at 19:51:24
Good, John #239, good. First time I've laughed since 3:20 (when Oumar netted).
Brian Williams
282
Posted 22/10/2017 at 19:51:52
I'd let Unsworth take over with immediate effect and tell him he's initially got 'til the January window. If he does really well give HIM the funds to make the required signings and then give him 'til the end of the season.
If he continues to do well 'til the end of the season give him a further two years at the helm.
If he hasn't done well enough by the January window, during which time the board (don't laugh) should have identified Koeman's replacement, then get the new man in and give HIM the necessary funds.
The most important thing IMO is to have options, or a plan for options, something which we've been shit at a la Giroud.
Derek Knox
283
Posted 22/10/2017 at 19:52:08
Thanks Ray, but a one, two, or three man protest will achieve absolutely zilch. It has to be of some magnitude, to be noticed, and hopefully acted upon.
They used to have a saying in the States, that the consumer is king, and in all fairness to the Americans, they appreciated the sheer power that people possessed by sheer numbers, and also Americans would boycott in numbers, purchasing products that had a huge price hike for no apparent reason, other than profit.
I draw a parallel from that, to what is happening at our Club now.
Brent Stephens
285
Posted 22/10/2017 at 19:52:52
Martin "The idea that EFC has faded into obscurity is also absolute nonsense. We are in the top league in the world and in the top 20 clubs in the world based on turnover. Like most fans you confuse lack of trophies with success as a company."
So we're in the top 20 based on turnover, and successful as a company, trophies not being the measure of success. Well, the annual statement of accounts must be your FA cup final. I bet you have all the videos of those accounts. All signed by Bill.
David Johnson
286
Posted 22/10/2017 at 19:53:57
Kenwright Out.
Damian Wilde
287
Posted 22/10/2017 at 19:54:08
I'm not going to any games outside of my ST games, waste of time and money.
Unsworth for me. Played at the top level, won a trophy, played for Everton. Coach at Everton. So he knows the club and the players inside out (a big help).
Successful coach. U23s won the Premier League 2. Brought through many good players. First team played great when he was care taker boss. No compensation, not a huge wage.
We've tried fancy dan foreign managers and it hasn't worked, time for a change.
If Konman isn't gone by tomorrow I'll be livid.
David Israel
288
Posted 22/10/2017 at 19:55:58
Joe # 255, I understand your frustration, but I would only stop going if Walter Smith was brought back. And even then...
I agree that 'the People's Club' slogan does show a diminishing ambition and outlook - and it was David Moyes, after all, who first uttered it, which rhymes with his announcement on being appointed Sunderland manager that they would be in a relegation scrap! Not that the good people of Merseyside who support Everton have anything wrong about them, of course, but it all sounds like a once great, proud club, now branding itself as some sort of Millwall FC (bar the 'bad temper', thank God).
Darren Hind
289
Posted 22/10/2017 at 19:57:27
Martin
I am very happy to be called a whinger I've spent the past year whinging about this manager would hate to think nobody noticed. . not sure how one screams on the internet though . . perhaps its because I simply think he is a crap manager and want him gone and cant bring myself to "hate" him like you do
Andy Crooks
290
Posted 22/10/2017 at 19:57:34
I used to say that kenwright lived the dream on the cheap. Now he has made money, substantial money, and still lives the dream. He will see us relegated and he will still live the dream.
Some posters say that he has done nothing illegal and has made a legitimate profit.True, however, I would suggest that he is, and I do not say this lightly, not an Evertonian. He is, in my view, a fantasist who has dragged our club down.
Tony Stanley
291
Posted 22/10/2017 at 19:57:38
The truth is Everton Football Club are bigger than any player or manager that have been at Goodison, the board must put the Club First.
Tony Abrahams
294
Posted 22/10/2017 at 20:05:32
I actually don't feel that bad tonight, my daughter is making me laugh, because she's telling me she's still a toffee, even if she is way too young to understand, which is something I sometimes feel is something that you really lack Martin, UNDERSTANDING.
KEEP KOEMAN, BECAUSE HE DOESNT DESERVE HIS PAY-OFF? Let's carry on with him in charge, and hope that we don't get relegated, because that would cost the club, a fucking fortune.
There would then be no need to build a new ground, even though your mate Bill, has let Goodison, go to ruin, but you actually still feel quite positive?
No wonder I call you the duke mate, talking heads on ToffeeWeb, screaming "stop making sense"!
Christopher Marston
296
Posted 22/10/2017 at 20:11:29
How the fuck is this guy still in a job tonight??!!!! Any other club would've fired by now...why are we so fucking full of weak shits!!! I'm unleashing fury tonight...
Oliver Brunel
297
Posted 22/10/2017 at 20:12:01
Gentlemen please…! Lets not lose sight of the real villains here..Kenwright and Co.
John Keating
300
Posted 22/10/2017 at 20:14:27
David Barks. There are obviously lots of pluses and negatives of being a reptile. If I had time I would list them.
However one positive springs to mind. Should you have an extra long tongue I suppose you could remain in your seat at half time while your tongue whiles its way to the food stall to devour a tasty pie.
One negative though, should you ever guest on "Who Do You Think You Are" you may have to be on at least 3 shows as your ancestors go back about 300 million years.
Oliver Molloy
301
Posted 22/10/2017 at 20:15:01
The sale of Lukaku and not replacing him with quality is there for all to see.
This was the biggest mistake those in control made.
Koeman tried to convince Lakuka to stay ( more so than the board ) , but Lukaku wanted to leave and he and his agent expected Kenwright and co to keep their gentlemans agreement which we all know was if Everton did not qualify for CL he would be allowed to leave if a CL club bid what the club valued him at which was £100 million and they couldn't even get that right !
Koeman is blameless for this , but he's not for the mess we are in right now , he's the manager and he has to find a way to compete but the selections are all over the place.
For me , he has to field a side for a period that will at least get to know what the fuck they are doing!
He has switched and changed so many times desperately trying to find a formula that works that it is having the opposite effect.
Today's game changed with our two bookings , Williams and especially Gueye both players are on their tip toes after being booked and this really stifled Gueyes effectiveness .
The ref seemed to be falling over himself to please Sanchez who should have been booked for his continued winding up ar every free kick we got ( obviously a game plan to put Sigurdsson off ).
No excuse for lying down and in the end that's we did today.
Never was there a more true statement in football that you find out who wants to play for the club when you are 3 nil down other than 3 nil up.
Senior players that are past it.
Baines , Jags , Rooney , Mirallas , Williams ( at least the latter two will get stuck in ) but that's not enough.
Players not good enough.
Martina ,Sandro , Lookman , Niasse , Schneirdln ,
Still to prove their worth.
All the rest.
I think we will find again we are a selling club come January if it's true that Arsenal are will to pay 30 million for Gueye.
David Barks
303
Posted 22/10/2017 at 20:21:04
John,
That is a great point. Another positive to being a reptile would be financially. You hardly have to eat, that would save money at the grocers.
But alternatively you are in a very vulnerable state immediately after eating that massive meal and when shedding skin.
But flip that again, free skin treatments!!! Imagine what the Khardashians would pay to have a natural facial every month or so!!
Bill Gall
305
Posted 22/10/2017 at 20:23:00
As a glutton for punishment I watched the game again on a recording hoping to find some consolation for what I had seen earlier after calming down. Verdict, (a) doubt very much if Everton would have won this game as effort can only take you so far, but with 11 men on the pitch they may have kept the score down. (b) aware of the way he plays the manager was at fault for leaving Ghana on after 15 min into the second half and (c) I am sorry but with more chopping and changing the manager does not have any idea who the best players are in any formation he plays.
I was one of the supporters who did not want Martinez hired but was surprised how he started but was glad when he was found out and fired. In Koemans case I was happy he was hired but now it seems he has shown up quickly he is just as bad as Martinez ended up being, and I cant see him turning things around.
I may now live in Canada but I get to see every game through various links. M y support of Everton started in 1952 when I played on Goodison as a schoolboy and continued onto the boys pen then to Gladys Street and finally as a season ticket holder in the paddock.
As I stated I now live in Canada and have spent a lot of money coming back and forth always during the football season and have seen some some good and bad managers but I think Koeman alongside maybe G.Lee that has been poor from the start, and I now believe if the board don't react quickly, they are burying their heads in the sand and could end up as the first board to oversee Everton relegated.
As supporters we can only write up complaining and some of you may stop going to the game, but to be honest, if I still lived in Liverpool, as a supporter I would still go. The only thing we can hope for is for the owner and chairman to realize how bad the situation is and rectify it sooner than later.
Brian Williams
307
Posted 22/10/2017 at 20:24:25
Was it on this thread that someone questioned whether you should have a say if you don't go to games?
That questions not in relation to your post Bill.
David Barks
308
Posted 22/10/2017 at 20:25:52
Brian,
I believe a certain someone did imply that, yes.
Brian Williams
309
Posted 22/10/2017 at 20:27:22
Does the person who asked it go to the games David?
David Barks
310
Posted 22/10/2017 at 20:28:34
Brian,
Perhaps he goes in spirit? Maybe he is there, channeled into the aura of Kenwright?
Oliver Brunel
311
Posted 22/10/2017 at 20:30:57
What about Ranieri?
Bill Gall
312
Posted 22/10/2017 at 20:31:07
Brian I think you may find that their are a lot of supporters who have to travel long distances to get to the games, and with Xmas coming up they may wonder if it is worth the expense.
Brian Williams
314
Posted 22/10/2017 at 20:31:51
Anyone else just received their email inviting them to log in and see the post match analysis? Near choked on me hobnob.
Brian Williams
315
Posted 22/10/2017 at 20:33:43
Bill. I don't travel far mate and I'm wondering the same myself, though I guess I'm a complete masochist!!
Colin Glassar
316
Posted 22/10/2017 at 20:34:50
The yob who tried to punch the French players would do a better job than Ronald McDonald.
Is it true he's the same kid who had a go at Nyarko all those years ago?
Jay Woods
318
Posted 22/10/2017 at 20:37:18
Moyes returning would be utterly unacceptable. Anyone suggesting otherwise should be horse-whipped - literally.
I and others have said this for years:
While Bill hangs around the club the toxin will never be purged.
Hence I argue, if it gets rid of that old luvvie parasite and his entourage once and for all, I would not just tolerate relegation. I would embrace it.
James Marshall
319
Posted 22/10/2017 at 20:37:36
I've had a shit week, utter shit and this result has really put the icing on the cake. I've gone from despair to God knows where at the moment. I was lucky enough to miss the game and oddly looking forward to MOTD later just to see how awful it was.
My mate, a lifelong Gooner messaged me to say that he never looks forward to them going to Goodison, but today we were the worst he's ever seen in 40 years of watching Arsenal play us and that it was so easy for them he couldn't believe his eyes.
Says it all really.
Martin Mason
320
Posted 22/10/2017 at 20:39:20
Brian@309, the person who suggested this has watched Everton since the late 50's and, after decades of going to nearly every game, doesn't go much now because he lives 300 miles away, has until just now worked away and looks after a handicapped daughter.
You'll notice that I don't have my say just putting the club down as some of you city based "fans" do but defending it where that is appropriate.
Oliver Brunel
321
Posted 22/10/2017 at 20:41:46
It's probably the worst football I have ever seen at Goodison my first game as a kid was 1973.
Tony Hill
322
Posted 22/10/2017 at 20:42:15
The frustration (and the reason for some hope) is that you can see flickerings of a good side in all of the mess. I thought we did well actually for 20 minutes, especially down our right with Vlasic prominent and we've had little passages like that now since the Man United defeat.
Of course, the problem is that we fall apart for the rest of games and one of the main objectives we must have is the acquisition of a hard, controlling football intelligence on the pitch. It could be a player with only 2-3 years or so left in him but it would make a massive difference.
Some may have thought that Rooney would fulfil that role but he's not that sort of player.
Anyway, Vlasic is a continuing source of joy to me. When he develops a bit more stamina, and when he's in a confident team, he will be excellent. That dribble in the first half was a piece of gold in the surrounding darkness.
Derek Knox
323
Posted 22/10/2017 at 20:44:22
Bill Gall, you have a few years on me, but not that many, in supporting our once fine Club.
This is what makes the irony, we have struggled for many years financially, post the Moore's input, but at least for the most part, played with pride and passion.
The one time we get a serious investor, and the money has been more or less frittered away, on overpriced players with little passion or commitment, by inept management.
Football these days, is all about profit, mainly to satisfy investors, certainly not the fans, we are secondary in that for sure.
I blame Sky for a lot of that, but not wholly, because greed has allowed them, to have so much influence.
James Marshall
324
Posted 22/10/2017 at 20:44:46
I read the BBC writeup after the game, and they seemed to think Rooney is the only player we have with any intelligence. He may not have the pace he once had, but it's probably a fair comment given the way the rest of them charge about like headless chickens chasing shadows.
Christopher Marston
325
Posted 22/10/2017 at 20:45:05
Rumours hitting the Internet that he's gone. I'm keeping my fingers crossed!
Paul A Smith
326
Posted 22/10/2017 at 20:45:15
This is a very awkward situation for everybody now. Even the most diplomatic composed genius Evertonian must surely be fed up by now.
The worry for me now is when do we react?
All season and towards the end of last I lost faith in the club and Koeman, sometimes having a pop at fans for the lack of ambition too. Its time everyone stressed in whatever way we can, what kind of club we want to be.
When we know Barkley and Lukaku are offered shit deals that are made to be knocked back we should have all seen the writing on the wall.
Giroud again on Arsenals bench makes it plainly obvious to me we didn't offer him what he wanted.
I have just seen the worst Arsenal side in 15 years beat the most confused slow looking Everton side I have ever seen. And in 2nd gear almost.
The club has spys looking at ToffeeWeb, ToffeeTv Twitter etc. The echo gauge all their Everton opinion from Twitter. Let them know what we want as fans.
Andy Crooks
327
Posted 22/10/2017 at 20:45:51
Jay, your suggestion that anyone advocating the return of Moyes should be horse whipped is brilliant. But it is the "literally", that made me laugh out loud.I don't know why but I just love that post.
Dave Lynch
328
Posted 22/10/2017 at 20:47:29
That's an urban myth Dave.
David Barks
329
Posted 22/10/2017 at 20:50:23
Paul,
You just need to remind yourself that success in football is not judged by league position or trophies. All that matters is that we play in the richest league in the world and have a fairly high valuation due to premier league TV rights. I hope that makes you feel better.
Oliver Brunel
331
Posted 22/10/2017 at 20:52:46
If things don't change shortly I think it will get ugly both inside the club and with the fan base. I would expect a 'Nyarko' moment which would force the club to act.
James Marshall
334
Posted 22/10/2017 at 20:58:02
Christopher@325
I can't find any such rumours bar some bloke on Twitter saying it'll be Unsworth & Ebrell till the end of the season.
John McFarlane
335
Posted 22/10/2017 at 20:58:41
Hi Dave, [191] you and I have experienced the despair of relegation, and I never thought we would do so again, despite the Wimbledon and Coventry City close shaves. I have never called for the head of an Everton Manager in the 69 years of my "Loyal support" and I hope that either the Board or Koeman himself, prevent me from doing so now. The sad thing is that after only a quarter of the season completed, there is an air of despair and despondency, and the only remedy at this early stage is for the powers that be, to relieve the current Manager of his responsibilities. I say let those who wish to withdraw their support [as some advocate] do so. I for one will continue to support the Club, because isn't that what supporters do? I appreciate that you and I are of a different generation, and the only time I'll break a lifetime connection with Everton Football Club, will be when I'm unable to attend, and I suspect you may feel the same way. If you still have my phone number could you give me a call and we can arrange another get together ? On the way home from the match I was twiddling with the train tickets, Josh's read "Get a third off rail fares" and mine [ironically], Samaritans. "We don't just hear you, we listen" I bet the lines are busy.
Ian Tunstead
336
Posted 22/10/2017 at 20:58:57
Be careful what you wish for because you just might get it. I didn't want Martinez and I didn't want Koeman, I knew exactly what was going to happen, between the 2 of them they have undone 10 years of good work done by Moyes when he had next to nothing to spend and they have spent millions and put us right back to were we where when Moyes took over.

Moyes is a good fit for Everton we must get him back or take a chance on Unsworth or we are going down. The damage might already be done, there might be no recovering from this.
Tony Hill
337
Posted 22/10/2017 at 21:01:34
James (#324), no question Rooney is an intelligent player but I'm thinking of someone who'll do a job like Cambiasso did for Leicester, or like Defour is doing for Burnley. Anyway, it ain't happening any time soon.
Dennis Ng
338
Posted 22/10/2017 at 21:02:16
James, found an article from SI suggesting Moyes. That would be doomsday if true.
Graham Coldron
339
Posted 22/10/2017 at 21:02:39
I'm one of the fans who travel a fair way to go the game as I live in Blyth which is north of Newcastle -each game is a six hour round trip but I wouldn't change it for anything .
John Keating
340
Posted 22/10/2017 at 21:02:56
Tony 322 Sorry mate I see absolutely zero flickering so of a good side.
Like you I also saw a good 20 minutes, however , my 20 minutes was the pre match warm up. Even then Rooney, Sigi, Vlasic and the Dutch lad were going for the same cone
Ian Riley
341
Posted 22/10/2017 at 21:03:50
Hate getting hammered on a sunday with monday and work. No recovery to have a day of being miserable. Longing for international break! Started to feel for koeman, not the ten million pound cheque but the look of a man who has run out of ideas.
Let's face it we have all been there when your voice to your team is about as welcome as a fart in a space suit. Sometimes a new voice in the changing room will bring better results. Let's hope so.
Oliver Brunel
342
Posted 22/10/2017 at 21:06:17
It says a lot about a club when they over water the pitch and their own players slip over….
David Barks
343
Posted 22/10/2017 at 21:06:27
John,
I still think a lot of this is down to the team being changed every single match. Players are brought in and out of the team in different combinations, formations and positions every single week. It's insane. Imagine trying to do your job if each day you were told to do something completely different with different people. It's hard to form any understanding and rhythm in that scenario.
Chris Watts
344
Posted 22/10/2017 at 21:11:10
The tone on here is getting more and more personal and I think it's because there is real anger about Koemans leadership and where it is taking the club. Surely on ToffeeWeb we need to stay united and dignified.
Paul A Smith
345
Posted 22/10/2017 at 21:11:29
Cheers Dave just kissing my sky remote goodnight before checking the Deloitte and Touche Tables. 😉 Looking forward to the corporate transfer window too, see which director we can entice from one of the countries leading companies into an advisory role somewhere within our London office.. Moshiri knows what is best.
Kevin Molloy
346
Posted 22/10/2017 at 21:13:59
Time is up for Koeman no other club in any league in the world would put up with these results and style of play. The whole club is soulless at the moment that lays at the door of Kenwright and co. If you can't make the tough decision in the tough times don't be in charge. This is not a soap opera Bill there will be no happy ending time to pull the lever on the trap door and put us all out of our misery.
Oliver Brunel
347
Posted 22/10/2017 at 21:14:03
We desperately need Barkley back asap. keeping him now is totally essential.
John Keating
348
Posted 22/10/2017 at 21:19:26
Oliver 342. Hopefully next game they'll put the sprinklers on earlier and call the game off due to a waterlogged pitch. Only way we won't lose.
Brent Stephens
349
Posted 22/10/2017 at 21:19:30
Oliver, we were saying at the game today that we need Ross back to open up defences. Given the energy and movement of DCL, I could see them working well together.
Christy Ring
350
Posted 22/10/2017 at 21:25:32
Brent 349# I said it today watching the game, we're crying out for Ross, all the criticism he got, but I'd love for Koeman to go and Barkley to stay.
Andy Crooks
352
Posted 22/10/2017 at 21:26:02
Ian, # 336, I can recall your robost defence of Moyes. To have him back would be appalling. He betrayed the club and has been exposed as a second rate nonentity. He is a wealthy man who has won not a fucking thing. He should be consigned to oblivion. Scotland deserve better never mind Everton.

Brian Williams
353
Posted 22/10/2017 at 21:27:33
Agree re Barkley. Said the same to the guy next to me. Ross has his weaknesses but he does run with pace and power and.puts the opposition on the back foot, something we sadly miss.
Neil Cremin
354
Posted 22/10/2017 at 21:33:13
It I not just Ross all Koemanns cold shouldered players like Niasse, Mirallas and McCarthy to name but a few should be re instated. It is obvious as the noe on you face that Koemann has alienated too may players.
Laurie Hartley
355
Posted 22/10/2017 at 21:35:21
Down to post 200 so far - Tony we can borrow the money. Back to the thread.
David Booth
356
Posted 22/10/2017 at 21:38:17
This really is the end, isn't it?
He is a dreadful manager - on and off the field.
And such a coward too: bringing in Kenny to bow to fan pressure, but playing him in a back five, with Gana in front - so ALWAYS six defenders in the team.
Go. Now. You Dutch dunce!
Oliver Molloy
359
Posted 22/10/2017 at 21:46:41
I agree that Barkley would indeed make a difference to our team right now as would Seamus Coleman and Bolaisse , the latter two are working extra hard to get playing for the club again ,but does Ross Barkley want to play for Everton again?
Colin Glassar
360
Posted 22/10/2017 at 21:48:09
McNulty is giving it to Koeman, and the board, with both barrels tonight on the bbc. Damning indictment of gross negligence.
Paul A Smith
361
Posted 22/10/2017 at 21:48:21
Be nice to see a top football character come in and lift the squad with a real backing from the board. Starting with a new Barkley deal and a promise the sides above us need to fight hard to take our best players.
Andy Crooks
362
Posted 22/10/2017 at 21:54:10
There is not another club in any division of English football who would not have acted by now. Liverpool, and I despise that club, would have fired him by now. We are actually looking ridiculous. Mr Moshiri is presiding over a laughing stock. He has allowed kenwright to make him look funny. Throw Jim White into the mix and he looks like the sad kid who buys friends.
Paul Holmes
363
Posted 22/10/2017 at 22:01:51
I for one gave Barkley loads of stick last season and thought he needed moving on but fuck me he would walk into this team !.I honestly don't know where to start with this team of misfits,we are in free fall.Any ideas post them as I cant see where the next win is coming from,we -11 goals already after just nine games,Palace are the only team that is worse,fuck me we are that bad !.
Paul A Smith
364
Posted 22/10/2017 at 22:03:13
https://youtu.be/ffUh9uUrRpE Andy Gray, Trevor Francis, John Collins talking about todays game. Collins absolute bang on about recruitment.
Ian Tunstead
365
Posted 22/10/2017 at 22:05:24
Andy, more appalling than the situation than we are in right now? More appalling than the calls for Benitez an ex red shite who called us a small club and looked down his noes at us? More appalling than the corrupt Sam Allardyce who is just an inferior and more direct football version of Moyes?
Moyes never betrayed the club or certainly not as much as Rooney betrayed the club and we have took him back with open arms on mega bucks while he stinks the place out most weeks. Moyes owed us nothing. Once he left Everton his responsibility was to Man Utd just as Rooneys was when he was kissing the Man Utd badge when he scored against us. Moyes gave us back our pride and our self respect and built the foundations to the fantastic training facility and youth set up that we are benefitting from today.

And how has he been exposed? Man Utd have hardly set the world alight since he left and they have spent 100s of millions more, some of their best players are Moyes signings and he never even got the chance to build the defence which is his strength. Sunderland were already for the Championship before he got there, Big Sam pulled off a miracle keeping them up in the first place, there was no way 2 miracles were going to happen in quick succession to the same team. Cant comment on his Spanish experience as I don't follow Spanish football.
Ian Tunstead
366
Posted 22/10/2017 at 22:21:16
Just to add Andy, Sunderland ended the career a few promising managers some that many fans on here wanted to replace Moyes. And if anything Moyes didn't betray us, it was the fans that betrayed him, certainly many of them on here who were constantly calling for his head.
As for the Arsenal game, when I saw Gana get booked I thought to myself Gana and Williams who was also booked needed to come off in the second half, it was inevitable that one of them would get sent off, it always happens. If I knew this was going to happen then how can a professional football manager not see this coming, it wasn't like we didn't have other good options on the bench. Koeman has to go immediately.
Chris Butler
367
Posted 22/10/2017 at 22:25:05
The problem he just didn't have any real plan when he came into Everton. It's seems we just went out and bought people, with no real idea of whether we needed them or not. We needed wingers, at least 2 strikers and a new left back. We didn't need Klassen or Sigs, we had 7 central midfielders going in to the transfer window. Both Keane and Williams have been awful, since arriving at Everton. Koemann has to go, but I'm not sure whether that will change much. We have DCL who hasn't scored a premier league goal leading the line.
Neil Copeland
368
Posted 22/10/2017 at 22:32:57
If EFC and the Echo do indeed check TW for fans feedback we should send a message. Can each of us type a simple "Koeman Out" message and see what happens? No problem if you don't agree, need to try something though.
Neil Copeland
369
Posted 22/10/2017 at 22:33:28
KOEMAN OUT
Declan Martin
370
Posted 22/10/2017 at 22:33:37
I'm with Ian #336
Moyes came in and saved us from relegation and took us up to 7th with no money.
Koeman has taken us from 7th to the drop zone with buckets of money.
John Pierce
371
Posted 22/10/2017 at 22:48:23
Given myself a little time to refocus and calm down after that hosing from Arsenal.
The inevitable change of formation, the predictable chopping of personnel.
The notion of using a possession based 3-5-2 against Arsenal was laughable.
As Rooney scored it barely registered with me as the start we made had all the hallmarks of a hiding.
Our ball possession was lamentable, and Gana was running around the village telling everyone their house was on fire.
Going to ground looks amazing, but it also attracts the eye of the referee. Once on a yellow neither his teammates nor Koeman tried to help Gana calm down.
True indiscipline and the game, probably already over, drifted away with his red card.
The fact Moshiri & Kenwright had their pants pulled down and throughly rodgered on global tv you would hope might compel them to act?
I can only hope they decided after the game and paused to sleep on it. Get all the ducks in a row and fire him tomorrow.
Thoroughly ashamed of that game today.
Paul A Smith
372
Posted 22/10/2017 at 22:48:44
Neil 368 trust me mate they definatley check Twitter and Ian Doyle from the Echo was interested in my tweets on a couple of occassions before I quit that braindead site.
He openly admitted they watch fans reactions and opinions. Which I suppose is natural though very hasty for a professional newspaper.
Matthew Williams
373
Posted 22/10/2017 at 22:49:56
Football can be ironic... imagine Ranieri in our dugout to face Leicester?!
Dan Walker
375
Posted 22/10/2017 at 22:55:09
I can't see the argument of anyone who thinks it's "too rash to sack Koeman".
TIME: The guy has been with us for about 16 months. He's had all of that time to impose his methodologies, his tactics, formations and discipline into the fabric of the club. Either he hasn't succeeded at doing that, or he has managed to do it and it's just plain shite!
RECRUITMENT & SQUAD BALANCE: All the players Koeman and Walsh have recruited should've been recruited to slot into the planned system and formation. How can anybody explain the three or four no.10's that Koeman constantly tries to shoe-horn into a team with no width? And that's without even considering Barkley, who's yet to come back from injury. A major mistake was made by not signing a replacement for Lukaku and there are at least a couple of other glaringly obvious holes in the squad.
JUDGEMENT: I seem to remember in one of Koeman's first interviews as Everton boss, he said something along the lines of "I need 2 or 3 transfer windows to shape my team. Judge me after that" . Well, we're in that position now and it's not pretty!
Neil Copeland
376
Posted 22/10/2017 at 22:57:14
Paul, thanks. I really do not like the idea of chasing a manger out of the door but have reached the point where I see no other option, as shameful as this is. I just hope that Mr Moshiri actually takes some notice and acts very soon. All of us including Ronald Koeman need this farce bringing to a swift conclusion.
George Stuart
377
Posted 22/10/2017 at 23:00:58
James Marshall (319), and your supprised Gooner mate.
Before the game 'Pip' Neville opined that when at Everton he loved it when Arsenal came to town because he knew they hated it.
But this time he didn't get that feeling.
I predicted 4-1.
My Missus predicted 5-0.
Who knows the most footy eh ?
Paul A Smith
378
Posted 22/10/2017 at 23:05:18
Neil, no worries I do see your concerns. I am the same mate and I don't like hate campaigns, its more about the long term ambition from all of us.
Can we keep accepting poor results for instance? Do we as a fanbase accept selling our best players and at a great young age is a great plan?
Now everybody has experienced it (again) And while the need for action is there, surely everyone can voice their thoughts on the reasons.
Or we could carry on being acceptable forgetfuls after a derby win or some other small joy.
Tony Marsh
379
Posted 22/10/2017 at 23:07:14
We all know about Bill Kenwright is about we have done for years. The longer this ridiculous situation with Koeman goes on the less favours Moshiri is doing himself.I have had my doubts about the Iranian once Lukaku was allowed to walk away so easily for less than the going rate. Since then Moshiri has proven me correct and turns out he is a bigger Gobshite than Bill.
Koeman won't fall on his sword and lose his money and the board won't sack him so I guess we are doomed. Fucked over by Bill and his mouthpiece billionaire buddy. I was concerned about the lack of movement on the stadium a few months ago but now I think we all know that's gone. Forget any thoughts of Bramley-Moore... fighting off relegation is the main focus now for the supporters. Moshiri is just like Kenwright – full of shite.
Tom Bowers
380
Posted 22/10/2017 at 23:09:38
Just look at what has happened. Koeman is moulding a team that is a shambles.
If we saw some evidence that they are turning the corner it wouldn't be so bad but it's the exact opposite.
He took over a team that wasn't half as bad as this, then was given money to bring in new talent. Along the way he knew Lukaku was going, deep sixed Barklay and Niasse for whatever reasons and has failed to compensate. He appears to have lost touch with reality never mind the players and at this stage he has to be seriously under the gun.
Surely no more than a week or two Moshiri ?
Jamie Crowley
381
Posted 22/10/2017 at 23:12:18
It's 6 pm on the east coast of 'Merica. I logged back into ToffeeWeb hoping to see a huge headline: KOEMAN OUT.
Nothing.
As it's 11 pm over there surely it's clear that no action will be taken this evening.
I'll check again around 9 a.m. here - 2 p.m. over there. By two in the afternoon surely the plug will be pulled! If not, Ronnie will preside over a thrashing of Everton by a Chelsea B side.
I swear to God it just is maddening as hell. What needs to happen for Moshri to pull the proverbial trigger?!
It costs 10 million or so to axe the Dutch Ginger Twat.
How much will relegation cost us?
It's basic business FFS!!!
Brian Williams
382
Posted 22/10/2017 at 23:15:50
Put Koeman on gardening leave and get Unsworth in in the interim.
I believe that the club would have to then pay Koeaman until the end.of his contract or until he gets another job.
Doing it that way means not having to pay a large sum all at once and could posaibly save the club money.
Terry Underwood
383
Posted 22/10/2017 at 23:16:54
London 9 Merseyside 3 Oh boy
Jamie Crowley
384
Posted 22/10/2017 at 23:18:09
Brian W -
My initial reaction to that was, "that's pretty shitty."
Then I stopped, thought, and have decided maybe that's brilliant!
He's not earned a cent of that 10 million so screw it!
Neil Copeland
385
Posted 22/10/2017 at 23:21:24
As much as a derby defeat hurts at the time I would accept defeat if it meant we played well in every other game and ended up in the top 4 or won a cup or both.
I started watching EFC in 1971, the season after winning the league. Even though we were disappointing in that season I was hooked by what EFC were all about and felt very proud to be supporting the greatest club in the world.
I still think we are the greatest club in the world and no-one will ever convince me otherwise. But, wow does it hurt to see us sink as low as we are at the moment.
You are spot on, no we cannot accept this level and we need to stand together and continue to voice our concerns.

Rudi Coote
386
Posted 22/10/2017 at 23:24:49
Michael Keane is a complete waste of money. A defender who doesn't tackle. He watches the game. Useless!
Bad bad team, utter disgrace. I bet they don't even blush when their wages go in the bank. Love this club, hate this current team.
Nicholas Ryan
388
Posted 22/10/2017 at 23:29:03
Paul A Smith [326] '...Even the most diplomatic, composed Everton genius, must surely be fed up, by now '
You're right, I am!!
Mike Hughes
389
Posted 22/10/2017 at 23:37:39
Brian W - that's not a bad call.
It would pile some humiliation on RK as well.
Perhaps he would resign though I doubt he has the decency.
No doubt some PC group would consider it inhumane and a breach of human rights.
In which case we could counter sue under the Trade Descriptions Act. Football manager - really?
If the board aren't on their version of a COBRA meeting tonight we are potentially destined for a catastrophic season.
Lawrence Green
390
Posted 22/10/2017 at 23:42:22
I've been attending Goodison Park for some fifty years, I've seen some brilliant players and teams and some downright awful teams but what I saw today was a gutless heartless team who should be ashamed to wear the shirt. Only two players Calvert Lewin and Jordan Pickford were worthy, the rest of them should be ashamed of themselves. For the first time in my watching I'm seriously worried that this Everton team will be relegated. They have no heart, no desire and probably due to the manager no shape. This run is getting worse and I'm afraid not even a change of manager will be able to sort it out, the rot is too deeprooted. It looks to me that all the chickens are coming home to roost and we have not a single person at the club who can arrest the slide into the championship.
Tony Williams
391
Posted 22/10/2017 at 23:49:48
Surely it can be written in contracts that managers earn their money and not have these massive pay offs for being a failure? You would think clubs would have had some common sense after all these years. Someone should take responsibility for such stupidity.

Paul Birmingham
392
Posted 22/10/2017 at 23:52:50
I'm thinking that we are playing crap, no leadership on the pitch, no fight, spirit and guts and no belief. RK and SW must be accountable, as this is the worst team since WS, Reign of rank mediocrity and ale house football.
Forget the new ground as, some how the hype has dried up ( surprise) and our EPL survival is now everything.
No one is too good to go down. Right now we are rank and the odour of hopelessness is taking grip at EFC.
Is there a plan?
Brian Williams
393
Posted 22/10/2017 at 23:56:02
Mike#389.
The thing about it is, if I'm correct in thinking it can be done (seem to remember it being done somewhere else) is that Koeman can just take his salary until his contract finishes or look for another job and then resign saving the club from paying up his contract.
I can't see any self respecting person who wants to stay in management doing the former.
Thing that worries me is, who'd have him?
Callum McNab
394
Posted 22/10/2017 at 23:58:59
Put the fraud on permanent gardening leave and give it to Unsy for a bit. One way or another he is going to cost us, but at least if he gets sidetracked he can't do anymore damage.
Phil Smith
395
Posted 22/10/2017 at 00:00:04
Andy Crooks (68):
How can you say this isn't as bad as Martinez. At least we played great attacking football under him, or have you forgotten? We were great going forward, at least. This side isn't good at anything, except getting tanked by whoever we play!
Colin Glassar
396
Posted 23/10/2017 at 00:13:56
Jamie, the silence coming out of Goodison is deafening.
Andrew Keatley
397
Posted 23/10/2017 at 00:17:22
Why is he still in the job?
Does Koeman have clauses in his contract that would trigger fair dismissal based on poor performance?
Bottom three at end of October - might that be one?
Are we possibly waiting to sack him on the basis that we might be able to do it without having to buy out his contract?
Phil Smith
398
Posted 23/10/2017 at 00:17:29
Keane and Siggy stunk the place out today. The back four were all over the place. Less so when we played with 3 across the back in the first half. I actually thought Williams had a great first half and I was dumbstruck when he was brought off. The manager clearly dosen't have a clue what he's up to. No Niasse again. He's played about 1 game in total minutes and it joint top scorer for the team. What else does he have to do???
Sigurdsson must have kicked the ball as hard as he could for a number of passes up to DCL (who has got to learn how to head the ball!) today. 45 million? Come again. Worrying times indeed. He has 3 games to save his job. Go out in Europe and the League Cup and he's done.
Dave Bowen
399
Posted 23/10/2017 at 00:48:49
Am I missing something regarding DCL? He looks exactly what he is. A league 1 striker in the PL. Up there Rod Belfitt & Bernie Wright as 1 of the worst EFC strikers I've ever seen. Whilst Vlasic has promise, the Dutch clown should've played Mirallas. Play your best players against the best teams. BTW, it's not sour grapes, while Arsenal do play lovely football, they are the worst team in the PL for trying to get opposition players sent off.
Mark Wilson
400
Posted 23/10/2017 at 00:57:33
Just taking one small part of this utter steaming pile of shit. Hatred of Kenwright apart, blaming him for the apppintment of Koeman is just pathetic. Koeman was, and sadly remains, the sole responsibility of Mr Moshiri who wanted him from the off, was messed about by him but waited for endless holidays to be over, then put him in place at a staggering six million quid a year.
It's a bit like this kidology that there's been massive investment in the team when actually there hasn't. Or as some here insisted, that the last two transfer windows have been FANTASTIC because they got rid of all the deadwood ? Really? All that's happened is we've seen the club deliver two shite, unbalanced, transfer windows and replaced deadwood with, yes, more deadwood. Mr Moshiri has done his bit to keep the amortisation scientists happy, but in reality there has been no effective investment in the squad when it was desperately needed. Overall the net spend is only half of the additional hundred million TV windfall and don't be kidded by this talk of amortisation, it's not the best measure of an owners investment, it's a decent longer term assessment of running cost support but that's it.
Mr Moshiri has a huge part to play in this mess, from his sad approach to Comms via Sky TV to a failure to understand that relying on the sales income this year without doubling the net spend, at least, was always going to lead to failure.
Of course Koeman has been utterly hopeless. Of course players like Sigurdsson, Keane, Sandro and Klassen have been shockingly poor. Of course some of this can be laid at the door of Walsh. But my biggest shock is just how over hyped the new owner has been. Silent unless he's having fun on the phone with Jim White. I'm even starting to doubt that yet another stadium false dawn is looming. After all, Mr Moshiri has failed to spot that a disasterously poor relegation threatened team is not an attractive bet in the loan market when that puts at risk the huge influx of cash from Sky et al.
Pathetically desperate now, need to see that ticker tape headline about Koreans sacking but suspect it's not happening tomorrow, tho pray I'm wrong.
Dennis Ng
401
Posted 23/10/2017 at 01:00:36
Why is everyone mistyping koeman for korean? Autocorrect or something more sinister?
Mark, sure, blame Moshiri for getting the wrong man in rk but imo, it is now that determines whether he got the courage to steer us in the right direction. Fire rk and hire someone higher up the ladder, Tuchel or Ancelotti, pretty sure there's a few more out there better than Howe and Dyche.
The silence is what is worrying me but also keep in mind that he probably don't want to repeat the mistake IF he's truly thinking of ridding the plague that is rk. If I'm to throw another 20m out the window to change managers, money I clearly don't have, I probably want to make sure I get a man who I am confident of, and that man probably is also talking up his own value while assessing the mess he's going to get into.
Jason Wilkinson
402
Posted 23/10/2017 at 01:01:38
Did Mr. Moshiri buy into E.F.C as an expected loss? No I don't think so. He came because he has seen a way of investing 㿼m to make around 𧷤-400m as an exit plan. The major problem with his strategy is we need to sustain our place at the top table. Top 6/7 in the EPL.

Don't expect any signings in January and don't hold your breath on Bramley-Moore stadium. Neither of these will happen as Mr. Moshiri is a businessman not a fan. Blue Bill can waffle about how his mate Farhad has fallen in love with Everton. Stop falling for this bull crap.

𧵄m spent. 䀆m for Lukaku, 㾶m for Geri and ٦m for Cleverley. With Ross gone for 㿊m that would be a paltry investment in transfer fees. Wages may have gone up due to numbers but they will have been offset by sponsorship and t.v money.

Until a true football man buys the club we will never achieve success. We will be plucky little Everton.
Ray Smith
403
Posted 23/10/2017 at 01:03:29
Let's wait for Jim White to tell us what's happening in the morning.
I vowed never to listen to him on talksport again, however, if it gives us an insight from his 'good friend' Moshiri, I will probably tune in.
Paul Holmes
404
Posted 23/10/2017 at 01:05:47
Just watched match of the day 2 and the link on the bbc website by Phil Mc Nulty has a video of the team Martin Keown and Ian Wright would pick out of all the players currently at Koemans disposal.They said play Gana and Davis in midfield,Sigurdsson as the number 10,Mirallas on the left and DCL on the right,which would give Everton pace in the team and something for the fans to shout about.They said play Rooney centre forward for the first hour then Niasse centre forward for the last thirty minutes.They said Koeman is not playing the players in their best positions.I think they are talking sense as DCL and Mirallas can both run at players with pace,instead of putting one of our many number tens out wide.GREAT VIDEO by motd 2,hope Koeman watches it !.
David Barks
405
Posted 23/10/2017 at 01:08:03
Ok, now I want Koeman to stay for the remainder of the season. Let's just let it ride. Not gonna win anything anyways and if we get relegated it's where we probably deserve to be based off our ownership. Let's buckle up and hate the ride. It's what we've done for 30 years anyhow.
Dennis Ng
406
Posted 23/10/2017 at 01:10:49
LOL sudden turn David. You know you'll suffer more that way right?
Paul, he.will.never.watch.or.listen.to.anyone. When he got it right, he reverts to form after the game. That shows me that he is not learning from mistakes.
David Israel
407
Posted 23/10/2017 at 01:12:21
Brian #393, I think it was Simon Jordan of Crystal Palace who put Steve Bruce on gardening leave.
Sean McCarthy
408
Posted 23/10/2017 at 01:55:14
Lawrence (#390) what did Calvert-Lewin do exactly to be (in your words) "worthy of the shirt"?? I must be missing something because everyone seems to rave about him, Jason Cundy even said he was going to be "top drawer" whilst I see a player a million miles from even scoring who is bullied out of games far too easily. I know he's only a young lad and is still learning his trade but someone said he reminded them of a young graham sharp!! I'm old enough to remember the young graham sharp scoring spectacular goals and leading the line in the early 80s but Andy Gray finished his education for him. I don't see that prospect in DCL unfortunately.
Pickford concedes 5 yet is our best player. That says all you need to know about the rest of them!! Keane was hopeless, Baines slow and time is catching up on him quickly, same with Jags and Kenny was making his full debut and was probably best of a bad bunch at the back. The less said about Williams the better!!
In midfield Vlasic did ok apart from the 3rd goal, Sigurdsson was anonymous (again), Gana failed to offer protection to his defence and two rash challenges saw the end of him.
Rooney scored an excellent goal and managed zero other influence on the game
DCL, see above
Davies failed to get into the game which was unsurprising seeing as Arsenal were passing us to death!! Same for Lookman. Did he even touch the ball. Niasse got his name on the scoresheet but nearly managed to fall over his own feet before tapping into an empty net from 2yds but let's give him credit for still tryin and closing the keeper down in the 93rd minute but at the same time lets not kid ourselves that he's anything better than championship level at best.
Where do we go from here? Sack the manager? Maybe, but we all know he's not the only one to blame for letting lukaku go without a replacement being in the bag first. Or having alternatives in case Giroud turned us down. Until we can do something about the lack of a forward in January as well as a few other reinforcements then I fear we'll be staying pretty much where we are tonight. And that's a pretty depressing thought!!
John Pierce
409
Posted 23/10/2017 at 04:24:42
What worries me the most is the lack of scrappers in the side.
With relegation a conversation we may be forced to have, that squad has no hardened players suited to grinding games out.
A soft touch for sure.
The league cup game, if he remains in charge, likely to be given away. That will seriously make my blood boil.
Koeman and his predecessors, and the club for that matter have shown contempt for the shortest route to success.
David Ellis
410
Posted 23/10/2017 at 05:37:13
I'd bring in Unsy on Monday morning as caretaker manager. Put Koeman on gardening leave. Search for a permanent replacement. I'd love Unsy to be a success but he's not got the cv for the job so it would be a massive punt (and he's in his fifties so it's probably too late for him to build a career as manager if he leaves us..so he should probably stay at being a brilliant U23 manager).
However I do think we need a change of attitude now to start clocking some points, playing players in position etc. It's a hard squad to manage with all those no.10s (and we should only play one of them at once). I don't know why we were so desperate to get Sigurdssen. He's a quality player but where is he expected to play? It defies belief
Will Mabon
411
Posted 23/10/2017 at 06:00:02
David, our David Unsworth is 44, a baby for a manager.
Damian Wilde
412
Posted 23/10/2017 at 06:51:24
Why not Unsy? These fancy dan foreign managers haven't cut it! He has a good CV and is a Blue. No brainer.
Good article:
http://m.bbc.co.uk/sport/football/41716554
Hope he is sacked today it mihht then give us a chance on Wednesday #COYB
Daniel Lim
413
Posted 23/10/2017 at 07:01:49
Wonder if McNulty is a frequent visitor of TW or a registered poster on this site.
Whatever he says at BBC have been said on this site since September or even earlier.

Rob Young
414
Posted 23/10/2017 at 08:01:41
What are they waiting for?

Charlie Lloyd
415
Posted 23/10/2017 at 08:30:14
Paul @ 404
The team that Keown & Wright put together which was titled " Joint Interim Managers (really taking the piss!) was ridiculous.
It had almost the same front three DCL - Rooney - Mirallas as the Brighton match which Keown lambasted the week before. It also had the no Vlasic who is arguably one of our better performers presently plus Holgate at RB and no Jagielka which are 2 highly questionable decisions. However to hear them 2 clowns speak they had all the answers. The answers to our problems are not simple at all and those two with no real experience behind them certainly couldn't provide it.
It does hurt though when you become the laughing stock for the self proclaimed experts on the TV who I very much watch us week in week out. Something needs to change drastically though.
Daniel Lim
416
Posted 23/10/2017 at 08:38:35
Just watched the Rooney goal and don't think they celebrated the goal as happily as they should be, probably because it's not in the 89th minute and the players knew (hindsight with me) the lead was going to be short-lived?
Charlie Lloyd
417
Posted 23/10/2017 at 09:10:27
Daniel @ 416
I noticed the muted celebration to Rooneys goal. I would suggest not a happy camp at all unlike the positivity soundbites that have been spoken by the likes of Jagielka & Keane in recent interviews.
Why do they treat the supporters with such contempt.
Tony Hill
418
Posted 23/10/2017 at 09:19:21
Daniel, I'm not sure how popular Rooney is in the team now. There seems to be a lack of response to him but who knows.
I would give Calvert-Lewin a rest. We have to do something to create a threat to the opposition and the young man looks lost at the moment, understandably. With all his faults, I think Mirallas up front /just behind Rooney (or vice versa) is probably the best we can manage now and would be worth persisting with.
Lee Brownlie
419
Posted 23/10/2017 at 09:20:08
We are where we are, but still I believe we have some ably very good players who just need the right set-up, shape and motivation. Wake up and get it right or go now Koeman!! (And I only say 'wake up and get it right OR..' because for some incomprehensible reason he clearly isn't going ANYWHERE very fast!!).
One other thing, though.. I can't believe how some on here keep on dragging Jordan Pickford into the 'dud-buys' category! As generally perceived outside of TW, 'It's scary to think where Ronald Koeman's Blues would be without Jordan Pickford'.. and I shudder to think!!! (Ok, nuff said!.. for now.. I'm both gutted and bricking it to be honest!!!)...
Derek Knox
421
Posted 23/10/2017 at 10:09:54
I find it hard to believe that nothing has happened with the manager situation, after yesterday's embarrassing defeat. No statements from the Board, or even the old, by mutual agreement it has been decided etc.
Thinking about it thoroughly, if the Board were to make such a statement, they may deem it to be an admission of failure on their part. They were very proactive in chasing Koeman, paying the necessary compensation to Southampton, a joke in retrospect now, to procure his services.
As so many on here, and quite rightly so, have pointed out, the longer they dither on a decision, we are rapidly reaching the point of no return, well this season anyway.
Again, as many have acknowledged, including myself, the new manager will need time to turn the tide as it were, and that time, like the tide, is fastly ebbing away.
Gary Heywood
422
Posted 23/10/2017 at 10:29:32
It looks like the reason he hasn't been sacked yet is because they expected the losses in 4 out of the 5 premier league defeats so far. They'll only be convinced that they need to sack him when we continue not to pick up enough points to stay in the league against the so called inferior teams. It appears they still have the opinion that the team is just going through the process of blending and will come good and let's survive this till January and get the injured and new players in and all will be well. That's a dangerous judgement. They're not bothered about the cup results.
Kim Vivian
423
Posted 23/10/2017 at 10:33:53
I'm afraid I am seeing a side which is not, to precis, "full of very good players who just need organising".
I see a side blessed with players who in their prime would make it in to most top sides, some young players with the potential to go on to great things, and some, frankly, just average players, and are now just struggling.
Who, in our current squad, would be regular starters for City, United, Spurs, Arsenal, Chelsea or (dare I say it) Liverpool? It's quite likely that up to half a dozen of our squad yesterday would genuinely struggle to get in to the starting line up of most of the premier league teams.
The situation is now dire, and urgent steps need to be taken to ensure survival this season. Forget about the Europa league and Carabao for now - just work on league survival. The genuine threat of relegation needs to be driven home into everybody from top to bottom of the club because quite honestly I don't think they see it like that - they are seeing a slump, a blip, a "bad run" which will turn itself around. "No chance of us going down with these players" I read and hear people say.
I see a bad run which is getting worse and is turning rapidly irreversible. We are like an old building which has been subject to expensive and shoddy renovation by a bunch of cowboy builders and continues to fall into disrepair before actually falling down.
Someone, and frankly I don't care if it is Koeman, has to get this into their collective heads and get us battling for every available point but primarily fucking realise it, and get the mental attitude right.
A missive on the wall at Burnley's training ground, for those who have not seen it goes like this...
A STATE OF MIND
If you think you are beaten, you are.
If you think you dare not, you don't.
If you would like to win but think you can't...
...it's almost certain you wont.
If you think you will lose, you will have lost.
For out of the world you find,
success begins with a players will.
ITS ALL IN THE STATE OF MIND
This has to be drummed in to the players (and Moshiri take note - or learn correct use of English before speaking to J White), and somehow their spirits raised.
I said I don't care even if it is Koeman who does this and indeed I don't, but I do not think he can do it. He has to go SOON before the malignancy can get any worse and we need a thoroughly good incumbent to take the reins.
This may or may not be D Unsworth but I believe he is absolutely our best choice in the immediate future and we should replace RK with him as caretaker immediately without the pressure or expectation that it is necessarily a permanent berth. I am sure he will respect and understand that and will be willing to step aside if and when a more experienced top manager can be attracted in a few weeks.
He may, however, turn out to be God's gift. Unless we try we will never know, but whoever it is, they have got to get this bunch of misfits working properly if we are to remain in the top flight..
Point of all this (and I know I am with the majority saying this) is we are right up shit street just now and following in the footsteps of A Villa. I am pretty patient and am not one to call for sackings at he first signs but yesterday just underpinned it for me. The demeanour of EVERYONE connected with the club is utter depression - that's directors, management, players, ground staff and of course the most important, the fans.
This has to stop. I'm willing the board to act now for God's sake. I just don't know what else we ca do short of an embarrassing display of non attendance or banner waving or something at Goodison Park. I think the white flags/handkerchief thing is good. Easy to get into the ground, everyone's got something at home to use and visual enough to be heard loud and clear. Anyone agree and want to help put the word out?
Trouble is we haven't got a home game for another two weeks (probably much to the relief of BK, FM and RK).
Paul A Smith
424
Posted 23/10/2017 at 10:39:01
Jason 402 thank god there are realistic Evertonians like yourself that doesn't worry something so obvious is a negative point.
And so what if it is? The club stinks of negative.
There shouldn't be too many complaints either to be fair. We have gone from having Stones Barkley Deulofeu Lukaku sat amongst Coleman Baines Barry Mirallas Was the makings of a great squad. A billionaire coming in only had to add a couple of quality to the starting 11 and we were fine.
Instead we chose the strip possibly the best young quartet at any club in europe and buy a lower quality at low cost.
Now call this rational, positive, patient or whatever words you chose to play down the fact a fan with no professional football history could see right through the awful standard we have been twisted to.
Or are people really offended certain fans could see this nonsense for what it really is. A big con job.
The amount of times Barkleys name is cropping up lately is starting to show how fans have become sorry they went along with this crap.
I don't mind being patient for the right reasons. Not when we sell the best assets the club has to gamble on players and sign "premiership ready" has beens with no chance of getting better.
When a fellow fan writes a point off with 'Steve Walsh knows better than you' I can't bare the arrogance of that statement. Everybody on this thread knows more about Everton than Steve Walsh.
My hope is nobody takes the word of a PE teacher or a tight Billionaire after this episode and our fans start to respect each others opinions.
Now we truly know selling great young players is a poor idea. Not replacing them is sacreligious.
Colin Glassar
425
Posted 23/10/2017 at 10:52:12
Ronnie doesn't seem to be too bothered. He had a nice night out in Manchester with his mates, laughing and joking. He knows if he stays or leaves he will be a very rich man.
Kim Vivian
426
Posted 23/10/2017 at 10:53:37
And another thing while I'm wound up.
Will people stop banging on about our situation being down to the failure to get Giroud (or a.n.other) in the summer. Do we seriously think he would have stopped us conceding 18 goals so far in the league ? (I think it's 18).
We are in decay. Someone shore it up! Please!
Was thinking all this last night but was just so catatonic after that match I couldn't find the energy to post anything.
Mike Gwyer
427
Posted 23/10/2017 at 11:16:36
Sean McCarthy #408.
That's a fairly damning version of what you saw yesterday. Gana for me was Everton's man of the match, by a fucking country mile. From the first whistle he continually broke up play and was a constant thorn for Sanchez. Now when your doing all the clean up work on your own then you are going to caught out, but that did not stop the boy, he just took the first yellow and carried on doing his job. They had a four man midfield, we had fucking one. DCL is young, but he worked like a saint and on his own, ran their back 3 all over the pitch, so yes, there is a very good player waiting to come through.
Yes, I do agree that we have too many players stinking the place out but for me Siggy-Shite should of stayed at Swansea and Everton just put 10 players on the pitch. That's how much difference he makes to our team. Keane started the season well but his confidence has totally well and truly fucked off. But worst for me is Baines; he is really a liability and is continually caught out of position, making no attempt to stop crosses or put in a tackle.
Now it's fairly obvious what the problem is but you would think that playing for Everton would be enough for some players to go out and bust a gust, but no, sadly its not. At the game yesterday you noticed that not one player took any notice of what Koeman was shouting, not one of them. The P45 is probably printed but I'm guessing we still have a couple of games to go before Koeman gets handed what he fully deserves.
Phil Walling
428
Posted 23/10/2017 at 11:17:10
All the messages on tv and radio seem to indicate that Moshiri continues to have faith in our manager.
Well, it's his money and if he's daft enough to laugh yesterday off as he seemed to do, bloody good luck to him !
Colin Glassar
430
Posted 23/10/2017 at 11:27:20
He is an arsenal fan after all, Phil.
Kim Vivian
431
Posted 23/10/2017 at 11:34:41
Phil - what messages are those, and where?
Kevin Tully
432
Posted 23/10/2017 at 11:37:31
Moshiri, if you want to look after your investment, (that's all EFC is to him) put the fat old fool out to grass carrying out charity duties on behalf of the club, along with the rest of the proven failures, including the CEO.
Then bring in hard headed business leaders to run this club. I'm sure you know a few.
It's not a fucking museum, as you said, but it seems you are content with a load of old relics throwing hundreds of millions down the drain, living their dream on the back of your hard earned cash.
Rob Young
433
Posted 23/10/2017 at 11:47:09
He's out there at Finch Farm still in charge.
WTF????
That's out of Europe, bottom three and out of the League Cup before the end of October.
Fckbg bastards
Colin Glassar
435
Posted 23/10/2017 at 11:55:45
Ronnie is, literally, laughing all the way to the bank.
Kim Vivian
436
Posted 23/10/2017 at 12:07:25
Read a rumour that he is sitting in an emergency board meeting now. Anyone else sniffed that?
Christine Foster
437
Posted 23/10/2017 at 12:11:47
The man is a fraud, I said so months ago during pre season, a con man who just doesn't care. People say he is a good manager. He is worse than Mike Walker.. and he was bad. No this man is not just incompetent he is an arrogant, stubborn and bad news. He has single handedly destroyed our club stature and reputation in the Premier league.
Note to David Unsworth. Starting now, you have until the end of the season. Start preparing for a call from the chairman.
Clean sheet of paper. Begin again. What have we got, what do we need.
Decide who to keep and who to sit on the bench if they are lucky.
See what you have and make a plan to use THEIR best skills in THEIR best position. Simples.
Light a fire under some backsides, put an arm around those who have been nailed to a cross, bring back in those you can use, even if its only short term..
Give us back a little hope because there isn't a flicker under Koeman and unless that changes its a gross dereliction of care and duty by Kenwright.
Note to Kenwright. Bet you wished you had sold all your shares now?
Stop trying to be something you are not and get out. Take your manager with you.
Tony Marsh
438
Posted 23/10/2017 at 12:11:49
Koeman is taking training at Finch Farm this morning. Straight from Jim White on talkshite only an hour ago. Jim knows all things Everton down to Moshy
Kim Vivian
439
Posted 23/10/2017 at 12:13:13
Is he?
Brian Williams
440
Posted 23/10/2017 at 12:20:12
To put an alternative slant on it, which I'm "reporting on" and not saying it's my opinion.
Dean Saunders, who speaks some sense on Talksport I have to say, said yesterday that considering sacking Koeman after ten games was ridiculous. He said that if Everton were to win their next three games we'd be where we should be. Now looking at that on face value he "may" have a point.
But where his outlook fails is in that he probably hasn't watched many of our games and doesn't realize that winning our next three games is as far fetched as a bucket of shite from China!
Ray Smith
441
Posted 23/10/2017 at 12:23:24
Tony 438
I've been listening to Jim White, who usually never stops saying how 'my good friend Farhad Moshiri' phones him with updates direct, and he does (which really gets my goat).
However, today, no mention of Moshiri having phoned him. Why not?
I would have imagined that the situation is in the balance. The silence is deafening.
Are Moshiri and BK that arrogant (just like RK) that they think we are not entitled to an update, even if it meant RK staying, god forbid.
Tony Marsh
442
Posted 23/10/2017 at 12:28:42
Brian 440
I listened to Saunders this morning on Talksport. He talks shit mate. He called a good manager ?? On what basis.? Did he look at Ron's CV prior to the Southampton job,?
Did Deano check out the stats from last season.Two away wins as all season and only 2 wins in total in the last 12 games. Only Lukaku goals spared Koeman last year. Absolute shit manager deserved the bullet months ago..Saunders is a bellend Kopite saying we would be happy mid table.
Jay Woods
443
Posted 23/10/2017 at 12:33:00
Dean Saunders is plainly an idiot if that's what he said.
Koeman's formations / system, his failure to address the critical striker position, and the fundamental coaching crap (e,g. Schneiderlin's sideways passing) are all adequate proof - not evdience, but proof - that he doesn't know what he's doing.
Tony Marsh
444
Posted 23/10/2017 at 12:34:59
Ray ,@ 441
Know what you mean about not mentioning Moshiri but maybe Jim has been told not to.White seemed pretty sure he knew Koeman was at Finch Farm though?
Andrew Keatley
445
Posted 23/10/2017 at 12:41:09
Things need to be assessed individually and on their own merits.
Sacking a manager after four games, ten games, a season, twenty seasons; the right time to get rid is when they do not merit a further chance. We have reached that point with Koeman - and arguably we reached it four or five games ago. He has done nothing to arrest our slump - indeed it has worsened.
Professional football clubs are businesses not charities, and this current incessant chorus from ex-pros, analysts and commentators about giving managers time to turn things around is becoming idiotic. Some managers have probably been dismissed ahead of time, but anyone assessing Koeman on our first team performances, attitude, shape, selection, form, fitness and energy must deduce that he has been awful for a long time now.
Paul A Smith
446
Posted 23/10/2017 at 12:48:51
Gobsmacked to see a few posts saying there is the makings of a good side there.
Theres not.
Unless you like teams that are not capable of winning or achieving anything. Calvert Lewin for instance has loads of potential. Its going to be interesting to see how he develops but he would be lucky to start up front for any club in the division. Except Everton.
Trevor Peers
447
Posted 23/10/2017 at 12:51:39
We don't need any advice about our team from the multitude of red nose tv and radio presenters who will be praying we go down, deano is a bigot.
Kim Vivian
448
Posted 23/10/2017 at 13:05:52
Yes Andrew, so true - These voices seem to forget that this started well before the end of last season with just 10 points from the last 9 games - So 18 points from our last 19 games. And our current squad, in my opinion, is weaker than the squad that finished last season even accounting for injuries,
Keep that form up we'll end on 36 points. That ain't keeping us in the prem.
Stan Schofield
449
Posted 23/10/2017 at 13:12:13
Trevor, yes, commentary from that section of the media is often infantile. They talk as though Liverpool were still a top team, rather than the mere 'top-6' but not top side they've become. Some no doubt get their main pleasure these days from Everton's struggles, in lieu of more positive pleasures that you get when you support a top team. And the sycophantic attitude towards Klopp is particularly pathetic, especially given that he hasn't improved over his predecessor.
It's clear that the centre of gravity of football is Manchester, with London a second, and has been for some time. It's likely to stay that way unless someone like Usmanov joins us and injects really big money.
Stan Schofield
450
Posted 23/10/2017 at 13:18:36
Paul@446: There may or may not be the makings of a good side there, we simply don't know as yet, and we're unlikely to find out unless they're managed well. Good management, good organisation and tactics, can yield results even with a group of mediocre players. Our squad looks better than mediocre, so on the face of it there's potential for a big improvement provided good management is in place.
Paul A Smith
451
Posted 23/10/2017 at 13:18:45
Kim Vivian spot on. Its wide awake time for a large group of fans and the club itself.
Stan i think we do know mate. When possibly the worst Arsenal team in years beats us with more shots than we have had at Goodison this season we do know.
Huddersfield beat Man U. If i see us get a point off Man U i might believe the makings are there mate. Tactics and personel are dreadful.
David Hallwood
452
Posted 23/10/2017 at 13:33:35
Lots of negativity on here-and rightly so, but some of the comments regarding the players are a touch OTT.
Take Michael Keane. Last season got rave notices, England call up and moved to a 'bigger' club with all the 'experts ' saying it was a smart move.
He's about 16 games into his Everton career, and he's played in a flat back 4, a 3, he's had Williams and Jags as his partner. Look to his right and it's either Holgate, Kenny or Martina. In front of him it's either 2holders or 1-and that's in 16, and people wonder why he looks unsure!
He's not alone as Koeman shuffles the pack like a poker player chasing his losses, the whole team just look bewildered. Look at Siggy. A top player who looks like Scott gemmils less talented brother
And for the posters who say Koeman doesn't care. He cares right enough; if he gets sacked the chances of him managing the Fantail let alone Barca is remote as he'll be forever the man who spunked £150mill up the wall.
Neil Copeland
453
Posted 23/10/2017 at 13:35:12
Just been announced; Koeman has gone!
Gordon Roberts
454
Posted 23/10/2017 at 13:35:54
Just been announced that Koeman has left the club
John Keating
455
Posted 23/10/2017 at 13:36:53
A month too late but finally !!!!
Jeff Hough
456
Posted 23/10/2017 at 13:36:57
Radio Merseyside has just announced that he has been sacked.
James Lauwervine
457
Posted 23/10/2017 at 13:38:34
Thank fuck!
Ray Smith
458
Posted 23/10/2017 at 13:39:18
Tony 444
Maybe Moshiri deserves a bit more credit than I gave him .
However, no change in respect of my view on BK and SW.
Stan Schofield
459
Posted 23/10/2017 at 13:39:50
Paul, I fear you're right, but then Huddersfield look well organised. If someone organises us well, who know how we could do. I know it's hope, but I believe there's potential there, and we still have Bolasie, Coleman and Funes Mori coming back, as well perhaps Barkley now that Koeman if off.
Sam Barrett
460
Posted 23/10/2017 at 13:45:04
He's been sacked
Kim Vivian
461
Posted 23/10/2017 at 13:45:25
Me at #436. Seems like I was right. Fkn relief. Thank the Lord.
David Hallwood
462
Posted 23/10/2017 at 13:45:52
Just been announced by the BBC
Colin Glassar
463
Posted 23/10/2017 at 13:46:08
We need a new thread lads
Steve Brown
464
Posted 23/10/2017 at 13:47:55
Colin # 203, wasnt me guv'nor. I am consistent even if it is just consistently wrong. I would love Ancelotti in charge.
I also rate Unsy massively, but would hate to run the risk of him getting sacked midway through next season. That is what always happens to internal promotions from within premier league clubs. He is too important to the Academy long-term strategy.
Barry McNally
465
Posted 23/10/2017 at 13:48:49
Wonder if Unsworth will pick Niasse 🤔
Len Hawkins
466
Posted 23/10/2017 at 13:48:59
We need a road block on all roads around Liverpool make sure Moyes gets nowhere near.

Going from joy to suicidal isn't good at my age.
Colin Glassar
467
Posted 23/10/2017 at 13:50:23
I know that now Steve, it was another Steve. Koeman out!!!!!😀
---
Add Your Comments
In order to post a comment, you need to be logged in as a registered user of the site.
Or Sign up as a ToffeeWeb Member — it's free, takes just a few minutes and will allow you to post your comments on articles and Talking Points submissions across the site.
© ToffeeWeb