Report
Another dismal and dispirited capitulation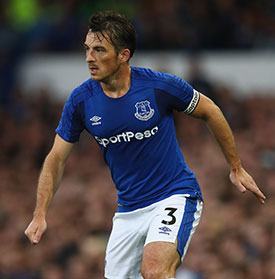 Leighton Baines went off early after picking up an injury
Southampton 4 - 1 Everton
Everton got off to another terrible start at fellow strugglers Southampton, giving up a soft easy goal after missing easy chances to shoot.
So no Wayne Rooney starting for Everton, despite Oumar Niasse and Tom Davies being suspended. Mirallas replaces Lookman, with Calvert-Lewin the target man. Beni Baningime is on the bench. As for Saints, Charlie Austin is back in.
An early free-kick for the home side bounced of Jagielka and into Pickford's hands. A corner then fell to Charlie Austin who blazed over. They would have a good spell of attacking, while the Everton defence looked very nervey.
Lennon and Calvert-Lewin ran through to tee up Mirallas who took a touch rather than firing first time. At the other end, Cedric bamboozled Sigurdsson to cross in low for Adams whose shot hit the base of the post! Everton's first corner, from Sigurdsson, was cleared easily.
Mirallas had a fantastic chance to score when the ball came to him in space but he took way too many touches and over-ran it in the end. Southampton galloped up the other end and walked the ball into the net by Tadic.
Everton were unable to get the ball out of their half, Lennon twice losing possession while advancing, and the ball coming right back in the form of dangerous attacks. Baines pulled up with some sort of problem and was replaced by Williams, forcing a change in formation to a back three with Kenny switching to the left and Lennon dropping back.
Kenny did well to shaddoo turn on the byeline, pass well to Sigurdsson and on to Calvert-Lewin who feebly allowed it to run out of play. Keane blocked Davies's cross with his arm but at close range: no penalty given.
Kenny got forward and set up Sigurdsson for the cross to nowhere, miles away from Calvert-Lewin. More pressure from Southampton corners came perilously close to increasing their lead.
Just before half-time, Sigurdsson scored from virtually nothing, his first Premier League goal for Everton, a brilliant strike off beating Forster and hitting the the bar then in off the post.
Southampton continued to apply pressure, Gueye deemed to have been a little too strong on Boufal, setting up a free-kick from Ward-Prowse that was fired in low but cleared. Sigurdsson tried to feed Mirallas but he was perhaps unfairly dispossessed.
Charlie Austin scored a fine angled header, beating Pickford off the bar from a rapier-like cross by Bertrand to put the home side back in the lead early in the second half.
Not long after, and the same double-act saw Pickford beaten again, with Williams hopelessly failing to mark Austin. As The Saints looked to make it into a route, Pickford did better to stop further damage. Lookman replaced Mirallas but Everton were offering absolutely nothing going forward.
Lookman had a great run but just ran into trouble. Keane went down and Vlasic came on as Unsworth's final forced substitution. He did well to win his first ball but then passed to nobody.
Gueye came out with another of his atrocious shots from distance as Everton looked worse and worse as the game progressed, Sigurdsson trying his luck again but this time too close to Forster.
Long beat Jagielka with ease but fired wide of Pickford's goal. Davies saw some space and fired in an unstoppable shot across Pickford to make it four.
---
Reader Comments (373)
Note: the following content is not moderated or vetted by the site owners at the time of submission. Comments are the responsibility of the poster. Disclaimer
John Wilson
1
Posted 26/11/2017 at 13:33:35
Proven La liga scorer... scores against Atalanta... but he puts Calvert-Lewin up alone who has scored one in all the opportunities he's had... indicates 'couldn't organise piss up in a brewery'.
Derek Knox
2
Posted 26/11/2017 at 13:37:36
Yes John, I am disappointed in a lot of Unsy's team selections and tactics, which ultimately proves to me, that he is not the man for the Job!
Tom Bowers
3
Posted 26/11/2017 at 13:38:30
Looking bad again. Why no Vlasic?
Tom Bowers
4
Posted 26/11/2017 at 13:40:39
Southampton will score soon. It's too easy.
Joseph Edwards
5
Posted 26/11/2017 at 13:41:51
This selection and formation simply proves what I have stated in a previous post , Unsworth is bringing nothing new to the role, same mistakes and poor rotations as Koeman. Schneiderlin should never be seen in an Everton shirt ever again.
The interplay between Sandro and Vlasic was one of the few positives of the Atalanta game but Unsworth has chosen not to try to nurture that but to play Calvert-Lewin as a lone striker again, a role that has proven fruitless every time Koeman played it, so why does Unsworth think it will work now?
I don't really give a fuck who the board appoint now they have kicked any optimism or hope out of me to the point were I simply don't care anymore. After 45 years of supporting Everton, I have given up.
😓
James Thornhill
6
Posted 26/11/2017 at 13:42:37
John, his hearts in the right place and while I accept he is not the man for the Job, I do believe he is giving 100% while he is is manager & he is trying his best to get the players to do so also. So he gets nothing but 100% support from me and a pat on the back when someone else steps in.
Ernie Baywood
9
Posted 26/11/2017 at 13:49:36
Can't believe anyone would suggest Sandro instead of DCL as a loan striker. Sandro does seem to be improving but he isn't a player who will lead the line.
Not that any of this particularly matters. We'll lose.
Steve McNally
10
Posted 26/11/2017 at 13:50:41
Everton's porous defence at it again. Relegation still knocking.
Simon Dalzell
11
Posted 26/11/2017 at 13:53:54
No defence. We should be 4 down.
Ciarán McGlone
12
Posted 26/11/2017 at 13:55:18
Michael Keane's movement and positioning for that goal was absolutely diabolical.. the man is a human lamppost.
Joseph Murphy
13
Posted 26/11/2017 at 13:55:32
Schneiderlin is an empty shirt jogging around doing nothing. A complete waste of space.
Neil Copeland
14
Posted 26/11/2017 at 13:57:12
Looks like our only natural left footed defensive player has picked a nasty looking injury, as if things could get any worse!
Ian Riley
15
Posted 26/11/2017 at 14:00:42
Simply not good enough in every area. At least relagation wouldn't be a shock.
Noleen Daya
16
Posted 26/11/2017 at 14:01:23
My heart just aches to see us like this. I sincerely hope that the only way is up now.
One thing I know for sure: I don't like Moshiri. A seasoned billionaire and he can't steer the club into a positive direction!
He is not a football man. He does not have a heart for our club, and he has no clue how to address us supporters. I'd rather he takes his money and goes! We are better off without it.
Gavin Johnson
17
Posted 26/11/2017 at 14:02:41
This can't go on! Unsworth is truly out of his depth. He's failed his audition now. Beyond farcical if we don't have a new manager in the coming days.
Mark Morrissey
18
Posted 26/11/2017 at 14:07:43
Gylfi Sigurdsson seems to be doing Schneiderlin's work. Schneiderlin himself hasn't broken sweat and Jags should be sponsored by Portland Cement.
This team is woeful. I can't even begin to talk about our offensive effort. Mirallas & Lennon wouldn't get into any other Premier League team.
The delay in appointing a manager is crippling us. I'm staggered that Moshiri isn't sat alongside Kenwright. The club is on it's knees and where is a our owner?? Beyond belief...
Dave Bowen
19
Posted 26/11/2017 at 14:08:00
Is Calvert-Lewin actually playing or have we only got 10 men?
Simon Dalzell
20
Posted 26/11/2017 at 14:10:26
Yes, he's playing, he's just passed it to them twice.
Justin Doone
21
Posted 26/11/2017 at 14:17:29
Oh dear. Schneiderlin guarantees goals for the opposition. Waste of space. Let's nothing.
Another back 4, wrong formation, it doesn't work for the current team.
Sigurdsson starting, why, he's been awful all season. Prey for an over due free kick goal.
No chance of a clean sheet so we will be chasing the game. Does no one learn!?
Clive Rogers
23
Posted 26/11/2017 at 14:19:47
Tom 3, Vlasic was terrible on Thursday.
Neil Copeland
24
Posted 26/11/2017 at 14:21:09
Goooooooooooooooooooooooooooooal! Get in!
Clive Rogers
25
Posted 26/11/2017 at 14:21:39
DCL is playing. That's him who keeps passing to them.
Steve McNally
26
Posted 26/11/2017 at 14:22:22
There is a God after all. Good goal Sigurdsson.
Terry Underwood
27
Posted 26/11/2017 at 14:22:31
The good thing is, I now have such low expectations that anything better than 0-3 is not a disappointment. Mind you, I can still be 'kin annoyed
Ernie Baywood
28
Posted 26/11/2017 at 14:24:19
Sod's law, Justin... what a strike!
We've been awful though.
It's the norm for people to talk about things being the worst they've known in all sorts of situations but this really is the worst I've known. Smith, Martinez, Kendall, Walker... the club feels more broken than ever. The playing squad is just one part of it. I've never had less hope and really think we're fucked this season.
Peter Hughes
29
Posted 26/11/2017 at 14:24:26
Calvert-Lewin is awful.
Justin Doone
30
Posted 26/11/2017 at 14:24:47
It's a shame for Baines but on the bright side we now have a back 5?
They can offer width. The rest of the 7 players need to stay back, mark a man not watch and see if we can get to half time.
Then Sandro can come on and link with DCL
Colin Malone
31
Posted 26/11/2017 at 14:29:29
Now will you play Sigurdsson in his rightful position, Unsworth?
Tony Abrahams
32
Posted 26/11/2017 at 14:29:29
What a goal that was but our team is like Kenwrights shoes when he was a child, it is full of fucking holes.
Get a manager in before it's too late, because this sorry lot are embarrassing, and only the kid Kenny, looks like he's got the fight that's required to play for Everton.
I'm worried, the only difference is it's getting worse, and these players are just going through the motions, and need someone to give them some direction, because they don't look like they've got it in them otherwise.
Jay Wood
33
Posted 26/11/2017 at 14:31:32
Well, a true touch of class on the whistle salvaged an otherwise
another
abysmal half.
Doesn't the skill and finish Siggy produced not demonstrate what area of the park he should be operating in?
And yet both Koeman and Unsworth have had him playing wide or deep (or both!), effectively nullifying what he can offer the team.
There is so much so appalling awry with this team at the moment. On their goal, Kenny is battling for the ball deep in their corner of defence. It's from open play. Not a set piece. So how the hell, when the ball is turned over, 1-2-3 passes later and the ball is in our net with our central defenders way out of position, all over the shop, and Baines too slow to cover across?
Another thing that is becoming glaringly obvious in recent games is, this team is not up to the physicality of the PL. Time and time again, we lose the ball in the tackle...the opposition brush through our challengers...our players fall at their feet.
The space S'ton have got to play in, especially down our left flank, is frightening.
Continue in the same vein in the 2nd half and there will only be one result: another defeat.
This is PAINFUL to endure.
John G Davies
34
Posted 26/11/2017 at 14:34:27
Agree Tony.
Worse thing is that nothing has been changed tactically. Unsworth just sitting on the bench not reacting to what is happening in front of him.
John Smith
35
Posted 26/11/2017 at 14:34:49
Back 5? Williams, Jags, Keane and Kenny is 4.
Phil Smith
36
Posted 26/11/2017 at 14:35:59
I seriously can't remember a more disjointed, unbothered Everton performance. The £45 mil man has gotten us out of of jail there. Could watch that goal all day. One moment of real class in an otherwise shocking performance.
I've loved Baines down the years but I'm secretly happy about his injury. He needs a rest and it's time to get another kid in at left back, as Baines is on the wane.
Justin Doone
37
Posted 26/11/2017 at 14:37:11
Ok. Back in it. Siggy has scored his long over due long range strike. Let's see if he can double up with another or from a free kick. I'll give him another 20 mins to shoot on sight.
I want to take William's off, he and Schneiderlin should never play again for us, never mind the same team. Could Schneiderlin play centre-back and bring Beni on?

Ernie Baywood
38
Posted 26/11/2017 at 14:44:49
We're retreating so far we look like we have a flat back 7... and still look outnumbered in the box.
Justin Doone
39
Posted 26/11/2017 at 14:46:51
Southampton will probably score again so who can be our hero and get another goal? I'll take a draw all day long.
Q - DID ANY OF OUR PLAYERS LOOK TIRED WHEN THEY CAME OFF AT HALF TIME LIKE YOU WOULD EXPECT IF THEY WERE PUTTING IN A SHIFT?
They should look like they need a 15 minute break not a hot toddy.
Phil Smith
40
Posted 26/11/2017 at 14:47:04
If this was a game of pinball, Calvert-Lewin would be racking up the points today. Horrible. Time for Rooney or Sandro.
Tony Abrahams
41
Posted 26/11/2017 at 14:47:16
Just put 3 men up front and kick it forward. and keep the other seven back. Sounds fuckin stupid I know, but at least the players would then have a plan. Painful is indeed the best word to describe this, Jay.
Ernie Baywood
42
Posted 26/11/2017 at 14:49:27
3CBs and he's completely unmarked again. Williams actually walked away from him.
Disgraceful.
Phil Smith
43
Posted 26/11/2017 at 14:50:23
Keane is absolutely shot. Offers zero. Need a coach asap!!!
Mark Andrews
44
Posted 26/11/2017 at 14:50:38
It's time to plan for the Championship. We are that bad.
Teams must be looking forward to playing us for a guaranteed 3 points. Koeman has stolen his wage and payout for his incompetent and reckless time at the club. He should have been sacked for just doing an awful job.
Colin Malone
45
Posted 26/11/2017 at 14:51:15
Karma for Unsworth.
Peter Hughes
46
Posted 26/11/2017 at 14:52:04
Worst Everton side I have had the misfortune to watch in 55 years supporting them!
Steve McNally
47
Posted 26/11/2017 at 14:53:26
This board should NOT have given the teams around us an advantage by leaving us without a permanent manager. This team is devoid of everything: fight, spirit, skill, energy, ability etc. Welcome to the Championship Everton.
Nigel Peters
48
Posted 26/11/2017 at 14:54:02
As predicted I rule myself out of the Everton job. I'm afraid we don't have defenders in the squad and therefore find it impossible to prevent goals. Better people than me may be able to see where we go from here, I'm afraid I can't.
Ian Riley
49
Posted 26/11/2017 at 14:55:22
How poor are we. Any team with Lennon and Mirallas has got to be a Championship side.
Telling me Rooney can't get in this side. Unsworth out and now!!
Peter Lee
50
Posted 26/11/2017 at 14:55:35
Leave it with Unsy until Christmas.
Tony Abrahams
51
Posted 26/11/2017 at 14:56:47
Justin, the commentator whoever he his hasn't got a fuckin clue, he's just said Everton have got to be careful heads don't go down. They have been down all game for most of them, along with hunched shoulders.
Do the silly bastards who go on about coaching, not realise it's no fucking good without management? These players have had the life sucked out of them because of changes and formations, and need someone to come in and simplify it right now.
Lee Atkins
52
Posted 26/11/2017 at 14:57:07
I'm afraid we just can't have Unsworth at the helm any longer. This is even worse than Koeman. We've made a poor Southampton team look like world beaters.
I can't see how we are not going to be relegated on this form, we are truly shit all over the park. There isn't even any fight today and don't get me started on Keane's performance!! Sad days...
John Harrop
53
Posted 26/11/2017 at 15:02:16
Completely the wrong substitution – we need Clavert-Lewin & another off and Rooney & Sandro on.
Morris Kruger
54
Posted 26/11/2017 at 15:03:28
Our goal is like a target on a shooting range. And a hopeless Saints have hit it three times already with I fear more to come before the end What a mess. My forecast: bottom of the table in May.
Gavin Johnson
55
Posted 26/11/2017 at 15:05:10
Peter #50
Was that comment a joke?
Tony Abrahams
56
Posted 26/11/2017 at 15:06:15
Duncan Ferguson looks like he's gone back to his playing days when he refused to do interviews. He's fuckin silent, and Unsie, keeps looking to Ebbo, who sits in the middle of two men who no longer get on, and Kenwright pacifies them all.
Chris Gordon
57
Posted 26/11/2017 at 15:07:28
Make no bones about it. We are relegation fodder. This is like an exhibition match for Southampton. I've never been so disillusioned with any set of Everton players or board than I am at the moment in 30 years of watching us.
The whole club is rotten to the core. The board, chairman and players need to take full responsibility for this debacle and hang their heads in shame! Every last one of them is a fucking disgrace.
Chris Gordon
58
Posted 26/11/2017 at 15:11:32
We offer NOTHING in attack and calling Keane and Williams defenders is surely an offence under the trade description act!!
Mark Andrews
59
Posted 26/11/2017 at 15:16:55
Imagine what will happen when we play a good side. We're down.
We're relying on there being 3 worse teams in the league. There aren't.
Andy Crooks
60
Posted 26/11/2017 at 15:18:37
This is the worst Everton team I have ever seen. What is frightening is that that we have been lucky. We are by some distance the worst team in the Premier League.
Unsworth has been hung out to dry and, sadly, I believe they, shameless indeed, are not playing for him. Time for an immediate appointment. We are in grave danger of relegation.
Geoff Williams
61
Posted 26/11/2017 at 15:18:46
The defence is very poor and the attack non-existent but the root problem to the whole debacle is a totally ineffective midfield. Little cover is given to the defence and no support to the attacking players. Oh for a midfield of Barry, McCarthy and Barkley – the much maligned trio.
God we are awful.
John Hammond
62
Posted 26/11/2017 at 15:18:52
Calvert-Lewin completely out of his depth – no way he should be starting. I thought Sandro deserved another go.
Whoever we get as manager, I hope he can organise a defence otherwise we're as good as down.
Ernie Baywood
63
Posted 26/11/2017 at 15:19:46
If I was Unsworth, I'd go and chin some of these fuckers. He's spent years trying to make a career after football, stepped in when we had no-one else, and been made to look a cunt. He'll never get a crack at management now.
Ciarán McGlone
64
Posted 26/11/2017 at 15:20:18
We are lost. Send them all to the glue factory.
Steve McNally
65
Posted 26/11/2017 at 15:20:31
Please not 5:1 Southampton aren't that good. Where do we go from here?
John Smith
66
Posted 26/11/2017 at 15:22:47
Jagielka's multicolored armband as captain. little wonder things
are the way they are.
Alex Mullan
67
Posted 26/11/2017 at 15:23:38
Who is going to want to join this shower of shite in January? Money isn't even going to do it this time. We are absolutely buggered.
I just can't see the next point.
Thomas Rigby
68
Posted 26/11/2017 at 15:24:31
Too many not good enough. Too many not trying. It will take a long time for a new manager to turn things round. Also the club apparently divided from within. So yes, relegation is a real danger. Like many others, I believe this is the worst group of players I have ever seen since supporting Everton from 1957.
John Harrop
69
Posted 26/11/2017 at 15:26:14
Don't underestimate the power of money, but it's going to take an awful lot of it, and some seriously professional coaching, to put this mess right.
Ernie Baywood
70
Posted 26/11/2017 at 15:27:23
They've got to appoint someone tomorrow. Anything else will be disgusting.
6 pointer on Wednesday.
John #71 - would you stay at the club after this? This is going to cost us our U23 coach too.
John Pickles
71
Posted 26/11/2017 at 15:27:49
Rhino, the U23s are struggling, could you go back and manage them again please.
Like now, this very minute please, or sooner.
Chris Green
72
Posted 26/11/2017 at 15:28:50
As they clapped themselves off the pitch, there was more movement from them than in the entire 90 mins.
Toward the end there were 9 Everton players in a line across the box and not one moved to close down anything. There is no want, no passion, no desire, no invention, I'd give siggy a 7 but not one other players gets above a 1 for me. Was a performance like a Training ground exercise.
My son, who is a fan said to me, dad, this isn't good for you. Let's support someone else. Says it all.
Andy Mead
73
Posted 26/11/2017 at 15:29:43
Only Siggy comes out of this with any credit. Same formation, same personnel, 2 holding midfielders. Might as well go 3 up front and try and win 5-4 as we can't defend for shit.
The players look like relegation fodder and everything about this once great club stinks. I can't believe that we haven't got a manager in place by now. But really, who in their right mind would want to manage us?
Mike Crawford
74
Posted 26/11/2017 at 15:31:13
When will the nightmare end. We will be playing Coventry soon.

Amit Vithlani
75
Posted 26/11/2017 at 15:31:48
Moshiri, Kenwright, Elstone, Walsh.
Destroyers in chief of a proud club.
Fuck off the lot of you, and take your egos, ineptitude, greed and stupidity with you. And whilst you are it, stick that mouth piece called Jim White where the sun don't shine.
A horrible week to be an Evertonian.
Ash Moore
76
Posted 26/11/2017 at 15:31:52
What the absolute fuck...?
I don't believe Unsworth doesn't know what he's doing. His record with the Under 23s speaks for itself. I DO believe that the players simply aren't listening. That's much more of a concern.
I pray to God I never see Everton play a half of football like the second half today ever again. There are not three worse teams than us in this league. In that sort of mood we literally will lose to anyone.
I'm shaking with anger after watching that. I cannot believe it, And I'm usually someone who has a healthy perspective about these things. I want to smash the phone I'm writing this on straight into the pavement. I suspect I'm angrier than a lot of the players are, which makes me angrier again.
These are dark dark days. Not sure where we go from here.
Jay Wood
77
Posted 26/11/2017 at 15:32:41
Abject. Just totally abject.
There is now fear in these players eyes.
I would not be surprised if Unsworth steps down himself after yet another tanking.
SOMEBODY at the club needs to show direction and leadership and take control of the situation
The numbers don't lie. Consistently, the teams with the worst defensive record get relegated. We are comfortably winning that race.
John G Davies
78
Posted 26/11/2017 at 15:33:41
Tony,
Correct again. Unsy looking at Ebbrell, nothing happens. Worse for me was Joe Royle leaving his seat putting his arm on Unsworth shoulder and whispering advice.
Surely there can be nobody who can give a case for Unsworth staying on after today.
Michael Lynch
79
Posted 26/11/2017 at 15:34:24
Not sure how we get out of this mess. We simply don't seem to have the players, let alone a manager. Who will be able to raise their games enough to lift us to mid-table safety?
We have Bolasie and Coleman to come back, and that might help, but Barkley will be gone by the end of January and I'm not sure if he's have done any better than the lot we've been putting out every week.
Paul Ellam
80
Posted 26/11/2017 at 15:34:57
We are heading out of the Premier League.
God knows how, but we are.
Michael Lynch
81
Posted 26/11/2017 at 15:36:04
Who will still be in the Everton set-up next season? Pickford, Davies, Beni, Sigurdsson, not sure who else from this squad.
Peter Hughes
82
Posted 26/11/2017 at 15:36:49
The derby just TWO weeks away! I seriously think the rs will get double figures!
Andy Crooks
83
Posted 26/11/2017 at 15:37:11
We have players in the Everton shirt who have no shame. Today was the most spineles, gutless performance I have ever witnessed. It was worse, and I never believed it possible, than the Martinez capitulation here.
This is the worst group ever to embarass our club. Unfortunately David Unsworth is finished.
Sandra Williams
84
Posted 26/11/2017 at 15:39:17
Rudderless and sinking fast. Not one single player has the stomach to fight this impending relegation .no urgency, no clue and no bloody hope. Haven't been quite this angry in all my years of being an Everton fan. And that's quite a lot! I'm actually contemplating cutting up my season ticket. Sad, sad, days.
Kunal Desai
85
Posted 26/11/2017 at 15:39:39
Need to start funding some plane banners. Kenwright, Woods, Elstone... TIME TO GO.
Phil Rodgers
86
Posted 26/11/2017 at 15:39:54
Utter shambles. Complete laughing stock. People talk about Lukaku but it's the defence that is my main concern. I hate to say it but were gonna have to play 5 at the back because we need to keep some clean sheets. Unsworth was never the answer. He should have been replaced after the Leicester game. But we must bring in an experienced fire fighter now. We are in deep shit.
John Pickles
87
Posted 26/11/2017 at 15:40:02
Ernie
How did you know that I was going to post that?
Tony Stanley
88
Posted 26/11/2017 at 15:42:07
This is Everton Football Club? That was an utter disgrace.
Mike Griffiths
89
Posted 26/11/2017 at 15:44:18
Today is the final humiliation and it is now beyond ANY doubt that the club is a shambles. I honestly cannot see when the next win will come from...we are the club that now guarantees three points for the opposition.
Cannot wait to hear the next official utterings from an incompetent Board, clueless player or inept caretaker management team.
Never, ever believed the club would end up as the laughing stock we have become...and we have certainly had tough times to stomach before.
Gavin Johnson
90
Posted 26/11/2017 at 15:44:30
Truly embarrassing. We need Sean Dyche now and if it was down to Kewright I think he'd already be in charge. Moshiri wants a Euro named coach and the irony is that the longer this farce goes on the worse and more desperate it gets as the short list gets shorter. Martin O'Neill and Tony Pulis are the new names in the frame. This is looking worse than when we aimed high after Joe Royle left and ended up settling for Kendall Mk 3.
We've tried the boom and bust approach under Ronald Koeman and it's well and truly bust. We need a manager who will look at us as a long term proposition and not just a stepping stone to further their own career, will get the club, be hungry and will build us up slowly because we've not got the money to spend like a Man City. The best players aren't going to come. We're just overpaying for overrated players. We need a long term approach.
Appointing Sean Dyche is so glaringly obvious.
John Robinson
91
Posted 26/11/2017 at 15:44:48
How long do we have to suffer this abysmal team. To play under the name of Everton is a disgrace. Each and every one of them should be ashamed today.
Unsworth is obviously out of his depth and its time he was back with the Under 23s and we had a new manager in.
I have been an Everton supporter for 50 years and I have never been so ashamed.
Come on somebody sort it out before its to late !!!!!
Nigel Peters
92
Posted 26/11/2017 at 15:45:22
Good bye dear ToffeeWeb. I have enjoyed most of the posts over the years but I'm afraid today was just one step too far. I'm going to take up tiddlywinks. Wishing you all success in the future whatever and whoever that might bring. Cheerio
Charlie Lloyd
93
Posted 26/11/2017 at 15:45:58
The job is beyond the capabilities of Unsworth.
But who would want to be in the trenches with that lot that played today.
Apart from Sigurdsson, Kenny and Calvert-Lewin, who all may not have played well but showed some passion the rest were a disgrace.
As I said on the live forum they should reimburse the travelling fans and give the rest of the weeks wages to EitC.
Absolutely disgusted by what I saw today. There is confidence that may be effected but it doesn't stop a player showing effort. Saw little of that from nearly all today.
Jim Wilson
94
Posted 26/11/2017 at 15:46:51
I think we can now see that rather than Barry McCarthy and Barkley being the weak link they were our strength. How we need them now.
Yet again Tony Marsh has got it right. We need an experienced no-nonsense manager to organise and motivate us to get us out of this mess. This is easily the worst I have ever known and it has cost us £200m. Koeman should be jailed!
The mess we are in is incredible but even more incredible is that with a bit of good management it can be turned around easily.
Kunal Desai
95
Posted 26/11/2017 at 15:47:43
Final straw should be plenty of blues seats to make these fuckers walk away once a for all. Whatever it now takes for that fraud Kenwright and his puppets to clear off.
Nigel Munford
96
Posted 26/11/2017 at 15:48:08
John (#78) I'd suggest Joe Royle said, "Hand the reigns back to the board at full time, and get back to the U23s before this job kills you."
Amit Vithlani
97
Posted 26/11/2017 at 15:48:09
I see similiarities between Unsworth and John Carver. Full of passion for the club but clearly over whelmed by the disastrous malaise in the squad.
I have no clue who could step in but things are obviously horribly wrong on and off the pitch. The fuckwits at the top have put the club in an utterly desperate position, and the fucking disgrace that is the playing squad are lapping up astronomical salaries whilst turning out dog shit in each and every game.
Mark Morrissey
98
Posted 26/11/2017 at 15:48:24
All rather sad seeing Joe Royle leaning over David Unsworth in the dugout offering him some wise old words no doubt but it's truly embarrassing. It undermines Unsworth but worse than that, it's indicative of where are as a club. Can you imagine Kenny Dalglish running down to have words with Klopp or Bobby Charlton climbing over the seats to get to Mourinho?
We are doomed. It is clear when you see Bill not sat alongside Moshiri that all is not well with the club.
Worst season I've ever had the pleasure of supporting Everton. I feel more sorry for those of us who never got to see the Everton of old and witnessed our better days.
I am truly worried to see who Moshiri brings in because it seems there is discord between him and Bill. I may be wrong but the body language from our group in the stands today suggests they are not joined at the hip like they ought to be. Worrying times for sure.
A good effort from a few today but they are living on their nerves.
Paul Tran
99
Posted 26/11/2017 at 15:48:27
A competent coach who can drill good habits into players. Who can get his ideas across simply and quickly. A big personality who can help good players believe in themselves. This week, please.
Jason Wilkinson
100
Posted 26/11/2017 at 15:48:53
Kids, ask your arl fella about a Millwall brick. We will be going there next season. The biggest problem we face now is we have a group of players totally unprepared to get results in the championship. I can quite easily see a double drop. Two or three seasons to get out of league one and a long stint back in the championship.
"Top six" haha a distant memory. I've never seen a worse group of players in an Everton squad. Back in the dark days of the early eighties we always had 4-5 keep em's. Don't get me wrong there were some terrible players. In the mid seventies we were never this poor. ToffeeWebbers please come up with an argument to prove me wrong.
Rob Dolby
101
Posted 26/11/2017 at 15:49:23
This isn't going to be turned around easily. We are like villa a couple of years ago.
Unsworth should resign to force Mosh into getting big Sam or whoever. The whole thing is a shambles.
Jay Griffiths
102
Posted 26/11/2017 at 15:49:47
On coach , just leaving ground. If I apportioned blame I'd be like a blunderbuss. Scattered all over.
Wonder if the big Sam poll on TW will still be 80/20 on Thursday after West Ham have feasted on us. Remember, the shite come straight after.
In well over 50 years this is the most disorganised team I've been witness to in a Everton kit. Gone past dismay now, think I'm moving on to anger then next comes acceptance in my many step program.
Hywel Owen
103
Posted 26/11/2017 at 15:49:58
Contract or no contract anyone working in any ordinary job putting as little effort in as I have seen over the last hour or two would be sacked immediately with no compensation. It beggars belief that this bunch of dishonest shysters who are a disgrace to the blue shirt are making more in a week than most make in months.
They play as if they have never seen each other before and don't wish to see each other ever again. A bad patch does not prevent players from at least closing down, working hard and making a bloody effort. Can you imagine Sir Alex putting up with what we have just seen. As for the supporters who made the journey, God bless them, the Club should reimburse the costs of every one and take the money out of the players' wages. The rest of the wages should go to charity.
As for sending them to a glue factory anything made from this pathetic bunch would not stick !!!!
Brian Williams
104
Posted 26/11/2017 at 15:50:25
Almost every one of those players should hang their heads in shame. Total and complete shithouses with no bottle and no desire. They are an absolute disgrace.
Blame the manager, the chairman, anyone, but when a player crosses that white line they should be prepared to run themselves into the ground. Fucking disgusted at them.
The only upside is that I won't miss any of I'm a Celebrity Get Me Out of Here on Wednesday because I am NOT wasting my time and going to watch that shower of complete cowards.
Charles McCann
105
Posted 26/11/2017 at 15:50:38
Absolute joke of a club. Unsworth was clearly out of his depth and many of us seen it weeks ago. We need Dyche in immediately if Burnley let him leave. A lot of players not good enough but yet Unsworth persisted with them.
Everton board needs to wake up now. Would be happy with almost any other manager except Martin O'Neill that is. Disgraceful performance from most of the team other than a few like Kenny. Gutted at the state Koeman has left us in.
Ash Moore
106
Posted 26/11/2017 at 15:50:54
Ernie (#28)
"It's the norm for people to talk about things being the worst they've known in all sorts of situations but this really is the worst I've known. Smith, Martinez, Kendall, Walker... the club feels more broken than ever. The playing squad is just one part of it. I've never had less hope and really think we're fucked this season."
Articulated perfectly, this is exactly how I feel. And have felt for a long time as well.
Jay (#102)
My total respect for you and the other blues there, this club presently doesn't deserve fans like you. I'm at the anger stage too, and I've noticed quite a few others feeling the same way. Today definitely felt like the end of something. That was so bad today it really has to be addressed or we're done.
Tony Twist
107
Posted 26/11/2017 at 15:52:10
Plain and simple, Unsworth was never going to be a success. You could tell that after the first couple of games, he had to close up shop and stop the opposition scoring for fun, that just hasn't happened. The players are a disgrace and obviously have no pride at all in who they are and who they represent.
They can't even do the basics properly and It is always someone else's fault why things are going wrong...that's Koeman's influence shining through. The OAP defenders are to blame but we continue to use them. Baines, Jags and Williams have to shoulder a lot of the blame.
The new manager... wherever he is... should be in tonight which is a month late in my opinion. He needs to be technically astute, look at all the players he has and pick the strongest in that position then drill them on the training pitch for days and nights until they know each other inside out and then drill them some more.
It's time for these players to earn their money and the reward is less drilling when we finally start winning matches. We really are in the last chance saloon now.
Andy Walker
108
Posted 26/11/2017 at 15:52:15
It was left to drift far too long, 6 weeks and still no manager. We are now in a much worse position, the damage done to the youngsters over the past weeks may never be repaired.
Shocking lack of leadership and indecisiveness shown by the Board. Allardyce met Moshiri twice, Moshiri then fannied around, that opportunity is now gone. We are left with a situation where no decent manager may want to take us on, a dire situation was left to drift for 6 weeks, it's now almost certainly unmanageable.
John Smith
109
Posted 26/11/2017 at 15:55:21
My first post after following this site for many years. I sat in the hospitality today as I took my 91-year-old grandfather (else I'd normally be in the Everton end). I was sitting very very close to our leaders (Bill, Steve Walsh and Robert).
I was appalled when the 4th goal went in that Steve Walsh actually shared a huge smile and a little laugh with his wife (the blonde next to him). I couldn't help but shout at him and they looked embarrassed and looked away).
I have a message for those who watched in their suits who control our club. I was almost ejected for trying to shout it. "Nil Satis Nisi Optimum."
I'm not quite sure whether our board share the same values as we have grown up with. I'm a mid-40s season ticket holder and this is as bad as I remember. COYB
George McKane
110
Posted 26/11/2017 at 15:55:44
We are like Old Shep – a loved old friend dying before our eyes.
This is a Club in an incredible downward serious situation. A Club in need of serious help and a total Health Check.
We are and have been in decline for many years and have never seemingly stepped back and said why.
I am totally unconvinced by Moshiri - we thought he was a "businessman" and would bring much needed business "savvy" to our old fashioned "family club" – he isn't and he hasn't. He made his money not through his own business acumen but by being a back-room paper man to another business man.
Changing the Manager and Players is needed urgently, desperately.
But we need someone big enough to ask for help. We need specialist help. We need a Sports Psychologist urgently. We need an outside man/company to advise us to give an overview of where we are and what we need to do.We need an astute businessman urgently. We need a motivator and leader desperately . We need a Big Manager who has no fear and we are in need of a Big Player.
This Club needs to take stock, clean itself out and really begin again or in my opinion we are heading for oblivion.
Brian Williams
111
Posted 26/11/2017 at 15:57:47
Jay (#102).
I salute you mate for making that journey and having to go through that. If there's any justice you'll be contacted by the club to reimburse you for what you've spent.
John Pickles
112
Posted 26/11/2017 at 15:58:38
Liverpool Echo headline for 12th December:
'Mystery illness ravaged Merseyside businesses yesterday as sickness hits record level, 50% of employees fail to make it into work.'
'Also yesterday, Norway announces new National Holiday.'
Paul Wyndham
113
Posted 26/11/2017 at 15:59:02
How many fucking times do we have to say this, run Schneiderlin out of town. Besic is a better defensive option, he wears his heart on his sleeve, he will not hide and is not a coward like the rest of the senior pros.
They should be ashamed to collect their wages. I never thought I'd say this, we need to see Big Sam's fat-head butting over payed mercenaries at Finch Farm and organising the rabble we've got into some kind of dreary grind 'em out defensive team!
Kenwright Out!
John Ronnie
114
Posted 26/11/2017 at 15:59:07
All you who said no to Big Sam a few weeks ago must agree with the few of us who wanted him from the off.
We were in deep shit a month ago and now, thanks to the dithering board and deluded fans, we are in even deeper shit now!!!
Fucking get him in now, FFS!!!
Chris Perry
115
Posted 26/11/2017 at 15:59:21
The worst collection of duds frauds and not interested players ever in an Everton shirt.

As for Unsworth, if he was my PE teacher I would be contacting Ofsted. So out of his depth!
Ken Kneale
116
Posted 26/11/2017 at 15:59:44
Letter to the entire Board – Everton Football Club Limited
Dear Madam and Sirs
I have supported Everton Football Club for 55 years. In saying that the esteem and regard of the Club has never been lower than at present is far from exaggeration. Unless you all look to your own actions and often lack of action and reflect inwardly on what you bring to the Club, it is no exaggeration to say you are going to oversee our demise into the lower league for the first time since 1951.
I ask you all with the utmost of respect and sincerity to reflect on that statement for the whole of your waking days in the coming week then do what is both honourable for you personally and right for Everton.
It is an unpleasant truth that the whole Club has been in a freefall since the late 1980's. At times, there has been a levelling out of the rate of decline on the pitch, but off the pitch, the Club has fallen far from its motto of 'nothing satisfies but the best'. For a Club of Everton's footballing heritage and traditions, frankly we as supporters have been sold short, misled and downright had our intelligence insulted for the entire period by inept leadership of the Club we love.
This burying of your heads in the sand, the selling off the family silver since the 1990's culminating in the ineptitude shown in recent months with the selling of our top goal scorer, the replacement with players of lower quality and debatable requirement, the mishandling of the dismissal and any subsequent appointment as team manager, the dubious role of Mr Walsh etc. etc. are all within your sphere of responsibility. You are not doing your role as company officers' by allowing this to continue. I and other supporters are heartbroken by this situation and despite the increasingly desperate situation; nothing seems to be being done.
I issue you with a simple challenge, a reminder of our former benefactor, shareholder and Chairman, Mr Moores, who stated; "Everton has a good support, a very loyal support but they pay their money and they expect to see the team do well, and if they team are not doing well they expect something to be done about it, and something will be done about it! " Well what is being done about it now I ask?
Game after game we have seen the current team literally give in to the opposition. How can that be right? I have followed the game and out Club long enough to accept players of variable ability but never of variable application – it simply is unacceptable. This afternoon's game is just one further example of that. Such situations my life experience has taught me generally start at the head of an organisation and filter down. That comment in no way absolves the players from what I have said but does indicate your handling of the Club is far from satisfactory. The ultimate responsibility and accountability for the situation rests at Board level.

Andy Walker
117
Posted 26/11/2017 at 15:59:47
There was a large amount of sentiment shown towards Unsworth's appointment from many of the fans, which is understandable. What isn't understandable is that a Board of Directors showed the same degree of sentimentality and failed to be decisive, show leadership and appoint the man that THEY thought was right for the job. The Board has been a naive shambles.
Does Moshiri have a clue?
Brian Denton
118
Posted 26/11/2017 at 15:59:51
This interregnum between managers is horribly reminiscent of the period under Jimmy Gabriel at the end of 1993. We lost virtually every game between managers and stayed up on the last game of the season. Looks like that is the best outcome we can hope for again.
'Chosen' - 'cursed' more like!
Si Turner
119
Posted 26/11/2017 at 16:00:44
I was not as worried as most people were until this last 4 days which has demonstrated most of the team is no longer putting the effort which is required to get ourselves out of poor form.
Unsworth has not helped by changing the formation and players every game.
We need a tough new manager who is able to install some discipline and raise the pathetically low standards.
I would take Sean Dyche tomorrow who would immediately organise the team and kick some arse.
Mike Connolly
120
Posted 26/11/2017 at 16:00:50
Under 23s it's just to appease the Everton in the Community. So that the locals can say my nephew, my Grandson or my best friends mate plays for them. In reality when they step up they are well out of their depth, even the manager is.
What we need is a massive clear out. Jeffers, Fergusson, Ebbrell. Also the long term scroungers. Sharp Snodin and Stewart. I have never seen a worse Everton side than this. Its that bad I'm even thinking Big Sam Or Pulis might be the answer. Joe Royle saved us but we had dogs of war, this team is full of poodles.
Peter Jansson
121
Posted 26/11/2017 at 16:01:23
Ok this was the most useless performance I have ever seen. I think I was wrong about Unsworth. He made all the mistakes Koeman did but worse today.
You cannot play with both Gana and Schneiderlin. They are not able to keep the midfield together as they can not build uo play. In the ideal world none of them should play since they are pretty useless. They put preassure on the back line because they loose the ball all the time.
What is wrong with Lookmans defensive play? He is continously misplaced in defense. Has noone taught him how to play defense?. He looks exactly like when he came to everton. Good in offense but terribly hopeless in defense. Where has coaching been here???
Michael Keene...what has happened to this guy??
Tony Hill
122
Posted 26/11/2017 at 16:01:58
Phil (#86), we told the most experienced firefighter to fuck off because we thought we were too good. Get Dyche in - if he will come.
The treatment of Unsworth by our loathsome, shithouse Board has been disgusting.
Time for Everton fans to show their teeth.
Colin Malone
123
Posted 26/11/2017 at 16:03:06
Until we get the manager sorted, Joe Royle should be in charge tomorrow morning. If Joe cannot get passion from the players, no-one can.
Said it from day one, Unsworth could not manage a pub team.
Tony Hill
124
Posted 26/11/2017 at 16:04:29
John Smith (#109) - good for you mate. Little gestures like yours with Walsh matter a lot.
Jim Wilson
125
Posted 26/11/2017 at 16:04:32
Tony Twist is spot on. Four at the back with a five man midfield to stop the opposition from playing and to protect the defence is a must now.
Unsworth had no idea how to manage the Baines injury and I feared for us as soon as he went off.
Gerard Carey
126
Posted 26/11/2017 at 16:04:55
Why would Dyche want to leave Burnley? We are in a dire situation, with a Board who constantly sit on their hands and do nothing.
No plan to get in a new manager when they were getting rid of our Dutch Master, and now, six weeks later, still rudderless and nothing happening.
What was that saying from Dad's Army: "We're doomed I tell ye, doomed!!"
Dave Abrahams
127
Posted 26/11/2017 at 16:07:03
I was afraid of this but told myself we'd be okay. I never listened to a word of the match until half-time, got the score then and hoped we'd hold on for a draw, but the team and squad is so drained of any fight or belief that it crumbles with fright at any sustained pressure.
As others have said, we look beyond repair and those running the club are doing nothing. They seem to be as shell-shocked as the players. Is there any chance of a way out of this? It looks very doubtful...
Brian Keenan
128
Posted 26/11/2017 at 16:08:49
I think we are afraid off playing in key areas. I can't believe today that we never doubled up down the wings, so that the centre halves would be cut open so easy.
I think this is so embarrassing in which we are falling about all over the pitch late on too. We are not moving the ball quickly and the opposite side knows we are good and filling all over the pitch with the same outcome. I seen Koeman last year fix this with Morgan Schneiderlin because they had us.
I think Everton should play with a sweeper. I in turn loved Gareth Barry to play there and today I think we need that so there is a spare man running behind them when there caught out. I think we should we play on defensive and never allow James McCarthy and Idrissa Gueye to spilt up and never move from the back 8 and never move across the half-way line. I can't see why don't play on the offside like Duncan Ferguson was training in Europe the last time under Martinez as it worked.
I think we need a manager soon and a more players in January. I will see you on Wednesday at West Ham.
Rick Tarleton
129
Posted 26/11/2017 at 16:10:10
That was appalling. So many players who don't want the ball. Schneiderlin seems to touch the ball only by accident, Gueye, touches it to give it away. The centre backs manage to be either side of the opposition striker, but never with him to make a challenge.
This is as bad as 1958 pre-Bobby Collins when the whole of Eglington, Fielding, Lello and Farrell all became very old together.
Why would Dyche or Silva want to come to Goodison? Money wouldn't compensate for losing their status within the game. Relegation looks inevitable. I've seen Everton in the second tier, I'll be seeing them there again next season unless something miraculous happens soon.
Kevin Tully
130
Posted 26/11/2017 at 16:11:16
I'll say it once more: how the fuck do you sell your record breaking goalscorer for £90 MILLION and not find a replacement? Just that one mistake alone is enough to demand a clear-out of senior management.
Ronnie Goodlass saying Unsworth shouldn't be near the first team – totally agree. Looking at gormless faces of Unsworth, Ebrell & Ferguson on that bench was fucking laughable.
Amateur hour reigns supreme with all things Everton from top to bottom. Gang of absolute goons.
Si Turner
131
Posted 26/11/2017 at 16:11:24
Gérard (126) he would be interested because we have the potential to be a better side than he currently manages if he managed to organise us and make us hard to beat.
No matter what others might say we have some quality players and just need to find some fluency ASAP.

Paul Wyndham
132
Posted 26/11/2017 at 16:12:06
Everton Football Club, 2017... driftwood.
Kevin Moorcroft
133
Posted 26/11/2017 at 16:12:16
Same story all the time. Probably the very poorest team in the Premier League by a long way.
It will take a fucking miracle to avert relegation unless things change. Board are rubbish, management and coaching are rubbish... tea room not much better.
They basically need to just get to basics because, after West Ham and The Redshite, maybe reality will set in.
Why is there no emergency board meeting on Monday morning – or is there?

Brian Williams
134
Posted 26/11/2017 at 16:12:30
I wonder what might happen if I, and numerous other season ticket holders, put our matchday tickets up for sale on the clubs StubHub site ........for a pound? Would it be flagged up to the powers that be?
If it was would it make any fucking difference?
Jim Lloyd
135
Posted 26/11/2017 at 16:13:20
Is there anyone at all left who feels we can carry on without a manager until January?
I feel for Unsy. An Evertonian, who stood up and volunteered, he's also taken his chance to manage but it looks a forlorn hope; it seems to me that whatever he does, there is no cohesion, no pattern, no confidence and very little fight.
In my view, it is a side issue about what Unsy does with this team, he can only try his best. We have needed a manager for at least a month; and I cannot believe that this Board has sacked one without having a top class manager come in. Or even a manager who would give us a chance of getting in enough players who have the bollocks for a relegation fight and who have enough professionalism to do a job that's asked of them.
I don't think anyone, whoever they are, can make much of an effective team with the current squad of players and we'll be doing well if we can get enough of them to, at least, sweat blood for this club.
We have a very proud history and a great record but that doesn't help us one iota now. It is a battle and it's a battle for survival. Those who talk about O'Neill as a dour defensive manager, or Allardyce as somehow not worthy to manage this club, or even Sean Dyche who is evidently not good enough to be considered are, in my view, living in some parallel universe.
We won't be playing lovely, attractive football, fast flowing and deadly, for at least the rest of this season, if not longer. We are a club whose wheels have well and truly come off, and we're at the bottom of the hill.
I think it will be a job very well done if we avoid relegation. I think the list of managers who would come and manage this basket case of a club has shrunk alarmingly. I can't see a "top class manager" whoever he is, coming to this club and doing the necessary. The necessary is get shut of some of the dead wood that currently fill positions in the first team and replace them with players who'll give us a chance.
If we make it to the end of the season still in the Premier League, then perhaps, the manager, or whoever picks the players wanted, can bring some more in.
I hope whoever is going to make the decision on the Board realises where up shit creek without a paddle and gets a feller in who knows how to construct a team within the few short weeks of the January window.
Seeing as Moshiri is putting most of the money (probably the only one) into this club, I hope if it's him that's making the decision, it is made tomorrow... or even tonight!
John Davies
136
Posted 26/11/2017 at 16:13:31
Is there anyone left who doesn't understand there is a massive difference between senior and youth football? Those of you who cried out for David Unsworth to be appointed manager, please wake up. True Blue who has been hung out to dry. Some ridiculous posts still extolling his virtues.
Ash Moore (#76). You "don't believe Unsworth doesn't know what he's doing"? What the absolute fuck?!?
Ash Moore
137
Posted 26/11/2017 at 16:13:35
What do people think we will get against Moyes new boys???
Couldn't play them at a better time, then the derby to look forward to. Palace won yesterday, and I can see this team being bottom at Christmas. Not sure even Moshiri can fund the sort of spending spree to get us out of that.
No, things are fucken grim.
John – Do you think he tells Keane and Williams to defend like fucking Laurel and Hardy, mate? Or do you think he's trying to set up a team that has no options?
I personally think it's the latter. What formation do you play when your senior pros are the ones making the fuck-ups that are killing you?
Jerome Shields
138
Posted 26/11/2017 at 16:14:14
I thought Unsworth was the answer, but he has now been shown not to be up to the Management level required.
More worrying is the Board has been also shown not to be up to the level required in their selection of a manager and potential replacements. This has resulted in signing players who are not up to the standard required.
In the space of a year this is where we have got to. What a shambles. Where is the manager required going to come from? Are the Board capable of finding him? And who is going to want the job in these circumstances?
Our only hope is that the puppet master decides to get rid of Moshiri and take over himself. Kenwright should be history.
Rick Tarleton
139
Posted 26/11/2017 at 16:14:31
Please remember we were playing an awful Southampton side and we managed to make them look like Barcelona. Unsworth looked bemused and clueless. Find someone, please.
Matt Muzi
140
Posted 26/11/2017 at 16:17:04
It just gets worse every game! The board are to blame in my eyes & need to stand up big time! Unsworth is well & truly out of his depth!
We sacked Koeman a month ago! West Ham sacked Billic & had Moyes in place to take over in about a week! West Brom sacked Pullis & look like they have got Pardew ready to come in.
There was one player who earned his wages today, Kenny, the rest were shocking.
If we are seriously after Silva, the board need to wake up & realise it isn't going to happen.
I am very worried not only won't we be able to attract the right manager, but what players who can improve us are going to want to come in January?
It is disgraceful!
John Smith
141
Posted 26/11/2017 at 16:17:22
Thanks Tony (124). After suffering many awful performances this season, with many costing a lot of money, such as the Europa and games like today, it is simply unacceptable for him to act like he didn't care. Bill looked embarrassed for almost the entire match (credit that he stayed till the end though). No Mr Moshiri though, at all, as far as I could see.
Keane limping heavily as well on the way out to the coach. The board's private jet awaits probably as opposed to the coach journey and 5-hour train journey that the Everton fans have to contemplate today. Conceded 9 goals and scored two in the space of 4 days.
Joseph Murphy
142
Posted 26/11/2017 at 16:17:57
Please Everton, when this disaster does eventually turn around and players start trying again, make it your mission to route out the rotten apples like Williams, Schneiderlin and Mirallas who are intentionally not trying, and get them out of my club. We don't deserve their disgraceful levels of effort and I hope the club has a long memory.
Also, get shut of Martina and Klaassen too, for just not being good enough and so hiding in games.
Jay Griffiths
143
Posted 26/11/2017 at 16:20:29
Thanks Brian.
We're so slow and obvious in transition its easy for the opposition to get back in shape in good order.
Schneiderlin and Gana mark space not men playing between the lines. They come over too late which leaves our defence horribly exposed.
We need our fans and supporters to stop asking for high level managers that have excelled at AC Milan, Real Madrid, New Man City et al.
Someone to stop the haemorrhage, we're bleeding. Someone who commands fear and respect short term but can stop the flow. Someone who unifies spirit first and foremost. We cannot turn our noses up.
Will Mabon
144
Posted 26/11/2017 at 16:20:42
"Jagielka's multicolored armband as captain. Little wonder things are the way they are."
You know what, I hate this distractionary globalist "Message" shit being piggy-backed onto sport. Never mind all the people sleeping on the streets, let's make sure we're all "Aware" and "Educated" about people's sex lives, and all the "Unfairness" around it.
As if the performance of the team isn't annoying enough.
Allan Board
146
Posted 26/11/2017 at 16:21:38
My 50th birthday today-exactly 40 years to the day I first sat in Goodison in wide eyed wonder and watched us tonk Coventry 6-0.
This icon of British Sport is on it's knees and the money men are laughing up our backs.
Finished until Kenwright fucks off.
Christopher Timmins
147
Posted 26/11/2017 at 16:22:28
Unfortunately, Unsworth is not the solution, over the past 4 days both teams selected threw in the towel well before the final whistle. The players brought in by Walsh and Koeman have been an unmitigated disaster.
A new manager needs to be in place by the time we play West Ham and everybody needs to get behind him because he has one hell of a task in front of him!
Tony Hill
148
Posted 26/11/2017 at 16:23:52
The one piece of good news is that we still have time to fix this horror show. But we have to make an appointment this week, ideally tomorrow.
I agree with Si Turner (#131), Dyche ought to be persuadable. Anyone who takes the job will be showing that he is up for an almighty challenge and that in itself will say something important about him.
There is gold worth digging for, even if it is buried deep.
We must not surrender to despair and I say that as one of the biggest cynics on here. We are not in the relegation places and it can be turned around.
This is a very dark time but it is so dark that it might bring about some long overdue and fundamental changes, not least in the attitude of our farcical Board.
All is not lost, not by any means. Let's start again on Wednesday.
Peter Cummings
149
Posted 26/11/2017 at 16:23:56
Could only get the game by radio over here but the commentary made it loud an clear that we are now far from Premier League material and even less likely to light up the championship next season,
As I have said since the Koeman takeover,which I thought from day one was a recipe for disaster, we have become a very bad joke throughout the football world, when even a dyed in the wool Evertonian turns out to be unable to instill any semblance of confidence or motivation in the players then who the hell can???
For too many years now we have been saddled by a gang of incompetents who continue to fiddle while we burn, even the addition of a billionaire has done little to inspire EFC apart from the Possibility of a new stadium, at this time of the festive season of peace and hope, Evertonians can only expect to hear 'God Help Us Every One'.

Jay Woods
150
Posted 26/11/2017 at 16:24:04
Hold on a second.
Wasn't there supposed to be a stirring up of a fighting spirit by now?
You know, part of the rationale for why we should all be getting behind "Unsy"?
Some of our fans deserve everything they get.
John Pierce
151
Posted 26/11/2017 at 16:24:33
Difficult to know what to write. A bit numb really.
We seem to be like a blind man flailing around stumbling towards the edge of a cliff.
Moribund, and most worryingly nothing from the club. Clammed up, paralysed with fear.
Fear attracts predators, we are are weak and exposed.
I really don't know what will work.
Paul Kossoff
152
Posted 26/11/2017 at 16:24:53
Listening to Unsworth saying we aren't in a crisis, never blamed any player, and said it's a lack of confidence that's all. Said we have to try different things, then said we can't keep chopping and changing!
He's clueless, if he was our new manager, after seven defeats we would be calling for him to be sacked! The change has to come from the top, Kenwright has to resign, until he does, and this once a blue attitude changes, we are never going to get anywhere!
A complete clear out is needed. Our only chance to staying in the premier is a foreign coach bringing a nucleus of a team in, four or five players, and starting again.
I've supported Everton since I was a child and this fucking lot should be ashamed of themselves. I would not pay them and let them take me to court to get their undeserved wage. Bunch of lazy uncaring twats the lot of them!
Andy Walker
153
Posted 26/11/2017 at 16:25:03
We could have got Allardyce a month ago, we collectively told him to fuck off. I fear we will now pay the price for that terrible misjudgement.
Dave Evans
154
Posted 26/11/2017 at 16:26:05
Stating the obvious but there is something seriously wrong with the coaching and man management at Finch Farm. Confidence is shot. Players don't seem to know what they or others should be doing next. Our players first move is often to hesitate or look for safety.
David Hallwood
155
Posted 26/11/2017 at 16:26:06
But the problem is that he's only the caretaker so what he says to the players is of little concern. Supposing he gets Schneiderlin into the office and tells him that he'll never put a blue shirt on again-which should happen. But he'll just shrug his shoulders because he knows he won't be there that long.
But I'm deeply disappointed in Unsy because we've got to get the basics right, and that isn't happening.
Jim Lloyd
156
Posted 26/11/2017 at 16:26:28
Well done, John Smith and congratulations to you and your Grandfather.
Nil Sats Nisdi Optimum! is right but I wonder what the Latin is for
"Another fine mess you've got us into!"
Shane Corcoran
157
Posted 26/11/2017 at 16:28:51
I haven't read the post match reaction but there's no sense to Unsworth's teams.
Two down and neither Rooney nor Sandro brought on. It's not like Calvert-Lewin looked like he was going to score.
Vlasic out of nowhere is the man to try to bring the game back. He couldn't make the squad up to now.
It's going to be a tough, tough job for anyone to do anything with this team but Unsworth ain't up to it.
I can't wait to get Coleman back and see if his enthusiasm rubs off one some of them.
Sigh.
Mike Hughes
158
Posted 26/11/2017 at 16:31:16
There's not much to say that hasn't already been said.
Listened on R5L and Steve Claridge was knowledgeable,
analytical, measured and damning in his assessment of us - and not for the first time this season.
(By the way, he did not think Niasse should have been charged the way he has been. New respect for SC.)
No point in highlighting the dire straits we are in any further.
What can we do to address the situation as of now?
1. We need a new manager for the short term salvage operation that this season has become and we need that man appointed by Tuesday this week at the latest.
Where is the urgency / leadership when we need it?
2. Operation Lazarus won't involve any fancy ideas, philosophies (puke) or any other modern day, popular notion of "how the game should be played".
It'll be Dogs of War II.
3. I'd go for a manager from these shores as I can't see any foreign manager aligning with point 2 above. Those decrying Allardyce, Dyche, MON need to seriously re-think their assessment of the situation.
A third of the season gone and we are on the brink.
Note - I heard on Radio Merseyside that no team that has conceded as many goals as we have at this point in the season has survived.

Very dark times.
John Harrop
159
Posted 26/11/2017 at 16:32:15
Just over three weeks ago, Phil Walling reminded us of Randy Lerner's words at Aston Villa – "You are only ever one bad manager away from disaster!"
Come to think of it, we're starting to look worryingly like Villa did when they went down.
Ray Robinson
160
Posted 26/11/2017 at 16:32:34
Irrespective of who is in charge, I suspect that things won't start to get better until January when we pay over the odds for decent defenders (and a forward!). Not even Allardyce, Dyche or Pulis could make a decent defence out of the current incumbents.
Shane Corcoran
161
Posted 26/11/2017 at 16:34:08
I'd take Pulis right now.
John Smith
162
Posted 26/11/2017 at 16:35:36
Bill looked very upset almost the entire match. He does care and didn't like today like us all. Steve Walsh sat a few away from Bill in the first half and then sat next to him virtually the second half.
Bill kept looking at the Everton fans in the second half. He feels out pain but the others, Elstone and Walsh, don't seem so concerned.
I predict an appointment very very soon and I think Steve Walsh will exit too. I hope so as his behaviour was unforgivable today. Apart from our goal before half time there was absolutely nothing to smile or laugh about. Especially as our Director of Football was tasked with signing the 'talent' we had on display today.
Oh Steve – did you notice that we had no cover at left-back when Baines got injured? Or the fact that Charlie Austin looked like the player we have been missing?
Stuck in traffic now so probably 6 hours home on the train to look forward to. Enjoy you prosecco on the plane, Steve. (Oh and your salary too.)
Derek Knox
163
Posted 26/11/2017 at 16:35:41
Yes Shane, I am disappointed in a lot of Unsy's team selections and tactics, which ultimately proves to me, that he is not the man for the Job!
I can understand, but not accept totally, that one or two players can have an off-day, they are human, but for the malaise shown by basically all of them, is beyond comprehension.
I have said all along that we need not only a football tactician, but a psychologist too.
Bill Gall
164
Posted 26/11/2017 at 16:36:23
Who as a manager will want to come to this shambles. If you were chairman of Burnley would you give Everton permission to speak to S.Dyche ,and would he even want to come after already been in charge of a premier team that was relegated. The only positives to come from today are the away supporters, and how disgusted they must feel traveling all that way to be served up this rubbish.
Ron Marr
165
Posted 26/11/2017 at 16:36:28
Moshiri needs to dump Kenwright as an adviser pronto. Together, they're the Dilly Dally boys. Only a football mercenary will take over this team now.
David Hallwood
166
Posted 26/11/2017 at 16:37:03
Just watching Huddesfield vs Citteh, and I could cry. Man for man Huddesfield shouldn't be on the same planet, but what they lack in quality, they're making up in commitment.
Show the shower of shite how to battle, bite and scratch a result.
Mike Hughes
167
Posted 26/11/2017 at 16:38:28
Derek -#165
I have said all along that we need not only a football tactician, but a psychologist too.

I think you mean psychiatrist.
Jim Lloyd
168
Posted 26/11/2017 at 16:39:32
Mike, Operation Lazarus sums up what is needed. It will be interesting to see who the Board pick because if they don't get one of those two names you've mentioned, I really do fear for our club.
I don't see a foreign coach (a manager with no premiership experience) knowing enough about the players available to be up for a relegation scrap.
I think it will be hard to get Sean Dyche in, or any manager who sees us as a bad risk, so, Martin O'Neill, Sam Alladyce, possibly Sean Dyche,. that's about all who'd come that I can see who'll give us a chance of staying up
Guy Hastings
169
Posted 26/11/2017 at 16:40:02
If Williams pulls his shirt over his face once more I'll strangle him with it.
Joe Ainsworth
170
Posted 26/11/2017 at 16:40:10
To all those who offered their wholehearted support for the experience-free, glorified youth coach Unsworth to take the reins on a permanent basis, I hope you are thoroughly enjoying the blended meals and padded walls of your new institution.
Looking at poor old Rhino, staring into space, unshaven, waiting for Joe Royle to tell him what to do next, he'll be joining you shortly...
Alan McGuffog
171
Posted 26/11/2017 at 16:41:02
Is it Unsworth's fault that our players cannot keep possession, cannot pass and move, are slow, unathletic, are gutless, clueless and most of all disinterested? Without a miracle we will be relegated next May. Maybe then the real guilty parties will accept the blame. Won't hold my breath mind.
I feel nothing right now but deep deep sadness that the team I have loved is finished. Everton Football Club. RIP.
John Pierce
172
Posted 26/11/2017 at 16:41:45
My wife ambled by and looked at the screen, she said softly "Do you need Hibbo back?"
Gulp!
Paul A Smith
173
Posted 26/11/2017 at 16:42:18
I think Kenwright is a muppet but raising the name of Moshiri while having a go at Kenwright is stupidity.
Moshiri wanted Koeman, wanted Walsh, wanted to sell Lukaku and now hes using Unsworth like a whore.
Karl Goodwin
174
Posted 26/11/2017 at 16:42:20
Utter fucking shite. God help us in the derby.
Looking at the bigger picture, I think we are fucked. Relegation is now looming fast, I can't think of one positive.
Clive Rogers
175
Posted 26/11/2017 at 16:43:28
John (#164),
Kenwright looked like he didn't give a shit to me. He should do, he has caused this shambles for the last twenty years and what made watching the match worse was his fat ugly mug on our TV screens.
Mike Hughes
176
Posted 26/11/2017 at 16:43:47
Jim #170
I've got a horrible feeling that none of those names are on the shortlist.

Gary Grant
177
Posted 26/11/2017 at 16:45:06
While I agree that the board's inability to find a new manager after six weeks reeks of incompetence and is inexcusable, I'm getting a bit fed up with the free ride Unsworth is getting from many fans ("not his fault", "impossible position" etc).
It seems that for many football fans, if you've given many years to a club, are passionate about that club and are/were a fan favourite, that qualifies you to be a manager, or to be absolved of blame when things go badly. Witness the multiple suggestions six weeks ago to give the job, til the end of the season, to someone who'd never managed a pro club at any level. Just because he was David Unsworth, club legend, and he'd done well with the kids.
Well, we are now seeing the folly of that. The man is out of his depth, and we are regressing rapidly. Team selections and tactics have been appalling, and that has nothing to do with the uncertainty engendered by the permanent manager situation.
If passion for the club is the sole criterion for being the manager, why not just appoint somebody randomly out of the Gwladys Street End? We need a good manager, and any connection to the club is utterly unimportant. There are people above seriously suggesting Joe Royle. Christ, is it 1990 again suddenly? How regressive and short-sighted can you get?
Get Unsworth out, get Ferguson out and restructure the management from top to bottom. It's the only way to save the club from imminent disaster.
Shane Corcoran
178
Posted 26/11/2017 at 16:45:09
Paul, Moshiri wanted to sell Lukaku?
Paul Kossoff
179
Posted 26/11/2017 at 16:46:49
There's a lad just been on the radio actually crying while he spoke! Supported Everton since 1963, says Kenwright has to go to save our club. Shame on you, Kenwright, you money-motivated bastard!
Alan J Thompson
180
Posted 26/11/2017 at 16:47:45
I was all for Unsworth to be appointed at least until Christmas if not until relegation was a ghost but he keeps making the same mistakes as his predecessor.
Consider playing ten men rather than picking Schneiderlin, he's absolute rubbish! Calvert-Lewin, for whatever skill he has, is not a target man or a leader of the line. The defence is a joke hardly worthy of the name and we name only one defender on the bench. Jagielka, Williams and possibly Baines should not be considered again, I'd sooner play a couple of the kids. If anyone came out of this with any credit it was Kenny, right back then left back, anyone notice how they changed wings when he moved while Lennon and Jagielka couldn't cover right back between them, even Robles playing right back couldn't have been that bad!
I've never been so ashamed to be an Evertonian, Southampton were taking the piss and they weren't good enough to do it! Today was just the product, the problem is rife throughout the club, both new and old and the blame will be worn by those who had least to do with it. Dust off the Wimbledon speech, Bill, as it's on the cards again this season.
Viv Sharma
181
Posted 26/11/2017 at 16:47:51
No manager of any caliber is going to risk a decent reputation on us now.
Moshiri has allowed Everton to become a laughing stock.
Simeone!? You're having an effing giraffe! We got turned down by Big Sam! We will not be able to get a manager with the experience to improve us. It's up to the players to keep us up and clearly they don't care. Overpaid loafers with no emotional attachment to EFC. If Everton go down they'll just move to a new club. No skin off their backs.
It's down to the squad and they don't care. Looking pretty bleak right now.
Nigel Munford
182
Posted 26/11/2017 at 16:48:42
Evening Paul, I think we are all in agreement that Bill Kenwright has passed his well by date.
Colin Glassar
183
Posted 26/11/2017 at 16:49:56
Unsy is responsible for the lack of a game plan, the lack of drilling, team selections, tactics etc..that's all on his head but the lack of fire in the players bellies and the cowardice is on the players. They are well paid professionals who should show some pride in their craft but after going a goal down (not doing even the basics) they show no real interest in upping their game.
I know the club is rotten at the top but this isn't an excuse for these guys to cower on the pitch and hide. We not only need a manager we need men who are prepared to fight.
Jim Lloyd
184
Posted 26/11/2017 at 16:51:03
Mike (178) I've got a terrible fear that you're right.
Jay Griffiths
185
Posted 26/11/2017 at 16:52:25
Had a post on TW on the way back from Palace last week. It was based around a lifeboat analogy. After about an hour it was airbrushed out. Gone from the postings. It's more appropriate today than last week.
Would like to see if TW will rerun the 80/20 Big Sam poll. Go on, it'll be an insight into epiphany. And they say a week is a long time in politics.
Mark Dunford
187
Posted 26/11/2017 at 16:52:39
Agree with Mike (160), I've now heard two commentaries with
Claridge on R5
and his view on the Everton side seems to be spot on. Yes, he is damning and points out the multiple failures we suffer every week. He did repeat his view that Everton were the worst team he'd seen this season as he highlighted lack of energy, poor defending, no players in key positions, too many youngsters, too many ageing players, anonymous performances from expensive signings, dire performances from established players, a disjointed squad and disagreements between players on the pitch. He exempted Pickford and said Siggurdson scored a good goal. Above all it needed a new manager with authority, in this respect nothing had change in the six/seven weeks between Arsenal defeat and today's farce.
I do feel sorry for Unsworth - he clearly loves the club and it was a terrible inheritance from Koeman. I'd say there had been a marginal improvement before Atalanta, but these two defeats have knocked us back to position we were in when Claridge first saw us. Needs to be sorted, tomorrow ideally. I'd prefer AVB - his record is sound and he knows the league; O'Neill is yesterday's man and his record outside Scotland, where he managed the one decent team in a one team league, is nothing to get too excited about. Is there even a third person on the list? I'm assuming Dyche is not a possibility.
Les Martin
188
Posted 26/11/2017 at 16:54:31
Possession ! it appears to be a word that we have lost this season, if you cant keep the ball then you are going to get swamped, this is what happened.
Peter Reid once said to one of his teams "just keep the ball, pass and move" something we are inept at doing presently.
Shane Corcoran
189
Posted 26/11/2017 at 16:54:39
Mark, no fan of O'Neill, but he came to Glasgow and stopped Rangers winning ten in a row plus he did well with Wycombe and Leicester.
Still though, he's not welcome.
Derek Knox
190
Posted 26/11/2017 at 16:55:33
Paul K, it is so sad that we have plummeted to these depths we are now in. I can understand fan's feeling gutted and let down.
No team has a God given right to remain in the Premiership, but to not even challenge, and have a proper go, is unforgiveable.
John G Davies
192
Posted 26/11/2017 at 16:55:40
Nigel,
Kenwright is far from the muddled character he is made out to be.
He is a scheming, underhanded cold heart business man who has rode the Evertonian train for 20 years. He has his reward with the fortune he wangle for his shares while remaining in the same position.
We will never progress while he has influence over the club.
Will Mabon
193
Posted 26/11/2017 at 16:56:45
Colin, they're all scared shitless. Almost to a man, they're frightened to pass forwards or between opposition players, even when an obvious safe and easy forward pass is right there. They all stop the ball and look for a sideways or backwards pass. There's a time for that, but it's like they're looking for it over all other options. Almost every time they do pass forwards, it's a terribly inaccurate or intercepted pass.
It's as if they've been threatened to not win. I can rarely remember seeing such fear throughout a team, any team.
Paul Wyndham
194
Posted 26/11/2017 at 16:59:34
Captain today was Jagielka? Was it? Absolutely no leadership qualities, never has had, too quiet, too polite and now just looks like he's not arsed, apathy spreads through the whole team.
Got to agree with others that I could only see the novice that is young Kenny (from a family of reds too) actually playing with any pride.
A miracle is needed to save this Club from oblivion, can't see it happening while Kenwright remains.
Jim Marray
195
Posted 26/11/2017 at 17:00:15
As of today, there is no Everton Football Club, just a collection of rich idiots in the boardroom who can't see that the house if on fire and a collection of individuals on the pitch all wondering if their agent can get them a transfer to another team in January.
The fans, who are the foundations of Everton Football Club are wavering and wobbling because they are concerned that something they love is about to be demolished and there is nothing that they can do about it.
The real problem is not what happens on the pitch but what happens in the boardroom. The lack of response from the board to the current issues is a telling statement as to the stresses and tensions between the members. Until that power struggle is resolved, the question of a manager is unlikely to be sorted to anyone's satisfaction, least of all the fans'.
We wanted a billionaire, we got a billionaire but there is no happy ending while the old guard still run the club.

Justin Doone
196
Posted 26/11/2017 at 17:00:35
I would call it a shocking performance but I'm not shocked or surprised.
Woefully inept and players that keep letting everyone down keep getting chance after chance.
I've said it plenty of times before WILLY & SCHNIDES should never again play for this club. How do they keep coming back in the same team together?
They are not youngsters deserving of so many chances, they are both proven international players who only keep proving me right. I never want to see them play for us again.
The central positions are incredibly important and influential and need to be the core backbone of the team. We are left with empty egg shells on the pitch and the runny embryo covering the eyes of our board. To many bad eggs in the team and no one to leave them out.
We need a manager, we need leadership, we need to play a 5 man defence.
The board acted quickly in getting rid of Koeman but to have no one in place was foolish. This is the most competitive league in world football. The board have been as poor as some of the players. No fight, no passion, no plan, no change, week after week after week, same poo in still gets same poo out.
In not blaming Pickford but he must be thinking déjà vu. Leave the young lad out. I like Robles but maybe Stick is needed for his experience?
We are not yet dead. Long way to go yet but we're making it hard for ourselves by not bringing in a manager.
Hint... MANCINI is top class and ticks all the boxes.

John Keating
197
Posted 26/11/2017 at 17:00:42
Well we all saw that. So now no excuse. You all know who you are so I want everyone one of you:
Put up your hands if you now don't believe going down is more than a possibility
Put your hands up everyone who thinks a foreign manager with a ten year plan is the way to go.
Put your hands up everyone who thinks we are a good team just short of a striker.
Put your hands up everyone who thinks Unsworth is responsible for the cowardice shown by almost every player on that pitch.
I've read countless posters over the last few weeks coming out with absolute shite about getting God knows what fancy manager in to sort this shit out. Posters coming out with we are only two wins away from mid table.
Absolute psychos, absolute dross. When are people going to wake up to the indisputable fact that we are a Club NOT just a team but a Club in a downward spiral, a fucking national embarrassment, an absolute disgrace.
We had some guy posting that it was the supporters fault we were in this position. Unbelievable. Go and tell the real heroes who were at the game today that the shit we witnessed was their fault. A fucking disgrace.

Jim Lloyd
198
Posted 26/11/2017 at 17:01:07
Jay, I had one rubbed out too. Similar post to yours but I might have put it on the wrong thread, and I'd like to see the same, but I think (hope!!!) we' will have a manager in before it could take place.
Anyway, just to make me feel better, I'm goin to have myself a little old party on the day Kenwright pisses off from this club. Like John G has just written, I agree 100%. The horriblew thing, is that might be the only thing I might have to cheer about in this next few months
Tony Hill
199
Posted 26/11/2017 at 17:02:03
Colin (#185), it's a priority to get a couple of hardened pros in January who will organise on the pitch and add spirit and fight. We might have hoped that would be Rooney's role (and it may yet be) but his face today told a sorry story.

Apart from our excellent goal, the one moment that cheered me today was Kenny delivering a proper bollocking to someone, I couldn't see who it was - Lookman? As it happens, I'm still to be convinced by young Jonjoe, though I suspect he will do well in a better side. No doubt at all, however, about his spirit.
Oliver Brunel
200
Posted 26/11/2017 at 17:02:17
The new manager should have been lined up before we threw the dutch tit out. The replacement could have come in and settled the squad and got rid of the troublemakers. No, instead we have a fudge, the usual crap.
No manager of any repute will come to Everton now except an unemployed one just for the cash. The sight of Kenwright and Co in the stand sickens me. Give those seats to some real fans who cant afford the tickets. Who is actually making decisions at Goodison?
Ed Prytherch
201
Posted 26/11/2017 at 17:03:53
I was in favour of giving Rhino some time to show us if he has what it takes to manage Everton but it is clear that he is out of his depth. I am reminded of the song My Brain by Mose Allison.
My brain is getting pounded, pretty soon I'll be dumbfounded, my brain is a sweet little clusterfuck, my brain.
It is not his fault that we started the season with only one registered left full back or that we then let our only other left footed defensive player go to West Brom, or that we let Valencia go when we knew Lukaku was leaving. Those mistakes were presumably Koeman's but now we need a strong leader to get us out of this mess.
I watched Duncan sat there watching the game and saying nothing. Is it because he has nothing constructive to say, or that he has too much respect for the manager, or that he thinks he is wasting his breath, or that he does not want any of the shit to land on him?
Moshiri has watched his millions flow down the toilet and he wants to call the tune but does he know enough to make big football decisions or does he trust Kenwright to make them? Maybe neither. It is out of the hands of the players.

Clive Mitchell
202
Posted 26/11/2017 at 17:04:28
I'm going to post first and then read. I'll be driving 1,000 miles this week to support the team at Goodison. I only have one thing to say. Whoever is Everton manager from today on, NEVER name Schneiderlin in your starting 11.
Mike Keating
203
Posted 26/11/2017 at 17:04:28
Three Centre Halves and we gift Austin two headers! Appalling.
I watched first half of Huddersfield v Man City. They just would not let City players settle on the ball, Everton just did not do that.
Kim Vivian
204
Posted 26/11/2017 at 17:04:31
David Brailsford in alongside a football man.
Colin Glassar
205
Posted 26/11/2017 at 17:05:26
Will, Unsy said himself that they are a happy bunch who enjoy training but what exactly is it that they do in training? A well drilled team knows, almost telepathically, where everyone is on the pitch. We play like 11 strangers. No one makes runs, no one takes responsibility, no one takes command (captain) and barks out orders.
We are weak mentally and physically and completely unorganised. We are so bad right now I'm reminded of Aston Villa when Lescott and co. didn't seem to give a damn if they went down or not.
Andy Meighan
206
Posted 26/11/2017 at 17:09:35
Andrew (#157),
We're all blues through and through. Big difference being Unsworth is getting paid for the privilege of being a blue. Has he got to go into work tomorrow and take grief of ffucking idiots who don't know what shape the ball is? No, he hasn't Most of us have to though.
He's shown himself to be naive at best and has learned nothing from the awful Koeman tenure. Fans on here thinking we're too good a club for the likes of Allardyce and Dyche... Get real. We need a firefighter to get us out of this mess ASAP.
Unfortunately I don't think there's a manager in world football that could get a tune out of this sorry shower but, hey ho, what do I know?
People feeling for sorry for Unsworth... Why? Save your sorrow for the poor souls who shelled out hard earned cash to witness another spineless disgusting performance. Performances which are becoming the norm.
Not once have I heard any manager or coach apologise to our fans for the shite we've had to put up with. And I'll tell you why... Because they don't fucking care. They're quite happy to pick up their inflated salaries up and swan off to wherever.
And yes, I include Unsworth in that. None of them care. If they did, we wouldn't be in the mess we are in.
Ste Traverse
207
Posted 26/11/2017 at 17:10:18
Shane #191.
I'm no fan of the Glasgow ugly sisters, but it wasn't Martin O'Neill who stopped Rangers winning 10 in a row, it was Wim Jansen.
For the record I wouldn't be entirely against O'Neill getting gig here right now.
John Ronnie
208
Posted 26/11/2017 at 17:11:09
Worst Captain in the history of the club. Jagielka is weak and not a leader.
Look what happened over the West Brom penalty issue with Mirallas. Pathetic.
Peter Jansson
209
Posted 26/11/2017 at 17:12:11
The problem must run much deeper than Unsworth.
How can we be so pathetically bad?
I wonder what they do on training? Anybody with insight?
What do they pracise on?
What was the gameplan today?
The people helping Unsworth must be completely useless.
I wonder because absolutely all players exept from Pickford and Jonjo Kenny was bad today. And I don't mean just bad but totally useless.
The players are as far from working as a team they could possibly be. They look like a bunch of guys running around with absolutely no plan or will to do anything at.
This problem must be bigger than Unsworth.
Shane Corcoran
210
Posted 26/11/2017 at 17:12:40
You know Ste, as I was typing, Jansen came to mind but I carried on. Cheerfully withdrawn.
Daniel A Johnson
211
Posted 26/11/2017 at 17:13:50
Everton FC is burning to the ground but Moshiri doesn't like the look of the firemen as they aren't foreign enough.
Steve Walsh laughing after the 4th goal went in shows all we need to know him about as well.
Get Dyche in tomorrow.
Paul Birmingham
212
Posted 26/11/2017 at 17:14:38
Even worse than Atalanta, and blind faith and loyalty to some vets and 㿀M signings must stop.
Why Sandro didn't start Is baffling along with Vlasic. The team reeks of decay and they are leaderless, clueless and passionless on the park.
God help EFC, dark forces have aggregated and this time we need a miracle to avoid relegation. Never in my time has the club Beeb so spineless and gutless. I said last week about the club giving away free x8 pint vouchers at Goodison, if they don't act soon there will be no fans and STHS will now be realising that hope, blind faith and living for what is becoming a life times dream to win a trophy is futile.
Every Sunday morning ale house team could beat this lot. They really don't give a damn about EFC and totally disrespect the supporters. New unwanted stat records being broken with each of the last few games.
For Unsy, he had a broken cup for an acquired broken team, and a broken club. The rot is permanent at a EFC and if the crooked board don't see what the whole of Europe knows and probably the world, we are deep in rapid decline and this squad will get relegated.
For me the game was lost before KO, with the selection and now is time for the veteran Keystone Cops, defenders to step down, and Morgan S is a fraud, and is sussed out by all. DCL won't ever be a top level player, his control and decisions making is not good enough. He tries hard and has scored World Cup Winner , that will be his epoch, as a player.
A new captain, vice captain and code of honour is needed to try and stay up..and of course a new manager by tomorrow teatime.
Moyes will take his team to Goodison Park and will expect to beat us. This club doesn't deserve the long suffering supporters now the board must act.
Sure enough another nap, crap result and ruined weekend .
Keith Monaghan
213
Posted 26/11/2017 at 17:15:44
Reality is we have very few decent defenders – we may as well start with Pickford & Kenny, and then 9 forward/midfield players.
Baines & Jags should have been eased out 2 years ago, Williams has always been a mediocre defender, and Keane has looked awful since the Spurs game; they are all so slow and hopeless in the air, and their distribution is very poor. Added to that Schneiderlin is slow apathetic, and has been awful all season.
No wonder we're so slow going forward and our front players get such poor service – look how they're given so little room to move, yet opposing forwards have acres of space against us.
Those who thought sacking Koeman was the answer were way off the mark – he has to take some responsibility, but what about Kenwright, Walsh & the hangers on like Ferguson? We are mentally weak right through the club – U23s turned over by RS instead of rubbing their noses in the ground when we'd won that league! And recently, lead by Jeffers, turned over big style by them again!
Bill Kenwright must go and take Rooney & his other hangers on with him. Being an Evertonian isn't a pre-requisite for being a successful coach or manager; footy in the Premier League is big business and needs to be managed with the head, not the heart - looking sad & tearful in the directors box achieves nothing.
WE NEED STRONG LEADERSHIP ON & OFF THE PITCH
Tony Marsh
214
Posted 26/11/2017 at 17:15:48
Do any of the football snobs who support Everton – you know, the School of Science, Nil Satis brigade – think we would be in this predicament if Allardyce had been given the job 4 weeks ago? Like I said back then be carefull what you wish for.
Is that Anchelotti and Tuchel I see fighting over the Everton job?
Derek Knox
215
Posted 26/11/2017 at 17:16:15
Kim, on your bike ! :-)
Bobby Thomas
216
Posted 26/11/2017 at 17:17:50
I would be very interested to see if the stunningly complacent Steve Ferns still thinks we will finish 8 - 10th.
Not a chance with this toxic bunch of supine stangers. There's no character. No leaders.
We need a manager in that can galvanise the dressing room & get the side drilled or we are gone.
Paul A Smith
217
Posted 26/11/2017 at 17:19:53
Yes Shane Moshiri wanted to sell Lukaku. Hence he was sold. Don't be giving me all that best offer the club had made theory, they done it knowing it was far less than he would have got at United or Chelsea.
Jim Bailey
218
Posted 26/11/2017 at 17:20:30
I am officially in mourning.
Never in the field of professional football have so many been let down by so few.
RIP Everton.
Shane Corcoran
219
Posted 26/11/2017 at 17:22:08
I'm giving you nothing as I'm not as privy to things inside Goodison as you obviously are.
My guess would be though that Koeman had persuaded Lukaku to stay the previous year and that he was determined to leave so they let him go. Hardly unheard of in professional football.
Paul A Smith
220
Posted 26/11/2017 at 17:25:03
Shane if you want to be a smart man make sure your streetwise.
I don't need inside information to know Lukaku plays for Man United now. Neither do you.
Kieran Kinsella
221
Posted 26/11/2017 at 17:27:57
Colin
I think in training to make daisy chains and talk about their journeys.
"I am Duncan, I am a head butting addict, I left Everton twice but they keep letting me come back."
"I am Wayne, I am a serial adulter, I left Everton for my entire useful career."
"I am Franny. I take the piss. Said I was too good and left, came back then mouthed off and left a second time, now I am back again just cause it is easier than mugging people for a living."
Ajay Gopal
222
Posted 26/11/2017 at 17:28:12
Many here quick to blame Kenwright, the favourite whipping boy, and give Moshiri an easy ride. At least, Kenwright was at the game until the last minute, sharing the pain, and where was Moshiri (I think I heard the commentator say that he was in Monaco)??
Unsworth has been put in this horrible, horrible position because of (a) the lack of leadership, undermining his position as a Manager (my deepest respect to him, he has never whined, just got on with try to the best of a hopeless situation) (b) the terrible, terrible legacy left behind by Koeman and Walsh. Unsworth has made some really bizarre team selections – leaving our Rooney and Sandro today? Playing Lookman and Vlasic? Really?? Was it his way of protesting to the board – waving the white flag?
Kenwright and Moshiri need to get together – TODAY – and decide once and for all who makes the footballing decisions. They should jointly sack Steve Walsh. Wave the wallet at their 1st choice manager, if not line up 2nd, 3rd, 4th choices. Get a manager in by Tuesday.
My dear fellow TWers/Blue fans - I have never set foot inside Goodison Park, I have never invested a single Rupee of my money into Everton. Many of you have been doing it for years, over generations. You spend your hard earned money to support this team that for some strange forgotten reason, I support too. My deepest respect to you all – you must be hurting much more than me. But, please, PLEASE don't give up hope.
If anyone can help turn this around, it is YOU – the paying fans. We still have 24 games to play for – 72 points to scrap for! The players' confidence is shot – some members of this team are not fit to wear the Blue shirt again, but the vast majority of them will still play for professional pride at least – clap them on, urge them on, give them a cheer, but let them know that you CARE. That is the ONLY way, this season can be turned around – only you the fans can do it. God bless you all.
Will Mabon
223
Posted 26/11/2017 at 17:28:18
Colin, I guess unqualified, automatic happiness is a gift possessed mostly by children. Adults are more usually happy for a reason, or perhaps satisfied, on the back of something worthwhile.
"We are weak mentally and physically and completely unorganised. We are so bad right now I'm reminded of Aston Villa when Lescott and co. didn't seem to give a damn if they went down or not."
I agree, but I don't think it's so much as not giving a damn, they look like zombies, ghosts, just... lost. What on earth is happening in training, God alone knows. I wondered once last season, was there something wrong with the food or water at Finch Farm, and it doesn't seem so wild a thought now.
It's like something is very wrong right at the heart of things, affecting everybody. They look destroyed. I've really never seen anything like it.
Paul A Smith
224
Posted 26/11/2017 at 17:28:46
Shane the point is they wanted the money. Plenty of other players were determined to leave clubs last summer. Plenty were not allowed.
Them clubs probably knew them players are worth more than risking TV money the following season.
Now we are in that risk bracket.
Kevin Tully
225
Posted 26/11/2017 at 17:28:58
So there we have it on recruitment, from Walsh himself (hadn't seen this quote before)
Walsh is not solely responsible for finding unknown treasures such as £45m Gylfi Sigurdsson, £25m Michael Keane or £23.6m Davy Klaassen, but his role in those deals is undeniable. "We both have to agree for a player to come" he said of his relationship with Koeman 11 months ago. "If one of us says no we knock it on the head."
Oliver Brunel
226
Posted 26/11/2017 at 17:30:45
The problem at Everton is that no-one takes the blame for anything. The players get off scot free with a joke of a training regime. The 'board' just pass the book. 'it's Walsh's fault' , 'its Kenwright's fault' etc etc. No one accepts responsibility because they don't have to and get paid success or not.
Paul A Smith
227
Posted 26/11/2017 at 17:33:20
Ajay well said. Always best to stick with what you know. Kenwright is a bit of a wally no doubt but he always got the manager a top player.
Sometimes for buttons. When is Moshiri going to get us one? But still the same old boring comments come out about draining the club and because Moshiri simply isn't Kenwright, he actually has fans.
Dave Evans
228
Posted 26/11/2017 at 17:38:16
John Keating @ 199 Get a grip.
This is a coaching and man management issue at Finch Farm. It has been for a while. Squads like Burnley, Watford, Brighton look more organised and focused because of better man management and coaching.
At the moment a players first move is to hesitate or look for safety. Because they don't know what each other are going to do. Confidence is shot.
A professionally able football manager, backed with funds and with good coaches can improve player performance and the standing of the team and club.
Derek Cowell
229
Posted 26/11/2017 at 17:40:04
We needed Big Sam a month ago despite what people on here thought. It was arrogant to think we were too good for him. We are in deep shit and we were a month ago too.
We need a manager who will kick some arse and for me Sam is that man. Mind you he wouldn't come now because he wouldn't want to ruin his reputation of saving teams because he knows we are beyond saving with that bunch of players who don't give a toss. Despite that I would still try and get him because time is running out.
When he first went to Palace last year they took weeks to get their first win as they were that bad. We are even worse than that.
The deluded fans on here have even whitewashed Moyes's EFC record. I've heard people saying we were a mid table team under Moyes when we had numerous seasons at 4th, 5th, 6th, 7th and 8th. Not mid table in my book! Get a grip because we are not 'top 6' anymore and in reality haven't been for years. Moyes genuinely did have us operating beyond our station with no money to spend!
We were competing with Spurs a few years ago for 5th but they have left us well behind now. Why? total mismanagement from top to bottom! Get Sam now even if he wants to bring little Sam with him!! I don't care anymore as long as we finish 17th on goal difference on the last day of the season. Can't see it though! LFC will get 10 against us!
Paul A Smith
230
Posted 26/11/2017 at 17:40:20
Oliver (#226) – its everyone's fault.
The board for stripping the squad of any quality; loving the fact we can nurture quality for a big sale; convincing fans it's a great time to be an Evertonian while they sell the best player to the team that finished one place above us because Kenwright is in awe of them.
The fans for being convinced
Koeman and Walsh for not having a football brain between them and players for showing no responsibility to fans who love the club.
Put all them facts together (I never come one here and lie) and you have one shit football club with passionate confused fans.
Ray Robinson
231
Posted 26/11/2017 at 17:40:45
Well said Ajay. It seems distance can bring perspective. I hope you can make it to Goodison one day – or the new ground if it ever materialises. Meanwhile, as you say, there's plenty of points still to play for – starting with West Ham on Wednesday. Massive support now needed.
Tony Abrahams
232
Posted 26/11/2017 at 17:46:30
You are not the first to say Everton, remind you of Villa, Will. I've read it a few times on here today, and it's what I also thought when I was watching today's game.
I'm thinking it's because all of all the chopping and changing this nearly new squad have faced since the beginning of this season, and I'm also thinking if we don't get a new manager in now, then like Villa, we better start preparing for the championship.
95% of Players won't blame themselves, they don't need an excuse to blame somebody else, and although the lack of effort was disgusting, when confidence is low then everything becomes an effort, and most of this squad have not really had much direction since they reported back to pre-season, which in some cases means since they signed for Everton FC.
It's that scary, even flights to Syria, have gone through the roof, for a fortnight today, and that's just for a one way ticket, God help us.
James Ebden
233
Posted 26/11/2017 at 17:47:17
I have to agree Derek. People saying we are too good, and slaying Notes piss me off. I wouldn't want him back now, but his time at Everton was nothing but a success.
Kevin Turner
234
Posted 26/11/2017 at 17:48:24
How long have we been saying on here that there's something not quite right at Everton? No, make that rotten at Everton.
Koeman came, saw and the fucked off or rather was fucked off when he realised what a pile of shite this club is at the moment and stopped trying. Who is behind the decision to stack the club with ex-Everton players? All this "we're special" stuff and "the ex-players know the club" etc is proving to be totally misplaced.
Moshiri get your finger out and get someone in who is prepared to say he's not working with Big Dunc, Ebrell, Jeffers (FFS!) and yes Unsy. If we're going to have a clear out it means every last one of these.
I'll also add that the decision to bring Rooney back falls into that bracket as well. Rooney quite understandably is struggling with his age, weight, booze, gambling and his domestic situation which must be dreadful.
It absolutely stinks of the sentimental Kenwright and his misty eyed view of our club rather than the harsh reality that we need to modernise the club from the bottom to top.
Mike Oates
235
Posted 26/11/2017 at 17:48:47
As Hinchy said, Pep couldn't do anything with this bunch of misfits. Get someone in, Allardyce, Dyche, O'Neill, couldn't give a toss who, get him in, leave them to get rid of 80% of the players who just aren't good enough.
Then get rid of the old staff – Unsworth, Ferguson, Royle, Ebbrell,. Once done get rid of Walsh, Kenwright, Woods, Elstone – total clear out at all levels – the above live in past times and on values which died with the start of the Premier League, 20 years ago.
Then tell Moshiri to shut up with his mate from his Sky – Jim White , its all so embarrassing. We are a joke, we are an embarrassment, we will get relegated.

Tony Hill
236
Posted 26/11/2017 at 17:50:00
Yes, excellent post, Ajay Gopal (#222). I think we all realise what is now at stake; we will rescue ourselves by being bloody-minded.

Time for some wisdom from Marshall Foch: "My centre is giving way, my right is retreating, situation excellent. I am attacking.".


Soren Moyer
237
Posted 26/11/2017 at 17:50:26
For god's sake, give fat Sam his 3 years contract Now! It seems Silva is staying put in Watford so please do not drag this any longer, you useless bunch of so-called Everton directors. Appoint him asap, as our very existence is in danger ffs. I have nothing against Unsy but its clear he is not qualified to be a Premier League manager. Why can't you see this?
I repeat, fat Sam is our best option right now!
Joe Foster
238
Posted 26/11/2017 at 17:50:34
Our legacy of Premier League mediocrity is over. We are now setting new lows.
Simon Dalzell
239
Posted 26/11/2017 at 17:50:59
A joy to read, Ajay. Top man. I agree that Rooney should walk into this shit show, and Sandro should've started. I'm sure you're hurting just as much as the rest of us.
Mike Hughes
240
Posted 26/11/2017 at 17:52:24
Andy Crooks
241
Posted 26/11/2017 at 17:54:02
Brian (#104), you refer to our players as "cowards"... SPOT ON. They are.
Jay Woods (#150) really poor post. You are ridiculing Evertonians for getting behind their coach and supporting our club.
"Some of our fans deserve everything they get" – Hang your fucking head in shame.
Eric Paul
242
Posted 26/11/2017 at 17:56:01
Every Premier League team that has conceded 28 goals or more before Christmas has gone down.
Another first coming up...
Jamie Evans
243
Posted 26/11/2017 at 17:58:15
Apologies if this has already been raised on this thread, but does anyone know if Sean Dyche has a release clause in his current contract?
Soren Moyer
244
Posted 26/11/2017 at 18:01:29
Why would anyone want Unsy to be given more time? He is not good enough, period! Just because he is an evertonian doesn't mean he is a good manager. Be realistic people.
And this is from the telegraph: "David Unsworth is refusing to accept claims Everton are in a relegation battle despite seeing the Toffees hammered at Southampton on Sunday."
His comments doesn't make sense!
Mike Griffiths
245
Posted 26/11/2017 at 18:02:13
John – post 191. I think it is plain too see that those collecting a good wage (and those that "own" the club) are completely divorced from the reality of the situation. In no other walk of life would this situation occur... or if it did change would happen pretty quickly. Football though is far from normal these days.
Any manager coming in now will think twice players and Board are beyond belief.
Kenny Smith
246
Posted 26/11/2017 at 18:03:41
We've dipped our toes in relegation battles in the past and could've gone down on the last day twice. I've had total confidence we wouldn't be relegated each time... but this feels different.
This board needs to act now. Unsworth is a great Evertonian but he's not the answer. We are getting near to desperation now and a defeat on Wednesday night would be fuckin' disastrous.

Jim Lloyd
247
Posted 26/11/2017 at 18:03:54
Ajay, Kenwright deserves to be criticised, or at least some, if not many have watched his antics over the years and we would have been playing in the back of beyond in kirkby if he'd had his way.
That isn't a slight on Kirkby, it is a criticism borne out by (Thank the Gods) Keep Everton in Our City. And that is just one example. I also thinbk it is very likely that Mr Moshiri missed the match because he might just be involved in a little side issue...like getting us a manager
As for him selling Lukaku, Lukaku was promised 2 seasons on the run that hew could go. Moshiri was n't even here when the first promise was made.
So there is two things, one is a feller who dumped his partner, the feller who gave him the money tpo buy the shares to buy Everton and promise us investment by someone who magically appeared form Singapore or somewhere (and a lifelong Evertonian with his money in the post) who was going to come on board...never to be seen again.
AS far as we know, any of them or all of them could be culpable in making decisions that have led us to be without a manager for over a month.
If we come out of this nightmare still in this division, then it will be purely down to the manager we pick. Let's hope we pick one who will get us on our feet. It will also be Moshiri who funds any incoming. So if I was a betting man, my money would be on theory that Moshiri is just waking up to the pup he's been sold.

Lawrence Green
248
Posted 26/11/2017 at 18:04:15
The board room shenanigans are having an adverse affect on the results and performances out on the pitch. Once upon a time it was Bill alone that the players worked for, he was the man who signed them, looked after them and generally made them feel part of the fabric of the club. Unfortunately that wasn't enough to propel Everton FC to the higher positions of the league or to gain success via the cups.
Moshiri has provided the funds - aided by player sales - to attempt to take the club forward but the funds on their own haven't been able to move it forward. in fact the owner's lack of football knowledge is frightening and due to his dithering in his search for a new manager, the players look to have downed tools completely and don't look as if they are bothered about playing for the club.
If Moshiri is serious about taking Everton FC forward he should look at his board and ask himself "Are they the best people available to take the club forward?"
Relegation is not only scary due to the club falling out of the richest league in the world, but also because it will in all likelyhood lead to the previous regime being the only people willing to take on the task of owning it - £200m spent to get relegated and the only people who might benefit are those who have run the club for nigh on two decades.
Jeffers, Ferguson, Ebbrell et al will sleep soundly in their beds safe in the knowledge that their gravy train will continue to provide a cushy well paid occupation for many more years to come.
Unless Moshiri suprises us all and has other ideas?
John Pierce
249
Posted 26/11/2017 at 18:06:50
In part I feel distraught for Unsworth. As soon it was clear after a week or two he wouldn't be appointed, any authority he had evaporated. He could have complained but had not and gotten on with it.
However he does want the job and put himself forward for it so fair dos. He knows what the score is. So lets no cry too much over that even if we do lose him it was a chance of a lifetime for him.
But lets be clear the vacuum has created the uncertainty. That's on the majority shareholder, Moshiri.
Whilst I recognise we are in the mire, I cannot reconcile myself to an Allardyce or that ilk. The players we have, such as they are cannot defend in any set up, I actually have more fairh in us scoring!
Just do not think that firefighter style of manager would be effective in this scenario.
I am clutching at the thinnest of straws but what else is there?
John G Davies
250
Posted 26/11/2017 at 18:12:01
Paul A Smith (#227).
You need to be more streetwise in your evaluation of Kenwright.
Derek Cowell
251
Posted 26/11/2017 at 18:14:34
John Pierce at 249 – we are on fire big time so yes we do need a firefighter! Those managers have a knack of tightening things up at the back and that's what we need first and foremost, otherwise we are doomed.
Well, in my book, we are doomed anyway but at least let's go down fighting. No team plays their way out of a relegation dogfight!
Kim Vivian
252
Posted 26/11/2017 at 18:18:28
Derek 215 LOL. Just saw that.Good.
What's all this "...get xxxx in today/tomorrow/for West Ham..."? stuff.
Getting a new manager is becoming harder from game to game as we look a worse and worse prospect. Managers are not sitting on supermarket shelves waiting to be "got in".
As far as I know Allerdyce has ruled himself out after the outcry from Evertonians (I was one of them) and protracted high level deliberating, Nuno is history, neither Silva or Dyche have actually said they are interested but neither has ruled himself out either, O'Neil has appeared on the radar and I'm not sure were that is emanating from, Pulis is available, Moshiri or someone is breathing about Simeone, we've had Tuchel getting championed and I'm not sure who I may have left out.
The fact is, that of all those names I can only see Pulis as being one who may remain interested after today. Personally I would prefer him to O'Neil. Pulis is a real 'get in their faces', annoying bastard and right now I would welcome someone like that on the touchline. As for all the other potentially viable or pie-in-the-sky possibilities why would they look to come here other than for the money.
We need a decent win or two just to make us look desirable again, never mind the points we also need, and we simply don't even look capable at the moment. Newcastle were lucky in finding Benitez available when they moved Pardew on, and he was prepared to take on a short term lost cause albeit with potential. He did a decent job of getting them back, and now finds them in disarray in their boardroom and with a shocking run of about 6 games. Maybe it's time for him to move on but I doubt we'd see him here. The RS have even been calling for him.
I can see a possible parallel narrative happening with Everton although their is no-one like Benitez floating around in the market place. A top drawer manager is only going to be lured by the smell of money which makes me a little fearful that we might just get another mercenary.
I do not really understand the boardroom set up and how it directly influences things on the pitch, and I am unclear how a board level clear out is going to have an immediate benefit to our league position. I get the narrative going on but the emphasis has to be on retaining our premiership status before we start flying planes and have the mob calling for the entire board to resign. And if they did what would happen then - total self destruction?
We are in a right royal mess that is for certain. Many, citing the support of up to 40/50 odd years or more say this is the worst Everton outfit they have seen and that is exacerbated, I guess, by the considerably improved standard that is the premiership - all football for that matter - these days.
If Unsworth thought it could help Everton by resigning, I think he would, but that is not a viable alternative. He of all people would do what he thought was best for his club. However, he has to remain there and do his limited best while the board get their act together. Moshiri, via J White, has led us to believe that an announcement is imminent and may have embarrassed himself again if his new recruit is about to get cold feet or is persuaded. otherwise. When, realistically will we hear an 'announcement'. Don't hold your collective breaths.
I sat through that game today and now feel utterly drained. I just can't comprehend how we have suffered such an instant, dramatic and total collapse. It's heartbreaking. Whoever gets tasked with attempting a resurrection of this titanic disaster, please make it soon. I care that we get a good man and we need that man damn quick.
Ciaran O'Brien
253
Posted 26/11/2017 at 18:21:26
We are going down if we don't appoint a hard, no nonsense coach now. Unsworth bleeds blue but he is a youth coach and should never have been put in this position. It's unfair and ruins his future prospects and Everton legacy as a player.
Our defense and attack is shit but our midfield is the worst of the lot. Both Gueye and Schneiderlin are terrible midfielders. Gueye can only tackle and Schneiderlin doesn't do anything. The two of them are one of the reasons for our awful football. They don't demand it which leads to hopeless shite punts up the field to Calvert Lewin which inevitably always come back. They don't even protect the back four or three.
I would take O'Neill now because he knows how to organize a side defensively, Allardyce and Dyche too, even Simeone if he was available.
The board need to get their shit together ASAP and appoint someone and provide the funds in January to strengthen ASAP.
Our squad is so fucking shit with too many OAPS and kids. We don't close down, tackle, mark, pass, keep the ball, and dribble which shows how we are so turgid to watch and are Shite.
John Hughes
254
Posted 26/11/2017 at 18:27:53
Kevin Turner (234). Interestingly enough, I was at Goodison Park on Thursday evening, in the Brian Labone Lounge. I had a chat with someone shall I say who's well connected with the Club.
I asked him how Rooney was coping with his situation – I have to say that I am amongst those who were pleased that he returned to Everton.
The response I got was surprising in that it transpires that, according to my contact, "There were only two people who wanted him to come back: Bill Kenwright and Duncan Ferguson."
It seems that Koeman was totally against it and was disappointed that Moshiri didn't back him. Just seems to fit with your view on the culture within the Club.
Andrew Presly
255
Posted 26/11/2017 at 18:29:14
I'm coming to terms with the need for Sean Fuckin' Dyche now. Get him in on a permanent 2.5 year deal & let's get it over with.
As pitiful as this situation is we can't give up on the team. All those there on Wednesday have to represent the Club & save us. Wish I was there.
Chris Jenkins
256
Posted 26/11/2017 at 18:30:38
Derek [229] you are absolutely correct with your comments about David Moyes. I would go further and say that without him we would have been relegated well before now. One only has to think of his achievements with next to nothing to spend
You can bet your bottom dollar that on Wednesday evening, come what may, his West Ham team will at least show fight and determination, something that GP has not seen for a considerable while.
I know that I am risking a storm of criticism or more likely a barrage of abuse but, if we cannot get Sean Dyche in, I would definitely have Moyes back . He has only been given a contract of sorts until the end of the season at West Ham and I'm sure that he would jump at the chance to return.
Dan Davies
257
Posted 26/11/2017 at 18:31:59
I actually feel sorry for Unsworth he had a cushdy number with the under 23s and all of a sudden has been thrown into the limelight and is failing badly.
Now whether that is down to his coaching abilities or the players he has at his disposal is up for debate.
I hope behind the scenes Mr. Moshiri has got a pleasant surprise for us. We need a Manager NOW.
Kevin Molloy
258
Posted 26/11/2017 at 18:33:54
Totally agree, Ciaran, I've said on here a few times that Gana is only half the player we need in the middle of the Park his inability to pass it simple and short is causing the ball to be turned over continuously.
I can't even be bothered to mention Schneiderlin, sorting out the engine room would be first priority for a new manager.
Peter Jansson
259
Posted 26/11/2017 at 18:39:21
Well is it so strange that we look like Villa when they went down?
As far as I know we have Gana Gueye in midfield... he is definitely relegation material.. and then Schneiderlin.. who is worse than Gana Gueye.
Can we please give these two players up now!!????
And yes, I do not think it is a very good solution to fill positions at finch farm up with old Everton players. That makes the club mediocre. We have the same problem where I live in Norway. The club gets filled up with local people and that is never good.
Mike Griffiths
260
Posted 26/11/2017 at 18:41:26
The final nail in our coffin will be Moyes talking three points off us on Wednesday. A piss-poor performance is I think a given.
All I expect at the moment is the team plumbing the depths of desperate performances hitherto unreachable by a half-decent pub side... and yes, I have played in more than enough of them myself.
Alan Bodell
261
Posted 26/11/2017 at 18:43:56
Mark (#187), brilliant post and couldn't do a better one, my heart goes out to the Blues that went down there today and I am one who used to pay a shilling in the Boys Pen when we smashed teams for fun, sad days but we'll get through this, heads up We Are Blues.
Kim Vivian
262
Posted 26/11/2017 at 18:43:57
Reading through my own post and mulling it over, I wouldn't be surprised to see Pulis.
Craig Mcmahon
263
Posted 26/11/2017 at 18:45:08
Jamie Evans (#243) – I think it's either £2.5 or 3.5 million. Fuck all basically.

Roger Helm
264
Posted 26/11/2017 at 18:46:07
It seems extraordinary how we have disintegrated since last year's seventh place finish. True, we lost Lukaku and his goals, but Niasse and his six goals is a not disastrous replacement –only two fewer than Rom has scored in a much better team. Perhaps a bigger loss was Gareth Barry, although it was generally thought he was too old. There must be something seriously wrong with the club at board level.
For years now we have said that the team has no leaders on the pitch – that is what we need in January, a Peter Reid or a Roy Keane. If we get that, a few other reinforcements, a good manager and Bolasie, Coleman, Funes Mori and Barkley back from injury, I think we may survive. Sorting out the defence is the key, so a manager who knows about the Premier League rather than a foreigner is the man to go for.
The club needs a big clear-out, starting with Steve Walsh, most of the coaching staff and a lot of the has-been players next summer.
Two other points ; let us not get too depressed about what is after all just a game – there are many other things in life – and always we remember that however rubbish the directors, coaches and players may be, they are all here today, gone tomorrow, but we are the club, and we will still be Everton when they have all been forgotten.
Paul Rimmer
265
Posted 26/11/2017 at 18:47:37
The worst performance I have seen in a long time and definitely relegation form. Only two who take any credit are Sigurdsson and Kenny. Lennon, Mirallas, Williams, Calvert-Lewin, Keane and Schneiderlin were woeful.
Unsworth should take his share of the flak as that set up was all wrong. We desperately need Dyche and injured players to return. Maybe Dyche can get a tune out of Keane and a few others.
John Smith
266
Posted 26/11/2017 at 18:51:12
Leighton Baines, Jags, Williams are past it. Schneiderlin is awful, play Baningime ahead of him all day. Rooney needs to be used as CM that can come into the forward line as an extra forward on our set plays or whenever he sees fit.
Calvert-Lewin isn't awful. He's just had no service. Sigurdsson is best played like Cahill, in a free roaming role. He's also better with a big target man (like Lukaku). He keeps getting put on the left wing. Out of position.
I wasn't convinced with Pickford's arrival. I thought he would be young rotation for an even better (taller, stronger) keeper. He's another example of over exaggerated English ability. He let in way too many goals for Sunderland. I remember EFC fans saying he'd be great because he made so many saves. Well by that logic he's been "great" all season (he hasn't). He's too short and his positioning and controlling of the defence is woeful. He's good down low, but opposition strikers, as I've said all year, will realize they can just smash the ball just over his head and it will go in every time. He can't even glove the ball. I've counted 5 goals that have been scored (at least) by the opposition after he spilled it.
Unacceptable. We need 3 new centre-backs, 2 left backs (1 pro, 1 youngster starlet), same with the right back position. Coleman won't be the same as he was before. Those injuries always take a toll. Assuming he's fit, I'd bring in Tyias Browning for his excellent hold up player, ours at the moment is non-existent. Use him also as a target man to offload it to Sigurdsson or Sandro.

Paul Holmes
267
Posted 26/11/2017 at 18:54:12
If Nothern Ireland can be set up to nearly get to the World Cup Finals, only losing in the playoffs with players playing in the Championship, then there is no excuse for Unsworth or his backroom staff.
Joey Barton was right – he is out of his depth tactically. The players are to blame as none of them have a backbone so get a new manager in so he can move them on (it might take 3 years with the contracts they are on).
If Huddersfield and Brighton can be set up to defend then so can Everton!
Brian Harrison
268
Posted 26/11/2017 at 18:59:37
Sadly, it doesn't matter who the opposition is they all look more like scoring than we do. I would imagine that Moyes will be telling his team get the ball into the box for Andy Carroll and he will definitely score against our defence.
I really hoped Unsworth could have done a lot better but he looked a broken man at the end. Moshiri and Kenwright should hang their heads in shame loading all this onto Unsworth.
Moshiri is a successful business man so surely he knows better than anyone, if you sack the manager you have to have a replacement lined up. The reason you sacked the manager is because the team are underperforming so replacing him quickly was paramount before allowing the situation to get much worse.
I only hope you were telling the truth when you told our head of communication Jim White that you are very close to appointing a new manager. Just a pity you didn't bother to tell the guy who is trying to do the job at present, rather than find out through Sky.
I just hope your choice of the next manager has some vision, because if its just a firefighter what do you think will happen next season if were playing hoof ball yep the fans wont put up with it. Then it will be another pay off and start all over again.
Finally I applaud everyone of our fans that went to the game today, unlike our players and board members you are a credit to our club.
Jay Griffiths
269
Posted 26/11/2017 at 19:05:00
Public opinion changed our crest a few years ago. Public opinion is vetted. It matters. Public opinion, in my opinion, needs to accept Allardyce.
I've hated his system when used against us over the years. I derided him as anti football. But, and this is what matters to me, he does have a system. A system that galvanizes players and fans. It's a proven system that rejuvenated West Ham, revived Palace and Sunderland, and always kept Bolton and Blackburn competitive.
It's a proven plan. That's what I need to hear to give us some hope. The system isn't guaranteed but it does have pedigree.
This is the analogy I wrote of last week: The ship has sunk. I'm jettisoned into a stormy sea. A lifeboat comes along piloted by, any bad bastard you care to think of. I climb on board. I'm safe! Now I can jettison my pilot at the nearest island I pass.
That will be our relationship with Sam. This is the compromise I'm prepared to accept. My sons and I spend time and money following this team. I may hate Sam's style but I definitely have a greater hate for watching my team abused so easily so often.
This is triage. Take your pick. Public opinion matters.
Ash Moore
270
Posted 26/11/2017 at 19:05:45
Paul (#267) – you're not the former right back are you?
But all seriousness, we just don't have the players. Who would you have picked at CB today? Who would you have replaced Baines with when he was crocked? Who would you have picked at CF?
Considering the resources available, where the club finds itself would be farcical if it wasn't so very serious. The most recent transfer window was the most ruinous in the club's history. We spent madly on positions we didn't need reinforcements for. And the one position we did buy a player of need, centre back, we bought Michael Keane. I shall not comment on the merits or lack thereof, his record speaks for itself.
I actually think there's little to nothing to manage – Moyes players, Martinez players, Koeman players and our home grown lads in little groups. The squad unity we used to have – like the Stracq recently spoke of – has long gone. There are no options at key positions. We might as well have bought eleven goalkeepers in the window and played them.
End of days stuff.
John Keating
271
Posted 26/11/2017 at 19:08:01
Dave (#228), you make it sound so easy.
So we can just twiddle our thumbs and continue as we are until this fantastic man manager/coach comes in with his top class team, buy a shed load of players in January and then go on a winning streak until the end of the season.
Sorry, Dave,we all want the best for our Club but until people, supporters and management realise and accept that as we speak we are in deep shit we will for sure be deep in a relegation battle.
If you couldn't pay your bills would you wait until the bailiffs come before accepting there was a problem?
Derek Knox
272
Posted 26/11/2017 at 19:10:40
Having read through the posts, I can't really say I feel sorry for Unsy; at the risk of sounding ambivalent; I did initially, but only for the situation he was thrown into.
He inherited a group of players who's confidence was at an all time low, not his doing at all, but considering he has proclaimed publicly; that he really wants the job.
He has proceeded by picking the worst culprits for poor play; played players out of position; and generally followed what Koeman had done previously.
We really need a new broom altogether; with a no-nonsense and professional approach, across the whole gamut.
The sooner the better, before the situation is irretrievable.
Mark Burton
273
Posted 26/11/2017 at 19:16:28
Piss-poor performance. Williams should have his locker taken away from him and all wages should be taken away. 10 goals conceded in a week and, to crown it all, David Moyes will come with Andy Carroll and destroy our already pathetic defence. No manager with any ambition would touch us now. Too much money and no pride.
Schneiderlin should back pay all his earnings and piss off to Sunday league. I really fear relegation and love this club and am dreading the derby because that will be total humiliation.
Mike Hughes
274
Posted 26/11/2017 at 19:21:26
Relegation odds:
EFC 6/1
I'm surprised we're as long as that and there are 8 teams with shorter odds.
Mike Allen
275
Posted 26/11/2017 at 19:22:51
How would anyone know who to bring in with this load of gutless talentless excuse for a football team. Can't pass, can't tackle and actually look if they don't have any pride in themselves never mind the club. No use banding round manager names systems players we have seen enough over the past season.

Hoodwinked good style. We believed what we wanted to believe. What a let down. How any of the senior players can look Unsworth or the fans in the face is beyond me.
Paul Tran
276
Posted 26/11/2017 at 19:26:44
This is a hunch, I'm in the Highlands and not privy to any inside information. Strikes me that there's a struggle going on a the club. Kenwright wants good old safe sentimental Everton. Moshiri wants to modernise the club and is hamstrung by vested interests, his own naivete and poor recruitment choices. Walsh has a role and cleverly used Koeman to absolve himself from responsiblity. Koeman, though clearly incompetent, was caught in the crossfire and also used Walsh to absolve himself from responsibility. Unsworth is a well-meaning Kenwright proxy, coming out with all the sentimental guff that way too many lap up. He is also a victim of this crossfire.
I couldn't give a stuff about 'getting the club'. I want the club to have a strategy from top to bottom. I want the club to exude competence from top to bottom. I want the club to be desperate to learn how to win and grow from top to bottom. I want people employed by the club based on competence rather than being 'one of us'.
Moshiri said he didn't want Everton to be a museum. I believe he's genuine in this regard. He's got to start demonstrating this, because I think there are too many people at the club who feel their easy life is more important than our progress.
If he's serious about what he's doing here, he needs to appoint a strong, competent coach now. He needs to appoint people in the club who want success and all the hassle and hard work that comes with it. He also needs to take full control and shunt Kenwright to the side so he can get on with changing the club for the better.
Peter Mills
277
Posted 26/11/2017 at 19:33:10
I'm afraid I have been whistling in the dark over recent weeks. Having been hopeful following Koeman's appointment, I was glad to see the back of him.
I supported the temporary appointment of David Unsworth, and wanted him to be given a decent chance to show what he could do. I wrote off Europe and the League Cup, cheered the Watford comeback, stayed at Goodison until the end on Thursday (someone accused me of being a bad supporter for attending that game, a bit harsh I thought), and even today I was thinking at half-time "this is it, we're back in it".
But no. That 2nd half was as dire as I have seen in 55 years, as bad as watching us lose 3-0 at Molineux, Christmas, 1983, when all hope seemed gone. Feeble, pathetic. I watched Marine beat FC United of Manchester in the FA Trophy yesterday and witnessed more character, fight, attitude and aggression in 90 minutes than I have seen all year from our players.
On Thursday, only Baningime stood out. Today, only Kenny showed character. David Unsworth nurtured them both, I hope we have not wrecked a very decent man and coach.
David Israel
278
Posted 26/11/2017 at 19:33:25
Jim Lloyd #156, how about "Nos denique in alium cibum"?
Eddie Dunn
279
Posted 26/11/2017 at 20:02:07
Lovely post, Ajay Gopal.
Steve Bird
280
Posted 26/11/2017 at 20:02:35
Paul Tran (#276),
Give me some of that highland spring water, you've got the clarity to cut though all the emotional baggage we carry as Evertonians and see the beast for what it is!
We are dying, poisoned from deep within and there isn't a single person within all the senior roles of the club who doesn't have blood on their hands.
Bring someone in who isn't tarnished with the crosses we bear and let them see the crap for what it is, cut out the cancer, and start again.
It will be financially costly and will take more time than we would like or have but we need major surgery and the problem is obviously not perceived to be as serious when viewed by those from within.
Rick Tarleton
286
Posted 26/11/2017 at 20:06:11
To paraphrase freely David Israel, we are rather in the mire. Dyche, Wagner, Silva, would any of them come here even for mega bucks?
Can I ask what has happened to Barkley? His injury is never mentioned, no updates or bulletins on his health.
I despair of the present bunch. Gueye has no ability other than an engine, his football skills are very limited. Schneiderlin doesn't look interested and seems to avoid the ball, Lennon cannot help the defence, nor can Mirallas. Lookman is promising but lightweight. The defenders are three once reasonable players, who are now in their mid-thirties and it shows. Keane has lost all confidence, playing for a hard-working and well-organised Burnley team with Mee alongside him, is very different from playing for this shambles.
If Sigurdsson is worth 㿙 million, then Barkley is worth double that. We haven't any forwards and all those who kept telling me and quite a few others that Rooney would spark a renaissance must be burying their heads in the sand.
Klaassen, who ever thought he had what it takes to cut it in the Premier League? Is Steve Walsh even partly responsible for the recruitment shambles that was last summer's transfer window?
I'm beginning to think that Unsworth is even more incompetent than Koeman. Dyche, Wagner, Hughton please come before it's too late.
Raymond Fox
287
Posted 26/11/2017 at 20:13:35
Don't put this teams form all down to Unsworth.
Every player in our squad has been tried, the bottom line is they are not good enough with the odd exception. What is a new manager going to magically do, wave his wand and they become good overnight!
Today there was nothing wrong with the formation, the truth is these donkeys cant carry out the orders. We were crap under Koeman and we are crap also with Unsworth. For me they will still be rubbish when any new manager arrives and tries his best to improve the situation.
Sure roll the dice change the manager, that's our only option at this time, given a choice though I would prefer to ship 90% of the squad out instead!
We have become a comedy of errors from top to bottom, a club of incompetents, its become embarrassing. I have been saying up to now that I cant see us being relegated, but unfortunately its looking more likely as each game is played.
Mike Griffiths
288
Posted 26/11/2017 at 20:16:11
Unsy looks like a man slowly waking up to the fact his best friend is shagging his wife, his dog prefers said best friend to take him to the park for a walk, his dream sportscar is a cut and shut job and his job's on the way to knackers yard. A shit game against the Hammers and in the interview he's either going to cry like a baby or have a Keegan-esque meltdown.
Tony Everan
289
Posted 26/11/2017 at 20:24:43
Everything stems from having no quality up front , we replaced Lukaku with nothing.
No one can hold up the ball at all . We cannot play in the opponents half for more than a few seconds.
This lead to the midfield constantly fire fighting and the defence under constant duress.
I know there's is massive improvements needed elsewhere but with no attack at all we invite pressure.
Until we have an attacking threat wîth options of pace and height we will not win many matches.
If you don't believe me watch what happens in January if we sign 2 proper strikers.

Rick Tarleton
290
Posted 26/11/2017 at 20:28:47
Tony, we could have Messi and Ronaldo upfront, but with our midfield the ball would never get to them. Our lack of a striker is a problem, but the midfield doesn't cover and help the defence and doesn't create and support the attack. Quite what Schneiderlin, Sigurdsson, Klaassen and Co do is a mystery, but they do collect very good wages.
James Marshall
291
Posted 26/11/2017 at 20:31:46
Eric@242
Your post just paralysed me. Fuck.
Jack Convery
292
Posted 26/11/2017 at 20:32:09
Our defence against relegation is Moshiri, Kenwright, Elstone and Walsh. We're doomed.
James Hughes
293
Posted 26/11/2017 at 20:34:47
Eric @242, I hope you have made that stat up
Andy Crooks
294
Posted 26/11/2017 at 20:35:29
Everton 6/1 to be relegated? Mike, if I wasn't an Evertonian I would jump at that. We are a really bad team. Full of nice guys, second raters and cowards.
Today was beyond belief. We are truly abject, from the board to the coaching team (how the fuck has Duncan "the legend" Ferguson been allowed to to scrounge a living off our club, now as a coach on top of his scrounging as a player. He has been the scott-free common denominator in the last few years of shite).
To the players.
Williams is the worst defender I have ever seen and I include my local ladies team. Phil "the gent" Jagielka is the sort of guy you want your daughter to marry (preferably at 3:00 on a Saturday afternoon)
Baines is done, Keane has been destroyed by Williams and Jagielka. Gana has the relegation experience to see us safely down.Schneiderlin has done Man Utd proud since he came here. They are surrounded by young players, some of whom might be adequate. What is there about this spineless overpaid sack of shite that screams we are too good to go down? Not a fucking thing.

Tony Everan
295
Posted 26/11/2017 at 20:37:42
I am in complete despair with our board and decision makers. It's beyond belief how the shockingly poor management is killing our club.
The madness of having to go into a Premier League season and not replacing the leagues 2nd top scorer.
The madness of no manager after 5 weeks and talking about Simeone being the No 1 target, then Silva who had only just signed for Watford 9 games ago.
It's all disjointed and cloud cuckoo land thinking.
It's time they woke up and put the club back on an even keel.
Someone get a grip... please.
Dave Williams
296
Posted 26/11/2017 at 20:45:11
What I couldn't understand today was picking Schneiderlin and Mirallas assuming the training ground story was true, and teaming Schneiderlin with Gueye having seen so many times that it doesn't work.
Defensively the stupidity in allowing so many defenders to go out on loan makes Unsy's life very difficult. Add the non-registration of Garbutt to the loaned out Browning, Pennington, Connolly, Galloway, Robinson and it leaves virtually no one to fall back on.
I was hoping Unsy would get a chance but enough is enough. We need a hard, British manager to come in, sort out the defence first and make players try.
The prospect of this shower playing at Anfield in a fortnight is terrifying and action must be taken NOW!!
Another foreign manager would not know what hit him.
Graham Mockford
297
Posted 26/11/2017 at 21:06:31
Now is not the time to be panicking. The club is in a spiral which needs a clear mind and plan from the Board to reverse.
Firstly as a matter of urgency the managerial situation needs resolving. It is patently clear Unsworth is not the man for the job The team is rudderless, shorn of confidence and playing without spirit or any obvious plan. They either have to get the long term target signed up or a short term replacement recruited and the deal done within seven days.
Secondly there needs to be some limited investment in the January window. I don't think whole scale change mid season would be necessarily beneficial. Two forwards, a centre half a central midfield player would be my priority. Something along the lines of Callum Wilson, Josh King, Jonjoe Shelvey, Chris Smalling.
Add Barkley, Coleman and Bolasie into the squad and with the right management that is more than enough to survive.
But for fucks sake Moshiri act now.
Then it becomes a rebuilding job over the summer and a transition of the squad.
Raymond Fox
298
Posted 26/11/2017 at 21:10:18
We were best priced 12/1 to go down yesterday!
Kev Johnson
299
Posted 26/11/2017 at 21:12:29
Hope I am wrong, but this has season '93 written all over. We are that shite.
Kevin Tully
300
Posted 26/11/2017 at 21:12:44
Unsworth will now have to break out on his own and prove himself as a manager in the lower Leagues. He has told everyone he is "ready for management" and he could take on the Everton job. He will look rather foolish if he goes back to coaching youngsters now. Or was he just ready for the ١-4m quid a season and guaranteed payout even if he failed?
Millions of pounds on offer can make the best of us greedy.
Christy Ring
301
Posted 26/11/2017 at 21:13:18
I'm very scared after another toothless performance. No leadership, no fight, no pride, and that's from the senior players. Jagielka, Baines, Williams, Mirallas, Schneiderlin are finished. But we've no one to replace them until January. Koeman really fucked us over. We need Coleman, Barkley and McCarthy back so badly. I feel for Kenny, Pickford and Calvert-Lewin. We're in deep shit.
Moshiri and Kenwright are a disgrace, what other club would throw an inexperienced U23 manager in at the deep end, and still no sign of a manager. Who's going to want it now. Maybe O'Neill and Keane, wouldn't be so bad after all, they'd certainly ruffle a few feathers, and sort out the deadwood.
Mick Conalty
302
Posted 26/11/2017 at 21:22:58
Has Kenwright made any comment yet, about to days shambolic performance. How about the players reimbursing the fans traveling & ticket expenses?
Chris Green
303
Posted 26/11/2017 at 21:24:03
You know, all the talk of managers is all well and good, but today the players have to look at themselves. There was no closing down, no passion, no energy, no desire, no want. That comes from the players. Siggy had it, Kenny had it, the rest, gutless. I didn't see one player break into a run in the first half.
Each time we got the ball, 2 or 3 players crowded us, hassled us. They got It and walked 20 yards into space. No pressure. That comes from leaders pushing their team mates. Leaderless, rudderless and depressing!
Brian Wilkinson
304
Posted 26/11/2017 at 21:28:35
Ok here's my two peneth worth.
Get a bloody big broom and brush out at the very top and get the right people alongside Moshi, for twenty years or more now we have had guys who cannot run a club at Everton, a gutless bunch who will always be bullied into selling our top players.
It's time to rid this club of the powers that be, sitting there like lost sheep who haven't got a clue.
Next take the broom handle and give those gutless could not give a toss players a damn good beating with it.
Coming up to four weeks without a manager, even longer for a centre forward, we are a laughing stock with no one prepared to take the problems by the throat and sort it.
We have been linked with various managers, even willing to pay £10 Million comp to land Silva, for what it's worth, if we was prepared to pay £10 Million plus wages for Silva, use that money and offer Villas Boas a very tempting contract.
He is deciding his next step from China, let's get in there and go all out for him.
He will struggle with this squad but at least he will be able to bring players in, in January.
Make no mistake we are in deep shit, anyone who thinks there are three weaker teams than Everton, I salute you for your optimism.
It's time our great club was taken by the scruff of the neck and given a good shaking, act now before we have to rely on others slipping up.

Ray Jacques
305
Posted 26/11/2017 at 21:29:25
Didnt see the game as I was travelling across London after visiting my eldest lad for the weekend, however as usual kept checking the phone for latest score. The wife kept saying, don't check as you will only be depressed, and from now on I will listen to her.
6 weeks and no managerial appointment, and despite a caretaker who is unfortunately a rabbit in the headlights, no rumours of an upcoming appointment, stinks to high heaven of a boardroom rumpus. History tells us that teams with ownership problems struggle and are eventually relegated- Villa, Blackburn, Sunderland etc. The conflicts or issues may not be the same as ours but the destabilising of the clubs has ultimately the same effect and result.
We are a classic example of boardroom problems now infesting the whole organisation and I fear this is our time to make the drop.
For all those dreamers and fantasists looking for a world class Champions league winning manager, wake up and smell the coffee. What have we done in the past 28 years to warrant the interest of such a leader? Like it or not we are more of an Allardyce type of club than Ancellotti, despite Moshiri's alleged fortune. (we spent lots but also recouped it from sales of players)
Very worried and just when you don't think it can get worse (happened 5 or 6 times this season) it probably will on Wednesday when Moyes gets a win and then we break our 5-0 record against the red shite. (Salah and Mane to both get hatricks anyone??)
Thew whole club is shit and I am fed up and angry at all that is Everton, its horrid.

Dave Evans
306
Posted 26/11/2017 at 22:17:44
John @ 271
The problem isn't people failing to realise we are going to be in 'deep shit' if this continues. Everyone, who is not already, is going to be on side with that one if we fail to win the next game.
But even when we all wise up, the problem still remains that we are the worst coached team in the league and this is what has to be solved for any improvement on the pitch.
If you are saying the whole situation is a shambles and a let down (to say the least) to fans who once again have see their hopes shattered l'm with you. And we need to make that known in what ever way we can to those who at the club who can change things.
Perhaps a start is the opinion on this forum.
David Israel
307
Posted 26/11/2017 at 22:46:09
"Insanity: doing the same thing over and over again and expecting different results".
Do I need to say more? The obvious example is that duo Schneiderlin/Gana.
I also wish people would stop going on about how they're sorry for David Unsworth, and how they would have loved it if things had turned out well for him, and - worse - how he should be kept on until Christmas!! (a dwindling minority, but still out there).
Can't everyone realise this is not about 'Unsy', for all the respect he deserves? This is about something far greater and more important than 'Unsy', Kenwright, Moshiri, and even us, the fans: Everton Football Club, for crying out loud!

Simon Dalzell
309
Posted 26/11/2017 at 23:04:03
We were obviously deep in it when Koeman left, and have wasted a month of valuable time. It was never going to work. Which Premier League team employs a man with Unsworth's CV? Oh yes, Everton.
Ben Attwood
310
Posted 26/11/2017 at 23:05:55
Oh boy! I am sad to say I think we are now in Allardyce territory. Christ!! Martin O'Neill has been out of club management for too long and about 10 years past his best. Who else is there?
I would have liked Unsworth to succeed as we all would but it has just been more of the same crap. The role is beyond him sadly.
Each match is how many the opposition can score. We were lucky again Palace and Watford. Teams that on paper we should be better than in terms of resources are streets ahead of us. Brighton, Burnley, Soton all look very organized and only lose by the odd goal or a poor decision based on this weekend. The top 6 are light years ahead. We are a rabble. We have had a favorable run of games and we have only beaten Watford. Just!
We have players who should not be on the team coach never mind the match day squad. We used to have a first XI?? We moaned because that was all we had. Oh for those days! We have inexperienced kids or utter crap past-its. No style of play. No leaders. Basic, basic errors. Terrible.
The sooner we are out of Europa the better. That has just proved to further weaken confidence. Had we not got hammered Thursday would we have been hammered today?
I remember the dark days of 1983 and 1993-94. Those teams had character and could score goals. We don't have/can't do either.
Allardyce in Monday. Crash course in defending before West Ham. Otherwise it will be a Moyes and Carroll goalfest. The scrap for points starts now not January. A few 0-0s and go from there. Not what any of us were hoping for in August but here we are.
Oh boy!

James Stewart
311
Posted 26/11/2017 at 23:12:36
Screw Fat Sam and Martin O'Neill, why have we not appointed Dyche? Done just as much as Silva.
Soren Moyer
312
Posted 26/11/2017 at 23:16:24
Fuck! Even Saints' manager is surprised they scored four goals. Martin Keown on MotD2 spot on. Williams, Schneiderlin and Keane are useless when it comes to reading the game and their positioning is awful. Also, Kenny and Gana are making vital mistakes.
Joe O'Brien
313
Posted 26/11/2017 at 23:20:45
Embarrassing today. I haven't seen a more disorganised side in a long time. Forget O'Neill and go for Dyche. He wasn't my 1st pick but doesn't look like we're going to get Silva. I think Dyche wants to come and I think he will come. He'd sort out that awful defence.
Going back to today Schneiderlin and Mirallas shouldn't be anywhere near the squad on Wednesday. Why the hell didn't Mirallas not take a shot a few minutes before they're 1st goal! Could have changed the whole match..Sandro would have buried that.
Nigel Munford
314
Posted 26/11/2017 at 23:24:53
Just watched MotD and saw the Arsenal penalty, and wondering if Ramsey will get a 2-match ban for simulation???
Lawrence Green
315
Posted 26/11/2017 at 23:26:53
I wouldn't think so, Nigel, as Keown gave him the green light therefore no pressure on the FA to do anything, although I think Ramsey made as much a meal of it as Niasse did.

Jason Wilkinson
316
Posted 26/11/2017 at 23:33:04
I can put up with lack of talent. I can understand when a game plan goes wrong. Having watched it again on MotD2 it's the complete lack of effort from 8-9 of the players today that is totally unacceptable.
Never mind days off, recuperation days. Get them in. Stick the DVD on (or whatever footage of the game they have) and shame the bastards.
It's not possible to drop all off them but I would drop the following players if it was feasible that we had cover/replacements Baines, Keane, Jagielka, Williams, Schneiderlin, Mirallas, Calvert-Lewin, Sigurdsson, Gueye and give Pickford a rest for his own sanity. (He must wish he'd stayed at Sunderland)
If I missed anyone, sorry.
Dan Davies
317
Posted 26/11/2017 at 23:37:59
Just finished MotD, and I have to say after watching Joe Royle come down from the stands and console and advise David Unsworth what a fuckin' embarrassment that was!
That in a nutshell is exactly what is wrong with this club, insular jobs for the boys bullshit - unbelievable. No wonder Koeman was shite– he met a culture that's been ingrained for years!
I bet the likes of Jags and Baines are offended by the way Osman and Hibs were treated. Amateur average Shite.
O and by the way Joey Barton was fuckin spot on.
Clive Mitchell
318
Posted 26/11/2017 at 23:38:11
Ajay, 222 - Well said, I promise I'll do what you say.
Carl Allan
319
Posted 26/11/2017 at 23:44:59
As Joe Royle said when he took over the Mike Walker mess in November 1994 "there are too many ghosts still around the corridors of Goodison ". A similar scenario exists now so It's time to get shut of all these 90s hangers on such as Unsworth,Ebbrell and Ferguson,they are all synonymous with relegation struggles.
Big Dunc has been on the coaching staff now with three managers yet there isn't an ounce of motivation or heart on sleeve performances on the pitch, whilst Unsworth is clearly out of his depth managing in the Premier League. All need showing the door and need to take Steve Walsh with them.
Jason Wilkinson
320
Posted 26/11/2017 at 23:48:46
Carl, can any of the ghosts defend?
Dan Davies
321
Posted 26/11/2017 at 23:49:54
Amen Carl
David Israel
322
Posted 26/11/2017 at 23:54:48
Ajay # 222, loved your post. It's really heart-warming to know that there are people far from these shores who care so much about our club.
I'm sure I can say we all look forward to seeing you at Goodison (or the docks) some day!
Well done!
David Barks
323
Posted 26/11/2017 at 00:03:36
When you take an honest look at Everton, nepotism really is rampant. It reeks of insecurity and political games right from the top. Keep all these little good soldiers in place throughout the club so that power is never lost.
Moshiri needs to orchestrate a massive clear-rout if he is anything more than another pawn for Kenwright. If he is not, he needs to remove Kenwright as Chairman and purge the Boardroom of all those old hands. Get a manager in place and clear out all the coaching staff.
It's been 30 years of failure that is for some reason worshipped. I've asked numerous times what exactly Unsworth did to become so revered and still haven't received an answer. Same goes for Duncan Ferguson. He was a liability as a player. It wasn't as if he was banging in 20 goals a season. He was getting sent off, in trouble with the law and only managed 68 goals in his entire premier league career.
The club just lives in the past. We sing about our history yet do absolutely nothing to create new memories. And now we're seriously crying out for Sam F'ing Allardyce.
Barry Williams
324
Posted 27/11/2017 at 00:18:14
Carl Allan (#319), David Barks (#323)
Me and a friend said the same thing today about jobs for the boys. I think it is laudable to keep things like history going, but at the expense of success!!?? Also, what actually was that history? When you look at the number of Everton players involved in the coaching side of the club etc. how many of them have actually won anything or had long international careers or have been successful coaches/ managers elsewhere?
I don't need to answer that.
John Pierce
325
Posted 27/11/2017 at 00:41:49
David,
I think you partially correct. The nepotism and 'jobs for the boys' thing is something that all clubs have to some degree or another. It's tempting in our current plight to lambast every single thing about our great club.
Anything other than the people at the very top, were the clouds are, because we cannot see whose in charge deserve the backlash. Not those below however inept you believe them because I'd wager they're just like you and me, they want the best for Everton.
Your ire, infact anyones can be concentrated at the very top. Hiding behind vague non descript titles, hanging out a caretaker to face the media weekly when they cower behind our hallowed club.
The chairman in name only and an absentee shareholder who cannot bare to use his own club as a media mouthpiece to control the narrative.
I'm not angry anymore just sad.
Don Alexander
326
Posted 27/11/2017 at 00:52:41
Barry (#324), and apologies for telling you what you already clearly know but I want to help hammer home your important point), pro footballers over 25 will know Ferguson as a skiving, thuggish non-achiever more interested in pigeons than football until he spunked his millions on whatever, causing him to come cap in hand to us an unqualified derelict in need of a wage. They'll also know he'll do whatever his employer, Kenwright, requires because he's skint, and he is of course a big pal/leech of "our" Wayne. Jeffers's case is even worse if that's possible. Ebbrell was the personification of bog-standard in the 90s, with Unsworth a close second albeit he won one cap as a young, slim, talented defender fourteen years before his playing career petered out.
These are the guys selected by Kenwright to coach at Finch Farm. In addition he (or did Walsh see something?) choose to give Jose Baxter a one year contract in January this year subject to him not once again popping the pills that got him a twelve-month ban from football. And it's reported Baxter's a Red by heart, but never mind, ex-Blues who "get" Everton will always be welcome to Uncle Bill, so what else matters?
But did you know the young players at the club recently helped put together a terraced house or something for homeless people, and our manager kipped out one night for the same purpose, and one of our board knows all about homelessness, and therefore we're a really, really great club, really great, and the greater we get the better we'll be able to help all these deserving causes ....... unless we get relegated of course cos that'll fuck up our greatest achievements under Kenwright won't it?
Steve Ferns
327
Posted 27/11/2017 at 01:11:16
Ferguson, fair enough, he was part of two failed regimes and should have left with Koeman.
Unsworth, Ebbrell and Jeffers are all part of a successful youth set up. Not only did we win PL2 with these guys but we have continued to produce more players from the academy than any other PL side. So, if they have given us success, what's your problem with them?
Don Alexander
328
Posted 27/11/2017 at 01:19:30
My problem with them is that Jeffers, like Ferguson who even you agree is inadequate, had the same level of qualification when he was given a job as a coach - zero.
Ebbrell is right now on our first-team's coaching team. That's why he's sat closer to Unsworth than Ferguson is. None of them has done anything as coaches except for the youth set-up. In restaurant terms they're all great spud peelers delivering quality raw material to what should be an accomplished chef. Not one of them has shown the slightest ability to warrant wearing the chef's hat.
But Kenwright aspires to nowt more than spuds doesn't he? Providing they're blue ones.
Steve Ferns
329
Posted 27/11/2017 at 01:23:23
Don, I never liked Ferguson. I found him more wasted talent than a legend.
Ebbrell is Unsworth's assistant. They're in temporary charge of the first team and will drop back to the U23s when this is all said and done. So, what's the issue?
Jeffers is only at U23 level, Unsworth took him on as is his right as head of coaching. Why not give Jeffers a go, if you think he is good enough. Why should you have to hire non-Evertonians? Jeffers worked for free for 12 months to prove himself. Unsworth found him proven. And Unsworth and the youth setup are getting results on the pitch and in terms of development.
As for the first team, did you expect Unsworth to be caretaker with no staff? Where would he get his staff from? And who would take a job for 2-4 weeks, as was likely when he first took charge?
Also, be careful of violating this bullshit 5-post rule, now in place on ToffeeWeb. Personally, I'm looking for a new forum where we can continue to have decent debates like this one, so my time on TW is at an end, after 20 years.
Barry Williams
330
Posted 27/11/2017 at 01:25:59
Don Alexander (#326) – Steve Ferns (#327),
Despite being opposite ends of the spectrum, you both have valid points. Like everything, it isn't just a case of black or white/polar opposites.
I am not doubting Unsworth's credibility as an Under-23 coach. Maybe you can educate me as to the credentials of Ebbrell, Ferguson and Jeffers as coaches. Sheedy did a good job, but he is gone.
My point is, if Ferguson, Ebbrell and Jeffers weren't ex-Evertonians, would they be worthy of getting coaching jobs with the club?
As a young player you'd need someone to look up to and follow as an example, do Ferguson and Jeffers provide that?
I am aware of Ebbrell the player, but not the coach.
Steve Ferns
331
Posted 27/11/2017 at 01:31:55
Barry, without watching the coaching or participating, no one can talk with any authority. I do not profess to have it. I only point to the success as I outlined above.
Barry Williams
332
Posted 27/11/2017 at 01:40:52
Steve Ferns - 331
Fair play, not trying to prove you wrong, or me right. But the questions asked are just a few of a number of bigguns that need to be considered.
I am not a veteran like some on here, I am mid to late 40s first match in 1980, my dad 1st match in 1947 and both of us have found it hard to fathom out how it has gotten this bad so quickly. I cannot remember an Everton team with less fight. We need a radical overhaul, stating the obvious I know, we need winners introduced to the club, not underachievers from the 90s, with the exception of Unsworth, the others mentioned are!
How that impinges on the training sessions I am not sure. I could claim it is a mentality thing, however Koeman was hardly an underachiever, so what the hell do I know!?
Nicholas Ryan
333
Posted 27/11/2017 at 01:43:58
I know it's early days, but it is likely, that Burnley will spend most of this season contesting a Europa League spot; while we will probably spend most of this season in a relegation dogfight. Yet, many people are STILL saying, that Sean Dyche isn't up to it. Some mistake, surely?!
Steve Ferns
334
Posted 27/11/2017 at 01:45:17
John Ebbrell was a very highly rated player, was he not. You've got a few years on me, as a was a child when Ebbrell came through and teen when he left.
I do know he had a record number of U23 caps and development blighted by injuries. I also read that more was expected from him and that injury was to blame.
Often the most limited players make the best coaches. "Winners" often make bad coaches. A young Glen Hoddle, for example, found it difficult to coach as he could not explain things to limited players when it was natural and easy to him.
Barry Williams
335
Posted 27/11/2017 at 01:57:09
Steve Ferns - 334
Ebbrell was a highly rated youngster as I recall, but didn't quite fulfill his potential and later got a bad injury. I didn't see him much live as I was at university for a lot of his Everton career, out of Liverpool and skint too! And yes you are right, good players don't necessary make good coaches. However, I think with Everton it is a possibility that ex-players get jobs because they are ex players first and foremost. Maybe, and I emphasis the maybe, we need to look outside of the clubs less than illustrious recent past and come up with more suitable candidates for the coaching jobs.
I have been away from England for the most part of 16/17 years too, so don't get to see a lot of matches live in person, but have hardly missed one in the last decade on Tv or streamed and I am worried by the whole Everton set-up at present.
Whether we agree or disagree, we want the same outcome"!
Barry Williams
336
Posted 27/11/2017 at 02:07:28
Oh, and I don't have a problem with players fulfilling ambassador roles like Hickson, Sharp, Stuart and Snodin, even if they do have to toe the party line. Looking after the likes of Baxter is laudable to a degree, if it doesn't influence the other young players in a negative way! That side of the club is to be cherished, as is EITC.
Anyways, signing off for the night!
Darren Hind
337
Posted 27/11/2017 at 02:07:33
Not long back, having given away matches a miss for a year, I forgot how long a journey home can seem when you've been mullered, but I've done it too many times down the years for the feeling not to have an all-too-familiar ring to it. I really do take my hat off to big Rob and his comrades especially those who have hauled themselves all around Europe. Some of these players simply don't deserve their support.
I don't know where to start with this, so much is wrong, So I will start with the defence of David Unsworth.
I'm staggered by the criticism being levelled at Rhino, although I'm not in the least bit surprised by where much of it is coming from. He has inherited one hell of a mess. Players who came for wages no other club would pay them, players who look as if they would rather be anywhere else (except on pay day). Worst of all, players who seem to have no appetite or love for the game.
Many of the people who are pointing the finger at Rhino are the very same people who cheered and clapped when we were signing some very ordinary players at over-inflated prices. They were blinded by the transfer fees, some even told us they didn't care how much we were spending as it wasn't their money... but the kitty was being blown and we are now living with the consequences.
Listen: Jordan Pickford is a fine young keeper, but he didn't just start trying to show everyone how far he can kick it. Schneiderlin didn't just acquire a bad attitude, he was fucked off home not long after Koeman left because of it... so was Mirallas. Keane didn't just get slow and cumbersome, he was poor long before Koeman was fired. Jagielka and Williams have been taking dogs abuse for the way their performances were deteriorating for over a year.
Footballers need to be enjoying their game in order to produce their best, but a combination of bad man-management and an insistence on playing slow-paced zombie football has sucked the life out of most of ours; only the kids retain their desire and hunger.
Many of Koeman's supporters bemoaned his luck when he lost Coleman (How we could do with Seamus's attitude now) but Rhino lost his other full back too yesterday. He had already been deprived of the energy of Niasse, our most likely source of goals.
Those criticising the selection need to weigh up the options, seriously take another look. Those screaming because Sandro and Rooney were not brought on couldn't have seen their recent performances. They have both been worse than poor. Make no mistake: Unsworth has been dealt one twat of a hand.
Unless our board are uncharacteristically decisive in the next few days, Unsworth will be in charge of our next two games. Both games are at home and I expect him to ditch the likes of Schneiderlin and Mirallas in favour of the energy that young Tom and Beni will bring. I think they are more likely to get the crowd on board and I expect us to be on 18 points come Saturday night.
You can't bluff on a football field; a combination of Paisley, Fergie, Jose and Pep would have struggled to do anything with the hand Rhino has been dealt. No club should ever put their future in the hands of youngsters but, given what I saw yesterday, I don't believe we have any choice but turn to them, get to January and try to bring in reinforcements.
As for those who simply don't understand and claim support for Unsworth is born out of sentiment – think again. Most of you have spent the past three weeks putting forward your favoured choice... How is that approach going for you?
Kieran Kinsella
339
Posted 27/11/2017 at 02:11:20
Kenwright has turned Everton into a hunting ground of sycophants and failures. Joe Royle failed manager, now he is back as some sort of "loanee ambassador." Jose Baxter, failed player. Now we are taking up a spot in the U23 team to get him fit enough to join a League One club.

Ebbrell, Ferguson, Jeffers all over rated failures as players breeze in and get coaching jobs. Wayne, past it, paid a kings ransom to return in name only now his career is done. Unsworth of them all earned his stripes at Sheffield Utd so he is the one who actually deserves to be here albeit with the U23 as opposed to the first team.
Don Alexander
340
Posted 27/11/2017 at 02:22:46
Steve, I suspect you're attitude is, whilst commendable from the heart, suspect from the brain.
Somebody (and I can't remember who, sadly) said on a recent thread that the notion that Shankley "got" Liverpool before he took over, and Ferguson "got" United before he took over was laughable, and he was absolutely right.
Anyone seeing the way forward in the manner that Kenwright does on account of his perennially wonky "loyalty" to also-rans is deluded. Peter Reid and Neville Southall, Toffees to their core, speak the truth and are effectively ostracized by Kenwright as a consequence. Only "yes-men" are welcome.
It's now been going on for decades and it now really has to stop.
Michael Kenrick
Editorial Team
342
Posted 27/11/2017 at 05:47:11
Jay Griffiths (#185)
Your lifeboat post was not airbrushed out. I think you probably mistook which thread it was posted on.
[Hint: it's #244]
Gary Gibson
343
Posted 27/11/2017 at 06:40:54
You are a great man, Ajay Gopal.
I hope you make it to Goodison one day soon, sir.
Hugh Jenkins
344
Posted 27/11/2017 at 07:43:30
I haven't yet seen the game – but I've seen the team selection.
How can anyone, in their right mind, still believe that the defensive mid field pairing picked yesterday, actually works?
Jay Griffiths
345
Posted 27/11/2017 at 08:46:13
Thanks Michael and my apologies to yourself and the team. Thought I was a Trotsky silhouette for a while there.
Don't know if people's TVs or streams picked this up. Ashley Williams was told to warm up with Beni Baningime when Keane was injured. As Beni ran toward us on the line, he received warm applause, Williams received about 100 people that booed him when he did a shuttle run. He u-turned and carried on his warm up by the bench. Other players heard it for sure.
Another variable that has to be dealt with by the new man in charge. Psychology, pick them back up again. So now we need someone that's a mixture of, Alex Ferguson, Sigmund Freud, Agony Aunt Claire Rainer and Harry Potter to get the job done.
Recruitment has its work cut out.
Paul Tran
346
Posted 27/11/2017 at 09:25:08
Darren, you're right about the hand Unsworth was dealt. It will take any manager time to turn things around. I'm struggling to see positive signs.
Any criticism I have of sentimentality is directed at Kenwright and the culture he's created and sustaining.
Stan Schofield
347
Posted 27/11/2017 at 09:44:27
Ajay Gopal@222: Good post, and very wise advice in your last paragraph. I hope you can visit Goodison one day. And the new stadium.
Paul Tran@276: Great clarity from the Highlands. You reflect my own thoughts, from the coast just down the road from Aberdeen. We just need to be clinical and businesslike, with sentiment having no part in decision-making. I think that is Moshiri's angle. He's not here to waste money. The great Everton sides were built on that principle. Our greatest managers and players were also hard as nails in their professionalism. That is what we need now.
Brent Stephens
348
Posted 27/11/2017 at 10:09:21
Jay (#345). Yes, there were knobs around me booing Williams as he warmed up to come on. Out of order during a game.
Graham Mockford
349
Posted 27/11/2017 at 10:23:20
Darren,
I do feel sorry for you having proudly announced that, in the wake of the death of Zombie football, you were undoing your self imposed away ban. Only to travel 500 miles to witness one of the limpest, incoherent Everton displays in living memory.
Of course Unsworth inherited a mess. But guess what, that's what most interim managers get. What you look for is some signs of improvement even if only in terms of organisation and desire. We've had a month and seven games of confused dross with a one fortuitous win, a draw between the two worst sides in the country and five twattings.
Of course the players should be accepting responsibility; however, I notice that you rarely mentioned that with the previous feller. Having publicly touted Unsworth for months you are now painted into a corner and refusing to acknowledge the obvious. He's not the answer.
The club needs to act decisively and make an appointment this week. Either an interim experienced manager to steady the ship or bust the bank to get their target.
Dave Wilson
350
Posted 27/11/2017 at 11:55:32
Graham,
I'm guessing you were a staunch advocate of Koeman – Hardly makes me the amazin' Kreskin, I know, but I'm getting a little tired of the relish with which our defeats are being greeted. It would appear you are trying to regain credibility by laying blame elsewhere
The fact that you described with such relish the defeats against Chelsea and Leicester as "twattings" would imply you are trying to make things even worse than they are. to shift the blame away from where it really belongs.
Just to refresh your memory, it belongs firmly with the guy you (and me for a long time) supported. I accept I got it wrong. You should do the same
I don't think Unsworth is the answer either, but you are being rather sly with the stats there. Unsworth lost two games in a competition which the damage was clearly already done, His task has been to survive in the premiership.
The simple fact of the matter is Unsworth has been in charge of 5 Premier League games. He has won two, lost two and drew one.
Mr Hinde and a few others have painted himself into a corner, they'll have to hope Unsworth can pull them out of it, but those who supported Koeman no longer have a corner to stand in – just painted feet.
It seems very strange that, having supported a manager with an away record as dismal as Koeman, that you should now be taking such delight in the fact that Unsworth has lost his two of his three away games – with the same players.
Kevin Tully
351
Posted 27/11/2017 at 12:01:18
I've seen a few posters stating Unsworth has won two games in the Premier League.
Am I missing a week from my past? (Admittedly, I've lost a few weekends before today.) I though his only Premier League win was against Watford?
Dave Wilson
352
Posted 27/11/2017 at 12:07:35
He won one when Martinez was sacked Kevin.
It say's everything that people will use a European game where there was simply nothing to be gained to criticize Unsworth, but they claim a game where we actually got three points was a dead rubber.
Rhino's not the answer but please, its bad enough without people actually trying to make it sound worse
Duncan McDine
353
Posted 27/11/2017 at 12:08:21
Jay & Brent... I'd say there were far more than 100 that booed AW during his warm up. Not the first time that I've been disgusted by some of my fellow Evertonians, and won't be the last. I can understand booing a player that has handed in a transfer request, or bad mouthing the club, but not for being old and slow. It just added to the bad feeling yesterday.
Kevin Tully
354
Posted 27/11/2017 at 12:09:49
Tony Abrahams
355
Posted 27/11/2017 at 12:28:00
I haven't watched the coaching Steve Fearns, and although you say that means that we can't have any authority on it, I would have to disagree with that.
I would say the coaching has not been consistent, nor has it been thought out properly, unless of course the men in charge are simply not good enough.
Darren, says you can't bluff on a footy pitch, but Kevin Mirallas, got sent home from training the other week because he was angry and can't accept our present position? I wish he'd have shown a bit of anger yesterday!
Dave Wilson
356
Posted 27/11/2017 at 12:30:07
HeHe, Kevin
So sticking to the facts and the stats is clutching at straws, but distorting them or ignoring them isn't?
Just trying to be fair and tell the truth here.
Brian Harrison
357
Posted 27/11/2017 at 12:33:32
As usually happens when a manager is sacked they tend to appoint the next senior coach in a lot of cases its the assistant manager as Megson is at West Brom. But seeing as our assistant was the managers brother then we had no alternative but to ask Unsworth to step up from U23 level. This was a massive ask and looks like it is far to big for him, but the real culprits in all this are Koeman, Walsh the players and Kenwright and Moshiri.
The problem is that they sacked Koeman which was the easy part without sounding out prospective managers to take over. I assume it was Moshiri who pulled the plug on Koeman. Weeks later he approached Watford for Silva who for me is a really talented manager, and Moshiri did offer 㾶 million in compensation which is huge but Watford know that if they keep Silva they will still be in the Premier League next season. Which is worth far more than the 㾶 million compensation.
So that's not happening and they need someone in very quickly, the positives are we have an owner who will give the new man money in Jan and that may be are saving grace. As the others down there don't have the financial clout that Everton have. So while like everyone I am really depressed but there is time and thankfully a transfer window to help put things right. If it was the 1st Feb and this was happening then there might have been no escape.
Graham Mockford
358
Posted 27/11/2017 at 12:42:47
Dave Wilson,
Which part of my post points to me 'relishing our defeats'? I'm as pissed off as the next man and just want the fucking agony to cease.
You may also wish to brush up on your telepathic skills. I didn't disagree with his dismissal although for the Board not to have a plan is both reckless and ridiculous.
In fact I'm not even worried about who to 'blame' for our current predicament. That is a sport that many on here enjoy more than I. Although I would add blaming an interim manager with no experience seems a bit harsh. That doesn't alter the fact he appears way out of his depth and in the month he's been in charge you could easily argue things are getting worse, they certainly haven't improved.
What is important right now is what happens to change things. The last two games (and most of the previous dozen) show a side bereft of leadership, confidence and any sort of plan of how we play ourselves out of it.
If you think the best option is to let Unsworth carry on as opposed to replace him quickly I'm not sure which game you watched yesterday.
Nev Renshaw
359
Posted 27/11/2017 at 12:47:23
I have this recurring nightmare, we do a Leeds Utd, go down and never come back up again.
Dave Wilson
360
Posted 27/11/2017 at 12:58:58
Graham,
A very strange response.
The clue is in the sentence "I don't think Unsworth is the answer either".
Brent Stephens
361
Posted 27/11/2017 at 13:16:42
Duncan yes the booing of Williams sounded like more than 100. Though some boo louder than others! And some are non stop in their abuse. Away at Leicester recently a lad behind me, no more than 12 or 13, gave foul mouth abuse from ko to every blue error. Real nasty stuff. I wonder why some go to the game.
Raymond Fox
362
Posted 27/11/2017 at 13:18:49
As far as using coaching as an excuse for our lamentable defending is concerned, we probably have the most experienced defenders in the league apart from young Kenny. Are you telling me they don't know how to defend?
What's this new coach going to say to them, when the ball is crossed high, head it, or your marking suchabody or this space, rocket science or what! They obviously cant do it well.
They're a collection of has-beens and we've been sold a pup in Keane off present performances.
Looking at Wednesday's game, Carroll will have a field day, they will score at least one and the probability is more than one, I cant see past West Ham getting at least a draw.
The reality is we have a squad of moderate to poor players apart from 2 or 3 of them. I'm not including our young inexperienced players in that assessment, they deserve better than having been thrown into this situation.

Derek Knox
363
Posted 27/11/2017 at 13:23:54
Kevin 351, they may be referring to his last period before Koeman arrived, when he took charge and I think we won 3-0 at home, can't even remember who it was against.
Probably added that to his current disastrous spell of results, not totally his doing, but his team selections and tactics have contributed.
Brian Dagnall
364
Posted 27/11/2017 at 13:30:18
Okay, I admit I would not have fired Koeman. I'm in the minority I know.
I am also not so critical of our defence, but nor would I praise them either. Even our new super goalie let us down by conceding the 3rd goal an easy catch for a good safe keeper.
But what I am critical of is a pretty pathetic midfield of Gueye and Schneider, who play suicide passes and are prone to play backward rather than forward. I see little alternative but to fire them. January window will hopefully see them gone. They create pressure on our defence by CONSTANTLY LOSING THE BALL.
I would continue with Sigurdsson as he clearly has a move forward mentality the two I mentioned are a waste of space.
Graham Mockford
365
Posted 27/11/2017 at 13:34:39
Dave Wilson,
Well it's only strange if you are not following the conversation.
You threw a load of accusations about me relishing defeats, being a staunch defender of Koeman etc without a single piece of evidence. I merely pointed out you were talking shite.
Unsworth has won one game in charge. The rather fortuitous win at home to Watford. He's lost 5 and drawn the other conceding at close to three goals a game.
If you agree Unsworth is not the answer then great but of course my original post was directly responding to Darren who still thinks he is.
Paul Tran
366
Posted 27/11/2017 at 13:41:20
Thanks Stan #347. Our best managers happen to have been ex-Blues but above all else, they've been competent.
Raymond, if our defenders are so poor, how come we were so solid last season? We were dreadful to watch, but very hard to break down. Now we have a better keeper, yet we're a mess.
Buying players only helps when you know what to do with them and can explain it to them. Koeman couldn't do it.
I'm becoming less convinced that Unsworth can do it, but he's only going to get authority if he gets offered the job for a specific period of time.
The club needs to stop bickering amongst itself, decide to work together and make a decision. Now.
John G Davies
367
Posted 27/11/2017 at 13:42:42
Just spending an hour reading through.
I find it very hard to comprehend how anyone can offer a defense of Rhino. Post after post aimed at Koeman and the zombie football played by selecting the "tackling machines"
Unsy picks the tackling machines and the outcome is not his fault?
Paul Doyle
369
Posted 27/11/2017 at 14:06:27
John Wyndham:
Jonjoe Kenny's dad is a big blue. Take it from me – I went to school with the kid's dad and knocked about with him when we were kids; he is a blue.
Raymond Fox
370
Posted 27/11/2017 at 14:23:00
Paul, I think we now need a new manager for David's sake, as well as our own, I'm not saying he is blameless.
The two headed goals we conceded, our defenders were in position but couldn't get their heads on the ball which is not unusual for them. God help us Wednesday night! Maybe we are in a spell where there is nothing going right for us. Although saying that we have got lucky in one or two matches.
At the moment we look very moderate individually all over park. We just look short of quality, you know players who can spark a goal out of nothing. We will miss Niasse again Wednesday night; at the very least he gives the opposition something to think about.
Simon Smith
371
Posted 27/11/2017 at 14:29:35
Could anyone please explain the Boys Pen Bill reference that comes up all the time with regards to Kenwright. Forgive me if I am being thick.
Paul Doyle
372
Posted 27/11/2017 at 14:32:57
Who do I blame?The answer is a simple one:

Did Koeman, who I was glad to see the back of, appoint the likes of Ferguson or Jeffers to the coaching staff? Did he sanction the move for Rooney? Or invite Baxter back here?

Did he put the likes of Snodin and Sharp on the payroll to churn out the same old toe-curling tales of glory years gone by to keep us all on the hook? No, it was that old romantic Gordon Clegg. The man is nothing but a good con man. He kidded Paul Gregg in going in with him to oust Johnson, he bought Everton with his mate's money, another con man in Green, and now he has kidded Moshiri with coming in, shelling out millions on shite and at the same time paying for his shares that he bought with Green's money. At the same time leveraging the club up to hilt with loans from companies owned by his other mate Earl. He could sell sand to the Arabs!

On top of this he is supposed to be dying, he is a criminal genius because he has taken us for the last 20 years with his tales and eye watering yarns, it's not a nice thing to say but the only way we will get rid of this con man is when he dies.

Lawrence Green
373
Posted 27/11/2017 at 14:43:20
Simon (#371),
It's a reference to Bill's time spent in the 'Boys Pen' an enclosure that was used to house unaccompanied boys up until sometime in the 1970s I think, might be slightly later.
Here is more information on Bill courtesy of TW.
Simon Smith
374
Posted 27/11/2017 at 14:44:35
Thanks, Lawrence.
Dave Wilson
375
Posted 27/11/2017 at 15:23:54
Graham,
Having now read some of your past posts I see all evidence needed that you were indeed a defender of Koeman, No shame in that, I was myself – only I'm not denying it.
You do indeed appear to relish the defeats Unsworth has suffered calling two narrow defeats (particularly the Chelsea one) twattings and on more than one occasion you have tried to rubbish the second of Unworth's Premier League wins by insisting it was "fortuitous" That's not a fact, its simply your opinion.
I don't think Unsworth is cut out for the job, but I will face facts and try to be even handed. He is stuck with Koeman's misfits and he has not been able to bring in a single signing of his own. but if it makes you feel any better, then just keep banging on about a competition that was all but over for us before Koeman left.
His premier league figures read played 5 won 2. lost 2. drew 1. Try as you might, you can't erase that.
Graham Mockford
376
Posted 27/11/2017 at 15:59:07
Dave,
I was a supporter of Koeman in as much I said calls for his dismissal last season mostly by Darren as it happens premature. Hindsight ( see what I did there!) might have proved me wrong but I stand by what I said at the time.
If you can find a single post saying I didn't think he should be sacked this season I'm happy to be proved wrong.
Calling defeats 'twattings' may be a little hyperbolic but certainly doesn't indicate any relish on my part. I've sat through most of them with the same feeling of dread and disgust as most of us.
Just because something is an opinion doesn't make it wrong. Most reasonable supporters saw the Watford win however welcome as luck being on our side.
And finally to stick the tin hat on it, you complain about stats and meaningless competitions but want to add a meaningless end of season game into your stats. Funny!
Tony Everan
377
Posted 27/11/2017 at 16:00:33
According to Sky, we are in talks with Allardyce.
Just when I thought it couldn't get any worse.
Tony Everan
378
Posted 27/11/2017 at 16:16:43
6000 fans on ToffeeWeb voted on Big Sam, 80% said no.
Talk about taking a gamble.
Jay Griffiths
379
Posted 27/11/2017 at 19:46:14
Tony (#378). Epiphany mate. The results, and with greater pertinence, the performances since that poll was registered have been enlightening to those blinkered and myopic to our plight.
No disrespect intended here Tony I promise. I'm just trying to gauge people's opinion on this choice and how much vested interest they have in Everton, but do you actually go to the game? If yes, are you not mortified by the abject fear emanating from our players?
Allardyce, unfortunately, is the only name that ticks the requisite boxes... ie, endured and successfully passed relegation battles, galvanizes and unifies team, enforces the first code a professional should have- work hard, very hard.
If he completes this mission then thanks and goodbye. I believe people who subscribe to his appointment also think the same. Thanks, here's your money now off you go.
We're having to make the enemy of our enemies a friend... for now.
Darren Hind
380
Posted 28/11/2017 at 08:26:20
Mockers,
How have I painted myself into a corner?
Yes its true I have been calling for Rhino since as far back as April, but I wanted him in then. I wanted him to be able to buy in a few players of his own, I wanted him to work with the players pre-season. I wanted him to be given time to flush out the Zombie football the players had been indoctrinated to.
What ACTUALLY happened is he inherited a team in the relegation zone, a team totally bereft of confidence, a team totally conditioned to slow-paced, long-boot Zombie football, a team of misfits which will prove a challenge for anybody to shape.
This was Koeman's legacy and you know it... Painted into a corner? I think you'll find that was Rhino and you are clearly taking every opportunity to the boot in.
You fool nobody, trying to emphasise/exaggerate Unsworths defeats while talking down his victories. You and John G or Simon, were on here on a regular basis to defend the shite Koeman was serving up, The club gave him the time you were calling for.
What you are seeing now? ... They're called "consequences".
Chris Leyland
381
Posted 28/11/2017 at 08:57:18
Darren, I don't think that Graham is exaggerating Unsworth's defeats or playing down His victories because he has only got 1 victory in the 7 games since he took over. His record is played 7 won 1, drawn 1, lost 5. Goals for 7, goals against 21. By anyone's standards those stats make very scary reading.
I desperately wanted him to succeed and to effect some positive change but the results speak for themselves and the fact is that he has failed to positively impact the team and crucially the results. Yes, he was dealt a crappy hand and the problems weren't of his making but, the whole point of sacking the last fella was to try and improve on results wasn't it?
We are sinking fast and we are ruderless. We need an experienced manager who can tighten things up, can get the best out of our squad and who can get some results by any means possible. The evidence is that person isn't Unsworth however unfortunate that may be on him personally.
Darren Hind
382
Posted 28/11/2017 at 09:44:48
Get back to me on Thursday Morning, Chris.
The guy inherited a team in the relegation zone, He's already improved on that, if he is in mid table after tomorrows game That for me will represent very definite improvement.
Unsworth isn't getting the job, that's clear, but if he has us in mid table on Thursday morning, he will be entitled to stick two fingers up to those who have so readily put the boot into him instead of the guy who got us there in the first place.
If people want to complain about European games where the damaged had already done then that's their prerogative, so is calling a very unlucky and narrow defeat at Chelsea "a twatting".
John G Davies
383
Posted 28/11/2017 at 10:03:09
Darren,
If we win 5-0 on Wednesday we won't be mid table.
Southampton in 10th are 4 points ahead of us.
Always best to do your homework before posting.
John G Davies
384
Posted 28/11/2017 at 10:13:27
Talking about tomorrow's game. I will be very interested in how Rhino sets the team up. Our centre half's can't head a ball. Andy Carroll can.
A Sunday league manager would know to set up to stop the crosses coming in. Let's wait and see how Unsy sets up defensively.
Darren Hind
385
Posted 28/11/2017 at 10:53:17
John,
I don't have to do homework. The table is on the home page. Like 99.9% of the football community see the term mid table as meaning 2-3 places either side of the actual dead centre.
Are you sure Carroll will play? The last player you singled out as the danger man (after doing your homework of course) was suspended.
Why not tell us your set up for tomorrow? Rather just sit and wait to criticise whatever team is selected.
John G Davies
386
Posted 28/11/2017 at 11:08:37
I'm not a Sunday league manager, Darren.
Don Alexander
387
Posted 28/11/2017 at 11:18:20
It's unnecessary to deride TWers as "pro" or "anti" Unsworth when all the time our club is floundering downwards. As Kilbane said on MOTD on Sunday, we're seen as "a soft touch, the team everyone else wants to play right now".
Unsworth has had time to address and correct to some extent the defending shambles but as time's gone on we concede more and more often, getting visibly worse in shape and challenge. To me that indicates he's not up to the job, a job he never sought of course, and therefore should not be criticised. Most people on here have repeatedly said that, only for the touchy brigade to round on them as a consequence.
I hope we get a result against WHU but if there's one guy we really don't need to be facing just now it's Andy Carroll, or Arnautovic, or any other big lump who'll frighten our precious defenders to death on sight.
No matter who gets the job the first thing the next manager needs to find is spine in individuals, even before stiffening the spine of the team.
John G Davies
388
Posted 28/11/2017 at 12:12:47
.
It's unnecessary to deride TWers as "pro" or "anti" Unsworth when all the time our club is floundering downwards.
Could not agree more Don. I'm pro Everton and it's my opinion that Unsworth is not the man to take us forward.
My opinion, nothing more, nothing less. Regardless of posters getting annoyed if that opinion is different to the one they hold.
---
Add Your Comments
In order to post a comment, you need to be logged in as a registered user of the site.
Or Sign up as a ToffeeWeb Member — it's free, takes just a few minutes and will allow you to post your comments on articles and Talking Points submissions across the site.
© ToffeeWeb