Report
Wembley footballing lesson humbles miserable Blues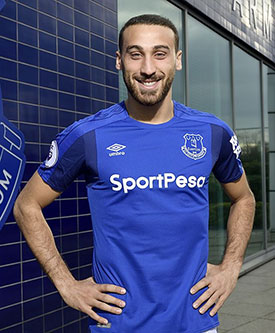 Cenk Tosun is a Blue at last and makes his debut
Everton are at Wembley for the Premier League fixture with Tottenham Hotspur, and a first outing for new signing Cenk Tosun, making his debut.
Yes, Everton's 'Fab Four' make their first appearance, Bolasie, Rooney, Sigurdsson, and Tosun leading the line in a whole new era for the Blues. Calvert-Lewin makes way.
The defence is the same that conceded two at Anfield last weekend, but Gueye replaces Schneiderlin in midfield. Michael Keane is out injured. Tom Davies, who has been poor, is not involved.
Everton kicked off and hoofed it straight out of play... Holgate then repeating the feat, putting the Blues on the back foot until they won the first free-kick. Kenny was then penalizes for a late foul on Son, setting up Spurs first real attack.
Aurier's cross flew off Martina for the first corner that Davies took, Jagielka glancing the ball away. Spurs were finding plenty of space as they surged at Everton's defence.
Bolasie's first chance to play in a cross was blocked by three defenders. Everton had some possession but chose to pass the parcel until Tosun was slow to profit from a decent first touch, fouling the defender.
Tosun showed some intelligent touches and a nice style as he got more involved in Everton's characteristically sluggish build-ups. Kane was allowed to cross after picking up the ball from a clear offside position. Gueye caught Alli, and Eriksen whipped in a wicked ball that Son glanced beyond Pickford's goal.
From the goal-kick, Rooney controlled it well but drove his shot wide, and Everton had to defend again until Rooney was fouled by Dembele but the free-kick came to nothing.
Tosun looked smart in getting a free-kick wide left that Sigurdsson curled in, Everton eventually getting their first corner, cleared by Alli, Kenny winning a corner that was powered in by Rooney off Tosun's smart header but the Everton man was called for offside.
Everton were immediately under pressure with Pickford fielding strong shots from Kane, a sign of the dangers investing too much in the transition from defence to attack. Kane tried to spin Jagielka who had done enough to weaken his third shot at Pickford.
Aurier was wide open on Martina's side and drove the ball low for Son to score with a soft tap-in, Pickford with no chance and Everton behind far too easily.
Rooney tried to break until fouled by Eriksen. Everton got three bites of the cherry but did not get the ball beyond Spurs' 18-yard line; however, Dier gave them another set-piece chance with his foul on McCarthy, this time delivered to deep, straight to Lloris.
Bolasie got forward and delivered a decent cross that Tosun got well underneath. Sigurdsson crossed in well from the left but there was no-one there to convert.
Holgate brushed aside Kane who retaliated with a reckless challenge on the Everton defender but any attacking intent was soon turned over despite Tosun's first touch. After showing signs of being a little more adventurous with the ball, Everton were now reverting to an all-too-familiar cautious style, Bolasie failing to defeat a high Spurs line, his run for a loose ball called offside.
Tosun galloped around the Spurs defense but surprised everyone with an early and deep cutback. Then, a clumsy challenge on Vertonghen led to a Spurs corner, Rooney heading clear. Some neat triangles down the left ended with the ball being driven past Martina and out of play.
Jagielka was booked for blocking Alli's run, Eriksen firing a wild ball well beyond the Everton goal. The half ended with a foul by Tosun, who had been well enough involved and shown some much-needed spirit and desire, but no shots on target again for Blues, disallowed goal notwithstanding.
It was a scrappy start to the 2nd half with lots of silly head tennis until Son far too easily turned Kenny and drove a gift into the offside Kane for another easy goal.
Rooney fired well over from distance before Son resumed his footballing lesson for the Jonjoe Kenny, forcing him back. Son played in Dele Alli but Kenny did enough and the Spurs man's shot hit the side netting.
Gana gifted a ball to Kane who turned and ran at Pickford forcing a wild parry back into play, that at least saved an almost certain goal. Everton were showing even less going forward, summed up by an awful hoof from Holgate. Former Spurs player, Lennon replaced Bolasie to a great ovation from the entire crowd.
Spurs swept forward, Son hitting the post before Kane fumbled a clever ball from Dier over Pickford and into the net for a third Spurs goal, Everton's defence looking as rotten as ever. Calvert-Lewin replaced Tosun, who had done nothing since the break.
Rooney won a free-kick on the right wing, Kenny finding Calvert-Lewin but no second ball retention, although an Everton corner resulted, but with no goal threat. An Everton attack bogging down in the right corner spoon turned into a surging Spurs attack that stopped with Dier, any pretence that we were witnessing a real contest becoming increasingly sparse.
A fall by Alli won a free-kick that Pickford punched clear as Spurs proceeded to toy with the Everton defence, McCarthy giving way to Schneiderlin for the last 20 minutes.
A clever flick by Rooney from Lennon's pass fell nicely for Calvert-Lewin but he could make nothing of it. Rooney saw yellow as he chased the faster stronger Vertonghen and clipped his heel.
Son danced inside inside again, firing straight at Pickford, the ball coming out to Alli who lashed it first time straight back to the Everton keeper.
Son looked to have the beating of Holgate after a horrible giveaway by Lennon but Holgate recovered brilliantly to thwart the Korean's shot. But the fourth was not long in coming, a fluid move of first-time touches finished with lethal accuracy by Eriksen.
Spurs continued to taunt the Blues with exhibition stuff as the final minutes ticked painfully by, and Big Sam looked on forlornly, all his good work rebuilding Everton's defensive prowess ripped to shreds.
---
Reader Comments (345)
Note: the following content is not moderated or vetted by the site owners at the time of submission. Comments are the responsibility of the poster. Disclaimer
John Wignall
1
Posted 13/01/2018 at 16:59:45
Good luck to Tosun.
Jim Bennings
2
Posted 13/01/2018 at 17:06:20
I think we all know Kane is a nap for the first goalscorer, given the way we stand off quality players allowing them time to shoot.
It's been a long time since I've seen a truly satisfying Everton away performance, one away victory in 12 months and we rode our luck in that one (at Newcastle).
Hard to see anything positive coming out of today's game; for that reason alone, I'd be delighted with a point but we have stalled again in terms of winning matches.
Clive Rogers
3
Posted 13/01/2018 at 17:13:07
That is probably our strongest team. Still might not be strong enough mind you. BS does know who performs and who to leave out. He just needs to sign some good additions to the squad.
Dave Abrahams
4
Posted 13/01/2018 at 17:19:40
Only one defender, is Davies injured?Three weak players selected last week, only two this week, so that is an improvement.
In one of the positions, the squad only has one player who can play there and even he is in the wrong position. Allardyce must be shaking his head at the way the club has been run.
Tom Bowers
5
Posted 13/01/2018 at 17:33:33
Still weaknesses as we all know but sometimes you can get lucky like the RS.
Eric Paul
6
Posted 13/01/2018 at 18:06:37
1 defender?
Geoff Evans
7
Posted 13/01/2018 at 18:07:34
At least I'm watching Everton at Wembley, I'll take anything from these no hopers, crap.

Andy Ellis
8
Posted 13/01/2018 at 18:19:30
Ref is a twat. 3 defo yellows for Spurs not given, then he pulls Jags up for that.
Clive Rogers
9
Posted 13/01/2018 at 18:21:03
Martina always seems in the wrong position. Badly at fault for the goal. Bolasie having a nightmare. Tosun looks promising. Lookman for Bolasie second half.
Ernie Baywood
10
Posted 13/01/2018 at 18:21:59
Transfer window has been open 2 weeks... you'd think we might have had a left-back lined up. How can we still be picking Martina?
Ernie Baywood
11
Posted 13/01/2018 at 18:24:12
Faults all round for that goal, Clive. Centre-backs all over the place, no cover from Gylfi, bad decision from Martina.
Jay Wood
[BRZ]
12
Posted 13/01/2018 at 18:24:26
The goal coughed up was really poor, all the more so that Spurs were clearly targeting that flank from the off and seemingly nobody on the park or on the sidelines were alert to this threat or did anything to address it.
Subsequently, things got tighter between Martina and Sigurdsson, the threat diminished and we finished the half 'okiesh'.
Certainly nice to see 3-4 players in the box on attacks! Tosun is having a very impressive debut. Pity about Rooney drifting offside for our 'goal'.
Dave Abrahams
13
Posted 13/01/2018 at 18:26:38
Eric (6), yes sorry, meant on the subs bench.
Clive Rogers
14
Posted 13/01/2018 at 18:33:29
Ernie, yes but the crucial fault was giving the wide guy so much room.
Jim Bennings
15
Posted 13/01/2018 at 18:35:54
The Drab Four I don't know about Fab!!!
Sigurdsson on the periphery and out of position, Rooney looking jaded, Bolasie doesn't ever look in control of what he's doing.
I feel sorry for Tosun.
Cenk, welcome to isolation spot mate!
Carl Allan
16
Posted 13/01/2018 at 18:45:54
Horrible club to support, Everton... so fucking predictable away to the top sides. Can't we for once do a Burnley and threaten to win at one of these venues?
Throwing money at the problem clearly isn't the answer as we seem to be further away than ever from winning some big away games.

Geoff Evans
17
Posted 13/01/2018 at 18:46:24
Another canter for Spurs.
Steve Bingham
18
Posted 13/01/2018 at 18:48:00
This could become embarrassing!
Roman Sidey
19
Posted 13/01/2018 at 18:48:47
I usually refrain from commenting on stories during the game (that's what the forum is for) but this needs saying. Kane visibly offside for their second goal, outcome: goal. Holgate goes up against Vertonghen and elbows him in the chest, Vertonghen clutches his face, outcome: free-kick to Spurs, surely no FA action against Vertonghen for simulation.
This is truly frustrating to sit through.
Peter Hughes
20
Posted 13/01/2018 at 18:48:50
What do you mean 'become'?
Geoff Evans
21
Posted 13/01/2018 at 18:51:09
Laughable isn't it.

Christy Ring
22
Posted 13/01/2018 at 18:52:07
We're totally lacking on the left side, need a left back immediately, and Sigurdsson is not a left winger.
Eric Paul
23
Posted 13/01/2018 at 18:54:59
Dave,
The scoreline would suggest your first post wasn't far off...
Geoff Evans
24
Posted 13/01/2018 at 18:55:14
Change 'laughable' to 'shameful'.

Tony Hill
25
Posted 13/01/2018 at 18:58:14
I see no redeeming features at all from this I'm afraid. We remain a truly poor side and we still lack strength and fitness too.
Let's just concentrate on staying up. These are very bad times for the club I'm afraid, very bad indeed.
Ernie Baywood
26
Posted 13/01/2018 at 18:59:35
Are we ever going to have a shot on target again?
Robert Jones
27
Posted 13/01/2018 at 19:03:03
We're paying Mr Allardyce £6 million a season for THIS? Instead of trying to change the game with substitutions, they've all been like for like.
If we reach safety, the minute we do, we have to say goodbye to this man. The lack of ambition is disgusting.
Geoff Evans
28
Posted 13/01/2018 at 19:10:38
What do you think of it so far, Cenk?

Carl Allan
29
Posted 13/01/2018 at 19:10:51
Goal difference now minus 13, shocking that after the money we have spent competing in a poor league.
I would have Martinez back tomorrow – at least we could score goals under him.
Paul Carsley
30
Posted 13/01/2018 at 19:12:44
After 35 years years of supporting Everton, the sad thing is I just don't care anymore.
Woeful! I would rather follow my local non-league team.
Jeff Armstrong
31
Posted 13/01/2018 at 19:13:19
West Brom next week is a must-win, the rot is setting in again.
Nobody stays up on 27 points and 13+ looks a hard ask for this shower!
Steve Bingham
32
Posted 13/01/2018 at 19:13:44
Please ignore my previous post. It is cringe worthy and embarrassing! So at the moment this season it is currently 7-0 vs Spurs... Walcott must be aching to come and play for us!
Geoff Evans
33
Posted 13/01/2018 at 19:13:46
Goal difference minus 13, were not finished yet!

Susong Hermawan
34
Posted 13/01/2018 at 19:13:53
Disgrace..
Frank Crewe
35
Posted 13/01/2018 at 19:14:07
I just think the insistence on playing Rooney in the middle and Sigurdsson out wide right is killing us in every game. Rooney has to be dropped. Move Sigs into the middle and put some pace out wide. We plainly can't defend so we might as well attack.

Jerome Shields
36
Posted 13/01/2018 at 19:14:48
Seems that teams have worked out how to play against Allardyce's defensive system. In the Premier League, it is necessary to play offensive as well, or else the opposition will be all over you. Allardyce isn't going to make it at this rate.
Buying forwards and players for weak positions are not going to make a difference under this management.
I bet he blames players and pushes the project into next season. He is good at that and collecting the money. What's the difference to a Koeman???
Geoff Evans
37
Posted 13/01/2018 at 19:17:16
We've appointed a manager to tighten up the defence... don't think it's working somehow!

Mike Price
38
Posted 13/01/2018 at 19:19:19
Shocking but not surprised, everything about us is rotten.
Tosun promising but Kenny is an amateur player, he's semi pro like Hibbert should have been and, like Hibbert, he'll probably steal a living off us for the next decade.
Andrew Ellams
39
Posted 13/01/2018 at 19:22:23
Paul Carsley, me too. 40 years this year and my interest is dead.
Jamie Crowley
40
Posted 13/01/2018 at 19:22:40
Ball-winning midfield – neither Gana nor McCarthy play forward balls. Terrible negative substitutions more about damage control than trying to change the game.
That may be the worst I've seen us play. Ever.
Fat Sam was brought in to keep us safe and stop conceding goals. We can't score, and we just let FOUR FUCKING GOALS past us!
God it was AWFUL!
Tony Hill
41
Posted 13/01/2018 at 19:23:18
As a loud supporter of Allardyce, I have to accept that he looks to have no better idea than all the others who have trooped in and out of Goodison and become part of our culture of frightened failure.
I saw some light after the cup exit, but I can see none tonight.
Johan Elmgren
42
Posted 13/01/2018 at 19:23:26
Hope Allardyce enjoyed the lesson in attacking football... he can learn a bit from that...
Danny Baily
43
Posted 13/01/2018 at 19:24:06
We were unlikely to get anything from today's game. Our season is over as far as anything positive is concerned. In short, who cares? West Brom at home, now there's a game with something riding on it.
Jimmy Hogg
44
Posted 13/01/2018 at 19:24:07
I have never understood why the pundits have been saying we're out of danger. That's 3 points from the last 6 Premier League games.
Christy Ring
45
Posted 13/01/2018 at 19:24:25
Still no shape whatsoever, we're totally exposed down the left, Sigurdsson has to play in Rooney's position, and Lookman on the wing. A new left back has to be our next signing, and Garbutt should be registered now.
Lennart Hylën
46
Posted 13/01/2018 at 19:25:27
You do not need to be an Einstein to see this.
I just say, prepare for a relegation battle.
Dickie Langley
47
Posted 13/01/2018 at 19:26:46
Pickford, Holgate, Gueye, Tosun, and Calvert-Lewin – all good.
Special thanks to Morgan Schneiderlin. I haven't played a competitive 11-a-side match in 30 years but his performance has shown me that I'm still good enough to be paid a wage in the Premier League.
Amit Vithlani
48
Posted 13/01/2018 at 19:26:50
Koeman-esque performance but actually worse. I cannot believe how we have gone into so many games and not worked the opposition goalkeeper.
No way Walcott will join this dross so Steve Walsh will continue to buy more mediocre players.
The collapses in form are becoming appalling. We have gone into free fall after Bournemouth.
What the fuck do these lot do during the week?
Finch Farm must be a doss house of the highest order.
Geoff Evans
49
Posted 13/01/2018 at 19:28:23
How have the Manager, players and staff got the cheek to pick up their wages?
This club should issue an apology to its fans for another inept performance. Spurs still getting presents in January.
Does anybody at this bloody club give a flying fuck?!?

Andrew Ellams
50
Posted 13/01/2018 at 19:28:37
Lennart, fortunately playing in a truly woeful league will save us for now. Next season, though...
David Johnson
51
Posted 13/01/2018 at 19:32:07
To be fair to Sam he knows we're Shite and would probably prefer to park the bus except he's probably being pressurized by soft arse Kenwright talking about School of Science football with I hate to criticize because I know he cares) a player Man Utd have squeezed the pips out of, and a defence consisting of two kids, an old fella, and a free transfer.
To think some of you think these cunts are capable of delivering a stadium... I've had enough.
William Cartwright
52
Posted 13/01/2018 at 19:32:42
Awful to watch; Everton, that is – not Spurs. Deary me... no future in anything we do. Static players off the ball, no ball control, no skill on it. Very, very disappointing.
Not looking for excuses as we really were crap. But the linesman in the first half gave us absolutely nothing, and I mean nothing. First close call, but offside for Spurs and hey-ho. 'Goal' – no issues.
Dele Alli drawing fouls such that defenders can't go into his personal space bubble without being penalized, then Jags booked for sweet fuck-all.
I don't mind refs and linesmen being incompetent but do they have to be bloody one-sided all the time? Or is it just me?
Martina? Lovely body swerve to dodge the ball and create a chance / goal for them.
Sod it, I'm off to bed.
Mike Price
53
Posted 13/01/2018 at 19:33:12
Make no mistake we are still in a fight for survival. I couldn't believe the nonchalance after some very lucky results helped to pull us clear but we are absolute shite.
Big game next week.
Our salvation will be our home crowd if things get too close and the fact that there are probably just enough Championship teams below us.
James Hill
54
Posted 13/01/2018 at 19:38:03
Spurs are beating everyone. How many hat-tricks has Kane got in the last 4 games? Get real – things don't just change in a couple months.
Dean Rolstone
55
Posted 13/01/2018 at 19:38:13
I'm obviously disappointed and upset with the result this evening, but in my opinion the final result was heavily influenced by the officials' decisions, as once we were 2 goals behind had to change our game plan and play more open working into Spurs hands. There are 4 officiating decisions that spring to mind.
1) At 0 - 0, Rooney goal correctly disallowed for offside, it was tight but correctly ruled out.
2) At 0 - 1 down, Kane goal incorrectly awarded, as he was clearly offside. It again was a close decision but the official got it wrong.
3) Dembele uses his body to knock Tosun off the ball preventing a one-on-one chance, referee imo rightly played on, no foul.
4) Holgate uses his body to win the ball and put Everton through one on one, referee blows up for the foul, no more a foul than the previous incident I refer to.
I don't believe it is bias from the officials, but it is these home team, 'big six' decisions that are going against us that does not help us at the moment.
Don't get me wrong – once it went 0 - 2, we were hopeless, never looked like getting back in to the game. We need to improve and consolidate our top-half position and push on for next season.

Tony Williams
56
Posted 13/01/2018 at 19:38:32
Where are all the Allardyce lovers now?
As I posted previously, I would never ever accept him; we all knew what he is all about. The football is awful, get rid of him now. All this nonsense and cliche's about steadying the ship and so on is fool's talk.

Dave Williams
57
Posted 13/01/2018 at 19:38:39
Okay, Spurs are probably the second best side in the league and playing them on the big Wembley pitch was always going to be very difficult .
It stood out a mile that Bolasie and McCarthy were not fit enough or sharp enough to compete with such good players on a pitch that size. Very poor that the first three goals were almost identical and the CMs gave no cover to the defence which was drawn into no mans land giving Spurs very simple tap- ins.
We have no midfield general – what exactly does Sigurdsson do that someone thought it was worth 㿙m to sign him? If he is a great CM then for gods sake play him in that position and if it means Rooney on the bench then so be it.
We really paid for having no left sided player today. Their right-back could play well up the pitch without fear of being caught out on the break. Bolasie did absolutely nothing and only Tosun and Rooney showed anything up front. Tosun did well all things considered but we must sort out our left flank because Martina and Siggy are so out of position we carry no threat in that area.
Spurs have a physically big and strong midfield so quite why Sam introduced the tiny Lennon is beyond me.
This bad run has to be stopped quickly before we slip back into the relegation zone. Holgate looked a good player today despite the first three goals coming through a lack of marking in the middle. The rest were occasionally neat but otherwise seemed to allow Spurs to pick holes in our defence and as a creative force we were clueless.
Very worrying!
Charlie Lloyd
58
Posted 13/01/2018 at 19:38:42
Big, strong, great movement and comfortable on the ball – that was Tottenham we were clearer second best. Watching them play is everything we need to be.
They have developed players, Kane & Alli (I know he started at MK Dons), bought really well at a decent price, Son & Erikson and they know the system and what each other does. They are the best team we have played in a while and you have to put your hands up and say when they click we, if were not fully at it, will get nothing.
There are too many limitations to the way we are able to play and there are some decent players with good attributes but they are hardly all rounders.
A couple of positives. Tosun seemed fairly decent. The ball stuck up there with him and he is a presence. Should only get more effective. Holgate, although slightly at fault for losing Kane a few times, battled well and put in a decent shift. I would keep him at centre-back and pair him with one of the others we have.
Back at Goodison Park next for West Brom.
Gerard Carey
59
Posted 13/01/2018 at 19:38:51
Like others, 50 years supporting this club, I feel numb.
Expectations just get lower and lower. We can't hold on to the ball for more than two or three passes. Our possession stats must be one of the worst in the Premier League.

George Cumiskey
60
Posted 13/01/2018 at 19:39:39
Well where do we start, let's start with the manager the biggest shithouse I've seen in 60 years of watching Everton.
Plays Sigurdsson on the left again, you might as well play with 10 men; keeps him and Rooney on for the whole match when they were abysmal.
We needed a goal so he brings on Lennon who hasn't scored for two years. Then he brings on Calvert-Lewin who can't hold the ball up and doesn't score.
Then the crowning glory – he brings on the worst player in squad in the hope he can stop the flood of goals.
Big Sam Allà rdyce tactical genius. Oh, by the way, have we got the worst left-back in the Premier League?
Jay Wood
[BRZ]
61
Posted 13/01/2018 at 19:39:41
Well, as if we didn't know it already, we know it now. We are light-years behind the very best teams in the league.
Spurs and Everton, for most of this century, have been very similar clubs. A mix of good and bad seasons. Similar finishing positions. Any genuinely top players sold for heavy fees. Hit and miss recruitment. Some homegrown talent coming through the ranks.
The big swing in their favour has been the appointment of Pochettino who has both sold and bought wisely to ensure a good fit of players that conform to the pleasing style of football he wants to play.
I long for the day to see Everton consistently play as fluently as Spurs do, capable of scoring goals like their fourth today. It was a thing of beauty.
There are some very good players at Everton. Sadly, there are also a lot of mediocre and ageing players also.
People worrying about relegation (again!) are just being silly. There are 10 clubs below us, many considerably so. We are going to comfortably glean enough points from those sides to be nowhere near the drop zone for the rest of the season.
So this season is now just about damage limitation. It may require a 'rip it up and start again' approach to redeem things for next season.
But having blown the largest single transfer budget in one window last summer, Everton is not a club flush enough to continue to spunk away such funds without a good return on investment every summer.
Peter Jansson
62
Posted 13/01/2018 at 19:42:23
We are still in relegation mode. What happens when we loose next week to West Brom with one shot on goal? Seriously. We have big problems.
It seems that Sam Allardyce does not recognise that we have no creativity in the midfield. So how are we going to change for the better. Also where is our new left wing and left back?
Brent Stephens
63
Posted 13/01/2018 at 19:42:31
Once the club is confident Sam has done his job and avoided relegation, get in the manager we need and the players we need.
Dave Abrahams
64
Posted 13/01/2018 at 19:42:48
Eric (23), I also said we had only picked two weak players for this game, miles out there, very, very depressing and back in a relegation battle, and it looks like we don't battle very well.
John Hammond
65
Posted 13/01/2018 at 19:43:05
Well I think we can safely say Allardyce won't be kept beyond the summer. I'd rather us have a go and get hammered than sit through this depressing shit.
Jamie Evans
66
Posted 13/01/2018 at 19:44:44
Not so long back, 50% of my fellow ToffeeWebbers wanted our Manager.
He's great isn't he.
1 more draw and 4 more wins needed and we are safe. Then he can get the hell out of Dodge.
Altogether now, we found love in a hopeless place.
David Johnson
67
Posted 13/01/2018 at 19:44:47
I'd defend Allardyce and leave him to manage until we're safe. What a twat of a team he's inherited. Let him do his stuff until he can bring more bodies in.
Jim Bennings
68
Posted 13/01/2018 at 19:45:49
Couldn't really care less about Everton anymore.
This is the lowest I've ever felt in all my years of supporting the club. Even in the dark days of the 90s at least there was a bit of backbone a bit of unpredictability there, and we could comfort ourselves with a good Merseyside derby record.
But this??
What do we ever get back from them other than spineless boring mind numbing performances???
We are horribly predictable to support, each year when the fixtures come out you know the fixtures we just don't, or can't win!!!
Long suffering Everton fans aren't asking for a team like Barcelona, just give us something a little bit unexpected, shock us in games we don't expect to be shocked in. It's frankly become so boring watching Everton Football Club now, it's a chore going to watch us at Goodison. The atmosphere is dead because what we watch is dead in front of our very eyes, the Manchester United game was the quietest I've ever heard a Everton v United game – especially under the lights at Goodison.
I've never felt such a "can't be arsed" attitude about Everton's games as I have done this past 6 months.
People slag off Martinez but even then at least we had a go at the attacking side of the game, not helped by the John Stones saga defensively but at least in his first year, Martinez dared us to dream, broke down mental hoodoo's at the likes of Old Trafford and a record points tally of 72.
This now is just apathy in front of our eyes – it's predictable, it's boring, it's just quite simply horrible.
Clive Rogers
70
Posted 13/01/2018 at 19:46:40
Kenwright has completely ruined our club. Now someone on the live forum claims he has information the ground move will be called off.
Brian Williams
71
Posted 13/01/2018 at 19:47:59
I admit to switching off after the third goal as I couldn't watch any more. It was like watching your pet Jack Russell being savaged by an Alsatian while you're tied up and unable to save it.
That performance, ladies and gentleman, should answer those who ask "Why aren't we in for the likes of Aubameyang?" etc etc.. "Why aren't we setting our sights higher than Walcott?"
I would be very surprised if Walcott came to us after watching that because playing in that side will NOT help his World Cup aspirations one bit.

John Keating
72
Posted 13/01/2018 at 19:48:43
It does not matter what 11 and subs we have, the players are not fit for purpose. We can go defensive and we will fail. Try a more attacking system and we're still substandard. The whole squad needs a revamp
As many said a couple of months ago, this season is simply about survival. Those calling on 6th and 7th finishes, well hopefully now we have seen all our squad options, realism might take hold.
Roman Sidey
73
Posted 13/01/2018 at 19:49:05
I don't know if this is the done thing, but here is a quote from the forum that is bang on and could have been applied to the team in any of the last 10 years.
Steve Alderson: "The players are not good enough and they know it. That's why we have no leaders in the team. No-one can set an example."
Ralph Basnett
74
Posted 13/01/2018 at 19:49:38
And the mighty WBA next, we are fucked!!!!!!!!!!
Gavin Johnson
75
Posted 13/01/2018 at 19:50:27
I switched the match off halfway through the 2nd half, once I saw the like-for-like substitutions. Why Lookman wasn't brought on for Rooney so we could replicate the 2nd half formation at Anfield, God only knows?! Big Sam still going for safety first when we were 3-0 down! Complete and utter shite!
Never mind signing Walcott, please buy a quality left-back. Martina nowhere to be seen marking the Spurs right-back on the first goal. It's like playing with 10 men whenever he's in the side. Worse than useless.
Amit Vithlani
76
Posted 13/01/2018 at 19:53:26
Sam was shaking with anger in post match interview. Accused players of lack of professionalism.
No hiding place next week against West Brom after such a rebuke.
Brian Harrison
77
Posted 13/01/2018 at 19:53:54
Sadly when we appointed Allardyce, I said I hope I am wrong and he can change his spots, but he can't. We have had 2 shots on target in the last 5 games, an almost unbelievable stat.
Allardyce has spent most of his career fire fighting with backs-to-the-wall performances and thats exactly how he sets us up. Sigurdsson is more concerned about tracking back than looking to get at Spurs.
I am hopeful that we will collect enough points to stay out of the relegation battle. Allardyce prides himself on surrounding himself with sports sciences, so he has Bolasie and McCarthy starting the last couple of games both have hardly played any football in the last 12 months. They should be getting no more than 15 minutes at the end of games – not starting them.
I hope Moshiri sticks to what he offered Allardyce originally which was 6 months, and do your homework and find the right man to replace him. Finally, I can't understand why Lennon was preferred to come on instead of Lookman, Lennon hasn't scored a league goal in about 2 years. Bolasie also hasn't a great goal record.
Rooney is finished which is sad, so play Sigurdsson in Rooney's position against West Brom and for heavens sake work on the attacking game before next weeks game. And please can we look forward to some shots on target.
Jay Wood
[BRZ]
78
Posted 13/01/2018 at 19:54:01
Jim Bennings, for someone who declared to the world on TW last week that you were 'done' with Everton and wishing the rest of us luck, why have you hung out on TW every day since then like a bad fart in a lift?
If you 'couldn't really care less about Everton anymore', seriously... why are you following the games still and posting on TW?
Chris Perry
79
Posted 13/01/2018 at 19:55:40
Probably the worst display this season, certainly up there with the Southampton shite. Rooney, Martina, Jagielka, Gueye were all shite. Major major clearout required. Long hard slog until May with this shower of shite and the bungster.
Kevin Tully
80
Posted 13/01/2018 at 19:57:03
We are now firmly a mid-table club who are fodder the newly formed 'top 6.'
If anyone thinks the talent is there in the boardroom to turn this sinking ship around, then think again. It's clear to see there was no direction in the summer, with too many people having an input into our transfer strategy. No striker, and not even a player who can beat a man, what were they thinking?
Moshiri seems to be well meaning, and I think he has good intentions. That doesn't qualify him to make football decisions, but he's been extremely badly advised. And who is in his ear? Dear old Bill, of course.
Season ticket waiting list? Good luck with that come May. Imbeciles.
Clive Rogers
81
Posted 13/01/2018 at 19:57:30
Bolasie looked like a non-league player. He was rightly taken off but only to be replaced by Lennon who hasn't scored for two years and didn't look interested.
Tahir Abdullah
82
Posted 13/01/2018 at 19:58:32
All those Turk supporters who adopted Everton as their Premier League club (after Tosun's move)... GONE!
Ash Moore
83
Posted 13/01/2018 at 19:59:53
It's days like this that make me glad I can't be arsed watching, instead coming on here and reading about another debacle. It's far less painful than watching it, I assure you.
Barkley was never getting into that Spurs team, and I think you can see that the Chelsea bench looks a lot more attractive than starring in that set-up. Bad.
Phil Smith
84
Posted 13/01/2018 at 19:59:59
Wrong, wrong, wrong, big Sam. Set that team up for failure. Zero pace again. Should have been one of Sigurdsson or Rooney today, not both.
Second half was horrible to watch. 9th is the highest we'll finish ever under this one and that'll be more to do with how shite the other teams are.
Jim Bennings
85
Posted 13/01/2018 at 20:01:42
To give us deserved stick, Jay Wood (BRZ). They should be ashamed to pick up their wages after their no-shows this season.
From the most abject Europa League campaign ever to some of the worst ever performances I've seen (Tottenham twice, United away, Southampton away, Arsenal at home) .
They are a disgrace to the badge.
Farhad Moshiri making a show of us and patronising us with that ridiculously stupid "Fab Four " statement.
We are a joke club.
Ray Jacques
86
Posted 13/01/2018 at 20:02:04
Jay, that's a little harsh on Jim. After 40 years support, I know how he feels. I use the "can't be arsed anymore" attitude to try and lessen the constant disappointments as a form of self-preservation.
I hate Everton at the moment but am still in love with them!!! Think I'm fucked up!!!!
Rob Dolby
87
Posted 13/01/2018 at 20:04:46
I would rather have seen us sit deep and defend properly and try to hit them on the counter. Instead it was the 'After you, Claude' Opened up at will. The first goal was Sunday league defending.
Both full backs were continually exposed.
Bolasie is miles off match fitness and obviously isn't ready.
Sigurdsson gave no support to Martina.
Spurs are a good team but we didn't make them work hard enough for it. No saves for their keeper, Dembele in his slippers and smoking jacket. All too easy for them.
Not sure how Walcott is going to improve us. No left back, no left mid and not enough senior players in the first team helping out the youngsters. It's horrible to watch with a short term Marmite manager and then the owner comes out with the "Fab Four" shite.
Only an Evertonian puts up with shit like this. West Brom next week is a big game now. Just watch us play 3 defensive mids!

Colin Glassar
88
Posted 13/01/2018 at 20:05:50
I hope Moshiri is happy after another gutless performance against one of the dreaded top 6. After all, he did say that we shouldn't expect to beat any of them. I imagine Sam got the memo.
Brent Stephens
89
Posted 13/01/2018 at 20:06:00
What happened to the 2 banks of four that seemed to be providing reasonable solidity?
Brent Stephens
90
Posted 13/01/2018 at 20:07:40
I think Lennon was brought on to protect Kenny.
John Boon
91
Posted 13/01/2018 at 20:07:54
I didn't praise Allardyce for our mini revival. Nor can I blame him for the last four match disasters. We are out to lunch on both outside fullbacks. Martina is useless, and Kenny is just not ready for the big time. Today we were ball watching for the entire second half. I also don't think we are as fit as we should be.
Tuson must be wondering what he has come to. I think he showed lots of ability when he was on. Not an easy game to start your Everton career. Whatever lad, you were not to blame for this result.
Ahead, we probably have an easier schedule than most of the other lousy teams. I hope we can take advantage of it. It is sad when my only potential football pleasure for this season is when the RS lose. Unfortunately even that is not often enough.
Always Blue but getting more difficult each day. Koeman did far more damage than anyone ever associated with our club.
Brent Stephens
92
Posted 13/01/2018 at 20:08:46
As Jay (#78) says.
Kenny Smith
93
Posted 13/01/2018 at 20:09:34
That second half was nothing short of a disgrace.
From front to back we were shite. I don't know where we go from here but it's certainly not up the table. Give it a month and we'll be well and truly back in the brown stuff. We are a joke and this season has been the worst I can remember since we escaped against Coventry.
Allardyce is clearly not the man to take us forward and that's down to his shocking negative tactics and team selections. If you play to keep the score down and nick a goal from a set piece or mistake the your asking to get hammered.
We're in a mess and the sooner Moshiri stops talking shite and gets a grip of this sinking ship the better.
On another note you can't tell me we don't have a left back at the club other than Baines. Martina needs 8 touches to control the thing and looks like he's worth fuck-all – oh, that's exactly what we paid... and we've been ripped off!
Paul Rimmer
94
Posted 13/01/2018 at 20:10:02
Cuco Martina is shit – someone with a left peg, bring their boots to Goodison next week.
Don Alexander
95
Posted 13/01/2018 at 20:10:21
If only someone had said we were short of a left-back, centre-back and centre-forward before the summer window closed!
Was Moshiri watching that? Here for a "Years-Long" project is he now? Well if so I suggest he immediately finds a way of doing several things:
Get rid of all the off-the-field "Museum" keepers he inherited when he bought in. They're useless.
Find a scouting team capable of seeing that the top teams acquire players of a stature as big as their abilities. Today we fielded 5"-11" McCarthy, 5'-9" Rooney and 5'-10" Gueye in midfield against 6'-2" Dier, 6'-2" Dembele and 6'-2" Alli (Wanyama and Sissoko, their subs, are also 6'-2"). They ran the show whilst we were just embarrassing, trailing about like schoolboys.
Further we've just bought a 6'-0" centre-forward, not noted for pace either, to make an impression on the likes of Sanchez and Vertonghen today, both of whom are, you guessed it, 6'-2". So that leaves 6' Son to try to get around 5'-9" Kenny and 6'-2" Kane contending with 6'-0" Jagielka and 6'-0" Holgate. Brilliant!
It's a good job our three 6'+ players were playing, but what am I saying?!!!! Martina is out of his best position and clearly NOT a left-back; Sigurdsson is out of his best position and clearly NOT a left-winger; and Bolasie is as rusty as hell through no fault of his own.
And the bad news is that Spurs are nowhere near the only team of such statures. It's the norm 'most everywhere except at Finch Farm. Add to that the apparent disparity in fitness and heart between us and many other teams and I think Moshiri needs to get his head out of stadium design and accountancy and very quickly provide this manager and the next one with some footballers with the physical shape and mentality required to be drilled into competitors on the pitch.
Is that too much to ask?
Dave Lynch
96
Posted 13/01/2018 at 20:11:02
Why did some of you expect anything other than what we are seeing?
Allardyce is no more than a journeyman manager in the mould of McClaren, Megson, Pullis... He has never played expansive football, or even clever football, he is a one-dimensional, one-trick pony who has not developed with the game.
We have some, just some decent players, certainly enough to put out a decent 11 capable of "competing".
John Wignall
97
Posted 13/01/2018 at 20:11:05
Same old Everton.
Gareth Riley
98
Posted 13/01/2018 at 20:11:59
Why hasn't Garbutt been registered yet!
We are still so unbalanced as a unit...

Peter Cummings
99
Posted 13/01/2018 at 20:13:26
In my pregame post on TW, I said we don't only have Kane to worry about but also Alli, Son, and Eriksen, and guess what folks, they combined to completely humiliate us big time. Only ONE attempt on goal and it was called for offside by an 'official' who went on to give another seven calls against us, most of them debatable hairliners yet the one that should have been called against Kane for their second goal wasn't given.
Not that this in any way excuses yet another total shambles of a performance by a 'team' that is anything but, and an insult to the once proud name Everton Football Club and its loyal supporters. If Allardyce has any semblance of decency, he would get out now along with those who gave him the job, as his vaunted 'Defence In Depth' approach collapses in ruins,
Christ only knows where we go from here as the only way we can go seemingly is down, barring a miracle. Tosun must be wondering what he has got himself into. After being an Evertonian for 75 years, I too am wondering is it worth it any more...
Jim Bennings
100
Posted 13/01/2018 at 20:13:39
I think what has happened, Brent, is our little bits of luck we were getting in those games has ran out.
We could have been out of sight at half-time at Anfield if Mane had took the easy option and passed to make it 2-0.
At Newcastle we rode our luck with the woodwork our best defender.
We didn't become a good team under Allardyce, he came in and shored it up a little more but we have been grossly found out in the last six matches and it's back to what it knows best with this team – abject shocking performances and results to match!!
Never have I seen a season where, over such a long period, Everton are so so damn easy to play against and, as someone stated, we are mere cannon fodder for the big guns these days.
Christopher Nicholls
101
Posted 13/01/2018 at 20:15:28
As others have pointed out, 2 weeks into January and still no left-back??? Not even registered Garbutt???
Immediately need a left-back, left-sided centre-back and an actual left winger. All players basically out of position gifts the opposing team a weakened flank every game.
To make matters worse, Bolasie wasn't in this game and left Kenny badly exposed. Not just players, but tactically men and boys today.
I don't see how Walcott addresses any of these issues. Cannot be a priority until these gaping holes in the team are fixed.
Over to you, Mr Walsh... er, Mr Walsh? Hello... Mr Walsh?
Colin Glassar
102
Posted 13/01/2018 at 20:15:59
Great post, Don. I saw some of our players just bouncing off Wanyama and Dembele. Walsh is doing a brill job, isn't he?
George Cumiskey
103
Posted 13/01/2018 at 20:16:04
I can't believe the people coming on and blaming the officials, and not blaming Allardyce for the shit the teams and tactics and substitutions he's selected.
By the way, David Johnson, are you related to Fat Sam?
Bill Gall
104
Posted 13/01/2018 at 20:16:30
Brent. Don't you think someone should have been brought on to protect Martina? They went after him right from the start.
Steve Mink
105
Posted 13/01/2018 at 20:16:38
I didn't support the Allardyce appointment but I can't see why people are turning on him now. The squad simply isn't good enough.
List the players who are good enough for a decent Premier League side:
Pickford
Coleman (hopefully)
Gueye
Sigurdsson
Tosun (hopefully)
List the players who are past it or not good enough:
Martina
Jagielka (though I think he's holding the defence together at moment)
Baines
McCarthy
Williams
Funes Mori
Schneiderlin
Besic
Lennon
Niasse
Rooney
Bolasie
Players who are promising but not yet at the right level:
Kenny
Holgate
Davies
Calvert-Lewin
Lookman
Vlasic
That's a really unbalanced squad.
Brent Stephens
106
Posted 13/01/2018 at 20:17:00
Yes, Bill. I do. 4-4-2 would have done it?
Jim Bennings
107
Posted 13/01/2018 at 20:18:02
Everton v West Brom
Sam Allardyce v Alan Pardew
To be honest no disrespect meant here but how did it ever get to this at Everton Football Club??
If someone had told me that when Moshiri came in with the promise of great things I'd never in a million years believed us to be in a position where it is now.
Darren Hind
108
Posted 13/01/2018 at 20:18:20
The Allardyce defenders told us we cant open up because "we would be twatted 4-0".
Well, the luck has ran out, the opposition strikers are not so profligate. Allardyce's anti-football is being cruelly exposed and we are sinking again.
We scored an average of two goals a game in the five Premier League games we played before Allardyce got here. That fact kinda blows claims that "we can't attack" out of the water... Now, we are averaging less than a goal a game under this fool. We are going through entire matches without troubling the opposition goalie with a shot on target.
Allardyce does not deserve this job. His damage-limitation mentality shames our club. That he has the fucking temerity to blame it all on the players would be funny if we didn't have so many people prepared to swallow it.
Brent Stephens
109
Posted 13/01/2018 at 20:20:41
Jim (#100), yes, some games have involved fine margins that worked in our favour. We're treading a fine line.
Brian Hill
110
Posted 13/01/2018 at 20:22:04
Despite it all, we shall be there in body or spirit next week. Why do we love this club so much?
Brian Denton
111
Posted 13/01/2018 at 20:26:35
It's an abusive relationship, Brian Hill (#110). We get beaten up and go back to the relationship, thinking 'this time it will be different'.
Christopher Nicholls
112
Posted 13/01/2018 at 20:27:07
Don, Colin, their team was bigger, faster, fitter than our team in every position. Their cohesion and fluidity as an attacking unit is also thoroughly and imaginatively coached. The players are smart.
How does the Director of Football, failing with successive managers, defend the absolute gulf that was on show today?
Outside of the promise of some of our U23s, it's hard to be excited about the direction the team is headed in. I would like to know what will prevent the cream following Stones, Mustafi, Dier, Lukaku and yes Barkley out of the door. Funny, to Don's earlier point, they are all over 6'.
Andy Crooks
113
Posted 13/01/2018 at 20:28:30
Truly absmal stuff from a poor coach and players who have no shame. That was up there with the worst I have ever seen.
Who could, in their worst nightmares, have ever thought that our club, managed by Sam fucking Allardyce, would have been humiliated like they were today.
As Jay says, we will not be relegated, but by fuck, we deserve to be, because the coach and those fucking fraudsters in blue shirts do not deserve to be paid.
No MotD once more. Any Evertonian who went to that game should have every penny they spent refunded by the club. Not "our" club, "the" club. Gutless, spineless and shameless.
Oliver Brunel
114
Posted 13/01/2018 at 20:30:50
It's an abusive relationship but will we soon be self-harming?!
Sam Hoare
115
Posted 13/01/2018 at 20:33:34
We have gone backwards since Moyes despite having money to spend for the first time.
A combination of dubious player recruitment and manager appointments. The Decent news is there are a lot of other very mediocre teams in the league so we could well still make top ten. The bad news is we are further away from the top 4 than I can recall in the last decade.
Allardyce will likely not be here next season but I suspect Walsh still will be and he is surely deserving of some of he blame for our current predicament?
Karl Parsons
116
Posted 13/01/2018 at 20:33:48
So here's my take on things.
Kenwright's "yes man", Moshiri, is a spineless twat. To sit at the recent AGM and listen to Billy Blue Bullshit spout chunks about how Farad never says "No" is an insult to the thousands of loyal blues that pay every penny they have, week-in and week-out, following our piss hole of a club.
Enough is fucking enough!
No, this is not a direct reaction to the Wembley debacle. If it was, I would be more venomous. I simply cannot stand any more fucking corporate psychobabble from our so-called directors. The Club is a mess and it's getting worse week after week.
Somebody tell me things are better than I see them FFS, please!
Oliver Brunel
117
Posted 13/01/2018 at 20:34:52
There was one moment there when a Spurs player just flipped Lennon over with his wrist. Lightweight. Sums that Everton team up.
Jay Harris
118
Posted 13/01/2018 at 20:37:41
Someone should be sacked for not having a left-back here on 1 January. That in itself is a total dereliction of duty and is costing us points.
Secondly, and it's been said before, Rooney and Sigurdsson should never be in the same team.
Thirdly, I have to ask: If the manager did not want Tosun, why was he bought?
Something is seriously wrong at the club. I hope Tosun wasn't bought on Moshiri's say-so because he watched him in a Monaco game and Allardyce has done a Koeman and said "Fuck it, I'll just wait for my payoff."
As soon as I saw the two Sams and big Dunc on the bench before the game, I knew we were in for a drubbing. Whatever had gone on, you couldn't see three more miserable faces.
Jay Woods
[LAT]
119
Posted 13/01/2018 at 20:41:08
Steve Mink: Gueye is good enough? Are you... jesting? Mentally unhinged? Intoxicated?
He isn't even a poor man's Kante. He's just another medicore, middle-of-the-table player that can tackle a bit, but not much and can pass even less. In fact, he's even less effective than Schneiderlin.
Our fundamental problem is we have too many crap players. I used to argue it was principally a coaching issue, but really, most of our players are just woeful.
I know we like to imagine Kenny is a good right-back, but he was ripped asunder tonight and, as usual, posed zero attacking threat. Martina was – again, as usual – even worse. So we possess nothing in attack from our fullbacks.
I could go on but I'm tired... the team needs a billion invested in it – but spent on the very players the clubs above us are vying for. I have a theory that there are just too many moneyed clubs in our league to make anything other than a takeover by a generous nation state a viable route to the top for us.
A final note as others have mentioned it: Player height is a non-issue really; Barcelona under Pep turned the world upside down with Xavi, Iniesta and Messie, none of whom are two hands higher than a duck.
Anthony Hawkins
120
Posted 13/01/2018 at 20:41:43
Moshiri is like an excited kid with money in a toy store. He doesn't know where to spend it or how not to spend it. That paired with others who don't know how to spend it is atrocious.
Sam can only work with what he's got but what he's serving up is worse than anything I've seen in years.
Rooney has to be benched. The back four need a good kicking. A new controlling midfielder and left back are an absolute necessity. It will be an travesty If we leave this transfer without either of those.
Sam is on a short leash for sure...
Allan Board
121
Posted 13/01/2018 at 20:44:15
I'm not sure why there is so much shock at that display.
This season has been coming for many a year and now this is the reality; it's the result of buying shit players, a complete lack of ambition by the money men, fans told deliberate untruths, has-beens being allowed to play on (check – there have been dozens)...
Good players have heart – we never buy these players because they would rock the cosy Everton Love Boat and Bill would never accept that. Everton's owners are complete control freaks and will not purchase players with balls – complete wankers.
It's like a load of bullies in the play ground who only let tossers join there group – safety in numbers. Get used to it; it ain't gonna change anytime soon.
Steavey Buckley
122
Posted 13/01/2018 at 20:47:14
The team selection to play Spurs was an insult to the home side. From goal-keeper right through to Number 11, Everton were inferior. So why did Allardyce play 3 luxury players, Rooney, Sigurdsson and Bolasie?
Swansea, Burnley and West Ham got something out of their games against Spurs at Wembley by focusing on a defensive plan and strategy. Everton had neither.
For the first goal was pure school boy football, no left winger to cover for Martina who was exposed by having to mark 2 players. Their second and third goals were also comical schoolboy errors. Everton FC should refund Everton fans who had to watch an exhibition of schoolboy football from the away side.
Jack Convery
123
Posted 13/01/2018 at 20:51:17
Moshiri is that kid in the playground who wants to play with the cool kids but ends up looking a bigger dick than he already is.
A clearout from top to bottom is required –where's the muesli... extra strong variety?
Don Alexander
124
Posted 13/01/2018 at 20:52:02
Jay (#119), if we'd've had Messi, Xavi and Iniesta in our team tonight we wouldn't have been trounced, Tosun would've likely scored a hat-trick.
Spurs would've played two banks of four leaving Kane and Alli up there alone trying to use the occasional long-ball they were getting. Just saying like.
Lenny Kingman
125
Posted 13/01/2018 at 20:52:37
Spurs, a team of talented, consequential men.
Everton, a team of talentless, inconsequential ratbags.
Harvey Miller
126
Posted 13/01/2018 at 20:53:27
We need a left-back, left-sided centre-back, and a playmaker. Theo Walcott is not the answer to any of those questions. He was the hot fast winger 10 years ago. Now, every Arsenal fan would be more than happy to see him go.
Phil Rodgers
127
Posted 13/01/2018 at 20:54:56
I'm not getting on Allardyce's back. He inherited a team that shipped 4 goals, week-in & week-out. We have a very poor side with players who are just happy to get paid. The mentality of this lot leaves a fucking lot to be desired.
I wouldn't be sorry to see the back of any of em bar the goalkeeper. The buck stops with the manager but, quite frankly, the players take the brunt of my ire.
Jack Convery
128
Posted 13/01/2018 at 20:57:09
It's time to sack the Board!!!
Phil Walling
129
Posted 13/01/2018 at 20:57:25
With the Premier League now reduced to just six meaningful teams, Everton are now there to make up the numbers. Just another dozen points will see us safe from relegation and probably still in the top half.
But looking longer term, Moshiri's naïvity will see us down in the Football League before the 2020s are much advanced, with all dreams of a great new stadium abandoned as unnecessary.
Allardyce is proving to be the disaster most of us predicted with the quality of football the worst any of us have ever seen. Fortunately my season tickets went in the bin whilst Martinez was at the helm although, in retrospect, he was almost worth the money for the comic entertainment of his pressers alone..
John Keating
130
Posted 13/01/2018 at 20:57:54
Didn't matter one iota who we played today and in what system or style. This squad is mid-table at very best.
The sooner we get to safety, the better. Years of total mismanagement have brought us here.
I just pray we haven't yet bottomed out.
Derek Knox
131
Posted 13/01/2018 at 21:00:28
While I appreciate we were generally crap today; I would like to say that yet again; the standard of refereeing was not in any way balanced at all.
By that, I mean; fouls, dives etc, should be punished; but let's at least have it consistent for both sides; having said that, the scoreline may have been kinder; but we would still have been beaten.
I thought the new guy looked good but isolated up front; there were a couple of players who went missing for long periods; okay, they are coming back from injury.
I couldn't understand again the substitutions; all their attacks came down our left, and Martina held the door open for them on each occasion; it can be said he is playing out of position, but come on this guy shouldn't be playing for us at all.
To bring Schneiderlin on, when we needed goals, was also unforgiveable.
Apart from the score, the confidence will have taken another blow.
Liam Reilly
132
Posted 13/01/2018 at 21:06:45
Just deadful; how £100-grand-a-week footballers – a a-fucking-week!!! – can't keep the ball on the turf is just beyond me.
Hoof after fucking hoof and the ball just kept coming back.
I thought we were going to get spanked and we did. Hate being an Evertonian sometimes.
Brian Hennessy
133
Posted 13/01/2018 at 21:08:10
Don't worry, lads – now that Sam has the defense sorted out, it will all be fine in January when we buy an new striker and get Bolasie back fit...
Raymond Fox
134
Posted 13/01/2018 at 21:09:46
I think most of us feared the worst today didn't we? They were 1/4 to win! It's still disappointing when you're outclassed to that extent though.
I know one thing: if I had any sense, I'd spend each matchday fishing, bungee jumping, sky diving, anything apart from supporting Everton.
Nothing is likely to change in the foreseeable future, the League is dominated by the usual top 6 clubs and the rest of us haven't the money or aren't attractive enough to sign the very best players.
To start blaming Allardyce now is pathetic; how many managers is it now that've failed to bring any success? The common factor is the players. They're not bleeding good enough and are never likely to be, that's the bitter truth.

Steve Mink
135
Posted 13/01/2018 at 21:10:59
Jay (#119) – not intoxicated (dry January) or unhinged (I'm a stable genius!). Gueye is a decent defensive midfielder if surrounded by good ball-players. No Kante to be sure.
Lenny Kingman
136
Posted 13/01/2018 at 21:13:20
#82
That's good – we don't need Turks of faint heart supporting us or indeed playing for us.
Not much staying power, have you? One bad day and off to the hills you go.
Jim Bennings
137
Posted 13/01/2018 at 21:14:08
At least there is only Arsenal away and the home games with Man City and Liverpool remaining out of the "big 6", so we can come off the table we've been bent over all season and pull our kecks back up once those three have finished with us.
Cannon fodder club for the big bullies.
Clive Rogers
138
Posted 13/01/2018 at 21:14:15
This club will never be any good while Kenwright still has influence. He has turned us into a complete shambles.
He was at fault last summer for negotiating with Swansea for nearly five weeks and paying 㿙M for a 㾸M player. By the time that was over, it was too late for the other signings we needed.
Colin Malone
139
Posted 13/01/2018 at 21:29:08
What do we do with Jonjoe Kenny?
Clive Rogers
140
Posted 13/01/2018 at 21:34:01
Colin, he made some mistakes today and we have to accept he is still learning. But he had a really good game against the RS.
Oliver Molloy
141
Posted 13/01/2018 at 21:34:15
When Spurs scored their first goal there was look of "it was inevitable" from our team and when they scored their second, heads just dropped once again and we just caved in, it's so predictable.
Spurs looked fitter, stronger and of course they were up for it much more than us.
Martina can't be blamed for everything; too many players are not committed enough to make the difference against the best sides in the league.
We are a very very long way from being a decent side and I predict chopping and changing will be the norm this next 12 months or so both on the managerial and playing side.
The only thing that will attract players to Everton FC will be the wages, so we must hope that these kids can step up and quickly, but I can't see it.
No centre forward when Lukaku left = criminal.
No left back cover for Baines = criminal.
No manager in place after sacking Koeman = criminal.
It's just mistake after mistake after mistake and this new owner who just doesn't think before he speaks just sets no example at all.
Fab Four, voodoo, can it get any worse? Jesus give me strength!
Kunal Desai
142
Posted 13/01/2018 at 21:34:53
Awful, just simply fucking awful.
You can point the finger at many people – players, managers and board. I actually think we as fans need to take a serious look. We are cowards to let this club manifest to what it is today. It's gross negligence.
Why have we not acted like kopites over the years and fucked off the garbage like Kenwright and Woods? These guys have got easy rides over the decades because us supporters have done nothing about it. They say you get what you deserve.
Andy Meighan
143
Posted 13/01/2018 at 21:35:28
(#112) – When did Mustafi and Dier ever play for Everton? They never got near a first team shirt once. Stones I'll give you and he's still making schoolboy errors. But to be fair, I reckon I could play centre-half for City at my age and size.
If you're going to post, talk sense. Don't come out with names we've let go. Every club lets players go only for them to surface elsewhere a couple of years later – it's football.
Jim Bennings
144
Posted 13/01/2018 at 21:38:16
The question I'd ask is this..
How many Everton players actually hurt when we lose in that manner that we did tonight??
I ask that because we have lost in the same manner several times this season, surrendered meekly and half interested with the same lame excuses.
Do the players actually feel appalled, ashamed, embarrassed and feel angry and upset after another disgraceful showing in what has become a season of disgraceful showings??
It doesn't appear to hurt any of them, even the so-called young scousers don't appear to want it bad enough. I hate to say his name but look at Steven Gerrard at the age of 18, it killed him to see Liverpool lose even at that age.
I'd really really love to see that same hurt in our players, I'd love to see them desperate to be a hero in the Blue shirt and not just take it for granted but sadly, I see roughly the same shite week-in & week-out.
What happened to seeing an Everton team or even player with a burning desire to win?????
Haven't seen one since Tim Cahill.
Michael Kenrick
145
Posted 13/01/2018 at 21:43:58
Clive Rogers
146
Posted 13/01/2018 at 21:46:01
Jim, 144, we could start by looking at Bolasie and Lennon. Bolasie spent the first half stood on the halfway line. Couldn't even keep up with play. He was replaced by Lennon who didn't look interested, just ambling around.
Jay Wood
[BRZ]
147
Posted 13/01/2018 at 21:46:53
Jim Bennings @ 85 (and other posts):
You closed that post saying: "WE are a joke club."
What with the 'we'? Didn't you declare on TW just last week that you were no longer one of 'us', that you were done with Everton? And in this very thread that you are not concerned about Everton any more?
Or can we conclude you are revoking those claims, given you continue to post daily on here on all that is Everton, or that you are totally insincere, and that you were/are just grandstanding and playing the flouncing Prima Dona?
Ray Jacques
148
Posted 13/01/2018 at 21:49:34
We've had 3 managers since Moyes and have regressed. The problem lays at the top; until Kenwright goes, we will never be successful or run seriously.
Unfortunately Moshiri seems to be as big a clown with a mouth he should keep shut. Fab four??? Taking the piss out of the fans.
James Marshall
149
Posted 13/01/2018 at 21:50:12
I was at Wembley for this one, and from where I was standing we were okay for the first 25 minutes – our disallowed goal rattled us badly. From then on we fell apart.
We played so narrow and Sigurdsson kept getting dragged inside leaving Aurier with the freedom of North London down their right. There was a fair amount of gesticulating and arguing among our players – even more from the stands.
Why on earth he brought Schneiderlin on was beyond everyone in the ground and quite a few of us left early. Blues were streaming out of the ground after 70 minutes.
It's entirely evident that Sigurdsson has to play in the middle. You can't shoehorn him & Rooney into the same 11, it just doesn't work. Also Bolasie was terrible today but he gets some slack what with the injury & all.
Tosun looks decent, he works hard, can jump well, gets stuck in and makes some excellent runs – his movement is excellent and first impressions say he'll do okay in this league. The problem of course, is getting chances to him..
Andy Crooks
150
Posted 13/01/2018 at 21:53:23
Jim, I suspect they will be out having a nice meal and a few drinks. They will not, in my mind be agonizing over that humiliation the way we are on this thread.
They earn too much to hurt. They are not Evertonians like us. They are hired hands and their money cocoons them from shame. From Kenwright down there is not a fucking one of them who deserves the loyalty they get from good folk who support them.
Not one of them, not a fucking one, from the useless coach and his back up team including the legendary, "thieve a living", Big Dunc, will give a flying fuck about the good people who went to London to support them. They really don't give a fuck and they showed it today.
Mick Conalty
151
Posted 13/01/2018 at 21:55:26
Jim (#137) – have Kenwright and Moshiri pulled their kecks up yet? Keoman gave them a good rogering.
Jim Bennings
152
Posted 13/01/2018 at 21:56:54
Jay
Get off your high horse pal , how many years have you been suffering watching Everton? You a recent newcomer, mate? I will have my say here if I please.
I've been a long-suffering fan for decades and I think if we had more "militant" like fans then this club wouldn't be sitting there taking the piss out of its paying supporters like it does, sending season tickets renewal forms out a week after Christmas in the middle of a disastrous season expecting mugs to come back and be fed the same shit again and again!?
Moshiri bleating on, insulting knowledgeable fans' intelligence?
I'll decide when and if I come and go on here.
Mike Price
153
Posted 13/01/2018 at 21:57:16
Someone mentioned the glorious Tim Cahill – what I'd give for a team of Tim Cahills.
None of them fit to lace his boots. He should be on the bench learning to be part of Everton's future – and not the 'becoming slightly farcical' Duncan Ferguson.
Dave Abrahams
154
Posted 13/01/2018 at 22:00:35
Sam said after the game, "the players' mistakes will be shown to them so they do not make them again."
"Unfortunately," he continued, "they made that many that it will not make very pleasant viewing for them."
Well, Sam, show them the mistakes three or four times a day, every day of the week and twice on Saturday before the West Brom game.
It might come as a surprise, Sam, but it wasn't very nice for any Everton fan who had the misfortune to watch that game today, especially the fans who went down to Wembley, in their thousands, to be sickened once again by another dismal, chicken-hearted performance. They deserve much, much better but rarely get it.
Kevin Prytherch
156
Posted 13/01/2018 at 22:03:50
Under Unsworth, we had a bit of excitement..
We had a team who were playing for each other, they were showing spirit and determination. They were fighting for each other. The games against Chelsea, Watford, Bournemouth and West Ham were some of the best performances this year in terms of fighting for one another.
The kids were given a chance, the likes of Schneiderlin and Sigurdsson and the rest of the overpaid prima donnas were benched. We looked like a team that would at least provide some excitement and could be moulded into something for the future.
We had the most unbelievable run of fixtures for a new manager and every man and his dog could see the revival starting with the West Ham game, no matter who the manager was.
We panicked. Got rid of a promising manager with the clubs future at heart and we're no better off.
We fans get exactly what we deserve. Lining up in numbers to slag Unsworth off, out of his depth, get him back to the Under-23s. Well it's happened and we're so much better off.
For Unsworth read Lukaku, Stones, Barkley, Coleman (remember that he was never going to make it as a defender), amongst others.
We'll never get anything, or never deserve anything, while we crave for multi-million-pound investment in foreign mercenaries while ignoring what's right under our noses.
We've got what we deserve... sod all.
Ray Jacques
157
Posted 13/01/2018 at 22:08:17
Kevin, we were shocking under Unsworth and only going down.
John Daley
158
Posted 13/01/2018 at 22:09:46
Dave @154,
He also said the following:
"I might have a bit of responsibility to take here. I was going to shore it up like Moyesy did because I watched the game and thought what a great job they had done on Tottenham defensively......
Maybe I have a bit of responsibility by playing too much attacking-minded players and not as many defending-minded players.
I should have got back to being a bit more boring and a bit less adventurous."
"Adventurous" and non-boring? Is that what we were, then?
Never mind the tag line "If adventure has a name, it must be 'Indiana Jones'", if Sam's idea of 'adventure' has a fucking name...it must be 'I didn't have a Go'.
Andrew Presly
159
Posted 13/01/2018 at 22:12:26
The positive is that this guy won't be with us beyond May. Hard to find anything else right now.
Paul A Smith
160
Posted 13/01/2018 at 22:12:54
Jay (#118).
I agree that something doesn't seem right. Allardyce keeps hinting the squad is too big which I agree with but I have a feeling it's a message he is relaying from the board.
I can't see us getting all the positions filled where we are short unless the board shape up. They know what we need.
If we get one more in, what position would you prefer it to be?
Sam Hoare
161
Posted 13/01/2018 at 22:13:51
Ray@157, under Unsworth we moved up the league table
Keith Meakin
162
Posted 13/01/2018 at 22:14:31
I'm just reminding everyone that these players are Martinez's & Koeman's signings. Sam's first signing Looks a really good buy.
Martina & Kenny are not Premier League players, & please sign someone with a bit of pace, we are so fucking sloooow.
Jason Wilkinson
163
Posted 13/01/2018 at 22:17:36
For years under Davey Moyes we looked like we needed 2 or 3 top players added to the team to make us competitive with the elite.
We never had the biggest squad but we had a solid core. Martyn and Howard were decent keepers if not the best. We had Tony Hibbert as a solid right back. Decent centre halves. Players who could compete to win the ball and Arteta to provide the magic. We always lacked quality up front but some were decent on their day. We played to a target man and fed off the second ball to get into the opposition half.
I look at the players we have now and wonder where has the Everton team gone? We have a poor right back playing at left back. An overage central defence. No-one who can win a ball in midfield and not a single player who can make anything happen in the final third. As for a target man?
I wonder what Pep, Jose and Arsene would do with this lot between them. Not much more than Sam me thinks.
Two to three years to get us back to best of the rest IMHO.
Steavey Buckley
164
Posted 13/01/2018 at 22:19:06
It is very clear from another one of Everton's abysmal performances, Allardyce can't build a team with >28-year-olds. Bolasie, Rooney, Sigurdsson, Schneiderlin, Lennon and Jagielka represent the past, plus Williams and Baines. So no Walcott.
Everton FC should not be a retirement home for players to pick up fat salaries until they swan off to somewhere else, such as China.
Paul A Smith
165
Posted 13/01/2018 at 22:22:21
Koeman would be doing okay if we still had Lukaku, wouldn't he?
We can and will blame manager after manager but, until the board realise, oh dear you really do need these top players to be a top team, the manager after Allardyce will go so far before he takes all the blame.
Season ticket renewals start next week. Mark these chats for a copy and paste because until we buy real quality it will always be like this.
Kevin (#156) definitely right about getting what we deserve. This plan or strategy was widely accepted with "Koeman and Walsh know better than your replies", while a few could see where we were heading.
Trevor Peers
166
Posted 13/01/2018 at 22:22:58
Andrew @ 159; Definitely love to hear who you think will be able to pull us out the shit????
Next successful manager, please; tell us something we don't know, or just keep quiet.
Andy Meighan
167
Posted 13/01/2018 at 22:25:09
Jim (#152),
Well said. I feel exactly the same. Disgrace again today and people have the temerity to call you because you express an opinion.
Tom Harding
168
Posted 13/01/2018 at 22:26:56
When fat pockets Sam was appointed, I was one of those who said that they would keep supporting EFC but from a distance. I remember at the time some of the comments on this site towards people who felt like that were pretty nasty. We were fucking idiots who didn't realise Everton were going down etc etc.
Right now, I feel vindicated frankly, not that it makes me feel particularly good. Has our football got better? No – even more shite, unambitious, negative and gutless (and it's quite something to get worse from where we've come from). We are currently going through matches averaging 1 strike on target per match or something close to that.
Are we more solid? Ha ha ha ha ha ha ha ha. Has he restored confidence to key players? Maybe Sigurdsson is marginally better but still played in the wrong position of course.
Basically, we are paying the guy a truckload of money for what? He's not improved us, he's not building us and we'll stay up no thanks to him. We'll stay up because there are still 4 or 5 sides who'll gather less points than us at home. I am horrified by the thought of Sam spending big in January. I wouldn't trust the bloke to spend a pound wisely.
Sam is not a short-term fix, he is a short-term mistake and we were better off under Unsworth in terms of spirit and invention. It's just another nightmare chapter in the EFC story that I'm looking to see out, hoping (as I always do) for better things in the future.
Jeff Armstrong
169
Posted 13/01/2018 at 22:29:58
Listening to his post match comments, he's going for the 0-0 next week against West Brom, so expect that... or a narrow 0-1 defeat, in which case, he will believe it's an improvement on last week. That's where we're at with this manager.
Paul McGinty
170
Posted 13/01/2018 at 22:30:43
Tottenham murdered us at Goodison playing with a back three and wing backs. They did again today. The first goal was just so easy how they found a free man in our penalty area with no Blue shirt close.
Moshiri must have zippo idea of how bad the situation is if he is allowing more cash going out on players mandated by Steve Walsh, when this current squad is unbalanced, lacks pace and physicality. It's his cash to burn but maybe clear out some of the deadwood.
Martina playing at left back is just an embarrassment the ball has come inside or backwards which slows everything down and we are so freaking slow already.
Even if Baines recovers, he is getting on in years... we need a modern left or wing back with wheels. Playing Sigurdsson, Rooney and the new guy, none of whom are blessed with pace – what is the Manager thinking? They are setting themselves up for failure when playing a class team like Spurs.
The Manager's post game comments say a lot about his approach. Battling for hard earned points looks like the plan going forward- but while we are pissing away serious money on this group of players and maybe new additions in January shouldn't even this squad be better than that.
Today, with few exceptions, it was a spineless performance and I have a lot of sympathy for the away fans who had to be there to watch it in the flesh. I don't know what the end game is as far as the playing style this Management team is trying to get to, but it's obvious that we are some way away from anything other than a mid table team at best.
Sadly it's even tough to get excited about new players when the recent track record is so bad. It really is depressing.

Paul A Smith
171
Posted 13/01/2018 at 22:32:21
Sessegnon at Fulham would be an ambitious start. Offer him something the big clubs can't guarantee.
Simon Dalzell
172
Posted 13/01/2018 at 22:34:19
Kevin @156. Excited, a team playing for each other? We were Shocking. A change had to be made.We were free-falling.
I was at the West Ham game and i'm sure the presence of a new manager was a big kick up the arse.
As bad as it was today, had the Unsworth experiment continued, we'd be rooted to the bottom.
Gordon Crawford
173
Posted 13/01/2018 at 22:35:45
I don't blame Sam for this hammering. He has had not much to work with and that's so sad to say. Yes sometimes his formation and player selection is baffling, but today was a case of players giving up when they went one down.
Some of them either don't care or they are fragile minded and need some professional help. Even if you're crap, you can still try – Martinez is a perfect example of this. Sam needs time and his players brought in, then we can judge.
I never wanted him from the start but let's face it, who else could we have got? After all, the world class manager that is Rafa isn't doing any better at Newcastle. Massive clear out needed. Also I wish people would stop giving Calvert-Lewin stick, he is only a boy learning his trade in the toughest league in the world. So let's get some perspective here.
On that note, the new guy did okay and showed some real fight.
Ray Jacques
174
Posted 13/01/2018 at 22:35:55
A few bad results and the Unsworth brigade resurface. Short memories. If he was the answer, then Allardyce wouldn't be here. He had his chance and couldn't do it.
I didn't want Allardyce but who could have forecast the wretched season we are having?
Peter F. Murray
175
Posted 13/01/2018 at 22:36:22
Jim Bennings,
It is your democratic right to "give up" on Everton.
But just do it, shut up and go away.
Eddy Bernard
176
Posted 13/01/2018 at 22:38:57
Moyes took his side to the same Spurs team last week got a point and could easily have won it.
Any thoughts?
Tony Everan
177
Posted 13/01/2018 at 22:42:21
We cannot afford to have Rooney in the team anymore. The balance and structure of the team is not right.
It's through no fault of Rooney's – he's been one of the better players out of a very poor bunch. But this season, the midfield has been incredibly poor. No composure, no understanding, no creativity, no pace.
But Man Utd got rid of him way before he left them, because they knew as a team unit, he made them weaker. We need to get a team together without him being a starter.
Ron Marr
178
Posted 13/01/2018 at 22:42:25
The players are mostly mediocre or worse. There is a complete lack of creativity in midfield. Sigurdsson should not play on the left wing, he has two speeds: slow and effing slow.
We just have to hope the teams below us are worse...
Jason Wilkinson
179
Posted 13/01/2018 at 22:46:01
Sam Allardyce, poor appointment as manager? Or EFC poorly run club?
Steve Walsh does not inspire any confidence. Has David Unsworth really produced a top Premier League player?
Moshiri has ploughed cash into the club and I do think he will make us better as a business.
We have laughed at the RS. Dismissed Spurs as a flash in the pan and expected to sail passed poor old man Arsene Wenger's has been team.
In truth we are further away from a trophy now than anytime in our history. We need a sea change from top to bottom at the club.
Sorry, I don't know the answer other than look at the 6 teams at the top of the Premier League and copy their plans, structure and mentality.
Kim Vivian
180
Posted 13/01/2018 at 22:46:29
Never mind, fellas. This time next week, we'll probably be one place behind Moyes's West Ham.
Jon Withey
181
Posted 13/01/2018 at 22:47:06
Predictable result against one of the better sides in the Premier League.
Let's be honest, since Moyes left, the playing side of the club has deteriorated.
All this talk of ambition and the basics are starting to go out the window.
Jay Wood
[BRZ]
182
Posted 13/01/2018 at 22:51:50
Jim @ 152
Not riding any high horse, 'pal'...
Just calling you out for riding high on your own hollow Trojan Horse.
Safe to conclude then that your various claims about being done with Everton and not concerned about the club any more are insincere and false and so not credible, given all your pronouncements on this thread alone.
Carry on being indifferent to the club's fortunes, Jim, though you might need some practice in pulling that off.
Ray Jacques
183
Posted 13/01/2018 at 22:54:49
In the last couple of seasons we've conceded 4 or more goals to Man Utd, Liverpool, Chelsea, Arsenal and Spurs. Still taking knives to gunfights. In Allardyce, the club has the manager it deserves.
Unfortunately due to years of mismanagement by our owner we are no longer a big player and this is now our standing. Forget Mersey Millionaires, School of Science, Holy Trinity...
A ToffeeWeb poll on whether the new ground will happen would be interesting...
Drew O'Neall
184
Posted 13/01/2018 at 22:54:59
A lot of our team looked 'leggy' on that giant pitch today and we haven't played for over a week.
Rooney's eyesight appears to have deserted him, as well as his legs based on his passing.
Bolasie's clearly not fit yet. McCarthy's on the comeback trail, and we know we've got one player total between Jagielka and Williams now but neither the latter nor Keane were chosen, presumably due to fitness.
Spurs' right back Aurier marauded our left hind flank at will because of a lack of athleticism in our midfield and defense. This was the main focal point of their attack and the management team failed to address it, the solution being to introduce another centre-back and move to a 5-3-2, supporting our target man with a partner given we have no width and didn't create a chance with our 'playmakers' in the middle.
Finally, introducing the regularly anonymous Theo Walcott in to a team which has demonstrated, not for the first time, a complete lack of heart, would be more money wasted, a la Koeman, in my opinion.
Soren Moyer
185
Posted 13/01/2018 at 22:57:18
The scoreline flatters us! Well done boys!!!
I am beginning to think we've made a big mistake by sacking Martinez!? At least we were being entertained when losing games, ffs!
David Barks
186
Posted 13/01/2018 at 22:59:59
Why is anyone surprised? The negative brand of football Allardyce plays will only lead to the results getting worse and worse. When the opposition know you aren't coming to pose any threat, they obviously know not to worry about you and are only concerned with attacking. Some of us were saying that, after the abysmal draw against Chelsea, that this brand of football is not a foundation to be built on.
So here we are, results have predictably turned, and we've done nothing to work on being dangerous. Instead, we are back to being easy to play against because we're like a wolf that has been declawed and had all its teeth removed. It may growl for a while, but it's incapable of harm.
There is talent in this team, but he won't set them out to display any of that talent. It's never about what we can do to our opponent – only what we have to try to stop them doing to us. In short, it's cowardly shite. Just scared of what might happen, how we might give up a goal, instead of sending a team out to do damage. And he has the audacity to say he was too adventurous today. What a disgrace.
Colin Glassar
187
Posted 13/01/2018 at 23:00:15
The only good thing about today's game was the kit. Nice kit.
Tom Bowers
188
Posted 13/01/2018 at 23:06:35
Some weeks ago now one could be forgiven for thinking there was alight at the end of the tunnel after Sam took over and they got a decent result at Anfield. We all knew however, that with the run of fixtures coming up and the cup draw that the acid test was going to come. So it proved that the team still is nowhere good enough.
Yes, Sam has signed a striker but he and Bolasie will be useless if there is not a solid defensive system behind them and a creative midfield. It appears nothing is happening in that department yet despite talks of Nzonzi coming. Walcott is not the answer.
Everton have a midfield that is slow to close down and doesn't tackle well making it easy for other teams especially those like Spurs. With about two weeks left of the window it's obvious what needs to happen.
Sam doesn't appear keen on players like Lookman, Vlasic, Baningime or Davies and it surprises me that these youngsters are not making the progress expected of them. Looking at another ''prospect'' at Charlton will not solve anything for the immediate future if ever.
A lot can happen if they continue to spiral, so come on, Kenwright and Moshiri – get the ship back on course!!
Tony Everan
189
Posted 13/01/2018 at 23:07:50
Totally agree with David – cowardly shite.
A team full of expensive recruits sent out week after week to hoof and concentrate on damage limitation. Never to work out how to attack an opponent and damage them.
This is not the Everton I know.
Shame.
Tom Dodds
191
Posted 13/01/2018 at 23:14:03
I think the time has come to just sit out on the front porch in a comfy rockin' chair with a stick of good hard wood, pull out a knife and just start wittlin' and let the (football) world pass me by.
It all sucks.

Derek Thomas
192
Posted 13/01/2018 at 23:17:24
Watched it during my breakfast, turned it off when the 2nd went in, it was turning my stomach.
Colin Glassar
193
Posted 13/01/2018 at 23:17:35
I think our players should take up knitting. Or if they are feeling really adventurous, crocheting.
Darren Alexander
194
Posted 13/01/2018 at 23:19:12
Just got home from the game. The performance and result is pretty much exactly what we'd've had got had Koeman taken charge of this one, which is about as damning an indicator as you can get.
I was really pleased to see the initial upturn that followed after Allardyce's appointment, but the wheels really have come off now and he must sort this out quickly – starting with West Brom, who, like the also-previously hapless Palace and West Ham, will have their tails up after today (and who could have forecast that trifecta?)
This was my boy's first away game and it was very disappointing for him – and the rest of the travelling blues – as we watched another toothless 90 mins from a bunch of guys stealing a living. Like the rest of us, Hugo Lloris should – and easily could – have stayed at home for this one. At half-time my wife said to me, in all seriousness: "Isn't the new striker playing, then?". Quite.
After losing to the RS most thought our season was over – but it isn't over by a long chalk. A few more performances and results like this will see us properly sucked back into the relegation dogfight – trouble is, there ain't much fight in these dogs.
Chad Schofield
195
Posted 13/01/2018 at 23:26:13
Just back home. Absolutely terrible.
If Allardyce got plaudits for what I still believe we're fundamentally the shoots of Unsworth's work then he has to take responsibility for this steaming pile of shit. He's setting up like he's not bothered watching the mistakes Koeman made.
I can't believe how bad we are. After the first goal, we might as well have just gone home.
Mick Conalty
196
Posted 13/01/2018 at 23:28:11
I wonder where Kenwright and Moshiri are tonight... most probably at a cocktail party talking shite... telling each other what a good job they are doing.
Christopher Nicholls
197
Posted 13/01/2018 at 23:28:57
Andy (#153), the point was that the only positives that I find in this season is in the promise of some of our young players. However, in the past, we have not always had a path to first team careers for young players. We need first team success to keep talent at the club, else risk losing them.
To me (which is just an opinion) that makes sense. Or, we could cross our fingers and hope that a Billionaire buys us out of our current misery. It's okay to have a different opinion; no need to be dismissive.
Kevin Prytherch
198
Posted 13/01/2018 at 23:30:14
Posts 157, 174. Typifies everything that's wrong with our fans.
Unsworth was never given a fair chance. He would have taken us down? His record was won 2 (both home fixtures), drew 1 and lost 2, scoring 10 in the process.
Currently we have:
Kenny – not good enough
Holgate – Championship at best
Davies – Headless chicken, shouldn't be anywhere near the team, ever.
Calvert-Lewin – never going to be good enough
Keane – liability (but won England caps already).
Do we ever wonder how the likes of Alli or Rashford make it at other clubs? Maybe it's because fans don't write them off after 3 games, they accept they'll make mistakes and learn from them. Not us though.
We'll clamour for Lookman and Vlasic to be given a chance, and Dowell to be brought back, then slate them after one bad performance and label them not good enough.
I used to think we had some of the most knowledgeable fans around; now it seems we're stuck with a load of knee-jerkers who don't know when they're into something good.
I'm not surprised Barkley, Stones and Lukaku left, the next lot will as we'll.
I'll say it again – we've got what we deserve.
Jack Convery
199
Posted 13/01/2018 at 23:31:10
Everton has a football team no longer exists. Good night.
Tony Hill
200
Posted 13/01/2018 at 23:33:05
The halfwits on here who are blaming Allardyce for the debacle which is Everton are part of the problem. You are fantasists – we have been shite for most of the last 50 years.
Far too late, I have finally arrived at the conclusion of people like Phil Walling (I have nearly done so on previous occasions but have always veered away) that we're just a mid-table side (at best) and we'd better get used to it.
We have been badly run for many years (and presently have several buffoons at the helm), and we have a self-indulgent, gutless culture. We do not have, and will not have, the money to make any difference.
We are no different from the mass of mediocre clubs, formerly big names of the old First Division and now cannon fodder. Sam Allardyce is the problem? We just need to get out and attack more? Bring back David Unsworth? Grow up, for Christ's sake.
Si Cooper
201
Posted 13/01/2018 at 23:50:17
I thought there were some good patches of play but the majority of their players would stroll into our first team at the moment, and that is exacerbated by the understandable lack of fitness of the likes of Bolasie and McCarthy.
It is debatable whether a KITAP1 approach would have been any more successful overall but I personally don't think that playing both Rooney and Sigurdsson against teams with more powerful and pacy midfielders is ever likely to yield much.
I am happy for them to be paired against the lesser teams, but would like to have as much pace on both flanks as possible against the better ones. I would have liked us to have started with Lennon, Lookman, or Vlasic on the opposite side to Bolasie.

Don Alexander
202
Posted 13/01/2018 at 23:51:55
Jay Wood (BRZ), have you been infected by eating too many nuts? Jim's not the problem pal, he just lives here, enduring it daily amid the fans of other clubs gloating at our ineptitude. It creates a mega, understandable stress to those who live here too.
Enjoy your carnival though. You'll be no stranger to tits I'm sure.
Andy Crooks
203
Posted 13/01/2018 at 23:52:17
Ray J, there is no Unsworth brigade. Perhaps some Evertonians who think that our best performance of the season was under his watch but, we have a new coach, like it or lump it.
I make no apology for having the view that, had David Unsworth been retained, had the panic button not been pressed, we would be better off now.
It is what it is, though, and I will support our coach whilst still moaning when I hate what he does, and applauding when he gets it right.
Kevin Prytherch
204
Posted 13/01/2018 at 23:53:57
Halfwits blaming Allardyce?
In Allardyce's first 4 games and Unsworth last, we played Holgate and Williams at the back. Won 4, drew 1, conceded 2. We also had a midfield 3 of Gueye, Davies and Rooney starting for 3 games, and for half a game against Swansea (2nd half where we won the game). You'd think we were on to something.
Since then, we've tried these combinations a grand total of 0 times and won a grand total of 0 games, scoring 2 and conceding 10 in the last 4 games.
Halfwits blaming Allardyce? Shouldn't that be changed to "defending Allardyce"?
James Flynn
205
Posted 13/01/2018 at 23:56:49
We're just going to have to suffer it for the rest of the season.
3 U-Players, THREE, learning their trade in the hard school. Two of them starting 11 defenders. Incredible.
The third somehow the only resort to replace Lukaku's goals (As hard as the kid is trying, mind).
Southampton's 3rd string RB our starting LB, while we're hoping over-the-hill Baines hurries back to replace him.
Barry out - Schneiderlin in. I'd swap them two right now and we'd improve instantly. And Barry's 37.

The difference today was obvious. Yes, we got at them a bit in the first half. But over the 90 minutes the gap in quality is glaring.
And not just the talent. One a sputtering mix of mediocrity. The other a skilled, well-drilled and oiled, flying machine.
Mr Moshiri has clearly taken the financial side of the Club as his and we're moving right along there. Everything is looking up. More or improved sponsorship deals. The new stadium on the docks moving right along, too.
To his detriment, and it is his, he's left the player-side of things head-maned by a 72-year-old, musical theater impresario. That's not working and won't. Bill's not going to develop into a 75-year-old, savvy personnel man.
Being from the States, I've (We've) seen, and continue to see, successful businessmen buy professional clubs across many leagues. Happens in the Premier League, too. They think they can apply their business model to a profession where their workers, players, can be viewed the same as workers in their other business.
It rarely works that way. And so they fail. Moshiri has just tried throwing money at it. Nice try, but fail. Without a doubt, fail.
This guy's made his money specifically circularly in Putin's orbit. So, he's no novice. Or chump. Hopefully, he will get the financial end of Everton settled. And pay more attention to the real business-end of football; getting the right people in place to improve the play on the pitch.
Moving out Kenwright would make a great start.
Tony Hill
206
Posted 13/01/2018 at 00:00:39
No, Kevin (#204), because you make the mistake of thinking that we are a change of manager, or a tactical rearrangement, away from success.
It's about an entire climate which has brewed over decades. But dream on, that's what I've been doing after all.
Carl Allan
207
Posted 14/01/2018 at 00:13:40
Allardyce's comments after our game on match of the day, "We need to become a little bit more boring than we were today". That sums him and Everton up as a club in these days.
Why not try and play modern-day football by attacking and committing players into the box and we may just win a few more games, Sam?
I don't know what this project is Moshiri has in mind but it's certainly not about the football on the pitch. Most boring Everton side ever to watch this is.
Peter Gorman
208
Posted 14/01/2018 at 00:46:56
I'm sure it has been said many times but, to "become more boring" than a side that fails to register a shot on target – Jesus wept.
Fireman Sam has a hole in his bucket and there are a pair of Neros playing the fiddle.
Tony Twist
209
Posted 14/01/2018 at 00:48:06
Sums everything up when we are two down and he brings on Lennon instead of Lookman. Playing way too safe and we still lose 4-0.
I'm sorry but big Sam can't hide behind blaming Koeman now, that abject performance is down to Sam and his crew and no-one else. T
he majority of the players just give up, don't chase back and give far too much respect to the opposition like today with Spurs. Spurs weren't that good, we were just pathetic.
Peter Gorman
210
Posted 14/01/2018 at 00:51:40
Speaking of lack of a left-back – what the hell is Callum Connolly doing at Ipswich at this stage? It would be infinitely preferable to see a young Scouser giving his all than that complete no-mark Martina.
Pete Clarke
211
Posted 14/01/2018 at 01:11:52
As a club we have a lot of big issues going on right now that need planning for.
Staying up is one of them and, while Sam took the plaudits for the defensive solidarity in his first few games, well he has very quickly lost that and should rightly take some flak. He needs to get back to his basics and get some points on the board towards safety and forget about trying something he cannot do and eek some football out of players whose confidence is shot.
Secondly, we should be planning for our next manager. We all know there are very few top class managers out there and even less of those who would consider Everton. Money talks, of course, and that could persuade a well organised coach to come but I think we will need to look at a promising young coach who would build his team and the club for the long term.
Thirdly, our new owner (who does not fill me with confidence) should have a big clear out and show he is in control of the football, stadium and commercial issues. He is at the top and needs to show leadership that will trickle down through the club.
If those changes I am thinking about don't happen soon, then things are likely to get worse still (if that could be possible with the way we all feel right now).

John Boon
212
Posted 14/01/2018 at 01:18:05
I have read all the posts and every one just shows what frustration can do. Everybody would like some magical person to come along and fix a lousy engine. An engine is only as good as the sum of its parts, and we have far to many useless parts.
Some were just okay, many were awful. And we did give up at 2-0.
Tosun showed promise and I just hope he doesn't become discouraged. Very few of the posts even mentioned him. Fans should refrain from being critical of the lad. We don't need one more passenger.
Nicholas Ryan
213
Posted 14/01/2018 at 01:22:13
Just watched MotD and saw West Ham have a great game; Solid defence, Arnoutovic 'beasting' defenders up front; deft passes from Lanzini.
Maybe we should try and get their manager? Ahh, .err, .well...Yes!
Ed Prytherch
214
Posted 14/01/2018 at 01:26:19
Beat 4-0 and our best players were the goalie and centre-backs! We were totally exposed on the flanks and it is easy to blame the full backs but they got little help.
Bolasie was a spectator and Martina/Sigurdsson do not communicate. Kenny was skinned for their second goal but he played his heart out. The defence were left exposed the whole game.
I hope that either Garbutt or a new left-back plays next week and that Lennon starts. As others have said, Sigurdsson is no winger. Either play him in the middle or on the bench.
Tosun looked okay despite getting no service. He should do better when we figure out how to play the ball into the box.
Sean McCarthy
215
Posted 14/01/2018 at 01:41:36
Can anyone enlighten me on this issue: What exactly does Bolasie do?
I know he's recently come back from a serious injury so I take that into consideration but he doesn't beat a man, he doesn't ever look like scoring, he doesn't take "dead balls", he doesn't play defence-splitting balls, he doesn't track back or create chances for others. And before someone suggests waiting til his fully fit, he didn't do too many of those things before his injury!!
Another (nearly) 㿊m waste of space.
Oh and obviously he wasn't the only player who stank Wembley out tonight. A totally gutless performance where once again the only tactic seems to be to twat it as far and as hard as humanly possible!!
Don Alexander
216
Posted 14/01/2018 at 02:16:35
Sean, there's some merit in your query. That said, I for one remember him tearing through us like a one-man wrecking-ball in his Palace days.
Now I sadly realise that that was oh so "us" though, and not the real world of professional football outside of Finch Farm. His scoring/assist stats are poor by any standards where he's not playing against us.
Jay Wood
[BRZ]
217
Posted 14/01/2018 at 02:23:45
For those pining for David Unsworth and claiming he got heavily criticized in his time as caretaker manager, that is not my recall.
There were plenty who expressed a genuine hope he could step up to the plate and make a success of his opportunity. There was plenty who recognized he had a really challenging and intense run of fixtures to deal with on his watch.
There were plenty who also acknowledged that he failed to address the most pressing issue, stopping the team from conceding 2, 3, 4 and even 5 goals a game.
Plenty of people also thanked him for his efforts and the dignified way he represented both himself and the club during his spell. But to continue to claim that David Unsworth radically moved us up the table in his 5 Premier League games he managed..?
Let's look at that a bit more closely.
This was the Premier League table after week 9, Koeman's final game in charge, the 5-2 tanking at him to the Arse. In addition to the bottom 10, I also include 6th placed Watford and 7th placed Newcastle because they are now below us. The 1st number shows goal difference. Newcastle is the only team in the list who, at that time, had a positive goal difference of 2. All other listed teams had a negative goal difference. The 2nd number shows the points total.
As the table shows, Everton were in 18th place, equal on 8 points with 3 other clubs but with the worst goal difference, with Swansea the best of that group of 4 in 15th. We were a single point behind Leicester, 2 behind West Brom and 3 behind Brighton. A mere 4 points separated us from Southampton in 10th and Huddersfield in 11th, both on 12 points.
There was a 9 points difference between Palace in 20th place with 3 points and Southampton on 12 points in 10th.
GD Pts
6 Watford -2 15
7 Newcastle 2 14
10 Southampton -1 12
11 Huddersfield -3 12
12 Brighton -1 11
13 West Brom -2 10
14 Leicester -3 9
15 Swansea -4 8
16 West Ham -9 8
17 Stoke -10 8
18 EVERTON -11 8
19 Bournemouth -7 7
20 Crystal Palace -17 3
Now compare the league table after week 14 and Unsworth's final game in charge, the 4-0 win over WHU.
Yep! We moved up 5 places compared to where Koeman left us, but look at the numbers. We were lying 17th before the WHU win and the 3 points moved us up to 13th, one of 3 clubs on 15 points.
There was an 8 points difference between Palace in 20th place and Leicester and Brighton and Leicester in 9th and 10th place on 17 points. So the points spread of the bottom end teams were even more squeezed than by the end of Unsworth's spell than under Koeman.
GD Pts
9 Leicester City: -1 17
10 Brighton -1 17
11 Southampton -3 16
12 Newcastle -6 15
13 EVERTON -11 15
14 Huddersfield -15 15
15 Bournemouth -4 14
16 Stoke City -13 13
17 WBA -9 12
18 WHU -18 10
19 Swansea -9 9
20 Palace -17 9
The bald statement of saying 'yeah, well, we moved up the table under Unsworth' needs context. And as the comparative tables show, we were one of 4 clubs lumped together on 8 points after Koeman's last game and a mere 2 points off 13th place which is where we were placed by the time Unsworth handed over the reigns to Sam.
Considering in his penultimate game Unsworth's Everton got tanked 4-1 at Southampton (who have failed to register a single win in their last 10 Premier League games since) and the 'move up the table' under Unsworth really wasn't a seismic shift or radical improvement at all.
Mark Wilson
218
Posted 14/01/2018 at 02:31:08
The delusional state of Evertonians really is a thing to see isn't it ? We've been utter shite for nearly three decades. Yet somehow at the root of the Allardyce hate is this utter "We are Everton" nonsense that totally unbalances argument here because there is an assumption that we have earnt a "something special" tag. We haven't earnt it for many years. We older supporters still feel something of it because we are so lucky to have seen the mid to late eighties squad win things.
We are one of the worst run football clubs in this league and the only, but important I agree, thing to hold onto is we have somehow managed to cling onto our place in the top echelon. Failed ground moves. Lack of investment for 11 years under a manager who has never been given the funding enjoyed by Martinez, Koeman and now Sam and Co. We repeatedly mis-manage transfer windows but many fans rush to defend our transfer business and rejoice at us apparently getting rid of dead wood, like that's the way to win a title.
Walsh was kidded by Giroud and had no Plan B. The entire football world knows it. Koeman forced thru hugely expensive purchases for his fave players and they have all flopped bar the keeper. Rooney and Sigurdsson cannot play together in what is often a horribly unbalanced setup. Our younger players are always over hyped and our squad of defenders are simply amongst the worst you will ever see at a Premier League club.
We haven't had on the pitch leadership for many years and our players are amongst the most regularly injured in the league and often look the least fit. It's a systemic failure to understand that hope is not enough and always thinking that you are a plucky bunch better than your results suggests leads to complacency and the kind of season we are having.
Into all this arrives Allardyce. Mainly because several other managers couldn't be shifted and frankly because our friendly uncle of a majority shareholder, along with Bill Kenwright who honestly needs to bow out, couldn't sack Martinez when needed and got Koeman badly wrong. Added to which they fell for Steve Walsh's Media hype after two decent buys and the perfect storm resulted.
Some of the romantic stuff about Unsworth here is laughable. He's a lovely guy who just before the WHU game most of you were screaming at because he was taking us down. But lovely or not, he wasn't ready and may never be, let's see how many Premier League clubs chase him in the summer?
Before the AGM I wrote a blog about EFC Accoutancy versus EFC Football Reality. In essence I argued that we have got the finances all the wrong way around. Amortisation has become the big thing. Actual net transfer spend is ignored when it remains one of the most accurate measures of progress, or recovery. Our investment was high but it was abysmal in the way it was managed.
Moshiri has shown stunning naivety and cannot see that the ONLY investment that matters right now isn't his long term loan repayment and enabling spend for the new stadium. It's the immediate injection of money over and above "net spend" to shore up his, Koeman's, Walsh's, and Kenwright's poorly assembled squad.
All this gets us to today's shameful mess of a second half against a very decent Spurs side. Allardyce made a couple of poor setup decisions but he has inherited the worst Everton squad we've seen for decades. A squad that has a number of 㿅m players who, genuinely, look utterly incapable of meeting the standard needed. He somehow still doesn't have a left back, and again, has the worst set of defenders I've seen for nearly thirty years. We knew all this from 1 September 2017 to 1 January 2018 but two weeks in and we just have a possibly useful striker at a high price but none of the main issues have yet been really addressed despite four months to plan the strategy.
Allardyce wasn't my choice but he and, yep I can't believe I'm saying this, Sammy Lee are here to try and stop us going down and frankly, if they do that, I will be ecstatic. I think they are honest and hard workers. As fans we are getting straightforward feedback before and after games. But they have a shamefully poor squad to work with.
Apparently according to everyone here, or most of you, they will be sacked in five months time and replaced by Pep, or someone almost as good who can't wait to get to the top-to-bottom shambles that is our club. We've lost all perspective since we seem to have acquired some money to spend. We just can't cope with it. It's bizarre I know. But it honestly feels the case.
Just pray that the apparently already sacked management team can find three to five incoming and shift the same number out before 31 January 2018 and gather the 16 points we may need to stay up. After that it's back to thinking We Are Everton and because of our history it simply has to come good, doesn't it.
Depressing... but, after the last few results, I'm really struggling to see how we turn all this round but calling for the immediate removal of Allardyce just sums up how badly we've lost it as fans.
Brent Stephens
220
Posted 14/01/2018 at 02:56:51
There were calls for us to go at Spurs for this game, as our defensive team selection wasn't doing much for us. And I think the team selection was a response to that call – a team selection that seemed to be looking to a 4-3-3 formation but with players who are pretty toothless going forward and at the same time offer no cover for the back 4.
We still need the reassurance of points to avoid a relegation fight. While that is the case, I would prefer to see us go 4 at the back with a line / ring of 5 protecting them, and seeing if, as the game progresses, we can get something going forward occasionally to produce some chances (the energy of people like Davies at least offer that).
Phillip Warrington
221
Posted 14/01/2018 at 03:59:04
Here's a sobering thought: we still have another year of this after we survive this season. Every Liverpool supporter got what they wished for, dammit... Why cant we change Santa's uniform to Royal Blue?
Jay Harris
222
Posted 14/01/2018 at 04:22:44
I've said this before but when you pay top dollars you get players not only with ability but with self belief and a winning mentality.
We have managed to recruit perennial relegation fighters or kids just on their way up in the main.
There is only Rooney with that winner's mentality and he was shot years ago when Ferguson wanted to put him out to pasture.
When we go a goal down you see heads go down quicker than the Titanic.
To be fair we were still well in this game at half-time despite carrying Bolasie and Martina who were both having 'mares.
As soon as their second (offside) goal went in you could see the collective "let's give up now" feeling spread throughout the side.
There is no heart, soul or team spirit in this squad and I blame the recruitment of high-priced and high-paid nobodies that upset the harmony of a squad that Moyes laboriously built up with team spirit and lowly pay by comparison.
If nothing else surely someone at the club recognised that we needed a left-back as soon as the market opened.
Surely someone can see that defensive midfield just isn't working.
Surely someone can see that, if the kids are performing better than the senior players, there is something categorically wrong in the squad.
Chad Schofield
223
Posted 13/01/2018 at 04:52:09
Christ, have you guys watched the post-match interviews (immediate and press)?
I literally can't argue with anything Allardyce says 80% through. But he's insistent that we had too many attacking players and that has to change versus West Brom next week... we're literally going to go all out defence against West Brom. 😦
Sam says that he hasn't seen us play like this and guesses that it was like it before he came. Has he not bothered to watch our early games this season?! He's talking about showing the players their mistakes in the analysis room and yet he set up the team with a left side that hasn't worked A-FUCKING-GAIN.
Yes we have no pace... at very least in the setup he put out there. We do have Vlasic, Lookman and Lennon... even Calvert-Lewin if we're going to play players out of position.
If we're going to play an isolated striker, stick Niasse there. He can't play alongside others because he so erratic, but Unsworth was finding out what he can do because he had him in the U23s.
I'm really worried we're trying to emulate West Ham.
Why would Walcott want to come? So he can protect Martina? That wasn't his worst performance, but he's awful.
Sam's tactics are going to put players off. It's going to put everyone off... and then what? A new start in the summer? Another new manager to blindly grope his way round the squad? Or do we just keep the faith in Fat Sam and our ultra negative turd?
Ian Hollingworth
224
Posted 14/01/2018 at 06:19:46
Mark (218) spot on and sums it up for me.
Years of shite, mis management, average players etc etc and it ain't going to get much better any time soon.
We have very little quality and that hurts us badly in most games at the top level regardless of if we play expansive or defensive.
Jay Woods
[LAT]
225
Posted 14/01/2018 at 07:10:13
I'm aghast at the entrenched delusional thinking of some of our fans who are pining for Unsworth.
It's like a textbook example of a "folie à deux" (aka a "puff of madness").
It would be interesting to see if those very same fans are the ones who are calling for more of our homegrown younger players to be given first team game time. If so, it would confirm the cause of the underlying psychosis.
Yesterday's result wasn't so much the outcome of bad on-the-day management, team selection, formation or tactics as it was the effect of having crap players in most positions.
We can rant and rave all we like around that central point, but short of either a billion plus invested in the squad or the club withdrawing from the Premier League and joining, say, the French league (where there are fewer well financed rivals), we're never going to advance.
(That last suggestion was illustrative only and meant to show the enormity of our plight, and not to be taken as a literal strategy.)
Brian Porter
226
Posted 14/01/2018 at 07:29:18
At the age of 65, with 59 of them spent supporting Everton, my own wife couldn't believe it yesterday, when, at 3-0 down, for the first time in my life, I turned the game off, unable to watch my beloved Everton being torn apart any longer.
I could never have imagined such a situation ever taking place but sadly, this is the legacy of both the Martinez and mostly Koeman regimes. I hollered loud and clear against the appointment of Ronald Koeman, voting his team destroying failures at Valencia and AZ Alkmar, and couldn't believe how many were taken in by the thought we were getting a 'top manager' when a close look at his overall managerial record showed distinctly otherwise.
Moshiri, for all his millions allowed himself to fall for the same mistaken belief and we are now living with the consequences of his very naïve decision to hire a total fraud of a manager. The damage done by Koeman, his brother and team of hangers-on cannot be understated. They have systematically destroyed the infrastructure of the playing side of the club.
I fail to see how we can honestly blame Allardyce for the situation we find ourselves in. He can only work with what he's got, which isn't a lot, to be honest. Bright spot on the horizon? Cenk Tosun, who I made our man of the match up to the time of me bailing out. But that doesn't say much for our regular starters, does it? Tosun looked sharp, ready and willing to get stuck in and have a go, but without suitable support he was left pretty isolated.
Gueye just doesn't impress me. Yes, he runs around and does a fair bit of tackling in midfield, but lacks an end product and rarely contributes a thing in an attacking sense, never helps to get the forwards moving. I don't know why he is so highly regarded.
I could go on, but I am simply too disillusioned to say more. I'm totally gutted that it has come to this. This just not my Everton.
Paul Kelly
227
Posted 14/01/2018 at 07:44:41
Everton failed to record a shot on target for the fourth time in a Premier League match this season – no side has failed to do so in more games (Swansea also four).
Jacques Sandtonian
228
Posted 14/01/2018 at 07:57:23
Reading all these comments and it seems to me that everyone is right and everyone is wrong. Perhaps the only thing we all agree on is that Koeman was a fraud.
The people who attack Kenwright and Moshiri are right and wrong. Kenwright has always wanted only what was best for the club. Trouble is he's not a football person, really.
Moshiri has pumped a significant amount of money into the club and brought in quite some from outside too. Trouble is he's made some catastrophic appointments, namely Koeman who he was obsessed with. Steve Walsh has delivered practically nothing and that was a Moshiri desire too.
The only fairness I would offer to Koeman is that he did say right up until the transfer window shut in the summer that we needed a left sided defender and a striker. We got neither and he had to go to Niasse with his tail between his legs which he actually did with some measure of grace for a man as arrogant as Koeman. But he was let down badly by Walsh and the chairman who should be kicking down doors to address the most obvious two weaknesses in the squad.
I can even understand a little bit Koeman's assertion that the players looked "afraid to play" after seeing the same trepidation against Spurs last night as we saw many times under Koeman.
As for Allardyce, he's a pragmatist. Always has been. If you know you can't win then make damn sure you don't lose. This doesn't sit well with blues who want to see us have a go and seem to imply that they'd rather see us hammered having a go than humbled being pragmatic and boring.
These players under Roberto Martinez would have shipped 8 last night. You have to believe that. He would've had them drilled to pass the ball at all costs and with no one capable of looking forward from the midfield we'd have been robbed in the middle third repeatedly then punished.
Allardyce's mistake last night was that he thought we had enough now to play football against a very tough team. It may be that these players show that in training but we're incapable of playing football with this squad. We don't have any footballers in the midfield.
We have 16 games left. If we draw all 12 of those games against similar opposition (we are going to lose against Liverpool, Arsenal, City regardless) then we finish on 39 points and that should see us clear of relegation. That's our season. Next season we should be targeting a clear out of personnel and a comfortable mid table finish. Then we can build from there.
We had our chance to consolidate on good league finishes and we blew it. We have no left flank. We have no pace. We bought players who are not up to Premier League standards.
We are not going to replace Kenwright or Moshiri any time soon so there's no point talking about that. The best we can do is to get behind boring football from now until the end of the season, get our draws home and away and maybe snatch a spawny win here and there.
But for gods sake man, stop demanding that a team incapable of football starts playing football. That ship has sailed.
Jim Bennings
229
Posted 14/01/2018 at 08:27:41
Nicholas
Arnautovic is starting to look a real player, yes.
He might be labelled inconsistent but the last two months he's looked mighty effective and I believe we overspent the money on Sigurdsson who has been completely wasted and is looking more and more like a more expensive Diniyar Bilyaletdinov by the week, the odd top class goal but 80% of nothingness.
We don't have midfielders that can do what West Ham's can do, we don't have a Lanzini or Arnautovic that can run with the ball, running with the ball and shooting and scoring is a crime at Everton did you not know!!?
John G Davies
230
Posted 14/01/2018 at 08:29:17
It's a simple equation for me: Rooney or Sigurdsson. Both can't play in the same team.
Playing Wayne means Gylfi playing out of position. He isn't, never has been, and never will be a wide track-back midfielder. Either play Sigurdsson behind Tosun or don't play him.
My own choice would be to give him a run of games and leave Wayne on the bench. That would let a natural wide player play from the left. Gives us more balance.
Paul Kelly
231
Posted 14/01/2018 at 08:32:59
Ole Sam Allardyce, though pointing out deficiencies in the ranks, he needs to look at his own, coming across as 'passing the buck' is an all to familiar trend at the mo'.
He had a well 'organised' defence, conceding little, the footy was shite (but when hasn't it been?) and changed it, they didn't need a rest, if they did god bless their cotton socks, poor fuckers, Allardyce's decision, three defensive midfielders at Bournemouth? Schneiderlin? Sigurdsson left side? Calvert-Lewin chasing and challenging lost causes because nobody is within 19.5 yards of him. Need to bless his cotton socks too.
Why can't the non fit players get their fitness in the reserves or behind closed doors matches, yes I understand match fitness can only be gained by playing matches (see earlier suggestion), instead of throwing them in at the deep end at a the expense of the team.
At the end of the day ole melon head is the manager, first rule of management-everything is your fault. Your decisions, your tactics and you get paid very well to sort this type of shit out, that's why you took it on. Live by the sword, die by the sword.
Stephen Brown
232
Posted 14/01/2018 at 08:34:42
We possibly have the worst midfield in the league! Even at a local league level or schoolboy level a midfielders role is to be able to attack when in possession and defend when without the ball (basic). Gana, McCarthy and particularly Schneiderlin do absolutely nothing offensively. They can't pass forward! It's awful!!!
Raymond Fox
233
Posted 14/01/2018 at 08:51:27
To become a top 6 side we need top 6 quality players, have we got any? Coleman when fit and playing his best maybe, Pickford maybe given a little time. After them... zilch.
Its as simple as that, we have a team full of mediocre players not sought after by the 'money clubs'.
How are we going to get the very best players to come to Everton, I don't have the answer and I cant see it happening anytime soon either. Our league realistically is 7th downwards, they are the games where we are on a level playing field so to speak with our opponents.
For all the poor displays we are lying 9th not that far behind Burnley in 7th who seem to be on their way down. Leicester will be a tougher nut to crack unless Mahrez moves elsewhere. Now if we could sign Mahrez, what a difference that would make, its not going to happen though is it.
We have players that compare favourably with 13 teams in the Premier League but playing against the other 6 we are outclassed.
Ray Robinson
234
Posted 14/01/2018 at 09:06:08
If Sam Allardyce manages to keep us up, I'll be grateful (not satisfied) because, in my opinion, it's more than would have been achievable with Koeman and Unsworth still in charge. That's how low my expectations are right now.
I know that we are awful again at the moment but aside from the top 6 and maybe Leicester, the Premier League is full of dross. Talk about a product eating itself alive. Financial Fair Play was designed to level the playing field - instead it seems to have made things far worse.
Ian Hollingworth
235
Posted 14/01/2018 at 09:06:29
Sadly we are not only outclassed but we were bullied as well. Only Rooney stands up to this but tends to get frustrated then gets booked. We then make stupid mistakes.
Our players are not good enough and too soft. Shiny new stadium on the way... shit team to play in it. Very depressing.
John Malone
236
Posted 14/01/2018 at 09:07:23
I'd would rather have Moyes than Allardyce!!
He is a poor second rate manager like a post above said we just need to get enough points to avoid relegation then get a new man in with proven ability and make the right in's and out's to get the squad up to shape!
All of Koeman's signing's look like a waste of money Pickford aside!
Kim Vivian
237
Posted 14/01/2018 at 09:17:39
We will never have any shots on goal if we don't shoot. Why are our players so nervous of missing that they don't even have a go?
Friend of mine, Saints fan (they were robbed yesterday by shite officials) is worried but I honestly think they will end the season above us. We share our disappointment together this morning but after that abject performance yesterday, disappointment is not the word for me. Depressing is more apt.
This season is offering very little to look forward to. The manager's going nowhere, we've got the players we've got – let's just hope Coleman's return could be the catalyst for a revival.
Tony Graham
238
Posted 14/01/2018 at 09:18:36
Jags made a statement, we didn't do ourselves justice...
Nitesh Kanchan
239
Posted 14/01/2018 at 09:21:57
The last time I heard about Koeman was Moshiri saying it was Ross Barkley who demanded Koeman's appointment for him to stay at Everton. I don't know if that was true or some rumour from media people.
Mike Allen
240
Posted 14/01/2018 at 09:22:28
Dreadful. Go down the leagues and find some wholehearted players who don't turn their back to the ball or hang out a lazy leg to stop crosses.
Dogs of War days may well be gone with so many cheats in the league but at least be strong enough to put a block in, week-in & week-out... half-hearted defending.
Rob Baker
241
Posted 14/01/2018 at 09:37:04
We are back in the relegation battle no doubt. 12 possible teams can go down. It's a desperately poor Premier League.
I want to blame Sam as he sets out the team, formation and tactics but I now believe we have a squad full of non-hungry, inept players. The biggest clear out ever is required and we need to buy in the best from the Championship and abroad to sort this mess out.
Tony Everan
242
Posted 14/01/2018 at 09:39:48
It is time for Rooney to move aside.
Since he has arrived ,and the way we play with his inclusion ,there has been no pace in the side.
Take him out .
Have a midfield of 5 Vlasic or Lookman, McCarthy, Sigurdsson, Schneiderlin, Bolasie or Lennon.
Concentrate on speed of attack , getting the ball to the wide men making runs.
Until we are secure in the full back department we will remain vulnerable. Left back is urgent and Kenny has a lot of work to do to get to Coleman's standard. For me the jury is still out.
Defensive leadership is a massive problem for us too. A Terry or Dave Watson type figure is sorely missing. Someone who directs the defence and demands organisation. Jagielka has never been a leader.
The more I think of it this notional leader, this Central Defender figure, is what we are missing.
Someone who holds other players to account and demands everything from them.
Can you imagine John Terry, Kevin Ratcliffe or Dave Watson allowing players to give up like yesterday?
There would be murder.
Eddie Dunn
243
Posted 14/01/2018 at 10:01:41
Some good points made about the eventual capitulation of last night.
Clearly Sigurdsson should be played in a central role and not on the left, where he fails to give Martina enough protection.
To me, playing Gueye (who looks far from fit) was a mistake, as he and McCarthy faded along with Bolasie, who looks a shadow of his former self , and looks a few games away from fitness too. The big Wembley pitch was a step too far for these players.
The lack of intensity was mentioned by Rio Ferdinand on BT, and Sam also claimed to be shocked at how we "downed tools" after the second goal. We were systematically taken apart by a bigger, stronger, fitter and more skillfull Spurs team.
The BT Panel bemoaned our lack of pace. However, Kane, Erikson, Dembele, Dier, and Vertonghen don't look like Usain Bolt either, but they all seemed to go from defence to attack seamlessly. Our lads looked like they were running in freshly poured ready-mix.
We now have a less demanding series of games coming up and have no extra cup matches to fit in. Sam should have some opportunity to do more work on the training ground and we, at last have a new striker, who looks to have the tools for the job.
Our first aim is safety. A few weeks ago I would have settled for that. No manager in the world would stroll in and sort out this squad in 5 weeks, or even 5 months.
We get a big slice of reality every time we play a side from the top 5 or 6. We are miles behind them and if we finish in the top half, we will have finished level par. It's clear that the squad is unbalanced and needs overhauling but it will be the summer before that happens.
David Foster
244
Posted 14/01/2018 at 10:10:12
Everybody knows what the underlying problem is at Everton and that is constant failings at boardroom level which have been going on for nearly 20 years.
I hate to say it but maybe being relegated to the Championship could be the best thing that ever happened to Everton it would certainly cause the kind of seismic change at boardroom level that the club needs to move forward.
Kunal Desai
245
Posted 14/01/2018 at 10:12:09
Anyone who thinks things won't change if Kenwright goes is talking out of their arse.
Forget the thought of managers and players coming to Goodison the very first things that needs to happen is Moshiri needs to buy remaining shares and make a formal offer and buyout the the remaining shareholders. Then bring his own people in. People with strategic minds who know how to make an actual business successful.
The rest, ie, good managers and players will follow. Ultimately it starts at the top. There is plenty of garbage that need shifting from top
David Foster
246
Posted 14/01/2018 at 10:24:02
Kunal I couldn't agree more on every single point you've just made.
Paul A Smith
247
Posted 14/01/2018 at 10:28:09
Nitesh (#239) – don't even go there with what Moshiri said. It's a waste of time analysing a major shareholder and his talking points unless you keep it extremely positive for your own satisfactions.
He did make out he was fooled. He made out we didn't get what we should for Lukaku but all these mistakes are fine because we don't like the players the top clubs like.
Stick to talking about grafters and forget we had the makings of a great side 2 years ago. Forget we could be up there with Spurs now if we built. Just go with the flow like an Evertonian does and stay patient mate.
Mark Wilson – Fantastic post!@.
Kevin Prytherch
248
Posted 14/01/2018 at 10:32:04
Jay – Most people commenting on Unsworth wouldn't necessarily want the upheaval of bringing him back, but are pointing out that we panicked getting rid of him.
I am one who is advocating playing the youngsters. I want to imagine a time in 2/3 years where they are developing into a class team who are all committed to the club and know each other's games inside out. We're not playing for anything now so the pressure is off, maybe get a couple of wins first but then give them the experience they need.
Under Unsworth I could imagine a team in a couple of years containing:
Pickford, Connolly, Keane, Holgate, Kenny, Vlasic, Davies, Dowell, Baningime, Lookman, Calvert-Lewin.
Under Allardyce, I can't imagine half of these ever given a chance and in a few years time when we're slugging it out with Klaassen, Sandro and Schneiderlin Mark 2, we'll look back and think what we could have had if we'd have just given a little trust.
Instant success doesn't happen without billions – let's not waste the chance to build it a different way.
David Foster
249
Posted 14/01/2018 at 10:35:18
Paul A Smith,
You're just like everybody on this site – critical of relevant points and no solution offered on how to remedy the problems.
Paul A Smith
250
Posted 14/01/2018 at 10:43:17
Dave, that sounds right... but is it? I have at least noted and called many predictions of our boards actions. We get an AGM full of yarns about how losing all our top players is agents and witch doctors faults and somehow its all fine with the majority.
Maybe I can't physically find a solution but I can highlight nonsense that is unhelpful to the fans or team. I can't change anything on my own but I won't be sat here pretending or being fooled by utter jargon from an AGM. Or sat in glee about a stadium there isn't even a drawing for.
Talk will never satisfy me as an Evertonian.

Ray Robinson
251
Posted 14/01/2018 at 10:43:49
Anyone who suggests that it would be beneficial to drop down a a league, re-build and come back stronger is deluded in my opinion. It could mean the end of the stadium, years in the wilderness, and the demise of the club.
Relegation would be an absolute disaster. I've followed the Blues since 1961 and so have never experienced relegation. I never want to.
Ian Bennett
252
Posted 14/01/2018 at 10:46:04
Tony, I agree on the central defender point. And what I've seen so far I am not convinced on Keane either. So we are looking for 2 centre backs and a left back, and a pray to god that Seamus fully comes back.
John Raftery
253
Posted 14/01/2018 at 10:47:03
Sam will surely have learned that he must return to the basics while ignoring any protests from supporters wanting to see a more expansive style. Quite simply the current squad of players is not up to it.
Arriving back at Goodison just after midnight, we could reflect on what will be 12 months with only one Premier League win on our travels. Summing up the root of our problems against teams in the top half of the table is simple.
We have some experienced players with quality but no pace. We have some experienced players with pace but no quality. We have young, inexperienced players who are exactly that: young and inexperienced.
It will take several years of team building to take us back to anywhere near the top six.
Ian Edwards
254
Posted 14/01/2018 at 10:53:40
Allardyce needs to sort his tactics and formation out quickly. When we play out from the back we lack forward numbers and the ball is invariably lost or passed backwards.
Some of the personnel needs changing. We need a settled defence. Holgate is our best defender and Allardyce needs to stop swapping defenders. Martina is being scapegoated by our fans whilst completely overlooking that some goals against Leicester, Southampton, Bournemouth, Man Utd and now Spurs have been down to Kenny. He needs dropping immediately.
We need two up front rather than the negative one forward with a midfield player allegedly in support.
We aren't taking games to opposition. Just sitting back giving away initiative and trying to start attacks from very deep positions.
The tactics will just leave Tosun isolated like every other forward before him.
Frank Crewe
255
Posted 14/01/2018 at 10:59:24
@Kevin 248 this team...
"Pickford, Connolly, Keane, Holgate, Kenny, Vlasic, Davies, Dowell, Baningime, Lookman, Calvert-Lewin." would get us relegated. It makes the current team look like Man City.
We have a 23-year-old keeper, a 20-year-old RB, a 21-year-old CB, a 35-year-old CB a RB playing LB, a bunch of unfit identikit DM's, a brand new striker playing his first game, A wide right player out of position, a wide left player who has been out for a year, and Wayne Rooney, although he plays more like Mickey Rooney.
Yet we expect this side to give one of the best attacking sides in the league a run for it's money at home. I'm amazed we are doing as well as we are considering the rubbish squad we have accumulated over the last few years.
Sam is right. We need to dig in and man the barricades. But also we need to drop Rooney. He's killing us and our most expensive/best midfield player is playing out of position to accommodate him into the side.
Move Sigurdsson into the middle and put Lookman, Lennon or Vlasic wide right to give us some pace and push back the oppositions FB's. We have bought a new forward and he needs support and Rooney is too slow to give it otherwise, like yesterday, Tosun will be ploughing his loan furrow just like Calvert-Lewinwas before him. BENCH ROONEY NOW!!
David Foster
256
Posted 14/01/2018 at 11:04:11
Paul A Smith,
You make a very good point which I agree with but... herein lies the problem. The only way to affect change is for the fan base to speak with one voice and unfortunately there is too much of a division for that to happen.
Paul A Smith
258
Posted 14/01/2018 at 11:13:16
Exactly Dave. I'll still do it for me you and everyone else. I only speak for the good of the club and where I think we can do better.
If I am wrong I know some good has come out of it and I will always hold my hand up if proved wrong because again it will be for the better.
Plus it helps control disappointment.
Kevin Prytherch
259
Posted 14/01/2018 at 11:24:50
Frank (#255) – you totally miss my point.
This team in 2 or 3 years could be onto something great. We'll never know under Allardyce though.
If we give a lot of them time now, we'll reap the rewards in the future. Expect some shoddy results, but let them learn and grow.
Nitesh Kanchan
260
Posted 14/01/2018 at 11:29:28
Paul (#247), yeah out of topic but just wanted to point it out to the fellow Evertonians above who were blaming Moshiri for appointing Koeman.
David Foster
261
Posted 14/01/2018 at 11:35:34
Exactly right, Paul, 100% and I thank you for your kind words and that way in which you articulated them.
Paul A Smith
262
Posted 14/01/2018 at 11:41:40
#260 – just look at some of our players signed since Moshiri's arrival and tell me we have anything to be happy about.
Gana,
Pickford
Williams
Sigurdsson
Keane
Bolasie
All from relegated or relegation battlers. A good portion of our regular starters. Look where we are. Simple Maths. Do Burnley miss Keane, incidentally?
Now if this hadn't even crossed my mind I would be annoyed with myself for being sucked in by trend and forgetting I could see and think for myself.
When Lukaku rolled Keane at Goodison with ease and Burnley being where they where, I knew a top club wouldn't sign Keane. Man Utd were interested and he signed for us... blah, blah, hahaha.
Colin Malone
263
Posted 14/01/2018 at 11:50:21
Sam's comments on why Vlasic and Lookman not starting. re; Everton website.
Either of them, Vlasic especially would be a big improvement, rather than persist playing Bolasie.
Andy Codling
264
Posted 14/01/2018 at 11:55:31
Brian Porter (#226) – Agree with you, I work in the desert and last night the game was televised here in Iraq at 20:30, but I just couldn't be arsed to put myself through watching what I knew would be complete shit. So I didn't bother and went to bed instead and checked my phone later that night.
All motivation for Everton has been ground out of me over the years as its one calamity to the next and guaranteed disappointments. I also agree about Gueye; this guy is hugely overrated for me. He runs round and that's about it.
I'll wait for the usual bollocks to be spouted from the players now, blah blah.

Peter Jansson
265
Posted 14/01/2018 at 12:04:52
You guys protecting Sam Allardyce. What bullshit. He has not set his tone yet etc. He has set his Tone. Why the fuck did hi swop McCarthy for Schneiderlin when under 0-3 to Spurs. That sums it up for me. He has no clue. Schneiderlin is maybe our worst player this season. What is the logic here. I would have made a bigger difference on the pitch.
Sam does not like players that can play football. He likes defensive and not creative players. Now we are certainly heading to the championship. He will never sort our biggest problem that is lack of creativity on the midfield.
Sorry but we need to get rid again.
Peter Jansson
266
Posted 14/01/2018 at 12:06:54
The owners of our club clearly do not know what they are doing.
James Marshall
267
Posted 14/01/2018 at 12:14:48
Paul @262
It's a good point – in the current climate we still struggle to sign the best players. They appear to simply not want to come to Everton. We're not a fashionable club, we're the so called 'second team' in our city, and nobody looks at us with anything other than a 'plucky outsider' tag.
Footballers today were all either not born yet, or tiny babies the last time we had a properly good side, let alone won anything. In their minds we're no more of a draw than Stoke. This is why we only ever buy players from bottom sides, or lower leagues, or cast-offs from upper echelon teams.
Theo Walcott would be a good player for us, a kickstart to attracting better players – look at City when they got some cash, they still couldn't attract the best players until they bought Robinho and every laughed at them.
We're Everton, an upper mid table team with a shitty old ground and a rich history lacking relevance by the day. It means nothing to today's players that we won the league 30 years ago.
Raymond Fox
268
Posted 14/01/2018 at 12:26:53
As far as protesting to the owners is concerned, good luck with that! Our only clout as fans is to not to go to the games.
While they wont be overjoyed with the results lately and the compensation paid when dismissing Martinez and Koeman they still have a full house at Goodison every League game, plus of course the TV money each season. As long as we don't get relegated their OK!
Tom Bowers
269
Posted 14/01/2018 at 12:38:39
How can you say Sam doesn't like players who can play.
Does anyone remember the brilliant Jay Jay Ococha ?
Peter Jansson
270
Posted 14/01/2018 at 12:59:40
Well, Tom, he seems to play players without creativity or offensive qualities in the midfield. Did you read and try to understand what I wrote?
He continues to do what Koeman did, and it will certainly NOT work!
Jay Jay was a brilliant player. We do not have anything like him in our team today.
Rudi Coote
271
Posted 14/01/2018 at 13:00:06
Hey guys don't get beat up just because we follow a shit team. We have a brand new state-of-the-art stadium to look forward to, don't we... Well, don't we?
No, me neither.
Neil Lawson
273
Posted 14/01/2018 at 13:19:18
I gather that Hugo Lloris was interviewed by a local paper and asked by the foolish reporter ' how do you like to spend your Saturday's?'. He replied with a grin ' usually playing football, but yesterday I had a Saturday off and watched a game instead'
Mike Powell
274
Posted 14/01/2018 at 13:26:32
How can professional footballers not pass to their own team mates? We are dreadful. I have had enough off this crap, every week is the same.
Paul Tran
275
Posted 14/01/2018 at 13:28:36
Biggest mistake yesterday was playing unfit players on a big pitch against a top-class team. It is clear that he is trying to play Bolasie and McCarthy back into match fitness. It is clear that he thinks Rooney will 'do' something.
People are asking about solutions, so here are my ideas:
Left back. Now.
Sigurdsson in the middle every game and let him roam.
Someone left midfield able to cover the left back.
Find a big, strong midfielder with presence and the ability to keep the ball (Spurs had two on their bench in case Dembele got injured).
Rooney on the bench against the top six teams.
Lookman to start, give Bolasie 30 mins if necessary.
Promise Tosun he'll get some service before he gets hacked off. I liked the look of him yesterday.
Tell the manager to focus on beating the other team rather than stopping it. You get more of what you focus on and it's showing at the moment.
Andrew Keatley
276
Posted 14/01/2018 at 13:30:10
Some footballers have the ability to play in a number of different ways, in a number of different systems, in a number of different positions, and with different types and levels of players around them –and still be effective regardless. Some footballers are in credibly limited to a few systems/positions, but in the right system can be very effective. Unfortunately we seem to have a lot of the latter type – and the system we currently play does not seem to suit any of them.
I really do think that we have some promising youngsters – and they shouldn't be too harshly judged for being thrown into an underperforming side and being unable to inspire confidence, movement and energy in their older team-mates. The new signings (Pickford aside) have not improved the team, and this failure has sucked more confidence out of the team (and the club).
There is so much deadwood at the club right now it's hard to know where to start. For me, great player though he undoubtedly once was, Wayne Rooney will be a cul-de-sac we are stuck in for as long as he is here – and cutting ties with him would signal a real rebuilding effort. He has been unable to lead from the front in the way we might have naively hoped, and has often been a liability rather than a saviour.
I can't see it getting better – his ability is in decline. The romance is over. Time for the club to wake up to what is happening and start making some difficult decisions.
Nitesh Kanchan
277
Posted 14/01/2018 at 13:46:37
#262, Paul ,sorry mate I don't agree with you on that point,there is nothing wrong in getting players from the lower teams but it should be the right one.The other team I support is Atletico and we got all the players from lower teams who are big players today but got the right ones and have to because of unequal distribution of TV money ,more than half of it shared by Real and Barca and buy the best players who cost more.
Godin joined from Villarreal who was tough not taking bullshit sort of defender and also had the knack of scoring goals.We also took Gabi from Zaragoza who single handedly helped them stay in La liga the season before he joined us and midfield general.Filipe came from Deportivo La Coruna with both defensive and offensive attributes and he did it single handedly without much help from right side just like Dani Alves but a much cheaper version and lot others as well and now we are constantly in title race and one of the UCL darkhorses every season,unfortunately not this one due to the new stadium where we didn't settle quickly enough.
Instead of Keane it should have been Ben Mee and then Gana was a DM in relegated Aston Villa,so why were they conceding so many goals?Why would get Ashley Williams when he is past his prime age? For me whoever got these players i.e Koeman and Walsh are to blame.
Tony Hill
278
Posted 14/01/2018 at 13:49:19
Andrew (#276), yes Rooney is a big problem. It shows how great he was that, even now, he still has his moments (his run yesterday through 4/5 of their players before being fouled) and he had a fine goalscoring run, of course.
But he's a structural blocker in the side as it's currently set up. I think he can still play a decent role for us, since he's on our books, but it should not be as a starter.
Jay Wood
[BRZ]
279
Posted 14/01/2018 at 13:49:54
Kevin @ 248
I don't disagree that Sam's appointment was a 'panicked' one. But whatever the motivation, given the way the team played under both Koeman AND Unsworth, it was a necessary one. Not Sam's appointment, per se, but certainly a change of manager.
You and others inflate the 'improvement' we made in our league position under Unsworth. My post @ 217 highlights that. The performances and results were, in the main, appalling.
As for your claims about 'playing the youngsters' you list the following team you envisage playing for Everton in the PL under Unsworth in 2-3 years:
Pickford, Connelly, Keane, Holgate, Kenny, Vlasic, Davies, Dowell, Baningime, Lookman, DCL.
You then claim 'Under Allardyce, I can't imagine half of these ever given a chance'.
Oops Kevin! Pickford, Kenny, Holgate, Davies and DCL have ALL been regular picks under Sam. Keane, Vlasic, Lookman and Baningime have also had game time under him. Connelly and Dowell aren't even at the club. So that quick analysis rather torpedoes your claim.
Just this week Sam spoke glowingly about Vlasic and Lookman, saying they both had great futures, but he needed to balance the team with experience as well as youth.
Sam Allardyce inherited an absolute train wreck of a club.
Initially, having stopped us conceding 2-3-4 and even 5 goals a game, we achieved lots of clean sheets. He expressed surprise as to why these players had been so incapable of doing this before he arrived.
Yesterday, particularly in the 2nd half, he learnt why the team had been so poor defensively before he arrived, as his after match comments revealed.
This team lacks professionalism and application. Good football - from defence, through midfield, to attack - such as Spurs swamped us with yesterday does not come 'off the cuff' at this level.
It comes from dedicated training and drills that create good habits as a natural instinct. Too many in the current Everton squad have lost, have yet to learn, or are incapable of learning and retaining such good habits consistently, game after game, across the entire season.
Throughout yesterday I chatted with 2 Spurs mates, one of them actually at Wembley. I conceded we were well beaten by them and that I long to see a manager such as Pochetino at Everton, playing the sort of football he sets his teams up to play.
They agreed that in the PL era we have similar histories, but the big game changer for them has been the appointment of Pochetino who has been the catalyst to lifting the team and the club to where they are now.
They go as far as to say he is the club's most important 'player' and the one they can least afford to lose.
I very much doubt Sam Allardyce is our 'Pochetino', but nor do I believe that it is Unsworth.
Who is and will be our 'Pochetino', I have no idea. But I live in hope we can find him.
Tony Hill
280
Posted 14/01/2018 at 13:50:58
Nitesh (#277), spot on mate. That's exactly how we need to rebuild to give ourselves the best chance.
Oliver Brunel
281
Posted 14/01/2018 at 13:52:33
Neil (273) quite funny for a cockney but just shows how embarrassing we have become, devoid of character, devoid of fight, devoid of passion (bar Kenny). Do the people on the board think we will watch this 'ad infinitum'? Football is like any other brand -if the quality becomes so bad people will switch off. Well, thats the theory but I know I will be watching the next game, and the next one. Sometimes I think about our players and I despise them. How can they not care or have pride? I would have walked over broken glass for eternity to have put on a blue shirt. I would have made a pact with Faustus, give him anything to wear that blue shirt. I'm now watching Leinster v Glasgow in the Champions Cup- what a breath of fresh air watching Johnny Sexton and co full of committment, fast, skuilfull, passionate. And then theres Bungle Bills Everton...Thanks Bill.
Paul A Smith
282
Posted 14/01/2018 at 14:16:59
Nitesh 277 I am not saying its set in Stone mate. We have signed a crop of relegation battlers.
People take everything literally when reading so i understand it looks like - don't buy from a relegation side.
I am not saying there are no good players there but its another level. A level lower. We sign a crop from that level we become that level.
Atletico have a style and system that suits a particular player and they have bought well. Villareal are hardly Swansea's level though are they?

James Marshall. Thats true mate its difficult to sign the very best but we can do far better.
Recruitment has to be the managers job in my opinion. He has to grow with them and build a bond.
If we can't find a manager better than Moyes who can identify a player and have him scouted, hes not worth much is he?
Don Alexander
283
Posted 14/01/2018 at 14:20:21
Jay (BRZ), your post I thought unacceptable had no content at all other than to slag off Jim. As I do with Darren Hind I fully agree with many opinions about Everton that you have, and I've said so on here when the belittling of fellow fans isn't part of your/his posts. Hell, I was nearly going to compliment you on a great deal of what you say about the club at #279, but once again you just have to try to belittle Kevin don't you?
And spare me the "I thought Scousers were made of sterner stuff" jibe. This Scouser doesn't adhere to what you seem to think of as an inalienable right, the right to abuse others in the guise of being an articulate know-all.
I wouldn't dare compare myself to gentlemen like John McFarlane and others who've recently gone on record expressing their dismay at the abuse on here of other fans but they're the type of Scouser I'd be proud to be associated with.
James Marshall
284
Posted 14/01/2018 at 14:28:04
Paul - it seems that managers have less & less to do with recruitment these days. They might like the look of a player but they don't appear to do much apart from identify them.
Moyes for all his faults, did know how to pick players with the right mentality in the main. Yeah he bought a few duds, but all managers do.
You look at players like Phil Neville - not the most talented b any stretch of the imagination, but he had balls and took every game as seriously as if it was his last. You could see it in him standing in the tunnel before games and he cajoled players through games - who does that for Everton now? Not one of them has any balls apart from Rooney & maybe Jags but neither of them can keep up for long enough anymore.
We need some young steely players with talent - not a lot to ask is it!
The best players are the ones with ability and the right mentality to make that ability useful - we don't really have any of them anymore.
Phil Walling
285
Posted 14/01/2018 at 14:29:05
I've just watched yesterday's game again and I think this team is past redemption.
However, we are fortunate that the teams below us are, in the main, worse and I reckon another dozen points will be enough to see us safe. This season.
But when history is writ, those Evertonians that remain will look back on the summer of '17 and muse' that's when it all went wrong.'
The 'saviour'that was Moshiri was providing our worst-ever manager with funds to provide us with our worst-ever team. We were never to recover from the damage as we morphed into Aston Villa Mk 2.
Everton RIP.

Pete Clarke
287
Posted 14/01/2018 at 14:36:21
It would take an exceptional manager to get something more from these players. Who that person is I do not know but we had better be on the lookout for him.
We are going from one disaster to another and I have no confidence that this board can come up with the results as they all seem clueless on football issues.
The money we have paid for average players is incredible and this is obviously being given the green light at the top. It can't go on like this or we will go down sooner or later.
Moshiri needs to surround himself with the right people for the business we are in and get rid of all the wasters.
Eddie Dunn
288
Posted 14/01/2018 at 14:55:43
We can all get a bit parochial on here at times, but today it was amusing listening to 5Live and the pundits moaning about the lack of talent at Arsenal. The fear of not being able to attract the best players was one problem that surfaced, especially if they fail to make the CL again.
This is the problems of a club who have built their new ground, play in London and generally finish in the CL places, but once the bubble bursts the rats all want to desert the sinking ship.
If all goes well, is this all we can aspire to?
Mike Kehoe
289
Posted 14/01/2018 at 14:56:14
Spurs are very good model for Everton to aspire to with balance and strength in all departments: basically playing good players in their best position. This is also true of their boardroom: musical theatre is not football although some players look more suitable to the requirements of show tunes. It is this quality and balance that we have lacked for so long and the sense of frustration and anger grows because it is so bastard obvious where our deficiencies lie. Before even thinking about Walcott a proper left back has got to be found as Martina is out of his depth and position and this distorts and warps the whole team as Siggy, who is also out of position, is forced to play a game that his not his strength. There are loads of posts on here about Everton being a laughing stock but the truth is simply that we are largely irrelevant now and still a way from being anything like a force. The only consolation this year is how good Man City have been because the only thing that (football wise) that makes me smile is when the shite get beat and they are getting stronger.
Tottenham where shit not so lucky no ago so there is definitely hope.
Alasdair Mackay
290
Posted 14/01/2018 at 15:01:49
The second half was embarrassing.
I tried to watch it with a couple of American friends over from Denver, with the vague hope of converting them to the ways of Everton - there is no chance!
Miserable performance - if the club has anything about it, it will refund the tickets to the fans.
What a horrible season.
Karl Jones
291
Posted 14/01/2018 at 15:04:15
Just watching the performance and fight Bournemouth are showing v Arsenal. Light years ahead of anything we have shown this season. We would have collapsed after going a goal down. Staying up is all we can hope for this season.
Don Alexander
292
Posted 14/01/2018 at 15:05:44
Jay, you mislead. I cited one post, singular, not plural, and here it is in full;
Jay Wood
[BRZ]
78 Posted 13/01/2018 at 19:54:01
Flag this comment.
"Jim Bennings, for someone who declared to the world on TW last week that you were 'done' with Everton and wishing the rest of us luck, why have you hung out on TW every day since then like a bad fart in a lift?
If you 'couldn't really care less about Everton anymore', seriously... why are you following the games still and posting on TW?"
It has no purpose other than to demean Jim Bennings. There is nothing in it about our club. If there was a site called "BenningsWeb" it might have a place on there but until then I suggest you wind you neck in lad and concentrate your fabulous rhetoric on stuff that relates to the way Everton perform.
Other sites are available for football fans who want to denigrate Toffees. Why don't you join them?
Brian Williams
293
Posted 14/01/2018 at 15:06:23
Watching that too. Watch Walcott pick up a season ending injury knowing our luck (depending on whether you're pro or anti Walcott to us).
Tony Hill
294
Posted 14/01/2018 at 15:09:06
Tottenham are a good side now and have crushed us twice this season. But we should remember that they last won the title 57 years ago, the FA Cup 27 years ago and (their last trophy) the League Cup 10 years ago. You can become a fine team these days and still win fuck all.
Such is the reality.
George Cumiskey
295
Posted 14/01/2018 at 15:11:26
Why are people saying it's not Allardyces fault ? Surely when he got interviewed for the six million pound job he told them he could do something with the players that were there.
Or did he say I can't do anything with this lot, you will have to put up with us playing shit until I've signed a load of new players. What do expect for a measly 6mil a year.
Because from what we have witnessed he hasn't got the ability to take us forward and cannot stop the rot.
Jim Bennings
296
Posted 14/01/2018 at 15:21:38
How did we lose 5-2 at home to this Arsenal team?
Bournemouth winning means that we need to start worrying about the teams below us once again!
Neil Lawson
297
Posted 14/01/2018 at 15:28:14
Oliver 281. Cockneys don't have a sense of humour. Born and educated in Crosby and at School of Science. Emigrated to Exeter 1980.
Born a blue, forever a blue ( but did support Tiverton Town when they won the FA Vase 2 years on the trot in 99 and 2000 so I have enjoyed some Wembley success). May be a very long time until that happens again. Tiverton and Everton !!
Charlie Lloyd
298
Posted 14/01/2018 at 15:29:29
Jim @ 296
You can't take a game on isolation every game is different though there is some form. That's just football.
You could say how would you expect us to beat West Ham 4-0 if they can go to Tottenham and get a draw.
Jim Bennings
299
Posted 14/01/2018 at 15:36:49
Well either way Charlie we are closer to the bottom four again and it wouldn't shock me if Stoke get a result tomorrow night at United.
Every other club goes into those type of fixtures with the capability of surprise element apart from Everton who go there knowing the obvious defeat is ominous.
Mike Gaynes
300
Posted 14/01/2018 at 15:40:18
Paul #275, as always you write my posts before I do, saving me the trouble.
The check is in the mail.
Paul Tran
301
Posted 14/01/2018 at 15:43:48
Cheers Mike. I'll take some of those Scottish notes you got last summer! How are you, when you're not watching that nonsense on the pitch?
Bill Gall
302
Posted 14/01/2018 at 15:44:14
Tony # 294 Y es Tottenham have not won any silverware in years but what would you rather watch ,a team with one of the best defenses in the league , an attack that scores goals for fun or what we have had to put up with for the last number of years?,a team with no direction ,boring ,with a succession of managers that do not seem to have a clue how to organize a team.
Can you imagine the mood of the supporters if we had a team that played like Tottenham, For one thing going to work on Monday morning would be something to look forward too,there would be no constant backlash of the team on forums and being an Evertonian would once more be happier
Not every team can win silverware but it would be far better to have a team that has the possibility ,than one who looks like relegation candidates with a big hoof manager.
John McFarlane
303
Posted 14/01/2018 at 15:46:45
Hi Don [283] thank you for the kind words that you have written of me, and like minded people.
I thoroughly respect the right of every contributor to express an opinion, it's the manner in which some opinions are expressed, that disappoints me.
If I felt strongly about an issue, I would pursue it as zealously as I could, without resorting to personal insult or foul language. I don't believe either course of action strengthens the point of view that is being conveyed.
I'm relatively new to taking an active part in debate on this site, and I must confess it saddens me that fellow Evertonians should be so inconsiderate to each other.
We all have our own view on what the problem is, and how it should be resolved, but unfortunately we can't all be right, a little tolerance wouldn't go amiss.
Stan Schofield
304
Posted 14/01/2018 at 15:55:49
John, as with recent discussions about folks making personal comments, you are of course right in the lament that you express. However, leopards don't change their spots, and appeals for more substantial and respectful posts are like throwing seeds onto infertile ground. In other words, it's unlikely to change.
The only way I handle this kind of thing is to disengage with anyone who makes personal insulting comments. They can either stick to the substance of the debate, or forget about getting any response from me. Asking them to act differently seems futile.
Oliver Brunel
305
Posted 14/01/2018 at 16:05:06
Neil (297) Come on Tiverton! Yes I know what you mean supporting another team (albeit definitely second to the beloved blues) does take your mind off things especially when its grim, like now. I follow Leinster in the Rugby. I also have a soft spot for Tranmere, being from Wallasey.
Tony Hill
306
Posted 14/01/2018 at 16:05:36
Of course, Bill (#302), I was merely pointing out that the scale of the task for Everton is enormous and that there will be some serenity if we acknowledge as much.
It certainly doesn't mean that we should stop trying, absolutely not, nor does it excuse the obvious failings of the club at several levels. But I have decided for my own sanity that it is right to regard us - given our history over recent decades - as a side which has no reasonable expectation to get much beyond where we are now in any given season. If we do better, then we should be pleasantly surprised and not regard it as an entitlement.
To change that will require a very big dose of luck or massive financial investment. I am not holding my breath for either.
Kevin Prytherch
307
Posted 14/01/2018 at 16:12:35
Jay 279..
Oops...
Kenny - played out of necessity and has already had his major asset curbed by Allardyce - that of going forward. Sam has repeatedly spoke about the return of Coleman so Kenny will be marginalised when he's back.
Davies - was playing at the start when we were doing well, has now dropped off. Now replaced by Schneiderlin, McCarthy and Gana.
Baningime - see Davies.
Vlasic - 1 start, overlooked for a half fit Bolasie since. We're also confirmed to be looking at Walcott so he'll be even further down the pecking order.
Lookman - same as Vlasic, not exactly getting the opportunities apart from a cameo against Liverpool.
DCL, Holgate And Pickford have been picked, however, apart from Holgate, these again have been out of necessity.
That's 6 players who are not, or will not be, getting game time under Sam. At the moment I can't envisage them getting the games they need to improve and this is where Unsworth would have been a better long term option in my opinion.
Sams on an 18 month contract with no affiliation to the future of the club, why risk playing these when you can spend £20million on seasoned replacements who will gurantee mediocrity?
Jay Wood
[BRZ]
309
Posted 14/01/2018 at 16:52:27
Kevin @ 308
Lots of conditionals and presumptions there Kevin.
Also, what do you prefer: selecting what is best for the team, or simply playing young players on a hope and a prayer they will come good?
A fully fit and firing Coleman, or the still raw Kenny?
Ditto Bolasie compared to Lookman or Vlasic? Etc, etc.
Don't get me wrong. I am a strong advocate and supporter of the academy and the work they are doing.
I wanted Kenny to have more game time under Koeman and since he has come into the side he has done well. That said, he is far from the finished article.
Did you not see how Kenny was totally skinned by Son early in the 2nd half which led to Son have acres of space to set up Kane's 1st goal?
Did you not see how it was Kenny who kept dropping back ever deeper back into the penalty area when the rest of the defence was holding a higher line in the build up to the 3rd goal? Yes, Kane's finishing position from where he scored should have been called offside, but before that Kenny's poor awareness and positioning allowed Kane to advance and occupy the space between Jonjoe and Holgate from which he ran through to score.
Watch Jonjoe closely. This was not a one off. He has a tendency to do this in most games.
Similarly, by common consensus Tom Davies has not hit the heights of last season and plenty were calling for him to be rested. He is only 19, after all
Baningime looks a real prospect. But you have to accept he is well down the pecking order. He has plenty of time to come good. Again, he is only 18.
Vlasic and Lookman, as Sam himself said this very week, are good prospects with a future. Equally, they divide opinion among the fan base. Some don't rate them at all. Others want to see more of them. Have either of them really done enough under any of our 3 managers this season to be a must pick though...? I would argue not.
Finally, to claim as you do that DCL, Holgate and Pickford have been picked only 'out of necessity' is a head-shaker, quiet honestly.
To conclude as you do from your extremely speculative analysis that this equates to '6 players who are not, or will not be, getting game time under Sam' is:
1) simply false
2) extremely presumptious
They will get the games they need to improve you call for by being good enough to be selected, rather than requiring David Unsworth in the manager's chair as you desire.
Simples.
David Hallwood
310
Posted 14/01/2018 at 17:27:08
Couple of points: Remember that we spent 𧶀 million in 2017, so we can't blame lack of investment
I think Rooney and Sigurdsson can play in the same team as a 3 in midfield with a holder, the same as Citteh play – okay, can't compare like with like but think of them as a shitter De Bruyne and Silva.
Finally, Spurs' first goal was shocking defending, possibly the worst I've seen this season and that's saying something. It's about time that Walsh, who looks like a one-hit wonder, pulled a left-back out the bag.
Ray Smith
311
Posted 14/01/2018 at 17:57:29
Wish list.
I wish Bill Kenwright would resign.
I wish Steve Walsh follows him.
I wish Sam Allardyce keeps us in the Premier League.
I wish Mikel Arteta is appointed to replace Sam next season.
I wish Joe Royal is appointed to mentor Arteta.
An analogy in respect of the current squad which despite serious misgivings by many TW's are quality.
Go back to the days when you could service/ maintain your car yourself. If you put the plug leads on in the wrong sequence the car misfired, and that's what's happening now.
Get the gap for the points wrong with the feeler gauge, result, the spark won't jump the gap, and the car won't fire up, and that's what's happening now.
Today's car engines are too complicated to do the job yourself, result, overpaying for what was a simple operation.
Until we go back to basics, and play players in their correct positions, nothing will change.
New car and new mechanic. We could do a lot worse than appoint Arteta!!!
I await the backlash!!!
David Baxter
312
Posted 14/01/2018 at 18:14:20
Feeler guage Ray,you were posh,side of a woodbine packet for me
Bill Gall
313
Posted 14/01/2018 at 18:14:23
Tony# 306 Thank you for your reply. I hope you did not think I was trying to be critical of your original letter as I do not like to criticize other peoples opinions.
From your reply I believe that you wish for the same as myself for the Future of Everton and for the record I started supporting Everton after playing at Goodison Park in 1952 for the school. As this gives a close idea of my age I agree with your last sentence of don't hold your breath, as if I try to do this for to long, id be worried about the consequences.
Being an Everton supporters has its ups and downs but unfortunately there seems to be more downs than ups and I don't see many more ups than downs in my future.
Ray Smith
314
Posted 14/01/2018 at 18:21:52
David 313
I used to use a piece of a Bryant and May match box actually. The width of it, always seemed to be about right!
Wouldn't go anywhere near an engine today. Happy days.
Stan Schofield
315
Posted 14/01/2018 at 18:27:06
Ray, we need a Haynes manager.
Tony Hill
316
Posted 14/01/2018 at 18:27:56
I'm of very similar vintage, Bill. Last evening for me was a turning point. I am too old to put myself under the stress of waiting for a miracle with our team and I have made a decision to back off. But I fully understand why younger supporters will still be enraged.

Ray Smith
317
Posted 14/01/2018 at 18:38:38
Stan 316
How true!
If you got it wrong, a quick look at the Haynes manual soon sorted it.
It will come good!
George Cumiskey
318
Posted 14/01/2018 at 19:10:51
I still can't understand why people on this site are bickering with each other. Why don't you comment on what you've just witnessed on the pitch.
A poor performance, poor tactics, poor substitutions from a poor manager who's getting six million pounds a year to get something out of the squad he's got.
So why are people saying it's the players he inherited from the previous managers, surely he knew what he had before he took the job.
But all of a sudden it's not his fault, he needs to sign a lot more players to do anything to justify his kings ransom of a wage.
I will repeat what I said about his salary incase you didn't understand, SIX MILLION POUNDS a year and I haven't got the ability to get the best out of this squad.
It beggars belief that people are still making excuses for him.
Mark Wilson
319
Posted 14/01/2018 at 19:26:34
I was one of the early toffeenetters. Many years ago this forum was regarded as a place for extreme negativity which always amused me because essentially it was an accurate assessment without understanding the "why". The truth is as I may have mentioned in my earlier post at #218 there's a reason why this site gets a rep for negativity. It really isn't rocket science. It's because for nearly twenty five years we have had to do our "supporting" against a backdrop of almost constant failure, miserable factional disputes amongst the fan base, highlighted by Kirkby, the rise, and what seems to be the quiet retreat of The Blue Union (nowhere near the good thing some think it is/was) and the steady repeated shaming at the hands of the so called top six clubs, with the nightmare record against the RS being enough to send the most positive fan into a dark corner and not venture out for a long time.
Reading this thread, with the personal stuff arriving back in at a rate of knots, it all feels very familiar. But there is a new edge to this. Throughout some horrible jousting on here during the Moyes years, exchanges that at times bordered on the threatening, we could all fall back on the accepted lack of financial resources, punching way above our weight even tho it delivered little. But no more and reading this here you sense the extreme frustration, the dismay at the crass mis Mgt exercised now with no excuses.
The arrival of financial muscle has sadly (for us) happened at the same time as most are now able to find £20m-£25m for distinctly average players worth not half of that three years ago. We have failed to adapt to our better financial foundations. But our support still gets kidded by this newly found wealth. We got so excited by this summers "big spend" whilst right up until the season started ignoring the impact of not replacing the quality of £110m brought in, combined with the fact that despite all that spending there was virtually seriously .hardly any fans of this club not screaming that we had delivered a horribly unbalanced squad four players short of being able to effectively compete and avoid a crash and burn of surprising proportions. The board put its faith in the Koeman Walsh axis and have been shafted. But they have failed to act when the evidence was punching them in the face. Which is clear from the fact that News Years Day arrived and the club hadn't made the desperately needed progress putting right the abysml summer failures.
So we get frustrated and bitter and angry and sometimes "personal" because nothing breeds these emotions quicker than feeling helpless. The AGM left me scared for the future of the club. Our new benefactor is it seems a friendly Uncle who displays a frightening naivety aka trusting Jim White not to share transfer titbits after late night phone calls. Worse, he is pursuing a tunnel vision approach to our future and, even tho this cannot possibly be can it .I honestly believe he doesn't see the danger he has presided over in the post Martinez Koeman years which have produced the most spineless, poor quality bunch of players most here will have seen. I see a board room with too many yes men and one amazingly capable woman, and a reaction to the AGM "stuff" that clearly puts the playing side second to debt repayment "triumphs" and a shiny stadium which may happen or not if the naievity continues.
Allardyce and the other Sam are now the recipients of all of this crap. Years of it. Delusional stuff on a grand scale. No decent manager wanted our job. Silva ? Really? What on earth was he going to do with this shower of shite masquerading as professional premier league footballers?
The next eight games could see us firmly safe mid table, all bar one winnable but truth be told three wins and a draw or two and we can breathe again. It is going to be ugly. Horriblybdo. But we are not City, or Barca or PSG or yes, Spurs. We have to earn the right to fall back on our "history". Screaming for all out speedy attack at our club won't get us anywhere. This squad can be improved enough by 1st Feb to see us grind out the results we need. Then maybe, just maybe, the realisation of just how badly we have failed may have some impact.
But the club desperately needs restructing off the field and wholesale changes in the way we manage development and transfers. Without new faces in the seats of power there is no sexy managerial appt that will make a difference.
And as for Steve Walsh, he has 17 days to do what he was brought in to deliver, which is not necessarily a clutch of £25m plus players but three or four rock solid decent quality players in those uncovered positions where frankly there are now performers in the Championship easily ahead of what we have at the club. Meanwhile can you imagine how good it would be to wander into this forum after we've won a cup or beaten the shite or just played like Spurs did on Saturday. Sigh.
Kevin Prytherch
320
Posted 14/01/2018 at 19:30:55
Jay - it is presumptuous, but it's what I fear.
I did mean to say that 1 out of 3 of Pickford, Holgate and DCL we're picked out of necessity, Holgate and Pickford have been there on merit.
We see players in other leagues hitting heights in their teens and early 20's, but not here as the jump from U23 to the first team is too big.
We have a chance to put that right now in an environment which is less risky, and will reap the benefits if we do.
Like you said, lookman and Vlasic divide opinion, Kenny got skinned by Son, Davies isn't hitting the same heights. This will happen with kids, but unless they're played they won't overcome it. If we played more of them now and accepted their mistakes rather than getting on their backs or replacing them, we could reap the rewards in the future.
Personally - I don't think Sam will do that
Jay Harris
321
Posted 14/01/2018 at 19:46:30
Mark,
excellent post.
The Agm was the eyeopener for us all to see what buffoons are running the club with childish statements made about Lukaku and Barkley which should be kept private.
On the playing side it is a disgrace that we have allowed Galloway and Garbutt out on loan while not bringing in a replacement for Baines. If the lads are not up to it sell them but for gods sake get us some left back cover asap.
There is obviously something rotten at Everton that is demotivating every manager we have and consequently the players.
We are an absolute shambles as a club in contrast to the professionalism we expected when Moshiri came in.
Raymond Fox
322
Posted 14/01/2018 at 19:55:47
Very good post Mark 320.
Give it a rest George 319, we all know by now that you did not want Allardyce.
So its all Sams fault is it, oh that it was that simple.
As I have posted earlier we can compete over a season with 13 clubs in our League but not with the other 6, how much evidence do you need.
We very occasionally get a result over one of the 'big 6', but most times we are outclassed.
How long has it been like this? Whoever is our manager they need players that match the top 6 players otherwise we will always be bridesmaids.
Darren Hind
323
Posted 14/01/2018 at 19:55:59
Some nonsense being spouted about Unsworth. Some just seem determined to play down his role this season.
Lets get something very clear: Unsworth inherited a far worse situation than Allardyce did. We were in freefall and nobody, but nobody, could predict where our next victory was coming from. It wasn't enough that we came back from being two goals down to beat Watford, nor that we missed two absolute sitters to make it five.

The only thing Sam's supporters can talk about is how lucky we were (oh, the irony). The players again showed their determination to fight for Unsworth when coming back twice against Palace but all we hear from Allardyce's acolytes is how lucky we were. Not once have I saw anybody take the circumstance at Southampton into consideration on here. Not once. We had no defence, FFS. Those who were not already injured got injured.
The players once again came back and murdered West Ham but all they talked about was the 15-minute period West Ham had, ignoring the score and the rest of the match.
If people want to put Rhino's performance into context, then they should have the good grace to acknowledge the situation he inherited. They should have the good grace to acknowledge he brought us five places up the table and despite the horrific situation, was able to get us seven points in five games. Hardly relegation form.
Sam Allardyce inherited a much different situation. He took over a team with much of the shredded confidence restored - see player comments. He benefitted (short term) from that new-found confidence, but has since had his limitations well and truly exposed.

Under Unsworth we scored an average of two goals per Premier League game. Under Sam we can't even muster a shot on goal. He still hasn't found a way of reaching Rhino in the goals-for chart despite the fact that the Evertonian was only in charge for five games. And those who thought Sam has sorted the defence are now being rudely awakened.

Under Unsworth we were heading north, now we are heading south. The appointment of Sam Allardyce was a reflection of the panic around Evertonia and we will/are having to suffer the consequences. When Unsworth's team battered TGT's West Ham he seemed to have established an unassailable lead over the Eastenders. Yet here we are a few weeks later and the guy we considered unappointable has got his West Ham team breathing down our neck. Who now in their right mind would bet against Moyes winning the battle of the spoilers and once again leaving his boring mate in his wake, despite being in a far worse starting position?
Allardyce was an appalling appointment, an absolute howler of a decision.
"We may have to become more boring"... I could weep.
George Cumiskey
324
Posted 14/01/2018 at 20:01:48
Well Raymond you've just put me in my place by pointing out what a good job big Sam is doing.
Jason Wilkinson
325
Posted 14/01/2018 at 20:05:14
Kevin #321
Well put. As I have said many times. We keep buying players with this "one for the future" unfortunately the premier league is relentless.
We have to buy players who are good enough to throw in at the deep end. However, Lookman has looked every bit as good as Siggy. Holgate has been no worse than Jags or Williams. DCL has been our only option up front.
The major problem we have is we are shopping at Lidl while the top six have been at Waitrose for years.
Even with billions behind project Everton. It will take two to three years to have any chance of picking one of the top six off. That is on the basis that any of them have a bad spell.
Arsenal look the most vulnerable this season. Spurs could be if Kane and Alli fancy a pay rise.
We're way behind the Mancs and the RS have just spent what we sold a 25 goal a season striker for on a centre half. Chelsea were the first to buy all of Europe's promising talent. We don't have that luxury even with the money as ffp has put a stop to that game.
I agree with what you say with the young players we have. Throw them in. Give them the experience and get rid of the ones who drown in the ocean that is the PL.
Stop buying 28 yr old plus journeymen players who the top six no longer want. Start giving the 21 yr old. "Looked good enough to buy in the first place" a chance. Young players do make Mistakes. So do old ones.
Roger Helm
326
Posted 14/01/2018 at 20:06:31
It is sad because quite recently Spurs and were at about the same level, just below the top group, with us if anything a bit better than them. Now we are playing in different leagues.
Still, in another way it gives us hope; one or two top players to emerge from nowhere and carry the team, a good progressive manager to join us, and we too could make a step up.
Tom Bowers
327
Posted 14/01/2018 at 20:15:36
I see John Stones still gifting goals to the opposition.
Last week it was Burnley and this week RS.
No chance he will gift Everton one will he ?
Phil Walling
328
Posted 14/01/2018 at 20:51:45
Way too optimistic there, Roger. It will take more than 'one or two players' or a 'progressive manager' to get us out of this mess. We have idiots ( footballwise) at the helm and the worse type of mercenaries in the team - only the oldest and the youngest of which have any semblance of an Evertonian about them.
Terminal decline in the rest on and off the pitch.
Raymond Fox
329
Posted 14/01/2018 at 21:01:42
George he has to work with what he has got.
Koeman and Unsworth tried to get a tune out of them and largely failed.
We are 9th at the moment, which is decent but have a series of difficult looking games coming up so it might get worse before it gets better.
Theres no walkovers in the Prem. especially away from Goodison, but the same applies to all the other teams around us they face the same difficulties.

Don Alexander
330
Posted 14/01/2018 at 21:08:04
Well said Mark Wilson (#320).
George Cumiskey
331
Posted 14/01/2018 at 21:19:32
Raymond of course he's got to work with what he's got, but he's abjectly failing to work with what he's got, and for ٤ million a year.
Surely he told the board he'd be able to work with what he's got, and that's why they gave him the job. But now, all of a sudden, it's "Poor old Sam, look what he's got to work with!"
Paul Rimmer
332
Posted 14/01/2018 at 21:31:56
Everton are embarrassing to watch. I never wanted Allardyce for two reasons - he plays hoof ball and any decent manager should be able to sort out a defensive system and play progressive football. We just hoof it and are constantly having to defend which we're not especially good at. Surely we have to strive to play like a decent team - Bournemouth and West Ham do. We have the players to do this but few are playing at the moment. Instead defensive players are picked who aren't capable of playing forward passes.
The problem we have is that when we do get rid of Allardyce it'll take 2 seasons to instil a passing game and get more players in to play that way.
I'd play 3-5-2 for now with Rooney in the middle with someone with legs and Siggy further forward. Need a left wing back urgently which might negate having to get two players in on the left. 3 at the back reverting to 5 when we don't have the ball.
Jay Wood
[BRZ]
333
Posted 14/01/2018 at 22:26:34
Kevin @ 321.
I vehemently and consistently defend and beat the drum for the young players at Everton. I frequently make the same point as you make: the very fact that they are so young inevitably means they will make mistakes, have bad games, and bad spells.
This season I have repeated on more than one occasion it is not the junior players letting the team down: it is the senior players not taking the lead, not playing anywhere close enough to their true abilities consistently or frequently enough, and not showing sufficient fight in the situation we find ourselves in.
But as much as I trumpet our academy and the young players, I also acknowledge there has to be a balance. And contrary to your claims, Sam is clearly playing the very youngsters you (erroneously) insist will not be considered on his watch.
Last season and this, no other club gave or continues to give its academy players as many minutes in the PL as Everton. Sam is continuing that trend.
And the young 'uns, all the more so in the circumstances, have largely played well. But as already stated, it is the senior players who are just not producing to the standards they are well capable of.
Yet you continue to insist 'Sam will not play the youngsters' when all the evidence, every week is...he does!
Your claim is clearly a false one, no matter how many 'yeah-buts' you contrive to argue they are only playing 'because'...add invented scenario.
Eddie Dunn
335
Posted 14/01/2018 at 23:53:26
Mark Wilson: good post.
The pissed-off fans on here spout their views and much of it is negative, but remember in the summer when we suddenly started signing people early. The posts were full of optimism and excitement. We weren't to know that everything was going to go tits-up!
Ken Kneale
336
Posted 15/01/2018 at 07:55:14
Mark 319 total sense but as I have posed on another TW thread we all seem so beaten down about it after three decades that we argue with each other and things just continue. Are we being too passive with those at the helm who if my experience is reflective have now down tools themselves on replying to or acknowledging any correspondence
Colin Glassar
337
Posted 15/01/2018 at 08:03:31
Just seen that Cyril Regis (WBA) has died. RIP Cyril, one of my favourite players of all time.
Heart attack apparently.
Paul Tran
338
Posted 15/01/2018 at 10:34:22
When football clubs/business get an influx of money, they often struggle, unless they bring in someone who knows how to use the new money well. We clearly haven't got anyone of that calibre, so we're struggling.
Despite their unlimited money, City made some shocking decisions early on, before they started getting it right. It's only a few years since many on here were laughing at Levy at Spurs for his high turnover of managers. While we smugly stood still with the best bang-average manager in the business, Levy made mistakes, learned from them and started getting things right. That's why they're ahead of us now. Levy learned to play with his train set. Moshiri's going to go through that process a few years behind him.
That's the big picture. The here and now on the pitch is in our control. Play Sigurdsson in the middle and let him fly, buy a proper left back, a big strong passer in midfield, focus on our strengths and beating teams.
Stan Schofield
339
Posted 15/01/2018 at 11:35:09
A recent post gave amounts spent on players by the 'top-6' clubs since 2008. Chelsea and City, about £1000M each; Utd and Liverpool, about £800M each; Spurs, about £700M; Arsenal, about £500M.
We spent about £200M in the summer window. From the figures above, on the face of it we'll have to do at least this every season just to try to compete with the 'top-6'. The first attempt clearly wasn't a good one, and there will need to be further attempts, which after all is what the top clubs have done.
Notice that although the spend of Liverpool is about the same as Utd, Liverpool have won virtually nothing in that time period (the league cup), whereas Utd have won the league 4 times plus other trophies. This surely shows how difficult it is to win things even with a big spend, how difficult it is to be on a par with the 'elite' three of Utd, City and Chelsea.
We can only hope that the board have learned from the experience of spending £200M this time round, and that the spends will improve. But I think it's more hope than anticipation, judging by some of the stupidity that was apparent at the AGM.
Jay Woods
[LAT]
340
Posted 15/01/2018 at 11:40:52
I actually think the PL has too many elite clubs in it for us to ever stand a chance without somehow finding the backing to blow everyone else's spending out of the water.
Tony Abrahams
341
Posted 15/01/2018 at 12:05:48
I thought we would have swapped Niasse, for Palace's left back by now Paul, because Martina, is just not good enough? The other Big-problem is definitely in midfield, because we seriously lack craft.
Paul Tran
342
Posted 15/01/2018 at 12:45:52
We need strength and physicality in midfield, Tony. We've got too many players who go to ground to tackle or get brushed aside by stronger players who stay on their feet and cuff them aside. Spurs had one on the field and two on the bench. The sort of player that would stop teams going through us and give a platform for the likes of Sigurdsson, Lookman and Rooney.
Tony Abrahams
343
Posted 15/01/2018 at 13:09:11
You speak a lot of sense Paul, as do loads of others, but nothing seems to get done, except of course our team, and our magnificent away support.
Kenny was poor on Saturday, had his worst game, but other than trying to clip the ball into the channel, his only other real option until Lennon came on, was to turn and pass it back to Pickford.
It's poor we have a conundrum called Rooney, and it's stopping Sigurdson playing midfield, and it's stopping Lookman, or Vlassic playing out wide. Half-a-team Everton, is what we look like to me, and if the midfield players could learn one phrase, it would surely read, "NO TURNING BACK".
Tony Williams
344
Posted 15/01/2018 at 16:34:43
Bring back Gordon Lee.
Clive Mitchell
345
Posted 15/01/2018 at 16:51:05
Bring back Niasse.
Clive Mitchell
347
Posted 15/01/2018 at 17:02:31
Mark, 319 - so many good points. Especially the need for a clear out. Moshiri presumably appoints highly competent people to run his businesses for him. So that ought to signal the end for Elstone, Walsh, Ferguson, Kenwright as a Board member, and a very large number of our current first team squad, with shame of place going to Schneiderlin.
William Cartwright
348
Posted 15/01/2018 at 17:36:28
Ray @ 311 and Mark at 319 : Take a bow guys, you are evidence of how clear thinking and logical Evertonians can and often do rise above the utter shite that the Club's heirarchy has been organizing over recent years.
Good insight Mark to highlight how painful it is, and has been for many years, being an Evertonian when we have the redshit across the park leaving us floundering us firmly in their wake, the media just demean and dismiss us, and the FA still treat the 'big 6' and Liverpool especially as protected species. How Lallana has escaped a ban for deceiving the referee just is beyond the pale.
Luvvie Bill has to go; he just has to or we will not recover in my lifetime, and Moshiri has to wake up and smell the hommus.
I had high hopes for Unsy but lost confidence when he reported that he speaks with BK every day? If he was as astute as he would need to be for the job of permanent manager he would have said "I listen to Bill . . . . ." or better still say nothing at all.
I believe we will survive this season, but only just, and meanwhile I will stick my neck out and say Sam and Sam may achieve stability and solidity. This may not be good enough for some supporters, but for me it would be a platform to build from. Sam's side (snide) comment regarding the continuation of boring football and slating us to be last on match of the day, was for me far more subtle than people realize. He was making several points which most media savvy people sidestep. He let the players, the media and the club's heirarchy know exactly what he thinks of them all and he will do things his way or not at all, in the time he has left.
Meanwhile, back at the ranch, on top of Bill, we have had Martinez, Koeman, Walsh doing there thing and it has dragged us down further and faster than Moshiri or anyone else expected. Classic examples being why the left back cover was not just overlooked but was positively inflamed by the Garbutt / Galloway / Martina comedy of errors, and Siggy Starbust, our most expensive signing who has real quality, is played out of position (as he was at Spurs so it is no surprise) to accommodate Wayne. Every supporter and his dog have been howling out their concerns but the bloody management just ignored the reality as well as the alarm bells being rung out loud and clear by all and sundry! How the f**k can that have happened? How those responsible not be identified and be seen to be brought to account. Or is there a reverse agenda to undermine simple, logical, baby steps forward?
For now and the not too distant future, I am going to keep faith in Sam and Sam and look to see where it takes us. Options are; Up the table - great. Stay where we are - OK so what's next. Slip down a few places - expected. Relegation - wide awake call for all concerned with the well being of Everton and welcome to the footballing world of Yorkshire!
COYB?
John McFarlane
349
Posted 15/01/2018 at 19:22:22
Hi 275 Paul, [275] I'm a bit late responding to your posting, but the point you made about playing Bolasie and Mc Carthy on a big pitch, while on the way to regaining fitness, is not strictly accurate.
I read some years ago that the old Wembley pitch was not much bigger than most club pitches, the fact that the terraces were sloped at a particular angle created an illusion of size.
Yesterday out of curiosity I Googled the dimensions of the following grounds,
Wembley 115 yds x 75 yds,
Old Trafford 116 yds x 76 yds,
Goodison Park 110 yds x 74 yds,
Anfield 110 yds x 74 yds.
It would suggest to me that the same illusion still exists, and that players have it in their minds that the Wembley pitch is somewhat bigger than the pitches they normally play on.
I would also add that if the figures quoted are correct, then the difference is minimal.
Hugh Jenkins
350
Posted 15/01/2018 at 22:47:11
John (349). If I remember correctly, one of the "Wembley" factors was also to do with the constitution of the subsoil and playing surface that apparently sapped the legs of those running on the surface over a sustained period. It was probably this, more than the dimensions of the pitch, that lent the legend to Wembley arena.
Nowadays, with the grass pallet surfaces available at so many grounds, this is probably no longer an issue at the "new" Wembley stadium.
Kevin Prytherch
351
Posted 15/01/2018 at 22:52:13
Quote from David Unsworth today after the U23's got back to winning ways with him back in charge. (I wish the first team had this mentality):
"Even at 1-0 down, I know that whatever team we put out, we are not going to settle for that. From the first day I got this job, the team spirit and the team ethic has never been in question. I have honest lads who love playing for Everton.
"We got a deserved equaliser and then Antony has scored a fantastic individual goal. I'm delighted for him.
"When we are at our best, we press teams and we don't give them a minute's peace. We did that in stages in the first half and we were the better team. Tottenham were better in the second half, and it took us until they scored to start playing again.
"But once we started doing what we are good at, we scored two great goals and it was very comfortable in the end."
Press teams and don't give them a minutes peace. At the moment we give them about 30 minutes peace camped on the edge of our box!!!!!
Kevin Dyer
357
Posted 17/01/2018 at 10:33:59
Don (#95) I get your point that maybe we lack physicality in some areas but you're going a bit overboard! Holgate is taller than 6'-0", Martina is definitely shorter. Son is nowhere near 6'-0". Sissoko may be 6'-2" but is still a bit crap.
Football isn't basketball or the NFL where the game is set up to be played by people of a certain size, thank fuck. The best DM the past 2 seasons (Kante) is about 5'-7". One of the best CFs around (Aguero) is 5'-8".
Of course you need height at CB and some overall to deal with set-pieces. (Though I've seen Rooney make more defensive headers than 6'-3" Lukaku ever did!) Depending how you want to play a tall CF can be necessary. But that's it.
The game is played with the feet! A good low centre of gravity is of more use than a bunch of tall fellas running about. It's not like Spurs were smashing in aerial balls all afternoon!
Bob Parrington
358
Posted 17/01/2018 at 12:09:22
Been a busy week so just had my first chance to watch the game, rewind, rewind and rewind etc. Mmmmmm! Key points to me. Martina unsuited to left-back. Leaves wing position open - responsible for 1st Spurs goal.
Kenny loses ball in vulnerable position with no cover. 2nd goal but clearly off side as clearly as Rooney was for his. Bullshit linesman and even greater bullshit from Optus commentators who should be sacked for their bias.
Lousy CD work for third. Rest is equally as technical. Clear we need an LB plus strong and fast CD to replace Jags. Preferably about 6ft-3ins or more. Not rocket science. Best forget Forward purchases and concentrate on LB and CD.
Pissed off? Yes 100%. Why are these guys paid zillions when its all freekin' common sense that some amateur coaches understand clearly. OMG

Don Alexander
359
Posted 17/01/2018 at 12:44:46
Kevin (#357), fair comment mate but given my perception of the physical inadequacies and unfitness in many of our squad, and given the scrap we'll be in this season and probably next, I reluctantly come to the view that in general a good big 'un will generally triumph over a good little 'un.
Allied to that we seem to rarely if ever sign a big powerful player, including in the personality department.
How many other squads have an entire defence comprising players of a stature like ours? None that I know of. How many have no forwards with ability to bully or dominate the opposition defence? None that I know of. And how many have a midfield containing so few able to run from box to box, play a penetrating pass or score? Ditto.
In the Spurs hammering I thought Tosun looked interested and interesting but I read a telling look on his face when he chased down their left back in the left back area and panicked him into a hasty pass to the centre-back just of the edge of the Spurs area. Tosun looked back with an expression of surprise, to say the least, that there was no Everton player anywhere near doing what he'd been doing. Only my opinion obviously, but I think it came as a horrible surprise to him and may well quickly induce him to think, rightly, that you can't chase down on your own so if the rest of this shower can't be arsed why the hell should I be?
Winston Williamson
362
Posted 17/01/2018 at 20:19:03
Sam Allardyce got all the plaudits for the clean sheets when (and slightly before, by some) he first arrived. Fair enough I say.
It's only fair, equal and balanced to ask wtf has happened to the defence in the last few games, where we've been as leaky as fuck!!
Some people on these pages expressed a hope of Sam Allardyce changing his spots regarding attacking play.
Some expressed doubt and concern that he wouldn't change a thing in an attacking regard.
He's essentially a fireman and scrapper. If the defence is still leaking, I fail to see how he can justify being here.
Let's see how he gets on, tactically, now he's signed some decent forwards.
I still have more than several doubts about him – in fact, I have more doubts now, than I did when he arrived!
---
Add Your Comments
In order to post a comment, you need to be logged in as a registered user of the site.
Or Sign up as a ToffeeWeb Member — it's free, takes just a few minutes and will allow you to post your comments on articles and Talking Points submissions across the site.
© ToffeeWeb