Report
A soft goal knocks the stuffing out of spiritless Everton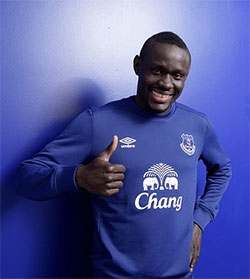 Oumar Niasse got the starting nod again but proved to be useless in attack
WATFORD 1 - 0 EVERTON
Sam Allardyce names a relatively unchanged side for this evening's televised game at Watford.
Kenny and Williams are the only two changes in defence, with Coleman and Mangala injured. Rooney and Sigurdsson start with Niasse up front. Luke Garbutt joins Schneiderlin, Bolasie, Tosun, and Calvert-Lewin on the Everton bench. A certain Gerard Deulofeu starts for Watford, but no Tom Cleverley.
Leighton Baines and Ramiro Funes Mori are both back in training but may need Under-23 run-outs before they are ready for the Premier League.
Everton kicked off and the ball was zipped around in a lively manner. Prodl fouled Walcott, setting up a decent setpiece opportunity for Sigurdsson to the far post to Niasse but through his legs and out of play.
Rooney was robbed of the ball and Deuloleu galloped forward, winning a corner, that Deulofeu dummied but Ducoure skied onto the roof of the stand. Watford seemed to be grasping the initiative with a little more energy and desire than the visitors as a move between Davies, Kenny and Walcott broke down with a poor header from Gueye.
Davies did well to use his body and turn but then overplayed the second touch. ZBut his next intervention was far better, releasing Niasse down the left that created a chance and earned a corner, defended away.
Everton looked a lot better, passing the ball well, but Sigurdsson's shot lacked any power. Watford also were not afraid to press forward, Janmaat and Deulofeu connecting down their right side. Davies caught Holebas with his toe. More good work won another corner but it came to nought.
Walcott and Niasse got behind the Watford defence that reformed quickly, giving up another corner that almost fell to Rooney as the tempo of the game remained high... verging on exciting Premier League football! But the quality of the chances created was not up to that exalted standard.
Keane went in perhaps a little to strongly to win a loose ball. Rooney gave the ball away horribly to Deulofeu but gets back well to dispossess the former Everton player and make amends. Sigurdsson got forward and his cross was inviting but hit a Watford head as Everton looked to press the home side.
It was then Watford's turn to play some football, pressing Everton back, with Deulofeu always involved but consistently ineffective, but Capoue shooting high and wide. He created havoc, however, with a ball that Williams was lucky to control, Gueye eventually being penalized for a dangerous free-kick that Deuloefu lined up and fired into the wall.
Niasse was the next to roll around on the floor, the pace of the game pretty lively and evenly poised as half-time approached; however, things became scrappy with Watford winning a corner that Holebas sent in to Pickford's solid grasp.
Martina did well to stop Deulofeu but and the game was fairly open without creating significant goal threats. Pickford came out of his area smartly to control an awkward ball and delivered a great pass forward to pick out Niasse whose passing choice was awful and the scoreline remained goalless at half-time with honours relatively even.
Watford came forward from the restart, putting Everton under early pressure, with a decent corner put in by Deulofeu that Prodl headed well wide. Everton settled with some better possession and passing, but Davies again kicked the ball too far, although somehow winning a corner that went over everyone.
Everton finally structured an attack, with a looping cross for Keane to head wide with Davies running in.Capoue saw the first yellow card of the game after fouling Walcott. Sigurdsson tried to set up Niasse but he lost the track of the ball. Rooney swung in a tempting ball that the keeper gathered. At the other end, Rooney was carpet-bagged and Deeny with a header that Pickford had to save.
Finally, a double change for Watford, and Tosun on for Niasse — not a moment too soon. But it was Watford who threatened with a corner that went up the other end, Tosun getting involved, beating Deulofeu and pulling back a difficult mid-height ball straight at Sigurdsson. Que playacting from Deulofeu, who rolled back onto the pitch to stop the game before being substituted.
Things were pretty scrappy as the changes looked to settle, Rooney seeing a half chance on a bouncing ball, driven high and wide. At the other End, Everton had to defend but the quality of midfield football from both sides had deteriorated into a formless mess as the time ticked away, the lack of quality underlined by Geuye giving the ball away easily in his own half.
Allardyce readied Morgan Schneiderlin for the next substitution with Bolasie as Walcott had the opportunity to scamper forward but the double change was halted after a terrible passage of play, Pickford's horrible clearance going straight to Janmaat who messed up his delivery allowing Pickford to save.
But Everton gave the ball away in a deep area yet again, and this time paid the seemingly inevitable price. Okaka picked up possession and raced into the Everton box, cutting the ball smartly across to Deeney, who spins well and hammers the ball into the top right corner from 10 yards, leaving Pickford, and sadly Everton, no chance as they had never looked like coming even close to scoring.
Allardyce stunned, Schneiderlin was sat down again; Calvert-Lewin and Bolasie replaced Rooney and Sigurdsson as Everton now had to chase the game but the Blues looked less and less capable or interested in turning things around, into the last 5 minutes. Everton should have been attacking but it was all Watford and it was Okaka lashing a good shot at Pickford. It was all Watford and time of shooting practice as Everton had effectively given up in a shocking spell for Everton toward the end.
Holebas got down the byeline and Williams needed to block it out for a corner as Everton rocked under the pressure into 3 minutes of added time, with no sign of scoring an equalizer. But they won a late corner, and there was absolute havoc in the Watford area with Pickford heading it forward, Tosun and Bolasie going for the same clear chance right in front of Karnezis and cancelling each other out. Laughable if it wasn't so pathetic for a team of professional footballers.
The second-half display by Everton had been nothing short of awful after some false promises from the lively first half — just shocking, shocking football, littered with mistakes from a moribund Everton still on vacation in Dubai and showing game by game what an awful uninspiring manager Sam Allardyce is.
Scorer: Deeney (79')
Watford: Karnezis, Janmaat, Prodl, Mariappa, Holebas, Pereyra (56' Okaka), Doucoure, Capoue [Y:52'], Deulofeu (63' Carrillo), Deeney, Richarlison (56' Femenia).
Subs not Used: Gomes, Britos, Gray, Zeegelaar.
Everton: Pickford, Kenny, Keane, Williams, Martina, Davies, Gueye [Y:64'], Rooney (83' Bolasie), Walcott, Niasse (57' Tosun), Sigurdsson (83' Calvert-Lewin).
Subs not Used: Robles, Holgate, Garbutt, Schneiderlin.
Referee: Anthony Taylor
Attendance: 20,430
---
Reader Comments (216)
Note: the following content is not moderated or vetted by the site owners at the time of submission. Comments are the responsibility of the poster. Disclaimer
John Graham
1
Posted 24/02/2018 at 16:51:15
The team almost picks itself on recent performances. A few attacking options on the bench too.
Hopefully Tosun will get on at some time but let's get the game won first.
Good luck to all the squad for today. COYB
Michael Kenrick
2
Posted 24/02/2018 at 16:58:04
So that's the same as the 'leaked' line-up once again, isn't it?
Steve Cotton
3
Posted 24/02/2018 at 16:59:26
Spy in the camp me thinks...lol
Jerome Shields
4
Posted 24/02/2018 at 17:00:30
Allardyce's tactics are normally to sit deep away from home, which has been unsuccessful. Hope he doesn't do that today.
Christy Ring
5
Posted 24/02/2018 at 17:03:07
Would have Holgate ahead of Williams everytime.
Dave Abrahams
6
Posted 24/02/2018 at 17:10:02
Michael (2), I knew that team at 6:00pm last night. It might have been guesswork by the person who tipped my grandson off; nevertheless, could be a spy in the club.
James Stewart
7
Posted 24/02/2018 at 17:13:06
Christ... Williams again. That's at least one penalty to them.
David Morgan
8
Posted 24/02/2018 at 18:21:43
Boring.
Ken Kneale
9
Posted 24/02/2018 at 18:27:52
How on earth can this manager claim his side play good football? How on earth are we not in the relegation zone. Worst Everton team since relegation in 1951 – if not ever, surely?
Eric Paul
10
Posted 24/02/2018 at 18:29:23
Dave,
Watford would have known the team at 6 pm yesterday and we would have known theirs.
Peter Cummings
11
Posted 24/02/2018 at 18:36:30
An absolutely dire first half and an insult to the 'beautiful game'. I don't know if the next 45 will be worth watching, nothing but hoofball, foul after foul, passing abysmal, at least ten potential yellows from both sides, none given, one shot on goal...
Anyone who thinks there's a chance of a European slot on this display – dream on.
Robert Jones
12
Posted 24/02/2018 at 19:13:20
Being an Everton fan is soul-destroying. We are the most unwatchable team in the league.
Christy Ring
13
Posted 24/02/2018 at 19:15:33
How much time and room had Deeney for the goal? Diabolical.
And Rooney hasn't the legs for midfield beyond 60 mins.
Peter Hughes
14
Posted 24/02/2018 at 19:16:00
And to think some poor deluded fans are talking about a 7th placed finish?! Poor sods...
Eugene Kearney
15
Posted 24/02/2018 at 19:18:27
Sack Allardyce!
Derek McMonagle
16
Posted 24/02/2018 at 19:22:51
Warm weather training did them a heap of good.
Jason Saggers
17
Posted 24/02/2018 at 19:22:52
Thank god they had a week's rest in the sun – imagine the result had they been jaded. Disgrace. One shot (loose use of the term) on target in 90 minutes. Did Rooney complete a pass, midfield maestro my arse.
Jim Hourigan
18
Posted 24/02/2018 at 19:23:15
This is a disgrace – Allardyce and his team must go. The club panicked in appointing him now they need a clear head and a cleanup. Get rid of this dour man and his complete backroom including Walsh.
Peter Cummings
19
Posted 24/02/2018 at 19:23:50
Welcome to The Championship
Ernie Baywood
20
Posted 24/02/2018 at 19:26:36
Well that was shit.
To be honest, I wasn't unhappy with the selection. Nor with him bringing on Cenk. But we were just woeful. Think it's fair that the players wear that.
When he was about to bring on Schneiderlin at 0-0 I was ready to throw the towel in for the season.
Jay Wood
[BRZ]
22
Posted 24/02/2018 at 19:28:31
Michael Keane had his best game in a long time, possibly his best ever game in Everton Blue. Theo Walcott possibly his poorest game since arriving.
And that in itself is an indicator of today's performance. It was either going to end goalless or, as happened, one goal was going to be enough.
Everton too easily surrendered promising situations with something that has been evident all season: a lack of sharpness. Too many players need that extra second or two, that extra yard or two, which you simply don't get at this level.
The result? Momentum is lost and the ball gets turned over.
And the truly awful away form continues...
Dermot Byrne
24
Posted 24/02/2018 at 19:32:07
Good assessment Jay
David Barks
25
Posted 24/02/2018 at 19:33:42
Are we not entertained? Can't you all see the great football we're playing? Sam says it's utter rubbish that we aren't playing good football.
"The type of football we've produced isn't rubbish, we've produced proper football in terms of what we've tried to achieve.

"The past reputation is not the reality if you ask the players, so you look at the football we've played since I've been here.

"
Brilliant football, brilliant match. Dominant. Well done Sam, you're spot on.
Susong Hermawan
26
Posted 24/02/2018 at 19:33:55
Boring...
Jamie Crowley
27
Posted 24/02/2018 at 19:34:21
That substitution says
everything
.
Scheids - get out there and secure a point for us AWAY at WATFORD.
Oh shit! Scheids sit down. DCL get out there and get us a point away at Watford!
The man was MORE than happy with a point away at Watford. He was playing for it.
How in the world can you ever expect a team to be a top four side when it's lead by a human being who doesn't have aspiration?!
He needs to be sacked now. We are watching the demise of our Club and we are doing nothing about it.
Jamie Evans
28
Posted 24/02/2018 at 19:36:25
Hands up who wanted Sam Allardyce once Koeman was sacked.
Hands up!!!
You know who you are.
Andrew Hight
29
Posted 24/02/2018 at 19:37:13
Sam's interview sums it up. He couldn't care less. Club is rotten throughout.
Johan Elmgren
31
Posted 24/02/2018 at 19:38:23
Crisis appointment, crisis football...
Sack Allardyce now!
Jason Saggers
32
Posted 24/02/2018 at 19:38:30
It's okay... Allardyce is happy with our overall performance, was he at Vicarage Road. Sound delusional, and just thrown Keane under the bus. No way he's in charge at the end of this season.
Brian Murray
33
Posted 24/02/2018 at 19:38:30
What happened to the neat one-twos and classy goals in the sun from the Turkish Bernie Wright?
We could have Pep Fonseca and Jose all in the dugout but until Bill and Co are gone, nothing... repeat nothing will ever change at Everton.
Jeff Armstrong
34
Posted 24/02/2018 at 19:38:35
Poor poor poor, Allardyce has a singular mindset that has made him a multi-millionaire, play to draw away, try and win at home, he has garnered a career on this simple philosophy, it will guarantee 40 points a season, always just enough, so no failure..ever.
Not interested in cup competitions... won nothing, just kept teams up.
1 more home win and then just fuck off to wherever... then we'll no doubt see you again around somewhere November..repeat
Roger Helm
35
Posted 24/02/2018 at 19:38:47
Yet again we have been outmuscled and outfought by a team with players who are less skilled but fitter, stronger, faster, better organised and more motivated.
We have been like this since Moyes left despite four new managers and a completely different playing staff. Therefore it seems something more fundamental wrong with our club, though I don't know what it is.
Dermot Byrne
36
Posted 24/02/2018 at 19:39:08
Get a grip Eric. He was saying how shit we are. As you saw too.
Paul McCoy
37
Posted 24/02/2018 at 19:39:36
Two weeks off and this is the best our manager could come up with?
Paul Rimmer
38
Posted 24/02/2018 at 19:39:45
A tale of two managers. One sees the opportunity of a win and goes two up top. One withdraws goal threats and tries to shut up shop until it hits the fan. Feel sorry for the travelling fans again.
Lawrence Green
39
Posted 24/02/2018 at 19:40:20
David (#25),
There lies the issue, the players believe they are playing well and are trying when it is patently obvious to the supporters that even on a good day they are way below the levels of many previous Everton sides. Somebody has to tell the players that they are not playing well and they are not trying hard enough.
If Moshiri knows anything at all about football, he has to act right now – otherwise, by the time we play the last of the top six, we could be in serious trouble.

Christy Ring
40
Posted 24/02/2018 at 19:41:31
Absolutely dire, after the team bonding in Dubai.
Martina tried hard, but nowhere to be seen, on the left for the cross. It's time to play a left-back, give Garbutt a game now, and one up front is bullshit.
How Klaassen can't be given a chance also, because he couldn't have been worse than Rooney in midfield today.
We're still in a relegation battle, we're that bad, and Allardyce should be told, "You're the weakest link... piss off."
Eric Paul
41
Posted 24/02/2018 at 19:41:40
Jamie @ 27
Fuckin spot bolloking on

Jim Bennings
42
Posted 24/02/2018 at 19:43:01
Just leave me alone Everton.
What a horrible club we are now.
Nobody at the club has any hurt when we lose, nobody has any passion or feel for the club.
A week in the sun doing "warm-weather training " was always going to be a joke and after the season we have had it was a slap in the face seeing them in Dubai off partying.
Everton are not a top-half team anymore, we are a poor poor poor team that looks as spineless and characterless as it's ever been in its whole history.
Moshiri faces a monumental summer to attract the trust and interest of the Everton fans because rapidly more and more are beginning to see through his "One Flew Over The Cuckoo's Nest" statements and he is becoming a standing joke, much like the joke in keeping Unsworth in charge over a month to simply splash out a lavish contract on a troubleshooter Allardyce, almost accepting as early as November that survival was the main aim with six months of the season left.
We are a standing joke and a disgrace to the loyal fans.
Dermot Byrne
43
Posted 24/02/2018 at 19:43:15
Every other manager knows the longer a game goes on, the more we will crumble. So they play to our frigging obvious weaknesses. I do not believe seasoned pros are our saviours. The youngsters are far less scared of their own shadows. As Tom Davies was last season and in many ways still is.
Ray Jacques
44
Posted 24/02/2018 at 19:44:16
Jamie, I don't think anyone wanted Allardyce but remember the farce of the 5 weeks after sacking Koeman when the cretins who run our club didn't have a plan. I don't remember managers banging on the door to take the job.
The people who run Everton have the manager they are worthy of. Unfortunately yet again we suffer.
Jim Bennings
45
Posted 24/02/2018 at 19:44:42
To be honest, I'd much rather we gave the job to Chris Hughton, who actually is a very underrated manager!!!
Jeff Armstrong
46
Posted 24/02/2018 at 19:45:22
Roger Helm, why are Watford players less skilled than Everton players in your opinion? They are not less skilled, they are MORE skilled, they passed better, tackled better, had more shots... had lots more attempts on our goal.
Open your eyes, please, we are not good.
David Barks
47
Posted 24/02/2018 at 19:45:33
Next match, I guarantee you he will have Gana and Schneiderlin back in the middle together with Davies making way. I'd put my house on it.
David McMullen
48
Posted 24/02/2018 at 19:47:04
Just garbage.
Jason Lloyd
49
Posted 24/02/2018 at 19:47:05
If the rumours are true that Kenwright and Elstone are going this summer, I think we will see a total restructure at the top, a new CEO a new DOF and Head Coach.
Once this is in place, I think we'll see 10 players out and 6 or 7 in.
Radical surgery of Board, coaching staff and players is the only option now.
Dermot Byrne
50
Posted 24/02/2018 at 19:47:50
Maybe you know him better than me, Eric. But to start a row with other fans about who expressed in the "best" way just how shit we are is just stupid.
We all know we are an embarrassing like of shit at the moment.
Go and write to the manager and board.
Dave Williams
51
Posted 24/02/2018 at 19:48:04
Spot on Roger. Our ball control and passing were woeful and they were faster, stronger and more committed.
Rooneys passing was dreadful, Walcott's control was dreadful, Niasse had another of those days when the ball just bounces off him all the time, Gana was constantly overpowered and the whole performance was of a very poor standard.
No inspiration from the managerial team who didn't look that bothered either.
I feel sorry for the fans who went there.
Jay Woods
[LAT]
52
Posted 24/02/2018 at 19:48:22
Jamie Evans: Me, I wanted him. Guilty. Obviously I thought he was a fixer; obviously, I was wrong.
John Charles
53
Posted 24/02/2018 at 19:51:47
Ray, unfortunately, many wanted Fat Sam. Some even willing to crawl to ask him to save us.
I know it's hard to believe, but sadly true.
Kevin Tully
54
Posted 24/02/2018 at 19:53:46
Shite under Koeman, shite under Unsworth, shite under Allardyce.
Maybe, just maybe, we've blown £300m on shite? Makes the most sense to me.
Trevor Peers
55
Posted 24/02/2018 at 19:54:01
Allardyce has sealed his own fate after that pitiful display, but who is the messiah out there that can do any better ? That's the real issue the board has to face up to and going by recent appointments it will be a miracle if we pick the right man in the summer.
Saying that, there will be a short list and we can only hope the miracle happens. This season is now written off, one of the worst in our history as far as entertainment goes, truely abysmal.
Matt Hunter
57
Posted 24/02/2018 at 19:55:02
Allardyce makes Walter Smith look like Pep Guardiola.
Dermot Byrne
58
Posted 24/02/2018 at 19:55:03
He will keep us up Jay and suspect a panic decision brought him in. The key question is: What happens next?
I still think and have posted often saying it, that this is part of a plan to stay up until we invest big style as new ground opens. Until then, we suffer.
Hope I am right, if ya know what I mean. If wrong, I give up.
Pat Kelly
59
Posted 24/02/2018 at 19:56:25
KFC called. They want their headless chickens back.

Paul Welsby
61
Posted 24/02/2018 at 19:57:10
This is just unbearable, soul destroying and unforgivable that our board puts us through this shit every week.
Please put me out of my misery. 40 years following my beloved club and this is undoubtedly the worst time in all my years following Everton.
The board of our club is relentless in embarrassing us fans and unless we show them we care and won't put up with this mess it will carry on.
The only way they will listen is not to go as money is all they care about. The more we keep on filling there pockets this will repeat itself year after year.
If we are honest this is just getting worse and worse, so in my opinion not to attend games until the board see we won't have this anymore is beneficial in the long term. Something has to happen or if not this year one year we will go down.
Dermot Byrne
62
Posted 24/02/2018 at 19:58:09
Very very very funny Pat Kelly
Ralph Basnett
63
Posted 24/02/2018 at 20:02:02
This is going to be a very long process to turn around. Either through age or ability, 80% of our squad needs to go, that means selling on the cheap and buying at over inflated prices. Do the board realise what they have done?
It will take many years to turn this whole debacle around and it has to start at the top, Kenwright and his puppet, Fat Sam and his 12 puppets and hopefully this has already started.
I have had a season ticket since I was 18 (now 53) and, even though I served for 23 years in HM Forces, I kept my ST and brother used and there have been many occasions when I have said this is the last, but it is the closest it has ever been now.
Play shit and get a holiday in Dubai... the Red Shite are playing great and only got to go to fuckin Benidrom!!!!
The whole club stinks of putrid greed and don't-give-a-fuckness.
Niasse is not a starter so Fat Sam starts him. Martina is not a left-back so Fat Sam plays him left back. We are shite playing one up front so Fat Sam plays one up front. And to secure a draw against the mighty Watford Fat Sam attempts to bring on one of the shitest players ever to grace our shirt in Schneiderlin, only for Watford to spoil it by scoring.
There is a pattern here and nobody inside Everton seems to see it!!!

Fookin puzzling....
Colin Glassar
64
Posted 24/02/2018 at 20:03:56
There's only one person to blame in my opinion and that's the accountant whisperer, Bill Kenwright. He's the power behind the throne, he's the one advising Moshiri on player and staff recruitment. He's the one telling Moshiri that he's a football expert. He's the one telling Moshiri that everything will be okay as long as he's left in control of "football matters"!!
Moshiri comes across as a gormless looking fool but sooner or later he will have to realise that his investment is going down the shitter while that fat Svengali is near to him.
All the fat fuckers at the club need to go starting with Boys Pen Bill and ending with Fat Sam and Sammy fucking Lee.
Christy Ring
65
Posted 24/02/2018 at 20:04:59
The only reason I wanted Allardyce was because it came down to him or Martin O'Neill; I was wrong.
William Gall
66
Posted 24/02/2018 at 20:06:31
Watford don't have better players than Everton – they just have a better team.
Eric Paul
67
Posted 24/02/2018 at 20:06:42
Peter and Dermot.
I apologise for comments that might have caused offence.
It's been a long day and I know we all want the same thing.
Sorry.
Anthony Murphy
68
Posted 24/02/2018 at 20:06:50
Michael, I had to re-read your last paragraph there you call the first half 'lively'? Agree with the rest, but the first half nearly left me in a coma
Alan Smith
69
Posted 24/02/2018 at 20:08:18
It won't matter who the manager is, will it?
We sold our two best players and spent ٣M on a little weak, young Spanish Under-23 striker.
We aren't doing a city or a Chelsea.
We get in trouble and buy a 㿅M non-international cf when a decent full-back is 50m.
Accept reality. You can't win a trophy "going about it the right way". Whatever that means. And even spurs had to rely on Kane coming through just to be nearly men.
A once in a forty year academy product. And we sell ours aged 18.
10 Derby wins and one lucky trophy is the best we will achieve in the next 30 years unless the policy changes.
Sell a 䀆M striker and buy a 㿲M one minimum.
Guardiola couldn't win an away game with this squad.
Colin Glassar
70
Posted 24/02/2018 at 20:08:28
Martin O'Neill and that psycho Roy Keane would at least have knocked the shit out of this bunch of pansies, Christy. I bet you Fat Sam had them all drinking and gambling out in Dubai. Fucking useless bunch of pricks, all of them.
Kunal Desai
71
Posted 24/02/2018 at 20:09:50
I just pray that those rumours are true. Sod any incoming transfers, the best news in 20 years would be those bastards Kenwright, Elstone and the rest of the leeches fucking off from this club once and for all. The boardroom needs addressing drastically, the biggest shake-up needed than whats on the playing field.
Dermot Byrne
74
Posted 24/02/2018 at 20:09:56
dup
Alan Smith
75
Posted 24/02/2018 at 20:11:42
There's no point blaming any players – they're all trying, they just have no quality.
Maybe Rooney should be criticised as he was below par but he's a terrible central midfielder and there are no alternative midfielders.
Eugene Kearney
76
Posted 24/02/2018 at 20:14:06
I do not like Allardyce.
I am an Everton fan.
Anthony Murphy
77
Posted 24/02/2018 at 20:14:22
I agree on Kenwright, Elstone et al Kunal, but Moshiri's judgement worries me, mate. I think he needs a solid football brain in there running the show.
Ray Jacques
78
Posted 24/02/2018 at 20:15:28
Kunal, spot on. Kenwright is a lifelong blue and when I see him I should be happy; however, I just cringe and think naughty words. He is embarrassing and that has spread right through from top to bottom. Top clubs are run as a business, EFC is run as a hobby.
Kunal Desai
79
Posted 24/02/2018 at 20:15:48
True Anthony. Very much hopes that's Usmanov.
Dave Abrahams
80
Posted 24/02/2018 at 20:16:58
Here's another guilty soul who wanted Sam in, purely to save us. I didn't think in a million years he could be as bad and uninspiring as he has turned out to be. But that's not the worst of it because, as David Barks says in an earlier post, this manager will play for a draw at Burnley next week... well he said that in a different way.
Still a distance away from those six points, and I take no pleasure whatsoever in saying that there doesn't appear to be a leader anywhere in the club on or off the pitch. Unless Seamus is the answer – he at least has the endeavour and will to win that is lacking everywhere else around Goodison Park and Finch Farm.
Andy Meighan
81
Posted 24/02/2018 at 20:17:02
Yes, Jason (#49), but that's all they are... Rumours. Not a prayer that King Bill will abdicate. Not while he's got breath in his body. The trainset is his and he ain't letting go of it. No, sorry folks, this is one Kenwright production that's set to run and run...
John Roberts
82
Posted 24/02/2018 at 20:17:45
How Williams is still playing in the Premier League is just mind-boggling let alone for Everton. He is just awful, makes at least one mistake every game.
Michael Kenrick
83
Posted 24/02/2018 at 20:18:47
Silly me, Anthony... I thought there were a few fleeting moments in the first half when we actually passed the ball properly, moved it around with intent, and almost looked like a group of professional footballers!!! Shock and Awe!
But it was solely because Watford were not pressing and instead were giving us space to "pass and move" (I chocked a little typing that...)
Then it all went to hell in a handbasket as that dismal dreadful disgraceful diabolical disaster of a second half dragged on. Sorry but Allardyce has to go. I've seen enough. If a week's jollies in Dubai does this to the 'team', it really is time to rip up the playbook and start again.
Andy Crooks
84
Posted 24/02/2018 at 20:21:34
Up there with the worst I have ever seen. A truly dreadful team coached by a money-grabbing fraudster. He has ditched the Morris Marina but everything this talentless opportunist does reeks of his bitterness at Trevor Francis.
Everton means nothing to him. His appointment was, perhaps, the most shameful day in our history. A second-rate coach for a club devoid of ambition.
George McKane
87
Posted 24/02/2018 at 20:25:09
Everton made a dreadful decision under pressure that they had created themselves, sacking a manager (rightly) but with absolutely no plan on who to replace him with. We all knew that Allardyce wasn't first choice but we panicked, then we foolishly offered him a longer contract, and now we are paying for woeful decisions made by the wrong people at the wrong time. We, the fans, are stuck with this joke of a man. I have already renewed for next Season and would not be surprised if the fools in charge (I include Moshiri) keep him on.
When you make such an obvious and major mistake, surely you have to rectify it as soon as possible to ensure less damage is done.
This is dreadful stuff – the football, the manager's comments, the lack of comments from (so-called) management. I wouldn't let Elstone make my tea. We are a laughing stock and if any fool associated with this Club believes that a "top class" manager will come in the summer when all the damage is done, then they are more delirious than I thought.
Oh yes, someone will come, for the money only, and that will be only players we attract, those who are looking for a payoff. We need a completely new thinker as manager, someone brave and courageous who cares nothing for reputations and history. If this Club is to survive, we need to take action in the next 48 hours – sack Allardyce and his statistical phonies, get a football brain in, a football heart, a soul, a spirit... Make a statement about who we are and what we stand for because right now we are nothing, with no heart, no spirit, nopassion.
I would give Rooney the job tonight with his first job to tell Allardyce that he is shite and needs to get the fuck as far away from our Club and take his diagrams and pie charts with him.
I believe that it's got to be Rooney , or Silva, immediately – if we wait until summer, we are dead.
I have been ill for about a month; I missed The Palace game at home and had to miss several days at Yellow House. I felt a bit better this morning and afternoon.... not know. YOU MAKE ME CRY, EVERTON, YOU MAKE ME CRY, YOU CONMEN RUNNING THE CLUB. GET OUT – NOW.
Paul Birmingham
88
Posted 24/02/2018 at 20:26:19
We are right in a relegation battle as the next few home games, based on our form, will see us lucky to take much and playing like this away against a team who are very bad on the eye as we are but who battle and believe to the end, is gonna make this a very close run thing. Sick to the back teeth and it's almost psychosis now with the mindset not expecting any decent performances ever.
This season must rank, as I've said many times, as the worst in the last 40 years considering the money spent but abject mediocrity in terms of care, heart and style.
There's not much to be said that all above have already written.
It's mind-numbing and there's only so much that the fans will put up with.
SOS needed very soon, as if we go down, forget the stadium dream and at this rate, if we stay up, I'm sure that they'll be some form of planning or regulation issue which will delay or make it unviable e due to high cost..
Hope and solace needed and not just in the pint glass but from EFC.
Paul Kossoff
89
Posted 24/02/2018 at 20:26:50
Surely this proves warm weather training is just overpaid, lazy, couldn't-give-a-toss, so-called pros having a break! I would make the useless bastards pay the cost of the sunshine tip and the cost all the Everton supporters paid to watch that useless shite!

Jeff Armstrong
90
Posted 24/02/2018 at 20:27:20
Next week away at Burnley, we will be exactly the same; a couple of changes in personnel, same formation, one up top, 2-0 defeat. This joke of a "manager" will then target the next home game as "must win" which we may well do.
Then the same thing will keep happening until the end of April, by which time we will have 47 points and be safe. At this point, he will shit himself and think "How do I get away with this next season?"
Drew O'Neall
91
Posted 24/02/2018 at 20:29:28
I was one of those wanting to give Allardyce a chance, based on his track record with smaller clubs but it seems to me we've just got him too late.
The fire's gone out and he's going through the motions and his charges are a direct reflection over the white line.
Christy Ring
92
Posted 24/02/2018 at 20:29:51
Can we just play players in their proper positions next week, and say goodbye to Williams, Martina and Sam:
Pickford
Coleman
Keane
Funes Mori
Baines / Garbutt
Walcott
Gueye
Davies
Bolasie
Tosun
Calvert-Lewin / Sigurdsson
Paul Swan
93
Posted 24/02/2018 at 20:30:08
The problems at this club run though it like a cancer but nothing ever changes. This prick of a manager is not fit to be at our club but neither are the people who hired him or almost every fraud who has pulled on a shirt this season. Complete disgrace with more to follow unfortunately.
Colin Glassar
94
Posted 24/02/2018 at 20:30:09
I didn't want him but, once he was given the job, I got on his side until the derby. That was the most embarrassing performance I've ever seen by an Everton team at that shithole and Fat Sam thought it was a brilliant performance.
Since then, we've had more downs than ups and I'd sack him today. Any manager worth his salt can get us the six points (minimum) needed for survival. Ffs, even Pardew could keep us up! Fat Sam and his gang out now.
Jeff Spiers
95
Posted 24/02/2018 at 20:30:28
Ralph @63. Too right, no one gives a fuck. The hierarchy at Goodison is like a fucking cancer. I fear the disease is far too advanced. Good luck to anyone who can cure us.
Darren Hind
96
Posted 24/02/2018 at 20:30:39
Chillingly accurate, George.
I feel so miserable about the prospect of this man staying in charge for another game. No heart. No soul
Joe McCormick
97
Posted 24/02/2018 at 20:32:16
Michael (#83). This sums up how far we have fallen. No discernible threatening on goal. No pace, no guile, no heart, and none of them seem to care. Davy Klassen must be thinking WTF how can I not get in this team.
How about Graham Potter for next season? Having said that, looking at our away performance, send for Harry Potter!
Rick Tarleton
98
Posted 24/02/2018 at 20:33:51
That was an appalling display by a team set up and playing for a point.
So many questions: Why is Sigurdsson wasted out wide? Why is Martina still in the team? Just where was Rooney playing today and why did we pay 㿊 million for a striker who the manager doesn't trust.
Please sack Allardyce as soon as possible. Don't then appoint, Pulis, Pardew or any other no ambition manager. I weep for our club, Kenwright and his henchmen have basically destroyed it.
Lawrence Green
99
Posted 24/02/2018 at 20:37:25
Joe (#97),
I think you have the wrong Potter's as this guy is far more apt for Everton FC at this time.
https://www.youtube.com/watch?v=xp94K2dd4ug
Don Alexander
100
Posted 24/02/2018 at 20:37:34
Allardyce is way too easy to make the main focus for discontent. It's way too easy to pile it all onto the manager's shoulders but who devised a week in the sun as a good idea? When does it ever result in even a moderately improved performance by us, season after season, manager after manager? If it was Allardyce's alone he's delusional but surely someone above him should have realised how pointless a week in the sun has always been for us, in every way, and saved money in favour of having more intensive training at Unfit Shirkers Mainly Finch Farm.
Tonight's match saw Watford keep the ball near one of our corner flags for the best part of two minutes after 90 was up, those of our players who could be arsed to make a token effort to regain the thing bouncing off them like children. Men vs Boys, again, was the message, but this time from Watford, and this after a week in the sun to improve conditioning and team spirit.
Yeah right.
Our second, second!, attempt on goal came from a header by our goalie in the very last seconds too!
Pathetic.
Jim Bennings
101
Posted 24/02/2018 at 20:38:07
Allardyce killed himself with that stupid statement so early on in his tenure around Christmas time "I've sorted the defence now let's sort the attack".
We have not kept a clean sheet since Boxing Day... Mr Master of Defence have we?
What a stupidly naive statement for a man of his age and experience to make.
At the other end of the pitch, it's now just two away goals since Newcastle on December 13th and a total of four (one the Rooney pen at Anfield) since Allardyce came here.
Disgraceful!
He goes out and makes the same mistake Koeman did last summer, big money on a player with no Premier League experience, when the team was crying out for a striker to hit the ground running, here we are wet nursing a 26-year-old Turkish international.
Why is Everton such a joke club these days???
Andrew James
102
Posted 24/02/2018 at 20:43:24
Just got back and that was pathetic. Freezing cold as well. The line up was fine but we didn't commit to going forward and were on the back foot all game. Too many individuals under-performed, like Sigurdsson and Walcott.
It was telling in the first half when Watford were in our area. I counted 8 blue shirts. We got the ball out but not up the pitch. Then we gifted them the attack to nearly score and didn't learn and surprise surprise…
Tommy Coleman
103
Posted 24/02/2018 at 20:47:14
Textbook unbalanced clueless management.
I'll keep saying.. anyone putting Sigurdsson on the left doesn't know what they're doing.
We need to employ a World Class manager in the early summer.
Ian Riley
104
Posted 24/02/2018 at 20:47:23
We won't go down but my goodness it's bad. The quality we have and one or two shots on target and I am being polite is pitiful. Our central midfield is poor and up front is worse. Our passing is Sunday league at best. Players must take responsibility as professionals. Sam may go in May but after spending big last summer, we are no further forward.
Mark Dunford
105
Posted 24/02/2018 at 20:48:57
I'd hope/assume BS is going back to his villa in southern Spain at the end of the season. It seems to me that Moshiri wants a continental "name" so almost certainly someone with no experience of the Premier League who most of us know little about with little knowledge of the club and a very large salary. Koeman and Big Sam have been dreadful appointments – not a track record to impress any of us; we can only hope third time lucky.
We do have some good players and an impressive group of young players. No organisation, no leadership, clear gaps and a transfer policy that did nothing substantial to rectify problems, allied to a dire manager. It was just terrible today.
Clive Rogers
106
Posted 24/02/2018 at 20:49:04
Colin (#64), your post is the most sensible and realistic today. Spot on.
Derek Knox
107
Posted 24/02/2018 at 20:51:00
Playing boring football but grinding out results is bad enough, but we have plummeted to new depths today.
All this bullshit about "Dubai has worked wonders for bonding" etc; yet they still looked they were playing with team-mates for the first time; with so many wayward passes, and gifting the hosts chances.
I despair, and can not see how they can keep Sam in charge till the end of the season; God knows where we will be in the table by then, if he is allowed to carry on wrecking our Club.
While I appreciate there was a mess before he started, he has done little to improve things, with probably the worst football we have seen in years.
Brent Stephens
108
Posted 24/02/2018 at 20:51:02
Disappointed with Walcott today. His selection can't be laid at Sam's door, obviously. Just didn't show. The same with a number of individual performances.
Paul Tran
110
Posted 24/02/2018 at 20:56:44
That's it for me. He's had time with the players. Shapeless, artless rubbish with the best passer being the goalkeeper. 0-0 against a poor team and he wants to take off our two creative players.
When you play in your own half for most of the game, your back four has to be faultless. The back four played well but gave Deeney too much space and he finished very well.
I've seen plenty of worse Everton teams, but I swear I've never seen one so appalling at keeping the ball. His one strength is apparently organisation, but I'm struggling to see any.
I hope Moshiri has either already recruited or is doing a bit of due diligence. He was big enough to sack Koeman, now he has to be big enough to change again. It took Levy & Mansour time to get the right manager. We certainly haven't got the right one now.

Colin Malone
111
Posted 24/02/2018 at 20:57:15
With Allardyce, you get, what it says on the tin. It's time to get someone like Hoddle, who has a proper footballing philosophy that can take us forward because I cannot bear to watch this shit any longer.
Phil Walling
112
Posted 24/02/2018 at 20:57:56
Given our record, an away point today would have been haled a success. Instead more misery as the relegation doctor has to put thoughts of his massive bonus on ice for another week.
But, of course, he will make it and be able to add Everton to his already impressive list of clubs he has
saved by his unique tactic of throwing shit at relegation.
I see above that someone has news that Kenwright & Co will be offed in the summer. But what is there to cheer about there. They will just be allowed to take their fortunes into retirement whilst Ellis Short/ Randy Lerner's apprentice will be free to throw more coin at totally useless 'talent'.
Christy Ring
113
Posted 24/02/2018 at 21:00:17
The saddest part: 1), Sam was pleased with our performance; the scariest part 2), we were playing Watford. I think we've reached our lowest ebb.
When I think back, Mark Pembridge wasn't that bad after all.
Lawrence Green
114
Posted 24/02/2018 at 21:06:52
We won't attract a world class manager but surely there is somebody out there who can 'persuade' the players to play football on the deck, somebody who can tell them that they play for a famous old club where the fans adore good football. A place where the supporters will react positively to a team of players who go out and at least try to win a football match.
On another day we may have been fortunate enough to have snatched victory for ourselves today, but it would have drawn the same reaction and criticism on these pages and elsewhere as the defeat has done.
Everton FC is not a club that should be travelling to away games hoping to gain a point, it is not a club where two shots on target is good enough to satisfy the fans. Unfortunately, this isn't a blip, it isn't a short-term issue that we can solve easily, it has become a way of life for the travelling Evertonian in the last few years.
From that perspective the club has become the same as so many other failed Premier League clubs, keep the fans relatively happy on home soil and don't worry too much about the away form.
It seems as if the club's hierarchy think that away wins or great performances on opposition soil doesn't sell season tickets the home form does, well I can't agree with that and neither should any self-respecting supporter.
, In fact, you could argue that the away form is more important because if you're watching on TV or on the internet, you are slightly removed from the passion and the lack of quality in the team sticks out like a sore thumb.
If you are unlucky enough to attend the away games in recent times your dissatisfaction is likely to grow and fester with each weak performance and that will slowly seep into the minds of the home fans as a growing number see that the team are not up for the fight or are not that bothered about providing entertainement for the supporters outside of the confines of Goodison Park.
Things won't improve away from home until somebody takes the bull by the horns and says that it is unacceptable, because it might be another twelve months before the fans celebrate a win on opposition soil if things continue as they are.
Colin Glassar
115
Posted 24/02/2018 at 21:07:51
What are these rumours about Kenwright and his gang, Phil? That's the only chink of light I can see in all of this darkness.
Dave Abrahams
116
Posted 24/02/2018 at 21:11:59
Things can only get better, but not while this man is manager.
Paul Welsby
117
Posted 24/02/2018 at 21:12:41
Watching and listening to this horrible man makes me sick to my stomach. The thought of him walking around our pitch the last home game doing that fucking daft dance he loves doing fills me with dread.
Please Everton stop this now you have embarrassed us on to many occasions, you are relentless in your pursuit of making us the laughing stock of the premier league. Enough is enough your killing our passion and as the pride went some time ago.
Just fuck right off. It's heartbreaking what you put us supporters through. Bot no matter what we post it's not going to stop I am sure Mr Kenwright and others have more hurt just around the corner.
Jay Harris
118
Posted 24/02/2018 at 21:13:48
A poor match between two poor and nervous teams. If this is to be what is expected outside of the top six, then football is dead to us.
I thought the usual suspects (Williams and Martina) were okay today but Walcott and Rooney were both really poor. I couldn't understand why Walcott was playing so deep and Davies so advanced. Whatever the tactics were they didn't work.
Can't think that we will attract any top manager now. Very depressing situation.
Dermot Byrne
119
Posted 24/02/2018 at 21:14:22
Colin... just hopeful rumours, I suspect, from some website employing newly qualified journos.
Eddie Dunn
120
Posted 24/02/2018 at 21:16:32
No difference than our away efforts over the last 3 years. I can't think why our loyal fans still make the effort to travel.
John Pierce
121
Posted 24/02/2018 at 21:19:24
I wanted to expect a fresh, energy-driven performance to reflect on the break between games and the trip to Dubai.
We got the team devoid of any attacking confidence. Our inability to retain the ball drains the sap out of the team. Working without the ball is often much harder. So when you finally get the ball you are fatigued and under extra pressure to produce in their third.
The manager's mindset and attitude are palpably transmitted to the team. His expectations are markedly out of kilter with the club, and therefore the fans have no connection.
What is there to be gained, what value is there in retaining a hired hand who is so far out of his depth?
I would proffer courage and vision are needed for the next appointment but I know too well the board are as ineffective as the team. The cycle will just begin again. I'm starting to find better things to do as a result. It's so hard to stay engaged. Pift!
Andrew James
122
Posted 24/02/2018 at 21:20:29
Brent
Theo did have two players on him a lot and there were a lot of little fouls and shirt pulls on him. I agree he wasn't at best but if the ref had punished the persistent fouls, he might have got more room to attack the right. Their full-back also seemed fast so he wasn't always able to benefit from his pace.
Jeff Armstrong
123
Posted 24/02/2018 at 21:22:09
When they announce the team at Goodison in future, can they also announce the manager's name too? At least that way, it won't be just Schneiderlin getting it from the terraces.
Looking back, both Martinez's and Koeman's names should have been read out at the start of each game too as it seems Kenwright and Moshiri have no idea about the fanbase's feelings.
FFS, it was news to Allardyce that Schneiderlin was shit — it was obvious to us for months!
George Cumiskey
124
Posted 24/02/2018 at 21:22:43
Ernie @20 and Jamie @27 nothing more to add to what you've said, spot on.
But did anyone see Allardyce's interview before the match, the first thing he said was that he had a better away record than the last manager. As if that's something to brag about, he got that in before anyone asked him about it.
What a prince among men.
Ernie Baywood
125
Posted 24/02/2018 at 21:23:37
To be fair to Sam, he's the only one at the club who actually has a plan. It's a dumb plan but at least he sticks to it.
Have a go at home, don't even bother against the better clubs, play for a draw away to the rest.
It's the sort of plan that leaves us with more than 40 points at the end of the season and will see us not really get sucked too close to the trouble.
It's not even worth talking about individual matches. Burnley will be the same approach. Then after the Brighton game he'll give us some Trump-style self praise and people will talk about whether he's finally changing his approach.
The decision to appoint him is where the frustration should be vented. It's a symptom of a complete lack of any plan for where this club is heading. The only reason you appoint Allardyce is to avoid relegation at all costs. That's as good as it gets.
Allardyce isn't going to learn anything. He's not going to change. We just have to hope that Moshiri is capable enough to learn and change.
Dermot Byrne
126
Posted 24/02/2018 at 21:29:24
We will hit 40 points and then play well. Bet ya. Then you know what our spineless Board will do. All part of a strategy! Maybe. Good one? Ummm
Paul Birmingham
127
Posted 24/02/2018 at 21:32:12
We are in a relegation fight, no doubt about it... 㿇M on a forward who never plays, so how and when will we play with 2 forwards It's an advanced public health warning watching EFC. The club is rancid and what goes on at Finch Farm, God only knows but, based on the so-called fantastic team bonding session aka, casino, bars and club jolly in Dubai, it looks like its done the usual as with EFC and made them even worse.
God help us when we next play Man City and Liverpool in the oncoming weeks, and Burnley and Stoke will be fancying their chances...
The current squad don't know the meaning of passion and don't deserve the enduring patience of the EFC supporters. The SOS is needed but who will come to EFC, riddled with dead wood and now rightly known more for its charitable work than a bastion of British football.
Sick to the teeth and not much left to say.

Jerome Shields
128
Posted 24/02/2018 at 21:38:34
Big Sam. . . it's bye-bye time. Same old unsuccessful tactics. Poorly coached side and poor tactics.
Jamie Evans
129
Posted 24/02/2018 at 21:39:34
I look at him on our bench and I cringe. Then I look at his little goblin namesake next to him and I cringe.
Let's stick together ToffeeWebbers
It's almost over, honestly.
Paulo Fonseca? Marco Silva?
Anyone? Anyone?
Bueller?
Mark Wilson
130
Posted 24/02/2018 at 21:41:17
Andrew (#102), in the midst of understandable anger after today's result I thought you got this spot on. It really was a lineup that should have taken three points but the setup is just so defensive now, and so so slow. It's dull yes, but I am prepared to accept it if it keeps us up. After that, I now think that with every game that passes Sam Allardyce and the entire backroom staff look less likely to stay beyond 31st May.
Sadly, even dull defensive setups are only worthwhile tolerating if they work. This rubbish isn't even touching the top of that very low bar. We lack urgency. We can't get Walcott into the game enough and, despite improvement, Sigurdsson remains a huge disappointment though it's obvious that he will only ever play to his reputation if he gets to sit in the hole behind the forward(s). Wayne did okay for a while. Good in fact. But he's struggling to get the defensive side of midfield right. His mistakes are costly and he's out of the game longer than we can afford.
But there's so much wrong it's impossible to see beyond survival and literally rip it all up and start again. We've lost five years of development thanks to Martinez and Koeman and the worst managed transfer policy in a lifetime. Allardyce isn't great I know and hard to take but he has to handle a terribly poor squad. His new additions are limited and we didn't do enough in January. Walsh is awful.
Survive and start again, it's all that we have left.
Dermot Byrne
131
Posted 24/02/2018 at 21:42:18
John Davies
132
Posted 24/02/2018 at 21:44:38
Another mind-numbingly boring performance that the deluded one was pleased with. Jesus Christ, the man is completely demented. His arrogance beggars belief.
Sixty years an Evertonian and this imposter's side is truly the worst I have ever watched. Just fuck off, Allardyce. Take your gold chains, identity bracelet and the clubs' money (none of which you have earned) and go. You should be embarrassed and ashamed – but you won't be. Horrible, horrible chav.
Carl Allan
133
Posted 24/02/2018 at 21:52:25
The two teams in this city that are now a million miles apart on and off the pitch. It should be like United and City in Manchester or Arsenal and Spurs... even in Sheffield, they are evenly matched more or less. Here, it is like Barcelona and Espanyol.
Very sad that we cannot even muster an away point in two successive seasons at Watford, Southampton or Bournemouth, these are teams Everton used to brush aside frequently.
Kevin Moorcroft
134
Posted 24/02/2018 at 21:53:01
Today's result was to be expected.
You can't make a silk purse out of a sow's ear.

Jay Wood
[BRZ]
136
Posted 24/02/2018 at 21:56:29
1) We are not in a relegation fight. We will not be relegated.
2) Sam Allardyce will not be sacked before the end of this season.
3) The club does not need a 'known, world-class' manager. It needs the correct manager that matches the (alleged) ambition of Moshiri and the correct manager for the current situation (and by that I mean summer incomings and outgoings in preparation for next season under his charge). Who that manager is, I have no idea. But, like Spurs 3-4 years ago, we need our 'Pochettino' to spark this club back to life and inspire the fans again.
4) Say what you like about David Moyes, but since he left, year on year, the spirit and close-knitness of the squad has worsened. We need a return to that and it should be a central plank of our future recruitment, as well as informing who we should let go.
5) Moshiri needs to show authority and take clear charge of the club's governance, adding a corporate professionalism still sadly lacking. Continuing to place his faith in Kenwright and Elstone is not the way to go.
Unless and until 3), 4) and 5) are addressed, continue to expect more of the same.
James Stewart
137
Posted 24/02/2018 at 21:57:18
Sam Allardyce is the worst thing to happen to Everton in my 20-plus years of supporting them. An utter disgrace. Get out of our club, you negative fuckwit.
Admitting he was putting Schneiderlin on to play for a 0-0 at Watford, should be an on-the-spot sackable offence. No debate, no trial, just fuck off!
Derek Knox
138
Posted 24/02/2018 at 21:57:35
Jamie @ 129, Bueller?
Do you mean Ferris Bueller?
The last I heard, he was having a Day Off. :-)
Joe Foster
139
Posted 24/02/2018 at 21:58:52
Just got my latest Everton Google alert. I am ashamed to look at it.
Bill Gienapp
140
Posted 24/02/2018 at 22:04:23
It was almost worth Watford scoring just to see Sam tearfully forced to summon Schneiderlin back to the bench. My, how that must have torn him up inside.
Steavey Buckley
141
Posted 24/02/2018 at 22:11:34
For a squad that cost over 𧶀 million to assemble, with the likes of Rooney on 𧽴k a month, this was a disgraceful performance, by Everton players who found it difficult to pass to each other more than 5 metres away.
The Watford manager sussed out the weaknesses of Allardyce's tactics, by sending on an extra striker in the second half, while Everton were struggling with Niasse upfront. Although a decent striker, he could not get past any of the defenders marking him until another lone striker replaced him, who even did worse.
If Everton are going to carry on playing lone strikers, they are going nowhere fast. Maybe, the Championship?
Dyche, the Burnley manager, knows Everton are toothless tigers so reckons it will be another easy 3 points. Yet, this team is Burnley, which cost little to assemble.
Doug Harris
142
Posted 24/02/2018 at 22:13:16
After 50-plus years watching and supporting Everton Football Club, today done it for me.
What the fucking hell??? Can anyone manage a gang of total wankers that have the audacity to wear the Blue Shirt? Three managers virtually have had these so-called players and not one of them can get a tune.
Just as well there are far worse teams than us below us. The season can't end fast enough.
My missus has just said you shouted "Fuck Off" like I sometimes do at the telly unconsciously. Says it all really when there is fuck-all else to say.
Rob Dolby
143
Posted 24/02/2018 at 22:17:38
It was all very predictable today – another frustrating performance. Sit deep, get everyone behind the ball, against a Watford team that looked a shadow of the team who started the season well.
Our link-up play was non-existent. God knows what they worked on in Dubai.
Most other teams in the Premier League can raise their games and at least look like they want to score goals; us, on the other hand, only seem to have one gear – it's embarrassing.
I wanted Sam due to the shit Koeman had left us in... though, as soon as we are safe, it should be tatty-bye and appoint another manager. Moshiri can't keep throwing money on a fire for below-average players. Even Swansea play more attractive footy than us.
Jerome Shields
144
Posted 24/02/2018 at 22:21:05
Same old unsuccessful tactics and badly coached players set up a defensive setup and playing deep. (Even Walcott playing deep, he must have been told to play there. ) This isolates the forwards and makes it easy for the opposition to neutralise them, with only one Everton shot on target.
It also means the opposition are able to play higher up the pitch and have more players available to tackle Everton players in deep positions. Rooney is a soft target with the speed of a carthorse, easily dispossessed. Walcott looks as if he had two markers.
Our weak backline is fully exposed and under pressure to make mistakes, which they never fail to do.
[I have now copied the above so as I can paste it after the next match. All opposition teams have permanent slides off it to show players before they play Everton to save time. ]
I can't wait to hear what our manager is going to blame this time: "The temperatures in Dubai are a lot higher than they would be in England normally at this time of year. " Very little proper training done in Dubai.
Watford where better than Everton, because they defeated well (due to Allardyce's Tactics), played higher up the pitch and compressed play (due to Allardyce's tactics) and nicked a goal of a pressurised defence (due to Allardyce's tactics). In other words, Watford were better at implementing Allardyce-style tactics than Everton were.
A manager who can't properly implement his tactics, and who is beaten by a side that used similar tactics, should not be Everton manager for one minute longer. Unsworth is a hundred times better than Allardyce.
Peter Mills
145
Posted 24/02/2018 at 22:21:55
There is not much point in railing against Allardyce. He, as ever, is looking after himself and doing just well enough to keep us up (not too difficult), whilst doing poorly enough to ensure he receives an early pay-off. Nice work if you can get it.
Our ire needs to be directed higher than him.
Liam Reilly
146
Posted 24/02/2018 at 22:28:57
This fraud's best result was the West Ham game that he's repeatedly taken credit for when he wasn't yet in charge.
Time for a change. NOW!!!
Jeff Armstrong
147
Posted 24/02/2018 at 22:36:42
Liam (#146),
I hate Allardyce, but can someone show me where he takes credit for the West Ham game?
Brent Stephens
148
Posted 24/02/2018 at 22:36:47
George (#87) – such a (justifiably) negative post from a naturally positive guy says it all. Can't have done much for your recent illness. Hope you're well.
Tom Dodds
149
Posted 24/02/2018 at 22:46:07
All I can say is if Hitler was still alive and happened to be an Evertonian he would of had Kenwright dragged out of his seat by 12 SS guards and had him shot by firing squad in front of the away fans.
It's not the booze talking btw.
Hic. ))
Mike Price
150
Posted 24/02/2018 at 22:47:02
It's clear that the manager knows he's unpopular – he doesn't care, he knows he's going soon and he'll probably get a fat bonus when we just about avoid relegation to add to the 㾶 million it will cost to get rid of him early.
We cost more than Bayern Munich so I think it's clear that we've witnessed the biggest fraud or gross negligence ever witnessed in modern football. Hundreds of millions spent and this squad is worth peanuts with unsaleable players on ridiculous salaries; our players are liabilities, not assets.
Ray Smith
151
Posted 24/02/2018 at 22:53:34
Jay (#136),
Spot on. 10:45pm just got home, why did I bother!
Got an email this week for season ticket next season.
Please go, Sam. If Allardyce is still there, forget it.
We will stay up, but after 54 years, man and boy, forget it!!!
Why should I spend/waste my pension on negative/frightened footballers who are being stifled by the negative tactics of a manager who cannot mould the talent we have available?

Christy Ring
152
Posted 24/02/2018 at 22:57:33
The problem is Sam knows nothing but relegation survival. He was bringing on Schneiderlin to close out 0-0, but then Watford scored, and had to change it, utter bullshit. That's the calibre of manager we have, utterly toothless.

Anthony Murphy
153
Posted 24/02/2018 at 23:05:26
If there has to be a moment that sums up the big Sam tenure, then for me it will be the sight of Schniederlin getting prepped to come on with 10 minutes left to help secure the 0-0 against mighty Watford — only to sit back down as Calvert-Lewin is called up as Sam's master plan blows up in his face.
Michael Lynch
154
Posted 24/02/2018 at 23:06:59
We're not the first club to waste a fortune on shit players, or to have a succession of shit managers. This season is all about finishing as high as we can and avoiding relegation. I'm confident that we'll have a new manager at the end of the season, and hopefully he will change the team and the style of play. Too many weak links in both the playing squad and the coaching team.
Hats off to our travelling supporters, each and everyone of you deserves a medal, and probably some therapy.
Jay Griffiths
155
Posted 24/02/2018 at 23:15:36
Just back. Drove to this one with my two sons. 䀆 for tickets, 㿨 in the car, 㿅 on scran, 400 miles on said car, Saturday torpedoed, Monday usual bullshit from kopites in work.
To top it all we had to witness that gutless, cowardly spectacle. The second the ball hit the net, we left. A 1-goal game if ever there was one.
Calvert-Lewin should've been on at half-time. Rooney should've been off with Sigurdsson moved inside. Poor game management.
Get us safe then walk the plank. It really is tough to justify and tougher to endure.
James Hopper
156
Posted 24/02/2018 at 23:27:38
It's not usually my style to say "I told you so" but I was lambasted by some commenters for being vitriolic about the awful appointment of Sam Allardyce.
"He's guaranteed to keep us up", they said. "He'll whip our squad into shape", they told me.
I wonder where those people are now? We won a few games when he arrived but no-one knows whether we would have won those games under Unsworth (under whom we battered West Ham) or even Koeman. In my opinion, we always had more than enough to stay up, regardless of who was in charge.
I always said Allardyce was a shit, panic appointment. A boring, uninspiring manager with questionable morality. Someone whom I never, ever wanted to be associated with our club.
Well, now we're seeing the fruits of his labour. We are really every bit as bad and unbalanced as we were under Koeman and now not even attempting to actually play football.
It is with no joy that I say... I told you so.
Christy Ring
157
Posted 24/02/2018 at 23:30:27
Jay@155 So sorry for you, your boys, and the fans who travelled, and you summed it up: "Cowardly spectacle, Sam."
Clive Mitchell
158
Posted 24/02/2018 at 23:32:33
Jay Wood (#136) – I agree with all of that.
Jay Griffiths, (#155) – really, really sorry you've had that day. They don't half make it hard to keep turning up. We need radical change. It almost doesn't matter which ones we get rid of...
Mike Allen
159
Posted 24/02/2018 at 23:42:11
I watched the training camp sessions – the players looked as interested as my Sunday team warm-ups; not impressed at all with their attitude based on the 15 minutes I saw. If that is the standard, well no wonder we get performances like today; no better than the Arsenal performance.
Tony Williams
160
Posted 24/02/2018 at 23:43:24
Surely they can't keep him after the season ends. What really frightens me is this clown is talking about next season.
Andrew James
161
Posted 24/02/2018 at 23:52:06
Jay Griffiths – I had a 30-min trip so my sympathy is with you and your sons for that joke of a performance.
James Hopper – a lot of us felt negative about Allardyce and it felt like we'd really sold out to be like a Palace or a Sunderland. But there were some who perhaps have been ground down by our lack of ambition for decades and might have not scrutinised his career as closely as they should, who thought it would be a good thing.
It's ironic given Moyes got destroyed on here so many times...
Danny Baily
162
Posted 24/02/2018 at 23:54:17
I wanted a point from today's game.
It's Brighton, Newcastle and the Saints at home that are key to our survival though.
Kevin Tully
163
Posted 24/02/2018 at 23:59:08
Mick Conalty
164
Posted 24/02/2018 at 23:59:54
Anyone handing good money over to watch the holiday fun-loving so-called footballers, are nothing but mugs.

Christy Ring
165
Posted 24/02/2018 at 00:04:34
Had to watch it again on Match of the Day, and for Sam to blame centre-back Keane, for not scoring from 3 yards out, but didn't care to mention, surprise surprise, Deeney scored with Williams 3 yards away, Dickhead.
Lawrence Green
166
Posted 25/02/2018 at 00:06:28
Kevin (#163),
I agree that bringing in a washed up not good enough for Man U reject was a silly decision – it might have been the cherry on top of the cake – if only we'd remembered to buy a cake. I'm sure his salary was/is a factor in squad dis-harmony, how could it not be when many of our players are more interested in pounds rather than goals or points?
Having said all of that, Rooney at Goodison has probably been our most consistent attacking player and I shudder to think where we'd be without his goals this season.
That fact alone should see many heads roll at Goodison but that won't happen – what a club eh, Bill?

Phillip Warrington
167
Posted 25/02/2018 at 00:44:53
So this is what Everton have become... but it will continue because every Evertonian would rather die than not support Everton. Hence this crap will never change and the board won't change because they don't get how passionate Evertonians are about their team.
They understand their loyalty, knowing they will fill the stadium hoping this will be the day, and know we will buy everything Everton because we are proud to be Evertonians.
So the only way to make the money crunchers stop and think and the players to stand up give a shit about the shirt is to no turn up on match day. It would kill every Evertonian inside but probably the only way because surely this can't continue.
I have supported Everton for 50 years now and I can't remember a more inept spineless team with a manager who trains his team by a computer program.
Rob Halligan
168
Posted 25/02/2018 at 00:57:23
Just in from the game, albeit we got off the coach at The Rocket at 11:10 pm and walked down to The Five Ways for a pint or two.
I'm shocked to see that Allardyce is saying missed chances cost us. Excuse me, Sam, but maybe that should be singular, as in missed chance. Keane should have done a lot better with the free header he had. The only really decent chance we had. The chance that fell to Rooney on the edge of the area, was difficult to try and keep down, never mind on target.
Other than those two chances, I can't remember any others? Was the one at the end a missed chance, I don't know purely because there were people stood right in front of me.
I couldn't understand why Allardyce went like for like with the first substitution? As much as we were probably there for the taking in Watford 's eyes, for me, they were also there for the taking and, while it was still 0-0, we could have gone two up front and put their defence under some sort of pressure. Overall, another disappointing away day.
Anyway, roll on next Saturday and Burnley, and more importantly, roll on the end of the season when hopefully Moshiri sees sense and fucks Allardyce off, as I really can't stand any more of him being in charge of our club.
Mark McDonald
169
Posted 25/02/2018 at 00:58:53
Well, now only 10 games to go under this pathetic management!
Mark McDonald
170
Posted 25/02/2018 at 01:08:41
Just to add, he knows he is going at the end of the season. He is smart and very experienced in these matters.
He shall try and fleece us for all he can get while all the time he blames someone else. It is always someone else's fault. It is never him with wrong tactics, selections, substitutions etc.
For God's sake, hurry up and go! As I say, only 10 games to go!
Soren Moyer
171
Posted 25/02/2018 at 01:10:31
This fat deluded awful man should get the sack momentarily! All of his coaching staff and Walsh must go!
Chad Schofield
172
Posted 25/02/2018 at 01:17:04
David Barks (#25), those words should be tattooed on that clown before he is exiled from the club.
Simon Dalzell
173
Posted 25/02/2018 at 01:58:25
Soren @171. I agree with most of what you say... but I think they should get the sack immediately... and permanently!!!
Brian Dagnall
174
Posted 25/02/2018 at 02:52:27
Mostly I agree with the comments about the Manager and the players on this site. But today not a single criticism of Gueye who in my view gave an incompetent display. He lost the ball consistently in midfield, as did Rooney, so easily transforming chances to attack into panic defending.
Spare a thought for the defenders when incompetent midfielders play like that. He and Davies were kept on at the expense of Sigurdsson and Rooney. Those two had poor games but they can at least pass a ball forward – unlike Gueye and Davies. By that move, Sam decided we would hoof it from the back even more than before.
Maybe we would have been worse had we not had a break in Dubai, who knows. All I ask is a bit of joined-up football going forward but Sam prefers the long ball from the full-back. Kick and chase. Always has.
Other clubs choose young men with modern tactical awareness as their managers. We choose a guy from a bygone age who brings with him a guy from an even earlier bygone age. Hope they both go real soon, and we get a young manager. I was hoping Koeman was that man, but maybe he wasn't. In any case, panic set in.
But, let's all give a chance to our next manager and let him grow into the job instead of constantly criticising every selection and substitution he makes. I think we stand no chance of getting quality football here if we chop and change managers every half-year.
Justin Doone
175
Posted 25/02/2018 at 02:55:14
Wow. What an unlucky team we are...
Honestly, three different managers and pretty much the same tripe served up.
I never wanted Ronald but thought he proved to successfully rebuild teams at Southampton and could understand the safe appointment. I was willing to give grumpy Ronald a little more time but I wasn't sorry to see him go.
Unsworth did improve things slightly. Dropped Williams and Schneiderlins and then brought them back in, which was a big mistake. Gave a few young players a chance who didn't let him down but ultimately couldn't improve play or results. I would have given him a few more games but it wasn't to be.
I didn't want Sam. Nothing has changed my mind. The only question: Is it better he goes now or in 3 months?
Roman Sidey
176
Posted 25/02/2018 at 03:07:30
Soren, just curious as to why you only want the manager sacked for a brief moment?
Justin Doone
177
Posted 25/02/2018 at 03:14:43
Rooney is the only true ex-world class player we have. I'm glad he came home. He's had a good season, all things considered.
He can't do it by himself though. He's looking for one-twos and runners but we're too static and reactive. We don't play football – we simply kick footballs.
I do blame the manager but senior players need to take action on the pitch. Shout at Jonjoe and Cuco to move; Walcott needs to find space; Niasse to stop closing down when no-one else is. It's a team tactic when to press or not and we have too many who can't or won't.
We need to play 5-4-1 every away game. Stay compact, mark players and track runners. Then use space and pace (now we have some) to counter. Just not enough brains or belief from players, managers, fans. My seat stays empty awaiting the new season.
Steve Brown
178
Posted 25/02/2018 at 04:13:39
I think we are all going to need counselling by the time this season is done.
Susong Hermawan
179
Posted 25/02/2018 at 04:48:17
Yeah I think so too, Steve Brown... haha!
Peter Barry
180
Posted 25/02/2018 at 04:49:19
Let us stop the bullshit and face reality for once. This expensively assembled and extortionately paid bunch of prima donnas that Everton currently have are shit and this shit has grown exponentially and not diminished under succeeding managers.
So the managers can't be the problem – it has to be the owner's problem and the ethos they have created at the club.
Darren Hind
181
Posted 25/02/2018 at 07:07:26
Jay Griffiths,
I feel your pain. I've done it myself enough times down the years, but with costs of eating and fuel, going to away games has never been so expensive... and watching Everton has never been so utterly soul-destroying.
Hang in there, fella. The trophies may not be on the horizon, but after suffering the zombie football served up by the last two managers, I have to believe the joy will return to following this club around the country... You'll have to wait until the Night King has gone, though.
I hope all those who were calling for more time for this fucking philistine will read your post and give it some serious thought.
Zack Yusof
182
Posted 25/02/2018 at 07:21:26
Our useless manager makes Mike Walker seem like Sir Alex Ferguson.
I think someone said something similar earlier in the thread but it bears repeating: Any Evertonian backing this charlatan should really have their heads examined.
Playing for a draw against Watford... How fucking small time we've become, how very Sam Allardyce.
Oh wait, and he's pleased with the performance. Probably thinks we were unlucky. I'm going to go throw up now.
Peter Thistle
183
Posted 25/02/2018 at 08:02:57
This season is a write-off. Koeman killed us with his signings, Allardyce is no better. At least 6 players need to be sold on or sacked, we all know which ones. Any one of us could manage the team better than Koeman or Allardyce.
As long as we continue to play 2 defensive midfielders (or 3 sometimes), we will never score a goal. Plus the defence is a joke, and the midfield, and the forwards. We are screwed without a complete overhaul.
Ernie Baywood
184
Posted 25/02/2018 at 08:12:00
I don't think anyone's backing him on this thread? He's up there with the worst decisions we've ever made and is being pretty consistently criticised on here.
But anyway, the quicker this season is written off the better. We're just pointless at the moment. Then we can get rid of this bloke and hopefully look forward to a new season.
Zack Yusof
185
Posted 25/02/2018 at 08:28:44
Maybe not on this thread Ernie but they are certainly around on the other threads, saying stuff like, "he should be given more time", " I don't understand why people are knocking the manager, he's doing a good job", "he inherited a shit team and has steadied the ship the best he can", and my personal favourite, "would we be able to get anyone better?"
The mind boggles, it really does. Whatever these folks are smoking, I really want some. Especially after yesterday's latest horrorshow.
Jay Griffiths
186
Posted 25/02/2018 at 08:54:43
Morning after. Post #177 – Justin is very perceptive. I have a habit of extreme observation of people's habits. Much to my family's chagrin!
Yesterday at the game, I felt vindicated when a seemingly small trait caught my eye. We were in Row EE, which surprisingly is down at the front at Watford. The players came over to the corner flag to do a final couple of shuttle runs before going into the dressing room.
My eldest son opined that almost all the players held their heads down and performed a hand clap towards us as they came toward us. I replied that I'd noticed and I saw that Davies and Kenny did look at us. Rooney too, he stated.
Now there's two themes there. Firstly, three Everton-supporting scousers will look us in the eye before hostilities begin. Secondly, we have a frightened, "beaten before we kick off" rabble behind the three mentioned. I see so little movement, showing or rotating to offer for the ball when we're in possession. Some are deliberately locking themselves and some are terrified of being mugged they won't check their shoulders to turn out or see another option. The safe pass then ensues. This makes our deep players look poor when in possession. In reality, their options are one player and that option is pressed immediately.
Looking at the minutiae may seem pedantic but it does bear relation to our performances. We're frightened. A trembling, nervous, quivering mess. The manager then refusing to take responsibility and unloading on to the players will increase the fear. He should accepted a huge portion of responsibility for this if only to relieve the players of this obvious burden.
Winter Olympics today. No Sky Sports News. Seeing that grinning, Teutonic cock every five minutes offset by our blockheaded bullshitter would compound the suffering.
Mike Kehoe
187
Posted 25/02/2018 at 09:10:49
I think Allardyce's brief when he was appointed was to save us from the drop. Personally, I didn't think it was likely and would have preferred to give the post to Unsworth rather than entertain him and Sammy fucking Lee. So he will think he's doing a cracking job; he said he feels he had the defence sorted in December and we are now six points off safety: job's a good'un.
Those who were shrieking "We're all doomed" would probably have accepted this earlier. So Allardyce is well on track to achieve his target of survival.
The board must be aware that not all Evertonians are cock-a-hoop with how the season has progressed and may not be relishing the prospect of Sam Allardyce being given millions to build a squad to play to his vision and ethos: watching ignorance in action.
However, any manager being approached would look at how previous managers have been treated and this could be an influential component. Fuck me, Koeman just had to go but he would probably argue that he identified his targets and was let down by other departments: the magical director of football perhaps?
I have absolutely no faith in Koeman but feel even Joey Essex would have considered buying replacements and cover. Incidentally, I would be looking to sign whoever is responsible for Southampton's recruitment as they have unearthed more quality than Walsh.The fact is, we are stuck with Allardyce and Lee until the end of the season, come what may.
I hope this is an excruciating experience for Moshiri who is paying this chancer huge money to preside over dire soul-destroying football: I hope his rictus smile hides a hateful contempt. I hope it burns and hardens him into thinking never again.
He has probably never witnessed this kind of incompetence and acceptance of mediocrity before. Say what you like but Arsenal are an ultra-professional outfit compared to us. Some posters clamour for sackings and clear-outs but this is not reality, it's a natural angry reaction to severe and prolonged provocation.
Some will dismiss me as naive, a romantic who doesn't have a clue... but I would have stuck with Unsworth and I was gutted when we went running to Allardyce to protect us from the big boys.
There is no way a top manager will be attracted to us and it would mean paying huge money for a big name; Ancelotti or Conte will only visit as opponents. Our recent history suggests the board will keep on making poor decisions.
I hope in Moshiri he is determined and ruthless: I just can't imagine a billionaire being a fucking idiot, but hey this is Everton, Moshiri may spend all his time catching with Towie and Exon the Beach.
I see posts suggesting not turning up to games but don't think this will help. I would think that making our feelings clear to the board in no uncertain terms is a better approach – to single out Allardyce and Sammy fuckin Lee, and not the team.
Rob Hooton
188
Posted 25/02/2018 at 09:28:29
I feel so sorry for the travelling fans who fill the a at end every match without fail – perhaps you could all wave white hankies at the match in unison to show the shysters how they surrender in every bloody away game!
Ken Kneale
189
Posted 25/02/2018 at 09:50:21
Andy 84 & Peter @ 145. You are correct. Few of us wanted this manager but he is merely another symptom of the chronic Everton disease of the last 30 years.
Time for new treatment involving radical surgery to cue the problem, cutting out all the deadwood. It is incumbent on every supporter to vigorously communicate that point to the owner or I fear further Dr Kenwright and Nurse Elstone homemade remedies.
Tony Marsh
190
Posted 25/02/2018 at 10:39:54
Mike Kehoe (#187),
If you are looking for salvation in the form of Farhad Moshiri, then you must be mad. Moshiri Is the cause of this mess. Not only is our 49.9% stake shareholder clueless about football – he is a buffoon of Boris Johnson proportions.
How on Earth this Iranian Norman Wisdom became so wealthy through business is one of life's great mysteries. Some of the shit Moshiri comes out with is an embarrassment to us all. Hollywood managers and our own Fab 4 are absolute corker quotes.
Bill Kenwright found his perfect match when the football gods sent him Farhad Moshiri. A wealthy man who knows fuck-all about football and who would let Bill maintain control of the football club. Another goofball to send in front of the cameras and talk shit for fun.
Elstone was once Bills stooge but now Moshiri, who packs a bigger punch, is performing the job perfectly. It was Moshiri who brought that shithouse Koeman here without any checks in to Ronald's terrible track record. Kenwright sat back and allowed Koeman to dismantle the club from top to bottom.
None of us can blame Allardyce for taking the job he was offered here. We all know Sam's limitations yet, despite a huge outcry from the fans, Allardyce was given the job. I think too many of you aim the venom in the wrong places. For me, responsibility begins and ends at the top. Moshiri is the top, isn't he??
Judge for yourselves the credibility of the Moshiri/ Kenwright era by the pathetic nonsense that is becoming the new stadium debacle. If this charade doesn't open up your eyes them I'm afraid you all deserve what's coming your way.
Wake and smell the bullshit. No use blaming Allardyce for this shit show as we were fucked when he arrived here... Niasse, Tosun, Williams, Schniederlin – this season's whipping boys – are all blameless when it comes to the club's demise, yet they are now ridiculed human punchbags.
Evertonians are now that messed-up in the head that they boo their own players at Goodison Park but talk about Bramley-Moore Dock stadium as if the job is finished when it is still a million light-years away.
I just don't get it. How can you be so far off target when you take aim with your anger... Do Moshiri and Kenwright need targets on their backs or what??
Matthew Williams
191
Posted 25/02/2018 at 11:24:53
As it stands now, it's looking like only a Championship Manager with Championship players can turn this complete mess around, only the local lads in the team seem to care about results at present, the rest are just here for a bumper pay day.
Moshiri's job is very simple... ensure your bosses are happy after every game we play... or suffer the consequences.
I still think we have a top striker in Tosun, but he will only thrive with good support and another striker up with him.
George McKane
192
Posted 25/02/2018 at 11:26:30
Further to my earlier comments regarding the total shambles that is Everton and (so called ) Management and I mean the whole Management team.
As some contributions have mentioned I am normally positive about Everton - -"posso" waves all the way normally - - and also I have been ill for about a month now even missing The Palace game due to illness.
My illness was total exhaustion due to my work with Yellow House and part of my illness - - and I am not joking - - has been Everton - - my work is exhaustive and tiring and total but going to watch Everton has been my "relief strategy" for years.
My joy on matchdays and my "posso" TW musings are based on "going" to the game - - meeting my Everton friends and family - - laughing, joining, arguing, debating, agreeing and disagreements, planning away matches and looking forward to games - - sometimes I take my mouthorgan to The Dark House (TDH) - - sometimes my ukelele - - poetry books, a little yellow singing bird that I put water in and blow - - I have gone in my Everton Dressing gown for a joke - - a few weeks ago I took my dressing gown and slippers and gave it to part of TDH gang who I joke about collecting their glasses while they sit and relax - - over years I have taken people from all over Europe and America and China to TDH and converted them to Evetonians - - I will joke with some who miss a game because they were playing golf and call them middle class tossers - - call the gang in the back room The Gin and Tonics - - and they in turn laugh at my going to Vienna to see The Opera - - to Milan La Scala for ballet - - to Padua for Giotto -- this is being an Evertonian - - the joy of going to the match - - after the game we, have for nearly 40 years, and still do an Everton quiz - - I love it all - - we are full of memories - - we have attended each other's weddings, christenings and sadly funerals - - we are linked together by Brith Death and Marriage - - We Are Evertonians - - do you fools at the top realise this - - I doubt it - - but you Will Not beat us - - We Are Here to Stay - - You Are Not.
However, the saying that is constant in TDH is "great day but the football get's in the way and ruins it". Over the past 25+ years I can only recall maybe 10 - 15 possibly 20 great games - - how sad is that - - so the point is that -- yes I have - - like many on here renewed my Season Ticket - as I said I love going to the game - - I am not a supporter of Kenwright, Moshiri, Allardyce - - I am an Evertonian - -
an Evertonian who has the opportunity to recall working with a young man of 14 who when I asked him what his future plans were told me - - with a lovely smile and a beautiful glint in his eye - - "I am going to play for and Captain Everton - - well said Young Rooney.
I will not allow Allardyce or even Moshiri to ruin my days, to break my friendships, to destroy my loves - - they are not big enough to do those things - - they are mere passers by - - but the football that is being served up is woeful, passionless and worse soulless and lifeless - - sadly recently Everton have added to my feeling ill - - but I am on the mend and will be back for the Brighton game - - of course - - the only positive I can find in this is that surely there is someone at The Club with some power who is aware of how we the fans feel and is doing something to at least attempt to restore some pride, some heart, some love and affection, some beauty into our lives via Our Everton and that surely we cannot make the same mistakes again.
Hopefully a Spring Clean is on the way leading to a Summer Breeze that will clear all cobwebs away and give us all a fresh clean start in August.
from Emily Dickinson:A Light exists in Spring
Not present on the Year
At any other period –
When March is scarcely here
A Color stands abroad
On Solitary Fields
That Science cannot overtake
But Human Nature feels.
The line in Bold is aimed at Allardyce and all his pseudo scientific crap.
from T.S Elliot:"For last year's words belong to last year's language
And next year's words await another voice.
And to make an end is to make a beginning."
And Francis Bacon - - "For better it is to make a beginning of that which may lead to something, than to engage in a perpetual struggle and pursuit in courses which have no exit."
Leave Our Club soon Allardyce and take your pick pocket gang with you - - and wake up Moshiri or forever be remembered as the man that promised much and achieved nothing - - and go now Bill with your tears and memories before you too will be scorned and ridiculed - - and go quickly Ecleston who for me is ever recalled by his quote "I don't really like football" - - yes we can all see that for sure. Go Away All Of You.
They can all go - - but me and my friends and family and Evertonians and you gang - - we are The Immortals not them.
We will share sunshine and rainbows;
Sometimes, the rain and the snow;
We'll stand together through it,
While the cold winds blow
A bit of W.B Yeats for Allardyce and Co:
O HEART, be at peace, because
Nor knave nor dolt can break
What's not for their applause.
God Bless Evertonians - - One And All - - I am getting better and like Mc Murphy when he pretends to be affected by the electronic treatment - - "They uh, was givin' me ten thousand watts a day, you know, and I'm hot to trot. The next woman who takes me out is gonna light up like a pinball machine, and pay off in silver dollars".
Your friend - -George

Michael Lynch
193
Posted 25/02/2018 at 11:29:40
I've said it before – shit squad, shit management team. Let Allardyce fulfill his brief by getting us to mathematical safety before we let him go.
Anyone who thinks we were never flirting with relegation, and still thinks that, is a hopeless optimist. The standard of the Premier League teams below the top 6 this season is much of muchness – the third relegation place may well go to a team with over 40 points this time around as everyone takes points off each other.
The one thing Sam is right about in my opinion is that we should be trying for a point away and three points at home right now, which would be a great return with our shit playing and shit coaching. Nearly did that at Watford, did it last time at home to Palace.
I'm going to one more game this season, but I doff my hat to everyone who is going to every game – this is dire tripe from a club at a very low ebb. Forget bemoaning the dreadful quality of our football, this season is a write-off, the only thing that matters is points.
On paper we have some decent players but, on grass, they're utter fucking garbage.
Brent Stephens
194
Posted 25/02/2018 at 12:06:13
George #192 - quintessential George.
"Leave Our Club soon, Allardyce, and take your pickpocket gang with you...".
Couldn't have said better (or even as well).
Jamie Evans
195
Posted 25/02/2018 at 12:45:54
Derek (#138), very, very good.
George McKane, get well soon mate. A change is coming. A positive change.
You can have it all if you like.
And you can pay for it the rest of your life.
Onward Evertonians.
Björn Kausemann
196
Posted 25/02/2018 at 13:02:05
Allardyce said we've lost because of missing chances. We had not one single very clear chance. The header of Keane was not a real one.
I see no system in our matches. Not yet and not before. Our game looks like random. That for he is in charge. Hope the season is over soon and Big Sam will be sacked. And Walsh too.
So a new staff should make some useful signings and sell players like Tosun, Keane, Williams, and Klaassen.
Max Murphy
197
Posted 25/02/2018 at 13:14:29
In the last couple of years, Martinez, Koeman, Unsworth, and now Allardyce, have all failed I think it's become apparent that it's our squad of players who are a load of shite, and not all the blame can be laid on our last 4 managers.
We are a dreadful team, and no manager can save us. I will repeat what I've said before, Everton Football Club need a rocket up their collective arses, and that rocket is relegation.
Nicholas Ryan
198
Posted 25/02/2018 at 13:27:20
Johan [#31] you've nailed it in one sentence! "Crisis appointment = Crisis football"!
Brian [#33] 'The Turkish Bernie Wright' seems a little unkind; thing is, I can't make my mind up, whether it's unkind to Cenk or unkind to Bernie!
Paul Tran
199
Posted 25/02/2018 at 13:39:29
I like to think I'm a fair-minded person. I give second chances, accept we all make mistakes, acknowledge that managers need time.
I've given Allardyce time. The 'organisation' has resulted in a leaky defence, no discernable pattern of play and dreadful football. Players wasted out of position. A very fixed mindset of coming top of the bottom four.
He'll get no more time from me.
Thomas Rigby
200
Posted 25/02/2018 at 13:42:08
The club is losing its identity.Many fans are losing trust in the whole management and they cannot see any signs of real ambition and progress on the pitch. We must embrace the ideal of striving to be The School of Science.
Always try to play football, always encourage individuals to express themselves... always insist on 100% effort from all the staff. Above all, everyone should be proud to represent or support Everton.
As things stand at the moment I am struggling to accept the way Allardyce seems to see things. He says Everton are not boring. I agree because I was certainly not bored watching us against Watford bored? No ashamed? Yes.

Gordon Crawford
201
Posted 25/02/2018 at 14:05:40
Should be "the school of how to play attacking football", we are so rudderless, it's frightening.
Will we make it safe, who knows? I really hope we do. But one thing is for sure: we need every fraud out of the club this summer, board and all.

Phil Walling
202
Posted 25/02/2018 at 14:26:50
Moshiri's time here is rapidly turning into a 'Reign of Shame'. Shocking appointments of two-and-a-half managers already, together with the introduction – which Kenwright didn't agree with – of a Director of Football who would be out of his depth at Marine.
In 50 years as a supporter, I have never seen a time when we had so many players who are just deadwood. Amazingly they are recognized as such even before they play and one begins to wonder if there is some sinister reason for their purchase!
So many are calling for yet another change of manager at a time when I wouldn't trust 'them in change' to change a nappy. Although, they'd still be dealing with the same substance.
Brian Murray
203
Posted 25/02/2018 at 14:32:20
I see Rooney and son at Old Trafford today. I wonder if he joins in or even smiles at the "We hate scousers" chant? He conveniently went deaf for over a decade...
I was disgusting we delayed his Chinese swansong. I never liked him.
Lawrence Green
204
Posted 25/02/2018 at 14:37:02
Phil (#202),
Are you implying that the hierarchy is split then? If so, it's little wonder the club is imploding all around us.
Cautionary tale: Bill has form when it comes to others playing with his trainset – he regains control of it by any means possible.
I don't know which is the scariest scenario:
(1) Bill finding somebody else to remove Moshiri and therefore the dream move to Bramley-Moore Dock will become another failed enterprise; or
(2) Moshiri, who doesn't seem to know enough about the game, removing Bill and company and recruiting people who are unsuitable to run the club.
Either way, it looks like we fans are on a loser.
Jay Wood
[BRZ]
205
Posted 25/02/2018 at 14:39:16
Michael Lynch @ 193:
"Anyone who thinks we were never flirting with relegation, and still thinks that, is a hopeless optimist."
After the brief turns of Koeman and Unsworth this season – as poor as the results were – we were not in the relegation zone after 14 games with 24 games to play.
I said it at the time and I'll repeat it again now: it was a panicked short-sighted decision by the board, 5 weeks after dismissing Koeman, to appoint Sam Allardyce to ensure Premier League survival.
This is not the view of a 'hopeless optimist', but of someone who doesn't view Everton's results in isolation.
You yourself Michael add: "The standard of the Premier League teams below the top 6 this season is much of muchness – the third relegation place may well go to a team with over 40 points this time around as everyone takes points off each other."
Focus on your last clause. Take a look at ALL the teams' fixtures – from Burnley in 7th place to West Brom in 20th – and take note just how many of ALL clubs' remaining matches are against clubs within that group.
It logically follows, not all clubs can gain 3 or even 1 point per match in their remaining 10 games. Furthermore, no fewer than 5 clubs are averaging less than a point a game over the season, compared to Everton's (still pitiful) 1.21 points per game. Another 3 are just marginally better than 1 point per game.
On those numbers alone, it would take a dramatic upturn in fortunes by ALL those 8 clubs (which, given the fixtures, is not mathematically possible) and for Everton to fail to take another point from the 30 available until the end of the season for the club to be in any real danger of relegation. Everton are undoubtedly poor this season, but not THAT poor.
Rather than a team surviving with 40 points as you claim, it is more likely a team will survive with 35-37 points.
The club, the board, the management team and the players, all justifiably get heaps for dumbing down expectations. Fans who continue to fret about relegation this season, rather than look up and believe a Europa League place is not yet beyond us, are equally guilty of being extreme pessimist, to use a polar opposite of your own labelling.
We are 3 points off 7th place which could be enough for a Europa League place next season... and yet you and others continue to claim (with a 7-point advantage and 8 clubs between us) we could still be relegated.
Scorn those who confidently state the 'R'-word ain't gonna happen all you like, Michael.
But have a word with yourself if, based on all available evidence, you continue to insist we remain in danger of relegation. Or better still, back your claims with hard cash and profit from your gloom: you can get as much as 80/1 at the bookies on Everton being relegated.
Disclaimer: If the 'management' and malaise that has soured this season continues into next, then all bets could be off on whether Everton could be relegated in 2018-19.
Pete Clarke
206
Posted 25/02/2018 at 14:49:24
With you on that one, Brian. Even offered a million a game would I play for them (not that I was ever good enough) and I would never let my son play for them either.
The moment he kissed that badge at Goodison he should have received a life ban and here he is dishing the ball out to the opposition more than his teammates while being our biggest earner. This club is well and truly up shit creek right now.
Paul Welsby
207
Posted 25/02/2018 at 15:18:56
Be careful, Brian, the Rooney love-in brigade won't have you telling the truth about one of their own. Me, Brian, I agree. I just hate the fact we let him use us as part of his retirement package. He was saying in The Echo he could pay until he was 40, well please god let it be somewhere else.
Before the Rooney brigade starting throwing stats my way, it will not change my view that he pissed all over us and only came once he knew Jose had realised his legs had gone. If he really loved our club, he would've come back 3 years or so ago. If you really believe he chose to come before he was pushed, then each to their own I suppose.
He might be in some people's eyes better than what we have as that's not very hard, is it, but that doesn't make him good enough – especially at 𧵎 grand a week.
David Hallwood
208
Posted 25/02/2018 at 15:22:08
Paul Tran (#199), I'd like to give Allardyce more time - about 2 years without parole would do nicely.
Cowardly football from a shithouse manager; for the first time in my life, I hate watching Everton and his anti-football. Moyes was bad enough but at least he was effective, and we didn't have a pot to piss in.
Just get him and that smirking no-mark Walsh as far away from my club as possible.
Mike Kehoe
209
Posted 25/02/2018 at 15:41:45
Our glorious leader has presided over some of the most desperate soul-destroying football that many of us have ever had the misfortune to witness. Allardyce's credibility and attitude have been questioned by fans who are utterly dismayed at the shite served up and the subsequent distribution of blame.
It seems a commonplace that normal working fans lament the disgusting influence of the filthy lucre and how it has changed the game: we look on at these pampered privileged millionaires and feel appalled when they appear not to give a fuck after consistently shit performances.I think it would be a nice gesture for Allardyce and the players to reimburse those travelling fans by way of an apology.
In the real world, people devote hard earned money supporting the team they love and have their weekends ruined with monotonous regularity. So, rather than trying to deflect blame and sell the positives of another Sam Allardyce production, do something decent. Don't insult the intelligence and loyalty of fans with more drivel – give them their money back.
I expect the clamour to rid us of Allardyce and Lee to reach fever pitch in the next few home games so it may just take the pressure off.

Michael Lynch
210
Posted 25/02/2018 at 17:00:42
Jay if we lose our next two – which is plausible the way we're playing – and results go against us, we could be in 15th place and 2 points above the relegation zone.
I'm glad you're so optimistic, but I think we're currently playing the worst football in the division. I'll be happy to get through this season still in the Premier League and go from there.
Jamie Crowley
211
Posted 25/02/2018 at 17:35:02
Michael -
Worst case scenario is we lose to every road game, every game at home to teams above us, and then win 2 out of 3 against:
Brighton, Southhampton, Newcastle at home
We're not going down.
Andrew Keatley
212
Posted 25/02/2018 at 17:58:45
Jay Wood (205) – If we fail to pick up a win in the next four games – Burnley (A), Brighton (H), Stoke (A), Man City (H) – then I'd say we are right in the midst of a relegation dogfight (unless we manage to draw 3 or 4).
A win (I'm sure Allardyce will be heavily targeting the home game v Brighton) should be enough to give us the breathing space to limp clear of the drop, provided we can gather two or three points from the final six games.
Can I see us failing to win one of the next four games? Definitely – we are awful. Will we be relegated? Probably not. But until we manage another win then we are still flirting with disaster.
Kunal Desai
213
Posted 25/02/2018 at 18:10:28
We'll probably pickup around 7 points from the home games and about 2-4 points away from home. 11 points maximum. No more than 45 which will be the lowest in 14 years. Everyone at the club apart from the fans are an embarrassment.
Dave Abrahams
214
Posted 25/02/2018 at 18:18:08
Jamie (211), the fact is, until we get those points, we can go down, and the way we are playing it is possible, maybe unlikely, that we will not win another game.
There is no belief or life in the squad, and the manager and coaches don't give the impression that they can inspire the players to improve, especially with Allardyce blaming the players after every defeat.
Phil (Kelsall) Roberts
215
Posted 25/02/2018 at 18:50:54
I know all these statistics are going to drive you crazy – but bear with me.
First off, 43% of games this year have had the same result as they did last season. Things change – but not that much.
Everton's first 12 games this season saw us drop 13 points compared to the same fixtures last season (we are not talking the first 13 games of last season, we are talking equivalent fixtures). The last 16 games have seen us GAIN (yes you read that right, gain) 3 more points than we did in those fixtures last seaon. Could it have been a lot more – too right.
So can we go flat for the rest of the season and match last season? – 17 points from 10 games? Probably not... but the rubbish we have played in the last 16 games has got us more points than the rubbish we played last season – or maybe the teams last season were better than they are this season. In which case, they have become more worse (don't you love the English!) than we have.
So how about the rest? Let's add the points from their 10 fixtures to play to where they are now.
West Brom. 15 points. They are 3 points worse than last season over the last 20 fixtures. So 35 max?
Southampton. 5 points. Over the last 12 games they are 5 points worse than last season - and now a whopping 14 for the season. Max 35 or even less?
Newcastle (the Hull of last year – Hull best side relegated, Toon, best side promoted). 4 points. With these 10 games to go, Hull would have had 30 points - which is one more than Newcastle. Max 35 or even less?
These are my current predictions for the drop. But who else?
Stoke – 11 points and they have dropped 7 so far this season – and all in the last 7 games. On the slide? Is 37 points more than they will get?
Swansea - 14 points and they are spot on their points from last season. So will they still finish with 41 points?
West Ham - 8 points and they have dropped 7 so far this season. And that was all in the first 10 games so maybe cannot expect them to drop below 38 points (although they have dropped 5 in the last 6 games)
And as for the other promoted sides
Huddersfield (the Sunderland of last season – lowest relegated, lowest promoted) finally coming good. 6 points – but an improvement of 2 points in the last 7 games. Maybe around 40 points.
Brighton (the Boro of last season) finally coming good. 5 points – but an improvement of 2 points in the last 8 games. Maybe around 40 points.
So 33 could be enough, but 36 will probably be the most points of the team 18th could hope for.
As for us – why do we keep passing to the other team?

Darren Hind
216
Posted 25/02/2018 at 18:54:42
Amusing to see the hindsight merchants claiming they always thought bringing in Allardyce was a panic move, especially given the amount of times some of them came here to decry Rhino and tell us he desperately needed replacing... Not to mention the way they gushed about Sam and the massive improvement he'd brought about.
Not sure who they think they are kidding.

Colin Glassar
217
Posted 25/02/2018 at 19:06:03
Name and shame, Darren, name and shame.
Jamie Crowley
218
Posted 25/02/2018 at 22:10:33
Dave @214 I take your point entirely and will say this: the longer winlessness (not a word, catch my drift) goes on, the more likely the likelihood of relegation becomes.
That was probably the worst sentence I've ever written – ask Lyndon he's seen a ton of them.
But...
Vegas agrees with me. The odds of us going down are infinitesimal.
Then again, Leicester won the league, we beat the Russians in 1980 in hockey, etc etc. Anything can happen.
Jay Wood
[BRZ]
219
Posted 25/02/2018 at 22:50:10
Michael @ 210 and Andrew 212.
Flip the coin. If we win our next two games, we can possibly go above Leicester and Burnley into 7th place. The conditional guessing game cuts both ways, fellahs.
Throwing in another conditional, if you and others want to soften the blow of looming relegation you are predicting, you should be queuing up to pile on some hard earned at the 80/1 odds I flagged up of Everton being relegated this season.
John M Boon
220
Posted 26/02/2018 at 05:09:38
Of late, the only thing worse than watching Everton is listening to the utterly ludicrous explanations by Senile Sam as to why we lost. His open criticism of the players doesn't do anything for team unity, He is able to create and inspire negativism, all of which leads to confusion.
I am sure most Evertonians just wish he would say nothing before, in-between or after games. He is a total joke, unfortunately, a really bad one.I think he is bringing incredible harm to our team. We are still too close to a relegation spot to ever be able to relax and enjoy a game.
Dave Abrahams
221
Posted 26/02/2018 at 09:19:52
George (192), brilliant as usual. Hundreds or thousands of Evertonians will understand and know how you feel about the club and how you love them with your whole being. Kenwright and people like him wouldn't have a clue, they are pseudo supporters.
As George Bernard Shaw said: Life has away of slipping through your fingers, but, if you stick to your soul, it will stick to you.
Get well George, and back on your feet, then prepare all us who wait for your post, with a good one for the Brighton game, onwards and hopefully upwards George. Good health and very best wishes, George.
Laurie Hartley
222
Posted 26/02/2018 at 10:25:23
I was told by a wise man once: "No matter what – always front up". So as a one who supported the appointment of Sam Allardyce here I am.
I wanted Allardyce because I thought a) we were facing relegation and he would sort that problem out and b) he might actually put some fight into this team and get us playing decent football.
I thought (a) it would be well sorted out by now – not yet it's not.
And (b) – this lot couldn't fight their way out of a wet paper bag so nothing's changed there.
So wrong on both counts.
Fire away.
Get well soon, George.
Dave Abrahams
223
Posted 26/02/2018 at 12:03:04
Jamie (218), the team is so bad that I just have this notion in my head, that goes to the pit of my stomach, of the 1951 season when we went to play our last game of the season needing a draw to stay up at Sheffield Wednesday. We got battered 6-0.
I feel we will be going to West Ham needing a draw to stay up. I hope I am utterly and completely wrong about this and will be left looking like a complete idiot, at least I will be a very happy idiot.
Paul Tran
224
Posted 26/02/2018 at 18:53:54
Dave, my money already says you will look a happy idiot. Nothing wrong with that, some of us are there already!
Darren Hind
225
Posted 26/02/2018 at 19:29:14
Dave Abrahms,
I guess that explains why you won't be settled until we are mathematically safe.
Just been on oddschecker to see what odds we were to stay up. Only one bookie bothering (365) and they are going 1/750.
Not sure why I told you that, I guess having witnessed it once, you won't relax until we are over the line.
Fearing the worst does not make anyone look an idiot, especially those who know what the worst feels like.
Paul Tran
226
Posted 26/02/2018 at 19:38:57
Those odds tell you all you need to know, Darren!
Dave Abrahams
227
Posted 27/02/2018 at 16:05:27
Paul (224) and Darren (225),
I honestly get heartened by posts like yours along with Jay Wood and Jamie Crowley but, as I've said before I then see the team try to perform and all my fears return.
It's not so much I remember the 1951 experience. I was a young boy of ten then and didn't really understand the horror of relegation: now, it fills me with absolute dread.
I know there are much more important things in life than football, but the thought of Everton going down is not worth thinking about for me.
I will be more than happy to be known as "The happy idiot" in a few weeks, might even change my ToffeeWeb handle to that.
---
Add Your Comments
In order to post a comment, you need to be logged in as a registered user of the site.
Or Sign up as a ToffeeWeb Member — it's free, takes just a few minutes and will allow you to post your comments on articles and Talking Points submissions across the site.
© ToffeeWeb