Report
Tosun scores but Blues stunned by Burnley resurgence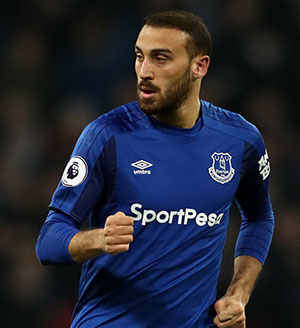 Cenk Tosun opened his Everton account with a strong headed goal
BURNLEY 2 - 1 EVERTON
Cenk Tosun and Calvert-Lewin started in Everton's televised Saturday lunchtime trip to Burnley but another chance to improve on their horrendous away record lay in runs after Sean Dyche inspired his players to a winning second-half performance that Everton and the increasingly beleaguered Allardyce could do nothing to reverse.
Seamus Coleman returned to the starting line-up with Leighton Baines on the bench after a long injury layoff, where he joined Rooney, Holgate, Niasse and Schneiderlin, while Cuco Martina continued at left-back. Jonjoe Kenny was not in the squad.
Michael Keane returned to Turf Moor for the first time since joining Everton last summer, and is paired with Ashley Williams in defence, with Phil Jagielka rested. Aaron Lennon plays for Burnley.
Burnley kicked off but got little change from Everton who showed some early intent from both Walcott and Davies getting forward but the first attempt was deflected and half-blocked off Coleman. Then a threatening cross from the Burnley right was defended away by the Blues.
Some stuttering interplay from Tosun, Sigurdsson and Calvert-Lewin saw a great cross in from Sigurdsson but no takers in the Burnley area. Burnley responded but Gudmundsson screwed his shot well wide as the home side made more of the early running.
Tosun and Calvert-Lewin paired up nicely down the right and Tosun danced through to the byeline, pulling back brilliantly where Walcott and Davies both went for the opening goal, Davies skying it in the end as neither would yield. An incredible chance squandered.
Burnley did likewise at the other end, their fast running setting up Cork who blazed over. They came even closer, Pickford's finger-tip intervention touching the ball away from Barnes right in front of the open Everton goal.
Sigurdsson swung in a decent ball and, off a subsequent phase, Walcott crossed well, the ball skipping off Coleman's head, sitting up perfectly for Tosun to power a brilliant header inside the post and well away from Pope in the Burnley goal.
The goal gave the Blues something to play for but mistakes in passing gave up any initiative and DCL chased a ball, lunging in, getting a silly booking. Walcott broke from another threatening attack by Burnley, driving forward but passing behind Tosun, who did well to return the ball to Walcott, who got close to Pope but would not use his left foot.
A fantastic save by Pickford off Barnes at the other end saved a certain goal after a great cross from Lennon, as the quality of football threatened to upset all the predictions of a dour affair among these satanic Lancastrian mills. Walcott won a corner that came out to Gueye for his usual useless attempt at a shot, well wide.
A fumble by Pickford almost allowed Barnes in to chip over him. The ball went back down the other end, where Walcott could not connect properly, and straight back the other way, Barnes lashed a shot well within Pickford's saving range. Losing count of the number of shots from each side...
Gudmundsson swung in a good free-kick that Lennon and Mee somehow failed to put in the Everton net, Pickford falling on the loose ball gratefully. At the other end, Davies tried to go for glory from 30 yards out but did not curl it enough.
Things got a little scrappy toward the end of a very open and relatively entertaining first half, Barnes getting more physical with Keane, who had won every defensive header so far.
Sean Dyche put a second striker in Wood, replacing Hendrick after the break. Wood won an early corner pressurising Keane. Something of a scramble as the ball pinged around but was finally cleared from the Everton area, but then recycled and a great chance for Lennon, a superb shot that Pickford saved brilliantly. From the corner, Mee headed onto the Everton crossbar via another fingertip save and Woods powered the rebound over.
Everton struggled to put a boot on the ball as it zipped around the midfield with innumerable turnovers. Tosun was fouled, giving Sigurdsson a chance to swing the ball in but Williams fails to connect with what should have been a goalscoring chance.
A ball behind the Everton defence fell perfectly for Barnes who skinned Keane and fired past Pickford. Far too easy for the home side, who had come out storming since the break and brushed Everton aside.
In an attempt to stem the relentless tide, Allardyce put Rooney on in place of Davies. But Burnley swarmed forward again and almost got a second. Everton won a corner but put no pressure on Pope's goal.
Burnley attacked again and an identical move almost gave Burnley their second via Wood but this time Pickford came off his line to narrow the angle. Tosun was withdrawn for Niasse as Everton struggled to make any real impression in the second half.
Everton finally mounted an attack, thanks to determination from Walcott, but ended with a difficult shot skied by Niasse. But Niasse would force a corner. not a good enough delivery from Sigurdsson and Burnley surged upfield again.
Walcott crossed again but just too far in front of Sigurdsson as Rooney's influence, then a glorious chance for Sigurdsson that he jinked around the defender and side-footed wide instead of lashing it into the goal.
Back up the other end for a couple of Burnley corners, and from the second, so easy for Wood on the far post, Pickford completely blocked. Burnley had turned the game around, and Everton had a mountain to climb in the last 10 minutes.
The final change fro Everton was Bolasie for Sigurdsson, but Burnley were still calling the shots. Bolasie was blocked by Lowton, Rooney swingning in a ball that went over everyone, the ref blowing up and Williams shown a straight red card fro swinging his arm at Barnes! Absolutely stupid way to get sent off.
Everton still won a late corner but played straight into Pope's hands. Bolasie crossed in well enough but Pope again grabbed it out of the air. The ten men in Blue threw everything forward but it really didn't look like it would happen going into 3 mins of added time.
So, from a winning position, Everton could not contain the resurgent Claret-and-Blues after Dyche throwing a few teacups at half-time, and Allardyce's attempt at orchestrating attacking football lay in ruins.
---
Reader Comments (304)
Note: the following content is not moderated or vetted by the site owners at the time of submission. Comments are the responsibility of the poster. Disclaimer
Frank Sheppard
1
Posted 03/03/2018 at 12:15:37
Two up front makes a pleasant change, and a supply line of Walcott and Sigurdsson, accentuating the positive means, real reasons for some optimism today.COYB.
Derek Knox
2
Posted 03/03/2018 at 12:18:12
Signs of some positivity with the team selection, two up front, wow. Still bewildered with the defence though, sticking with Williams and Martina, I find that strange.
Even if we win today, I would still want Allardyce to be history, well before the next season starts, if not sooner.
Ray Smith
3
Posted 03/03/2018 at 12:24:23
Be good to see Coleman and Walcott link up again.
I worried the last time Coleman played 90 mins in his first game back.
Several TW's said he wouldn't be put in that position! What happened, until today he hasn't even made the squad because he had a hamstring injury.
Play him for 60 mins or so, then bring Holgate on.
That way you see Coleman in the starting 11 at home next week against Brighton.
Hopefully Tosun has a good game today and opens his account. To all his doubters, give the lad a chance, because Sam hasn't.
George Cumiskey
4
Posted 03/03/2018 at 12:24:42
At last an attacking lineup, can't believe it I wonder if the words come down from on high ?.
Andy King
5
Posted 03/03/2018 at 12:30:25
Sigurdsson doesn't fit in a 4-4-2 but I'm glad this looks a bit more attacking. This must be one Sam thinks we can win...
Colin Malone
6
Posted 03/03/2018 at 12:33:54
Where's Jags?
Keith Dempsey
7
Posted 03/03/2018 at 12:46:35
Bill Leslie on sky just informed Ashley Williams is miles out of position.Couldn't agree more, by about 150 miles should still be at Swansea.
Ernie Baywood
8
Posted 03/03/2018 at 13:07:50
So obviously not a 4-4-2. They seem to be taking turns playing left wing.
Nice sharp play from Tosun. Dubai must have helped him to acclimatize to this weather!
Jay Wood
[BRZ]
9
Posted 03/03/2018 at 13:24:15
As good a half of football from Everton in a long time.
Burnley had a good opening 10 minutes and continue to play down the channels well. Aaron Lennon having a good game as a result.
Pickford's save from Barnes was outstanding, but we have had the best chances, as well as scoring a really well worked goal.
The passing and speed of our counter attacks is hurting them. Theo Walcott is central to this. On another day he could already have a couple of goals to his name.
Here's hoping we don't collapse in the 2nd half and break Sean Dyche's truly awful record as Burnley manager of never ever having won a PL game with them after conceding the first goal in 50+ games.
Brian Wilkinson
10
Posted 03/03/2018 at 13:35:01
I like Niasse starting from the bench, let's hope we don't need him too soon, far more dangerous and normally pops up with a goal when coming on.

Max Murphy
11
Posted 03/03/2018 at 13:53:21
Burnley have never won in 53 games after conceding first under Sean Dyche.... Watch this space!
John Dingle
12
Posted 03/03/2018 at 13:59:44
WIilliams and Keane are unable to defend the most basic of attacks, highball or balls into the channel.
Why on earth does Fat Sam not sub Keane with Holgate, he can't possibly be any worse. Leave Keane on and Burnley will score. Earn you money Sam
Dave Bowen
13
Posted 03/03/2018 at 14:00:27
We look good going forward, but the defence is so shaky. Keane in particular looks awful. £27 million? Burnley must be pissing themselves laughing.
Max Murphy
14
Posted 03/03/2018 at 14:09:47
There you go! Burnely victory. Keane must be proud of that performance.
Carl Allan
15
Posted 03/03/2018 at 14:17:26
The irony of Moyes sending us down on the last day. We deserve it, arguably the worst defensively in the Premier League since Christmas.
Christy Ring
16
Posted 03/03/2018 at 14:19:13
Shocking defending from Williams for the goal, thankfully he won't be playing in the next 3 games. Can't understand why our donkey of a manager picks him ahead of Holgate.
Alex Mullan
17
Posted 03/03/2018 at 14:20:41
Fuck me it's a form of self harm being an Evertonian.
Alan McGuffog
18
Posted 03/03/2018 at 14:21:43
Look on the bright side. Keane never played in front of David Lawson
Derek Knox
19
Posted 03/03/2018 at 14:23:58
Unbelievable, we turn a potential win into another defeat, get this Turdmonger out of our club as soon as possible.
He takes creative players off when behind.
Tom Bowers
20
Posted 03/03/2018 at 14:25:09
The whole season has become a bad joke.
Second rate players like Cuco and Williams have continually gotten too much game time despite appalling defending. Well done Koeman and Allardyce and good riddance !!
Ash Moore
21
Posted 03/03/2018 at 14:26:23
Calamitous.
Tony Williams
22
Posted 03/03/2018 at 14:27:14
Can anyone tell me whose fault it will be today. 1-0 and they sit back on the lead AGAIN. I believe he is doing it deliberately to get a pay off, he just doesn't seem to be interested.
George McKane
23
Posted 03/03/2018 at 14:27:50
I said last week after Watford - - and I repeat - - for the good of The Club Allardyce must go now - - this afternoon - - there is no faith in him from the fans and seemingly the players - - this man seems determined for whatever reason - - maybe his ego - - to destroy this Club and The (so called ) Management are letting him - - get rid of him now and play with no Manager for 9 games instead of this fool - - he is like gangrene the longer he stays the more life threatening he is to Our Club.
Ian Bennett
24
Posted 03/03/2018 at 14:27:59
Create nothing. And defend like amateurs.
Absolutely piss poor... Again. Needs a massive turnaround in players, coaching, management,and scouting. It's rotten.

Ken Kneale
25
Posted 03/03/2018 at 14:28:07
This puts Allardyces comments about himself and Walsh and this second rate bunch of pathetic players to the sword well and truly What an arrogant man. We need protest now at every game and by communication to the owner to sort and sort quickly to ensure pre season in place
Tommy Coleman
26
Posted 03/03/2018 at 14:28:31
The horror show continues.
The losing mentality of the players comes from the Big Shite.
He'll be blaming the snow this time.
2-3 more months left with him.. I hope I can cope.

Roman Sidey
27
Posted 03/03/2018 at 14:28:37
That was bad.
Burnley have not won in almost three months. Enter Everton.
Burnley have not come from behind to win in 53 matches. Enter Everton.
Burnley have scored more than once at home once all season. Enter Everton.
Add that to Deeney breaking his duck last week, and this sort of thing happens all too often at Everton.
I blame the manager. I blame the players. I blame the board. Everything about this club is broken. Everything.
Brian Hennessy
29
Posted 03/03/2018 at 14:30:03
Only positive from today's game is that Sam can't pick Williams for 3 games
Ian Burns
30
Posted 03/03/2018 at 14:30:55
This is the first time EVER in the Premier League that Burnley - under Sean Dyche - have come from behind to win. That just about sums up SA and his team of "coaches".
Gary Mortimer
31
Posted 03/03/2018 at 14:31:50
"Blues stunned by Burnley resurgence"
I am not stunned - that was as predictable as night following day.
I don't think I have seen a more useless performance from an Everton team ever. How many completed passes did we make? I would be very surprised if it was more than 50.
This bunch of players appears to be unable to
control the ball
pass the ball - kick it as far up the field as possible or out of play appears to be the tactics as that happened dozens and dozens of times.
run around a bit
tackle the opposition
mark the opposition
put 100% effort in (for some it appears that 24% is all they can be bothered
to muster.
The manager appears to consistently choose the centre halves who are most out of form. He has about as much defensive nous as Roberto Martinez! A free header from a corner 3 yards out? Zonal marking - really?
I think that all the teams below us would be looking at finishing above us without any difficulty.
FFS this depressing beyond belief!
Eugene Kearney
32
Posted 03/03/2018 at 14:32:43
Depressing, bleak, harrowing, worrying.
Why take off Tosun and Siggy????
Why is Williams still an employee of EFC?
Embarrassing.
John Hall
33
Posted 03/03/2018 at 14:33:47
Brian pity the suspension does not last until end of the season. Worst defender in an Everton shirt for a long time with Keane not far behind. Sad to watch.
Stephen Driscoll
34
Posted 03/03/2018 at 14:33:56
This is what it has come to. Trying to creep to 40 points,and it seems further away than ever
Paul Birmingham
35
Posted 03/03/2018 at 14:34:02
Same old story. Better than expcted in the first half. They must have taken something in their half time drink.. shocking game management in the second half. Williams let the team down and shouldn't be captain again. DCL on the left ?..Keane and Williams is a liability always waiting to happen, they are The Keystone Cops.
If Stoke do us, I think it it willl put an end to Sams reign, but immediately after the last game.
I could be wrong but another shocking away day for EFC. It was a nap, that Burnley would win,no win for 11 games and they play EFC..
Another poxy weekend, roll on the end of the season. Lennon must be happy and had a good game, fair play..Sunday morning ale house teams take more care and are more professional than this squad.
Ray Smith
36
Posted 03/03/2018 at 14:34:35
I've got my ticket for the Brighton game, after that, whatever the result I'm not going to Goodison again, until Allardyce has gone.
What will be his excuse this time.
I can't wait to here who is to blame this time.
Paul Ellam
37
Posted 03/03/2018 at 14:35:48
What has happened to this once great club?
How is a team full of expensive experienced players struggling so badly?
It's got to the point now where I don't even get angry with our performances, I just feel embarrassed, and sad.
The optimism I used to have has all but gone and I'm not even sure we have enough to stay up this season.
That's how bad things have got.
Praying for some divine intervention.
Jay Wood
[BRZ]
38
Posted 03/03/2018 at 14:35:53
As well as they played in the first half, the team simply did not turn up in the 2nd half.
This is as spineless, naive and lacklustre an Everton team as I can ever recall. Even the relegation threatened teams under Walker and HKIII had some fight, some pride about them.
Keane played very well against Watford. Today, he showed yet again that we may well have paid a lot of money for a pup. Too easily muscled off the ball. Too easily stood up and run around. Little or no awareness of the whereabouts of the player he is marking. Any half decent defender would have easily been correctly positioned to block off and shrug off the run Barnes made for their equalising goal. Pickford - who again played well - should have come out made it more difficult for Barnes.
As for their winner, I was screaming at the screen: "Someone pick up Wood", 2-3 times. Williams actually LOOKS at him. SEES him there... and does Porthcawl to deny him the chance.
More than 2 months and 12 games without a win for Burnley . 53 games - FIFTY-THREE FRIGGING GAMES!!! - that they have NEVER won a PL game under Dyche after the opposition scored first.
Until today.
Everton that, all over.
Lennart Hylen
39
Posted 03/03/2018 at 14:36:23
Dreadful center of defense, especially in the second half. For Burnley´s second, both Williams and Keane allowed the Burnley man to sneak in. Amazing to say the least. There were spells (though short ones) with decent play in the first half. We will be lucky if we avoid the drop. It hurts me to say that but that is the truth.
Where is the desire to win in this team!
Pickford keeps pumping those high balls up the field and we lose possession at once in 90% of the cases. Why can´t he just roll the ball out to a midfielder (absolutely not to one of our defenders) and start passing the ball forward?
You really have to have an angels patience nowadays when you support Everton. This is just dreadful. £250 000 000 for these players, unbelievable!.
Johan Elmgren
40
Posted 03/03/2018 at 14:37:22
That will hopefully be it for Williams. At least for three matches, hopefully forever.
Allardyce out now!!
Dean Rolstone
41
Posted 03/03/2018 at 14:37:24
"Have you got an embarrassing stat you want rid of, or a draught that you can't shrug off? We have the solution for you, introducing Everton FC. If you have a long run without a win or striker who can't score, Everton are your solution, give us a call to arrange a fixture, then your unwanted stats will be a thing of the past."
*98% success rate, if you don't break your unwanted record it is not for the lack of Everton trying to help you*
Contact us on 01234 567 1878
Lawrence Green
42
Posted 03/03/2018 at 14:37:40
Sam should be dropped off at Bolton and left there never to return to Goodison. I'm now worried that the big man will break his record of never having been relegated, as Everton manager that record is in serious danger. From that point of view we'd better get rid of him so he can maintain his personal record and we can try and get the points required to stay in the division.
There's little point in carrying on as we are as two wins in twelve games is the form of a relegation haunted team. Brighton is a must win game and there's little doubt that Houghton has targetted Everton along with their other fixtures outside of the top six as winnable, so we'll get a game from them next week. To keep Allardyce means the atmosphere will be poisonous next Saturday and we can't afford for the crowd to be against him or his team. Hopefully results will go our way this afternoon but I'm not holding my breath.

Dave Speed
43
Posted 03/03/2018 at 14:39:09
I'm waiting for Big Dunc - or the tea lady if he doesn't want to speak to the press - to do the press conference, hoping that Moshiri has relieved Allardyce and co of their duties.
Andy Meighan
44
Posted 03/03/2018 at 14:39:20
Is anyone really shocked? We are a truly awful outfit, devoid of skill, devoid of class, devoid of guile, devoid whatsoever of any creativity...
But the biggest thing I'd level at them is they are devoid of fight. Not one of them gave a flying fuck when Burnley equalised and, let's be fair, there was only go be one winner and certainly not us.
This awful awful club has got a cancer running right through it and it needs radiation asap, starting with that fucking sentimental clown, Kenwright, and working down from him. What a disgrace this away record is: one win all season... Disgusting.
Anyone thinking we won't go down is living on another planet. We won't save ourselves, that's for sure; we'll rely on others to do that. We score and hide in our shell.
If this Moshiri is as serious as he says he is, he'd sack this clown tonight. Of course that won't happen though.
Paul Smith
45
Posted 03/03/2018 at 14:39:50
He should be sacked today. For his attitude, provocation and inept line up's.
Jim Harrison
46
Posted 03/03/2018 at 14:39:55
I don't think a single player comes out of that with any credit. Maybe Gana.
Williams should be done now. Culpable in both goals, if not solely for the first. Utter lack of composure when needed.
This team needs a midfielder who can boss a game
David Connor
47
Posted 03/03/2018 at 14:41:15
Fucking disgraceful team. No pride and no sense of shame. Over £100 million wasted on Bolasie Schneiderlin, Sandro, Keane, Klaassen.
The sooner that fat twat Allardyce is gone, the better. What a joke we are. Burnley 6 points ahead. We can still get dragged into the bottom 3..Relegation beckons next season if that useless fat bastard and his hangers-on are still there.
Come on, Moshiri, get rid of this twat this weekend. We can then start looking for a new enthusiastic manager and start weeding out the garbage players we have in our squad... There won't be many left, I suspect. Dark times...
Paul Swan
48
Posted 03/03/2018 at 14:42:23
I'm just numb after watching that. I have never felt so embarrassed being an Everton supporter as today. Total shithouses all over the pitch and an utter gobshite picking the team. Keane is an utter disgrace of a player Williams is not even a player. The problems with those 2 pricks were there all game but softarse did not do anything about it. For Christ sake sack this useless fat corrupt bastard now. If any of the wankers running our club read any comments anywhere be absolutely clear about this, if that fat c**t stays at this club my season ticket of many years standing is gone.
Dave Loweth
49
Posted 03/03/2018 at 14:42:27
So before the game, Fat Sam was 'surprised' by speculation about his position. Well, the game today has shown why he should be sacked now.
In the first half, we saw some good counter-attacking, but the defence... oh my word! It was only Pickford who kept us in front.
But the second half was just a dereliction of duty. It was plain what Burnley's tactics would be in bringing on Chris Wood, but you still expect international (ha ha) defenders to cope. They didn't.
Williams should be shipped out of the club asap. Keane is a bag of nerves. Why the hell doesn't Holgate play?
I'm really fearful that this shower could still get us relegated. I just can't see where the next win is going to come from.
Stephen Brown
50
Posted 03/03/2018 at 14:43:15
The statement that summed it up was when Carraghar said Everton can't cope with Ashley Barnes !!!
Eric Owen
51
Posted 03/03/2018 at 14:43:19
One good point about the game. The referee did us a big favour.
He redcarded Ashley Williams. THREE-GAME SUSPENSION. How did Everton leave the Burnley STRIKER unmarked for the second goal?
Phil Rodgers
52
Posted 03/03/2018 at 14:47:30
Michael Keane is diabolical. Martina gets all the stick but he spent 90 minutes covering for him. He should have subbed him
Vincent Borg Carbott
53
Posted 03/03/2018 at 14:47:56
What a waste of time. I have been an ardent follower of our toffees since the late '50s. This is our worst ever edition. No reaction, no cohesion, no understanding. Do we still know what football is all about.? We shall survive but did we spend to do as much. Time for some serious thinking.

Vincent Borg Carbott
54
Posted 03/03/2018 at 14:47:56
What a waste of time. I have been an ardent follower of our toffees since the late '50s. This is our worst ever edition. No reaction, no cohesion, no understanding. Do we still know what football is all about.? We shall survive but did we spend to do as much. Time for some serious thinking.

Jim Bennings
55
Posted 03/03/2018 at 14:50:02
Same old story so why have a headline of Burnley stunning us?
It was stunning to me that Everton actually took a lead into half time away from home.
Utter waste of my time watching Everton really nowadays, an embarrassment of a club with an embarrassing lack of leadership from boardroom level to manager to the little lambs that turn out on the pitch every week.
We would have been better off giving John Terry a year long contract similar to the one Richard Gough was handed in 1999, at least he has a voice and leadership qualities.
Sam Allardyce must now be resigned to losing his job, not that he'll be arsed like because soft lad Moshiri was stupid enough to give him a fat contract .
It's time Moshiri stood up and started making wise footballing decisions rather than just flash wads of cash on Tom, Dick and Harry.
He probably shouldn't have sacked Koeman until he had a decent manager lined up instantly to replace him, then he keeps Unsworth hanging by a thread for more than a month before stupidly appointing Allardyce on a crazy contract .
The decisions Moshiri has made this season have greatly backfired and going right back to the summer it's been a farce really but it's reached its finale with the appointment of this joke Allardyce.
Get this, Everton are bad enough and could still get relegated THIS season!!!!
Ian Riley
56
Posted 03/03/2018 at 14:50:52
Gutted the game wasn't called of because of snow.
Says it all really!
Peter Morris
57
Posted 03/03/2018 at 14:51:13
Another depressing and I'm afraid to say totally predictable and deserved defeat. There may be some silver linings though. If this doesn't convince the Board to show Allardyce the door(taking that donkey Williams with him)then nothing will. If we survive this season, and it looks like we will solely down to the shortcomings of others, then a root and branch clear out of the club needs to take place, starting with the Chief Exec, the manager and the so called 'Director of Football'. Get a new manager in, who has the time to flush out the frauds in the playing squad who are drawing their huge salaries on false pretences.
Very saddening what our wonderful club has become.
Alan McGuffog
58
Posted 03/03/2018 at 14:51:35
What depresses me is that for the first time in my life...match goer since 1961...I really couldn't care less anymore.
David Israel
59
Posted 03/03/2018 at 14:53:01
Roman Sidey at # 27 just about summed it all up.
Frank Sheppard
60
Posted 03/03/2018 at 14:54:21
I can't remember the last time we were the better team in the first half of a PL match, and went in 1-0, all was looking good . could be as simple one one good half time team talk, and one not good half time team talk????
Susong Hermawan
61
Posted 03/03/2018 at 14:54:23
Boring..
Stephen McNally
62
Posted 03/03/2018 at 14:54:59
It's highly unlikely that Big Sam will get the Everton gig long term; but who can Everton get in to revitalise the club?
Jim Bennings
63
Posted 03/03/2018 at 14:55:56
I think the best way I'd wrap up this mess is .
You spend all that money over the last year to get "doubled " by big spending Burnley!!!!
Tommy Coleman
64
Posted 03/03/2018 at 14:56:13
Actually. I don't want BS here for 2-3 more depressing months.
Pay him off now rather than May and let Big Dunc have a go.
David Killip
65
Posted 03/03/2018 at 14:56:41
Ideally, I would have Allardyce out on his arse 2 minutes from now but that wouldn't stack up unless we have our long-term replacement. Abject though he is, now is not the time for another caretaker. His departure in the summer should be written in fiery letters over the door of Moshiri's office.
Equally culpable are "senior" players who are serial offenders of failing in their duty to the fans and the club. I accuse Williams and Schneiderlin as foremost perpetrators of this crime, but they are not lone offenders.
Martina is illustrative of the other gaping wound in the club; appallingly obvious inability to cope at this level. "It's not his fault he's shite" as my late father said about many of our former players. True. It's the fault of the incomepetent millionaires who foisted him and his ilk on our beloved club and then played them week in, week out in the face of all the evidence of their inability.
So what's to be done? A square one rebuild is the only answer to this 3D nightmare. Allardyce and his acolytes on the coaching staff should be sent packing in he summer to wherever third rate coaches spend their inflated salaries. And Walsh can carry their bags on his way out. There has been much analysis already on these pages as to who would come and who wouldn't. We have no chance whatsoever of Simeone or Tuchel. Get used to that. Fonseca probably is doable. I'd be happy with that. If it transpires that we are forced to look only within British football I'd take Dyche, not Howe, and (here's where some of you sack me off) I'd not reject Benitez - the man is a sound manager and pisses all over Allardyce. Rogers, by contrast, is a clown.
As for playing staff, give the talented youngsters more of a look in, sell the vast stack of midfield deadwood at fire sale prices and bolster central and left side defence. And buy a 20 goal as season striker. As you apparently forgot about last summer. Don't promise Mrs. Moshiri any new diamond jewellery Farhad; if you thought you'd finished signing cheques, you haven't. Before you've sorted this cesspit out you'll have mortgaged the dog.
Roman Sidey
66
Posted 03/03/2018 at 14:57:02
Jim,
"He probably shouldn't have sacked Koeman until he had a decent manager lined up instantly to replace him, then he keeps Unsworth hanging by a thread for more than a month before stupidly appointing Allardyce on a crazy contract ."
Spot on. In hindsight, sacking Koeman when they did could prove to be the worst decision the club has made this season. I'm not saying I 100% disagree with Koeman being sacked, but at the time we were a team in poor form. Fast forward five months and we're a club in turmoil and an absolute laughing stock.
Tony Abrahams
67
Posted 03/03/2018 at 14:58:24
It's come full circle, because we look like we can't defend again. Agree with Paul Mortimer, when he cites a complete lack of quality, when we have got the ball.
So poor with are passing, its horrible to watch, which is definitely not the managers fault, but he his not wanted by many supporters, so it's definitely time for him to go.
I have never witnessed such a fragile squad, and just hope they can keep picking up enough points at Goodison, because too many players don't have it in themselves to really fight, which is what we are going to need the most, if we are not careful.
Everton have just been done by league two tactics, which shows how poor we really are.
Goody
68
Posted 03/03/2018 at 14:59:36
Burnley get a corner and we bring 11 players back to defend.
11 Everton players in the box and Burnley score from a free header.
Roll on the end of May,hopefully we'll still be a Premier League team because at the moment it's not a certainty.

Peter Cummings
69
Posted 03/03/2018 at 14:59:55
Just knew after they equalised Burnley would win it, even with a record worse than ours, we are now in a freefall situation with no end in sight, only for Pickford it would have been another rout, only we can turn possible victory into defeat.
I think as far as SA is concerned it has all been said, the worst managerial appointment since we lost Howard Kendall,probably in our once proud clubs history, we are now a bad joke, an insult to those,like myself who have lived and breathed Everton all their lives,the laughing stock of football, only major surgery can put things right, from the top down
Amit Vithlani
70
Posted 03/03/2018 at 15:00:07
It is absolutely unfair to lash Keane and Martina. Keane looks to me like someone who suffers from nerves at the start but once he settles down he does ok. He was not to blame for either goal. Pickford had a shocker for the first whilst Williams shouted outswinger (when it was lofted straight) then didnt bother to pick up Wood for the second.
Two of the substitutions were rank. There is now way Davies and Siggy should have come off. Niasse did better than Tosun and whilst Siggy was on the pitch he looked a threat.
DCL is not a left sided player. He gave no protection to Martina and did nothing going forward. To then leave him on the pitch and bring on Bolasie was a bewildering decision.
Williams is a total prat.
But then again, from Allardyce's appointment, to persisting with Walsh, to the only natural left foot in the starting XI belonging to your goal keeper, to your captain swinging his elbow at 2-1 down, welcome to Everton Football Club 2017-2018, where complacency, arrogance, negligence, suspect judgement and incompetency rule.
Jason Lloyd
71
Posted 03/03/2018 at 15:00:49
Yep Roman is 100% right.
The worst Everton side in history.
The worst Everton manager in history.
The worst Everton Board in history.
Have we reached rock bottom yet or is there more humiliation to come?
It's got to the stage where the fans need to take direct action.
Colin Glassar
72
Posted 03/03/2018 at 15:02:33
Pitch invasion, Jason? This has to stop and stop now.
Geoffrey Williams
73
Posted 03/03/2018 at 15:03:38
Sam Allardyce is simply not good enough. I would question his team selection, the lack of continuity in team selection, and the lack of any organisation at the back.
Williams is a very poor player and he makes anyone who plays alongside him look very poor. He causes uncertainty at the back and he leaves the goalie out on a limb.
It is very difficult to pick out any positives from this game, sorry I mean impossible.
Why does Allardyce persist in selecting Williams and Martina? Why did he select Calvert-Lewin and then play him on the wing when everyone knows it's a position he finds difficult? Why does no-one seem to know what to do at set-pieces? Why are players playing so poorly? Why do I expect Everton to lose every time they walk on the field?
David Hallwood
74
Posted 03/03/2018 at 15:04:36
Phil(#52) two wrongs don't make a right yes Keane was awful but Martina's a total liability and teams now target our left side knowing it. They also know that he doesn't overlap so they don't have to worry at the back. Yet another feather in the cap of our DoF
Clive Mitchell
75
Posted 03/03/2018 at 15:04:55
Burnley were competent and assertive. We were never going to cope with that. Worst back four I can ever remember.
Jim Bennings
76
Posted 03/03/2018 at 15:05:00
Names who should be talked about as next Everton manager.
Eddie Howe = Young eager and with a pretty impressive record at a small club but what impressed me is the style of football Bournemouth play, they go to win and set out to play football.
Paulo Fonseca = No English league experience but I believe he would come here and at least attempt to produce a team of winners and would open up new idea rather than the dark age football we are currently watching.
Mikel Arteta = Maybe a controversial appointment and maybe too soon but I'd certainly watch Arteta carefully because everyone has to start somewhere and he's learning from the best under Pep Guardiola.
Arteta schooled at Barcelona and knows Everton as a club, he would be unlikely to replicate the Sam Allardyce way of any-football.
Marco Silva = Moshiri's first choice and I believe Silva would be worthy of a crack at the club, unfairly dismissed after one bad spell at Watford but it's forgetting that he produced a pretty good Watford team early in the season too.
These are some of the guys I think would be realistic targets, I can't see someone like Tuchel, Simeone etc coming here to Everton.

Paul Swan
77
Posted 03/03/2018 at 15:05:24
Did you see the fat bastard laughing off the criticism from our supporters after they weren't happy about the BolasieSiggy substitution? The smug arrogant bastard.
George Cumiskey
78
Posted 03/03/2018 at 15:06:02
An absolute brilliant post match interview from Allà rdyce, spoke a thousand words and said nothing, eat your heart out Donald Trump.
Did you see him smirk when he was asked about the fans reaction to him taking Siggy off ?, And still didn't answer the question.
Danny Baily
79
Posted 03/03/2018 at 15:06:16
Brighton, Saints.and Newcastle at home. We need two wins from three. I made a dire prediction on here a while back that we would.finish on 47 PTS but we're on course to do worse than that.
Jason Lloyd
80
Posted 03/03/2018 at 15:06:42
Protests outside Finch Farm and dogs abuse when players and Board come in from the car park should do it.
Roman Sidey
81
Posted 03/03/2018 at 15:08:14
Sky spending a fair bit of time talking about Everton, which is both encouraging and frightening. Henry has just made a great point that last year and earlier when he's spoken to Everton fans and heard responses like "The jury is still out if he's any good." Bang on. So many supporters did nothing but complain about Rom when he was here, now the entire team has scored barely more than the big fella managed last season.
Chris Kelly
82
Posted 03/03/2018 at 15:10:09
Have not posted for a while as feeling the general malaise watching Everton this season. I have forgotten what anticipation and excitement feel like. They have been replaced by expectation of the inevitable. Soon as I saw the stat that Burnley have not won after conceding first in 53 games, I got a feeling of doom. Anybody else?
I have had an open mind to new players and even big Sam, but clearly it's not working.
Williams is woeful and Keane underwhelms. Along with Martina struggling at left back. This is my view is where it has collapsed this season. Poor recruitment into key positions, particularly at the back. We need proven players who have heart, desire and toughness. As others have said you need the right type of players who have it mentally and physcially as well as talent. How many soft goals have we let in this season. Feel really sorry for Pickford, who could go on to be a great keeper. He has never had a decent back 4 in front of him.
Allardyce does not seem to be able to motivate across 90 minutes and his substitutions rarely have a positive impact.
On the positive side I do believe we will stay up. I then think it is up to the Board to make some real changes and ask themselves who do we need, will they fit and do they have the right character. Next season will be key to whether we address the slide and start to challenge or continue the demise. Big Sam has had his chance, but he is not the answer.
Where we are now, it hurts. These guys need to know what it is to be a blue.

David Young
83
Posted 03/03/2018 at 15:11:08
#64.
I agree. Get rid now, he only wants to keep EFC UP. Then he still has his reputation in hand.
We won 4 nil v WHU with sam in the stands.
I beleive the players playex for Unsy that day not sam.
Unsy and Big Dunc for the remainder of the season.
If we carry on with this shite at the helm then the Derby is I am afraid to say, a damage limitation game and at Goodison. GOD help us.
Colin Glassar
84
Posted 03/03/2018 at 15:11:10
I think we need 8 points from our last 9 games. God knows where they're going to come from under this fat slab of lard.
Michael Lynch
85
Posted 03/03/2018 at 15:12:07
Sam is not the man, and hopefully he'll be gone at the end of the season. But this team is rank. Davies, Keane and DCL aren't good enough and possibly never will be, Williams is past his sell by date, Martina is a poor right back playing on the left, and Gana is mediocre. That's more than half the team who are not good enough at this level. And that's before we look at our dearth of top class strikers.
Keep Pickford (if we can), Walcott, Siggi, Tosun & Coleman, loan out DCL, put Davies back in the U23s. Sell everyone else, sack the entire coaching & management team, bring in a manager we've never heard of and make Rooney his player/assistant.
And get rid of Bill K and his sidekicks. Time for change.
Denny Kerr
86
Posted 03/03/2018 at 15:15:05
That was so predictable, you could see what was going to happen as soon as the second half started. Williams and Keane were atrocious!
The truth is, we don't have the quality players to be even a top-half team, never mind top six or seven.
Yes, I think we'll stay up... but only just!
We have maybe six players who should be in the first team every week, four or five youngsters who should be eased into the team, not thrown in the deep end as they have been, and the rest moved on.
We need a massive injection of funds to bring in true quality players, to play in their natural positions, and a manager who actually has a system in mind for his team to execute.
Over to you, Mr Moshiri.
Brian Wilkinson
87
Posted 03/03/2018 at 15:15:28
No matter how toxic Goodison can be, you can always rely on the fantastic away following to rally behind the team, today we witnessed a mass of our away support turning and venting their anger.
That is something that does not happen and shows just how much of a mess we are in.
Sam can say all he wants about 15 Social media comments, the fans today made it loud and clear what they thought.
I cannot see Sam surviving much longer.
Andrew Cunningham
88
Posted 03/03/2018 at 15:15:56
What can I say? Cannon fodder for the top six and now this shite against supposedly weaker teams. What can I say ---------------

Brian Wilkinson
89
Posted 03/03/2018 at 15:17:23
Michael@85, I have to disagree with Gana, he was one of the few who put a shift in today.
Joe McMahon
90
Posted 03/03/2018 at 15:19:01
Heard everything no, unsworth and Big Dunc to the end of the season. Dunc is part of the problem, and has been for the last few years. David unsworth is not ready for premier league yet. We are up shit creek,and no doubt Liverpool will score at least 5 tonight. Kenwright is the biggest problem,he is our Peter swailes.
Clive Rogers
91
Posted 03/03/2018 at 15:19:27
DCL was dreadful today, offered absolutely nothing. Couldn't believe it when Sigi was pulled off before him. Williams was shocking, every forward pass went to them. Davies poor, Tosun off the pace. They are just the obvious culprits but can't be bothered to carry on.
Paul Welsby
92
Posted 03/03/2018 at 15:22:33
FS isn't going to walk, no chance. So all the shit thrown at him is like water off a ducks back. He has proved well before he was given the managers job with us he was all for himself and played terrible football.
This is now down to the board to admit there mistake and relieve him of his duties but I don't think this will happen either. We are in the shit and there is no sign of it changing. Our club has imploded, fucked itself big time gone back 10 years.
I have zero confidence in our board to put this right, if others have then sound crack on watching this utter shite. We now have to aim our grievances at the board as FS doesn't give a fuck. He walked passed our supporters with abuse ringing in his ears. He just put his head down and smiled to himself.
When asked a question after the game why the fans were not happy with Siggy going off he laughed. Don't waste your time having ago at him direct it to the people who can put us out of our misery and sack this fucking RAT.

Joe McMahon
93
Posted 03/03/2018 at 15:22:50
Another thing, I'm not a SA fan but if he is Fat, what the hell is everyone s favourite David Unsworth. I suppose Peps slim, do you think he'd come to woodison? God knows who we get in. I do like Chris Houghton.
Dermot Byrne
94
Posted 03/03/2018 at 15:22:55
I think .nothing now.
Jason Broome
95
Posted 03/03/2018 at 15:23:47
Honestly.
I can't follow this anymore. For those of you still paying a bunch of greedy multi millionaires your money for their spineless, weak, gutless, cowardly efforts... good on you, you mugs!
If they go down (and a part of me hopes they do) it would be a blessing.
I never wanted Martinez, Pig head Koeman, Walsh, Sammy Lee or Allardyce at the club.
Inept, Juvenile leadership and an embarrassment to a once great name in football.
Craig Walker
96
Posted 03/03/2018 at 15:23:53
I said to my lad that Burnley had never won when they'd been trailing in the Premier League. As soon as we took the lead, I said "I bet you Burnley come back and win against us". I don't know where to start with this club and am sick of repeating myself now. We need to get shut of just about the entire playing squad and start again because I don't see anyone who is good enough for Everton FC. When Sigurdsson missed that chance it showed the difference between the good and bad teams. Salah would have scored that. A few minutes later and we were trailing. We are truly awful and it is so dispiriting following Everton. I do it out of loyalty now. There is no enjoyment whatsoever. I feel sorry for the fans who travel to the away games, especially the younger ones who don't even remember the better days.
Eddie Dunn
97
Posted 03/03/2018 at 15:24:13
There is one silver lining in this cloud of shit. We will not now be playing Europa league next season.
Jerome Shields
98
Posted 03/03/2018 at 15:26:20
Big Sam should now not be surprised by speculation regarding his job. Got ahead and then employed the unsuccessful deep defensive tactics – isolated forwards, overrun midfield and our suspect and accident-prone defence under more pressure. . .
The result was no surprise. Excuse: heat not working in video room due to frost damage, so could show players how to play against them. They should know anyway. Maybe it's because they are mental.
Good point is it has moved the fraud closer to the door. Bad that Moshiri will realise he has been ripped off again. How much more can he take?

Michael Lynch
99
Posted 03/03/2018 at 15:29:22
I know Pickford is probably our best player at the moment, but I wish to fuck he wouldn't hoof every ball up the pitch. We never play from the back these days. Maybe it's because we have shit players at the back (true), or because Pickford likes to hoof it (so what?) or because Allardyce tells him to hoof it (why?), but it gets us nowhere.
John M Boon
100
Posted 03/03/2018 at 15:31:19
Posting is only to try to ease the anger and frustration. !00% of above posts want the Allardyce "Reign of Terror" to end. He MUST go. I would prefer any "Evertonian" from 9 to 99 years old to take over from this arrogant egotist. He is driving supporters away. Why would we ever take on an individual who has a proven record of "uselessness" .HE IS THE WORST EVER. Wow!! I feel better, but would feel even better if sleazy, senile Sam just left.
Don't even bother to go back to Goodison to pick up your things. Just head back to Dudley and RETIRE with the six million you have robbed.
Mike Price
101
Posted 03/03/2018 at 15:32:03
We're in big trouble. It's been staring us in the face all season because we are the worst team in this league and have been incredibly lucky to get the points we have.
This squad would struggle in the Championship and if we can limp over the line and survive it will be a miracle.
Paul Welsby
103
Posted 03/03/2018 at 15:32:45
Jason Broome I understand your anger and frustration but if part of you wishes we go down maybe you should go and support some other successful team. No part of me would ever want my team to go down no matter how bad it got.
I'm one of those mugs who will support until we are safe then I will not attend as part of my protest.
George Cumiskey
104
Posted 03/03/2018 at 15:34:07
Michael@99 didn't you see Allà rdyce every time we got a throw in telling the player to throw it back towards our goal.

Dermot Byrne
105
Posted 03/03/2018 at 15:34:21
Jason Broome
95 A cruel post my friend but understand where you are coming from
Tim Michael
106
Posted 03/03/2018 at 15:36:44
I made the rash comment earlier that I had a feeling that we would win today and, for 45 minutes, it could have become a reality. However, we slipped back to our old ways. To be fair, it had been indicated in the first half when Barnes started to get behind Williams and Keane. Keane had a shocker all round.
Allardyce's record on substitutions is not good and whilst Rooney was the right introduction, Davies was not the right removal and so it went. I've never seen Calvert-Lewin play with such lack of desire before. He must have issues with Allardyce. We're stuck with him for the rest of the season but then he will be gone.
Roman Sidey
107
Posted 03/03/2018 at 15:37:34
Mike Price, you're right, we absolutely would struggle in the Champo. That league is so physical that our players would buckle to the last man.
David McMullen
108
Posted 03/03/2018 at 15:41:46
Disgraceful second half performance. But we were poor all game really we had a go in the first half but we were still useless. Poor in the final third. God help us because i'm not sure this season is done we're slipping back down "write off" 7th place.
Ken Kneale
109
Posted 03/03/2018 at 15:43:14
Mike 101 that is bang on - it beggars belief that we are so high - we have had fortune no doubt about that - so has Allardyce - many of the points came in his purple patch when we were the second best team on the pitch yet he arrogant portrayed it as his recovery - what hollow comments those promulgations look now!!
I am with Jason 80 - direct protest at games is the only answer. As one or two others have noted our RS cousins got it correct when outing Hicks and Gillete
Jason Broome
110
Posted 03/03/2018 at 15:47:42
Each to there own Paul.
We can talk as much as we want on forums, end of the day it is just empty venting. Nothing we say matters because those in charge don't know and don't care that we exist. We are just money.
This is not a knee jerk response. I have been tired for years. Even the name is becoming a joke. If that name has to take an embarrassing step back to overhaul the club at all levels then so be it. We've done it before!
Since Moyes left I honestly have lost something with this club. I'm no longer the starry eyed child resting my heart at the feet of grown men from the terraces. I'm now a man taking my money back from a bunch of boys on the field.
I have much more in my life than Everton so if these idiots fail, it will be deserved.
Tom Bowers
111
Posted 03/03/2018 at 15:47:44
When it comes to records being broken you can bet Everton are always unfavorably on the other end of them.
Redknapp had it spot on when he said at half-time that Everton were just too easy to cut open and that there would be Burnley goals in the second half.
Everton could have taken the lead with that great shimmy by Gylfi but alas just wide and at that point Everton hadn't had a shot on target in the second half.
What happened soon afterwards was Cuco cocking up again and presenting Lennon with a run that got the corner and then the game was over.
Big Sam and Little Sam have had their fun so please as a matter of honour both of you, take the taxi ride now.
Anthony Murphy
112
Posted 03/03/2018 at 15:49:25
I will be genuinely surprised if he isn't sacked later today. We aren't safe yet and look a complete shambles. It's too risky for Moshiri not to act.
Dermot Byrne
113
Posted 03/03/2018 at 15:50:11
Jason; that is where I agree when you say
"Each to there own Paul.
We can talk as much as we want on forums, end of the day it is just empty venting. Nothing we say matters because those in charge don't know and don't care that we exist. We are just money."
Have posted same thought for some time now.
Jay Woods
[LAT]
114
Posted 03/03/2018 at 15:50:49
Another day when our millionaires were less adept at playing footy than some other group of millionaires. Tell me again, why do we invest so much emotion in this strange phenomenon?
Ray Smith
115
Posted 03/03/2018 at 15:53:48
Michael 99
Apart from Coleman who has only played 2 games this season, who should Pickford roll the ball too?
They would only lose it, so he takes them out of the equation, but then 80% of our first an second touches go straight back to the opposition.
I know the answer, but it won't happen all the time Allardyce is at the helm.
Sack him now, we can't get any worse without him, probably do better.
Tony Williams
116
Posted 03/03/2018 at 15:54:33
Moshiri says he has followed this clowns career over the years, what on earth has he been watching, he hasn't won a thing. this is from the man in charge of our club.
Sean Patton
117
Posted 03/03/2018 at 15:55:44
Don't think you can put much blame on the manager for that as he picked an attacking team and had a real go in that first half but we wasted so many chances Walcott especially we could and should have scored 3 by half time.
Still two things to come from today first Williams will not start another game this term and secondly Dyche should never be put forward as a candidate as his style of play is horrendous.
Jamie Evans
118
Posted 03/03/2018 at 16:00:29
Roman @ 66, I know what you mean. At the time of Koeman's demise, TW was awash with experts saying he should be sacked which, despite the dreadful fayre being served to us, should never have happened without having the correct replacement lined up.
We all know what happened next.
Who knows, perhaps the powers that be at our club do give TW a cursory glance ?
Perhaps it was the TW poll from this time that gave them the idea of soft arse ?
I hope they are looking at the most recent poll.
David Edwards
119
Posted 03/03/2018 at 16:01:48
Any stats experts out there who have looked at which team is most likely to end a long-standing bad record for their opponents - such as x matches without a win? y matches without a goal? etc. It always seems that Everton always seem to help these teams out most of all! What a soft touch we are!
Tony Williams
120
Posted 03/03/2018 at 16:01:48
Sean it' how you set the team out, look at the second half.
George Cumiskey
121
Posted 03/03/2018 at 16:04:16
Sean @ 117
What about all the chances Burnley had in the first half, and the good saves Pickford made didn't you notice that ?.
Saying there style of play was horrendous after they've just battered us is very strange.
Karl Goodwin
122
Posted 03/03/2018 at 16:04:30
Let's face it, Sam Allardyce doesn't give a fuck about Everton or us
Max Murphy
123
Posted 03/03/2018 at 16:04:42
You can go on bashing Allardyce, but first look at the players' performances, in particular, the central defence: Pickford, Williams and Keane.

Pickford does make great saves, but his overall game is poor. He does not control his area, terrible on crosses, and his positional sense is non-existent. He is not tall enough and opposition forwards totally boss him in the area. He reminds me of Richard Wright. Pickford will never be a regular English International. I would select Robles every time.

Now for Williams & Keane. These "players" woudn't get picked for an average Sunday League team. They are awful. They should be dispatched asap. A couple of statues on wheels would play better.

Let's now compare these 3 with Southall, Mountfield & Ratcliffe. Here you had the best central defence in the country at the time.

Everton's problem stems from central defence. Once these 3 players gain the confidence of midfield, this will spread to the forward line, and the whole team will become a cohesive unit. This will never happen with Pickford, Keane and Williams.

We bought badly – I was crying out for Everton to sign Harry Maguire (a future England regular) but we ended up with Keane – a disaster.

I've said it before, we do not deserve to play in the Premier League, and we should accept relegation as the only solution. Blame Allardyce all you like, but if the players are shite – no manager will succeed.
Stephen Brown
124
Posted 03/03/2018 at 16:05:06
Decent to good Premier League players have become very bad players for us! Williams, Keane, Schneiderlin, Bolasie, Sigurdsson even Rooney!
I can safely say we are the worst team in the league and it is pure luck we are not in the bottom three!
Where do we go from here? Surely there's a very good manager out there that can transform this team? Look what Carvhal has done for Swansea!
I fear a mass clear-out will just make things worse! Williams, Martina and Schneiderlin, yes, but a decent manager could surely make the rest of these players better?
We have to beat Brighton at home! Must win!! It's so depressing... !!
Jim Bennings
125
Posted 03/03/2018 at 16:05:52
My summer window would have consisted of
John Terry on a one year deal to add some leadership.
James Tarkowski or Harry Maguire.
Xherdan Shaqiri.
And I'd have spent less money on a striker that would have done the business at Premier League level rather than spend millions on hit and hopes .
Wasted money of wasters like Williams, Schneiderlin, too much on Sigurdsson, waste of money on Klaassen who has no future, waste of time signing Sandro, Vlasic and Keane has been an utter disaster, I've seen tankers move quicker.
Thomas Rigby
126
Posted 03/03/2018 at 16:06:01
I argued in favour of appointing Allardyce on short contract to guarantee safety this season before making a new appointment at end of season. I thought we were safe but it is now clear that nothing is guaranteed now.
No one would argue that this team (if you can call it a team )will definitely pick up points away between now and end of the season. Add in to the mix we have to play Liverpool and Man City at home then the Brighton game becomes a must win situation because a loss would make every game a crisis match.
We now know that this is a team that cannot fight and lacks character and skill so we must win next week before the pressure becomes unbearable.
I've never been so devastated after watching Everton so poor and literally hopeless and knowing that we have spent a fortune to arrive in this situation.
When Carragher says we are embarrassing he really means we are a joke. But joke team or not the fans will have to get behind them again next week because that is what we do. That Sam is why you can boast of our good home record.

Michael Lynch
127
Posted 03/03/2018 at 16:06:55
Sean @117
Agreed - I've said before that Dyche is the love child of Moyes and Allardyce.
Jason Broome
128
Posted 03/03/2018 at 16:11:30
I hear you Jay
Regardless of money the thing that drives us as adults is passion, commitment, drive, heart, love, desire, belief and a strong bond. It's part of being an adult and that was why we were drawn to the drama. Like willing a flu ridden Michael Jordan in 1997 to grab 38 points or Bruno hurting Tyson.
It's more than just money for us. You try giving your misses your credit card and nothing else and see how long your marriage lasts!
We loved Cahill because he was an average player (on millionnaire wages) who gave a fuck! The same for Carsley and much of those who made up the teams before.
The direction and vision I have seen in recent years boils my piss. Unlike us they don't have a winning spirit, or a desire for the club.
This team is treading water and I guess I'm tired of waiting for tomorrow.

Andrew Clare
129
Posted 03/03/2018 at 16:12:28
A terrible football match. The ball was either out of play or hoofed up the pitch most of the time. We are light-years away from the top and have been for the best part of thirty years.
I remember my wife saying to me "Why are you celebrating so much?" when we last won the league in '87. I said. "Well it might not happen again in my lifetime." I didn't mean it at the time but now it's looking like I was right.
We are the worst team in this division and we will be lucky to escape relegation. What actually happens in training? I ask because our players look like they haven't got a clue what they should be doing. When did we have a good defence? It's been so long I can't remember. Even when we had Jags and Stubbs they looked frightened out of their lives when they received the ball.
Now the defence is even worse. The ref did us a great favour when he sent Williams off. A player like that should never be wearing an Everton shirt. If Allardyce is still in the job on Monday, it will be an absolute disgrace.
David Hallwood
130
Posted 03/03/2018 at 16:16:17
Firstly I'm not here to defend Allardyce far from it, he's a washed up manager who wasn't very good in the first place. Never been relegated? Talk about setting the bar low.
But our problem is the DoF and its/his/their buying policy that's left us in this position. We've spoken/ranted about the imbalanced squad so there's not much more to say, but to go into a season with no left footed defenders is total incompetence, to not redress that in the January window is veering on sabotage.
We buy Tosun obviously needs service from the wings, Allardyce plays Calvert-Lewin as a wide player only that he isn't, while Lookman is allowed to go out on loan – like I say, that's near to sabotage.
Yes, get shut of Allardyce, the sooner the better, but get shut of the DoF v not just Walsh but everyone associated with it.
Ian Carter
131
Posted 03/03/2018 at 16:18:01
Terrible performance. The team is getting harder and harder to watch. Allardyce continues to "tweak" the squad and always gets it wrong. Style of play is utterly ridiculous. Every game is 90 min of uncompleted passes, no attack, and lapse after lapse of defensive assignments.
I'm from The States and I'm finally coming to England in September. But, as excited as I am, at this point, if nothing changes between now and then, I don't know that I want to waste my money on an Everton ticket.
Sad to see how far the club has fallen. Moshiri needs to see this and take major action now! Big overhaul needed asap!
Danny Broderick
132
Posted 03/03/2018 at 16:20:57
Allardyce must go in the summer - it is just not working out.
Let's not forget though what a soft centre this team has. I'm sick of being let down by most of them. We need a clear out in the summer - the following have to go:
Stekelenburg - no longer required.
Martina - nothing personal, but he's our 3rd choice right back and not good enough.
Jagielka - great servant but his time has come.
Williams - has never convinced, is old and slow, and has let us down again today. Can't play in a back 4.
Schneiderlin- he has stunk the house out all year. Needs to move on, the fans have had enough of him now.
Besic - he's a trier but way down the pecking order. Time to go.
There are probably others.
We need 2 centre halves, a left back, a centre mid and probably a striker. That's the spine of a team. Let's hope we get some players with backbone, more than the shower they are replacing.
Paul Smith
133
Posted 03/03/2018 at 16:22:25
Where's Jay Woods (BZL) ?
Need to hear his logical explanation again why we won't go down this season.
If I could find a book maker that would indulge me I'd lump something on us going down. We are and have been that bad all season.
Mike Oates
134
Posted 03/03/2018 at 16:23:58
Whilst I agree with all the sentiments that Allardyce has to go, the absolute mess we are in now is not down to him totally – and we know if we are truthful.
The defence is a complete and utter shambles, with 3 centre halves who aren't Premier League status, no left-footed full-back as reserve (forget Garbutt he couldn't defend for toffee) a young pretender as a centre half who is always minutes away from losing his head and a goalie who now is starting to get affected with what's in front of him, and two mid-30-year-olds who were good 4 years ago.
I don't know where to start with the midfield, other than Gana and Sigurdsson the rest just don't perform consistently enough to warrant a permanent place. Schneiderlin has gone missing, Klaassen a dud, Davies's energy can't make up for his woeful distribution, Rooney has one good game in three.
Upfront, a young 20-year-old who tries but isn't there yet, Niasse who is an enigma, Tosun clearly must be wondering if he'll only ever get one chance a game; and Walcott, who must be wondering will we ever get someone on the end of his crosses. Bolasie a complete waste of money.
Virtually 80% of them cant pass the ball to another blue shirt. 80% make terrible decisions on how to keep the movement going. No matter who we get in, it's years and years away from anything worth watching.
We think as Everton we should be going out there with the intention of playing attacking, exciting football, never losing – well it's just not on with this bunch. Get real – it's a complete re-start with maybe Moshiri willing to pump in another 𧶲M or more on players and at least another 𧶲M on a ground.
Stephen Brown
135
Posted 03/03/2018 at 16:26:19
We can't just go and spend another 𧶀M though!
How much would people take for some of our crap? Realistically?
Schneiderlin 㾸M? Williams free, Klaassen 㾶M? Bolasie 㾶M? Keane ٦M? Vlasic ٣M? Sandro ٤M? I'd keep Sigurdsson but may get 㿅M?
What a waste of money! Who is responsible for this! If it was me in work I'd be sacked!!
Need a manager and need a style of play then buy the players to fit into it!
Shambles!!
Paul Welsby
136
Posted 03/03/2018 at 16:26:45
Okay, Jason, point taken. Now you're saying if they deserved to go down and I agree with you on that score. But my reply to your earlier post was the part where you wished we would and I would never feel that way.

Mike Price
137
Posted 03/03/2018 at 16:29:33
The Brighton game is almost a Wimbledon. If we don't win it we're definitely losing the 3 after that and then every game of the last five is a serious fight and we don't have fighters.
Allardyce wants to be sacked. It's obvious to us all and that poison is killing us. We are a shambolic laughing stock but we have to bite the bullet and get rid of him quickly.
Paul Tran
138
Posted 03/03/2018 at 16:29:59
Paul (#134), the odds on us going down are enormous, because the teams below us keep beating each other. I'm happy with my stack on us to stay up at 4/6 and 1/1.
Brian Harrison
139
Posted 03/03/2018 at 16:32:24
Another disastrous away result, I thought after we scored for the next 10 minutes looked in control and should have increased our lead. But you just knew that if Burnley scored next we would be in trouble and that's the way it turned out.
Even more worrying is, the coaches of the teams were about to play will see how slow Michael Keane reacts to balls played down the channel. They will have also noticed that Pickford's biggest problem is he never comes for corners, so you put a man to pin him on his line and swing the ball to the far post.
I know this may seem desperate but I would approach Marco Silva and get him in place before the next home game. With Swansea beating West Ham easily it will mean we will be closer to the relegation teams than we were after Unsworth's last game.
If Silva is Moshiri's choice, then let him have eight or name games assessing the squad before the next transfer window. But if Fonseca is his choice then we have to hope and pray we get enough points to stay up.
I am refusing to name our manager because he doesn't warrant a mention. If this team manages to stay up it will be in spite of having him as manager.
Stephen Brown
140
Posted 03/03/2018 at 16:34:23
We're crying out for some heroes! I don't really like any of our players (except Seamus, maybe Rooney). We've been poxy for 25 years but I liked with exception Cahill, Arteta, Pienaar, Carsley, Gravesen, Ferguson, Limpar, Kanchelskis, Cottee, Watson etc etc.
They all played in shit teams too but I can't take to many of this lot! Maybe it's because I'm older but they don't seem to give a shit!
Charles Brewer
141
Posted 03/03/2018 at 16:35:44
Michael, I suspect the reason Pickford hoofs it is that the ball will take 3 or 4 seconds longer to come back than if he gives it to one of our defenders or midfield who will immediately pass it to the opposition.
Jamie Crowley
142
Posted 03/03/2018 at 16:38:49
Is Shakhtar's season now over?
Fonseca in please the second Shakhtar's season is completed for me.
Whomever takes charge why wait?! Give the guy a chance to work with the existing players we have, see who he wants to retain, who he wants to offload, and we can hit the summer break ready to move early in the market.
It's SO bad.
Broken record time: when you play to draw on the road this is what you get
David Barks
143
Posted 03/03/2018 at 16:39:46
One thing is certain, we're going to get a lot of stadium news this week!
Mike Price
144
Posted 03/03/2018 at 16:40:34
What's also irritating is that we actually have to hope Liverpool beat Newcastle! This is what we've been reduced to.. the worst season in living memory by a long way.
Gavin Johnson
145
Posted 03/03/2018 at 16:42:53
Another predictable defeat and another reason why Big Sam needs to go. Shouldn't Steve Walsh be sacked right now too and the new director of football brought in so he can get to work on bringing in summer targets?!
As for the game, I echo other peoples sentiments that Calvert-Lewin isn't a left sided player. BS really dropped the ball allowing Lookman to go out on loan. What's happened to Vlasic?
Williams again was awful and a liability, needs to go along with Schneiderlin. I think Keane got some unfair flack today. I thought he had a good game on the whole and it was Pickford who was at fault for their first goal.
It's all very grim. The worrying thing is that defeat is expected and it doesn't really hurt anymore this season.
Pat Kelly
146
Posted 03/03/2018 at 16:59:36
Allardyce won't be sacked until end of season. But he will go then and so will Walsh. Then it's back to the drawing board. Kenwright unfortunately will continue to hamper future progress.

Chris Donnelly
147
Posted 03/03/2018 at 17:06:22
The only way to sort this out is to boycott the Brighton game!!! We can't be treated like this!!!
Forget fly by's and banners
Stay away from Goodison next week make this blind and deluded board get rid of the 2 fat sams they are a cancer and destroying our club
John G Davies
149
Posted 03/03/2018 at 17:06:29
Paul Smith,
Take your pick of bookies mate.
https://www.oddschecker.com/football/english/premier-league/relegation
Luigi Perfetto
150
Posted 03/03/2018 at 17:08:54
Why we still continue to kickoff with long ball that never reaches our man in the 90% of the case.
John G Davies
151
Posted 03/03/2018 at 17:10:38
Williams was very poor today and has been for most of the season. Deserved red card.
However, Keane was worse. The worst display of positional sense and awareness of runs being made around and off him that I can remember from any centre half. He needs to be on the shipping-out list in the summer.
Jason Saggers
152
Posted 03/03/2018 at 17:29:08
In 1994, it took 44 points to stay up on last day of season. Let's hope it doesn't take that points tally this season; I can't see us getting 10 points between now and the end of the season.
Darren Hind
153
Posted 03/03/2018 at 17:45:28
When is this club going to start treating our wonderful traveling fans with some respect? Anybody who can demonstrate they have been to ten of these fucking awful away days should be given a free season ticket for next season. Those with nine, a hefty 90% discount ;those with eight, 80%; and so on....
I bet there is not a single person who watched that game on the box who didn't know what was going to happen when they kept putting up that stat about Burnley never coming from behind to win. There's nothing to say that hasn't been said a hundred times.
My long suffering Mrs still loves to go dancing. Tonight I will take her dancing.


Dave Williams
154
Posted 03/03/2018 at 17:49:14
Awful, particularly the second half. We had zero presence in midfield, lost pretty much every second ball and couldn't retain possession.
Calvert-Lewin had a very ineffective game and Walcott was poor. The centre-backs will get most criticism and quite right too. Keane allowed himself to be bullied by Barnes and Williams gave him no help whatsoever. I saw the second goal coming when the TVcamera gave the view from the corner flag and you could see their player in acres of space at the back post.
Sam is trying to deflect criticism by blaming the loss on failure to take chances- they had far more than us and as soon as the second half started you could see them scoring. I thought that again there was a lack of fight, no leadership and subbing Siggy for Bolasie was crazy. Bolasie does not yet look fit to me whilst Siggy could have been moved more central.
The next game really is crucial. I would go for something radical and play Siggy in CM – our best player in his best position – and build the midfield around him. Play Baines to give some balance and maybe Garbutt wide left midfield?
Forget the protests until we are safe- we need the crowd behind the team to win our home games and cannot risk making an already fragile team even worse.
Words fail me with Allardyce- the smirk in the interview absolutely stank of arrogance – he may as well have said: "What the hell do the fans know?" Dreadful arrogance from a man who really doesn't seem to care.
Andrew Bissett
155
Posted 03/03/2018 at 17:53:09
Keane has become a shambles because of the players either side of him.
If you can stomach to watch the game back, the Burnley player runs away from Williams in behind Keane who can't get back. Williams just ambles along hoping Keane will deal with. Martina is in no mans land half way between defence and midfield and the ball goes in the space behind him.
Keep Keane get rid of Martina and Williams for free if necessary. Build a better central defence unit as has been stated previously with a left sided central defender who can play a bit and a proper left-back. Then, barring injury, leave them to it.
Sean Patton
156
Posted 03/03/2018 at 18:01:52
George (#121),
Battered us?
A strange way to describe a 2-1 defeat where we missed two one-on-ones before half time.
Burnley are an awful alehouse team who just launch it constantly to a big grock. Do you think the Everton fans would put up with that if Dyche was manager.

Mike Kehoe
157
Posted 03/03/2018 at 18:02:04
Brian Harrison (#140),
I agree with you about Silva, if he is the plan for the future get him now and let him assess the squad. If Fonseca has been lined up hand over to Unsworth for the remainder of the season as he will benefit from the experience. The stakes are high but I feel Allardyce reaped the rewards of Unsworth in the purplish patch so a change now is the lesser of the evils.
Change has got to be now as the toxicity is tangible and will poison Goodison for vital games. If he remains there has to be a protest of some kind. In other threads turning our backs on the 18 and 78 minute has been suggested.
I don't think we will go down but this man may drag us much further into the darkness if he is not sacked immediately.
Jay Harris
158
Posted 03/03/2018 at 18:05:17
Gavin,
I have to disagree with you over Keane.
IMO he should be getting slaughtered for his performance today. He was totally culpable on both goals and was constantly in cloud cuckoo land. He is not even good enough for the U23 side.
Williams by comparison is the whipping boy but our best centre-back pairing has been Williams and Holgate. Some genius decided to change that and we have leaked like a sieve since.
Si Cooper
159
Posted 03/03/2018 at 18:08:12
Sean Patton – the better team won today. If you didn't / can't see that, then no-one can help you.
David Barks
160
Posted 03/03/2018 at 18:09:34
Sean,
Did you ignore the 21 shots that Burnley had compared to our 10? Did you ignore all the saves that Pickford had to make? We were lucky to escape at 2-1.
Joe Foster
161
Posted 03/03/2018 at 18:16:04
All-in-all, this was embarrassingly all too familiar. We are easy to beat and easy too defend against. If it was not for Pickford, it would have been 13-1.
Sean Patton
162
Posted 03/03/2018 at 18:25:42
Bollocks to "We were lucky to only lose 2-1"!
David, you are quoting stats there but did you see the match?
Walcott skied the ball over from 5 yards out with the goal gaping. He then shoots tamely with only the keeper to beat not once but twice.
In the first half, we played well going forward – much better than last week the problems came in the second half when we were awful. Burnley created chances but none as good as the ones Walcott missed we should have been further in front but shot ourselves in the foot.
And Simon, I've been an Everton fan for over 30 years so I am way beyond help!
Gio Mero
163
Posted 03/03/2018 at 18:29:50
When I saw the team-sheet, I thought we were going to play two up-front. Hahaha!!!
Dave Abrahams
164
Posted 03/03/2018 at 18:29:55
We haven't got much fight, if any. I don't know if we've got enough good players... I doubt it... but somehow Everton have got to get at least 6 points between now and the end of the season. We, the fans, can play a major part in getting them.
Earlier in the season, we were getting outplayed by Watford at Goodison Park, losing 2-0. We got over the line that day with a 3-2 victory. We got a goal back and then we (the fans) took over, roaring them forward, urging them to produce more effort. We wouldn't let them give up. More than that, we made the Watford players nervous wrecks... more nervous than our own nervous wrecks; we were the stars that day.
We can do it again versus Brighton, Newcastle and Southampton. Forget Allardyce, he's here for a big check... Let's start next week versus Brighton; it's our club – let's fight for it and make and force the players to do the same. We are here forever; players, managers and directors come and go... the quicker the better for lots of them. Ever-fuckin-ton.
Ray Robinson
165
Posted 03/03/2018 at 18:30:17
We need Jagielka back to restore some order to the back four. He may be older and slower but he's easily still our best defender. Too many of our players went into their shells in the second half – only Gueye was consistently good throughout the match.
Justifiably blame Allardyce for lots of things but the players need to look at themselves today – not for the first time.
Dermot Byrne
166
Posted 03/03/2018 at 18:30:21
I think it may be some time until we are proud again. Still... the McLaren engine seems better for this season. These overpaid wankers won't ruin my life beyond a few hours once a week.
David Barks
167
Posted 03/03/2018 at 18:32:12
Sean,
Those stats are from the damn game! Did you not see their 21 shots, their 8 on goal compared to our 4? What match were you watching?
How can you say Burnley didn't create any chances as good as Walcott when they scored 2 goals! I'd call the ball hitting the back of the net a damn good chance. Pickford had at least 3 spectacular saves to limit then to only 2 goals.
Colin Glassar
168
Posted 03/03/2018 at 18:43:07
I've seen some terrible Everton teams in my time. Some really talentless players who were an embarrassment to the shirt but I've never seen such a weak-kneed team in all its connotations (spiritual, physical, mental etc...) like this one.
This team is an empty shell. There's nothing there. No camaraderie, no spirit, no fight, no passion, no interest, no pride, no nothing and that is worrying because if there's no interest in the cause then we are doomed, either this season or next.
I remember reading an article a few years ago about Everton being in terminal decline since the late 80s and, even though I brushed it off, it's almost becoming prophetic now. I wished I had kept it.
Michael Lynch
169
Posted 03/03/2018 at 18:50:44
While Pickford is a great shot-stopper, I agree that he doesn't command the area at all. It's not just that Williams and Keane are not up to it, teams also know that our goalie doesn't come for crosses with confidence.
Brighton is a must win. They'll have one eye on their FA Cup tie the week after, so we need to get amongst them and win every 50-50. We have to be more aggressive where it counts, and hold a higher line. I was disappointed that Coleman didn't get forward today – he needs to be powering up and down the the line like he did on his comeback game.
This is a shit season, all that matters is staying up at this point. I know that everyone keeps saying we won't go down cos x = y² or some other convoluted points formula, but I'm holding my breath til we're four points clear with one game to go.
Dreadful team, dreadful management. Burnley were just a stronger version of us today, so absolutely no fucking way should Dyche be on our short list of managers. Hoof ball is hoof ball, fuck that.
David Hallwood
170
Posted 03/03/2018 at 18:51:40
Btw, Luke Garbutt must be the worst left-back on the planet if he can't get a game before Martina.
Sean Patton
171
Posted 03/03/2018 at 18:53:03
What frigging game do you think I watched?
I've asked you a question which you haven't answered instead quoting some stats like an Opta geek.
So your logic dictates that a chance is only a good one if it results in a goal? Well what spectacular hindsight that is.
By your reckoning, when Maradona picked up the ball in his own half in 1986, it was only a damn good chance once he had dribbled past half the team and rounded the keeper.
Paul Smith
172
Posted 03/03/2018 at 18:55:49
Darren Hind @153
Been to 6.
Knocked it on the head after the 4 - 0 at Wembley. Spending the savings on 2 weeks with the other half in the Indean Ocean.
Better for my health.
John Kavanagh
173
Posted 03/03/2018 at 19:04:15
Conspiracy theorists will see the smilee Allardyce and speculate about whether a huge bet was placed in Asian betting markets on Everton getting relegated five games into his tenure. The promise to first sort out the defence has hardly been kept has it? Instead we have seen hopelessly out of form players persisted with beyond all reason.
I wanted Unsworth kept on for at least 5 home Premier League games. The panic signing of Allardyce on the back of a disastrous trip to Southampton (where injuries forced two early changes to an already patched up back four) was a knee jerk reaction that may end with a Villa like disintegration. Usually one club that seems to be secure in mid table at New Year plummets into the bottom 3 while one side manages to escape.
Given the dreadful results, lack of anything resembling team spirit or organisation and this season's penchant for setting unwanted 'firsts', I'm afraid that this year we are the seemingly 'safe' club destined for the drop. Our final new record for the season might end up being the first Allardyce rescue club to get relegated. However, we can at least dodge that bullet by sacking the smug bastard on Monday.

Trevor Peers
174
Posted 03/03/2018 at 19:04:17
Martinez didn't help, Colin, his ruthless pursuit of his own career has been a huge factor in our demise.
We were in good shape with Moyes at the helm, compared to the shambles we have now become. Kenwright wouldn't back him financially, that was the time to invest the money, another opportunity missed.
We're badly run by amateurs that's the real reason for our spectacular collapse, and until we get successful people to run the club, or just get lucky picking the right manager, it will remain so.
David Reid
175
Posted 03/03/2018 at 19:05:15
Paul 48 "I have never felt so embarrassed being an Everton supporter as today".
You obviously didn't watch the games against Spurs, Watford, Arsenal & the Europa League games... 'embarrassed' is an understatement. My mates now feel sorry for me.
David Barks
176
Posted 03/03/2018 at 19:07:21
Sean,
Your email handle must be samallardyce@gmail.com. Yes I watched the match, they were better than us in every single department. The stats are used to put numbers to an opinion, otherwise it's very easy for someone like you to claim that we had the better chances.
No, we did not. Their goals were both very clear and good chances. They also had numerous other very good chances that were only thwarted by spectacular saves by Pickford. We on the other hand had a grand total of 4 shots on goal. None of their goals were via a Maradona like run.
Nobody is buying what you're selling. We all watched the game. We know what we saw. We were lucky to get out of that game only conceding twice. They had 21 shots, convertin 2. The first was a throughball resulting in a 1 on 1 with the keeper. Very good chance. The second was a header from a corner from about 2 yards out. I'd say that's a clear chance. Other than those 2 goals, they had so many other chances compared to our very few.
Michael Lynch
177
Posted 03/03/2018 at 19:15:50
Does anyone seriously want Rafa managing our club? Him and Allardyce both seem to belong to the "0-0 and failing that keep the opposition down to less than 4" school of management.
No Dyche. No Rafa. No to anyone who's ever taken a club down from the Premier League. No to anyone whose CV consists of managing to keep a shit club in the Premier League for three seasons. Just fuck off all these mediocrities.
I'd rather take a chance on someone coming up through the leagues, like Nuno Santos at Wolves, or a first jobber like Arteta. Not that either of those would risk their reputation on a basket-case like us.
Clive Rogers
178
Posted 03/03/2018 at 19:16:10
Thank god Moyes seems to be working his anti-magic at West Ham.
Lawrence Green
179
Posted 03/03/2018 at 19:18:54
Winning a few games between now and the end of the season is of course what we'd all like, but we may have to settle for not losing, particularly away from home. If we drew every game with those teams below us from now until the end of the season that would probably be enough to preserve our status as a Premier League club but it doesn't bode well when we can't even take a point at Burnley despite taking the lead early doors.
Sam seems to have got himself stuck between two stools: if he picks an adventurous set-up we can't defend and if we go all out defence we can't defend. I thought he had been brought in to address our defensive weaknesses, but obviously he has found it just as difficult as Koeman and Unsworth.
Today's defeat was made in Watford – our lack of adventure there put pressure on the team today. Exactly the same thing happened at Christmas when we failed to take the game to West Brom and lost the following game at Bournemouth.
Sam has been in the hot-seat for 15 league games, we've won five, drawn four and lost six which means 19 points from a possible 45, which is only four more - 15 from a possible 42 – than Koeman and Unsworth combined, took from their time in charge. Given that record, we should just about earn enough points to keep us in the Premier League.
Johan Elmgren
180
Posted 03/03/2018 at 19:28:34
I'm probably one of the few here who takes some positives from this game.
One. Allardyce will soon be sacked. Again he showed his tactical cluelessness and was easily outmanouvered by his Burnley-counterpart. Dyche showed Allardyce how to play his own game, and spanked him royally at it. Now it should be plain obvious to the board as well that Allardyce clearly is not up for the task as the inevitable sack draws ever closer.
Two. We will now fortunately be without Williams for the three upcoming games. Hopefully he will never play in a blue shirt again. His (lack of) marking on their second goal, pure schoolboy error, and the red card where low points. His distribution is equally woeful as he spreads his passes left and right, hardly ever to a player in blue. Keane is a good defender but he needs a leader type of partner in the central defence with the style of play we are applying now, a low defence with little possession. I think Keane will come good, I see a good defender there, and I think he will himself be that kind of leader in a couple of seasons under the right manager.
Three. Tosun scored and it will do him a world of good. We saw what kind of forward he is, a fox-in-the-box type. Many of us discovered that almost immediately and he needs service into the box, something there is precious little of under Allardyce, where low defence, hoofing up to forward, which will lose it eight times of ten, is the style. We haven't got that type of forward. Calvert-Lewin is the one who comes closest, but to put that pressure on a 20-year-old is a bit steep. I think Tosun would be great in a more passing-oriented attacking setup were we would create chances for him. As would Sandro.
Four. The goal we scored was true class. It was derived from us having plenty of players in and around the box, and some neat interplay between players that clearly have creativity. Unfortunately, they are not given chances to display it often enough because of the style of play. If we could push players further up the pitch and be meticulous in possession we would easily be able to play Burnley and all the other teams below sixth place off the park. With an attacking mindset we would have put this game to bed by half-time, but unfortunately the manager doesn't apply that type of play. But the goal shows that we have creativity in the team.
Five. Sigurdsson finally played in his right position, and I thought he was much better today than most other games. Now if we had a mentality to play attacking football, we could get much more out of him, but now he spends most of the game hunting down opposition players when they have the ball. We should be the one's possessing the ball, and the other team chasing it, at least against teams below the top six.
Further, with all the good Dyche has done at Burnley, I don't see him being a good fit for us. He has kind of the same gameplan Allardyce has, but he has a better way of getting his team to attack and create goals. In my mind that is not the way I want my Everton to play. I'd like us to be more easy on the eye and better with the ball, always going for the three points in every game with an attacking mindset. Dyche is though much better at creating teamspirit and making the players play as a team – something Allardyce is totally bereft of. But I want us playing better football so I'd like to see Fonseca in our hotseat.
In the defence, I'd really would like to see Holgate partner Keane for the rest of the season. I think both players have great potential, and both are pretty good with their feet, so they can pass the ball out of defence instead of hoofing it Williams-style. Giving them time to play with eachother now could get them to gel a little, and create a good platform for next season.
I think once we get a manager who will get us playing a more possession-oriented football and make us better at closing down opposition players and we start winning games, confidence will come and those two will flourish. Those who are criticizing Keane, I mean which defence looks good when the opposition is allowed to ping in crosses from left and right (mostly right today for obvious reasons) putting pressure on the back four? None. That will always create havoc regardless of who the defenders are. And on top of that we have two players in defence who can hardly defend: Williams and Martina.
If now the board only could take some action and sack Allardyce... If we can't get Fonseca in now, put Unsy in charge for the rest of the season... It can't be any worse than this. Then get Fonseca in asap, so he gets some time shaping the team.
Allardyce out now!
Dermot Byrne
181
Posted 03/03/2018 at 19:40:20
Best post of the lot, Johan.
Gordon White
182
Posted 03/03/2018 at 19:40:24
What a load of crap.
If we avoid the drop, let's hope we get a decent manager and 11 players who can play Premier League football. It's embarrassing for the owner, the fans and the few players who are good.

Mike Price
183
Posted 03/03/2018 at 19:43:36
Nobody seems to like each other and no-one looks like they want to be playing in this team. A bunch of characterless misfits, no fight and all serial losers.
Johan Elmgren
184
Posted 03/03/2018 at 19:45:31
Thanks, Dermot. :-)
Gordon White
185
Posted 03/03/2018 at 19:46:14
I agree with Dermot. Good post, Johan.
Darren Marsh
186
Posted 03/03/2018 at 19:53:46
If Hippo Head isn't sacked before Monday, then that shows how spineless this board really is.
All this "let's get to 40 points first then sack him" bollocks, is what's wrong.< Get him and his midget mate fucked right off, we are a complete embarrassment to the Premier League.
Nobody fears us anymore, clubs/players who haven't scored for an age can't wait to play us as we just roll over and have our tummies tickled.
Another weekend ruined for Evertonians everywhere. We are far from safe because this team hasn't the fight or heart to compete at all. Nil Satis... my arse.
George Cumiskey
187
Posted 03/03/2018 at 19:56:02
I still say Allardyce pays people to come on ToffeeWeb and try to deflect any blame away from him.
Otherwise some of the posts on here are truly mind-boggling.
Brian Wilkinson
188
Posted 03/03/2018 at 19:59:30
Johan@180, good post; defence-wise though, I would take Keane out of the firing line and play Jagielka there alongside Holgate. Jags will throw his body in front of a shot, safety-first Row Z and, although not as quick now, still better than Williams and for now Keane.
Once we are safe, I would give Keane a few games alongside Jags, Coleman and Baines, if he cannot learn anything from those three players, then he needs to hang his boots up.
Michael Lynch
189
Posted 03/03/2018 at 20:05:33
George, he's taking massive flak on here, but it's only fair that the rest of the guilty parties should take some blame too. What's going on on the pitch is as bad as what's going on on the touchline.
It would get boring if every single post was the same "get fat head out of our club" rant. Personally, I'm interested in hurling abuse at a number of targets, not just the biggest one.
Colin Glassar
190
Posted 03/03/2018 at 20:05:34
I agree, Darren, just seeing him smiling at the end of the game made me want to puke. This must be the easiest 㾸m he's made since he accepted all those bungs at Bolton.
George Cumiskey
191
Posted 03/03/2018 at 20:09:26
Michael, I agree they all should take the blame, but my problem is the posters trying to absolve Allardyce of any and just blaming the players.
Jay Wood
[BRZ]
192
Posted 03/03/2018 at 20:20:58
Paul Smith @ 133:
"Where's Jay Woods (BZL)? [Wood, no 's', actually...]. Need to hear his logical explanation again why we won't go down this season."
Point #1. Jay Wood [BRZ] is around and posted on this thread both at half time (post # 9) and at full time (post #38).
Point #2 .As you seem to be aware of my unwavering prediction, you will also be aware my 'logical explanation' is still holding up. Since I laid it out in detail in answer to a poster who predicted just one more win in the (then) remaining 14 games, the results have gone very close to what I predicted. Indeed, believe it or not, but we are ahead of the game.
Home to Leicester was a predicted loss. We won. Up 3 points on the prediction.
Away to Arsenal, predicted thumping. Duly delivered.
Home to Palace, predicted win. Correct.
Away to Watford, predicted draw - possible win. Lost. -1 point on the prediction.
Away to Burnley, predicted loss. Correct.
Taken overall across those 5 games, we are 2 points to the good. Not difficult to predict for anyone capable of analysing very clear data.
As I keep repeating, stop looking at Everton's results in isolation and understand just how many games of ALL the teams around and below us are against each other. Today's fixture list and results was further evidence of this fact.
Finally, you state: "If I could find a bookmaker that would indulge me I'd lump something on us going down. We are and have been that bad all season."
You evidently aren't looking very hard, Paul. You could be making a killing if you were sincere in your claim. 80/1 is still the best price available on Everton being relegated this season. 40/1 the worst price.
Alternatively, you could go the other way and back Everton to stay up, but the odds are literally not worth a farthing. Something daft like 1/650. Lay 𧽂 to win ٟ.
Those bookies, eh? What do they know...?
Brent Stephens
193
Posted 03/03/2018 at 20:23:27
I didn't thaw out till mid-afternoon! Had a drink with some Burnley supporters after the game and they said that even before today's win the fans were behind Dyche. I suppose that at least Sam still has that 5% of support on the TW poll.
God, I know it's all been said, but there's never any sense of hope at games, even when we go ahead. Give me 11 Seamus's and I could move this team.
Paul Smith
194
Posted 03/03/2018 at 20:30:22
Thanks Jay.
Good to see your prothetic predictions are becoming reality. Fingers crossed for those home games, going down is unthinkable.
I won't be needing that link btw. A little reactive after a terrible display.

Phillip Warrington
195
Posted 03/03/2018 at 20:37:28
His tactics of defending without playing through the midfield is what fucked us. Every team we've played since Allardyce took over knows you can attack Everton without fear of them attacking you. It's not that we have bad defenders or shit forwards.
Allardyce's tactics of protecting and defending from the back mean defenders never have a break and get frustrated that they're subjected to wave after wave of attacks that often means they're panicking, clearing the ball up-field, which in turn frustrates the forwards because they are continually chasing lost causes.
These are tactics of a lower league team playing a Premier League team. You could see Burnley were going to score and it was a matter of how many; they just constantly attacked Everton. The last two managers have lost Everton's identity by just trying to defend against the so-called better teams. Everton used to play football, no matter who we played.
William Gall
196
Posted 03/03/2018 at 20:39:08
The opinion by supporters is there is a slight possibility that we could be relegated but most probably not. The other main talking point is 95% of the supporters that answered on a poll want the manager fired by the end of the season.
My own opinion is that they should no longer wait but fire him now, and if they have someone else in mind at the end of the season, use David Unsworth until then.
Leopards don't change their spots so we are going to get the same for the rest of the season unless we change, and my own feelings are you don't leave over ripe fruit in your fridge to go rotten and spoil everything else.
Colin Glassar
197
Posted 03/03/2018 at 20:42:32
Brent, that 5% of the poll are fat Sam, little Sam and all the other fatties who identify with His Fatness.
Brian Wilkinson
198
Posted 03/03/2018 at 20:45:12
Not all doom and gloom, I am sure before next weekends game, we will have something about our new stadium thrown into the mix to distract us.
Lawrence Green
199
Posted 03/03/2018 at 20:48:38
It's a shame that Big Sam doesn't have the same philosophy on life and the game of football as Spurs boss Pochetino:
He said: "If your own fans don't want you there is no point to carry on working because you are going to damage first of all your company, your club.
"At some point, you need to go away because the club is always more important than any person and if I am the point that creates a problem between all levels of the club, I prefer to go away.
"For me football is no drama. It's natural. It's true.
"I promise you for me, it is not a drama. Football is a joy."
Andy Meighan
200
Posted 03/03/2018 at 20:50:56
I was at a party last Saturday night with a Championship player who I happen to know quite well. What he told me won't shock you but I'll tell you anyway...
What he said was – and he's friends with 3 of Evertons players– "Look you might not like this but there's at least 5 players in that squad that don't give a flying fuck how Everton get on They're there for one thing only: Money."
He said they are not bothered if they upset the fans, the board, or the manager – they'll still get paid regardless. And if the unthinkable did happen, they'll bail out asap
He did say the likes of Tosun, Bolasie and Vlasic absolutely love the place, the City, and most of all, the fans, and would do absolutely anything for them.
Wether you believe this is true is up to you but the kid has no reason to lie to me as I've known him a long time... since he was a kid, in fact. It didn't shock me but made me think: "What have we signed?" What a shambles this whole affair is.
[ps: I'm not naming the kid either.]
Oliver Molloy
201
Posted 03/03/2018 at 20:53:22
If we want an edge in order to beat Brighton, Seamus Coleman needs to be made captain.
Goodbye.
Mark Dunford
202
Posted 03/03/2018 at 20:53:45
Most of us seem to agree. Big Sam is a zombie manager who won't last far beyond the end of the season. In the meantime, we're having to endure a lot of arrogant nonsense from him.
One of my questions from today is: Why was Baines on the bench? If he is fit enough to be in the squad then he should be on the pitch. Martina is a willing trier but hopelessly out of his depth.
Tosun scored a very good goal – a real poacher's effort. If he is this Tony Cottee style of player then we should play to these strengths.
Everton failed to cope with the demands placed on the defence by a blindingly obvious substitution from Burnley. Big Sam then made matters worse by a series of three weird substitutions before our captain was sent off for an act of crass stupidity. We lost pace when Davies went off, a goalscorer when Tosun departed and our most able footballer when Sigurdsson was inexplicably withdrawn. This is not to criticise any of the replacements.
I just hope Baines and Funes Mori can be installed as quickly as possible – a back four of those two plus Holgate and Coleman is potentially quite strong – if not very short of match practice! Gueye is a fine shield and Davies a tireless runner. If Sigurdsson is played in his best position and Walcott allowed time and space on the right, then we have a gap up front and on the left of midfield. Tosun may have earned a chance and could be subbed by the twenty effective minutes Niasse appears to conjure up every fortnight. There is little beyond this – some really promising youngsters, a couple who are in the unproven category (Keane, for example), some ageing players who have served us well and a group who should be ditched now – Williams, Klaassen, etc.
I suspect the zombie manager may yet go before the end of the season. He will almost certainly be around to suffer at the hands of Man City and Liverpool. To be honest, he can't suffer enough for me. He has inflicted so much on us – it just seems fair.
Darren Marsh
203
Posted 03/03/2018 at 20:57:21
Colin (#190) you're right mate, him smiling at the end of the match was about right for a man of no morals.
His constant throwing players under the bus, and saying we have the same ambition as Newcastle and West Ham ffs, just goes to show what a clueless fool he is, or he's getting his sly digs in as he knows he's on his way soon.
Moyes's last game for us against West Ham said it all when their fans sang "Where's ya Moyesie gone?" and our reply was "You've got Sam Allardyce"
It's a funny old game, as they say, but no Everton fans are laughing under this clown. The sooner he's gone, the better.

Michael Lynch
204
Posted 03/03/2018 at 20:57:30
Pochetino would say that though wouldn't he Lawrence, cos the fans all love him. We loved Martinez when he arrived, we quite liked Koeman, we adored Unsworth. Obviously nobody actually liked Allardyce when he arrived so he was always going to be fucked once the bad times hit.
Let's face it, we hate managers unless they're winning every game and playing beautiful football. If a manager of Everton resigned every time the fans hated him, we'd be getting through nine or ten a season.
I reckon we should have no more than two permanent and one temporary manager per season, so we should stick with Allardyce til May. In the meantime we can all boo the fuck out of him, which at least keeps us warm and passes the time until he gets his cards.
Anthony Murphy
205
Posted 03/03/2018 at 20:58:12
Brent, I was watching on TV and could hear fans chanting 'You're gettin' sacked in the morning' etc – couldn't work out if it was us or them... can you enlighten us a bit?
I'm pretty sure it was blues. If so, have we ever turned on a manager with chants before? I've witnessed the crowd turn on managers, but can't remember if we've chanted like this at others before?
My point is, surely there's no going back from that. May as well end this mess now as having him there for the rest of the season can only be damaging. Moshiri act now.
Sean Patton
206
Posted 03/03/2018 at 21:00:40
Johan,
I hear you, buddy, careful though or else you'll be accused of being Fat Sam himself, honestly don't think I've ever been more insulted.
David,
I feel like I need to make this point again in relation to your constant whittering about the stats and let me try and make this as clear as possible.
Burnley have a shot from 30 yards out which trickles through to Pickford it is counted as a shot on target but it's hardly a chance.
Sigurdsson wriggles to the byline draws the keeper and cuts the ball back to Walcott who rushes in and blazes the ball over the bar from inside the 6-yard box.
Which is the better chance? Which move is the more expansive football?
Now your stats would indicate Burnley had one shot on target and Everton none but realistically which team should have scored?
I am not trying to defend Allardyce just pointing out that this game was much better than last week and we should have been more than 1-0 up at half-time; the second half, however, was shocking.
Lawrence Green
207
Posted 03/03/2018 at 21:06:26
Michael (#204), I think that is being disingenuous to the guy, I believe he was sincere about what he said and it wasn't just a matter of him cosying up to the Spurs supporters – his team reflects his personality, unfortunately, so too does our team reflect the personalities of our last two managers.
I don't think Evertonians enjoy 'hating' the manager in fact I think it's the last thing that any of us want to see. Much better to appreciate what he's trying to do and enjoy the team playing good football – but that hasn't happened often enough at Goodison Park for far too long – in the main because the club have appointed the wrong manager/personality for Everton FC.
Michael Lynch
208
Posted 03/03/2018 at 21:10:34
Okay, Lawrence, I love Pochettino and I also think he's genuine, but I also think that if a manager jacked it in "for the good of the club" every time the fans gave him some stick, there'd be no managers at a game cos they'd all be in-between clubs.
Let's see if he hands in his notice if he has a bad run and the fans get restless.
Brent Stephens
209
Posted 03/03/2018 at 21:38:31
Colin (#197) – No Country for Fat Men?
Brent Stephens
210
Posted 03/03/2018 at 21:41:05
Anthony, I heard "You're getting sacked in the morning" at least coming from the Burnley fans at our end.
Brent Stephens
211
Posted 03/03/2018 at 21:43:06
Antony, having said that, our fans certainly also chanted for him to be out.
Ernie Baywood
212
Posted 03/03/2018 at 21:43:45
George (#191) "my problem is the posters trying to absolve Allà rdyce of any and just blaming the players."
I won't just blame the players. Everyone involved in this club deserves their portion of the blame.
I've reached a strange point with Sam. He's a poor manager, arrogant beyond belief, talks shit, he couldn't care less about our club, and he lacks any ambition. I've never disliked an Everton employee more than this guy.
But he was all those things before we brought him in. Hard to hold it against him too much.
Can I get too angry about this match? It wasn't the worst performance I've seen this season. It wasn't the worst I've seen this week. We're getting exactly what we appointed., ie, just enough to stay up. So don't expect anything great away from home. The next home game matters more.
The next appointment is a huge one, but it can't be done in isolation of the other problems. If our owner cannot get the club aligned to some kind of common vision then there's no "right man for the job" because we don't know what the job is!
Until then, sleepwalking our way to something better than 17th is the way. It's all we're aiming for. If you don't like it, there's no point blaming Sam.
Mark Wilson
213
Posted 03/03/2018 at 21:50:53
Nine games left; by the end of the weekend probably just six points off relegation. Whilst the Allardyce Hate is tinged with a degree of unfairness, he's inherited a disgracefully poor squad and the poorest defence for a lifetime. He's lost any tiny degree of support when arrogantly dismissing away fan anger at his substitutions.
Manager and staff deserve better than Keane and Williams playing like they are on Sefton Park, along with Williams and his pathetic unprofessional childish tantrums. Allardyce is slaughter for picking them. But exactly who else does he turn too when every centre-back in a squad he inherited is either too old and finished or too young and really not as good as some might suggest.
Allardyce attempts to get a left sided defender in, at the death of the January window as yet another transfer period ends in chaos and targets not acquired. Then that solution has a horror debut and is seriously injured and out for the season.
Before the fume gets going in my direction, I never wanted Allardyce, nor did most of us, but I reject the boo-boy mentality and tried to give him a chance. His arrogance is bringing him down. He's not us is he? Took me a while to see it but I did today.
But if anyone sees Allardyce and his fourteen or so games in charge as the problem, you are just closing your eyes to the collapse of our club, from top to bottom, it's absolutely leaderless on the footballing side and obsessed with loan repayment and Bramley-Moore. Everything about the playing side, starting with Walsh, is rotten. We have spent money but nowhere near as most sound-byte comments would suggest if you understand the simple principles of squad building.
Martinez, Koeman, Allardyce. Not one fit to clean David Moyes training boots and let's face it, in the last few years, he had grown tired and stale.
Almost an entire squad bar just a handful, useless, genuinely useless. How have we got here? No control, no leadership, no coherent recruitment approach, just a naive new owner, inexperienced and acting like a kind uncle as he throws money about, mostly in the wrong direction. Kenwright? No idea what's going on in the boardroom. Who is leading? Anyone?
Nine games. Big decision. Trust Allardyce to get the seven or eight points needed. Or accept the embarrassment of yet another dismal failure and bring in Silva .somewhat discredited I think or rely on an Unsy surge, all emotion and gung-ho spirit.
It may be enough. But we are truly a rudderless ship and I honestly don't think anyone at the club can grasp what's going on. It really feels that helpless.

Grant Rorrison
214
Posted 03/03/2018 at 22:08:34
Disappointing as the last 2 away games have been and our away form in general for 2 years, some of the claims are laughable. How are we the worst team in the league? Why are there 10 teams below us if we're the worst?
We've conceded 1 or less in 10 out of 15 league games under Allardyce so we are undeniably more solid. Watford beat Chelsea 3-0 at home prior to beating us and Burnley recently drew 1-1 at home to Man City. Both are currently in the top half of the table. Anybody would think we'd just been taken apart by West Brom.
Anyone who seriously thinks we are going to get relegated, and that all the teams below are mysteriously better than we are despite being in their current positions, are being completely delusional.
We're bad but we're not that bad.
Ray Smith
216
Posted 03/03/2018 at 22:14:53
Hang me from the nearest tree for the following comment.
Jamie Carragher to take charge until end of season?
Sounds daft I know, but he says it how it is. No room for fools.
I know it won't happen because Jamie can see what's going on, and wouldn't want to be part of it anyway.
Could he be tempted???
Ian Riley
217
Posted 03/03/2018 at 22:19:16
It's march 3rd and we have nine games left thank goodness. Does anyone really expect the board to sack sam now? I don't.
Today we missed a great opportunity to go 2-0 with Walcott. The margins are very small. Today we attacked with more purpose but defensively we are so vulnerable to any attack. This is not a new problem but one that has been going on for years. Even Sam is aware of it but the personnel at his disposal is there to see.
The midfielders are not strong enough to protect the back four. We have missed a Carsley to break up play of the opposition. Not a fancy job but very effective. We have players in the thirty plus category and those mainly lie in the defence.
In the summer, I think Sam will be moved on. Whoever comes in has a rebuilding job. At least three years to get younger players and gel them together. The owner needs to realise this is no quick fix. Perhaps this has been the problem since he came in. Throwing money at it won't do. We are buying to show we are a big club with no plan.
If the owners want a director of football, then employ a foreign coach used to working under this model. Is that want we have? If so, the director of football must be sacked immediately. If not and managers have put their request for players then it's not totally his fault. The role of director of football is to buy players needed to improve the team. The coach is in charge of team performances solely.
The board need to meet and set new aims and objectives. Manager after manager spending then moving on achieving nothing must stop. Sadly, it will require more patience by the fans but if we see a plan with energy moving forward it will be worth it.
Decisions to be made. Over to the board for the next chapter .
Kevin Prytherch
218
Posted 03/03/2018 at 22:35:56
Mark (#213) and Grant (#214)
Ask yourselves the following questions:
1. Are you happy with the performances under Sam?
2. Are you happy with the desire under Sam?
3. Are you happy trying to nick a point against the likes of Watford under Sam?
4. Are you happy at the way Sam talks about the club?
5. Are you happy about the way Sam talks about the players?
6. Are you happy about the future of the young players under Sam?
7. Are any of the answers to the above different under Unsworth or Koeman?
Seriously – at some point, we have to stop defending this guy.
Keith Harrison
219
Posted 03/03/2018 at 22:43:18
I mentioned that at the start of the season, Ray, and think he would do a job tbh.
Tony Everan
220
Posted 03/03/2018 at 22:59:59
On top of all the woe, is the no left back situation we have had for half a season. What team in the premier league would go so long without a left back? Such lack of attention to the team and backup is killing us.
Lesser teams are just attacking down our left flank and crosses are coming in from there non stop in every game. Sometimes Cuco will find 2 opposition players to mark, they are attacking our weakest link so much.
It's a total amateur set-up in every way, it has to be sorted out from top to bottom. There is no attention to the most basic of detail.
There needs to be a forest fire through the club, the current coaching staff and scouting staff need razing to the ground. It can't go on like this if we want to improve and become a threat to the top 4 or 6.
Moshiri has got his work cut out with it all, he could do with bringing in an outsider from a well run club to sort it out root and branch.
If the club's infrastructure is not on a par with the top 4, including coaching and recruitment, we will never ever break into it.
This summer needs the biggest shakeup and restructuring in the clubs history. Kenwright and Woods need to step aside and let Mr Moshiri rule with an iron fist. The old guard is redundant. Bring in a new regime.
Don Alexander
221
Posted 03/03/2018 at 23:03:12
If the fact that before today we'd already equalled Martinez's worst season in terms of conceding more goals away from home doesn't do for Walsh I don't know what will.
We've four more to go though, against Swansea, Stoke, Huddersfield and West Ham, so it's gonna get a whole lot worse.
And if anyone's still wondering why Duncan Ferguson's on the coaching staff, step forward Ashley Williams.
And Grant (#214) fair point, mate. Only West Brom are below us in the Premier League away league table this season.
Grant Rorrison
222
Posted 03/03/2018 at 23:10:56
Don 221. Football isn't just played away from home.
Derek Knox
223
Posted 03/03/2018 at 23:30:59
Ray @216, you are not wrong in what you say, so don't be ashamed, but let's face it, most on ToffeeWeb could pick and motivate a team better than Allardyce.
Basically, the man doesn't have a clue about Everton, it's history, and sadly most of it, is history, he is one of the many mercenaries in the game today.
He won't lose any sleep like you or I do, before and after a Match, I use the term match loosely, as we are little match for anyone at the moment.
Fans live and breathe Everton, to him it's just a very well paid retirement programme.
The sooner he has vacated – sorry, I mean, 'is sacked'... because he won't go unless pushed, because he knows it will cost Everton, the better.
Liam Reilly
224
Posted 03/03/2018 at 23:40:34
The arrogance of the man showed in the post-match interview when he was asked about the supporters booing when he replaced Sigurdsson and he smirked and shrugged; like what the fuck do those idiots in the stands know about football.
Apparently a lot more than you. Now fuck off – and take your Mini-Mee with you.
David Reid
225
Posted 03/03/2018 at 00:02:09
Mr Fonseca, can I firstly just wish you a happy birthday for the 5th March.
I am under the impression you were recently interviewed for the managers post at Everton. I fully understand your reason for deciding to wait until your current suitors, Shaktar, win the Ukrainian league. I also hope you gain further management experience by not losing to Roma in the Champions League on Tuesday 13th thus taking you into the last eight.
If per chance Roma win the game meaning you sadly exit the competition, don't hesitate to contact Everton to tell them you are ready to fulfil a life long ambition to manage in the Premier League. I believe you love a challenge, trust me – this will be a big one. Don't be fooled into waiting until the season ends as you will need to run your eye over quite a few players before they get the flip flops on.
Ignore the rumours about the London Reds Mr Wenger is part of the furniture and wont be moving for quite a while, and anyway you will be building a new history with a new ground not many can offer you that other than Everton.
So get the one way flight booked; see you soon!
Happy Birthday.
Troy Freeman
226
Posted 03/03/2018 at 00:03:06
Im stunned. Writing on the wall, we should have stuck with Unsworth for a couple more games and then when it went tits up we should have broken the bank for Roberto Mancini – he has unfinished business in England.
Williams? Captain? Thats an insult to the likes of Mike Lyons, Kevin Ratcliffe, Phil Jagielka and Dave Watson. Harry Maguire would have been a good fit. Tosun and Sigurdsson withdrawn – why???
I doubt even Marco Silva would want the job now, low confidence and disinterest running through club top to bottom. Allardyce and that red umpa-lumpa are insulting my club. Disgusted.
Pete Clarke
228
Posted 04/03/2018 at 00:43:32
I believe Sam Allardyce thought he had won the Lotto when he got the Everton job. He is from an old school of English players who would understand our history but he quickly realised that the fans didn't want him, the club was in a right mess and it was too big a challenge for him.
He knows the money is in the bank already and his last chance of making a proper name for himself has gone so he doesn't give a toss.
We are not going to get a top class manager with this mess going on at the club. We will get a promising manager only by offering massively inflated wages or we take a chance on somebody else and hope our bad luck runs out.
One thing is for sure though and that is the longer we let this big headed prick embarrass us on a weekly basis the lower we drop in the minds of those that may be considering us as a club to take on.
There are too many amateurs at the club so players' and managers' agents will know these weaknesses when we come searching.
Si Cooper
229
Posted 04/03/2018 at 01:00:21
Sean (#162) – about 40 years for me, but the length of time is hardly the point.
If you can really disregard the number of decent balls they got into our box in the first half, the Pickford saves, the last-ditch blocks and even the fortunate/ timely deflections that just about thwarted open goal chances, then I don't really think you have a balanced view and I can't take your posts seriously.
Whether you like Dyche as a manager is immaterial because it is not related to the failings of our team as a whole that most of us are concerned about; just a smokescreen. Only the severely deluded can look at that game and come to the conclusion that it all hinged on the handful of clear cut chances we created.
Steavey Buckley
230
Posted 04/03/2018 at 01:48:59
The failure of this season has been down to the transfers. Whoever decided on most of them has either been sacked or is still at the club.
Simon Dalzell
231
Posted 04/03/2018 at 02:01:49
Allardyce said he "can't defend" Williams. How true is that?!!!
Nicholas Ryan
232
Posted 04/03/2018 at 03:21:27
Sponge-Bob-Fraud-Pants has to go.
Roman Sidey
233
Posted 04/03/2018 at 03:22:49
Mark Dunford, I find your post insanely offensive to zombies.
Don Alexander, what did you mean by your Ferguson/Williams chat? It went over my head but I have a feeling I'll enjoy it once I understand it.
Soren Moyer
234
Posted 04/03/2018 at 03:32:00
Sack the Fat bastard now! Get a an arrangement in place with either Leandro Jardim, Fonseca or Silva.
Ship out most of the current squad in the close season and replace them with some quality.
Oh and while we are at it, get rid of the useless Walsh! DoF, my arse!!!!
George Stuart
235
Posted 04/03/2018 at 04:50:28
1. If there is one thing that speaks to the quality of a manager or coach it is the ability of said person to take a position of disadvantage, mix it up, and come out on top. Full marks to Dyche.
2. Why does Sam say things that are at odds with reality?
"I'm not changing the team." He changes it.
"The problem is we don't score enough goals" and it is obvious the defence is beyond crap.
"I'm surprised there is speculation regarding my position". I hope he is just delusional because there isn't really any other explanation.
"Walsh should ride out the criticism". WTF?
I felt we appointed Sam one game to soon. I think I was correct.
Michael Penley
236
Posted 04/03/2018 at 06:00:38
This match was one of the classics of the current era. Simply enthralling. I imagine it will appear on all the upcoming Everton DVDs of the future such as "2017-2032: The Allardyce Years", and "They Kick The Ball, Not Me: A Portrait Of the Toffees' Saint and Savior".
Gareth Williams
237
Posted 04/03/2018 at 08:32:39
It's time for Big Sam to go. I would put Rhino back in charge till the end of the season, then try and bring a top-class proven manager in.
Jason Lloyd
238
Posted 04/03/2018 at 09:16:38
Ian Riley (#217), the voice of reason.
Hopefully the board read this.
Martin Nicholls
239
Posted 04/03/2018 at 09:20:37
Paul Smith (#133) – "if I could find a bookmaker that would indulge me..."
I suggest you try looking before posting – whilst I'd never bet against Everton, you can get odds of between 40/1 and 80/1.
Ernie Baywood
240
Posted 04/03/2018 at 09:20:50
No point in another caretaker. Sam's the caretaker – might as well make him turn up everyday if we're paying him.
I hope to God we start to hear about Moshiri meeting up with managers. If they're not doing that right now, then run the lot of them out of town.
While you're there, do some scouting for a left-back.
Jamie Evans
241
Posted 04/03/2018 at 09:41:15
Why don't we play a game this rainy Sunday morn to cheer is up.
Have a look at Andy's comment @ 200 and see if you can guess the identities of the five players in question.
I'll start us off with the easy two, Williams and Schneiderlin.
Any guesses about the other three?
Anthony Murphy
242
Posted 04/03/2018 at 09:43:53
Ernie, the problem is that Sam is now clearly detrimental to our performances. We'd definitely be better off without him for the rest of the season.
Rooney as caretaker player/manager would see us over the line and stem the poison we are witnessing. If Silva is Moshiri's man, then get him in now. If we don't beat Brighton, we will see Goodison lose it. Too risky for me.
Jim Burns
243
Posted 04/03/2018 at 09:55:28
Jamie @ 241 – for my money... Sigurdsson.
Ken Kneale
244
Posted 04/03/2018 at 10:11:55
Andy (#200). I am surprised it is only 5. It is and has been clear we have two dressing rooms and the rogue element have clearly gained ascendancy in running the show. A clear-out from top to bottom of the club is called for.
Harry Catterick always had the view that, even if a player was only injured, he was ignored as he was no use to the cause – what he would think of this lot wearing a blue shirt is anyone's guess but I doubt it would be printable. His Sunday morning chats with Sir John Moores on this lot would be interesting...
Paul Ritchie
245
Posted 04/03/2018 at 10:30:18
Probably at bit harsh on Sigurdsson to put him in the same bracket as Schneiderlin – that guy's out on his own. I think I would have put Mirallas in there, but he's away now. Probably Klaassen too, the only explanation for his pedestrianism.
So... Sigurdsson, Schneiderlin, Mirallas, Williams, and Klaassen.
Stephen Brown
246
Posted 04/03/2018 at 10:37:02
I'm not having Sigurdsson in that list of 5!! He's trying his best despite being played out of position!
My five would be Williams, Schneiderlin, Mirallas and a couple out of left field – Holgate and Funes Mori!
Ken Kneale
247
Posted 04/03/2018 at 10:42:25
I will look forward to Coleman, Baines or Jagielka spilling the beans when their books are written after retirement. At least those three care deeply for the club, despite Jagielka's limitations now. Pity he was not a more vocal captain as whoever the rogue element are need to be outed and sold.
Kunal Desai
248
Posted 04/03/2018 at 10:45:35
This is quite easy: the shits that are here for a payday are Williams, Schneiderlin, Mirallas (who will be permanently gone in the summer), Rooney and Bolasie.
Personally, I'd like to see some of these lot, in particular dickhead Williams, put into a boxing ring where Tony Bellew can just knock the fuck out of that waste of space.
Steve Brown
249
Posted 04/03/2018 at 10:57:21
Rooney? Utter bollocks, Kunal.
Steve Brown
250
Posted 04/03/2018 at 11:03:04
Stephen@ 246, my five are the same as yours and not because we had the same name. If it had been about money for Rooney, he'd have gone to China.
Guy Hastings
251
Posted 04/03/2018 at 11:13:43
Jagielka is not on the official site's injured/suspended list. He is still our fastest central defender despite being older than God.
Wisest head, tactically suss, most experienced central defender on our books. Puts his body on the line every time. So why isn't he starting?
Not even on the bench... Maybe he's told Allardyce some home truths. I can't imagine the dressing room or Finch Farm is a fun atmosphere right now... if it's ever been that for a moment since Allardyce arrived.
Grant Rorrison
252
Posted 04/03/2018 at 11:21:11
Andy (#200). Hardly news that there are players that only signed for the money. Or do you believe it when someone says that they wanted to play for Sam Allardyce?
Keith Harrison
253
Posted 04/03/2018 at 11:23:43
The mercenary 5 are innocent!
Until proven guilty.
Only on here could a thread descend into a 'My 5 love the club less than your 5' playground spat.
Gavin Johnson
254
Posted 04/03/2018 at 11:26:45
Interesting caveat about 5 players who don't give a shit and are here for the money. I can believe it. There's been instances this season when it's readily apparent that team spirit is piss poor. I can't remember at the top of my head who the player in question was, but he was lying injured with what looked like a serious injury and the rest of the team, except for a couple of players, showing little, or no interest.
The three obvious names are, Williams, Schneiderlin and Mirallas. Hopefully the former two will join the latter exiting the club.
There's no way Rooney or Sigurdsson are in that list. I'd maybe add Klaassen. He turned down the possibility of winning a league winners medal with Napoli over money disputes. I'm totally lost over a fifth name.

Steve Carse
255
Posted 04/03/2018 at 11:43:07
The buck must rest with the manager and his limitations are being cruelly exposed. But he didn't appoint himself. Nor did anyone involved in the appointing think he was a manager who played expansive, front-foot football. Yes, he's not a particularly savoury character, judging by some of the off-field matters that have surrounded him over the years, but I suspect that would not matter a fig to supporters if we were sitting top four at the moment.
So why the invective yesterday? I found the abuse unworthy of Evertonians. It was classless. It wasn't even as if this had been one of our worst performances this season.
The substitutions that set off much of the abuse were hardly outrageous either. There was a strong case for the removal of both Davies (ineffective) and Tosun (tiring), if not so for Sigurdsson.
I can't see relegation as particularly likely. If it was to become so, then we might arguably be better off if Allardyce played more in the way of all his previous sides (ie, with spirit and intensity and with all bar one outfield player behind the ball when not in possession). Instead he seems to be falling between stools, by selecting what on paper is an attack-minded side with some gifted players, but leaving his defence exposed.
Certainly his mid-season purchases were hardly Allardyce-like, in buying two forwards when his own preferences would surely have been a ball-winning, driving midfield player (the loss of McCarthy will have been a big blow to the way he typically would be wanting to play).
Allardyce has to go, obviously, but this explosion of targeted abuse in the form it took at Burnley, even if there was an element of the herd instinct about it, is unwarranted. It will also be unproductive; Allardyce is what he is – so, if there is to be a target, let it be the Board who appointed him.
Eddie Dunn
256
Posted 04/03/2018 at 11:47:00
Gavin, are you thinking of when McCarthy was lying on the stretcher? In defence of the players, I think the medics want them out of the way during those minutes... I've seen it myself and you don't help by hovering about.
Lawrence Green
257
Posted 04/03/2018 at 11:52:40
Are we all certain that the lad meant players? couldn't it be some of the top figures at the club who don't give a monkeys and are only in it for the money? Seriously there may be some truth in the suggestion that a number of players who are only at Goodison for the money, I think that is probably the case at every Premier League club in the country, particularly in the last few years when salaries have risen almost exponentially and the agents see their clients as nothing more than cash cows.
Agents don't pay the price for underperforming players, players don't pay the price for their own failures, the fans and the club pay the price on every occasion. That is why the club pays huge salaries to the management and staff isn't it? It's their job to ensure that the players give 100% on every occasion.

It does seem that player power has spread from the elite clubs right throughout the Premier League, it's extremely unhealthy and very dangerous for the sport. More and more supporters of all clubs outside of the chosen few are questioning their loyalty to their club and the players who are supposed to represent them out on the pitch.
It's obvious that even those very experienced managers such as Pardew, Allardyce, Moyes, Hughes et al have no solutions to offer to combat this relatively new phenomenon. I certainly don't have any answers to the issue, how exactly do you motivate a twenty something millionaire?
FIFA, UEFA, various FA's, Media and Clubs should start to examine this issue which is becoming a cancer throughout the game. Perhaps the agents need to be less influential as they can create disharmony where there was none.
Dave Williams
258
Posted 04/03/2018 at 11:54:50
Schneiderlin,MIrallas, Williams, Ramirez, Klaassen. The latter because there has to be a reason why he has been unable to get a place even on the bench, likewise Ramirez didn't seem too fussed on joining us anyway and the other three are obvious.
With at least five not caring it is no surprise if there is no spirit in the team especially when the manager blames everyone but himself.
The games where we have seen fight have been the ones when we have fielded the younger players. Their enthusiasm and togetherness has seemed to rub off on the others. I keep saying it but I would love to see if Coleman and Kenny could play on the right together and if they could then play Walcott in his preferred position down the middle alongside Tosun who I like- he needs to get fit but looks a player from what little we have seen.
I wouldn't have Williams or Schneiderlin even training with the first team squad.
Colin Malone
259
Posted 04/03/2018 at 11:55:49
Possession of the ball is nine tenths of the law in football. Allardyce's philosophy is to get the ball up top, as quick as possible [hoofball] fact. It does not work. Fact.

Sam's way, destroys confidence, puts an awful lot of pressure on the defence and attack.

Defence. Because we cannot keep hold of the ball.

Attack. Because we don't keep the ball on the ground. forwards trying to retrieve 60/40 balls.

Possession stat's show, we are down there with the relegation dog fight. Sam has destroyed the School of Science.


Raymond Fox
260
Posted 04/03/2018 at 11:59:03
Change the manager again by all means but do you really think that will transform us into a good team? Theres been 4 managers now that cant get a consistant tune out of our squad.
Once again the players had the chance to impress us, if they were good enough they would have by now.
I bet Moshiri thinks now 'what the hell have I got myself into' because he needs to spend an awful lot more money if we are going to be anything else but a middle of the table team.
We need a completely new start with Moshiri or whoever, with sole control over what happens at Everton by buying the other owners out.
We are not inside the club to judge who of the staff need dismissing, but there needs to be changes at Goodison.
Kenwright and Walsh should be gone for two, Kenwrights had his oar in for too long and Walsh has been a disaster up to now.
Dan Walker
261
Posted 04/03/2018 at 12:02:41
Sandro and Funes Mori could easily be in the list of 5.
You can't blame Sandro for coming to England for the big pay day (£120k per week) and it just happened to be Everton offering it. But he's definitely one of a few players who haven't settled, who will surely move on ASAP. So it would be no surprise if he couldn't care less about the club.
Funes Mori seems to be very close with Mirallas and Schneiderlin, especially on social media etc. So it wouldn't be a surprise if he's a similar disruptive influence.
Kevin Prytherch
262
Posted 04/03/2018 at 12:12:14
Do we need to spend a fortune?
A commanding centre back
A left back
A commanding central midfielder
We could already have the squad to build around these.
Dan Walker
263
Posted 04/03/2018 at 12:14:35
Klaassen is not in the list of 5. That's not the type of person he is. He came through the Ajax youth system, where players are brought up in the right way .he's humble, loyal, hard working, determined and professional. He was also a leader and captain at Ajax. The fact that he's struggled is not down to his mentality.
On the contrary, his persistence and determination will see him through - and we may well see the best of him in years to come. He has a lot to offer but he needs to slot into a team that's already functioning smoothly and playing possession/attacking football .not like us this season! The Martinez team of 2 or 3 years ago would've suited him perfectly
Michael Lynch
264
Posted 04/03/2018 at 12:15:42
I don't buy this "five players" stuff, but even so I'm not sure I'd put Williams in that bracket. He's been dreadful for us this season, but he does seem to care. I just think he's not very good any more.
Anyway, I think it might be easier to find the five who DO care. Rooney, Coleman, Jags, Davies, DCL for me. Pity two of those are past it, two of them aren't PL quality yet, and one of them has been out injured for a year.
Colin Malone
265
Posted 04/03/2018 at 12:23:27
Hoddle till the end of the season.
Raymond Fox
266
Posted 04/03/2018 at 12:40:28
Kevin 262# We don't have a top 6 player among them with the possible exception of Pickford and Coleman who might, and only might get in the top teams.
Jim Hardin
267
Posted 04/03/2018 at 13:02:58
Dan Walker,
Other than the names of the players, is there even one single fact (not speculation) as to your post about Funes Mori. Wouldn't surprise me if you were one of those claiming Lukaku was a disruptive force to the team too, despite no evidence of that.
You then follow it with an impassioned defense of Klassen, without any facts other than his name, he was a youth member and a captain of a club (from a second-rate league, my opinion), and that he is at Everton. Nothing else you said was factual, just wishful thinking or speculation. Seriously, are you his agent, a family member, or are you actually him?
Mark Wilson
268
Posted 04/03/2018 at 13:12:36
Kunal #248 quite possibly the daftest post this weekend, sorry. Rooney cane here for the money ? He'd have got many times more per year if he'd have accepted one of several very decent offers from abroad. Rooney has had a roller coaster season. Somecstrong, impressive performances. A few goals that still mark him out ahead of our current crop of forwards. Even the spirited Oumar.
Selecting Rooney has become an issue. He should never be starting no10 ahead of Gylfi and frankly he's struggling in midfield now because everyone around him is struggling and the defence behind him is abysmal. He's far from a perfect buy but he's not the issue so your rant is undeserved.
Gavin Johnson
269
Posted 04/03/2018 at 13:20:07
Thanks Eddie. The injury of McCarthy was the injury I was thinking of.
Dave Williams - Good shout naming Sandro. I'd totally forgotten about him. He doesn't seem like he's been a happy bunny this season, and would make my list of 5.
Barry Jones
270
Posted 04/03/2018 at 13:27:48
There were so many errors and mistakes yesterday, from both manager and players, it is pointless to catalogue them. The most worrying aspect of the game apart from the mistakes, is that we made Burnley look like Barcelona. If that had been Man City instead of Burnley, they would have hd 120% of possession.
I was willing to give Sam a chance but I feel that his time is up. He has been unable to achieve anything positive with the squad since he arrived. I think that he has had adequate time to try to show that he has the ability to take us forward, albeit incrementally. He hasn't done that. We are stagnant or even falling backwards. I do not see any type of game plan either. It is totally haphazard.
I previously thought that we had some quality in the squad but now I accept that many of the players have to go too. With the possible exception of Seamus, I wouldn't keep a single defender in the entire present squad. We also need to send Pickford over to Pep for 6 months to have him coached on commanding the last third of the field.
As for the rest, Sigy and Theo have quality and will thrive with good players around them. The others can go. The problem is how much do we recoup for this miserable bunch.
Jay Wood
[BRZ]
271
Posted 04/03/2018 at 13:45:07
Not questioning Andy Meighan's post @ 200 and the resultant speculation who the "at least 5 players in the squad" who just don't give a toss about Everton.
I think it has been self-evident all season that something is amiss within the squad. I can add yesterday's game to yet another this season where I have questioned the players' commitment to the cause.
The following Echo story has already been flagged up in Lyndon's 'Decision Time' post, but it is highly relevant to the issue Andy references in this thread:
Scroll past the speculation about the story's main theme - Steve Walsh's position at Everton - to where it reports how thorough David Moyes was about his scouting in his Everton days.
You have to wonder if the same extremely thorough 'due diligence' applied on Moyes' watch is still being applied today.
Because say what you like about Moyes (and before anyone completely misconstrues this post, I don't want him back EVER in any position at Everton after his actions and words towards our club when he moved to United), he had a good eye for talent and, equally important, for the right 'character' to fit in with the group dynamics. The dressing room was never stronger and more unified in the last 15 years than it was in Moyes' time.
Rather than TWers idly speculating who the 'Infamous Five (or more!)' could be, perhaps we and the hierarchy at the club could question who, is ultimately responsible for recruiting the players we have, how and why are they being scouted, and what criteria are they applying?
Because it strikes me no-one is directly accountable for the growing number of big-ticket signings who just haven't cut it at the club. Fingers are pointed and deflection is made, but no one is being collared or replaced for these failings.
Moshiri clearly hasn't yet landed the right manager for Everton. It is fair to add our first stab at employing a Director of Football also isn't working out.
A stiff-brushed Spring Clean ahead of a crucial summer is much needed.
Brent Stephens
273
Posted 04/03/2018 at 14:00:01
At least we'll get 3 points out of Brighton next week. They're getting laced by Arsenal. Well, OK, Brighton only 2 - nil up.
Matthew Williams
274
Posted 04/03/2018 at 14:07:28
It seems to me only a Championship Manager can sort this mess out. No top-level Gaffer would touch this team with a barge pole, we need players who will graft and not just coast along accepting defeat after defeat.
Would still love Chris Wilder here as I'm sure he would rip our squad apart, boot out the shirkers, play to our strengths and pick only players that suit his system. Generally improve us and move us onward.
Mosh does love his foreign Gaffers though, so expect more of the same with even more money thrown after bad to come... Sigh.
Paul Tran
275
Posted 04/03/2018 at 14:07:39
For ten minutes in the first half I was actually enjoying watching us play. Sigurdsson was in the middle, reminding us why he was bought in the first place, passing to blue shirts and creating openings. Tosun and Walcott were quick and nimble, making chances for each other.
Freeze those 10 minutes. Add a tough, forward-driving centre mid who can keep the ball with a similarly strong commanding centre-back and we have the making a of a team with an identity.
Sure, next game Allardyce will 'respond' by shunting Sigurdsson to the wing, bringing in Rooney to slow us down and worsen our poor ball retention and bringing in Niasse with his all-effort 50p coin feet.
Any manager thinking of joining us should watch those 10 minutes and see what the current one can't/won't. Then build a team round it next season.
Karl Jones
276
Posted 04/03/2018 at 14:09:47
Everton down another place this afternoon to 11th, as Brighton warm up nicely for next weekend's easy game against an undisciplined Everton side. Goodison will be a nightmare.
Troy Freeman
277
Posted 04/03/2018 at 14:11:11
There are answers out there... but obviously at a price😳. Luke Shaw, Harry Maguire, Scott Dann and one from left field . Danny Welbeck (good blend with Theo). We havent filled the void left by Gareth Barry - responses on a postcard please.

I stand by my earlier comment, over Roberto Mancini; paired up with Dunc and Rhino I am sure there are opportunities. It can't get much worse and the Brighton game already smacks of Wimbledon at high noon, NSNO
Max Murphy
278
Posted 04/03/2018 at 14:16:35
Funny how people on here think we're going to get 3 points against Brighton next week. They're 2 up against Arsenal.
We deserve relegation. Accept it.
Eddie Dunn
279
Posted 04/03/2018 at 14:24:20
Arsenal have got one back, so don't worry about the Seagulls, the Arse will win this game.
Don Alexander
280
Posted 04/03/2018 at 14:32:46
Roman (#233), I never rated Ferguson as a bloke, and rarely as a footballer despite his God-given gifts as a centre-forward. Loads of people who worked with him have gone on record bemoaning his lack of passion for the game and he was, basically, a thug who engineered red cards for himself at will as far as I'm concerned, in order to avoid playing. The fact that he was so bloody awesome on the very rare occasions he felt like it illustrate my opinion.
What Williams did was Ferguson to a tee. Take out an opponent with a blindside wallop to the head. And before anyone points it out I realise we at Everton have rarely if ever seen Williams hit the heights Ferguson squandered.
In addition Ferguson, having rendered himself bankrupt, then turns up at Blue Bill's door and is allowed to join the FF staff despite having no coaching qualifications at the time. He's still here and his first loyalty will be to the plonker who employed him, not the manager, whoever he might be.
He's not the only one at FF either, we're full of "never-were's" being given summat to do by our teary-eyed "maestro" and I suggest that, Unsy aside, getting rid of everyone at FF and in the boardroom who "Get's Us" may go a very long way to introducing professionalism right across the club. It'd make a nice change.
Ray Smith
281
Posted 04/03/2018 at 14:33:10
Brent 273
Regardless of how Brighton finish up today, they will be a handful next week.
Our only chance is to start with Baines, then maybe, just maybe we might nick it!!! with some resilience down our left, rather than the space teams currently enjoy against us.
Brighton is the last game for me this season and all the time Allardyce is with us.
Kenwright could put on a production of Barnum with the clowns and circus acts he has surrounded himself with.
Brent Stephens
282
Posted 04/03/2018 at 14:36:38
Ray, yes, a handful Brighton will be. They play as a team. We don't know from one week to the next what the team will be. Or should be.
Mark Burton
283
Posted 04/03/2018 at 14:42:41
WE ARE IN THE RELEGATION BATTLE. No matter what happens from here on in the teams below us and know that we are a team that are easily beaten. West Brom are the only definite relegation below us and we have no respect for the badge from our players.
Ray Smith
284
Posted 04/03/2018 at 14:45:57
Brent, never thought I'd say this, but I'm not looking forward to next week.
You never know!, but that's the Evertonian coming out of me.
All the time Allardyce is with us, I won't be attending home or away.
I only get to a dozen or so games a year, so they will hardly miss me.
Karl Jones
285
Posted 04/03/2018 at 15:15:05
Anyone watching the Brighton v Arsenal game...Imagine Everton trying to hold on to the 1 goal lead with Williams, Keane, Martina and probably Schneiderlin brought on, trying to keep Arsenal at bay..Does anyone think we'd be successful? It would be a case of fright not fight...Mind you, we probably wouldn't get that close to beating Arsenal anyway.
Eddie Dunn
286
Posted 04/03/2018 at 15:26:56
Whoops! Brighton win!
Jamie Crowley
287
Posted 04/03/2018 at 15:27:47
Ya, Brighton are ahead of us in the table now. You gotta be fuckin' kidding me.
How did I not wake up to news of our manager being sacked?
We do nothing while we freefall into obscurity.
Aim high.
Jamie Crowley
288
Posted 04/03/2018 at 15:30:23
Karl -
They held that lead with a former Everton player in Shane Duffy too. A guy we should have never let go.
Would you rather have Williams - Keane or Duffy - Holgate?
Hmmmm .
Trevor Lynes
289
Posted 04/03/2018 at 15:34:47
We are now eleventh and in free fall.
It is no good changing managers, blame the players for showing a lack of desire and hiding from blame by not taking responsibilty.
Teams below us are showing some fight at least.Thirty four points are not going to be enough and I have no optimism left in this shambles of a squad.
Karl Jones
290
Posted 04/03/2018 at 15:44:31
Anyone who still thinks Everton are safe...Brighton home, Stoke away, then City and Liverpool Home Swansea away, Newcastle home Huddersfield away..Southampton home.. West Ham away.
The away games, as if our form and attitude isn't enough, are against teams fighting for their lives. If we were to lose next week and Stoke start picking up results, by the time we play Newcastle we would be right in the shit and the Goodison atmosphere will be acidic. Those of us at a certain age will know what that means.
We've seen earlier this season that this lot play like scared Rabbits with little discipline against anyone...We are the worst team in the PL and I really fear for Everton this season.
Lawrence Green
291
Posted 04/03/2018 at 16:01:35
I am concerned about the possible threat of relegation and have already stated that complacency is our enemy. However, I can't believe how many posters are saying that we are the worst team in the league as that particular tag belongs fairly and squarely to West Brom who sit bottom of the table.
It might be one of the poorest Everton teams that we have seen in a long-time but we are not the poorest team in the division, by a long way. We need to win a couple of games from the remaining quarter of the season or not lose any of the games against the teams around and below us, the likelyhood of losing each and every game is about the same as me getting four numbers on the lottery. Somehow we will secure the necessary points or there will be three other sides who fail to match our tally.
Complacency is our enemy but talking ourselves down isn't going to help either.

Gerry Quinn
292
Posted 04/03/2018 at 16:08:14
Premier League stats - these are absolutely horrific stats from Everton!
Shots 20th
Shots on Target 20th
Chances created 20th
Chances created from open play 20th
Shots faced 19th

Lawrence Green
293
Posted 04/03/2018 at 16:13:51
Is that for the whole season Gerry? If it is we must be an unusually fortunate club.
Gerry Quinn
294
Posted 04/03/2018 at 16:17:05
Just when Allardyce has been here, Lawrence!
I dare say the stats before he joined would not make good reading either...
Lawrence Green
295
Posted 04/03/2018 at 16:24:26
Cheers Gerry, no they don't make good reading and it's a good job we had that run of mostly positive results in the run up to Christmas.

Darren Marsh
296
Posted 04/03/2018 at 16:36:44
Every season, there is a shock team that gets sucked into the relegation battle; who is to say that isn't us at the moment?
There's no masking how shite we are all over the pitch, if it came down to "The Dogs of War" well, I'm sorry, but it's more a case of "Puppies at Play" – the team is full of shithouses.
And if Hippo Head ain't shown the door tomorrow, then the club is ran by such people. Nil satis, my arse.
Gerry Quinn
297
Posted 04/03/2018 at 16:56:44
https://www.premierleague.com/stats
David Booth
298
Posted 04/03/2018 at 17:22:12
How dastardly of Burnley to play their substitute striker up front, alongside the other one they already had on the pitch – instead of pushing him out on the left wing and completely marginalising him, like we do.
What a brilliant idea...
John Kavanagh
299
Posted 04/03/2018 at 17:57:12
Darren (#296).
I posted earlier this thread about real threat of relegation. Looking at our fixtures and current form, we will need to pick up points against Brighton, Newcastle or Southampton. Brighton are organised and will come for a result. Southampton can seemingly score at will against our defence. Newcastle will come for a point and try to hit us on the break.
I think we can write off any pipe dreams of a result against the RS and Citeh and Swansea (a) are too good for us on present form. Stoke away is always a battle and our spineless wonders won't be up for it. Huddersfield (a) will relish having a go at us at home, but it is a match where we must go for a win.
That leaves West Ham. Away. Last game of season. Any team from 12th to 19th only needs a maximum of three wins/better results to go above us. Although some are playing each other, all have shown a better propensity to get a result against top teams and pick up points on the road. They will also fight to stay up.
Scary, isn't it? This Saturday really is a 'must win' or I fear the worst. The adrenalin shot of putting Unsy back in tomorrow might help as Allardyce is too busy counting his cash to give a toss about what happens to us.
Mike Kehoe
300
Posted 04/03/2018 at 18:13:18
David Booth,
Are you trying to say playing two forwards increases the likelihood of scoring goals? What madness is this?
Darren Marsh
301
Posted 04/03/2018 at 18:24:13
John Kavanagh (#299). I just read your previous post (#173) and you're bang on the money, mate. It certainly is a scary prospect. To my amazement, I can't believe there are 10 teams (or is it 9 now) worse than us. The sooner the smug bastard is sacked, the better.
Björn Kausemann
302
Posted 04/03/2018 at 18:40:07
Everybody blames Williams, but even Keane is no better. The equalizer was his fault. I think Holgate would make it better.
And for next season, we need to be more creative. I would like to sign Shaqiri from Stoke. And despite the opener by Tosun, he is not good enough. We need another centre-forward. Looking for Batsuhyai or Vardy.
David Booth
303
Posted 04/03/2018 at 21:47:56
A rather appropriate anagram for Sam Allardyce: decay mars all.
Sean Kelly
304
Posted 04/03/2018 at 21:51:55
No matter whether we survive or not, a major clear-out of the club is required. All the hangers-on at Finch Farm, including Ferguson, must go. It goes without saying that Fat Sam and Mini-Me should be sacked immediately.
Billy Bullshit and Sideshow Elstone should be barred from Goodison. If Moshiri doesn't man-up, he has to go. This appears to be a paper exercise for him pushing his or somebody's dodgy money around.
This club is fucked and Billy has sold us out. Moshiri must be the biggest gobshite around, spunking the money on duds that no other club appeared to be going after. He also lets Billy pick the manager. What a crock.
Having spent so much money on duds, we have gone backwards as a club. Sir John Moores would never have had an Allardyce or pygmy Sammy Lee at our club. Unless we, us supporters, show them that we will not tolerate this anymore, we are the next Sunderland, Leeds, Sheffield Wednesday, Birmingham or Villa – take your pick, folks.
Tony Waring
305
Posted 05/03/2018 at 09:43:01
There is no doubt that we are awful to watch these days but at least we're not the only ones. Anyone see yesterday's match between City and Chelsea? Chelsea were an absolute disgrace, players strolling around looking as if they wanted away let alone play football.
In a sense it might be understandable against City – though not forgiveable – but then again I got to thinking that watching City can be pretty painful when they simply rack up pass after pass with no end product in sight. At times they look like the old Barcelona but without Messi and Neymar!
Roman Sidey
306
Posted 05/03/2018 at 13:59:51
Don, that is pretty much what I thought you were getting at and I agree completely.
Lawrence Green (#257), one idea I think could have a positive outcome for the sport (as I don't think Everton are alone with most of their issues) is if a governing body brought in a policy that required clubs to draw up contracts to have win bonuses as a significant part of a player's payment. None of this 𧷤k a week business regardless of performance or results.
I know some contracts would have performance related bonuses (goals, clean sheets, etc) but if every single professional player in a league knew that their weekly pay was going to be affected by the outcome of each match, shouldn't that almost eliminate players simply going through the motions and maybe get players working together better to ensure they maximise their income?
Justin Doone
307
Posted 05/03/2018 at 14:30:39
I gave up attending this season as soon as Sam joined. I'm not often wrong but I don't think I've missed anything.
Question: who is our Number 1 striker?
I've not seen Tosun live but I hope he would be our first choice. Niasse tries. Calvert-Lewin is promising. Rooney lacks pace. Vlasic...
Do we really need another top class striker or is it time to play 2 up front, not on the wing but through the middle?
Dave Pritchard
308
Posted 05/03/2018 at 14:43:37
Justin, as you are not often wrong, do you fancy being our next Manager or Director of Football?
Dave Evans
309
Posted 05/03/2018 at 17:27:59
Don (#280) – great post!
As a team, we are worse at passing a football than any other in the Premier League, despite the 'talent'. Something is seriously wrong at Finch Farm.
Aaron Lennon looking confident and dangerous and moving under Dyche and his staff's stewardship is no coincidence.
Roy Steel
310
Posted 06/03/2018 at 23:30:39
I've been following Everton since the 1968 FA Cup Final, and this is the worst bunch of spineless, overhyped, overpaid, imposters ever to pull on the blue jersey.
The likes of Roy Vernon, big Labby, Westy, the wonderful Golden Vision, Bally and Howie Kendall etc must be turning in their graves at what is going on at our club. There really needs to be a clear-out.
---
Add Your Comments
In order to post a comment, you need to be logged in as a registered user of the site.
Or Sign up as a ToffeeWeb Member — it's free, takes just a few minutes and will allow you to post your comments on articles and Talking Points submissions across the site.
© ToffeeWeb