Report
Tosun wins it for Everton in the Snowy Potteries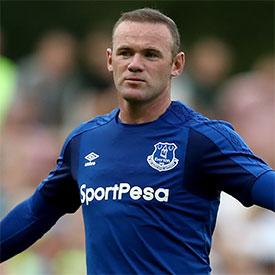 Wayne Rooney was tasked with a more attacking role in Gylfi Sigurdsson's absence
Stoke City 1 - 2 Everton
Cenk Tosun starts for Everton with Rooney playing the Number 10 role at the bet365 Stadium this weekend to face embattled Stoke City.
With Gylfi Sigurdsson out injured and Ashley Williams still suspended, Allardyce elects for stability at the back, respecting the rare clean sheet achieved by the defence last week against Brighton. Idrissa Gueye returns after missing the Brighton game through illness.
Shaqiri started for Stoke despite rumours that he would miss the game through injury.
Stoke kicked off from the blue centre-spot with snow in the air and Everton played it cagily around the back for the first few minutes until Jagielka passed to a Stoke player, with Charlie Adam firing off a long shot over Pickford's goal. Davies picked up a knock on his ankle but resumed after treatment.
Rooney floated in a beautiful free-kick that Davies watched all the way but got slightly underneath it with his head, missing a brilliant early chance. Tosun gave the ball away cheaply then fouled his man winning it back, but then won a corner with persistence but it was taken short and cleared, leading to a Stoke breakout with Crouch shooting at Pickford.
Stoke put on a decent attack, Shaqiri looking to curl one in but Keane blocked his shot but Stoke kept coming, wining a corner that Keane headed clear. Another long shot was collected by Pickford, while at the other end Butland fluffed a backpass clearance.
Stoke attacked but Walcott broke with pace, Davies getting too close to him and playing the ball back for Baines to cross well enough but no-one on the end of it. Everton drove forward well enough, winning another corner that Rooney delivered very well but Sobhi was first to it.
A terrible lack of effort by Bolasie let Stoke build another attack that Pickford smothered as the snow turned to a blizzard. Bolasie showed a few tricks to pull out a cross but it was not met by a blue shirt.
Johnson picked out Crouch at the far post but it was too high for him. A laboured attack through Walcott ploughing down the right stalled in a snowdrift. Charlie Adam caught Rooney in the increasingly poor conditions and saw a straight red from Martin Atkinson. Rather harsh to be honest, but the studs were up.
Davies was the next to tumble but Everton started to play on the man advantage, almost creating a chance at the far post. But they were still struggling to create real chances against a competitive Stoke side who were determined to dig in and weather the storm.
A great chance to move forward but Davies poorly positioned to receive Rooney's fine ball and flagged offside. Coleman did well to turn his man and whip in a good cross but again, no takers. Everton's success in pushing forward against 10 men looked no different to their efforts against 11, with no real attempt on goal to speak of after another distinctly unmemorable half away from home.
Walcott got things going after the break, the ball eventually working through to Rooney, whose speculative shot bounced up a little but not enough to deceive Butland. Davies went flying when Butland came out to secure a lose ball in his snowless goal area, Stoke groundstaff thoughtfully avoiding such half-time courtesies for Pickford's snowy goal area at the other end. Davies was eventually replaced by Calvert-Lewin.
An Everton attack saw fairly lame crosses from Walcott and then Bolasie. Shawcross saw yellow for blocking Tosun, as Rooney started to link better with Walcott, winning a corner but again no real chance ensuing, while Everton were living dangerously at the back.
Another corner sent in by Rooney avoided Coleman and Keane, before going out and the follow-up corner was cleared until Shobhi fouled Walcott, setting up a dangerous free-kick that Rooney curled over the wall into Butland's hands.
Stoke attacked but it was repelled and the Blues skated forward though the snow, the link-ups broke down on the edge of the area, but Calvert-Lewin beat the offside only to miscontrol the ball as Bolasie put in a decent cross that Tosun could not quite make anything of.
There was some end-to-end action with Pickford punching out to Johnson before Everton went up the other end and Tosun got behind the Stoke defence but was flagged offside. Keane had a fantastic shot, just too close for Butland to punch it aside. Nothing again from the ensuing corner.
The breakthrough finally came in a scrappy manner after a ball in from Bolasie caused havoc, Butland parrying Tosun's header, Calvert-Lewin, clipping the ball goalward only for Stafylidis to clear it off the line but Tosun saw his chance and rammed it home.
Bolasie came close off a Rooney corner, heading backwards and over the bar. Stoke tried to reply after a couple of subs, and on the second fre-kick somehow Choupo-Moting got the final touch in front of a very timid Jordan Pickford, a poor goal to give up against 10 men. Choupo-Moting pulled a groin muscle as he scored, and was replaced by
Everton had surrendered any initiative and it was Stoke setting the pace, Jagielka seeing yellow for a foul and another dangerous set-piece, but Jagilka beat Crouch annd set up a counter where Bolasie should ahave scored but the ball got stuck between his feet.
But a fine cross in from Walcott was met with a stooping header by Tosun and a second goal was well placed just inside the post for the rapidly improving Turk.
Calvert-Lewin got free and ran at Butland, shooting at the Stoke keeper rather than setting up Tosun for his hattrick. Rooney was replaced by Schneiderlin.
Walcott fired the ball into the side netting in the final minute with 4 minutes of added time to follow for Everton to hang on in a ding-dong second half.Calvert-Lewin went down as he advanced into the Stoke area but no penalty.
Stoke fluffed their lines as Keane almost allowed them a second equalizer but it was crossed behind Crouch, and Everton played out the win, much to the delight of the travelling faithful.
Scorers: Choupo-Moting 77'; Tosun 69', 84'
Stoke City: Butland, Johnson, Shawcross [Y:56], Zouma, Stafylidis, Ndiaye, Allen, Adam [R:30'], Shaqiri (76' Berahino), Crouch, Sobhi (71' Choupo-Moting (79' Jese)).
Subs not Used: Haugaard, Bauer, Martins Indi, Fletcher, .
Everton: Pickford; Coleman, Keane, Jagielka [Y:82'], Baines; Davies (53' Calvert-Lewin), Gueye; Bolasie (92' Holgate), Rooney (87' Schneiderlin), Walcott; Tosun.
Subs not Used: Robles, Martina, Niasse, Klaassen.
Referee: Martin Atkinson

Attendance: 30,022
---
Reader Comments (209)
Note: the following content is not moderated or vetted by the site owners at the time of submission. Comments are the responsibility of the poster. Disclaimer
Colin Malone
1
Posted 17/03/2018 at 12:28:24
Sorry to say, we will have to go defensive and hit them on the break, with Walcott and Co, as if we are playing one of the top four, Sam's favourite style of football. My reason is, we cannot keep possession of the ball. The longest we have possession is when the defence are playing it square to one another.
Our corner kicks are abysmal, if a team had five Peter Crouch's and we had five Tom Thumbs, we would still float it in the air.
Andy Walker
2
Posted 17/03/2018 at 14:17:53
Gueye and Davies, neither good enough. There's the problem.
Iain Love
3
Posted 17/03/2018 at 14:21:32
I'm okay with that team although I do wonder about Funes Mori and Vlasic not making the bench. I think Stoke will be swarming all over us from the start and Rooney must get on the ball and spray it about to our front three to make them sit a bit deeper.

Jeff Armstrong
4
Posted 17/03/2018 at 14:34:46
Berahino hasn't scored for years... he's on the bench today.
Martin Lury
5
Posted 17/03/2018 at 14:39:02
Superabimus – or at least I hope so facing a Stoke side that will undoubtedly chase every ball and strain every sinew. COYB
Kevin Prytherch
6
Posted 17/03/2018 at 14:47:42
How does Martina get the nod over Kenny on the bench?
John Graham
7
Posted 17/03/2018 at 15:14:23
Team basically picks itself. Davies and Gueye the best midfield pairing with Rooney supporting the front three.
Good to see the same back four and good to see Martina on the bench as he can cover right across the back four.
Hopefully Tosun will continue his goal-scoring form.

Peter Cummings
8
Posted 17/03/2018 at 15:15:05
Defence looks fairly good with the 'old guards' in place, Seamus, Jagielka, and Baines can bolster us with Walcott on form we can trouble City on the break.
Unfortunately, apart from Sam Allardyce we also have one of our ref Atkinson to contend with.
Jermaine Jennings
9
Posted 17/03/2018 at 15:41:47
Sam Allardyce is clueless: why is Davies playing as attacking central midfielder? I just don't get it... he is more a box-to-box midfielder... he just doesn't offer anything in that position as attacking central midfielder.
Jay Wood
[BRZ]
10
Posted 17/03/2018 at 15:53:39
So... midway through the half, your side gains a man advantage; the snow covers 2/3rds of the pitch, but the right flank is curiously 'clean'.
Wouldn't it be a good idea to not try and play through the middle of the park, or down the left flank, where the snow is slowing up the ball? Do we have anyone in our team capable of thinking and transmitting such thoughts to their team mates?
We've been pitiful since the sending off. Use your heads, Everton! You've just been presented with a golden opportunity to secure a rare away win.
Grab it!
Brian Harrison
11
Posted 17/03/2018 at 16:35:31
1-1 only Everton can struggle against 10 men.
Simon Dalzell
13
Posted 17/03/2018 at 16:38:11
Pickford again. Goal conceded from 2 yards.
Brian Harrison
14
Posted 17/03/2018 at 16:39:57
2-1 Tosun scores his second.
Brian Harrison
15
Posted 17/03/2018 at 16:43:48
Rooney taken off, Schneiderlin on – really!!!!
Drew O'Neall
16
Posted 17/03/2018 at 16:49:17
Kevin - 6 'How does Martina get the nod over Kenny on the bench?'
Simple. He can play both full-back positions and centre-back if needed.
Jamie Crowley
17
Posted 17/03/2018 at 16:55:22
Breathe we're safe.
George Cumiskey
18
Posted 17/03/2018 at 16:59:52
Great – three points another crap performance.
Where Calvert-Lewin gets his reputation from is beyond me.
Bill Griffiths
19
Posted 17/03/2018 at 17:01:00
I've been watching Rugby & following game on the live forum. Most on forum giving lads a right slagging off, calling us total shite.
Just seen a report on BBC Final Score and a reporter at the game said Everton were pretty good and display would give them great confidence going forward even into next season.
I would be interested to get report from someone who was at the game as to how we played etc.
Brian Porter
21
Posted 17/03/2018 at 17:03:53
Tosun was great, Bolasie as usual, lots of running but no end product, bad error by Pickford for their equaliser but what was Keane doing?
For me, Allardyce buried himself by bringing bloody Schneiderlin on in place of Rooney. If we were 3-1 up, maybe, but not at 2-1. Rooney was still running the show. Daresay Allardyce will try to take the credit. Players had nothing to do with it, eh Sam? 40 points, now can we sack the fat fraudster and find a real manager?
Jay Woods
[LAT]
22
Posted 17/03/2018 at 17:05:38
The snowy pitch made it tricky, but I still think we posed little goal threat until later in the game, and even at that, only Tosun looked sharp.
It was also a chore to watch due to the failure of the ref to insist on an orange ball; I'm sure others will make the same complaint.
John Hughes
23
Posted 17/03/2018 at 17:06:35
Brian (#15).
Rooney was blowing for tugs; I don't understand your point? Or has it got to the stage where, no matter what Allardyce does, good or bad, he gets ridiculed?
Barry Williams
24
Posted 17/03/2018 at 17:13:48
Terrible conditions, away to Stoke, 10 men or not (and teams often play harder with 10 men), well, we deserved that.
I though Bolasie played well, as he did the last game, he makes things happen. Credit to Allardyce for signing Tosun and playing him only when he was deemed ready, and for signing Walcott, plus not going overly defensive today. Saying this for balance as he has come in for a lot of stick, some warranted, some not in my opinion. We are in a better position since he took over and, despite the conditions today, we played football.
We have had an awful injury record this season, so that has a bearing. As for not playing youngsters, Davies (why the hell does he get stick at 19), Calvert-Lewin and Holgate were involved today. Seems a decent amount for a Premier League team in the upper part of the division. The next two games will be a real barometer as to how we have improved though!
Brian Harrison
25
Posted 17/03/2018 at 17:14:00
John (#23),
It's all about opinions as Brian Porter 21 posted the same as me. And yes, now we have got 40 points I want Allardyce out the door.
We will never challenge the top 6 with this man in charge, he has served his purpose got us safe so bank your ٟ million bonus for keeping us up and move on.
Joseph Mullarkey
26
Posted 17/03/2018 at 17:14:23
Agreed Jay (#22) I could not see the ball at times throughout the game and had to watch for the movement of players to follow the play.
I am colour blind but never usually have any problem watching the match.
Great to get the away win even if we were pretty poor for most of the game.
SACK THE HIPPO!
COYB
Steve Cotton
27
Posted 17/03/2018 at 17:15:18
Charlie Adam sending off slightly harsh but, let's be honest, he is lucky to stay on the pitch in nearly every game he plays. He hates us and would happily put one of ours in the hospital so I say justice is sweet...
George Cumiskey
28
Posted 17/03/2018 at 17:17:02
John Hughes – exactly what did Allardyce do? We played most of the game against 10 men who matched us in every way except for Tosun's goals.
It was a poor performance against TEN men.

Jay Wood
[BRZ]
29
Posted 17/03/2018 at 17:17:52
OK, the conditions were difficult and our away form remains an albatross around our neck.
But we played against 10 men for an hour against a team lying 19th in the league. Our game management, as it has been all season, was woeful.
Intelligent footballers do not need a half-time pep talk, or shouted instructions from the sidelines, on what to do. At this level, and with the team we had out today, there should have been enough nounce between them on how best to play.
On a snowy slippery pitch, don't take chances at the back, don't play passes to a player closely marked, don't under hit passes, be as sure with your footing, passing and control as possible. Use your extra man to work them and exploit the space a man less on the pitch gives you.
Once you get the goal ahead against 10 men, keep a side such as Stoke at an arm and a leg's distance from your goal. That is, don't let them encroach into your half at all and most definitely do not cough up cheap free kicks close to your penalty area so they can launch the ball into the mixer for their team of Cookie Monsters to attack.
Thank you Cenk Tosun for salvaging a win for us we looked to have meekly surrendered.
John Raftery
30
Posted 17/03/2018 at 17:20:47
Sam must stay.
Barry Williams
31
Posted 17/03/2018 at 17:23:49
Did we win?
Pete Clarke
32
Posted 17/03/2018 at 17:29:08
Relief at the win but boy do we make hard work of things.
Charlie Adam had his studs clearly thrust into the tackle so it's dangerous and risky for an opposition player. We had the advantage from that point on and Rooney was luckily given loads of space. When he was closed down, he generally fucked it up.
I thought the defenders all played well but the rest of the team struggled with control and composure. I also think Pickford is nowhere near brave enough and drops the ball on simple shots.
Sam Allardyce talking about planning for next season in his after-game interview. Hopefully Moshiri realises his decision to bring him here for one reason has paid off and now he can give him his inflated bonus and get shut.
Derek Knox
33
Posted 17/03/2018 at 17:32:21
The conditions were not conducive to playing flowing football, so that suited us, as we haven't played well for a long time, however, I suppose a win is a win.
It was never likely to be a spectacle anyway, but at times it really was dire, even against ten men. I don't know what they do in training, but again passing was terrible with the final ball rarely going to a player with the same colour shirt.
We have reached the magic number, so hopefully we are making immediate plans for a clear-out at all levels, starting with Sam and his cohort of assistants.
Neil Halliwell
34
Posted 17/03/2018 at 17:33:23
FFS, give Sam a break. He has not had Seamus or Leighton available since arriving and he was responsible for bringing in Cenk and Theo. COYB
Simon Smith
35
Posted 17/03/2018 at 17:35:27
Can't people be happy with a valuable away win?? It may not have been pretty, but it will bring confidence.
The best outcome was a win! We achieved it. It's made my weekend enjoyable anyway!
Maybe we have finally found a goalscorer in Mr Tosun?!?!
Michael Lynch
36
Posted 17/03/2018 at 17:37:51
I'm no Sam-fan, but his signings have been decent and have lifted us from shite to a bit less shite. He's got us over the line now, and I'd like to think we'll be showing some ambition and looking for a better option for next season. But fair play to Allardyce, he did what he was brought in to do, and he did it with the worst squad we've had in ages.
Big changes necessary. Start with loaning out Calvert-Lewin for next season, and perhaps Davies too. Both lads show promise but aren't Premier League quality yet. Get rid of Keane and get an upgrade on Gana too.
Pete Clarke
37
Posted 17/03/2018 at 17:46:56
Neil,
Everton gave Sam Allardyce the biggest club job he has ever had and for a hugely inflated salary. The man has no football skill in his brain to pass on to players and has no shame in blaming those same players when it goes wrong. He also mentioned it in his interview today that we won at Newcastle when he first arrived so he is very quick to praise himself.
If he is here come next season, there will be many thousands of match-going blues who would walk away, I think. Just that thought makes me very nervous...
Andrew Clare
38
Posted 17/03/2018 at 17:50:41
Glad we won. Get rid of Allardyce now. The link-up play between our forwards was practically non-existent. We just don't look like a team – so disjointed. So many poor passes. Well done to Cenk but that's about it really.
George Cumiskey
39
Posted 17/03/2018 at 17:52:53
I love it when the Allardyce fans come on ToffeeWeb, the first thing they say is "I'm no Sam fan", and then go on to praise him for the job he's doing.
Did any of them actually watch that match today?
Jay Wood
[BRZ]
40
Posted 17/03/2018 at 17:56:30
Hang about some of you...
Speaking for myself, I am always happy with an Everton win, no matter how it comes about.
However, a win should not place an embargo on what TWers think, feel or post.
In my own posts within this thread I have made no mention of the manager, at all. None! I berated the players, both at half-time and at the final whistle, for what seemed self-evident to me and has been the case all season: they once again displayed very poor game management and virtually zero initiative and 'thinking on their feet' in reaction to live events on the field.
Intelligent footballers and good teams do.
It's one measure by which we have to improve considerably, looking forward to next season.
And I would rather appreciate the liberty afforded to us on TW to be able to express the above opinion without being falsely branded as being 'unhappy with the win.'
Phil Walling
41
Posted 17/03/2018 at 18:03:02
I'm no Sam fan but can see Moshiri's terrible judgement giving him the full term of his contract to re-shape Everton in the style he likes to play.
With absolutely no chance of troubling 'the big boys', ie, the top six, it will be all about restoring the pragmatic approach which Moyes established around Sacred Seventh.
Thankfully, I shall continue to observe from 2,000 miles away!
David Price
42
Posted 17/03/2018 at 18:04:08
A win, three points and two good goals and all you so-called Everton fans still whine on!! Ffs, get behind the team and Big Sam – he has inherited the biggest pile of shit in years and I for one think he deserves at least a chance to sort it out.
Walcott is a great signing along with Tosun who have both been in the main due to Sam. We have to stop relying on Calvert-Lewin and Tom Davies – they are way off being complete players. We have the makings of a very good side but the negative energy from the terraces and on here isn't helping.
I for one reckon we can do the Red Shite – then we will all be smiling. COYB!!!!!
John Boon
44
Posted 17/03/2018 at 18:11:55
I often wonder if Everton get specific directions to leave all supporters in suspense. We should have and could have won that game with ease.
I waited eagerly for Bolaise to return. I thought he was lousy today and has been since returning. Coleman and Baines make such a difference. Keane is a good stopper but his positional sense leaves a lot to be desired, particularly when on the ground crosses come across the box.
Allardyce has achieved HIS goal. We are safe, so now he can leave.
Pete Clarke
45
Posted 17/03/2018 at 18:12:33
I looked at that Stoke team today and was thinking how sad it must be to watch that load of rubbish every week... and yet, with 10 men, they were still pushing us.
We are really lucky this season that there has been a group of clubs that have been piss-poor and allowed us to take points from them in our own precarious state.
Ten years ago, Chelsea were paying tens of millions for players to sit on the bench. Most of those players were quality players but the team were good.
We have clearly paid tens of millions for some average players to sit on our bench and some to play. It is going to take a special manager to make a good team out of what we have; otherwise, it's another few hundred million to build a better one.
Gavin Johnson
47
Posted 17/03/2018 at 18:14:14
Finally an away win against a toothless 10-man Stoke. But it looks as though some Big Sam apologists are easily impressed after scanning this thread. The only credit that I will give Big Sam is that Tosun and Walcott are now both looking good bits of business.
We do need another midfielder. Hopefully Fonscea comes in as manager and brings Fred with him. A proper box-to-box midfielder.
John G Davies
48
Posted 17/03/2018 at 18:14:33
Mission accomplished, Sam.
Off you pop with your million quid bonus.
Take Sammy, Craig and Walsh with you.
Paul Tran
50
Posted 17/03/2018 at 18:22:58
George, I watched the match today. I thought the passing was dreadful. Rooney aside, the midfield was non-existent.
I thought Tosun and Walcott made the difference. And while I want Allardyce replaced, I'm happy to credit him for bringing two good attacking players to the club. Two more than his predecessor.
Michael Lynch
51
Posted 17/03/2018 at 18:24:12
I know you're not allowed to say anything positive about Allardyce without a load of trolls jumping down your throat like you've said you fancy shagging Aldof Hitler.
But can I make it any clearer? I'm no Sam fan. Seriously, not a fan of Sam, not an acolyte, or an apologist, nothing. But he's done the job he was asked to do – get us to 40 points – and he's made two decent signings.
Now, as far as I'm concerned, it's job done and I'd like to see us show some ambition and make a new appointment, but Allardyce was on a hiding to nothing coming here with the pure hatred of a big section of the fans for him from day one. Sure, he gets his millions and I'm not crying for him, but for me at least, if he goes, he goes with nothing to be ashamed of.
Steavey Buckley
52
Posted 17/03/2018 at 18:27:03
Everton's basic problem, they are not comfortable on the ball with their passing. All the best teams just pass the ball well all of the time. If Everton pass the ball to each other 3 or 4 times, it is an accomplishment.
It is very sad to watch Bolasie passing, it is just not one of his strongest parts of his game. That's being kind.
Peter Mills
54
Posted 17/03/2018 at 18:28:19
What a dreadful display of football from our team, woeful passing, poor defending, failing to use the width of the pitch despite having two wingers against 10 men.
What a gritty performance, gaining 3 points, well done Tosun, get home safely.
The truth lies somewhere between those two paragraphs, but I am leaning more towards the first than the second.

Simon Dalzell
55
Posted 17/03/2018 at 18:29:56
I'm well pleased for Cenk, he seems to be getting into a rhythm. We made hard work of it against a poor team with 10 men.
A diabolical goal given away, again. Surely Pickford should get to that, 2 yards out?
Davies was 'Davies' – missed a very good chance, and will never be quite good enough.
Walcott was 'Walcott', and showed why Arsenal got rid. Poor decision-making and should have scored.
Thanks, Sam, and Goodbye.
Phil Walling
56
Posted 17/03/2018 at 18:30:18
I guess 'they' will set the big man a further target, say 48-50 points to finish. With the total shite he inherited, he would do well to to achieve that!
George Cumiskey
57
Posted 17/03/2018 at 18:37:52
Paul @50 and Michael @51 – why if he's doing so well why not keep him, why do you want him sacked, surely he should be allowed to prepare for next season.
Just seen him talking on Sky, he said only he knew when to play Tosun and he said the training in Dubai was the reason for his goalscoring form.
So he congratulated himself twice in the one sentence – that's not like Sam, is it?
Darren Hind
58
Posted 17/03/2018 at 18:38:37
Allardyce's appointment has delayed the inevitable, but we have secured another season in the top flight in spite of him.
Now pay him off.
Alan Bodell
59
Posted 17/03/2018 at 18:40:36
Three points great, Tosun is sharp and alert and energetic but what has happened with Gana? Excellent until his recent shows, some of his passing today was like Michael Keane's of previous games, Keanes today was better than recently.
I just wish Rooney didn't think he had Pirlo's passability in his latter years. Always looking for that long sweep to the flanks... Wayne, they got you sussed mate, change it.
But a win... so I can't moan too much – even against 10 men.

Ray Robinson
60
Posted 17/03/2018 at 18:41:16
George (#39). Of course it's possible to not be a fan of someone or something but still give credit where it's due. It's called being fair-minded and not like some on here who are blind to anything positive because it doesn't suit their pre-determined agenda.
Michael at 51 sums up admirably how I feel.
Paul Tran
61
Posted 17/03/2018 at 18:42:41
George. I said I wanted him replacing, I said we couldnt pass water, I said the midfield was non-existent. I said give him credit for buying the two good forwards his predecessor couldn't.
If you think that's me thinking he's 'doing so well', that's your call.
Pete Clarke
62
Posted 17/03/2018 at 18:42:51
I suppose given that our next two games are against Liverpool and Man City, today's result was massive.
Performance wise, if we play like that against these two, we will get slaughtered. It will be Schneiderlin and Gana in the centre having a competition on who can win the most balls and not give it back 2 seconds later.
Jamie Evans
63
Posted 17/03/2018 at 18:43:04
Thanks, Mr Allardyce, your remit has been accomplished. Please let's start looking for our next manager now.
We are safe. Our next recruitment process should not mirror our last in any way.
Silva? Fonseca? Howe?
Whoever it is, let's start the ball rolling now.
Nil satis nisi optimum.
Simeone?
Altogether now, "We found love in a hopeless place."
Danny Baily
64
Posted 17/03/2018 at 18:43:43
40 points! With this squad, we've done well to get here with plenty of time to spare.
Let's just focus on results. If we finish strongly, then Sam should stay. We could get Guardiola in and we couldn't compete so what's the point in changing things at the top?
Jamie Evans
65
Posted 17/03/2018 at 18:47:03
George (#57), calm down, my friend.
I've followed your posts closely, mainly because your opinion of our current manager is the same as mine, but honestly, now we are safe, it's only a matter of time until this loser is gone.
Breathe, my friend George, breathe...
It's almost over.
We found love in a hopeless place.
George Cumiskey
66
Posted 17/03/2018 at 18:50:18
I don't understand all this "I'm not a fan but credit where it's due, so why not give him another season."
It looks to me like that 5% is creeping up!!!
Paul Tran
67
Posted 17/03/2018 at 18:53:00
Tell me where I said that, George.
I suspect Allardyce's successor will be grateful to inherit Walcott and Tosun.
Always happy to debate, but I only do it on the basis of what I actually say.
Jay Harris
68
Posted 17/03/2018 at 18:56:36
Why all this hate and vitriol towards Sam?
We can state our disapproval of team selection or tactics without resorting to the hyperbole of some posters hatred of the man.
I thought the players showed today where our problems lay and it isn't the manager. Our three best players are in their 30s and the rest couldn't pass wind never mind a football.
Steven Jones
69
Posted 17/03/2018 at 18:57:36
In that weather etc.... 2-1.
17 Shots, 9 on Target
Versus 43% possession, 9 shots and 3 on target.
Corners 9-1 .
Great Job, Sam and the boys!!! COYB's
Mike Dixon
70
Posted 17/03/2018 at 19:12:22
So Sam buys two decent players, meets the boards objectives and is still vilified by some posters. I am as big a fan as anyone but Guadiola couldn't get that squad to play this NSNO football that is banged on about on here.
When will fans realise that Sam was given a poor squad with no confidence and asked to keep them up? He's done that but still gets dogs abuse. Be careful what you wish for.
Koeman was welcomed as the Messiah and look how he is treated on here. There isn't a Manager born that would keep you lot happy. What you are all missing is perspective... yes – per-spec-tive.
Mike Keating
72
Posted 17/03/2018 at 19:21:51
Agree, George, and the most important part of his legacy is the two good signings he made... but I don't want to see him anywhere near the transfer kitty for next season.
Chris Jones [Burton]
73
Posted 17/03/2018 at 19:27:21
Well said Mike Dixon #70.
The problem is that some people resort to invective so soon they can't go into reverse without looking a bit foolish. You start off slaggin someone even before he's taken up the reins and you have to continue in the same vein regardless of what he achieves. I fancy if he was manager next season and we won the FA Cup (I don't expect us to win the Premier League just yet) some on here would still be calling him a 'fat, useless, cave-man of a manager who needs to fuck right out of our club'.
If he keeps us in the Premier League (I think he's achieved that for sure now) and shows something suggesting we may play better and be more competitive next season, then maybe he'll get a chance, and I'm not ready to die in a ditch over it.
I don't know.... I'm all for a new manager with real promise, but I won't slag Sam off if he leaves in the summer with a 12-month severance payment, because he'll have earned it – if only for taking the horrible abuse some our wonderful fans have meted out to him.
It wasn't his fault we were in the mire when he came. The abuse he gets is little different from what Stoke fans meted out to Wayne this afternoon after he was on the wrong-end of a ridiculous challenge.
George Cumiskey
74
Posted 17/03/2018 at 19:27:50
What did I say about the 5%? – they are flying in from everywhere! It's amazing what one scruffy win can do.
Just off theme for a moment, watched Liverpool and, as much as I hate to admit it, they were breathtaking going forward.
Jay Harris
75
Posted 17/03/2018 at 19:42:21
George,
I don't think people generally are saying they want Allardyce to stay (although I think one or two want some stability at the club). What I'm saying is the whole club needs addressing from top to bottom but particularly the players.
I can't understand why some players can't even get a 10-yard pass right and still continue to pick up £50 to 100k a week.
Lawrence Green
76
Posted 17/03/2018 at 19:45:58
I wasn't able to watch today's game but from what I gleaned from the Echo's live blog, Big Sam and Duncan were far from happy with the players in the first half. I would still like to know why the players perform like 10-year-old ballet dancers rather than experienced professional footballers when they take to the field?
It seems they have no intention of putting themselves out, unless whoever is in charge starts to give them the hairdryer treatment. These aren't fresh-faced inexperienced players who are learning their trade – they are fully fledged competitive sportsmen. The result was welcome, so too were Tosun's goals, but the spectre of player power or lazy minded play isn't at all welcome.
Big Sam is not my cup of tea, but he's hardly a shrinking violet when dealing with players, is he? If he can't get them to work from the first until the last minute, who is out there who can? Mourinho is saying similar things at Old Trafford, where he believes that only a couple of his squad have put in the required effort all season, one of whom is Lukaku.
I can see Moshiri sticking with Big Sam until at least the early part of next season, whether we as fans support that decision or not. Would you put your reputation on the line by choosing another manager for this group of players? I don't think that Moshiri will either, but I do hope I'm wrong.
Christy Ring
77
Posted 17/03/2018 at 19:46:06
A big win; 40 points... thanks Sam – Goodbye!
Jamie Evans
78
Posted 17/03/2018 at 19:46:18
Apologists everywhere.
My guess is that anyone defending our current manager has never actually seen his Everton team play in the flesh because believe me, any Evertonian that has would never defend this fella.
I'm not talking about a live forum or a fuzzy stream, I'm talking about watching us live while Mr Allardyce pulls the strings.
Didn't think so.
Craig Walker
79
Posted 17/03/2018 at 19:51:35
In time we might look on Allardyce's reign more favourably given the hand he was dealt. I don't want to see an Everton team struggle against the 2nd-from-bottom team with 10 men. Sure, we won away and I can enjoy my weekend for once but we were far from convincing today.
Let's not start saying "bring on the derby" and such nonsense like we tend to do after a couple of wins. We weren't good today but at least we dug in.
Bolasie and Gueye were woeful. With what we've spent, we are right to expect more. A top team would have put 5 past Stoke with ten men.
Ray Robinson
80
Posted 17/03/2018 at 19:53:08
Jamie (#78) – utter bollocks. Some people see what they see first hand but are just more even handed in their criticism / praise.
George (#74), do you see the irony in your praise of Liverpool? It's justified, of course, but does that make you a Liverpool supporter?
Jamie Evans
81
Posted 17/03/2018 at 20:00:05
Nah Ray, show me one contributor who has seen our current fayre first hand and has offered praise. I thanked Mr Allardyce in my first post of the evening – but praise, do me a favour.
Not one performance I've seen under our current manager has been praiseworthy. Not one.
Have you seen any actual performance in the flesh that has been entertaining enjoyable while he has been our Manager?
James Hill
82
Posted 17/03/2018 at 20:02:12
Jamie Evans
Not every Evertonian has to agree with you. Some just seem to have blinkers around Sam and he could win everything and some people would still look for the negatives.
We won today away, against a team scrapping for their lives, in shit conditions. We totally dominated most of the game, even before they went down to 10, and should have scored more goals. Wasn't pretty but would you rather we lost?

Brian Harrison
83
Posted 17/03/2018 at 20:02:18
Jamie
I totally agree, I guess it might not look so bad as you say on a fuzzy stream but watching them live is an ordeal. Jay Harris and Lawrence Green, there is no doubt that questions have to be asked of the players, Most are Internationals.
But Allardyce has been here quite a few months, and I see no improvement in any individual player or the team in general. Now surely we should be seeing an improvement but, in most cases, these players are going backwards. Certainly Tom Davies and Gana have not got anywhere near the form of last season.
He brought Bolasie back far too quickly and I know he suffered a bad injury but he has looked way off the pace, that's not just my opinion but many who sit around me at the match. I can't even say the mind guru he brought in to try and change the fortunes with our away performances had much impact today. Because, when 10 men Stoke equalised, the same old gremlins looked likely to re-appear.
So yes, I'm delighted to have got 40 points which should see us safe, but I really don't want to watch this mind-numbing football next season. Next week, I will renew my season ticket for the 50th year. I know we won't challenge for the Premier League, but I would like to be entertained every now and again. Rather than see us set out mainly not to concede and hope we can grab 1 at the other end.
Jamie Evans
84
Posted 17/03/2018 at 20:06:40
James 82, no, of course I wouldn't rather we lost. I'm grateful we are safe and I am grateful to all three of the managers who got us there.
Enough is enough now though, mate, yeah?
Lawrence Green
85
Posted 17/03/2018 at 20:09:36
Brian (#83),
I too have renewed for next season, but I can't help feel that the marketing department missed a trick. They should have had two prices: one that was for Allardyce leaving before next season, a fifty quid surcharge, and one where he fulfilled the full terms of his current contract, price as per listed. I reckon that at least 25,000 season ticket holders would have gone for the more expensive "Sam to leave before next season" option. :)

Gavin Johnson
86
Posted 17/03/2018 at 20:11:49
Personally, I was indifferent to Big Sam coming in. I thought Unsworth did okay, but a rookie wasn't what was needed and a change had to be made. I wasn't made up with the appointment of Big Sam and saw it as a marriage of convenience until the end of the season. I gave him a fair crack of the whip and was pretty sure he'd give us the momentum to at least stay up.
Well, Sam's achieved his objective now but it's been a nightmare ordeal to endure. The negative tactics (particularly at Arsenal and Spurs), the deflection of blame, the handling of Lookman (who is better than Bolasie), plus the smirking during the TV interview after Burnley should be enough for anyone to realise that this guy just doesn't fit with Everton Football Club and an away win against a bottom-3 side with 10 men isn't going to change that.
As I said earlier in the thread, some people are all too easily pleased...
Chris Gould
87
Posted 17/03/2018 at 20:13:12
George, why so hostile to anyone that doesn't share your entrenched hatred of Sam?
If people want to give credit where they believe it's due, then it's not for you to troll every single post. You behaved like this towards Martinez, Koeman, and now Sam. It's fine to disapprove of all these managers, but it's also fine for others to have a slightly less entrenched view and give praise when they feel it's earned.
Why the hell does it bother you so much if others don't want to vent fury every time Sam is mentioned? Nobody needs to apologise for giving him the occasional bit of praise. It doesn't mean they're one of the 5%... and if it does, so the fuck what?
Andy Crooks
88
Posted 17/03/2018 at 20:25:45
Michael (#51) and others. Sam has done the job he was brought into do. Frankly, the same job could have been done by a white rat in a tracksuit.
Ray Robinson
89
Posted 17/03/2018 at 20:26:11
James, I have seen all of the home games under Sam plus three away games and I can't say I've been greatly entertained. I am not one of the 5% and would lose no sleep if Allardyce were to be fired.
Difference is, I don't criticise him for all Everton's woes as the displays were equally dire under the previous two managers.
John Keating
90
Posted 17/03/2018 at 20:29:24
40 points. Mission accomplished. Thanks Sam, not pretty but we're there now.
Looking forward to the end of the season and big changes at all levels at the Club.
Mike Keating
91
Posted 17/03/2018 at 20:32:09
Lawrence @ 85. When I renewed mine last week, I actually asked the receptionist on the til if I could get a refund if Allardyce was still there at the start of the new season. The answer was brief and I got the impression that this was not the first time she had been asked the question.
Ian Riley
93
Posted 17/03/2018 at 20:33:14
We got to 40 points and it's been a nightmare. No! The nightmare was before Sam came in, when I seriously thought relegation was a big possibility.
Yes, I like Sam as our manager. He tells it the way it is and lets the players know this. We have had talk of Champions League from our previous two managers and deep down we knew this was complete crap.
Sam knows this is the biggest club management position he has had... and yes, he wants to achieve something. He has achieved the owner's objective but do we show such disrespect to fire him now? Give him one more season and 𧴜 million to spend on players.
George Cumiskey
94
Posted 17/03/2018 at 20:38:32
Ray @80, no, it makes me a football fan, and Chris @87, I'm not hostile to others' point of view, I'm just asking for the evidence of credit were it's due, and I was allowed to give my opinion of the last three managers who to me have been woeful.
About the 5% – they have been deafening in their silence for the last few weeks; then, after one scrappy win against 10 men, they are out in their droves.
James Hill
95
Posted 17/03/2018 at 20:41:21
Jamie,
You're entitled to your opinion. Not all agree with you.
Gordon Crawford
96
Posted 17/03/2018 at 20:46:39
Ian, why not make it 𧶀 million and double his wages? I know it's your opinion, pal, but it makes me sick to think that he could be leading us out next season as our manager.
As I said on the live forum, Sam is archaic in his tactics and formation. We need vision and innovation, a great motivator and last but not least, a winner. Sam, in my opinion, falls well short of these credentials.
But maybe I'll be proven wrong if he does stay.
Mike Keating
97
Posted 17/03/2018 at 20:49:26
Apropos our ex-centre-forward, I notice the prick is still thanking the Lord for the goals he scores by jabbing a gloved finger to the heavens. Where was God (or Lukaku for that matter) when he missed a hat-trick in the semifinal against his current club and then had the cheek to complain he wouldn't win trophies at Everton?
I don't know if Tosun is a Muslim but, if so, Allah be praised!
Colin Glassar
98
Posted 17/03/2018 at 20:49:33
It's probably already been said countless times today but, can we sack Big Sam now?
Mission accomplished, Sam, you can leave through the front door now. Adios!
James Hill
99
Posted 17/03/2018 at 20:50:03
By the way, 5% is a ToffeeWeb survey – does it mean a lot? I'm one of the 5% and yes we are not pretty to watch. At the end of the day, it's a competition – not ballet.
John Charles
100
Posted 17/03/2018 at 20:53:13
No problem giving credit where credit is due. When Fat Sam took over, we where 13th; we are now 9th, so credit for that improvement. We are over the magical 40 points, so credit. Does that mean he has done anything like a good job?
From what I have seen, home and away this season – including freezing my knackers off today – the answer has got to be No.
If our aim is to achieve 40-odd points each season playing mind-numbingly boring football, give Fat Sam all the credit and keep him on. If we have one iota of ambition ... don't! But credit where it is due.
Kevin Tully
101
Posted 17/03/2018 at 20:54:24
We are still watching a load of disjointed rubbish. There is still no discernible pattern to our play, just a load of individuals trying to play football. Rooney just doesn't help our shape, the only position he never played today was goalie.
It's mainly down to the players we have bought, and playing kids like Davies and Calvert-Lewin who are clearly not ready. I doubt any manager could fix this lot.
We've blown hundreds of millions, boys and girls, and that's down to whomever you would like to blame.
Brent Stephens
102
Posted 17/03/2018 at 20:54:33
Mike, I thought our ex-centre-forward points a finger to the sky in reference to a friend who died?
Mike Keating
105
Posted 17/03/2018 at 21:45:19
Apologies – I think you're right Brent– in which case, my comment was completely out of order.

Brent Stephens
106
Posted 17/03/2018 at 21:48:58
Nice one, Mike. respect.
Jay Harris
108
Posted 17/03/2018 at 21:53:45
So true, Kevin. That's the reason some of us think the venom aimed at Sam is inappropriate.
We have been shite since the end of Martinez's first season, apart from the odd game. Allardyce has been in charge far less time than the previous three incumbents but is taking a serious amount of flak.
For the record, I do not want him to stay, nor did I want him appointed, but as the only man available/interested in managing EFC, he is entitled to be treated fairly.
Jon Withey
109
Posted 17/03/2018 at 21:54:55
Well, luckily we have found enough effort to get to 40 points.
Considering the spend, that isn't a miracle... but Sam has done his job and overseen our two better purchases of recent times.
Common sense says that he is a more effective manager than Koeman and others he has replaced .
Still, where next? Another experiment with a semi-successful manager? Stability with an uninspiring known quantity?
I'm glad it's not my decision.
Eugene Kearney
111
Posted 17/03/2018 at 22:09:58
Thank you Cenk.
Jack Convery
112
Posted 17/03/2018 at 22:22:34
Back-to-back wins – WTF!!
Mike Dixon
113
Posted 17/03/2018 at 22:24:24
We football fans have short memories. Personally, I remember Bingham, Walker, Smith et al. Watching Joe Harper, Bernie Wright, Jim Pearson and Earl Barrett. It is a winding road, one which we all hope has success round the corner and when you go round it, some twat has put another corner there.
This football club is no different to others in many respects; I thought it was special because we are 'chosen' apparently. Reading some of this would suggest that some believe we were not only chosen but 'entitled' too.
This squad is not entitled to anything; when we have assembled one that is and they produce drivel, by all means attack the manager. Until then, be a realist, at least we haven't got Wimbledon in the last match of the season.
Jerome Shields
114
Posted 17/03/2018 at 22:43:32
Everton played the same as usual. It took Stoke to be down to 10 men and with more of the ball possession befor Tosun got the support, which he would never have got if they had 11 men.
Allardyce will be singing about next season (a complete illusion) next week, with the usual muppet wheeled out on Evertonfc. com. The objective is to get a contract extension, in the present ongoing negotiations with Moshiri.
I agree with Pete (#57), many fans will be evaluating their level of support.
Our wonderful collection of players will now take an early Summer break. I can't bear to think of the bullshit we will have to listen to till the end of the season, and I will be giving the transfer window in the Summer a miss. On top of that, we will probably have it announced that Big Sam's contract has been extended.
The Club is so far removed from the fans, and anything else for that matter, it really seems that the ambitions of the Club in reality are non-existent.
Jeff Spiers
115
Posted 17/03/2018 at 22:47:38
Mike (#112) – I could not agree more.
Andy Meighan
118
Posted 17/03/2018 at 23:10:48
Jay (#108),
Well said. The amount of stick Allardyce has taken has been nothing short of shocking. No great lover of him myself but does anyone honestly think any manager or coach in world football would have fared any better? No didn't think so...
Mike Connolly
119
Posted 17/03/2018 at 23:22:53
Nearly time for Sam to go. However, getting rid of him is only covering over the cracks. As with the two previous managers, the team are still performing badly.
I think the whole backroom and coaching staff needs to be sent packing. Just been watching some of those supposedly inferior teams to us, playing football we could only dream of.
Yeah, 3 points... great. But, in reality, we need to be better than this. Roll on, next season.
Barry Lawler
121
Posted 17/03/2018 at 23:32:58
Did you not see the header Davies missed in the first half? Or the poor first touch from Calvert-Lewin when clean through on goal? Or Walcott's poor control/shot in the second half? Or are they Big Sam's fault as well?
The squad is really poor, Davies, Calvert-Lewin and Bolasie aren't good enough and never will be. Why don't people start realising that fact? Also, 21 isn't young anymore!!
Jeff Armstrong
122
Posted 17/03/2018 at 23:40:39
George (#94),
'They' – as you eloquently call them – have been back on here because they're Evertonians, buoyed by a rare away win, happy on a Saturday night two weeks running.
Give us Blues a break, please, and try to be more positive. Not many (5%) want Allardyce here next season, including myself, but let's just enjoy the win.
John Raftery
123
Posted 17/03/2018 at 00:08:25
Sometimes, it takes a scruffy win to turn the tide in a team's fortunes. Today's win may be such but it looks unlikely. We have some really poor players in an unbalanced squad.
The current manager has done well to lift us to 40 points with 7 matches to spare. Things have improved during Sam's tenure partly because he made two good signings in January and partly because injured players have returned to the fold.
We still look pusillanimous in midfield, disjointed in attack and weak in defence but today we had our strongest available team playing including three attackers. We ended up with four attackers and still struggled to make and take clear opportunities.
None of our 2017 signings can be deemed a success – including the one often quoted as a success – Jordan Pickford. He is a great shot stopper but his vulnerability at set pieces was evident again today. He is nowhere near ready for international football or for a top six club so we need not worry about losing him.
The main priority in the summer remains the acquisition of a top class midfielder. I would worry more about that area than any other, including the managerial position.
Ron Sear
124
Posted 17/03/2018 at 00:16:08
I must admit that the first half was hard to watch but it does surprise me that nobody on this thread seems to have mentioned the way the Stoke players were doing their Stoke thing and it was brutal at times. I lost count the number of times Crouch half strangled Everton players with his arms round their necks.
Tom Davies was given a right seeing too by the defenders and on the whole we were lucky to get away without any serious injuries. I doubt if many teams could have played well on the variability of that surface or sublimely controlled the flight of a ball with the wind and snow gusting as it did.
For all of Everton's faults, they were playing a team that was utterly desperate. After all that, we did score the same number of goals against Stoke as Man City achieved.
Mike Connolly
125
Posted 18/03/2018 at 00:26:30
Spot on, Barry (#121).
Steven Jones
126
Posted 18/03/2018 at 03:36:36
Lets get on the Sam train!
He is staying and I hope for a very long time – he is a good leader and will improve us, week-in & week-out.
COYB!!!
John Pierce
127
Posted 18/03/2018 at 03:54:49
The result whilst welcome in many ways, changes nothing. Even with the extra man the manager held firm rather than trying to grab the game.
The gift of the red card did little to change the pattern of play. We looked as ponderous as normal and front three quickly felt like 4-5-1.
Tosun looks like he can finish if serviced well, and I like his aerial presence.
Can't wait for the Ukrainian league season to end.
Phil Sammon
128
Posted 18/03/2018 at 04:23:26
Steven 126
Where have you been the last two months?
I can't take comments like that. How short sighted. We have been absolutely abysmal and two decent results isn't enough to convince me that Sam has anything to offer Everton beyond this season.
Sam is a horrible human being and I'm embarrassed to have him in charge of our great club. Every day he's in charge is a day wasted. On yer bike, grub.
Ernie Baywood
129
Posted 18/03/2018 at 04:23:59
The problem isn't Sam. The problem is that we appointed Sam.
We have no idea what we want to be. We lurch from pragmatic to idealistic. One minute we're ambitious and the next we just want to stay in the league.
Sam will get no praise from me. He's an awful appointment. He's done a fairly poor job. Yet he's still exceeding expectations... he was hired to do nothing more than keep us up. He's done that in March. The problem is that we signed the wrong guy with the wrong expectations.
And don't tell me I'm not happy that we won. I'm always happy when we win. I just think you have to take things in context to avoid being a schizo.
Andy Walker
130
Posted 18/03/2018 at 05:41:21
Barry (#121), spot on mate. Well said, for far too long the bleed'in obvious has been ignored. Most of the players are not good enough. Only Coleman, Walcott and Sigurdsson would have a chance of getting in a top 6 side. The rest are mostly too old now (sadly) or youngsters that aren't good enough, plus Gueye who I've never rated.
A major clear-out with a proper recruitment policy is needed in the summer, as opposed to what looked like random buys last year. Walsh should pay the price too.
Danny O'Neill
131
Posted 18/03/2018 at 06:11:44
Steven Jones is clearly deliberately trying to provoke a reaction with that statement!!
Jay Woods
[LAT]
132
Posted 18/03/2018 at 06:14:22
I'm actually still cross with Calvert-Lewin for shooting late on instead of passing to Tosun for the latter to get his hattrick. I would have torn strips off him for that after the game if I were the manager.
Amit Vithlani
133
Posted 18/03/2018 at 06:41:44
I am happy to swallow my pride and give the team and Allardyce some credit. We stuck to our guns. His flagship signing delivered. He put on two forwards second half and we went for the jugular even after conceding the equaliser. We should have won more comfortably.
But, the fact remains that Allardyce has overseen some horribly negative performances, made tactical blunders, and managed to make us look as bad away from home as any of our other managers had done this season.
The Allardyce supporters were nowhere to be seen at that point. An away win against a 10-man team down in 19th and out they pop crowing for their hero.
Let us not forget, we spent close to £50M in January and yet in 2018 have won a grand total of four games, three of those at home. He has brought us safety at a significant cost to the club.
We should thank him and let him go as he has done nothing to prove he can make us compete with the top 6.
He is also the only manager who has been able to field our first choice back line this season. It cannot be a coincidence that having three of our longest serving players in defence has yielded back to back wins.
On Tosun, his goals brought back memories of Andy Gray. Not afraid to put his head in where it hurts. It was heart warming to see so many of his team mates congratulating and hugging him at the end. Looks like a popular chap in the dressing room.
Jay Griffiths
134
Posted 18/03/2018 at 07:53:31
Weirdest weather we've had to endure at a game. AZ Alkmar cold! Cold windy snow followed by calm, followed by sunny snow. Repeated all game.
Stoke and their fans were well up for this game. They worked us hard and fought tooth and nail. Tough place to win.
As for the Minotaur and Jimmy Krankie, this type of football is cruel on the eye. Something has to be done.
Terry Farrell
135
Posted 18/03/2018 at 07:57:26
Barry,
Tom Davies is 19 with skill, a great engine, and finding his way in the game. He missed a sitter, yes, got taken out big time 3 times, but carried on. He is brave on the ball and tries to make things happen so naturally he will give it away at times. Let's support this talented kid with a big heart. I love him.
Jay Woods
[LAT]
136
Posted 18/03/2018 at 08:09:26
I support Tom Davies all the way, but we need finished articles as regular starters at this level, not plucky kids with good hearts. He needs to be farmed out for experience, at a lower level possibly, but he has done nothing to deserve an ongoing, automatic starting slot.
Peter Warren
137
Posted 18/03/2018 at 08:12:21
Just made up we have 40 points. What a dire team and management team we have.
Kim Vivian
138
Posted 18/03/2018 at 08:36:56
I see there's been a 50% swing back in favour of Sam staying.
Worrying times indeed!
Ajay Gopal
139
Posted 18/03/2018 at 08:44:05
We are seeing the beginning of a settled side and the results are slowly turning around. However, 3 of that starting XI are in the twilight of their excellent careers – Baines, Jagielka and Rooney.
Further, Gueye, while excellent in the tackle, offers nothing going forward, he gives away the ball too easily. So does Davies, but at least he is young and has the potential to improve.
Keane brings the ball forward impressively. He needs a commanding partner to get him out of trouble sometimes, but I believe he will come good. Sam's dilemma is – should he keep the CB partnership that is beginning to find its feet and settle down, or should he give Funes-Mori a run of games to see whether he will cut it at Everton? Similarly with Klaassen?
Whoever is the manager next season (my preference is one of Fonseca, Howe, but if Allardyce achieves success and gets us playing competitively, I would not begrudge him staying for 1 more season).
We need to sell Williams, Martina, Schneiderlin and maybe Besic, Klaassen, Sandro as well. Then, buy 3-4 players to replace them, not more than that. One centre-back (Swansea's?), one left-back (Shaw?), one box-to-box midfielder (Nzonzi?), and maybe one more creative midfielder (our own Dowell?).
Also, Lookman will be back from Germany and we should be more competitive next season.
My fantasy starting XI (at this moment) next season:
Pickford
Coleman Keane Mawson Shaw
Nzonzi Rooney Sigurdsson
Walcott Tosun Lookman
Backed up by:
Robles, Kenny, Holgate, Funes Mori, Jagielka, Baines, Gueye, Davies, McCarthy, Vlasic, Dowell, Bolasie, Calvert-Lewin, Niasse, Onyekuru.

Kevin Prytherch
140
Posted 18/03/2018 at 08:56:13
Davies and Calvert-Lewin might make mistakes, but isn't this the ideal time to make them? Whoever said 21 isn't young, there aren't many 21-year-old strikers who score consistently or are the finished article.
As for 19-year-old midfielders playing 50+ Premier League games... Davies gets a lot of criticism, but Everton play better when he's in the team.
I would get the next couple of games out of the way then play as many of the youngsters as possible in a risk-free environment. Let them make mistakes now when there's nothing to play for, they'll all be better players in the long run.
They might actually provide some competition for places next season, thus reducing the need for journeymen squad fillers. If we could start next season with Holgate, Kenny, Davies, Baningime, Vlasic, Lookman, and Calvert-Lewin providing real competition for places, then the squad as a whole will benefit. Better to get mistakes out of the way now rather than when it actually matters.
Andrew Clare
141
Posted 18/03/2018 at 09:19:35
Jerome (#114),
I agree with your sentiments. I think most Evertonians are waking up at night in a cold sweat at the thought of Sam Allardyce being retained for next season.
I really believe that Everton is a football club run by people who have no knowledge about football whatsoever. Until Kenwright and the rest are relieved of their duties, nothing is going to change.
Under Kenwright, our standing, reputation and class have been completely eradicated. Now we have his mate Moshiri who has money but it seems the same grasp of what football is as Kenwright. I really wouldn't be surprised if they retain this manager.
Even West Brom – no disrespect – who are bottom of the table, play better football than us. We have good players but they can't even string two passes together because of the lack of tactical guidance and coaching from this low-grade 'manager' and his backroom team.
Martin Nicholls
142
Posted 18/03/2018 at 09:48:57
Ron Sear (#124) – glad to see someone has stuck to the point of this particular thread which is specifically yesterday's game rather than a debate about Allardyce. I agree entirely with your post which is the best and most relevant on here.
Steven Jones
143
Posted 18/03/2018 at 09:52:33
Danny - not really –just trying to be positive about whoever we have at the club and get behind them.
Other managers like Pep or Klopp say are given time to get their ways into a club – the old message about Koeman was that after Martinez, it will take three to five transfer windows to sort it out etc.
Early in the season we had no shape, no idea of the first 11, too many half Number 10s, swapping wing players about willy-nilly.
Now there is a clear pattern developing with Theo and Tosun firmly in harness, Wayne sitting and passing, Davies providing energy and drive, a move away from two defensive midfielders, better balance with Baines and Coleman back and dare I say Keane settling in more and Pickford going to be there for a decade or so.
There is a foundation and now people want more change, more revolving-door policy with the coaching team. Some want more unproven continental management experiment with our club. More turbulence the next 12 months is not what we need.
Sam has attracted Tosun and The, he may be able to get Nzonzi and one or two others in the Summer – let's get behind him and the coaching team and the players.

Jerome Shields
144
Posted 18/03/2018 at 10:12:47
Andrew (#141). In my opinion, Kenwright allowed Moyes to put in place a glass ceiling for too long. The inconsistencies where there throughout his time – how many times did Everton need to win the next game to challenge those above them, only too fail?
Martinez showed initially what could be done, only for his known weaknesses to be exposed. The appointment of Martinez and Koeman, both with poor histories, was always going to end in failure, though I think Koeman was worse than Martinez in organisation and transfers.
With Allardyce, Everton are swimming about in the shallow end of the pool and content to do so. Once they go up the deep end. . . they sink.
We are a long way from the pre-Harvey sides of the 80s, 70s and 60s, Joe Royle's spell being the exception in between (a naive contract organiser) in organisation and play.
What struck me about Ireland at Twickenham was that every player knew what they were about and anticipated any threat. The last time I saw that was in the 80s, watching Everton, against Arsenal and Spurs in particular.
Your observation on tactical guidance and coaching is spot on regarding Allardyce and the present time. They appear to be non-existent In the present team.
I do think that there is a real threat that Allardyce will be at Everton next season, and that under-performing first-team players will be kept. There will be cutbacks in the squad, particularly in the youth end; Everton's current reputation will stifle any chance of attracting good players, and existing good players will be thinking in terms of getting out – the younger ones, on loans, the older ones to a better footballing clubs.
Allardyce is dismantling what is left of the framework of the traditional English Football Club, that was Everton at its best. This is the real damage that Big Sam is doing to Everton.
I also agree that West Brom are playing better football than us. I wish them luck for the remainder of the season.
Danny O'Neill
145
Posted 18/03/2018 at 10:15:22
Not for me, Steve, I've gotten behind managers in the past and admit I gave Martinez longer than most (wrongly as it turned out). If it was a relative unknown trying to do the right things I could tolerate it.
Scratched record time for me; this is Sam Allardyce. A known entity who, in over 2 decades of managing, has never even tried to do things differently. Stick with him and you get what we've had for the past few months. Scraping results against the likes of Stoke (19th, on the slide and playing with 10 men for most of the game), being satisfied with 40 points and feeling smug about it (anything else a bonus), whilst not even being moderately entertained as a compensation.
With Allardyce, you get exactly what's on the tin. Possibly naively, I'm a bit more ambitious than that.
Ernie Baywood
146
Posted 18/03/2018 at 10:26:12
Steven, I completely understand what you're saying.
We do need some stability. But there's just no point getting behind this guy. Realistically what is the best he can achieve?
Ask yourself what would constitute "good" for Everton over the next two years? Can anyone envisage another year of Sam Allardyce contributing anything towards that aim?
Mike Kehoe
148
Posted 18/03/2018 at 10:50:09
It seems that a win against a piss poor side reduced to ten men has restored some confidence in Lardiola: the five percent may swell. There is a lot of abuse aimed at the management team, some of childish name calling (see above) and some of it constructive.
Personally, I feel Unsworth would have achieved safety if given the chance and I was dismayed that Everton should ever be reduced to turning to a man of Allardyce's questionable calibre: I would accept being guilty of a form of snobbery as Everton are, despite any apparent crisis, always far to good a club to be lead by this man: and Sammy Lee.
So, to critically analyse Allardyce's reign: he inherited an expensive and under-performing team that was in a dire position following a series of very difficult early season fixtures, he also had Coleman and Baines missing through injury. Confidence was low but Unsworth, it could be suggested, had began to improve matters.
The priority was the defence and he began to address that issue and stated it was sorted in December. The sight of Klopp's furious frustration at finding our defence to be an organised and effective unit was the only positive so far and I found it hilarious: I feared a humiliation.
Sorting out the defence was an urgent requirement and he made improvements, fair enough, but the quality of football certainly suffered. I felt this would be part of the rehabilitation process and a price ultimately worth paying. Again, how much of Unsworth's influence was part of these defensive improvements?
The style of football deteriorated badly with unsuccessful and uninspiring utterly spiritless soul destroying performances accompanied by unimaginative formations with shocking team selections which were rigidly maintained despite the obvious evidence that it was failing: Einstein had some quote linking madness with trying the same thing repeatedly and expecting a different result.
The manner of defeats, the dreadful brand of anti-football along with an abdication of managerial responsibility became too much to accept. While individual errors are clearly not the manager's fault, substitutions and tactical changes most definitely are: I cannot recall a change being introduced that resulted in a positive change. Consider Burnley, Dyce brought on an extra striker and changed the game; our response was to take off our most influential player in Sigurdsson and we lose. That's what a manager does and it's not rocket science or some kind of occultist witchcraft – it's basic tactical nouse.
The side has benefited from the signings of Walcot and Tosun. Fair enough; well done. So, between a director of football and the board it was identified that an England international who was not getting a look in at Arsenal may look to switch in a World Cup year. That may be harsh and both still needed to be brought in so credit where it is due but let's keep a bit of perspective.
Morale has been low and the villains of Mirallas and Schneiderlin were exposed and (eventually) expelled. Team spirit still seems very low with passion and intensity often lacking. This for me is the most troubling aspect and is perhaps the difference between success and failure. Look at Liverpool or Man City and their players look like they would run through walls if asked, they fight like their lives depended on it and when they lose they appear to be gutted. I don't know how this missing ingredient is developed and nurtured, whether it is to be found in the Dubai sun or the product of quality man management but without it, I would suggest, you are seriously flawed as a team.
Obviously we don't know what goes on at Finch Farm or Goodison on a day to day basis but while listening to the game on radio Merseyside Allardyce mentioned the injury list and lamented on McArthur's injury. Now if I was James McCarthy I'm not sure what I would be thinking. For me personally it is further evidence that he is not the right man for this job, that he lacks so many of the required qualities to manage a successful team and he must not be in post next season. He was asked to deliver survival and that has been achieved: to that end thank you.
The new man must have been identified and approaches must have been made: I mean that's got to have happened surely. It would be great to pay Allardyce et al off now and have the new man installed asapto assess the team and get prepared for August and hit the ground running.
Leaving Goodison Park following the Wimbledon game in 1994, the mood was "Never again!" Allardyce is not that bad but for me he is not far off and the best we can ever hope for with him at helm is mediocrity at best. I believe we are better than that.
Ian Riley
149
Posted 18/03/2018 at 11:02:06
Funny old world we live in. Sam comes in and saves us from worrying about relagation by mid-March. At this rate we could finish in the top eight. Oh the football is dire. Ask the West Bromwich Albion fans. They wanted pure football and Championship here we come by mid march.
Sam has never been popular has he. Does a manager have to be popular with the fans? Manchester United's manager has had a go at the fans, board and players in his time there but he has a trophy in the cabinet and Champions League next season. Sam has made a difference with the quality of players brought in and yes he has brought them to the club. Remember the manager has to sell the club and you have to work under him.
The lack of respect and language used to describe our manager is borderline disgraceful. We all have our choice of manager but realistically Sam was the ideal person to get us out of the shit we were in. Yesterday, we won away from home. Psychologically it was a problem and Sam got help from not just coaching or shouting at the players. Whatever people think of Sam, his ideas of coaching have always been ahead of other coaches in terms of diet, fitness and well-being – be that physically or emotionally.
Please remember we wanted Premier League status for next season and we have it. Job done. The manager is talking of making plans for next season. He must have been told he will be here managing our club next season. Let's get over it and move on. Renew your season ticket or not. The fans on the waiting list will gladly take it from you.
Paul Tran
151
Posted 18/03/2018 at 11:23:47
We have been playing ponderous, shapeless, dull football since the end of Martinez's first season. Allardyce is just an unnecessary extension of this.
The fact that he has brought in two decent forwards will not alter his mindset. Clean sheets, 40 points, then relax. He will talk about planning for next season because he is in the seat and wants to keep it that way. He was brought in to 'keep us up' and will use his 'success' to justify his staying.
We need a manager confident in his own methods who can lift the players, focus on how we play and give us some identity and entertainment. We need to forget about 5- to 10-year dynasties and accept that if he's successful, he'll be off to a bigger challenge.
I hope we're talking to managers right now. I hope one of them is Fonseca.
Brian Harrison
152
Posted 18/03/2018 at 11:34:11
Seems of all the TV pundits, there is only our ex player Martin Keown who actually says it as it is were most of the other pundits or journalists couldn't give a toss about Everton.
Sadly we have become an irrelevance, never likely to win anything and should have enough to avoid being in a relegation battle. This club has slid so far down the pecking order, we are no longer classed as a big club, we are just there to make up the numbers.
Apart from Seamus, not one of the first team would get a game at any of the top 6 clubs. Just like when we sacked Koeman, most of the pundits were suggesting Allardyce would be a good fit for Everton. I couldn't imagine them same pundits and journalists saying he would be a good fit for any of the top 6 sides.
So maybe that's why we sing " if you know your history" because there is no future for this club ever competing for the top honours. I haven't checked the stat but somebody said Liverpool have scored more goals in the Champions League than we have scored in the Premier League this season. I had hoped with Moshiri coming on board things would change, but it seems the old saying a fool and his money are soon parted looks like coming true. I hope he can reverse the trend and appoints the right men to take us forward, as I think if, with his money, we can't compete, then the future really does look bleak being an Evertonian.
Mike Kehoe
153
Posted 18/03/2018 at 11:52:09
Ian Riley,
It can't be often that Allardyce is compared to Mourinho but I would suggest Mourinho's previous achievements count for something. Allardyce isn't popular but that's a combination of his character and product: Mourinho is without doubt as equally odious and despicable an individual but he delivers success, almost constant success, and you have to admire his tactical acumen. Man Utd supporters may not enjoy his conservative style but they can have faith they will achieve.
Regarding Allardyce being ahead of other coaches in terms of diet and emotional well-being etc, you are correct. I'm sure he is more advanced than the likes of Pullis, McClaren, Curbishly and Tony Mowbray combined and I'm sure he could probably beat Chris Kamara in a game of Trivial Pursuit but he is not, and I feel he never will be, good enough for Everton.
Additionally, I would be more inclined to accept him as a nurturing humanist with good man-management skills if he could actually remember the names of injured players in his squad.
Brian Murray
154
Posted 18/03/2018 at 11:56:14
If we keep Sam because we have no other plan or strategy to approach anyone else, well, that's our sum total of ambition. Count me out renewing season ticket until Moshiri wakes up to who he's surrounded by.
Christy Ring
155
Posted 18/03/2018 at 12:10:59
I'm delighted for Tosun, he could turn out to be a great buy, and a better finisher than Lukaku. Hopefully we can finish the season on a high, and big decisions and changes in the summer, with Moshiri taking full control.
Dennis Stevens
157
Posted 18/03/2018 at 12:19:24
Ian (#149), your argument seems largely predicated on the assumption that the appointment of Allardyce has made the difference between survival & certain relegation.
Obviously, it's all opinions & we don't know what would have happened if Allardyce hadn't been appointed. However, as the much-maligned caretaker manager, Unsworth, had already dragged us out of the bottom three, it's perfectly plausible that he or another manager may well have matched or even exceeded Allardyce's "achievements".
Darren Marsh
158
Posted 18/03/2018 at 12:28:59
Let's see how our current manager fairs against the two best attacking sides in the Premier League, and not two piss-poor teams that have almost certainly delivered our Premier League survival.
He was brought in to do a job, and being rewarded handsomely for it, but I for one ain't going to join the 5% or so who are praising him as The Messiah. The football dished out has been some of the worse I, and plenty more long-suffering blues have witnessed in my 40+ years of being, well, chosen.
The sooner he is fucked off, the better myself and 95% of blues will sleep. The bloke is nothing but an envelope-snatching bent bastard.

John G Davies
159
Posted 18/03/2018 at 12:35:18
Darren Hind,
On the live forum last night you called me a liar in several posts when I reminded you of your opinion that Moyes would finish higher in the table than Allardyce.
In the interest of clarity here is a post you put up after we beat West Ham when Allardyce was appointed.
"Everton had thumped West Ham and many rejoiced at the thought of Moyes being humiliated and relegated again – me included, but ask yourself this; if your house depended upon who would finish the higher of the two, all known history would tell you that Moyes would be the guy to put your mortgage on."

Ernie Baywood
160
Posted 18/03/2018 at 12:36:09
The form under Unsworth was still a problem, yet was enough to do what Sam has done.
Ignore Europe. We were already dead men walking in that competition.
He won 2 and drew one out of three home games. He managed a point in his 3 away games.
And he did it with a team that was completely bereft of confidence with no transfer window, no backing and no full backs.
Danny O'Neill
161
Posted 18/03/2018 at 13:30:34
I liked the look of him as soon as I saw him in the derby, Christy. More than a target man. Has a footballer in him too.
Max Murphy
162
Posted 18/03/2018 at 13:46:09
As predicted – Pickford not good enough for Everton FC. Does not command his area and is not brave enough. Get Robles back in.
George Cumiskey
163
Posted 18/03/2018 at 13:58:34
Kim Vivian, worrying times indeed. I think the swing is more than 50% and Ian Riley is leading the charge.
Let's hope Moshiri hasn't just started reading the ToffeeWeb comment threads.
Rudi Coote
164
Posted 18/03/2018 at 15:28:20
I can't believe it! I can't believe it!!! We actuality beat a 10-man team!!! Wake me up someone!!!!!
Well done, Cenk! Çok guzel! A derby winner hopefully!
Mike Powell
165
Posted 18/03/2018 at 15:55:53
We beat a piss-poor Stoke team who had 10 men for most off the game. Most of these players and the manager are not up to the job. We need a big clear-out ffs – it was a poor Stoke side that we struggled to beat. The sooner Dumb and Dumber get out of our club, the better.
Barry Lawler
166
Posted 18/03/2018 at 16:01:10
Celtic have been playing against ten men for an hour and haven't scored! Get Rodgers out now and get the great Fonseca in!! #Madness
Paul Tran
167
Posted 18/03/2018 at 16:10:14
George, if Moshiri reads and follows ToffeeWeb, Sam wouldn't be here at all!
It'll be a dignified exit for Sam, followed by Fonseca, Silva or a surprise non-UK 'big name'.
George Cumiskey
168
Posted 18/03/2018 at 16:50:38
Paul @167, if he started reading it yesterday he might think we are all rooting for Allardyce, after the posts were coming thick and fast to praise him.
Hence my comment about the massive swing.
Ian Riley
169
Posted 18/03/2018 at 16:58:57
Mike (#153) and Dennis (#157). My money is on Sam will be gone in May. Stability is needed now. I think it would be difficult to have a manager with one year left on his contract. If Sam goes, get Silva in. I wanted him last year.
Eric Paul
170
Posted 18/03/2018 at 17:32:19
Sometimes it's harder to play against 10 men as it changes the dynamic and the side with 10 men up their work rate and become more resolute (unless it's us).
John Charles
171
Posted 18/03/2018 at 18:05:20
It is a funny old world: Fat Sam does what Unsworth was well on the way to doing – without a transfer window or Coleman back – and he is a saviour.
Why does it have to be a choice between entertainment and survival? And why is survival all some of us want?
Sam has done what he was brought in for? What? When he took over, we were 13th – I know there are some who insist that he was somehow magically in charge and responsible for the West Ham game.
I have renewed, so those on the waiting list will, Ian, have to wait a little longer. But god please let Fat Sam be gone before next season.
Neil Carter
172
Posted 18/03/2018 at 19:38:50
Why is Davies getting hammered? He's only 19 for fs!!
It's the senior players who haven't performed most of this season.
Trevor Peers
173
Posted 18/03/2018 at 19:44:16
Its a funny old world John @ 171, that you still have blind faith in a man who was reduced to tears after the most pathetically dispirited display I've ever witnessed in watching the blues for over 55 years, against a very poor Southampton team, his spirit was broken that afternoon.
You're deluded if you think Unsworth could've got us the required points we needed then to avoid relegation. Moshiri was mortified enough to act correctly and appoint a man with some backbone, to protect his investment; that is all that matters as far as most of us are concerned, now that thankfully we're safe.
Ian Riley
174
Posted 18/03/2018 at 19:54:02
Neil (#172), it's what they do to their own. If he was a teacher, doctor, or nurse he would still be in training. The guy is 19-years-old and worked under three managers already. Young players need stability, guidance and most of all support from their fans. Don't and he will walk and the forum will be full of how he betrayed us.
Harry Wallace
175
Posted 18/03/2018 at 20:05:48
What does Davies offer? He has a poor shot, poor heading ability, he doesn't dribble much, his assist rate isn't great.
Klaassen was Ajax captain, scored 15 goals and made assists last season. No comparison.
John G Davies
176
Posted 18/03/2018 at 20:32:58
Ian (#174),
We can hope Tom will come out of it a better player. He has the potential to be a very good player. We need to back him while he is learning his trade.

Mike Connolly
177
Posted 18/03/2018 at 20:41:17
Here is the problem, Our club is full of "He is one of our own" from Jeffers, Ebrell, Ferguson and lots more hangers-on. Also down to all these young players being blooded when they are clearly not ready.
When Sam goes, we need a big clear-out from top to bottom. It would be some manager if he could achieve that. I fear this won't happen and we will be talking the same shit next season... Hope I'm wrong.
David Barks
180
Posted 18/03/2018 at 20:51:42
Ian,
But he isn't a teacher or nurse, just as we wouldn't expect him to continue to be playing when he is 50 years old whereas a nurse or teacher will still have many years left. His age doesn't matter. If he's on the pitch the opposition isn't saying they'll go easy on him since he's only 19.
You're judged off of what you're able to contribute on the pitch. What is it that you would say his main attribute is?
Brian Williams
181
Posted 18/03/2018 at 20:57:26
Talking of the forum being full of "how he betrayed us," I wonder whatever happened to that local lad…... errr Ross was it?
Went to Chelsea or something?
John Charles
182
Posted 18/03/2018 at 20:58:03
And yet, Trevor, he achieved 7 points from his 5 games in charge, including 4-0 in his last game. My point isn't that Unsworth was great but that I believe we would have survived – the extent of our ambition – with him and there was no need for Sam.
Talking of grown men crying, I felt like it walking out of Wembley, the Emirates, West Brom and Watford. But at least we are safe.
David Barks
183
Posted 18/03/2018 at 21:00:33
Brian,
A simple search would show you that Barkley has been injured at Chelsea, reinjuring the hamstring.
Brian Williams
184
Posted 18/03/2018 at 21:02:36
David. Did he? I didn't even know he'd played more than the televised cameo against who I can't remember.
Just looked now, same hamstring, bad one for him that like.
Tony Williams
185
Posted 18/03/2018 at 21:04:44
Whatever happened to orange balls? Did Allardyce play with white and yellow balls to confuse us all?
Eric Paul
187
Posted 18/03/2018 at 21:20:11
David,
A simple watch would tell you Davies is the real deal. As much as we don't like Sam and his cronies, they know a lot more about football than you, and they keep picking him.
Danny O'Neill
188
Posted 18/03/2018 at 21:38:55
We didn't need Allardyce. Koeman would have kept us up if that was the target; likewise Unsworth would have gotten us to where we are now.
Why we ever thought we needed to appoint Allardyce if all we wanted to achieve was staying in the Premier League is beyond me. I could have done that. It all comes down to ambition.
But now Allardyce will gloat about how he saved us.
I didn't want him, don't want him and now want him gone as soon as possible.
Ray Robinson
189
Posted 18/03/2018 at 21:44:16
John (#182), after that Southampton game the only thing that Unsworth could save was himself. A thoroughly decent man who one day may yet make a brilliant manager, he was thoroughly broken that day.
I doubt whether he could have turned us around and a new appointment was necessary. Due to our precarious position, Moshiri turned to Allardyce – a sensible business decision, even if I hope now he reassesses the situation at the end of the season on purely football grounds.
Sam Hoare
190
Posted 18/03/2018 at 21:45:46
Trevor, 'Deluded'?
Strong (misplaced) turn of phrase given that Unsworth has a higher points-per-game ratio at Everton than Allardyce. Unsworth deserved a bit more time and I reckon he'd have as many points if not more than Allardyce. And I'm certain we'd have been more interesting to watch.
Kevin Prytherch
191
Posted 18/03/2018 at 21:50:51
Trevor (#173) – I take it you've not watched any of the games under Allardyce if you're criticising displays under Unsworth being dispirited?
It was already made clear before the Southampton game that Unsworth wasn't getting the job; the players let him and the club down. I saw more spirit against Chelsea, Watford, Palace and West Ham than I did under Koeman and under Allardyce.
Maybe your memory is lacking, let's remind ourselves of some performances under Allardyce:
West Brom – let's nick a point
Bournemouth – let's nick a point and lose
Man Utd – embarrassing
Spurs and Arsenal – even more so
Watford – one of the most abject, uncommitted performances possible
Burnley – first time they've ever come from a goal down to win.
Eddie Dunn
192
Posted 18/03/2018 at 21:51:24
We will never know if Unsworth would have saved us, or Koeman, for that matter.
I for one, was worried that under Unsworth, the side had looked rudderless and as his authority was obviously temporary, the players seemed as confused as he did. Some of his selections and substitutions were worrying and I had the feeling that we could quite easily spiralled into freefall. The January window helped, but would Unsie have got Tosun and Walcott?
I am no fan of Big Sam, but we are safe, so perhaps the club made the right choice. Now they need to make the long term choice and asap, as it's a World Cup summer and we know how much the Euros hampered preseason under Koeman.
Ron Marr
193
Posted 18/03/2018 at 22:05:03
After the Southampton game, Moshiri shit his pants and brought in Allardyce – end of story.
He's toast in the off season. The pathetic performances and game plans against Arsenal and Spurs should have have proved to Moshiri that he can't take Everton to the next level. He's already setting expectations for the Man City and Liverpoolgames by publicly referring to them as the 'big boys'. He'll be taking a feather to a gunfight.
Shows how shite the teams are in the Premier League's positions 7 to 20; if you look at the form table in the period Sam Allardyce has been in charge starting at Match Day 15 (Huddersfield) Everton are in 6th place Link
Barry Lawler
194
Posted 18/03/2018 at 22:11:21
The current squad is poor... Under-23 squad is poor... Walsh is poor... it's as simple as that, my friends.
We have 6 players in the England U21 squad which suggests the set-up is working but that just means they're the best in their age group in England and, like so many others, struggle to make it in the man's world. So let's not kid ourselves, we have a poor squad and poor young men (not kids).
Paul Hewitt
195
Posted 18/03/2018 at 22:20:58
I don't understand why people are getting angry over Sam. He won't be here next season. He has done the job he was brought in for, end of story.
Barry Williams
196
Posted 18/03/2018 at 22:34:56
Allardyce the new pariah! Am I an apologist, well if people say so, that's fine. I was surprised as anyone at his appointment, and yes there have been some awful displays which I have been critical of myself, but these awful displays continued on from Unsworth (who I think did well considering), Koeman and 2 seasons under Martinez. We will not know what would have happened if Allardyce hadn't been brought in, or we had a better injury record for that matter.
However, the most important thing, bigger than any manager, is that we are still in the Premier League – something I thought was a real possibility of us not being.
Allardyce has achieved his goal, has come in for some deserved criticism, but also has brought in two attack-minded players in Tosun and Walcott that have worked well, is playing two out-and-out wingers, played two up top at Stoke for a large part of the game, has both full-backs attacking and an attack-minded Rooney in midfield. Is that laudable?
Should he be replaced? I will reserve my judgement until the end of the season. If he'd taken over a team that was just slightly under-performing, I'd be harsher. He took over a team that was so inconsistent it was untrue. Let's see what pans out over the next few games!
As for not playing youngsters, Davies was on yesterday, so was Calvert-Lewin and Holgate.
Jay Wood
[BRZ]
197
Posted 18/03/2018 at 23:04:47
Ron Marr @ 193.
With you all the way, Ron. Your form table link for the entire league of games played under Sam since he arrived also makes a nonsense of the 'doomsday' predictions of many that we were in a relegation fight.
Speaking as someone who genuinely wanted Rhino to succeed and land the gig permanently, and as someone who never wanted Sam and considered his recruitment a panicked decision, it is principally the board's fault that this season has been such a wicked write-off.
Their prevaricating over 5 weeks hung Unsworth out to dry with the players. He never had absolute authority in his time as caretaker manager.
As mentioned by others, it was a sad, unedifying sight at Southampton, to see a proud Evertonian broken and exposed as his players left him with consecutive lily-livered hammerings at home to Atlanta, then the Saints.
I know of no other example in top flight football of a club legend, ex-player and ex-manager – Joe Royle – being so moved at the plight of the manager sat on the bench, that he left the stands to join him on the touchline in moral support as he did against Southampton.
Taken all together, your form table data reveals how very easy it is in the Premier League to attain 'respectability' – that is, a 7th placed finish – even under a limited manager, playing dirge football.
If Sam is retained into next season, and equally, if there is not a major shake-up in the administration and governance of the club, that will tell you an awful lot about the custodians and their 'ambitions'.
I don't expect instant success given the competition in the higher echelons of the Premier League, but I do expect incremental improvement, year on year.
This season has been the inverse of that, putting us back 2-3 seasons.
Chris Gould
198
Posted 18/03/2018 at 23:19:38
Ron, am I reading that table correctly?
If the league began on the first game that Sam took charge of us, we'd be 6th and only 2 points adrift of 5th?!!
Bloody hell, that's a table for him to wave in front of Moshiri at the end of the season.
I'm surprised he hasn't mentioned it in a press conference.
Jay Wood
[BRZ]
199
Posted 18/03/2018 at 23:29:26
Chris @ 198...
"Bloody hell, that's a table for him to wave in front of Mosh at the end of the season. I'm surprised he hasn't mentioned it in a press conference."
If he gets wind of this, Chris, he most certainly will!!!
Ron Marr
200
Posted 18/03/2018 at 00:01:32
Jay BRZ, kudos to you! You called it a few weeks ago when you said 36-37 points would be enough.
Chris G, you're reading the table correctly, to be fair Leicester have a game in hand albeit against Arsenal :-) He also says that when he took over that Everton were 2 points above the relegation zone which is true. He knows how to market himself.
But to me it's the game plans and performances against Arsenal and Spurs that indicate his ceiling is 7th. If Moshiri really has Champions League aspirations he should aim high (Simeone etc.) and work down until he can get a manager who will come to Everton; maybe that's Fonseca
Eddie Dunn
201
Posted 19/03/2018 at 08:44:05
As for those thinking Sam could continue into next season, please get real. Allardyce is a pragmatist and may well eventually build us into a side that gets 7th or even 6th, but we would be looking up not at a glass ceiling, but a reinforced concrete one.
The problem is he fails to inspire. At every presser, his bored demeanor leaves me cold. I can only imagine his coaching or team talks. He comments to the world that he knows best, talks about 15 fans on social media and laughs (possibly with embarrassment) at Burnley away.
If the hierarchy keep him on, the message will be "Premier League safety is all we want, no need to dream, no need to entertain..."
At least Martinez got us playing with panache, Moyes also put fire in the belly and got some good performances. Even Koeman filled us with hope with an outstanding home record and came with his fame and Barca links. We could imagine success...
Sam has done the job. If we are serious about building a team worthy of playing in a spanking new stadium, then we need a figure who is not a caricature, but someone the football world will take seriously, and a man who will inspire his players and staff, and fill our heads with possibilities.
John Hammond
202
Posted 19/03/2018 at 11:02:37
Eddie #201: 100% with you mate.
He's done his job but it's not like he's come in and changed the whole club around. It's been torture at times. We've just beaten a Brighton team who are almost as bad as us away from home and a 10-man Stoke side who managed to draw level with 13 minutes left and now some think we should keep him on.
The pressure is pretty much off the players now and Allardyce can release the shackles so that'll warp some people's minds even more but come the start of the new season we'll be back to the shite he's been serving for most of his games.
John G Davies
203
Posted 19/03/2018 at 11:27:40
He won't be kept on. Moshiri can't risk the season starting off with the style of football we have had to watch and the reaction that would bring. A big difference playing attritional football to avoid relegation and playing it generally.
Christy Ring
204
Posted 19/03/2018 at 11:32:08
Harry @175,
I think you are very harsh on Tom Davies. He is finding it tougher this season, playing in a team under 3 different managers, and lacking leadership.
You mention 'Klaassen was captain of Ajax, scored 15 goals, made assists last season, no comparison'. Davies was a breath of fresh air last season, and I know Klaassen needs time to adjust, but doesn't it show the Dutch league is a lot weaker than the Premier League? And they are two totally different type of players.

Tony Waring
205
Posted 19/03/2018 at 12:30:18
Ron (#200). Don't know much about Fonseca but there's a guy in Leipzig who has moulded a group of virtual unknowns to play exciting football and yesterday showed Bayern how to win. He'll do me any day of the week.
Rob Halligan
206
Posted 19/03/2018 at 12:35:24
Eddie and John, I was speaking to a mate last night who apparently knows one of the youth coaches. This coach was telling my mate that all the first team, and all the staff in general at Finch Farm, are really happy with Allardyce and his backroom staff and that there is a really relaxed and happy mood around Finch Farm... FFS hope this isn't true? Scary if it is.
However, to contradict this, another mate knows one of the medical staff who works with the first team. I also happen to know this member of staff. When he was asked about Allardyce by my mate, he replied "I can't say anything as I have to work with him"! I hope that means that he can't stand the fucker.
It's amazing the different things you hear which contradict each other. Let's just hope Moshiri already knows what he's doing with Allardyce at the end of the season and gets rid of him.
Dermot Byrne
207
Posted 19/03/2018 at 12:51:28
Rob... interesting, but of course who knows? Your mate's mate may have a different view to another mate for a hundred reasons.
My view is he may have done the job he was employed for. Got an extra 6 months on contract as we were plummeting but the intention of Moshiri is longer term.
Brent Stephens
208
Posted 19/03/2018 at 12:53:27
Rob #206 – interesting, conflicting stories. Never know who to believe these days.
Somebody sees you on a bus to the Stoke game and says you owe them 㿀 from 10 years ago and you don't recognise them, what do say?!
Rob Halligan
209
Posted 19/03/2018 at 12:57:24
I think I said "here you go then" Brent. You looked an honest enough fella to me! 😂😂😂
Brent Stephens
210
Posted 19/03/2018 at 12:58:54
Yes, but that £20 then bounced when I came to spend it. And you think somebody looks honest!
Rob Halligan
211
Posted 19/03/2018 at 13:04:38
That's the problem, Brent. You never know who or what to believe. I only believe something when I see it in black and white.
Brent Stephens
212
Posted 19/03/2018 at 13:05:42
Very good!
Trevor Peers
213
Posted 19/03/2018 at 13:36:11
If we are to get rid of Allardyce, please Moshiri don't screw it up – take your time and seek out some good advice. Find a manager who's capable of keeping us safe and playing attractive attacking football at the same time. We don't need another season of relegation standard football, whilst playing a pretty passing game.
It will be a tall order and if a coach of the required standard can be found, maybe we can finally start to move forward as a club. If such a manager can't be found, however, I imagine Moshiri will stick with Fat Sam for another season until he finds his ideal manager. It may be a long job but he has to get it right this time. There's a huge amount at stake, the new stadium may hinge on it.
Steve Brown
214
Posted 19/03/2018 at 14:35:34
Fascinating to see all the Allardyce apologists reappear after our first away following five defeats. It was against the second bottom team, they were reduced to 10 men after 30 mins and it took until the 86th minute to seal it.
And of course, the reality is that we would have lost the game if it hadn't been for the red card. The performance was shaping up to follow what we have seen all season.
He took over when we were 13th and we are now 9th; we panicked and have had to suffer the worst football I have ever seen from an Everton team. And he he has apparently done enough to earn a further season? No wonder we have been served up mediocrity and failure for 20 years. We deserve it.
David Barks
215
Posted 19/03/2018 at 14:38:11
The goal should surely be to break into what is now called the Big 6, right? Be one of those clubs fighting for a Champions League place with our new spending power and new stadium project, making it a Big 7, right? So, if that is the case, shouldn't we require a manager that is of the level of the top 6 clubs?
Guardiola, Mourinho, Pochetino, Klopp, Conte and Wenger, all clearly of a different class of Manager from Allardyce. So if Moshiri does have any ambition for Everton to actually compete for trophies as opposed to being a meal ticket in the ridiculously wealthy Premier League, then he must bring in a manager that would fit in that group of managers.
Jay Wood
[BRZ]
217
Posted 19/03/2018 at 15:09:21
I don't know if many of you are aware of the fact, but all we had to do this season following the previous season to overhaul one of the 'top six' – Arsenal – was to 'stand still'.
Allow me to explain. Taking the Premier League table as it stood at game 30, the previous weekend, Arsenal were in 6th place with 48 points. After game 30 last season we were on 50 points – 2 better than Arsenal's tally this season.
The club knew months in advance the players likely to leave and what should have been the recruitment priority. In 2017, we were the sixth highest spenders, not just in the Premier League, but across all European leagues. We absolutely did not get value for money for that spend.
Given Arsenal's evident fall from grace and the opportunity it offered, even a modest improvement on the squad could have seen us make a small incremental gain to squeeze us into the top six, rather than feature as 'the best of the rest'.
As it is, the self-same fading Arsenal twatted us 10-3 over 2 games and currently sit 8 points above us with a game in hand.
Is anyone being held to account for such negligence? Because one or two of those responsible for the poor recruitment still remain at the club in powerful and influential positions.
If that remains the case into the summer, how optimistic can we realistically be that we will see improved recruitment, whoever the manager is?
Lawrence Green
218
Posted 19/03/2018 at 15:13:16
David (#215),
There are so many things to consider with Everton at the moment that it is difficult to pin-point what the Moshiri project is really aiming to achieve. If as you say we want to turn the big six into a big seven then Sam isn't the guy to help us to achieve that.
However, if Moshiri wants a period of stability whilst the ground move enters it's final year of planning, then there may be a case to retain Sam's services until the end of his current contract.
Another factor could be the idea that his friend may have been willing to leave Arsenal and join Moshiri at Goodison, but with the political situation being as it is in relation to Russia, the chances of that happening are now probably nil, assuming such a plan had been in existence in the first place.
Keeping Sam would buy the club more time to seek out its preferred option, but I'm not certain that it would be a good move in relation to the Goodison fans. Nothing appears to be as it seems with Everton FC and the club has managed to become masters in the art of keeping us all guessing, as we are left to fill in the blanks sometimes optimistically, often pessimistically, depending on how we view any given situation.
Ray Robinson
220
Posted 19/03/2018 at 16:30:50
David #215. I agree with you but that's what Moshiri thought he was doing when he appointed Koeman!!
David Barks
221
Posted 19/03/2018 at 16:46:29
Ray,
What does Koeman have to do with the next appointment? That one didn't work out so let's stick with the guy who has never accomplished anything of note in the game?
There is also still something that just doesn't sit right with me when it comes to Koeman and the players we sold and signed during his limited time. We sell Lukaku early in the window without even trying to get a bidding war going when there were two prominent clubs publicly interested. He then repeatedly states that we need to sign a striker and a left-sided defender, but neither are brought in. And somehow Walsh has been allowed to remain in place. I just think the NDA he signed in order to keep his millions he is due is the only thing keeping his mouth closed.
Ray Robinson
222
Posted 19/03/2018 at 17:15:08
David, merely pointing out that Moshiri did recognise the need to appoint "a manager that is of the level of the top 6 clubs". He mistakenly thought it was Koeman. To my mind, it proves that he does have ambition for Everton – he just made the wrong call and the panicked when his first attempt went tits up. Perhaps he'll have better luck with the next appointment – though there's no guarantees.
Brian Porter
223
Posted 19/03/2018 at 18:58:15
I can't believe that, after two wins, all of a sudden, 7% now want Allardyce to stay.
Bill Gienapp
224
Posted 19/03/2018 at 19:10:56
Indeed, Brian – I'm often astonished at the level of "prisoner-of-the-moment" thinking on here – which also extends to the players, who are too often defined by whatever their most recent performance happened to be (the consensus on Calvert-Lewin seems to change every time he touches the ball).
Tony Abrahams
225
Posted 19/03/2018 at 19:58:06
Steve @214, I don't think the football, is worse now than it was under Koeman, even if that's not saying much?
People hate Allardyce, that's fair enough, but the football is no worse imo, and since he's been at the club, then the recruitment has definitely become better.
I heard a rumour that he's going to be managing the Baggies next season anyway, but that's all it was, a rumour, and I'm sure it won't be the last!
Christine Foster
226
Posted 19/03/2018 at 20:32:16
I scratch my head sometimes when I look at where we are.
Koeman was a conman in my opinion, but then I would have to say that his cause was not helped, scuppered, by the Walsh and co inspired purchases which left the team, and the club, in a critically insecure position.
Allardyce was appointed to ensure our league position, that's all, forget the football, when he was appointed, prior to the West Ham game, we were 17th in the league with 12 points, two points above the bottom three and three days after the disgraceful thrashing at Southampton.
In Moshiri's eyes he had to act quick to safeguard his investment. We didn't look like a team, now we look like a poor one. If that's an improvement I will take it because in my opinion we were going down. But Allardyce's job is done. Move on. So should he.
George Stuart
227
Posted 19/03/2018 at 00:41:09
Some thoughts on the game:
Tosun: busy bugger aint he ? cannot fault him.
Rooney: I think he had a good game.Spaying balls forward, good, excellent and frankly poor. Cross field balls with purpose not just God What can I do balls? With purpose. But goodness me, please someone have the guts to talk to him about his dead ball skills. They are poor.
Free kick. Into the goalies arms. Corners, 50% rubbish. Penalties, not the best in the squad, Now I know Pens gee your stats up but, for the sake of the team, Baines should be taking them. I'd rather have him in the box receiving corners than putting them to the first defender, Just a thought.
Still my first name on the team list after Pickford.
Terry Farrell
228
Posted 20/03/2018 at 06:42:35
There are many valid points on here but also some complete tosh. We have played some good joined-up football. We have surrendered away games.
I hate the fact that no-one is given time. Koeman's first blip after a dreadful transfer window – out the door. No solidarity. If we get Fonseca, for example, how long will it be before he is a 'coward' and has to go? End of October!
At some point, we need to get behind a manager and the team. Rome wasn't built in a day!
Dermot Byrne
229
Posted 20/03/2018 at 07:51:05
Oh bugger. Just heard Walsh has been using Cambridge Analytics for recruitment.
Tony Everan
230
Posted 20/03/2018 at 09:19:50
Advocating that Sam is the key to stability next season is very misplaced. Much more likely is the scenario where his retention creates massive instability. You would have to be a supreme optimist to bet that Sam will take us into the top 6 next season .
The way I see it, if Mr Moshiri keeps him on we will have a Groundhog season 2018-19. Managerless and rudderless in October, fans protesting at the board and flirting with relegation.
Every decision is borne out of a grey area, but decisions have to be made. They also have to be made at the right time.
A glorious opportunity has arisen for us to appoint a manager to lead the project, to give us hope and give us the incremental improvements we crave.
I think most of us are pragmatists and will accept small but significant improvements over the next 3 seasons on our way to the new stadium. Trophies are achievable and would be a bonus.
When we get into the new stadium, we the will have a solid foundation to kick on and become established contenders for a top-four berth. Why not?
Terry Farrell
231
Posted 20/03/2018 at 19:05:13
Tony, I wasn't suggesting keeping Sam for stability but, reading my comments back, I can see why you think that was the suggestion. What I am saying is whoever is next needs full support and time before the negative comments and slander start.
Barry Lawler
232
Posted 21/03/2018 at 13:14:59
Tony (#230),
"A glorious opportunity"? Really?
Why did Koeman fail? Why is big Sam not playing the kind of football we want?
In my opinion, it's because the squad is extremely average. We should have scored 6 against Stoke but only scored 2. Davies, Calvert-Lewin and Bolasie are not good enough, Walcott is average, our very best first eleven is miles away from the top 6.
The youth system isn't working as we only get players coming through who can do a job. That's not good enough. Our bench at Stoke was awful.
---
Add Your Comments
In order to post a comment, you need to be logged in as a registered user of the site.
Or Sign up as a ToffeeWeb Member — it's free, takes just a few minutes and will allow you to post your comments on articles and Talking Points submissions across the site.
© ToffeeWeb