Report
A point snatched from the jaws of victory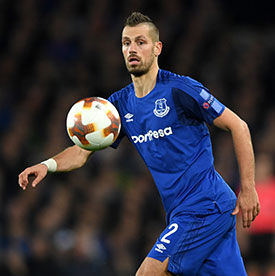 Morgan Schneiderlin gets another starting berth after his improved performance in the derby last week.
Gueye partners Schneiderlin as Everton face Swansea City.
Davies and Funes Mori are on the bench, with Holgate and Sigurdsson out injured. No place for Calvert-Lewin or Klaassen among the subs but Nikola Vlasic may get a chance.
Early exchanges were fairly even until Rooney was clipped by Carroll but it was Swansea who benefited with an attack that led to a corner that Everton cleared. Swansea showed some good movement to get forward and apply a modicum of pressure that started to make the Blues a little nervy. Ki fired on on Pickford.
Brief Blues possession ended with a forward ball from Coleman that Tosun did not anticipate. More Whites pressure followed, needing a brave tackle well executed by Wayne Rooney. For a second time, the ball to Bolasie on the left was lost and an embarrassing backpass from Keane had to be headed away by Pickford.
Bolasie and Baines overlapped for Baines to cross, Everton's first real foray forward in 15 minutes of home dominance. Bolasie dispossessed again saw Swansea set up for a shot that was badly miscued by Ki.
Bolasie forced Everton's first corner from Rooney, well placed for Keane. But Swansea broke at speed, brushing aside a challenge for Rooney, but somehow Ayew screwed it wide off Baines when it seemed easier for him to score. From the corner, a great header by Alfie Mawson needed to be headed off the line by Cenk Tosun.
Everton were getting stymied down each flank, with Coleman and Walcott struggling to link up effectively down the right. Swansea got forward again and Andre Ayew had a brief moment to lash his shot at Jordan Pickford. Gueye was the next to squander the ball poorly.
Tosun played in Walcott for a shot that was blocked, possibly Everton's first shot on the half-hour as the Blues struggled to equal the Swans' energy and desire. Some better Everton passing ended with a clever backheel that was not clever enough, allowing Swansea to break at pace again but their cross was overhit.
Walcott had to defend the next Swans move well, leading to a break down the left by Keane and a classic centre-back cross straight to a defender. Walcott then hopelessly let the ball role out of play. Lee Mason gave Everton a soft free-kick for an aerial collision. Rooney picked out Keane whose second header landed on the roof of the Swansea net.
A very fortunate own goal for Everton came following a good cross from Rooney found Bolasie in space, Fabianski parrying his shot to Gueye, blocking his scooped shot up and off Kyle Naughton, bouncing goalward, the ball cleared by Mawson but deemed by goal-line technology to have crossed the line giving Everton a quite undeserved lead.
Everton should really have had a second moments later when Walcott had the chance to move for a lose ball over the top, but held back allowing Fabianski time to advance and clear.
From the restart, and a deep Swansea throw-in Keane's header set up Carroll but Pickford was equal to his looping header. From another throw-in, King lashed the ball well over. Another good move from the Swans saw the Ayew brothers combine to test Pickford at the near post.
In the other direction, Tosun played a lovely ball for Walcott to bring down but you just knew it would not stick with the Blues player and any chance evaporated. More midfield errors saw the game swing breifly from end to end, Tosun seemingly having space but only on his left foot.
A fantastic delivery from Baines out wide left off a free-kick was unchallenged by any Blue. The ball cleared from a corner had Jordan Ayew show his studs in a 50/50 challenge with Baines, and a yellow card from Referee Mason. Keane headed the free-kick well into the danger area where four white shirts scrambled it away.
Walcott turned his man by the corner flag and picked out Gueye in space for a header that could not have been more poorly executed by the Senegalese midfielder.
It was competitive, becoming scrappy, as Swansea challenged for every ball and Everton responded with some determination to preserve their slim lead. A slopy clearance by Coleman, straight to a white shirt. led to a corner and more pressure until the ball went behind for an Everton goal-kick.
Rooney had a chance to shoot but no strength, no direction, really poor from the clapped out former footballer. Keane was called upon again and again for vital interceptions, clearing headers and blocks as Swansea piled on the pressure.
Beni Baningime replaced Gueye. Dyer got in a fine effort that skimmed over the Everton bar, the Blues resisting wave after wave of attack, Keane again the key man in the middle of the Blues defence, Tosun again repeating his goal-line clearance. Another poor Coleman clearance and the ball finally fell to Ayew after a scuffed shot from Carroll that fell nicely for him to fire across Pickford into the far corner to finally equalize. It had been coming and, for all their good work in defence, the Blues could not stop this one.
A great Everton move down the right, roles reversed with Tosun crossing for Coleman to lash the ball onto the face of the cross-bar when it seemed easier to score — if only!
Allaryce's response was to bring on Ramiro Funes Mori in place of Yannick Bolasie for his first appearance of the season, Fat Sam settling for a point? Funes Mori's first involvement produces a free-kick that fell nicely for Abraham but he skies his shot from 7 yards.
Into the last 10 mins, it had had been quite a lively second half, with Everton falling short in their task but Allardyce no doubt perfectly happy to protect an away point rather than go for the win, having shamelessly conceded any initiative. Dyer fouled Walcott in a dangerous area for Rooney to launch it over the wall and over the bar.
Baningime went down after getting his ankles tangled with Ayew. Everton tried to build but inevitably lost the ball and Swansea pushed forward again. Walcott was then fouled by Fernandez, Baines delivered another brilliant ball and again, the Everton players all watching it fly by — Funes Mori the closest, but still not close enough.
Vlasic came on for Rooney and challenged clumsily to give away a free-kick but the pressure seemed to have lapsed; however, a late corner in added time needed to be batted away by Pickford. Coleman did brilliantly to lose his man at the corner flag and place a prefect cross for Tosun to head home... only he incredibly completely missed his header, albeit with Fernandez leaping in front of him!
It finished 1-1. A game that could have gone either way. From an Everton perspective, another three points poorly squandered but you won't hear that from the belligerent Allardyce.
Scorers: J Ayew (71'); Naughton (og: 43').
Swansea City: Fabianski, Naughton, Mawson, Fernandez, Olsson, King, Carroll, Ki (65' Abraham), Narsingh (46' Dyer), J Ayew [Y:56'], A Ayew.
Subs not Used: Nordfeldt, Van der Hoorn, Bartley, Roberts, Routledge.
Everton: Pickford, Keane, Jagielka, Baines, Coleman, Gueye (68' Baningime [Y:90+3']), Rooney (87' Vlasic), Walcott, Schneiderlin, Bolasie (76' Funes Mori), Tosun.
Subs not Used: Robles, Martina, Davies, Niasse.
Referee: Lee Mason
Attendance: 20,933
---
Reader Comments (136)
Note: the following content is not moderated or vetted by the site owners at the time of submission. Comments are the responsibility of the poster. Disclaimer
William Cartwright
1
Posted 14/04/2018 at 14:36:39
Presumably Wayne has the opportunity to reprise his role as a No.10? Presumably Schneiderlin will play as the deep lying midfielder looking to play creatively from deep.
I expect Gueye to cover the defense as usual. Back four and keeper same as normal; looking to consolidate the Keane - Jags partnership – I would like to see Funes Mori given some game time...
Walcott and Bolasie should step up and give service to Tosun. If the players are encouraged to play on the front foot, we should win. There's the rub.
Jay Wood
[BRZ]
2
Posted 14/04/2018 at 15:50:39
I'll take the goal and the half-time lead, but by 'eck, my eyes hurt from watching that...
Dave Abrahams
3
Posted 14/04/2018 at 16:05:44
I was listening to the live forum... had to turn off, just so depressing., My grandson came in, offered to try and find a stream of the game; I told him not to bother.
I'm just so fed up with this season and the way they are playing now under this manager who is making no effort to try and play an open game of football with nothing really to play for, except to give the travelling support something to shout about.
I hope the people in charge are taking note of this pathetic performance, even if we are ahead.
Chris Gould
4
Posted 14/04/2018 at 16:14:55
This is so bad. Why are Rooney and Schneiderlin playing behind Gana? I don't get it. Gana is good at tackling and intercepting, so why is he playing further up field where he is completely ineffectual? Shouldn't Rooney be playing further up?
Has anyone actually played an accurate pass to poor old Tosun?
Too many mediocre individuals who don't play well together.
We're really poor to watch.
Phil Smith
5
Posted 14/04/2018 at 16:22:35
Hard to watch again today. I'm normally a fan of Gana, but today he has been awful! Truly shocking. Bolasie has also been shite. Ironic that it was those two who were involved in the goal. Other than that they've been terrible. Subs now!
Gerard McKean
6
Posted 14/04/2018 at 16:33:29
This bloke is openly laughing at us now. He knows that 95% of us, or maybe that's gone back up to 97% on today's showing, can't wait to see the back of him. We are constantly frustrated at his team selections and setups and he just smirks and irritates us all the more.
I'm with Dave (#3); I can't even be bothered to listen to this rubbish. I can't help but think though that this all plays into the hands of the people running the club in that there's no pressure on them to change anything. Our collective apathy is an abrogation of our responsibility to younger fans; I'm interested in theological discussion but I don't want to read it on a thread on TW where we should be voicing ever louder protest at the complacency that blights Everton FC.
Adam Scott
7
Posted 14/04/2018 at 17:02:37
A really, really poor performance. So many limited players in this squad.
Played well:
Pickford – As normal
Keane – I thought he had one of his better games.
Schneiderlin – For me, starting to show some green shoots of recovery.
Played poorly:
Gana – Lacks ability with the ball at his feet.
Rooney – Ponderous and gives the ball away
Tosun – A poor game. Plenty of effort, but you have to wonder if this lad is anything more than a decent, midtable Premier League striker.

The Rooney issue really needs sorting. I just don't see what his game is. Struggles to make a pass, and is slow. I may be going against the grain here, but him and Schneiderlin play a similar game, trying to be this quarterback. Schneiderlin is infinitely better at it, when he is on his game though.
On the flanks it is criminal that Bolasie keeps getting picked. Nice bloke, but even accepting his injury, he just isn't good enough. I was shocked when we bought him, and to be frank, nothing has ever changed my view that he is a 'highlight reel' player.
Big work for the next manager.
Sean Chen
8
Posted 14/04/2018 at 17:04:16
As I have posted elsewhere, I have supported the club since 1989 but do not, and have never lived in England. I do not have season tickets but I implore those of you that do, to start protesting the state of affairs at the club by giving up those tickets.
Everton have been poor on the pitch for over two decades now. You can't keep saying that you want change at the club yet happily renew season tickets at record levels year after year!
Brian Williams
9
Posted 14/04/2018 at 17:04:22
Woohoo a point away to the mighty Swansea, let's hear Sam's positive spin on THAT one ffs.
Mark McParlan
10
Posted 14/04/2018 at 17:04:31
I will give Sam credit where credit is due in that he safely ensured our Premier League survival, but surely no-one can ever defend an Everton manager who, when drawing at the mighty Swansea City, brings on a defensive midfielder and a centre back. There is no urgency or ambition anywhere, Sam appears more than content with our current situation - and that simply is not good enough.
We've spent all this money the past couple of years and yet Jagielka who many considered absolutely finished at this level not too long ago is still one of the first names on the teamsheet, so credit to him. It also seems that he's the one to bring back the best from Keane who is very slowly but surely improving. Baines and Coleman are... alright. The defence generally is just... alright although the fact that 3/4 of our starting back 4 were signed by Moyes is a disgracefully damning indictment on our recent transfer 'policy'.
Rooney has been absolutely terrible recently, whilst Schneiderlin has quietly improved the last 2 games (even if he's still never going to provide anything going forward). Our midfield desperately misses Sigurdsson. Yes, he wasn't worth 㿙 million but that does not change the fact he's probably our best player.
Bolasie does one amazing cross or shot every couple of games but his general play is simply appalling, he's far too erratic and inconsistent to nail a place in the team. Walcott started off great but has completely fizzled out into absolutely nothing, and I'm honestly still yet to be completely convinced by Tosun but there's still plenty of time for my mind to be changed.
All-in-all, our squad is vastly below standard and there's no ambition from the manager. Worrying times.
Jamie Crowley
11
Posted 14/04/2018 at 17:06:10
Describe your feelings of Everton Football Club in one word.
Apathy.
George Cumiskey
12
Posted 14/04/2018 at 17:13:07
If anyone has any money left after the Grand National, put it on Allardyce being here next season.
He suits the visionless people who run our club down to the ground. As long as the season tickets have been sold and we stay in the Premier League, they will be happy enough.
Ambition and forward thinking are dirty words in our boardroom.
Johan Elmgren
13
Posted 14/04/2018 at 17:15:04
Allardyce's objective reached. A point away to mighty Swansea!
Allardyce out now!!
Steve Brown
15
Posted 14/04/2018 at 17:18:26
Are you not entertained?
Neil Lawson
16
Posted 14/04/2018 at 17:18:31
It's not many years ago that my son was at Uni in Swansea and we all went to see our boys win 2 years on the trot under Martinez, and to win in a canter and with style.
I am not advocating the return of Roberto, but bemoaning the fact that we are now served up total dross by a Manager who would bugger the burgers in McDonalds. He is a useless, ignorant, hopeless, arrogant lump of lard. He should be utterly ashamed of the team he sends out and how he instructs them to perform.
They are safe now. Sack him NOW and get the right manager in asap so he has a chance to assess the assets (or lack of them) and get us sorted for the new season.
Fortunately, Uni days behind us. Expecting my choice to perform like Allardyce and fall at the first in about 5 mins.
Brian Murray
17
Posted 14/04/2018 at 17:20:21
A normal board with even remote aspirations would've sacked him now. Waiting until the summer means they are also totally unaware there is a World Cup in the summer and players and managers go on holiday, so we are left with the same close-season mistake of acting far too late.
Kenwright, just stand down if you love the blues (Blue Union).
Mike Price
18
Posted 14/04/2018 at 17:21:36
Worst season in modern memory and the worst, most unsuitable manager ever. He clearly wants the sack, he knows it's coming and is quite content to go through the motions whilst showing contempt to Evertonians who quite rightly, dislike him intently!
When RS fans are genuinely pitying us, you know it's really, really bad!
Jim Bennings
19
Posted 14/04/2018 at 17:24:04
According to Allardyce we.
"Dig in for a hard earned point and held our own"
Held our own against Swansea?
The money we have spent in what was meant to be a brave new era?
Exactly what is wrong with Everton Football Club is in those few words spoken by Allardyce and, until that mentality changes, it'll never ever be any different. The sad thing is, the board seems to share this mentality of stability meaning success.
We are a joke club now!
Jim Bennings
20
Posted 14/04/2018 at 17:26:19
2 away wins in 15 months, what a disgrace that really is!
Colin Glassar
21
Posted 14/04/2018 at 17:31:46
Has he (Fat Sam) been sacked yet?
Neil Lawson
22
Posted 14/04/2018 at 17:32:21
And it did fall at the first. Perfect Candidate.
Allardyce Perfect candidate for the knacker's yard.
Mike Gaynes
23
Posted 14/04/2018 at 17:36:02
The Fat Sam Ejector is set for Monday, May 14.
I am counting the hours.
Colin Glassar
24
Posted 14/04/2018 at 17:37:13
Champagne already in the fridge, Mike. What a stain on our history this man has become.
Jim Bennings
25
Posted 14/04/2018 at 17:40:57
Since December 20th we have won 4 matches in 15 games.
These wins were at home to Leicester, Palace, Brighton and at ten man Stoke.
That tells you just how bad a side Everton really are, and if Allardyce comes out going on about improvements under his guidance then it just so proves the man is deluded.
Not that it's all down to Allardyce of course, the players we have let's be honest and stop blowing smoke up their arses, are pretty rank bog standard and last season finished 7th because Lukaku banged in 25 goals.
This is a poor poor Everton team and how they even begin to overhaul such a blatantly poor football team will be intriguing and concerning at the same time, I have yet to see if there's anyone on our board capable of doing it.
Jimmy Hogan
26
Posted 14/04/2018 at 17:41:56
Until then, Colin, it's sham; pain all the way.
William Cartwright
27
Posted 14/04/2018 at 17:43:51
Why has it all gone quiet on the Michael Brands front? Also, for that matter, why is Allardyce still at Everton?
I am a supporter of more than 50 years standing, but this season really kills it for me. I gave up listening to the live coverage from the match centre. I have no idea if and when the spark of enthusiasm will return.
I watched the recent BBC review of Burnley a couple of days ago, enthralled by the logic, direction, enthusiasm, all embodied in a simple management policy of logical brick-by-brick building. Burnley will get into Europe, and I expect they will do well and continue to grow.
Please, Moshiri, listen to the voice of the fans. You have been let down by everyone on payroll as far as I can see and it must be very lonely, and expensive, not having a shoulder to lean on. Perhaps you feel you don't need one; and perhaps you don't. But please, remove Allardyce and at least give the Club a chance to get itself back on track.
If Burnley can do it, then so can Everton. Surely?
Colin Glassar
28
Posted 14/04/2018 at 17:44:32
That's the crux of the matter, Jim, isn't it? If a new, dynamic manager comes in and tells the board, "I can't work with most of these players. They won't fit into my system", what will the board do? Probably sit on their arses and hope for the best.
Pete Clarke
29
Posted 14/04/2018 at 17:47:58
I'm sorry for bringing Kenwright into this again but he searched 24/7 for years to find Moshiri. A new owner who would allow the previous owner to stick around in a high-level position!!
As long as he is around, we will always be unprofessional in our approach to achieving things and Allardyce sums us up as a club right now.
Moshiri has not got a fucking clue about us or the club's history. He will also be getting told by Kenwright to ignore the supporters, just like he did for 20 years. Their thoughts will be to stay in the Premier League while we beg our way to a new stadium and Sam is the man to keep us there.
Mike Allison
30
Posted 14/04/2018 at 17:50:04
Colin (25) any manager who says that is no good.
Jim Bennings
31
Posted 14/04/2018 at 17:50:19
That's it Colin isn't it?
Our board has always had the "stability is our success limit" mentality thus resulting in celebrating magnificent 7th place finishes in years gone by.
My worry is Moshiri is not a man of great football understanding and knowledge and under Billy Bullshit's wing, he's just going to become another sentimental luvvy that harbours dreams of Goodison old boys but actually failing to see that sack of shit that he's stood in right now.
Everton are a team not just in need of one or two good players, we need a manager to come in and totally rip up this old school blueprint that is just no longer played in today's modern era.
We need a team that is super fit, can play for 90 minutes and pass and move the ball and show our opponents no respect rather than just aiming to "hold our own" against shite sides.
Dave Lynch
32
Posted 14/04/2018 at 17:52:17
My lad came in at at around 60 mins, a lad who had a season ticket for years and has travelled up and down the country watching us.
I said to him "Everton are 1 up".
His reply.
"Who."
Says it all really...
Gavin Johnson
33
Posted 14/04/2018 at 17:57:58
Well that was embarrassing!! Lucky we came away with a draw with that formation and tactical masterclass from Big Sam.
Alan J Thompson
34
Posted 14/04/2018 at 17:58:08
Walked away after the game and said to the mate with me that it was the first time I could remember being so disappointed with an Everton performance but not angry about it. I've capitulated; I accept that Everton are crap, that I can't see it changing, it is expected.
Another version of your Golden Goal ticket, the time when Schneiderlin actually crossed the halfway line and touched the ball, 61 minutes 47 seconds. The midfield was so void, I asked that – excluding substitutions and looking at the team sheet – who actually played in midfield as I couldn't see anyone.
What have they done to our club?
Bobby Mallon
35
Posted 14/04/2018 at 17:59:00
It's a sad day today, 1-1 against Swansea... fucking disgraceful. We are a very poor side with terrible players. We really do need a whole new direction.
I would go down the youth route and let the world know we will only be buying players 28 or under and also we need a manager with a philosophical approach to attacking football. I pine for Good Attacking Footy.
Keith Monaghan
36
Posted 14/04/2018 at 18:01:59
The two most important decisions Moshiri needs to make are to ditch Kenwright & Rooney – bringing the latter back in mid-July in return for flogging Lukaku cheaply to his favoured Man Utd as soon as they told him he must be at their training camp in the USA in July was one of Bill Kenwright's worst mistakes in his failed tenure as our chairman.
Then let the manager get rid of some of the other ineffective hangers-on, like Ferguson & Co, and replace them with professionals.
KENWRIGHT & ROONEY OUT!!!!!!!!
John Keating
37
Posted 14/04/2018 at 18:04:57
Not to worry, lads. Only another few weeks to go and the nightmare of a season will be finished.
Close-season clear-out from top to bottom, then we start again
John Davies
38
Posted 14/04/2018 at 18:05:51
An awesome result and performance from the lads today. A scoring draw away to the Mighty Swans is beyond anything we Evertonians could possibly hope for.
We are now truly peaking under the guidance of the genius who is Sam Allardyce. We are so lucky to have such a bright, young, humble, forward-thinking gem in charge of our team. Surely Moshiri will now reward him with a new five-year contract to keep us in mid-table, boring as hell, mediocrity.
FFS, is this as good as it gets? Empty the place on our final home game of the season just as soon as that final whistle blows.
Get the arrogant, useless fraud out of our club, NOW!!!
Jim Bennings
39
Posted 14/04/2018 at 18:05:57
I still cringe when I think of Moshiri's
"We have got our own Fab Four"
The response I'm guessing to Liverpool's attacking prowess being labelled something similar.
How could he refer to Tosun, Sigurdsson, Rooney and Bolasie as even fit to lick Salah's boots?
Do I really have faith in Moshiri sorting this mess out?
Sure he'll fritter away more money on overpriced one-paced run-of-the-mill players but it's just not working.
Nicholas Ryan
40
Posted 14/04/2018 at 18:06:51
I like to think I'm a fairly sensible guy; not quick to judgement; prepared to see both sides; not given to outbursts of temper, or intemperate language. However, I can think of only two words, to describe our current manager:
Deluded Cretin.
Unfortunately, those at the Club, who allow his tenure to go on beyond today, are in danger of having the same description applied to them.
Gary Edwards
42
Posted 14/04/2018 at 18:37:02
I confess that I didn't watch the whole game, the IPL was on at the same time and it was infinitely more interesting (Jason Roy, great knock). The sad thing is that I didn't have to watch the whole game to know what happened.
Adam (7) . Schneiderlin as quarterback, sorry mate I'm not an avid follower of NFL but one of the prime requirements of a QB is that he is capable of defence splitting / stretching passes not shovel passes to running backs. Actually he's more fumble and interception.
Allardyce has an opportunity to experiment, blood some youngsters, play expansive football etc. etc.... What does he do? Same shite, same shitty team selections – absolutely clueless. He is without doubt a 'kin terrible manager and absolute gobshite of a human being.
Final word – today, Gueye was played in a role for which he is not suited. There is no reason to play him ahead of Rooney & Schneiderlin, there's no reason to play Schneiderlin at all.
John G Davies
43
Posted 14/04/2018 at 18:45:20
Nor Rooney tbh.
Andy Meighan
44
Posted 14/04/2018 at 18:48:54
I've seen Jim Bennings getting a bit of stick on here the last few days; I'm agreeing with every word he says. My particular ire is reserved for Farhad Moshiri – I really think that he hasn't got a clue when it comes to football matters... and, under his tutelage, we have made some of the worst signings in the club's history. Not all his fault, of course, but he hires and fires the managers.
Surely there must be someone in that boardroom that could tell him "Look, this isn't working with this manager..."
I mean, what gaffer worth his salt would pair the unmitigated disaster that is Gueye and Schneiderlin? Who would play Calvert-Lewin out wide? And who would isolate a £27 million pound striker who, when playing up top on his own, is totally bereft of service? It's lunacy.
Nothing for us to play for today so why not throw the shackles off and play 3 up front or at least 2 and play Walcott more centrally? No, not us. We just lurch from one shit pedestrian laborious line-up to another. It's horrible to watch. Yet we all know that this'll be the norm until he's gone. When that will be is anybody's guess. Knowing this grinning clown, Moshiri... probably next December!
Jay Harris
45
Posted 14/04/2018 at 18:55:40
It's a good job we've got ToffeeWeb and the Samaritans to turn to – otherwise, there would be mass suicides around the world. In 57 years of watching Everton, I have never felt more depressed or pessimistic.
Today, the whole team and tactics were a disgrace and I can't understand it. It's compounded lately by a collapse of the U23 and U18 teams.
Something is very rotten in the corridors of Goodison Park and Moshiri needs to take decisive action ASAP.
John Ronnie
46
Posted 14/04/2018 at 19:00:40
Please, please get him out of our club now!
Thank you perhaps for instilling a bit of confidence, basic defensive tactics and maybe a little steering of our grand old team into calmer waters... but now just go – you certainly are not wanted.

John Audsley
47
Posted 14/04/2018 at 19:00:57
Depressing as hell.
What's the fucking point and what the hell do the coaching staff do???
It's just a total waste of time this season. Love the club but hate the manager.
Jim Bennings
48
Posted 14/04/2018 at 19:01:03
The mentality of that oaf Kenwright and his other cronies are as long as Liverpool are doing well for the city, little brother Everton can just get pats on the back for all the EitC work etc etc.
That's Everton all over under Kenwright for me, nice quiet little club that staves off the wolves by never making any noise and floats around happily keeping its heads just above water and never making waves by actually having a team that excites or aims to win a trophy or give the fans some highs.
Andy Walker
49
Posted 14/04/2018 at 19:07:59
The players aren't capable of playing expansive football. Sam is an average manager with an average squad at his disposal. It's no coincidence that no manager has been able to get a single tune out of the team all season. It's the players that are the main issue.
I could only think Pickford would stand any chance of playing for a top six side. The rest have either passed their best, or aren't good enough and never have been.
Way too easy to keep just blaming Allardyce. Sure we need a better manager but Pep couldn't do much better with our squad.
Kunal Desai
50
Posted 14/04/2018 at 19:09:16
Just get the banners out in full force for the Southampton game – to drill home and reiterate the point to Moshiri and the board that Allardyce continuing as manager is simply not acceptable and won't be tolerated by the fan base.
Jeff Armstrong
51
Posted 14/04/2018 at 19:11:12
So no coaching went on for another week at Finch Farm, that's 29 weeks in a row!
I suppose you can't polish a turd, so let's just keep running around the track... just to keep fit like!
Tony Marsh
52
Posted 14/04/2018 at 19:13:47
Frequently used comments on these pages which say "Moshiri should do this" or "Moshiri needs to sort that" are hilarious. Memo to fans: it is under the stewardship if Farhad Moshiri that we got into this mess. It was never this bad under Bobby Martinez and Kenwright, even with substantially less funds to spend.
Moshiri won't or can't do anything, it appears. I mean where is the voice of Jim White's TalkSport these days? "Stadium to be proud of", "Hollywood managers" and the ridiculous "Fab 4" quotes now seem a long time ago. Where is our new billionaire owner / business genius when we need him?
The best thing Moshiri has done so far is get his Russian pal to sponsor Finch Farm. Most of the money that's been squandered was from player sales and Sky. If Moshiri had this club truly to heart, he would put the fans and council out of their misery and borrow the Bramley-Moore Dock money himself.
Surely Usmanov could stump up two and a quarter million to help out an old pal?? The test of Moshiri and his intentions is Bramley-Moore Dock and he is failing us badly. Forget sacking Allardyce and shit football that's the least of our worries right now.
David Barks
53
Posted 14/04/2018 at 19:14:24
These bacon-filled Bloody Mary's are helping, along with the fried chicken and waffles.
Jim Bennings
54
Posted 14/04/2018 at 19:14:42
Andy (#49),
Spot-on really, mate, you are!
These players don't cut it, even the likes of fan darlings Baines, Jagielka and Coleman – they've won not a single thing in their careers, it's all just another factor in a losers/failures mentality I'm afraid.
Baines banging on about "a lack of chemistry" under Roberto Martinez – well, what does he suggest this last 12 months has all been about!?
What is it now from the club of excuses, otherwise known as Everton?
Many of these players have failed under three or four managers now and it's obvious they aren't going to get any better, it's just further decline from here.
Mike Connolly
55
Posted 14/04/2018 at 19:27:44
Sam has to go. However, the players are not good enough. It's the same players that struggled last January. The fans at the time were making excuses for them, saying "We're playing with our flip flops on".
I can't think of a game this season where we have been better than the opposition. Even the West Ham game could have been different, if they had taken their chances.
We really need a clear out. Manager, backroom staff, Kenwright and the players. Apart from Pickford. If it wasn't for Pickford we would be battling at the foot of the table
Martin Nicholls
56
Posted 14/04/2018 at 19:30:15
BBC report "the display prompted fury from Everton fans who called for Allardyce to be sacked" – by contrast the sycophantic red Echo reports that "supporters in the away end seemed disappointed". When did Walter "I was a little disappointed" Smith get his job with the red Echo?
More seriously, when will that rag report accurately in relation to the situation at Goodison as it would undoubtedly do if the Red Shite found themselves in our position?
Andy Crooks
57
Posted 14/04/2018 at 19:38:26
We really have an appalling team. Is it because we have the shitest coach in the world? Or, would they be this shit under anyone? I actually think we have a truly dreadful, shameful coach, coaching a truly shameful bunch of money-grabbing thieves.
There is not a single, fucking one of them who have any right to be proud of this season. Not a fucking one. Even those who many name as exceptions are quite happy to be brought out to deliver utterly toe-curling platitudes that shame them.
Could you ever imagine Alan Ball coming on and delivering the shite that some of these happy losers do? They haven't got an angry bone between them. Well, I'll not count Rooney, who gets angry often but only because his monumentally developed sense of entitlement blinds him to the fact that he has become an overpaid, useless, bitching sack of shite.
The appointment of Allardyce and his free-loading band was shameful. The continued employment of Duncan "the legend" Ferguson and the other duds who have found a retirement home at Goodison Park is just demoralizing.
I fear that Allardyce will be making his plans for next season and that will bring a sigh of relief to the journeymen he picks week after week.
Dave Abrahams
58
Posted 14/04/2018 at 19:41:45
Kunal (50), why wait that long? Why wait any longer at all? Put him on gardening leave from Monday morning and pay him off month by month until his contract is up; do the same with the rest of his coaching staff.
He is doing nothing to prove that be can do anything different to what he has done previously throughout his career as a manager. Show him the door now with a brief note of thanks, a very brief note.
Mike Doyle
59
Posted 14/04/2018 at 19:42:34
Chaps. If you haven't seen Salah's goal v Bournemouth today, have a look then ask yourself what the outcome would have been if the chance had fallen to Tosun, Calvert-Lewin or Bolasie?
(I thought about including Rooney in the list but he'd still have been chugging away in our half.)

Bill Gienapp
60
Posted 14/04/2018 at 19:43:23
Frankly, I'll take the draw. Never want us to lose, but the thought of stealing a dreadful and undeserved victory – thanks to one of the limpest, most uninspiring goals you'll ever see – and then Allardyce crowing about the result and back-to-back away wins as evidence that he should keep his job, would have been enough to make me barf... on my birthday no less!
It would be the very definition of winning the battle but losing the war.
Paul McCoy
61
Posted 14/04/2018 at 19:58:08
Yawn. Wake me up when this talentless spunk-trumpet of a manager has been sacked please.
Mike Connolly
62
Posted 14/04/2018 at 20:03:36
Are our players oblivious to how bad we have been? I just read on the official site that Baines has said. "This draw against (The mighty Swansea) could be a platform for a strong finish."
Wow, even the players as well as Sam are treating us like Bolton or Wigan fans. This tells me how far we have sunk.
I know some people on here say we are always moaning. I'd happily swap the moaning if they showed me just a glimmer of light.
Dave Brierley
63
Posted 14/04/2018 at 20:30:12
Jim (#54), "even the likes of fan darlings Baines, Jagielka and Coleman – they've won not a single thing in their careers"
That isn't down to Baines and Coleman. Had either of them played for better teams (and both of them are/were good enough to do so) they would have won 'things' for sure. If Rooney was in his 20s playing in this team, he'd win fuck all. That doesn't mean he's got a losers mentality.
You need to direct your criticism where it's deserved. There's no shortage of worthy causes.
Mike Jones
64
Posted 14/04/2018 at 20:54:57
63 comments at nearly 9 o'clock. None of us are arsed. We are all apathetic from the top down.
Ken Kneale
65
Posted 14/04/2018 at 20:57:22
Jay (#45) and Andy (#49), I think you comments sum it up for me in all respects. I really never remember being so low. The big issue for us all is: How do we get change the egocentric total inertia from within the club?
Mark Wilson
66
Posted 14/04/2018 at 21:03:06
Andy (#44) great post. Bit harsh towards the end but it's amazing that more aren't asking these questions of Mr Moshiri.
Allardyce is the focus of the abuse and let's face it he's just the perfect lunch bag for angry and dismayed Evertonians. There's nothing that suggests he should be at the club next season. He helped ensure our survival and I do think he had a part in that, so cheers, ace. But it's clearly more than social media abuse isn't it.
The away core are now finished with him. That's never good. Of course his style and some of his utterances are crucial elements in the decision process but he's lost the fans, the results and footballing approach are pretty grim. If Mr Moshiri cannot see this, then we are headed for another managerial embarrassment as with the one that preceded Allardyce's appointment.
It's all been said but I read these threads and sometimes just wonder why there's so little attempt to take in the impact of clearly critical decisions and strategy that have shaped not just this season but most likely the next two, or three? All really down to Mr Moshiri. Walsh, and Koeman, letting Lukaku leave without a hint of a replacement and laughing about it like losing 25 goals a season didn't matter. The stupidity of the Jim White nonsense. The focus on the new stadium and clearing debt whilst transfer performance is the worst for a very long time.... we did it far better when we were always broke. And just the feeling that in this particular bit of the entertainment sector he's well, out of his depth and naive?
Allardyce has to go next week if he's not staying. You have to know who is spending your money in a shortened summer window. Maybe that's not happening until Fonseca is available but getting Brands in now would ease the issues and allow a head start on rebuilding.
Allardyce is the public face, the visible target and I can't really feel too sorry for him as he wanders away with ٧M at the end of May.
So here's the thing, Mr Moshiri. Forget the Allardyce hate and convenient excuses for avoiding relegation instead of seeing the club move forward. Forget the excitement of the impressive Dan Meis and rejoicing at paying off 㿝m of debt. Forget amortisation and the Cunard building purchase. Just remember the lowest points of this season, the shameful, woeful defeats, the abject failure of recruitment, the wasted money and dire lack of quality in the squad and abysmal decision making throughout the footballing side of the club.
Most of all, remember you are where the buck stops. Be decisive and make managerial and Director of Football appointments to excite us and make us believe again because, so far, your money has been wasted and our club has lost its way; next year, the great escape may not happen.

Tony Williams
67
Posted 14/04/2018 at 21:14:59
Haven't read any of the posts, but can anyone make sense of someone who takes off a forward and brings on a central defender when 1 - 1 against a side 4th from bottom?
This clown has lost it.
Joe McMahon
68
Posted 14/04/2018 at 21:15:36
After 42 years, Everton have made me not care anymore. I went to Accrington Stanley today (my lad was the match mascot). A win would have been promotion, but it's on hold as today was a draw.
But I never even checked my phone once for the Everton match. This week has been awful for Evertonians, and I've had enough of below par managers, years of our friend Bill, Big Dunc and continued failure.
We know exactly who is gonna win the Champions League and we can't muster a win at Swansea. 11 years of one manager who won diddly squat sums up the ambitions of the club. What other top flight club would put up with that? The Kenwright regime is slowly making me lose my interest.
Max Murphy
69
Posted 14/04/2018 at 21:34:26
All credit to you, Michael, for writing the match report, week-in & week-out. How you manage to stay focussed or even interested, baffles me.
If you need a reprieve from this mundane task, I suggest you simply write "Ditto" for the report next week, and the week after, and the week after that .
Andrew Presly
70
Posted 14/04/2018 at 21:47:21
I hate this Everton.
Andy Meighan
71
Posted 14/04/2018 at 21:48:59
Tony (#67), Funnily enough, I was talking to a mate I bumped into at 5 o'clock while I was going the shop. He'd watched the game, and just rolled his eyes and said the same thing.
What manager would take off a striker and bring on a centre-half? Especially when the game meant absolutely zilch to us? Yes, get beat... So what? Win great... Doesn't matter.
"Ways of winning and ways of losing." This club doesn't know the meaning of that statement.
Kim Vivian
72
Posted 14/04/2018 at 21:51:29
This must be a record as the least stimulating post match thread. There's simply nothing to generate any interest.
I had a stream up but was interrupted at about 20 minutes in, missed the rest of the game and did not care. Says it all for me.
Scott Hall
73
Posted 14/04/2018 at 21:52:38
No longer interested in Everton. I've grown tired of the monotony.
I literally couldn't give a shit about the result today. Predictable, boring and dreary.
Jamie Crowley
74
Posted 14/04/2018 at 21:53:44
We really have an appalling team. Is it because we have the shitest coach in the world? Or, would they be this shit under anyone?
I'd argue it's down to the manager.
Now I'm not saying the players aren't to blame in some part, but ......
The continuity of playing an ineffective Schneiderlin.
The lack of any energy, down to the players not wanting to play for a Neanderthal.
A setup, every game mind you, of not conceding, waiting for the 75th minute to attack – and rather mildly at that.
An insistence to not play the kids more. Unsworth wasn't up to it, some argue, but our teams under his short trial showed way more heart and energy with a lot of the younger kids playing and learning and growing.
The list just goes on and on and has been done literally to death on this site.
We have a team that absolutely could play a more exciting, attacking game. Davies, Lookman, Calvert-Lewin, Kenny, Rooney (when played properly, spraying balls all over on a dime to more energetic players), Holgate who was inexplicably benched prior to injury, Gueye winning possession – not played in a forward position (seriously, wtf?), Coleman and Baines allowed license to storm forward before the 75th minute, getting Walcott more involved in attacking instead of constantly doing what he doesn't do well – sitting in his own half defending... Etc, etc, etc.
The malaise and paint-drying excitement is down to one man – Sam Allardyce.
Blame the players for being flat, but ask yourself a very, very important question:
Do you really blame the players for being uninspired?
Yes, they make millions. But it isn't money that inspires the well-paid to actually be inspired. It's a belief that they are part of something special.
And Sam couldn't create that belief if he instantaneously turned into Jesus Christ.
Geoff Risebrow
75
Posted 14/04/2018 at 22:01:38
Dave (#63). I would also argue that Jagielka would have won a trophy with better players around him. A great professional and still Everton's best defender. Let's all hope we can purchase a defender of his quality in the summer!
Colin Glassar
76
Posted 14/04/2018 at 22:07:38
Is being hung, drawn and quartered still banned? If it ever comes back, I have the first candidate clearly identified.
Chris Gould
77
Posted 14/04/2018 at 22:08:35
We have 2-3 players who I like/respect.
We have no players who are even close to being top class.
We have a team that I feel nothing for.
We have a manager who is boring and outdated, and a Chairman who is an anchor around the club's neck.
We have an owner who seems to be a complete clueless pussy.
Moshiri needs to grow some balls and get rid of Kenwright. He then needs to drag this club, kicking and screaming, into 2018. Get rid of all the sentimental bollocks and bring in a savvy, smart Levy-esque type Chairman. We need to strip this club down and start building it back up.
It's now at the very least a 3- to 5-year plan. One that takes us into a new stadium (hopefully).
Tottenham are credited as breaking the top 4 by having a fantastic manager and youth policy. Levy is the main reason they are where they are. They haven't actually brought a lot of youth through as regulars in their first team. Spurs had to be careful how they spent their money as they had to raise funds for their very expensive new stadium.
This is the reason some of their youth players were given a chance. The likes of Rose, Kane, Winks, and Carroll came through their academy, but Carroll has been sold and Winks is yet to nail down a place. Kane is a once in a generation academy graduate, like Wayne was.
Spurs' success really comes down to the recruitment of a forward-thinking young manager and a brilliant transfer strategy. Levy takes credit for both.
Since 2011-12, Tottenham have a net spend of –£26.25 million. That's minus!!! In that time they have bought: Lloris, Dembele, Vertonghen, Erikson, Lamela, Alli, Dier, Davies, Trippier, Alderweireld, Son, Wanyama, Sanchez, Aurier, Llorente.
Tottenham accelerated away from us because their recruitment strategies are far superior to ours and they have a very smart ruthless-bastard of a Chairman. Our problems start at the top and go all the way down to the very bottom. It's a cancer and it needs to be cut out.

Jamie Crowley
78
Posted 14/04/2018 at 22:09:11
Delusional. Literally the man needs medication.
Does this piss anyone else off? I just fume watching this man!

http://www.evertonfc.com/news/2018/04/14/manager-reaction

Damian Wilde
79
Posted 14/04/2018 at 22:14:31
I've stopped going to away games and only attend home matches as I have a season ticket. I didn't even bother watching it on the net, it would have been a waste of time. I did chores instead, it was more interesting than watching an Everton side managed by Allardyce. I can't stand him.
I feel so flat about Everton; even at home when we score, I barely rise from my seat, I feel little. We are an utter disgrace. Not just that arrogant prick, but his backroom staff, most of the directors, and the majority of the playing staff should leave.
Colin Glassar
80
Posted 14/04/2018 at 22:19:52
Chris, Levy is on £6m a year, the same as Sam. Do you think if we offered Levy a bit more he'd join us and leave Spurs? He's certainly changed Spurs from the Alan Sugar years.
Peter Mills
81
Posted 14/04/2018 at 22:26:06
I made my call on this game last week when I declined free tickets. I just couldn't be bothered travelling to South Wales, so my great respect to those who did go. I have seen video clips of a section of them voicing their disdain for our manager, it is fully justified, not that it will bother him as he counts his cash.
This feels as low as anything I have experienced with our club in 55 years. I have renewed my season ticket, perhaps that makes me complicit with the situation, but going to the game is in my blood, and I know many others feel the same way. We desperately need leadership, but it is lacking everywhere from the majority shareholder, down through the CEO, the manager and the players. It is only the supporters who care everyone else is simply stuffing their faces in the money trough.
I'm stumped. Whatever situation our club has been in while I have been watching, I have always had an opinion on what we should do, how we should handle things, apart from late December 1983 on the way back from a 3-0 defeat at Wolves, when all seemed lost. Shortly after that, a little bit of luck at Oxford, a manic show of support at Stoke, and a managerial piece of window-opening genius by Howard Kendall completely reversed the situation.
But these are different times, we have blown an awful lot of money, we are purportedly planning a new stadium, we need a new CEO, a new manager, we need many new players... but most of all we need a person at the top with intelligence, a clear vision and the personality to bring it to fruition. I wish Mr Moshiri could inspire a bit more confidence that he can be that person.
Jamie Crowley
82
Posted 14/04/2018 at 22:26:52
Colin @76,
I'm actually not too opposed to bringing back a bit of the dark days in some rare instances.
I'll leave it to you where to draw that line, or for that matter when to re-institute the practice of drawing and quartering.
Your cousins across the pond would probably turn a blind eye to the inhumane act in this instance.

Jim Wilson
83
Posted 14/04/2018 at 22:30:54
Dave Brierley (#63) You are spot on. Some fans are losing the plot. This is all down to horrendous management. The players are definitely not to blame.
As for Rooney, he is not a midfield player and never will be. He is a striker and we have needed some quality up front all season.
Nothing makes sense at this club right now. It's a disgrace but it's not the players' fault it's management from top to bottom.

Jay Griffiths
84
Posted 14/04/2018 at 22:31:34
Home! The midfield we have is chronically poor. They don't protect or support well. Bolasie is our worst signing in some years, I feel.
As for the rest? The Minotaur and Jimmy Krankie are finished. The fans let him know while Funes Mori was waiting to come on. I'm tired, really tired of journeys to suffer this drudgery.
Tony Everan
85
Posted 14/04/2018 at 22:37:10
It's a terrible thing when I and quite a few others are happier with a draw than with a win.
A win would have put a few more rounds of ammunition into Sam's PR spud gun. An insipid and dispiriting draw hammers yet another nail into his gold-plated sarcophagus.
The sooner this seasonus horribillus is over, the better; everyone's had enough.
Danny Baily
86
Posted 14/04/2018 at 22:45:25
People are still watching this garbage? We're safe. The derby was last week. Take it easy, we won't be kicking a ball in anger for months.
Colin Glassar
87
Posted 14/04/2018 at 22:49:14
We haven't kicked a ball in anger all season, Danny.
Brian Williams
88
Posted 14/04/2018 at 22:51:21
Chin up, lads... only another four games to go with Allardyce in charge.
Soren Moyer
89
Posted 14/04/2018 at 23:03:10
This moron should be removed ASAP. Why oh why did we not go for Marcelino when he left Villarreal!?
Eddie Dunn
90
Posted 14/04/2018 at 23:03:56
Strangely, I thought the team were actually fighting for one another today, showing signs of camaraderie. However, the bit of luck we had staying in the game and then going ahead bolstered us for a while, and at times our confidence improved... but then Sam brought on Funes Mori when really the point we had was useless. Why could he not put on Niasse, for example? The players must lose heart when the signals are so negative.
Sam has been too defensive and made weird choices on many occasions, and despite the players sharing the blame for obvious frailties, it is the manager that constantly sets the bar so low, as to stifle any real ambition.
We need a clear-out of some poor performers, but Sam must go too. Duncan Ferguson, pre-match, repeated that he had learned so much from the very experienced Allardyce without giving us any idea just what he might have learned.
Answers on a postcard please .
Jay Griffiths
91
Posted 14/04/2018 at 23:10:50
Obfuscation, Eddie. It's an art. Every day's a school day for Duncan, it seems. No postcards required.
Paul Birmingham
92
Posted 14/04/2018 at 23:11:46
Today was no surprise and it's gut wrenching to see any game this season and despairing to listen on radio.
The club has sunk deeper into the abyss than is imaginable. Jacques Cousteau, would not even bother to surmise how this has happened.
It's true and sadly and regrettably this is EFC – AD 2018, and the stench of decay, neglect of basic duties is there for the world to see.
Struggling to muster any response these days to old school RS mates, and ribbing which is now pity. Shocking and I fear this medieval version of football will be here next season.
I sense any transfer deal out will be at a loss and if JP plays well, assuming England go to the World Cup, then it's a fair chance he'll get nicked. The only player who can say he done his best in every match.
A poxy own goal, and a Seamus pot shot - and fair play, but little else. This is worst than a Sunday morning ale house team.
My dad, and forefathers will be turning in the Main Stand in the Sky, and right fully so. It's negligence and contempt of duty unsurpassed in English football.
The club is a living version of the Marie Celeste... except that in that it's fully manned but the crew, board and teams no longer care.
Finch Farm, what the hell is taught, in terms of football? The RS and the rest are light years and Milky Ways ahead, and as in most businesses, it's nigh-on impossible to make up and catch up on 30 years of neglect.
I really hope the club finds salvation, a Damascus moment is needed very soon else we will go into final decay from what's been permanent – terminal erosion of our club.
The agony of this pits of a season, almost over. What next?
Mike Price
94
Posted 14/04/2018 at 23:36:50
The only solace is that we are clearly a relegation team but have been unbelievably lucky... we are worse than West Brom but have dodged the bullet.
We should have lost to Watford and Bournemouth at home but were unbelievably – lucky as well as in many other games this season. Very unlike us because we're normally the definition of 'unlucky'.
Worse still is the players in the squad that we couldn't give away... Klaassen, Vlasic, Bolasie, Tosun... long contracts, big salaries and basically, shit.
The long-standing players are utter shite too. Baines has been a servant but is a joke now – slow, small and insignificant. Jags and Coleman are limited and our newbies are shite. Kenny is Sunday league and stealing a living. We are a complete shambles from top to bottom.
Look at every other squad, style of football, resources, manager and we are, by far, the most disgracefully poorly managed outfit in the Premier League.
Andy Meighan
95
Posted 14/04/2018 at 23:51:00
Mike (#94),
Brilliantly put. I couldn't agree more.
Ken Kneale
98
Posted 14/04/2018 at 23:51:03
Eddie, I picked up on this yesterday in the match preview thread. I agree – it is bewildering.
Difficult to disagree with Paul @92, however much it hurts to say that about an integral part of my whole life.
Andy Crooks
99
Posted 14/04/2018 at 23:58:35
Eddie, I would guess that Duncan "the legend" Ferguson has learned how to refine, even further, the ability to scrounge a living while offering not one fucking iota in return.
Anthony Murphy
100
Posted 15/04/2018 at 00:21:55
We are completely irrelevant.
Nicholas Ryan
101
Posted 14/04/2018 at 00:34:46
Colin [#76], Yes, being hung, drawn and quartered has been abolished... but there is still hope. At the time of the Spanish Armada, the government were (needlessly) worried, that Catholic noblemen, sympathetic to Spain, might try to 'nobble' the Navy.
Thus, the common law offence of 'Starting a fire in Her Majesty's dockyards' was created, for which the penalty was, apparently, to be hung from the highest yardarm in the Royal Navy.
For odd historical reasons, this offence was not caught by the abolition of the death sentence in the 1960s, so it may still exist. So, someone give Sam a lighted cigar, and get him down to Plymouth, pronto!
ps: I have just spoken to a legal colleague of mine, who says this offence was recently abolished in England; but is still on the books in New South Wales! So, frigate to Sydney for Mr Allardyce, please!
Ed Prytherch
102
Posted 15/04/2018 at 00:52:09
Apathy applies to both the fans and many of the players.
Gana was crap, Walcott was the invisible man, Schneiderlin was Schneiderlin. Pickford and Jags had good games. The fullbacks were okay, Keane was awful in the first half but played better after the break, Rooney obviously cares and he is the only player we have who will attempt a good pass rather than a safe one. Bolasie and Tosun also made an effort.
The subs had no impact. Maybe Vlasic could have done something if he had come on sooner but you would never guess that the other two were playing for a place in the squad next season.
Sam is incapable of motivating his players, unless it is to avoid relegation.
Karl Masters
103
Posted 15/04/2018 at 01:42:52
Chris Gould (#77):
Spot on, mate. I agree with every word.
Allardyce's tactics are so dull. These players have failed under 3 or 4 managers now too. Many of them have to go if we can cut our losses.
World Cup year and a transfer window closing in early August means this isn't a great Summer to carry out monumental change, but I can't stand another season of this dross. It started under Martinez in 2015 and gets worse every season.
Tom Dodds
104
Posted 15/04/2018 at 06:40:08
Paul @92,
Your so right re: 'Damascus moment'. Because I think when 'Oliver' Moshiri was inveigled into the club by the 'Artfull' Elstone and taken to 'Fagin' Kenwright, I think the pair of those bastards trussed him from head to toe with so much 'Boys-Pen' and out-of-touch bollocks that the poor bugger has been left both clueless and directionless.
He really needs to boot those pair of 'Wormtounges' the fuck off his bridge and out of his wallet before his Captain's hat floats off above his head. I wish him the best of British with that "Apple".
Mr Moshiri, from all the fans (that know the score), we implore you right here and right now, to wake up as the crew on your 'rig' will never strike oil, so SACK THE WHOLE LOT OF 'EM before it's too late (and you're broke).
Ralph Basnett
105
Posted 15/04/2018 at 10:09:24
I get that we are watching shoite football; Allardyce knew from the start he was never going to get the gig full time – he had a job to do and has/is doing it.
He will leave at the end of the seaons, his reputation of playing defensive, mind-numbingly boring shit football will remain intact but, more importantly for him, he will get 6 months off to spend his ill-gotten gains before he is hired to save the next struggling Premier League team.
He knows he isn't staying; you know he isn't staying... and everything that horrible fat cunt is spouting is just to wind us up!!!
Fellow Evertonians – do not let him get to you! Come the summer, he will be gone... or no doubt most of us will be!!!!!!!
Paul Kelly
106
Posted 15/04/2018 at 10:41:25
Can we stop with the personal insults to Allardyce, please, it's childlike and... fuck it (puffs out cheeks and blows a raspberry), the fat useless gravy-titted melon-head clueless dinosaur of manager who's only rhetoric is surely to wind us up needs to go. Everything he says is just taking the piss at us fans and the club.
How did 'we' (the charlatans in charge anyway) let things get so bad? Well done, Bill, you're the greatest magician the world's never seen.
Phil Walling
107
Posted 15/04/2018 at 10:41:40
I see no future for Everton – with or without Allardyce. Like many others, I believe that Moshiri's football ignorance will do for our club whilst his money has done little more than enrich the former 'owners' - or at least those who propped up Bill Kenwright as well as the man himself.
The last three managers have been disasters and the odds are firmly on the next appointment being of similar ilk. That's if the big man doesn't somehow cling on and into next season.
The irony of this situation is that whilst interest in Everton is falling by the week, the diehards are calling for a new ground to cater for 60,000... 70,000 or even more speccies. If things go on like this, it might be more appropriate to open negotiations for the purchase of Prenton Park or even The North Field on Jericho Lane!
Phil Walling
108
Posted 15/04/2018 at 10:48:26
A freudian slip, of course. Things aren't quite that bad!
Christopher Timmins
109
Posted 15/04/2018 at 11:09:40
The manager has done what he came to do. He does what it says on the paint tin. He did not cause the mess and, when he leaves in the summer, he will not have left us any worse than when he took over. I don't recall the previous two managers suffering such personal abuse on their way out the door and they spent a whole lot more of our owner's money than the current manager did.
When the new manager is appointed after the season ends, I hope he is given time to improve things. Let's hope that, 20 minutes into the first game of the new season, the discontent does not start up again.
Phil Walling
110
Posted 15/04/2018 at 11:12:47
Christopher, I don't think 'the owner' has spent any of his own money on players. And why should he?
Tony Williams
111
Posted 15/04/2018 at 12:06:40
Chris (#109),
This clown lived on the 4-0 win against West Ham when Unsworth was in charge, he hasn't done anything wonderful, if you put a monkey in charge of that squad he would have saved us.
Chad Schofield
112
Posted 15/04/2018 at 12:10:30
The ridiculous bit is that we are still plodding on with Sam. In the Echo, he has said what a huge task it'll be with the World Cup and shortened transfer window. It's like we're hoping he'll depart on his own volition... that somehow, by not doing anything, it'll all sort itself out.
Again, it was a ridiculous appointment and now we're dancing about with both Sam and us not really wanting to continue. We won't be able to attract anyone of any clout player-wise as things stand, aside from some journeyman and a sell-off of some younger talent.
If we start the season with Sam in charge and the window closed... well, this season could look like a walk in the park.
Trevor Peers
113
Posted 15/04/2018 at 12:15:08
Tony, so you think Unsworth was and is the catalyst to our winning trophies again? Hahahaha.
Dave Burnett
114
Posted 15/04/2018 at 12:17:19
On another issue, does anyone know what season tickets renewals have been completed? I noticed a week before deadline day big push to make sure all renewals done by the Friday, warning if you don't renew, you'll loose your seat. It's all gone quiet since that day passed; usually the club announce numbers, saying beforehand that they were expecting record numbers.
I've not heard any announcement from the club or through the red Echo... No doubt the Allardyce problem is a factor. I have heard people ringing up to renew and asking for a refund if he is still at club at the end of season. Those working at the club dealing with the renewals by phone have laughed it off but stated there have been many similar requests.
I am greatly concerned that he may remain. I feel he is taking the mickey out of us with his comments, but I'm also feed up with players and training staff coming out every week saying what a good job he has done and how we are progressing well and want a strong finish to the season.
The season's nearly over, I'll still be saying that the week before the West Ham game. The last home game against Southampton will be televised – that's the game to let him now he's not wanted at this club. The lap of disgrace. I for one will not be staying; we need the ground to be empty to show those at the club we will not accept another season like this one.
Jim Wilson
115
Posted 15/04/2018 at 12:25:27
Mike (#94) – otherwise, we are okay!
I totally agree with you on the luck we have had. Thankfully I am confident that with a good manager the shite players will become good players and the good players will start performing at a very good standard.
Unfortunately, I am not confident we will appoint a good manager and I can see us ending up with a shite overrated foreign manager.
Phil Walling
116
Posted 15/04/2018 at 12:28:57
Sky's Sunday Supplement again debating the possibility of Benitez replacing Fat Sam. I seem to remember the Spaniard had quite a few advocates last time round. What think we now?
Brian Hennessy
117
Posted 15/04/2018 at 12:37:36
Phil, I would take him (Benitez) in a heartbeat. Proven trophy winner... which is more than can be said of many of those being linked with us at the moment
Gordon Crawford
118
Posted 15/04/2018 at 12:38:51
Phil, I'd have him over Sam – that's for sure.
Tom Bowers
119
Posted 15/04/2018 at 12:42:13
I think most fans would agree that Allardyce was always going to complete the season unless he took us to the bottom three a while back but, luckily for him, other teams have not got out of the ruck. Like most, I want to see him out as soon as the season ends if this club is to get better.
Everton do have a nucleus of young players who, under the right manager, could get them to that higher level but they need class strikers as what they have at present is just poor. Let's face it, Tosun, Niasse, Calvert-Lewin, Rooney, Bolasie and Walcott just don't come up to snuff.
We could make excuses for all of them but, quite frankly, if they are all fit and getting paid good wages then they should be doing a lot better.
Mike Jones
120
Posted 15/04/2018 at 12:43:42
Everton Ladies on BBC 2 on the red button now in the FA Cup semi-final against Arsenal. They'd give the men a run for their money at the moment.
Jim Wilson
121
Posted 15/04/2018 at 13:46:16
The trouble with Benitez is he doesn't keep a settled team which was the trouble with Koeman and is what caused our slide downwards.
David Hallwood
122
Posted 15/04/2018 at 14:24:04
I've only just watched the extended lowlights on Sky. I wish ToffeeWeb had the facility where we could post video clips, because every time I watch Schneiderlin, I get a Nyarko moment.
Looking at the comments prior the watching the game, some posters were commenting how Schneiderlin was improving – that's why I need the video clips to prove just how shite he really is; not protecting the back 4, not closing down, after a man runs past him stands and watches, never goes toward the ball. I could go on and on.
And Bolasie; I'm assuming that the one who played against us and tore us a new one is locked in a cellar somewhere and this impostor has taken his place.
For fuck's sake, get this season over or maintain some interest by sacking Lardiola on Monday.
Andy Crooks
123
Posted 15/04/2018 at 14:30:42
Christopher # 109, I would suggest that Allardyce has left us substantially worse. First of all, if, please God, he goes, he will receive a lot of compensation as will his cronies. Lookman is likely disillusioned with Everton. We have resorted to a style of football that will never win a trophy and which will take time to undo.
Our reputation is seriously damaged (we have gone from contender to joke and are synonymous with dire football and have given millions to a man devoid of integrity). We have lost the momentum that we had a year ago.
We did not need to resort to Allardyce to have stayed safe and his time at our club has been a low point in our history.
John Pierce
124
Posted 15/04/2018 at 14:52:44
The fact we are discussing Benitez is testament to the depths we've plunged that he now looks viable.
He was an excellent manager despite his loyalties. But he is on the wane and we need an as-close-to-universally supported appointment.
Are the fanbase really willing to give another pragmatic guy a chance? I don't think so. I think we need a clean slate, no connections to past teams in England. Must be a fresh continental with progressive ideas.

Ralph Basnett
125
Posted 15/04/2018 at 14:53:44
The Barcodes holding out to a draw at the Emirates – what odds on a defensive home set-up for us courtesy of Fat Sam and a Barcodes trouncing for them to take over us in the league.
Sam, as I have already stated, you have done your job now – please just take your money and fuck off!!!!!
David Barks
126
Posted 15/04/2018 at 15:08:20
Benitez has his team, made up of mostly Championship players with an incredibly cheap owner, beating Arsenal. They have 6 men in the Arsenal half pressing forward. They're using an on-loan castoff third-string striker from Leicester and a kid loaned from Chelsea.
But we have Allardyce setting up to try to hold a point against Swansea and acting as if it was a great achievement. Honestly, Allardyce isn't worthy to even clean Benitez's toilets.
Brian Wilkinson
127
Posted 15/04/2018 at 15:29:47
The first time I have not added a comment after the game on here on the same day. I could not find the words to put together – no surprise, no anger, just an empty feeling.
Then up pops Tim Cahill, a real legend and passionate player, my god He has nailed it on the head about Everton, normally we have around 300 posts on here. Looks like a lot of posters are having the same thoughts as me – just cannot be bothered venting anger and disgust with everything Everton at the moment.
For other posters feeling the same, Tim Cahill's interview is well worth a read and sums up how we as fans feel.
Andy Meighan
129
Posted 15/04/2018 at 15:57:22
Evertonians bigging up Benitez... Some people really do have short memories.
Anthony Murphy
130
Posted 15/04/2018 at 16:15:09
The Newcastle win highlights how a team can play once they reach relative safety – not scared to have ago, playing with a degree of freedom with nothing to lose when facing one of the big boys.
In comparison, we get cagey, safety-first dross at the exact time we could and should be playing with a bit of freedom and giving new ideas and systems a chance.
Why not give Vlasic a half or even Klaassen? Even without introducing new players to give them a chance, why are we still so risk-averse given we have absolutely nothing to play for?
Ron Sear
131
Posted 15/04/2018 at 16:21:15
Absolutely sick to death of going to the away games this season and feeling a sense of utter depression coming home on the coach.
Just to make a refreshing change, and for the first time in a long while, we went over and watched Tranmere Rovers play Aldershot. True they weren't half as skilled as any premier league player but bloody hell wasn't it refreshing to see players running their hearts out, focused on all out attack and hearing a crowd actually yelling them on. I've not seen enthusiasm like that in the whole of last season at any Everton game.
However, we have bought our Bullens season tickets now –can anybody suggest the right kind of pill to take before each of next seasons matches? Yeah and we both guessed exactly the score at Swansea the day before the match.
Craig Walker
133
Posted 15/04/2018 at 17:48:45
I wanted Benitez as manager and not Sam and got stick on TW for saying so. I think he's a winner who improves players and has some tactical nous. I can get over his RS past and comments about us.
I've hated almost every minute of this season. I've an awful feeling it will get worse because the RS have a shot at the Champions League final. It's desperate when we think Klaassen and Vlasic could lift us.
Roll on May. I normally hate pre-season but I'm fed up of this now. Nothing but disappointment and let downs. Even Bramley-Moore looks like a pipe dream. What is the point anymore?
Max Murphy
134
Posted 15/04/2018 at 19:39:16
And Craig, Newcastle are on the verge of overtaking us in the Premier League.
Keith Monaghan
135
Posted 15/04/2018 at 20:24:17
I too wanted Benitez when we got shot of Martinez. The guy usually succeeds – look what he's achieved at Newcastle with scant resources. He has a fit team of many young players – not a load of has-beens that a small number of decent players are propping up. We'll all need a lot of patience – this team needs more than a quick fix.
The bigotry and abuse shown on here by many of our so-called fans is an absolute disgrace and reflects badly on the club.
Someone earlier talked of Rooney spraying the ball around – what a joke! The only place he performs these days is in the bar – if he'd not abused himself so much, he'd still be a decent player and at a top 6 club – instead of being over-paid and carried by a mid-table team.

Michael Kenrick
136
Posted 15/04/2018 at 20:24:35
David (#122),
There is a way you can post video clips – assuming you can upload to YouTube. Then, copy and paste the 'embed' script into your ToffeeWeb post... Just like this:
Mike Hayes
137
Posted 15/04/2018 at 21:12:22
Keith Monaghan: "The bigotry and abuse shown on here by many of our so-called fans is an absolute disgrace and reflects badly on the club."
The last 20+ years of being trophyless, badly managed, lied and bullshitted to is a bad reflection on the fans – works both fucking ways!
Jason Lloyd
138
Posted 15/04/2018 at 23:12:34
Ron you're the 3rd Everton season ticket holder going to Tranmere matches now and finding it better than watching Everton.
What an appalling state of affairs, but credit to Tranmere and their players.
I hope that there is massive change this summer because if there isn't I'm not coming back.
Ed Prytherch
140
Posted 16/04/2018 at 00:18:18
Apologies for the previous brain fart.
I watched the bar codes today and I was impressed that Benitez was on the pitch after the game hugging his players and some of the staff. Klopp and Pep are the same. It conveys something that we have not had at Everton in a long time.
Justin Doone
141
Posted 16/04/2018 at 15:30:11
Call me a genius and give me a contract. You want end-to-end exciting football? Give me an hour working with the players and you'll see some. When it goes wrong, I'll take the blame, not the players, not the referee – I'll accept it.
Play a 5-0-5, with 5 defenders to defend. Every chance, punt a diagonal long ball forwards to chase, create, cross, pass, shoot and score at every opportunity. No indecisiveness, no complicated tactics, no defenders messing about.
It's exciting but, more importantly, it will highlight those who care and hopefully who have a football brain. Sometimes when managers send you out with stupid instructions, you have to adapt to the situations.
My hat would be on Bolasie and Niasse doing a lot of needless headless running, Tosun and Rooney playing football, trying to link up using their brains, and Calvert-Lewin doing the best of both. £££
Justin Doone
142
Posted 16/04/2018 at 15:45:22
My point being we clearly have some good experienced footballers, some promising youth and some runners.
At least two distinct style 'teams' within our squad that have been thrown together expected to gell.
Unfortunately it appears none of our recent managers have identified the best fit, preferred system or playing style to suit the players and we are the left over chocolates at the bottom of the tin.
The players like our last 4 managers are chalk and cheese without a board or cracker to go with. Actually I think I'm the cracker.
Jack Convery
143
Posted 17/04/2018 at 10:12:38
Kenwright is the father of the bride, who moves in with the happy couple because he can't be parted from her. The marriage is then doomed from the start. Bad times. Allardyce Out Now!

John G Davies
144
Posted 17/04/2018 at 10:27:33
Then the son-in-law should poison his tea, Jack.
---
Add Your Comments
In order to post a comment, you need to be logged in as a registered user of the site.
Or Sign up as a ToffeeWeb Member — it's free, takes just a few minutes and will allow you to post your comments on articles and Talking Points submissions across the site.
© ToffeeWeb