Report
Rare away win a boost for Big Sam's ego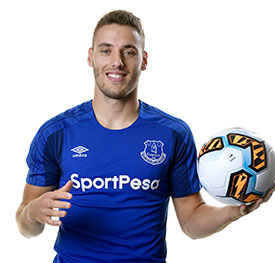 Nikola Vlasic was given a rare start, displacing Bolasie who has been poor
Huddersfield Town 0 - 2 Everton
Vlasic starts in place of Bolasie as Everton's season continues to wind down with their first trip to Huddersfield Town in the League since the early 1970s next on the agenda.

Nikola Vlasic last started an Everton game back in January, the 1-1 draw with West Brom at Goodison Park, where he was withdrawn at half-time.

It was Vlasic who kicked off for Everton, with the required hoof upfield ultimately winning an early corner that was defended away. The early exchanges were mostly in midfield, with the home side looking more interested amidst the lively atmosphere their fans create.

Rooney got double-teamed and it seemed to exemplify the energy levels on show, Everton expecting to lazily pass their way around, while the home side were rather more intent on regaining possession and pressing forward.

A little bit better showing by the purple-clad Blues saw the ball moved closer to the home end until Rooney overhit his ball wide to Walcott. The first attempt on goal after 16 mins came at the other end, a lame half-shot that bobbled through to Pickford.

Van la Parra did well to win a corner off Coleman but the resulting shot was blazed well over. Vlasic was on a different wavelength to his teammates and struggled to get into the game. A cross finally came in from Coleman on 27 minutes, winning Everton a second corner that Rooney overhit beyond Keane. It came back to Rooney who tried a quick volley from a wide angle that was off-target.

Van la Parra dived blatantly (no card) before getting a cut-back played to him sharply by Pritchard that he fired over the Everton bar. Mounie had a weak header that did not trouble Pickford.

As Huddersfield increased the pressure, a potential Everton break was stopped by a shockingly poor pass from Rooney, straight to a defender, when Walcott was free and in space. But the next break was much better, Walcott intercepting a Huddersfield pass and picking out Tosun who was being pushed wide but placed his low spot perfectly, just beyond Lossl, just inside the post, a fine finish to give Everton a rather unmerited lead.

The half ended with Everton attacking and a strange overhit cross-cum-shot from Rooney.

Everton started the second half in a positive vein, Theo Walcott getting into the area and sliding a ball back which eventually ended up at the feet of Nikola Vlasic whose low hit from 18 yards was held by Jonas Lossl. A good free-kick routine saw three players break forward (at least two offside!) but none of them could do enough to score.

Better movement and desire saw a nice setup by Vlasic for Coleman to get in range but he shot straight at Lossl.

Tosun shaped to break but Lee Probert looked kindly on the block by Hogg, who was on a yellow. Walcott was next to almost get behind the Huddersfield defence, as they struggled to turn the game back their way, a corner well wasted.

Davies replaced Rooney soon after the hour mark with Everton in control, playing a little better, and heading for their third away win of the season. But it seemed to inspire the home side until Pritchard, in a dangerous position, fluffed his lines badly.

Niasse replaced Tusun with 20 minutes left, and the energy levels flagging as Wagner made his final change, while Funes Mori replaced Vlasic, who had not really impressed on his big opportunity.

Great work by Niasse out by the corner flag, and a brilliant lay-off by Baines saw Gana Gueye tee up and fire in a fine second goal for Everton to kill off any lingering resistance from the home side, who remain at some risk in the relegation battle.

Without ever really looking anything like a top-half Premier League side, Everton had successfully pilfered two goals and three points that will have Sam Allardyce crowing happily in response to the travelling Blues fans who are committed to seeing him removed from the manager's position. "What a good job he's done..." —

Scorers: Tosun (41'), Gueye (78').

Huddersfield Town: Lossl, Kongolo, Hogg [Y:50'] (62' Malonie), Mooy, Van la Parra (75' Depoitre), Pritchard, Quaner (59' Billing), Mounie, Zanka, Schindler; Hadergjonaj.
Subs not Used: Coleman, Smith, Lowe, Stankovic.

Everton: Pickford, Coleman, Keane, Jagielka, Baines, Schneiderlin, Gueye, Rooney (63' Davies), Walcott, Tosun, Vlasic (76' Funes Mori), Tosun (72' Niasse).
Subs not Used: Robles, Bolasie, Martina, Baningime.

Referee: Lee Probert


Attendance: 24,121
---
Reader Comments (176)
Note: the following content is not moderated or vetted by the site owners at the time of submission. Comments are the responsibility of the poster. Disclaimer
john dubay
1
Posted 28/04/2018 at 14:08:50
Sam is trying to fool us into thinking we have 2 centre forwards starting with the double Tosun. Nice try mate.
Rob B. Williams
2
Posted 28/04/2018 at 14:09:38
That Tosun's everywhere!
Gareth Clark
3
Posted 28/04/2018 at 14:10:36
What does Klaassen have to do to get a chance?
Rooney has been abysmal... get him into the team FAT SAM.
Christy Ring
4
Posted 28/04/2018 at 14:19:37
Still picking Rooney in midfield, he's too slow, when is the last time he had a good game? Why doesn't he give Klaassen a start instead. The only reason he picked Vlasic, is because of the fans reaction, but good to see hm play.
David Hallwood
5
Posted 28/04/2018 at 14:24:18
Rooney can do the Pirlo role but he needs legs around him
Tony Everan
7
Posted 28/04/2018 at 14:34:42
john #1
A double Tosun ?
sounds like a Mick McManus head and arm lock
Jay Harris
8
Posted 28/04/2018 at 14:38:04
We should do OK with the Tosun twins Michael.
Jay Wood
[BRZ]
9
Posted 28/04/2018 at 14:40:14
Huddersfield will have targeted this game to pick up points from.
Their last 3 remaining games after this are vs Man United, Chelsea and Arsenal, so we need to be 'up' for this from this off, which really hasn't been the case all season under any of the 3 managers.
Tony Everan
10
Posted 28/04/2018 at 14:40:28
It's a sign, get your £5s on Tosun scoring 2 !
Jay Harris
11
Posted 28/04/2018 at 14:43:33
David he needs legs on him not around him.
His legs have gone.
Cindy Cole
12
Posted 28/04/2018 at 14:50:36
His legs have gone to get him some pies.
Mike Keating
13
Posted 28/04/2018 at 14:57:18
Vlasic gets his chance - at last

Chris Clark
14
Posted 28/04/2018 at 14:59:55
Shame klaasen and Mori aren't given a go.
John Hammond
15
Posted 28/04/2018 at 15:05:42
David #5: please tell me you didn't just put Rooney and Pirlo in the same sentence!
Bobby Thomas
16
Posted 28/04/2018 at 15:28:27
On the face of it Rooneys physical decline for a 31/32 year old is stark.
However he was Premier League ready at 17 and has had 15 years at the sharp end. In football terms he is probably about 35 - 37.
He can still do a job and contribute but, much like Baines he would really benefit from no more than 15 - 25 starts a season so he stays fresh and when he plays we get the best of him. When he was sharp and fresh at the start of the season to late autumn he was pretty effective.
He's reasonable in midfield, no more than that. I imagine he had ideas of dropping into mid and extending his career a la Scholes or Giggs, but he is nowhere near that level. When allowed and given time and space, generally against the poorer sides, he can sometimes dictate and pull the strings, such as West Ham at home, I think.
But frequently his passing can be laboured. He doesn't really excel in tight situations or have the awareness or ability to control the tempo. I don't think I've ever seen him knock a first time ball round the corner for example, or play a one two. He can't play in there against top sides, he isn't good enough on or off the ball.
From a defensive perspective he can go walkabout and lack positional discipline by following the ball too much, and there can be some shocking giveaways.
He tends to do better when its all in front of him and he can get his head up, such as his ball to DCL at Anfield.
All in all, pretty average in midfield really. He is/was a striker or a 10 and always has been. These days he is really struggling for a position.
Jay Wood
[BRZ]
17
Posted 28/04/2018 at 15:55:00
Still too many basic mistakes and largely ponderous tempo, but there was also a little – just a
little
– bit more evidence of more joined up football.
Walcott does very well to set up Tosun for the goal. And what a fine finish it was. One touch to take the ball forward, quick look up, and a clean strike along the ground from a difficult angle and position.
Now, can we please achieve a rare feat in this season and actually score a goal in each half of football to secure a win?
Also enjoying the tussle between Seamus and Van La Parrra. It's a gud 'un.
Ernie Baywood
18
Posted 28/04/2018 at 16:05:05
I think we've played alright so far. Not exactly sparkling but surely no one is expecting that by now!
Bob Parrington
19
Posted 28/04/2018 at 16:59:20
At least Rooney can lay on some fantastic passes. Unlike most of the other players. Perhaps some of you should get off his back. At least Sams recognised that he tires and subbed him early enough today.
Not that bad a performance from the team today. Defensively in particular!
Ian Bennett
20
Posted 28/04/2018 at 17:04:05
Rooney does have a killer pass in him, so starting him ahead of Davies is probably right. Davies's ball retention and passing when he's come on as sub hasn't been special.
Sounds like Vlasic was no better than Bolasie. We all get on the back of selection choices, but those players need to step up to the plate.
Barry Williams
21
Posted 28/04/2018 at 17:07:52
Really, does that have to be the headline!!??
It has been a while since I posted as emotions have been running high, and being away I am not a paying regular fan anymore. I watched the game here in China, have read ToffeeWeb almost daily and can understand the fans' reluctance with Allardyce, but I also think everything is becoming an anti-Allardyce agenda.
We won away today, and before Allardyce came, we had a rubbish away record too, possibly worse! The vitriol is getting ridiculous and unfocused!
Jay Wood
[BRZ]
22
Posted 28/04/2018 at 17:08:33
Thoroughly deserved win. In truth, we could and should have bagged a couple more.
Other than the first goal and early second-half chance he set up for Vlasic, Walcott seemed to have trouble getting the ball out of his feet cleanly all game when good breaks and positions were on.
The subs all contributed when they came on. Tom Davies was much tidier than last week's performance against the Barcodes. Oumar did what he does to help set up the 2nd goal. Funes Mori looking really solid during his time on the pitch.
I thought the best and most composed footballer on the park was their wee Aussie Aaron Mooy. I know absolutely zero about him, but he plays with his head up, was always available for the ball, tidy and accurate in all that he did and astute in his play. Impressed.
With Leicester getting thumped, looks like 8th place is nearly nailed down.
Not great and far from what we should be aiming for, but in this dog's dinner of a season, not to be sniffed at either.
Steven Jones
23
Posted 28/04/2018 at 17:09:29
On the live forum, let's get behind the manager and the team .
BTW, I know not a lot of us like Allardyce but results are more important than style.
Not me but one of our fans on the ToffeeWeb live forum:
Big fat Sam's blue army!!!!!
I would just like us all to pull together under any manager. Doesn't matter whether that is Matinez, Koeman, Allardyce or Kendall. Just let's get behind the club and not just throw our toys out the pram when we don't like something!!
Frank McGregor
24
Posted 28/04/2018 at 17:17:31
In the last last 6 games, we have 3 wins, 2 draws, and one defeat. The defeat was against Man City and one of the draws was against Liverpool who we actually took 4 points off this season. We are now standing 8th in the league.
For god's sake, stop all the "Sam out" and let him see the contract out then get a replacement in, and that is if we can get a decent manager in view of upper management's fiasco of running the club.
Gavin Johnson
25
Posted 28/04/2018 at 17:19:30
Good win today. We were solid, if not spectacular. We were just more clinical than Huddersfield and while Tosun isn't as fast, or strong as Lukaku I think he's probably just as clinical. He's been pretty isolated at times but when he does get a chance he has a good conversion rate.
I was amused at the number of posters riling themselves up on yesterday's thread about Big Sam staying on, and while I maintain he's hardly going to say he's leaving when asked the question, it did occur to me while watching today's game, away form has improved under Big Sam. Not to the levels we'd all like, but it has improved. I caught some of Football Focus earlier today and was quite surprised when I discovered that we are 6th place in the league from the start of Big Sam's tenure.
I'm still edging to Moshiri doing the right thing and bringing in a new manager, but these owners and investors don't look at the game like we do. Maybe Moshiri will be thinking that with big changes to the squad needed in the summer, and bringing in Marcel Brands (presuming it happens) it will be a transitional season and changing the manager too won't be a risk he wants to take.
If that does happen. I think Big Sam will do a decent job with the director of football in the transfer market and we'll finish 7th or 8th in the league, and it will be defensive football and playing for percentages, edging wins much like under Moyes. We will win more than we lose but get thrashings from clubs higher than us. This is stability, but is it good enough for Everton?
Michael Kenrick
26
Posted 28/04/2018 at 17:19:57
Sorry, Steve (#23), but that's the attitude of "mediocrity acceptance" that has seen us fall from the highest levels through the Premier League era. Some fans will, of course, be happy with plucky little Everton making up the numbers in the big boys' league.
A win away to a poor side in a meaningless end-of-season game after what we've had to witness... no. This result changes nothing. Allardyce still has to go.
And Barry (#21) — that's focus; don't take your eye off the ball!
Frank (#24) — we beat Liverpool?!?! That's fantastic news!!! Allardyce is clearly far better than I thought...
Graham Mockford
27
Posted 28/04/2018 at 17:20:15
In a long line of ridiculous headlines, tonight's is definitely the winner.
I don't think Sam is the answer, I don't think safety first football will ever be enough for our club, but some of the criticism is bordering on the ridiculous. Mob mentality seems the order of the day in many spheres these days.
Neil Lawson
28
Posted 28/04/2018 at 17:22:32
We have got the gall. We have got the brass neck after all Lardarse has done for us to want him out. Thus speaketh that total twat Garth Crooks.
Takes a complete tosser to recommend a hopeless knob (now that's an interesting unintended analogy) but Fat Sam and Garth should get together and talk football. Will be a bit like a minion chatting to an oompa lumpa.
John Harrop
29
Posted 28/04/2018 at 17:25:09
Steve (#23)
"...results are more important that style"
We're Everton and we want both!
Ian Bennett
30
Posted 28/04/2018 at 17:26:25
He's got the team to 8th, and he's cemented his position that he does a job of keeping teams in the league.
He's a specialist along with Pullis of playing boring, negative football. But he's got to go. I can't face watching it for another 12 months.
Lawrence Green
31
Posted 28/04/2018 at 17:28:52
Style of play is subjective, results are not, however, surely a club with our financial backing and wage bill should be hoping to see both good football and positive results. Today was a victory and away from home too, is that enough to keep Sam? If we end up on 54 points that would be a decent total given our appalling start to the campaign.
It seems that according to Garth Crooks and company only City and RS are capable of playing good football, the rest are apparently all grinding out results although I'm not sure how you can exclude Spurs and Arsenal as quality footballing teams.
Bottom line is we should know our place and be grateful that Sam saved the club from the mire, we are no better than all those recently promoted clubs despite shelling out a fortune on players. Mr Moshiri put the cheque book away, leave Sam in charge and we can do it all again next season - I can't wait!
Gordon Crawford
32
Posted 28/04/2018 at 17:29:18
Glad we won.
Jason Wilkinson
33
Posted 28/04/2018 at 17:31:49
Just been watching Final Score... Garth Crooks said Everton fans "have the gall to want Sam Allardyce gone".
Well, yes, Garth. Can't see you wanting him at Spurs.
Not all results are the same. Winning away at Huddersfield is not as good as getting a point away at Chelsea or Spurs in my book.
I expect us to beat some teams away. Anything less is failure.
Neil Wood
34
Posted 28/04/2018 at 17:34:45
Garth Crooks Nob off. The end.
Ken Kneale
35
Posted 28/04/2018 at 17:42:09
Michael 26. Spot on
Jay Wood
[BRZ]
36
Posted 28/04/2018 at 17:44:27
Neil @ 28. I've noted a LOT of journalists and ex-player pundits berating Everton fans in recent days.
Whilst I'm of the opinion some of the personal abuse and name-calling of Sam Allardyce is OTT, I find the opinions of so many talking heads in the media a rather condescending one towards us Blues.
As Evertonians who live and breath the club, devouring any and every snippet about our passion, we have the full inside story as to why so many Blues are opposed to SA's continued presence at the club.
Even though opposed to his recruitment, or even the NEED to appoint him, many were willing to give him a chance.
Many acknowledge the leadership at management level since Moshiri joined has been poor.
Many acknowledge people other than SA were responsible for poor summer recruitment which left an unbalanced, under-performing squad.
Many acknowledge he initially did tighten up the defence which helped keep us in games longer to gather points from, whereas previously we were conceding at 2-3-4 a game.
Many acknowledge he also initially spoke with clarity and incisiveness of what individual players and the team needed to improve on.
That said, for the most part of his tenure, the football we have had to endure - because it has been an endurance - has been woeful.
Increasingly, SA's public utterances have absolved himself of any blame or responsibility for results and performances. He has not been shy in 'throwing others under the bus' in this respect.
Now I haven't been on 'Sam Allardyce Watch' for all of his managerial career, so I don't know if this public demeanour he has displayed during his time at Everton is typical.
Whatever, it is not ingratiating - certainly not for me nor, I fancy, many other Blues.
The Talking Heads would do well to take that into consideration before condemning Evertonians as they are. It is NOT just about performances, results, the quality of the football, etc.
It is also about dignity, standing and reputation. And Sam Allardyce's time at Everton has smeared that a tad for me.
Raymond Fox
37
Posted 28/04/2018 at 17:44:41
Michael its not 'mediocrity acceptance' the reason we've fallen as you say from the highest levels, is because we have not been able to attract the very best players to our club. Will it be any different next season? Unfortunately, I don't think so.
Changing managers every season or so is not the answer, in my opinion. Unless we can match the usual top 6 teams' players quality-wise we will always struggle to top them in the league.
John Harrop
38
Posted 28/04/2018 at 17:45:15
I find many of the pundits irritating, and Garth Crooks has always been one of the worst in that respect. Intensely annoying, it's best just to ignore him.
An away win is always welcome, and there were some improved performances out there today, but I thought Huddersfield were a very poor side.
Allardyce still needs to go.
Peter Gorman
39
Posted 28/04/2018 at 17:50:52
To all those in the easily-pleased brigade, which result under Big Sam do you find the most compelling evidence he can obtain European football next season?
A 2-0 win at Huddersfield or a 5-1 thrashing at Arsenal?
If you don't aspire to at least see the club as competitive as it was under the relatively broke Moyes, please say so. I thought we were looking to go further.
Peter Howard
40
Posted 28/04/2018 at 17:51:22
Garth Crooks's head looks like Tom Hanks's mate (Wilson) in Castaway.
Oh, and he's also a complete prick.
John Charles
41
Posted 28/04/2018 at 17:52:33
He must stay. Results are all that count and who else can say they have beaten the mighty Huddersfield. The man is a genius but no one seems to notice, luckily he tells us all the time.
Fat Sam's blue army – just rolls off the tongue... like sick.
Jeff Armstrong
42
Posted 28/04/2018 at 17:54:54
Can't stand these pundits and other clubs' fans looking in on us and telling us to shut up and be grateful for Allardyce, what the fuck has it got to do with them? Fuck all... that's what!
We're the ones who watch, week-in & week-out, every single minute of this crap purgatory football, and listen to this self-serving gobshite game after fucking game.
Garth from Stoke and fucking Jeremy from Devizes – fuck the fuck off and mind your own business.
Paul Smith
43
Posted 28/04/2018 at 17:56:54
A top manager won't come for the same reasons top players won't. We ain't got enough dough to see the vision through. And if we spunk a fortune on a Mancini type, he'll be labelled as a mercenary the minute he's shite.
Steve Brown
44
Posted 28/04/2018 at 17:59:52
The Petition at Change.Org:
James Hopper
45
Posted 28/04/2018 at 18:00:27
Garth Crooks says some Everton fans have the gall to want rid of Allardyce. He's dead wrong.
Most Everton fans want rid of Allardyce.
Steve Brown
46
Posted 28/04/2018 at 18:00:51
Get signing.
Joe O'Brien
47
Posted 28/04/2018 at 18:01:24
So beating a giant team like Huddersfield and all is fine n'dandy again!!! Not for me, Sam needs to go.
He came in did what he was needed to do, he hasn't done it on the cheap, he's on ٤M a year. So I'm not going to feel sorry for him that still the vast majority of supporters want him gone.
If he doesn't go, we'll still be playing the most horrible football I've seen in a long while. We'll finish no higher than 8th again next season. Are some supporters happy with that? I'm not for sure.
Allardyce out!
Steve Brown
48
Posted 28/04/2018 at 18:03:15
The away fans today wanted him gone. They slammed him all game. Now for the home fans next week.
Simon Smith
49
Posted 28/04/2018 at 18:04:01
According to the BBC, Schneiderlin was outstanding again today and the fans were chanting his name???
Can anyone at the game confirm this? I hope so as there is a player in there!
Trevor Peers
50
Posted 28/04/2018 at 18:04:06
Wins breed confidence, even when Fat Sam is the manager, and if it happens often enough, the fans could back him in the end.
We'd all like a new manager who will bring wins and success, but try nameing him? None of the runners mentioned so far could be described as top quality; they each represent a huge gamble.
Paul Hesketh
51
Posted 28/04/2018 at 18:05:10
The title should read:
'Rare away win a boost for Sam's Big Ego'
Alan J Thompson
52
Posted 28/04/2018 at 18:06:07
Rooney, as well as the game plan, was awful. It's time for him to call time while his better days can be recalled. The performance improved when he was substituted but it would have been difficult to be much worse.
We have some decent players in there but we need somebody to ignite them, somebody in midfield to pull it all together. Again, poor performance but good result.
Steve Brown
53
Posted 28/04/2018 at 18:08:18
Emery, Sarri, Tuchel, Ancelotti, Mancini, Pellegrini. There you go Trevor.
And if you offered enough salary and showed ambition for the club, then you'd get one of them.
David Nicholls
54
Posted 28/04/2018 at 18:08:34
Off topic but Besic is having another stormer for Boro
Barry Williams
55
Posted 28/04/2018 at 18:19:27
Michael Kenrick (#26),
I have to disagree, mate, I consider that vitriol, not focus. Plus, it wasn't a meaningless game for Huddersfield!
Tony Everan
56
Posted 28/04/2018 at 18:19:41
Don't take your eyes off the bigger picture .
We have won a game against Huddersfield Town, for me nothing's changed, it is expected.
We are in a different financial league than Huddersfield Town, they have the 2nd worst defence in the league and are in poor form.
Please don't let this one result alter your opinion. Sam Allardyce is not the man to take us forward.
That is not to say I'm not appreciative of his efforts and the fact he has help stabilise us . He has done his job now it is time for us to move on, say thank you and goodbye.
John Keating
57
Posted 28/04/2018 at 18:20:09
Not knocking the win – actually glad of it – but, dislike Allardyce or not, one thing he has harped on about is true: he has consistently said that he doesn't make the players NOT pass to each other.
Some of the passing this season by players NOT under pressure is absolutely woeful. Today was no exception. The players have to be held accountable for their part in this horrendous season.
Paul Tran
58
Posted 28/04/2018 at 18:21:32
That was what used to be called a solid, unspectacular away win, with two very well taken goals.
Doesn't alter my view on Allardyce at all. If he stays, I could see us easily finishing 7th/8th next season. Given that I've been impressed with his two signings, he'd probably buy well in the summer. For all that, I can't see him taking us forward, exciting us, entertaining us.
I think Moshiri's silence is telling us that he's looking to clinch a deal with another manager. But if he can't get who he wants, it wouldn't surprise me if he took the view that a season of 7th/8th place 'stability' with Sam might make us a more attractive proposition next summer.
It's going to be an interesting few weeks.
John G Davies
59
Posted 28/04/2018 at 18:25:41
What is Tosun goals to games record?
Bearing in mind he has had very little service to work off.

Lawrence Green
60
Posted 28/04/2018 at 18:28:47
John (#59),
I think it's 5 in 12 I heard somewhere today,
James Hill
61
Posted 28/04/2018 at 18:29:08
Paul (#58),
Wishful thinking on your part. Moshiri is not dumb and it would be dumb to get rid of Sam. He'll prove you all wrong.
Jay Wood
[BRZ]
62
Posted 28/04/2018 at 18:29:35
This late run of form as the season closes possibly strengthens his hand with Moshiri.
Here are the respective league tables, based on the form of all games played on each of Everton's 3 managers watch this season:
Koeman, games 1-9. Third from bottom, in 18th place, already a minus 11 goal difference, 18 goals conceded at a rate of 2 a game, a paltry 8 points:
Unsworth, games 10-14. A respectable 9th in his 5 games (including the 4-0 win over WHU) with 7 points from a possible 15. Pretty much parity. 2 wins, 2 losses, 1 draw, 10 goals both for and against. Still conceding on average 2 goals a game:
Allardyce, from game 15-36. Surprisingly 6th, ahead of Arsenal, Burnley and Leicester. Won more games than lost (9-7). 25 goals scored, 26 conceded in 22 games. A clear improvement defensively compared to the other 2 managers, even with the 4-0 and 5-1 tankings vs Spurs and Arsenal respectively:
A case could be made that Unsworth, if retained, could possibly have done as well, even better, with more entertaining football.
But that overlooks his final 2 results - the 1-5 home thumping to Atlanta and the 1-4 capitulation away to Southampton (who since then have only recorded 2 more league wins in 21 matches) and the ignomity, during that Saints' game, of being joined and comforted from the stands by an ex-player and manager and club legend, Joe Royle. The likes of which I have never ever seen before at this level of professional sport.
Taken altogether and you know something...
Sam Allardyce really could be staying on next season.
That'll be a fun watch, on TW, if not for match-attending Blues.
Paul Tran
63
Posted 28/04/2018 at 18:37:33
James (#61). It is both wishful thinking and my judgement of the situation. If Sam stays, I will support him & the club and hope he proves you right.
Trevor Peers
64
Posted 28/04/2018 at 18:38:37
Steve (#53); We haven't been linked with any of those guys, maybe if we are, we can then speculate.
Gavin Johnson
65
Posted 28/04/2018 at 18:42:25
Exactly what I think Paul. You've echoed my feelings. I'm impressed with Tosun and Walcott and if BS does end up staying I think we will do better in the transfer market this summer, shifting quantity (8-10 out) and buying 4-5 quality players. We will finish 7th/8th again... But is that really good enough?! Especially with some of the performances we've endured?!
I think BS would have had a lot more time from fans if we had done better against the so called bigger sides. But the capitulations against Spurs and Arsenal showed where his head is at. He doesn't look at these games as winnable. I picture Big Sam going through the fixture list and saying I can win X, Y, Z games and this style of football will get me points in 73.8% (random figure) of fixtures against sides out of the so called top 6. It's only taken him so far in his career. It's playing the percentages and it's what Moyes has done (probably slightly better) and it brings personal plaudits if you manage a small club, or have the financial constraints Moyes had with us. Unfortunately this style of play doesn't work against the best sides and it's why Moyes and Allardyce have never won anything.
Over to you Moshiri... Do you want stability, or to actually challenge?!
Johan Elmgren
66
Posted 28/04/2018 at 18:42:57
Always nice to get three points and we actually looked solid throughout, but on the whole it was a rather boring game and boring gameplan as usual.
I saw a slight improvement today regarding the attacking play, it seemed Sam had released the shackles a little. However it was only in small patches in the game and it seemed random and kind of "it's up to the players" and "do what you want" type of attacking. No telling runs, little movement and definately no drilled patterns as a foundation for the attacking play.
This is the reason we are in 8th place, because our players are good enough to beat such teams on pure ability and playing intelligence. I would love to see what a manager who actually have some bright ideas around attacking, and drills it into the players, could do to develop this squad.
Some credit should go to Sam becauce we look a more comfortable side now than in the fall, but I think a lot of managers could have come in and done the same job as him, and many even could have done much better. However it's not enough, he has so many other shortcomings both as a manager and personally so there should be no argument against his sacking.
We need someone who cares about the players and raises their games, and someone with a positive approach that want to win every game we play. A manager who gives credit where credit is due, not blaming the team when we loose and takes all credit when we win. A manager that "writes off" games as no-win games should be nowhere near our team and club.
Allardyce out now!!
Christy Ring
67
Posted 28/04/2018 at 18:45:13
Crooks is the most overrated pundit on tv, and absolutely loves himself, like Andy Gray when he was on Sky.
Big Sam must know now that Rooney is not a midfielder; isn't it time to give Klaassen a chance? What has he got to lose, apart from hopefully his job at the end of the season?
Kim Vivian
68
Posted 28/04/2018 at 18:45:52
Thing is Jay, our opening 9 games for Koeman are incomparable with the last few games that Allardyce has had so, in all essence, those stats are meaningless.
However (and I only managed to catch a little under half of that game today because of work), what I saw did not seem half as bad as people are painting on here. I have sensed a slight improvement and I think that is what might be the clincher for Moshiri.
I agree with others that think that Moshiri is hedging his bets whilst he tries to land his preferred man, whoever that might be, and Sam's utterances yesterday are saying to me that, rather than be told he is staying, he hasn't been told he's going. A (not so) subtle difference.
The next month is going to be mighty interesting...
Kim Vivian
69
Posted 28/04/2018 at 18:47:10
PS Anyone know how to get the edit button back? It's annoying being told I can edit for a few minutes when I can't.
Jon Withey
70
Posted 28/04/2018 at 18:58:08
Another win under uncertainty – Sam knows how to grind results from the league – but would he ever win anything?
As others have mentioned - he just seems to give up on the big games – so probably not.
Glad Tosun got another.
Mike Gaynes
71
Posted 28/04/2018 at 18:59:29
Steve (#53), there is no amount of money or self-proclaimed ambition that is going to attract any of those managers.
Never. No chance.
Anthony Murphy
72
Posted 28/04/2018 at 18:59:32
Sam will be allowed to carry on next season. We may as well get used to it. Moshiri wants affordable stability whilst he pushes on with Bramley -Moore Dock.
We will finish the season quite strongly and reduce the appetite for a change in terms of manager and players - just what Moshiri wants. We don't have one player who would fetch big bucks in the transfer market and I don't think we will be spending a lot.
A disastrous run before Christmas may see Sam gone, but he'll start the season in the hotseat. You also have to bear in mind that Sam is probably quite well liked in and around the club – from players to the cleaners, he is probably popular and that'll make keeping him a little bit more palatable for Moshiri.
I would love to see a really dynamic, young manager come in who can get us playing with energy and passion, but we will have to wait for that I'm afraid.
john dubay
73
Posted 28/04/2018 at 19:03:37
Simon (#49),
I don't recall us chanting Schneiderlin's name but many were giving Sam a hard time, especially first half.
Bill Gienapp
74
Posted 28/04/2018 at 19:11:49
This is what's frustrating for fans. On paper, back-to-back wins - one home, one away, both clean sheets - looks quite good. Pundits look at those results, declare Allardyce is doing a tremendous job and suggest we're unreasonable/ungrateful for thinking otherwise.
But we know better, because we actually WATCH the matches.
We were utterly turgid against Newcastle, and literally scored on our only shot on target all game. It was more of the same in the first half today - we barely sniffed the opposition's box until Tosun struck on the counter.
We were better in the second half, but wasteful with our opportunities. Gueye's goal was well-taken, but the time and space afforded him was absurd. Huddersfield, usually organized and well-drilled, if nothing else, could scarcely have looked any worse today. Our defense finally looks settled and consistent, but was barely tested in either match.
We'll take the results, but these are not performances to build on, or to inspire optimism going forward.
Jeff Armstrong
75
Posted 28/04/2018 at 19:13:00
Just for clarity, Allardyce doesn't do cup competitions either, so don t hold out any hopes of a decent cup run next season.
Premier League status, it says on his CV – nothing more... nothing less.
Jay Wood
[BRZ]
76
Posted 28/04/2018 at 19:13:01
Kim @ 68. I meant to mention the comparative fixture list of each manager in my original post, but forgot.
If you want to give that weight, you might well ask why didn't Moshiri take that into consideration and allow Koeman more time to get it right with the players he (with Walsh) recruited?
Whilst not happy with how the season started under Koeman, I personally never thought that once the fixture list 'eased' that we were relegation candidates, either under Koeman or Unsworth.
I never wanted Allardyce and stated before and after his appointment that is was an unnecessary panic measure after 5 weeks prevaricating by the board.
Once appointed, I was willing to give him time and not vilify him as many have even before a ball was kicked in anger on his watch.
The point my earlier post makes is that Sam Allardyce can legitimately point to the fact that not only has he improved on the previous 2 managers who occupied his chair this season, but that he has also outperformed (results wise) all but 5 of the other 20 clubs in the league.
Hard to believe, I know, but the numbers cannot be disputed.
Now performances and his public demeanour are another matter. But on cold hard statistics, he has been a 'success'.
Let me be clear, I am not endorsing this as a course of action we should take. Just speculating on a possible scenario, given the data.
Moshiri might wish to stick with that, even just for the short term, whilst getting the stadium situation sorted.
Christy Ring
77
Posted 28/04/2018 at 19:14:56
Listening to Matt Le Tissier's analysis of our game, he said he can understand the fans frustration with Sam:
"Very little quality, even though they won 2-0, not the Everton way." Spot on.
Gavin Johnson
78
Posted 28/04/2018 at 19:18:42
Anthony (#72), My thoughts if he stays. The club is already in transition with Bramley-Moore Dock and restructuring with Elstone leaving, Walsh replaced or moved aside. Moshiri might not mind another season finishing 7th/8th and doesn't really care if Big Sam is unpopular. After all, Premier League survival was the goal in bringing in Allardyce this season. It was that bad.
The defeat at Southampton was one of my lowest points being an Everton supporter. Relegation suddenly became a concern and BMD would go tits up if the inconceivable had happened.
On the spending, I think we'll spend upwards of 𧴜m on 4 or 5 quality players, but we'll bring in 㿲-80m in estimated sales.
For example:- Players I'd like to move on and what I think we could get
Schneiderlin 㾾-20m
Besic 㾶-12m
Sandro 㾶m
Niasse 㾹m
Funes Mori 㾸-15m
Bolasie - 㾶m
Mirallas and Williams – nominal fees. Maybe ١m a piece if we're lucky

Sam Hoare
79
Posted 28/04/2018 at 19:30:06
It really depends on ambition right?
If we want to come 6th-9th next season playing pretty pragmatic, fairly dour football then look no further.
If we want to aim higher with some slightly more attractive fare on display then we must look elsewhere. Though of course there comes the greater risk of failure.
Moshiri is a businessman first and foremost and I think that a solid period of Everton coming 6th-9th whilst they concentrate on the new stadium will appeal greatly. Even if we did get a new manager he (or she) would have to work miracles to get us into top 4 and the riches that lie there.
So in a nutshell, get ready for a Summer of Sam.
Ian Bennett
80
Posted 28/04/2018 at 19:35:47
He surely has to go. A caller on Radio Merseyside was bang on - why would Moshiri back him in the transfer market this summer, knowing 12 months later he's going to be gone?
The fans aren't happy, and we'd be backing a manager that we know will move on within 12 months, and so will involve another clear out of players whilst we are supposedly moving down the Docks. Seems crackers that we are on this road…..
Kevin Tully
81
Posted 28/04/2018 at 19:41:34
Take your pick between Allardyce, Pardew, Pulis, Moyes, Hughes and a few more managers. All 'survivalists' who know their place. 4-5-1 merchants who wil pick up points at home and aim to keep the scoreline 'respectable' at the usual suspects. They'll never win anything, they don't entertain and they are ALL more concerned with keeping their reputation intact in the eyes of the footballing world than breaking down any boundaries.
They can all 'do a job' at Everton. We've spent more than £250m since January, 2017. To finish 7th? Fuck off! They are the precise reason why British managers never get a job at the big clubs. Risk averse conformists, who will drill good players to keep their positions and run all day.
We can offer, and have already paid one of the best salaries in world football to our manager. On what planet would you choose someone like Allardyce?
Andy Meighan
82
Posted 28/04/2018 at 19:42:30
What sort of board allows a manager to forfeit games? Oh yes, I forgot... ours! If Moshiri is really serious about his "project", then he'll run this loser out of town.
Personally, I wouldn't trust him to run down the corner shop for me. (Moshiri, that is.) I mean picking and choosing fixtures as win and lose games... Sacrilege!
This is what it's come to. The recent Man City home game being the perfect example. We rolled over and let them tickle our bellies when, just weeks before, a League One side beat them and a team struggling near the foot of the table were a missed pen away from beating them. Disgusting tactics!
Get used it though because it'll be more of the same if he stays.
Gavin Johnson
83
Posted 28/04/2018 at 19:48:17
Ian (#80),
I'm only playing devils advocate and hope Moshiri has something up his sleeve with a managerial appointment, but he doesn't need to back Big Sam with huge sums of money. Moshiri's brief might be stability achieving 7th/8th again, getting Allardyce to streamline the squad. and then push on with a new manager the following season.
We have lots of sellable assets, albeit at a loss on what we paid on a lot of them. We'll still spend big from player sales. A safe pair of hands might be all that he aspires until Bramley-Moore Dock is further down the line.
Craig Walker
84
Posted 28/04/2018 at 20:02:53
Well said, Kevin. I think it was you who posted at the start of the season asking whether Moshiri would be happy with 7th again after the investment. We're lucky to get 8th and only because it's a very poor league outside of the top 6?
I said when we appointed Sam that we confirmed to everyone that we are content with survival and mediocrity. That's what we've got. I'd have accepted 8th in November when we looked doomed but not last August.
It has been dull and I'm bored with Everton now. Too many false dawns and let downs. Too many debates about managers. One of the only positives is Pickford and he'll be off if he has another good season with us.
What is the point anymore? I'll be a Blue till I die but it feels like a sentence these days.
Dan Brierley
85
Posted 28/04/2018 at 20:09:22
Kev Tully, when you are in the relegation zone and bottom of your Europa League group after spending 𧶀 million perhaps?
He was brought in to consolidate and keep us safe until we find the right manager, hence the short-term contract. Anybody that expects that he was brought in to try and move the club forward and win silverware is obviously going to be disappointed; that wasn't his mandate.
He's done what he needed to do, and we are going to finish one position lower than last season which anybody would have taken at the end of October. I'm more than happy for him to stay until we find the right replacement; I don't want another knee-jerk gamble.
Paul Birmingham
87
Posted 28/04/2018 at 20:19:54
If Farhad Moshiri has a plan, the board need to tell the supporters. There could be an NDA until the end of the season, but all considered – World Cup, short transfer window, and moving to the Liver Building – my hunch is no change in manager for next season.
Moshiri's accountant will have told him so. No more underwriting contracts for piss-poor managers.
I'm struggling to see how we improve much for next season bar a miracle, with this squad and method of football.
Kevin Tully
88
Posted 28/04/2018 at 20:28:48
I don't see a single reason why we can't get the right man in this summer, Dan. We can offer a minimum of ٤m a season. If we can't improve on Allardyce for that sort of salary (or more) then football is well and truly broken.
We've suffered 4 seasons of dire shite on the bounce now, accepting Allardyce as manager for another season is just admitting defeat. We may as well just give up all hope now.
I was prepared to give him a chance, it's played out exactly as others predicted. Sunday League football.
Phil Walling
89
Posted 28/04/2018 at 20:43:48
Kevin and Gavin tell it as it is above. Except that that they are both looking for something better.
SEVENTHISH in the Prem doesn't do it for them even though our income and active support are both spelled that way.It provides the occasional jaunt into second hand Europe and brings a title of sorts as 'Best of the Rest.'
True, Royle, Moyes and Martinez have each given us a glimpse of higher ground but they were to be all too brief -the day trip rather that full excursion. Sam has shown that he could probably get us as far again -but he lacks charisma and fails to inspire.
So,for any careful owner, the Big Man will ring the bell - but let's just hope it's only until he can see it will take an even''bigger man to deliver on our dream !
Seventhish is is, then !
Tony Everan
90
Posted 28/04/2018 at 20:48:23
There seems to be a logical consensus that if we keep Big Sam we will coast to a nice 7th place next May.
Not necessarily so.
A bad run of form could turn very sour. Fans will be in meltdown. Players won't want to play for a manager who is departing in a few months time. He will have no loyalty or respect.
All those advocating keeping Sam Allardyce as a safe bet, think again.
More likely that stability and steady growth will come from a new younger and hungrier manager. Someone who wants a project and to build a team with togetherness and commitment for the longer term.
Better ideas and training. New blood off the pitch in training techniques and a new director of football.
There's no doubt there is risks either way . But for me the latter is the only way forward.
Andy Crooks
91
Posted 28/04/2018 at 20:53:16
Graham Mockford @ 27, sad to see you, whose views I respect, coming out with " mob mentality". This is not an underdog being picked on by a gang of bullies. This is a corrupt, arrogant,utterly limited, overpaid rogue who should, if the custodians of our club want to salvage an iota of the integrity they lost when they appointed him, be fucked off to oblivion with his ill gotten gains, taking Walsh, Shakespeare and Ferguson with him.
The notion that an undeserved, uninspiring win against relegation fodder should, in any way, negate how totally shite he is, is appalling.There are some comments on this thread that suggest to me that there are Evertonians who are prepared to be grateful for any crumb that this odious man drops for them.
Amit Vithlani
92
Posted 28/04/2018 at 20:58:54
A comparison of Allardyce's "top 6" form with Unsworth and Koeman should factor in a few points:
- The number of winnable home games against teams below he has had compared to his predecessors; Koeman lost one and won 2 whilst Unsy won both. Allardyce has won every game at home against sides below ua except for WBA. So a big chunk of the points garnered under him have largely gone on form, regardless of the manager.
- The manner of our performances under him against the top 6 - only in the last 15 minutes against Liverpool at home did we show any type of ambition out of a total of 540 minutes;
- The benefit of the January Window and the acquisitions of Tosun and Walcott, whose goals have contributed to atleast 4 wins
- Availability of Seamus and fitter Baines
- One game a week
- Unsy was not a permanent appointment. He had a game to game mandate and his lack of permanency cannot have helped him stamp his authority.

The spot light is on Moshiri. He spoke of a top 4 challenge when he took over. Expectations were downgraded to a top 6 challenge at the start of the season. He will concede a lowering of the bar even further by sticking with Allardyce.
Allardyce by his own admission sets limited value in beating the top 6 - believing that beating the bottom 10 takes priority. Further downgrading what we should be aspiring to.
His reign saw us endure a run of something like 8 games with 5 shots on target. Dreadful performances home and away against the league's bottom team and appalling second half displays away against Bournemouth, Burnley and Swansea. Humiliated against Arsenal and Spurs and at home to United and City.
These performances cannot be papered over by the two recent wins against sides in the lower reaches, surely?

Tony Stanley
93
Posted 28/04/2018 at 20:59:12
I don't like Sam Allardyce, have never liked him, and what he is doing at Everton football club is quite beyond me.
Keith Harrison
94
Posted 28/04/2018 at 20:59:39
You're right again Kev.
Sam Allardyce has done exactly what he was brought in to do. Lets thank him for it (a statue of himself, or a full length mirror would probably be appreciated😎), and move on.
Break the bank for Wenger mentoring Arteta for me.
For those who want to keep Sam, our opinions differ. You're still my blue brother I would hope.
John Raftery
95
Posted 28/04/2018 at 21:15:03
May all our away wins be undeserved and uninspiring! That was not a meaningless game for Huddersfield. They gave everything they had having targeted the match as the only one they fancied winning before the end of the season. Pickford had hardly a save to make while we could have scored a few more with better finishing.
I realise winning games does not suit the 'we hate Allardyce' narrative but all the evidence on the pitch today was of a group of players fully behind the manager. That is not the case at many clubs stuck in mid table with nothing to play for in the closing weeks of the season. An obvious example of that would be Leicester City where the players appear to have downed tools if a 5-0 defeat by mighty Crystal Palace is a fair reflection of their effort.
Mike Connolly
96
Posted 28/04/2018 at 21:20:46
Fans happy to finish 7th with Sam next season? Me, I'd be happy to finish 12th playing good football. It would be fantastic to see some good football from us at Goodison Park, it's been missing for two years.
I would get Wenger in; we would see better football. Also, he supposedly organised everything at Arsenal right down to the ground staff. Moshiri would have someone to bounce ideas off instead of the bullshit fed to him by Kenwright and his cronies.
Wenger did not invite any of his ex-players back to the club. So it could be, bye-bye to Jeffers, Dunc and god knows how many more hangers-on we have.
Once again, I just want to see us play decent football.
Jeff Armstrong
97
Posted 28/04/2018 at 21:21:34
So the likelihood is we finish 8th, runners up to Burnley as "best of the rest"?
What an absolute shit and turgid league this has become...
Best league in the world? My Arse!
Michael Kenrick
98
Posted 28/04/2018 at 21:25:21
Raymond (#37), I think you've made the same point in many previous posts about us lacking player quality, and that being what holds us back. I think there's more to it than that.
There is another part to it, and I believe it is potentially more important – that is the manager and how he connects with the team. Arguably, the last time we had a manager who really made that connection, and who was a real winner, was Joe Royle. And yes, he won us a trophy.
Look elsewhere on TW to see two threads from our Football Manager exponents, Steve Ferns and Gareth Clark. Neither of them is calling for the mass clearout that would be required to stock us full of 'top 6' quality players. Just a few strategic signings.
And look at Leicester City of 2015-16. A short-lived fluke, yes, but they had neither a stand-out manager nor particularly high-quality players, yet it all just clicked for them. I'd like to see us do something like that in the short-term, and I think it probably could happen with the bulk of our existing players, if we found the right manager.
That manager is not Samuel Allardyce.
Dave Abrahams
99
Posted 28/04/2018 at 21:59:34
I only saw the second half, which according to reports we played better than in the first half, well nothing really aroused me in the second half against a team that looked worse than they did at Goodison earlier in the season, they were woeful but still coukd have scored two, Everton deserved to win but there was little merit in beating such a poor team as Huddersfield.
Sam has done what he asked to do, keep us up in the few months that was left in the season, he is getting paid three times the money for his effort.
There is nothing for Evertonians to look forward to next season if this man is left as manager, he will not change the dull, boring defensive football he has asked his players to play for all of his time as a manager, hopefully those running the club know this and will get rid.
Ernie Baywood
100
Posted 28/04/2018 at 22:35:36
We played well. Best I've seen us play in a long time and it was evident from the first whistle. Maybe the players were getting behind their embattled manager? One game doesn't change what I've witnessed since November, though.
Every day he's at this club diminishes our standing. We have media rushing to state that we are unrealistic for expecting better than Sam. Supporters of other clubs are doing the same.
It's Sam Allardyce! We struggle to have a shot on target per game and people are bemused as to why we don't want him!
Everyone sees us as small time. This is a club who finished 7th last year, has money, been in the top division for eons. We're footballing royalty! This is the kind of damage that appointing someone like Sam does.
If it takes mob mentality, then so be it!
Anthony Murphy
101
Posted 28/04/2018 at 22:43:32
I don't think anyone (unless I'm wrong?) is advocating that Sam is the man to take us forward, more just a realisation that keeping Allardyce may suit Moshiri's needs in the short term.
Let me reiterate – I would love nothing more than to be at Goodison Park next season with someone like Unai Emery screaming orders at our new, exciting midfield dynamo, but my money is on another season with Sam at the helm and a few tweaks to the squad.
I am at my wit's end with the Blues and Sam plays a big part in my Everton downer right now, but a genuine question – Would you take Sam for another season if work was to start on Bramley-Moore Dock in that time?
Andy Crooks
102
Posted 28/04/2018 at 22:46:26
John@ 95, firstly, I don't hate Sam Allardyce. I have no respect for him – which is entirely different. Perhaps I am wrong but you seem to be implying that those who want Allardyce gone would like to have seen us lose today. Not so.
Andy Crooks
103
Posted 28/04/2018 at 22:49:35
Anthony, no.
Tony Dove
104
Posted 28/04/2018 at 23:13:07
Basically you get what you deserve. Arsenal fans have chanted endlessly against Wenger and have stopped turning out for home games. He has gone.
Here, there are no protests at Goodison against the alien and his cohorts and season ticket sales are at a record level.
Dan Parker
105
Posted 28/04/2018 at 23:34:57
I fail to see how anyone else could have taken us from where we were to where we are in such a short period of time.
It's easy being an armchair warrior. Is Sam the man for the long term? No. Is he to blame for our disastrous transfer policy? No. Newcastle fired him whilst in the top 10 and got relegated not long after. Bolton after a period of Sam Allardyce defensive football played some good stuff once stable.
Unfashionable, maddening, right guy for the long term? No. But I don't think he deserves the abuse he's had – that should be solely reserved for the board and calamitous periods under Koeman and Martinez.
Dave Bowen
106
Posted 28/04/2018 at 23:36:08
What a stupid headline! Sometimes I think some Blues would rather see us lose to suit their anti-Allardyce agenda.
No, I don't think he's the manager to take us to the next level & no, he'll never have us playing like Brazil 1970, but he deserves respect for doing the job asked of him, because make no mistake, we were definitely in free-fall when he arrived.
As for boosting his ego, well my weekend is better because we won away, which didn't happen very often under the last 3 managers.
James Flynn
107
Posted 28/04/2018 at 23:40:46
John (95) - "the evidence on the pitch today was of a group of players fully behind the manager."
No denying this. We need some better players for sure. But the ones we have are still getting after it.
All I can hang my hat on this season. So I am. Keep fighting lads, so we can get to 54 points.
Dennis Stevens
108
Posted 28/04/2018 at 23:44:24
Yes Dave, as I recall we had free-fallen up from the bottom three.
Keith Harrison
109
Posted 28/04/2018 at 23:53:04
Conspiracy Theory No 472.
The players know Sam is going and put a swan-song on for him like against West Ham for Unsy.
Perhaps the next manager will claim credit for the victory too.
Andy Crooks
110
Posted 28/04/2018 at 23:56:33
Dave Bowen, name the blues who would like to see us lose to suit an anti- Allardyce agenda. We were not in freefall when he arrived, we were never being relegated. He deserves not one fucking iota of respect because with the squad we have my cat could have saved us.
Roy Hodgson is a better manager and a better man yet you think that the corrupt, money grabbing scoundrel who mocked Roy's speech impediment is worthy of respect. He is a stain on our club. The headline is spot on.
He has the ego of a winner but he has never won, or come close to winning a fucking thing. You are actually defending him. We beat a shite team who will likely be relegated and we were lucky. Respect Allardyce?
Pete Clarke
111
Posted 28/04/2018 at 00:01:15
Sam has definitely steadied the ship a little. However, it was only recently that he blamed his players for not passing to each other and not taking their chances in front of goal.
We very rarely threaten the opposition goal and yet, when we do, he expects one of our defenders to be lethal in front of goal!! As for the passing... well, isn't he supposed to put them through drills on this stuff to sharpen them up!!
He really grates us with his dour rhetoric and this matches his football which is hard to take in the short-term never mind for another season.
We were struggling and he has come in to sort it out. Job done – so time for somebody who knows how to play the game properly.
Trevor Peers
112
Posted 28/04/2018 at 00:08:52
Genuine signs of an improvement today, especially as we were away from home. The fact that we have good season ticket sales as well means Allardyce is going nowhere next season.
For all those who despise him, tough, most Evertonians I talk to are satisfied with his progress. The views on TW only ever represent a snapshot of opinion, I doubt Allardyce will ever be even moderately popular on here, but winning matches will only win more fans over and breed confidence, that has to be progress.
Dave Bowen
113
Posted 29/04/2018 at 00:14:00
Andy Crooks. Are you happy we won today or not? Because you don't sound very happy.
Andy Crooks
114
Posted 29/04/2018 at 00:23:29
Dave, I was watching final score today and when the second goal went in I jumped out of my chair and shouted YES!!
Fran Mitchell
115
Posted 29/04/2018 at 00:30:38
If he stays, then say goodbye to Lookman, Dowell, Vlasic, Davies and any other talented youngster.
He'll buy 5/6 highly competent 20 million + 28/29 year olds, and we'll finish 7th with rather dour football.
Then he'll leave, we'll have a squad of 31-/32-year-olds, a new manager will have a heck of a job and then relegation is a real possibility.
We NEED a manager who will be effective now, and build the club in the future too.
Allardyce has no interest in the state he leaves the club, the fact that 3 clubs have been relegated after he has left is a testament not to his ability as a manager, but his failure as a club builder.
So considering that, get rid now and rebuild with a plan.
Dave Bowen
117
Posted 29/04/2018 at 00:57:36
Fran, don't get me wrong, I'm not a fan of Allardyce, just sick of all the hyperbole on here. I agree with most of your points but what manager with the possible exception of Pep Guardiola cares about the state of a club when he leaves? Certainly not one of the most successful managers around, Jose Mourinho.
Paul Birmingham
118
Posted 29/04/2018 at 01:08:13
The end of the season is very soon; let's see what happens.
The worst season in modern times is due to many factors, but not all Sam Allardyce, but in terms of football, then football, is not the word.
This season has seen in my opinion lazy players, most totally ill-equipped for the Premier League.
All said and done, and reality checks, where have we been for 30 years?
The board?
Paul Birmingham
119
Posted 29/04/2018 at 01:14:41
Easy to blame the current charges, but the club has been rank as most and all have agreed for 30 years.
FM and the hope... Is only hope.. There's no guarantee to instant success, as we know.
It's a reality check, but we as a club, are where we are.
Now for some honesty from the board.

Andy Crooks
120
Posted 29/04/2018 at 01:38:19
Dave, I am getting you wrong. You are a fan of Sam. You think he deserves respect. He doesn't; he is, by his own admission a money grabber. He saw someone with talent driving a Jag while he drove a Morris Marina. He decided that he wanted a Jag and would do what was necessary to get one. Never mind that he was devoid of talent. He wanted one.
Well, fair enough, there is nothing wrong with ambition. He has done it, he has made his money and he has done it without winning a thing. I hate that our club are giving him more money. Yes, I might be "unhinged", but seeing this corrupt man with our motto on his shirt turns my guts.
Gavin Johnson
121
Posted 29/04/2018 at 02:28:04
Andy, do you dislike Big Sam as much as you disliked Roberto Martinez? I've not seen posts as animated and angry as this since the days of Bobby Brown Shoes.
Jay Harris
122
Posted 29/04/2018 at 05:06:53
I am grateful to SA for stepping in and steadying the ship when noone else was available or capable but with a career average of 34% win ratio and a reputation to produce palpitations among supporters I believe and hope he will be gone before the new season along with Walsh, Kenwright (August deadline) and Elstone (currently serving notice).
I then look forward to the arrival of Brands, Fonseca or Emery and Dein or Cortese.
NSNO!!!!
Andy Walker
123
Posted 29/04/2018 at 05:53:26
Michael (#98), I do think Leicester had stand-out elite players when they won the league. Vardy, Marhrez, Kante, Schmeichel are at least 4. We simply haven't got those type of top, top players in our squad, other than possibly Pickford, although he's not top 3 quality -– yet, at least in my opinion.
Ernie Baywood
124
Posted 29/04/2018 at 06:26:30
I simply refuse to accept that this was the only way we could avoid relegation.
Obviously anyone who disagrees with that statement is going to have a different opinion regarding what Sam has done in his time at the club. Argue all we want but we'll never know for sure.
I don't hate Sam. I don't particularly care about Sam. What I don't like is the fact that we appointed him, and the impact it had on our standing.
The claim that we're just a small club is very justifiable now. We stooped to the lowest depths to ensure safety. We practically threw in the towel for games against the 'big' clubs. I just can't accept that. That's not the club I love.
Steve Brown
125
Posted 29/04/2018 at 06:51:06
Mike @71, 'Never, no chance, no way' should be our new club motto.
Brian Porter
126
Posted 29/04/2018 at 07:14:05
With regards to Wayne Rooney, He is the same age as David Silva, and is YOUNGER than Christiano Ronaldo, (by a few months), Arjen Robben (32) and Daniel Alves (33). There are other players in Europe, older than Rooney, who by sheer professionalism have looked after their bodies and their fitness in order to ensure they can continue to compete at the highest level.
It kind of tells me that Wayne is NOT the supreme professional he is often touted to be by the media or those so-called experts on the game who would have us believe he is one of the all time greats of the game.
If he was half as fit as the players mentioned above, then that may be true, but for me, he was a very good player who by his profligate lifestyle, has allowed his body to go to seed. He would probably be OK as an impact sub with less than 30 minutes to go, but is definitely not a starter any longer, sorry Wayne. More money poured down the drain.
Steavey Buckley
127
Posted 29/04/2018 at 07:49:46
It is not Wayne Rooney's fitness which is a concern, but his passing in the last third, which was bordering on the atrocious in yesterday's match. Everton could have scored more if only the passing was much better. If Iniesta is looking for a new challenge, he would be much welcome at Goodison Park with his accurate passing and comfort when the ball is at his feet.
Eddie Dunn
128
Posted 29/04/2018 at 08:17:29
Sam has done his job and we will finish 8th. I would have settled for that back when Koeman was sacked.
The team has improved mainly due to the influence and stability provided by the returning Coleman, Baines and Jags. Walcott and Tosun have also contributed to our improvement.
The club must pay Sam off in the Summer and bring in a coach who will fire the imagination of the players and the fans.
I just watched Palace on MotD and the play was so far ahead of anything we have produced this season. Surely we can do better than the dross we have been putting up with?

Roger Helm
129
Posted 29/04/2018 at 08:36:47
Let's stop talking about Sam leaving in the summer because it won't happen, unless there are mass demonstrations at GP which I can't see happening either.
Look at it from Moshiri's point of view. He is not bothered about champagne football or the School of Science. He has a manager who steadied the ship, got us into the top half from an uncomfortable place, made two good signings in January and preserved our precious PL status while the new stadium thing is going on.
Why would he sack him? Sam may even get a contract extension at this rate.
Ian Hollingworth
130
Posted 29/04/2018 at 08:55:18
Just over a 1000 signed the petition on change org, that isn't going to rock the boat guys.
With season tickets signed up the board just may think like the rest of the football world that Everton are where they belong.
We the fan base have for far too long accepted mediocrity.
23 years and counting guys and all under the stewardship of the greatest ever Evertonian.
Thanks Bill.
Tony Everan
131
Posted 29/04/2018 at 09:07:28
We have won a match against Huddersfield Town now Sam Allardyce is the the answer to all our prayers.
We beat Huddersfield now we can finish the season content. We can live in a utopian world where we are guaranteed 7 th place next season.
All hail the big man.
We beat Huddersfield Town, time to change your opinion of him and start chipping away at the marble for his iconic and everlasting statue.
Glue it onto the side of the Holy Trinity one.
The fickleness of some fans because we have eked out a result against Huddersfield Town is truly amazing.
If we beat Southampton and West Ham there will be calls to give him a lifetime contract and a place on the board.
We get beat by Southampton, the same fans, like a field of wheat in the wind, will be calling for his head.
Simon Smith
132
Posted 29/04/2018 at 09:21:23
There is barely a mention of the actual game through the entire thread! Like him or loathe him, the man definitely takes the centre of attention. If he does stay for another season I do hope conversation on here can veer away occasionally from Mr Allardyce, as it gets very tiresome! You could just copy and paste a thread from a month ago and no one would know the difference!
James Marshall
133
Posted 29/04/2018 at 09:25:56
Allardyce is a fire fighter and we were ablaze when he took over - I don't understand why people are so up in arms about him being the manager at the moment.
We screwed ourselves, and I think it was Alan Shearer who said words to the effect yesterday about Sam Allardyce 'having Everton over a barrel' when he took over (in reference to the contract) and I agree with that entirely.
The fact is we were in massive danger of being relegated and to quote Shearer again, when you look at every other club that was in the shit who changed their manager, every one of them is still in the shit, while we're 8th and were out of trouble months ago.
Love him or loathe him, he's done the job and done it well - that's not to say I, or you should enjoy watching us under him. I certainly don't.
Under Allardyce we're 6th in the division, which when you look at the shit show he inherited is no mean feat. He DOES deserve some more respect in my view, but again, that's not to say anyone should be happy with the situation - it's a fact that the issues at Everton are not the fault of Sam Allardyce and if you want to blame him for winkling a high paid contract out of us, then you're not understanding modern football very well.
The game is AWASH with money, absolutely laden with the stuff and if you think people don't want their slice, then you're sorely mistaken. I (and you) would have done exactly the same thing.
Tony Abrahams
134
Posted 29/04/2018 at 09:42:18
Steavey@127, my own opinion is that if a player of Wayne Rodney's quality, is consistently giving the ball away, sometimes under no real pressure, then it is because the game has got too fast for him?
I have the same opinion as Brian@126, but I was talking to someone who his at finch/farm most days, who told me Rooney, looks as fit as anyone else in training. His words in fact were, that he's one of the fittest.
This fella was advocating dropping Wayne deep, whilst my own opinion is that I would have Rooney on the bench, but ready to give us a very good last 25 minutes when required?
Anyway some reports are suggesting Everton are ready to offload him, and it must have been like a mafia's meeting the other day if Steve accompanied Sam!
I can Imagine Sasha shouting just tell us who fucking recruited these players Sam? With Farhad, shaking his head, and telling him, he will get his fucking bonus, if he learns to keep his mouth shut... some chance!
Steve Ferns
135
Posted 29/04/2018 at 09:48:31
Tony, if Rooney is really so bad, why where they after him all game, usually closing him down in 2's? They clearly saw him as the danger man and set about trying to shut him down. If you're put under pressure, you make mistakes.
I do agree with what you're saying, but I'm sure Wayne would not and would point out that he was the player on the pitch, for both sides, who was given the least time on the ball, and that what we saw was a result of this.
I'd like to see Klaassen given a chance now. But this would mean mobility is needed and technique. So keep Vlasic on the left, and play Davies instead of schneiderlin. That said, can Allardyce implement a one touch game?
Steavey Buckley
136
Posted 29/04/2018 at 09:52:07
Tony (134) Pirlo was never known for pace even when he was much younger when giving the England team a run around with his equiset passing when he was 35 and 36 years of age while playing for Italy. It's because Wayne Rooney at present is very careless with his passing not because of fitness issues. If Wayne Rooney could have been accurate with his passing yesterday, the match would have ended as a contest at half time as Everton were bombing forward at will up until then.
Steve Ferns
137
Posted 29/04/2018 at 09:59:16
Pirlo was also inconsistent. Maybe you guys recall the England game, but none of the others in that World Cup.
England gave him respect but ultimately backed off him. He had time to play. Other sides in the same World Cup got about him, like Huddersfield got about Rooney.
Pirlo moved deeper with age to try to find space on the pitch. He found it and was very successful, but then opponents wised up and put a man on him (imagine Davies in the number 10 position but his primary role is to make Pirlo). This then reduced his effectiveness. When he moved to America, he was dreadful.
I wonder how many commenting on Pirlo actually watched him in his final 3 seasons in serie A?
Tommy Carter
138
Posted 29/04/2018 at 10:11:18
No point comparing Rooney and Pirlo. Two different players/people and only one of them plays for Everton.
Rooney has given away sloppy passes all season, he occasionally gets one absolutely bang on and it is the kind of pass that no other player in the squad is capable of delivering. But it's all too rare and at the cost of having someone else in the team. He's finished.
The game moves too quickly around him, it's a young mans game in the premier league where unfortunately, pace, power and pressing can overwhelm players of ability who lack these qualities. Wayne does lack these qualities, I've no doubt he's fit in the sense of the word that he could run 12km per game, but he is no longer to supplement that with the short bursts of explosive power required - the result being is that he's playing these passes and touches with a sharp mind but a tired set of body parts - this split second delay between mind working and body reacting makes a huge difference in this league
John G Davies
139
Posted 29/04/2018 at 10:13:13
Pirlo?
That's not how I remember him Steve.
Not at all.
Instead of concentrating on the negative aspects of his last three seasons in Serie A, when he as in his mid thirties, concentrate on a player with the ability to dictate the tempo of a game, speed it up slow it down when he decided.
Max Murphy
140
Posted 29/04/2018 at 10:18:57
Allardyce gets a lot of stick on here. If we'd appointed any other manager, would we have done any better at this stage of the season? I don't think so.
Players have to look at their own individual performances. Let's just look at just one game: Burnley away. Keane was absolutely rubbish and virtually lost it for us, after we were 1-up.
If we'd taken anything from that game, draw or win, we would have been strong contenders for 7th spot and European qualification. Is that Allardyce's fault? Of course not. Some of our players have been diabolical this season and lost us valuable points.
Bash Sam all you like, but he is Everton's manager. At this stage in the team's progression, we need stability. I would give Sam his additional year so the club and team can move on to better things. Bringing in another management team, will mean half-a-dozen games without a win while the manager "settles in".
In November, would you have taken 8th position finish?
James Marshall
141
Posted 29/04/2018 at 10:31:36
Pirlo was one of my all time favourite players, but he played in the relatively (compared to the PL) sedate Serie A.
Rooney is trying to play the same role surrounded by 100mph footballers so the comparison falls a bit flat.
It is worth noting as said above, that Rooney is closed down very quickly, and usually by 2 players so yes me makes mistakes. That said, I still think he does the job well.
Martin Nicholls
142
Posted 29/04/2018 at 10:35:24
Simon Smith#49 - yes, the Schneiderlin chant was heard late in the game yesterday. In fact, my mate turned to me and remarked that he had thought he'd never hear it again!
Kim#69 - Lyndon covered the problem with the edit button earlier this week by saying those (including myself) having this problem should contact him - he will need to know if your name appears below the grey "flag this comment".
To those having a swipe at Michael for the headline to the match report, if you think you can do better, why not report yourselves?
Finally, Duncan F was at it again yesterday with his dismissive gestures towards our away support. I find it very odd that Duncan should choose to publicly ally himself to Allardyce rather than to fans who have supported him through thick and thin for over 20 years and despite his many misdemeanors. This was a man who came alive and was motivated against teams who are now part of the Sky Six - Allardyce by contrast chooses to surrender to those same teams before a ball is kicked. Strange bedfellows indeed! Whatever his feelings, he would be well advised to keep his hands in his pockets.
Colin Malone
143
Posted 29/04/2018 at 10:42:17
Give Phil Jagielka a contract extension. Not only is Jags a great defender, Michael Keane is improving, playing next to him. If your fit enough, your good enough, age should not come into it.
Jags for England. Seconded by Jordan Pickford.
Ernie Baywood
144
Posted 29/04/2018 at 10:45:11
Alright, moving away from Sam, what are people's thoughts on Tosun now we've had a good look at him over a few games.
My view is that he hasn't convinced me that he can be a top player. I watch him through games and, sure, he doesn't get much service, but I'm usually left just a bit underwhelmed. For example a few times he got long balls played past him, but wasn't really in a position to receive anything else. Or he was given tricky passes and couldn't do anything with it. Goal aside, I don't recall seeing him do something where you thought "he's done well out of that situation" - more often than not it was "he lost it, but we didn't exactly give him much of a chance".
Then there's the goal, which was taken so clinically. But can a clinical striker with limited pace really offer more than, say, 10-12 goals a season?
James Marshall
145
Posted 29/04/2018 at 10:53:44
Ernie - I know what you mean, he's a funny one to try & work out.
He can clearly finish, and that alone marks him out as useful. Every time he scores I think, "wow, this kid is a really good finisher" but the rest of his game is hard to read.
To be fair to him he's playing in a tough league, up top on his own in a fairly average team, and has only really had a run in the team quite recently so I'm of the opinion he can score goals, and should be in the team.
We were spoilt with the lazy Belgian goal-machine, so Tosun is our current option, and I believe, a decent one given more time to play and adapt.
Steve Ferns
146
Posted 29/04/2018 at 10:58:17
John, Pirlo was a great player. No doubt. And one of my favorites. He was hardly flawless. And why not mention his twilight years? We're talking about Rooney's final years as well, if not his final season.
I don't deny he's been poor in recent games, but he's still our top scorer, but how many has he scored since Allardyce came in? He's frequently been played with pedestrian players around him like Schneiderlin, when he needs mobility like Gueye, Davies and Baningime.
A big factor for me was the pressure Huddersfield put him under. Sure, Rooney at his best would have made short work of that, but he hasn't got the speed in his legs, or quickness in his feet, to create the space he needs.
It's clear though that he seems to lack the composure to excel in a deep playmaking role. If he gets another year at Everton, then he's on the bench for sure. And to be fair to Allardyce, he'd be on the bench now and is only playing because of injury to Schneiderlin.
If I was him, I'd go for the one last payday in America. Even there I think he's not got long left, but he would have more space to operate and more time on the ball. Just look at how Zlatan has done.
Simon Smith
147
Posted 29/04/2018 at 10:59:09
I like Tosun. He seems to be a very good finisher, even if he lacks attributes in other areas. I still think that this is an area of the team that we need 1 quality signing. Although the going rate for a top quality centre forward will be upwards of £60 m this summer! I can't see it happening.
Tommy Carter
148
Posted 29/04/2018 at 11:05:49
#142 Martín
Duncan has to do this because without Sam, he won't have a job. The guy cannot string a sentence together, his contribution to 'coaching' this team is nothing short of pathetic.
He was hired on misplaced sentiment alone. I suspect Kenwright has something to do with him staying all this time. If he leaves us, there'll be a dearth of takers - he knows it himself.

Steve Ferns
149
Posted 29/04/2018 at 11:06:16
Tosun is decent. He's as good as anyone at our level with the exception of Vardy.
He lacks speed, height, or trickery. Skills top strikers usually have at least one of. But he can finish. I've yet to see evidence of this Bull style the Turks suggested. He doesn't seem to be very strong when up against premier league defenders.
Everything said, he's still new, he's still settling in, and no doubt he'll be better next season. I'm happy for him to get 9 off Sandro and be our main striker with competition from Calvert-Lewin and another cheap option who can provide something else from the bench.
Tommy Carter
150
Posted 29/04/2018 at 11:32:14
#149 Steve
He's still finding his feet in this country / league. Not bad considering just two months ago he wasn't getting a look in because Sam didn't fee he was up to premier league football at all.
He'll be a very good player, better in a side that creates chances.
I think technically he's very good, he's strong enough to lead the line on his own and his first touch and awareness is very good. Most importantly, if there's a chance to be had, he'll find it and is very good at putting them away.
Not sure what type of player to compare him to as I don't like to make comparisons, but he'll be a decent striker who's capable of getting 15-20 goals a season.
John G Davies
151
Posted 29/04/2018 at 11:58:10
Rooney is the second best footballer I have seen in an Everton shirt.
Unfortunately he's gone.
His body won't do what his mind is telling it.
Peter Gorman
152
Posted 29/04/2018 at 12:08:17
Cenk Tosun has everything required to be a prolific goalscorer for us, except teammates.
Kim Vivian
153
Posted 29/04/2018 at 12:09:57
Thanks Martin (142). I have sent an email to Lyndon.
Mike Kehoe
154
Posted 29/04/2018 at 12:14:49
Somebody mentioned a Besic having a stormer at Boro, he played pretty well put some nice passes about and then lost his mind when they were two nil up with a couple of minutes to go. He's a lunatic playing at the correct level for his ability.
Bobby Mallon
155
Posted 29/04/2018 at 12:31:40
No Besic is better than any of our midfield that we have by miles. There are people happy with sniederlin after 3 games. Mo would not have let us down not once he would die for this club same as McCarthy
Dermot Byrne
156
Posted 29/04/2018 at 12:35:11
If Besic now our aspiration, god help us!
Martin Nicholls
157
Posted 29/04/2018 at 12:41:38
Tommy#148 - I'm with you on that although it'll take Kenwright to go before Duncan does.
Winston Williamson
158
Posted 29/04/2018 at 12:43:12
Imagine going into work everyday not knowing if it'll be your last. Now imagine the football media asking about your next day at work, constantly, everyday. Imagine your employees' attitude to your ideas if they know today may be your last day.
That was Unsworths job.
Tad hard to judge the guy under those circumstances.
As for certain relegation? In November? Was Crystal Palace certain relegation fodder? No club is relegated in November. As a very limited manager has just proven!
Some people like comfortable. I'd imagine SA represents comfort for some! He removes an unjustified threat of possible relegation.
He just makes me feel sick! Sick that he's contaminating our club! I feel like a tramp is fornicating with my significant other...
Paul Tran
160
Posted 29/04/2018 at 13:17:06
At this point, sorting out how the club is run, appointing a robust CEO, ensuring clear roles, responsibilities, KPIs and making sure all staff are accountable to them is far, far more important than the next hastlly-appointed management team.
Dennis Stevens
161
Posted 29/04/2018 at 13:22:27
Aye, Paul that all needs address as a matter of urgency. However, I'd say it needs to be addressed simultaneously not sequentially.
Barry Williams
162
Posted 29/04/2018 at 14:30:50
Allardyce in many ways hasn't helped himself with media comments, though I think he was onto a hiding before he'd even taken charge of a match. However, for the first time in decades I really did think we were in danger of relegation. I had never seen an Everton team (first match 1980) lacking application, spirit, cohesiveness or fight on such a scale before. Some of the performances at the beginning of the season were shocking, even given the schedule and teams we had to play.
I initially defended Koeman and it then became harder and harder to do. The players were like strangers, partly down to having too many new starters and partly down to confusion of styles in my opinion. I think Unsworth did a decent job under the circumstances, but we still looked in a very precarious position. Allardyce came in and achieved what he was meant to achieve. Whether we would have stayed up or not anyway is down to opinion, I feel we were on a downward spiral in many aspects, despite the best efforts of Unsworth. If we'd have been relegated then that would have been the worst thing that could have happened to this club. Clubs don't seem to automatically bounce back anymore. What would have happened to the proposed new stadium, what players would we have attracted and how damaging would it have been to the commercial side of things?
Like him or loathe him, Allardyce has kept us up at a canter and has brought in 2 decent players too. I am not a paying customer much these days (hard to be in China), and I can understand the match goers, especially the away supporters, voicing their concerns. But imagine if we'd have gone down! I couldn't fathom why people thought that Silva was the answer, but there you go. Am I saying we should keep Allardyce, no! However, I can certainly understand him defending his corner and others coming to his support. We are, points and positional wise at least, much better off than previously. That could be down to having no Europa games, or cup competitions (how sad that sounds), but he has done what he was employed to do. For that, he should be given at least a modicum of credit.
Johan Elmgren
163
Posted 29/04/2018 at 14:39:49
A quote from Allardyce doing the rounds today: "I can't honestly produce anymore than I'm doing."
There you have it in plain writing! He doesn't have the knowledge to take us any further, and he has admitted as much himself. If we are happy with the style played and the position reached, then sure, keep him on. If we want to challenge and improve, we need a new manager who can get the best of the players we have... because they can play better and more attractive, attacking football, I have no doubt in my mind about that...
I know what I want!
Allardyce out now!!
Barry Williams
164
Posted 29/04/2018 at 14:47:11
Johan Elmgren - 163
It could be argued that under his tenure we are the 6th best club in the league, thus it could also be asked who could have improved on that with only 1 transfer window?
I really don't believe I am on her defending Allardyce as Everton manager!
I am not saying he is the answer, it was just a shame that we got ourselves in a position in which he was one of the options. My point is, if he farted gold and donated it to the club, people would still find fault in everything he says and does!
John G Davies
165
Posted 29/04/2018 at 14:51:56
Could be worse... We could still have The Moyesiah in charge. 😁
Johan Elmgren
166
Posted 29/04/2018 at 15:11:59
Barry, I don't think that stat has much bearing to be honest, we had met eight of the nine best teams in the league when he took over. He has met most of the teams we are "supposed" to beat twice, something the other teams haven't during the same period, hence he've had a much better chance to assemble points.
The man himself bandies that stat around like it's the most important statistic out there and along with all the other self-proclaiming he does, is it that strange that our fans dislikes him and finds faults at anyting he does? He's so far away from what Everton stand for, and that along with the extremely dull gameplans he draws up, it's no wonder why so many want him out...
Allardyce out now!!
Mike Kehoe
167
Posted 29/04/2018 at 16:04:50
I've seen these stats about Allardyce being the sixth best in manager since his appointment but, for me, it doesn't suggest he is capable in any capacity. There is a strong squad somewhere in there and any manager would be capable of his limited 'achievements' given the resources and the return of the fullbacks.
Would a competent manager have been bamboozled at Bury by the underhanded chicanery of playing with two up front after starting with just one? Of course not, and the disgraceful debacles in London are utterly unpalatable and unforgivable. He is a one-trick pony who is capable of delivering safety and nothing else and Everton will always be too good for him.
It's this mad parallel universe that doesn't apply beyond football whereby fantastic wealth has paid for mediocrity: it happens nowhere else, the likes of Aqua aren't asked to conduct the London Philarmonic Orchestra to do a season of Bach because they achieved modest success years ago.
I never thought we were anything like relegation candidates and felt like appointing Lardiola was the same as shitting your pants and building an ark at the first sign of drizzle. Get rid now and let's see what a proper manager can do.
Tony Abrahams
168
Posted 29/04/2018 at 16:19:50
Steve Fearns, and Steavey Buckley, read what Tommy Carter, has got to say, because I wasn't talking about yesterday's game, I'm talking about all season.
Rooney was decent until his wife went on her holidays, but other than showing his absolute class against West Ham, I just think the game is to fast for him now, especially against the top teams.
I was suggesting that maybe he could be our twenty minute man? and find the comparisons with Pirlo, a little bit bizarre. I can just imagine the young Rooney, playing with the Wayne Rooney of present, and think that the kid would be screaming at the old man, saying what the fuck do you keep hitting those silly diagonal balls for?
Just my opinion, and like JohnG said, we are talking about one of the greatest players to ever wear the Everton jersey, but not anymore, because if a player keeps giving the ball away under no real pressure, then he's either not good enough, or the game is too fast, and is therefore taking too much out of him?
Raymond Fox
169
Posted 29/04/2018 at 16:54:30
Michael (#98), you're quite right about me making the point
again
about it's our lack of player quality, when they are compared with the usual top 6 sides, that's the main reason for our lack of success in all competions.
Of course, the ability of individual managers can and does influence results, but can they influence them enough to enable our squad of players to finish above teams that simply have more football ability, over the duration of the season?
We have good players, they have to be to finish where they do most seasons. Nevertheless, do we have any players that would be a first-team choice for the top 6 teams? Coleman and Pickford are borderline picks but I don't see anyone else.
Unless we can somehow change that dynamic, I think we are setting ourselves up for a fall each season, whoever is the manager!
There's no dissent from me about getting the best manager we can, but who are the best managers? – that's really the crux of the argument. It's a case of suck it and see if they can improve our results enough, because the so-called best are managing teams full of star players!
Michael Kenrick
170
Posted 29/04/2018 at 18:08:16
I agree with some of that, Ray. It's the hammer-blow Moshiri got sideswiped by, I believe, when he thought he had appointed a really good manager in Ronald Koeman (Why? Our experts on here say his record was mediocre at best)...
And he thought that having a former Dutch international heavyweight player would attract star players galore (As did our Football manager experts posting repeatedly on here), especially with the help of Foxes miracle-worker, Steve Walsh (Who was somewhat unrealistically expected to unearth Mahrez Mk 2, 3 & 4).
It just goes to prove the "football — fine margins" cliche. So many posters on here were very excited by what we were building last summer, but it all fell apart — almost catastrophically. Enter Fireman Sam...
All I'm saying is the answer you have limited us to is appointing "the best players" and "the best manager". I think that is unrealistic in our parlous position — on the outside (of the top six), looking in jealously. What we need are good players and a really special, possibly totally unrecognized new young inspirational manager who magically gels it all together.
That is my pipe-dream. How Moshiri (or Brands?) finds that manager... who he might be... I have absolutely no frigging idea!
Ray Smith
171
Posted 29/04/2018 at 18:10:19
Sam Allardyce is good at what he does, fact.
Sam by his own admission can't do any more than he is/has done, fact.
Sam is a 'firefighter', fact.
What caused the fire Sam? I don't know, but I put it out.
Where do we go from here Sam? I don't know, I'm doing all I can.
If you have done all you can, thank you Sam, I think you will find the East Lancs Road will take you to wherever you are going from here.
Take Bill and Steve Walsh with you.
I have been an Evertonian for 54 yrs, man and boy, and have never felt this bad about the future, and there have been some dark times.
I was going to buy a season ticket for next season when I retire in May! However, I will not be attending Goodison or attend away games all the time Sam is our manager.
I think he will be gone, but just like politicians, he never answers a direct question, and his arrogance has alienated him even further.
I actually thought he was good when he was at Bolton!
However, we will remain mediocre until there is a massive shake up at the top. That's the root cause IMO.

Paul Tran
172
Posted 29/04/2018 at 18:14:39
Thing is, Ray, these British managers are very good at avoiding the drop, or telling us they'll avoid it this time. Some of them are pretty good at finishing top half, some even top six back in the day.
The one common denominator is that when there's a certain level of expectation on them, they piss their pants and have more excuses than a government negotiator.
Ray Smith
173
Posted 29/04/2018 at 18:20:42
Roger Helm
174
Posted 29/04/2018 at 18:20:47
Ray, his interview technique he says he was taught by Alastair Campbell when he was starting as a manager: say what you want said, not what the questioner asked; evade difficult questions by going off on a tangent; always get in something good about yourself and never miss a chance to big yourself up; repeat a lie often enough until it becomes the truth (oh no, sorry, that was Goebbels).
So I don't think we need to pay too much attention to his pressies.
Ray Smith
175
Posted 29/04/2018 at 19:27:57
Roger,
You are right about Alistair Campbell.
I was very fortunate many years ago to receive a media input from Peter Sissons, and the one piece of advice he gave us was how to respond to a question that you didn't really want to answer in the following manner:
That's a very good question, but before I answer it, I would just like to say by that time their air time is up, and they tend not to ask the awkward questions next time around.
I used it a couple of times and it worked.
However, back to your point, you are right about Sam, and he isn't very good with appearing sincere, which is another art in itself!
I hope he gets his marching orders soon, along with Bill and Walsh.
We can but hope!
Bobby Mallon
176
Posted 29/04/2018 at 19:50:28
Ernie Baywood @144 what are you actually looking for. He's scored 4 goals and has been playing in a terrible team. Sam Allardice / or a new manger has to build a team to get more out of Tosun next season. We can't have another season of to many player changes.
Matthew Williams
177
Posted 29/04/2018 at 20:21:27
How long has Big Sam been in the game?
How many clubs has he Managed?
How many Cups has he ever won?
Therein lies the answer, folks!
George Cumiskey
178
Posted 29/04/2018 at 20:32:34
Bobby Mallon, the most frightening thing about your post was Sam Allardyce / new manager.
Andy Crooks
179
Posted 29/04/2018 at 21:56:38
Ray Smith@ 171, a good and pertinent post.
Jay Harris
180
Posted 29/04/2018 at 22:52:39
As regards Wayne I would say that playing top level football and International and European games every year since he was 17 combined with a lifetime of booze, cigs and prostitutes have puddled his brain as well as his legs.
He is unfortunately not premier league standard anymore but does show his class occasionally but never for 90 minutes.
As regards Allardyce the only stats that matter are a career average win ratio of just 34% (Wenger has 54%) and up till yesterday we had the 19th place average for shots on target and Chances created during his reign. Stats can say anything as we know but your eyes must tell you how bad this man is at creating anything resembling football.
---
Add Your Comments
In order to post a comment, you need to be logged in as a registered user of the site.
Or Sign up as a ToffeeWeb Member — it's free, takes just a few minutes and will allow you to post your comments on articles and Talking Points submissions across the site.
© ToffeeWeb