Everton vs Burnley

156 Comments [Jump to last]
Saturday 30 September 2017
Match Preview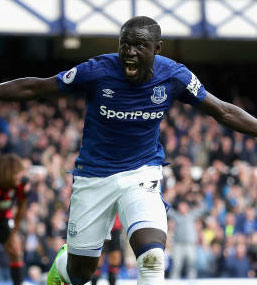 Oumar Niasse is eligible again but will he be handed a start following his recent goalscoring exploits?
Everton play their fourth home game in succession and their last before the next international break as Burnley make the short journey to Goodison Park.
Set back following the victories over Sunderland and Bournemouth by the disappointing 2-2 draw against Apollon Limassol on Thursday, the Blues are once again searching for a boost in morale as their halting start to 2017-18 continues.
Ronald Koeman was in confident enough mood when he met with the print media at Finch Farm yesterday, though, insisting that there was no point in him living in fear of the sack and that, in any case, he retains full confidence in his ability as that of his players to turn their fortunes around.
That confidence isn't shared by all, of course, least of all, no doubt, a good percentage of those fans who let their frustrations known at the end of Limassol game. And then there is the fear that Koeman himself admitted was dragging his team down and preventing them from playing football.
The problem with fear is that it can get compounded further by poor results, snow-balling until a state of paralysis takes hold and that is the danger that the manager must mitigate quickly, starting with this weekend's clash with the Clarets.
"I am not worried. Why should I need to be worried?" he said. "Because the fans are unhappy? No. If the club makes another decision it is up to the club. If I am worried about my situation, how can you live? Enjoy life. I was shit after [Limassol], but now I am different.
"If I am not good enough, they will take another one. That is how I see this situation. 
"I do my best. I live 24-hours for football and to make Everton a better team and to win more games. I cannot do more. If it is not good enough, it is not good enough but that is my experience. It happens to everybody; Ancelotti, Van Gaal, Mourinho.
"I will fight every second of the day to make the team better and to make the right choices and of course everyone can have their opinion. If you don't win, you have problems."
Koeman will, of course, face further problems and pressure if he isn't able to deliver three points against Burnley who come to L4 two points and five places better off than the Toffees having beaten Crystal Palace and then drawn twice in their last three games.
While their away form was infamously poor last season, Sean Dyche's men have already claimed the scalp of Chelsea this season and held Tottenham to a draw at Wembley so they are unlikely to be fazed by a visit to a disquieted Goodison.
Koeman's task is clear — either plug away with the same system he has employed so far with mostly poor results of find a new one that would sacrifice at least one of his expensive summer recruits who prefer the No.10 role. The evidence gleaned from the Limassol game would suggest Wayne Rooney should make way and Gylfi Sigurdsson should be given free reign in his best position but the manager has been resolutely faithful to his biggest names so far. A change from that would be welcome but surprising.
With Michael Keane and Phil Jagielka both doubtful — it wouldn't be a surprise to see one of them start — the back line might, with the possible exception of right back where Jonjoe Kenny would be unfortunate to be demoted again, pick itself again which means all eyes will be on midfield and attack.
Koeman's persistence with two holding midfielders has come in for strong criticism in the wake of Thursday's draw so it will be interesting to see if Idrissa Gueye — it would surely be him rather than Morgan Schneiderlin — is sacrificed for Tom Davies or Nikola Vlasic in the interests of adding more dynamism in the centre.
Up front, both Dominic Calvert-Lewin and Oumar Niasse have made strong cases for inclusion but it's highly unlikely both will start. More probable is the youngster starting and Niasse being handed the role of super-sub once more if he is needed in that capacity.
As with all games in the Premier League these days, this one won't be easy. Burnley are disciplined and don't lie down easily for anyone; as such they will pose a significant threat to an Everton side that will need to draw on what creativity and determination it can muster.
A victory wouldn't erase the concerns about the Blues going forward but it would once again ease the pressure on all concerned and provide another platform on which to build in the coming weeks. Anything less… well, you know.
Kick-off: 2.15pm, Sunday 1st October, 2017
Referee: Jonathan Moss
Last Time: Everton 3 - 1 Burnley
Predicted Line-up: Pickford, Kenny, Keane, Williams, Baines, Schneiderlin, Gueye, Vlasic, Sigurdsson, Rooney, Calvert-Lewin
---
Reader Comments (156)
Note: the following content is not moderated or vetted by the site owners at the time of submission. Comments are the responsibility of the poster. Disclaimer
Nev Renshaw
1
Posted 30/09/2017 at 07:40:36
Koeman. Play Niasse from the start please.
Mark Tanton
2
Posted 30/09/2017 at 08:24:22
I think Niasse should start yes, but I have a feeling he is more likely to have an impact from the bench, which is how he was mostly used at Hull. We'll get turned over anyway, in my opinion. Sadly, I think I'll give it a miss, which is most unusual.
Imagine the damage a team with Lookman, Niasse and Vlasic could do. It might not work but it's got to be worth a try.
Paul Ritchie
3
Posted 30/09/2017 at 08:27:21
Please Ronald, get your line up and tactics right. Even though the squad is imbalanced, I still believe we have the personnel to field a decent side. 4-1-3-1-1 would do it for me:
Pickford - Kenny Holgate Keane Baines - Gueye - Mirallas Davies Vlasic - Sigurdsson - Niasse.
Every person on that team is in their natural position. It has pace and width, and one No 10... one central defensive midfielders!!
Jimmy Hogg
4
Posted 30/09/2017 at 08:30:08
Mark @ 2
Think I'll miss it, what optimism? No wonder we are struggling.
Fire up and get behind the team. As usual, it's the fans that will need to get the motivation going.
Come on, for god's sake.
Peter Mills
5
Posted 30/09/2017 at 08:31:49
It will be interesting to watch the performance of Chris Wood, the centre forward Burnley signed in the summer.
Jason Ingham
6
Posted 30/09/2017 at 08:36:34
This will be a tough game. Burnley are better than the sum of their parts; a team. Quite the opposite of us right now. Hoping to see a forward line with pace in both wide areas. Give them something to worry but. It's us that are worried though. Burnley are coming to our home and we are shitting ourselves.
Jamie Evans
7
Posted 30/09/2017 at 08:40:43
Come on you Blues. We all love you. Even us ToffeeWebbers. Full support!
Nick Lacey
8
Posted 30/09/2017 at 09:01:58
If Keane is fit, I'd would like us to play a 4-4-2 formation with a diamond midfield. The team would have pace and players in form. I know Sigurdsson hasn't been great but he has rarely been played in his preferred position.
But unfortunately, come Sunday, we'll again see the likes of Rooney, Martina (who does have a good cross but seems a woeful defender) and Schneiderlin in the team.
Pickford
Kenny Holgate Keane Baines
GueyeDavies / Vlasic Lookman
Sigurdsson
Niasse Calvert-Lewin
Sam Hoare
9
Posted 30/09/2017 at 09:02:15
Let's at least play a team that might excite us and has players in the right position:
Pickford
Kenny Keane Jagielka Baines
Gueye Davies
Lookman Sigurdsson Vlasic
Calvert-Lewin
Depends on Vlasic and Lookman both working hard to get up and down but at least they have some pace to do so.
Or play a 4-4-2 with Niasse for Davies and Sigurdsson dropping back. Just play some width and pace for pity's sake
Tony Dove
10
Posted 30/09/2017 at 09:11:39
Everyone has rightly highlighted the folly of playing three No 10s. We now seem to be down to two with Sigurdsson and Rooney. However the harsh fact is, that unless either of them possessed any pace, which they blatantly don't, they can't both play.
But we all know that Koeman will not go down that route. I love him anyway but Ross gets better every week.
Ajay Gopal
11
Posted 30/09/2017 at 09:16:38
Your lineup almost reflects mine. I would swap Schneiderlin for Davies. I also would not be shocked to see Martina replacing Kenny.
My team (4-1-4-1):
Pickford
Kenny / Martina Holgate / Keane Williams Baines
Gueye
Davies Rooney Sigurdsson Vlasic
Calvert-Lewin
Niasse to come off the bench to replace Rooney around 60 mins, Schneiderlin or Lennon to replace Vlasic, hopefully with us leading 2-0.
Subs: Stekelenburg, Martina / Kenny, Besic, Schneiderlin, Lennon, Lookman, Sandro.
Dave Abrahams
12
Posted 30/09/2017 at 09:24:53
Ajay (#11), you haven't got Niasse in the team or on the bench, how is he going to get on the pitch?
I'd give Rooney an extended rest until he sorts his life out, he is very poor at the moment, and up to now his best hasn't excited many fans.
Amit Vithlani
13
Posted 30/09/2017 at 09:27:00
I don't think Niasse should start – he is a good option from the bench. Calvert-Lewin should start with Sigurdsson behind. Vlasic on one side, Lennon the other.
Height is a problem. Holgate and Williams do not dominate aerially like Keane does. With no Keane, crosses to Wood will be plentiful and we need to be energetic down both flanks.
Two defensive midfielders is not the answer – Burnley have no David Silva or Coutinho in their ranks. We should be trying to win positions out wide or up the pitch.
Kevin Turner
14
Posted 30/09/2017 at 09:30:39
Oh for Koeman to pick a team that's positive from the kick-off rather than after the half-time panic as things go tits up. One other observation: What does Morgan Schneiderlin actually do?
Mark McParlan
15
Posted 30/09/2017 at 09:30:57
I'd like to see:
(4-3-3)
Niasse
Rooney Vlasic
Davies Sigurdsson
Schneiderlin
Baines Holgate Williams Kenny
Pickford
Jordan Pickford and Leighton Baines are shoo-in's in their respective positions, and it appears that despite the weaknesses of the Williams/Holgate central defensive pairing, we are forced to persist with it with because of the injuries to Keane and Jagielka.
I'd still prefer to see Kenny at right back rather than Martina despite Thursday's poor performance; Kenny is the future. We've got an opportunity to give him first-team experience while Coleman is out – let's utilise it.
We have to drop the two defensive Midfielder system we've been using and play two more attacking players. I'd put Schneiderlin as the holding midfielder and put Sigurdsson and Davies in front of him. We're playing Burnley! No need to slow everything down.
There does seem to be a clamour in some quarters to see Rooney dropped from the team but that's not for me. He has proved himself somewhat capable of kicking the ball into the opposition's net this season which is more than most of our team are apparently able to manage.
For the Number 9... it has to be Oumar Niasse. 3 goals in two second half substitute appearances is more than enough to warrant a start. And Vlasic – well, he was absolutely magnificent in that second half against Limassol, ran the show, with power, quick pace and trickery, pulling shots off left right and centre, getting a deserved goal for his efforts.
Len Hawkins
16
Posted 30/09/2017 at 09:32:59
As an aside to the problems the Mirror today says Spurs (Spoz to our Scottish readers) are going after Lookman so he may be accompanying Barkley to the Smoke in the New Year as I think he doesn't feel wanted the way Koeman has him like a yoyo in and out of the squad.
Sean Smythe
17
Posted 30/09/2017 at 09:34:18
Ahhhh, my first trip to Goodison this season .except I can't find my ticket anywhere. Nice one. Bet we'll have our best performance of the season too.
Derek Knox
18
Posted 30/09/2017 at 09:37:40
It's strange, in everyone's 'suggested team' there is no slot for Schneiderlin, who has clearly been awful this season, but guess what, Koeman will have him down firsť on his team sheet.
We can all see it, but that stubborn manager cannot. I also think Niasse could be better as impact sub as Mark also suggested, but Lookman and Vlasic from the off is a must.
Talking of the former, I read somewhere that Tottenham may try to prise Lookman away in January, as they feel he is being wasted, and more often than not, excluded from even the bench.
Clearly yet another case, of people recognising the mis-management by Koeman, and that is from outside the Club.
I hope for a win tomorrow, but will be very surprised if we do. This manager has to go, and it seems fairly obvious he can't or won't recognise he is to blame, so therefore will not resign, he will have to be sacked.
John Graham
19
Posted 30/09/2017 at 09:40:07
So the experienced players are suffering from a lack of confidence. So give some of the young players a chance.
Got to stick with Kenny, Davies and Vlasic. Put in Calvert-Lewin and Lookman to give us plenty of energy then we have Baines, Gueye. Central defence looks very weak but we've got no one else. Then either Rooney, Sigurdsson or Schneiderlin as the number 10.
Niasse on the bench I think to come on for a bit of impact. But we all know it's not going to be.
Will be same old slow players with no speed or movement with the same tactics of no width. Surely he's got to learn to change or he's got to go.
Barry Pearce
20
Posted 30/09/2017 at 09:44:40
I would love love to see Sams team (#9), but like he says, it would depend on how much Lookman & Vlasic could be replied upon to track back. Don't think our Ronald would be ballsy enough to go with that. Still, we can but hope.
Steven Astley
21
Posted 30/09/2017 at 10:00:34
We look a much better "team" without Sigurdsson or Rooney in the 11.
I think part of the problem with the way we are playing is trying to shoe horn these 2 in all the time.
Drop them and play Mirallas and Lookman/Vlasic on either side with Davies and Gueye in the middle.
Mark Morrissey
22
Posted 30/09/2017 at 10:18:13
Every new feature on TW has me reaching for a stick. I find myself seething with contempt for our manager and I need to give it a rest.
I read this morning that Spurs are looking at Ademola and I was raging again. I could feel my spleen needing to be vented and I have to stop. I started this weekend hoping to read or hear that Koeman had been given the Spanish Archer but deep down I know that Moshiri is not the saviour I had hoped for. It's all become a very wet squib.
So I'll need to be realistic. Problems will start for me if we are losing and he brings Oumar on and we still lose. The blonde assassin will simply say "See, we needed Giroud for £40 mill" and he'll be off the hook again and then he stays for another game. See I'm starting to go mental again. I'm gonna stop posting for a week cos it's driving me nuts.
C'mon you blues for tomorrow and Lookman, if you get a chance for Gods sake take it cos I don't want to see you heading back down to the Smoke in January. Where's me tablets? Nurse !!
Will Mabon
23
Posted 30/09/2017 at 10:27:21
Yes, the Spurs rumour. True or not, who's surprised? As if it's not bad enough that he's done everything possible to oust Barkley (a job that will surely end with him gone if Koeman remains), Deulofeu and Niasse. I don't hold much hope that anyone half-decent would want to stay if this charade continues.
Now rumours of Lookman. A player that Koeman himself bought and has barely played or included. Other teams will be looking at our assets and just knowing they can do more with them than Koeman. Lookman's been here for nine months and played less than a dozen games.
Would it really be Koeman wanting to get rid or would Lookman be another player that's seen enough. Davies, Calvert-Lewin or who knows who will be "Linked" next? How much more ridiculous does this have to get?
Will Mabon
24
Posted 30/09/2017 at 10:29:43
Mark, I find a nice relaxing poo helps sometimes. Takes a little pressure off the spleen, too.
Geoff Lambert
25
Posted 30/09/2017 at 10:39:50
Stop talking shit again Will...

Liam Heffernan
26
Posted 30/09/2017 at 10:45:50
We fear a home game against Burnley... has it really come to this?
Brent Stephens
27
Posted 30/09/2017 at 10:47:55
Will #24 "I find a nice relaxing poo helps sometimes".
Up to a point, Will. Cairo belly did for me this week. Exacerbated by Thursday night's latest poo.
Liam Reilly
28
Posted 30/09/2017 at 10:54:34
If you make the same mistake over and over again the the result is unlikely to be different, so surely only one of Sigurdsson or Rooney can start tomorrow.
And if he continues to favour Schneiderlin over Gueye then we risk losing him in the summer.
Lookman is presumably on a longer contract, but his advisors won't want him continually sitting out games either.
Colin Glassar
29
Posted 30/09/2017 at 11:00:37
Yes Liam H, it really has come to this. There's such a lack of belief in this team that if Burnley grab an early goal I can see us losing 0-3.
This team is 'reactive' but to be able to react you have to have the right players (on the pitch), the tactics and the right mentality to battle back. Under Koeman we are sadly lacking in all areas.
Paul Evans
30
Posted 30/09/2017 at 11:00:42
Koeman has to make changes.Surely even the stubborn git that he is, he must see what everyone else does, which is no pace and no width. Attacking football these days is based on those two elements. Nothing worse for a defender than fast, interchangeable play and players running at you none of this pedestrian sideways passing, which is a piece of piss to defend and press.
Personally, I would go with the below team in a diamond shape, and fullbacks pushing on when possible -
Pickford
Kenny Holgate Keane/Jagielka Baines
Gana
Rooney
Davies Vlasic
Sigurdsson
Calvert-Lewin
Gana to sit and protect the back 4 doing his usual job, Rooney as a central midfielder, getting himself about and dictating play to the forward thinking players, Davies and Vlasic playing wide midfield, but not hogging the touchline and with a license to cut inside, Sigurdsson in his favorite No 10 role and Calvert-Lewin splitting the centre-halves and making runs.
Niasse to remain as super sub and rescue us if it all once again goes to pot.
Steve Pugh
31
Posted 30/09/2017 at 11:02:36
It takes a lot for me to want a manager gone but Koeman has managed it. I would love to just go back to basics with a simple 4-4-2 formation.
GK - Pickford
RB - Kenny
CB - Holgate
CB - Williams
LB - Baines
RW - Lookman
CM - Davies
CM - Sigurdsson
FW - Calvert-Lewin
FW - Niasse
Subs:
Stek
Martina
Rooney
Mirallas
Schneiderlin

Christian Watson
32
Posted 30/09/2017 at 11:07:38
Spurs in for Lookman is a worry. As mentioned in an earlier post, Koeman bought him in and has rarely used him (go figure). If / when we are mid table or worse in Jan I can see offers in for Davies, Geuye, Calvert-Lewin and others.
Finding the whole Everton dream becoming a nightmare. All the summer optimism has evaporated and been replaced by deep rooted fear of what is to come. Let's not forget the U23's won the league and the U20 World Cup was dominated by Everton players. Why won't Koeman give them a game???
Dave Williams
37
Posted 30/09/2017 at 11:17:38
Sam Hoare (#9) for our next manager!!
That's my team too Sam- the youngsters will inject pace, energy and desire plus teamwork, supported by enough experienced players to make it work.
We must field a balanced team with width and pace – the only time we have done it this season was Split at home and in the first half we were dangerous.
We can all see this, the owner can surely see this; so can Ronald?
Steavey Buckley
38
Posted 30/09/2017 at 11:18:14
Everton's form players, Niasse and Calvert-Lewin, should be the first 2 names on the team sheet. They may help to save Everton's season, which is going downhill fast at the moment.
Chris Gould
39
Posted 30/09/2017 at 11:19:31
I do wonder what promises Rooney was given regarding playing time. There is no doubt that Sigurdsson was always Koeman's first choice, and I refuse to believe that he can't see that Rooney is stifling Sigurdsson.
If he won't or can't drop Rooney then he should play him on the right and ask him to put in a disciplined shift staying out wide and supporting Kenny/Martina with their defensive duties and forward surges. Too often they have had no support.
At the moment Rooney just goes where he pleases and it isn't helping. Allow Sigurdsson to take control from the middle and see if he can get us moving forward. Vlasic to his left, Rooney to his right, and Calvert-Lewin up front. If Rooney can't play this role and keeps on going wherever he pleases then bring him off and give Sandro another opportunity.
Lookman has struggled in the league in his most recent appearances, and we mustn't forget that he hadn't played many games for Charlton before moving to us. He's still got a hell of a lot to learn and unfortunately we've been so poor that it's hard to give him the game time he needs to develop. Hopefully we will soon be in a position where he can get some opportunities.
Martin Mason
40
Posted 30/09/2017 at 11:22:25
Steve at 31, 10 players?
Mike Allen
41
Posted 30/09/2017 at 11:28:35
Lookman would jump at the chance to join Spurs even if Koeman played him from now till January. If an offer comes in for him, he will go – and who could or would blame him?
Will Mabon
42
Posted 30/09/2017 at 11:32:09
Sorry guys, think I turned this thread into a load of crap.
Will Mabon
43
Posted 30/09/2017 at 11:37:33
"...
and unfortunately we've been so poor that it's hard to give him the game time he needs to develop.
"
Chris, correct – and due to? And why has he sometimes looked uneasier than he did earlier?
Something grossly wrong if a promising young player might want to leave a "Big" club in less than a year.
Eric Paul
44
Posted 30/09/2017 at 11:45:42
Nick @8,
I like the look of that team with Vlasic and put Davies in instead of Gueye.
Dan Davies
45
Posted 30/09/2017 at 11:46:24
I agree Chris, Sigurdsson should be told he's the man and let's see what he's made of. Rooney might have a better impact coming off the bench every now and then.
There's a team there somewhere it just needs the right players in the right positions. Koeman needs to start putting the jigsaw puzzle together sharpish.
I'd go with Sam @9 regarding the team selection. Mirallas worth a shout?
Colin Malone
47
Posted 30/09/2017 at 11:58:20
One holding midfielder, with Davies playing box to box, please.
Colin Glassar
48
Posted 30/09/2017 at 12:06:53
Disagree totally with the people dissing Rooney, he's been our best player so far his season. He drops back and goes wide to try and get the ball and use it, something his teammates seem totally incapable of.
I do agree that Sigurdsson should play the No 10 position and Rooney up front with Calvert-Lewin.
Clive Rogers
49
Posted 30/09/2017 at 12:31:42
Everyone is going for Calvert-Lewin at the moment. Could I just point out that he has not actually scored a league goal this season. There's no doubt he's a fine prospect, but he is not ready to start every game, for me.
Steve Ferns
50
Posted 30/09/2017 at 12:53:29
Pickford
Kenny Holgate Williams Baines
Davies Schneiderlin
Lookman Klaassen Sigurdsson
Calvert-Lewin
I would not rush Keane or Jagielka back unless they are 100% fit. Holgate has been a good deputy and it would be him, not Williams, who would make way. I hope Kenny's average performance against the Cypriots will not give Koeman an excuse to chuck Martina in. Kenny was solid defensively at least and I think he deserves another opportunity.
In the middle of the park, I would like to change out Gueye. I think he has been poor. I think Schneiderlin has been slowly getting better, and perhaps him and Davies can link up better, and they certainly showed their partnership last February.
Schneiderlin makes my team week-in & week-out by default. His role is to pass it to the wings, and to get it forwards. He is the only one who can do this within our squad, and until we sign a young Barry, then Morgan is in the side every week.
I understand the two defensive midfielders complaint, but they do not have to play so deep, they should be forced 10 yards further forwards, and I think Davies is the one to pull Morgan forwards.
In the attacking areas, I would like to see some pace and trickery from Lookman down the right. I think he can do a job here for 60 minutes, and I would let him know that's all he is playing and to make sure he has nothing left in the tank at 60 minutes. Then, it's Niasse time!
Rooney has had a couple of knocks in recent games, to the eye, to the shoulder I think against the Cypriots (he was popping painkillers mid game), and he still has his wrist bandaged up, I think he needs a rest, but could be an option from the bench. Sigurdsson and Klaassen would benefit from Lookman's pace and the absence of Rooney.
Klaassen tracks back well, and would link up better with the defensive two. For me, Sigurdsson needs to improve and he's looked best on the left wing. Of course, he plays "from there", rather than actually be a left winger, but his passing is improving and he should be given some pitch time without Rooney.
If we don't play Rooney, then it can only be Klaassen for me, Sandro was terrible against the Cypriots and for now, he needs to be an impact sub, until he gets some luck and can use that to build some momentum. Like Sigurdsson, I think Klaassen needs some pitch time without Rooney.
Upfront, it has to be Calvert-Lewin. He is not the best at holding the ball up, but he is the only, yes they only, player we have who can lead the line and provide a focal point without dropping 30 yards to come looking for the ball. He is an energetic terrier and will get after the back 4 all game, not giving them any peace.
Yes, he hasn't scored a league goal, but he has 3 in all competitions. The goals will come for him. I would have Niasse in reserve and bring him on after 30 minutes for Lookman if we are not ahead. Sandro would be option number 2, perhaps as a left forward to play off Calvert-Lewin or even Niasse, moving Sigurdsson behind the striker and taking off Davy.
Ben Howard
51
Posted 30/09/2017 at 12:54:10
Formation: 4-4-1-1
Manager: ?????
------------------- Pickford -----------------
Kenny - Holgate - Williams - Baines
Lookman - Davies -- Gueye - Vlasic
------------ Sigurdsson -------------------
-----------------------Calvert-Lewin -------------------
Subs: Stekelenburg, Martina, Schneider in, Lennon, Rooney, Mirallas, Niasse.
Mark Frere
52
Posted 30/09/2017 at 13:05:10
I'd go with a balanced 4-4-1-1.
Vlasic was very impressive on Thursday night and think he deserves a chance out wide to give us some natural width.
Siggurdson has been pretty dreadful thus far; I would like to see just the one number 10 starting – instead of two or three shoehorned into the team– to add balance and width. I would go with Rooney as he's the best at linking up play.
Pickford
Kenny Keane Holgate Baines
Lennon Schneiderlin Davies Vlasic
Rooney
Calvert-Lewin
Steve Ferns
53
Posted 30/09/2017 at 13:12:01
Do you think Vlasic is not wasted on the wing Mark? It's still early days in assessing him, but is his best work not centrally?Also, I've yet to see anything that suggests he has pace. He seems more to have quick feet, a great turn, and able to wriggle through players in tight spaces.
I see him more as another number 10! He was great against Apollon though, and I think he deserves games, but I'd keep him on the bench for now, and start him in the cups and Europa League.
Tony Hill
54
Posted 30/09/2017 at 13:25:29
Steve (#53), his cross for Calvert-Lewin late on was certainly a winger's cross, but he also showed a miidfielder's strength to get the better of their defender. I think his parents were athletes so he has good heritage.
He's very interesting indeed (I would start him tomorrow but understand your point about keeping him on the bench), and who knows where he'll end up playing. I'm just glad we've got him.
Sorry, I've answered your question addressed to Mark but this fella's promise excites me very much.
Tony Hill
55
Posted 30/09/2017 at 13:31:40
PS I see Vlasic's sister is a world champion high jumper, dad was a decathlete and mum a cross country skier. Excellent, he'll be expected to win.
Nikola must have given up some leg length to sis.
Mark Frere
56
Posted 30/09/2017 at 14:04:30
Steve,
He looked very at home on the left wing when he came on. He is known for being very versatile; players don't always need blistering pace to play out wide – did Arteta or Pienaar have much pace? No they didn't but they were very intelligent players with quick feet, like Vlasic.
Anyway, in my line-up, I have Lennon on the right who does have pace and always puts a shift in.
We have so many Number 10s – maybe it's Vlasic's best position, but with such a congested area, I don't see him getting much playing time in that particular position.
Paul Holmes
57
Posted 30/09/2017 at 14:13:02
Burnley will play Route One football because our defence can't defend crosses!
Goalkeeper is too small, stays on his line and the amount of goals we are conceding so far is not being addressed by the management, despite the fact we play with two holding midfielders?
John Keating
58
Posted 30/09/2017 at 14:13:51
In my opinion we have to start with 2 up top and only 1 defensive midfielder.
Pickford
Kenny, Holgate, Williams, Baines
Davies, Gueye, Sigurdsson, Mirallas
Calvert-Lewin, Niasse.
If either of Keane or Jags are fit I would play them and definitely have Lookman and Vlasic on the bench.
Steve Ferns
59
Posted 30/09/2017 at 14:14:22
I was in the Park End against Apollon, so it was difficult to see just who was where, as most of Vlasic's touches where in front of the Gwladys. But it did appear to me, that he was narrow and on the ball more often than not in a central position.
As for pace, I agree you don't need pace to play wide, add Limpar to your list. But Everton do need pace, and I'd like us to get pace into the side wherever we can.
As for Arteta, it always disappointed me that Moyes played him wide and never trusted him centrally. He was never a winger. It was only after the crippling knee injury that he lost most of his speed that Moyes played him centrally, and even then he was no longer guaranteed a start (correct me if I am wrong, but didn't he start most of his last five games on the bench?).
Arteta would be great in this present Everton side in the Schneiderlin role. Playing deep and passing long. Although he could also pass short and drive us forward. What a player, and of course, he was the best little Spaniard we know.
James Williams
60
Posted 30/09/2017 at 14:23:45
It may sound a bit drastic but why not play Schneiderlin alongside Holgate as the two centre-backs. Energy from Holgate... or Keane when he returns and an old head reading the game.
Unless we sort out at the back and stop putting ourselves under pressure through elementary errors it doesn't matter much who else plays... in whatever position.
Oliver Brunel
61
Posted 30/09/2017 at 14:31:33
I'm surprised people are shocked by the Spurs in for Lookman rumour. I wouldn't be surprised if we lose other players as I am beginning to think Moshiri is happy with mere Premier League midtable mediocrity (you get the TV money).
If he can stay in the Prem and keep making hefty profits from the new model (ie, find/nurture/sell at huge profit) then he and Kenwright will be happy. I doubt there really is any further ambition.
I hope I'm wrong but I don't think the players we have bought are anywhere near Champions League quality. They are only intended to keep us mid table. As is the Manager; a mid table option. It is a kind of asset stripping.
Steve Ferns
62
Posted 30/09/2017 at 14:39:31
I disagree about Moshiri, Oliver. I think his plan is to get us into the new stadium and into the Champions League, then he can sell us for a vast profit. The asset stripping model you allude to will work to give him £10m or so a year at most, and the accounts don't bear out him taking money out of the club. It is more about him building the club up to sell.
As for Spurs in for Lookman, I don't blame them to be honest, and I wouldn't blame him. In fact, Spurs, a club renowned for developing talent from other clubs, Lookman would fit their bill.
Question is, why can't Koeman play him more for us?
Alan McGuffog
63
Posted 30/09/2017 at 14:47:35
Why would Lookman remain a bench warmer at an unambitious shambles in the Northwest when he can be a better paid bench warmer at a decent club in his home town?
Oliver Brunel
64
Posted 30/09/2017 at 15:00:23
Steve, I hope you are right. I can't get my head around the Barkley impasse though (is he still injured?); surely he's miles better than anything else in that pedestrian midfield. Barkley though needs to learn how to be a box-to-box midfielder.
I would like to see a midfield with Gueye Barkley, Vlasic and Lookman. Schneiderlin as the DM. Davies as an attacking mid/ more No 10. Calvert-Lewin and a world class Lacazette type up front.
I'm not even looking forward to tomorrow and its on the TV where I am… Heading out for a beer. Where's George McKane? George... George… help!

John McGimpsey
65
Posted 30/09/2017 at 15:07:58
Colin (#48) is the post to read; he has it perfect. On a side-note why hasn't Moshiri bought the other shares and got shut of the two frauds? My friend reckons (yes I have a friend) that the entire thing is bluff, ground an all.
Let's see how many more bad results are needed for more spin. Not even a glimpse of a stadium plan after all these months Koeman has gone past his sell-by date. Time to let Unsy loose with what, on paper, is a fantastic squad.
David Barks
66
Posted 30/09/2017 at 15:09:55
Oliver,
What can't you get your head around? Barkley wants to leave, he just didn't want to sign for Chelsea. He is out injured as it was announced he would be out for months.
But regardless of that, Barkley is the one who wants to leave. And don't think for a second he's not looking at and speaking to Lukaku and Stones as reinforcement for his desire to leave.
Oliver Brunel
67
Posted 30/09/2017 at 15:17:53
David, fair enough I don't know but why would he want to leave his boyhood team? That is what worries me.
Yes, okay it may be just for the money but if you are from Liverpool you know the London 'lifestyle' is a chimera; endless miserable faces everywhere and traffic jams and people selling eels. Why would you want to go there?
What worries me is why he wants to leave? Is it that he just doesn't rate Koeman or worse, he knows there is something rotten in the state of Everton….
Darren Murphy
68
Posted 30/09/2017 at 15:20:23
Nick (#8), that's exactly the starting 11 I'm hoping for man. Plenty of pace and two up top with one defensive midfielder, seems perfect for me. I'll go with 2-1 again this time.
Steve Ferns
69
Posted 30/09/2017 at 15:22:48
I would hope that, if we are to sack Koeman, that the chairman could sit down with Ross and hammer out a new deal, and persuade him the incoming manager would make him a major part.
Where would I play Barkley? For me, on the right of a front 3, as at the end of last season. It is obvious that he lacks the mindset to defend adequately. So by playing as a wide forward he can have very limited defensive duties.
On to his attacking role: as a right sided forward, he would be required to come inside onto his left. There's no one else at the club who can come in off the right onto their left and hit a thunderbolt into the top corner. He's the only one with that ability in his left (except Baines maybe, and he cannot play there!).
Barkley is right footed though and he can still go outside and put crosses in.We all remember that beaut for Lukaku at the end of last season. So we would have a player who can go both inside and outside. He can also back a defence up and force them back by keeping them guessing as to whether he goes inside or outside, this makes it impossible for a defender to dive in.
By playing wider, he has less men to beat, he simply got crowded out when more central. He can also come in off the wing and play centrally as well. imagine Rooney is in the number 10 slot, then we all know he will drop or move from that position, Ross can come inside and take up that position and enhance Rooney by giving him someone to play off.
This is how I see Barkley developing. I cannot see him dropping deeper. He shows no signs of ever developing a defensive game. Anyone watching him now would not believe that this lad once played as primarily a centre half!
There's no reason he cannot develop his defensive game, it's just he's 24 soon and there's not point talking potential, physically, he's at his peak now. It's all about whether he can develop mentally and improve his game there before the physical side starts to diminish.
Tom Bowers
70
Posted 30/09/2017 at 15:33:04
Everton have a lot of talented players, many of whom may not get a chance to prove their worth under Koeman as he obviously will play the top wage earners even when they are displaying a lack of cohesion with other players.
The breakdown in communications at vital times is spoiling many promising moves and also affecting the defensive side of things. This may come together in time providing Koeman and his staff can motivate a team lacking in spirit and intensity. Without that, all the talent in the world will not be any compensation.
Rooney tries hard but the team is crying out for a Peter Reid type player.
David Hallwood
71
Posted 30/09/2017 at 15:33:57
All the suggested line-ups miss one point-that you can put your mortgage on: Koeman playing with Sshneiderlin and Gana as holders.
I posted early in the week that we will start with the same team that started v Bournemouth, and, injuries excepted, I'd be surprised if he changes it.
Bit of a stubborn twat is our Ronnie – you might've noticed....
Lee Jackson
72
Posted 30/09/2017 at 15:47:10
I see Dowell just scored for Forest. I feel he could have added something this season – by no means a 'saviour' but as a right-sided midfielder who covers an area we are very short in with only Lennon a naturally wide right player.
I reckon I'd go with this line-up to start (first name where two names if fit):
Pickford
Kenny -- Keane/Holgate -- Jagielka/Williams -- Baines
Rooney (yes, in the Schneiderlin role)
Davies -- Gueye
Sigurdsson
Calvert-Lewin -- Vlasic / Lookman
Subs - Niasse the super sub and 6 others<./p>
Rooney would make an excellent anchor in my opinion, reads the game better than any other, plays the longer balls better than any other, gives him a focussed role so he's not bombing around the pitch like a blue arsed fly. My only concern is he still may bomb around the pitch like a blue arsed fly!

Tony Hill
73
Posted 30/09/2017 at 15:52:16
David (#71), I think he may drop one of Schneiderlin or Gueye, just a hunch. I hope he also drops Rooney who I think is the biggest problem of all – though that is indeed, I am afraid, unimaginable.
Mike Allison
74
Posted 30/09/2017 at 16:06:26
Lee, it feels a bit like they've accepted a bit of a sacrifice this season. We have 8 young players on loan in the Championship. Any of them, and certainly some of them, could have come in useful this season, especially with Europa League commitments.
However, all 8 will play more football, and at a competitive standard, out on loan than they would have done had they stayed. Therefore next season we have 8 young players (actually 9 with Onyekuru playing in Belgium and the Champions League) returning hopefully hardened up and more ready than ever to be Everton players.
Steve Ferns
75
Posted 30/09/2017 at 16:23:33
If Rooney plays the Schneiderlin role he will have to curb his natural desire to chase the ball. He will also have to hold position and will not be able to get forward. Basically, he will have to play it like Pirlo did. It's not impossible though.
But why have two more defensive minded players ahead of him in Davies and Gueye. Of course Davies does get forward, but he's always been a defensive midfielder throughout his youth career. It's just Ronald Koeman doesn't seem to want to pick him ahead of Gueye.
Also if Rooney plays deep, then you will need two specialist wide players for him to hit. So why not both Lookman and Vlasic?
James Peter
76
Posted 30/09/2017 at 17:00:24
Ben Howard,
That is my team too. Every fan, pundit and media outlet are basically in agreement that the main things he needs to change are:
- use wide players
- use at least one centre forward
- play one defensive central midfielder at home against most sides
- play the best in form player in the position (regardless of age, price tag or who bought the player)
This is not rocket science; however, I can't see Koeman making these changes as he'd see it as an admission of failure and I believe he'd rather go before that.
George Cumiskey
77
Posted 30/09/2017 at 17:10:22
James @76, I think you are right about Koeman not making the changes. He has already stated last season that he won't change, the players must.
He is that arrogant to believe it would be an admission of failure to be flexible and change his system. He's even more arrogant than Mourhino who will change things when a system is patently not working.
Lee Jackson
78
Posted 30/09/2017 at 17:20:48
Steve, did I not say that was the main problem with Rooney in that role?
I don't see Davies as a defensive midfielder at all – he has been involved in more goals this season than any other midfielder we have. I think back to that first goal v Man City last season and the same with the first last week – exquisite through-balls that no-one else seems to be able to pull off at the moment.
Tony Hill
79
Posted 30/09/2017 at 17:33:38
Steve (#75), I would play Gueye and Davies with Sigurdsson at 10, Lookman and Vlasic wide and Calvert-Lewin up top (no Rooney). I'm so old that I'm still tempted by 4-4-2 (Leicester did it, and Atletico have done very well with it albeit with flexibility and super-fitness) and would be inclined to play Niasse alongside Calvert-Lewin and take a chance playing Davies on the right in front of Kenny (losing Lookman) – but I accept that won't happen and would leave us vulnerable in central midfield..
Will Mabon
80
Posted 30/09/2017 at 17:38:10
There it is again - the "Barkley wants to leave" line in isolation. It implies the primary driver was Barkley simply announcing he wants to go out of the blue. I think events have strongly indicated there may be more to it than that.
Equally, why can't people get their head around the fact that he may feel forced to leave due to his treatment by Koeman? It's not like Koeman's man management discounts the possibility.
Rudi Coote
81
Posted 30/09/2017 at 17:39:43
Quite amusing to see you guys "picking" the team... Why do you bother? It won't happen!
The man in the suit decides the line-up time. He's not interested in what any fan wants – only his own ego matters. Stubborn prick.
Mark Frere
82
Posted 30/09/2017 at 17:57:41
David @71
I think Koeman will pick a very similar team to the one which started against Bournemouth with the same formation. But I think Davies will come in for Klaassen and Keane will play if fit.
4-3-3:
Pickford
Martina Keane Williams Baines
Davies Schneiderlin Gana
Sigurdsson Calvert-Lewin Rooney
Not the team I want him to play... but the team I'm expecting him to select.
Oliver Brunel
83
Posted 30/09/2017 at 18:04:07
Will. I don't think Barkley wanted to leave at all. Koeman wants a team of robotic Dutch cloggies stifling up the midfield. He let Deulofeu go... of course he's shit and unfit that's why he plays next to Suarez and Messi every week….
His judgement about players is highly suspect.
Kim Vivian
84
Posted 30/09/2017 at 18:16:38
Oliver - Deulofeu. He had no option.
Lee Jackson
85
Posted 30/09/2017 at 18:30:10
Oliver, Sandro played alongside them for a season too. Playing alongside great players doesn't make you a great player and not everything that comes out of Barca is gold.
Under the buy back terms, Barca had to have Geri in the first team squad for a season. Do you think for one minute that if they had retained Neymar or bought Coutinho, Geri would be playing at all? No, of course not. Barca bought him simply because in the super inflated market the £10-12 million buy back clause made financial sense as they will likely sell him for £20m or more.
Geri will have a great career I have no doubt. But it wont be at Barca and wont be in the Premier League where he simply isn't suited to it – no shame in that, lots of great players are not suited to it. I'm starting to think that maybe Sandro is in this category too (just not suited to the Premier League).
Tony Everan
86
Posted 30/09/2017 at 18:32:55
Pickford
Kenny Keane Holgate Baines
Davies Gana Sigurdsson Vlasic
Calvert-Lewin Niasse
Go for it!
Oliver Brunel
87
Posted 30/09/2017 at 18:33:41
Kim, Lee – sorry, yes, you're right about Deulofeu.
Denis Richardson
88
Posted 30/09/2017 at 18:38:09
First wish for me would be to see Rooney dropped from the starting line up.
Second wish would be to see at least one of Mirallas, Vlasic or Lookman in the starting line up so we have some pace and width one one side at least.
I'll stop the wishes there as I'll be amazed if the above two happen anyway.
George Cumiskey
89
Posted 30/09/2017 at 18:44:08
I don't think Mirallas is the answer; Vlasic or Lookman, yes, but Mirallas has had enough chances.
Kunal Desai
91
Posted 30/09/2017 at 19:19:46
Don't see us winning. Burnley to nick this 1-0 for me.
Peter Murphy
92
Posted 30/09/2017 at 19:27:28
Koeman talks about us lacking aggression. I bet none of the four players who have showed any of that quality in the past three games are in the starting lineup tomorrow.
Rick Tarleton
93
Posted 30/09/2017 at 19:52:00
After destroying Cyprus's strongest, we'll waltz past poor old Burnley.
I've had a bottle or so of wine. It'll be very tight and we need an attacking formation. However, with our lack of pace, that may be difficult. Please don't lose through a stupid defensive error, Williams, please note.
Lawrence Green
94
Posted 30/09/2017 at 19:53:36
Manchester City are the new benchmark in the Premier League, they have many wonderful footballers who are prepared to give every drop of sweat in their quest to win any game of football they are involved in. Conversely our team and it's been this way for a good few years now, believe they only have to take to the field and their 'obvious' quality will win the day.
We can argue all day long about team selection, formations etc but if the whole team don't have a work ethic and not enough of them are prepared to take responsibility on and off the ball, we end up looking very ordinary, if not downright awful.
I think we will win tomorrow but only if we match or better Burnley's workrate. As for those panning the Goodison faithful and blaming them for the players' loss of form or inability to reach an acceptable level of performance, I can't agree.
It is frightening to think what would happen if we are involved in a dog fight towards the end of the season if the players we have bought in and those who were already at the club are made of such flimsy stuff.
Good players who have a winning mentality don't have to rely on their fans to produce the goods, they play to win – no matter whether they are playing in front of a hostile away crowd or in front of one man and his dog. If the players have a go at Burnley or any other opponents we might face this season, the crowd will get behind them to a man.
It's not too late to make serious inroads into all the competitions we are involved in but the turn around, if it is to happen, has to arrive very soon, before Goodison does indeed become 'toxic' – as it will if the fans have to witness too many more half-arsed, half-hearted performances aided and abetted by half-baked tactics. l'm hoping the game tomorrow provides the beginning of that turn around.
Ian Bennett
95
Posted 30/09/2017 at 19:56:31
They're going to play 4-4-2, so I suspect big Ron will play it safe with the usual handbrake-on stuff – Gueye, Schneiderlin, Rooney.
My side, for what it's worth:-
Pickford
Kenny
Keane
Jagielka
Baines
Vlasic
Gueye
Davies
Sigurdsson
Niasse
Calvert-Lewin
Len Hawkins
96
Posted 30/09/2017 at 19:57:42
Burnley to nick it 1-0!!! I think a hell of a lot of people would be happy with only a 1-0 loss, I'm expecting Burnley having a field day.
Ian Riley
97
Posted 30/09/2017 at 20:02:34
Everton will win by two goals tomorrow.
Tony Hill
98
Posted 30/09/2017 at 20:04:21
I think we'll win this one 3-0.
Gerard Carey
99
Posted 30/09/2017 at 20:05:46
Would love to see Tony's (#86), team start tomorrow. Davies ahead of Kenny on the right, and Vlasic in front of Baines on the left. Calvert-Lewin and Niasse up front offering pace.
Brent Stephens
100
Posted 30/09/2017 at 20:07:17
Calvert-Lewin and Vlasic starting are the two big ones for me. Start from there.
Dave Abrahams
101
Posted 30/09/2017 at 20:10:59
Lawrence (#94) you are spot on. When the team started attacking with intent versus Bournemouth the crowd responded, roaring them on to victory.
For the first sixty odd minutes how was it possible to respond in a positive way to the mind numbing football that was on display, the crowd did well not to turn on the team and especially the manager who is responsible for the poor selection and tactics of the team.
Koeman will do well to have a good think about his team and the tactics he uses. If they are not changed there is the likelihood of another poor display and the crowd will not hold back, we have been more than patient and will not be treated like idiots.
By the way, Lawrence, as much as I like watching Man City I'm not sure I'd like Everton to buy their trophies, but this has been argued before on ToffeeWeb so I won't push it.
Ray Jacques
102
Posted 30/09/2017 at 20:14:42
Thought I was going to throw up watching Strictly Come Dancing there. Cringeworthy red bastards.
Stan Schofield
103
Posted 30/09/2017 at 20:17:57
Lawrence @94: Good post. It's unrealistic to expect a crowd to galvanise itself when the team don't. The crowd can make a big difference otherwise, but it's on the basis of full commitment from the players as well as decent tactics and team selection (from the manager) that makes maximum use of that commitment.
When the tactics and team selection are wrong, the players have an uphill struggle, even when they give full commitment, and I don't believe full commitment can be sustained like that.
Everything depends on the manager getting the tactics and selections right. That's why the top ones get paid so much, and until we get a manager who in this sense knows what he's doing, we'll struggle.
John G Davies
104
Posted 30/09/2017 at 20:18:22
Dave,
The fans are holding it back, trying hard not to get on the players' backs. A fast start and a continuous high tempo is a must tomorrow.
Calvert-Lewin with Vlasic in behind for me. Both direct and both with the first thought of going forward. No Rooney, no Klaassen and no Schneiderlin for me.
Blues can kick off when it's not going well, we can be a difficult crowd to play in front of. On the other hand it's dead easy to get them onside. 100% effort, throw a tackle in and play a high tempo and they will back you to the hilt.
Kim Vivian
105
Posted 30/09/2017 at 20:31:05
Our day tomorrow. 2 or 3 for us. 1 or less for Burnley.
Ian Riley
106
Posted 30/09/2017 at 20:36:53
When you pay £40 a ticket or more, the expectation is the players will put in a shift. Fans have changed in the past 20 years. Cheering on the team all game has long gone. Entertainment first, then cheering.
Dave (#101), I would gladly buy a trophy and stick it in the cabinet. The reality is money buys success. I agree with your principles but the reality is Everton may not win another trophy in my lifetime without significant financial backing. Please let me be wrong!!
Manchester City fans are living the dream and their fans have been through hard times. Good luck to them.
Phil Smith
107
Posted 30/09/2017 at 20:40:11
If Niasse and Calvert-Lewin don't start, I'm gonna get really angry tomorrow.
Dermot Byrne
108
Posted 30/09/2017 at 20:43:14
Agreed, John. So important to have a fast start.
It is so demoralising when they start the game in that slow, over cautious manner and keep checking back. The fans forgive mistakes if a player is giving 100%. But they don't forgive players who hide in games and never take a risk – quite rightly.
Tom Bowers
109
Posted 30/09/2017 at 20:46:00
What has Koeman got to lose? He's tried Sandro who looks lost as a striker so why not try Niasse with Calvert-Lewin?
A few others seem out of favour, such as Mirallas and Lookman, but Vlasic deserves a start too.
If Everton give Burnley a goal start, as seems to be the norm these days, then it will be another frustrating afternoon.
Lee Jackson
110
Posted 30/09/2017 at 20:47:09
I personally don't get the desire to drop Rooney - I never wanted him back here but he's been our most committed player and gives his all every game – exactly what many on here are pining for. He's also one of the few players we have who can make something out of nothing.
For me the things that I think need to happen tomorrow are:
1. Start with Calvert-Lewin up front (which I think he will);
2. If Sig is selected then he has to start #10 or don't play him at all (50/50);
3. Schneiderlin has to be 'rested' (not likely);
4. 1 defensive midfielder only (not likely);
5. Width and pace - has to start one of Lookman, Vlasic, Lennon along with Calvert-Lewin (50/50);
6. Don't play Klaassen or Sandro at any point in the game unless we are 12-0 up;
7. If all the above don't happen then Burnley need to play really, really, super shit (like Sunderland-level shit).
Jesus... worried by Burnley at home? Thanks, Ron.
Kim Vivian
111
Posted 30/09/2017 at 20:55:24
Oliver (# 67) – I know it was hours ago (I'm working my way up the thread) but that second para's a classic, mate. Eels...! Made me laugh.
David Tennant
112
Posted 30/09/2017 at 21:49:32
Most width comes from fullback these days. I feel that out of our fullbacks Kenny and Martina are best suited for this. but Martina has obvious defensive flaws. Baines historically could do this but at the moment... isn't. Bearing that in mind I would play:
Pickford
Kenny
Keane
Holgate
Baines / Martina (he can play left-back)
Schneiderlin / Gueye at the base
Davies
Sigurdsson
Rooney at the tip as a true Number 10
Calvert-Lewin
Niasse
Andy Crooks
113
Posted 30/09/2017 at 22:02:46
Nothing ever works out the way it is meant to. We should lose tomorrow, Koeman should be sacked and we should move on.
However, this will not happen. It will be more complicated. We will win, I have no doubt about it. We will win well, I have no doubt about it. And, it will cloud the Koeman problem good and proper.
I never, ever, back our club to win or lose. Today, though, I have had my biggest bet in the last 10 years for us to win. No correct score, just win. If I do not collect I will not be responsible for my actions. and will expect this post to be part of my diminished responsibility defence.
Will Mabon
114
Posted 30/09/2017 at 22:07:51
"
Oliver - Deulofeu. He had no option.
"
He had plenty of option. Like not sending him out on loan to Milan, or trying to negotiate with Barca to keep him. "He had no option" paints it as Barca coming back in for him and taking him from us. It wasn't like that. Koeman didn't want him.
Paul Ferry
115
Posted 01/10/2017 at 02:12:56
Absolute rubbish that Will Mahon (114) - sorry.
'It wasn't like that'.
Oh yes it was.
But hey just rewrite stuff to have a go at Koeman.
Barcelona say we want him there is nothing - absolutely nothing - that we can do about.
'" He had no option" paints it as Barca coming back in for him and taking him from us'.
Is exactly how it was. So sorry there is no room there for you to bash Koeman Will although you could of course make something up.
Steve Brown
117
Posted 01/10/2017 at 04:07:01
Barcelona included a buy-back clause in his contract and decided to exercise that clause, so Koeman had zero options even if he wanted to keep Deulofeu.
Everton obviously didnt, but then neither did Seville or AC Milan... so none of his former clubs wanted him. Korman's tactics and team selection are giving us all plenty of sticks to beat him with, so no need to make any up.
Will Mabon
118
Posted 01/10/2017 at 04:15:13
Paul, are you really saying that Deulofeu going out on loan is
rubbish
? Do players go on loan if the manager wants them to stay and play in the team? Did Koeman basically drop Deulofeu in the season or did he keep playing him? Did Koeman or the club express any interest in trying to keep Deulofeu, or negotiating with Barcelona?
Before accusing me of making things up, answer those questions for yourself. The answers to them could all be found online in minutes.
Of course, you could always cite alternative facts to what I posted, to disprove what I said; more credible than acccusing me of invention.
Obviously, If Barcelona had appeared out the blue and said they wanted him back and could do it contractually, there'd have been nothing we could do - except perhaps negotiate.
What I posted is in response to what Kim wrote, worded as Koeman having no option, which implies he lost Deulofeu against his will, which was not the case at all.
Will Mabon
119
Posted 01/10/2017 at 04:23:23
"
Barcelona included a buy-back clause in his contract and decided to exercise that clause, so Koeman had zero options even if he wanted to keep Deulofeu.
"

Steve, yes - "...even if he wanted to keep Deulofeu", which is the point I was making. Koeman did not want to keep Deulofeu. If he had, the club may have negotiated, and Barca may have been willing, who knows. As you observed, he was not wanted here and hence off he went.
No-one's making anything up. It's just too simplistic to say Koeman had no choice, as if the player leaving was against his wishes.
Matt Traynor
120
Posted 01/10/2017 at 04:46:37
Andy #113, I'm afraid your post may be difficult to use in your defence, should the worst case scenario happen. You see, it indicates a degree of premeditation.
You don't say what you would plan to do should Everton lose today, however under mens rea (Latin for Guilty Mind I think the ex-Christian Brothers schoolboys will confirm) for English Law they could try to use elements of your post against you, should you go on to be accused of committing murder or GBH. (I don't think you're US-based but if you are, it would be Malice aforethought in many states if you were to be accused of murder in the first degree).
I'm sure in the worst case the good folk of TW will support one of their own. Maybe a fund for legal representation. A plane banner at the next home game demanding "Free Andy (and Sack Koeman)".
Although the way Williams, Martina and Holgate have been exposed recently, I would not rely on the Everton defence.
Tom Evans
122
Posted 01/10/2017 at 08:52:02
Setting off now more in hope than expectation. Please, all we're asking for is a bit of effort, and hopefully a morsel of passion.
Let's just have a go and you never know the journey back home for us might be a happier one than of late.
Derek Knox
123
Posted 01/10/2017 at 08:53:03
I really don't get Lookman's treatment by Koeman, nearly every time he has played, he has impressed.
If left on the bench to stagnate, he will become not only disillusioned, but may seek to leave, which I for one would regard as a travesty.
I am becoming increasingly frustrated, as I am sure, many others are too, by Koeman's team selections, and dare I say tactics. I have said the last bit hesitantly, as there does not appear to be any recognisable game plan.
I do not feel confident today, in fact, unless he turns things round dramatically, and I doubt that will happen either, I fail to see a win for us today.
I watch most of the other Prem teams, either through Mod or Sky/BT, and they all seem more dynamic than we are, we are playing with little or no confidence at all, I can never recall feeling this bad about Everton for a very long time.
Yet, we have a rich investor now, and have spent an unprecedented amount on players this last window, admittedly a few were overspend, but we appear to be worse if anything, I know about the settling in and gelling, and all that, but there is something more than that here, and it worries me.
Bob Parrington
124
Posted 01/10/2017 at 08:56:55
So, What's the freekin" startin' line up? KO is in about 5 hours or so?
John G Davies
125
Posted 01/10/2017 at 09:07:53
I'm going to do something I haven't done since the Moyes era today.
I am checking the team and may give it a miss if it's what I think it will be.
Dermot Byrne
126
Posted 01/10/2017 at 09:09:46
I just pray there isn't that silence after they score from a poor backpass. Then a period when the crowd start yelling at them and they run around for a bit until the inevitable subs. We finally get an equaliser and later gaffa ponders about confidence in the first half.
That won't happen will it? Nah. I will keep my optimism but just tell me today the players will show some backbone and a sense of adventure.
If they don't I hereby commit to posting the same criticism 10 times a day for the next 14 days. (Back to that definition of insanity)
Won't that be fun!
Dave Abrahams
127
Posted 01/10/2017 at 09:14:01
Lee (#110), yes I do not doubt Wayne's desire or commitment, he tries 100 per cent, it's just not coming right for him, his football brain is working great, his body has slowed down.
I loved Rooney as a player, didn't want him to come back because I was convinced his best days are long gone. I wanted to be wrong;it's looking to me I was right. I get absolutely no pleasure out of this if I am right.
David Hughes
128
Posted 01/10/2017 at 09:24:41
We can never get it right at Everton. I really thought that this would be our season. well what a suprise, now looks like one of the worst. The thing is when Moyes left it went down hill all the way, no direction. Martinez first season being the highlight but Moyes had that team sorted at the back!.
Look I'm not saying Moyes was the best thing since sliced bread, but I enjoyed the football back then, a few weeks back I was on here saying Koeman out and picking teams for us; now I feel what a waste of time, this man will do it his way even if we all see the writing on the wall.
I could see us winning today, saving himself again, next big game we will get hammered. Look if we are going to write this season off would love to see Unsworth given a chance, he knows what we are and need the passion of putting on the blue of Everton. Anyway I for one am so sick of it, same old same old, but one thing I know is I am sick of Koeman's negative attitude.
Tony Everan
129
Posted 01/10/2017 at 09:43:28
I don't think we will see a starting line up until 12.
There will be a good few waiting to see if Ron has learned anything yet about his set up.
Fortune favours the bold.
Eddie Dunn
130
Posted 01/10/2017 at 10:08:10
Tony (#129), The problem Koeman now faces is how to shore-up a leaky centre-back pairing. He will be tempted to play Jags and Kean edespite their slight injury concerns, because the partnership of Williams and Holgate fills all of us with trepidation.
If he is forced to play the latter two, then he will feel that he has to protect them with his usual two defensive midfielders. He may well stick to this plan even if the first two are fit.
This will obviously dictate the balance of the side. If he was more confident, he could opt for a back three and push the wingbacks on especially as Burnley will most likely play with only one up top, but the acid test is what he does with Rooney.
I hope he gives Sigurdsson the ten spot and finds a different use for Wayne, perhaps bringing him on for the last half hour. I certainly don't see Koeman taking too many risks from the start. He usually waits too long before making any big changes.
George McKane
131
Posted 01/10/2017 at 10:26:25
It's always a mad rush for Sunday games for me - - have to be up early to get ready for 10.30 Mass at St. Alphonsus - - Father Winder would go mad if any of the Altar Boys were to be late. I will go past Old St.Ollies later on the way to the game and all that's left is a mess of unholy ground. Remember my sister Joan getting married there and I had to miss the Everton 8 - 3 Cardiff game. My sister Colette got married there on 30th July 1966- - - World Cup Day - -all the men, including Father winder ran from The Church down Great Mersey to my dad's Pub - - The Britannia - - to watch the game - - The wedding reception was up stairs but as you know the game went to extra time so by the time the men came up stairs for the buffet the women were sitting with gobs on and the men were bladdered - - you see Mr. Koeman and Co - - Memories - - I thought I was really cool in my Herring Bone Tweed suit, 1 inch turn ups, with Black Silk Hankie in the top pocket and my Lemon Ben Sherman Button Down on and ox blood comos - could hardly wait for the dancing so I could get up with Mary Walsh and show her how cool I was dancing to The Impressions "Its Allright" - - Our Lives Tangled Up In Blue:
"Early one mornin' the sun was shinin'
I was layin' in bed
Wondrin' if she'd changed at all
If her hair was still red
Her folks they said our lives together
Sure was gonna be rough
They never did like
Mama's homemade dress
Papa's bank book wasn't big enough
And I was standin' on the side of the road
Rain fallin' on my shoes
Heading out for the east coast
Lord knows I've paid some dues
Gettin' through
Tangled up in blue"
Sitting in my writing room now - - just listening to The Lark Ascending Vaughan Williams - - slightly melancholic to start but then tremendously uplifting. Had a stroll around the house changing the Calendars - - I have lots of them - - and the one in the top room overlooking The River today shows Hieronymous Bosch The Garden Of Earthly Delights. I am always looking for symbols and maybe this is it. Gosia will take me under The River in our Black Gondola with me sitting back and dreaming of better days and hoping for a New Beginning. Yes, I think I/we have to really believe in a new start or what is the point if we truly believe that nothing will happen nothing will change.
"The chief beauty about time
is that you cannot waste it in advance.
The next year, the next day, the next hour are lying ready for you,
as perfect, as unspoiled,
as if you had never wasted or misapplied
a single moment in all your life.
You can turn over a new leaf every hour
if you choose."
I am not happy with Koeman or his Management and actually watching something you love fading in front of you - - like Old Shep - - but I love Everton and I Love the whole Matchday Experience - - I wish that Koeman for all his so called Dutch Courage would stop washing our undies in public:
"The splendid thing
about falling apart
silently...
is that
you can start over
as many times
as you like."
Maybe Mr.K should read Francis Bacon( another great Evertonian) for a while this morning: "For better it is to make a beginning of that which may lead to something, than to engage in a perpetual struggle and pursuit in courses which have no exit."
But whatever I will be on my way to The Dark House pretty soon - Gosia has just popped in and asked "what time are you going" - - 11.30 - - please - -
"Sunday in the afternoon
What have you got to lose?
It's my heart that's suffering
It's a-dying-
And that's what I have to lose"
Thanks to CSNY.
I will arrive at TDH around 11.50 and will have my first pint with Paul and then go around taking photos for TDH FB Page - - my goodness what days we have had in TDH - - brought together from all corners by Being Blue - I remember running around the block in my undies after we won the league in the 80's - - I just have to lean back in my chair at my writing desk - - close my eyes and let my mind drift (Come a little bit closer Hear what I have to say
Just like children sleepin' We could dream this night away) - - Back - Way Way Back - - to Those Days - - getting the train to Kirkdale and walking up to TDH:
"While riding on a train goin' west
I fell asleep for to take my rest
I dreamed a dream that made me sad
Concerning myself and the first few friends I had
With half-damp eyes I stared to the room
Where my friends and I'd spent many an afternoon
Where we together weathered many a storm
Laughin' and singin' till the early hours of the morn"

No one can ever take your memories from you - each day is a new beginning, make good memories every day. So no matter how hard some try they cannot and never will stop us - -all of us Being Evertonians - - we have no choice – these are not clichés - - we are True Blues - yes of course it has been a long time since we won things - but we are still here - - just standing up for a moment looking out of my window overlooking the River - -
Still glaring from the city lights
Into paradise I soared
Unable to come down
For reasons I'd ignored
Total confusion
Disillusion
New things I'm knowing
I'm standing on the shoreline
It's so fine out there
Leaving with the wind blowing
But love takes care
Back in at my desk now and thinking that I have to go and get ready - for nothing - nothing - will stop me going the game - - thick and thin - - good and bad - - richer or poorer - -
Sad, deserted shore, your fickle friends are leaving
Ah, but then you know it's time for them to go
But I will still be here, I have no thought of leaving
I do not count the time
For who knows where the time goes?
Who knows where the time goes?
And I am not alone while my love is near me
I know it will be so until it's time to go
So come the storms of winter and then the birds in spring again
I have no fear of time
Maybe I am just rambling now - - so time for a shower, a shave, clean Battle Vest and Drawers on Onwards to Goodison.
Cosmic grooves all the way Blue Boys. Your Friend George.
Just a little bit of Curtis Mayfield to lift us up:
"When you wake up early in the morning
Feelin' sad like so many of us do
Hum a little soul, make life your goal
And surely something's got to come to you
And say it's all right
Say it's all right
It's all right, have a good time
'Cause it's all right, whoa, it's all right"
Andy Crooks
132
Posted 01/10/2017 at 10:29:04
Uplifting stuff, George. Thank you.
John Keating
133
Posted 01/10/2017 at 10:36:14
I think the big question we have to ask today is seeing Crystal Palace haven't had a win or scored a goal so far this season, can they hold on until 18th November?
Andy Meighan
134
Posted 01/10/2017 at 10:37:12
Tangled up in blue. What a tune, George. What an album. Only listening to it yesterday. We certainly are tangled up in blue.
Colin Glassar
135
Posted 01/10/2017 at 10:48:06
If he has everyone fit I think this could be his team today:
Pickford
Martina
Holgate
Williams
Jagielka
Baines
Sigurdsson
Gana
Schneiderlin
McCarthy
Rooney
A 1-5-5 formation. Keep it close for 8 7mins and then hope Calvert-Lewin or Niasse come on to rescue a point.

Eddie Dunn
136
Posted 01/10/2017 at 10:51:31
Slightly off topic, but gently inspired to think more positively after George's splendid post... I watched most of Chelsea v Man City yesterday and the football was fantastic. The movement, passing, speed of thought and legs. What an advert for the game! I wonder if our lot were inspired?
Brent Stephens
137
Posted 01/10/2017 at 10:59:19
George - my prematch settler. "Francis Bacon (another great Evertonian)" - not seen at the match for a long time, though.
Peter Mills
138
Posted 01/10/2017 at 11:00:29
George - "Come a little bit closer, hear what I have to say..." - There was a young lad busking that very well in Church Street on Friday afternoon.
Tony Hill
139
Posted 01/10/2017 at 11:01:15
Great stuff, George, thanks. Sandy Denny, what a loss.
Barry McNally
140
Posted 01/10/2017 at 11:30:39
George, fantastic.
Ray Smith
141
Posted 01/10/2017 at 11:41:08
Eddie 136
I've just watched match of the day Chelsea v Man City pure poetry.
They will both be in top 4 at the end of the season.
When did you last see Everton play one touch attacking football and positive defending. Shows how far we are behind!
We have the players but they are not a team.
Last chance saloon for Koeman this afternoon in my book.
We might see Moshiri flexing his muscle, because Kenwright won't.
Brent Stephens
142
Posted 01/10/2017 at 11:42:07
Off to the game in a few moments, armed with hope and a sick bag.
Calvert-Lewin and Vlasic to start, work the rest around that.
Laurie Hartley
143
Posted 01/10/2017 at 12:05:21
George - I am glad you are our friend. Your post as usual lifted me.
It's a mad and mysterious world George. Here I am sitting in a hotel in Bangkok on my way back to Australia while you are on the way to Goodison, thinking "while George was at his sisters wedding 55? years ago I was watching Everton beat Cardiff 8-3 on the Goodison Rd terraces. Memories George - what a wonderful idea.
Keep the faith George - we will be back.
Paul Tran
144
Posted 01/10/2017 at 12:08:07
John G (#125), you're not alone. I had my equivalent on Thursday night. So bored I turned the sound down on my laptop, picked up my phone and checked the form for Newmarket. Haven't done that since the Moyes era. Vlasic coming on got and kept my interest again. My money's on him not starting today.
John G Davies
145
Posted 01/10/2017 at 12:16:23
He should play Vlasic in behind Calvert-Lewin, Paul. Imo.

Oliver Brunel
146
Posted 01/10/2017 at 12:17:34
George thank you thank you. I too am a believer in music as a soul lifter, 'The Lark Ascending' is great. Or the 'Pines of Rome' Vespighi. So thanks for inspiring me George I would like to offer a little 'Uplift Music' for those who are ever down. Please play some of these following an Everton defeat, or Andy Carroll transfer announcement:
Fairport Convention : 'Who Knows Where The Time Goes'
Love : 'Alone Again Or'
The La's: 'There She Goes'
Crosby Stills and Nash: 'Marrakesh Express'
The Byrds : 'Tribal Gathering'
The Clash : 'Spanish Bombs'
Curtis Mayfield : Move On Up.
David Crosby : 'Traction in the Rain'
Gil Scott Heron " Lady day and John Coltrane.'
Keep on Keeping on blues!!!
Brent Stephens
147
Posted 01/10/2017 at 12:22:23
I hope for some rap from George next week for a change - our toffee rapper.
Christy Ring
148
Posted 01/10/2017 at 12:27:20
All I want is for Koeman to pick a team with width and pace and players in their proper positions.
Pickford
Kenny Keane Holgate Baines
Lennon Gueye Davies Lookman
Sigurdsson / Niasse
Calvert-Lewin
Sam Barrett
149
Posted 01/10/2017 at 12:52:23
Can't make the game today but reading George's post puts me there in spirit. George, I've said this before, but your posts always make me feel like the 7 year old who ran home to tell my mum in excitement when Bobby Latchford scored his 30th goal, please keep them coming.
Wetting myself at the thought of you running round TDH in your undies when we won the league, brilliant!!
Brian Hennessy
150
Posted 01/10/2017 at 12:53:26
Oliver #146 To stay with a musical theme, i'm going with Irish singer Paul Brady's - The Long Goodbye, that's what this current Koeman spell feels like
Mike Berry
151
Posted 01/10/2017 at 12:55:47
If we start with yet again two holding midfielders, three Number 10s, no width or no two upfront and if we lose? There will be no hiding place for Keoman. I predict a "watershed" moment today.
Paul Rimmer
152
Posted 01/10/2017 at 12:56:49
We could be as high as 8th if we win but I have the feeling that we'll get beaten today. That shows how much Burnley have improved and how much we've deteriorated.
I would love Brady in our team – Dyche may be old school but he has his team well drilled defensively and they're a threat from set pieces. I can see a 1-0 loss coming. Hope I'm wrong!
Colin Glassar
153
Posted 01/10/2017 at 13:03:41
I was feeling quite glum and despondent about this game then I saw Allyson Rudd on Sunday Supplement (The Times), good journo despite being a kopite, and she said Koeman is seriously worried about losing his job so I'm expecting him to try a completely different approach today.
Even if we win, Koeman doesn't convince me.
Will Mabon
154
Posted 01/10/2017 at 13:05:37
"
When did you last see Everton play one touch attacking football and positive defending. Shows how far we are behind!
"
Thing is Ray, even were we capable, Koeman doesn't have that kind of football as an ambition. His intent is slower and less direct. We won't see that kind of attacking football anytime soon.
Tony Abrahams
155
Posted 01/10/2017 at 13:08:42
Beautiful George, if I was Everton's manager, I'd have you in the changies before every game mate.
They reckon Dylan, wrote the first ever rap song Brent, but tangled up in blue, will do for me.
If I was Koeman, I would read George's post to the players, and tell them to go out and play with the same freedom as George, honestly!
Oliver Brunel
156
Posted 01/10/2017 at 13:14:49
Ahh Brian..'The Homes of Donegal' I love Paul Brady..
'The time has come and I must go, I bid you all adieu,
The open highway calls me forth to do the things I do.
And when I'm trampin' far away I'll hear your voices call,
And please God I'll soon return unto the homes of Donegal'

Dave Abrahams
157
Posted 01/10/2017 at 13:16:36
George thanks for another uplifting post, but if Koeman has got you worried what is he doing to the rest of us.
As Oscar Wilde once wrote 'Some people light up the room when they enter it, some light up the room when they leave it': I think Mr Koeman is one of the latter, but I hope he puts a smile on our faces today, like you do George.
ps: George make your 4-0, 3-0 today, just a thought.
Eddie Dunn
158
Posted 01/10/2017 at 13:19:57
Tony, only Bainesie would have any idea what on earth was going on!
Kim Vivian
159
Posted 01/10/2017 at 13:24:46
John (#133). Hodgson got one, or two games left before he gets the Spanish?
Charles Brewer
160
Posted 01/10/2017 at 13:39:43
After the Deulofeu discussion above, perhaps in future Everton could insist on a sell-back clause. Then we could get rid of Klaassen, Sigurdsson, Williams, and maybe even Koeman.
Steve Stobie
161
Posted 01/10/2017 at 13:55:36
Happy with line-up apart from Williams.

David Midgley
163
Posted 01/10/2017 at 14:17:27
Brent. Toffee Wrapper?
No matter how many comments are put on the web. Despite all the team selections put forward, good bad and indifferent. It's like watching 'Millionaire' when everyone in the audience and watching on TV just knows that the contestant is making the wrong choice. Even shouting at the telly doesn't help.
It's the sheer frustration of watching all this unfold and the feeling of helplessness.
Laurie Hartley
164
Posted 01/10/2017 at 16:46:59
As mentioned above, I am in Bangkok in transit back to Australia. Guess what the game in the sports bar was?
I must have painted a forlorn picture standing in front of of the big screen. As I left the Thai barmen said, "Very sorry, Sir". They are very humble and polite people the Thais.
You have to be resilient to be an Evertonian. I will walk out of the hotel tomorrow morning then into the airport with my blue Everton napsack over my shoulder.
Apart from anything else, what would my family think if I put it in my suitcase?
It's always darkest before the dawn.
Brent Stephens
165
Posted 01/10/2017 at 18:01:19
David #163 "Toffee Wrapper?"
You got it.
Add Your Comments
In order to post a comment, you need to be logged in as a registered user of the site.
Or Sign up as a ToffeeWeb Member — it's free, takes just a few minutes and will allow you to post your comments on articles and Talking Points submissions across the site.