Chelsea vs Everton

117 Comments [Jump to last]
Tuesday 24 October 2017
League Cup Fourth Round Preview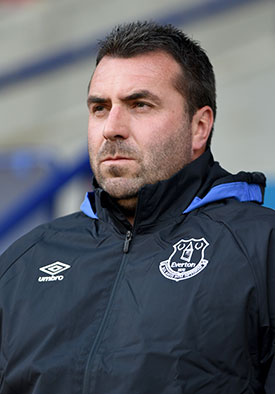 David Unsworth takes temporary charge of Everton alongside his U23s assistant, John Ebbrell
The post-Koeman era begins in one of the toughest arenas possible as David Unsworth takes charge of Everton's Carabao Cup Fourth Round tie against Chelsea.
Handed the temporary reins following the Dutchman's sacking on Monday, the former Toffees defender appears determined to use the undetermined number of games he will oversee as his interview for being appointed to role on a permanent basis.
Unsworth would surely have wished for an assignment more akin to the last time he was installed as caretaker boss when his main remit was simply to put a smile back on the players' faces, send them out with a spring in their step following weeks of anguish under Roberto Martinez and win against already-relegated Norwich City.
In the 44-year-old's favour, however, is that barring another humiliation like the one suffered at Stamford Bridge under Koeman in the Premier League last season, he has very little to lose. Even accounting for the potential of the unpredictability of the cup, few expect Everton to beat Chelsea on their own turf which means that if "Rhino" can motivate his charges sufficiently to spring a surprise, he will have instantly transformed the mood in the camp.
It's not beyond the realms of possibility. Chelsea have already lost at home to Burnley and, more predictably, Manchester City and been run very close by Watford who probably deserved better than to lose 4-2 on Saturday. The Londoners' last away game was a 2-1 defeat to Crystal Palace who hadn't scored a goal up to that point and, of course, they conceded three to Roma in the Champions League… although Everton can only dream of what might have been had they been able to tempt Edin Dzeko to Goodison over the summer.
Unsworth will look to combine the post-sacking "bounce" factor with his own designs on how the Blues should line up and play to try and match Chelsea's technical superiority and see how things play out. In that respect, his team selection will be an interesting one and, naturally, a hard one to predict.
While Wayne Rooney's status as an automatic starter was increasingly challenged towards the end of Koeman's reign, it's hard to see Unsworth not making him a focal point of his line-up for this one given the 32-year-old's vast experience and ability to score at crucial times.
Whether that's as a central striker or playing off the likes of Dominic Calvert-Lewin remains to be seen but Unsworth's close working knowledge of the Under-23s might also see him blend in a decent smattering of youth, with Jonjoe Kenny likely to get the nod at right back, Tom Davies a strong candidate to start in midfield, particularly given the fact that Idrissa Gueye is suspended, although he would face competition from fit-again James MCarthy, and Nikola Vlasic could be rewarded for his strong performances, albeit perhaps encouraged to play more wide than he did under Koeman.
Beni Baningime and David Henen, who trained with the first team on Tuesday, might not get a look-in in this cup tie but their inclusion is a sign that the stand-in boss won't be afraid to use younger players to help freshen up the team.
With few permutations to be sorted through at the back, it's in attacking areas where Unsworth's starting XI will be most interesting. Will he accommodate Gylfi Sigurdsson in a central role and perhaps use Kevin Mirallas wide on the left or could he drop the Icelandic international in favour of using Calvert-Lewin as a striker off Rooney instead?
Thanks to the possibility of extra time and penalties, of course, Unsworth doesn't have to engineer a win inside 90 minutes and could bank on a more attritional strategy whereby an extra time winner or the lottery of penalties could seem them through.
There is precedent as all Blues will remember. Everton haven't won at Stamford Bridge in the league since 1994 but they did best Chelsea on spot kicks under David Moyes there in 2010. "Rhino" would take that outcome again in a heartbeat.
Kick-off: 7.45pm, Wednesday 25th October, 2017
Referee:
Last Time: Chelsea 2 - 1 Everton (League Cup semi-final, first leg), January 8, 2008)
---
Reader Comments (117)
Note: the following content is not moderated or vetted by the site owners at the time of submission. Comments are the responsibility of the poster. Disclaimer
James Lauwervine
1
Posted 24/10/2017 at 21:55:52
No predicted line-up Lyndon?
I'll go for:
Pickford
Kenny, Keane, Jagielka, Baines
McCarthy, Davies
Vlasic, Rooney, Lookman
Calvert-Lewin
Come on Unsy lad, let's do these bastards and get you off to a flyer!
Ian Burns
2
Posted 24/10/2017 at 21:57:08
I don't expect a win tomorrow but I do expect a better organised team; players playing in their proper positions and a team playing with heart. Given the lack of time Unsy has had, Leicester this weekend might be a better indicator.
Phil Bellis
3
Posted 24/10/2017 at 22:03:27
No more right footed left backs would be a good start.. and that young Beni also... Bring em on
Gordon White
4
Posted 24/10/2017 at 22:12:30
Keeping a clean sheet wouldnt be a bad aim. And if we do get beaten, better it be a close run thing with us retaining some pride, rather than what we've witnessed recently. Chelsea need to be made to work bloody hard for anything.
If tactics are clearly not working, don't take forever to change things.
Fingers crossed.

Matthew Burgess
5
Posted 24/10/2017 at 22:23:26
I'm actually looking forward to this game. Leicester, Sunday, is obviously the biggest game but even with minimal time to work with the squad, I'm looking forward to the prospect of seeing the team off the shackles and being a bit more positive.
Imagine the platform it would give us if we could turn in a big performance here?
Tony Williams
6
Posted 24/10/2017 at 22:26:29
Will Ross stay now?
Lee Jackson
7
Posted 24/10/2017 at 22:34:34
Who knows what Unsy will go for. I just hope its 1x DM, 1x #10 and 2x wingers (or at least 2x attacking wide players).

Tony Hill
8
Posted 24/10/2017 at 22:36:49
If truly fit McCarthy can make a big difference to us though I think he's going to have to adapt his style.
Great to see Baningime in the squad.
I think we've got a chance on the assumption that Chelsea don't really care. Let's just start to look like an Everton side.
Steve Ferns
9
Posted 24/10/2017 at 22:43:20
I went for an all u23 line up with Kenny, Holgate, Davies, Lookman and Clavert-Lewin added in.
Seems like he will play more first team players, so maybe:
Pickford
Kenny Williams Holgate Baines
Davies Schneiderlin
Vlasic Sigurdsson Lookman
Calvert-Lewin
Jagielka rested for Chelsea, Keane dropped / rested, Gueye suspended, Beni on the bench, Rooney rested, Niasse on the bench, Hennen on the bench. Expect him to go with pace and width. Expect a higher tempo. Expect much more fight.
Anyone know where you can watch it?
Steve Ferns
10
Posted 24/10/2017 at 22:44:42
Lee, Unsworth likes to play 2 DMs, but he plays them further forwards. Davies and Williams and then Walsh and Williams were the central two.
Robert Leigh
11
Posted 24/10/2017 at 23:08:05
Does anyone know if you have to be eligible for the league to play in the league cup?
Writing that sounds like a stupid question, but teams make so many changes (not all can be u21?).
Just wondered if Garbutt might get a seat on the bench...

Peter Laing
12
Posted 24/10/2017 at 23:16:43
Kenny out of his depth at this level I'm afraid, reminds me of Garbutt. Davies at right back with James McCarthy recalled.
Martin Nicholls
13
Posted 24/10/2017 at 23:38:05
Robert#11 - Garbutt played for U21's tonight
Victor Jones
14
Posted 24/10/2017 at 23:38:10
Nothing wrong with playing two DMFs. If they are in the mold of Reid and Bracewell. Or even in the Carsley and Graveson mold. But FFS playing Gueye and Schiederlin every bloody game.
Schneiderlin in particular causes our defence more problems that opposing forwards. I remember us actually attacking a few games back . And Schneiderlin somehow turned and passed back to Pickford.
Anyhow. This could be just the match to get Unsworth started. Nobody is expecting a win. So in essence its a proper run out trial for the Leicester game. Have a look at a few players. Let's see what works.
I'm really hoping that Unsworth can get that much needed feel good factor baPremier did in his one and only game, albeit against a poor Norwich City.
I have faith in Unsworth. Let's hope that our players also have. Because I really do question if every player is up for the fight. And right now this is a fight. We need everyone on board no slackers. No whingers. No unrest. No passengers. No bad influences.
I'm hoping for a win against Leicester. Anything tomorrow night would be a bonus. A very welcome bonus. Then we draw Man City away. Well we are after all cursed. Aren't we? Welcome to the big bad world of the Premier League, Rhino. I hope you take to it like water off a ducks back.
I think that you will. I'm feeling good about everything. The fight back begins now...
Paul Holmes
15
Posted 25/10/2017 at 00:15:53
Kenny won an England u20 world cup medal playing right back in every game against the best u20 players in world football !.If you think he is out of his depth,i would like to see your opinion on Gary Neville who went into Utds first team from Utds youth team.I think Kenny has done as much as Neville at that age don't you ?.Give Kenny a run of games and then judge him.Remember Nevilles first premier league match Villa beat them 4-1.
Karl Meighan
16
Posted 25/10/2017 at 00:23:21
Got to take into account the protection in front of the fullbacks, also reading lots want to see Davies rightback imo the square pegs in round holes is partly to blame for this mess. Davies either plays central midfield or he doesn't play for me. Doubtfull he has done the job at any level and to throw him in at Premier League level is unfair.
Ian Tunstead
17
Posted 25/10/2017 at 00:42:24
Kenny also won the U17s European cup scoring the winning penalty in the final against Holland and has won the league twice for Everton U23s and Everton U18s or U16s. He is a born winner.
Neil Copeland
18
Posted 25/10/2017 at 01:02:40
Really looking forward to this game now whereas before I was almost dreading it. What a difference in terms of positivity the Unsworth press conference versus Koemans ok it's football version.
Whether or not we win is probably not the most important factor, it is more about how we approach the game and go about it. I would love to see us do them there but really, really want to see a proper blood and guts Everton performance. If anyone can get the team fired up it is Unsworth.

David Pearl
19
Posted 25/10/2017 at 02:32:29
He took one training session before getting the coach down to London but who knows. I'd have Davies as right back. Better than any other option available. Kenny might come good but has so far been atrocious. I'd give both Niasse and Mirallas a start, maybe even Robles.
What was Koeman thinking. If we put up a good performance we go into the weekend in good spirits. More logical thought went into Lyndon's pre-match write up than Koeman did for a game. I've never wanted a manager gone before as much as I did Koeman.
Ernie Baywood
20
Posted 25/10/2017 at 02:54:47
I wonder if this would have been seen as a game to rest players, where it not for it being Rhino's first?
Lee Jackson
21
Posted 25/10/2017 at 03:23:02
Davies is not a right back. I recall koeman played him there one game and Davies was very poor. It also drew universal ire from ToffeeWebbers as another square peg in a round hole. Yet now some are calling for him to start There?
If you want to think outside the box for a right back there is a senior player at the club who has played that position before and has done pretty well in doing so. He may be unlikely to see game time elsewhere in the side. The player is Aaron Lennon.
David Pearl
22
Posted 25/10/2017 at 03:44:04
I remember Davies playing well at RB last preseason and also switching to that position toward the end of last season... and I remember him doing well. He's a confident player who likes to press high. He can see an early ball.
Actually Lennon could play right back too but would fit in better as a wing back. There are certain players that Koeman was just determined to ignore. He made his mind up early and that was that.
He obviously had a say in at least Klaassen, Schneiderlin, Sigurdsson, Martina... maybe more. Every one so far useless. Unsworth has one hell of a job making sense of the squad he inherited.
John Pierce
23
Posted 25/10/2017 at 04:16:36
I have no idea who might get the nod. One would hope despite the opposition Unsworth will have a go.
We might just be at an advantage, perhaps with Chelsea so dominant over us recently they may make changes and have little idea how the new man will play things.
I do expect an up tempo, intensity filled performance though. Again with 4 games before the international break you'd imagine for Unsworth to get he job he's gonna have to win 3or4 of the games.
I'd suspect he will go for the most mobile, high energy players at his disposal.
Saegaran Kana
24
Posted 25/10/2017 at 04:39:00
My prediction is a 442
Pickford
Kenny Keane Jags Baines
Vlasic Davies Rooney Miralas
DCL Niasse
I'm excited and I believe we'll win tonight. COYB!
Pete Clarke
25
Posted 25/10/2017 at 06:02:29
I see a really strong player in Kenny.
He's got to be given that role and grow into it.
People saying he's been terrible ignore the fact that so has just about every other player in the team under Koeman.
I think we are going to see a transformed Everton with the weight of Koemans bullshit off their backs.
Rick Pattinson
26
Posted 25/10/2017 at 06:11:57
Let's hope Mirallas gets involved a bit more than he has. A happy Mirallas is a good Mirallas. All agreed.
Gavin Johnson
27
Posted 25/10/2017 at 06:14:31
I noticed that David Henen is training with the 1st team squad so he'd be in my fist 11 for tonight in a 4-4-1-1
Pickford
Kenny Holgate Keane Baines
Lookman Davies Schneiderlin Henen
Sigurdsson
Niasse

Andy Walker
28
Posted 25/10/2017 at 06:32:57
Would any of the following be first team picks in any other Premier League team?
Holgate
Kenny
Davies
Niasse
Kenny
Lookman
DCL
I think they'd get the odd game but would be on the bench most of the time. Koeman unbalanced our squad, we have way to many inexperienced players and in the main our experienced players are past their best (Williams, Jags, Baines, Rooney). There are two few players who are in their prime, Schneiderlin, Sigurdsson, Mirallas should be but aren't on it. Then we have Keane who's lost all confidence playing in such a poor team.
Taking Lukaku, Coleman, Barkley out of our team lowers the quality massively and Barkley wasn't exactly perfect.
Koeman's preference to play the kids was a big mistake. Quality players with experience and at the peak of their careers is what we need, same goes for a new manager. Otherwise I really fear the worst. Good luck Unsy, you'll need a miracle with our squad.
Christopher Timmins
29
Posted 25/10/2017 at 06:44:20
Best of luck David both tonight and in the weeks and months ahead.
Peter Larkin
30
Posted 25/10/2017 at 07:14:50
The season starts right now. No more dutch negative shite, passion pride fight and some skill:) first game ive looked forward to all season, goodluck rhino. Coyb
Damian Wilde
31
Posted 25/10/2017 at 07:27:56
I can feel enthusiastic about Everton again now he's gone! Just hope he hasn't dine too much lasting damage.
Would love a win #COYB
Damian Wilde
32
Posted 25/10/2017 at 07:31:21
People mentioning McCarthy, most were saying sell him a while ago...
Tony Everan
33
Posted 25/10/2017 at 08:01:39
A tricky match but as Wolves showed last night a bit of commitment , passion and organisation can do wonders. They came very close to knocking Man City out.
I'm sure that Mosh will be watching with interest over the next few games to see if Unsworth can make a difference.
But , as someone mentioned above our defence is slow leaky and aging, we will be susceptible to being carved open with the pace and agility of Chelsea's attack.
Duncan McDine
34
Posted 25/10/2017 at 08:03:58
Andy 28... don't be a party pooper! For what its worth, I'd have Tom Davies as the first name on our team sheet. I think Koeman treated him with a lot of disrespect this season and has surely contributed to his form dipping. I understand that you can't spend all that money and leave those players on the bench, but young Tom was the one player to come in and make us look like a team last season. Prior to his involvement, we were arguably as poor as we have been this season. It was only Lukaku's goals that made the results at home any better.
Kim Vivian
35
Posted 25/10/2017 at 08:17:17
Victor - 14. I think you mean like a duck to water.. We're all with you in wishing that.
Rob Young
36
Posted 25/10/2017 at 08:37:04
Great comments by Unsworth on the official website for tonights match!
COYB!!
I'll be there tonight cheering them om. Can't wait!
Phil Walling
37
Posted 25/10/2017 at 08:56:21
With Chelsea playing their ressies, we can expect at least a draw. Probably have little bearing on the Leicester game when Unsey's audition really starts.
For tonight, I suspect James@ 1 will not be far off the mark.
Adam Luszniak
38
Posted 25/10/2017 at 09:04:11
Peter Larkin have to hand it to you! Your prediction of Koeman being gone by Chrimbo was right and then some. Didn't you make a bet with someone?
Kim Vivian
43
Posted 25/10/2017 at 09:37:26
This game is not on TV in the UK but I think it may be live Stateside on ESPN. Can any of you fellas across the water confirm that? If so we should be able to find a stream over here. Anybody got any other info or ideas?
Steve Pugh
44
Posted 25/10/2017 at 09:40:36
As Everton supporters we all have to accept that Unsworth is going to make mistakes and we have to trust that he will learn from them and develop into a strong manager.
Equally we have to accept that our young players will make mistakes and trust them as well.
Sam Hoare
46
Posted 25/10/2017 at 09:44:26
Andy Walker 28, I think there's a decent chance that all of those players could be starting at lower half clubs depending on the manager's approach towards youth.
The fact is that very few young players will hit the ground running. Most need game time and experience and their levels will go up and down.
I'd back at least 3 or 4 out of Davies, Kenny, Lookman, DCL and Holgate to spend the majority of their career playing top level football.
Phil Walling
47
Posted 25/10/2017 at 09:51:39
My biggest worry is that 'the big time Charlies' in this squad will sell him short just as they have done with his predecessors.
I don't like many of the current bunch who seem to think they are above coaches, managers and Everton FC !
Tony Marsh
48
Posted 25/10/2017 at 09:53:08
Sam @ 46
I disagree mate.I don't see DCL making it as a goal scorer.The lad is pacey and strong but he isn't a natural finisher,never will be. People go on about his age but Lukaku was hitting 20 plus for a shite WBA team at 21 years old.. Micheal Owen was prolific by the age of 20 carrying an average Liverpool team.
DCL does not look comfortable under pressure in the box. A natural striker flourishes in and around the penalty area . You can see Dominic doesn't have it.
Sam Hoare
49
Posted 25/10/2017 at 10:12:44
Tony @48, comparisons with Lukuku might be a bit unfair considering how many goals he had at such young age (more than Messi, Ronaldo and Suarez?) Owen in a similar camp.
Also its very difficult to score goals in a poor team shot of confidence.
For example Harry Kane only managed 2 in 13 during his loan at Leicester 4 years ago.
I'm not saying DCL will reach the heights of those players but I think he will get more goals and play the majority of his career in or around the Premiership even if its not for top 6 clubs necessarily.
Len Hawkins
50
Posted 25/10/2017 at 10:15:47
Christ !!!! I can't believe what I am reading on some posts.
WAKE UP !!!
Everton for the 2nd time in two years have ditched a bloody Gorilla off their back getting rid of TWO Anti Football genii who were dragging the club towards oblivion with every game.
Now there is a breath of fresh air around the World of Evertonia give the bloody players a chance for God's sake.
Unsy picks the team, I would imagine he has seen through the eyes of a "SUCCESSFUL" football coach what is wrong he knows the young players like his own kids for Christ's sake give him a bit of a chance instead of all this "he's not good enough" crap if Unsy picks them then he obviously thinks they are.
What the hell do people want, every player to turn into Messi overnight?

Chris Gould
51
Posted 25/10/2017 at 10:22:33
Kim,
You can download Mobdro app on your phone or tablet. You'll more than likely find the game on there. That's what I'll be using. You can watch ESPN through the app, along with any other sports channel in the world (or so it seems).
Mark Dunford
52
Posted 25/10/2017 at 10:26:49
No idea what the side is likely to be, but we can all say (a) the squad is hopelessly unbalanced with duplicate or triplicate cover in some spaces and no real immediate options in others (b) some of the young players are having a very hard time and need support as well as opportunity (c) the signings that are most closely identified with Koeman have been the biggest underachievers. All of it makes the team selection very tricky - the suspension of Gueye doesn't help. It was very silly to give Kenny his full debut against Arsenal - it should have happened earlier against a lesser side; Davies should be in the starting eleven but is hard to accommodate while two signings occupy the role he seems best suited for, and -above all - Unsworth spoke with more sense, passion and understanding in yesterday's conference than either the dour Koeman or the progressively deranged Martinez managed across their entire tenures. It clearly doesn't mean he will be a success - he has a very tricky quarter of fixtures to "prove" himself - but it is a breath of fresh air. We're expecting progress rather than four victories, though latter would be very nice!!
Lenny Kingman
53
Posted 25/10/2017 at 10:26:50
Casting the mind back not so many seasons Chelsea managed to get themselves clobbered at the Bridge by the League 1 giants of Bradford City 4-2.
That was in the infinitely more prestigious FA Cup so maybe the Blues can emulate the frazzle shirted clowns and take down the moneyed, recent arrivals at the top table of the glorious game.
Everton to win and maybe go on a run to win the trophy that has somehow eluded the club and climb the table to respectability now the club have been cleansed of the Dutch demolition crew. Ajaxed down the plughole.
Ajay Gopal
54
Posted 25/10/2017 at 10:59:46
It is great to ha e Unsy as the manager for this one. He will do his best to win it, he won't be thinking about the Leicester game. Unsy knows best, but it would make me very happy to see:
Pickford
Kenny Keane Holgate Baines
Davies McCarthy Sigurdsson Vlasic
Calvert-Lewin Rooney
Subs: Robles, Lookman, Williams, Lennon, Niasse, Schneiderlin
Derek Knox
55
Posted 25/10/2017 at 11:00:45
Just been checking, I think ESPN 3 has the match covered for tonight maybe there are others too. It states ET which is American Eastern Time.
Last night I noticed all the games were covered apart from the Sky featured match Swansea v Manure.
Looking forward to this if I can get it, haven't said that for a long while.
COYB
Johnny Rainford
56
Posted 25/10/2017 at 11:19:58
Saegaran #24... Decent starting 11 actually mate.
Time to bring in some players from the cold and fuck off Klassen and martini playing because he felt obliged to pick them. To a lesser degree scheiderlin.
Good luck unsy la. Nowt to lose mate.
Dave Williams
57
Posted 25/10/2017 at 11:20:09
Why the criticism of Kenny?
Give the lad a chance for heavens sake- you can't expect him to be brilliant from day 1 whilst he is surrounded by players either playing badly or who aren't really bothered.
He will come good under Unsy.
George Cumiskey
58
Posted 25/10/2017 at 11:26:05
Everyone keeps picking Holgate in their team, I'm afraid I wouldn't. I think he's been a liability at full back and centre half.
He needs to drop back into the under 23s to get back up to speed.
Stan Schofield
59
Posted 25/10/2017 at 11:32:18
Len @50: Well said. Football is about winning, or trying to win, each game as it comes. It's not about worrying about the future. We have a squad, and Unsworth will select a team and tactics aimed at maximising our performance tonight. Attention to detail. The devil is in the detail. Each game as it comes. We've got rid of the dour one, so let's just enjoy this match.
Kim Vivian
60
Posted 25/10/2017 at 11:45:03
Hi Chris thanks. Before I give it a go, do you know if this works well for windows or is Android the best platform? Reading the dope they seem to recommend Android but make plenty of reference to Windows. Cheers.
Dave Abrahams
61
Posted 25/10/2017 at 11:46:32
Dave Williams (57), well said Dave, I think most Evertonians at this stage realise it is hard for the senior players never mind young players coming in an unbalanced team, Jonjoe will get there, no need for fans to criticise at this difficult time for everyone at the club.
Tonight Dave Unsworth will be setting out to put his mark on the manager's job, I for one want Everton to win but the league games are the most important for me and I say that with the utmost respect for the Everton fans going down to London tonight.
Do your best Dave that's all we can ask, We know you will not give up like Koeman, he just went through the motions after the transfer window didn't turn out the way he wanted it to.
Mike Oates
62
Posted 25/10/2017 at 11:52:34
He just won't go with too many youngsters, too risky for his own future. I reckon Davies will get a game and Calvert-Lewin and hopefully he'll give Vlasic a game. The rest Kenny, Holgate, Henen, and even Lookman aren't ready.
He'll stick with Keane, Jagielka, Baines, Rooney, Sigurdsson, Schnederlien as a basis and that leaves a place for someone else, god knows where. I've had enough of trying to work out who will go where.
Robert Leigh
63
Posted 25/10/2017 at 11:56:05
I'd like to see 4-2-3-1 return:
Robles
Kenny - Holgate - Jagielka - Baines
McCarthy - Davies
Lennon - Rooney - Mirallas
DCL
Robles (good to see him on the bench Sunday), Keane, Schneiderlin, Besic, Siggy, Lookman, Niasse
Robert Leigh
64
Posted 25/10/2017 at 12:06:12
Damn! Meant to have Pickford starting!!
Rob Dunleavy
66
Posted 25/10/2017 at 12:50:32
Sorry its already been asked, but anyone know what foreign channel is showing the game tonight??
Gordon White
67
Posted 25/10/2017 at 12:57:03
Holgate seems get in the right spaces but doesn't want to drive forward. It's always going across or back. Whats the point in giving him the ball? Perhaps it's a confidence thing. I wish he would take players on occasionally, like Coleman. And like Baines use to do a lot more.
Koeman has really stifled these players.
Steve Kelly
68
Posted 25/10/2017 at 13:36:22
This site has the game listed, http://watchsports.live/1445-chelsea-everton/
Ralph Basnett
69
Posted 25/10/2017 at 13:37:04
Lots of people dropping Keane as his confidence is shot? Surely dropping him is not going to help, in fact to play him would surely be telling him, new manager, show me what you have got.
Otherwise I think most predictions for the team seem pretty safe.
For me I would have gone for a little bit of dogs of war, the new Everton are back and not to be pushed around:
Pickford
Kenny Holgate Jags Baines
Besic Davies McCarthy
Lookman DCL Vlasic
Paul Holmes
70
Posted 25/10/2017 at 13:41:16
How are the lads who won the U20 World Cup not ready ffs? They need a chance and a couple of games to find their feet. The Man Utd so-called class of 92 youth team players got beat by Villa in their first game 4-1, but they stayed in the team and look how that turned out!
Start playing Kenny, Lookman, Davies and Calvert-Lewin every game and watch them flourish like the Man Utd class of 92, Neville, Butt, Scholes etc.. etc. It's the so-called older players like Schneiderlin, Jagielka, Baines that let the team down not the youngsters.
Play Kenny at right back, Lookman on the wing, Calvert-Lewin on the other wing (he is our fastest runner but not a goalscorer yet, let him stretch defenders with his pace) and Tom Davies in midfield telling him every pass he makes must be forward.
Terry Underwood
71
Posted 25/10/2017 at 13:43:01
Off topic here, just seen Juventus legendary keeper Buffon is set to retire at end of season. One of my all time favourite non EFC players. Brilliant keeper and looks like a bandit. Would have loved him here.
Ray Jacques
72
Posted 25/10/2017 at 13:56:02
Don't think we will win tonight but hope I am wrong. I just hope we have a go and create some chances. The league game at Chelsea earlier this season was so one sided it was embarrassing.
Holgate should be given a few games at centre back, he cannot play full back
Chris Gould
74
Posted 25/10/2017 at 14:10:17
Kim,
I've got it downloaded on all of my android devices. I haven't tried it on windows.
I've just checked the ESPN stream and it's working fine.
You also don't get any annoying ads!
Bugger, just found out that it's on ESPN 3.
Mobdro only has ESPN and ESPN 2.
Goddammit!!!
Oliver Brunel
75
Posted 25/10/2017 at 14:10:37
Pickford
Lennon Keane Williams Garbutt
Davies Vlasic McCarthy Lookman
DCL Niasse
I know I will be slated but Holgate and Kenny are not ready at the moment. DCL is only in my team as we don't have anyone else. If Barkley was fit I would have him as an attacking mid behind 2 strikers. We need more mobile wing backs. Is Garbutt available? Essential we replace Baines asap as he slows the build ups down and is too slow during the transition from atteck to defence.. We need solidity in midfield now hence McCarthy . No luxury players like Sigurdsson far too immobile for a midfield player. I quite fancy Klaasen but he needs to get up to pace. First priority -get them fit!!
Jamie Crowley
76
Posted 25/10/2017 at 14:14:31
I don't see this being televised in America? How in the world is a Chelsea-Everton game not on the tv??
Just pissed. Any other USA based blues find it or any suggestions?
Beginning of an era and I don't want to miss it.
20 minute highlights seemingly in my future!
Jamie Crowley
77
Posted 25/10/2017 at 14:15:59
ESPN3 - I'll try that just saw your post Derek Knox. TYVM!
Rick Pattinson
78
Posted 25/10/2017 at 14:21:52
Get Redbox TV on any android device it has literally every sport channel on the planet .not that I have it of course.!!!;)
Kim Vivian
80
Posted 25/10/2017 at 14:27:16
I would hesitate to predict a line up here away from the obvious. It is more than likely Unsworth will see the players working slightly or significantly different roles based on his perception of their skills. They may have been 'barred' from the first team set up but sure as eggs is eggs he will have watched them closely, never mind having worked with some of them with the U23s.
I am looking forward to seeing how he sets out his stall tonight and on Sunday, and know we will see a fresh mentality.
And for once I am looking forward to the international break knowing it will give the guys a rest, and Rhino the chance to work with any of the lads who are not involved. Quite sure he won't be off to Portugal over the break!
Chris Gould
81
Posted 25/10/2017 at 14:31:59
Rick,
It has a lot of sports channels, but not ESPN 3!!
It's proving to be a rather elusive channel.
Derek Knox
82
Posted 25/10/2017 at 14:33:45
Jamie @77, you are welcome mate, if using on PC or android would recommend using a VPN, (basically hides your location) Mobdro too is a very good one with loads of choices.
I plead the 5th amendment as to having one myself or openly advising others to use it, ahem, now where are those cough sweets.
Kim Vivian
83
Posted 25/10/2017 at 14:35:07
Cheers Chris, no worries. But cheers anyway - I will give it a go for the future.
It looks likely that it will be streaming elsewhere so should be able to find the game somewhere. I bloody hope so. I don't know why there's not more TV coverage to be honest. I would have thought this game will hold a fair interest for neutrals. The Utd game last night was boring as shite what I watched of it before finding a bit of Stephen King on Netflix.
Anyway, there's Steve Kelly's link (@68) for starters. Thanks Steve.
No forum yet.
Tony Abrahams
84
Posted 25/10/2017 at 14:39:47
Anyone saying tonight's mate isn't that important should not be allowed inside Wembley when we get to the final!
Aarron Stobie
86
Posted 25/10/2017 at 14:42:42
I have an iPhone. What can I watch the game on?
Peter Cummings
87
Posted 25/10/2017 at 14:48:33
The obvious problem today is, even if we look like giving them something to worry about, Chelsea , given that they won't start some of their some of their 'regulars', have so much strength in reserve that they will simply call on them to provide the killer punch to win the game, However if they do start with a full team that's all she wrote being realistic.
Whatever the outcome if Davy can restore some of the morale pride and passion so lacking for so long, in his stint at the helm, that for me and most of us will be more than enough. Best of luck lads.
Kevin Tully
88
Posted 25/10/2017 at 14:51:07
Nobody has a clue how Unsworth would fare if he was given the role on a full time basis. I haven't seen a single post on why he shouldn't be given the next few games in charge. Any reluctance on my behalf is going forward into the next couple of seasons. I don't believe his record with the U23's has any relevance whatsoever on how he would handle all these new faces. It's not even about tactics or transfers, it's all about whether the players would run that extra mile, or put their head in where it hurts for a manager.
I sincerely hope he can step up and save the club a fortune. You've got to admit, it would be a miracle if he could pull it off. Ex-player, or lifelong Evertonian, it has absolutely no bearing on his capabilities to do the job. That's what some posters like myself are pointing out.
Dave O'Connell
90
Posted 25/10/2017 at 14:54:28
Good luck Unsy, let's do them tonight
John Pierce
91
Posted 25/10/2017 at 15:02:07
Pickford
Kenny, Keane, Jags, Baines
Vlasic, Davies, Sigurdsson, Mirallas
Niasse, DCL
Holgate, Klaassen, Lookman, Rooney, Sandro
Steve Bird
93
Posted 25/10/2017 at 15:36:31
Not sure where we are going manager wise
Not sure why Steve Walsh is still here , he apparently addressed the playing squad yesterday ?? He is smug and over rates himself , he should go.
Bill ( no bigger blue than me !! ) Kenwright still appears to have all the power at the club , WTF !! He should go.
Even though Koeman's gone I still feel under a bit of a cloud.
Im reverting to type, i'm going to the trenches , on my way to the Bridge COYB
Jamie Evans
94
Posted 25/10/2017 at 15:39:10
People have been screaming for Kenny all season but let's be honest, he's been quite poor since he's been brought in - unfortunately. A previous post regarding Gary Neville and his introduction into the Man United team is valid.
What Jonjoe has in his favour is that we don't have another decent right back so here's hoping his form improves.
Good luck tonight to the boys and to our manager in particular. One proper blue he is.
Altogether now, the rhinos on the run...he's a dirty son of a gun !
Paul Johnson
95
Posted 25/10/2017 at 15:54:01
Pickford
Kenny, Williams, Jagielka, Baines
Schneiderlin
Lookman, Sigurdsson, Mirallas
Rooney
Keane looks of the pace to me. And the pace of Lookman and Mirallas will support Rooney. If we go behind I would use Davies for Schneiderlin.
Paul Kossoff
98
Posted 25/10/2017 at 16:07:03
I watched the arsenal debacle on here, it says the Chelsea game is on. http://www.navixsport.com/m/sport.php?id=3109
John Pierce
99
Posted 25/10/2017 at 16:08:33
Paul, you're allowed 11. 😜
Paul Kossoff
100
Posted 25/10/2017 at 16:14:42
rhinos on the run...he's a dirty son of a gun he don't take no prisoners, he got that off his mum
Rhiiiinoooo rhiiiinoooo here he comes
Move outta the way, he'll butt you to kingdom come.
He's bigger than king Kong here me sing this song
You'll get trampled son if you don't move along.
Rhiiiinoooo rhiiiinoooo here he comes
Move outta the way, he'll butt you to kingdom come.
Repeat ad lib and fade!😁
Paul Holmes
101
Posted 25/10/2017 at 16:41:55
I wont blame Rhino if he does not pick the team I want because looking at these 100 posts so far no two posters have named the same team!,fucking unbelievable,nobody knows what our best team is approaching November !.
Andrew Keatley
102
Posted 25/10/2017 at 16:49:51
I think our entire squad has struggled this season, and I am expecting improvements from everyone. When the chemistry in a team is wrong then it can be very hard to turn it around. As soon as there are two or three players whose effort, output and energy are under par - runs off the ball not being made, tracking opposition players' runs, etc - then it can bleed into the rest of the team, and soon everyone is under par.
We have not had a good environment for football for a while - and I am excited that David Unsworth has been given the job to change that. There are younger players in our squad - like DCL, Kenny, Lookman, Holgate and Davies - who, after being part of the successful Under 23s with Unsworth, hopefully will be thrilled to be working with him again. Provided that the senior players buy into what he is saying, and can find a level of form, fitness and desire that has been hitherto lacking, I am more hopeful than at any point in the last two months.

Rick Pattinson
103
Posted 25/10/2017 at 16:53:10
Chris. Surely it'll be shown on star sports or one of the bein sports channels it'll be there somewhere may have to listen to Hindu commentary though or Phil Neville...dunno what's worse
Oliver Brunel
104
Posted 25/10/2017 at 16:56:37
Rick thanks for the Redbox tip , does anyone know how to get this from an android phone onto a TV?
Steve Carse
105
Posted 25/10/2017 at 17:01:13
I personally don't understand where all this 'Kenny's been shite' stuff comes from. Once or twice by Sanchez apart, how many times has he been taken on and beaten? How many times has he acted rashly and totally misjudged a tackle (a la Holgate)? How many times has he missed headers or headed the ball straight to an opposing player in the box (a la Martina)?
Anyway, one thing is nailed on -- he'll be playing tonight. Let's see how he goes.
Derek Knox
106
Posted 25/10/2017 at 17:02:04
Paul Kossoff 100, I believe Chester Zoo would be very interested in your latest ditty, it may keep the flies at bay. :-)
Colin Malone
107
Posted 25/10/2017 at 17:06:33
Good luck, Big Joe. You'rre the man!
Brian Wilkinson
108
Posted 25/10/2017 at 17:54:06
I just hope we give Unsworth some time before jumping straight in for our next manager, already the mood has lifted with Everton, we have someone in charge who knows the club inside out, has the knowledge of first team and our youngsters at the club, this guy needs more than 4 games in charge.
I am not expecting a miracle tonight with just one Day of training, however I do fully expect Unsworth to March over Chelsea, chest puffed out with an arrogance and belief, we are here to compete, to over run and eventually smash you, losing is not an option.
Lee Jackson
109
Posted 25/10/2017 at 18:05:25
For those in the USA, ESPN3 is working great at work for me so looking good for our game in a couple of hours - currently watching Hertha Berlin v Koln in the 2nd round of the German cup.
Robert Workman
110
Posted 25/10/2017 at 18:10:04
I commented on a Koeman thread a few days ago that I was hoping that this would be treated as a one-off game, while prioritising the Leicester game. The fact that David Unsworth is in charge reinforces my view.
I felt that because Chelski are playing young players we should do the same. All those in the squad with U23 experience, plus Pickford and Vlasic. The numbers would be made up by other U23 players, with others making up the bench.
The more experience players would be left behind for more training. This would also have the advantage, if we were to lose, that the senior players would not feel even more demoralised after losing to a young Chelski team.
Unfortunately this idea was partly scuppered when I discovered that the U23s were playing last night! However it is good to see that Unsworth has still included a few U23 players in the squad. So he still has the possibility of naming a youthful team, remembering their success against Chelski last season.
Hopefully Unsworth will be able to recall some of his U23s currently out on loan - too many in my opinion.
Andy Williams
111
Posted 25/10/2017 at 18:13:22
Everton That claiming inside info
Pickford
Kenny Jags Williams Baines
Schnieds
Davies McCarthy
Lennon Rooney Mirallas
Simon Bates
112
Posted 25/10/2017 at 18:29:28
And I thought it said Keane t right back, which confused me as his distribution hasn't been great, unless it's a back 3?.
Jim Hillier
113
Posted 25/10/2017 at 18:33:06
A team that knows how Rhino works, so I want to see Niasse, Kenny and Davies in whatever line up he opts for. Didn't expect to ever say I wanted Niasse to start but fair play to the lad he has earned his chance at the big time. Same is true for Rhino, to be honest

Paul Holmes
114
Posted 25/10/2017 at 18:38:51
Andy williams 111,that team looks ok plenty of pace on the wings,Keane,Holgate out which is right,Gueye would have been in for Scneiderlin but he's suspended,i suppose you cant have everything.Imo Williams is our best defender and that explains how bad the others have been.
Iain Johnston
115
Posted 25/10/2017 at 18:47:44
My IPTV box has it on 3 Bein channels albeit with foreign comms and ESPN 3. I'm still searching to see if there's more.
4411 double 6.
Pickford
Kenny, Keane, Jags, Baines.
Davies, Schneids,
Vlasic. Mirallas.
Gylfi
Niasse.

Steven Astley
116
Posted 25/10/2017 at 18:50:03
No Vlasic?
Robin Cannon
117
Posted 25/10/2017 at 18:50:49
Pickford, Kenny, Jagielka, Williams, Baines, Baningime, Davies, McCarthy, Lennon, Mirallas, Rooney
Subs: Keane, Robles, Gylfi, Niasse, DCL, Holgate, Lookman
James Carroll
118
Posted 25/10/2017 at 18:51:38
Pickford, Kenny, Jags, Williams, Baines, Davies, McCarthy, Baningime, Mirallas, Lennon, Rooney.

Ian Jones
119
Posted 25/10/2017 at 18:52:40
According to BBC. Beni is playing.
Peter Anthony
120
Posted 25/10/2017 at 18:52:54
Exciting but very scratch team tonight, logic says the league champions at Stamford Bridge will win at a canter of course. Logic Smodgic! Come on Everton! For England and St Rhino .CHARGE

James Carroll
121
Posted 25/10/2017 at 18:52:57
Yes! Beni!
Winston Williamson
122
Posted 25/10/2017 at 18:55:20
Pickford
Kenny jags Williams Baines
Davies McCarthy beni
Lennon Rooney Mirallas
Fair play. A balanced team. No number 10. Pressing looks like the order of the night

There's pace in that side too
Jay Wood
123
Posted 25/10/2017 at 18:55:52
David's gone bold!
Beni Baningime in for his debut. Team:
Pickford
Kenny Jags Williams Baines
Baningime Davies McCarthy
Lennon Rooney Mirallas
Subs: Robles, Holgate, Keane, Sigurdson, Lookman, Niasse, Calvert-Lewin.
From offical club site.
Stu Gore
124
Posted 25/10/2017 at 18:56:52
Well, I can see what shape that team is playing. And I can see how changes from the bench can help. Only thing that will cock it up is if Rooney isn't disciplined enough to stay up top
Derek Knox
125
Posted 25/10/2017 at 18:56:59
Ian @119, is Miss Diane on the bench? :-)
Jay Wood
126
Posted 25/10/2017 at 19:00:07
Interesting selection.
Plenty in that team with fire in their belly, or a point to prove as RK hasn't been using them.
Chelsea make 9 changes to their line up, so . why not?
Let's win it, Blues!
Brent Stephens
128
Posted 25/10/2017 at 19:06:08
Beni moves the ball quickly (as does Davies) from what I've seen of him. Just what we need.
Oliver Brunel
130
Posted 25/10/2017 at 19:19:57
Wheres Vlasic?
John Pierce
131
Posted 25/10/2017 at 19:21:00
Foot stamped after 10mins on Sunday.
John Pierce
132
Posted 25/10/2017 at 19:22:28
In theory a team that can press keeps Rooney high up the pitch.
With Chelsea's line up we have a decent chance.
Add Your Comments
In order to post a comment, you need to be logged in as a registered user of the site.
Or Sign up as a ToffeeWeb Member — it's free, takes just a few minutes and will allow you to post your comments on articles and Talking Points submissions across the site.