Venue: Stamford Bridge, London
League Cup
Tuesday 8 January 2007; 7:45pm
Wright-Phillips (34'), Lescott (og:93')
Half Time: 1-0
Yakubu (64')
Attendance: 41,178
Referee: Peter Walton
A much stronger-looking team was named by David Moyes, proving that he had fielded a deliberately weakened side in the FA Cup, a gamble that failed as the Blues lost the game against "plucky" Oldham at the weekend, much to the chagrin of the more traditionalist Evertonians who see such a decision as shameful, while those who believe this Everton squad is incapable of performing on four fronts...
But no Pienaar, despite brinkmanship from Everton with Safa and Fifa, who overruled the Blues.
Everton were pressed back in the first half and looked to contain the home side in a tight first half. But a rather good strike from Wright-Phillips was all that separated the sides at half-time.
Mikel came in on Neville with his studs up in a disgusting challenge and the ref had no hesitation in showing him the red card. It looked like the ref could loose control as he started flashing yellow cards around and it seemed to unsettle Chelsea, who soon conceded off a McFadden free kick that was played back to Yakubu's by Yobo when Hilario failed to collect it. The execution from the Yak was superb, the ball absolutely zinging into the top corner of the net. 93.4 mph.
McFadden went on a run, dodged a wild lunge from Carvallio, and tried to score from far too narrow an angle, clipping the post rather than playing an easier ball to Cahill, wide open at the far post as Everton surged forward in front of a fantastic atmosphere generated by 6,000 boisterous Evertonians.
Lescott blocked Belletti with his arm and the Chelsea fans screamed for a penalty but Peter Walton was unimpressed and Everton surged forward again, McFadden doing his long-throw party-piece.
Belletti took an extra bite out of Lescott, who reacted but was not booked, while the perpetrator who was rightly cautioned. Neville avoided a second yellow for a mistimed block.
In the last frenetic 10 mins, Chelsea threw everything at Everton, with Lescott magnificent in defence. Anichebe came on for Yakubu in the last minute of regular time as Everton pushed forward again.
But right at the death, Shaun Wright-Phillips sneaks up behind Lescott and dives above him to hold him down, the ball bouncing off Lescott's forehead and into the net. A dreadful, dreadful goal for the Blues to give away... perhaps Howard should have come out to claim the looping cross... ah well...
Everton got Lescott in but his touch was crucially very poor and Hillario got out quickly to block. A ding-dong ping-pong session followed in the Chelsea area until Jagielka wellied it wide.
And that was it. A disappointing scoreline, but a one-goal deficit, and a potentially valuable away goal (that would count double if the second leg is not settled at the end of extra time).
Late Goal Makes It Advantage Chelsea
It's advantage Chelsea going into the Carling Cup semi-final, second leg, in a fortnight's time after a rip-roaring encounter at Stamford Bridge was won at the death by Avram Grant's side. Joleon Lescott, almost flawless throughout up until that moment, was the inadvertant scorer of the home team's winner two minutes into stoppage time after Yakubu looked to have given Everton a draw to take back to Goodison Park.
After a first half that was dominated by Chelsea it looked very much as though the Blues were going to have a massive mountain to climb, but the tie really came to life 10 minutes into the second half when John Obi Mikel was shown a straight red by referee Peter Walton for showing his studs as he clattered through Phil Neville.
Up until that point, Everton, despite David Moyes fielding one of the strongest starting line-ups available to him, had looked one-dimensional and off-key. Clearly told to contain their hosts and keep it tight, they were undone by the one moment that they lost concentration in the first 45 minutes when Lee Carsley allowed Shaun Wright-Phillips to drift into space between himself and Tony Hibbert and the diminutive winger curled a superb shot in off the post after 25 minutes.
The writing had been on the wall prior to the goal; Chelsea were quicker in thought and movement, snappier in the tackle and there were times when Everton were grimly trying to keep up. Wright-Phillips had the first effort on goal in the third minute with a volley and Belletti fired high and wide from the corner of the area as the the home side had threatened early on.
And the Londoners only stepped up their assault after going a goal up, no doubt seeking to kill the tie off in the first leg. Joe Cole surged forward and swept passed Phil Jagielka but the defender caught him on the edge of the box and play was brought back for a free kick. Michael Ballack's rasping free kick flew a hair wide of the post.
At the other end, meanwhile, the final ball was consistently letting the Blues down, with Yakubu being the main culprit. It wasn't until a 44th-minute corner that Andy Johnson, partnering the Nigerian in a 4-4-2 formation, had Everton's first effort on goal, a header that he steered well wide of the target.
If the massed ranks of travelling Evertonians thought their side had learned not to stand off and give Wright-Phillips space, they were to be disappointed almost immediately after the second half kicked off and the England man was allowed to attempt another curled effort that this time went straight into the arms of Tim Howard.
Meanwhile, the booking count was steadily rising as referee Walton exercised his arm with what a flurry of cards. Carsley had gone into the book as early as the eighth minute for dissent following a late tackle by Ballack that also earned the German a yellow. Hibbert was booked for sweeping Florent Malouda's legs after half an hour and early in the second period both Neville and Cole were flashed yellows for nothing challenges as Walton became increasingly over-zealous with his officiating.
With 54 minutes gone, though, an aparent crack-down on studs-up challenges came to the fore as Mikel slid through Neville and caught the Everton man as he tried to ride the tackle. The ref had no hesitation in brandishing a straight red at the incredulous Nigerian.
It was to be a pivotal moment in the game. Almost straight away, Everton were sparked into life by the scent of an opportunity and might have had a penalty a minute later when Alex climbed all over the back of Yakubu but play was waved on.
In the 64th minute, though, their increased vigour reaped dividends when James McFadden swung in a dangerous free kick from wide on the left. Ballack rose with Yobo at the back post but his out-stretched leg only diverted the ball into the path of Yakubu who dropped his shoulder and hammered an unstoppable rocket into the top corner of Hilario's net.
1-1 so nearly became 1-2 just five minutes later in an electric moment of footbal by Everton. Yakubu, who had frankly been a waste of space up until his goal, was now a man reborn and after holding up play nicely by the touchline, he released McFadden with a delightful backheel. McFadden raced forward, rode a two-footed lunge by Carvalho that somehow went unpunshined by the inconsistent referee, held off a barge from Alex before clipping the ball across goal and off the base of the far post in front of Tim Cahill.
Despite the fact that so often these days one team going down to 10 men seems to make no odds it was anyone's game now. Everton suddenly looked confident on the ball, speedier in the tackle and far more of a match for their wealthy opponents. Unfortunately, though, apart from a couple of half chances, they were unable to make a second breakthrough and instead found themselves under increasing pressure in the final quarter of hour.
To a man they were defending stoutly, though. The entire back four were putting in highly creditable performances but Yobo in particular was outstanding and Jagielka looked to have overcome some nervy moments dealing with long balls in the first half to recover his composure alongside him.
And that stubborn resistance looked to have paved the way for a hard-earned 1-1 draw until disaster struck deep into stoppage time. Jagielka helped a cross onto the far side of the area where Wayne Bridge's attempted cross deflected up off Hibbert and dropped to Ballack in the area. The German looped a hopeful ball into the six yard box where Howard and Lescott hesistated as it fell between them. Lescott, seemingly unaware that Wright-Phillips was behind him, prepared to head the ball backwards to safety but a combination of the Chelsea man's weight and his arm on the defender's shoulder prompted Lescott to inadvertantly nod the ball into his own goal instead.
At that point there was only a minute and a half of injury time left but there was enough of it to give Lescott an immediate opportunity to make amends. And had the chance fallen to a striker instead of a defender, the Blues may well have snatched a dramatic second equaliser but as Cahill's pass came to him, the ball bobbled off Lescott's leg and that gave Hilario the time he needed to come out and block the low shot from point-blank range.
So a heart-breaking end to a pulsating cup tie that was full value for those who braved the blustery conditions but at just one goal, Everton will fancy being able to overturn the deficite under the floodlights at Goodison on 23rd January. They will, of course, be without tonight's best performer, Yobo, and goalscorer, Yakubu but hopefully the likes of Mikel Arteta and even Leon Osman will be back to make the difference.
Match Preview
With the boos that rang out at full-time against Oldham no doubt still ringing in their ears, Everton go into the first leg of the Carling League Cup semi final with something of a point to prove... well, a few actually.
Firstly, that the shock against Oldham stung the players as badly as it did the fans — which it surely did; secondly that they can bounce back with an immediate response befitting the character of the season up to the FA Cup 3rd Round debacle; and, thirdly, that they have the spirit and determination to beat a top-four side over two legs even with a depleted squad.
David Moyes stood by Saturday's squad selection — and I'm inclined to go against those skewering him for making so many changes and agree with him that that starting XI should have been able to beat a mid-table League One side — but there's no doubt that he'll be fielding the best team he can at Stamford Bridge.
Tim Cahill, who scored an all-important equaliser on this ground with a stunning over-head kick, is likely to be back after missing the last two games with a knee injury. With Mikel Arteta serving the last match of his three-game ban, Leon Osman still out injured, Steven Pienaar required to fly out to Johannesburg to join the South Africa squad, and Thomas Gravesen receiving scathing criticism for his display against Oldham, the Blues will need all the help in midfield they can get.
A five-man midfield, consisting of Phil Neville, Lee Carsley, James McFadden, Cahill and Gravesen, behind Yakubu would not be a surprise. Given the attacking midfield talent missing from his team at the moment, Moyes is likely to put the emphasis on keeping it tight, playing for a draw and trying to hit Chelsea on the break.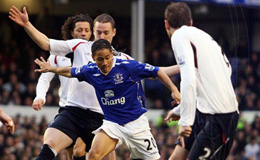 Steven Pienaar:
forced to join the South Africa squad by FIFA
He will no doubt be hoping that Joseph Yobo is also passed fit — he too missed the Middlesbrough and Oldham games — as he will need his first-choice back four but oes have options if not. Tim Howard is certain to retake his place in goal.
Chelsea have problems of their own, though and that has led to some suggesting that this is as good a time to face the former Champions as any in the past few seasons. Frank Lampard and John Terry are sidelined through injury, while Didier Drogba, Michael Essien and Saloman Kalou have already reported for African Nations Cup duty.
Ricardo Carvalho and Ashley Cole return, though, after suspension and injury respectively and with the likes of Shaun Wright-Phillips, Michael Ballack and Obi Mikel in their ranks, their is plenty to concern Moyes as he prepares for this one.
This season has been notable for Everton's new-found flair and passing game but don't be surprised to see a little of the dogs-of-war approach that was so successful in the 2004/05 season make a return for this one. It would be nice to be able to beat Chelsea on their own turf in style but with his best midfielders out, the manager will probably be looking for grit and tenacity in disrupting Avram Grant's side's rhythm.
With those aforementioned Chelsea stars missing, though, Moyes will also sense an opportunity. With Wembley just two great performances away, he will hopefully be able to rouse in troops in true Mr Motivator style and deliver the Blues' first cup final appearance in 13 years.
One step — indeed, one leg — at a time, though. Priority no. 1 is stay unbeaten and look to win it at Goodison later this month.
Matchday Stats
May appear here later
* Unfortunately, we cannot control other sites' content policies and therefore cannot guarantee that links to external reports will remain active.
CHELSEA (4-4-2)
Hilario
Belletti :76'
Alex,
Carvalho
Mikel :55'
Bridge
Maluda (Ben-Haim 90)
Ballack
J Cole :52' (61' Sidwell)
Wright-Phillips
Pizzarro (82' Firerra)
Subs not used
Cudicini
Sahar
EVERTON (4-4-2)
Howard
Hibbert
Yobo
Jagielka
Lescott
Neville :49'
Carsley
McFadden
Cahill
Johnson
Yakubu (89' Anichebe)
Subs not used
Wessels
Valente
Gravesen
Vaughan
Unavailable
Arteta (suspended)
Pienaar (AFCON)
Osman (injured)
Cup Scores
Tuesday
Chelsea
2-1
Everton
Wednesday
Arsenal
-
Tottenham