Everton vs Watford

139 Comments [Jump to last]
Saturday 4 November 2017
Match Preview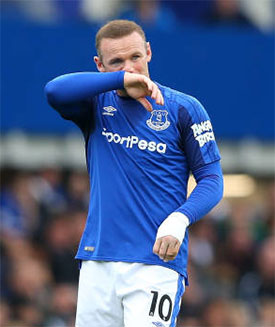 Wayne Rooney is expected to return to the lineup after staying behind for the trio to Lyon
Everton host Watford this weekend in a fixture that has grown in importance with the need for a confidence-boosting win has grown following the Blues' latest European disaster.
The 3-0 defeat in Lyon on Thursday confirmed that the club cannot progress to the next stage of the Europa League, leaving all focus on the Premier League where they haven't won since 23rd September.
Everton will kick off the match sitting second from bottom thanks to Bournemouth's win at Newcastle but would close the gap to mid-table safety with three points if David Unsworth is able to gather his players together and find a winning formation.
His approach will be different to Thursday evening, with a number of rested players likely to return, Oumar Niasse eligible again and Michael Keane possibly in contention after overcoming a leg infection brought on by a badly gashed foot.
Phil Jagielka, Leighton Baines, Wayne Rooney and Tom Davies were all left out of the Lyon game and could all feature in the starting XI depending on how Unsworth wants to set his team up.
Two players who won't be involved are Cuco Martina who will be sidelined for two weeks by the neck injury he sustained in that awkward fall the other night while James McCarthy is dealing with his latest soft-tissue problem, a hamstring strain that will also keep him out until after the international break.
Unsworth has already used a wide selection of players and varying permutations, including Thursday's surprising striker-less line-up but he could go back to a more orthodox team for this one, with Rooney and Dominic Calvert-Lewin as forwards and a three-man central midfield unit.
Beni Baningime's latest star turn is likely to earn him another start but Morgan Schneiderlin, overlooked in the last league game and sent off again in Lyon, could find himself back on the bench again, if only for his lack of discipline.
The visitors have been in impressive form under new manager Marco Silva it's no surprise that the Portuguese has been heavily linked with the Everton job as a result.

The Hornets were as high as sixth place in the table and have dropped to ninth on the back of successive League defeats and the weekend results so far but can close the gap to the top seven again with a win. They have already won at Swansea, Southampton and Bournemouth and will be fancying themselves against a struggling Blues outfit.
Unsworth has couched this match and the next few after it as being akin to cup finals in terms of the approach Everton need to take, a reflection of how quickly the team could get bogged down in the quagmire of a relegation scrap.
He has also highlighted the need for the players to circle the wagons after they have conceded goals to avoid the collapses that have characterised many of the Blues' heaviest defeats this season.
That speaks to a need for mental fortitude and more unity and team spirit than has been in evidence in recent weeks. Unsworth's temporary tenure had been expected to provide it following what appeared from the outside to be a less-than nurturing environment under Ronald Koeman but thus far, an upturn in morale hasn't materialised.
Now would be the time…
Kick-off: 4.30pm, Sunday 5th November, 2017
Referee:
Last Time: Everton 1 - 0 Watford
Predicted Line-up: Pickford, Kenny, Jagielka, Williams, Baines, Gueye, Baningime, Davies, Lennon, Rooney, Calvert-Lewin
---
Reader Comments (139)
Note: the following content is not moderated or vetted by the site owners at the time of submission. Comments are the responsibility of the poster. Disclaimer
Tony Twist
1
Posted 04/11/2017 at 22:07:46
Lennon, I hope not. We need more than what he can give. Lookman or Sandro are required for this match were a strong back line is a must with some directness up front on the break. It's a must win game, let's hope for a bit of luck, a good win and precious 3 points.
Dave Evans
2
Posted 04/11/2017 at 22:11:31
Hope we win. Whatever the result we need a new coaching team. If Dyche had an Italian or Spanish sounding name/background many would consider it a no brainer. But will he come now and leave his high flying battlers to sort out our shambles?
Andy Riley
3
Posted 04/11/2017 at 22:12:40
I think we need
West Wright Wilson Kendall Labone Harvey Husband Ball Royle Hurst Morrissey. or Southall Stevens Van den Haewe Ratcliffe Mountfield Reid Steven Gray Sharp Bracewell Sheedy
Charlie Lloyd
4
Posted 04/11/2017 at 22:19:28
Andy @ 3
I like it.
We may need a modern day Graham Stuart or Gareth Farrelly.
The players need to shut up with the sound bites get out there and do it.
Kevin Molloy
5
Posted 04/11/2017 at 22:20:37
Get behind the team it's an us against them attitude required at Goodison tomorrow. I feel a corner can be turned if we get the three points. Dogs of war please Mr Unsworth!
Brian Porter
6
Posted 04/11/2017 at 22:25:14
Niasse should be given a start tomorrow. He's a goalscorer and probably the only unpredictable element we have that could throw a spanner in Watford's works. DCL has not shown a killer touch up front and with Rooney our only other PL scorer this season, it has to be time for Niasse to get a run up front to show what he can do.
Rob Halligan
7
Posted 04/11/2017 at 22:26:23
Not sure I agree with the predicted line up. I'd go .Pickford. Kenny, Keane (if fit), Jags, Baines. Davies, Rooney, Mirallas, Vlasic. Sigurdsson. DCL.
I stated a few weeks back I'd play Rooney as the holding midfielder, seeing as he seems to be dropping further and further back. Let Tom Davies and Vlasic, both young and energetic, be the legs running forward from midfield and feeding Mirallas playing wide. Sigurdsson just behind DCL feeding off any knock downs as DCL seems to win a lot of balls in the air.
Subs .Stekelenberg. Williams, Lookman, Sandro, Klaassen, Niasse, Gueye.
Need to give Schneiderlin a rest altogether.
Dave Evans
8
Posted 04/11/2017 at 22:27:03
I for one am sick to death of Everton fans living in the past. We need a coaching team who will coach players to become familiar with each others roles within a system. Success now will be about coaching not about dewey eyed references to the 80's.
Ray Smith
9
Posted 04/11/2017 at 22:29:43
Kevin 5
Totally agree with you.
However, a win tomorrow will be followed by the international break.
Whoever takes the helm will devoid of the nucleus of the squad to impose a foundation to build upon.
IMO international break has actually come at the wrong time!
Jay Harris
10
Posted 04/11/2017 at 22:29:56
The most important player will be the 12th man so let's hope the crowd stay patient and right behind the team no matter what.
I would like to see Mirallas and Vlasic either side of DCL with a MG trio of Benny Gana and Davies but I guess he will fit Rooney in somewhere.
Hard work and determination from the off as well as some belief from everyone is the key.
Rob Halligan
11
Posted 04/11/2017 at 22:33:14
Sorry meant to put Beni on the bench instead of Klaassen.
Steve Ferns
12
Posted 04/11/2017 at 22:36:51
It's likely to be Unsworth's last game in charge. The blues will roar the team on and be behind Unsworth 100%. Things haven't gone unsworths way, but he's been a credit to us how he's handled the situation and we will show our gratitude, no matter what.
So the 12th man will be there. And we will be behind the side more than at any other point this season. I Have no doubt about it.
Michael Lynch
13
Posted 04/11/2017 at 22:52:50
I'd stick Niasse up front with Rooney behind him, simply because they're our only goalscorers. I like DCL but he has been given enough chances and, despite some good control and hold up play, he doesn't seem to know how to time a run or be in the right place at the right time to score. Beni is a no brainer for me, he's already shown he has that elusive "something" that seems to create space around him, plus he plays the simple ball quickly and has very quick feet. Other than that, meh. Kenny cos there's no alternative, Keane if he 's fit, Jags cos he's not Williams, Baines see Kenny, Davies cos he plays with his socks rolled down, Gueye cos Schneinderlin is a wanker, Lookman because he's only 12 and it's funny to see him playing with the grown-ups:
Pickford, Kenny, Jags, Keane, Baines, Beni, Davies, Gueye, Lookman, Rooney, Niasse

Neil Carter
14
Posted 04/11/2017 at 23:06:48
As long as we see some fighting spirit to try to put us back on track tomorrow.
Players need the fans more than ever before tomorrow. We can play our part in turning things around
COYB!!!!
Paul Holmes
15
Posted 04/11/2017 at 23:20:53
Its Unsworths last game ,just go for it,Mirallas on one wing,Lookman on the other,Sigurdsson as the number ten Rooney as the centre forward,when he gets tired put Niasse on for the last 30 minutes.Ffs go out with a bang not a wimper ,before Big Sam takes over and plays dogs of war football until we sack him when were safe in may 2018 !.
Tony Everan
16
Posted 04/11/2017 at 23:36:08
Michael 13
Agree Niasse Rooney behind him , our only 2 scorers in the 9games so far and most likely to score tomorrow.
Fancy Sigurdsson to get one tomorrow , will,part with a tenner on him scoring.
Stewart Lowe
17
Posted 04/11/2017 at 23:36:15
For me the next manager has to be one of the best or what's the point when all the best English teams have the best? Dyche us just another Moyes getting the best out of a very small squad because there are no better players on the bench to push them. Just as was the case with Everton and Moyes.
I have dreamt for Everton to find a wealthy owner for decades. Now that we have one We can't make it count because every other club has money and the best managers aren't interested. I feel cheated.
The money has come 5 years too late to build a dominance and begin a legacy. So more of the same then, league position 5th to 17th, and a couple of thumpings by Liverpool each year.
After supporting Everton for 35 years, I'm very very close to calling it a day. I think I have stressed enough over that time to now call it a day supporting Everton, I'm genuinely beaten.
Stan Schofield
19
Posted 04/11/2017 at 23:57:58
Stewart, I came to that position a while ago. I'm not paying to watch shite. At the moment, it seems we can't beat anybody.
Andy@3: With those line-ups, we could beat anybody. Especially the 1970 one. Substitute Darracott.
Drew O'Neall
20
Posted 05/11/2017 at 00:44:57
The manager needs to get in to Jagielka's head that he is not a slow, old man and he won't get exposed if he holds a high line as long as Williams isn't his partner.
The biggest problem with this team's confidence comes from the fear of getting turned if they give the ball away. That, and the lack of pace in wide areas has accounted for Schneiderlin's refusal to take on anything more risky than a 20 yard sideways pass all year.
Jag's is one of the fastest men in the squad according to Calvert-Lewin and needs to show some gumption and support the midfield by closing the gaps behind them. The sooner we can get Galloway back from loan to play left back the better too.
Lastly, I don't have a problem with playing Rooney or Sigurdson in the centre forward position but we need to go with Wingers-cum-strikers ie Sandro and Mirallas, if the '9' is going to come short so that the gap behind the centre half can be exploited by wingers who are trying to get in to goal scoring positions.
My team:
Pickford
Holgate, Jag, Keane, Baines
Davies, Gana, Schneid
Mirallas, Rooney, Sandro
Jason Wilkinson
21
Posted 05/11/2017 at 01:00:12
Let's hope Watford rely on Troy Deeney up front and Williams has what he wants. (A good old fashioned battle)
I've seen quite a bit of the hornets this season and they have been impressive in games where their physical presence can be utilised.
Above all we need a clean sheet. 0-0 might sound dire but I believe we would look back on a result like that as a turning point in our season.
COYB
John Pierce
22
Posted 05/11/2017 at 01:04:13
Hopefully the tiny steps ive seen in the three games become a baby step tomorrow. Add in home comforts a win is there in the making.
Watford are a few light injuries and Deeney's Suspension.
UTFT!
Jason Wilkinson
23
Posted 05/11/2017 at 01:08:57
Deeney suspended? Great news.
Nicholas Ryan
24
Posted 05/11/2017 at 01:13:11
Just seen Chris Hughton on MOTD, after ANOTHER Brighton victory. I find it astonishing, that he has never been mentioned in the managerial stakes. I'm not saying he's the answer, but it's crazy that a manager with PL experience, who is currently half-way up the league, gets total silence; when there is lots of noise about Moyes, who won't be invited; and Ancelotti, who wouldn't come if he was!
Derek Knox
26
Posted 05/11/2017 at 01:50:26
Normally this would almost be expected to be another three points in the bag; but with results and performances of late; confidence at it's lowest ever, I truly and honestly don't know what to expect.
Watford are no mugs; nor are any team in the Prem for that matter; again it will be down to picking the right combination of players; while that sounds a bit obvious; I mean players who will battle without being stupid, (yellow and red) no ball watchers, or giving away free kicks in dangerous areas.
There will be enough to contend with; as given the chances Watford will attack; and dare I say it, at the moment pose more threat than we do.
I have been thinking back, and I can never remember us being this low in the League since the Prem was formed; maybe wrong on that but it's frightening after having spent £140M; a figure that many sides , like Watford perse, could only dream of, I despair, but still retain hope.

Darryl Ritchie
27
Posted 05/11/2017 at 02:45:13
I'm more than a little tired of us not showing up until the second half. A full 90+ minute effort from every player in a blue shirt is a minimum requirement. Scoring first would be nice also.
We need to stop being "scared".
Arnez Desmond
29
Posted 05/11/2017 at 05:59:52
Get David Moyes! British, familiar with Everton and hungry for success!
Brian Porter
30
Posted 05/11/2017 at 06:40:44
When we strip away all the hype, gnashing of teeth and recriminations relating to the current dire situation we find ourselves in, we need to go back one step at a time in order to correctly apportion the blame for the mess that Ronald Koeman has created for our club, and in so doing we are left with the one name, the one man who has truly caused the whole sorry situation and that man is none other than Farhad Moshiri.
It's been clearly shown that our majority shareholder might be a shewed businessman in certain areas of expertise, but, he is not a reliable or competent judge of footballing matters, as he has demonstrated on various occasions with some of the statements he's made which have been almost Martinez-like in their naivety and poor grasp of the game's realities.
If he had truly delved deep into the record of Koeman's managerial career, the sackings, the player unrest, walking out on clubs ♧ ft NHS didn't go his way, there were sufficient red flags firmly visible that would have made him think twice before offering the man such a lucrative contract. To offer him & £6m a year when his only league titles as a manager came years ago in the Dutch league was profligate at best, suicidal (as it turned out), at worst.
Koeman clearly grabbed the money, but even then, only after completing his second holiday of that fateful summer and from the day he arrived, made no secret of the fact that we were nothing more than a stepping stone on his way to (as he saw it), managerial greatness with Barcelona!
He never made any attempt to immerse himself in the club as a whole, rarely if ever watched the U23s or junior sides in action and it quickly became clear to those who were aware of his previous records that he'd learned nothing in terms of his man-management from his disastrous spells at Valencia and AZ Alkmar.
If anything, as we've learned since his departure, he had actually got worse, and had become an archetypal bully and was so full of his own self-importance that the players couldn't even sit down to eat until he and his sycophantic cronies were served first.
If anyone thinks that such negative influences can be washed away in a few weeks or months, we may be in for some nasty surprises. It's as if the club has entered a period of collective depression and depression in any firm can take a long time to cure, and in some ways it never really goes away.
So back to my original point. The man to blame for this whole fiasco is the man who brought this cold, unapproachable bully to our club in the first place, Mr. Farhad Moshiri. He even, in my opinion, left it a month too long in getting rid of Koeman and as a result we are even worse off, results wise than we might have been if he had acted during the previous international break.
Now, he has one chance to correct that mistake. He must talk to, and listen to people who know more about football than he does and make sure he makes the right choice if we are to stand a chance of climbing away from the relegation zone. If he gets it wrong again then money or no money, he will find himself vilified by the fan base, in much the same way as Koeman is now more. For everyone's sake I hope he succeeds this time round.
Laurie Hartley
31
Posted 05/11/2017 at 07:19:33
Brian # 30 - agree with the sentiments of your post. The big question is who will he "listen to" before he decides on our next manager.
I think it will have to be an "Everton man" who isn't on the current payroll or in the media circus.
Eddie Dunn
32
Posted 05/11/2017 at 07:19:37
This game is of great importance as a decent result will surely galvanise the team, and another reverse will send us into another interminable international break in total despair.
Dave Ganley
33
Posted 05/11/2017 at 07:24:29
Brian #30 no sorry the man to blame for this fiasco is Kenwright. I'm not trying to say you don't have valid points about koeman but Kenwright set this whole mess in progress when he hired that idiot Martinez. He managed to turn a healthy club and a decent team with lots of fight and team spirit into a caricature of what it was. He managed to make the players soft, unfit, unwilling to fight for the team and the fans and devoid of any imagination of how to play the game with any entertainment value whatsoever. The atmosphere at Goodison died a slow death in Martinez first season and has been absent ever since. Koeman just carried on the sterling work that Martinez started.
I'm all for apportioning blame for this sure mess that we find ourselves in but Moshiri is not the villain, it's Kenwright.. as ever. A lazy appointment of a man who had got his team relegated, he should never have been near this club in the first place. Kenwright should hang his head in shame but he won't because he's no evertonian. He's just a parasite who needs to fuck off out of our club for ever. But he won't. We fans must have broken many mirrors and came across umpteen black cats to be saddled with Kenwright.
I just can't see us beating Watford today as I just can't see us scoring or not conceding. Hope I'm wrong. What a mess we have been left with.
Andrew Clare
35
Posted 05/11/2017 at 07:54:21
I agree Dave. Bill Kenwright who I am sure is a good man and a great Evertonian is not fit to run a football club. Neither is Moshiri.
Koeman was made an offer he couldn't refuse so he took the job but his heart was never in it. I bet he's quite happy now to be out of it.
As for today I can't see anything but a defeat and I'm afraid it will remain that way for the foreseeable future.
I wanted Unsworth to succeed but he is just not going to have enough time before our clueless leaders make another rash appointment.
I find it incredible that just about every Evertonian could see right from the beginning of the year that we would need at least 3 defenders and two top class strikers as well as the midfield strengthening. Also it was quite clear from the word go that Williams was a bad signing, I knew then that Koeman was not the right choice.
This is a great club with great support which is being run by a bunch of clueless amateurs.
Mark Tanton
36
Posted 05/11/2017 at 08:00:49
Interesting to here Marco Silva's comments before the game. He was very non-commital about dismissing the idea Everton interest. Said there had been no contact and barely anything else. The cagey way he answered was not surprising, but the refusal to launch into a 'committed Watford' routine left me thinking he was leaving the door wide open.
If he'd had joined Hull City 6 weeks earlier he'd have kept them up I think.
Brian Wilkinson
37
Posted 05/11/2017 at 08:06:19
If there's one crumb of comfort, we appear to be a jinx to Watford at Goodison who have failed to win any of the meetings since their promotion in the eighties at Goodison, always a first time but for the first time in a long time, I have a good feeling about Sunday and think we will pick up the three points.
Tony Everan
38
Posted 05/11/2017 at 08:26:01
Marco Silva has taken the same line as Dyche .
Both would accept the job I think. They know that football is fickle and if Watford or Burnley go on a 5 match losing streak. They will be sacked too.
I think they are both good managers , committed to the job.
Silva would get us more goals and more flair. (Eventually)
Dyche would get us organised and hard to beat.
Alan J Thompson
39
Posted 05/11/2017 at 08:28:37
I'm not usually one for naming a team but I would like to see Niasse start as he has a presence that seems to trouble central defenders. He may not be the best ball player we've ever seen but in running across one defender and behind the other he causes concern. Then I'd have either Sandro or Mirallas playing off him as both have skill. Depending on who gets the nod play either Vlasic or Mirallas wide.
The midfield would comprise Siggurdson, Baningime and Davies. Central defence would be the major problem if Keane is unavailable as we have the two veterans or one with a youngster (Holgate or Feeney) against a side that usually has strikers good in the air.
The bench then virtually picks itself.
John Keating
41
Posted 05/11/2017 at 08:37:22
Brian wish you wouldn't have mentioned that as we seem to "rectify" all these sorts of things.
Teams haven't won for so long, players haven't scored for so long.
Anyway todays game is absolutely massive and nothing other than 3 points is acceptable.
The result will dictate whether we appoint Big Sam tonight or tomorrow.
Oliver Brunel
42
Posted 05/11/2017 at 08:58:07
Why not try Calvert-Lewin with Sandro up front and Niasse on the bench to come on later. Sandro injects some pace in the attack, he has been poor but he has potential.
Kunal Desai
43
Posted 05/11/2017 at 09:05:38
Brian - You have probably now jinxed that. Hadn't Burnley won at Goodison for 50 odd years and then we all know what went and happened at Goodison six weeks ago.
Clive Rogers
44
Posted 05/11/2017 at 09:09:00
Dave #33, you are 100% correct. Kenwright should resign but he won't.
Kevin Tully
45
Posted 05/11/2017 at 09:10:36
I think this is something like our 21st competitive game this season. Nearly everyone who picks their own side has DCL starting. Can I ask why? He's young and raw, and I'm certainly not singling him out for individual criticism, but I haven't seen one game where he's been effective. It's like playing with a man short n the most important position FFS.
The manager has to tell the playground bully, Rooney, to play a proper number nine role, and stop running around the pitch like a big kid looking for the ball. Either that or drop him altogether. He's roaming around the pitch taking up everyone else's position.
Don't see anything better than a draw today. These will rip right into us.
Dave Abrahams
46
Posted 05/11/2017 at 09:11:09
Why are fans(?) coming on here saying they are ready to pack in supporting Everton or have already chosen to do so, fair enough, that's your prerogative, so why don't you do just that without telling us about it, what are you trying to prove?.
Phil Walling
47
Posted 05/11/2017 at 09:17:14
I'm predicting a stunning win with Unsy confirmed for the rest of the season by mid-week !
Geoff Lambert
48
Posted 05/11/2017 at 09:17:25
Why not try Mirallas in the No 9 roll? he is a natural goalscorer and would not have to do the tracking back/covering job that lets him down.
Andy Osborne
49
Posted 05/11/2017 at 09:19:59
42 years watching Everton and I have seen the team struggle in the past. Late 70's, early 80's, the 90's and early 2000's, were all tough times to be a fan, but the big difference to those teams compared to now, is that they played with heart, commitment and passion. The last 2 years of Martinez and the full tenure of Koeman has seen that passion dissipate. Unsworths first three games in charge have all been away, and at least two, have been very tough games. But I have seen a glimpse of the passion I am used to from an Everton team. It will be very interesting to see DU first game at Goodison against opposition that (should) be winnable, to see how the players respond.
Moving beyond today's game, and the big question, "who should manage Everton?" I agree with other posters that a big name manager won't come, and even if they would, only Ancelotti is currently unemployed. For me the choice is one of two. I would like Silva, I said to my sons last year he was one to watch, the next Poncetino, if he came now, he has experience of a relegation fight, but he is not a reglegation fighter only. We can see that with the job he is doing at Watford. But if he didn't want the gig now, then what better time for the job to be offered to DU till the end of the season. Everyone says it is a shit time to take over at Everton, but I disagree. The pressure if off DU because all he has to do is avoid relegation and we will all be relieved. That will give him a chance to settle in to premier league management and if he learns quickly, and performs well, then give him a longer contract at the end of the season. This is the same team that started the season with 4 points out of 6, is the only side to take points of City, and with some clever man management, could see their confidence, and hence results return.
I don't watch Big Sam, Dyche or Moyes. Or any of the other suggestions out there.
I think DU will turn this team around, but whether he is good enough to be the manager we want, in terms of taking the team higher and challenging for trophies, I don't know. It is up to him, but he needs time to try and to show us.
If he is not the right guy, then get Silva in at the end of the season, I think that lad will be good.
Ian Bennett
50
Posted 05/11/2017 at 09:20:57
Pickford
Holgate
Keane
Jagielka
Baines
Gueye
Schneiderlein
Lookman or Vlasic
Rooney
Mirallas
Niasse
I'd go with senior players to dig us out of this hole. They just have to step up over the next 5 games.
Mark Cooper
51
Posted 05/11/2017 at 09:22:10
Btts Everton & Chelsea to win, though I think Chelsea will let me down and yes Bill should step aside but won't! Hey ho onward and upward.
Jon Withey
52
Posted 05/11/2017 at 09:29:30
Realise that the BK thing has a lot of history for some and all that - but Koeman wasn't even his choice was he ?
Mark Murphy
53
Posted 05/11/2017 at 09:41:11
Hindsight's great but I don't think there's many on here who wouldn't have taken on Koeman as manager had it been their decision. Nor many on here that weren't at least positive when we got him, I know I was! Same with Martínez - for one exciting season he was certainly not an idiot. Both were consequently dismissed when it became clear they weren't performing so I can't see what else Moshiri could be expected to do? De Boer, as I recall, was some people's favourite before Koeman and I can't remember the name of the Spanish manager (from Malaga?) some wanted, but neither have pulled up trees as far as I know?
Who is out there that is a sure fire success? And would they come to Everton? I'm damned if I know but We won't know until he either succeeds or fails- just like hardly any of us knew how Martínez or Koeman would end up, Moshiri included.
Paul Smith
54
Posted 05/11/2017 at 09:41:23
Niasse up top. DCL on the bench, Sneiderlain no where near the starting 11. Cuco should start if he's fit. Rooney does wtf he wants as soon as he's frustrated - liability as well as our only hope at times. Absolute conundrum for us/Unsie. Beni, Gana, Maca if fit should start.
We're 2nd from bottom (horrified) to coin a modern phrase "shit just got real".
Jim Lloyd
55
Posted 05/11/2017 at 09:45:26
Today, we at the very least need a draw but for everyone's sake, we really need a win.
We have three recognised goalscorers and all have their weaknesses, but Rooney is leading scorer and Niasse is next...and then we have Sandro who can score goals alright but is not yet up to this league yet. I hope we start with Wayne and Oumar and have Sandro and DCL on the bench today.
DCL's done a sterling job on his own up front but the football we've been playing doesn't give him a lot of chances. and I think Wayne and Oumar are the berst hope we have of putting away one or two of the chances we hopefully make.
Let's see if Siggy can do the job of creating them. Definitely hope Mirallas plays (as frustrating as he is) as he can also find the net when he's in the mood and I think he might help Bainsey protect the left. I think Bainsy is too often left adrift now when he makes the forward runs, that were a great trade mark of his, along with his dead ball kicks.
I hate to see the kids thrown in when we're in such dire straits but I think today, they'll all be up for it and give us the energy we need and we'll be behind them anyway. Beni and Davies in the midfield for me.
I heard someone say last night that this is the most important game in our history! Well I think that's way off the target. There's the two last games of the season where we escaped relegation, leave this game in context.
It'd be brilliant to get a win, of course it would; but today, whatever the result, I want to see everyone who come onto that pitch in a Blue shirt, come out with the attitude...NO SURRENDER! They fight for every ball, they chase every lost cause and they get right in the face of every Watford player. That should be a given.
By the way, Dave Abrahams...correct!
Jay Woods
56
Posted 05/11/2017 at 09:46:35
I can't understand the presistent faith in Unsworth, given that in his games in charge so far he has demonstrated incompetence on a level that makes Koeman look good.
Example: Must-win game at Lyon? That will be a lineup with no striker, then.
As Clint Eastwood's Dirty Harry once famously said, "A man's gotta know his limitations". Unsworth should remove himself from the frame now.
Neil Wood
57
Posted 05/11/2017 at 09:54:38
Oliver @ 42 I concur about Sandro. This lad needs game time. He has talent in abundance I guarantee you all but just having glimpses of games is not doing him any favours.
I would start as follows
Pickford
Martina Keane Jags Baines
Mcarthy Benni
Lookman Rooney Sandro
Niasse
With Sandro, Lookman and Niasse we have some pace. Niasse at home with the support he has had will run his heart out and has a massive point to prove still.
Tell Rooney to stay in position and not go chasing with Beni and Macca cleaning up.
3-0 if thats the starting side ! Guaranteed!
Me for manager and I will do it for £600k not £6 million!
Tony Abrahams
58
Posted 05/11/2017 at 09:56:52
Agree with Dave Ganley, Goodison, which is one of my favourite places in the world, but it has become so lifeless, and although I will never stop supporting Everton, it's got that way were it doesn't bother me if I actually go the match.
Never thought that would ever happen to me, and it's not something I like. I want to go the game to see some action. Some players being brave with the ball, and some players being even braver without the ball. I want to see honest endevour, and I want to see excitement.
It's what we go the match for, it's why we fell in love with both Everton, and Goodison. Silva said why should he leave Watford, for Everton? I'm not sure if I want him, but if he sees the twelfth man today, then he will already have his answer.
It's time to get our Goodison back, and the first thing any Everton player/manager, has got to understand, is how important Everton's crowd, can be. We might be down, but I know we are always ready to stand up and be counted, and just hope today can be the start of this.
Christine Foster
59
Posted 05/11/2017 at 09:59:09
I listened to Jim White on Friday morning with Perry Groves regarding the situation at Everton. The conclusion was that the blame for the situation was board and both of them agreed that the board and certain individuals in particular were guilty of gross negligence for not keeping Lukaku, for not replacing him when gone, for not having a plan B or C if Giroud said no, for not dealing with Koeman earlier. I could add for allowing Koeman to act the way he did within the club. This was, surely a marriage borne in he'll. The perfect storm, a bad manager with a board that is accused of a dereliction of duty.
The irony too is that Moshiri, not a board member, is under investigation regarding his investment in the club, something a Philip Green may have been more warranted.
It is a sad indictment on a great club whereby the people running it are negligent and solely to blame for our predicament. The ills of self motivated greed have surpassed their own incompetence and left us well and truly in the mire.
In spite of this we are a great club, and a proud club that does not deserve the management we have. Unless messers Kenwright and Elstone are moved on, we will not see much change. Just because we now have access to money does not mean we have better fools, they are only highlighted more for their failure to manage. The question Moshiri is asking himself is how do I get rid of the fools?
Jim Lloyd
60
Posted 05/11/2017 at 10:00:26
Neil,
Agree with you points; but isn't JamesMcCarthy out injured?
Dave Williams
62
Posted 05/11/2017 at 10:08:53
Dave# 46 anyone packing in supporting us for whatever reason was never much of a fan in the first place. I recall the dark days of Tommy Casey back in 72/73 which was a much sharper fall from grace than we have seen here- it could always get worse!!
I go with Michaels team # 13- energy in midfield and unpredictability up front. Schneiderlin can't be picked again til he sorts out whatever it is that is affecting both his demeanour and performance.
I posted yesterday that the crowd is as important as the team selection today. If we really give it some noise and encouragement the team will grow. Groan and abuse and at least half of them will retreat into their shell.
As HK would have said, let's suck one or two goals in!
Rob Halligan
64
Posted 05/11/2017 at 10:13:03
Dave # 46. Said exactly the same thing on another thread. Let them go, they won't be missed. It's almost like they want the club to go begging to them, pleading to carry on supporting the team. Let them give up their season tickets to someone who will give the team proper support.
Neil Wood
65
Posted 05/11/2017 at 10:17:48
Jim just checked the OS and it appears you are correct... my days as Everton manager over so quickly!!
Swop him with Gana then in that case!
John Hammond
66
Posted 05/11/2017 at 10:22:01
So Rooney no doubt will be picked as the forward today. The only attacking player guaranteed to play despite his performances and detriment to the team. 762 out of a possible 900 minutes played while the likes of Niasse and Sandro who actually played as forwards last year get binned the second they have a bad game. Then we have the likes of Lookman and Mirallas who between them have played 90 minutes out of the 10 games this season. Must be great for everyone's confidence to know that no matter what you won't get a run in the team as long as Rooney is fit. Not Rooney's fault, the manager's pick the team. Niasse has one less goal than him having played half the games but even that isn't good enough.
Mark Murphy
67
Posted 05/11/2017 at 10:22:48
Neil, your having a mare - Marina is f@cked as well!
Jim Lloyd
68
Posted 05/11/2017 at 10:25:58
Neil,
There's still a good chance...no-ones been picked yet:} but don't give up your day job just yet!
Neil Wood
69
Posted 05/11/2017 at 10:28:00
Oh and in relation to people wanting to "pack in" supporting Everton... See ya. You will not be missed.
People like that are not fans. They are a crowd infection and taking up the seat of proper fans who will scream their heart out for Everton. The definition of support is not "pack up during any struggles" if the support that holds your house up packed up in a storm it will all come crashing down. That will happen with us if we don't keep that SUPPORT.
I am a shift worker and because of that I do not have a season ticket as I can not make every game. Due to this their are times when I can not get a ticket as it's sold out etc. These quitters essentially prevent me and others from attending and I will scream for every throw in and give 100% SUPPORT no matter what.
George McKane
70
Posted 05/11/2017 at 10:29:24
Got to find some "posso waves'. Its absolutely teaming as I look through my back window over towards New Brighton - - St.Pauls looking like The Duomo in the mist.A little walk into my front room to look over and down The River towards The City. Fold my arm and look down The river. The City is covered in grey cloud and mist. I am like someone from a Casper David Friedrich painting standing on top of the world seeing how insignificant we are against nature. walk a back to my writing room and stop for a moment by the small window looking directly across The River to Goodison. There is a small break in the grey, a beam of light breaking through but grey clouds rolling around. I sit at m desk suroounded by colour - - postcards of my favourite places - - Florence, Gdansk, Rome, Arles - - my heroes and friends - - Vincent, Primo, Lennon, my grandkids and a framed print of The Golden Trinity high on my bookshelf - - sit and put on Carry on by CSNY and begin to write looking for those posso waves man.
"The sky is clearing and the night
Has gone out
The sun, he come, the world
Is all full of light
Rejoice, rejoice, we have no choice
But to carry on
The fortunes of fables are able
To sing the song
Now witness the quickness with which
We get along
To sing the blues you've got to live the tunes
And carry on
Love is coming
Love is coming to us all"
Got to have a bit of Old Neil Young;
"Still glaring
From the city lights
Into paradise I soared
Unable to come down
For reasons I'd ignored
Total confusion
Disillusion
New things I'm knowing
I'm standing on the shoreline
It's so fine out there
Leaving with the wind blowing
But love takes care
Know me, know me
Show me, show me
New things I'm knowing"
Ahhhh - - that's better.
"You can say the soul is gone
And the feeling is just not there
Not like it was so long ago"

So it's raining, wet and cold.
Today my wife - - Gosia - - will go to Allerton Cemetery to lay a wreath on the Graves of Polish Men who died fighting against The Nazis.
Me I'm going to Goodison.
Mmmmmmm.
It means as well I will have to get the Municipal Charabanc under the waters to take me to The Metropolis and I will walk along My Haunts Of Ancient Times. Along Scotty, Great Merseys Street, St Ollies and maybe Marlon Brando to talk about On The Waterfront - - Marlon Brando Mary Walsh and Me.
"We walk in haunts of ancient peace.
At night we rest and go to sleep
In haunts of ancient peace.
The love and light we seek,
The words we do not need to speak,
Here in this wondrous way we keep
These haunts of ancient peace.
Let us go there again
When we need some relief
Oh, when I can't find my feet
When I need rest and sleep.
The Sunday bells they chime
Around the countryside and towns
A song of harmony and rhyme
In haunts of ancient peace.
The holy grail we seek
On down by haunts of ancient peace.
We see the new Jerusalem
In haunts of ancient peace.
Oh, when I can't find my feet
Oh, when I need some relief
One more time again.
You know I want to go there one more time again.
Be still in haunts of ancient peace.
(Be still)"
I recall going to Confession on Saturday evenings with Me Mam, Nin, Sisters, Cousins and Aunties. I must have been an unlucky kid. Every Saturday we would sit in line on the benches waiting for the "red light" to go on so we could go into The Confessional and clean our souls , ready for half ten mass the next day. We had Father Winder who had an incredibly loud voice and would repeat all your sins at the top of his voice. And then there was Father Breen, small, quiet and gentle, his voice like a whisper. Me. Always got Father Winder. When I eventually shuffled up to the end of the Bench it would always be Father Winder. By the time I was around 12 or 13 - - about 1962 - - I thought I was a bit clever - - I was already a fanatic reader and had read Greek Philosophy and was reading Spinoza. I went to Confession and was determined to tell Father Winder that I didn't believe in The Church anymore (not God - - wouldn't dare) - - I thought I would divert him and tell him that I had no sins - - I will never ever forget it - - he was a wily old character Father Winder - - I started by telling him I didn't believe in The Church or Sins - - he said "Georgie" - - my family name - - I nearly fell off my stool - - I didn't realise they could see you - - "Georgie, still watching Everton" - - "Yes Father, every game" - -"Do you like Alex Parker" ( how did Priests know about Football?) - - "Yea" - - "Alec Young" - -"Yea" - - Roy Vernon" - -"Yea" - - and so on to _"albert Dunlop" - - "Err no" - - "but you are going to the game next Saturday even though you don't like all the players" - - "Yea Father I'm a real fan" - - "OK Georgie - - see you in Church tomorrow morning for half ten mass" - -"Yes Father."
I am just writing this now - - at 9.53am - - with a bowl of coffee in my hand, upstairs at my writing desk and the sun has come out and blue skies all round.
Earrggghh - - just had to put on In My Life: - - Posso Waves On The Way:
"There are places I remember
All my life though some have changed
Some forever not for better
Some have gone and some remain
All thesis places have Their moments
With lovers and friends I still can recall
Some are dead and some are living
In my life I've loved them all
But of all these friends and lovers
There is no one Compares with you
And thesis memories loose Their meaning
When I think of love as something new
Though I know I'll never lose affection
For people and things did went before
I know I'll oft stop and think about them
In my life I love you more
Though I know I'll never lose affection
For people and things did went before
I know I'll stop and oft think about them
In my life I love you more "
Gotta Be : Getting Better:
It's getting better all the time
Better, better, better
It's getting better all the time
Better, better, better.
No matter what happens at The Club, Panorama, Manager, Players - - we will still be there - - we have to go - - we have to motivate ourselves (not with money or a contract but with our thoughts, our passion, our belief, our love for Everton) - - so I am getting myself in the mood for the trip to Golden Goodison. My goodness we are Everton.
I close my eyes and I see my friends in The Dark House, I see my mate Dan (he never ever misses a match and cannot hear or speak has multiple disabilities - -but one MAJOR ability - - he is always positive and optimistic and happy ) waiting to wave to me, my daughter and grandson, the grass just before the players run out, I look around the old ground - - this is where I belong - - this is our place:
Close my eyes
She's somehow closer now
Softly smile, I know she must be kind
When I look in her eyes
She goes with me to a blossom world
I'm pickin' up good vibrations
She's giving me excitations
I'm pickin' up good vibrations (Oom bop, bop, good vibrations)
She's giving me excitations (Oom bop, bop, excitations)
Good good good good vibrations (Oom bop, bop)
She's giving me excitations (Oom bop, bop, excitations)
Good good good good vibrations (Oom bop, bop)
She's giving me excitations (Oom bop, bop, excitations).
Up For It Now- - Possos In Place - - Heart Thumping - - Ready - - Never Ever Forget "Barkis is Willin".
Going to get my self ready - - off to The Dark House.
Up The Blues.
I got a bird that whisltes
I gotta a bird that sings.
I am getting the bus later with Oscar Wilde - - a good old Evertonian - - "We are all in the gutter, but some of us are looking at the stars." .
Turned and looked and there was Victor Hugo reading The Catholic Pictorial - - "Even the darkest night will end and the sun will rise."
Aristotle - - who had a chippy on Scotty - - once said to me - -" Hope is a waking dream".
Hope springs eternal in The Blue Soul.
And finally a bit of Marvin Gaye:
"Honey, you do me wrong but still I'm crazy about you
Stay away too long and I can't do without you
Every chance you get you seem to hurt me more and more
But each hurt makes my love stronger than before
I know flowers go through rain
But how can love go through pain?
Ain't that peculiar?
A peculiar-arity
Ain't that peculiar, baby?
Peculiar as can be
Oh, you tell me lies that should be obvious to me
But I'm so much in love with you, baby, 'till I don't want to see
That things you do and say are designed to make me blue
It's a doggone shame my love for you makes all your lies seem true
But if the truth makes love last longer
Why do lies make my love stronger? (stronger, stronger, stronger)"
Cosmic grooves all the way from New Brighton to All Blues The World Over - -with a firm handshake - - George.

Neil Wood
71
Posted 05/11/2017 at 10:30:39
Marina Mark? Didn't she ride the bike with Howard in Last of the summer wine?
I heard he was back training and fit for selection? Maybe another managerial error on my part but they won't let me into Finch Farm to check !!
Derek Knox
72
Posted 05/11/2017 at 10:32:47
Neil, you seem to have all the credentials of the last manager; didn't you forget Coleman, Funes Mori and Bolasie?
Taxi for Neil!
Ray Said
73
Posted 05/11/2017 at 10:32:56
We need to win game so I would like to see two up front- DCL and Niasse as target men and Sigurdson or Rooney creating and supporting. To do that we need energy and harrying in midfield so Benji, Lookman and Guye/ Davies in Midfield.
At home the best way to defend is to start attacking and get the opposition on the back foot and sitting deep
Brent Stephens
74
Posted 05/11/2017 at 10:33:02
George, we need a bit more of your mate Dan's positivity.
Laurie Hartley
76
Posted 05/11/2017 at 10:50:17
Cosmic grooves received in Korumburra George - keep singing The Song.
Up the Blues.
Stewart Lowe
77
Posted 05/11/2017 at 11:14:20
Are we going to see 1 or 2 strikers signed up on January 1st????
We couldn't sign just 1 as knowing Everton's luck he would break a leg in the first week and that would sign our relegation warrant.
Surely there are unattached strikers around the world that are not currently contracted to clubs that could be a 2-3 month stop gap?
I just don't know why Rooney isn't the out and out striker, with Sigurdsson and Lookman providing the ammunition? Rooney has always been brilliant at scoring with his head. This should have happened 10 games ago. Forget Rooney dropping into midfield, we need him to spearhead the attack until proper strikers are brought in.
For me, I would be bringing in Moussa Dembele from Celtic and Cedric Bakambu of Villareal
Stephen Brown
79
Posted 05/11/2017 at 11:26:18
Those at the game today need to fully support the team! Dogs of war mentality ! We need to do our bit to get us out of this shit !!
Support the players ! You never know it might work !!! Come on you blues get behind the lads!
Darren Hind
81
Posted 05/11/2017 at 11:32:45
What strikes me about our current plight is the delight everyone seems to be taking from it.
For years I have been told by supporters of other clubs how much they admire us and how we are their "second team" . .How gullible I was to believe it. supporters of other clubs, commentators. journos and so called experts are revelling in our misery.
Any manger worth his salt will tell his team to pressurise us from the off, to try to get the crowd nervous and agitated, exploit brittle confidence. The Watford manager will be no different.
We don't have to create an us against them situation. it already exist. They are all desperate to see us fall. Lets disappoint them. Lets create a bear pit atmosphere that does not subside. Lets recreate the sort of atmosphere that had Vinny Jones and co desperately praying for the whistle so they can get out of here. Lets send out a very big "fuck you" to all those "well wishes"
I expect a nervy afternoon, but I really believe a collective belief, effort and will to win from everyone concerned with our great club will see us home and give us something to build on.
Wouldn't you just fucking love to be playing ?
Dave Abrahams
82
Posted 05/11/2017 at 11:35:56
George (70), great again and positive, like your mate Dan, he's what you call a supporter, even with all his disabilities, hope he is happy today.
That priest with the loud voice, we had one in the Friary, but he was a gentle priest but a bit deaf, he used to ask you to speak up when you went to confession, there was never a queue outside his box !!!!
Everton have got to get the crowd singing and in a good mood today, forget Z Cars give us some old fashioned songs for this match finishing with 'Roll out the Barrell' we've got the blues on the run. If Ihaven't got a sore throat after this game I'll give myself a good talking to.
Brent Stephens
83
Posted 05/11/2017 at 11:38:09
"What strikes me about our current plight is the delight everyone seems to be taking from it".
I can't imagine many taking delight from our current plight - under Koeman or Unsy. It's painful. Painful.
Rob Halligan
84
Posted 05/11/2017 at 11:42:06
Well said Darren. For anyone who didn't watch the RS game last night, the gobshites were taunting the west ham fans with "you're going down with the blue shite".
Well let's ram those words right back down their vile gobs. Let's create an atmosphere that will scare the shit out of Watford, and let's get this club back on the road to where it belongs.
COYB FTRS!!
Andrew Cunningham
85
Posted 05/11/2017 at 11:48:25
Lets get this win ffs. I don't care if its not pretty or ugly as fuck. Get the win and start building .
Paul Rimmer
86
Posted 05/11/2017 at 11:50:29
I'd play: Pickford
Kenny Keane Jags Baines
Lookman or Vlasic Gana Gylfi Mirallas
Rooney
Niasse
Try to get one up and bring Davies on when Wayne's gassed. Might as well put a team out who know where the onion bag is. My feeling us that Unsy will play Rooney up top with 3 centre backs and 2 defensive midfielders and we will struggle once more.
Lawrence Green
87
Posted 05/11/2017 at 11:51:05
Agree with both Darren and Rob we are Evertonians, Everton FC is our football team for better or worse, it's all very well for the supporters getting up for big games like Wimbledon 94 or Bayern 1985, but the test of our support comes in matches like today's.
We collectively have to resist the temptation to berate and castigate our own players [even if they may deserve it]. Today is an opportunity for the supporters to show the rest of the footballing world what this club means to us, an opportunity to shut up temporarily at least the likes of Barton, Carragher, Murphy et al put a halt to the miseryside jibes.
We are Everton, we will always be Everton and no pundit, media outlet or opposition fan can take that away from us.

Oliver Molloy
88
Posted 05/11/2017 at 11:54:37
Darren,
I have a friend waiting on a Watford win for quite a bit of money today.
He had Burnley, Brighton , Bournemouth ,Barnsley , Wolves, Reading , Forest , and Watford.
I told him he was going to be disappointed , I hope I'm right because I'm an Evertonian first and foremost but the signs aren't good and if they score first I reckon he will win his bet and fair play to him , how the fuck he picked the first three on the bet is beyond me.
The club is in a total mess , there is much shite going on behind the scenes and this has been going on for quite some time , even before we played our first game.
I said on another thread a week or so ago , that Everton had got themselves a billionaire and couldn't even get that right and now we have the Panarama !
Players are beginning to blame each other and bitching behind the scenes and unfortunately ( George ) there are no positive vibes going on at the club at the moment.
This is probably the most important game for the club I would say in a long long time , we need to win this.
David Moyes has apparently recommended Dyce to Everton by the way.
Tom Bowers
89
Posted 05/11/2017 at 12:04:43
Everton have to get more physical for this game so.
They have to get stuck in and show some real tenacity.
Watford can play a bit but Everton played half-decent at Lyon without looking like winning .
Niasse should start along with Keane.
John Keating
90
Posted 05/11/2017 at 12:06:17
We have to win. Nothing less will do.
The problem is if we lose the first goal. I just don't see this lot getting back in it. In fact going for the equaliser will only play into Watfords hands. The outcome unthinkable.
I have no interest in how bad we are or how bad we play, the only thing is getting the 3 points.
First goal - crucial.
Mike Berry
91
Posted 05/11/2017 at 12:12:45
I think we will scrape a win today, we have to win sooner or later.Cant see a win keeping Unsworth in the job as much as I like the fellow.
A think it needs someone from outside to take a cold look at the squad and how to get the best without any emotional attachment .
The international break is going to be very interesting
Colin Glassar
92
Posted 05/11/2017 at 12:13:07
I hate rs journo Andy Dunn with a passion but he wrote a half decent piece in the Mirror today. Half decent because his indictment of our clueless, amateurish board was damning. The rest was his usual rs c**tness about Big Sam being our best option.
I really hate this guy. Have I already said this?
Andy Osborne
93
Posted 05/11/2017 at 12:13:58
Oliver, probably because Moyes wants the Burnley job!
Oliver Brunel
94
Posted 05/11/2017 at 12:15:37
If I was Unsy I would give them a basic team talk , where they are playing, what they are expected to do. Then I would play the following up beat dittys at high volume in the changies. So loud the Watford are cacking their pants. We need to get out there like George said:
Move On Up – Curtis Mayfield
Manfred Mann – The Mighty Quinn
Fortunate Son – Creedance Clearwater Revival
Public Image Ltd – Public Image
Touch Me – The Doors
I'm Not Down – The Clash
Smash It Up – The Damned
Get into them!!
Oliver Molloy
95
Posted 05/11/2017 at 12:19:12
He is being linked with Waest Ham Andy !
Brian Harrison
96
Posted 05/11/2017 at 12:20:59
I agree with what a few posters have said that now is the time for the fans to stand up and be counted. I have watched too many games at Goodison they have been played in virtual silence apart from the very odd chant from the home fans. We have always been hyper critical as fans but usually the best when we have had our backs against the wall.
I have always felt that if we play any team outside the top 6 at Goodison the feeling is well we expect you to beat them, so no need for our backing as much as usual. I hope today its us Evertonians feeling this is a backs to the wall situation and make it very very hostile for Watford today.
Colin Glassar
97
Posted 05/11/2017 at 12:21:09
Ginger looks like a cert for the WHU job. I love you Gold and Sullivan. Thank you, thank you, thank you.
Brian Harrison
98
Posted 05/11/2017 at 12:25:56
Colin
Well they certainly wouldn't be appointing Allarshite their fans along with Newcastle fans have already showed their contempt for him, just as our board should. The only ones touting him for our job are basically people who will never have to watch his team week in and week out.
George McKane
99
Posted 05/11/2017 at 12:31:53
Unpleasant little dig by Murphy on MOTD last night - - this is what we are fighting for - - we are fighting the whole crap, corrupt system.
I am up for it - - Come On Blues.
I am with Ma Joad - - We Ae The People - - and Grandma Joad- - Praise The Lord for Victory.
Off the TDH now - - Blue Skies. and cosmic grooves.

Oliver Molloy
100
Posted 05/11/2017 at 12:36:19
Mike @ 91,
A think it needs someone from outside to take a cold look at the squad and how to get the best without any emotional attachment .

That's why Moshiri wanted Koeman so badly apparently!
Andy Osborne
101
Posted 05/11/2017 at 12:37:01
Oliver 95, I just saw that! What a relief, no longer available. BK must be cursing.
Colin Glassar
102
Posted 05/11/2017 at 12:49:08
George, what did the little sh*t say? I don't watch motd anymore for various reasons.
When I lived in S. America I used to watch the prem games on ESPN in espanol (Spanish) and the commentators used give a lot of players nicknames eg 'El Niño con cara de asesino' (baby faced killer - Solskjaer), 'el actor' (Robbie Savage) etc Murphy was called 'el enano siniestro- 'the evil dwarf'. Quite appropriate then and now.
Ian Lang
103
Posted 05/11/2017 at 12:51:17
These next two games against Watford and Palace our crucial for us. Failure to win both games will result in relegation as I cannot see these group of players dragging us out of the shit we find ourselves in. I'm not looking forward to today's game, I saw Watford against Chelsea and they should of been out of sight with the chances they created, but as always I'll be behInd the team
Andrew Presly
105
Posted 05/11/2017 at 12:58:39
What a great post, George #70.
Almost makes this afternoon's result irrelevant. Almost!
John Raftery
106
Posted 05/11/2017 at 13:08:12
The first thing to do when a team has lost five consecutive games is to stop losing. To do that we need to stop conceding goals by using a solid formation, with three central midfield players and two wide players who get back to form a line of five when we are defending. That is pretty much how we played in the first hour at Lyon. We only fell apart after Unsworth disrupted the midfield in a forlorn attempt to win the game.
Keep a clean sheet and we give ourselves a chance of snatching a late winner from a set piece. With our limited squad of old players at the end of their careers, young players feeling their way into their careers and a heap of expensive but limited talent in between there is little point in trying to play expansive football at this stage. Stick to the basics, grind out some points and Move On Up! If that sounds like an Allardyce approach, so be it.
Mark Morrissey
107
Posted 05/11/2017 at 13:09:19
Please allow DU return to his former role at the club where he has done very well. If he wants to be a manager he can go and ply his trade in the Championship and earn his spurs. I hope he stays with the U23s because, as he keeps telling us, he knows the club inside out but that is not a blueprint for managerial success.
I expect to lose today because Silva has Watford playing well. I hope that Farhad has his Russian hitman waiting in the tunnel to give Silva a large brown envelope. You get my drift. I hope we do well today but I sincerely hope that the club make Silva our new manager.
With Bilic starting to come under the spotlight we need to strike whilst the iron is hot otherwise we could end up with the return of the ginger one. At that point, it would be terminal. Get Silva before Gold comes knocking.
Colin Glassar
108
Posted 05/11/2017 at 13:17:58
Mark, I like Silva as well but he looks too much like Roberto's kid brother for my liking, and we know how that ended.
Andy Williams
109
Posted 05/11/2017 at 13:20:18
Does anybody know why the kick- off is 4.30? The fireworks are at 6.30 at the Pier Head. IT will be a nightmare trying to get through town.
Ray Smith
110
Posted 05/11/2017 at 13:28:53
George 70
Do you remember Warbutton Street and Horsley Street off the Scotty Road?
My nan used to live in Warbutton Street, and she was a woman that struck fear into me.
Don't slam the door or you'll break the (gas) mantle.
If you don't go to sleep the bogey man will get you.
For some reason I didn't like going there, let alone staying overnight. Happy days!
3 points today to ease (a little) our current plight.
BK and Moshiri together would be scared of my nan!!! Pity she's no longer with us!!!
Jim Marray
111
Posted 05/11/2017 at 13:29:24
Between now and the New Year we will play pretty much every team between us and mid table plus Liverpool and Chelsea. Today's game is a vital starting point for Everton Footabll Club because another defeat will totally undermine what little confidence this group of players has and is likely to see us walk in to a car crash mid season points haul.
Unsworth's job today is not a win it is a clean sheet a 1 point. Breaking the habit of a)conceding goals and b)losing matches has to be a priority. Whether the coach of a successful under 23 team has the skills and experience to achieve this is questionable but I for one wish him all the luck going in an attempt to achieve it.
Many have mentioned the 'dogs of war' of the 90s and I am all for that at this point in time as it is the only way we will start to pick up points to begin the process of moving us out of the predicament we find ourselves in and if that means that Everton FC has to employ a corrupt thug whose teams are horrendous to watch then I will willingly accept that if it means that we achieve safety in the current season. All those who think that having Allardyce is a terrible thing, start thinking about how you will feel when the RS start laughing when we find ourselves relegated.
As for Silva, I would want to wait at least another season before I even contemplated asking him to come as manager. Those who think he would be great, just remember Martinez a manager appointed on the back of season when he won the FA cup and got his team relegated. A manager who had shown year after year that any team he managed was only capable of going downhill.
The guy at Wolves is in the same category as Silva. In fact I would wait even longer to see whether he can get Wolves playing well in the Premier following promotion, assuming he achieves that feat.
Everton is not a glamorous team and getting an Ancelotti, a Conte or Guardiola is a pipe dream at this point in time. They come when teams start to bring in the best and brightest stars of European football and currently I see no evidence that Moshiri is going to turn round a life time of EFC not buying such players.
Our problems have been self inflicted by a board whose heroes are the likes Royle, Dixie Dean, Roy Vernon and Alex Young. All of whom were great players but like the minds of the board they are all in the past. We need a forward thinking board who can take in the changes in the modern football world and are able to make Everton an attractive proposition to the better players in the Premier League and European Leagues while continuing to build up our pool of exceptional younger talent.
We need a fix for this season and between now and next may, we need to plan for the future. Accept that we can't play ticka tacka football from day one but work with a plan of how we want to play football and work to build a team that can achieve it.
But today 1 point and zero conceded goals is all I want.
Sean Roberts
112
Posted 05/11/2017 at 13:41:15
Colin glassar,
Lineker was mentioning the Everton situation and said isn't it about time that one of the English managers were given a chance at one of the bigger clubs like Everton. Danny Murphy then looked bemused and said "I thought we were talking about Everton . Big club ?"
He immediately laughed and said that Everton were indeed one of the bigger clubs with great fans.
It's what I call banter and personally wouldn't want it any other way.
Paul Columb
113
Posted 05/11/2017 at 13:42:25
Watching the teams around us at the foot of the table this weekend, currently Palace, we surely are the leagues poorest side.
John Keating
114
Posted 05/11/2017 at 13:46:36
Paul. Correct. Just watching Palace now on the telly.
If we can show just half their passion, commitment and fight today - which I doubt - we'd be fine.
At least they're getting stuck in to Spurs and could, and should, have been leading.
Derek Knox
115
Posted 05/11/2017 at 13:46:52
Good old Woy, at least he's ensuring we'll at worst be second bottom, for a couple more matches!
Seriously, I have got a goodish feeling for today; like I said in my previous post; totally dependent on the team Unsy selects.
Colin Glassar
116
Posted 05/11/2017 at 13:47:17
Cheers Sean. Paul, I'd say WHU are even worse than us.
Dave Evans
117
Posted 05/11/2017 at 13:47:55
Dave Abraham's #46 Exactly. Why come on an Everton site and to say you're not supporting them anymore. He /they should just slink off, say nothing and tend the cabbages.
Dave Abrahams
118
Posted 05/11/2017 at 13:49:01
Jim (111) why not a clean sheet and three points ?
Mark Andrews
119
Posted 05/11/2017 at 13:53:06
Please don't start young Davies. I feel he needs to return to PL2 to enable his game to develop. He needs to learn how to tackle, track his runner and defend. I thought he's learned after Chelsea and he did it again in the next game, it's cost us 2 goals in 2 games. He may come back better.
Mark Murphy
120
Posted 05/11/2017 at 13:57:11
George I think I love you and I'm not even gay!
Have a great afternoon - I wish I was going to the Black Horse - as bad as we've been I'd love to be able to go the match!
Colin Glassar
121
Posted 05/11/2017 at 14:00:14
Great response from Tony Pulis to the pundits after yesterday's game. To lower the stress levels, I just watch the games and refuse to listen to the OTT analysis by the "experts", a lot of whom have failed abjectly as managers.
Geoff Lambert
122
Posted 05/11/2017 at 14:03:22
Mark!
Davies is the only midfielder we have that can pick a forward pass.
Got to start him.
James Marshall
124
Posted 05/11/2017 at 14:09:58
The heady heights of 15th place up for grabs this afternoon - nosebleed territory.
Progress would be 0-0 in truth.
Geoff Lambert
125
Posted 05/11/2017 at 14:09:58
George #70 fantastic mate, but I am going to be late for the match after reading that...
James Marshall
126
Posted 05/11/2017 at 14:48:13
I just noticed that after 10 league games this season, our goal difference is 43 goals behind Man City - that's staggering!
Victor Jones
128
Posted 05/11/2017 at 14:49:30
Just hope that today that Unsworth has instructed Baines to just boot the ball up the bloody pitch. I don't care where the ball goes. Just boot it. None of this receiving the ball stop turn...and then pass backwards putting a fellow defender under pressure. Although I suppose a forward hoof from Baines these days would only travel about ten yards. Not blaming Baines for everything. But he is part of the problem.
Anyhow. Lets hope that the rest has done a few of our senior players good. But I somehow doubt it. Let's hope that the severity of the situation has at long last hit home with our players. But again I doubt that it has. And let's hope that Unsworth has learnt something from his first few matches. He got a free pass from me for those few games. But not this game today. We need to start winning football matches. We need to start today.
Our defence is woeful. So I can only hope that Unsworth has had them (whoever plays) working on something in training. Defending as a team would be a start. Holding their line. Moving as a team. Because for most goals conceded this season. We have been all over the place.
Please no Schneiderlin today (or is he barred). In fact .no Schneiderlin ever again. Mourinio saw through this guy. Koeman didn't. Unsworth and our next manager need to wise up to this guy. He will drag all around him down.
Lookman and Vlasic would do for me out wide today. No to Lennon. Although he has not been as poor as some would make out. But the other two would bring more pace. We need to stick with them. Give them a proper run of games.
And its Rooney and Niasse up top for me. Who else is going to score for us? I wasn't sure about DCLs attitude in an interview on sky recently. This isn't really a laughing matter. DCL seemed to think that it was. I question just how much he and others are up for the fight. We need more than just running about. We need an end product. We need goals. We need goals now. We cannot wait until January.
Let's hope that today's players have finally grasped the seriousness of our plight. And TBH, it really is all that we can do Hope. Because who knows what Everton team will turn up. Of current form , this should be Watford's game. But football has a habit of not working out like that. So lets hope that at long last we can get our act together.
And please get Baines passing the bloody ball forwards. That would be a start.
Last point. Mr.Unsworth . this is a 90 minute game. So please no holding out for 60 to 70 minutes. Then hope that something happens in the last 20 or so minutes. Let's get at them right from the off. Take the game to them. Score first. Because we are all getting pissed off with chasing every match. Surprise us all today. Win this football match .
Paul Hay
129
Posted 05/11/2017 at 14:50:13
Mark@119
Certainly agree about him tracking his runner from midfield - but I think that's been a major problem throughout the side so far.
John Wilson
130
Posted 05/11/2017 at 14:57:56
If Unsy has lost weight today, we may have a better chance of him influencing the team to a win.
James Marshall
131
Posted 05/11/2017 at 15:15:45
Is he possibly the heaviest manager of all time in the Premier League? I certainly can't remember anyone quite as rotund as Rhino!
Oliver Brunel
132
Posted 05/11/2017 at 15:20:38
My team:
McKean G
Glassar C Wilson J Abrahams D Ferns S
Keating J Halligan R Larkin P
Twist T Holmes P Walling P
Subs: Everan T, Brunel O, Molloy O, Messi, Kane, Neymar.
Manager: Bob Latchford. Assistant: Mike Lyons.
Peter Murphy
133
Posted 05/11/2017 at 15:21:47
George post 40 , you just brought a tear to my eye , but in a really good way.
I was really scared about what might happen this afternoon at Goodison, I am a little less so now.

Mark McParlan
134
Posted 05/11/2017 at 15:27:36
Rooney up front (with instructions to STAY upfront), with Sigurdsson playing behind him centrally in his natural position. I don't want to see any more of Lennon or Mirallas starting, they are not the future. Start Vlasic on the left, and I think it's about time we gave Sandro a go again. You don't score 16 goals in La Liga aged 21 from pure luck. Try him on the right of the front 3. Davies and Beni (he's been better than Gueye) in the middle. Back 4 - Baines, Williams, Keane, Kenny. Pickford in goal.
Paul Tran
135
Posted 05/11/2017 at 15:27:54
Keep your shape
Play in their half
Keep moving
Make yourselves available/responsible
Get into their box
Shoot. Regularly
Work your socks off with/without the ball
Is that too much to ask, or does it require a 'supercoach' to get a bunch of professional footballers to do their jobs?
Brent Stephens
136
Posted 05/11/2017 at 15:30:17
Oliver. Have u dropped me to the U70s?
Gavin Johnson
137
Posted 05/11/2017 at 15:30:32
It's a good job the ex Leeds United manager, Steve Evans isn't a contender for the job. I seem to remember him being a gigantor in the weight stakes.
My team for today.
Pickford
Kenny Holgate Keane Baines
Davies Sigurdsson Beni
Vlasic Rooney Lookman
Simon Dalzell
138
Posted 05/11/2017 at 15:30:58
Mr Kenwright has said today that , " UNSY is a true Evertonian,and worth his weight in GOLD . Offers over £ 20 billion would be considered ."
Paul Welsby
139
Posted 05/11/2017 at 15:34:51
No Lookman again today, feel for the kid me.
Oliver Brunel
140
Posted 05/11/2017 at 15:35:30
Brent (136) I know you were a big money 'star' signing but that means nothing in my teams. Stars are things in the sky.
Denis Richardson
141
Posted 05/11/2017 at 15:35:55
Interesting line up - we playing 4141?
John Keating
142
Posted 05/11/2017 at 15:36:03
Oliver I'm naturally a sweet left footer but am happy to play anywhere for the team
James Marshall
143
Posted 05/11/2017 at 15:36:15
The team is out:
Pickford, Baines, Kenny, Jags, Keane, Gana, Beni, Davies, Sigurdsson, Rooney, Niasse.
Subs: Robles, Williams, Lennon, Besic, DCL, Holgate, Lookman
Mike Allen
144
Posted 05/11/2017 at 15:36:43
No more "dogs of war", far too many cheats in the game who can't handle any kind of physical contact. Referees can't handle dead ball situations never mind outfield challengers.

We ridiculed foreign players in the sixties for the same thing now everyone is at it. just to get them to have a bit of self respect would be a start or respect for the game would be brilliant.
Brent Stephens
145
Posted 05/11/2017 at 15:36:56
Ur a hard man Oliver.
Tony Twist
146
Posted 05/11/2017 at 15:39:31
Make it so blue boys. Three points today, you are more then their equals, make us proud.
Mark Tanton
148
Posted 05/11/2017 at 15:41:02
Unsworth's team has balance today. I like the look of it. Lennon deservedly dropped too.
John Keating
149
Posted 05/11/2017 at 15:41:58
No wide players. Sigi and Rooney falling over each other.
Hope Unsy has some sort of gameplan?
Colin Glassar
150
Posted 05/11/2017 at 15:42:08
Oliver, thank you for putting me in my natural position (rb) I need to polish my hobnail boots before I can play though.
Derek Knox
151
Posted 05/11/2017 at 15:46:03
Good balance to the team for a change; although I notice Lookman, has been ascribed to the bench again.
Sam Hoare
152
Posted 05/11/2017 at 15:46:15
Playing Davies and Rooney out wide? Not much pace and width today.
Jaeden Hearn
154
Posted 05/11/2017 at 16:04:44
Looking like a balanced line-up; disappointed not to see Lookman starting, and even more disappointed to not even see Vlasic on the bench!
Add Your Comments
In order to post a comment, you need to be logged in as a registered user of the site.
Or Sign up as a ToffeeWeb Member — it's free, takes just a few minutes and will allow you to post your comments on articles and Talking Points submissions across the site.