Funes Mori poised for Everton recall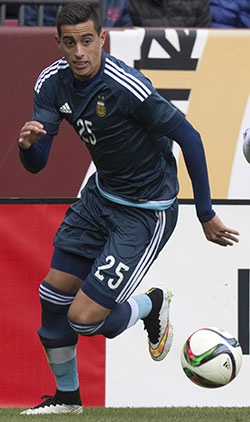 Ramiro Funes Mori credits mental resilience and family support for helping him through his long absence with a serious knee injury.
The Argentine defender is finally closing on a return to Everton's match-day squad following two surgeries to correct a meniscus tear he suffered on international duty 10 months ago.
Having come through two outings with the Under-23s and trained with the first team for the last few weeks, Funes Mori is ready to battle for a place in the starting XI as he bids to prove he is worthy of a place in his country's squad for the World Cup this summer.
"It's difficult, being i­njured for a long time," he said in The Mirror. "It's tough but I had support from my ­family and I'm very strong mentally.
"I'm very happy to be fully fit, and I'm ­looking ­forward to joining the team.
"It's difficult when you're injured and a new manager comes in," he continued in reference to Sam Allardyce who succeeded Ronald Koeman as Everton boss last November.
"It's tough because you want to show what you can give to the team and to the club.
"But he knows every player, I think he has given opportunities to every injured player that's come back so I am waiting for that opportunity also.
"Of course I'm thinking about the World Cup but I'll have to play for Everton in order to do that.
"I'm just happy to have recovered from the injury but I need to be fit to prove that I can play."
Funes Mori's prospects of working his way back into the side will, no doubt, be enhanced by the fact that he is a rarity in the Everton squad — a naturally left-footed defender.
Eliaquim Mangala, signed on loan from Manchester City on transfer deadline day to add another option on the left side of defence, made just two starts before picking up a knee problem that could sideline him for the rest of the season.
---
---