Moyes gets first win over Everton
West Ham United 3 - 1 Everton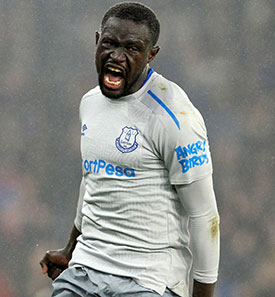 Oumar Niasse gave Everton hope at 2-1 but the Blues were eventually beaten for the first time by a David Moyes team
Everton closed out a season to forget with a deserved 3-1 defeat to their former boss and West Ham at the London Stadium.
Two goals from Mario Lanzini and a thumping finish from Marco Arnautovic handed David Moyes his first win over the Blues while Sam Allardyce, barracked off and on by both sets of fans during the game, might have overseen his last match as Everton manager.
With Wayne Rooney injured and Allardyce seeking to match the Hammers' formation, he opted for a five-man back line and two up front with Ramiro Funes Mori and Oumar Niasse returning to the lineup.
Tom Davies was preferred to Davy Klaassen in central midfield but the Dutchman would play the second 45 minutes after Allardyce reshuffled his team after going a goal down.
The Hammers had started the game in confident fashion, playing much the better football and they almost went ahead when Jordan Pickford made an excellent save to dent Mark Noble.
Joao Mario then missed by barely an inch with a low shot before Niasse was presented with a gift to try and open the scoring just after the half-hour mark. Seizing on an error by Angelo Ogbonna, he found himself with just the goalkeeper to beat but he was foiled by Adrian.
Niasse tested Adrian with another effort from further out as Everton periodically threatened but the home side got their reward for largely controlling the contest six minutes before the interval.
A loose ball skidded through Everton's back line and Lanzini latched onto it, driving into the box to slide his shot past Pickford into the corner of the goal.
Little changed after the break despite the introduction of Klaassen and then Theo Walcott for a visibly angry Cenk Tosun and West Ham doubled their lead in the 63rd minute.
Arnautovic rolled Michael Keane to open up space for a dipping shot that rocketed past Pickford from 20-plus yards.
Niasse came close to pulling a goal back in the 73rd minute when he rifled a shot from the angle that Adrian pushed into the post but the Senegalese striker's hard work and opportunism paid off a minute later.
He pulled a Phil Jagielka header down with his back to goal and turned smartly to smack the ball home from close range.
But any hope of a comeback by the Blues was put to bed when Lanzini curled a shot into the top corner via Pickford's glove to make it 3-1 with eight minutes to go.
Walcott had the ball in the net but had been correctly flagged offside while Adrian made a double save in the closing stages to deny the winger with his legs before batting away Niasse's follow-up shot.
Leicester City's defeat at Tottenham in a wild encounter at Wembley that finished 5-4 ensured that, despite losing, Everton finished in eighth place, five points behind Burnley and a massive 51 off champions Manchester City.
Full details: ToffeeWeb match page
---
Reader Comments (121)
Note: the following content is not moderated or vetted by the site owners at the time of submission. Comments are the responsibility of the poster. Disclaimer
Dermot Byrne
1
Posted 13/05/2018 at 14:07:45
3 at the back, 2 wingbacks and 2 strikers.
Swan song
Dermot Byrne
2
Posted 13/05/2018 at 14:09:29
The big question: is life just too short to bother watching this?
Steven Jones
3
Posted 13/05/2018 at 14:12:43
Looks like Five up front - Baines and Coleman providing the width and licence to get forward with 3 at the back and we have two Strikers plus Tom Davies.
Looks very attacking to me.
Dave Ganley
4
Posted 13/05/2018 at 14:13:09
With no playmaker... hope I'm wrong but yet again it seems like there's no balance. Who's going to provide the ammunition for goals? Guess Davis or Gana will go forward but they are both limited in terms of being providers.
I would like to think that when Baines and Coleman go forward there will be bodies in the box for crosses but that would be an aberration given the evidence of this season.
Anyway we shall see. Hopefully we shall get the win against a poor West Ham team.
Jim Bennings
5
Posted 13/05/2018 at 14:29:08
It's the most unbalanced Everton midfield I can ever recall to be honest.
We'll see how the game develops but I ain't holding my breath.
Bill Watson
6
Posted 13/05/2018 at 14:38:40
Three at the back usually equates to a drubbing!
Eddie Dunn
7
Posted 13/05/2018 at 14:54:43
Yes Bill- my thoughts too. it is obvious that our attack is going to be on the wings but I can see Noble dominating midfield and us being opened-up down the middle.
Ian Flanagan
8
Posted 13/05/2018 at 15:34:01
Five defenders, two defensive midfielders, no wide men. This line up should seal Allardyce's fate at Everton
Brian Williams
9
Posted 13/05/2018 at 15:37:07
Haha. Both sets of fans singing "Sacked in the morning" etc.
Christy Ring
10
Posted 13/05/2018 at 15:39:21
We never play well with 3 at the back, should bring on Klaassen, and switch to a back 4, Totally unbalanced.
Jay Wood
[BRZ]
12
Posted 13/05/2018 at 16:54:42
"Your system has been corrupted by a critical virus. Completely clean your hard disk. Reload your operating system. Reboot and start over."
Goodbye season 2017-2018.
It's been emotional.
Michael Lynch
13
Posted 13/05/2018 at 16:58:32
The players have disgraced the shirt this season. I really hope we don't see many of them wearing it next time around, whoever the manager is.
Embarrassing.
Jim Bennings
14
Posted 13/05/2018 at 17:03:19
Michael
I would not lose any sleep if we sold all of them.
I have no love or emotional attachment to any of them unlike in years gone by when selling Rooney in 2004 was gut wrenching or losing fan favourites like Tim Cahill or Arteta left me feeling deflated and sad.
But this lot ?
I just hate them to be honest, they are not worthy of wearing the Blue shirt.
Kevin Tully
15
Posted 13/05/2018 at 17:05:31
To put this season into some sort of perspective, we've just finished with a worse goal difference than a Crystal Palace side who lost their first seven games without scoring a single goal. This, after spending over £250m since Jan 2017.
If Moshiri doesn't address every facet of this tribute act of a football club, then he deserves to lose every penny invested.
Ray Smith
16
Posted 13/05/2018 at 17:05:58
Bill 6
Are you physic?
Actually I would have agreed with you anyway.
No need to wait until tomorrow, get rid now.
He could then make his way home on his own, because he will only blame the players for his demise.
Thank you Sam, you did what you were asked to do.
However, if you stay (god forbid) I will never go to a game home or away again (and I do quite a few away games) until you and the other hangers on are gone.
Ian Riley
18
Posted 13/05/2018 at 17:10:28
Sam allardyce may go but the players have got of likely this season. Sadly, if we start with this group of players next season. Expect the same. Simply not good enough but mid table.
Jim Bennings
19
Posted 13/05/2018 at 17:12:26
No wins against any of the top 6 home or away.
No Cup run.
A disgrace in the Europa League.
Minus 14 goal difference.
Most appalling embarrassing diabolically unbalanced Everton midfield I've seen for years!
Absolutely appalling season and if Moshiri has anything about him he'll show this standard should never be tolerated or seen at Everton again!!
Grant Rorrison
20
Posted 13/05/2018 at 17:14:46
2 points up on where we were 2 years ago. It's only taken a few hundred million in investment, and 3 managerial changes, to get there too. We're heading in the right direction.
Mike Galley
21
Posted 13/05/2018 at 17:15:58
It's been a car crash of a season. Like a lot of blues, I don't think I've ever felt as low as this with the club.
There really does need to be major changes at just about every level of the club. I hope and pray this will happen, but I've a horrible feeling that this hasn't bottomed out yet.
Brian Williams
22
Posted 13/05/2018 at 17:16:12
Allardyce out before the end of the week, Brands and Wenger in.
Happy days!

Phil Smith
23
Posted 13/05/2018 at 17:17:03
Shite end to a shite season. Wonder how many goals Niasse would have score if he played every game up top...?
Chris James
24
Posted 13/05/2018 at 17:19:25
Brian Williams, I would be overjoyed to get Wenger, imagine the respect he'd command in the team instantly. Get in Arteta as number 2 while we're at it.

Jim Bennings
25
Posted 13/05/2018 at 17:20:32
Niasse might have scored but much like Tosun and DCL he's not the answer long term to our striking options.
These lads will score 8 or 9 goals sporadically across the season but they are not 20-25 goal strikers nor do they possess the hold up and technical qualities required and seen by the strikers at the top clubs.
Mike Powell
26
Posted 13/05/2018 at 17:25:52
Well, that was hard to watch, bit like the rest of the season — woeful. Let's hope hippo head is sacked later today, that will be the only good thing about this season.
Graham Mockford
27
Posted 13/05/2018 at 17:26:42
Spot on Jim,
I remember when many on this forum used to argue about the relative merits of Lukaku.
If only.
Ray Smith
28
Posted 13/05/2018 at 17:27:55
Mike 21
I have to agree with you.
There have been a lot of lows, however, being an Evertonian since 1964 this is the lowest I have ever felt.
Moshiri, you probably havn't got a magic wand, but whatever you have got wave it before we disappear into oblivion.
Brian Williams
30
Posted 13/05/2018 at 17:35:43
I think our prayers have been answered because I DO believe Garth Crooks has actually EATEN Allardyce!
Tony Abrahams
32
Posted 13/05/2018 at 17:40:12
When you spell it out like Kevin T does, it really does put this season into perspective.
The problems run deep, but the biggest one for me, is that the spine of the team, hasn't even got a spine!
Tony Twist
33
Posted 13/05/2018 at 17:47:43
Embarrassing but expected performance. Scared of the future. We really need a change in fortune with the next couple of appointments, appointments that really need to be made now. My hope is for a professional DOC who really does their utmost for the club and in the end loves the club, a coach who is an out and out coach with man management skills and who lives for the job and gets results and we need 3 or 4 quality up and coming world stars in the making. To begin with we need a reliable team with a strong spine of players with numerous styles of play. I would be made up of we can get to a high standard, a team that can beat teams 7th and below home and away and then give a real game to the rest. I wouldn't like to be the one who decides on DOF and coach because it is a daunting task. Best of luck to you, Moshiri.
Tony Twist
34
Posted 13/05/2018 at 17:47:43
Embarrassing but expected performance. Scared of the future. We really need a change in fortune with the next couple of appointments, appointments that really need to be made now. My hope is for a professional DOC who really does their utmost for the club and in the end loves the club, a coach who is an out and out coach with man management skills and who lives for the job and gets results and we need 3 or 4 quality up and coming world stars in the making. To begin with we need a reliable team with a strong spine of players with numerous styles of play. I would be made up of we can get to a high standard, a team that can beat teams 7th and below home and away and then give a real game to the rest. I wouldn't like to be the one who decides on DOF and coach because it is a daunting task. Best of luck to you, Moshiri.
Steve Ferns
35
Posted 13/05/2018 at 17:50:46
Please announce Allardyce's departure. I can't take this anymore!
Fran Mitchell
36
Posted 13/05/2018 at 17:53:22
Saw the team . 5 defenders and 2 defensive midfielders. No forward passers in the midfield. Decided my life was better spent cleaning the house.
For a clear out of this messed up squad and a manager with vision.
Jim Bennings
37
Posted 13/05/2018 at 17:54:16
Everton possess the backbone of a jellyfish and the bite of a spoonful of jelly.
No leadership qualities ( Phil Jagielka tries but age catching up and a lack of a Sylvain Distin or Lescott figure in his pomp beside him means it's useless now).
The midfield possesses not one drop of creativity nor pace.
The days when we could call upon leaders like Carsley or Phil Neville or creators like Pienaar and Arteta or goal grabbers and nuisance factors like Cahill or Fellaini are now replaced by brain dead sideways crabs and circus acts like Bolasie out on the wing.
The goal machine of Lukaku and pace and power has never been replaced and we are back to the days of honest toiler strikers that get a goal here and a goal there but not enough to get you sitting up thinking we have got a deadly marksman.
I don't know where Everton start this summer but there are many many areas that need addressing and not just brushed under the carpet once a new manager is in place.
Stephen Brown
38
Posted 13/05/2018 at 18:01:24
Whoever is the manager has a huge problem- most of these players are not very good! Big problem for any team!!
Steve Hopkins
39
Posted 13/05/2018 at 18:01:30
Would have happily swapped our "manager" for David Moyes and any of 6 or 7 of our "players" for Arnautovic today. Sad times
Colin Glassar
40
Posted 13/05/2018 at 18:03:48
Just waiting, and praying, for the inevitable announcement now.
Kunal Desai
41
Posted 13/05/2018 at 18:04:23
Now the hard work really does start after the shit show of the season is over. Now we really find out what sort character Moshiri really is?
He now has the responsibility of starting the clear out beginning with Allardyce and his backroom staff, then get shut of Walsh, Elstone and buy out Woods and Kenwright. Show the evertonians what you have said you actually mean and start being ruthless and getting this club back to being competitive and bringing back some respectability, otherwise it won't be too long before the fans are on your back to sell up and move on.

Gerry Quinn
42
Posted 13/05/2018 at 18:09:41
Jagielka is talking up about a 'Positive' Of Eighth Place Despite Hammers Defeat" on the OS...you are fucking kidding, aren't you, Jags?
Mike Galley
43
Posted 13/05/2018 at 18:10:58
Ray 28. I'm a pup compared to you, dad started taking me the game in 77. Big Latch still my hero. Just saying to the lads after the game, 98 was bad but at least the team was fighting for our shirt. I honestly think this is the most gutless Everton team I've ever watched.
Shane Corcoran
44
Posted 13/05/2018 at 18:13:08
Watched Besic yesterday. A bit headless and not the answer to anything long-term, but worth a go relative to what we've got.
Tony Hill
45
Posted 13/05/2018 at 18:14:28
We have lost something of our soul, not in the appointment of Allardyce but in our reaction to it.
He will go. The long Everton tradition of sentimental, cruising underachievement will remain. It's going to be a challenge to find another scapegoat quite so perfect as Sam.
Steve Barr
46
Posted 13/05/2018 at 18:17:26
Everton prove that league position does lie.
Being based in the USA I've seen just about every Everton game live on TV and judging our performances many other games I've seen concerning the rest, we are easily the poorest team in just about every category.
If we start next season with this lot in place we must surely be relegation certainties.
As we all agree, a major change and clear out will be required starting now.
Tom Dodds
47
Posted 13/05/2018 at 18:17:49
The Days of 'Pearly Kenwright's end of tenure will do for me.
Finally.
And when he's gone take a pat on the back all those that stood up or hired a plane to get rid of the Giant Blood Sucking Leech,but please let us all be alert if a similar imposter takes his seat in the future.
Onwards and upwards we can all but hope (yeah and pray !)
Shane Corcoran
48
Posted 13/05/2018 at 18:27:16
Steve, 46, how does it lie?
We may have the worst players in the league or play the worst football but our players were obviously motivated enough or whatever it was to achieve way, way more than WBA, Stoke and Swansea.
We're dire, but we're only the 13th worst in the league.
Ken Kneale
49
Posted 13/05/2018 at 18:27:42
To all please communicate Kevin Tully @15 comment s to all within the club to who you have any form of communication link. It sums up the situation completely and utterly We are a mess on the field, a mishmash of sycophantic coaches with little ability at tactical level and totally devoid of strategic leadership at the top.
Ray Smith @28 I only joined in 1966 but I agree that for some reason this feels worse than any other era.
Phil Bellis
50
Posted 13/05/2018 at 18:31:45
For the first time ever, I was uninterested about an Everton game - just saw the result at full-time
What a mess we are as a football club - amateurish, rudderless, leaderless, dispassionate
First baby step to recovery: make Seamus captain

Steve Barr
51
Posted 13/05/2018 at 18:33:42
Shane, you answered your own question.
Jim Bennings
52
Posted 13/05/2018 at 18:39:04
Does anyone know when the players are due back from the long holiday they have been on from August to May?
Mike Hayes
53
Posted 13/05/2018 at 18:40:45
Tom Dodds : there are some fans who want a statue to the panto dame - what the feck for no one knows 23 trophyless years, 3 failed ground moves and ZERO investment oh and a mortgage - just what do these "fans" see that no right thinking Everton fan can't??
Jim Bennings
55
Posted 13/05/2018 at 18:53:34
Add to that under Kenwright there has been no win at Anfield this century!!
Kevin Moorcroft
56
Posted 13/05/2018 at 18:54:54
Alt least we can all have a rest now.

Worst team in years and Moshiri has a very big task in a very short time. I agree with most that a complete clear out is required from top to bottom.

Far too much dead wood like Jon Woods and Bill Kenwright who should retire to a backseat position. With Elstone going, we need new blood, new ideas, new directorship – and many of those players have to go. They could have played openly since safety and most have been indifferent to prove their worthless.

What we've seen is very bad and Moshiri could do with help - maybe the Arsenal connection will hold out an olive branch.
Dermot Byrne
57
Posted 13/05/2018 at 18:55:15
Not many Mike 53...I think you may be making up enemies because the consensus is clear and there's noone to row with! Can't even row with the RS as they will win the CL.
Back to May and Trump for me!
Pete Cumberlidge
58
Posted 13/05/2018 at 19:20:22
I just cannot understand how we've finished 8th. If this team had played in the 2 seasons in the 90s when we survived on the last game of the season we would have been relegated weeks ago. Seriously if we've finished 8th those teams would have qualified for Europe.

For all the millions and ongoing celebration the Premier League is a poorer competion by a mile. Great at the top but shite from 7th down
Christy Ring
59
Posted 13/05/2018 at 19:20:52
We need a big clear out, including Kenwright, Woods and Elstone and Schneiderlin, Klaassen, Williams, Bolasie and Martina. A left sided centreback, a left back, playmaker, striker and left winger needed, and bring Lookman back.
Jimmy Salt
60
Posted 13/05/2018 at 19:28:55
Has he gone yet?
Rick Tarleton
61
Posted 13/05/2018 at 19:40:32
To get an idea of how big the gap is: Everton finished eighth and had 49% of the points of the top team. Every team outside the top six had a goal difference that was negative(i.e. more goals conceded than scored). Whoever takes over this gap is huge. We are nowhere near the standard of the top six teams, just look at our results against Arsenal, clearly the weakest of the top six, and the goal difference against them is 3-10.
We need not just a manager, but a structure within the club that allows for growth. Bye, Bye, Bill, go away, Sam and let's start again. And that's before we start on the players, the ones who've been good, but are past it, the ones below par and the ones who are not living up to expectations. Whoever the next manager is it's a massive and a long-term task.
Richard Mason
62
Posted 13/05/2018 at 19:43:15
Just out of curiosity, how did klassan get on when he came in today??
Paul Birmingham
63
Posted 13/05/2018 at 19:55:56
Direst Straits in my time. The board is spineless and gutless as is the team.
In my view the starting set up today was the recipe for defeat.
No lessons learnt from previous sad dabbles with is set up and basically the team plays like an ale house team on Sunday mornings.
Time for Deliverance, and the hope of better times mus5 come soon.
Colin Glassar
64
Posted 13/05/2018 at 20:02:43
I suppose we will have to wait until midweek until he gets the boot. Then we have to get a new team in, then wait until after the World Cup ends before we start trying (24/7) to recruit new players etc... We need a miracle!
Jon Withey
65
Posted 13/05/2018 at 20:11:27
Not the worst team in the league - I guess we have achieved 8th by beating the worst teams, mostly at home. We've had worse league positions bit you can see that we aren't going to get anything off the better teams in cups or the league.
Uninspiring.
Trevor Lynes
66
Posted 13/05/2018 at 20:14:19
What is this nonsense about spending lots of money? We took in 2 million more than we spent which equates to no investment once again.We have consistently used every transfer window to make a profit. The NEXT window must be different as we have no players to sell for decent money so we will need actual investment from the boardroom not just the media money.We as a club are in decline with no assets on the playing pitch. None of our squad would be coveted by any top six club.
Tony Williams
67
Posted 13/05/2018 at 20:21:12
5 defensive players with 2 defensive midfielders, takes off a striker when losing, enough said.
Barry McNally
68
Posted 13/05/2018 at 20:29:17
At least the new kit remains unbeaten!
Tom Bowers
69
Posted 13/05/2018 at 20:35:25
Could not Allardyce have at least played some youngsters in this nothing game ?
What he sent out today was the same old same old failures of the season and guess what ? They played the same old way, ineffective.
Only Funes was new today so it's unfair to point a finger at him.
What was the point of Walcott on the bench if he wasn't match fit when there are others who are fit ?
This man Allardyce has to go right now !!
Brian Williams
70
Posted 13/05/2018 at 20:39:05
Vote for Rooneys goal v WHU at Goodison for goal of the season on BBC sport. Let's win somethimg this season ffs!!
Ed Prytherch
71
Posted 13/05/2018 at 20:42:18
Richard Mason asked about Klassan - he showed why he has been left out of the squad for most of the season. He jogged around, avoided making any challenges, completed a few safe passes and had a long range shot at goal. A bit like the French air force in WW2.
Paul Kossoff
72
Posted 13/05/2018 at 20:44:18
Paul 63, no point in calling for deliverance, aint no Burt Reynolds gonna come riding in to save us from this team of red kneck pig loving slackers, no sir!!!😋
Jay Harris
73
Posted 13/05/2018 at 21:06:27
Besides the obvious management deficiencies major question marks over Keane and Klaasen.
They were both totally powderpuff today. and with the exception of Niasse and Davies the rest werent much better either.
I hope whoever comes in gets proper backing and not interference from Kenwright as we need wholesale changes to the squad and coaching.
Jerome Shields
74
Posted 13/05/2018 at 21:06:46
A five-man defensive formation with the midfield playing deep, isolated forward with no supporting play. Means West Ham were able to pressurise our defence and hassle midfield to get possession as they were able to play a higher defensive line. Same old out-of-date tactics. Result a predictable defeat.
Big Sam is a one-trick pony, with one old out-of-date trick.
Darren Alexander
75
Posted 13/05/2018 at 21:08:49
Just back from this - didn't expect much, but got even less. While it was a fairly meaningless game, we all spend good time and money to follow this team and deserve something to cheer about for our efforts. Today we came second best to a very poor team who have struggled all season, which is a real worry. I'm annoyed Moyes has finally beaten us, but even more concerned to think how much needs to be done before next season begins. I may be glad this season's over, but I'm already dreading the next!
Bill Gienapp
76
Posted 13/05/2018 at 21:17:15
Jim (19) - I can do you one better. Since we were also swept by Burnley, that means no wins against any of the top 7.
That might be the most pathetic statistic of the campaign. Even Swansea - who just got relegated - managed to beat Liverpool, Arsenal and Burnley in a four-match stretch.
To Allardyce's supporters in the media, I would ask - can you point to a single signature performance during his tenure this season? The closest was probably the draw at Anfield - a match in which we conceded 80% of the possession and basically prayed for a penalty. Inspiring stuff.
Ian Hollingworth
77
Posted 13/05/2018 at 21:32:35
Somebody said it earlier and I agree I would not care if I ever saw any of these players ever wearing an Everton shirt again.
Getting rid of Allardyce is not the answer to our problems it's just the beginning for our great club.
Sadly I have no faith in the board to do the right things.
23 years and counting.
Thanks Bill, good job your the greatest ever Evertonian.
David Connor
78
Posted 13/05/2018 at 21:34:35
Thank god this dreadfull season is over. Yet again another false dawn has come and gone. We have a piss poor squad massively overated and overpaid.

Huge decisions now have to be made both on and off the field. Allardyce his cronies, Steve Walsh and Kenwright all have to go as do at least 8 first-team squad members. But who will buy them, having seen the shite we have had to put up with all season? I for one wouldn't. So we could be stuck with most of the garbage players we have unfortuneatly.

Whoever takes over the helm from fat Sam – Presuming he is given the bullet – has a fucking mountain to climb to even get us competing again. I wish him well whoever it is because they are on a hiding to nothing at this club. It's a bigger posioned challice than the England manager's job.

Let's hope Moshiri gets it right this time because I don't know if I can take anymore of this soap opera called Everton Football Club. We are a fucking disgrace and our fans deserve better.

Please, Mr Moshiri, get it right this time and possibly get your mate Mr Usmanov on board and let's see where we go next season. Onwards and upwards hopefully...
Andy Crooks
79
Posted 13/05/2018 at 21:40:43
I bow to no one in my disdain for Allardyce. However, he, Koeman and Martinez have been managing a bunch of spineless, overpaid, useless fuckers who have disgraced the shirt game after game. We need a new coach but we also need every single one of them to realise that playing for Everton is an honour.
Andy Crooks
80
Posted 13/05/2018 at 21:47:21
Darren, well done to you and ever Evertonian who has followed our club through thick and mostly thick this season. I can't afford to follow the club the way I used to but I have nothing but respect for those who do.
Peter Thistle
81
Posted 13/05/2018 at 21:53:23
If the players had any honour they'd all commit Seppuku, about the only way they'd get any respect from me...
Paul Birmingham
82
Posted 13/05/2018 at 21:57:55
If the boys and doesn't get their act together starting now, then next season will could be another run to nowhere.
The stench in the GP boardroom, needs sanitising now. The clubs board has made a mockery of the team and has no genuine respect for supporters.
The club is years behind the top 6 and in a rapidly changing world EFC can't live on its past glory.
At least no match day suffering for a couple of months, but the club has got to rebuild in the board room and build a new team. Gonna take time and patience.
Nice one Paul K.👍it's gonna take a miracle as the rest will grow stronger.
Hope eternal.
Eric Paul
83
Posted 13/05/2018 at 22:02:19
Ian@77
I am not a kenwright fan but I find it hard to blame him for the shite we are witnessing at the moment. He didn't want Alardarse but was overruled by moshiri so shouldn't the anti Alardarse venom be directed at him in fact isn't that when it started to go from bad to worse when he got involved
Ian Hollingworth
84
Posted 13/05/2018 at 22:10:19
Eric @83 Kenwright is to blame for the last 20 odd years of shite whilst claiming to be the greatest ever Evertonian.
Don't get me wrong I do not doubt that he loves Everton but sadly he lives in a delusional world where everything is a potential new play for the theatre.
He has accepted mediocrity whilst we want to dream of better.
If Allardyce goes things won't improve without a clear out of the way the club is run and the spineless players who pull on the royal blue jersey.
Eric Paul
85
Posted 13/05/2018 at 22:21:32
Ian
If he is at fault could you please give reasons and facts as to why
Drew Shortis
86
Posted 14/05/2018 at 00:43:38
What a shocker of a season. The only highlights that spring to mind are Rooney's goal from halfway, possibly the West Ham game under Unsworth & Oumar Niasse proving Koeman wrong. That's literally it for an entire season!
Time to pay off Allardyce, get in Silva or Fonseca & offload some of the deadwood. Bring in a couple of key signings but let the new manager have a full pre-season to work with what we have here. Instead of turmoil we need some stability.
I think the keys to Allardyce stabilising the club was his back to basics with defence & organization & settling on a first team & giving them a run of games together. Under Koeman there was far too much chopping & changing & too many players to bed in, though at the time it looked like decent business.
James Hopper
87
Posted 14/05/2018 at 02:02:48
Just watched the highlights. My God, Keane had a shocker and Pickford didn't do his World Cup chances much good either.
Niasse missed one or two chances but didn't seem to do too badly overall. Looked brighter than some of the others around him.
Ernie Baywood
88
Posted 14/05/2018 at 02:06:20
I considered not watching here in Australia. But given I've watched every game I figured I'd keep up my record.
Fittingly I fell asleep in the first half and won't be rushing to watch a replay. It feels horrible to just not give a shit about a game. The only thing worth waiting up for is the announcement regarding Allardyce's removal and the exciting change I'm hoping we're about to commence.
Thank God this season's over.
Ashley Roberts
89
Posted 14/05/2018 at 03:02:34
So glad this disastrous season is over. It is quite unbelievable that we managed to finish 8th in the league. The lack of quality was clear to see again today and so Moshiri is going to have to pay big bucks to turn this squad around. We have been saying all season that Gana and Shneiderlin do not compliment each other in midfield and so seeing them both in the team again just defies logic. Never has there been so much money wasted by a single coach. I am not sure how Koeman got away with it? Watching Klassen chase shadows again today at a cost of 20+ million supports my belief that the guy just did not have a clue. To be fair to the 2 Sams' they kept us from being relegated. To turn this around Moshiri needs to hire a top coach such as Wenger. I just could not see him wasting 250 million pounds. I do not see Silva doing any better than big Sam. Quality starts at the top and we have to build from there.
Jamie Crowley
90
Posted 14/05/2018 at 03:23:29
It's 10:20 pm in America, 3:20 a.m. in England.
I'm assuming Everton will be firing Sam at 9:00 a.m. BST, letting hime gather his items and belongings, and announcing his firing around 3:00 p.m. BST.
At 10:00 a.m. on my watch tomorrow morning I expect TW to be alight with rapturous posts about a New Dawn and hope for 2018-2019.
Jay Harris
91
Posted 14/05/2018 at 03:49:16
Most goals conceded in a season since Walter Smith was in charge. Enough said.
Those who say that Kenwright isn't responsible for 20 years of mediocrity need to do some serious thinking.
Ed Prytherch
92
Posted 14/05/2018 at 04:14:48
We let Barry go and played Schneiderlin.
We loan out Besic and play Davies.
We loan out Lookman and sell Lennon and play Bolasie.
Keane was crap for Burnley when they played us but we paid more for him than Leicester payed for Maguire, a real footballer.
We don't need to pay managers and DOF 5 mil+/year for this. The average fan would make better decisions
John Boon
93
Posted 14/05/2018 at 05:28:02
It is now obvious why Klassen doesn't play often. He is far too slow, and considering that this was his chance to show what he had he failed miserably.
Koeman wasted Moshiri's money on many useless players. Koeman started the decline and now we have Allardyce helping bad players play even worse than they already are.
Evertonians have been cheated. We need a massive change starting with a much disliked, charlatan of a Manager. I just hope that we are still able to sign much needed "GOOD" players, and that we have somebody in charge who knows who are the right people to sign I live in hope.
I have been watching for seventy seasons since my dad took me to my first game in 1947. For a number of reasons this is just as disappointing as 1951 when we were relegated. Without a major overhaul it could happen again.
Bob Parrington
94
Posted 14/05/2018 at 06:01:11
Klaassen didn't provide any reason why we should keep him. Pretty ordinary appearance in this game. Thought Schneiderlin put in a good shift but Keane was the main culprit for the first 2 of their goal. Quite a crappy performance by him. Niasse did what Niasse does well and got a good poacher's goal for his efforts. Tosun ran around a lot to no effect.
But the worst performer of all was the manager, who cluelessly played 3 at the back but started with 7 out of 10 of the outfield players all being defensively minded. Sam - last game of the season that we needed to win, in case Leicester did! Are you surprised that most of us think you are past it or an idiot or both?
Brian Murray
95
Posted 14/05/2018 at 06:23:36
We could get Pep and or Jose but if Bill remains nothing will change.
Brian Porter
96
Posted 14/05/2018 at 06:55:27
Ray Smith #28, not only are you correct in saying Moshiri doesn't have a magic wand, but I'm beginning to fear he also doesn't have a clue! He comes across to me as being naive and gutless when it comes to the skills needed to head up a premier league football club. Fair enough, he might be a billionaire, but most men in his position tend to earn their big bucks by owning a company, or companies and employing top people in all major departments who actually drive the business on a day to day basis, while he sits back and allows the profits to roll in. He doesn't need to have a finger in every pie or business decision, making it a totally different situation to running a football club, where he needs to have his finger on the pulse 24/7 and be ready to make tough decisions without pondering and prevaricating. I'm a bit tired of his crocodile grin and his apparent reliance on a poor choice of advisors. It's no secret he was influenced by Steve Walsh in choosing Allardyce, reason in itself to get rid of Walsh, to my way of thinking. He's brought together a series of individuals, in Allardyce, Shakespeare and Walsh who may have had limited success at other clubs (Allardyce excluded), in the hope they could gel and work together but the reality has proved very different.
If he continues in this vein and fails to act swiftly and with determination in firing Allardyce, he will lose what little respect I and a growing number of others, current have for him.
A saviour? Not yet, I'm afraid, and a very long way to go in proving he can make things happen to improve our status withing the premier league. Appointing Allardyce has put us back at least a year or too, so it's time he showed some guts and determination and acts swiftly to eradicate that mistake,TODAY, if he really cares about the football club.
Andrew Clare
97
Posted 14/05/2018 at 07:30:34
I just get this horrible feeling that nothing much is going on behind the scenes at Everton. When really the new manager should already be secured and ready to be announced. New players should be lined up and quickly signed.
I am worried that none of this is happening.
Someone tell me I am wrong?
Colin Glassar
98
Posted 14/05/2018 at 07:39:04
Will today be the day?
Andy Walker
99
Posted 14/05/2018 at 08:53:16
Maybe Colin, I suspect we will wait for Brands to join first though. Then bye bye Allardyce and Walsh.
Phil Walling
100
Posted 14/05/2018 at 09:29:37
Andrew, I fear you are RIGHT !
Rob Halligan
101
Posted 14/05/2018 at 09:36:18
I'd love it to be tonight when he's on the Monday night football special when the yellow band scrolls across the bottom of the screen.
"BREAKING NEWS "Everton sack manager Sam Allardyce"
The look on his face would be tremendous.
Brian Murray
102
Posted 14/05/2018 at 09:44:46
I hope the gravy train terminates at the next stop for Big Dunc, Franny, Shakespeare and Bill.
Martin Nicholls
103
Posted 14/05/2018 at 09:59:35
Rob#101 - I'd pay good money for that to happen!
Steve Ferns
104
Posted 14/05/2018 at 12:48:09
How many times do I have to hit refresh to get the news we all crave?
Brian Williams
105
Posted 14/05/2018 at 12:58:32
Announcement Friday is my guess Steve.
Think Allardyce gave his situation away with his "no smoke without fire" comment yesterday when asked about his position. If he'd already had assurances wouldn't he have dismissed the rumours?
Nicholas Ryan
106
Posted 14/05/2018 at 13:27:25
I only saw the game on MOTD, but, unless I'm very much mistaken, Niasse's goal looked like a cracking piece of finishing.
Paul Brown
108
Posted 14/05/2018 at 14:19:13
I can't even be arsed anymore. Slowly but surely this board is driving the club into extinction. Extinction as in a club ambitious for honours and silverware.
The "new " Everton is the Club that is more interested in soup kitchens, yoga for the elderly, Unsworth spending nights out sleeping rough, anything but doing what it was set up for in 1878, play entertaining football and win trophies.
I have watched us as fans be slowly kidded along by Kenwright, the courtroom jester, for nearly the last twenty years and now the thought of Allardyce staying is too much. I for one am not interested in DVDs celebrating us beating Liverpool or for even finishing seventh (a few years back). Or sad songs churned out " if you know your history". Nor do I want ex-players, leeches on the gravy train, all towing the party line.

No, I want rid of them all – Unsworth, Jeffers, fucking Jose Baxter, Ferguson... P45s for the lot of them please. Then the likes of Sharp, "Snods", Diamond" who try and brainwash us how great things are. They can go too.

Then there are the players. The worst bunch assembled in royal blue I can remember. If I owned Everton I would point blank refuse to pay them. Not one of them would get a game of a Sunday, the wankers.

I want Moshiri to come in and wield the biggest fireman's axe over the lot of them, write the lot of them off and start again. If he means business this is what he must do.
Shaun Wilson
109
Posted 14/05/2018 at 15:05:50
I thought so Nicholas #106, however I was watching the game muted, because if my daughter had heard the volume on the TV, I would have been watching Sesame Street instead.

In hindsight, that wouldn't have been a bad thing, but can someone explain to me what happened Pickford when Arnautovic scored? Did he duck out of the way or was the ball flying every direction? From my view he ducked .
Tony Everan
110
Posted 14/05/2018 at 15:45:22
Sam is on Sky tonight doing a season review, so it won't be today.
I think there is a board meeting midweek so they will release a statement soon after.
I will write it for them.
The board Everton FC have decided to part ways with Sam Allardyce with immediate effect. It has been decided that Sam is not the manager to take the club forward over the coming years.
We would like to take this opportunity to thank Sam and his team for their hard work and professionalism in taking the club to 8th position and wish him every success in the future.
Everton F.C.
Neil Copeland
111
Posted 14/05/2018 at 17:33:30
Tony, that would be far too professional. Perhaps the board will gather at one end of the room and on a count of 3 sing "Fuck off Sam Allardyce, Fuck off Sam Allardyce.
Richard Lyons
112
Posted 14/05/2018 at 17:39:26
14/05/2018 17:38
He still hasn't been sacked.
I have a horrible feeling...
Tom Bowers
113
Posted 14/05/2018 at 17:40:10
Niasse finished well but earlier in the game should have scored when it may have made a difference.
Neither Niasse or Tosun have not really shown they can be part of an Everton revival next season.
Quicker players are needed especially coming from midfield and what they have at the moment doesn't give me confidence.
Some of the other lads, Vasic, Baningame and Davies may come on better under a better manager.
Allardyce is not going to do it.
Kunal Desai
114
Posted 14/05/2018 at 17:40:21
Moyes wants to come back to a top eight side now that he's leaving West ham. Everton anyone??? 🤣
Jay Harris
115
Posted 14/05/2018 at 17:56:34
Just looked at an intersting Stat.
https://www.fourfourtwo.com/features/25-seasons-where-your-club-all-time-premier-league-table?page=0%2C2
Despite the mediocrity over the last 20 yearss we are 6th in the all time premier league points table.
City are below us but rising rapidly since 2008 (wonder what happened then. LOL) so it shows we can get there if we spend heavily and wisely starting with the coaching staff.
Neil Copeland
116
Posted 14/05/2018 at 18:27:53
Does anyone know when the actual meeting with Mr Moshiri is taking place? All I have seen is "sometime this week".
Colin Glassar
117
Posted 14/05/2018 at 19:01:30
Just got, haven't been able to catch up all day. Is he still here?
Andy Crooks
118
Posted 14/05/2018 at 19:07:09
Richard@ 112, I too have a horrible feeling.
Bill Gienapp
119
Posted 14/05/2018 at 19:17:35
The thought of keeping Allardyce is unfathomable. I don't even buy the nominal counter-argument that he represents a safe set of hands to steady the ship while the new stadium progresses.
What he did this season was no different than what Tony Pulis did with West Brom or Mark Hughes did with Stoke last season. Being content to tread water in mid-table mediocrity quickly leads to stagnation and a potential downward spiral. He has to go.
Graham Coldron
120
Posted 14/05/2018 at 19:21:16
BFS on Sky sweating like a fat lass at a disco, judging by his body language he knows that his time is up at Goodison.
Andrew Ellams
121
Posted 14/05/2018 at 19:24:47
Judging by the way Farhads mate is fawning all over him on SSN he ain't going anywhere.
Graham Coldron
122
Posted 14/05/2018 at 19:36:56
Hope you are wrong Andrew and Jim White's fawning is similar to how his cronies in the media have reacted to this situation e.g. Crooks and Sheared-Fingers crossed he's gone this week
Kunal Desai
123
Posted 14/05/2018 at 19:45:00
He totally swerved answering questions about next season and responded hastily by saying he meets Moshiri this week and then goe on holiday.
Coincidentally Rooneys decision will be made on Wednesday. Hopefully Wednesday is the day for big positive announcements on many fronts.
Joe Foster
124
Posted 14/05/2018 at 19:53:56
You got it spot on Bill *119
Andrew Ellams
125
Posted 14/05/2018 at 20:00:06
Graham I hope I'm wrong too but the way White and the LMA rep were building him up like some sort of superhero it worried me a lot. Especially when White rolled out the what else do they expect chestnut.
Joe McMahon
126
Posted 14/05/2018 at 20:10:51
To anyone who harks back to the Moyes days, how do you thnk United fans feel after years and years of winning titles with SAF and CL twice. Why of earth would people want Moyes back is beyond me. Remember 11 years and not one win at Anfield. Everton are a joke laughing stock as it is.
Neil Copeland
127
Posted 14/05/2018 at 20:28:55
Come on lads we've had a great season according Sam. Jim White agreed saying we did fantastic to finish 8th. Looks like we are clearly expecting things far above our station and need to pipe down.
Unbelievable!
I agree that he did look very uncomfortable when asked about his future and sweating like a stuck pig. Hopefully Wednesday is the day.
Add Your Comments
In order to post a comment, you need to be logged in as a registered user of the site.
Or Sign up as a ToffeeWeb Member — it's free, takes just a few minutes and will allow you to post your comments on articles and Talking Points submissions across the site.