Everton finally unveil new boss Marco Silva
Marco Silva has officially been announced as Everton's new manager following weeks of speculation suggesting he would be installed as the long-term successor to Ronald Koeman.
The 40-year-old has signed a three-year contract with the Blues, seven months after they first tried to lure him away from Watford and four months after the Hornets eventually fired him for a sequence of poor results.
Silva's arrival comes two-and-half weeks after Sam Allardyce was sacked as the Toffees' boss following a six-month stint aimed at keeping the club out of a battle against relegation from the Premier League. The one-time England boss's 18-month contract was terminated in the wake of Everton's 3-1 defeat at West Ham on the final day of the season with the club finishing in 8th position.
In the period since Watford rebuffed their concerted efforts to acquire him last autumn, the Blues' major shareholder, Farhad Moshiri, and the board of directors had retained Silva at the top of their list of desired candidates to take the club forward, culminating in today's announcement.
"I'm really proud to be the new Everton manager," Silva told evertontv. "I'm excited and I'm really happy to take this big challenge for us as a club and for me as a manager.
"I want to express my thanks to Farhad, to the Chairman, to the Board of Directors and to Marcel as well for the confidence in my work. I know the huge history of Everton as a club and what the fans expect. I'm sure with everybody working together I will be ready for this challenge.
I know what is behind me. I know what you expect. We are ready for this challenge.
Marco Silva
"We have a lot of work to do in this next month and it is important to prepare everything in the right way. But there will be even more important work to do from the start of pre-season into the first Premier League match of next season.
"I know what our fans expect - they expect results but not only results. I want our fans to be proud when they see our team on the pitch. I want them to feel that we are committed, that we are working hard and enjoying our football because that is important as well.
"We want to build a great connection between the squad and the fans, and I'm sure that with our attitude and demands of commitment then our style of play will see that, I believe.
The acquisition of the Portuguese is the latest in a succession of changes at boardroom and team-management level following a hugely disappointing 2017-18 season.
Marcel Brands was confirmed as the club's new Director of Football in place of Steve Walsh on 16 May, a day after Robert Elstone's departure from the club and Professor Denise Barrett-Baxendale's promotion to Chief Executive Officer in his stead was formalised.
"Marco is a young coach but also an experienced coach and he's worked already at the top, while also gaining experience of the Premier League which is also an important factor," Brands said.
"One of the most important things is that he's a guy who wants to play attractive, attacking football and also wants to work in the structure we have at Everton. He's a guy who has proved already he wants to work with young players, make them better and he has performed very well with the teams he's worked with. He will be a very good manager for Everton.
"His vision in football, the way he is thinking about football is what we want. He wants to structure a team and he has proved already with a few clubs with good results, so I believe strongly in him. He's an open guy who wants to work together with good staff and in an environment at Finch Farm which is conducive to building something strong."
Silva brings with him a reputation for improving every team he has managed, his last few weeks at Vicarage Road notwithstanding, and experience of managing in the Premier League from two short stints at Hull City and Watford after attracting attention for his exploits as a young coach on the Continent.
Between the time he hung up his playing boots in 2011 to take up the managerial reins at Estoril Praia and his departure from Olympiakos in 2016, Marco Silva had emerged as one of the fastest-rising young managers in the European game.
Originally hired in a director of football role by Estorlil, he quickly shifted to the position of manager with the small Portuguese club 10th in that country's second tier. With a run of just three defeats in the remaining 24 matches of the campaign, Estoril won the division as champions under Silva and gained promotion to the Primera Liga.
The following season, Silva steered Estoril to fifth place and qualification for the Europa League for the first time in their history and eventually left the club in 2014 having gone one better with a fourth-place finish and attracted the attention of domestic giants Sporting. Incidentally, Estoril were relegated back to the second division this season.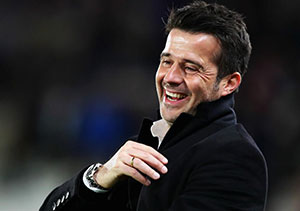 He would spend just one season at Estádio José Alvalade where he guided the Lions to third place before being dismissed just days after landing the Taca de Portugal, their first piece of silverware in seven years, apparently because he refused to wear an official club suit in an earlier round of the competition.
He was snapped up by Olympiakos that summer to replace his compatriot Vítor Pereira where, again, he would only spend a year but not without notching some more impressive achievements. He led the Greek club to the title by a league record 30 point margin winning 28 of their 30 league games which included a 17-match winning streak, another record.
Silva was the surprise choice to whom Hull turned in January last year when they needed a miracle to escape relegation from the Premier League. The Tigers were rock bottom with just 13 points from 20 games when he arrived, far away from safety. They ended the season with 34 points, eventually falling short of what would have been an incredible escape from relegation while also reaching the League Cup semi-final, but the young Portuguese had done enough to convince Watford to make him their latest manager that May after he had stepped down at the KCOM Stadium.
With a quarter of the 2017-18 campaign complete in October, Watford were sixth in the table and looking capable of finishing in the top seven and, perhaps, claiming the final European berth that Burnley eventually did.
However, Everton's overt approach for Silva following Koeman's sacking has been blamed by the Hornets' hierarchy for the collapse in Watford's form in the ensuing following weeks. Just one win in 11 matches was enough for the Hertfordshire club to dismiss him after 24 league games and lodge a formal complaint with the Premier League accusing the Blues of "tapping" their former manager up.
Mentioned in connection with recent vacancies at Southampton, Stoke City and West Ham, Silva reportedly turned down overtures from China and Continental Europe in order to become the 10th full-time Everton manager since 1992.
His staff at Finch Farm will include Duncan Ferguson who was first promoted to first-team coaching duties under David Moyes and Ryland Morgans who continues as Performance Director.
Silva has named João Pedro as his assistant manager, Hugo Olivera as his goalkeeping coach, Antonis Lemonakis will be his technical scout and Pedro Conceição the fitness coach.
---
---