Rooney in talks over MLS move
| Tuesday, 08 May 2018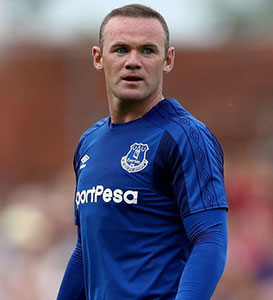 Wayne Rooney is considering a summer move to Major League Soccer side DC United according to a report in the Washington Post.
According to their sources, the veteran is in "serious talks" about making the move across The Pond a year before his current Everton contract expires.
Rooney returned to Goodison Park last summer after 12 years with Manchester United but, despite making a positive start to life back with his boyhood Blues, the 32-year-old has struggled in the second half of the season.
That has led to speculation that he could leave Everton where is the highest-paid player in the club's history. Any move to DC would require the MLS club, who apparently first approached him a year ago, to negotiate a transfer fee or rely on Rooney extricating himself from his existing contract at Goodison Park.
Picking up the story, MailSport say that Everton won't stand in Rooney's way if he decides to complete the move when the MLS transfer window opens on 10th July.
For his part, Sam Allardyce says that he wants to keep Rooney at Everton and is not under the impression that the forward-turned-midfielder wants to leave Goodison before his deal is up.
"I've not had a problem from day one with Wayne"' he told Jim White on talkSPORT this morning.
"Obviously because of who he is there's ultimately more attention around his body language, about how he plays, about what he is and isn't doing.
"We all have to deal with that in our own way and I think Wayne deals with it very well indeed. There are rumours about Wayne going elsewhere abroad – in China and America – but at the moment he is an Everton player and an Everton fan.
"'So I wouldn't consider anything on the cards on the moment. It would have to be massive for him to want to leave Everton."
---
---
Reader Comments (66)
Note: the following content is not moderated or vetted by the site owners at the time of submission. Comments are the responsibility of the poster. Disclaimer
Paul Hewitt
1
Posted 08/05/2018 at 20:49:31
Good, let him go for free. His £150.000 a week could be spent better.
Sam Hoare
2
Posted 08/05/2018 at 21:03:33
To me he's not a nailed on starter next season. He'd have something to offer off the bench, a bit of mystery and know how to change a match potentially but not sure that will suffice for him.
An amicable parting after a decent comeback season that has petered out for him somewhat might be the best way to go.
Jimmy Salt
3
Posted 08/05/2018 at 21:05:37
Yes please. Good luck Wayne.
Paul Brown
4
Posted 08/05/2018 at 21:10:41
Probably end up at the Huns with laughing boy his new manager,
For that matter, Duncan can go there as well!
Brian Williams
5
Posted 08/05/2018 at 21:10:57
Hmmmm, while he's having a £20m mansion built in Cheshire?
Can't see it somehow!
Danny Baily
6
Posted 08/05/2018 at 21:27:37
For the best if it's true. I enjoyed the nostalgia over the summer but it's not worked out. Best of luck to him in the states!
Gavin Johnson
7
Posted 08/05/2018 at 21:44:39
I'd be more willing to accommodate him next season if we didn't have Klaassen, but Klaassen and Vlasic need more game time and Wayne's blocking their progression. It's not been all bad. The West Ham game was his best game in an Everton shirt, in both spells, barring the game with that famous wonder goal all them years ago.
I see Wayne, along with Mirallas, Bolasie, Schniederlin, Besic, Funes Mori, and Williams as the players who definitely need to move on this summer. There's other tweaks. I'd like an upgrade on Niasse, but for me, this is the main body of players that have to go for existing younger players to progress, along with a few quality additions coming in.
Jim Bennings
8
Posted 08/05/2018 at 21:53:01
Brian
He's having a mansion built in Cheshire and that mansion will still be there in four years once Rooney finished playing (assuming he goes over to MLS) and Rooney will be a young man in his mid to late 30's with a young family to enjoy the rest of their days at that said mansion.
Kevin Tully
9
Posted 08/05/2018 at 21:59:34
The best paid player in club history hasn't had a sniff of goal since before Christmas. He passes directly to the opposition more than any player I've ever seen. He cannot play in one position, he's all over the pitch like an under 12 player. He thinks he's doing us a favour by being here.
Wear your Rooney badge "with pride," Bill. He's finished in the Premier League. If getting rid of "our boy" is the start of the clear-out that's so desperately required, then we can all breathe a sigh of relief.
Get ruthless, be professional, or become another Stoke. I'll give them some more names to take off the payroll as well. A fleet of taxis outside Goodison.
Brian Wilkinson
10
Posted 08/05/2018 at 22:04:07
Best of luck to our top goal scorer this season if he parts for the USA.
Iain Love
11
Posted 08/05/2018 at 22:06:52
He was a great player, he isn't now. I hope he goes.

I do believe he's a big part of the problems we've had this season with various managers trying to accommodate him. It's like playing with a man down .
Brian Williams
12
Posted 08/05/2018 at 22:10:37
Jim#7.
Agreed Jim but not sure he would fancy uprooting a young family with his lads at awkward ages for a huge move like that. Time will tell I s'pose.
Adam Scott
13
Posted 08/05/2018 at 22:27:51
Let him go. The truth is that Rooney wasn't good enough for United last year, in a team where you could get away with Wayne as a luxury, and forgo his weaknesses. He therefore isn't good enough to be a regular in a team that can Ill afford to carry anyone.
He is on a fortune though, and I am concerned we may have to pay him off considerably to leave.
Talking about his family, I don't see the upheaval that big. His kids are at the perfect age for such a move, for me. Must be top international schools in DC, and not a ridiculous flight from UK.
Jay Harris
14
Posted 08/05/2018 at 22:54:21
Footballing wise it would be a good move for him and the club but as others have said he has a family to consider and is currently doing a Bill.
Enjoying a life of luxury at his dream club bringing the kids up in the North West and taking them to Everton matches while still making a good wedge which is way above his contribution.
Peter Thistle
15
Posted 08/05/2018 at 23:09:04
He can give the ball away in MLS just as well as he does here. Sod off Rooney you overpaid muppet.
Bob Parrington
16
Posted 08/05/2018 at 23:26:52
Jim #7. Yup! Sounds sensible to me.
Peter #14 C'mon mate! Not his fault his employer decided to pay him such a wage. Personally, I think the players get paid ridiculous sums. Other sports and bank directors too! The world has gone mad. But, can't blame Wayne for accepting!
Minik Hansen
17
Posted 09/05/2018 at 01:34:04
He is a name that lifts Everton to a level up in the world of football. Fans outside Everton respect him. He has attracted a player like Walcott to Everton.
When we get the right players in around him like Walcott, a new manager will use him correctly for the next season and gets his deserved good season with us with the right setup of the squad. That said, I wish for him to stay, he will help Everton becoming a greater club in this day and age.
Ed Prytherch
18
Posted 09/05/2018 at 01:48:28
Wayne and his family will love it over here. Property prices are on the up and he is unlikely to lose any money if he buys this year and sells in a few years time. He might decide that a nice house on the Chesapeake Bay beats a mansion in Cheshire.
Jim Hardin
19
Posted 09/05/2018 at 02:52:31
Sorry, but if he doesn't have the legs and lungs for the EPL he sure as heck doesn't have them for the MLS. The foreign players to our league over here talk about the extra running during the game. Drogba, Cahill, Schweinsteiger, Defoe, Keane, and even Beckham have all commented on it. Gerrard couldn't or wouldn't commit to it and Lampard tried but was not really able over two seasons. High altitudes, high temperatures, turf fields, thousands of miles of travel one way for games, and flying commercial class is difficult for younger players,much less over-the-hill players.
Pirlo was a different case. He is supurb at a level tht Rooney could never hope to achieve as a midfielder even if he was 15 yrs old again and practiced 6 hours a day.
As for Zlatan, well, he is already upset that Galaxy isn't set up to feature him, and after just a couple of games is already seemingly tired of playing second fiddle. Problem is his skill at scoring is sublime but he will not run. He will be one-year and done at Galaxy unless drastic changes are made.
Joe O'Brien
20
Posted 09/05/2018 at 02:57:29
I actually don't get all the negative comments on Rooney. Fair enough he's legs are gone but Sam still had him running around the place until he was shot. With runners alongside him I think he could have been an asset. We all know that Sam doesn't pay much attention to the offensive side of the game( where Rooney plays) most of the forward had no tactics, again not Wayne's fault.
Under a better tactical manager IMO his return would have been a lot different.
Ajay Gopal
21
Posted 09/05/2018 at 04:11:44
If this is true, then it probably means that Wayne himself realised that he is not good enough to play for a Top-6 aspiring team anymore. If that is the case, my respect for Wayne increases. Let us not forget that he chipped in with some crucial goals during the season which (barely) kept us out of the doo-doo.
If he is indeed leaving, it would make sense to keep hold of Baines and Jagielka to keep the club connection amongst the playing staff. Walcott is another player who will provide a wise head.
Derek Thomas
22
Posted 09/05/2018 at 04:22:26
We all, BPB, Rooney, Us, we had to do it just once to get it out of our systems. It was always going to be a fairy tale ending that never quite made it.
There will no doubt be more than a few places in the multiverse were it came right, but not this one, the one with the 2 ugly sisters Koeman and Allardyce in it.
Jamie Crowley
23
Posted 09/05/2018 at 04:45:18
I remember listening to Robbie Savage on a 606 podcast (for my sins) saying he remembered the exact moment he was out of his depth in the top flight.
I wonder if Rooney has had this epiphany.
I for one am with Joe O'Brien and hope he stays. I still believe there is one hell of a footballer in Wayne Rooney, and utilized correctly under the correct manager he can be an asset.
But if that epiphany has come, it's time for him to move. Most likely here to the States.
Brian Porter
24
Posted 09/05/2018 at 07:00:33
Could there be some connection between the fact that Wayne was our leading scorer until just before Allardyce took over? His hat trick against West Ham showed he can still produce the goods, but as with most of our squad, Allardyce just didn't utilise his skills for the attacking good of the team because quite simply, Allardyce doesn't 'do' attacking football. Look how he treated Tosun on his arrival. 'Not up to it,' 'Not fit enough' and more. When he was almost forced to give Tosun game time the lad starts knocking them in.
I honestly believe we will never possess an attacking threat as long as Allardyce is in charge. We have a manager who openly admits he doesn't coach the attacking third of the pitch, leaving it all up to the players, probably so he can castigate and blame them when we don't score enough goals. I doubt even Lionel Messi could score goals in an Allardyce team. How could that man ever have deluded himself he was good enough for Barcelona or Real Madrid?
What a manager? No Sam, what a joke!
Rick Pattinson
25
Posted 09/05/2018 at 07:03:13
A good move for everyone .stick Schneiderlin in your suitcase
James Hughes
26
Posted 09/05/2018 at 07:07:58
Jamie #23 I would guess that was about three games into his career, Savage just blagged it from then on.
Colin Glassar
27
Posted 09/05/2018 at 07:36:40
Another player fat Sam has ruined. Off with you fat Sam, and take little fat rs Sam with you as well!
Ray Robinson
28
Posted 09/05/2018 at 07:45:05
So now Sam Allardyce is now also to blame for the natural ageing process? Just a case of Rooney's footballing brain working faster than his ageing body. He should probably just retire now to preserve his legacy.
John McGimpsey
29
Posted 09/05/2018 at 07:51:52
Shame on these negative comments, take those goals away and we would be in shit.

Yeah look forward to next season those raking passes from Davies and Gana... I love to see the stats on that.
Tony Abrahams
30
Posted 09/05/2018 at 08:17:32
i would have to agree with Jim Hardin, because if there is one thing the yanks, do better than most, then it's athleticism.
Darren Hind
31
Posted 09/05/2018 at 08:29:35
Its just sad that people try to distort the points made with straw man arguments like "So Sam is now to blame for the natural ageing process.
Nobody is making such a daft statement, so why argue with it ?
Rooney had a very decent scoring ratio before Sam got here. Those goals stopped immediately.
Age will always play a part, but if the only time a goal scorer is allowed in the other teams half is to take a penalty. The goals will dry up . . even if he's 20

John Cartwright
32
Posted 09/05/2018 at 08:32:13
Rick 25 - stick Schniederlin in your suitcase, I'd advocate Bolasie in his holdall and squeeze Williams in Coleen's handbag
Jim Harrison
33
Posted 09/05/2018 at 08:34:54
I would like him to stay, but in a very much reduced role. He does still offer a lot, but we should be aiming to bring in a better quality mid not shoe horning in a ageing player.
He raises the profile of the club, yes it's an expensive way of doing it but international publicity doesn't come from having DCL in the team! He also has bags of experience, at the highest level. Something no other player brings in our current squad
Danny Broderick
34
Posted 09/05/2018 at 08:54:40
I also think he has a role to play. He can't be the engine room in midfield though - after 600+ games, I don't know why anyone could expect him to perform this role. He has to play as a number 10 with legs around him i.e. not behind Tosun. To be honest, this is probably Sigurdsson's role, but Rooney could quite easily come off the bench as an attacking sub if needed.
Les Green
35
Posted 09/05/2018 at 09:30:50
I'm not sure he'll do any better in the US. Especially with the language barrier - they won't understand a word he says
Tony Everan
36
Posted 09/05/2018 at 10:08:56
I should be noted he is our top scorer.
The money brought in and/or wages saved needs to be spent on attacking reinforcements. To compete top 6 level it is essential.
Tosun is the real deal but we need one more striker . The absolute best quality we can afford.
I expect the new manager will have ideas from the off who he wants to bring with him for example Silva will want Richarlison maybe.
Ray Robinson
37
Posted 09/05/2018 at 10:17:45
Darren, what bigger straw man argument is there than the original statement "Another player fat Sam has ruined"?
Dennis Stevens
38
Posted 09/05/2018 at 10:28:09
I'd prefer the new Manager & DoF to have an input to the decision, rather than them arriving to find it's a done deal.
James Flynn
39
Posted 09/05/2018 at 10:28:37
I think he'll stay. I'd rather he stayed. Agree with those who say he has to be up top. We all saw that his legs aren't having the mid-field, even if he never stopped trying.
Mostly, though, what Jim Hardin (19) talked about will be his problem(s). Not to mention, going from a poor Club in the Prem to one of the worst teams in a lower league. DC United suck. And have for a while now.
Only thing I can think makes some (business) sense, is that United are opening their new stadium later this season and want to make a splash signing, which Wayne certainly would be.
God help him if he agrees. I can't see it going well.
Martin Reppion
40
Posted 09/05/2018 at 10:34:30
Minik #17
It took a while for some sense on this one.
What the hell have you all watched all season?
Reading this you'd think we'd had a team of superstars busting a gut whilst some overpaid fat lad dragged us down in the mire.
I understand the disappointment that we have had a bad year or few. But to hit out at Rooney as a scapegoat is just being blind to what has gone on on the pitch.
Anyone who is disappointed that Wayne wasn't the player he was in his pomp is deluded. You couldn't take the man now and expect him to become England's leading goal scorer. BUT, he has been our leading goal scorer this year despite playing in a mainly withdrawn role and frequently not being on the pitch fot 90 minutes. He still has more vision than the rest of our crab like midfield. And most importanly, he is still the player the oppostion would least like to find unmarked and in control of the ball in an attacking position.
I know he is slower than he was and more injury prone. But I'd take an old Ferrari over a brand new Fiat any day of the week.
He also has the ability to inspire the younger lads coming through. (Cue jokes about his off field activities if you must). And in these days of commercial necessity, he is still our biggest financial asset for attracting interest from a wider audience.
Get off Rooney's back guys and be careful what you wish for.
John Pickles
41
Posted 09/05/2018 at 10:54:58
1 year too late.
David Booth
42
Posted 09/05/2018 at 10:56:44
Everything Kevin Tully (9) says.
What a dreadful, detrimental, sentimental signing and the epitome of why Everton have been cut adrift by the six clubs with ambition.
I hope he is gone within a week.
Stephen Davies
43
Posted 09/05/2018 at 11:30:54
David #41
Absolutely..has Kenwright written all over it.
Mind you I don't think Koeman raised any objections either.

Paul Tran
44
Posted 09/05/2018 at 11:36:22
My first reaction to his signing was that it was a sentimental, expensive waste of money.
My second reaction was shock that his presence shunted Siguurdson onto the wing, rendering Gylfi less effective and exposing our out of position/inexperienced left backs.
For all that, he got goals in a team that was all over the place. His will to win, canniness and sheer effort helped enormously.
Have the goals stopped because of Sam? Or is it because of his habit of following the ball? And why does he give the ball away so much? Would that be improved with better coaching and movement throughout the team?
If he goes, I'd wish him all the best. If he stays, I don't want him displacing Siguurdson.
Brian Harrison
45
Posted 09/05/2018 at 12:06:44
For me the greatest player this club has ever produced, just a pity that he had to go elsewhere to win medals. He holds the goal scoring record for England and Manchester United, a legend in every sense of the word. I hope one day he will come back to manage our club, but now is right for him to consider a move to the MLS.
He is now just a shadow of the great player he was, and I don't want him to stay and decline even further, which would only tarnish his legacy. So I wish him the best of luck.
Brian Williams
46
Posted 09/05/2018 at 12:08:33
What Brian H said.
Don Alexander
47
Posted 09/05/2018 at 12:18:34
Paul Tran (#43), for me you hit the nail right on the head, and I know it pains some of us to mention it but his off-field late-night/early-morning activities were unacceptable. There are young players at FF on way less money than him, giving their all to try to get selected, adhering to the rules, and watching him play ineffectively most of the time, albeit he did score when trying to play the role actually given him rather than everyone else's too. Role model he ain't and as Henry Ford said, "History is bunk". Today and tomorrow are the only things we can affect.
Anthony Hawkins
48
Posted 09/05/2018 at 12:21:30
Please feel free to leave, Rooney.
With Rooney moving on, it does not leave space for Toure. I hope Allardyce and team get that!
Tony Waring
49
Posted 09/05/2018 at 12:27:38
Martin (39). You summed it up completely. I think he should stay even if he is only used as an impact sub. He has more football in his big toe than most PL players added together.
Andrew Ellams
50
Posted 09/05/2018 at 13:10:45
Tony @ 48, it's hard to see how somebody who's legs have deserted him could be much of an impact sub. Aren't they supposed to stretch the opposition?
Gary Mortimer
51
Posted 09/05/2018 at 13:18:37
Martin (39) - Just what I was thinking.
I cannot believe the negativity being aimed at the "dreadful signing" Wayne Rooney. If anybody has watched the last few games when Wayne has been injured and out of the team, they will notice that we created absolutely nothing from midfield.
Yes his best days are behind him, but our midfield is garbage without him. Symptomatic of our issues in midfield at the moment. He is our top scorer this season . . . . goals have been very hard to come by under Sam - nearly bottom of the table for attempts on goal, so it'd be a massive risk to sell him on Sam's say so.
Kevin Tully (9) stated "He passes directly to the opposition more than any player I've ever seen", and while I agree that he's wayward at times, he tends to attempt ambitious passes - i.e. forward passes of more than 5 yards, rather than the 5 yard pass back to one of the centre-halves because I've got an opposition player approaching me (yes - I am talking about Schneiderlin and Gaye there). Ross Barkley had the same criticism for giving the ball away too cheaply on these pages, but I prefer players to attempt the killer pass rather than pass it backwards all the time.
Unfortunately Tom Davies is not the answer either. I know he is young, but he hasn't progressed from last season and he's had a lot of game time this season.
I think Rooney can still be an important part of the squad. Not a guaranteed starter, perhaps.
Tom Bowers
52
Posted 09/05/2018 at 13:29:25
Kinda sad that the return of the boy wonder hasn't been a bed of roses but then the team has been crap all across the board except for maybe Pickford.
He is well past his best and really would only be playing a bit part next season.
His eye for goal was second to none in his heyday but 2-3 years ago you could see it had gone and that is why he was asked to play deeper with Manure.
Everton have to move on without him as a starter and perhaps the removal of his salary will allow Everton to bring in a class player from elsewhere before next season.
Craig Walker
53
Posted 09/05/2018 at 13:33:13
Looking forward to the moment where Savage has the epiphany moment that he's out of his depth as a pundit.
Pat Kelly
54
Posted 09/05/2018 at 13:37:48
Who'll give the ball to the opposition all the time now and behave like a spoiled brat when things don't go his way ?

Ray Robinson
55
Posted 09/05/2018 at 13:45:57
I understand the "bit part", "impact sub" argument but can we really afford such a player on £150 grand a week?
John Hoggarth
56
Posted 09/05/2018 at 14:49:12
Would Wayne's drink drive conviction cause him a US work permit problem?
Antony Matthews
57
Posted 09/05/2018 at 14:50:44
Would Wayne get permission to enter the States due to his DUI conviction?They can be pretty strict on people with convictions entering their country.
David Barks
58
Posted 09/05/2018 at 15:25:11
DUI is not a felony doesn't doesn't pose an issue. He'll make a ton of money for a couple of years and then go home to retire a much richer man.
Sad to think that if he would have treated his profession and body with more respect he wouldn't be done already. Ronaldo a year older and still at the top of the game. Zlatan four years older and Suarez only one year younger.
Paul Ellam
59
Posted 09/05/2018 at 15:28:25
Wow. Shocked by the reaction to this rumour.
Football is now over run with money and business people making all the decisions for our global audience. No room for sentiment anymore. And it's spread to the fans too.
There is no loyalty to players, managers, clubs. Everything and everybody must perform brilliantly now or out you go - bring in the next big thing.
Me, I'm just a guy who grew up with football in the 1970s and 1980s and enjoyed the romance of football. The stories.
I was made up that Rooney came back to Everton - just so I could buy my daughter a shirt with his name on (she wasn't here in 2002) but also because it was a romantic notion him returning.
I know he isn't the player he was at his pomp at Man Utd - but what were we really expecting?
All I wanted was moments of class and great memories.
Don't forget, from midfield he is our top scorer (not bad going) and gave us that comeback goal vs Stoke, the hat trick against West Ham including that amazing half way goal and scoring against the RS.
That will do me for starters!
Next up is a goal at Old Trafford and a winner against the RS.
I honestly think under a new manager (Allardyce IS going) that he will flourish even more and prove any naysayers wrong.
I feel the same way about Baines as I did with Cahill and now Rooney - let's not be so quick to get rid of our heroes.
Let's look at football like we once did.

Dave Abrahams
60
Posted 09/05/2018 at 15:40:13
Wayne Rooney more than anyone else will know he is well finished as a premier league player, it's down to his integrity to call it a day and start enjoying life with his wife and boys. Maybe start getting his coaching badges, if he wants to remain in football.
John Pierce
61
Posted 09/05/2018 at 15:46:13
I think it's likely to happen because the player knows his limitations. A shame really because the problems at Everton and recruitment run far deeper than the debate about Wayne.
The West ham game was the only game I felt any energy & emotion, mostly because of Unsworth, even though for large parts we were iffy!
America would be good for him but Washington? Terrible choice, rotten franchise, but that's why they want him.
Brian Williams
62
Posted 09/05/2018 at 15:58:31
There's that comparison between Ronaldo and Rooney again and how if Rooney had looked after himself blah blah blah.
Undoubtedly Ronaldo is the consummate professional who looks after himself (maybe too much) to the nth degree but to suggest Rooney could be the same is to totally ignore the huge differences in genetics, body type, the Mediterranean diet v Scouse and pies (joke).
Just so many factors which make the two players SO different physiologically and morphologically that to say if Rooney did what Ronaldo did he'd be as fit etc etc
Just doesn't work exactly like that, though I DO accept that had Rooney led a different lifestyle he MAY be fittER than he is.
David Barks
63
Posted 09/05/2018 at 16:00:01
Paul,
The problem is that we have a Chairman who thinks the way you do and it's a key reason why we haven't won a thing in more than two decades.
David Booth
64
Posted 09/05/2018 at 18:41:39
David Barks: precisely!
With all due respect Paul (59), you have unwittingly summed-up all the wrong reasons for even contemplating bringing this has-been back.
Ambitious clubs build teams to win things.
Everton, meanwhile, aspire to nothing more than pandering to the whims of teary fans eager for a fairy tale ending and a few shirt sales.
Time, like Snow White, that we woke up.
I hope never to see Rooney in an Everton shirt again. He should content himself with just wearing our pyjamas in future (what PR b*ll*cks that was too).
Matthew Williams
65
Posted 10/05/2018 at 16:07:21
Half right, Mr Barks... we also sadly went into every fucking Cup-tie in the last 20 years with a half-hearted "Do we really have to play in this Mickey Mouse Tin Pot Cup instead of the real bread-and-butter games of the Premier League?"
Our aims need to be realistic first and foremost... 6/7 games to glory or 38 games of... sigh... failure?
A Wembley win at Easter or constant live TV tonkings by the Elite in the Champions League with the world watching and laughing their bollocks off at our ineptitude dining at Europe's top table... again!
Matthew Williams
66
Posted 10/05/2018 at 18:29:19
We have always been a club of firsts, so for me next season we start by playing our strongest team in all Cup competitions and field a makeshift starting eleven in all our Premier League games.
Sadly the faithful would never wear it – nor Moshiri... and therein lies the real problem... priorities!
Add Your Comments
In order to post a comment, you need to be logged in as a registered user of the site.
Or Sign up as a ToffeeWeb Member — it's free, takes just a few minutes and will allow you to post your comments on articles and Talking Points submissions across the site.
© ToffeeWeb