Silva plans to use Niasse this season
Thursday, 19 July, 2018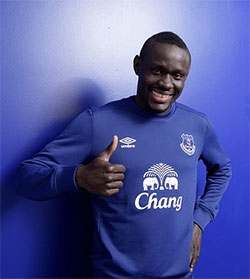 Oumar Niasse is unlikely to be going anywhere this summer after Marco Silva admitted the Senegales is very much in his plans for the new campaign.
Signed for £13.5m by Roberto Martinez in January 2016, Niasse was seemingly dumped on the scrap heap by the Catalan's successor, Ronald Koeman, who quickly decided he was not good enough for the squad he was hoping to build at Goodison Park.
Stripped of a place in the squad, Niasse was relegated to the Under-23s under Koeman until the Dutchman was forced to turn to him last season when the club failed to replace Romelu Lukaku and the team was in need of goals.
Niasse scored nine times in all competitions in 2017-18 but with a new manager coming in, speculation persisted that the striker could be sold this summer.
Silva, who brought him on loan to Hull City in the season before last, says, however, that the 27-year-old's ability to offer something different to his other forwards means that he doesn't want to sell him.
"Of course, Oumar Niasse is in our plans," he is quoted as saying by the Liverpool Echo. "We need to understand his football.
"He is different than all the others when you look at Cenk and at the other boy Dominic Calvert-Lewin – Oumar Niasse is completely different and in some moments, like this evening in the second-half, or when he starts games, he will give different things to the others.
"It is a matter of my decision, in the right moments of the game."
---
Reader Comments (138)
Note: the following content is not moderated or vetted by the site owners at the time of submission. Comments are the responsibility of the poster. Disclaimer
Michael Lynch
1
Posted 19/07/2018 at 21:17:47
Translation: no cash in the kitty for a new striker.
Rob B Williams
2
Posted 19/07/2018 at 21:19:55
There's Life after Death!!
There's a massive lesson here somewhere, not sure what it is but a Big Big show of faith – let's hope it all works out for the benefit of all.
God and Goodison love a trier. (?)
Fran Mitchell
3
Posted 19/07/2018 at 21:21:05
Niasse is a decent option off the bench. Quick and awkward, he offers goals in games where things don't quite go to plan and we need to go more direct.
Brian Ronson
4
Posted 19/07/2018 at 21:27:14
Agree with Fran (#3) — plus he doesn't appear to moan if he doesn't get picked every week.
Gavin Johnson
5
Posted 19/07/2018 at 21:31:57
We're not buying another striker then!
Mike Powell
6
Posted 19/07/2018 at 21:33:39
I am glad he is staying; he deserves a chance, the way he has been treated. He may not be the best striker but he gives 100%, and will get us goals.
Peter Fearon
7
Posted 19/07/2018 at 21:38:32
Okay, a team of Sunday afternoon amateurs didn't know how to handle him and the close-season rusty defenders from Bury couldn't stop him but I can guarantee you no Premier League defences will be worried. He is a very likeable headless chicken.
Ray Smith
8
Posted 19/07/2018 at 21:40:21
Oumar is an enigma!
He is loyal beyond belief, and doesn't know when to quit and that's is why we should stick with him.
Who else would have put up with the treatment he received (especially from Koeman).
We are not in a position to attract a world class striker, regardless of the price, because they wouldn't come anyway.
So, Michael (#1),
I reluctantly disagree with you, we do have the money in the kitty, but who is going to come, other than top 6 cast offs, or strikers looking for a swan song.
This is not the way forward and I believe/hope M&M are starting from the bottom up and we need to be patient with them, otherwise we will never go forward.
I also think West Ham are currently repeating what we did 12 months ago, and it will all end in tears, just as it happened to us!
James Flynn
9
Posted 19/07/2018 at 21:41:18
Funny reading Silva describe Oumar the same way ToffeeWebbers do.
Kelvin Thomas
10
Posted 19/07/2018 at 21:42:48
Marco Silva took him to Hull, remember!
I have no problem having Niasse on the bench as an option. No problem at all.
Jamie Crowley
11
Posted 19/07/2018 at 21:49:42
Cue the negativity.
Jesus people, get behind this guy! He's been treated terribly – and please don't go on with drivel like, "he's paid a King's ransom, am I supposed to feel sorry for him?'
All this man does is put his head down, no matter what situation he finds himself in, and play as hard as he can.
And he scores goals!
He has a great attitude and I for one hope he plays often and shuts a hell of a lot of people up.
Cheer for this guy. Get behind him. He's worthy of your support.
I still never – not a single time he's played – understood the negativity surrounding this guy. Koeman was an ass to him plain and simple and scraped the dude to the U23s. I remember his first 10-15 minutes being a bit "rough" but after that I can't remember a single time I thought he was shite. He's not world class FFS, but he certainly can do a job in the right system. Silva's coached him before and knows what to expect from him, and when to use him.
C'mon you smilin' Senegales! Score, hit posts, stick 'em in the back of the net brother! Fuck it, trip over your own feet and still smile! Smile until your face hurts and keep going man! Some of us are behind you!
Bobby Mallon
12
Posted 19/07/2018 at 22:00:21
I'm sorry, Peter Fearon, but you are so wrong. He has scored goals for two seasons against top and bottom teams. He's okay and will score again.
Derek Knox
13
Posted 19/07/2018 at 22:02:10
Excuse my scepticism, but I hope this doesn't mean no more signings up front now Oumar is staying. I am glad by the way, even though he is so unpredictable.
Ray Smith
14
Posted 19/07/2018 at 22:03:15
James (#11),
Nice to read your comments.
He isn't world class, but he would run through a brick wall if you asked him too!
Why can't the doubters understand the position we are in.
7th is realistic, then build from there. Then and only then we may attract top quality players on the way up, not on the way down.
Tony Everan
15
Posted 19/07/2018 at 22:17:26
Marco, don't try and understand his football, some things in life are unfathomable and all the better for it.
Stick him on, he doesn't know what he is doing, his teammates don't know what he is doing, opposition defences haven't got a clue where he is or what he is doing, and he scores goals, end of, job done.
Geoff Lambert
16
Posted 19/07/2018 at 22:20:44
We actually have a striker on our books who has scored against the Red Shite.
He might just do it while he plays for us this season!!!
Peter Mills
17
Posted 19/07/2018 at 22:22:45
I would be quite happy to have Niasse as 4th-choice striker, behind Calvert-Lewin and two top class new signings.
No, I'm not holding my breath.
Robert Leigh
18
Posted 19/07/2018 at 22:27:44
Peter Mills,
What would you do with Tosun then? I like the look of Cenk; if we play a team when we need to score on the counter, we can play Walcott through the middle.
Tony Everan
19
Posted 19/07/2018 at 22:28:31
If Oumar is on the bench and we are a goal down, he is just the guy to send on and cause havoc or get a goal through sheer desire. He has a one-track mind, and that is to score. I think that's his strength.
Mike Gaynes
20
Posted 19/07/2018 at 22:30:13
Spot on, Ray and Jamie... he ain't elegant, but somehow he gets the ball in the back of the net far more effectively than some of our more conventionally skillful players.
(Pete, sorry but I'm specifically referencing Calvert-Lewin... and what don't you like about Tosun?)
Plus there's no one currently in the side who inspires quite the enthusiasm from the fans that Oumar does. Did you hear the traveling supporters at Bury? I loved it.
Glad he's staying.
Tom Bowers
21
Posted 19/07/2018 at 22:40:07
There are different attacking strategies that clubs use.
One is the old fashioned one of the big target man ably supported by a quick partner and a winger or maybe two. Okay the winger situation is now filled with wing-backs or something similar usually speedy full backs. Everton had probably the most successful combination a few seasons back with Bainsey and Coleman feeding Lukaku and Mirallas. Sadly, that didn't last that long as the whole team became less effective under Martinez.
The other attacking alternative is having quick little guys such as what Man City and Liverpool have and has proven successful. Niasse is no Lukaku but he is a big target and could improve under a new manager and alongside Walcott. Coleman and Baines are still there but I am not sure they can regain what they achieved under Martinez. Tosun and Calvert-Lewin may also come into the equation as may Bolasie.
I know these scenarios are not what we want based on the performances last season and it all depends on what Silva can change in the team as a whole. Certainly we all want to see something new but it has to be a whole lot better than what we have if they are to spend big money.
John Raftery
22
Posted 19/07/2018 at 22:40:19
Given the difficult season which lies ahead, we will certainly need a few battlers like Niasse. I am pleased Silva recognises that.
Martin Berry
23
Posted 19/07/2018 at 22:42:02
Oumar always gives the opposition's defenders something to think about; he is direct, can make chances, and he can finish.
I'm pleased he is staying; let's give Marco time to get the best out of the forwards we have.
Chris James
24
Posted 19/07/2018 at 22:42:42
Neanwhile, elsewhere on Merseyside... that other team completes the 4th major signing bringing summer spending to £168M including a top class keeper (Alisson) and 3 decent midfielders (Fabinho, Keita and Shaqiri). These resources added to what was already the most potent attacking team of last season underlines the gulf in resources facing teams outside the top 5.

Terry White
25
Posted 19/07/2018 at 22:43:31
Pete (#17), got anybody in mind who is attainable and will be acceptable to you? Breathe out.
Sam Hoare
26
Posted 19/07/2018 at 22:44:49
A few games he started last year showed some of the deficits in his all round game (holding up the ball and linking play etc) but there's no doubt the lad seems to make things happen. Having such a player to bring on when you need a goal is a massive bonus. Maybe he could be more than a super sub though I think Tosun will likely be first choice as his touch, control, linking of play is better.
Jay Harris
27
Posted 19/07/2018 at 22:59:48
For me, he has the same goalscoring instinct as Lukaku but without the ego.
Phil Bellis
28
Posted 19/07/2018 at 23:00:04
Can't play em all... and on Oumar, I'm with Jamie: a human wrecking ball with a great attitude: "and yet... I smile!"
Ray Smith
29
Posted 19/07/2018 at 23:01:37
Chris (#24)
Of the 4 signings you mention. Given the choice (transfer fee not a factor), which one of them would have signed for us?
Answer, none of them!
We are currently years behind the R's and Spurs; they have built steadily without knee-jerk reactions. So regrettably we are going to have to do the same, as much as it hurts me to admit it.
Mike Gaynes
30
Posted 19/07/2018 at 23:04:51
Jay (#17)... and without the talent, pace, dribbling skill or shooting ability.
Aside from that, they are indistinguishable.
Be serious.

Kenny Smith
31
Posted 19/07/2018 at 23:05:44
Across the park, they sign a keeper for a world record fee; we announce we're keeping a player who is not good enough to start for any team in this league.
3 weeks till kick off at Wolves and our best centre-half is 35, we've still got no creativity in centre-midfield at all. And the slowest Numbers 9 and 10 in the history of footy in Cenk and Sigurdsson.
Phil Bellis
32
Posted 19/07/2018 at 23:10:47
Oo, Kenny...you are predicting...?
Ray Smith
33
Posted 19/07/2018 at 23:16:39
Kenny 31
We have Pickford. Are you saying he is not good enough? Because we will be lucky to keep him in 12 months time.
We do need to build, and I assume you are referring to Oumar when you say he's not good enough to start for any team in this league!
Oumar is not world class, and not a top 6 player. But we are not a top 6 side either.
I share your frustration, but do not recognise your rationale!
Jack Convery
34
Posted 19/07/2018 at 23:17:54
Glad he's staying. We are staying in the Premier League. That is all that matters.
Once the stadium is built, Moshiri will sell. End of. No more £200m pissed against the wall.
We may not have much cash but we do have Silva.
Jerome Shields
35
Posted 19/07/2018 at 23:29:35
Silva knows the value of Niasse, because he can break up the organisation of the opposition defence, I am not surprised that Niasse will figure in Silva's plans. I don't expect any changes in the forward line. Lookman has gone and the interest in the Brazilian winger may be his replacement.
Under Silva, the forward line will improve, simply because the ball will be played to them and they won't be living off scraps, as they had been under Big Sam. But the defence is an entirely different thing, We do need big changes there. That is the area that has let us done the most for years.
Francis Gibson
36
Posted 19/07/2018 at 23:31:04
The most Stracq player since Stracq, and for that alone, I'm happy to see him sticking around. We need more players with his attitude, not fewer.
James Flynn
37
Posted 19/07/2018 at 23:32:47
It's Calvert-Lewin's progress I want to see this season.
Simon Smith
38
Posted 19/07/2018 at 23:35:29
Kenny,
Take a trip to Colorado and chill out, man...
Lewis Barclay
39
Posted 19/07/2018 at 23:37:48
Niasse genuinely has the character and personality to be adored. He just needs to score upwards of 20 goals this season and put the winner in against the RS!
Karl Meighan
40
Posted 19/07/2018 at 23:43:48
I agree with Silva – Niasse is an option and does offer something different, he's not one for the purists but he scores goals and his attitude seems sound.
As for their signings across the park, they look good on paper but didn't we say the same last season? Time will tell.
Creativity in midfield and a starting centre-back I will be happy to see sign.
Jim Robinson
41
Posted 19/07/2018 at 23:51:39
From the team that brought you William Ralph Dean, Tommy Lawton, Fred Pickering, Bob Latchford yea even Andy Gray, we now present Oumar Niasse as our secret weapon.
In the words of Victor Meldrew "I don't believe it!"
BTW, is it just me or do the words attributed to our new manager: "It is a matter of my decision, in the right moments of the game" remind anyone else of a certain Bobby Brown Shoes???
Davie Turner
42
Posted 19/07/2018 at 00:04:02
8 league goals in 22 matches (with quite a few as a sub) is okay, he can cause opposition and himself all sorts of trouble at times. However, he makes things happen, has worked hard and obviously has love for the club, he isn't Aguero but in the position we are in he has a role to play. Personally happy he will be staying. I don't think strikers are a top priority up to centre-half and a ball playing midfielder.
To those saying he not a Premier League player, sure you not confusing him with Berahino? Oumar will score goals, he can do a job for us and for plenty of others in this league.
Eddie Dunn
43
Posted 20/07/2018 at 00:08:30
Peter Fearon, the lad is superbly disruptive to the opposition. A rough diamond, he may be, but he can finish and his attitude is first class. I just love the kid, and I am sure he will contribute significantly this season.
Jamie Crowley
44
Posted 20/07/2018 at 00:25:03
Jim "coo-coo-ca-chu Mrs" Robinson @ 41,
Firstly, Jesus loves you more than you could know.
Secondly, name me a player you cited who played for Everton since 1970?
Almost fifty years ago - half a century!
Get behind Niasse. Citing Dean, Ball, Lawton, et al does nothing for our current predicament.
The past and the great players of decades ago? It means nothing in 2018 I'm afraid to say. With all due respect to the 'istory and whatnot.
Get behind the boy, get behind the manager, be positive.
It's that type of fan base our team needs currently in my opinion - not one looking back longing for the days and players of yore, but one willing to get behind a sub-standard team (for our lofty standards) now in the present.
C'mon Oumar!!

D J Fanning
45
Posted 20/07/2018 at 01:36:15
Niasse staying at Everton. Liverpool react immediately:
https://www.liverpoolfc.com/news/first-team/307801-liverpool-confirm-alisson-deal
Simon Smith
46
Posted 20/07/2018 at 02:17:53
Let's have it right, Niasse has been treated awfully by Koeman, was unwanted buy Unsworth, replaced by Allardyce and laughed at by many of us under Martinez, yet he's still here and still works his socks off.
We must be deluded to think we were ever going to sign a top-class striker to sit on our bench when we had Rom. Now Rom has gone we have Tosun, yet Niasse hasn't once complained about it, he's never sulked or done anything but literally run through brick walls for us.
Imo Niasse is a keeper, at least until we see exactly how Tosun fits into Silva's system. Buying a striker would limit game time for Tosun and to me Tosun looks decent.
I'd prefer we took on another wide man like a Danny Walbeck who can operate in any of the forward rolls, has pace, can score goals, can travel with the ball and is used to the prem.
Don't get me wrong, if we're sitting on a huge stack of Man City style cash and we can buy from the top shelf then great, bin 99% of them, but let's face it we are not.
Plenty need moving out before Niasse, Mirallas and Sandro are two for starters in the advanced rolls, possibly Bolasie too.
Victor Yu
47
Posted 20/07/2018 at 03:03:07
Translation:
1. We are not able to offload him
2. We are not able to buy a new striker
William Cartwright
48
Posted 20/07/2018 at 03:49:55
Good move by Silva. Good move.
Mark Andersson
49
Posted 20/07/2018 at 04:10:44
The reality is Everton lost their way a long time ago and we as fans live in hope and false dawns that we will once again rise to the top. That's football; that's life.
Niasse is a good pro and the crowd seem to like his gung-ho attitude... he brings a bit of entertainment and a smile to our faces; that's a good thing.
I am a realist and, if Everton play good attractive football this season, it's a positive move; they're capable of staying around 7th. It will be a bonus if we beat some of the top 6.
As for that lot spending big and improving each season, it won't be long before they are Champions of the World. In the meantime, they won nothing last season and may well win nothing this season.
Alan J Thompson
50
Posted 20/07/2018 at 05:35:31
It really doesn't matter what Silva means by, "It is a matter of my decision, in the right moments of the game", but he has worked with him before. This is what Koeman should have said; it ticks all the boxes and leaves all avenues open.
Brian Porter
51
Posted 20/07/2018 at 06:17:37
I for one am glad Silva has publicly backed Oumar. The lad has an uncanny aptitude for being in the right place at the right time to stick the ball in the net. Clumsy? Yes. Ungainly? Yes. Not the best footballer in the world? Agreed.
BUT, Oumar Niasse is a natural predator when it comes to doing what strikers do best. HE SCORES GOALS. His goals per minutes played last season puts him in the top twenty strikers in the country, and, I believe, in Europe's top 50. Does it matter how the hell he does it? I couldn't care less if the ball goes in off his knee, his arse or his nose, the fact is HE SCORES GOALS.
After Rooney, he was our second top scorer last season and if you took away the three penalties Rooney scored, Oumar becomes our leading scorer from open play. Don't knock the lad for his deficiencies, back him for his positive attitude and attributes.
Come on Oumar!
Rob Young
52
Posted 20/07/2018 at 06:45:44
Love Oumar!
He scores goals, and is a great finisher at that (if only DCL could learn from him).
Kim Vivian
53
Posted 20/07/2018 at 06:57:58
Nice one DJF...
...not.
FFS -
don't need that shite on here
Peter Anthony
54
Posted 20/07/2018 at 07:04:52
Substance over style is our Oumar. He is a grinner and a winner. Love him. Pace, finishing ability, passion, desire, never say die, fighting for the royal blue jersey. Goals, goals, goals.
David Ellis
55
Posted 20/07/2018 at 07:11:35
Jamie #44. I agree with your point but Latchford and Gray both arrived long after 1970.
Kenny Smith
56
Posted 20/07/2018 at 07:23:54
Ray @33, I was obviously on about Niasse and not Pickford as that's what the threads about.
My rational is based on the current playing squad being way short of competing with any of he top 6 sides home or away for a variety of reasons. Yeah we might sneak a draw here and there and possibly a win but there's 36 points to play for against these teams. We've either got aging experienced pros or kids with very little in between. This may change before the deadline closes but if it doesn't we could be in trouble.
As for Niasse bundling the ball over the line from 2 inches doesn't make you a Premier League centre-forward.

Kevin Prytherch
57
Posted 20/07/2018 at 07:27:03
If we're comparing to Liverpool then...
Niasse is probably being retained as a reserve striker, which would put him on par with Sturridge or Ings... Which would you prefer?
And Calvert-Lewin is our version of their Solanke... again, which would you prefer?
Admittedly our starting XI is well behind them but, if we're going to compare, then at least do it like for like.
Hugh Jenkins
58
Posted 20/07/2018 at 07:28:35
Last season, if we were behind, or struggling to score in a 0-0 the announcement that "Niasse" was "coming on" filled me with hope.
He usually delivered too.
Not many EFC players in recent years have had that effect on me.
He may not be the most elegant, or gifted exponent of the game, but every time I hear his name, I think "goals".
Can't say that about too many EFC players in recent years.
Kim Vivian
59
Posted 20/07/2018 at 07:35:34
Whatever happens with Oumar from here on in, he will surely have a place in the hearts of every Evertonian. The 'BIGGEST' person we have had at the place for a long time.
Surely a legend already in his own right. Love the guy. Read his history – much about parenting.
Peter Mills
60
Posted 20/07/2018 at 07:54:38
Robert (#18), Mike (#20), Terry (#25). Regarding Cenk Tosun, I just haven't seen enough in him to suggest he is going to be a top-class striker – he looks ok, his control is decent and he's a grafter, but so far that's about it. I will be delighted if he improves.
I, too, would like to see Walcott's pace used more by playing him "off the shoulder" of defenders, he can be a handful on the break. His finishing is a bit hit and miss though.
As others have said previously, there is a touch of the young Graeme Sharp about Calvert-Lewin. Sharp was capable of scoring the occasional great goal, and had a good touch, but it was only when Andy Gray taught him the dark arts of the centre-forward world that he became a real player.
I think Calvert-Lewin could develop similarly with the right guidance which was why I was encouraged when Giroud was mentioned this time last year. I thought he had an excellent World Cup, despite his lack of goals, and could have been a good mentor. Mrs Giroud apparently was not drawn to the delights of our city, but a similar player would be a great help to us.
The second of the two signings I referred to would be a young player who has scored regularly in the Championship or similar level of football. No, I don't have names or know of players' prices or availability Terry, but if they were to pay me what they are paying Mr Brands I'd be prepared to carry out the research!
Nitesh Kanchan
61
Posted 20/07/2018 at 07:57:14
All credit to him for working hard to get to this point. The most likeable moment was when he was at the away end at Old Trafford in spite of not being in squad. I have not seen anyone do anything like that ever before. Others would have been at home or at VIP box.
Danny Baily
62
Posted 20/07/2018 at 08:02:15
He'll be just like a new signing. Which is convenient because it looks like there isn't any money for new signings.
Ray Smith
63
Posted 20/07/2018 at 08:21:41
Kenny (#56),
I share your frustration.
Your opening comment was about the r's buying a keeper, hence my opening comment about Pickford.
That aside, if the rest of the squad take a leaf out of Oumar's book, 7th is probable.
You have to be realistic, we are not a top 4 side and never will be, until something is done to level the playing field on transfers and wages, and that's not going to happen!
Top 6 possible, but not this year.
Sorry, Kenny, whether you like Oumar or not, he's staying and we will need to make the most of his enigmatic skills.
COYB
James Newcombe
64
Posted 20/07/2018 at 08:30:32
Fine with this, Silva knows him well and he's right... Niasse definitely offers something different! I thought it interesting that he talked of three strikers: Tosun, Niasse, and the other boy, Calvert-Lewin. So does that mean Sandro is off?
Drew Shortis
65
Posted 20/07/2018 at 08:49:42
I'm really happy to hear this. Love Oumar!
I'm sure we'll see two or three signings, but probably not a striker. We have Tosun who looks like a clinical finisher who can lead the line and I can see him getting 15-20 next season. We have the pacey and versatile Calvert-Lewin who has great potential and did a decent job for us last year. We have Niasse who has pace, strength and can finish. Even from the bench, we can expect double figures from him.
We spent a lot of money last season and I think part of the reason Silva has been selected is to get the best out of these players. With a few key signings (CB, CM, W) I think we can tune this team up into a working machine. I just don't see us splashing out silly money on a world class striker this window. We don't have the draw at the moment.
I'm really looking forward to seeing how Silva can get the best out of what we have. You never know, he might even figure out how to get Sandro firing. The lad proved at Malaga that he could find the net from range. His confidence seems very fragile. If Silva can encourage him and get him playing in a specific system he might end up being like a new signing. The same goes for Mirallas and Klaassen.
Ray Smith
66
Posted 20/07/2018 at 08:59:48
Drew 65
I like your rationale.
I too am looking forward to a better season than the last one!!!
John Malone
67
Posted 20/07/2018 at 09:07:45
Unorthodox but effective; I'd definitely keep him until we have someone who scores more!
He caused more problems in the second half on his own for the Bury backline than Cenk and the whole front three did in the first half!
Rick Pattinson
68
Posted 20/07/2018 at 09:08:35
Unpredictable...awkward but we love Oumar.
Pete Edwards
69
Posted 20/07/2018 at 09:16:35
Kenny @56 – it certainly does mean you are a Premier League forward if you are scoring in the Premier League and that's exactly what Oumar has been doing since he came over here for us, and at Hull.
Mark Tanton
70
Posted 20/07/2018 at 09:23:10
Understandable but misplaced negativity here. We signed two forwards in January. We have Niasse and Walcott who are both proven Premier League scores and Tosun who seems like he could be a good main forward.
We cannot expect to just spend our way out of trouble, it isn't working. What we need is someone who can actually coach the squad we have, work with them, build their confidence and make them gel. Silva can do this.
Let's see what Silva can make of what we have have before despairing. We have spent a fortune and it's actually been regressive. Why would you sanction another £200M? It doesn't make sense. Time to work with, largely, what we have.
Victor Yu
71
Posted 20/07/2018 at 09:43:55
I would take Welbeck over Niasse any day.
Bobby Thomas
72
Posted 20/07/2018 at 10:07:00
Victor (#71),
As a player, I like Welbeck. However, he is a permanent crock and should be swerved.
Paul Hughes
73
Posted 20/07/2018 at 10:36:26
Niasse isn't and never will be a world class striker. His attitude and determination, however, cannot be faulted, and in my opinion, that counts for a lot. He is a 'Lord of Chaos' – he doesn't seem to have a clue what he's going to do, so what chance do defenders have?
I also agree with the Welbeck comments above, I've always liked him as a player, he always seems to get a goal, but is another injury-prone player we can ill-afford.
John Wilson
74
Posted 20/07/2018 at 10:41:46
Liverpool, cough (i nearly choke when I have to say that name), nearly went bankrupt in 2011 I believe. Football is a funny old world. Stop looking for easy answers.
Yes the law laws of physics are against us insofar as the red shite across the park appear superhuman, more akin to elite super soldiers than to Kurt Russell's but original lone Soldier. The red shite are more Dolph Lungren (aryian super race, genetically engineered) to Rocky, 'if I can change, we all can change!' Balboa.
The red shite are athletic super machines compared to Everton. The presumption is said team will win so we have the burden of discharging that presumption. How? Thinking laterally. Using Silva's box of trickery. But like Rocky's Nemesis who thought he could destroy Rocky, Niasse has heart; 'it's not how hard you can hit, it's how hard you can be hit.' The crap that young man has taken ('how hard you can be hit,' metaphorically speaking) but still gets up after that, is quite super human in itself.
No fragile ego (what Freud said was a reality only existent in the person's mind only...ie subjective perception) but who was also degraded: no locker; told he would never adorn an Everton Premier League shirt or play in EFC's Premier League team; no Everton suite; just his bag lay abandoned like an analogous homeless person in a multi-million pound club's property. Niasse was herein homeless both in his treatment and in his occupation (what lawyers call a legal connection to a property, ie not necessarily physical). How does anyone come back from this. How did he react? He got his head down and worked harder, determined to prove everyone wrong.
Look, maybe it's the realist Communist in me in this Capitalist modern world which feels like society is racing into modernity, like the earth and the sun race through space together, but you gotta love an underdog, as Kasabian (the Leicester rock band) would likely say. Niasse is our very underdog – he should be celebrated. No team in the land can boast of a Niasse – he is a rare breed, no more than that he is the original mould of goodness, determination, passion, drive, which actually yields results on the field where it matters most.
Silva is a rare breed as is Niasse. If it weren't for Niasse last season who lest we forget did not only score his goals but also through those goals impassioned Everton to dig deep and start scoring, that without which we could have been relegated. Niasse is like a talisman – his football may not be pretty but when he has this inherent Forest Gump-esque about him, 'stupid is as stupid does,' like Gump there is no stopping Niasse. Stop looking at Silva choosing Niasse as though it is a school match and the teacher is left with one that no one wants and so he is put on the side which has less players. Niasse is chosen for his, admittedly unique skill-set but most of all the lad's heart.
There is not a soul on planet earth who can control him or stop him from scoring his goals or remove his biggest smile that I have ever seen on a human being. This is our Niasse – He is ours!!! His aura is what kept Everton in the Premier League last season when let's face it we were far from balanced and more like Christina and the Queens, 'tilted' https://www.youtube.com/watch?v=9RBzsjga73s
Support Niasse! He, I believe saved us last season from an embarrassing relegation. The other 'smoke and mirrors' is that Allardyce fortunately had us finish where we did, above top 10 owing to the way the bottom half, including the relegation zone teams where crowded together. Niasse was that magic. Look at our performances last season immediately prior to Niasse setting foot on that pitch. Liston to the Goodison faithful amplify his name all last season just as they did in the Bury game recently.
There is only one Niasse - he has the power to change games because he is all heart than he is the conventional Premier League player in the striker position. He has athleticism; he has pace. 'If you build it, they will come.' If you believe in Niasse, he will believe in you (us, Everton, the fans). Niasse can score out of nothing it's like everyone has been put on pause whilst Niasse puts himself into position to score and does, with Everton not knowing how, the opponent team not knowing how, the Everton fans not knowing how. Niasse knows how, his heart and his determination to score. He may not know how actually scores, he just has the heart, passion, sheer determination to score.
The Bible says, 'believe you have received it and shall be yours'... Niasse believes it, so ultimately it becomes his.
Brian Williams
75
Posted 20/07/2018 at 10:43:20
Excuse me if I seem a bit cynical here but if I was asked in an interview, which I was well aware would appear on numerous sites within minutes, to comment on any player, during a transfer window in which I'm hoping to offload a number of players, I would certainly say positive things about them.
I'm hardly going to say "No he's not in my plans and I'll be looking to offload him ASAP" and in doing so lower his value by a million or two.
I believe there's very, very few players in that squad that Silva thinks he HAS to keep and I don't feel Niasse is one of those.
Should a semi-decent offer come in, I think it'd be accepted no problem.
D J Fanning
76
Posted 20/07/2018 at 10:57:10
Kim @53 – what shite are you talking about? Niasse does have a bit of a track record of scoring goals against the RS.
James Hughes
77
Posted 20/07/2018 at 11:00:31
Booby T, you missed out two words in your description of Wellbeck: permanent crock.
Victor, are you related to Phil Walling???
Antony Matthews
78
Posted 20/07/2018 at 11:13:04
Personally, I would sell Oumar while he is sellable and put the money towards Vardy who can press like Oumar but has a better finishing touch. I know he is older but, if the team finishes in the top four, better players can then replace him.
John Wilson
79
Posted 20/07/2018 at 11:22:50
Silva, in his awkward English, is saying this.
He can bring Niasse on, if in Silva's genius tactitioner moment, he needs to change the game immediately.
Vardy did not show up in the World Cup when it mattered.
Niasse now commands the atmosphere in Goodison.
Stop thinking Sell. We are not good enough to sell Niasse.
We need players like Niasse to lift the Goodison faithful; we need players like Niasse to lift the Everton team. Niasse is like a catalyst. We need him now. We won't always need him in the future but we do need him now. Right now he is worth that £13.5 million and more to us.
Niasse, under Silva's man management at Hull, scored against Liverpool and Manchester United. However, Liverpool are better defensively now. As Silva says, he offers something different than other Premier League players (who we could get, but not who we couldn't get) or to those who are in our team: Cenk Tosun; Dominic Calvert-Lewin.
Ray Smith
80
Posted 20/07/2018 at 11:23:00
Brian (#75),
A lot of logic in your comments, not necessarily cynical.
I hope you are wrong, but that's the crazy world of football transfers that we live in.
I would keep him regardless, coming off the bench to score, because he's worth more than any fee he would attract, IMO.
David Hallwood
81
Posted 20/07/2018 at 11:38:50
I'm fine with that – in fact, the squad needs even more trimming, Williams, Mirallas, Sneiderlin to follow Bolasie out of the door.
A dominant CB a LB and a midfielder in the NZonzi mould and IMHO that would be a successful window.
Steve Ferns
82
Posted 20/07/2018 at 11:48:51
James Newcombe, Sandro isn't a striker. I think it's obvious that Silva sees him as a wide forward. I'd like to see him on the left, coming inside onto his right foot.
James Marshall
83
Posted 20/07/2018 at 12:00:52
It's disheartening to read so many comments about how loyal Niasse is, and therefore should be in the team. I'm sick of supporting a tinpot club that sticks by players out of loyalty even if they're shite at football - which Niasse is.
We should be selling him ASAP and buying a proper striker like the one we used to have who now plays in World Cup semi finals and scores goals in Manchester.
What's all this talk of a talismanic figure to inspire the fans? Why don't people just want quality footballers instead of the glassy-eyed try-hard who makes people think he's a nice fella? He might try hard but he won't win us shit over a season aside from a few cheers and the odd smile when he scores a tap-in against Cardiff on 90 minutes.
Dermot Byrne
84
Posted 20/07/2018 at 12:03:13
Bit weird on TW at moment. In many ways not much any of us can say or even debate. We have no real idea what will happen in new season. Whether existing players will show why they were signed or if we will have any new players.
So..just to feed my desire to post exciting news on TW.
It's raining here!
Sam Hoare
85
Posted 20/07/2018 at 12:13:12
James @83, I think you've missed the part where Niasse does actually score goals. In fact I believe he had more goals per minute last season than Lukaku.
By all means highlight the fact that his all-round game is limited but to dismiss him as simply a trier is to ignore the more important and oft-stated fact that one way or another he does seem to score goals in the Premier League. I'm not saying he's a top player or should be starting but you undermine your own argument by leaving out the part where he does the main job a striker should do pretty well.
Michael Lynch
86
Posted 20/07/2018 at 12:21:43
Niasse is our from-the-bench option. I'm kind of old fashioned, so I like having that option. My concern is our main striker. We haven't replaced Lukaku, and there is no sign of that happening in the near future.
Yes, we've signed Tosun but with all due respect he's a league below Romalu, who is a world class striker. Of course, you have to go quite a long way back to find our last world-class striker before Lukaku, so there's no reason to suspect we'll have another one for another generation. Unless Everton have serious designs on lifting itself out of top half mediocrity and making a genuine tilt at the likes of Spurs, Arsenal, the Shite, the Mancs and Chelsea of course.
Without a Lukaku quality striker, even a Vardy quality striker, we're going nowhere.
Barry Williams
87
Posted 20/07/2018 at 12:26:02
I took an interest in Niasse when he was loaned to Hull as I couldn't believe he was as bad as suggested. What I saw was a decent player who scored some decent well taken goals against good sides.
What does he bring to the table? Energy, enthusiasm, commitment, goals, massive nuisance value and he gets the fans behind him, thus behind the team. As I wrote on another post, it is not how you arrive at a place, but what you do when you get there. He is a striker, he scores and his unpredictability is a strength, not a weakness imo.
I see a really good player in there, I really do. He changes games whenever he comes on, for the better! What is there not to like? We have attracted top top strikers in the past, like Lukaku. But, the current position and standing of Everton in the football world means that we will only ever be seen as a stepping stone for them. Niasse has shown fight and commitment and actually makes watching Everton enjoyable when all else seems not so.
I think with him, Tosun and Calvert-Lewin and the supply lines of Walcott, Lookman, Sigurdsson etc, we have other areas that need looking at. In Niasse, we know we have a player that will cause defenses problems and he has a positively infectious attitude!
Dermot Byrne
88
Posted 20/07/2018 at 12:39:50
Fair point about his enthusiasm and infectious attitude Barry. I agree and don't think probs of last year can be placed on his shoulders. Still think he may be mid table quality though.
Still raining here!
James Marshall
89
Posted 20/07/2018 at 12:42:06
Sam@85
He's got 12 goals in 44 games. I don't dislike the guy, it's hard not to like him, but my point is that we need a quality goalscorer, not someone that's going to possibly get us 10 a season in the league.
He's a plucky trier, but he is not a quality footballer, or a quality goalscorer.
Evertonians are as we all know, love a player who 'gives his all for the shirt' etc, I just wish we had less of that attitude and more attitude geared towards signing top class winning footballers. Too many Everton supporters have a Sunday League attitude toward the game which is reflected in the state of the club in my view.
Victor Yu
90
Posted 20/07/2018 at 12:48:23
Niasse is someone who tries but has limited talent.
Lukaku is world class talent who doesn't try as hard as Niasse.
Yet most people here prefer Niasse over Lukaku and continue to bring up the 'goal / minute' fact to try to back it up.
Victor Yu
91
Posted 20/07/2018 at 12:51:27
One more point.
Being 'loyal' sometimes translates to the fact that a player has limited talent and limited option.
Lots of us feel that Hibbert was so loyal so he should be considered as an Everton legend. To me, he was 'loyal' because he had no other better options. Imagine if he had Javier Zanetti talent. Do you think he would have stayed with us for the whole career then?
Barry Williams
92
Posted 20/07/2018 at 13:03:49
James Marshall - 89
His minutes to goal ratio is excellent, one of the best in the league, so the games and goals stats don't tell the whole story. We also look a lot more dangerous when he comes on.
Just checked, a goal every 134 minutes, 6th best in the division. Given that we were pretty uncreative last season and he was the architect is his own goals a lot of the time ... not bad, no matter how you look at it!
Sam Hoare
93
Posted 20/07/2018 at 13:31:16
James, I know what you mean, I don't want anyone in the team cause he has a nice smile.
Niasse got 8 goals in 1083 minutes in the PL last season. One per 135 minutes. Over his whole career he has a goal every 167 minutes.
Lukaku got 16 goals in 2869 minutes last season. One per 175 minutes.
Perhaps if Niasse got more game time he'd have as many or more goals than Lukaku?
I don't think Niasse is a well rounded footballer but he has always managed to score a decent amount of goals.
Pete Edwards
94
Posted 20/07/2018 at 14:00:26
Michael @86, I'd say you only have to go as far back to find a world-class striker at Everton to Saha and Yakubu... so what — about 6 seasons? Typically, injuries put a stop to that though!
Thomas Lennon
95
Posted 20/07/2018 at 14:02:08
Putting it another way - in a game dominated by players protecting their 'pass ratio' career statistics (surely that was what was happening last season at times?) Niasse has nothing to lose.
Jamie Crowley
96
Posted 20/07/2018 at 14:03:16
James @ 89 and prior,
The fact of the matter is we are not going to be splashing cash around for a while. With that landscape in mind, it's not disheartening to read how, seemingly, posters are equating loyalty with retention of a player.
It's something we simply have to do this season, ergo get behind the guy.
I think you're convoluting where you'd like to see Everton, and where they currently, realistically find themselves.
Niasse is the type of player we need the next year or two. If he happens to be loyal and has fought hard for success at a Club that's treated him like dog shit, why not get behind the guy? We're not buying a new striker for £100 million.
It's not disheartening to see a lot of posters get behind a guy they know can be one hell of an awkward player. it's actually uplifting to see posters get behind an awkward player who's likable, knowing their club isn't going to go out and sign a replacement.
It shows a level of recognition and intelligence only Blues have.
Be as frustrated as you want. Don't be disheartened. We're in a short-term correction phase. It won't last forever.
David Ellis back @55 – I cited Dean, Lawton, and Ball. Shows you how close I read! Sorry about the timeline on the unreferenced Gray and Latchford. Point, as you mention, still stands.
John McFarlane Snr
97
Posted 20/07/2018 at 14:10:11
For me, whether Oumar Niasse stays or goes, is not the thing that causes me the most discomfort, it's the way he and others are vilified by a section of the ToffeeWeb fan base.
It's my opinion that, if you play for the lowliest team in the Football League, you can play football, obviously not to the standard of Ronaldo or Messi, but certainly above the standard of the majority of their detractors on various threads,
I also find the terms some express in describing their ability (or lack of) disappointing. I have often been accused of being a bit of a prude but I can live with that. I am quite capable of uttering obscenities but in the right place at the right time. Hoping I haven't offended anyone.
James Marshall
98
Posted 20/07/2018 at 14:25:40
Jamie (and others), I get what you're all saying, perhaps it's just my continuing frustration that after 40 years of supporting Everton we still have a low-end mentality, both as supporters and as a club.
How many times have we been in transition? How many times have we had the need to tide ourselves over with half-baked players that try hard before we get to a higher level? This has gone on forever, which I guess is my annoyance.
Amit Vithlani
99
Posted 20/07/2018 at 14:49:27
James, I see your point, but if I was to express my frustration in a different way, it is at how we find ourselves with a squad so bloated with unwanted players that we cannot bring in players who have a good all round game. We have to settle for players good at this and not so good at that.

Niasse can certainly do a job, and his wonderful attitude deserves praise. Our support base is good natured and fair and hence the general warmth towards him.
But to what I think is the heart of your point: even with the best coach in the world will Niasse fire us to a trophy, even a top 6 finish: I doubt it very much although I would love to be proved wrong.
The bloke capable of doing that was sold by us last summer and the management team put us in a position where they replaced Rom's goals with Niasse, a raw youngster in DCL and a good finisher with no pace from a 2nd tier league. Collectively they mustered fewer goals than Big Rom.
Shows the value of having 1 silk purse in your hand versus 3 sows ears in the bush, to mix metaphors.
It also shows what happens when you entrust a monumental transfer kitty to imbeciles.
Michael Lynch
100
Posted 20/07/2018 at 14:51:11
Yet again I will stress that I love Niasse and it's great fun watching him terrorise opponents like the fat kid in the playground who bounces his way through to goal with a big grin on his face once a year. But there seems to be a few on here who are presenting him as an upgrade on Lukaku. I'd say you're not just looking through blue tinted glasses, you're looking through blue tinted beer goggles boys.
You can produce whatever stats you like, Niasse is the fat kid in the playground. To accept him as the level we should be expecting at Everton is not showing "a level of recognition and intelligence", it's giving up on expecting anything better than the shite we've been watching over the past few seasons.
Edit: Sorry Amit, I think you said pretty much this in the post above, but I didn't see it in time!
Brian Harrison
101
Posted 20/07/2018 at 15:01:26
It is commonly acknowledged that it costs a lot more to buy a Premier League striker than any other position on the field. So can someone explain to me how we can sell the 2nd highest scorer in the Premier League for £75 million, and only a young man with years ahead of him???
All while our Premier League neighbours sell a midfield player for £145 million, which allows them to sign the Premier League's most expensive centre-back and the Premier League's most expensive goalkeeper from the profits of the sale of the midfield player!!! Just to put things into perspective, how much would Kane go for now? £200 million? It just makes the Lukaku deal laughable.
So now we have 3 centre-forwards and none are particularly that good in Tosun, Niasse and Calvert-Lewin. I guess you would be lucky if any of this 3 could score 15 to 18 Premier League goals this coming season. And I am hopeful that Silva will make us a much more attacking team than we have been in the Premier League for the last few years, but I just don't see our forwards scoring enough goals. And our goal return from all our midfield players is woeful.
Ray Smith
102
Posted 20/07/2018 at 15:08:00
James (#98),
I go back 54 yrs through thick and thin. Whilst reading your post I thought of the good times and there have been several. However, then a dark cloud appeared on the horizon... which still remains in the shape of Bill Kenwright, from which we have gone from one disappointing transition to another.
Perhaps he is what is causing your annoyance?
Hopefully the new regime are in the process of rectifying the situation!
James Marshall
103
Posted 20/07/2018 at 15:15:45
Being good natured, fair and warm towards players isn't going to win us anything, though, is it?
I've said it a thousand times on here - I want to support a ruthless Everton that wins football matches, and wins titles. I'm in my mid-40s and I'll likely be long dead by the time we win anything the way this club is going.
Niasse is a nice bloke, he tries hard and has a nice smile, so what? How on earth does that benefit Everton? Okay, so he might score 10 goals in the Premier League, and I get that he's all we've got right now, but the constant acceptance and placation of Evertonians is wearing thinner year on year for me, and while I'll cheer as loud as the rest of you when Niasse scores, it still galls me that I have to support a player that is really not up to the job as a footballer.
Honestly, watch him, he's a dreadful footballer who has a knack of being in the right place now and then for the odd toe-poke. Tosun is a very good finisher, and in my view, likely to score more over a season given the right service.
Is it any coincidence that Silva has felt the need to come out and publicly voice his backing for Niasse? Surely there's an agenda at work here.
Jim Bailey
104
Posted 20/07/2018 at 15:17:27
Why can't Everton attract all the fancy world beaters that a lot of people seem to think we should? Answer: because we're basically a middle of the league club, beset with long-standing problems and more recent problems caused by the lunacy of the last two years.
We're not an attractive proposition, and footballers must talk amongst themselves, but I can't imagine favourable conversations in bigging this club up.
It will take time, hopefully the players that we are left with after the window, and any brought in can be encouraged to play to their true potential. What I want to see more than anything is fight, spirit, camaraderie and a never-say-die attitude.
All the club can offer at the moment is potential; very few if any world beaters will sign up for that.
Over to you, Marco.
Brian Hennessy
105
Posted 20/07/2018 at 15:18:21
Brian @101 - You are forgetting we got the wonderful professional Rooney as part of the Lukaku deal. Wayne played for us for nothing while he was here just cos he loves us and we sold him on to the US for a huge profit...
Dave Ganley
106
Posted 20/07/2018 at 15:23:13
Hit the nail on the head there, James (#103).
Dave Abrahams
107
Posted 20/07/2018 at 15:23:46
Niasse is as awkward, cumbersome and ungainly, even more so than many have stated, and yet he still does a good job for Everton.
He reminds me, going back a very long time, of Derek Dooley who played for Sheffield Wednesday in the early fifties; he was just as Niasse is now, and Wednesday fans argued back and forth as to his merits. He eventually settled into the team, scored 46 league goals in one season (still a record at Wednesday) then 16 goals in 24r games the following season, after a slow start, before breaking his leg at Preston NE and had to have his leg amputated, finishing his career.
My point is, Derek was as clumsy as they come but could score goals; never mind the style as long as they are scoring goals, I don't expect Niasse to break any records scoring goals but he could surprise many people if he is played consistently; he will do me until they get someone better.
Tom Bowers
109
Posted 20/07/2018 at 15:36:53
Not sure how Moshiri's assets measure up to those of the American's backing the RS but it would appear the RS have a lot more ambition in player investment.
This could also be down to who the top players want to play for and therein could be Everton's difficulty.
However the money quoted to obtain a goalkeeper like Allison is just plain ludicrous. Can they recoup that in a season or two with a Euro or Prem. success?
The mind boggles.
Everton may just remain a battling club with 100% workers but no real class to frighten other teams offensively unless they change their roster but somehow they seem to have difficulty offloading a few who have not been measuring up.
I like Niasse and Tosun but like Sandro and a few others they will not get you many wins in the Prem.
Pat Kelly
110
Posted 20/07/2018 at 15:49:59
What used to be called an unorthodox player. Not a lot of finesse, well none to be fair. Although he does score regularly. But frequently would be better.
Amit Vithlani
111
Posted 20/07/2018 at 15:57:09
"Being good natured, fair and warm towards players isn't going to win us anything, though, is it?"
True, no quibbles there. But nobody is talking about being fair and warm to our management and owners, who are the drivers of success. This affection has been displayed to 1 player who deserves it for his attitude and some important goals. It does not somehow translate into tolerance of the general mess we find ourselves in.
James Marshall
112
Posted 20/07/2018 at 16:11:28
Amit - what you're saying is that essentially it's not the players fault, and I would agree with that!
Jamie Crowley
113
Posted 20/07/2018 at 16:15:37
James @ 103-
I understand I'm akin to a little girl's cartoon character of a flying unicorn zipping around shitting rainbows with this positive attitude bullshit.
But - remember I'm a born and bred Red Sox fan. Forget the link to the rs for a second, it's in my blood with no apologies.
I've said this before, the Red Sox (my team mind) went from 1918 to 2004 without a title. In short, I understand your frustration.
Your a smart man. Would it be responsible, after blowing through a shed-load of money the last two years, to go out and spend zillions on a big name striker? No.
We find ourselves in a pretty shitty place right now. We need to trim, consolidate, and try let the manager get his feet on the ground and assess his "cast" before we jump back into the big-boy transfer market.
Being a fan - not an American bullshit one who jumps from team to team based upon success, but a real fan - entails pain.
We have a new coach, we hopefully will be in a new stadium in the next few years, we have a completely revamped corporate structure, a director of football who by all accounts will be damn good, some decent young talent coming up through the ranks, and we need to be patient.
It's not ideal. Your pain is probably going to last a few years longer. During that time just ask for progress. If that entails a few toe-pokers who run through brick walls, so be it.
Now I'm off to work and off to shit more rainbows.
Keep the faith. Leicester won the league. The Cubs won the World Series. The Americans beat the Russians for the gold medal in 1980 in hockey. Life is cyclical. Hang in there and don't die. It'll happen eventually.
John McFarlane Snr
114
Posted 20/07/2018 at 16:44:15
Hi Dave [107] you've hit the nail on the head, Derek Dooley was indeed lacking in finesse, which was compensated by his goal scoring prowess. He scored 2 goals in his two games for Lincoln City in 1946, before joining Sheffield Wednesday in 1949, where he netted 61 goals in 62 appearances, from 1949 to 1952. He was one of a number of players who scored 4 goals in matches against Everton, in a 4-0 win for Wednesday at Hillsborough.
He broke his leg in a collision with George Thompson, the Preston North End goalkeeper, and had his leg amputated, because soil from the Deepdale pitch had caused gangrene.
Are you going to the Valencia game? if so we may be able to have a drink, Josh is missing that game, as he will be on holiday.
Nitesh Kanchan
115
Posted 20/07/2018 at 17:02:02
James Marshall, we don't need him just for his personality or character. As a footballer, he is not totally shite as you are trying to say here. Nobody is saying he should be our main striker, he is an option from the bench and a very good one.
All teams have a back-up striker when things are not going well. Liverpool have Ings and Solanke. At the moment, we can't let Niasse go because he certainly can score goals even if he is left alone upfront and we are defending a slender lead, always putting pressure on the defenders.
Also for his unpredictability – we know he can trouble organised defences. We saw at the World Cup so many teams were defensively organised... because of which, most of the games were close. It might be the pattern of this Premier League season as well.
One thing I have noticed from his play is he doesn't give the keeper any chance of saving his shots, it either ends up in orbit, hits the post, or is in back of the net.
Brent Stephens
116
Posted 20/07/2018 at 17:11:18
Fred Pickering - a bigger carthorse you've never seen - 56 goals in 97 appearances??
Tony Abrahams
117
Posted 20/07/2018 at 17:20:33
Keep shitting Jamie, and see if you can find us that Russian ship with all that gold on it mate!
John Wilson
118
Posted 20/07/2018 at 17:58:48
we can't be linked with Richarleson from watford for 50 million when watford only paid 11 million for him from Brazil, and he didn;t have a great watford PL after he tailed off.
Are Everton into money laundering? Is Silva a Watford sleeper, trying to damage Everton?
Talk sport and the rumour mill on TW.
Denis Richardson
119
Posted 20/07/2018 at 18:06:25
Guess we've tried to get rid of him for two years now but no one will take him off us. Not surprising on his wages.
We're stuck with him so may as well make him 4th choice striker, if desperate in the latter stages of a game.
David Midgley
120
Posted 20/07/2018 at 18:30:58
Whether it's a white lie or not I'll bet Marco's comments will have given his confidence and ego a boost(if he has one ). After all the stuff he's heard from previous managers it would have been like a breath of fresh air.
A giraffe on skates-but effective. Come on my son,
Ash Moore
121
Posted 20/07/2018 at 18:42:25
Oh dear Jamie; I'm a Rays fan. And a Bungles fan. And if I have a preference in the NBA it's the Raptors. And when I went down under, and followed their local game, aussie rules, their was only one team for me my Granddad being one. The Dockers. From Fremantle,
Those four teams have combined for zero championships. It'll happen eventually? Which one do you see getting their first lol?
The Raptors for the East, and then Golden State all get caught doing coke at three quarter time of game 4 of the finals up 30 is my best guess. And Leonard STILL goes to LA. Who'd be a sports fan?
Anyway...COYB.
Dave Abrahams
122
Posted 20/07/2018 at 18:42:51
John (114), John, I will not be going to the Valencia game, booked a day out weeks ago before this game was announced.
Harvey Miller
123
Posted 20/07/2018 at 19:17:35
I took time to watch every Oumar's goals for us. Obviously it was a short video, but what I saw and didn't understand before was that most of those goals are very well taken, not bundled over or tap-ins.
Sometimes he might appear clumsy or not knowing what he's doing but somehow he get's the ball and shoots, pretty accurately and with power. He's very fast with fast reactions and that gives him the edge. If he had better first touch he would be in a CL team and not with us.
One thing is that he's not a passer really, when he's near the goal he will shoot and that make's it easier for the defenders.
With good coaching and enough time on the pitch he will come good.
Will Mabon
124
Posted 20/07/2018 at 19:35:29
He's actually made some excellent passes, Harvey, for us and Hull. Including against Bury. He does tend to shoot when in range though.
Jamie Crowley
125
Posted 20/07/2018 at 20:21:06
Ash Moore @121 -
I literally pulled the LOL laughing out loud at your post.
Jeez man, you are, without question, a glutton for punishment sir.
My money is you'll never see a championship. Best bet would be an influx of amazing talent in Tampa making a run before the Red Sox and the Yankees gobble up all the talent.
You are, in every single sense of the word, a true fan. #respect.
Edit - Everton will win silverware before any of your other teams sniff a championship.
Justin Doone
126
Posted 21/07/2018 at 06:16:26
Niasse and Tosun are different players but both good. Never a top 4 team striker but we aren't. They're probably amongst the next best, a bit like Everton.
Niasse is fast, works hard and I like my forwards to shoot when in good position to do so. After all he's been through, I'm guessing he's mentally tough too.
Barkley used to frustrate because he didn't shoot enough; Mirallas the opposite in that he'd shoot too often from too far. Niasse may not play the pass but he can cross. He's the game-changing sub we need to bring energy and attacking threat.
Tosun is a finisher, makes good runs and again isn't afraid to shoot. Lacks pace but is the better player to link play, a proper striker.
Calvert-Lewin can hopefully blend the best of both as well as being good in the air. I wish him a speedy recovery – but as long as he does fully recover. I hope it's not the beginning of the end on another injury-prone young player.
Steven Jones
127
Posted 21/07/2018 at 08:31:33
James (#37) – I totally agree
Calvert-Lewin – sends shivers down my spine... hopefully he progresses this season and becomes the Sharpy of this generation.
A World Cup winner and a winners mentality... getting those miles on the clock last season will pay dividends... I hope... I hope... I hope...
The fact that Silva mentioned him means loads to me – League Cup, FA Cup and coming on here and there and then starting a few would be great
BTW – his finishing will get better.
Steven Jones
128
Posted 21/07/2018 at 08:36:38
Simon (#46) – Unsworth played him all the time in the U23s – he terrorised Chelsea youngsters and was rehabilitated by Unsy.
Fake news correction: It was not Koeman that banished him - it was Martinez as Oumar went through the wife-beating and wearing headphones in team-talks phase.
Koeman actually brought him back into the fold.
Karen Mason
129
Posted 21/07/2018 at 10:48:42
Talent alone is not everything and is certainly not enough, as strikers like Ballotelli and a few others have shown.
Niasse, while limited on natural ball skills, has a great work ethic, is a team player and can occupy a back 4 just on his own. While he himself may not score 25 goals per season, his sheer presence on the pitch, work rate, willingness to chase lost causes, all create chances for other players to put the ball in the net. This is not something we 'hope' he will do. We know he will do it, as he showed us all last season.
No player gave more on the pitch than he did, but not only that he did dig us out of a few games with some timely goals which went against the run of play. IMHO, every team needs a Niasse. Give the lad a chance, like he has given our club. This is not about sentimentality, this is about a team player who is effective in his own way.
Phil Smith
130
Posted 21/07/2018 at 15:08:56
Great news! Niasse is my favourite Everton player. Hope he gets more game time this year. He could easily bag more than the 9 he got last season.
Darren Murphy
131
Posted 22/07/2018 at 09:21:58
Just don't put him on penalty duty.
Tony Abrahams
132
Posted 22/07/2018 at 09:46:31
It really does depend on which way the team wants to play. If it's about trying to upset teams, battle and the second ball, then Niasse is perfect, but if it's about trying to play it up to and also play off the centre-forward, then it's obvious that Omar is not that man.
God loves a trier, and so does Goodson Park; he turned round a few games for us last season, because his efforts help to engage the crowd. I'm not sure he's good enough for a place in the starting eleven, which doesn't mean he can't be a very good sub.
Clive Rogers
133
Posted 22/07/2018 at 13:36:34
Not after his nightmare against Lille he won't.
Karen Mason
134
Posted 22/07/2018 at 15:05:43
Big sigh!! We seem to have so many fans who only ever see the negatives and rarely the positives in players. I have been taught in my own sport, to appreciate players who may not be stylish or have intricate skills, but are very effective in what they do on the pitch. Often times it is exactly those workmanlike, no-frills players, who step up to the plate when the going gets tough.
I know being a Blues fan can be very trying at times, and really hard to see the positives, but sometimes being positive makes your life happier. Some of you should give it a try. :-)

Michael Kenrick
135
Posted 22/07/2018 at 15:30:31
Does it though, Karen? I'm a very happy person, but one thing that makes me sad is the theory expounded by people who say they are 'positive', claiming that what they call being 'negative' actually makes you sad.
I'm happy because I'm 'realistic' — neither overly 'positive' nor overly 'negative'... just realistic. If a player does something good, I can appreciate that and it adds to my happiness.
If a player does something bad, that makes me sad. Yes, they are only human, but somehow I expect more. I soon become happy again because my hope and expectation leads me to think that that player will do something good next time.
But, when he does something really poor, it tends to make me less happy again, at least with that player. I'm still happy about a lot of things in life, but not so happy about that player.
Now, compound that with game after game where you see that player very rarely do anything good, but quite often do a lot that is not so good, and some that is downright bad. It is going to make you a bit unhappy... about that player. You even might be tempted, based on the reality of his performance, to say something harsh about that player, especially on an online forum.
The reality of this complex process is that it doesn't mean you are negative, or that negativity makes you unhappy. It means that watching poor players makes you unhappy, and overly positive people then think you are negative. But you're not!
Hope this helps! ;)
Fran Mitchell
136
Posted 22/07/2018 at 15:53:24
Niasse should never start a game. He has never performed when starting. The fact is, the starting 11 goes into a match with a tactical plan and Niasse simply doesn't have the overall skillset to build a gameplan.
What he does have, however, is pace and a general ability to get into goalscoring positions which, in games where we need a Plan B or even Plan C, when we resort to long ball and the opposition defence is tired, then Niasse has value and could win us some points.
Simple really.
Karen Mason
137
Posted 23/07/2018 at 15:12:57
Hi Michael at #135.
many thanks for the low down on your roller coaster of happy and sad scenarios :-) I ascertain from that, that you have a balanced attitude towards things. There are some people who post on the site, that appear to be continually, negative about just about everything, and rarely seem to see a positive in anything at all to do with any players, club or anything else. Maybe this has been brought about by being life-long blues, so I sort of 'get it.' I am not suggesting for one moment that we should be happy-clappy, unrealistically and overly positive about everything in life. I hear only substance abuse does that for you, which I myself was drawn to when Allardyce was manager. I simply could not find anything positive to think or say about him or his management, so I too have negatives to express. But, I do think that it is good to at least try to see some good in situations/players and if you can't genuinely see anything positive, then fair enough. In this case, ie Niasse - I don't understand why some of our fans are castigating Niasse and writing him off as completely usless, when his goals per minutes played where actually better than Lukaku !?! So there is something positive about him, but folks are just dismissing him completely, with a totally negative view of him, which I don't understand. Don't misunderstand me, I am not saying that he is world class striker, but he is effective and does his job with a great attitude and is a team player. Those are all positive attributes missing from some players.
So, I know that between us, we have probably bored everyone shitless by now, so just to summarise . I was really referring to posters who consistently post negative thoughts and never a positive one seems to leave their keyboard about any topic.
If you see positives and negatives, then clearly you are not who my comment was intended for. Hope that clarifies and qualifies my post a little better for you :-)
Raymond Fox
138
Posted 23/07/2018 at 21:43:15
Niasse is worth his place in our squad, he gets at the opposition and scores goals.
He got branded as shite by some 'experts' on here and others climbed on board as often happens! He might not be a Messi but he's certainly not shite.
John Wignall
139
Posted 24/07/2018 at 15:36:06
As we know not the greatest of players knows how to score will put a shift in even when not playing well more can said of some of the other players
Add Your Comments
In order to post a comment, you need to be logged in as a registered user of the site.
Or Sign up as a ToffeeWeb Member — it's free, takes just a few minutes and will allow you to post your comments on articles and Talking Points submissions across the site.