World Cup duo back for Algarve trip
Friday, 20 July, 2018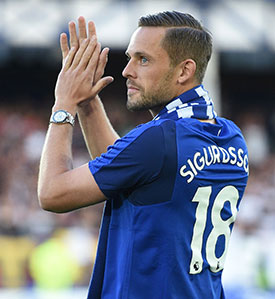 Gylfi Sigurdsson recovered from a knee injury to play all three of Iceland's group games in Russia this summer
Gylfi Sigurdsson and Idrissa Gueye have both travelled with the Everton squad for this weekend's games in Portugal after returning from World Cup duty.
The pair were ever-present for Iceland and Senegal respectively but failed to make it out of the group phase and had been enjoying post-tournament breaks before reporting to Finch Farm yesterday.
Sigurdsson successfully recovered from a knee injury that ended his 2017-18 season prematurely but, like Gueye, he is expected to form an integral part of the Blues' team under new manager Marco Silva in the coming campaign.
Jordan Pickford, whose involvement in Russia went as far as the semi-finals with England, won't be back for pre-season until later this month.
Meanwhile, Ademola Lookman (thigh), Theo Walcott (ankle), Yannick Bolasie and Cuco Martina (illness) have remained on Merseyside and will not feature in either friendly.
---
Reader Comments (19)
Note: the following content is not moderated or vetted by the site owners at the time of submission. Comments are the responsibility of the poster. Disclaimer
Minik Hansen
1
Posted 20/07/2018 at 19:30:48
Good to have them back for the next pre season game. Where was Beni Baningime against Bury?? Coyb.
Nigel Munford
2
Posted 20/07/2018 at 23:38:53
He was manning the phones on the Everton FC App help line Minik.
Steve Ferns
3
Posted 21/07/2018 at 02:07:39
Ben I was seen wearing one of them plastic protective boots against the Austrians. He's clearly still injured.
Mike Gaynes
4
Posted 21/07/2018 at 06:34:54
Cuco's probably sick from hitting that post with his header.
Steve Ferns
6
Posted 21/07/2018 at 11:39:03
Is it any surprise that 3 of the 4 who stayed behind are linked to leaving the club? Bolasie's days seem numbered. Lookman wants out and we're hardly slamming the door on Leipzig. Martina is someone we'd like to be shut of.
Leipzig can't afford Lookman if we told them the price was silly money, like the £50M we're meant to be paying for Richarlison. They don't have that. But instead reports say we're looking for £20M which they can afford.
Seems to me like Lookman will leave and the question is only the fee. I trust that Brands and Silva have carefully evaluated him and come to the conclusion that he lacks the skillset to become the level of player that a lot of us fans think he can.
I disagree with their assessment, but they're able to assess him more closely and carefully than me and they have a better eye, better knowledge, and a plan for Everton's progression and if they decide Lookman is not part of it, who am I to argue?
Tom Bowers
7
Posted 21/07/2018 at 12:12:55
A lot of speculation as usual at this time of the season and as usual Everton high on the list of media rumours.
I agree with the fact we do have a somewhat mediocre squad compared to the top six and maybe a few more and Silva needs to evaluate very quickly now if additions are to come in and be ready for the season start.
Lookman according to reports did well in Germany but Leipzig don't seem to keen on Everton's valuation price and may be pressing for a loan again so I guess it's down to Silva and what how he rates Lookman,
Jack Convery
8
Posted 21/07/2018 at 12:45:13
Welcome back to the mad house, chaps.
Ian Burns
9
Posted 21/07/2018 at 13:20:38
Steve (#6) – I have a great deal of respect for your judgement and assessments on all things football, so I would like to ask you a question, if I may but maybe I am on the wrong thread here!
Lookman not going to Portugal has a whiff of EFC making up some of the fee they are allegedly about to pay for Richarlison. So my question is - if this is, in fact, the case, is Richarlison £30M better than Lookman?
Steve Ferns
10
Posted 21/07/2018 at 14:18:37
I couldn't answer that Ian. As I alluded to, I think Lookman looks like he could be a special player.
However, if I sat down and applied my mind analytically to Lookman and whether we should sell him, I think I would have to concede that the moments he has had that showcase his skill are few and far between. For sure, a lot of this is down to lack of opportunities.
I can't stand Sam Allardyce, but he would not handcuff himself by ostracising Lookman for no reason, nor would Koeman. They both clearly thought that he was not good enough (at that moment). Even Unsworth, who rates the kid, only started him once, but then hauled him off at half-time, and gave him a handful of substitute appearances.
Compare and contrast with Richarlison, remembering they are in fact the same age, and I think applying things analytically then Richarlison is the better player. The water is then muddied by his impressive spell at Leipzig (but remember it wasn't all perfect at Leipzig).
Is Richarlison £30m better than Lookman, certainly not. But if you are Brands, and Silva tells you that he wants Richarlison and you make the following clear:
1. That's half the budget gone and you still need a left back and a centre-back;
2. We'll probably have to sell Lookman;
3. It's a massive price tag to put on the young man's head and may affect his performances that tailed off so dramatically last season.
If Silva takes all of that on board and still wants him, wouldn't you back the manager, after all he scouted him before, and worked with him for around 6 months?
William Cartwright
12
Posted 21/07/2018 at 14:41:12
Steve, it also boils down to how the manager sees the respective players contributing to the team (or squad) as a unit playing-wise and team spirit-wise. On the former we are not as informed or as qualified as the manager (usually, Allardyce and Koeman being noteable exceptions!). On the latter we really have no knowledge.
Bottom line has to be do we trust and respect the judgement of M&M? My answer is yes because I have no option really and their pedigrees are impressive and the logical structure of their respective roles seems right.
The thing that worries me about Lookman is how easily his head seems to have been turned? Again, speculative opinion, but if I were the manager and he was serious in wanting to move, it is a very difficult task to make a want-away player reverse his focus and committed individual.
Also, while I believe Lookman has a lot of promise; but I also think Richarlison is the real deal. Some Watford relatives and fans think it was sad how Marco left a real void and his influence on the players was a huge loss in spite of publicity reports to the contrary.
We could be talking about any players in this narrative, the real message is let's trust the skills of the management team and see where it takes us.
I won't lose as much sleep over losing Lookman as I did when we lost Ross. That was the real tragedy of Koeman's era for me. Left field notion; I wonder what he would do with Ross given the opportunity...?
Steve Ferns
13
Posted 21/07/2018 at 14:46:37
I wouldn't disagree with you, William, the only thing I would say is that Silva could easily keep Lookman. If Lookman was shown some love and guaranteed games, he would more than happy to stay and play. Therefore, I can only conclude that Silva is unwilling to give those guarantees and having assessed both Richarlison and Lookman, he feels the need to bring in Richarlison after being linked with Zaha and Malcom also. So, it must be that we don't think Lookman is quite good enough.
On Ross, would you rather have kept Ross and not signed Sigurdsson?
Matthew Clarke
14
Posted 21/07/2018 at 14:52:30
HI Steve @10, Likewise, I enjoy reading your posts, don't often post myself, quick question: Could it be that it's simply Lookman wants out at Everton?
He comes across as a very single-minded young man judging by what we witnessed last January when going against Sam Allardyce's advice and pursued RB Leipzig of his own volition. Lookman may feel that he's had enough of Everton and feels slighted by the club of his own perceived treatment, RB Leipzig may well of given him the royal treatment and made him feel welcomed, wanted and respected?
Brands and Silva may well rate him but, still only as a bit part player initially and still view him needing the required coaching to fulfill his potential. If as reported we're signing Richarlison as early next week, Lookman will have to settled at the beginning of the season at least to being on the bench behind Richarlison and Walcott, who in my opinion will most likely take to two wide attacking berths up front in support of Tosun.
Will Lookman have the patience and temperament to fight for the right to start? And, if video clips are anything to go by Lookman didn't look the happiest of souls on the team bus on the way to the Irdning match last week, kind of looked to be isolating himself a little from the other's with his head buried in his mobile phone.
Rangnick is obviously doing his best to pursure, unsettle and land his intended target, possibly with the knowledge that Lookman wants to leave. Do Everton keep an unhappy player or, sell for the sake of team unity? If he is unsettled and remains at Everton, it is going to take some seriously good man-management by both Silva and Brands to keep him onside whilst he earns the right to be wearing the starting jersey.
Steve Ferns
15
Posted 21/07/2018 at 14:58:47
Cheers Matthew. Could be that he wants out, certainly there was noise that he was homesick, but if that was true, wouldn't he have gone to London on loan instead of Germany?
The Echo implies that Leipzig seem to be losing confidence that they can get their man, and Silva in the same article seems determined to keep him. Maybe we could have both in blue next season.
And as I said elsewhere, and perhaps Jay and Fran our resident Brazilians might know more, but it's said that Richarlison played as a central striker before Watford, and so couldn't they both play in the same side, without necessarily being on the wings?
As regards head in his phone, doesn't that apply to most 20-year-olds? He was probably on ToffeeWeb.
Gavin Johnson
16
Posted 21/07/2018 at 15:06:45
Hope you're right about Lookman, Steve. I'll be very happy with Lookman, Richarlison and Walcott as our wide options. The latter two can also be played centrally so maybe we could have all three of them playing in some games.
Steve Ferns
17
Posted 21/07/2018 at 15:09:59
I was going off the Echo, Gavin; how do you read it? I would have thought we would have to sell two of Lookman, Bolasie and Mirallas to bring in Richarlison.
On to tonight's game. I can confirm that there's a video on the official site of Everton training in the new pink training kit (proper pink!) and Calvert-Lewin is in training and in Portugal. He must be available for selection and wouldn't have gone unless they intend to use him. Good news ahead of the new season then.
Hugh Jenkins
18
Posted 21/07/2018 at 16:38:24
Gavin (#16). Word was that Lookman's best position whilst at RB Leipzig was in the No 10 spot, ie, behind the striker – so possibly all three can play centrally and all could be accommodated in the same team, with Tosun, Calvert-Lewin or Niasse leading the line. any two of the three out wide and one playing centrally, or behind the striker.
Ian Burns
19
Posted 21/07/2018 at 16:47:33
Thanks Steve, fascinating discussion with William, Matthew. I wonder if Silva is thinking of Richarlison down the middle (maybe supporting Cenk?).
Only time will tell but for me personally I would be happy to see Mirallas, Bolasie make way for Richarlison and keep Lookman, as long as we buy a dominant centre-back!
Gavin Johnson
20
Posted 21/07/2018 at 17:04:19
I didn't know that, Hugh. Thanks for the info. I was aware that Lookman could play as a striker but never thought of him playing in the No 10 role. All the more reason to give him assurances he's gonna play a big part for us next season.
Now that Dowell is back, he and Lookman can give Sigurdsson plenty of competition for the No 10 position. Surely this would mean the end for Klaassen, and even Vlasic.
Personally I'd like to jettison Mirallas, Bolasie, Klaassen (sorry Davy) and send Vlasic out on loan for a season.
Matthew Clarke
21
Posted 21/07/2018 at 17:45:29
Hi Ian @ 19, my personal opinion is that Tosun will be the starting centre forward come the 11th August at Molineux against Wolves, the big traditional target man to hold the ball up and bring the likes of Walcott and Richarlison into play and to feed off the crosses coming in from both wings, well hopefully.
I know some on here have their doubts, lack of pace being one but, what I saw of Cenk, if he times his runs properly he's coming in late on the back of the defenders having the run on them and can do damage, I'm hoping we see more from Cenk this season with a structured attacking approach rather than the hoofball of the previous regime, but, this is just my opinion.
I've read that Richarlison can play across the front three, adding that dynamic pace to get in behind which we will need when plan A doesn't work, Walcott can also do this too. To play him behind Cenk down the middle, is this not Siggy's job or hopefully Dowell if he kicks on this season?
Add Your Comments
In order to post a comment, you need to be logged in as a registered user of the site.
Or Sign up as a ToffeeWeb Member — it's free, takes just a few minutes and will allow you to post your comments on articles and Talking Points submissions across the site.