Robinson extends his contract and joins Wigan on loan
Friday, 3 August, 2018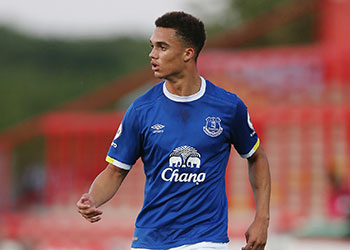 Antonee Robinson will get another season's worth of first-team experience in the Championship after he signed a new contract at Everton and joined Wigan Athletic on loan.
The promising young fullback, who has now made his senior international bow with the United States, spent last season with Bolton Wanderers and he has secured another season-long loan close to home, this time with the Latics.
Everton had insisted on securing Robinson on new terms before he agreed a new loan and he has put pen to paper on a new three-year deal.
Wigan have also inquired about signing Matthew Pennington for the season but they face competition from Leeds United.
Pennington, who also signed a new three-year contract this summer, spent the 2017-18 campaign at Elland Road and the Yorkshire club are believed to be keen to take him back.
---
Reader Comments (23)
Note: the following content is not moderated or vetted by the site owners at the time of submission. Comments are the responsibility of the poster. Disclaimer
James Marshall
1
Posted 03/08/2018 at 14:33:06
So Antonee Robinson has also gone out on loan for the season.
Robert Leigh
2
Posted 03/08/2018 at 14:41:02
Good luck Antonee.
If he does well he will be perfect back-up to Digne from next Summer.
Peter Mills
3
Posted 03/08/2018 at 14:45:38
If we are aiming for 2 players for each position it will presumably be Digne and Baines for left-back, so tying Robinson up with an extended contract and loaning him out makes sense so long as there is a recall option.
I have only seen a little of Antonee, he looked promising but some way off the finished article. Hope he has a successful loan period which develops his game further.
Dave Abrahams
4
Posted 03/08/2018 at 14:57:14
Antonee was on loan at Bolton last season. I don't know who was manager of Bolton so I can't comment on him, but I do know Paul Cooke the manager of Wigan is a well-respected manager who has done well at various clubs. He is a Scouser who played for Wolves, so Antonee will be well looked after at Wigan and will hopefully come back a better player for his experience there.
I think Connolly, who looks like he is staying at Goodison at the moment, is a better footballer than Robinson and he can also play and has played in midfield as well as right-back and left-back.
Jay Wood
[BRZ]
5
Posted 03/08/2018 at 15:05:39
Sensible move all around.
Antonee shows promise and potential, so the extended contract secures him.
But - apologies to Mike Gaynes and other US Blues - based on what I've seen in pre-season, he isn't ready for the Premier League yet.
Baines and Digne fighting over the left-back spot this season is more reassuring than last season's situation.
Hopefully, Robinson (or Connolly, as Dave mentions, or AN Other) can make a case for themselves to usurp Baines next season.
James Marshall
6
Posted 03/08/2018 at 15:19:30
My comment @1 has been moved to this thread and now looks entirely out of place. I look like a fool. More so than before.
Brian Williams
7
Posted 03/08/2018 at 15:23:16
James, nahhhh no more than usual honest mate honest :-)))
David Pearl
8
Posted 03/08/2018 at 15:52:15
Why would we give a new contract to Pennington? To protect resale value? In this crazy world he might go for 10m next summer. Or nothing. What a waste.
William Cartwright
9
Posted 03/08/2018 at 15:56:11
Dave, Connolly is slipping under ToffeeWebbers' radar. He is a super young player, not flashy but very competent in many positions. With the two players for every position approach he could either be frozen out but, more likely, find he plays as much as anyone off the bench and as a starter from time to time.
Derek Knox
10
Posted 03/08/2018 at 16:51:33
I have to agree, that this move is good all round, as it was clear from pre-season, and his performances for the U.S. National team, that he has something, but does need more experience to be a regular.
Adam McCulloch
11
Posted 03/08/2018 at 17:14:09
I actually met Paul Cook last week at a pre season friendly. A fantastic coach who will go far (he's a red, sadly) and a great mentor for a player with promise. Good luck to the lad!
Alan J Thompson
12
Posted 03/08/2018 at 17:38:41
Is this for the entire season or can he be recalled in the January window?
Frank Wade
13
Posted 03/08/2018 at 17:44:26
Following on from Dave and Adam's comments on Paul Cook, he also helped in the development of another full back, while manager of Sligo Rovers and offloaded him for a whopping 60 grand.
Dave Abrahams
14
Posted 03/08/2018 at 17:48:16
Frank. (13), Frank he obviously didn't fancy Seamus or he would have tipped off Liverpool. !!!!
Mike Gaynes
15
Posted 03/08/2018 at 18:15:54
No apologies necessary, Jay #5. Obviously he's young and has even less experience than the typical lad his age, having lost two years of U-19 footy to injuries.
So he's not the finished article, although I think he's closer to it than Peter #3 does. (We can debate it over dinner in November, Pete!) But clearly the addition of the excellent Digne makes Robinson surplus to current needs, and another season on loan will undoubtedly drive his development forward.
I still say he's a star in the making. Unquestionably the most gifted US left back I have seen in 50 years of watching, although that's not as large a compliment as you might think given the collection of turds, twats and transplants that have played the position for us. (A recent poll naming the all-time US Best 11 had a transplanted CB at left back. So did the second 11.)
Best of luck, Antonee! And thanks for your comments Frank, Dave and Adam regarding his manager.
Frank Wade
16
Posted 03/08/2018 at 18:35:26
The new management team have a stated commitment to youth and developing our young talent. The extension of Antonee's contract and this loan, seems to indicate a willingness to give promising lads every chance to make it.
Would love to see him come back and challenge for a first team spot.
Jamie Crowley
17
Posted 03/08/2018 at 19:19:28
Good move for the kid. He's got talent, and in America we're hoping he comes good. Hopefully for the Blues.
Happy this is the situation as he needs to play.
Very good loan by the Club.
Darren Murphy
18
Posted 03/08/2018 at 21:15:19
This lad has potential, he'll be banging on the Left back job soon enough. I half expected him to be Bainseys understudy this season but we got Digne in.
Mick Howard
19
Posted 03/08/2018 at 22:23:45
Had a very poor first touch against Lille and panicked under pressure however with time and space he looked good going forward. Absolutely nowhere near first team but hopefully can improve.
Steve Ferns
20
Posted 03/08/2018 at 22:34:17
Robinson is a shrewd move. He's nowhere near ready for the Premier League. Another season on loan and he could come on leaps and bounds. We also tie him down to give him and us the reassurance of a future here.
Marty Pennington got a three year deal in May? Why sign him up before the new management came in? He wasn't going anywhere. It should have been a one year deal. The lad is a good honest young lad and tries hard. But he seems lacking. Hopefully he goes on loan to Wigan or Leeds and comes back a better player.
Peter Mills
21
Posted 03/08/2018 at 23:04:51
William#9, I watched Connolly play in the 2nd half at Bury, he played well in a poor team performance.
Dave Abrahams
22
Posted 04/08/2018 at 07:41:48
Steve. (20), I think Pennington got a three year contract to increase his transfer value, I wouldn't be surprised if Everton get £2M or more for this lad, he will get a good career out of football and he will deserve it as you say Steve, a good honest lad who will never give less than one hundred per cent and he will improve.
Mark McParlan
23
Posted 04/08/2018 at 20:54:18
Being the absolutely shameful traitorous casual fan that I am, I abandoned the prospect of another Everton friendly defeat today and instead made the trip to Wigan today to watch this one. Looked a good fixture (Sheffield Wednesday bringing thousands of away fans) - and certainly delivered.
Darron Gibson played for Wigan and looked excellent, and James Vaughan came off the bench to hit the post for them, of the former Everton players.
Robinson was very good - both offensively and defensively but there were too many misplaced passed from him... occasionally caught out in defence. But he played well, and basically made the first goal. Crucial defensive interception, a fast surge forward, seemed to run out of steam and headed wide, but no, he wasn't done yet, and with an excellent burst of speed rounded the full back, and the goal came from his cross there.
Wigan fans I spoke to were likewise impressed. There's a long way to go but hopefully he's getting there. Working under a very very good Scouse manager there in Paul Cook too.
Add Your Comments
In order to post a comment, you need to be logged in as a registered user of the site.
Or Sign up as a ToffeeWeb Member — it's free, takes just a few minutes and will allow you to post your comments on articles and Talking Points submissions across the site.