Everton launch campaign to build mental health centre
Everton and their official charity, Everton in the Community, have launched a new mental health-focused campaign to raise funds to build a permanent facility — called 'The People's Place' — in the shadows of Goodison Park.
'The People's Place' campaign has the backing and support of Everton CEO Professor Denise Barrett-Baxendale, first team manager Marco Silva and the first team squad.
Through a long-term fundraising drive — due to start early in the new 2018/19 season - Everton in the Community aims to develop, build and maintain a new purpose-built facility that will become a delivery site for programmes and enable signposting to other services. The new mental health facility, subject to planning permission, will be positioned within the Goodison campus adjacent to the £1.2m People's Hub on Spellow Lane — just 500 metres from Goodison Park.
Everton in the Community has been delivering award winning, life-changing and life-saving mental health provision across Merseyside for more than 10 years, supporting more than 5,000 individuals with bespoke programmes for those in need.
The campaign will see Everton working alongside national mental health charity Chasing the Stigma at a time when the number of people seeking support for mental health related issues is at an all-time high. The charities will work together to promote positive mental health and ending the stigma and discrimination surrounding it.
'The People's Place' will provide an overarching service to anyone, regardless of age, gender, or location, to promote positive mental health and support relating to suicide awareness and prevention. The range of the mental health services available will offer clear pathways into Everton in the Community's programmes and external support all tailored to the individual.
Everton in the Community's existing long-running mental health-focused programmes and services will continue to be delivered and developed during the fundraising campaign. A community consultation will take place to ensure that the new building meets the extensive needs and requirements of the local community and brings a significant impact to people's lives through a diverse range of activities and services.
As part of the campaign Everton Football Club and Everton in the Community has also made a commitment to equip all its staff with an understanding of mental health through accredited training; educating them on mental health and how best to identify if someone is struggling with mental health issues and where and how to signpost them to support.
This training will be delivered in partnership with Liverpool headquartered mental health charity, Chasing the Stigma, who will be launching the 'Ambassadors of Hope' training programme with Everton later this month. Formed by Evertonian Jake Mills in 2016, Chasing the Stigma aims to remove unnecessary stigmas attached to mental illness by using first hand experiences to disarm and normalise the topic and change the way society approaches mental illness. The campaign will also be supported by Everton in the Community's academic research partner, Edge Hill University.
Everyone has mental health in the same way that everyone has physical health and one in four people experience poor mental health each year whilst suicide kills 150 people across Merseyside a year. Mental illness and suicide are significant public health challenges which are more common in more significantly deprived inner-city areas such as L4 where almost the entire ward of Everton falls into the most deprived five percent of neighbourhoods nationally.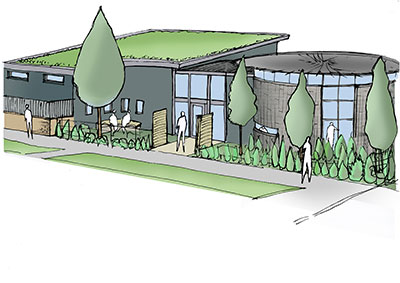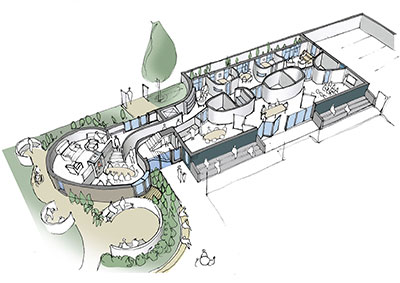 Everton CEO Professor Denise Barrett-Baxendale said: "Everton in the Community's award-winning mental health provision is regularly recognised on an international and national stage, yet we recognise the major need in our community — and beyond - to further develop, enhance and evolve our current provision.
"Mental illnesses, unlike physical injuries, are invisible to everyone but to those experiencing them. Their reality is no different and no less painful. Many people suffer in silence, unaware that helpful and supportive treatments are available. Our new facility will work to encourage people to talk more freely and will operate an open-door policy to anyone needing to talk.
"There is a real demand for this in our city and our community. Since we opened the People's Hub we have had people walk through our door seeking mental health support and I'm proud to say we have supported those individuals. Residents in Liverpool, members of the L4 community and our fans see us a beacon of hope and support.
"Working alongside colleagues at the Club, Everton in the Community, external partners, patrons, our supporters and residents we plan on using our skills, expertise and profile to fulfil our aim of building a facility that will help save the lives of people suffering with mental health issues."
Everton first team manager Marco Silva added: "Since the first day I arrived at the Club, everyone talked to me about the Everton Family. We are more than just a club, we are a family. We want to keep creating this fantastic connection between us and our fans and all of the community. We want to support them, and we want to give them something back.
"This People's Place project is important to us as a Club. Me and my staff are here to support and do everything we can."
Speaking about Chasing the Stigma's involvement in the campaign Jake Mills, Evertonian and CEO of national mental health charity, said:
"We are honoured and excited to be working with Everton Football Club to address mental health issues within our communities. It is testament to the Club that they want to build on the life-changing and pioneering mental health programmes they operate.
"The People's Place will offer an environment that that will make people feel comfortable when talking about mental health and — most importantly — that they know help is available and no one has to suffer in silence."
The 'People's Place' campaign comes on the back of the charity's successful 'Home Is Where The Heart Is' fundraising initiative that saw Everton Under-23 Manager David Unsworth and his entire team of players come together with Everton in the Community, the Club, the fanbase and the Merseyside community to raise over £230,000 to purchase and refurbish a house to support young adults on the brink of homelessness.
---
Reader Comments (11)
Note: the following content is not moderated or vetted by the site owners at the time of submission. Comments are the responsibility of the poster. Disclaimer
Dermot Byrne
1
Posted 08/08/2018 at 07:02:49
A fantastic idea and will probably have Blues fans as most of the clients after this window!
Seriously, this is another example of great work/plans of EitC.
And no, it doesn't buy a centre half, the timing can be seen as diversion from our inevitable journey to League 3, it shows a wishy washy CEO when we need a man of steel, the RS don't do such things etc but in a society where statutory MH services are pitiful and money unlikely to significantly increase long term, it is corporate responsibility at its best imho.
Brent Stephens
2
Posted 08/08/2018 at 07:16:37
Aye to all that, Dermot. We can kick the club and some of its management at times, but they do some great stuff in the community. What's not to like.
Dale Rose
3
Posted 08/08/2018 at 07:50:35
These centres mean so much to people suffering with mental health issues. Just another great example of what community means to the club.
Gary Edwards
4
Posted 08/08/2018 at 08:47:30
ahhh hence the Danny Rose rumours what a club.
Kase Chow
5
Posted 08/08/2018 at 09:11:47
Gary #4
Sorry mate, what are you referring to please?
John Otway
6
Posted 08/08/2018 at 09:26:16
Kase #4. Rose has spoken openly about his battle with depression. Gary was just being a frightfully funny little chap.
James Marshall
7
Posted 08/08/2018 at 09:38:00
Mental health is no laughing matter, and more power to Danny Rose for speaking up about it.
Kev Jones
8
Posted 08/08/2018 at 12:46:32
This is a great initiative that does the club proud and can change peoples lives just as other EiC projects do. Also good to hear in more detail of other EiC mental health work and that Marco and the players support the centre.
Interestingly, HBB has said elsewhere that she and the board do not see Everton as a 'corporate' but as a club with membership based in strong local community ties and family values. There is also a strong faith based element in EiC's work which she relates to values arising from Everton's origins as a church team.
All the more ironic if Usmanov comes aboard as the great helmsman. His billions after all are a product of the market led policies which have led to the devastation of our public services and which EiC now compensate for. Not to mention austerity, which ensures that L4 continues to suffer high levels of deprivation.
David Pearl
9
Posted 08/08/2018 at 13:06:17
Reading that the Everton area falls into the most deprived areas Nationwide isn't nice nor surprising.
When we do move to the new stadium dockside what a great way to leave a truly positive imprint on L4.
Andy Williams
10
Posted 08/08/2018 at 13:16:13
Just another reason to love this club.
Dermot Byrne
11
Posted 08/08/2018 at 13:17:51
Bang on David and just maybe this can make huge changes for those in need.
If the main business of EFC is successful, the result will be more of this.
Win Win.
Let's win on pitch.
Love it.
Add Your Comments
In order to post a comment, you need to be logged in as a registered user of the site.
Or Sign up as a ToffeeWeb Member — it's free, takes just a few minutes and will allow you to post your comments on articles and Talking Points submissions across the site.