Desire to end trophy drought burns strong in Coleman
Saturday, 11 August, 2018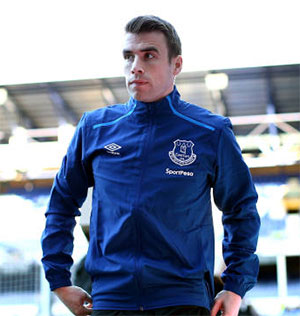 Seamus Coleman has expressed his determination to help Everton finally win some silverware, 23 years after that last FA Cup triumph.
The popular Irishman had only been signed as a raw 21-year-old a few months prior to Everton's last cup final appearance in 2009, and though the Blues have made it as far as the semi-final stage of a cup three times since, Coleman hasn't been part of a cup-winning side. (He only played the full 90 minutes in one match, the first leg of the League Cup semi against Manchester City in 2016, missing the 2016 defeat to Manchester United at Wembley through injury.)
Now, as Everton kick off their first season under the promising tenure of Marco Silva with some exciting additions to the team made over the summer, Coleman's eagerness to end the trophy drought, not just for himself but for everyone associated with the club is particularly strong.
"All I want is to bring a cup to this club," he told inews.co.uk, "an FA Cup, League Cup… win a trophy. I'm proud [to play for Everton]. It's not easy to play in the Premier League for nine or 10 years, especially at a club like this. It's a very big club.
"I want to win a trophy for the people in the kitchen, for the media team, for everyone, not just the players.
"That's what this club wants, that's what the fans want, that's what we as players should all want. Something that's really pushing me on is to do that."
It's the kind of attitude that makes Coleman the overwhelming favourite to succeed Phil Jagielka as club captain as Phil Jagielka's Everton career begins to wind down.
Not that he is taking anything for granted, not even his place in the team.
"I've loved my time here, my two girls have been born in Liverpool, I'm well settled in the city," the 29-year-old explained. "You don't just stay at clubs like this, you have to work hard every day.
"Especially nowadays with the money in the game they can go out and buy anyone so you need to keep pushing and fighting and make sure you stay in the team."
Regardless of his modesty, Coleman's ability means he will be a shoo-in in Silva's team this season, fitness permitting, of course. He acknowledges, of course, that there is competition for places but, true to character, he welcomes the challenge.
"The big one for us is Wolves," Coleman said on evertonfc.com. "I have no doubt we will be ready and we should all be excited for the new season.
"Competition for places is what you want as a footballer. The worst thing any footballer can do is get comfortable and if you do not have someone behind you, pushing you on, then you will get comfortable. That is not a good place to be.
"I think the manager said from the start he wanted two players in every position pushing each other, so I think it is only a positive and will get the best out of every player on a Saturday, because if you do not do the business there is every chance you could be swapped for the next Saturday."
---
Reader Comments (16)
Note: the following content is not moderated or vetted by the site owners at the time of submission. Comments are the responsibility of the poster. Disclaimer
Peter Anthony
1
Posted 11/08/2018 at 16:53:45
Arise Captain Coleman, lead us to glory.
In Seamus I Trust! When Marco replaces Jags with Yerri, surely Seamus must get the armband. I believe it will give him the extra authority to kick firmly up the arse any players needing a rocket fired up them...mentioning no names...Don't tell em your name Morgan.
Matthew Williams
2
Posted 11/08/2018 at 16:56:45
A true leader in the making. Make it happen, Marco.
Jim Bennings
4
Posted 11/08/2018 at 20:11:15
A trophy
A Merseyside derby win
A win away to one of Chelsea or Arsenal

Do any one of these and I might start sitting up taking notice!
Gary Russell
5
Posted 11/08/2018 at 20:25:30
We are all sitting up and taking notice Jim. We can't relinquish its hold on us/short and curlies and all that.
Dennis Stevens
6
Posted 11/08/2018 at 21:14:25
Big season ahead - the Club has never gone more than 24 years between trophies. No pressure lads!
Will Mabon
7
Posted 12/08/2018 at 01:42:25
So that's the statistic, Dennis? I was only wondering the other day, is this our longest barren spell. 24 years is a long time for a big club of this history and it's starting to "feel" a long time...
Dennis Stevens
8
Posted 12/08/2018 at 08:37:07
Aye Will, not a record Silva would want to set in his first season. Mind you, if he followed it with many seasons of successfully accruing silverware I doubt it would be held against him.
Jim Bennings
9
Posted 12/08/2018 at 09:43:17
Feel sorry for Marco in that way but it's not his fault the club is setting unwanted records.
Longest run without a trophy coming up on the horizon and longest run without a Merseyside derby win, longest run without winning at Anfield all coinciding together.
Joe O'Brien
10
Posted 12/08/2018 at 12:43:23
Jim he comes across as a manager that would relish these challenges.. he'll go out to actually try to win these matches rather than go out and try not to lose them.. like our past 3 in charge.
Lenny Kingman
11
Posted 12/08/2018 at 18:45:11
The plan is laid. The Blues are on their way back.
Jamie Crowley
12
Posted 12/08/2018 at 22:01:55
With Jags out, is there any doubt at all Seamus should be Captain?
If he's not named Captain I will be stunned.
And Seamus also mentioned another thing I noted in his Cup winning desires - The League Cup.
I personally believe we should not blow that competition off. We should aim to win it. It's a winnable tournament, and one that, if we focused our resources on, we could win.
We're not in Europe, we probably won't finish higher than 6th, so win some damn silverware and have a go at the League Cup.
People knock it, but I bet those same folks wold be thrilled with a trophy and if that came to pass, they'd stop ripping the League Cup.
I hope we have a go at that. So does Seamus, so ya I'm with him.
Peter Roberts
13
Posted 12/08/2018 at 22:51:56
Jc, agree 100%. We've never won the League Cup so why not try to win it every year?
Fran Mitchell
14
Posted 13/08/2018 at 18:06:30
Need a cup win, however I do wonder how we will set-up in the cups this season. I would imagine that the likes of Dowell, Baningime and particularly Kenny would see the Cups as an opportunity to play and stake a claim.
Coleman is not likely to miss many games, and is not likely to be subbed too often either, hopefully Kenny does not suffer as a result. Good young full back, hope he gets enough minutes to develop and in 2 to 3 years time, be a ready made replacement for Coleman.
Matthew Williams
15
Posted 13/08/2018 at 22:39:58
Ahh...the League Cup...59 years & were still waiting.
This season would be very timely indeed with our long League Cup drought. Only six wins required for Seamus to finally lift this Trophy for us.
Then, and only then, it begins... Everton are back!
Michael Kenrick
16
Posted 14/08/2018 at 16:05:01
I'm coming to this late as it was published on Friday but I see there is quite a lot more in the original iNews.co.uk article, including Seamus doing the awld fart business of bitching about how things have changed in his almost 10 years at Everton:
Much has changed about the game and its players since Coleman arrived in England in 2009, beyond the transfer fee. He cannot pinpoint exactly the cause, but believes younger players are not what they once were, in terms of character rather than talent; that the heated argument in the changing room after a 2-0 defeat to vent anger is becoming a thing of the past.

"It's definitely changed," he says. "I came over as a 20-year-old, spoke when I was spoken to, cracked on, got my head down, tried to do the best I possibly could in training. If I didn't train well or play well it would bother me until the next game I could possibly play well.

"Football was everything. Now I don't know if young players, have got that same — it's not level of respect as they are respectful — they've just been mollycoddled a bit through the academy, it's all they've ever known: good food in the canteen, state-of-the-art gyms, their kit washed for them, their socks put in their kit, grown men having to do their laundry after games for them, they get all that done for them.

"I suppose clubs are trying to make the best players they can possibly make but I think in the process you need to make sure you're making good people and personalities, because when the going gets tough in football you need good characters. I hope that side of the game, where if you get beat 2-0 you and your team-mates can have an argument and then you can leave it there, doesn't stop. Nowadays you see less and less of that happening which is disappointing."

"I just feel like you've got a hell of a lot of footballers, hell of a lot of academy footballers who probably all believe they're going to make it, but the reality is they're not, you hope you're building good people that if they don't make it they go on and do good things in their life and career. It's just the way the game's gone. It's hard to stop it."
Jim Bailey
17
Posted 14/08/2018 at 16:10:03
Michael @16, so am I. Is there a chance you could run a poll as to who people would prefer as captain?
It's Seamus for me.
Add Your Comments
In order to post a comment, you need to be logged in as a registered user of the site.
Or Sign up as a ToffeeWeb Member — it's free, takes just a few minutes and will allow you to post your comments on articles and Talking Points submissions across the site.