Vlasic seals season-long switch to Moscow
Wednesday, 15 August, 2018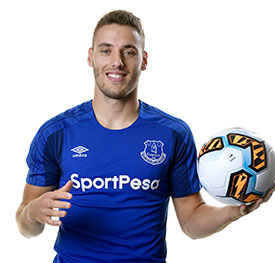 Nikola Vlasic's reported loan to CSKA Moscow for the season has been confirmed.
The 20-year-old, who was unable to convince new Everton boss Marco Silva that he was ready for a regular spot in the first-team at Goodison Park, will get the chance to continue his development in the Russian league.
Vlasic was signed by Ronald Koeman a year ago after he impressed in the two-legged Europa League qualifying play-off against Hajduk Split and made 11 starts in all competitions, scoring two goals.
---
Reader Comments (36)
Note: the following content is not moderated or vetted by the site owners at the time of submission. Comments are the responsibility of the poster. Disclaimer
Phil Smith
1
Posted 15/08/2018 at 20:05:52
Aye, shift him out for a season. Still very young and has to step-up quick. Hope he has a great season out east.
Jack Convery
2
Posted 15/08/2018 at 20:10:12
Good luck Nikola - come back and show us what you can do in 2019-20..
Kelvin Thomas
3
Posted 15/08/2018 at 20:12:45
Is he any better than the players we currently have on our books that are of a similar age and similar position?
Richarlison, Lookman, Dowell, Sandro, Calvert-Lewin all ahead of Vlasic in my opinion and of a similar age.
Walcott, Sigurdsson, Bernard and currently Bolasie are established players ahead of Vlasic.
I belive his Everton career is over.
Best of luck Nikola Vlasic.
Brent Stephens
4
Posted 15/08/2018 at 20:14:40
Sorry it didn't work out for the lad. Sock it to them at CSKA.
Ian Bennett
5
Posted 15/08/2018 at 20:34:57
Hopefully he impresses to give Brands more transfer tokens.
Gordon White
6
Posted 15/08/2018 at 21:16:21
Good luck. If you get some serious game time and do well it will benefit both parties. And you never know....
Bill Gienapp
7
Posted 15/08/2018 at 21:21:58
Good move. He wasn't going to get any playing time this season, but - given his potential - I think it's premature to just cut bait on him. Let's see how this loan move turns out and re-assess next season.
Liam Reilly
8
Posted 15/08/2018 at 21:23:57
Good or bad season in Moscow, he's never coming back.
Gordon White
9
Posted 15/08/2018 at 21:27:44
Good luck!
Minik Hansen
10
Posted 15/08/2018 at 22:16:09
All the best to him at the Russian league. He's got talent, if he works hard, who knows how good he will get. COYB.
Paul Smith
11
Posted 15/08/2018 at 22:22:09
Rubbish and desperate Koeman signing.
Eddie Dunn
12
Posted 15/08/2018 at 22:24:35
A panic buy.

Fran Mitchell
13
Posted 15/08/2018 at 22:34:50
Hopefully a decent season for him and we can recoup a good fee for him.in a year.
I think he has ability, just not sure where he actually fit's in. Feel hed be best as a No 10 and when he matures, maybe a No 8.
Not got the pace nor the power to be effective from wide positions.
David Ellis
14
Posted 15/08/2018 at 22:40:05
Wage bill knocked down. Hopefully he plays well and we get a decent offer.
Tony Everan
15
Posted 15/08/2018 at 22:45:17
Do we have to split any profit on him?
Si Cooper
16
Posted 15/08/2018 at 22:54:27
At 20 there is still time for him to develop. Are CSKA in European competition?
Martin Berry
17
Posted 15/08/2018 at 23:09:03
I had high hope for him as I thought he had a lot of ability. I think it was over-shadowed by poor decision making after winning the ball.
He is still young and I think he will do very well given time. Don't write him off yet he may well surprise just needs playing time.
Good luck to the lad!

Derek Knox
18
Posted 15/08/2018 at 23:12:53
Sorry to be a fly in the ointment, but I am not quite sure why we bought him in the first place.
He has seldom featured under three different managers, and when he has been given the opportunity, has looked well below a game changer.
I wish him all the best, in whatever future he has, but seriously can't see it being with us.

Kase Chow
19
Posted 15/08/2018 at 23:23:44
I thought he was decent without being amazing. He didn't actually DO that much for us but also never really had a chance.
There's definitely a player there. Let's see how he develops.
James Flynn
20
Posted 16/08/2018 at 00:55:02
Speaking of the out-bound. Check out Wayne at DC United. The set-up is DC United Manager going for the win, so sent his keeper forward. Didn't work out and a defender booted the ball up the left flank in front of a running teammate.
Just go here to 1:25 minutes and watch the old boy Wayne: Link
Si Cooper
22
Posted 16/08/2018 at 01:15:01
Last season Vlasic was younger than Wilfred Zaha was when he moved to Manure and flopped. 5 years later some pundits believe Zaha is ripe to try again at a top-of-the-league club.
There is no way you can realistically judge how every player will turn out before they've even reached 21. I remember some said Lookman was making a big mistake going to Leipzig.
Victor Yu
23
Posted 16/08/2018 at 02:23:05
We should send Calvert-Lewin out on loan for a year too.
Ed Prytherch
24
Posted 16/08/2018 at 03:16:38
He is a jack of all trades and a good athlete but he is not excellent at anything, a bit like Jags when he arrived at Everton. Maybe he will specialize in one position at CSKA and become a more valuable player.
John Smith
25
Posted 16/08/2018 at 07:28:41
Better than Sandro and bolasie and lookman (at the moment, potentially no).
Victor Yu
26
Posted 16/08/2018 at 07:59:10
Bolasie is not that bad actually. He could be a decent option off the bench (too expensive for that role though).
If money is not an issue I would give him a chance to be a late game option.
Tony Everan
27
Posted 16/08/2018 at 08:03:06
An impetuous buy after the Split qualifier, a raw punt. There was never any real starting place or role for him.
Coming to us has stalled his development due to lack of competitive game time. I hope he gets his career back on track at CsKA and we have a valuable asset .
Hypothetically, Would Brands and Silva be signing such a player now, on what he showed for Hajduk? I very much doubt it.
Sam Hoare
28
Posted 16/08/2018 at 08:03:14
I think there's a very decent player in there and hope he does well in Moscow. He's way too young to write off after one season in a new country playing for a team where even the senior established pros could hardly manage a 5 yard pass.
Rob Dolby
29
Posted 16/08/2018 at 08:33:17
He has a lots of potential but was a victim of the number 10 stockpiling from Walsh and Koeman. Playing him on the wing wasnt helping anyone.
Hopefully he comes back a better player in a more stable environment.
For me I want Dowell to have another loan spell and come back physically stronger for the challenge as I think he is the one that could break through.
Jim Byrne
30
Posted 16/08/2018 at 08:38:59
To use Davey Moyes's well chosen line, this player is one for the future.
One or two disappeared into the mist at Finch Farm...
Derek Knox
31
Posted 16/08/2018 at 10:09:29
Rob Dolby, I don't think Dowell's physical strength is the problem, he does have a tendancy in games to fade, or almost disappear. When involved he is no doubt an asset. Forest fans have mixed feelings about him, for that very reason.
The other thing I have noticed with him, is if he is dispossessed of the ball, he seldom goes looking, trying to get it back.
Rob Baker
32
Posted 16/08/2018 at 10:30:55
Very odd signing from Koeman/Walsh. He will not play in an EFT shirt again
Tom Bowers
33
Posted 16/08/2018 at 11:50:35
It is a fact that Everton do have and have had many young players who for one reason or another fail to make the expected impact and Vlasic and Dowell are just two who come to mind.
They seem to do well initially then just fade and are moved on.
Another young hopeful moved on, Hallam Hope scored an absolute cracker this week for Carlisle.
Anyone else see that ?
Steve Ferns
34
Posted 16/08/2018 at 12:03:57
Good luck Nico, I hope you do well and get a good move elsewhere and we pocket some cash.
Kristian Boyce
35
Posted 16/08/2018 at 15:53:00
I always thought he was an odd transfer. He came in with relatively no fanfare for some decent money for a 20 year old. Basically we signed him after watching the 2 European games and he really didn't stand out that much against our very poor team.
He was a bit of a mystery man and pretty much forgotten about as his appearances were few and far between. Hopefully the Russians will like him and pony up some cash for him next year.
Joe McMahon
36
Posted 16/08/2018 at 20:34:42
Reminds me of the Moyes classic Scott Spencer 3 years at Everton and no first team appearances. I think he went on to non leage football. For all those who says Moyes in the Transfer Market was brilliant, for every Arteta there was a Scott Spencer.
Darren Murphy
37
Posted 17/08/2018 at 07:33:28
Another 50/50 signing for me, I think like others he didn't really see enough time on the pitch and I do see a decent player in him to be fair. Best of luck to him, we can always sell if nothing changes as he's young.
Add Your Comments
In order to post a comment, you need to be logged in as a registered user of the site.
Or Sign up as a ToffeeWeb Member — it's free, takes just a few minutes and will allow you to post your comments on articles and Talking Points submissions across the site.