Everton ease through with the help of Calvert-Lewin brace
Everton 3 - 1 Rotherham United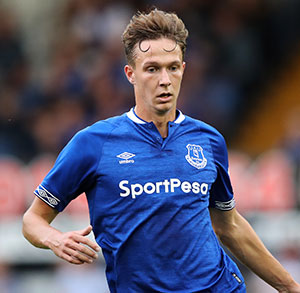 Kieran Dowell makes his first start of the new season, as do Kurt Zouma, Jonjoe Kenny and Sandro Ramirez
Everton are into the draw for the Carabao Cup third round after what was a largely comfortable win over Championship side Rotherham United.
In addition to the changes enforced by the injury to Michael Keane and Richarlison's suspension, Marco Silva made six other alterations to the team that started at Bournemouth, with Jonjoe Kenny and Lucas Digne coming into the fullback positions, Kieran Dowell and Sandro Ramirez the wide men, and Oumar Niasse and Dominic Calvert-Lewin starting up front.
Sandro remains the subject of speculation linking him with a return to La Lige on loan, with some reports suggesting he could be off to Real Sociedad, but he got another opportunity to prove his worth in the team.
Tom Davies was the designated holding midfielder in Idrissa Gueye's absence through injury and the young midfielder was given the honour of captaining the side for the first time by Silva.
There was no place in the squad for Ademola Lookman, however, with the official line being he has a groin problem while Bernard, a player who it was assumed would also make his home debut, apparently had a muscle strain. Idrissa Gueye, meanwhile, had a knee strain and wasn't in the squad.
In front of the highest attendance for a League Cup second round tie at Goodison Park for 50 years, Everton started in nervy fashion at the back but a nice move involving Digne and Niasse almost generated a first opening for the home side in the early minutes.
Gylfi Sigurdsson forced the first save from Price in the Rotherham goal midway through the first half but though the 'keeper spilled it, he was able to save again as Calvert-Lewin slid in.
Everton did score a few minutes later, however, to settle the nerves. Sandro took on his man and fired the ball across the box, Sigurdsson stuck out a leg and diverted it past the 'keeper to make it 1-0.
Rotherham came very close to equalising almost immediately but the ball ricocheted off Zouma and bounced wide of Stekelenburg's goal.
Back at the other end, Sandro cut in from the left flank and tried one from distance that Price again spilled but it eluded Sigurdsson in front of goal.
The Blues continued to look a little ragged at times at the back and Sean Raggett should have equalised but spurned a great chance but Everton responded with Davies side-footing a shot that Price got behind to deny the midfielder six minutes before the break.
Niasse had the final effort of the first half when he connected with Kenny's cross but the Senegalese striker could only put his volley into the stand behind the goal.
Everton were the stronger team in the early stages of the second half and when a Sigurdsson free kick just past the hour mark bounced to Digne, the Frenchman swung a cross to the back post where Calvert-Lewin nodded home to double the advantage.
Niasse should have made it three not long afterwards but he headed Sandro's cross over from six yards out.
Rotherham rallied late in the game and went disturbingly close to making the game interesting before Stekelenburg was forced into a save with five minutes to go.
And from the resulting corner, a glancing header was sailed in by Will Vaulks to make it 2-1.
The Rotherham comeback was snuffed out immediately at the other end, however, when Calvert-Lewin cut back on his right foot and curled a beauty over Price and inside the far post to restore Everton's two-goal advantage.
Everton: Stekelenburg, Kenny, Holgate, Zouma, Digne [Y], Sigurdsson (66' Walcott), Davies, Dowell, Ramirez (86' Schneiderlin), Niasse (73' Tosun), Calvert-Lewin. Subs not Used: Virginia, Baines, Coleman, Pennington.
Attendance:
31,972
---
Reader Comments (235)
Note: the following content is not moderated or vetted by the site owners at the time of submission. Comments are the responsibility of the poster. Disclaimer
Jeff Armstrong
1
Posted 29/08/2018 at 18:51:31
No Bernard... is he injured?
Robert Leigh
2
Posted 29/08/2018 at 18:51:34
Assume Bernard is injured, and Lookman is off?
Gavin Johnson
3
Posted 29/08/2018 at 18:52:34
Sadly, looks like Lookman's gone then.
David Pearl
4
Posted 29/08/2018 at 18:54:04
So is Lookman really injured? And Sandro... this is the last match of a 7 team accumulator. Should I cash out?
Brian Porter
5
Posted 29/08/2018 at 18:54:47
Stekelenburg, the weakest link.
Dave Abrahams
6
Posted 29/08/2018 at 18:55:18
Have I read that Davies is captain or have I read it wrong?
Brent Stephens
7
Posted 29/08/2018 at 18:55:19
Davies is captain.
Gareth Clark
8
Posted 29/08/2018 at 18:58:16
Any streams?
Bill Gienapp
9
Posted 29/08/2018 at 19:00:39
Buzz in the papers is that either Sandro or Lookman will go and the other will remain as cover. The fact that Sandro's starting and Lookman isn't bodes, shall we say... ill.
Unless Lookman really is injured, or Silva just thinks his head won't be right until the transfer window is shut.
Simon Spencer
10
Posted 29/08/2018 at 19:05:27
Who said Lookman was injured?
Kieran Kinsella
11
Posted 29/08/2018 at 19:13:53
What a terrible team. I imagine maybe Silva thought Bernard isn't ready yet for the blood and thunder of a Championship team.
But, Sandro? Really? Sketelenburg? Three spectators in midfield, slow-motion moving Dowell to stand around for 90 minutes between fighting with Siggy over corner-kick duty. Niasse as a wild card is the only hope really.
Maybe he can do it all by himself and hope the strangers in the back four quickly strike up a good understanding. Is Calvert-Lewin injured? Three defenders and a defensive mid on the bench? Are we hoping to nick a goal and park the bus?
Simon Bradley
12
Posted 29/08/2018 at 19:14:34
Lookman: Everton career over, sadly.
Bernard: where the hell is he — did he get injured in the few minutes he played Saturday?
Ramirez — WTF? He's leaving. We play him. He gets injured. Deal off. Everton that.
Liam Reilly
13
Posted 29/08/2018 at 19:15:32
It's possible that Lookman is refusing to play to force a move; as his first team opportunities will likely be limited to cameos when all players are fit.
If so they the price should be set extremely high as ze Germaans have a lot of money banked from their own sales.
John Malone
14
Posted 29/08/2018 at 19:17:18
Bernard is being left in cotton wool as we have no other left winger for Saturday and Lookman is obviously a goner; we're just playing the game like Barça did to us to get maximum dough.
Chris Gould
15
Posted 29/08/2018 at 19:18:25
Sky Sports News report that Calvert-Lewin starts and that Gueye isn't in the team or on the bench.
The Echo has it the same, so I think we can assume it's right.
Pat Kelly
16
Posted 29/08/2018 at 19:19:28
Bernard not even on the bench? How many crocks did we sign?
Lookman is off. Why play Sandro? Who wants to see him play? Are we keeping him warmed up for a loan deal!
Guess we've no interest in this cup. Just like every other Premier League club.
Mike Gaynes
17
Posted 29/08/2018 at 19:19:42
Deal off? What deal, Simon? All we have is unconfirmed reports from Spanish papers of possible interest. No reports of contact, negotiations, anything like that. There's no deal.
Gareth Clark
18
Posted 29/08/2018 at 19:20:40
OFFICIAL:
According to the Everton Site:
-Lookman is ruled out with a groin injury
Also;
- Gueye has a knee strain
- Bernard has a muscle strain.
- Gomes has suffered a set back with his hamstring injury & will be out for a further 3 weeks.
- Jagielka has a knee cartilage injury that will rule him out for the next 3 weeks.
a
Jay Wood
[BRZ]
19
Posted 29/08/2018 at 19:22:20
Blimey, the conspiracy theorists don't waste time on offering all sorts of speculation on a simple team selection, do they?
It's certainly an attacking lineup. I note Rotherham have made EIGHT changes from their last Championship game, so they are not exactly at full strength themselves.
Two seasons ago Norwich of the Championship did similar...and still turned us over 2-0 at Goodison, so our boys need to be on it from the off.
This is a chance for a number to push their case to be in, or closer to, the starting XI. If that isn't motivation enough, what is?
Len Hawkins
20
Posted 29/08/2018 at 19:24:05
Bernard has gone to watch Richie Rich with Fred, Jo and Allison.
Pat Kelly
21
Posted 29/08/2018 at 19:30:44
'Gomes has suffered a setback and out for a further three weeks.' Mina out indefinitely? Were we sold a pup. Or a litter? But we have Bernard. Oh wait!
James Stewart
22
Posted 29/08/2018 at 19:30:44
What a shocking team. Silva clearly wants out of the competition!
Michael Nisbet
23
Posted 29/08/2018 at 19:38:51
Don't suppose there are any streams for those of us 500 miles away from Liverpool?
Jay Wood
[BRZ]
24
Posted 29/08/2018 at 19:49:37
Davies definitely skipper for the night. Confirmed on official club site.
Already up and running with live audio commentary.
Not sure if it's available for UK-based Blues.
Tony Twist
25
Posted 29/08/2018 at 19:55:49
Jesus wept what a team selection! Risky, the honeymoon period ain't long at Everton, Mr Silva. I am not entirely sure, apart from the defence, how that team is meant to fit together!
Phil Smith
26
Posted 29/08/2018 at 20:15:44
The one player with true class shows the B team how to get her done.
Steve Ferns
27
Posted 29/08/2018 at 20:44:58
They've looked alright. Davies playing well but should have buried his chance. Sandro hit a great cross low across the box. Niasse has been poor but he had a great low cross as well.
It's a much changed side with Dowell in the playmaker role and we're comfortably slicing them open in attack. Three changes at the back, four with the keeper, and it shows.
Alan Rodgers
28
Posted 29/08/2018 at 21:18:15
Nice one, Len Hawkins @20.
John G Davies
29
Posted 29/08/2018 at 21:32:46
I'd bet my last nicker someone will post "DCL's goals show this is his level".
Kieran Kinsella
30
Posted 29/08/2018 at 21:39:51
DCL's goals show this is his level.
Mike Allison
31
Posted 29/08/2018 at 21:39:56
All the pre-match comments seem to have disappeared. Just as well for those posters criticising Calvert-Lewin. Great to see his name on the scoresheet twice, here's hoping we see more of him.
Steve Ferns
32
Posted 29/08/2018 at 21:44:33
I thought we played well. Silva kept us on the pitch to hug the players and applaud the fans again.
Richarlison was at the game, he tried to drive (as a passenger) down Gwladys Street when he got a few looks and then mobbed!
Don't ask me what formation we were playing. It looked like Calvert-Lewin was up to top. Sandro was wide, mainly on the right. Gylfi was left but came inside. No idea where Niasse was meant to be, surely not the no10, but that's where he was the most. Any ideas?
Dave Williams
33
Posted 29/08/2018 at 21:45:03
The goals will do his confidence the world of good.
I'm away on hols at the moment — how did the boys play?
Steve Ferns
34
Posted 29/08/2018 at 21:45:48
Oh and we (the fans) are very unhappy with the marking on corners. Zonal marking is going to be a massive problem and that's when we're winning.
Steve Ferns
35
Posted 29/08/2018 at 21:46:40
Good in attack, Dave; dodgy in defence, Holgate apart.
John G Davies
36
Posted 29/08/2018 at 21:48:25
That's a nicker you owe me, Kieran.
Only an even money shot, but a cert is a cert.

Dave Williams
37
Posted 29/08/2018 at 21:49:51
Thanks Steve; how was Digne — any threat to Baines?
And Dowell — how did he fare?
I would normally have listened to the OS radio commentary but I was eating late in a cracking hotel/pub in Exford and couldn't be so rude as to listen at the restaurant table!
Clive Rogers
38
Posted 29/08/2018 at 21:50:05
Steve, #32, I've no idea at all, been watching the telly.
Jay Wood
[BRZ]
39
Posted 29/08/2018 at 21:54:04
Job done.
It sounds like Kenny, Dowell, Davies and Calvert-Lewin all played well.
Quite amusing, glancing at the live forum, how some who clearly don't care for Tom and Dominic in particular tried to give the impression that they were watching the game, and making judgement calls on plays that they couldn't see.
Here are Everton's 3 goals:
Siggy with the first: Link
Calvert-Lewin with the second: Link
And Calvert-Lewin again with the third: Link
Steve Ferns
40
Posted 29/08/2018 at 21:54:59
Digne was good. He's got good delivery and he used his right for Calvert-Lewin's first.
Dowell played alright, he'd hope for better. He was deep in a playmaking role alongside Davies. He had a few chances and looked more comfortable when Schneiderlin came on and he went forwards.
32,000, not a bad attendance. But it was a very quiet crowd.
Jay Wood
[BRZ]
41
Posted 29/08/2018 at 21:56:10
Biggest League Cup crowd at Goodison since the 1960s, I think the club match commentary reported it as, Steve.
Richard Mason
42
Posted 29/08/2018 at 21:57:46
Heard Sandro was alright in first half, any news on him in 2nd??
Kieran Kinsella
43
Posted 29/08/2018 at 21:58:23
I actually like Calvert-Lewin -- he reminds me of Sheringham in that he is smart, makes some clever passes to set up others etc. The problem with him is that his shooting is poor. If we can work on that then he could be really good. If not, then I don't think he will become a regular at this level.
Sandro on the other hand has work to do as his solitary Everton career goal has now been equaled by a solitary career goal by Saido Berahinho at Stoke. Stekelenburg was good 10 years ago, Dowell has to learn to run, tackle, participate and do more than just take a few nice pot shots. Zonal marking? wonder if that will be Silva's Achilles heel?
Steve Ferns
44
Posted 29/08/2018 at 21:59:17
Sandro has a few good moments. moments aren't enough though. He would struggle against a top side. He hits a good cross though.
Steve Ferns
46
Posted 29/08/2018 at 22:01:28
Kieran it's all about how much goodwill Silva can get in the bank. If he has enough he'll be okay. If he has a downturn in results (loses a few) then I'm sure the knives will be sharpened.
Richard Mason
47
Posted 29/08/2018 at 22:02:40
Thanks, Steve. Pity really, I thought he was gonna be a shrewd buy. He was just poor last season. I could see him gone tomorrow.
John G Davies
48
Posted 29/08/2018 at 22:04:47
Kieran,
Did you see the finish for the 3rd?
Steve Ferns
49
Posted 29/08/2018 at 22:05:55
Richard, rumours at the ground (I'm still inside) are that he's already gone. His deal is in place and he leaves on loan before Friday.
Why he'd be risked is beyond me. It doesn't make sense.
Kieran Kinsella
50
Posted 29/08/2018 at 22:08:49
John
No I didn't see it so maybe he has improved. I was basing my comments on watching him over last season. A lot of times he seemed to scuff it or hit a weak shot at the keeper, even a few of his goals trickled over the line. If he got a good goal tonight that is indicative of a general improvement then I will be over the moon.
Peter Mills
51
Posted 29/08/2018 at 22:09:41
I am very pleased we are through to the next round.
I am really puzzled that a highly paid coach cannot organise a defence.
Kieran Kinsella
52
Posted 29/08/2018 at 22:10:00
Steve
If that is true it does seem reckless to risk him getting injured tonight.
John Keating
53
Posted 29/08/2018 at 22:11:36
All the youngsters played wee Jonjoe Kenny was great competition for Seamus. I think Digne should start. Nearly everything came through Davies. Sandro, I'm afraid, will never make it here.
Defensvely we are shocking. Any sort of set piece we are liable to concede. They had a couple of really decent chances they should have buried but then so did Niasse!
I cannot see us keeping a clean sheet against anyone this season unless Silva sorts this zonal shit out quickly.
Brian Williams
54
Posted 29/08/2018 at 22:11:54
Sandro's had enough chances now to show if he's good enough: he's not.
Tom Davies had an outstanding game. Nothing Hollywood but everything he did he did well.
Holgate was also outstanding.
Jay Wood
[BRZ]
55
Posted 29/08/2018 at 22:12:07
For the first, good retrieving of the ball by Dowell in their penalty area, on their goal line, and a tidy lay off back to Sandro. Nice shifting of the ball and a good hard low ball hit into the six-yard area. Sandro has played this kind of delivery before. Interesting that it was Siggy who got on the end of it, centrally, ahead of Niasse (left) and Calvert-Lewin (right).
Duff free kick from Siggy into the wall, quickly picked up by Digne who easily made space for himself and hung up a beaut of a ball to the back post for Calvert-Lewin to head in. Good movement by Calvert-Lewin to keep onside and remain in a threatening position after Siggy's failed free kick.
The third goal is a beaut, from back to front. Zouma from central defence to Digne at left back. Long ball played into the Rotherham half, headed clear towards the touchline by a central defender. Calvert-Lewin gathers the ball in tight to the touchline with a defender up his backside. Protects it well and lays it back in a tight situation to Digne. The ball seems to bounce off the full-back, rather than be a controlled pass, to Tosun, who lays off a short ball to Tom Davies near the centre circle in Rotherham's half.
Tom comfortably carries the ball forward 20 yards to the edge of their penalty area before playing in Calvert-Lewin (who kept moving from his earlier play), on the left, in their penalty area, perhaps more or less parallel with the penalty spot.
Calvert-Lewin controls and drags the ball back a tad with one touch and with his second touch, curls a beauty into the top right corner.
Rubbish that Calvert-Lewin, inhe?
John G Davies
56
Posted 29/08/2018 at 22:13:19
Kieran, It's on a link above. Nice finish.
I know where you are with the shooting of Dom, he is very raw and I agree with you on your point. I think he has got a chance of being a decent forward though.
Kieran Kinsella
57
Posted 29/08/2018 at 22:13:30
Peter Mills
In fairness, Silva identified CB as a problem area. His number one target Mina has yet to play, his first back-up was Jags -- sent off in game one, next option Keane -- stretchered off game 3, next option Holgate limped off tonight.
It is tough to organize a defense when it changes every 45 minutes. Hopefully, once things settle down, they will improve and get the gist of this zonal marking malarkey.
Kieran Kinsella
58
Posted 29/08/2018 at 22:14:29
John G Davies
I really hope so. I am definitely rooting for him.
Steve Ferns
59
Posted 29/08/2018 at 22:15:00
Maybe he's on shit wages and we thought we needed to play him with the injury issues?
I think the defence will take until after Christmas to look good. The main problem though is that the Defending looked a bit too casual. Yet, backs to the wall with 10 men and maximum effort we can defend. So is it the coaching or the mentality of the defenders?
Kieran Kinsella
60
Posted 29/08/2018 at 22:18:13
My one worry with the new signings is have you lot seen "Escape to Victory" when Michael Caine gets the Germans to find him a handful of East European stars. They turn up, but not quite in the shape Michael Caine was expecting.
Steve Ferns
61
Posted 29/08/2018 at 22:19:40
Holgate didn't limp off. He finished the match. He felt his left calf after winning a sprint, so I'd hope that's just cramp.
Can anyone watching on TV comment on Jamie "Elbows" Procter? It looked like he caught Zouma.
John Keating
62
Posted 29/08/2018 at 22:20:38
Steve, you were there tonight. That defensive shit is not the mentality of the defenders. God knows we've had enough of them there since the start of preseason and every one of them is struggling. They can't all be wrong.
Whatever we are being coached daily is not working Silva has to change it and go man for man or persevere with this and hope we score more than the opposition.
Dave Williams
63
Posted 29/08/2018 at 22:21:17
Travelling up from Devon this Saturday – anyone around for a beer before the game?
Steve Ferns
64
Posted 29/08/2018 at 22:23:54
I can meet you early Dave. But I have to get in the ground early.
John Keating
65
Posted 29/08/2018 at 22:27:54
Little bit of aggro tonight in the Bullens. Unusual these days. Seemed sorted quickly but a shame to see as the Yorkies were having a good time.
David Barks
66
Posted 29/08/2018 at 22:30:33
That's the 4th different defensive lineup in 4 different games and we expect it to all be defensively sound already? I sure as hell don't. Digne's first start in England. Zouma and Holgate first time partnering together. And Kenny's first match. Not to mention a completely different midfield. We gave up a goal but won 3-1.
The anti zonal marking cries are similar to all those "Go 4-4-2" shouts they had been happening for years. Zonal marking is what just about every single top club and manager uses. It takes time for the players to learn something new. This season is supposed to be about laying that foundation. More goals are conceded from man marking, statistically.
Gordon White
68
Posted 29/08/2018 at 22:32:21
Sky are showing highlights on the net. Great goals from Calvert-Lewin.
I don't always agree with the team selection. But you can't argue with the result. Job done.
Jay Wood
[BRZ]
69
Posted 29/08/2018 at 22:34:18
As already pointed out by others, we are just four games into the season, but we have not been able to have continuity with a settled defence yet.
In two of those games, we had to play 55 minutes with just 10 men.
Jags sent off against Wolves...
Collective hypersomnia for the Ings' goal against the Saints...
Richarlison sent off against Wolves, plus Keane's injury...
Another shuffling of the defensive pack tonight...
Have we conceded some soft goals? Most certainly.
But given the circumstances, it's a tad premature for me to already conclude that Silva is somehow 'failing' to organise the defence.
If we are still conceding soft goals and unable to keep clean sheets come the end of September, mid-October, then it may be cause for concern.
I'll give the manager and the team the benefit of the doubt for now.
From the audio commentary, they were critical of the defence not being switched on in the first half in particular, but it sounds as if Kenny had a storming game - Ian Snodin nominated him as MoTM above 2-goal DCL - whilst Digne was also heard to link up well in attack. Not clear how they performed defensively, mind. It sounds as if the centre backs had a couple of nervy moments.
Gordon White
70
Posted 29/08/2018 at 22:38:41
I listened to it on TS; it sounded like Kenny and Digne played really well.
John Keating
71
Posted 29/08/2018 at 22:39:19
David, I don't know if you actually saw us marking up tonight? Everyone was looking at everyone else and nobody was quite sure what was going on or where they were.
Admittedly we had a new centre-back pairing but this has been consistent since pre-season. I'm right behind the Park End goal and you can actually hear them screaming at each other. We are two months in now and not one of them seems to have an idea.
When they were attacking the Park End tonight, it didn't take an expert to know what was going to happen We were just lucky it was only once cos it could easily have been two
If professional footballers can't sort themselves out after 2 months, then something's wrong somewhere, regardless of how long someone has played alongside someone, some things to me are basic.
Peter Mills
72
Posted 29/08/2018 at 22:40:08
Kieran #57, I respect your view and will accept it for now for the reasons you put forward. I am just worried about Silva, his awful defending at Watford, his awful defending at Everton so far.
If it changes and if, as others suggest, his team gets a grip, I will be absolutely delighted. I am not attacking Marco Silva, his record so far is ok (against lower level teams) but the defensive play has been poor.
Dave Williams
73
Posted 29/08/2018 at 22:41:33
Steve, early suits me fine as the coach should arrive around 1.
We park alongside Stanley Park. Where do you reckon?
That's great – be nice to put a face to the name!
Sam Hoare
74
Posted 29/08/2018 at 22:46:06
Are there any teams that don't concede soft goals? If there are then they are usually title-winning teams.
So long as we are fun to watch and winning more than we lose then I'll be fairly satisfied. For this season at least.
Jay Harris
75
Posted 29/08/2018 at 22:48:10
John, there was a weird guy with no shirt on, lots of Everton tattoos, wearing a balaclava and a farmer's hat. He was making a lot of noise and unsettled the stewards who got the cops to evict him. I think it kicked off after that because the guy didn't cause any trouble, everyone was laughing at him.
As to the game, an outstanding night for the kids who all played reasonably well with Jonjoe the MotM for me. Zouma looked immense letting nothing pass him.
Siggy pulled all the strings; when he went off, we slackened up again and, as Steve Ferns alluded to, were fast asleep for their goal. Nothing to do with tactics just players standing around thinking the game was won.
Honorable mention for Sandro who was superb in the first half put some great crosses in.
Disappointed with Niasse and Tosun as neither contributed much.
Great for Calvert-Lewin whose critics can't now claim he doesn't score goals.
John Keating
76
Posted 29/08/2018 at 22:59:07
Thanks, Jay, I was wondering what was going on as it was unusual.
I have to say I can't understand the stick Calvert-Lewin is getting tonight as I thought he played well and, if given more opportunity in the middle rather than stuck out on the wing, he will do well for us.
Regarding Steve's opinion of us switching off, well, in my opinion, it's happening too often. Players are given a zone and anything in that zone should be attacked and dispatched pronto. We just look around and seem quite surprised the ball is there.
Now I'm no expert but, to me, if a professional footballer is given a 1-, 2-, 3-m area to defend and to attack any ball that comes in that area, well I would have thought a real thicko could grasp that in, let's say, a day. Obviously our lads can't!
Jay Wood
[BRZ]
77
Posted 29/08/2018 at 22:59:23
Now 11 goals and 7 assists in 58 appearances for Calvert-Lewin, more than half of those from the subs bench.
At the same age – 21 years and 5 months – Graeme Sharp who is the yardstick some measure Dominic by (Everton's second highest goalscorer after Dixie Dean, Everton's leading goalscorer in the post-2nd World War period) – had been at Everton for two seasons and made just 3 appearances with no goals scored.
Dominic is doing just fine.
Steve Ferns
78
Posted 29/08/2018 at 23:00:38
If you're that end then the Royal Oak.
Gary Willock
79
Posted 29/08/2018 at 23:02:01
Clearly got work to do defensively, but got to admit it's nice to start with 5 in attack at home – guess that's the trade-off sometimes. Thoughts on the players:
Stekelenburg – we need better as back up!
Kenny – not enough to take Coleman Journey, but he's not far away at all. Keep him in at cups, the lad deserves that at least.
Holgate – classy at times, but scary as hell. Can he cut those mistakes?
Zouma – not bad first game, should keep place until Keane or Mina fit.
Digne – good performance, skilful, energetic for me, he's now edging Baines.
Davies – wow! Who the hell was that? Top drawer from our young captain.
Dowell – played next to Tom from what I could see. I would like to see him in the No 10, but not role but not at the expense of Siggy.
Sigurdsson – classy, skillfull, purposeful.
Sandro – mixed feelings. Did okay, takes the ball well, some good crosses, looked for the ball but he's no Walcott or Richie! Not a starter.
Niasse – love that kid, so unorthodox, but he's awful on the ball and not a starter.
Calvert-Lewin - top drawer. He's a handful for defenders, and two great goals. Any dip from Cenk and this boy should get a run.
John Raftery
80
Posted 29/08/2018 at 23:02:34
A comfortable win with a much-changed team. Several players played their first competitive match this season. Calvert-Lewin joined Baines, Coleman and Jagielka on double figures for goals for the club.
Davies, Dowell, Kenny, Holgate, Calvert-Lewin and Niasse were regulars in the Under-23 team the season before last and acquitted themselves well. So job done despite our inability to defend corners. That is three goals conceded from corners in each of the last three games.
Gavin Johnson
81
Posted 29/08/2018 at 23:04:19
It sounded like Sandro had a good game tonight.
Eric Paul
82
Posted 29/08/2018 at 23:04:34
Is right, Jay.
Dave Williams
83
Posted 29/08/2018 at 23:07:39
Where is that, Steve?
What time?
John Wright
84
Posted 29/08/2018 at 23:10:55
Dave Williams (37 & 63) top location Exford, surprised you got a signal tho!! Is it a regular trip to the game? Presumably with West Country Blues?
David Barks
85
Posted 29/08/2018 at 23:11:33
It's not been 2 months, only a month. Zouma has only been here 3 weeks. Digne only a month. Holgate missed almost all of preseason and Kenny hadn't played this season until tonight. Furthermore the first time these group had actually been on the pitch together. And to add to that, a new keeper, who is usually the one to command the box.
It always takes time, always. That's why Lyndon and The Esk have repeatedly written about "Patience" being required this season. Everyone laughed at Pep that first season, no trophies, giving up sloppy goals. Said he was naive to England. Last season they hardly give up a goal. He uses zonal marking. He also has 11 men back for corners. Sari said he expects it to take 3 months for his defenders to learn his system. Patience, please.
Dave Abrahams
86
Posted 29/08/2018 at 23:12:05
I thought Kenny, Zouma and Digne had very good games along with Davies and Sandro until he tired, Sigurdson played well as did Dowell in spells. Niasse had a poor game it cannot be denied and Calvert-Lewin had a mixed game but scored two, one an excellent shot from a distance. So that's quite a few who had good games IMO but the defence as a whole defending was chronic, especially from set pieces, no rhyme or reason to the way they defend.
Rotherham missed a sitter in the first half when the defence was just sliced open; Rotherham just walked through us. And again in the second half another fine ball left the substitute striker through on his own but couldn't keep his head and fired yards over the bar.
So some good play; we could have scored a couple more but you are left with that defence. It really doesn't look like they are ever going to keep a clean sheet. Unless Silva gets to grips with them, and sorts it out, you can see some hammering being handed out to The Blues.
Dan Brierley
87
Posted 29/08/2018 at 23:16:36
I think Calvert-Lewin reminds me of James Vaughan, but thankfully minus the injuries. He's a decent footballer, and chips in with goals. But as many others, I don't see him growing into a prolific, world-class striker. And this is what we are going to need if we have serious top 6 aspirations.
Tosun, Niasse and Calvert-Lewin are all decent grafters, but they don't strike fear into any body's defence in the same way that Lukaku did. We need that type of striker that can pull us out of the shit when we are playing badly, by converting half chances and bullying defenders into mistakes.
Lev Vellene
88
Posted 29/08/2018 at 23:17:17
Very happy. Could have been worried with all the changes, but figured they'd know each other somewhat from this season's training. So happy for DCL, now do the same when given a chance in the PL!
Paul Rimmer
89
Posted 29/08/2018 at 23:17:35
Kenny, Zouma and Digne played well. I thought Holgate was bullied a bit by their No 9. Niasse was poor but I was pleased that Calvert-Lewin got his goals. Rested a few so roll on the weekend.
Brent Stephens
90
Posted 29/08/2018 at 23:19:45
Delighted with Dowell's performance. A player with vision and the ability execute a quick pass – just what Silva wants. He always looked good in the U23s (if looking lethargic, lazy at the same time – more his mannerisms). He was a good replacement for Schneiderlin tonight, though he interchanged well with Davies.
Garry S
91
Posted 29/08/2018 at 23:21:08
I was at the game tonight. We definitely played a 4-2-3-1 (or 4-2-1-3) with Niasse behind Calvert-Lewin.
At the match, Kenny got Man of the Match though he wasn't my choice. I actually thought Sandro was our stand-out player in the first half. He definitely lacks fitness and we didn't see much of him second half but I still think there's a decent player in there somewhere.
Digne didn't do much wrong and got forward a lot more than some said he would when he came in. Quite a similar player to Baines I'd say.
We didn't really get out of second gear (nor did we need to) all night.
The biggest disappointments of the evening were the number of backward passes, particularly from Davies and Dowell in the first half, and also the entire Rotherham team. Obviously I'm pleased we won but in terms of entertainment I would have liked Rotherham to put themselves about a bit more in the way that lower league teams often do in the cup.
But all-in-all a good night. No-one had a terrible game, no injuries noted and onwards to the third round. Sensible subs from Silva aswell. Schneiderlin even had a hand in the third goal straight after coming on. Fair play to the Rotherham fans for making noise all night because we certainly didn't.
Dave Williams
92
Posted 29/08/2018 at 23:25:01
John,
Exford is a lovely place. Spent the day at Lynmouth and Linton and Valley of the Rocks.
Yes, West Country Blues coach at 7:45am. Running a 57-seater which Is a credit to the great organisation of Ron and Mike — great bunch of people who go.
Paul Thompson
93
Posted 29/08/2018 at 23:27:45
I endorse what others at the match said. Niasse was dreadful.
Stand out for me was Digne. Two-footed, assured, lovely cross for the second goal.
Jamie Crowley
94
Posted 29/08/2018 at 23:28:15
Couldn't watch the game today - not televised.
Could barely listen - too much work.
Highlights for me tonight!
I'm thrilled we won, and very happy to hear some TWers I respect mention Zouma Destroyer of Villages had a great game, as well as Dowell. I like both those players, it's nice to hear they played well.
Also very happy Tom Davies got the armband and again, aforementioned respected TWers said he played well. I really like Davies. Seems I'm in the minority, but that's a position I'm comfortable with. I think the kid will grow and develop further, and he's got superb talent in my opinion.
David Barks - I have to say your comment about zonal marking being the new 4-4-2 shout-out I couldn't disagree with more. It's all about opinions they say, but I for one detest this zonal marking I've seen thusfar. And I don't give a fart about whether other teams do it or not.
As my 100% Irish-American Mum used to say, God rest her soul, "if everyone else jumped off a bridge, would you?"
Hate it Dave. It's nothing to do with some 4-4-2, try this thing abstract shout out.
But that's been done to death.
A win! Happy days let's win this damn tournament. 31,000+ in attendance would suggest a lot of fans care about this and would like us to have success in this tournament. I'm with them.
John Wright
95
Posted 29/08/2018 at 23:32:01
Mike, WCB on my list to join — I'm getting too old to drive from Bideford every other week!!!
Steve Ferns
96
Posted 29/08/2018 at 23:32:03
Sorry Dave. Had to go on TalkShite.
Royal Oak is the Park End side. If you come out of the Park End car park then the road kind of straight on is Spellow Lane. Go to the end of Spellow lane (past the Everton school) and the pub on the corner (with County Road) is the Royal Oak. I'll get there for 1pm.
Dave Williams
97
Posted 29/08/2018 at 23:39:42
I know it Steve.
I will be in a dark suit I'm afraid so you should pick me out very easily,
Mobile number is 07776 140 932
Thanks Steve
Dave
Steve Ferns
98
Posted 29/08/2018 at 23:41:34
See you then Dave.
Dave Williams
99
Posted 29/08/2018 at 23:42:06
John, it really is a great way to go. I used to drive on my own and it's an awful long way back after a bad display.
The people on the coach are friendly and it is very relaxing.
Lawrence Green
100
Posted 29/08/2018 at 23:44:42
I'm made up that Calvert-Lewin scored a brace tonight.
As for those Brazilian based Blues who think it was unfair of me to compare Calvert-Lewin to Sharpy on another thread, I wasn't really, as my post was more a response to someone who had posted that Sharpy was at Dumbarton when he was Calvert-Lewin's age. He clearly wasn't as he had already made his Everton debut.
If Calvert-Lewin goes on to score half as many goals for Everton as Sharpy did, I and most Evertonians will be more than happy for him.
John Wright
101
Posted 29/08/2018 at 23:49:01
Cheers Dave, heard nothing but good reports, hope to see you on a coach shortly mate.

John Keating
102
Posted 29/08/2018 at 00:00:27
I'm all for patience — after almost 60 years, you have to be.
Maybe being spoiled with players who could defend: TG Jones, Labone, Harris, Wilson, Megan, Tommy Wright... then Ratcliffe, Mountfield, Stevens etc etc. Now, I see good defenders either not allowed to defend or coached out of defending.
Since the arrival of Martinez, we have been extremely poor in defence, even with Allardyce! I know Silva has to be given time and, so far, attacking wise it is certainly on the up but, in my opinion, although Brands and he know our defensive weakness they are not helping themselves.
Silva needs to sort this out. I cannot believe we need weeks or months for this. We have players who have played in different systems all over the world.
Silva has to be adaptable. Try going man for man, try something because, whatever he is doing right now, it is not working or is not getting through to the players.
I cannot believe a professional footballer cannot understand "This is your zone — attack any ball that comes near it!" We need to pick up runners coming in to attack the ball and we are doing neither.
Sorry but we're not talking rocket science here — just players told to do a job and, whether it's a day, week or month they've been here, if they can't do it, then there's something far wrong.
Danny Broderick
103
Posted 30/08/2018 at 00:08:40
Zonal marking is all well and good if your own men can win the header. However, the advantage that 'man-to-man' has is that you can stop a goal even if you don't win the header. You can put the attacker off, block his run etc.
Set-pieces are more prevalent in England than in other European leagues. Silva might have had success in Portugal and Greece with zonal marking, but it doesn't appear to be working for him in England. He might have to adapt his approach if we keep conceding goals this way.
I think we should judge him once we have got a settled defence though. We've had so many injuries and suspensions, even though we are only 4 games in. Let's see how we get on once Mina is in there, maybe alongside Kouma – although I thought Keane had his best game in a blue shirt at Bournemouth away.
John Boon
104
Posted 30/08/2018 at 00:17:55
Completely agree with John Keating (102).
I am probably about the same age and era, possibly even a tad older and have seen all of the great defenders he mentioned. Just disagree on the "even Sam Allardyce" line. I have forgotten all about him and don't think he should ever be used as an example of anything to do with Everton or football in general.
This Zonal Defence system totally confuses and confounds me. I do like Silva's approach to coaching but "Man Marking" to me makes far more sense. I would like to hear other opinions on how to defend successfully.
Darren Murphy
105
Posted 30/08/2018 at 00:19:09
Good win lads, on to the next one.
John Keating
106
Posted 30/08/2018 at 00:20:14
Danny, I fully agree Silva needs time but we shouldn't have to wait to have a "settled" defence. Injuries and suspensions mean we can never be certain to have the same back 3 or 4 every week.
Every defender in the squad should be expected to come in at any time and be comfortable with the system.
We learned a free kick routine in one training session the day before the Southampton game that paid off. Is it not possible in one week to show the defence where to stand and what to do???
I just cannot believe those who think this is something special! Though it obviously is for our lot!
Jamie Crowley
107
Posted 30/08/2018 at 00:22:09
The zonal marking thing was done to death on another thread by Darren Hind, but I'll encapsulate for everyone.
I, Jamie Crowley, stated the best way to defend was to leave one player up top, have one player mark a "zone" on each post, and 7 players in the box marking a man.
The general consensus was that I was a genius, and was carving new ways of thought into tactical soccer.
As I rode an ass into the town of ToffeeWeb, contributors laid palms before me.
That's pretty much our zonal marking discussion in a nutshell.
Rob B Williams
108
Posted 30/08/2018 at 00:23:23
Zonal marking, my ass – did you see it? A better chance of defending the DMZ. All lined up like rabbits in the headlights .
I understand that our resident Zonal guru needs to be in the ground early on Saturday – no doubt giving the players a lecture on the vagaries of Zonal Marking before they allow the opposition the freedom of the Zone.
Zonal... ffs!!
Clive Mitchell
109
Posted 30/08/2018 at 00:26:42
Well done lads, purposeful, attacking, great to watch. Special mentions for captain Tom, Kenny and 'Dixie' Digne. As for Sigurdsson, I said when we signed him that he wasn't worth £45 million: I was 100% wrong.
Jay Wood
[BRZ]
110
Posted 30/08/2018 at 00:44:33
In other news, I see that the Independent Press Standards Organisation (Ipso) investigating the Daily Telegraph's 'entrapment' of Sam Allardyce when England manager has found largely in favour of the newspaper in 22 out of 25 complaints our (fleeting) former manager made against their expose.
Naturally, the big fellah is still claiming a victory and continues to pursue the FA for 'damages' from them for his 'premature sacking'.
David Barks
111
Posted 30/08/2018 at 01:28:09
I really am going to hate to see what this place is like when we eventually lose our first match. Jesus Christ.
Sean McCarthy
112
Posted 30/08/2018 at 01:30:37
Gavin (81). He didn't!!
Apart from a couple of crosses (the one that led to the 1st goal was actually deflected) he was awful. He's a truly poor player. He'd genuinely struggle to get into any premier league side on a regular basis.
If he's off on loan as is the rumour, my only regret is that he's not taking Niasse with him because he is fucking embarrassing!! He might work hard and run around a lot but he simply doesn't look like a footballer! He wouldn't have got into Rotherham's side so how the hell does he get anywhere near Everton's?
On the plus side, as stated by a few above, Davies had an outstanding game as did Holgate. I thought Kenny did well despite having Sandro in front of him for the majority of the game. Digne looked okay but I thought he looked slow and reluctant to overlap.
For me Baines should still be ahead of him in the left-back position. Maybe a few more weeks acclimatisation will see an improvement. Dowell looked like he had all the time in the world and looks a classy player in the making. My only real worry with him is he too seems to lack any pace and that ultimately may cost him in the premier league. Zouma is a seriously big unit and will slot in alongside Holgate quite nicely.
Of the rest all did ok but I feel the jury is still out on Tosun. I for one am not convinced by him. He only had 10 minutes or so tonight and I don't recall him getting in the box at any point. Yet another one who lacks any pace and mainly, for that reason, I doubt he'll ever be the 20 goal a season player we need. His lack of pace allows defenders to push him back into his own half as they're confident of catching him if he's ever played through.
Oh and zonal marking is scary to watch!! But we won (comfortably) so I'll take that.
Simon Smith
113
Posted 30/08/2018 at 01:35:41
Seen a few tweets tonight with so called fans complaining about Davies being made captain, I must say, me for one am pleased with the decision.
Some of our fans should get off the back of our youngsters and get behind them.
Laurie Hartley
114
Posted 30/08/2018 at 01:41:00
John Boon # 104 - "opinions on how to depend". Well from my point of view Jamie Crowley has more or less got it covered in his post at 107.
A full-back on each post would have almost certainly stopped all three of the goals conceded from corners in the last three matches – definitely the latest.
Lyndon also provides a clue: "And from the resulting corner, a flicked-on header was converted by Will Vaulks to make it 2-1." Put a man who is good in the air on the corner of the six-yard box. (Like they used to do in the olden days) ;)
Victor Yu
115
Posted 30/08/2018 at 02:11:05
I don't think Sandro is that bad. If people are willing to be patient with Davies and Calvert-Lewin, then why can't we show the same patience on Sandro?
Gary Russell
116
Posted 30/08/2018 at 02:24:16
On another note, this makes the FA look like a right proper outfit.
https://www.bbc.com/sport/football/45342196
Nicholas Ryan
117
Posted 30/08/2018 at 02:33:28
Zonal marking is fine... it's just that we appear to be marking 'The Twilight Zone'!
Jamie Crowley
118
Posted 30/08/2018 at 03:11:37
Just watched the 20 minute highlights on the OS. Highlights don't lend themselves to any in-depth observations, but I noticed five things that I was very pleased with.
Davies is a great young player. He simply glides with the ball when he needs to, and will conversely play tough when called for. He looked very good. I can't understand the criticism of this 20 year old.
Zouma is indeed a beast. He looked very, very good in the highlights. Showed for the ball quickly when off it, defended seemingly well, and he's a big, big dude but not slow in the least.
Digne was flying down the left hand side constantly in the highlights. That kid loves to run forward, and it's exciting to watch. He pulled men with him even if the ball wasn't played to him. I liked the look of him a lot.
Kieran Dowell is a player. Looks as cool as the other side of the pillow.
Kenny loves the long ball up the right hand side. And he's very good at placing it. Good to see him back out there.
Now none of the above may get into our starting 11 currently, but I'm confident any of them called upon in Cup games, through injuries, etc., will be more than capable.
And we will need them through the course of this season.
Lee Jackson
119
Posted 30/08/2018 at 05:14:20
Jaime, one of the best things I've ever heard/read on TW: "Looks as cool as the other side of the pillow."
I doff my hat sir.
Darren Hind
120
Posted 30/08/2018 at 06:07:40
John Raftery
If you are logged on. I have to say what a shout that was predicting a brace for Calvert-Lewin on the pre-match thread. Especially before the team had been named.
I remembered it because I thought he was due and was thinking of having a small bet on him too . . .but a brace ?
One minor complaint; if your going to make outrageous predictions like that in the future, tell us the order in which the goals will go in - I backed him to get the first

Jerome Shields
121
Posted 30/08/2018 at 06:43:37
Zonal marking is okay, but the defender has to get to the ball first and make no unnecessary errors. This is where the real problems are in defence.
The goal Everton conceded was similar to the goal conceded on Saturday. The forward in both cases getting in front of his marker. Either way, whether man marking or zonal, the forward lost whoever was marking him or whoever was marking in that zone.
So, since the start of the season, Everton have conceded two goals from flick-on headers and two from unchallenged crosses from the left wing. My question is: Why is more attention not be paid to these weaknesses in the training ground? I prefer the Holgate - Zouma partnership because there are less errors.
Midfield played okay. Sandro is struggling to hit the standard required and was never worth the contract he was given. But then no-one bought in that time was worth the money paid for them.
I am disappointed in Niasse. Is he being played too deep? I think he is better leading the line. Maybe he needs to be up against it to perform. Tonsun is similar.
I have attacked Tonsun since the start of the season for not being able to beat his marker. Maybe Silva wants him to come deep and lay off balls. The problem is it allows the opposition defence to play higher up the pitch.
Calvert Lewin got two goals and credit to him for being in the position to get them and taking them, which Niasse and Tonsun failed to do.
It's important Everton do well in both cup competitions. I hate not being able to watch Everton in the latter part of the season. The time off doesn't seem to not do the players any good. Also, if Everton get into the top four, how are they ever going to cope with playing in the Champions League if they have only been able to play for a full season in the Premier League?
James Hughes
122
Posted 30/08/2018 at 07:06:23
Does anyone know when the draw for the next round is?
Amit Vithlani
123
Posted 30/08/2018 at 07:30:02
Brent @ 90,
I heard too that Dowell did well and was pleased for him. However Paul Traill's match report tempered this by indicating he blew hot and cold. Would be good to have your take.
Victor @ 115,
You raise an interesting point – Sandro is slightly older v, Davies, Lookman but has kopped much more flak. The issue I think is that he is not quick, tall or particularly strong. He has shown some flashes of excellent dribbling and technique. Moreover, he is on a much higher wage and was brought in "on the cheap" to great fanfare as his value was supposedly higher. He has failed to live up to expectations and does not appear to have many suitors or admirers.
I think he needs a return to Spain - as he does not justify such a significant wage given his role as a back-up. Also, if we can't bin him off I suppose Silva has no option but to get the best out of him, which means playing him wide or deeper as he is not equipped to be a centre-forward.
Also if some of the wisened heads are to be believed, a striker is only fit to play at the highest "level" if he bags 2 at the Kop End. This stick was used to beat Calvert-Lewin with and would almost certainly apply to Sandro too.
You talk of unfair criticism being hurled at some players and do have a point, although in Sandro's case, hindsight, which is a wonderful thing, shows the club may not have done the best thing in agreeing to a very hefty contract for the lad.
Bill Griffiths
124
Posted 30/08/2018 at 08:37:52
Tonight 7pm James.
Martin Berry
126
Posted 30/08/2018 at 08:47:38
It was a win, Davies was Captain and Calvert-Lewin scored a brace and some of the fringe players got a run out so it can't be bad.
As for the zonal marking that keeps getting mentioned, just give the team a little time and patience to get used to Marco's new ways.
Brent Stephens
127
Posted 30/08/2018 at 09:00:32
Amit, to take in the totality of every player's performance, both sides, and all of the (changing) tactics, isn't easy. So my take on Dowell might be biased by what I've seen of him before in the U23s.
Sure there were less good bits last night, which we can say about any player's performance. But his awareness of what's on around him, his ability to slip a man, and to execute a lovely, incisive, first-time pass is mouth watering for me. And I'm sure Silva sees it.
Victor Yu
128
Posted 30/08/2018 at 09:17:17
Digne has to be the starting left-back after this performance, I suppose?
No more argument needed.
James Hughes
129
Posted 30/08/2018 at 09:23:44
Thanks Bill.
Christy Ring
130
Posted 30/08/2018 at 09:36:28
A bit confused regarding Richarlison suspension, the new rules mean he's misses the next 3 league games, so how was he ruled out of the cup game as well?
Brian Harrison
131
Posted 30/08/2018 at 09:40:11
Once again undone by a goal from a header at the near post from a corner, this was also the case against Southampton and Bournemouth's equaliser. This has happened in 3 success games so we can't put it down to bad luck. I am sure Silva and the coaches are aware of it, but they need to sort it very quickly as this could be a real problem if not sorted.
James Marshall
132
Posted 30/08/2018 at 09:42:24
Christy – he's banned for 3 domestic games. Doesn't matter what competition, so he'll only miss 2 league games (last night was game ban No 1).
Jay Harris
133
Posted 30/08/2018 at 09:44:40
We should not blame the centre-backs for headers scored by the opposition when clearly not in their zone. The whole team went complacent and lethargic just before their goal (Something to work on, Marco!) but, if you watch the replay, Tosun totally stood off his man and gave him a free header.
I thought Holgate and particularly Zouma gave a very good account of themselves last night.
Robert Workman
134
Posted 30/08/2018 at 09:56:10
I feel sorry for Calvert-Lewin. I was following the game via Evertontv commentary and the TW Live Forum. If he had not scored, he would have been criticised for not scoring. He did score 2 good goals and still received criticism on the Live Forum for "only" scoring against a Championship team.
Tony Everan
135
Posted 30/08/2018 at 10:00:18
Brian @131,
This weakness from corners will not go unnoticed. Bet your bottom dollar Huddersfield and West Ham will be doing extra practice on the training ground before playing us. They will definitely see it as weakness.
It's up to Silva and the training staff to drill and alert the players to their responsibilities. Essentially, do our own defensive practice on the training ground.
I don't want the likes of Huddersfield or West Ham sneaking a draw through poor marking for a corner.
As Jay says, it is not just the centre-backs' responsibility, but there needs to be more vocal organisation of the defence in dead-ball situations.
Neil Wood
136
Posted 30/08/2018 at 10:01:40
I'm gunna talk Sandro. Wether he goes or not remains to be seen but I for one would definately keep him.
Technically I think he is very gifted and I don't think we have given him enough of a chance. I know some will shoot me down in flames and baulk at this saying he's not taken his opportunity etc. But, like someone mentions on this thread we have seen the likes of Calvert-Lewin, Davies, and Kenny to name a few struggle in games and not exactly look world beaters.
I watched the extended highlights and focussed on Sandro. He obviously had the assist but in addition to that he had a couple of near misses himself and two or three really really good crosses which I would think Tosun would of enjoyed way more than Niasse!
I think as an alternative to Theo on the right it's stupid if we don't keep him. We have Richie and Lookman for the left, Theo and Sandro for the right.
I just think people have an opinion on him but let that cloud any judgment — he was one of the stand-out players last night. You don't play in Barcelona's first eleven and have nothing about you .

Tony Everan
137
Posted 30/08/2018 at 10:09:47
Sandro did okay, at home, against Rotherham. Stepped up to Premier League level, he has struggled.
He hasn't had a prolonged run in the side and it does take young foreign players long to adapt sometimes. There is a desire and a decent player there. If Lookman goes, it could make sense to keep him for cover. Walcott will need managing time-wise. Sandro could take the slack and push for his place.
Victor Yu
138
Posted 30/08/2018 at 10:12:18
"...Sandro did okay, at home, against Rotherham. Stepped up to Premier League level, he has struggled..."
Same for Davies and Calvert-Lewin though. I just don't understand why people show so much patience on them both but not Sandro.
It is not Sandro's fault that we handed him a big contract. Give him a break!
Christy Ring
139
Posted 30/08/2018 at 10:25:53
James @132,
That's the reason I asked, because Sky Sports said at the weekend, he'd miss the Arsenal match, which is the 3rd league game, as the rules have changed, and domestic cups aren't counted anymore?

Bill Griffiths
140
Posted 30/08/2018 at 10:36:57
It's live on Sky Sports James.

Brian Williams
141
Posted 30/08/2018 at 10:49:57
Neil #136,
I watched the whole game. Highlights can be very misleading. Take MotD when they didn't even show our disallowed goal against Soton.
Sandro's just not good enough in my opinion. Yes, he does the odd technically good thing (but nowhere near often enough) but he also falls way short in other areas and that showed last night against a team far inferior to ours, a team he should have been able to really shine against.
I'm not favouring others to his detriment I'm going on what I saw last night and what I've seen when he's played before.
Brian Harrison
142
Posted 30/08/2018 at 10:54:18
With the loan deal for Sandro as good as done by all reports, then that just leaves the Lookman business to be sorted. I have believed all along that Silva wouldn't sell him, equally I didn't think he would play him till his head was right.
Once the window closes on Friday, then it will be very much a case of you are going nowhere till at least January. Every time Silva has been asked about Lookman he has said the same thing, that he is the present and the future of Everton. I think Silva hoped those words would be enough to persuade Lookman to get his head down and work, and only those inside Finch Farm know whether thats happening or not.
I don't think anybody believes he has a groin injury. But I think Silva rates him very highly — that's why I would be amazed if they let him go.
John Keating
143
Posted 30/08/2018 at 11:00:47
I have to agree with Brian.
You can only tell it as you see it and as Brian says Sandro just hasn't got it yet. The right team in possibly another league then maybe.
I'm not sure why Calvert-Lewin has received such criticism; I thought he did very well last night, in fact, all the youngsters did well, in my opinion.
I hope Silva keeps faith in this group of younger players. Obviously, he has quickly and hugely improved us going forward hopefully soon we will see some improvement at the other end.
Jon Withey
144
Posted 30/08/2018 at 11:05:46
Excellent second goal for Calvert-Lewin – he even started off the move. Hoping Silva makes him the decent player he can be. Let's see where he's at after this season.
Different players but Calvert-Lewin seems that little bit more useful to the squad than Sandro. I'd be happy to keep both though.
Mike Allison
145
Posted 30/08/2018 at 11:16:05
Basically, our general principle needs to be to judge players on what we see from now on, rather than opinions based on last season. All of our players have ability and potential, and they also have flaws and weaknesses. You can choose to focus on their positives, or you can choose to focus on their negatives. Whichever you do, it probably says more about your outlook than the player themselves.
They've all got a chance to prove themselves and it makes far more sense to 'wait and see' than it does to commit to a fixed position and try to defend it no matter what. You're going to end up trying to interpret the evidence to suit what you already think rather than basing what you think on the evidence.
Steve Ferns
146
Posted 30/08/2018 at 11:26:09
The FA
Christy, don't take our word for it, see what the FA say. Richarlison is available for Arsenal.
The confusion is over one game suspensions. If you miss one game only, then that has to be in the competition you received it in. This is the rule change.
However, 3 match bans can be served in all domestic competitons. Imagine getting sent off in the FA Cup, you might end up banned for 3 years because of a 3 match ban!! So no, Jags is available for selection again after doing his third game last night. However, it's reported he's had a knee injury and he's now out Injured. Richarlison misses two more.
Check out Richarlison's Instagram page. He's loving life at Everton. Also Yerry Mina was with him, and he seems a really character. These two played together as teammates in Brazil and so seem friends. Mina clearly speaks Portuguese and so fits in with Gomes, Richarlison and Bernard. As well as young Virginia.
Sam Hoare
147
Posted 30/08/2018 at 11:39:02
I only watched the highlights but looked liked a load of positives for me. There's been many a year when we have slipped up or made harder work of worse teams than Rotherham, who are mid-table in the Championship at present.
Lots of the second string got a run-out and most of them showed some good moments.
The main negative being the goal we conceeded but, in a way, it's good to highlight again to the coaching team the work that needs to be done on defending set-pieces. If we can tighten up there, then, given the amount of chances we seem able to create, we will be looking pretty tasty.
Rob Halligan
148
Posted 30/08/2018 at 11:43:27
Steve, going by what you're saying about one game suspensions. I'm sure Adam Smith, who only received a one game suspension after his sending off last Saturday, was suspended for Bournemouth on Tuesday night in their League Cup game.
Geoffrey Williams
149
Posted 30/08/2018 at 12:05:30
Strange we watch the same match but have such different views on players' performances. I thought Holgate struggled at times with the physicality of some of the Rotherham forwards and he was particularly weak in the aerial duels.
Digne was neat and tidy but not as good as some are making out. Dowell had a very quiet start to the game but got better and better as the game wore on. For me, Davies had his best 90 minutes as an Everton player. He worked hard and his passing was 100% better than of late. Niasse proved once again that he just isn't good enough but still has the ability to surprise me at times. I have absolutely no confidence in the goalkeeper.
Finally, I thought Sandro had a good game. He doesn't look like he'll ever score but his passing and link-up play was surprisingly good. If he stays, I hope the fans give him a break now and then.
John Raftery
150
Posted 30/08/2018 at 12:20:25
Darren (120) Thank you, that will be my once-a-season correct prediction! My apologies for not predicting the correct order!
The appointment of Tom Davies as captain surprised most of us last night. I think I have worked out why Silva appointed him. In terms of club appearances, he was the 'senior' player with 44 starts and 25 substitute appearances. The next two with most club appearances were Holgate with 40 (4) and Calvert-Lewin with 29 (27), substitute appearances in brackets.
Alan Ball used to quote his father saying to him after his first appearance for Blackpool 'come back and tell me you're a player when you have played 50 matches' or words to that effect. That so many of last night's team are in the very early stages of their career is quite encouraging but we should be cautious about rushing to judgment whether negatively or positively about any of them.
Brian Wilkinson
151
Posted 30/08/2018 at 12:21:05
Dave@37, I would say a very big threat to Baines on last night's showing, so composed on the ball, did some great attacking down the flank and seems comfortable with both feet, very impressed with the guy.
For the older generation, anyone remember John Barton special agent we had in defence, seemed to be so relaxed and cool with the ball? Digne seems to have that same aura about him.
I was one of the biggest shouters to bring Tierney in from Celtic; more than happy to say Digne has changed my view.
Special mention to Sandro, he worked his bollocks off last night, played out wide so never got close to link up in the box. Until we play the guy more central, I feel he will be more of a contributor than a goal scorer.
Brian Wilkinson
152
Posted 30/08/2018 at 12:31:20
Geoff @149, spot on – we watch the same match but differing views, I thought Holgate had a good game tonight.
If you thought Digne was not as good as some thought then it bodes well when he gets even better, for a first 90 mins at a new club, I cannot see what more Digne could have done, taking into account playing a new system new teammates and getting 90 minutes under your belt.
That was a full debut to be proud of, capping it off with putting in a pinpoint cross with his right foot for Calvert-Lewin's first goal.
Craig Walker
153
Posted 30/08/2018 at 12:49:49
I only followed the game last night via the website commentary and I managed to catch the highlights this morning. I'd be interested to know what fellow Blues thought of Zouma's performance. How did he do?
Digne sounded like he had a good game to me from an attacking point of view. Hard to tell via the commentary though because it tends to be on the positive side whereas TW opinion is the complete opposite.
I'd be interested to know how Zouma performed though.
Brian Williams
154
Posted 30/08/2018 at 12:54:46
Craig (#153),
Zouma grew into the game after a bit of a shaky start. Quite solid, and quite rapid too. Think he'll be just fine for us.

John Raftery
155
Posted 30/08/2018 at 12:56:44
Brian (#151),
I remember John Barton. He came from non-league Worcester for £30,000 and was like a breath of fresh air in Gordon Lee's team in 1979. Many predicted great things for him but unfortunately he broke his leg after 25 appearances and never regained his place in the team. He had much in common with Seamus.
Dave Abrahams
156
Posted 30/08/2018 at 13:07:03
Brian (#151), I agree with you about Sandro, I thought he played well until very late on, and he moved into the centre as Sigurdsson was going off but Walcott coming on told to stay on the wing, Sandro looked a bit disappointed with that.
I like Sandro, he has never had a good run in the team. Maybe he isn't up to 90 minutes of battling and fighting for every ball in the Premier League but I'd like to see him play 10 successive matches and see how he performs.
Then again, he might be off by tomorrow night and we will never find out.
Merle Urquart
157
Posted 30/08/2018 at 13:19:08
Happy to eat my words.
Calvert-Lewin scoring twice — his second was a pearler.
Well done, young man!
Steve Ferns
158
Posted 30/08/2018 at 13:22:48
I thought Zouma was alright, a solid 7, but no more.
Someone said above Holgate was bullied by Rotherham #9 Jamie Proctor. Far from it. Proctor kept trying to use his weight to smash Holgate off the ball, but Holgate was up to it. He did the same to Zouma and Kurt ended up on the floor, clutching his face, and clearly complaining of an elbow.
Young Holgate passed a big test against a physical number 9 for me last time. No one in the Premier League will be as rough with him as Proctor was last night. There's only Deeney in the Premier League who employs those kind of tactics.
Holgate was far too classy for Proctor and sold him on a few dummies and Cryuff turns. Holgate played better than Zouma. It was only Zouma's first start. It was Kenny's first start of the season, and Digne's too. That should explain things not being perfect at the back.
Stephen Davies
159
Posted 30/08/2018 at 13:42:45
I thought the whole team could have done better; far to often Digne had the chance to play a forward ball with a player running forward into position but turned and played backwards.
Sandro ran and ran, he had some nice flicks and tricks but they ended up going straight to the other team.
Oumar, I like the lad, he seemed to be so far out of his depth, a lifejacket would not have helped.
Kieran was in and out of the game as was Calvert-Lewin who scored twice.
Gylfi, always pleased when he is named... stylish, smooth and knows what he is doing.
Well that is how I saw it from the Top Balcony.
Terence Leong
160
Posted 30/08/2018 at 13:43:43
From the highlights:
Davies looked better than what he has been.
Sandro has technical capabilities that should not be ignored.
Dowell can be a class act.
Digne has put in a good case to start ahead of Baines.
Other thoughts:
Based on the Bournemouth game, Davies was sloppy and wasn't providing enough support to his midfield partner. He could have tried to put himself about, but at times left Gueye to do all the fighting. Hence, I think some amount of criticism is justified.
Tosun can be very effective if the team is prepared to play the ball back to him. Whenever he lays off the ball to the forwards, the other forwards tend to try to finish the ball, rather than cutting it back to him, or playing him through. So, I think if that would happen more, we can see more end product from Tosun.
Sandro has never been really played in his main centre-forward position. He might have gotten one or two games, but even in those games, he was taken off.
Most of the time, he played on the right of a front three. And in yesterday's game, he was playing closer to a right midfielder / winger.
And despite all that, he keeps trying. So, I think the criticisms of Sandro and Tosun a bit over the top.

John Pierce
161
Posted 30/08/2018 at 13:54:10
A far from fluent performance, however the intent to attack remains. That's what I can take from the game. Bravo Mr Silva. 👏👏👏
I'm not going to sit here and say I agreed with 8 changes, it breaks the cadence of the team and adds extra pressure on Saturday's game unnecessarily. Those rested players need to perform against Huddersfield.
Digne was mentioned in continuous dispatches during the commentary and as he was bought to replaces Baines, then a home game against poor opponents should be the right place to start him. If he fails his audition then Baines has a good 2 weeks to refresh for West Ham.
There is little point reflecting in on the centre-halves because they start regardless in my mind. Another game together is exactly what they need. I'd be unimpressed should Jagielka get straight back in when neither incumbent has done anything wrong. Both like Digne are there to supersede what we have. A recalled Jags would be a backward step in Silva's embryonic evolution.
Anyway how often can our league cup progress be best described as routine? Hardly ever!! Made up it wasn't some desperate performance with a harrowing end. But then again the bar in this competition is so low!
Roll on Saturday!
John G Davies
162
Posted 30/08/2018 at 13:55:07
In a quick passing team with movement, Sandro will develop into a bargain at £5 million. I hope he stays.
Dave Abrahams
163
Posted 30/08/2018 at 13:58:48
Steve (158), after a nervy start, Zouma settled down and for me was better than Holgate who had a good game overall but lost his man quite a lot, especially in the first half. As for him and Digne not being perfect at the back, I thought they were very good, defensively and going forward, whether it was their first game of the season or not.
I doubt if anyone will fret when they are picked again. I know it was only Rotherham, and they weren't too shabby, kept their shape and defended well... better than us at corners!!!
Dermot Byrne
164
Posted 30/08/2018 at 14:01:04
8 changes but what was consistent was effort, much increased speed, an injection of confidence and, it seems, they are enjoying their football.
The defence debate will rumble on until it is sorted of course but seems to me Silva and his team have already changed the mood of the club, and the mood of TW.
Great to see.

Chris Gould
165
Posted 30/08/2018 at 14:12:33
Steve 146, the rule changes are for cautions not reds. Doesn't matter if it's a 1 or 3 match ban. Smith served his suspension on Tuesday in the Carabao Cup.
When tallying up cautions, it has to be competition specific. Nothing has changed regarding reds.
This was pointed out to me last week when I had it wrong.
Pete Edwards
166
Posted 30/08/2018 at 14:13:18
Hahaha — love all the negative comments at the top of the thread about team selection and not wanting to do well in the competition — how did that turn out for you!!
Steve Ferns
167
Posted 30/08/2018 at 14:15:17
At the risk of upsetting a load of you, can I point something out?
Davies had his best game for a while yesterday. He ran everywhere. He got stuck in, and after winning the ball he was able to pass it properly, not a short pass for someone else to pass it, but a proper incisive pass.
When did we last see Davies like this, getting everywhere? That's right his first season.
Who was missing last night? Who was also missing for most of that purple patch of his first season? Coincidence? I think not. I think Davies has a much better all-round game and whilst there's certain things he will never be as good at, the drop off is not that significant and his all-round game adds far more and makes him the better player in the long term (once he develops a little bit more).
Brian Harrison
168
Posted 30/08/2018 at 14:19:19
I think it showed last night what a clever manager Silva is: out of the blue, he gives Davies the captain's armband. Tom's form has been a little in and out of late but what a massive boost that will have been for him, his confidence will be sky high. It would have been an easy call to give it to Sigurdsson, so hats off to Silva.
John G Davies
169
Posted 30/08/2018 at 14:22:38
Our biggest attendance in the 2nd Round of the League Cup for 50 years...
Silva has got them believing.
Brent Stephens
170
Posted 30/08/2018 at 14:24:38
John, he's got most fans believing but not my dog Mudgeon.
John Pierce
171
Posted 30/08/2018 at 14:31:59
Steve, I've got splinters when it comes to Davies. I change my mind on him week to week.
He did from what I saw and heard have decent game, cannot not don't wish to challenge that.
The question I ask myself is, given the current squad options, would Tom be in Silva's first XI? My thoughts are if everyone was fit, no. Would he even make the bench as an option? I think no again, because he is at this current time a replacement if indirectly, for Gana or Schniederlin?
I don't see him as a game changer and with Sigurdsson's adaptability I'd have more attacking players on the bench.
I need more convincing he can step up and influence a Premier League game. Do you think there's enough evidence to indicate he can under Silva or are Bernard, Lookman (!), Gomes and even Dowell be ahead of him in the pecking order?
Paul Kossoff
172
Posted 30/08/2018 at 14:32:49
Looked forward to watching the highlights last night on Quest, absolute joke, Everton were on for around one minute... at least we won.
Steve Ferns
173
Posted 30/08/2018 at 14:34:05
Brian, I think Silva, if he remains at Everton for over 5 years, will make Davies an essential part of the side. I can also see him being the long-term captain. For me, Coleman is too much of a short-term captain due to his age, and we need someone like Davies who can be a mainstay of the side. I
said it before we kicked the season off, Silva will absolutely love Davies, he is his kind of player, and I think Davies will develop massively under Silva. I really do think we're talking about a Peter Reid type, but only Davies is likely to clock up many more caps for England.
With Loftus Cheek and Delph not playing for their clubs right now, if Davies can get a good run in the side, and play well, then he'll be a shoo-in for a call-up very soon.
Steve Ferns
174
Posted 30/08/2018 at 14:50:16
John, I do not actually see any weaknesses to Davies's game. Now don't take that to mean he's great at everything, by something not being a weakness doesn't exactly make it a strength.
He's not slow, some think he is, but watch him last night, he gets about the pitch very well. Sure he's winning no races, but he's not slow. A real strength of his is his engine. I haven't found any decent sites to check the mileage from each game, but when they do show it, Davies's yards per minute is usually the best of everyone in our side, or if not the best, then one of them.
Passing is hit and miss. He is capable of good short and medium level passes. Last night his pass completion rate was exceptional. Against Bournemouth it was poor. Unlike Idrissa Gueye (who the hell is Gana anyway?) he passes forwards and tries to make things happen, so this means that, by playing riskier passes, his completion rate will seriously drop off. I don't mind seeing this myself, I like players to take risks in the correct areas.
Davies is bigger than Gueye. He's both taller, heavier, and stockier. So whilst he might appear lightweight at times, it's not actually an issue. If anyone needs reminding, watch the Man City game and watch him wrestle with Toure. This lad is deceptively strong, and there's a lot of fight in him.
He's got good vision and awareness. But it's a skill that doesn't seem to always be there. Sometimes he can be too casual and not check on things and make silly mistakes. Other times he has a sixth sense and can get himself out of danger without even looking.
Unlike Gueye, he has great control, that ball he took out of the sky against Southampton, turned and tried to beat 3 men, and the only way they could stop him was to chop him down, well that was great.
He does have a weakness though. That's his power. He can't hit the ball with great force. He showed it last night with his tame shot, and he's showed it a few times with tame long passes. I cannot see why he can't work on this and develop it. That said, there's plenty of players who for whatever reason cannot belt a ball 50 yards with a modest degree of accuracy. I fail to understand this as I was crap but never had an issues doing it. It was probably that Bobby Charlton Soccer School I went to as a nipper in the mid 80s. Bobby himself taught me how to kick the ball properly with force.
Without Gueye and Schneiderlin on the pitch, he assumed the Gueye role and the Schniderlin role and showed that he can play as the single pivot. For me that's massive. Davies can be the sole defensive midfielder we all crave. The one to combine the two players. Dowell did alright last night, and sure it was only Rotherham, but Davies bossed that midfield on his own and when Dowell went missing, Davies was still in control. He can do it.
Most of what Davies lacks comes down to experience. He needs games regularly and mentoring and guidance from a manager like Silva, who will tell him exactly where he should be every step of every play on the pitch. He will stop training and show him, he will produce DVDs of Davies himself to highlight weaknesses and errors, and he will produce DVDs of people to emulate, and DVDs of opponents and what to watch for.
Amit Vithlani
175
Posted 30/08/2018 at 14:53:16
Victor 138
"It is not Sandro's fault that we handed him a big contract. Give him a break!"
Err ok, sure, but why do have you have such a persistent downer on our youth players, who cost less and are definitely no worse than Sandro? Why don't you give our youth players a break?
Please do enlighten. This will be entertaining.
Brent -
All fair points. Pleased to see our "Youf" progressing.
Jay Wood
[BRZ]
176
Posted 30/08/2018 at 15:37:11
With just the 20 minutes highlights on the club site to view, it is very hard – impossible, really – to make judgement on the team or individual performances as the editing will, of course, only show the 'best bits'.
But based on what is available to see, I for one loved the clips of Kieran Dowell. This is a seriously gifted footballer. His lack of strength and stamina and not doing the 'grunge' work always gets mentioned about Kieran, but to me this season he looks to have added some bulk to his height.
Even in the edited highlights, there were so many good things to see about Kieran. His part in the first goal; his casual control and variety of passing; his ability with both feet; his sixth sense in 'seeing' the picture and play around him; the time he seems to have on the ball. All very Hoddlesque for me.
All that was missing from the game we know he has was an example of his considerable shooting prowess. I'm sure he will be disappointed with himself for the chance Tosun laid on for him deep into injury time. He is a better finisher than that.
I have been and will remain a constant defender of our youngsters, much maligned on TW, including on the Live Forum last night by people making blind judgement calls on the audio commentary as if they were watching video images.
Some apply selective amnesia to our youngsters with outlandish claims. 'Other than THAT City game and THAT goal, what has Tom Davies ever done?'
That very season, when he broke into a stuttering side at 18, he was a first-team regular for half a season and consistently a 7-8 out of 10 player and one of the best 3 players on the pitch every game. This was recognized by more discerning Blues who voted him the runaway Young Player of the Year and worthy of the Goal of the Season.
In the purgatory of last season's turgid football, nobody played well over the duration. But don't anyone try to tell me that the likes of Davies, Holgate, Kenny and Calvert-Lewin were the worst performers or the least committed in a team of seasoned internationals.
Those four players – plus Dowell – are still only 20-21. Most have already clocked up a healthy number of games for the first team - an experience denied to players of a similar age at other Premier League clubs.
Yes, there have been some 'mares along the way, but the overwhelming majority of their first team games they have not let either the team or themselves down.
There is a lot to come from this group. And Marco Silva could well be the sorcerer to conjure up yet more magic from them.
Brian Williams
177
Posted 30/08/2018 at 15:48:56
Jay, agree about Dowell. I said to my 21-year-old son while at the game "Google Sheedy," that's who Dowell reminds a little of.
A player who used to get stick for not getting stuck in but who had supreme vision and the sweetest left foot I can remember.
Now before some of you jump on me, I only said he reminds me "a little" of Sheedy and it's very early days yet but the lad has something about him you can't teach or train into.
Jay Wood
[BRZ]
178
Posted 30/08/2018 at 15:49:03
Oh! And I'm delighted to hear so many glowing reports about Tom Davies, endorsing my own feelings on the lad.
Giving him the armband last night makes him Everton's youngest ever skipper in our entire history. Tom spoke post-match how much the honour meant to him and, I'm sure, played no small part in how well he apparently played last night.
What a very shrewd move by the manager. Think of the psychological boost that gives not only to Tom, but to other young players at the club:
'Hang on... we've got a manager here who trusts and believes in his young players and will give them a chance. I want some of that!'
John Pierce
179
Posted 30/08/2018 at 15:49:27
Steve, you have quite eloquently listed what he is good at and given a lip service to his deficiencies. I happen to agree in the round.
But you have skirted the issue at hand. Is he a first-team player under Silva, with the options we have? Whilst he looks to be eminently coachable, a quality not to be under-estimated for many coaches like Silva. I cannot see if the options are fit him even making the bench. Those options have been bought in to play and are by virtue of age ahead in their development.
Gomes & Bernard must be ahead of Tom, as are Morgan & Gana. So if all stay fit were does he fit in?
If the first two games gave us a clue, he isn't a starter. Moreover, once Gomes & Bernard are up and running I cannot envision even a place on the bench?
I think that is a very likely scenario, so his playing time might well be very limited if we have a relatively injury-free campaign. I cannot see Silva turning to him a tactical option?
BTW, 'Gana' is both good for brevity and easy to spell!!! 😁😁😁
Jay Wood
[BRZ]
180
Posted 30/08/2018 at 15:52:48
Brian @ 177 (or anyone at the game last night...).
HAS Kieran 'bulked up' a bit from his (slightly) 'Twiggy' look of previous seasons?
It's hard to tell from just video images.
Dave Abrahams
181
Posted 30/08/2018 at 16:14:27
Jay (176), I appreciate the minutes the club show you of the game but keep in mind, as you do, they do not show you the poor parts of the game that we are involved in.
I thought Keiran showed in some parts of the game how good a footballer he is, especially that little dribble near the end of the game when he effortlessly went past two or three players and slipped the ball through for the anticipating Kenny to run onto, very good.
Like you, I wanted him to take one or two of the free kicks but possibly with Siggy and Digne on the pitch he never got a look in; that will come the more he plays.
I don't think he has bulked up on the way he was last season, he has a great football brain and I won't criticise for last night but, the more he plays, the more he has to get involved; ability is never going to be a problem for him.
Brian Harrison
182
Posted 30/08/2018 at 16:15:30
Steve
I always like to see young players come through from our academy sides, as it gives hope and belief to the younger players at the club, to think that could be me. I like Tom Davies a well-grounded lad, and as I said in an earlier post a very clever move by Silva to make him captain last night.
Having said that I can't agree with your analogy that Davies is like Peter Reid, for me he is not a bit like Peter Reid. Peter was a tenacious tackling midfield player, very rarely lost a 50-50 challenge and was never out-muscled by even the biggest midfield opposition. Tom is certainly not a tough tackling midfield player and he often gets out-muscled in midfield, he definitely needs to work on that side of his game but he is still a young man with time on his side.
Also I never think its fair to compare up and coming youngsters with great players from the past. At the moment when everybody is fit I think Tom will find it hard to get in the side, but as I say he is young and has got time on his side to become a regular in the first team.
Brian Williams
183
Posted 30/08/2018 at 16:21:00
Jay (#180).
I can't say I noticed any change in the lad's physique to be honest.
Tony Waring
184
Posted 30/08/2018 at 16:24:15
I saw only the highlights on Everton TV but I thought Sandro had a good game. Calvert-Lewin scored 2 good goals and at last we have a left back who can use his right foot to deliver good crosses. Digne is a great find.
Jay Wood
[BRZ]
185
Posted 30/08/2018 at 16:35:41
Thanks Dave and Brian.
Kieran just looks as if he has more muscle in his legs – his thighs –- than in previous seasons. Like many tall teenagers who have a growth spurt, he always had a bit of a 'spindly' look to him.
The rest of his body seems to be 'catching up' with that growth spurt to my eye.
And as you say Dave, ability is never going to be Kieran's problem.
A wonderful, innately gifted footballer.
Sam Hoare
186
Posted 30/08/2018 at 16:38:36
Steve @174 I love that you are so effusive about Davies. I truly hope that he becomes the player you envisage him to be but I'd say he's got to play like he did last night and better if he wants a starting place in this team.
Gueye is excellent at pressing, tackling and making interceptions.
Schneiderlin this season looks positionally disciplined and very accurate with his passing both long and short.
Davies has neither of these strengths currently. As you suggest he is a more rounded player but my worry is he follows the Rodwell route and becomes a jack of all trades and master of none. Energy and enthusiasm alone are not sufficient. In my eyes, he needs to be either making more tackles or more useful passes; or ideally both.
I agree that Silva is the perfect manager to coach him to this end but I'm not sure I've seen him (Davies) do it enough yet to have the faith you do in him.
Brent Stephens
187
Posted 30/08/2018 at 16:47:21
Sam, not the only difference, but a big one for me, is that when Rodwell received the ball he always turned back towards our own goal – Davies always looks to turn towards the opposition goal.
Rodwell slowed the game down – Davies tries to keep it ticking over at a quick rate – Silva's game.
James Flynn
188
Posted 30/08/2018 at 16:53:23
Jay (176) - This is good.
Sam Hoare
189
Posted 30/08/2018 at 17:07:51
Brent @187, I think/hope that Davies is or will be a better player than Rodwell but only fear that players who appear to have an all-round skillset can sometimes end up not developing any particular aspect of their game to a high enough level; hopefully, that will not be Davies's fate.
Steve Ferns
190
Posted 30/08/2018 at 17:11:57
John Pierce, I would start Davies every week. I know I'm in the minority, but I would have sold the very soon to be 29-year-old Idrissa Gueye. Reports were that we could have got £30m for him from Arsenal. I'd have taken it.
Gueye is just too limited a player. He is good for where we are now. I fully concede that. I fully concede that he is better in the side than Davies now as well.
Sure, I am taking a leap of faith, but I believe Davies will develop quickly into a top class player. Gueye might be excellent at pressing, intercepting and tackling, but Davies is very good at all of them. If Gueye gets 9 or 10 out of 10 for these attributes, then Davies is getting at least 7, probably 8 for me. Gueye's other attributes are very low scores. Dreadful passing, poor control, poor awareness, zero vision. Meanwhile Davies is again scoring well for these things, at least 6.
That's, for me, the trade off. Play a better all round box to box midfielder who can do more of everything, but at the expense of not being quite so good at the other things. For this season and maybe next he would need to be alongside Schniederlin, but once he's hitting the age of 22 or 23, I would expect him to be able to do everything Schneiderlin and Gueye can, and to do it solo. Therefore, getting rid of two defensive midfielders and having one. Davies sitting deep, holding, breaking up play, and passing it up the pitch. Then, that means we can flip the triangle and have two offensive midfielders such as Gomes and Sigurdsson or even Bernard and Sigurdsson.
And yes, it's a leap of faith. But I am hugely optimistic that Davies can do it. He is a very intelligent young man (academically at least) and so I think that he can use this to develop his game even further.
And yes, I do think Davies would be a key player in our team to take on the breaking into the top 4. I really do think he can be that good. Other than lacking power in his shooting, I don't see any flaws in his game at all. Mistakes made will be eradicated by getting more and more experience and he will develop more with Gueye out of the side.
I had checked on the African Nations Cup as this was due this January, and so would have been a big month for Tom to push Gueye out the team, but instead I can confirm that the ANC is now a summer tournament (at long last) and so we won't be missing Gueye or Niasse this season.
Steve Ferns
191
Posted 30/08/2018 at 17:15:13
Brent, Jack Rodwell played as a centre-back for his entire youth career. He was never a midfielder until Moyes converted him, and then it was a defensive midfielder and yet Moyes pushed him further and further up the pitch. That is why Jack's natural instincts are to go backwards.
Tom Davies has always been a Number 6. He's always played in midfield, either as a box to box player or as a Defensive Midfielder. He was the Mascherano to Liam Walsh's Alonso in the excellent Everton youth team.
Brent Stephens
192
Posted 30/08/2018 at 17:26:27
Yes, Steve, that's right about Rodwell's centre-back background.
Gareth Clark
193
Posted 30/08/2018 at 17:27:02
Steve #190
Sell Gueye? Really?! You truely are delusional!!!
He is one of the most energetic players and covers so much ground – his age (which isn't even high) has nothing to do with it.
Thank fuck you aren't running our club!
Absolutely clueless.
Brent Stephens
194
Posted 30/08/2018 at 17:29:41
Sam #189 — aye to that.
Steve Ferns
195
Posted 30/08/2018 at 17:37:56
Gareth, he's far too one dimensional. He wouldn't get in any of last years top 5. He's not Kante, he can't do so much of what Kante can.
If we want to break the top six, we need better players then Gueye and we could pocket £30m and put it towards someone like Neves who can become a top 4 level player.
Gueye's engine will start to diminish within 3 years and I'm sorry but he has nothing else to his game once that is gone.
Bobby Mallon
197
Posted 30/08/2018 at 18:26:02
Brian Williams, Sandro is good enough.
Let's put it this way: he is miles better than Niasse but most think Niasse has the sun shining from his arse because he never made a fuss, even though he is rubbish.
Sandro never says a thing — how come he gets stick? Is it because he hasn't scored? I'm curious...
David Currie
198
Posted 30/08/2018 at 18:35:14
Steve 190, Agree with you regarding Tom, I think Silva can get the best out of him and you are correct regarding Gueye.
John Pierce
199
Posted 30/08/2018 at 18:36:30
Bobby, perhaps 120,000 reasons per week might be your answer.
High expectations against a very limited return?
Brian Williams
200
Posted 30/08/2018 at 18:48:29
Bobby, I think neither of them are good enough mate (just my opinion), nothing to do with scoring, depsite the fact they're both supposed to be strikers.
Last night I saw, as I've seen whenever he's played, a "few" good touches but the majority of his play has, IMO, not been up to the standard we need. So I stick with my opinion, and that's all it is, that Sandro's not good enough.
By the way, I fully agree regarding Niasse — he's nowhere near good enough either, IMO.
John G Davies
201
Posted 30/08/2018 at 18:55:10
Re the point Steve makes about selling Gueye....
How far away is James McCarthy from full fitness?
Jay Wood
[BRZ]
202
Posted 30/08/2018 at 19:05:32
Bobby @ 197.
Whilst I can agree with you that - technically - Sandro is "miles better than Niasse", to satisfy your curiosity why the latter is more popular than the former, you kinda answer it for yourself when writing "Sandro gets stick because he hasn't scored".
Kind of a prerequisite for a forward on the inflated salary he is on.
Like it or not (and it's not necessary to go into Niasse's well-known story at Everton), but Niasse delivers the most valuable commodity in the game: goals... 8 goals in 22 Premier League appearances for Niasse last season – many from the bench – in a hapless, directionless team.
Sandro, by contrast, 1 goal in all 16 appearances he has played for Everton.
He couldn't even get on the scoresheet in the 22-0 bunfest in Austria, a game in which Niasse came on and bagged a 10-minute hat-trick.
I wish the lad had delivered on the promise he showed in Spain. The harsh truth is, he hasn't. Not even close.
Jay Wood
[BRZ]
203
Posted 30/08/2018 at 19:13:37
Excellent!
Liverpool v Chelsea in the League Cup. Stitch that!
Everton home to Southampton.
Ed Prytherch
204
Posted 30/08/2018 at 19:17:12
With McCarthy, it is not so much a case of how long until he is fit but how long he lasts until he is crocked again. He will most likely be at Everton for a while if he is injured during the next couple of transfer windows.
Darren Hind
205
Posted 30/08/2018 at 19:45:29
Tom Davies will never be top class. Not soon, Not ever.
I like Davies, he is tidy, industrious, brave and he doesn't hide... but he doesn't have the power, he doesn't have the athleticism, he doesn't score or create enough goals.
I know he is young and I have high hopes that he will play for Everton for a very long time, but he is the sort of player who can support or complement a top-class player. He just won't be one himself. It's wrong to place such expectations on his shoulders, just as it is stupid to write him off as a Premier League player when that is in fact what he is.
On the subject of Gueye's passing, yeah, on the evidence we have thus far, his passing is poor, but unless Sigurdsson is standing over a dead ball, you could say that about all of our players.
Football has been stifled at this club for years. Under Koeman and Allardyce, the player on the ball simply didn't have a pass on. Nobody dared break ranks and make a run; 'movement' was a dirty word. Pirlo would have struggled to find a blue shirt playing for either of these jokers.
The sure-fire way to improve your team's passing, is to improve movement; Silva is clearly working on this. I expect to see a big improvement in all of our players' passing stats this season... including Gueye.
John G Davies
206
Posted 30/08/2018 at 20:07:24
Fair comment on all your points above, Darren. Decent summation.
Bobby Mallon
207
Posted 30/08/2018 at 20:46:02
Steve Ferns @167 — we were playing Rotherham (who, by the way, made more than 4 changes themselves). I would have been really worried if Tom Davies had not ran the show. Let's see if he does it against Huddersfield, eh?
Christine Foster
208
Posted 30/08/2018 at 20:52:02
I have to say that, as much as I see value in Gueye, he is a stopper not a creator, and his biggest strength is also his biggest weakness: his tackling is great BUT, once he gets booked, his effectiveness is so badly diminished, he may as well be subbed.
Dave Ganley
209
Posted 30/08/2018 at 21:11:03
Yes, I totally endorse your comments, Darren.
This is definitely a work in progress and I have seen enough so far to see it's improving; however, it will take a while to totally eradicate the bad habits picked up under Koeman and Allardyce. There has certainly been enough shown to date to be positive about the future.
Dave Abrahams
210
Posted 30/08/2018 at 21:19:12
Darren (205), last two paragraphs, absolutely true and fair comment with the top part too.
Tony Abrahams
211
Posted 30/08/2018 at 21:30:05
One of Gueye's biggest strengths, is something he very rarely uses, and that imo, is running with the ball.
He gave away four of his first five passes against Southampton, but the first time he really ran forward with the ball, he started the move for our second goal.
Little, quick, low centre of gravity, he should be attacking the space a lot more often, because these little players can be a nightmare to play against, but only if they have enough confidence to know how hard they can be to play against?
Tommy Carter
212
Posted 30/08/2018 at 21:45:12
Calvert-Lewin is a very good prospect. Despite not being completely physically mature yet, he is extremely good in the air. His hold-up play vs Man City away last season was superb and I think a sign of the player he will become.
What I don't think he will be is a prolific goal scorer. He is not an instinctive striker, nor does he possess a good enough shot for him to score goals in this way.
He will, however, be a very important striker at Premier League level. I think of someone currently like Salomon Rondon who has a very good all-round game for a lone striker but just lacks that ability to get amongst the goals.
I see no reason why he can't become a 10-15 goals a season kind of striker, which is what Graham Sharp was for the most part of his career.
Peter Gorman
213
Posted 30/08/2018 at 23:56:57
Steve Ferns - You regularly lambast Gueye for his lack of forward play and threat yet bizarrely defend Schneiderlin to the hilt (Your otherwise very good analysis of the Southampton game belies your prejudice - "Gueye was hitting some lovely long passes, so he has the ability, much to my surprise This led to even the likes of Gueye playing ambitious passes forwards ") and here you state the Gueye has "Dreadful passing, poor control, poor awareness, zero vision."
I don't think we'll ever see eye to eye on their respective merits - you always judge Gueye at his worst and Schneiderlin at his best. It is surely worth noting that Gueye scored a not overly spectacular 2 league goals last season in 33 games but even that is worth a nod ahead of the big fat zero Schneiderlin contributed in 30.
I appreciate your efforts to defend Davies (I think he'll develop into a decent midfielder) but there is always that niggling criticism of Gueye which just seems a bit blinkered to me as you're kind of singling him out as inept going forward based on the atrocious crap we witnessed last season. I can't see any reason why his game won't develop to suit Silva as much as the next man. Certainly if Schneiderlin can start turning in half-decent performances (as he surely has) then people can stop being amazed every time Gueye takes the ball forward.
Steve Ferns
214
Posted 31/08/2018 at 00:10:32
No, Peter, I regularly criticised Schneiderlin last season and I repeatedly said this summer that we should replace him. We need someone with Schneiderlin's skill set, or to use Silva's word, "profile". Gueye cannot do what Schneiderlin can, and vice versa. Completely different players. I find it very frustrating that a top club like us can have such a dearth of good passers, especially after all that money we wasted last year.
I believe Davies can do more or less everything Gueye can, and then so much more that he can't. I understand that gueye is excellent at what he does and few in the whole league can come close. He always performs and rarely has a bad game. We're a better side with him in the team.
All that said, he's far too limited a player to take us to the top 4. He needs a more rounded game. And it's not Koeman or Allardyce, the lad struggles to kick the ball 50 yards. He lacks the power. Davies is a much better proposition. But I'd accept it's all potential and maybe he will never realise it, or people like me have read him wrong.
Let's see.
Peter Gorman
215
Posted 31/08/2018 at 00:34:27
Fair one Steve, and I hope we're both right when it comes to Davies, whose career is still so much in the infancy.
When it comes to the good passers of the ball, where do you see Gomes fitting in? What exactly is his 'profile' and could he play deep or is he lacking the skillset?
Steve Ferns
216
Posted 31/08/2018 at 00:39:03
Gomes is a Number 8. He is a skilful player, who put in few tackles and so my worry is (especially after talking to some Benfica supporting mates) that he lacks the intensity we need in the middle. Basically, he's the player Dowell wants to be.
Dan Davies
217
Posted 31/08/2018 at 00:39:47
Schneiderlin is a prima donna luxury passenger.
Gana is a fighter.
I know who I would prefer in my team.
Steve Ferns
218
Posted 31/08/2018 at 00:45:14
Dan, it's not either or. Both have flaws and put them together and you have the perfect Number 6. We have to play the two of them because they are both so flawed.
Jamie Crowley
219
Posted 31/08/2018 at 01:02:58
I checked Whoscored.com for some stats.
Davies's pass completion is 78%, Gana 83%, and Morgan 90%.
No stats for the following comment in this paragraph, just my eyes. Morgan passes sideways constantly, improving his number. Davies makes many more "forward" incisive passes. Gana wins the damn ball like a pissed off wasp.
So -
Would you prefer 8 out of 10 passes completed, if the one pass not completed to achieve a 9 out of 10, was a bold ball to spring a goal scoring opportunity?
I would.
You put Gana in with Davies and you've got your ball winning player who also intercepts passes like crazy to get you possession, so when the 1 out of 10 "probing" passes Davies plays doesn't come off, you can win the ball back eventually through Gana.
I prefer that over safety first, sideways passing.
I'm NOT saying a player who only completes 50% of his passes is an acceptable thing. But I do think Davies's 10% or so drop in completion is down to him playing with a more attacking mindset. Couple him with Gana to regain possession, and you're better off in my opinion.
Seems logical on the surface? It is a shallow analysis, but surely has some merit?
Mike Gaynes
220
Posted 31/08/2018 at 02:04:41
Agreed, Jamie, but the percentage alone reckons without the consequences of the passes that aren't completed. Davies definitely has an eye for the through ball, the cutting pass. But he also, in my view, has the worst judgement in the side on when to try something and when not to.
His missed passes often come right in the middle of the pitch and become turnovers that instantly send the enemy sprinting off in a counterattack. It's just inexperience, and I fully expect him to grow out of it. Barkley had the same problem but never did.
I actually consider Gana the best passer of the three at the moment.
Tony Abrahams
221
Posted 31/08/2018 at 10:06:27
Steve @214, maybe it's just the way Gueye has been coached? When you say he lacks the power to hit 50-yard balls.
I can only remember my favourite ever Everton player hitting one 50-yard pass when Reid set up Lineker on that fateful horrible day but I don't think you could ever accuse Peter Reid of lacking power?
I loved Reid for many things, a player with no pace but what a football brain, which was only matched by his great consistency.
You have to be clever and you have to be brave but I think Gueye could become a cracking little "fetch and carry player" if Silva can just change his mind-set.
Nothing wrong with chasing the ball everywhere but, when you have got the tools, then sometimes make them chase you, is the advice that might take Gueye up another level...
John G Davies
222
Posted 31/08/2018 at 10:10:40
Tony,
On Reidy's first day, John Bailey said to him, "You probably can't kick a ball the width of the pitch."
Peter replied, "And what does that prove?"
Tom Bowers
223
Posted 31/08/2018 at 11:36:13
These early League Cup' games are not exactly the benchmark to assess a team performance as we all know the starting elevens are generally a mishmash of fringe players etc and a chance for the poorer clubs to make some extra cash.
Individuals who aspire to impress have a great opportunity in these games to show what they have but, because of the changes made, rarely do.
However, by now, we as fans and I suspect the management team already have a decent idea about everyone's capabilities except the absent injured signings.
It will be interesting to see the starting eleven against Huddersfield.
Tony Abrahams
224
Posted 31/08/2018 at 12:15:10
John G, you kick it 50 yards, you might not get a touch of the ball for another two minutes. Reid was great because Reid always wanted to be involved, and more importantly, he always knew how to stay involved.
Just my opinion, I'm like a record, but if Gueye tried to stay involved more with the ball, he would become a much better player right away.
He sometimes runs with the ball and ends up wide, no-man's land for a central midfield player... but, if he kept trying to go through the middle, him and his team would get a lot more joy, I'm sure.
John G Davies
225
Posted 31/08/2018 at 12:31:23
I could not agree more, Tony, and that would have been Reidy's point.
It made me laugh when Gerrard would regularly miss by a mile with 4 out of 5 attempts at the Hollywood ball. The commentators would be drooling over the one that hit the target.
The bold Peter Reid (one of our all-time midfield greats and a snarling little bastard that made me love him even more) would keep possession and play passes with the following pass in mind.
Someone mentioned players you would like next to you in the trenches. He would be top of my list.
Tony Abrahams
226
Posted 31/08/2018 at 12:42:47
John G, if you was a Liverpool fan, then Steven Gerard would be a god; same drive as Reid, and a Liverpool legend because he deserves to be.
Could he have played for Barca, though? Pass, move, pass, move... Or was the long pass too far indoctrinated into his game?
I ask for one reason: Gomes has had a bad time at Barca... I'm hoping it's because their style didn't suit him and he's ready to show everyone how good he his when he plays in a different type of team!
John G Davies
227
Posted 31/08/2018 at 12:46:35
The short answer is No, Tony. I have had the debate many times over the years with them. He was effective through his dynamism, strength, power. He didn't have the ability to dictate the pace of a game like Scholes, Iniesta, Xavi.
Tony Abrahams
228
Posted 31/08/2018 at 12:59:23
Fair points John G, and although it was different eras, I always thought Souness was the better footballer?
But as always with opinions, I'm sure many people could put up great counter-arguements, because Gerard was a fantastic modern day footballer.
Anyway, I'm just hoping that Gomes was swamped by the possession-mad Spaniards and can't wait to play a different type of game.
Steve Ferns
229
Posted 31/08/2018 at 13:16:08
Hey guys, back into this late, so sorry for winding it back a little.
I'm more focused on tactics and systems than most of you, so I have a different perspective, I expect. For me, the midfield is the most important part of the side and the tactics, especially the 2 in a 4-2-3-1.
I want those 2 to sit and be very static. Therefore, Schneiderlin running a lot less than Gueye is fine by me. I want that block of 4 (the 2 CBs and 2 DMs) to be impenetrable.
People forget what a great manager Jose Mourinho was (or perhaps still is). He took Porto to the top in Portugal in his first full season and won the Europa League, then won the league again and famously won the Champions League. Of all the achievements in football since 2000, Jose Mourinho winning the Champions League with Porto is perhaps the best. He did it through tactics and systems. He had a Defensive Midfielder who does not move from this middle position. He's adapted his tactics in recent years and he goes for the block of four. If you have 4 solid players, you can't get through them, you can only get down the sides, and if you have big centre-backs you can just head it away.
Gueye is someone who does not sit in enough for me. I don't like to see him charge around tackling everyone and intercepting. Sure, it's great that he did it, but he's usually in someone else's zone, doing someone else's job. The problem is when he doesn't make the tackle or the interception then he's gone missing and we are wide open.
Besic was the most infuriating player for me. If you offered him all the money in the world to just sit in, he'd be unable to do so, he just cannot resist the urge to be drawn out. He's so easily coaxed from his position. Gueye much less so, but so often last season we conceded when he was out of position and the opposition simply passed around him.
If Schneiderlin and Gueye sit in there, you aren't passing around them or through them. It's not happening. The tactics and the system will always win. Even against Man City. Guardiola's whole thing is about pulling these two players out of position. So, you don't make it easy for them and leave your position of your own accord.
To be fair, this season, Gueye has been in position far more than I've seen over the last three seasons. Silva's pressing works by being a collective and the 2 DMs have to sit in and hold shape and they only press if the front 4 have been bypassed. We have done this well, I think. The majority of the goals and chances against have all been due to bad zonal marking. Sure a couple of times we have been countered attacked and we have been wide open, but that main defensive shape, particularly with Schneiderlin on the pitch has been very good.
Passing wise we have benefited a lot from Holgate. Holgate is a very good passing centre back. So to be fair is Michael Keane. This has meant that Gueye can win the ball and can hit a pass back to them, and then they can launch the long pass that he is far less able to do.
------------------------------------------------------------------------------------------
I drew a line there because I'm actually at the opposite conclusion to what I initially thought, and I thought it's best you see how I have changed my mind! After reading what Tony said and thinking on this some more (it's taken 4 hours to finish this off due to work), I think Tony does have a good point and that perhaps Silva is changing Gueye, that even at 29 he can change, and that he can adapt his game to be a very effective, more disciplined midfielder, and can become a "cracking little fetch and carry player". It's good to have these debates and views challenged to come round to different ways of thinking.
Steve Ferns
231
Posted 31/08/2018 at 13:30:33
Tony, I have some concerns over Gomes. I have watched a lot more of him since we signed him from clips on YouTube. There's a lot there for Valencia. I had mainly seen him in his one season with Benfica, and that was mainly MotD style highlights, and then live games for Portugal.
The player I remember (because you remember the good and the bad and not the ordinary) is an excellent passer of the ball, but he seems to be more of a plodder. He appears slow, but he's not slow, because he is capable of suddenly accelerating through a crowded central position and taking 2 or 3 opponents out of a move. He's also got a great shot on him. He can score thunderbolts from outside the box.
Many will be infuriated by that plodding style. I don't quite understand what Silva will do with him. He's going to expect to play every game. To play I would expect to have just one single DM and that to be someone anchored to the defence, ie Schneiderlin. Then Gomes to be alongside Sigurdsson and for the pair to be box to box midfielders, with Sigurdsson given a bit more licence to get into the box.
The big question mark is can Gomes be dynamic enough to get around the pitch at a quicker speed than he has in the past. Valencia appeared a slow build up side rather than quick tempo, high pressing and energetic football that Silva is trying to get us to play. He has been more of a hands on hips, foot on the ball kind of player in the past. I first wondered if he could do this very deep, perhaps taking Schneiderlin's position and using Gueye's energy to cover for him and tackle for him. My Portuguese mates say no way, he cannot defend to save his life.
If Gomes can fit in well, adapting to the tactics, getting about the pitch at speed, pressing and closing down and combined this with what he is good at: his control, touch, passing, and shooting, well that's a world class player right there.
Jay Wood
[BRZ]
232
Posted 31/08/2018 at 13:36:38
Silva presser live NOW!
Steve Ferns
233
Posted 31/08/2018 at 13:37:06
Jay Wood
[BRZ]
235
Posted 31/08/2018 at 14:05:50
Very abrupt end to the presser... someone pulled out the wrong plug..?
Still available to see. His actual presser starts around the 19 minute mark, to skip the highlight reel they show.
Happy that Richarlison was called up to the Brazil squad – 'not easy to get into' - but that we are educating him on some things and he is learning [in reference to his sending off].
Bernard still out for tomorrow – small problem, not yet up to the intensity of the training due to missing pre-season.
Gueye struggling to be fit for the game. Keane is at Finch Farm and progressing well.
Holgate and Zouma as the two fit centre-backs likely to start against Huddersfield.
Not surprised by Digne's performance - 'we knew what we were buying' – and when asked about the left back slot Silva said it's normal for a club like Everton to have strong competition for places.
The question of 4 different captains swatted away. 'The decision on a permanent captain is made - Jags. He was captain in the first game, unavailable for the next game so I had to change. We have 3 captains – Jags, Baines and Coleman. It was Coleman's 200th game so easy to make him captain. Wednesday, none of those played so I chose Tom. He is no longer a boy. He is a professional. It was good for him to take the responsibility.'
On the 8 changes for the cup game, 'If I could, I would have made more! I am happy that they played with our 'profile' [style] and ideas I want from the team.'
On Tosun not yet scoring: 'The goals will come. I am very happy with how he is playing.'
On Lookman: 'I really don't like answering questions about him every day. He is our player and is staying. He knows what I want from him. He must now force his way into the match day squad.'
All with his matter-of-fact 'can-I-get-outta-here-now?' delivery.
Steve Ferns
236
Posted 31/08/2018 at 14:11:47
I thought it was a good press conference Jay. You don't need to skip the highlights, it goes straight into it now (on YouTube anyway).
He did make it clear that the order of Captains is Jags, then Baines, then Seamus. So Baines for the rest of the season, or at least until Digne displaces him.
The comments on Lookman would make me surprised if he's not still with us by tomorrow. Then Lookman has to pull his finger out and force his way back into the side. If he's fit, and Silva says he is, then he would have started tomorrow. Instead, he will only start if his head is right.
Christy Ring
237
Posted 31/08/2018 at 15:13:17
Steve @146 Thanks, glad he's available for the Arsenal, that's what I thought, Sky got it wrong.
Listening to Silva's press conference, with Bernard injured, I wonder will Lookman be in the squad tomorrow if fit?
Steve Ferns
238
Posted 31/08/2018 at 15:43:18
Christy, as I said on the other thread, we have no other left sided forward right now. Lookman is it. If he was committed, he'd start tomorrow. Instead, I believe Calvert-Lewin will start in his stead.
However, Silva looks more likely to put Walcott to left wing and Calvert-Lewin down the right, based on what he did in the Bournemouth and Rotherham matches.
Tony Abrahams
239
Posted 31/08/2018 at 17:27:31
Steve @131, I have no recollection of Gomes, but after seeing those little clips, I can only say Wow! I know these videos can make anyone look good, but this kid does look a bit special with the ball though!
Steve Ferns
240
Posted 31/08/2018 at 17:43:15
Tony, I think it's Gaines who is the Barca fan, so he can tell you about the worst of him. What I saw was plodding around, getting bypassed and struggling to get into the game.
If we can get him to play at Silva's tempo, then as you said, he's a bit special on the ball, and so I would say we'd have a world class player on our books. I have doubts that Silva can do this though.
Tony Abrahams
241
Posted 31/08/2018 at 17:53:40
Only clips, Steve, but he looks like he could enjoy being the main man. I think it's a cultural thing with Barca, and just because he couldn't adapt to what Alex Ferguson called "the carousel" I'm not sure that makes him a bad player?
Nothing worse than losing your confidence, and I reckon it could ten-fold, if you was struggling in a team with so many great players, so I'm really looking forward to finding out now, because Gomes looks like he can really play.
Add Your Comments
In order to post a comment, you need to be logged in as a registered user of the site.
Or Sign up as a ToffeeWeb Member — it's free, takes just a few minutes and will allow you to post your comments on articles and Talking Points submissions across the site.