Silva gets fitness boost ahead of Hammers clash
Friday, 14 September, 2018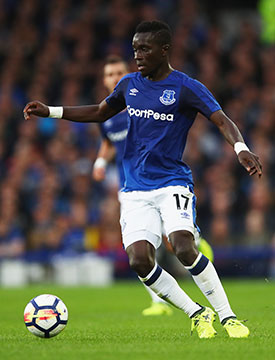 Idrissa Gueye missed the draw with Huddersfield but has recovered in time for Sunday
Marco Silva's selection headache eased late this week with the news that Idrissa Gueye, Dominic Calvert-Lewin, Theo Walcott and Bernard are all in contention for Sunday.
It had been feared that Gueye, who missed the home game with Huddersfield a fortnight ago with a knee problem, and Walcott, who was substituted with a rib injury from the 1-1 draw, would miss the visit of West Ham but the manager indicated in his pre-match press conference that the pair have recovered.
Calvert-Lewin, meanwhile, has shaken off a knock that saw him removed from England U21 action on midweek.
Finally Bernard, who it was hoped would have been available to make his full debut against Huddersfield but ended up being ruled out with a minor muscle strain, appears to also be ready now.
Seamus Coleman, on the other hand, is facing up to two weeks out with a stress fracture in his foot but there was good news regarding Yerry Mina who is on the mend following a foot problem of his own.
Silva explained that the Colombian has started training with the first team now and it's just a question now of building up his match readiness before he can make his debut following a £28.5m summer move from Barcelona.
James McCarthy is also making good progress as he works his way back from a broken leg. Silva couldn't put a time frame on his return to action, however, saying that there was an understandable issue of confidence as well as physical after such a bad injury.
Watch: Marco Silva's press conference ahead of the West Ham game:
---
Reader Comments (30)
Note: the following content is not moderated or vetted by the site owners at the time of submission. Comments are the responsibility of the poster. Disclaimer
Kim Vivian
1
Posted 14/09/2018 at 15:59:18
Great news. Let's hope we see all of them. Onwards and upwards you Blues.
Fran Mitchell
2
Posted 14/09/2018 at 16:11:10
Good stuff, and Coleman's injury should provide Kenny with an opportunity to stake his claim (and proves why we were correct to keep him, rather than loan him and keep Martina):
Pickford
Kenny, Zouma, Holgate, Digne
Gueye, Schneiderlin, Sigurdsson
Lookman, Calvert-Lewin, Walcott
Subs: Stekelenburg, Baines, Feeney, Davies, Bernard, Dowell, Tosun.
Although I would personally like to see Dowell given a chance in place of Sigurdsson.
Mike Gaynes
3
Posted 14/09/2018 at 16:14:13
So Jonjoe Kenny gets a couple of games. Go get 'em, kid.
It'll be interesting to see who's starting in Richarlison's place. Seems likely to be Calvert-Lewin off his brace against Rotherham and the header against Huddersfield, but I'll be secretly hoping to see Electric Bernard in there.
Oh, wait, I guess it's not a secret anymore, is it?
Christy Ring
4
Posted 14/09/2018 at 16:19:54
Great to see some of our walking wounded back. Mina training with the first team, so hopefully playing in the next few weeks. Macca also back with the first team, still a couple of months away, but hopefully light at the end of the tunnel.
Kieran Kinsella
5
Posted 14/09/2018 at 16:23:32
Looks like the Lookman saga is rumbling along. Silva today saying "he needs to keep focused in his job and give 100% every day."
Martin Berry
6
Posted 14/09/2018 at 16:25:09
I look forward to see how Bernard adapts, he is no bigger than a bag of sugar but has some sweet moves! He could be a better and younger version of Man Utd's Sanchez and I think he and Richarlison (when back) are going to really excite the crowd.
First goal, Mina from a Sigurdsson cross, anyone?
Kieran Kinsella
7
Posted 14/09/2018 at 16:32:47
Martin Berry,
Sanchez is diminutive like Bernard but he is also as hard as nails. Physically, I see Bernard as more of a Juninho or a David Silva. But either which way, if he turns out to be as good as any of those guys then he will be one hell of a signing.
It might not see like the obvious thing but I think Bernard may actually get the best out of Davies and vice versa. Tom can't really dribble, or pick a 40-yard pass, but he is constantly on the move in and around the box with little deft touches here and there to create openings.
The only player who has really worked well with him in that respect has been Calvert-Lewin. He also is a good with a good football brain. I think adding quality midfielders who play quick, on the ground footie will enable those two kids to excel.
There are some guys who you could drop into any team and they would be stars. Then there are others who can star as a group when put together. Potentially I see see Calvert-Lewin, Bernard, Davies etc as like a Steven, Heath, Sharp type dynamic. Individually, nothing amazing but, as a group, very effective. I know I am setting expectations high but that is my hope anyway.
Tony Everan
8
Posted 14/09/2018 at 16:46:37
Those 4 players being fit will give us a boost. I am really looking forward to seeing how Bernard performs. I think the West Ham defenders will struggle against him and Theo.
The goals may come from Calvert-Lewin and Sigurdsson after those boys cause a bit of mayhem. A big selection dilemma for Silva will now be Tosun or Calvert-Lewin. It's a close call.
I was impressed with Calvert-Lewin before the break, he looked like he has come on a bit since last season. He was winning headers from set pieces and seems to have found his shooting boots too. 3 goals in 2 games is good work.
If he is 100% fit after his minor injury I would start him. His confidence will be sky high and he looks like he is more likely to score at the moment. If he is not 100%, start Cenk.
Mike Gaynes
9
Posted 14/09/2018 at 16:48:45
Correct, Kieran. Bernard has none of Sanchez's power and physicality, and he's not remotely the finisher Sanchez is. But he's quick as a waterbug.
Dermot Byrne
10
Posted 14/09/2018 at 17:05:30
"As quick as a waterbug".

Just love that.
Myself? Have huge hopes for Bernard. Think he could be very very exciting.
Sam Hoare
11
Posted 14/09/2018 at 17:29:24
I think those expecting an immediate impact from Bernard may be disappointed.
He's very slight and may well take time to adjust to this league. David Silva, superb magician that he is, struggled to be consistent in his first season or so. I think Bernard will be given more minutes as a sub to get him up to speed.

Tony Everan
12
Posted 14/09/2018 at 17:49:34
Sam,
That's true but there is a ray of hope that he is a seasoned old sausage at 26 in his prime and not a young lad wet behind the ears. He is streetwise and has good experience.
It's just possible he can turn it on from the off. Whatever, all I care about is that he gives 100% and fights like a tiger. He deserves a bit of breathing space to tune in to Premier League football.
Christy Ring
13
Posted 14/09/2018 at 18:18:27
Having played in the Russian league and Champions League, Bernard should find it easier to adjust to the Premier League.
Steve Ferns
14
Posted 14/09/2018 at 18:48:45
You mean the Ukranian League, Christy? Has anyone seen it? Is it physical or something? I've only seen goals and some highlights. Nothing to show it matches England for physicality.
Michael Lynch
15
Posted 14/09/2018 at 19:46:23
I'd like to see Bernard start on the left in Richarlison's position. That seems to be where he's played most of his football, so let him start on Sunday. Then, if needs be, give Lookman 30 minutes.
David Pearl
16
Posted 14/09/2018 at 19:49:23
I'm pretty sure Eastern European leagues are physical. Bernard will be a fine addition, even if it takes a few games. I'm looking forward to all our new faces making a bigger impact than last years recruits.
An okay start, nothing special. West Ham will take some time to gel but are a potential banana skin with some good players. Let's face it dome of their players would get in our team. Who out of Bournemouth or Huddersfield would get in, and we didn't beat them. We are still finding our feet style wise but I'm confident we are in for a good season.
Mike Gaynes
17
Posted 14/09/2018 at 19:55:15
Steve, I'd say after 43 appearances in the Champions League he's capable of handling anything physical that comes his way. Man City knocked him around pretty good, and he bounced right up.
Max Murphy
18
Posted 14/09/2018 at 20:10:53
Can we for once win a game, keep a clean sheet, have no-one sent off?
But I forgot: this is Everton FC. West Ham come to Goodison with no points from 4 games. Conceding 10, and scoring 2.
My prediction: Zonal Marking 2, West Ham 2.
Ed Prytherch
19
Posted 14/09/2018 at 20:10:54
The game is on satellite TV over here in the states but the remnants of Hurricane Florence is due to pass over us in the early hours of Sunday morning. I am hoping that we don't lose electrical power and that the dish is not blown off the roof.
Mark Taylor
20
Posted 14/09/2018 at 20:29:22
Anyone know when Gomes is due back? If he's not even training, the original date of mid-late September looks a bit optimistic!
Hope we haven't got another biscuit McCarthy on our hands, especially given we only have him for a season.
Marcus Leigh
21
Posted 14/09/2018 at 20:33:50
Ed Prytherch (#19),
Good luck, mate. I'm sure the whole Blue community wishes you well with that particular situation.
Eddie Dunn
22
Posted 14/09/2018 at 21:25:43
Good news on the injuries front. Thank heavens we will have some football to talk about, even if we do have to wait till Sunday.
Paul Birmingham
23
Posted 14/09/2018 at 21:45:58
Hopefully on Sunday our midfield will turn up. Interesting to see what the midfield line up will be.
Ed at 19 – as Marcus at 21, said: the very best of luck, facing the hurricane.
Christy Ring
24
Posted 14/09/2018 at 21:48:30
Steve @14,
Correct; my mistake.
Jay Harris
25
Posted 14/09/2018 at 23:56:58
Ed, stay safe and be well.
Batten down the hatches, have a wee dram and come out the other side.
I live in Florida but I'm over here at the moment for family reasons so I know what you're facing,
I hope you and all the family get through it safely.
Gavin Johnson
26
Posted 14/09/2018 at 00:11:35
I'll be in the minority, but I do worry about Bernard's height and build being able to cope with the Premier League. He makes Davy Klaassen look like Mr Universe. Plus he's not had a proper pre-season. I think he'll be used sparingly up until Xmas and think Lookman will be getting the nod over him for the time being.
My team for Sunday. No great surprises:
Pickford
Kenny Holgate Zouma Digne
Schneiderlin Sigurdsson Gana
Walcott Tosun Lookman
Ed Prytherch
27
Posted 15/09/2018 at 01:21:14
Jay, I will have an extra wee dram on your recommendation. We are in for a wet weekend.

Jamie Crowley
28
Posted 15/09/2018 at 03:37:36
Ed, be safe, friend.
Florence is a bugger of a hurricane. Not hugely powerful but slow as a steamboat. All that rain will loosen the ground and there's surely to be flooding and downed power lines and trees.
Let's hope you're safe and get to see your Blues play come Sunday morning
I personally can't wait. I'm really hoping Bernard gets a start and tears it up. I've been really excited to see this kid play. I think he'll be a gem.
Martin Anderson
29
Posted 15/09/2018 at 14:00:17
Max Murphy, you are spot on mate!
Everton are always very generous when bottom of the league come calling…
Jerome Shields
30
Posted 15/09/2018 at 15:19:29
Frank (#2) That's the team that I would like to see against West Ham. I would like to see Bernard come on for Sigurdsson at some stage.
Add Your Comments
In order to post a comment, you need to be logged in as a registered user of the site.
Or Sign up as a ToffeeWeb Member — it's free, takes just a few minutes and will allow you to post your comments on articles and Talking Points submissions across the site.