Silva: Full support for Lookman
Friday, 14 September, 2018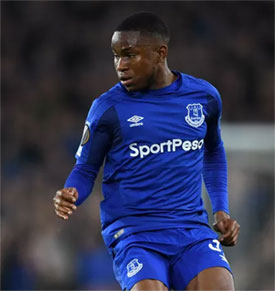 Marco Silva says that the club is 100% behind Ademola Lookman has he resettles into life at Everton following his loan spell at Red Bull Leipzig last season.
The exciting 20-year-old elected to join the Bundesliga side in January and made a quick impact scoring five times in 12 appearances in the few months he was there.
What followed was a concerted effort over the summer by Leipzig to sign Lookman on a permanent basis but they were thwarted by Everton's refusal to sell a player whom they only acquired themselves in January last year.
The situation was complicated, however, by an apparent desire on the player's part to see the move to Germany happen during the last transfer window, that despite a new managerial setup at Finch Farm that is very different to the one he left in the winter window due to frustration at a lack of game time.
The inevitable result has been some uncertainty over how Lookman would react to the Blues' decision to dig their heels in and refuse bids from Leipzig that reportedly topped €20m, although Evertonians have been tried to encourage him with strong messages of support on the couple of occasions he has taken to the field since his return from Germany.
Silva was asked today how he interpreted the reception the winger got from fans when he came on as a substitute against Huddersfield Town a fortnight ago for his first minutes in the first team this season and the manager said that he saw nothing negative in the crowd's reaction.
"What I felt was that it was a big reaction for him at the match," the Portuguese said. "I didn't see that it was a mixed reaction.
"Even if it happened, it would have been a normal situation but what I felt was a big reaction from our fans to him.
"What is expect not just from Ademola but from all our players is big commitment with us every day. It's an obligation to us and our fans with this job."
Asked if he was seeing a happy player in training, Silva replied: "Yes, of course. All of you know what happened during the last [transfer window] — he had one club with big interest in him but it's done, the market is finished.
"Now is the moment to keep focus on his job. The club is supporting him all the time to give 100% every day."
---
Reader Comments (27)
Note: the following content is not moderated or vetted by the site owners at the time of submission. Comments are the responsibility of the poster. Disclaimer
Tony Everan
1
Posted 14/09/2018 at 19:13:52
Lookman is quality. But he has to earn his place fair and square. Hard work, taking his opportunities and giving 100% all the time. He needs to get his head straight and focus.

Minik Hansen
2
Posted 14/09/2018 at 19:52:38
Tony, I think the last part is still missing. Let's hope he gets his chance soon and scores, to get him closer to the ground.
Eugene Kearney
3
Posted 14/09/2018 at 19:59:11
I am really 50/50 on this guy. I've never really made up my mind about him. We haven't been getting the full story over the last 8 or 9 months.
I hope he isn't gonna be blow hot, blow cold like a certain Kevin Mirallas.
He'll need to show he's committed to Everton FC over this season.
Joe O'Brien
4
Posted 14/09/2018 at 20:35:50
A goal on Sunday would do him the world of good... especially with the huge cheer he'll get from the home support.
Lev Vellene
5
Posted 14/09/2018 at 20:48:48
Eugene (#3),
Remember being 18-21? I avoid doing so at all costs... :D
Well, he was brought to Everton as being a very hot prospect, then he gets ignored – even after his game vs LFC... And he finds he can play to his best for someone who eventually not only accepts him, but seemingly loves him? No-brainer for an ambitious young man!
Lookman is very much what we need, he can do the unexpected and has self-belief enough to try. He's been on and off, like all youngsters meeting very experienced opposition, as opposed to what he found at younger levels.
So I hope he buckles down and takes on board everything Silva and the more experienced players can load onto him, then makes his own nest among all that!
Bill Griffiths
6
Posted 14/09/2018 at 20:49:43
I think he's got the ability an potential; I don't know if he's got the right attitude and commitment.
Brian Harrison
7
Posted 14/09/2018 at 21:26:09
I think the lad is a very talented footballer and, more importantly, so do Silva and Brands. I thought when Silva said he sees Lookman as the present and the future, he would have drawn a line under what happened with both Koeman and Allardyce.
I can well understand how he wanted to go back to Leipzig where they took a chance and he performed very well for them; so much so, they were prepared to pay in excess of £20 million for a player who had only played a couple of games for us coming off the bench.
I have to say his body language didn't look great when Silva brought him on against Huddersfield. But even a disenchanted Lookman still created a great chance in the 15 minutes he was on the field.
I also read what Aidy Boothroyd, the England Under-20s manager, said when Lookman played against Latvia in the week. He said, "Ademola is a very talented footballer but whether it was the on-off transfer to Leipzig that has affected him, I don't know, but the player lacked focus tonight."
I just hope that he knuckles down and puts the transfer to Leipzig behind him but, if he can't and has decided, whatever happens in the coming weeks, then we will have no option but to sell.
Rob B Williams
8
Posted 14/09/2018 at 21:40:36
Get rid.
Kieran Kinsella
9
Posted 14/09/2018 at 21:40:52
I think he is a big-time Charlie who has told Silva "Wine me, dine me and 69 me," and Silva is saying, "Knuckle down, kid, and earn your spot."
Mark Andersson
10
Posted 15/09/2018 at 02:33:40
Only time will tell if Silva's judgment was right. One thing's for sure, if he does not show the right attitude on and off the field, the fans will turn against him, talented or not.
David Cash
11
Posted 15/09/2018 at 02:44:45
Too soon to write the boy off Rob. He has exceptional talent
Peter Thistle
12
Posted 15/09/2018 at 03:17:47
Think he's a bit up his own arse to put 100% in every day.
When joining Leipzig he was asked what flaws he had in his game, he replied, "I don't have any".
His biggest flaw is his personality. Dunno if that will ever change...
Victor Yu
13
Posted 15/09/2018 at 03:23:28
Will he play tomorrow?
Sam Hoare
14
Posted 15/09/2018 at 06:53:40
Brian @7, interesting and concerning quote from Boothroyd there.
The window has been shut for weeks now. It does not bode well that the player still seems to be affected negatively by it.
I suspect that Everton may never see the best of Ademola Lookman which is a shame as he could be a good player. Leipzig know young talent when they see it.
Colin Glassar
15
Posted 15/09/2018 at 08:11:03
I hope he doesn't become another Said Berahino or like so many other talented young players who waste their talents after going into a strop because of a failed move, or bad advice. The kid has bags of talent, that shouldn't be disputed.
Eddie Dunn
16
Posted 15/09/2018 at 08:27:50
It appears that Lookman isn't quite over the whole Leipzig episode, especially after hearing what Boothroyd said. There is no way Silva will give him a start in this frame of mind, and there are other options on the bench now that Bernard is fit, so Ademola may have to wait.
He is talented but to succeed he needs to be 100% on his game physically and mentally. Perhaps he is one of those lads who needs an arm round the shoulder rather than a kick up the arse.
Eugene Kearney
17
Posted 15/09/2018 at 08:44:05
Lev #5, Yes I do remember being 18 - 21 and thinking I was invincible, but it is a bit saddening now to think too much about it ;-)
I do get your point, yes. I didn't understand how Koeman just shoved him into a cupboard after his wonderful first game and goal against Man City.
Well, Silva apparently plans to use him, so maybe he'll get his chance to shine and show some invincibility for us.
Robert Leigh
18
Posted 15/09/2018 at 09:10:28
Colin #15 – good point with regards Berahino.
It's in everyone's interest for him to perform, nobody wants to sign a sulk so, if he wants the Leipzig move (or indeed any move), he will need to play, and play well.
Simon Smith
19
Posted 15/09/2018 at 10:25:04
I really don't think he will amount to anything special. Happy for him to prove me wrong but I can't see it happening.
Michael Williams
20
Posted 15/09/2018 at 15:04:26
We should have sold him. He will not get a real look under Silva with Silva signing his own players and Lookman knows it. I certainly have no evidence but I believe Brands did not want to lose a talented player this early on his watch and that is why Lookman is still here.
Kieran Kinsella
22
Posted 15/09/2018 at 15:50:25
Colin @15,
I think you may have nailed it with the Saido Berahino comparison. I was trying to find a good match: Balotelli, Ravel Morrison, but Bera fits. What a wasted 3 or 4 years he has had.
I am glad to see that he seems to have finally turned the corner. I am not a fan of Stoke, Burundi or him particularly but it is a shame to see a guy waste his talent.
Gary Carter
23
Posted 15/09/2018 at 16:36:55
Lookman so far is far more of a myth built up by Blues than he is an actual top quality player. He's done little for us in truth and still has a hell of a lot to prove.
Ian Linn
24
Posted 16/09/2018 at 00:16:14
Not sure why Lookman is the new messiah, saw a couple of decent cameos the season before but that's all I recall.
Happy to be proved wrong but I suspect he's not going to live up to the hype.
The new Jeffers, Barkley, Rodwell, Vaughan... [Insert name here]
Kieran Kinsella
25
Posted 16/09/2018 at 02:58:37
Ian Linn
Unlike the three wankers you mentioned, Vaughany was actually a decent lad and player. Just had terrible luck with injuries. I am glad to see him doing well at Wigan with Robinson and Connolly.
He could've done much more but he has forged out a solid career for himself considering his terrible luck. He is one ex-Blue I would welcome back as a coach as opposed to jokers like Jeffers.
Karen Mason
26
Posted 16/09/2018 at 09:23:40
I would say that it"s difficult to evaluate how good little Ademola can be. He is still young & developing & has not had a consistant run of matches in a Blue shirt. That he had more game time at Leipzig & did well is the best indicatiion that he is worth keeping & nurturing. When he signed, I'm sure he thought it was an opportunity to 'make it' in the Prem league. Then, kept out of the side by players like Bolasie ??? ( Really??). No wonder the kid was frustrated & disappointed. If Silva can win back his faith in our club, I think he has plenty to offer. Would hate him to leave us & be a huge asett to another club.
Clive Rogers
27
Posted 16/09/2018 at 10:44:49
He only looked half interested when he came on against Huddersfield and apparently less than that in midweek for the U20's. He has only shown flashes of ability and it is his mental approach that may be the problem. If he is still not happy, he can be offloaded in January or summer. Some people are never happy.
Geoffrey Williams
28
Posted 17/09/2018 at 19:12:35
I've seen very little in Lookman for him to get such glowing testimonies. We should have taken the money on offer.
Add Your Comments
In order to post a comment, you need to be logged in as a registered user of the site.
Or Sign up as a ToffeeWeb Member — it's free, takes just a few minutes and will allow you to post your comments on articles and Talking Points submissions across the site.