Everton v West Ham United
Saturday, 15 September, 2018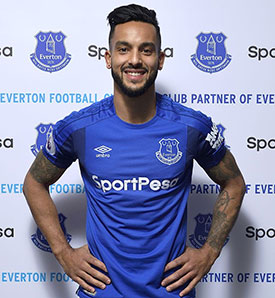 Theo Walcott has recovered from a rib injury and is in contention to start
Everton are back at Goodison Park following the first international break of the new season to resume their Premier League campaign against West Ham United.
The fortnight interval has enabled Idrissa Gueye, Theo Walcott and Bernard to shake off their respective injuries, while the knock that Dominic Calvert-Lewin sustained in the week playing for England U21s has cleared up but Seamus Coleman was added to the injury list with a stress fracture in his foot.
That means that where Marco Silva was always likely to make changes to the team that started against Huddersfield, the manager will have to make at least one unwanted alternation to his line-up to replace the Irish fullback, almost certainly with Jonjoe Kenny.
With Phil Jagielka and Michael Keane ruled out with injury and Yerry Mina unlikely to be deemed ready having only started training with the first team during the week, the central defensive pairing of Mason Holgate and Kurt Zouma picks itself. That leaves a decision over whether to start Lucas DIgne or Leighton Baines, although the Frenchman's contribution to the last two matches should have been enough to earn him a third successive start.
Gueye's return will likely see him reunited with Morgan Schneiderlin in central midfield and Tom Davies drop back to the bench. Then it's just a question of whether Silva continues with Calvert-Lewin up front with Cenk Tosun, or hands a start to Ademola Lookman or Bernard wide on the left.
For their part, West Ham arrive at Goodison Park having made an awful start to the season despite splashing out tens of millions of pounds on new players over the summer. Just as was the case at Everton last year, the Hammers' new signings have struggled to gel and they have conceded a hatful of goals, scored only two of their own on the way to four straight defeats.
They will perhaps travel to the northwest this weekend low on confidence but knowing that they can kickstart their campaign under new boss Manuel Pellegrini if they can, at least, emulate Huddersfield and frustrate the Blues while looking to exploit the defensive vulnerabilities that have prevented Silva making a perfect start to his Goodison tenure.
If there is one team that Everton have enjoyed facing in the Premier League era, it's West Ham — not least last November when they romped to a 4-0 win — and if Silva can get his team up for it and firing on more cylinders than they were able to ignite two weeks ago, they should prove too strong for the Hammers whose own soft centre in midfield and defence is an obvious weak area.
Kick-off: 4pm, Sunday 16 September, 2018
Referee: Andre Marriner
Last Time: Everton 4-0 West Ham United
Predicted Line-up: Pickford, Kenny, Holgate, Zouma, Digne, Schneiderlin, Gueye, Sigurdsson, Walcott, Calvert-Lewin, Tosun
---
Reader Comments (106)
Note: the following content is not moderated or vetted by the site owners at the time of submission. Comments are the responsibility of the poster. Disclaimer
Tony Everan
1
Posted 15/09/2018 at 08:59:53
That's the team apart from I wouldn't play both Calvert-Lewin and Tosun from the start. I feel it reduces creativity from the midfield. I would play Calvert-Lewin through the middle, Theo on the right, and start Bernard or Lookman on the left.
We are at home against a team devoid of confidence; we need to attack and take the game to them from the off. Get immediately on the front foot and create panic in their ranks. Blow their game plan out of the window.
Victor Yu
2
Posted 15/09/2018 at 09:12:39
Try to play two up front.
We are facing the bottom team. Shouldn't we be more aggressive and take some risks?
Lenny Kingman
3
Posted 15/09/2018 at 09:13:52
Pellegrini will be calling a taxi after the game.
Gareth Clark
4
Posted 15/09/2018 at 09:26:47
I wonder who will captain the predicted team?
I worry that Gueye, Walcott & Calvert-Lewin aren't 100% fit.
I would go with this line-up:
Pickford
Kenny Holgate Zouma Baines (c)
Gueye Schneiderlin
Walcott Sigurdsson Lookman
Tosun
Subs: Stekelenburg, Mina, Digne, Davies, Bernard, Calvert-Lewin, Niasse
And I'd bring Gueye & Walcott off after 60-odd minutes, so they aren't pushed too hard after coming back from injury & give them a break for the Arsenal game.
Subs (if the game is going well) would be:
Davies 🔁 Gueye
Bernard 🔁 Walcott
Mina 🔁 Holgate
Ian Bennett
5
Posted 15/09/2018 at 09:32:25
Yep, I wouldn't start Calvert-Lewin on the left either. He did score, but I thought the balance wasn't right.
I'd prefer Bernard, Lookman, Digne or Baines to be tried in a more advanced role.
Hopefully the injuries start to ease as it's a joke at the moment.
John Keating
6
Posted 15/09/2018 at 09:59:05
I agree with Lyndon's team; however, I would play Lookman in place of Tosun. So it's Walcott and Lookman either side of Calvert-Lewin. I think Dom's recent goals can't get him dropped.
I think Silva should tell him straight from the off, if he thinks he's so good then get on and prove it.
Regarding the bench, I think Silva has to give young Hornby a seat. His confidence will be high and getting on the bench and a sniff of getting on can only bode well for him.
I expect a win. I also expect we will not keep a clean sheet and I finally expect we will continue to suffer from set pieces.
Brian Harrison
7
Posted 15/09/2018 at 10:03:21
Despite the Premier League table, I think this will be another hard game. West Ham will be determined to avoid a 5th straight defeat. And as Huddersfield showed, get men behind the ball and, without Richarlison, we struggled to create much. I think also West Ham have better players than Huddersfield, especially in forward positions with Anderson and Anautavic.
I don't think Calvert-Lewin is suited to playing wide as his natural instincts are those of a centre-forward not of a winger. That may open the door for either Lookman or Bernard to play wide left; if he does pick Lookman, we will want to see a different body language than he showed against Huddersfield. I like the lad but if he doesn't want to play for Everton then I guess there is only one option.
I also think this is an important game for Tosun: as a centre-forward, you are measured by one thing and that's goals scored; if he fails to hit the target again tomorrow, then I can't see Silva starting him against Arsenal. For me, although a willing worker, he has too many deficiencies to be our main striker: no pace, wins very few balls in the air, and is too often out-muscled.
Silva might even surprise us and put Sigurdsson out on the left and play Bernard in the Number 10 role, although I think that depends on whether he thinks Bernard is fit enough yet to play in that role.
I'm looking forward to seeing Zouma play, as he looked very impressive against Huddersfield, and I will be interested to see how he does against better attackers. Finally, I think Baines has been brilliant for us but he has to start Digne tomorrow – he looks a real class act for me.
Jay Harris
8
Posted 15/09/2018 at 10:42:40
I have to go with Lyndon's team but would like to see Bernard at some stage.
I hope we really go at them from the first whistle as their confidence will be fragile.
Jerome Shields
9
Posted 15/09/2018 at 10:49:21
I agree with the team except Tosun. I would put Lookman in his place. Tosun is not enough of a threat. Against West Ham who are going to pack the defence, the last thing we need is Tosun huffing and puffing with his back to goal helping them defend.
I would like to see Bernard brought in at some stage to the Number 10 role. Everton have to threaten the goal more. Gueye playing will be a real help to Schneiderlin. Kenny will also help replacing Coleman, who was below par before his recent injury.
Hopefully we see some improvement in defensive organisation, particularly in awareness and showing an understanding of zonal marking. They have had two weeks to practice on the training ground. Everton have made an improvement on errors; hopefully it stays that way.
The main stumbling block will be Everton's ability to break down West Ham; this needs an improvement in specific areas which have let us down in previous games. A good stepping-stone for the Arsenal game. Silva's team selection and recent coaching are going to be vital.
Mike Allison
10
Posted 15/09/2018 at 12:43:07
Our unbeaten start and West Ham's 4 defeats out of 4 mean they have overtaken us as the club with the most Premier League defeats since its inception. If we lose, we'll go back level with them.
I'm sorry, I know that is basically pointless information but I still can't help finding it slightly interesting.
Barry McNally
11
Posted 15/09/2018 at 12:50:45
Mike @10, Everton have played a lot more games than West Ham in the top flight since football was invented in 1992.
Brian Murray
12
Posted 15/09/2018 at 13:15:03
Time for Fraser Hornby to see if he's the answer up front because, despite Tosun's hold up play, he offers very little.
Jim Wilson
13
Posted 15/09/2018 at 13:25:18
Silva fell into the same trap as previous managers of playing Calvert-Lewin out of position against Huddersfield, thus limiting our creativity. His effort is excellent but he is not left-sided. Either play him up front or don't play him.
Coupled with Sigurdsson's lack of dominance in a game, you can see why we struggled against Huddersfield to create chances. We need to move away from 'same old same old'.
Mike Allison
14
Posted 15/09/2018 at 13:27:37
Yes, Barry, 156 to be precise. And we have won 88 more matches than they have.
John Pierce
15
Posted 15/09/2018 at 13:36:28
West Ham are hapless against Everton, rarely do they get the better of us. Our record is one many have over us. Especially at Goodison Park. Whatever our form, we seem to have the sign over them.
3-0 to the banged up bloos!
Fran Mitchell
16
Posted 15/09/2018 at 13:39:17
Interesting game. Many on here were lamenting us not hiring Pellegrini, saying West Ham had made the coup of the summer. The same names came out saying West Ham had won the transfer window while we were diddling our thumbs.
While it is still too early to draw any conclusions, I am confident I was indeed correct in my evaluation of both Pellegrini and West Ham's transfer strategy. However, we are Everton. I cannot think of a team more gifting to clubs who are in an awful run of form.
4 losses out of 4 is something they'll want to arrest asap. A draw would be like a victory for them; I hope we don't give it to them.
If we are to be challenging Man Utd and Arsenal for 5th or 6th place, we should win this comfortably. However, I do feel in this first season of Silva, we will draw many a game we should win.
For the lineup, I would like to see Calvert-Lewin in the No 9 position, with one of Lookman or Bernard out wide.
And if Sigurdsson doesn't get going, I'd like to see Dowell given a chance in the No 10 role at some stage.
Also, I'm hoping Kenny can come in and really make a statement at right-back.
Tom Bowers
17
Posted 15/09/2018 at 13:42:26
As Everton found out about Huddersfield, there are no easy games in the Premier League, regardless of a team's start to the campaign. The Hammers have a lot of talent that is yet to gel under a new manager and Everton still have to hit a high note themselves.
It is good to hear some injured players are back in light training and we hope that, sooner than later, they can stake a claim. Quite a few positions are still up for grabs.
Any kind of win would be welcome and you do expect it at home but a win with style is always a plus.
Hopefully, Bernard gets a start and can show us what he's all about for real.
Derek Knox
19
Posted 15/09/2018 at 14:07:59
Raymond @18, totally agree there.
What a pleasant change to have a game to look forward to, it seems ages since the last game. Let's hope we can produce a decent display, as opposed to the lacklustre performance against Huddersfield.
COYB
Raymond Fox
20
Posted 15/09/2018 at 14:11:16
I agree with the view that this won't be an easy game, they will be desperate to get something out of the match. Most of the neutrals are tipping us to win but the betting with us being 11/10 favs is saying otherwise. If we were a good thing, we would be as short as 1/2 or maybe 4/6, I'd say.
That said, I can't see us losing the game, but we might have to settle for a draw again, who knows?

Steve Ferns
21
Posted 15/09/2018 at 14:30:42
Pellegrini is on the brink or close to the brink. Most of those players, the ones he selects, will be playing for their long-term futures, and those of their manager.
Let's also make no mistake about it, if West Ham's players play to their very best, then this will be a very difficult game. They have Felipe Anderson, Yarmolenko, Arnautovic, Hernandez, Michail Antonio, Lucas Perez, and Jack Wilshere. That's a lot of firepower if they can make it work.
The issue is they have bought players like a fan would buy players. This means that they are front loaded and weak in midfield and defence. They are likely to line up in a 4231 with Arnautovic as the lone striker, but supported by Antoni, Felipe Anderson and Yarmolenko. We need Schneiderlin and Gueye to be disciplined and help the back four to deal with this front four. Their defensive midfield and defence is considerably weaker and this is where West Ham's issues are.
We need to play on the counter attack and pick them apart. If we go out all guns blazing and go toe-to-toe, then we will give them a chance. This is a game for caution and defending well and playing on the counter. If we show this discipline, then we should win easily.
Derek Knox
22
Posted 15/09/2018 at 14:37:55
Although we have had many additions to the squad, apart from Zouma and Digne, they have not been introduced to the first team, mainly because of injury.
I was so disappointed in the performance against Huddersfield, don't blame the opposition either, we should have had the wherewithal to open them up and get a least, a one-goal advantage.
I don't expect the team to be much different to Lyndon's projected one, but agree that Tosun and Calvert-Lewin should be an either or, and by virtue of his recent goals Calvert-Lewin shades it for me.
I would like to see Lookman in Charlie's role, it will give both him and the team more creativity on the left, and should match the threat on the right with Kenny and Walcott.
Let's hope we can burst bubbles, and not let them blow any!
Joe O'Brien
23
Posted 15/09/2018 at 15:07:30
I think the game against Huddersfield will help us in the long run. We need to be ready when teams come to us with the same attitude. Change our mentality find another way to win.
I'd agree also with the Lyndon team bar Tosun, Calvert-Lewin up front with Lookman starting and Bernard coming on for him on 60 mins. Hopefully we'll keep a clean sheet, but I'm seeing a 3-1 win for us.
Jamie Crowley
24
Posted 15/09/2018 at 15:23:30
Despite saying I'd give Silva a ton of rope, I feel like this is a game where I will only have one of two reactions.
1. Three points: We're going places. We have a chance to break the top 6.
2. A point or a loss: We've got a long way to go. If we can't beat the likes of a studdering West Ham at home, we're destined for a meaningless season finishing top half with no dream of real success. Too many points lost already, it ain't gonna happen.
Fickle.
Damien McShane
25
Posted 15/09/2018 at 15:25:34
Any links Please
Tim Gerrard
26
Posted 15/09/2018 at 15:28:25
I think Silva will go for balance in the team. He will play Walcott on one wing and Bernard on the other, with Tosun down the middle. I personally would play Dom down the middle since he is scoring goals, and Tosun is so far not even getting in the position to miss chances.
Tosun may well be in the last chance saloon anyway, barring further injuries/suspensions with the imminent return of Richarlison. I think it will be Digne over Baines as he has done nothing to put his place in the starting eleven in question.
Kieran Kinsella
27
Posted 15/09/2018 at 15:35:54
Calvert-Lewin is a problem but in a good way. No, he isn't a left-winger... but Yes, he does make a meaningful contribution to the team in terms of assists mostly but also goals. He isn't a consistent enough finisher to play as the lone striker, but it seems silly to have him on the bench (based on productivity over the last 18 months) and let other people take turns at offering nothing down the left. That was certainly the case last season with Bolasie and Mirallas.
Potentially, things could be different this season but, as of now, there are question marks over Dowell, Lookman and Bernard. Dowell has yet to make any impact at this level. Is he ready to step up? Lookman seems to be in a sulk; Bernard is brand new to England and facing a step up in pace and physicality from Ukraine. Just back from injury too, will Silva want to throw Bernard in the deep end by starting tomorrow? I suspect not. I think we are likely to see him off the bench.
Kieran Kinsella
28
Posted 15/09/2018 at 15:40:52
Gareth,
Interesting point on the captain. Based on interviews, I think Walcott is a really smart, level-headed guy plus he has more top-level experience so I would go with him personally. But, if Silva wants more of a boisterous "personality", he may even go with Pickford or even young Kenny. Schneiderlin would be the boring, safe option I imagine.
Jim Bennings
29
Posted 15/09/2018 at 16:00:10
Regardless of the injuries, if we can't beat West Ham and Huddersfield in back to back home games then it does very little for the morale.
We should be battering them tomorrow, not finding the same old lame excuses of "Oh, oh, but we've got injuries. In three months time, we will be this good and that good." No excuses; no more "we will be this good next season".
I want to start seeing serious progress in the next 6 games and not sit around waiting months on end to just still be making the same mistakes as we are now anyway (much like last season).
In life, the time to do stuff and achieve stuff is NOW! It's time Everton woke up and started making some waves in the Premier League, like those red scabs across the park have been.
Hugh Jenkins
30
Posted 15/09/2018 at 17:18:07
Wishful thinking, perhaps, but against the currently worst side in the Premier League, if we can win by 4 clear goals tomorrow, we will go sixth, above Spurs and Arsenal.
Lennart Hylen
31
Posted 15/09/2018 at 17:23:20
West Ham have lost the first four and are bottom. An easy win tomorrow? Remember, this is Everton.
Brian Wilkinson
32
Posted 15/09/2018 at 17:25:09
I am going for a 2-0 win, with Cenk Tuson opening his goal account.
Sam Hoare
33
Posted 15/09/2018 at 17:32:28
Jim 29, why on earth should we be battering them?! This league is tough and any team can beat any other team on their day, that's the beauty of it.
We have no divine right to batter anyone, least of all a team like West Ham with a title-winning manager and an expensive collection of internationals.
I expect a tough game and I'll be delighted with a scrappy last-minute winner.
Alan McGuffog
34
Posted 15/09/2018 at 17:39:39
At the risk of your questioning my mental health / medication levels again, Hugh, I just don't see it. I have always hated playing sides on a dodgy run of form... we always seem to be the springboard that sets them on their way onwards and upwards.
Anyway...time for a Lagavulin and maybe a Prozac chaser. Cheers.
Jim Bennings
35
Posted 15/09/2018 at 17:48:00
Sam,
By 'batter', I basically mean we need to start making a statement to teams around us.
Against Huddersfield we completely played into their hands, let's be honest about it, and never looked like making anything happen. In the Southampton game, we stuttered over the line.
Given the struggles in winning away games, which probably looks already on the horizon again this season, we need to beat teams like West Ham and Huddersfield at Goodison Park.
We haven't beaten a top 6 side home or away for 18 months so that's like almost 12 games with limited wins to expect from.
Without being disrespectful to the Hammers (and other teams below a certain level), we need to get at them and make a statement of real intent.
Kim Vivian
36
Posted 15/09/2018 at 18:04:54
Just seen for the first time this pink/white ManU kit. That has to go down as about the worst ever.
Blues to shade it tomorrow with a disappointing 2-1 win. But a win nevertheless.
Jim Bennings
37
Posted 15/09/2018 at 18:15:35
Lukaku again.
Remember when we had a centre forward who could score!?
Sam Hoare
38
Posted 15/09/2018 at 18:35:05
Jim @35, that all sounds good but I think we have to temper expectations to a degree. We were terrible last season and are putting together a new team with a new style. We've not yet shown anything to suggest that we are on a different level to West Ham or indeed any other team.
We're a team in transition (like West Ham) and I expect there to be good and bad days. And many in between. Both home and away. We won't make top 4 and we won't get relegated.
I think unrealistic expectations at this point (from match-going fans) makes life harder potentially for the players. Of course we will always want to win but degrees of patience and realism are needed.
I'll be happy with a decent performance and last-minute winner off Cenk's knee.
Derek Knox
39
Posted 15/09/2018 at 18:41:35
Jim Bennings, I don't know about 'batter', but I would settle for breadcrumbs, as long as it resulted in a win. Yes, you are so right too, if we are struggling at home against these sides we are expected to get at least a result.
It doesn't augur well for games against the big boys, let alone our away form. While I appreciate, for yet another season, we are a work in progress, I would have expected, with a kinder fixture list to the start of the season, we would have had near to maximum points.
Kim, a disappointing win, although not ideal, is better than a disappointing draw, or even worse, a loss.
Andy Meighan
40
Posted 15/09/2018 at 18:43:08
This match has got another Huddersfield written all over it.
I feel like strangling that Richarlison for what he did at Bournemouth.
Kim Vivian
41
Posted 15/09/2018 at 19:34:39
It doesn't happen very often but on this occasion I am inclining to agree with Jim's sentiments expressed at #29 and #35. We need to be making statements NOW.
And yes, Derek, exactly my point. Whilst expecting a convincing result in our favour, I feel however we will make hard work of it and win disappointingly (I don't mean win, disappointingly).
Pat Kelly
42
Posted 15/09/2018 at 20:01:15
If we don't win easily tomorrow we'll be a laughing stock, especially after last week's display. I expect a win. After all, West Ham are the type of side even Calvert-Lewin and Tosun should be capable of scoring against. No excuses.
Jack Convery
43
Posted 15/09/2018 at 20:03:22
If we don't get our noses in front early doors, I suspect another Huddersfield type game. COYBs – put them to the sword – PLEASE!!!!!

Anish Dosani
44
Posted 15/09/2018 at 20:35:02
I'd like to see Bernard get some minutes. Seems a tricky player, like David Silva at Man City, who can unlock those teams that park the bus.
John Keating
45
Posted 15/09/2018 at 20:46:11
Last season, when we were absolutely dire, we played Huddersfield and West Ham back to back and got 6 points.
This season we are better and Huddersfield and West Ham are worse than last season.
Why anyone is saying we shouldn't expect too much is strange.
We were shocking against Huddersfield. We have no divine right to win games but, if we don't get 3 points tomorrow, then, even after so few games played, our season is over.
Gareth Clark
46
Posted 15/09/2018 at 20:48:16
Kieran #28
I agree with you 100%! I really like Walcott & he's a really good option for captain.
I think Sigurdsson is the other option – and I think he might play better if given the captaincy.
The team itself is relatively experienced and there are no lack of leaders, so I'd be happy to play with Digne starting:
Very close call between Lookman & Bernard at left-midfield, as well as between Tosun & Calvert-Lewin up top.
Pickford
Kenny Holgate Zouma Digne
Gueye Schneiderlin
Walcott(c) Sigurdsson(vc) Lookman
Tosun
Subs: Stekelenburg, Mina, Baines, Davies, Bernard, Hornby, Calvert-Lewin
Jeff Armstrong
47
Posted 15/09/2018 at 21:06:56
Derek #22, why Lookman? His head is still in Germany. Bothroyd said as much in midweek: he's sulking, he was rubbish against Huddersfield when he came on. Leave him on the bench and bring him on in bits and pieces. If no improvement in attitude, ship him out in January for £25 mill.
Ray Smith
48
Posted 15/09/2018 at 21:20:00
Hugh 30
You must be (psychadelic) psychic, in that I have looked at the table and 4-0 will take us 6th. If your in the Winslow 2.30-2.45 I'll buy you a pint.
I'm the scouser with the southern (not cockney) accent. Blame my mother for taking me south in the 50's.
James Stewart
49
Posted 15/09/2018 at 21:27:32
Mina has to play for me. Holgate is miles off Premier League level:
Pickford
Kenny Mina Zouma Digne
Gana Schneiderlin Sigurdsson
Walcott Tosun Benard
Jim Bennings
50
Posted 15/09/2018 at 21:38:01
Can't see Mina starting tomorrow, James, as he's only started training.
I can see the logic in bringing him in especially at Goodison against a team we should be beating (on paper) and if for any minute we feel he's fit enough, then yes he's got to start tomorrow... but I suspect Silva will feel it's too soon.
What we don't want is bringing him in for his first game next Sunday at the Emirates against Arsenal where we normally get arse-slapped.
I feel for certain that Mina and Zouma will be the main partnership going into the Fulham game on 29 September.
Paul Kelly
51
Posted 15/09/2018 at 21:45:18
Put a Bobby on Tosun to score first.
Jamie Crowley
52
Posted 15/09/2018 at 22:07:20
Sam Hoare @ 38 -
You say, "I expect there to be good and bad days. And many in between."
Very true. And we do need to be patient.
My issue is we've already had bad days and dropped points. I simply want to beat the teams we should. That will see us moderately successful this year, and keep the Silva train on track.
A 0-0-4 West Ham at home simply shouldn't / can't beat us. If they do, we've dropped way, way too many points early season with a relatively light schedule.
What I fear is if we're giving away points now, what happens when we play Spurs, Chelsea, Man Utd, and those whose name must not be spoken?
We just need to win these types of games. As you say, by any means at all. A goal in the 92nd minute off Cenk's backside would do for me too.
This is a bigger game than what it appears. West Ham will be rabid to win, reversing a terrible start. It's a statement game as Jim Bennings alluded to, in my opinion at any rate.
Just win.
Paul Birmingham
53
Posted 15/09/2018 at 22:30:24
Accepting all injuries tomorrows, it's got to be a win.
Does any one remember the Jim Arnold howler, years ago against the Hammers, 1983, at Goodison Park?
Scary days... and what's happened since is a lifetime of everything.
That was a pot shot, but summed up that season. We don't need a first Premier League win v EFC.
Tomorrow we must see The Hammers off. No excuses, a win is a must.
Jim Bennings
54
Posted 15/09/2018 at 22:42:41
It is a statement game of course.
We need to start making teams worry about Everton.
We are still of the mentality when we face the top 6 home or away that we are massive underdogs (still in many ways stuck in the Moyes era psyche) and shouldn't be on the same pitch as them.
We need to start making teams outside the top 6 fearful of Everton if we are to be taken seriously.
We are okay spending tons of cash nowadays but there needs to quickly develop a cockiness that the top sides have in abundance.
Steavey Buckley
55
Posted 15/09/2018 at 22:45:36
If Walcott and Calvert-Lewin don't play tomorrow, I cannot see Everton beating West Ham. Everton were very poor against Huddersfield, and West Ham can't be that bad after acquiring some decent talent during the summer.
Mark McParlan
56
Posted 15/09/2018 at 23:29:18
I agree with Lyndon's predicted line-up – that is the strongest team we can put out relative to the current injury list.
Digne has looked fine, a good player. Zouma outstanding. Holgate has looked alright. Kenny is a player I have a lot of time for and I still hold massive hopes for him to be the long-term successor to Coleman at right-back. He is a more than capable second choice at the moment.
Gueye, Schneiderlin, Sigurdsson. No questions with that midfield.
This is Tosun's last big chance. For the time being, Calvert-Lewin remains on the left (he scores goals... therefore he plays!). Walcott on the right. If Tosun goes goalless for a 5th game straight, then next match play Calvert-Lewin up front flanked by Walcott and the returning Richarlison.
I really want to see Bernard off the bench. God alone knows when we're going to see Yerry Mina, or especially Andre Gomes.
Must-win match! I would personally love to see West Ham suffer another defeat. An incessantly annoying club who think they are much bigger than they are. West Ham United are, always have been, and always will remain, an absolute Premier League paper tiger.
Laurie Hartley
57
Posted 15/09/2018 at 23:32:18
Big game for both managers. I think Pellegrini will come for a win – he has plenty of fire power up front. Aurnotovic in particular is a real handful.
This one will test our mettle.
David Ellis
58
Posted 16/09/2018 at 03:21:56
I don't think this will be like the Huddersfield game at all. West Ham have some excellent players and a dodgy defence. So although they are a better side than Huddersfield they should be easier to beat and also a lot easier to lose to.
Talk of dropping Tosun is nonsense. Talk of starting Lookman likewise. Calvert-Lewin to start on the left with Bernard coming in on the hour. The rest of the team picks itself.
I'll relax when we're 3-0 with 5 minutes to go.
Sean Herbert
59
Posted 16/09/2018 at 04:48:15
Got to disagree with the Holgate comments, I think he is already a good player and will, in the future, be a fixture for us at the back. To suggest he is not Premier League level is very unjust in my opinion.
Now Sigurdsson is another matter, he is the player I feel is vastly overrated and I am still waiting to see the creativity he was supposed to be bringing to the table.
Kim Vivian
60
Posted 16/09/2018 at 05:18:51
Yes, Sean – I agree re Siggy. I've been saying this since before we got him. I'm hoping, of course, to be proved wrong.
Martin Nicholls
61
Posted 16/09/2018 at 05:24:40
On holiday in USA (Long Island) – can any US-based Blues tell me how to get WHU game? Or any bars (I'm in Jamestown) where I can watch?
Paul Smith
62
Posted 16/09/2018 at 05:52:26
West Ham will not be easy to beat. Why should we win easy? I expect a tough game with them fighting for their lives.
Two equally matched teams IMO.
Mike Gaynes
63
Posted 16/09/2018 at 05:59:17
Martin, I never heard of a Jamestown on Long Island... the only Jamestown I know of in NY State is up near Buffalo.
Anyway, the game is on NBCSN at 11am your time, so if they have cable or satellite TV where you're staying, no problem.
If not, your best bet is to go on Yelp.com and search "soccer bars" near you. You should be able to find plenty of places that will have the game on at least one screen instead of the NFL. Try this link:
https://www.yelp.com/search?cflt=sportsbars&find_loc=Long+Island%2C+NY
Dean Cooper
64
Posted 16/09/2018 at 06:45:35
I don't see why Sigurdsson gets a lot of hate on here. He is definitely our smartest player, he just didn't have pace around him last season to make him effective.
With a fit Walcott and unsuspended Richarlison either side of him, he will be a very good player for us this season.
David Greenwood
65
Posted 16/09/2018 at 07:19:44
The narrowest of 1-0 wins today.
West Ham to cheat, foul, play-act and time-waste their way through the game. First booking is nailed on to be a blue.
Walcott with a late winner.
COYB
Sam Hoare
66
Posted 16/09/2018 at 07:35:05
John Keating @45, our season is 'over' if we don't win?! Seems a ludicrous thing to say mid September to me. What our your expectations this season? Winning the league?
I really hope we get 3 points today but win, lose or draw I'd still expect we'll be 6th-10th this year. Don't see how this game in particular is a must win.
Dean @64, I don't think people are hating on Sigurdsson and it's true he may be our smartest player (Bernard may change that). But that doesn't necessarily mean he's good enough. His stats throughout his career show that he's excellent from set pieces but very middling in terms of creating chances from open play. He's certainly a good player but I'm not sure he's a great one and is a way behind the likes of Silva, Eriksen, Mahrez, Hazard, Ozil etc. If we are ever to compete genuinely with the top 4 then we will need a better No 10 in my opinion. Though he's probably good enough for where we are at currently.
Phil Sammon
67
Posted 16/09/2018 at 08:12:39
Dean 64
Totally agree. I don't wish to insult anyone, personally, but if you can't see Sigurdsson's quality then I really don't think you understand football.
He's the player we should be building the team around. If we could just have some more players around him willing to link up and make some movement around him.
Rob B Williams
68
Posted 16/09/2018 at 08:44:29
Looks like a blustery wet day at Goodison today - Nice Sunday lunch, gentle walk down to the Royal Oak for a couple before heading for the ground. Got to be what Sundays are all about. - oh yes and a nice win to put the icing on the cake.
Colin Glassar
69
Posted 16/09/2018 at 09:02:54
If we have practiced defending since the last shambolic performance then we should win this. 3-0.
Tony Everan
70
Posted 16/09/2018 at 09:07:23
The game will be a big test for our defence . West Ham will have been practicing set pieces and corners every day this week. The will think they can overpower Holgate aerially . The lad will under a lot of physical pressure and will be singled out and targeted.
Silva will be desperately wanting to pick Mina but it is too soon. I have got massive faith in Holgate, but I think his tender years leave him a shade vulnerable aerially. If he starts today it will be a great test for him. To be targeted and come through it will bring him on. To fail will set him back and maybe sidelined when injured players like Mina and Keane return soon.
I am willing him to get through this crucial period in his career and push on to become a world class defender.
Kieran Jones
71
Posted 16/09/2018 at 09:14:44
Let's jump 3 places with a 5-0 win! Coyb.
Kim Vivian
72
Posted 16/09/2018 at 09:23:32
And scoring, Colin...
Steven Jones
73
Posted 16/09/2018 at 09:32:23
With so many players injured and suspended we can only hope some continuity and settled patterns of play.
That is why at home Baines should get the nod.
So will DCL on the left. Theo on the right and a Gana, Schneids and Sig midfield.
Tosun up front.
West Ham will be dangerous and have bought some special players that can grab a goal or two out of nothing. Yarm and others may not be up to speed yet but they will soon and their manager will have been drilling them hard. They have to click soon - so not expecting any formality on this one.
Silva is aggressive and progressive and with 2 weeks of the likes of Bernard in training he would have had plenty of time to design an approach today and get the players drilled. Hope this latter situation arises than a SWest resurgence - both are plausibly on today - so no surprise if we are truned over or we stuff this lot 4-1
Steve Little
74
Posted 16/09/2018 at 09:51:42
If Digne is preferred to Baines then there will be no one in the team who was getting a game for us much more than 2 years ago.
A complete overhaul.
Sean Herbert
75
Posted 16/09/2018 at 10:16:15
Phil@67,no offence taken but I think I understand football every bit as much as you do.But I have yet to see Siggi produce anything like the creative talent we were led to believe he would bring to the team.
I can understand the argument about not having the right players around him,but that is no excuse for the poor free-kicks and corners he is currently supplying.
If he is the kind of player a team should be built around,how come none of the big boys came knocking on his door?
Karl Meighan
76
Posted 16/09/2018 at 10:34:11
Sigurdsson showed more quality in snippets on tv when playing for other Clubs than he has in a Everton shirt. I don't dislike him and would like him to get goals from his position to help out the striker, doing this as well as chipping in with assists is where I see him being most effective. I don't ever see him being a creative force.
I wont be underestimating West Ham who after a pointless start will see this as a chance to kickstart there season after the international break.
I hope we start with a natural wide player instead of Calvert Lewin if things don't go are way it can always be changed during the game.
George McKane
77
Posted 16/09/2018 at 10:53:09
"Come a Little Bit Closer
Hear what I have to say
Just like Children Sleeping
We could dream this night away
Because I'm still in love with you
I want to see you dance again"
It's still like a dream for me going to the game. I have sort of made my mind up about Everton - -always have been Blue for all my 69 Years - - but lately it is in the "going" that does for me - - I feel everything else is becoming irrelevant in this media fed false meaningless world.
Going to Goodsion Park, passing my old childhood haunts - - memories, memories - - walking towards The Dark House is all a dream for me.
I can certainly live without the paraphernalia built up around everything to do with "The Big Four".
Being a Blue all my life, well it's obvious that we are still Blues. Not for us the dressing up for a game, taking a selfie stick and ensuring that you are "seen" and in that the match becomes a tourist trip. For many now going to certain games, for certain teams, is like going to The Louvre with your camera phone and taking a selfie with The Mona Lisa and saying that you love art. We are Blues. We go to The Musee D'Orsay - - just around the corner from The Louvre - - across the Park - - and really enjoy the paintings and art because we "love" them not just to be seen there - - but because it is full of history, of art, of love and passion.
How could we not be Blues Forever - - especially with the friends here on TW - - and those from Scotland Road - - St Alphonsus, Daisy Street, St. Anthony's The Priory, St.Gerard's and Cardinal Godfrey and yes even John Hamilton - - we have that sense of loyalty - - of belonging and caring - - and loyalty - - our Mam's taught us it - - my Mam told me it was important to be true - - I used to lay on the couch and listen to my Mam and her sisters talking - - the men were at sea or working - - they were beauties - - all of them - - wisdom and strength - - Sophia's and Athena's everyone of them - - my Mum - - like Ma Joad - - ran our Family - - she had a belief in family, in loyalty, in working class togetherness, in strength, in giving - - no wonder we are Blues - - you see that's why I am not interested in all the periphery of football - - I am interested in the game - - the match - - going and watching - - everything else is irrelevant - - I know that no matter what I will be there today, tomorrow and the day after.
I still get excited about going - - I dreamt last night of the walk to The Hallowed Ground - - to The Dark House - - that moment when I open the door and a corridor of light makes the dust sparkle like Silva(sic) in the air - - the door closes and I remember why it's called The Dark House - -for a moment I saw the gang in their naked beauty:
"We are such stuff as dreams are made on; and our little life is rounded with a sleep".
So I am here at my Apple - - in my writing room - - in New Brighton -- and soon I will shave and shower and get The Magic Bus under The River and walk along Scotland Road - - but for now I sit with my music on - - Groovin (Little Rascals - - right now) - - I let my fingers float almost uncontrolled on the key board - - my mind floating up "Into The Mystic" - - Dreaming - - The Reality in Football is almost too much to think about - - money, corruption, power - - no - - no - - not for me - - of course I know where football is and where its going - - but as Poe says:
"All that we see or seem is but a dream within a dream."
I do not edit myself nor prepare my little bit for TW - - I just let my fingers and my mind float around for a while - - see where they land but attempting to create on line my own world of dreams and memories all linked to going to Goodison - - "The future belongs to those who believe in the beauty of their dreams." - - most importantly I am with Mr. Lennon here: "A dream you dream alone is only a dream. A dream you dream together is reality."
I do this to get myself in the right frame of mind for the game - - knowing that of course I want us to win - - I will do my 4-0 as usual - - remember last time we played WHU - - Yahooo - - I will sit and watch the game without ever thinking of reaching for my phone - - but no matter what I will enjoy the experiences of going to the game - - seeing and talking with friends - - feeling that little sparkle on my neck when the team come out - - saying "hello" to the "usual's" sitting around me - - walking up from TDH and onto Spellow Lane - - I am in The Park End - - and right now I feel that things are going to change - - after last Season - - I am already thankful to Silva and Brands for daring me to smile around Goodison:
"And we'll walk down the avenue again
And we'll sing all the songs from way back when
And we'll walk down the avenue again and the healing has begun
And we'll walk down the avenue in style
And we'll walk down the avenue and we'll smile
And we'll say "baby, ain't it all worthwhile?" when the healing has begun
I want you to put on your pretty summer dress
You can wear your Easter bonnet and all the rest
And I want to make love to you yes, yes, yes, when the healing has begun
Louder, when the healing has begun
So good
Whoo
All right, whoo
Yeah
Aah
Whoo
When you hear the music ringin' in your soul
And you feel it in your heart and it grows and grows
And it came from the backstreet rock and roll and the healing has begun
That's where we come from, man"
I/we cannot give this up - - we live for it - - we love it - - it's in our Blue Blood - - you know I have been ill for the first time in my life - - - I had to go to see a heart specialist - - they put dye in my blood - - I told them it had to be Blue - - they laughed - - I told the Doctor to be careful with me and he was a WBA fan - we talked about Jeff Astle and 1968 - - I still have my ticket for that game - - 7 &6p - -less than 50p - - would you believe it - - we joked and I told him I was nervous and had never had an operation or been ill before all this cancer and heart stuff - - he said that The Surgeon who would be doing my Heart was a Blue Season Ticket Holder - - you see - - you see - - you cannot make it up - -these Cosmic Happenings are there all around us - - just close your eyes and see - - I went to Broadgreen for the beginning of tests last week and the Doctor said "we wont let you go - - we need you Blues" - - You see - - You see.
So now I will get ready - -meet my daughter and grandson - - go to TDH and onto the game - - remember I am in New Brighton - - anytime you fancy a cuppa and a gas - - call me - - always happy to meet up.

It is not because things are difficult that we do not dare; it is because we do not dare that things are difficult.
I send my cosmic grooves to you all with a firm handshake and with a slice of my heart and a little bit of my soul.
Your friend - - George
Martin Nicholls
78
Posted 16/09/2018 at 10:54:34
Mike#63 - thanks. Nice place we're I in but no cable or satellite - I'll find a bar as you suggest
Brian Harrison
79
Posted 16/09/2018 at 11:17:38
There is no doubt the effect Richarlison has had on this team, but as it showed against Huddersfield without him we are nowhere near as effective going forward. So looks like today we will be starting with the same 3 strikers that struggled to create anything against Huddersfield. These 3 played a fair bit together last season and struggled for goals, I don't see that changing with these 3 playing up front. Also our goals return from any of our midfield players is pretty poor, Gana or Schneiderlin very rarely threaten, and the same can be said of Sigurdsson and Davies.
Apart from the Michael Keane goal our defenders don't chip in with many either, so without Richarlison I don't see many goals in this game. So I am hoping for a 1-0 today as win will mean we have had a decent start a draw or worse a loss will make it a different case. Mind to get a 1-0 we have to keep a clean sheet something we have managed yet this season.
Kim Vivian
80
Posted 16/09/2018 at 11:17:49
George - magical. Never spoken with you before - but you epitomise what it is to be an Evertonian (Blue since '72). Thank you.
I'm living in Kent these days but hail from Bromborough. Occasionally can get a ticket but rare these days sadly (Last time was Man U New Years Day). Up in Liverpool next year (if not before) for the stage prod of 'The Bodyguard' - Derby weekend - what a double whammy that could be.
George Mc Kane
81
Posted 16/09/2018 at 11:23:08
Kim - thank you for your good comments - please keep in touch - see my website - www.yellowhouse.info - we could meet and chat about footie and theatre.
Jay Harris
82
Posted 16/09/2018 at 11:34:14
George
Brilliant stuff as always.
Those cosmic grooves will always take care of you so you shouldnt worry too much about the physical side.
My only worry for the game is Arnautovic who will bully the likes of Holgate and Kenny and I can see Holgate losing his rag.
Other than that we should have too much in the tank for this mob.
I would love to see our first clean sheet but just cant so 3-1 to the blues it is.
George McKane
83
Posted 16/09/2018 at 12:00:51
Just leaving for TDH - - have a quick look at this - - don't be frightened :
https://www.facebook.com/105117249592273/videos/257108958270723/
Cosmic grooves.
Barry McNally
84
Posted 16/09/2018 at 12:14:49
George, nice to put a face to the name - love the clock.
Phil Sammon
85
Posted 16/09/2018 at 12:40:22
I'm sure you're a lovely bloke, George, and you seem to bring joy to many ToffeeWebbers...but I can't be the only one who finds the weekly posting of cliches and song lyrics somewhat confusing.
Dave Abrahams
86
Posted 16/09/2018 at 12:42:17
George (77), lovely to hear from you and you are right it is all about going to the match and trying to enjoy the
privilege, if I don't go to an Everton home game it is like missing mass. Best of luck to you George with your
forthcoming operation.
Karl (76), you are right not to underrate WHU, three of their four losses have been against Liverpool, Arsenal and Bournemouth and they haven't been too bad up to now, I expect a win but don't think it will be easy.
George Mc Kane
87
Posted 16/09/2018 at 12:42:59
No worries Phil. Don't read them.
Phil Sammon
88
Posted 16/09/2018 at 12:45:53
I'm not having a go, George. I just don't get it. Others do, so you're doing something right. All the best.
Brian Williams
89
Posted 16/09/2018 at 12:47:58
Phil#85.
You're probably not the only one Phil.
You're just the only one who's seen the need to mention it.
;-)
George Mc Kane
90
Posted 16/09/2018 at 12:53:19
No offence taken at all Phil. There some posters I do not read because they are a bit dull and negative continuously but there's no problem for me with their posts - I feel that there is enough negativity around the site so I just write a little about "the feel of going to the game" - it really is just a bit of lightness. I used to write about certain players or The Manager but now I a just try to find some fun on going to the game especially after the last few years.
Best wishes - off to the game now.
Peter Mills
91
Posted 16/09/2018 at 13:12:10
I enjoy George's matchday posts.
John Keating
92
Posted 16/09/2018 at 13:29:49
Sam 66
"season over" ludicrous ?
Well that's your opinion and like me you are entitled to yours.
We have already lost 6 points out of a possible 12, 4 of them from winning positions. We are already 6 points behind 4th position. Compared to last season this has been a relatively easy start for us and a great chance to not only get points on the board but more important confidence in the players and supporters sky high.
Tottenham bought nobody in the close season, Arsenal are in transition. We have a good chance of getting in the top 6.
We cannot allow teams above us to get too many points ahead so early in the season, playing catch up is difficult at the best of times.
I expected a higher position finish after last seasons horror show and if we keep throwing points away I doubt we will achieve that.
So in my opinion should we not get 3 points today then, again in my opinion, my season will be over regards expectations.
Anyway I'm off to see if we've learned anything over the international break.
John G Davies
93
Posted 16/09/2018 at 13:30:02
Phil,
You can't see the emotional attachment George has to Everton?
A feeling beautifully described by George?
Must be hard to get you going Phil.
Tony Twist
94
Posted 16/09/2018 at 13:32:17
Crunch game for the blues and time enough for Silva to give us some hope. Whether he is up for that it is hard to tell. Even with the injuries we should be beating the hammers easily. Their confidence should be seriously dented. It's a must win, make it happen blues.
James Marshall
95
Posted 16/09/2018 at 13:35:26
This feels like an important game in my view - win and we're on 9 points level with Arsenal & Spurs, and in touch with those above us. Lose and we look like chumps against the bottom team without a point and lose touch a bit with the top 6.
Of course at some point West Ham will get a point or 3 and the Evertonian in me naturally see's that happening today!
Andrew Ellams
96
Posted 16/09/2018 at 14:04:20
I'm not the start we've had can be grounds for being overly optimistic or pessimistic. There are positives and negatives so far but once we have a full compliment of defenders available I personally think we will move forward.
Derek Knox
97
Posted 16/09/2018 at 14:08:02
Thanks George, there's something very refreshing and nostalgic too in your welcome Matchday prose, keep it going mate because you do lift a lot of TW'ers with your lines.
I just hope we can perform well at home, and have no traces of that last performance against Huddersfield.
I know it's only early days but we need to climb that Table and preferably stay there.
COYB
Martin Nicholls
98
Posted 16/09/2018 at 14:27:27
Mike Gaynes#63 - sorry Mike. Meant Jamesport not Jamestown - must have drunk too much when I posted!
James Hughes
99
Posted 16/09/2018 at 14:31:04
BBC are saying Morgan is a doubt for today. I didn't realize He had lost his father this week. So my condolences to him,not that he will know.
Eric Paul
100
Posted 16/09/2018 at 14:31:51
Be careful Phil you will be getting accused of being someone else
Andy Meighan
101
Posted 16/09/2018 at 14:34:50
Just read on the BBC website that Schneiderlin is a doubt due to his father passing away this week. I feel a bit shit now after I've called him fit to burn.
Eddie Dunn
102
Posted 16/09/2018 at 14:41:43
My worry is that only Walcott and Richarlison have showed the ability to open up defences. Our recent performance v Huddersfield was like watching us last season.
I hope we carve out some proper chances today, even if we don't take them!
Colin Glassar
103
Posted 16/09/2018 at 15:02:50
Nice looking team, imo.
Brian Wilkinson
104
Posted 16/09/2018 at 15:10:05
Predicted line-up spot-on, Lyndon — well done, mate.
Joe McMahon
105
Posted 16/09/2018 at 15:19:42
Colin, will look even better when all new signings are in (in ?? weeks time). If only Lukaku was up top. Maybe we needed Silva 2 years ago.
Henrik Lyngsie
106
Posted 16/09/2018 at 15:21:18
Probably The best starting 11 available. I am just a bit sceptical to where will our creativity come from. Our left side is not very creative with Calvert-Lewin. Our centre with Gueye and Schneiderlin again is not very creative. And our right side... I don't know. Maybe we are better of with Kenny instead of Coleman. But Kenny and Walcott is probably not scaring many opponents.
I hope Bernard is matchfit soon and could provide creativity from one of the wings.
Steve Ferns
107
Posted 16/09/2018 at 15:47:26
Fair play to Morgan Schneiderlin playing today. Hopefully he can keep his focus and deliver a performance in memory of his father. I'd have given him the armband for this one. Anyway, going up to watch it now. Let's hope we put in a good performance. COYB
Add Your Comments
In order to post a comment, you need to be logged in as a registered user of the site.
Or Sign up as a ToffeeWeb Member — it's free, takes just a few minutes and will allow you to post your comments on articles and Talking Points submissions across the site.