Arsenal vs Everton
Saturday, 22 September, 2018
Match Preview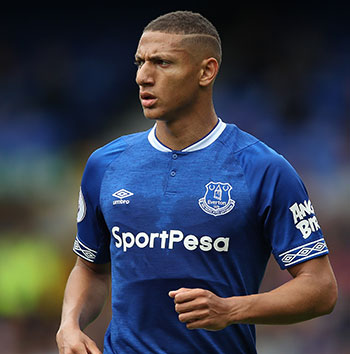 Richarlison makes a welcome return to the side after serving a three-match suspension
Marco Silva's biggest test as Everton manager to date looms tomorrow as he takes his team to North London to face Arsenal.
There are a number of layers to this contest, with plenty for Silva to ponder as two teams still bedding in new managers, with the fresh approaches they have brought with them, go head-to-head in contrasting moods.
After a difficult start that saw them lose to Manchester City and Chelsea, Arsenal have won their three last three games which has shone an altogether more positive light on Unai Emery's first couple of months in charge.
At Everton, however, a good deal of the air has been let out of the positivity that greeted Silva's appointment and the solid start his team made to the season. Last Sunday's 3-1 home defeat to West Ham raised some searching questions about the midfield and defence… not the ideal conditions under which to be preparing for an away day at Arsenal where an Everton team hasn't won in 22 years.
After dismantling the Blues 5-2 at Goodison Park last October, the result that sealed Ronald Koeman's fate, the Gunners ripped through Sam Allardyce's Everton team in February on their way to a 5-1 thrashing that was as embarrassing as any under either manager last term.
They were the latest hammerings meted out to Toffees sides in the Premier League era and given the manner in which Silva's midfield evaporated, combined with the sheer openness of his defence at times against the Hammers, there is undoubtedly some trepidation for Evertonians in the run up to this one.
The hope is, however, that Silva and his coaching team have taken on board the worrying aspects of last Sunday while also acknowledging, perhaps, that for the vast majority of the team, it was just a "bad day at the office", collectively and individually. Jordan Pickford will have learned an important lesson about distribution from the back and Mason Holgate's torment will have provided food for thought and some obvious areas on which focus in training this week.
One of the biggest question marks in terms of team selection involves Holgate and a possible baptism of fire for Yerry Mina*. The Cololmbian has been back in training for over a week now and could be ready to make his long-awaited bow following his August move from Barcelona.
There is some debate over whether he could step in cold to form an unfamiliar partnership with Kurt Zouma while there is another school of thought that it couldn't be much worse than last Sunday. Nor is it inconceivable that Silva could opt for a five-man defence with all three of his fit centre-halves flanked by Jonjoe Kenny and Lucas Digne.
Central midfield wasn't much better but Idrissa Gueye will hopefully be in better shape physically than the unfit-looking version that struggled through arguably his worst performance in a long time and Morgan Schneiderlin will have had time to grieve over his departed father.
While there have been calls for Gylfi Sigurdsson to be dropped back into a deeper role, maybe alongside Schneiderlin at Gueye's expense, it's unlikely that Silva will feel moved to break up his defensive midfield pairing just yet and particularly not in a game like this one.
Were he to opt for a changed brief for the Icelandic international, it would solve the conundrum of how you keep Bernard in the team — the Brazilian has certainly earned his place after last week where he was a rare beacon of light on an otherwise dark afternoon — while accommodating the return of Richarlison and keeping Cenk Tosun up front.
The Turk has drawn understandable criticism for his profligacy last time out but his work-rate in the previous two away games made him an important component of the attack and the manager may reflect that by persisting with him despite a noticeable lack of confidence.
He does, of course, have the option of deploying Richarlison, a welcome returnee after three games out through suspension, in the number nine spot and there is a strong case for such as move in the context of this game where, despite his reluctance to couch Everton as a counter-attacking outfit, Silva might be wise erring on the side of his team's strengths.
While not a typical centre-forward, Richarlison is capable of leading the line not necessarily by holding the ball but by running at defenders and releasing players arriving in support on breakaways that could capitalise on the number of players Arsenal are wont to move forward when they attack. With his compatriot in the centre, it would allow Bernard to play wide left (with Sigurdsson retaining his role behind the striker) or in the No.10 position, a role in which last weekend's game suggested he could excel.
Ultimately, assuming the manager sets his stall out correctly and adopts the right defensive posture, this could come down to an issue of mentality for Everton. In the likes of Richarlison, ex-Gunner Theo Walcott, Bernard, Sigurdsson and Lucas Digne, the Blues have players capable of causing Arsenal some real problems.
While his Hull team were beaten 2-0 there in February last year, Silva's Watford beat the Gunners 2-1 at Vicarage Road last season and he had one of the better results of his managerial career at the Emirates in charge of Olympiakos who came away with a 3-2 win in the Champions League three years ago. So he has previous of sending teams out to face what has always been talented opposition with no fear and everything to play for.
Under Emery, Arsenal have shown that they can be vulnerable defensively and if Everton can get at them early and sow some doubt in both their players and their crowd, then there is every chance they could get something from the game.
Kick-off: 4pm, Sunday 23 September, 2018
Referee: Jon Moss
Last Time: Arsenal 5-1 Everton
Predicted Line-up: Pickford, Kenny, Mina*, Zouma, Digne, Schneiderlin, Gueye, Sigurdsson, Walcott, Bernard, Richarlison
* Marco Silva has since ruled out starting Mina in this game
---
Reader Comments (118)
Note: the following content is not moderated or vetted by the site owners at the time of submission. Comments are the responsibility of the poster. Disclaimer
Frank Sheppard
1
Posted 22/09/2018 at 07:25:53
Away to Arsenal, always a scary prospect, even when we are on a decent run but looking for the positive a good opportunity to start turning things round, and getting back on track.
Sam Hoare
2
Posted 22/09/2018 at 07:32:11
Im oing to the Emirates tomorrow with low expectations and yet a strange, lurking and unjustified optimism.
One Arsenal player I'm interested to see is Torreira. I really wanted us to sign him this Summer as a step towards fixing our soft Centre. He combines the best athleticism and nuisance value of Gueye with the more intelligent and accurate passing of Schniederlin. In other words I reckoned he might be the complete type of midfielder that we still lack. Hope he proves me wrong tomorrow.
In terms of our team I think/hope we will play more compact and try to catch them on the counter with our quite considerable pace. For that reason I'd be interested in starting DCL up front. He's far from polished but he's our top goalscorer so far and (surprisingly) clocked as one of the quickest players in the league. There are/will be arguments to start Richarlison up front but why move him when he's been so effective on the left? There should be plenty of space for DCL to run into behind and Arsenal's Centre backs are not the fastest.
In the middle I think we need Gueye's energy and Schneiderlin's distribution. Not an ideal pairing but I just don't see better options currently. I'd give Bernard a go in the 10 as I think his pace and ability to beat a man could be crucial in setting off effective counters. Siggy could play deeper at the expense of Schneiderlin but not Gueye as we need his energy.
In defense it's fairly clear except in the case of Mina's fitness. When watching him for Colombia I always thought he looked a solid defender who might just struggle against agile, fast accelerating forwards with good movement. So Arsenal away would be baptism of fire! But if he's fit then I think he should show us what he can do. Otherwise Holgate gets a chance to redeem himself.
Pickford
Kenny Mina Zouma Digne
Gueye Schneiderlin
Walcott Bernard Richarlison
Calvert-Lewin
Laurie Hartley
3
Posted 22/09/2018 at 07:44:14
I hope like you Lyndon that Mina is fit to start this week because, as with Arnotauvic last week, Giroud's physical presence will represent a major challenge for our defence. He is far too strong for young Holgate.
Back four - Kenny, Mine, Zouma, Digne.
I would swap Bernard in for Schneiderlin because he will provide some guile in the middle of the park.
Mid field 3 of Gueye, Bernard, and Sigurddson.
I would persist with Tosun, who I think will score this week, in a front 3 of Walcott, Tosun, and Richarlison.
Stick with Tosun - he'll score this week.
Chris Leyland
4
Posted 22/09/2018 at 07:49:09
Laurie - I doubt Giroud will be playing for Arsenal tomorrow... he joined Chelsea last January.
Jim Bennings
5
Posted 22/09/2018 at 08:07:42
If we are talking about mental tests and earlier this week Silva was on about learning lessons after the West Ham loss well this is arguably our ultimate test.
We have not won this fixture since 1996 (well documented but thought I'd mention anyway) and being more precise, in 22 years we have taken just four points from this fixture, draws in 2006, 2010, 2013 (twice).
That is a completely appalling shameful return for an established Premier League club like us, the type of return you'd expect from Southampton.
Well Marco and the players here is the chance to show us how much you learned from last weeks schooling by the Hammers.
Whoever plays needs to have belief in themselves, we can harp on about formations and all that but if we don't see a change in mentality tomorrow at our perennial bogey ground then I fail to see what actually has changed even in the slightest way.
Liam Reilly
6
Posted 22/09/2018 at 08:08:20
Woke my wife laughing at that one Chris.
Very concerned about this one, Best of luck to all the blues going down because conceed early and it'll be cringworthy stuff.
Still, we live in in hope.
Gareth Clark
7
Posted 22/09/2018 at 08:14:46
I think that Lyndon has our strongest team available - but I would go with a more physical team against Arsenal.
Bernard was very good last week - but I'd play him off the bench again this week. The reason for this is that Richarlison is very good at defense, as well as attack & his physicality and workrate down the left could be very important against Arsenal.
I would go Calvert-Lewin up top - although I would not mind persisting with Tosun. It takes time for players to learn the tactics and methods of a coach & we need to persist.
If Mina is fit to start, I would give him the start - however I think that Keane is more likely to start, if his head injury is fully recovered.
Therefore my line-up would be:
Pickford
Kenny Mina/Keane Zouma Digne
Gueye Schneiderlin
Walcott Sigurdsson(c) Richarlison
Calvert-Lewin
Stekelenburg, Mina/Keane, Baines, Davies, Bernard, Lookman, Tosun
If we take the lead - get Davies into the midfield to get it nice & compact & get Tosun up top with siggy & bernard working hard behind him:
Pickford
Kenny Mina/Keane Zouma Digne
Gueye Schneiderlin Davies
Sigurdsson Bernard
Tosun
Martin Berry
8
Posted 22/09/2018 at 08:50:41
With our pace down the flanks there is no reason why we cant mugg Arsenal, they are suspect at the back like us.
Our weak spot is the midfield as we have no enforcer and neither guile, and its an area that needs new recruits in the future, on saying that Gomes could be a star if back to his Valencia form.
2-1 Everton
John Boswell
9
Posted 22/09/2018 at 09:09:51
Jon Moss to referee! I expect a better performance from our blues but not a result with Jon in charge. Very happy to be proven wrong. COYB and stay safe all travelling blues.
Pat Kelly
10
Posted 22/09/2018 at 09:13:50
It's at this stage of the week, when you start picking the team, you realise what little choice there is. Same suspects, same results.
Kunal Desai
11
Posted 22/09/2018 at 09:18:55
I would like to see an improved team performance if nothing else. The last two home matches have been pretty abject.
Need to see a reaction and players putting in a shift. That's not too much to demand from us fans.
Gareth Clark
12
Posted 22/09/2018 at 09:21:29
Another option could be to go 3 at the back & go for pace up top - with a 3-5-2:
Pickford
Holgate Mina Zouma
Kenny Gueye Schneiderlin Digne
Sigurdsson
Walcott Richarlison
Subs: Stekelenburg, Baines, Davies, Bernard, Lookman, Calvert-Lewin, Tosun
Walcott and Richarlison are both proven to be decent up top – and this would give us a lot more solidity at the back & in midfield.
Also allows us to easily shift formation to a 4 at the back.
John Raftery
13
Posted 22/09/2018 at 09:22:17
Sigurdsson has neither the pace nor the defensive awareness to drop back into central midfield. He has not been especially effective in the attacking midfield role but he works hard and his strength is getting on the end of crosses in the box.
Victor Yu
14
Posted 22/09/2018 at 09:25:32
Can Digne switch side so that Baines can play? Too risky too soon for Kenny against a top 4 side. Go with a veteran in these big games.
Also, I would start Niasse and ask him to run wild for 60 minutes to drain everything away from the Arsenal defense. Then bring in Walcott for the final 30 and we could surprise them.
Digne Mina Zouma Baines
Gueye
Bernard Siggy Richarlison
Niasse Tosun
Clive Rogers
15
Posted 22/09/2018 at 09:29:20
Can't believe people are sticking with Calvert-Lewin after his dreadful performance last week. He had a shocker as his stats for losing the ball show.
I think people are getting confused between a good athlete and a good footballer which he is not. He is no better now than when he came into the team two years ago. He has scored 6 goals in 47 appearances.
Tosun needs to be omitted as his confidence has gone.
Tony Everan
16
Posted 22/09/2018 at 09:31:50
Pickford
Kenny Mina Holgate Zouma Digne
Walcott Gana Sigurdsson Richarlison
Calvert-Lewin
Stiffen the defence, keep the pace and use Calvert-Lewin as best option for holding up the ball and getting his head on a cross. He looks slightly more likely than Tosun at the moment to get a goal, until he was played out of position last week he has been doing good work.
Mina and Zouma can deal will the aerial threat and Holgate will be an asset with his pace and ability to bring the ball out of defence. This set up will give him a discretionary licence to do that and still have cover behind him. In effect a link between defence and midfield.
Gana did not play well last week but I still prefer him to Schneiderlin who continues to disappoint me. I don't think he offers enough in any of the midfield disciplines. He falls short and I think we need to address it and stop hoping things will improve or change. They won't.
Sigurdsson needs to be involved a whole lot more, this role in the centre means he will have no choice.
As a few have said there is potential in this game for us, we have great players who can match Arsenal's. With the right team set up and full on motivation we can shock them.
Jon Withey
17
Posted 22/09/2018 at 09:32:15
Good test today – was West Ham a blip after an encouraging start... or are we just starting to come up against better players?
Gordon White
18
Posted 22/09/2018 at 09:33:34
I think Lyndon's nailed our best team. Whether Silva agrees is a different matter. Personally, if there was a change, I'd have Tosun over Calvert-Lewin. But its the Arse away – I fear the worst but hope for the best.
Buoyed by all the positive things happening at the club, the new manager and signings, and Richarlisons performance's, my expectations have been, once again, unduly unrealistic.
Last week we had so many key players injured, or sitting it out. And important signings yet to play. Another factor, which has been mentioned, is the individual displays. So many had a "bad day at the office". Bernard's performance was the only positive for me.
Tomorrow will be a much sterner test. But we will be fielding, virtually a different team, if you know what I mean. We are certainly a different team when Richarlison and Digne are on the left, both in attack and defence. And talking of defence, like everyone else, I hope Silva is true to his words regarding our frailties. Mina can make a huge difference in that respect and his presence will boost Zoumas confidence too.
Players like Mina and Richarlison can lift the team. The exact opposite of what happened last week. In a team game, confidence, or the lack of it, is highly contagious.
In many respects we've got nothing to lose. The world, and many Evertonians if the truth be known, expect us to lose. We're like West Ham going into last Sunday's game.
So if we get anything out of it, or at least make it a competitive game, and perhaps bloody their noses, it will be a big plus and a much-needed confidence booster for the team.
COYBs
Jay Harris
19
Posted 22/09/2018 at 09:42:40
Clive, I disagree: Calvert-Lewin was no better or worse than most against West Ham. The way their heads dropped was shocking but Calvert-Lewin is far better than Tosun at holding the ball up and linking up play. He also has a better goalscoring record this season although that's not difficult.
We need someone to occupy a couple of weak centre-backs and Calvert-Lewin is just the man to do it and allow Walcott and Richarlison some space down the flanks.
With the right approach, I see us getting at least a point in this one although anything resembling the West Ham performance and we will be suitably hammered.
Jerome Shields
20
Posted 22/09/2018 at 09:43:57
I just hope that Brands has had some input after the West Ham debacle, Silva needs to have got his tactics sorted out, particularly the high press. He also needs to get his team selection right and hopefully certain players have really got down to improving their play.
Set pieces weren't tested last game, so I'm still looking to see improvement there. A Mina introduction into the centre-back line would be interesting, as well as a full game for Bernard. Digne was the best Everton player against West Ham, so it will be interesting to see how capable he is.
Jerome Shields
21
Posted 22/09/2018 at 09:46:58
Good team selection, Lyndon. I hope both Brands and Silva have talked to Sigurdsson.
Steve Ferns
22
Posted 22/09/2018 at 10:21:54
Play Richarlison where he's best, just left of centre off a more physical forward who can lead the line and let him run in behind and drop deeper for the ball. Richarlison is not a 9, not in British football anyway.
We need the defensive shape we had against wolves. Sit deep and look to hit them on the break. With 11 men we'd be even more effective.
Silva made his name beating better sides with underdogs. He was the one to end fonsecas reign by taking Porto's 5-year unbeaten home record with Estoril. He downed Arsenal in the Champions League with the Greeks. He beat Liverpool and Man Utd with Hull. This is where we can see the best of Silva. We will beat teams in the Sky 6 at their own grounds this season. Let's start at the Emirates.
Clive Rogers
23
Posted 22/09/2018 at 10:35:10
Jay, I think we will have to agree to disagree, but I will be surprised and disappointed if Silva picks him tomorrow after last Sunday. What worried me is that he was poor on the wing, but even worse when he moved to the centre.
Kim Vivian
24
Posted 22/09/2018 at 10:51:08
Well, I hope you're right, Steve.
Gooners to left of me, Gooners to right of me down here.
Chris Gould
25
Posted 22/09/2018 at 11:02:05
I like your optimism, Steve. I haven't seen anything that makes me believe we will win tomorrow, but I'm clinging to the hope that things click into place with the return of Richarlison. We've been disjointed with Calvert-Lewin on the left.
Lyndon's line-up is unlikely, but it's certainly interesting.
Philip McKeown
26
Posted 22/09/2018 at 11:12:54
I am with Clive on this one and I am quite surprised Calvert-Lewin has received so much positive comments on this thread.
The boy is fully committed and plenty of endeavour, he is also a good athlete. However, he is a gash footballer, I am surprised some Evertonians don't see that. We are supposed to have a decent knowledge of the beautiful game
Frank Crewe
27
Posted 22/09/2018 at 11:16:17
They say putting too much gravy on your meal is an insult to the cook. I think putting on two defensive midfielders is an insult to the defence. By constantly picking Schneiderlin and Gueye in a 4-2-3-1 formation, the manager is showing he doesn't trust his defenders. That needs to change. Martinez, Koeman, Allardyce and now Silva have all persisted with 4-2-3-1 and at best it's only worked in fits and starts and has barely worked at all since Lukaku left. Because he was a striker who will score in any system. We should go 4-3-3:
Pickford
Kenny, Mina, Zouma, Digne
Sigurdsson, Gana, Davies
Walcott, Richarlison, Bernard
Bench: Stekelenburg, Baines, Keane, Schneiderlin, Niasse, Calvert-Lewin, Holgate, Lookman
This gives us pace and movement up front, creativity in midfield and height, strength and pace at the back. I haven't put Tosun on the bench because I think he needs a break to regain his form. I have put Davies back in because he gives us creativity, energy and running box to box.
I think Holgate is a better full-back than centre-back, so he could play at right back and Keane could be used instead of Zouma but that would reduce our pace at the back although we could go to a three at the back and push Kenny and Digne to half-backs. Gives us plenty of width but risks them getting behind us.

Anthony Dove
28
Posted 22/09/2018 at 11:40:34
I think Sigurdsson must be close to the last chance saloon.
Colin Malone
29
Posted 22/09/2018 at 11:40:48
Can't understand why anyone would put Gueye and Schneiderlin in the same side. Two good holding midfielders, playing both stops us pressing forward through the midfield, instead of down the flanks most of the time.
Clive Rogers
30
Posted 22/09/2018 at 11:40:58
Philip, also it's not just opinion. His stats from that game were awful. The most miss controls and passes not completed than anyone else on the pitch.
Dave Williams
31
Posted 22/09/2018 at 11:46:01
The criticism of Calvert-Lewin astounds me. What is he – 21 years old? Playing against experienced men with little support, he is not going to shine until the rest of the team is functioning properly.
I wonder what the 21-year-old Graeme Sharp, Andy Gray, Bob Latchford or Joe Royle would have looked like if they were selected to play wide left? Flying down the wing beating men with mazy dribbles? Give the lad a break and be horrible to the opposition players instead!
For tomorrow, I would be tempted by three at the back which might plug those gaps we allowed to West Ham. The full-backs are excellent going forward and, with Richarlison and Theo, we will carry some threat down the flanks.
Midfield is a big problem with Sigurdsson not really in the game and Gana's passing so poor.
Pickford
Mina Holgate Zouma
Kenny Schneiderlin Gana Bernard Digne
Walcott Calvert-Lewin
Walcott

Gordon White
32
Posted 22/09/2018 at 11:53:02
I'm with Philip and Clive on Calvert-Lewin.
I think the question you should ask, for a club with top 6 aspirations, is would a player be in the first team of any of other top clubs? Who on here thinks Calvert-Lewin, Niasse and Davies, and for that matter Tosun, would be please?
That said, Brands spoke of 3 windows, not 1. So you have to make the best of what you've got.
Of course Football is all about opinions. But the huge gulf in views on certain players surprises me. How some of us think certain players are so poor and yet others think they're good, or not as bad as we're making out. It's like we're watching different games!
Don't get me wrong, I'm not crass enough to think I'm always right and others are wrong – it's just my opinion based on what I saw. I respect the views of others. Often, postings on TW provide a different perspective and consider things I hadn't thought of. Which is why I enjoy reading them and putting my own views. (And the really witty posts which make me laugh so much!!)
BTW. On Tosun's confidence. I think he's more resilient than many give him credit for. I think it's frustration as much as anything.

Jim Bennings
33
Posted 22/09/2018 at 11:53:23
Dave
Even when he's played down the middle (Calvert-Lewin) his limitations are laid bare.
A quality striker would have trapped that diagonal ball from Gana last Sunday and took the ball in his stride and got a shot away, it just bounced off the lads foot.
There are games he looks capable, mainly against the Rotherham's, Huddersfield's, Sunderland's in Cup matches etc.
That for me is the level Calvert-Lewin will find his feet at and probably forge a decent career.
Much like over the years other young strikers who at 21 and in fairness probably offered far more promise than Calvert-Lewin, the fervent clamour for Danny Cadamarteri, Franny Jeffers, Michael Branch to name just three proves that most find their level much lower down and fair play to them I'm not knocking it just seeing it from a realistic point.
If Calvert-Lewin was 26 and we'd just signed him from Blackburn or someone we would be going on about him much in the same vein we spoke of Jermaine Beckford, honest grafter nothing more.
Geoff Lambert
34
Posted 22/09/2018 at 11:57:24
Dave, I don't think anyone is being personal to the lad it's just that most on here who don't want him in the team do so because he does not produce the goods.
Quoting Sharp, Gray, and Latchford can also be turned to Rooney, or two other Evertonians who turned to the dark side in Fowler and Owen. all well established by 21.
Dave Williams
35
Posted 22/09/2018 at 12:00:39
Jim, if he was 26 I'd agree with you – I just remember Sharp at his stage of development and see so much of him in Calvert-Lewin. I hope I can say you were wrong in 12months time (and I'm sure you do too!!
Just seen I missed off Richarlison from my team above: Calvert-Lewin to start on the bench with Theo and Richi roaming up front!
Clive Rogers
36
Posted 22/09/2018 at 12:05:14
Dave, also you have two Walcotts and twelve players!!!
Good team though.
Sean Herbert
37
Posted 22/09/2018 at 12:14:08
For me, it's Sigurdsson that needs leaving out. So much criticism for Calvert-Lewin and Tosun, yet the £45 million pound man has been a total washout for me. So far, I have seen nothing from him to warrant him even being in the squad — never mind the starting 11!!
Mark Andersson
38
Posted 22/09/2018 at 12:30:46
Can't see a positive result or performance... The last two games shows that we are still a long way off from being anything like a good team...
Steve Ferns
39
Posted 22/09/2018 at 12:30:53
Calvert-Lewin is not 26 though. The lad has so many attributes. He's our fastest player and it's not often you get that combined with strength and aerial ability. He actually has a very good touch. His hold-up play is excellent. His link-up play is very good. He has neat flicks and tricks.
The lad could be class if he can improve his finishing. The technique seems to be lacking, but it could also be a confidence thing. He's snatching at his shots instead of just acting naturally. If he can develop the mental side of his game and suddenly develop those finishing skills then the sky is the limit for this lad.
He's only 21. He scored the winner an U20 World Cup Final a year ago. Let's see how he develops and give him some backing. If he never develops the finishing skills, then he's still a very useful player can lead the line and bring the likes of Walcott and Richarlison into play and let them get the goals.
Steve Ferns
40
Posted 22/09/2018 at 12:34:46
I bet that this is the side:
Pickford
Kenny Holgate Zouma Baines
Gueye Schneiderlin
Walcott Sigurdsson Richarlison
Tosun
Fran Mitchell
41
Posted 22/09/2018 at 12:36:55
Bernard for Sigurdsson
Richarilson for Tosun
Mina for Holgate
Davies for Gana
Pickford
Digne Kenny Mina (if fit) Zouma
Schneiderlin
Davies Bernard
Richarilson Calvert-Lewin Walcott
Bench: Stekelenburg, Holgate, Baines, Gana, Dowell, Lookman, Tosun
Minik Hansen
42
Posted 22/09/2018 at 12:39:11
This is will not be a test, it's a real game, so the boys better give it all. It's football and with the prospect of players returning and earned a place from last time to start, with our manager previously won on this so called ground, I can't help but give myself all to back the boys up to have a real go. COYB. NSNO. It's time.
Tony Marsh
43
Posted 22/09/2018 at 12:43:22
If Silva opts for the same midfield line-up after last week's shambles against West Ham, then I'm sorry but Marco Silva is a fraud. The same useless players that got the 3 previous managers in the shit will be the ruin of Silva. If Marco can't see it then he doesn't deserve the job at Everton.
If all Silva can come up with is to copy his doomed predecessors with the same pathetic tactics, then I don't want him here. We don't look any better than we were under Allardyce or Koeman and that's because we are not trying to do anything different.
It's an embarrassing joke... Just like all the injured players Silva brought to the club. Only at Everton.
Tony Everan
44
Posted 22/09/2018 at 12:50:48
With regards Calvert-Lewin, when he has been played centre-forward he has scored 3 goals in 2 games. He won some good headers and took his goals well. He has come on since last season. It is not clear cut but it's a 52-48 job for Calvert-Lewin against Tosun at the minute as the latter looks out of sorts particularly in front of goal. At this moment in time, he is marginally the better option .
Whether he is good enough to be a long-term top 4- or 6-level striker is another's matter. Given the responsibility and a run in the side there will be more improvement to come. He deserves his chance at making the position his own. Only then will we find out whether he has got what it takes. It's a harsh environment, we need a 20+ goal striker to be even near to being competitive in this league. Anything below that will be questioned as whether it is good enough based on other aspects of their game, assists etc.
Dermot Byrne
45
Posted 22/09/2018 at 12:58:25
Steve: I tend to agree with your analysis of Calvert-Lewin. My worry has always been like the great potential of Rodwell. Too nice?
Your view?
Ellen West
46
Posted 22/09/2018 at 13:02:30
"Morgan Schneiderlin will have had time to grieve over his departed father..."
I'm just wondering how long the grieving process should take for professional footballers when they have lost a parent 3 days, 5 days, a few years. He shouldn't spend too long wallowing in his loss. After all, he has a ball to kick around a field.
Jay Wood
[BRZ]
47
Posted 22/09/2018 at 13:05:29
For those advocating three centre backs including the as yet unplayed Mina and a back five, do you not recall what happened on our previous visit to the Emirates?
Allardyce tried something similar, including fielding a new player in one of the centre back roles - Mangala alongside Williams and Keane, with Cuco Martin and Jonjo Kenny the wing backs.
1-0 in 6 minutes
2-0 in 14 minutes
3-0 in 19 minutes
4-0 in 37 minutes
Wholesale changes at half-time, reverting back to a flat back four. A training session for the Arse in the 2nd half.
I would hope Silva doesn't repeat the mistake.
Jay Wood
[BRZ]
48
Posted 22/09/2018 at 13:13:21
John Keating
49
Posted 22/09/2018 at 13:22:18
Pickford
Kenny Mina Zouma Digne
Gueye Sigurdsson
Bernard
Walcott Tosun Richie
I would give Tosun a half to see if he can sort himself out if not Calvert-Lewin on
I would bin Schneiderlin and play Siggy deeper alongside Gueye as he offers more defensively and passing wise.
Try Bernard in the No 10 Sigurdsson role
We have to ensure that Walcott and Richie cover Kenny and Digne as soon as we lose the ball.
We've had yet another week where Silva can sort this lot out. Mina has had a full week with the team so please no excuses.
Please, no gung-ho football again and fingers crossed for a point!
Tim Gerrard
51
Posted 22/09/2018 at 13:35:24
I was going to post my team but John Keating has beaten me to it, either great minds think alike or we don't have a clue... who knows!
I just don't think the Gana - Morgan axis works, indeed we have seen it fail on numerous occasions.
David Pearl
52
Posted 22/09/2018 at 13:40:20
Jay, they are different players though. Keane, Mina Zouma has a but more oumph to it. Maybe with Walcott and Digne as wing backs? It can only help us if Holgate and DCL are on the bench and replaced with some quality.
Then however we need a strong and balanced midfield centre which we don't have. We've been toothless up top too but maybe Richarlison will awaken Tosun again. I'd rather Bernard keep his place. Questions all the place but I'm not expecting too many changes because we are a different team with Richarlison. The way Arsenal leave themselves open I'm expecting us to score... but now many we let in is anyone's guess.
Andrew Clare
53
Posted 22/09/2018 at 13:43:08
As long as I can see progress and a team that looks like a team and plays like a team, I will be satisfied – not happy... but satisfied.
If we lose 4-0 and we are all over the place, then I will be concerned. I know it's going to be a long job and we have to be patient but we must see signs of change to have any hope for the future soon.
Since the end of the eighties, we have been a shadow of the club we once were.
Sam Hoare
54
Posted 22/09/2018 at 13:47:01
Clive@15, you say you don't want/like Calvert-Lewin but also say Tosun should be omitted. Who would you play striker then? Niasse has been pretty woeful this year and Richarlison is best from the left where he can run at people surely? Perhaps he could transition into a Premier League centre-forward but best to play our best player in his best position for now.
I agree that Calvert-Lewin is not our greatest footballer. His passing stats this season are pretty woeful but I don't expect us to be trying to hold onto the ball for long periods against Arsenal. I expect quick counter attacks with maybe just one or two passes before hopefully creating chances. In such a game and with such tactics I think Calvert-Lewin's athleticism is better suited than Tosun's superior footballing skills.
Tony Everan
55
Posted 22/09/2018 at 13:57:41
Whatever team he goes with I hope there is nobody shoe-horned in, No more square pegs in round holes. I want players playing in their best position and to know their role and what is expected. We will then get a more organised team performance than last week's disjointed one.
John Keating
56
Posted 22/09/2018 at 14:13:58
Tim
like Silva, I think it's the latter !
Phil Sammon
57
Posted 22/09/2018 at 14:29:31
Three at the back is a terrible idea. Every team has tried it at some point and it so rarely works. The wing backs are in no-man's land and neither attack nor defend. The back three get dragged all over the place. It should be consigned to the dustbin... along with zonal marking and short corners.
Clive Rogers
58
Posted 22/09/2018 at 14:30:12
Steve, #39, he has a good touch, good hold-up play, good link-up play, good flicks and tricks. Then you say his technique is lacking. Bit of a contradiction.
I have never left the ground thinking he had a good game. He will never be a Premier League player IMO.
Laurie Hartley
59
Posted 22/09/2018 at 14:33:07
Chris # 4 - can I be excused on the grounds of age?
Liam tell your wife I am sorry I woke her up.
My list of "most embarrassing moments" is getting a lot longer lately.
Nurse!
Alan J Thompson
61
Posted 22/09/2018 at 14:46:29
The only way Mina will get a game is if we pack the penalty area with him and six other defenders. Any sort of a chance will depend upon a midfield that can attack and get back when not in possession and quite honestly we haven't got that number of midfield players capable of that sort of game.
Paul Smith
62
Posted 22/09/2018 at 14:51:36
That midfield terrifies me.
Kevin Dale
63
Posted 22/09/2018 at 15:30:41
Its going to be tricky this game to say the least, coming straight after a very poor performance I'm not sure who the manage will play? I do think Everton's big problem is the midfield, Gueye last Sunday was at times like a headless chicken running trying to close everyone down leaving the opposition's midfielders plenty of space! Walcott also doesn't seem to know how mark runners, because of this whoever plays behind him (Coleman/Kenny) have more work to do and ground to cover! Richarlison being available makes the left side of midfield much stronger, his work rate and tracking back is much better than anyone else who plays left of midfield. Only seen Bernard for part of one game, so don't know how he would perform for 90 minutes, but what we did see was very promising, should he pay and where?
For me I would like to see this team: - Pickford, Kenny, Keane, Mina, Digne, McCarthy, Scheiderlin, Richarlison, Sigurdsson, Bernard, Tosun
Subs: - Baines, Zouma, DCL, Walcott, Gueye, Baningime, Davies
Siver likes to play 4-4-2 and I don't see him changing for this game, obviously I'm guessing McCarthy and Keane are fit? Mina and Keane are possibly going to be the long-term paring centre backs and need to start playing together, I feel McCarthy offers more protection for those on the right, if he's not fit I would play Davies, again because he offers more protection. I would hope the front two of Bernard and Tosun would rotate and cause lots of problems with their movement and ball skills, I feel Tosun just need that goal to kick him on.
Leaving Wacott out is a tough call, when he is going forward at speed he is very exciting, but he has given the ball away far too much for me, his tracking back this season has been very poor and at time when it breaks down its has been from the right-side putting Coleman/Kenny and the defence under pressure.
We have suffered badly with bad luck and poor refereeing in my opinion this season, hopefully, all being well things will turn in-our favour and we will start to pick up, starting with this game!
Everton to win 3-1, COYBLUES

Kevin Prytherch
64
Posted 22/09/2018 at 15:52:09
I put this on a different thread but it's more suited to here...
I'm hoping for a bit of an unorthodox one...
3 centre backs - Holgate, Zouma and Mina. This provides cover for when the full backs get forward and also gives us the added height for set pieces with our lovely zonal marking. It also provides cover for any 'rush of blood' moments like the last game from Holgate and Zouma.
2 wing backs - Kenny and Digne.
Here's where I think we should change.
3 midfielders (no number 10) - Davies, Gueye and Baines. Before I get shot down for this I think it could have a positive effect on the team in 2 ways.
Firstly - Baines is a defender, so will naturally take up defensive positions, he can also read a game fairly well. In this respect he's no worse than Schneiderlin. He won't play 30/40 yard passes, but he can ping 20 yard balls to feet and rarely loses it here. He's comfortable on the ball and is used to passing and moving - which Schneiderlin isn't. I don't see him, as a player, being any worse than Schneiderlin.
Secondly - Tom Davies has grown up an Everton fan. Now although he has played with Baines many a time, lining up with him in midfield would be like playing with the closest thing we've had to a hero in 10 years. Tom will up his game. In addition, we have a soft team - I think Baines could be the answer to this. I'm not saying Baines is a hard aggressive footballer - but he doesn't back down. With 3 big centre backs behind him and the effect I think that Baines in the centre will have on Davies and Kenny, I think we will have a core 6 players who will not back down from a skirmish and solve the soft centre we currently have.
Up front - Walcott and Richarlison. These 2 have pace and will occupy 3 Arsenal defenders all the time as they will be wary of their pace. In addition, they will naturally pull out to wider positions, giving defenders the headache of staying with them or not. When Arsenal attack it will be 8 on 7 in our favour as they won't leave Walcott and Richarlison, when we counter we have to hope that the wing backs and Davies get up to support them.
It won't be pretty, but this midfield 3 won't leave Arsenal alone and Arsenal won't be able to afford to leave our from two alone.
If it goes tits up, we can always bring on £92 million worth of talent (?) in Schneiderlin, Sigurdsson and Tosun.
David Connor
65
Posted 22/09/2018 at 17:17:06
Poor teams get poor results. And we are very poor. Toothless up front, garbage in midfield, and absolute shite at the back.
Expect the usual result. But we hope for the best. Just let's have a fucking go for a change, lads!!!
Steavey Buckley
66
Posted 22/09/2018 at 17:42:28
Everton lacking in confidence and with a dodgy defence with most other players not playing well will probably get beat 3:1 tomorrow. Until Silva can get to grips with a leaky defence and the rest of the team not functionally well, Everton just look very vulnerable.
Jack Convery
67
Posted 22/09/2018 at 17:55:00
Its Performance Performance Performance for me after last week. We must look like we have a plan and the balls to complete. If not the pattern of the long term EFC players letting the manager and us down will be repeated. I expect Tosun to be benched for this one. I can see DCL getting the nod and maybe Bernard for Siggy. If MIna is fully fit Silva must be tempted to give him the nod as we are yet to keep a clean sheet this season. I live in hope as usual COYBs. Whatever happened to Wayne Clarke ?
Tony Twist
68
Posted 22/09/2018 at 18:04:29
Predicted line up looks fine except have Holgate instead of Kenny at right back. I have been really disappointed with Kenny this pre season and league season so far. He gives up if passed, like an awful lot of our players do, which is unacceptable. Forgot how Arsenal are going to play, if we get our act together we can beat anyone. It is time to show some pride and pay back the dedication of the fans with a win to make others take note. No being happy with a draw, it is time to shut up shop and punish the opposition. Good luck blues.
Eric Paul
69
Posted 22/09/2018 at 19:12:29
Laurie
If we can keep Charlie George quiet we'll be ok
Michael Williams
70
Posted 22/09/2018 at 19:24:00
I agree with Dave Williams at #31. Too much criticism of a 21-year-old Calvert-Lewin. My advice to him is to get out as soon as possible.
If TW is an indication of how the supporters feel than it is clear that for the most part patience with Calvert-Lewin has run out. He is not a smart footballer and is not up to the Premier League.
He should go back to the club that play a system that suits him better, that has a great record in recent times of developing young talent and plays in the Champions League and we should get what we can for him.
Then we can go on to discuss the next young Everton player who is not good enough for us.
Jim Wilson
71
Posted 22/09/2018 at 19:53:55
Not impressed with Silva so far.
Dropping Baines and playing Calvert-Lewin wide left was a pathetic move.
Baines had done well and if he had played Digne wide left instead of Calvert-Lewin our left side would have been far more solid and creative in the last two games and Baines would have been there to help Holgate who has been poor in these games (no coincidence). And it would have been one change not two. Same old same backward management.
There are other things going on that are making me doubt Silva.
Lets hope Richarlison and Bernard are about to make a big difference.
Nick Prendergast
72
Posted 22/09/2018 at 19:58:17
Even though it's not been a great start to the season, I think there's real signs that we're moving in the right direction. There's going to be some real low points (especially between now and January) and tomorrow may well be one of them. Maybe it's the Evertonian in me, but I just get a good feeling about our new management team, and I genuinely think by next season we'll be pushing for top 4
Pat Kelly
73
Posted 22/09/2018 at 19:59:21
On the positive side, this is another Saturday we haven't been beaten.
John Kavanagh
74
Posted 22/09/2018 at 20:51:55
Arsenal not kept a clean sheet this season. Everton, as usual, coming to the rescue like we did for W.Ham last week. Our worst fixture. What can possibly go right? I'm afraid anyone who thinks we can get a draw or a win based on our last two games is being a tad delusional.
Persisting with Gueye/Schneiderlin providing threadbare defensive cover for a weak CB pairing with Sigurdsson providing creativity is letting optimism triumph over experience big style. Richarlison cannot do the job of five players.
Only hope is that the Arse have their worst off-day in years and Richarlison can sneak one in the 94th minute as we cannot even defend a two goal lead for 10 minutes.
I'm afraid it will be business as usual. Ritual humiliation and 3 or 4 nil to Arsenal. Depressing, but based on over 20 years previous experience. Still praying to Alex Young for divine intervention though. COYB - just for once prove me completely wrong - please.
John Malone
75
Posted 22/09/2018 at 21:10:28
Silva is still testing and trying thing's out with a squad which is brand new to him but aswel as the positives there has been as many negatives.
Like Silva has said in the press I'd be as happy to see a clean sheet as much as anything else, hopefully Mina will start and make a great impact.
I think this game is make or break for Tosun as a starter if he can't bully and make an impact against a small centre half in Mustafi then he's showed his level.
I can see Richarlison playing up front and Bernard on the left if Tosun doesn't get his finger out.

Rick Tarleton
76
Posted 22/09/2018 at 21:19:25
I hope the young Richarlison can provide the level of performance that Evertonians are expecting. I agree with many of the above comments regarding Sigurdsson, the best part of £50 million for a man to take corners badly and hit free kicks straight into the wall seems excesive. I expect our key man in midfield to do as Bobby Collins did, as Alan Ball did, as Peter Reid did, as Mikel Arteta did and take hold of a game and lift the team by skill and endeavour, not just take corners and free kicks.
Gordon White
77
Posted 22/09/2018 at 21:24:37
Michael #70
I disagree that there is "too much criticism".
This a forum for fans to express their views. Those with an alternative opinion have just as much right as the next to voice it. And argue their point.
Resorting to sarcasm does not help others to see things from your perspective, nor to reflect on what you've said.
For what it's worth - nothing would give me greater satisfaction than to be wrong about this young man. At the end of the day - we all want the same thing.

Eric Paul
78
Posted 22/09/2018 at 21:37:52
Gordon
Have you read all of the criticism of DCL, you'd think he played for the shite if you didn't know any better
Gordon White
79
Posted 22/09/2018 at 21:54:07
Yes I have Eric. And whilst I don't like the way some fans put their point across, in a less than respectful way - what amounts to slagging someone off, I stand by my point about censorship. And I would temper it by saying we all express ourselves in different ways.
And to be honest I've not been beyond ranting and raving myself on a matchday in recent times. Particularly last season.
John Hammond
80
Posted 22/09/2018 at 22:56:37
Can't see us changing at all from the west ham game apart from Richarlison coming back in. Perhaps maybe Bernard for Sig. Tosun's workrate and the fact Arsenal play it out from literally the touchline Silva will want to put as much pressure on their backline as possible.
Rob Hooton
81
Posted 23/09/2018 at 00:27:27
I really don't think I can bear to watch us get our annual spanning from the Arse (on er missus) and think we are still pretty ordinary at best. Might listen on the radio and hope for the best
Ashley Roberts
82
Posted 23/09/2018 at 00:43:14
If we line up with Gueye and Shneiderlin as a defensive midfield pairing just like Rob stated previously we will get mauled and I won't be able to watch. I really cannot believe so many ToffeeWebers have put these in their favoured starting 11 for tomorrow. I cannot understand why we are still persevering with this pairing? Bernard has to start and I hope he plays the creative No 10 role instead of Sigurdsson.
Andy Walker
83
Posted 23/09/2018 at 06:59:14
Rob, I'm with you I really don't know if I can put myself through it. One thing I am particularly interested in though is whether he'll drop Tosun. Either way Tosun or DCL isn't much of a threat up front.
In the middle, it doesn't really matter what pair combination of Davies, Gueye, Sneiderlin is chosen, all 3 are not of the required standard for a top team. I'm nervous about Bernard too, as he looks very lightweight, albeit only seen him for an hour so far.
Then there's the disorganised defence...
I've talked myself into not watching now.
Neil Wood
84
Posted 23/09/2018 at 08:22:29
Andy... nervous about Bernard? He's exactly why we have been crying out for.
The way the referees blow up these days he will draw a lot of fouls and can glide past players at ease.
Absolute madness not to play him.
Nigel Munford
85
Posted 23/09/2018 at 08:39:29
Clive at #58, DCL is a Premier League player, whether you like it or not, every time he steps on to the pitch for Everton, unless we are now playing in the Championship.
Derek Knox
86
Posted 23/09/2018 at 08:41:11
Can't say I am very confident at all about this game, all of my optimism has evaporated with those early 'easy games' which should have yielded almost maximum points.
Arsenal away has always been a poor return for us, apart from the very odd time we have got something from the match.
Every time I see Schneiderlin on the team sheet, my spirit goes down, I just don't see what he brings to the table, that a cardboard cut-out in his place couldn't.
Mike Kehoe
87
Posted 23/09/2018 at 08:50:27
I'm really fortunate to have a family event to attend as we are a tough watch in recent decades, with the added joy of in depth analysis from fuckwitted former reds and the intellectual Titan that is Rio Ferdinand. We're not very good at the moment and it will take another two good windows before we can consistently expect anything from these games. Work in progress, live in hope, etc.
If we play to DCL's strengths he could be a success. Hopefully a striker is the top of Brands list and DCL can develop without the pressure of expectation in a confused disorganised team.
Shaun Laycock
88
Posted 23/09/2018 at 08:59:57
Pickford
Kenny
Zouma
Mina
Digne
Davies
Gana
Siggy
Bernard
Richarlison
Walcott

Derek Knox
89
Posted 23/09/2018 at 09:10:14
Shaun, I do like the look of your side, but doubt very much if we will start with that line-up.
Gana and Davies have come in for criticism recently, some of it justified, mainly with the passing aspect of their game.
Both in my opinion do give a lot of energy and commitment which will be needed today.
Dave Abrahams
90
Posted 23/09/2018 at 09:10:46
Rick. (76), That midfield Dynamo you talk about, I hope we might have found him in Bernard, either starting from
that position or coming in from the wing and roaming across the forward line, wherever he does it from I expect him to impress and liven this team up as well as the crowd.Big hopes from me, let's see how he does.
Neil Wood
91
Posted 23/09/2018 at 09:26:52
Pickford
Holgate Mina Zouma Digne
Gana
Siggy
Walcott Richarlison
Bernard
Tosun
Alan J Thompson
92
Posted 23/09/2018 at 09:46:16
I don't normally go in for posting the team I would select but Mr Lloyd has gone to the trouble of adding that Silva has since advised that Mina won't be playing this game.
Neil Wood
93
Posted 23/09/2018 at 09:53:50
Alan in that case swop Mina with Holgate and put Kenny right back!!!
Neil Wood
94
Posted 23/09/2018 at 09:57:57
Well as it's my 40th birthday on the 27th . my wife in her wisdom has booked us all a table with 20 other family members at 5pm today!!!
Now... advice please
A) is it acceptable to be approximately 50 minutes late to your own birthday meal!???
B). Sky Go on my phone at the table
C) Suck it up
Alan J Thompson
95
Posted 23/09/2018 at 10:02:19
Neil(#94); They say life changes at 40 but the problems begin when you start to look for them.
Marcus Leigh
96
Posted 23/09/2018 at 10:48:50
Neil(#94) I've found just about the only good thing about getting older is that you can do pretty much whatever the hell you like. With impunity. The family simply put it down to you being a grumpy old git.
Kevin Dyer
97
Posted 23/09/2018 at 11:03:05
Sam #2, totally agree re: not using Richarlison as a striker. He's been out best, most dangerous player so moving him up top to plug an apparent weakness seems counter-productive. I'm sure he can play there but feel he'll lose a lot acting as our attacking fulcrum.
James Marshall
98
Posted 23/09/2018 at 11:10:35
22 years since Kanchelskis scored the winner for us away at Arsenal. Can any of us really see anything other than another humbling defeat today?
I have 100% zero confidence in away games at Arsenal and after spending an inordinate amount of money going to the Emirates last season to see us get thumped 5-1 (I left when the 4th went in), I've passed on going there ever again!
I never predict lineups, or scores but I will predict another hefty defeat today.
Neil Wood
99
Posted 23/09/2018 at 11:16:59
Ha! I'm sure some of my family will concur with that Marcus ! Thank u !!
Chris Locke
100
Posted 23/09/2018 at 11:18:42
Neil #94
It's your birthday and you can cry if you want to .
So I say watch the game.
Steve Croston
101
Posted 23/09/2018 at 11:28:48
Last night I watched Goodfellas for the millionth time. My wife asked me "Why not watch something new? You know what's going to happen. Isn't it boring by now?" But, I still watched because it's one of my favourite films and I get great enjoyment from it every time.
Today I'm going to watch Everton play at Arsenal. I imagine my wife will ask me the same questions as last night and I will give the same answers. Sigh.
Brian Harrison
102
Posted 23/09/2018 at 11:41:51
I know our record against Arsenal is poor but I think we may get something out of today's game. We should have won both of our previous away games having led in both despite finishing both games with 10 men. I will be interested in the team Marco selects today, sadly he has already stated that Mina is not ready to start today. With Richarlison back we will have a cutting edge up front which has been lacking in the games he missed, also Walcott will surely be out to prove a point today. I think the main dilemma for Marco is who plays with Richarlison and Walcott up front, and I was very pleased with Bernard last week. But for him to start wide then he will have to play Richarlison as the main striker a position he played successfully for Brazil.
I know some posters have reservations about moving Richarlison to the main striking role, and some suggesting he wouldnt thrive as he has out wide. I totally disagree he is tall so can compete in the air and he doesnt have to play like Shearer or Kane as a hold up striker. Some of the best strikers I have seen havent been known for their hold up play, Rush and Lineaker and Vardy spring to mind. But all 3 had a good turn of speed and what scares most central defenders is pace. All 3 of the strikers I mentioned could all come short give it back to the midfielder then spin into space for the ball to be played over the top or down the channels.
Our midfield will also be key today, if we give the ball away in this area as we have in our last couple of games then good sides will punish us. So I know Marco likes us to play on the front foot which is great but maybe not to be so gung ho with our fullbacks both bombing forward at least till we have settled into the game.
Dave Abrahams
103
Posted 23/09/2018 at 11:47:03
Off thread, does anyone know what time the U23 game
versus Spurs today starts, I've phoned Everton 's
offices, they are closed, be very grateful if some one could give me the time on here, thank you.
James Marshall
104
Posted 23/09/2018 at 11:59:55
1pm Dave - check the Everton Twitter page
Andy Walker
105
Posted 23/09/2018 at 12:00:15
Dave maybe too late now, but 1pm according to the EFC website.
Dave Abrahams
106
Posted 23/09/2018 at 12:07:50
James and Andy, thanks very much, just got it off Spurs
website, Everton are not very good on the pitch, at the moment, they are bleedin' crap off the pitch and always have been.
Anyway I only live five minutes by bus from the ground so I will easy make it, then after the game into a club to watch another victory, hopefully, at Arsenal.
Thanks again James and Andy.
Tony Twist
107
Posted 23/09/2018 at 12:09:49
We have a reasonable chance today to right the wrongs of this season. Have a good start and it will take no time at all for the Arsenal faithful to roast their team. Silva not only needs to teach defensive solidarity but also for the team to be worldly wise regarding tactics, like the RS of old, silence the crowd first and foremost and punish them when any opportunity arises. In other words do a West Ham from last week and take our chances. COYB.
Tom Bowers
108
Posted 23/09/2018 at 12:36:41
We all know what has to be done.

Expecting to win is what we all do but games at Arsenal and the poor results of the last to games do not auger well for the Blues.
However, it is eleven against eleven on any given Sunday so let's hope there is a big improvement.
The Gooners have some real talent but have spluttered somewhat themselves and hopefully that will happen today.
In any event it's not the end of the World as Silva needs more time to manage this work in progress with Everton which may take this season at least to get the squad playing the way he wants.
Mark Andrews
109
Posted 23/09/2018 at 13:23:55
3 centre backs and 2 wing backs makes sense here.
Pickford
Kenny Holgate Mina Zouma Digne
Gana Sigurðsson
Walcott Richarleson
Tosun
Karl Meighan
110
Posted 23/09/2018 at 13:42:44
I would be interested to know why Mina isn't ready, the way we have defended a weeks training might as well be a lifetime. Silva's instructions have not been followed so unless he is injured how could he be any worse? Having to score 2 or 3 goals to get a point any defender who can fucking walk is possibly better or more likely to help the team.
Says a lot about us that despite playing 2 defensive midfielders who offer zero in the final third we still manage to concede and be at sixes and sevens at the back.
Play Baines rightback Mina centreback and see how that goes, we get nothing here at the best of times might as well experiment.
Clive Rogers
111
Posted 23/09/2018 at 13:56:14
Nigel, #85, he is not established or first choice. By your reckoning Bernie Wright and Brett Angel were top division strikers.
Kevin Prytherch
112
Posted 23/09/2018 at 14:07:54
Under 23s are winning 3-0 at half time.
Dowell's playing for them (right midfield) and, looking at the notes on the website, a lot is going through him.
Fran Mitchell
113
Posted 23/09/2018 at 14:17:45
Those calling for 3 centre backs? Are you mad?
Every time we have played with such a set up we've got creamed.
Either Holgate or Kenny at right back.
Digne at left back.
Mina and Zouma in the middle.
Schneiderlin sitting in front of them.
Bernard and Davies in the middle.
Richarlison, Calvert-Lewin and Walcott up top
I expect it will be Gana and Sigurdsson in place of Bernard and Davies, however
David McMullen
114
Posted 23/09/2018 at 14:26:52
I know 3 centre halves have not gone down well with recent managers but I think it might work today. Lots of food for thought for Silva to make changes certainly think we should have changes from the tried and tested. Time to win at a top away ground!
Jay Wood
[BRZ]
115
Posted 23/09/2018 at 14:44:39
For those who enjoy well-written pieces, laced with droll humour, this piece by Jonathon Liew in The Independent is well worth a read.
It's a tongue-in-cheek take on how today's football fan likes to present themselves as knowledgeable and well-informed about players they have never seen, based on little more than the phenomena of YouTube Tactical Experts videos "compiled by someone with enough dedication to sift through and edit hours of Ajax footage and put smart little yellow arrows all over it, but who still hasn't worked out that not everyone wants their football highlights soundtracked by DJ Tiesto at ear-splitting volume."
Put a smile on my face whilst waiting for the game.
Marlan Govender
116
Posted 23/09/2018 at 15:10:30
Pickford
Kenny keane zouma digne
Davies gueye
Walcott siggie Richarlison
Calvert Lewin
Light at the back .Davies? ???
Ciarán McGlone
117
Posted 23/09/2018 at 15:13:26
Tosun rightly dropped.. but Davies in and Sigurdsson retains his undroppable spot.
Despite Richarlison coming back..Cant see anythimg other than a loss here.
Frankly I wouldnt have Sigurdsson in the squad, nevermind the starting line up. Hopefully he'll score a hat trick.. but I doubt it.
James Stewart
118
Posted 23/09/2018 at 15:24:16
Really weird team.
Why wait til Arsenal away to do away with two holding mids? Probably one of the only fixtures where you would want to see it.
Ernie Baywood
119
Posted 23/09/2018 at 15:31:22
Calvert-Lewin had better be the striker in that team selection. Just a tiny feeling that he could be on the right or left...
To be honest, I wouldn't have dropped Tosun. He's played well prior to the West Ham game without really getting a chance himself in front of goal. We'll need someone to fight to hold the ball and he's at least done that this season.
But a game of opinions. I don't get judged on mine. Let's hope the guy who is paid handsomely to implement his ideas is into a winner. COYB!
Kevin Prytherch
120
Posted 23/09/2018 at 15:32:26
Davies captain
Add Your Comments
In order to post a comment, you need to be logged in as a registered user of the site.
Or Sign up as a ToffeeWeb Member — it's free, takes just a few minutes and will allow you to post your comments on articles and Talking Points submissions across the site.