Everton vs Fulham
Saturday, 29 September, 2018
Match Preview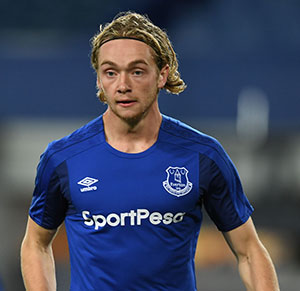 Tom Davies is likely to continue in midfield after captaining the side at Arsenal last weekend
Everton are back at Goodison Park this weekend for the first of two home games in the space of four days as newly-promoted Fulham travel to Merseyside.
The Blues, who will also find out tomorrow whom they will face in the fourth round of the Carabao Cup if they can overcome Southampton on Tuesday, are looking for what will be just their second win of the season following their Premier League win over the Saints a month ago.
Richarlison will make his first appearance in front of the home faithful since scoring what proved to be the winner in that match after returning from suspension in last Sunday's defeat to Arsenal.
Though the result at the Emirates Stadium was ultimately hugely disappointing, a lot of heart was taken from the nature of the performance and the number of chances Everton created in the game but there is no question that six points from as many matches to start the Premier League campaign has increased the need for a victory over the Cottagers.
Fulham begin the weekend programme three places lower and a point worse off than the Blues having, themselves, picked up just the one win. They have already faced Manchester City, Chelsea and Tottenham, however, with their solitary success coming against Burnley at Craven Cottage on 26th August.
Their manager, Slavisa Jokanovic, isn't known as the park-the-bus-or two-entrenched-banks-of-four type; rather, he prefers a more expansive game that could play into Marco Silva's hands rather than serve up a repeat of Everton's frustrations against Huddersfield Town.
Jokanovic would be wise to take a leaf or two out of David Wagner's playbook as he prepares for this one, while also bearing in mind the weaknesses West Ham were able to exploit in the last match at Goodison a fortnight ago. On that day, Marko Arnautovic and Andriy Yarmolenko capitalised on huge gaps in the home defence but Fulham's top scorer, Aleksandar Mitrovic, is likely to come up against a partnership of Michael Keane and Kurt Zouma rather than Mason Holgate who had an afternoon to forget against the Hammers.
In any case, the limited but dangerous Serbian striker is likely to be licking his lips more at his prospects from set-pieces given the frailties the Blues have exhibited in those situations, although Silva will hopefully have had more time to drill his team on zonal marking in the interim.
While Keane and Zouma are the likely starting pair, Silva can at least be content to know that he has four of his five centre-backs fit now after Phil Jagielka came through this week's training with no reaction in his knee. Yerry Mina has to sit out at Finch Farm until next week, however, after suffering bruising to his foot and Seamus Coleman is also a week away from resuming training which means another start for Jonjoe Kenny.
With the midfield unlikely to be changed from that which started against the Gunners, it's in attack where the question marks lie when assessing a game in which Everton have a 100% record at home against this weekend's opposition.
Calls for Richarlison to lead the line weren't answered at the Emirates but Dominic Calvert-Lewin's profligacy and Cenk Tosun's goal drought perhaps make it more likely that Silva would consider using the Brazilian as the central striker and introducing his compatriot onto the left.
Certainly, it's hard to see how Bernard gets into the starting XI otherwise, unless the bolder decision of dropping Gylfi Sigurdsson back into the No 8 role and using Bernard as a No 10 is taken.
Ultimately, Silva may give Tosun another chance to get off the mark and inject some much-needed confidence into his system and opt to change things with substitutions if it isn't working out.
With the realisation that a tilt at the top four is probably a little optimistic now given the unspectacular start Everton have made to the season, it might be a step too far to regard this game against Fulham as "must win" in the wider context of the season.
In terms of confidence in Silva's methods and the desire not to get dragged towards the bottom of the table, there is enough riding on this that a poor start to the match could make things uncomfortable in the stands. The Toffees need to start winning games they are expected to put points on the board to stay in touch with the top six to eight clubs.
Kick-off: 3pm, Saturday 29 September 2018
Referee: Roger East
Last Time: Everton 4-1 Fulham (December 2013)
Predicted Line-up: Pickford, Kenny, Keane, Zouma, Digne, Gueye, Davies, Sigurdsson, Walcott, Richarlison, Tosun
---
Reader Comments (48)
Note: the following content is not moderated or vetted by the site owners at the time of submission. Comments are the responsibility of the poster. Disclaimer
Paul Hewitt
1
Posted 29/09/2018 at 00:13:03
Hoping Bernard starts on the left, with Richarlison upfront. 3-1 win
Mark Wilson
2
Posted 29/09/2018 at 00:29:18
On the eve of this game which should have seen us sitting just outside the top six given the fixture list, it's tempting to say that this really is another must win" but I've been saying that for a few weeks, Arsenal aside and it's not done any good, so let's just settle for "it's important to get three points " !
Even minus Mina I'd have gone for three CB and wing backs. Gueye and Siggy. Bernard, Richarlson, Walcott.
Just can't play two defensive mids at home to Fulham when yes, ok, we really, really, need a win. Feel that Digne and Kenny can really whip in some decent crosses and Jags, Keane Zouma tho not my first choice three can do enough to struggle thru to a clean sheet.
I shall mull this over with a wise sage of blue nose repute before the game. I may have got it all wrong and shall be properly advised of same.
Derek Knox
3
Posted 29/09/2018 at 00:30:49
Paul, I agree and think Bernard will start on the left in Charlie's place with him being pushed forward in place of the misfiring Tosun.
Hoping for a win, as the last couple of home games, have been well below standard. Although I didn't see all of the Arsenal game, I was slightly encouraged by an improved performance.
Two fairly soft goals to concede, and chances not being taken, spelt the outcome.
Neil Wood
4
Posted 29/09/2018 at 00:39:06
Clearly with the news of Mina's definite non involvement, that automatically leans to the inclusion of Zouma and Keane. Recent murmurings are of a three man central team which would probably indicate the nod for Holgate as well... I happen to think at home this is mistake however, I am fully open to listening to opinion on this.
For me I would prefer a back line with Holgate starting at right back. I like Kenny I really do but as a team looking to break into the top 6 and subsequently top 4, I am sorry he is not good enough it is as simple as that.
Gueye for me is a given and his work rate and the amount of breaking up of play is massively underrated.
I have seen enough of Bernard to play him, without question and without debate, he is simply exactly what we have been crying out for for such a long time.
Richarlison... Left wing or up top? I see the benefit of trying him up top certainly against the likes of Fulham and utilising Bernard on the left to create if they are adamant on parking the bus. The last thing we want is another Huddersfield type game. I am still a believer however that Tosun has a huge role to play so personally, for me I would have him back in the starting eleven.
My team:
Pickford
Holgate Keane Zouma Digne
Walcott Gueye Davies Richarlison
Bernard (Free role)
Tosun

Victor Yu
5
Posted 29/09/2018 at 00:42:18
Switch Digne to the right and play Baines on the left instead.
Also, stop using two defensive midfielders. We are against a relatively weak team so we should send out a more attacking formation.
Play two strikers up front today, please!
Michael Boyle
6
Posted 29/09/2018 at 00:54:58
Looking forward to this game. Need some points on the board. We have an excellent record against Fulham over the years.
Fran Mitchell
7
Posted 29/09/2018 at 01:04:25
Won't be easy, Mitrovic looks to finally becoming the player he was touted to be – just goes to show sometimes a young striker just needs to be given time and the right environment to get going. At Newcastle he looked hopeless, although I always thought he had something about him (and suggested him on here as a potential Lukaku replacement last year).
I do believe Calvert-Lewin does have more to his game. He needs to improve his finishing, but he does also make opportunities. If you drop a young lad everytime they are wasteful, well, you'll never develop young talent.
I would give him another chance, especially above the bang average Tosun.
If Richarilson goes into the middle with Bernard out wide, that could be exciting -yet I would also say Walcott is also very inconsistent, and should not necessarily be a guaranteed starter.
Continue with Davies - Gana set up in midfield. Sigurdsson also, yet patience is wearing thin... I think Dowell should be on the bench and if Siggy doesn't perform, give Dowell a chance.
Dave Bowen
8
Posted 29/09/2018 at 01:33:13
Neil @ # 4. I have to agree with you about Kenny not being good enough, but Holgate is as poor as him defensively. Added to that Holgate offers nothing going forward from RB, I would play Kenny as at least he can put a decent cross in. Seamus can't come back quick enough as far as I'm concerned.
Mark Andersson
9
Posted 29/09/2018 at 01:42:52
Dave 8 Coleman was shite at the start of the season...
Silva needs a good win as the boo boys are already sharpening thier knives..
Everton 1 Fulham 2
Steavey Buckley
10
Posted 29/09/2018 at 02:36:09
This is a big game for Silva. Everton don't win this one, there will doubts he will be Everton manager for too long.
Laurie Hartley
11
Posted 29/09/2018 at 04:46:27
I have seen enough of Bernard already to definitely start him. I also watched his interview on the official site and was very impressed with what he had to say.
I have a very strong feeling that this diminutive footballer IS the leader we have been missing. I would drop Sigurddson to the bench and put Bernard right in the middle of things behind a front three of Richarlison, Tosun, and Walcott.
If he runs out of juice after 65 minutes when we are 3-0 up, (Richarlison 1 and Tosun 2), bring Sigurddson on.
Kenny, Keane, Zouma, Digne
Gueye, Bernard, Davies,
Walcott, Tosun, Richarlison
Mike Gaynes
12
Posted 29/09/2018 at 05:29:22
Steavey, you are a beauty.
Jamie Crowley
13
Posted 29/09/2018 at 05:38:43
Mark A @ 9 -
Am I reading that correctly? Are you picking a 1-2 home loss against Fulham?
Bernard has to start for me. I'd play him on the left in a more attacking role and leave Sigurddson in with Davies, Gueye holding. Move Richarlison to the middle of the front three.
Pickford
Kenny, Keane, Zouma, Digne
Gueye
Siggy, Davies
Walcott, Richarlison, Bernard
Ivan Varghese
14
Posted 29/09/2018 at 06:01:27
Kenny, Keane, Zouma, Digne
Davies, Gueye, Bernard
Walcott, Siggy
Richarlison
With Fulham, they need to take the game to them. Tosun and Oumar play well off the ball but predictable with the ball. DCL has the skill to keep the ball and is aggressive. But I think Richarlison is the right choice up front.
Everton for 2 goals don't know how many they would keep out
Bill Watson
15
Posted 29/09/2018 at 06:39:18
Laurie #11
I agree Sigurdsson should be dropped as he's been way off the pace all season.
Holgate and Calvert-Lewin should be nowhere near the starting eleven.
Mark Tanton
16
Posted 29/09/2018 at 06:59:32
This is the big test now - the 'can the manager get a reaction from his players' test. I think Silva is realising he has perhaps underestimated the shite he has to work with on the playing side. It's a big job, this pig's ear.
James Newcombe
17
Posted 29/09/2018 at 07:27:51
We've really got to get three points today. I hope Fulham don't score first!
Frank Sheppard
18
Posted 29/09/2018 at 07:41:00
3 points from a Saturday 3 pm. It's been a while. COYB.
Joe Lockrobin
19
Posted 29/09/2018 at 07:47:26
I have to say I enjoyed large swathes of the Arsenal game (until they scored). We looked confident, purposeful and interesting. Unfortunately, I've got that all too typical 'we're gonna' bugger it up' feeling.
A win would keep most people on board the Silva bus. A loss, well, the collective confidence would really take a beating.
I would like to see two Brazilians at the expense of Tosun and Calvert-Lewin at some point during the game.
3-1, fingers crossed!
Andy Walker
20
Posted 29/09/2018 at 07:54:04
For as long as we consider Kenny, Davies, DCL, Holgate as first choice players we are miles away from a top 6 team. They haven't, and may not ever, develop into top class premier league players. Everton's first team is not the place for them all to learn their trade.
One of them coming on as a sub every now and again maybe, but that should be it.
I hope for a win, but expect a draw.
Paul Birmingham
21
Posted 29/09/2018 at 08:16:30
Today hopefully Bernard starts, and I'd be interested to see if Walcott is in today's team sheet.
Must win,today, and a fine autumn day to play at Goodison. Key also to get no more injuries. I'm going for 4-2, Everton.
May be optimistic but hopefully we'll steam them take out the angst of the recent poor results, and maintain the tempo for 90 minutes.
How many times has that happened the last 4 years?
Tony Everan
22
Posted 29/09/2018 at 08:33:17
After watching Huddersfield, West Ham and Arsenal I cant see us having a goal fest. I think there will be a lot of huff and puff and plenty of missed chances again. I think we will be so domineering will grab one goal and then another late on as Fulham open up.
Everton 2 Fulham 0
Eddie Dunn
23
Posted 29/09/2018 at 08:41:03
I can see us winning today but I do expect Silva to be cautious as, a defeat would really put him under pressure. Expect two defensive midfielders, Schniederlin and Gueye with Davies linking thinks further up. Siggy on the bench.
Martin Berry
24
Posted 29/09/2018 at 08:49:14
The season really starts today, and the turnaround !

Brent Stephens
25
Posted 29/09/2018 at 08:51:48
#10 - optimism, man! Optimism!
Ian Bennett
26
Posted 29/09/2018 at 08:52:26
Pickford
Kenny
Keane
Zouma
Digne
Sigurdsson
Davies
Gueye
Bernard
Richarlison
Walcott
With Gomes, Mina and Coleman it would blow away excluding the top 6. A proper goal scorer and squad depth is our Achilles heel on troubling the big boys.
Kevin Dyer
27
Posted 29/09/2018 at 09:32:59
I would have called Mitrovic limited a couple of seasons back but he looks a greatly improved player. True he is not quick but technically he's pretty decent and can contribute to attacks with his hold-up play and passing. He strikes the ball well. Also he's an intelligent footballer, makes good runs and uses space well. Add his strength, aerial ability and determination and he's a real asset.
Ray Roche
28
Posted 29/09/2018 at 09:33:23
George Green is on Radio 4 being interviewed.
Pat Kelly
30
Posted 29/09/2018 at 09:56:38
Gosh it's exciting to be optimistic of a result at home to Fulham.
Kim Vivian
31
Posted 29/09/2018 at 10:14:49
As always - looking forward to the match and hoping not to be deflated at 5.00. Tough one to call this (like many fixtures this week) head says 2-2 and heart says 2-0 or 3-1. I can't really see us keeping a clean sheet with Mitrovic lighting things up currently, but trusting we can capitalise on more of our own chances for a change. Onwards and upwards. COYB. IMWT.
Jim Wilson
32
Posted 29/09/2018 at 10:50:17
If Sig doesn't start putting in a commanding performance for the 90 minutes Bernard should be in. Sig has had long enough to show his worth but is doing very little to convince me. He should be a creative force and Bernard has shown he has plenty of this to his game.
Sig's lack of pace and slowness of movement is a big minus and not near the standard that Barkley was at.
Brian Harrison
33
Posted 29/09/2018 at 11:19:38
I think everyone is desperate for a win, there is no doubt we could and probably should have got more points on the board. I also think a clean sheet would give the team a boost, the last couple of games we have looked more solid from corners so maybe we have sorted the zonal marking problem. I think the big dilemma for Marco Silva is who does he start up front, Can he afford to start with either DCL or Tosun neither have looked in great form, or does he move Richarlison up top and play Bernard wide left.
I actually think Bernards best position might be in the number 10 role but having played so little football and being short of match fitness I think Silva wants him to get game time before moving him more central. I hope the atmosphere is a bit better inside Goodison today, for some reason the fans just don't seem to get up for games like they used too. Usually takes a poor refereeing decision or a bad tackle from the opposition to really get them going these days. I could understand that atmosphere under Allardyces anti football style or the last couple of months under Koeman. But Silva is trying to play in the style most of us have been screaming out for during the last few seasons, so I don't understand the lack of atmosphere. Lets hope we have a good win and Goodison gets back to being an imposing place for the opposition.
Steve Cotton
34
Posted 29/09/2018 at 11:44:21
Why not start Lookman on the right and give Theo a break..
Kevin Prytherch
36
Posted 29/09/2018 at 11:52:44
Andy 20.
I don't think at the start of the season any of them were considered first team players, however...
Davies has outperformed Schneiderlin (who isn't on your list)
DCL has outperformed and outscored Tosun (who isn't on your list)
Holgate has covered well and contributed to a defence (prio lr to the West Ham game) who rarely conceded from open play.
Kenny has been on par with Coleman's performances this year.
I'd hate to be a young player coming through at this club, they get vilified. Why not pick on the multi millionaire international players who don't play as well as they should rather than hounding a bunch of kids who are performing admirably.
I notice that no one is suggesting Schneiderlin in their team - does this mean that the habitual roasting of Davies will stop?
Colin Malone
37
Posted 29/09/2018 at 12:01:37
If Richarlson does play centre. Don't expect him to stand around the penalty area for ninety plus minutes, like Lukaku. He will drag opposition players wide, left and right to let the likes of Bernard, Sigurdsson and Tuson space in the penalty area.
COYBB
Jerome Shields
38
Posted 29/09/2018 at 12:21:21
Everton now.

Defence . Still needs a lot of organisation, individual coaching and awareness. It appears that Silva prefers players to tackle and engage individual playing forwards. Can look either , man to man or zonal, or lack of execution of either. Doesn't seem to have a strategic to break down opposition forward passes in the last 20 yards in front of the Everton goal. This also includes deep crosses and set pieces. Main defensive strategy is a offensive high press and support off. Only one centre Back threatens at Everton Set pieces
Defensive midfield. The defensive midfield appears to be a line that centres on one player covering the defence and moves up in a high press strategy. Dependent on link play with wings and long passes, No pattern of play amongst the midfield trio.
Midfield Depends on a mobile defending midfielder to achieve turnovers and long passes. At the moment only one midfielder appears to operate this way, but still does a high percentage of long passes. Passing accuracy can dip in some games as a result of long pass preference.
Attacking midfield. Main objective is to support high press and provide channel passes. Also to run onto balls provided by high pressing forward play. Shoot when can.
The midfield Trio do not operate any pattern passing movement or interchangeable play. Some midfield players are not available to recieve passes for periods of the game.
Wing play. Mainly supported by attacking full back getting forward providing crosses, long centre passes and link play with wingers. Forward wingers support high press and attack down channels and take on players. Few Forward passes attempted or completed in the last 20 yards in front of the opposition goal.
Forwards. To high press. , achieve turnovers and provide back passes or overlap for incoming midfielders and wingers. To run into channels. Not to engage in Forward passes in the last 20 yards. Not to engage or take on defenders. Only one Forward has a good on target ratio game on game. In the game against Arsenal there was a higher on target percentage, but this could have been as a result of Arsenals defensive tactics, forcing Everton into channels and unfavourable shooting positions. The pass completion in the last 20 yards of Arsenal's area was one of the lowest of Evertons season so far. There seems to be a preference for channel play.
This may seem a jumbled summary, but it appears that Silvas main tactic is high press and players are exspected to take immediate command when engaging the ball, and show initiative. That is why when the tactics appear on failing to be the responsibility of individual players and are much heralded Summer signings, seem to be the answer and appear to be when playing. Few of the previous squad have really improved under Silva. Silva is highly dependent on the awareness and skills individual players can bring to positions. Getting a player to spec up seems to be a problem.
I am hopeful of seeing something better against Fulham.
Paul Cherrington
39
Posted 29/09/2018 at 12:21:43
I think the fact that many Everton fans are nervous about playing Fulham at home and we reek of desperation for any kind of win speaks volumes about the situation we are in with the current manager.
Please don't tell me he had a big mess to sort out when he came in so he should be allowed a few years of failure to get his feet under the table. Our last manager had a similar mess to sort out but he managed to get us much improved and harder to beat within a few weeks. It's not that hard to do if you are competent and can set a team up properly.
Which is exactly the problem at the moment – Silva can't which is why we continue to play badly and lose or draw each week. For all this talk of progress and attacking football, we are easy to play against, don't score enough and have no creativity or passion in our play.
Tony Abrahams
41
Posted 29/09/2018 at 12:51:28
()()()()()()()()()()()()()()()))())()()()()()()()()()()()()()()()()()())()()()()()(()()()(
"OPERATION TOFFEEWEB"
)()()()()()()()()()()()()()()()()()()()()()()()()()()()()()()()())()()()()()()()()()()()()
"TWO ONE FULHAM"
()()()()()()()()()()()()()()()()()()())))()()()()()()()()())()()()())()(()(()()(()())()()(

"THE END OF SILVA"
()()()()()()()()()()()()()()()()()()()()()()()()()()()()()()()()()()()()()()()()()()()()()
"OVER AND OUT"
Raymond Fox
42
Posted 29/09/2018 at 12:52:12
I wish I was going to the match confident of a win, but I'm not.
We are odds on 8/11 which looks very poor value to me, the team will be feeling the tension because we need a good result badly.
Tony Abrahams
43
Posted 29/09/2018 at 13:02:58
At least I'm looking forward to going the match though Raymond.
I just hope the crowd can get behind the team because that's the best way to relieve the tension for the players?
Ray Smith
44
Posted 29/09/2018 at 13:08:44
Guys,
A bit off thread, however, I'm sitting in the Winslow and have just been asked why the clock on the wall is stopped at 12.20?
I don't know the answer can anyone enlighten me so I can tell this foreign visiting Everton fan.
Colin Grierson
45
Posted 29/09/2018 at 13:18:00
The batteries have run out.
Merle Urquart
46
Posted 29/09/2018 at 13:18:40
Here's hoping for a good performance today and result but if we opt for two defensive midfielders at home and throw DCL out wide again, we may just deserve what we get.
Gana for all his positive brake up play is like Stevie Wonder with the ball at his feet he has got to improve as I feel like he drops us in the smelly stuff with every other pass, we could also do with Sigurdsson being on blob, that would be nice.
Will any of our strikers score? Richarlison should lead the line for me.
Kieran Kinsella
49
Posted 29/09/2018 at 14:02:15
In theory, our pressing style should work well against a possession team... if everyone plays well and we avoid silly errors.
Ray Smith
50
Posted 29/09/2018 at 14:03:56
Thanks, Colin. 😀
It's been like it for years, so I was hoping for a story. I'll buy some batteries instead.
Brian Wilkinson
51
Posted 29/09/2018 at 14:05:44
Tell him that was the last time Fulham won a league game at Goodison: 1220 AD.
Derek Knox
52
Posted 29/09/2018 at 14:11:17
Brian @51, I think you are making that one up mate, Fulham weren't in the same League as us in 1220 AD. 😂
They got promoted 2 years later!
Brian Wilkinson
53
Posted 29/09/2018 at 14:11:39
Unlucky with the predicted line up, only one out: Calvert-Lewin in for Tosun.
Add Your Comments
In order to post a comment, you need to be logged in as a registered user of the site.
Or Sign up as a ToffeeWeb Member — it's free, takes just a few minutes and will allow you to post your comments on articles and Talking Points submissions across the site.