Manchester United vs Everton
Saturday, 27 October, 2018
Match Preview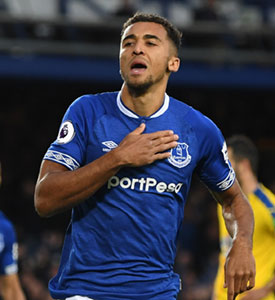 Were Dominic Calvert-Lewin's heroics off the bench last weekend enough to earn him a start at Old Trafford this weekend?
Everton take their three-game winning streak along the East Lancs Road this weekend hoping to beat Manchester United on their turf for just the third time in the Premier League era.
It's almost five years since Roberto Martinez led a rejuvenated Blues side out at Old Trafford and buried a 21-year hoodoo thanks to Bryan Oviedo's dramatic late goal and another Iberian manager will be hoping to repeat the feat in his first season in charge.
Marco Silva faces his compatriot, Jose Mourinho, at a time when the Red Devils are side still answering their critics despite two impressive performances in the Premier League that eased the pressure on the mercurial Portuguese's shoulders prior to the defeat to Juventus in midweek.
United were out-classed in that Champions League group game but the stirring recovery from 2-0 down to Newcastle in their last domestic home fixture and their agonisingly close call with victory at Stamford Bridge last Saturday suggested that Mourinho was getting his arms around the issue of the discord reportedly plaguing their dressing room.
If nothing else, those two games reaffirmed that despite an iffy start to the Premier League campaign that sees them come into this weekend sitting behind Everton in the table, United remain a very dangerous side when they are firing on all cylinders.
What came before, however, is evidence that they and their demanding fans can be got at and unsettled which, given the Blues' form away from Goodison Park this season, should suit Silva down to the ground. Defensively they can be suspect and their forward line — Romelu Lukaku and all but minus Alexis Sanchez this weekend — while potent, has been hit-and-miss of late.
In many areas of the park, Everton can match Mourinho's team for quality and if they can put in the kind of disruptive, high-energy pressing game they employed at Leicester and combine it with the ingenuity that won that match at the King Power Stadium, then there is every chance that Silva could leave Manchester with a good result.
With no new injury worries and fully fit squad, Silva has the kind of selection headache a manager would prefer. With the form of Michael Keane and Kurt Zouma, there is no clear path into the team for £27m man Yerry Mina, a high-profile summer signing who is now having to wait patiently to make his Blues debut now that he has recovered from a foot injury.
Silva suggested during his pre-match press conference that price tag and reputation will have no bearing on his team selection.
"When I look at my players, the money is not important… what the club spent on a player last summer or what they spent two or three years ago, because that's not how I take my decisions," Silva said.
"I'm happy because Mina is working hard and very well. He is involved in our squad every day. He is understanding what our model is and he is working lke the others towards what he wants which is to be in our starting XI.
"The other two are playing very well so it's a matter of what my decision is. What is very good for me as a coach is seeing Mina working like he is working now, fighting every day and enjoying the club. And when the chance appears to him I want him ready like he is at this moment."
With André Gomes having made such an assured debut against Palace, central midfield looks likely to be unchanged as well, which just leaves the very open question of who plays up front.
Bernard may have had an off day last Sunday but he was a revelation away at Leicester, laying on the first goal for Richarlison who began the afternoon at centre forward. Neither Brazilian was at their best last time out but it's a formation that accommodates both players in the side and Silva may feel it's his best option in certain circumstances, particularly away from home.
All three of Cenk Tosun, Dominic Calvert-Lewin and Ademola Lookman will have given their manager something to think hard about, however, with their match-winning contributions off the bench. While Lookman is less likely to start given the threat offered by Theo Walcott's pace on the right, it would not be a surprise to see either of the two strikers in the line-up. At the same time, however, both looked good as substitute options which may affect Silva's thinking.
Whichever option he goes for, it's clear that energy, the high press and the clinical finishing of what chances fall their way is going to be key for the players that are chosen. And if Everton are able to get themselves into a lead, there will be plenty to learn from Newcastle's experience of trying to hold off a concerted charge by the home team to get back into the game.
Certainly, it can only be better than the hiding meted out to Ronald Koeman's outfit in this fixture last season. Let's hope the misfiring Lukaku got his inevitable goal against his old club a year ago and that he will draw a blank this time around!
Again, with United already demonstrated to be psychologically fragile and the Blues improving by the week, there is scope in this one, Jon Moss permitting, for what would be an upset to the neutral observer but to Evertonian eyes mere confirmation of the progress being made by the new regime.
Kick-off: 4pm, Sunday 28 October, 2018
Referee: Jon Moss
Last Time: Manchester United 4 - 0 Everton
Predicted Line-up: Pickford, Coleman, Keane, Zouma, Digne, Gueye, Gomes, Sigurdsson, Bernard, Walcott, Richarlison
---
Reader Comments (106)
Note: the following content is not moderated or vetted by the site owners at the time of submission. Comments are the responsibility of the poster. Disclaimer
Tommy Carter
1
Posted 25/10/2018 at 11:41:02
I expect Bernard to drop out and Tosun to drop in. This will be a front three comprising of Richarlison Walcott and Cenk.
We will miss the craft of Bernard but, away from home against such a pragmatic and powerful Mourinho side, I think Silva will go with the combination of work rate, pace and power that these three offer. This will be important away from home.
I'm not sure if it's what I want but I think it's the way Silva will go.
The problem we have is Antony Martial who has come into some decent form. He loves sticking it to us for some reason. He's the Les Ferdinand of today.
Sam Hoare
2
Posted 25/10/2018 at 11:52:24
I think it should be the same starting team as last game. That is a team set up to counter-attack which is what we will be relying on in tough games away. Gana winning the ball back and Gomes springing the long passes to Richarlison, Bernard and Walcott; those three were great away vs Leicester.
Makes more sense to play Tosun in home matches where there is less space behind as his link-up play with back to goal is better than Richarlison's.
Jay Harris
3
Posted 25/10/2018 at 17:52:29
I would put Richarlison back to his best position. Ashley Young is a red card waiting to happen. I would also consider giving Walcott a jolt by playing Lookman from the start.
Then either Calvert-Lewin or Tosun who both have strengths and weaknesses.
Jim Bennings
4
Posted 25/10/2018 at 17:54:03
I think Tosun and Calvert-Lewin are better served as impact subs with no pressure or expectation level on them.
I think Tosun struggles when defences sit deep early in the game but last Sunday was perfect for him as a sub and so it proved.
I'd stick with the same formation at Old Trafford and, if needed, Tosun and Calvert-Lewin are on the bench as able backups.
Drew O'Neall
5
Posted 26/10/2018 at 06:50:09
I would consider total disrespect of Mourinho's United and play Bernard and Sigurdsson in the middle with Richarlison and Walcott on the flanks with Tosun up front.
Will Mabon
6
Posted 26/10/2018 at 17:08:32
Sign of the times that the feeling of an almost inevitable poor result at Old Trafford is not present, and we go into this as equals, I feel. The only thing of slight concern is a dose of irony in the form of Lukaku, after his recent barren spell.
Danny Broderick
7
Posted 26/10/2018 at 20:22:25
Rumours breaking that Lukaku is going to be dropped! I would love this if so. It will put him firmly in his place, and it would be Sod's Law for him to break his duck against us if he plays.
Bob Parrington
8
Posted 27/10/2018 at 07:21:25
Drew (#5). I agree with the main point but still respect them. Then I believe we can win the game with class.
Ian Bennett
9
Posted 27/10/2018 at 07:38:48
I just hope it's a fair game and that we see if we can challenge.
1. They don't target our players with cynical challenges.
2. Fat John Moss doesn't guess decisions because he so far behind play. And the lino gets offsides right.
3. They have one eye on the Juve game next week and are tired after a midweek humbling.
Jakub Kollar
10
Posted 27/10/2018 at 07:58:25
I've never been more confident before an Old Trafford match. Let's win this one!
Phil Greenough
11
Posted 27/10/2018 at 08:02:12
I'm more worried about the fact that Lukaku hasn't scored for eight games. You know how benevolent Everton are when it comes to players who haven't scored for ages.
Terence Leong
12
Posted 27/10/2018 at 08:24:06
Man Utd are there for the taking... We don't have the defensive nous to play only on the counter-attack.
At the same time, while we can dominate possession, we don't exactly control games.
I think our goals will still come from counter-attack moves.
Here's hoping and looking forward to a win!

Robert Leigh
13
Posted 27/10/2018 at 08:26:46
Agree with your line-up, Lyndon, away from home it has the pace and forward-thinking passers we'll need to get through Man Utd.
I'd like to see Tosun and Lookman start against Brighton, Calvert-Lewin is also pushing for a start which is exciting.
Martin Berry
14
Posted 27/10/2018 at 08:30:00
I am sure in training Marco will have worked on exploiting Man Utd's current problem with defending set-pieces; this is obviously a situation that we can get something from.
Additionally, we have counter-attacking pace and we are now a good defensive unit so surely we will go close.
Tony Everan
15
Posted 27/10/2018 at 08:37:48
Pickford
Coleman Keane Zouma Digne
Gana
Gomes Sigurdsson
Walcott Calvert-Lewin Richarlison

I think the only change will be Calvert-Lewin in for Bernard. The fact that he can get a bit of change out of the Man Utd defenders aerially, got a bit of strength and pace may sway it for his inclusion. Especially with his well-taken goal last week, he will be confident and he is the most likely to get his head on a cross.
That and I think Richarlison is more effective on the left using his pace and having the option all the time to cut in and shoot.
Steve Ferns
16
Posted 27/10/2018 at 09:24:39
I think he will be weighing up the Arsenal side against the Leicester side.
In other words, Calvert-Lewin with his height, pace, and ability to hold the ball up, against Richarlison's pace, dribbling and ability to break at speed.
I think I'd go with Calvert-Lewin and shift Richarlison left and Bernard right, with Walcott dropping to the bench and Tosun and Lookman also on the bench.
The thing to remember about Richarlison on the left is that he is playing much further forward than Gylfi did when he was on the left under both Koeman and Allardyce, and he is also far more central. In effect, he is playing as a wide forward rather than a wide midfielder.
Neil Wood
17
Posted 27/10/2018 at 09:35:31
I know picking a team on ToffeeWeb is pointless; however, tough, I'm going to.
I can see the points about maybe moving Bernard to the bench but in the little I have seen of him I just can't drop him. The lad is a special footballer and for me he has to play.
I have also considered the Walcott - Lookman argument and think that it's inevitable – will it happen this week though?
Here's how I would start:
Pickford
Coleman Keane Mina Digne
Gueye
Gomes
Lookman Bernard Richarlison
Walcott
Controversial? Yes. Capable? Very.
Bill Gienapp
18
Posted 27/10/2018 at 09:40:48
I do find it amusing that people are often like "If only we still had Lukaku... or had Pogba... or Rashford... or Martial... or Lingard... or Alexis... or Matic... or Mata."
Manchester United have ALL of those guys — and we still have a better record than them.
Steve Ferns
19
Posted 27/10/2018 at 10:13:46
Pickford
Williams Keane Jagielka
Kenny Gueye Vlasic Baines
Rooney Calvert-Lewin Sigurdsson
This was Koeman's final selection. We've come a long way!
Phil Williams
20
Posted 27/10/2018 at 10:14:31
Good preview, Lyndon, then you had to spoil it with those two words... Jon Moss. As inept a referee as there is.
Let's hope his linesman are a tad better than at Arsenal. Despite the fact that we lose over half the games he referees us, I still fancy at least a point tomorrow and would not be surprised with all three. Same team for me.
Neil Wood
21
Posted 27/10/2018 at 10:21:03
Steve and thank Christ we have!
Phil... Jon Moss came to my lad's school last week. (Without my knowledge as I would've gone in and given him a piece of my mind... ha!)

Eddie Dunn
22
Posted 27/10/2018 at 10:28:53
Silva surprised some by starting with Gomes last week and I think that, in the light of his comments about price tags etc, he will possibly pop Mina into the picture. The lad is super at set-pieces, and Man Utd have struggled in that area.
I fancy us to nick it.
Gareth Clark
23
Posted 27/10/2018 at 10:29:30
Cenk in for Bernard for me:
Pickford
Coleman (c) Keane Zouma Digne
Gueye Gomes
Walcott Sigurdsson Richarlison
Tosun
Subs: Stekelenburg, Mina, Baines, Davies, Bernard, Lookman, Calvert-Lewin
Bring on Calvert-Lewin & Lookman in the second.
Then Bernard if we need that extra creativity – or Davies / Mina if we need extra protection.
Really have a good feeling about this one!
COYB!!!

Joe McMahon
24
Posted 27/10/2018 at 10:42:13
Opening lines speak volumes about David Moyes's amazing record at Old Trafford. Roberto nicked it in his first season (helped by the Man Utd manager being Moyes, I suppose). Anything is possible, I just don't know how United will play after the game vs Juventus.
Derek Knox
25
Posted 27/10/2018 at 10:45:53
If there was ever a good time to play Man Utd, this is probably it; considering their stuttering start to the season, and the alleged dressing-room unrest.
On the back of three wins and improved form, you would be thinking all good news; then we find that the referee is Jon Moss and all previous aspirations start to founder on the rocks.
This will not be easy, there are no easy games in the Premier League; but I think we do have a chance, despite the referee alluded to before, and Lady Luck be with us for a change.
I will not be tempted into choosing a team for this one; bearing in mind that the game against Palace, Bernard Richarlison and Walcott were all below par for some reason.
So I am thinking: stick with the starting selection for last week; as Lyndon has suggested, surely they will be all up for this game, and no-one will dare have an off-day.
Kim Vivian
26
Posted 27/10/2018 at 11:04:05
Realistically, feet on the ground, we will do well to grab a point here. Man Utd are not rubbish – they have some good talent – and Jose Mourinho will have done his homework. I will be surprised if we keep a clean sheet but, if we can find the onion bag, I reckon we can grind out a draw.
As always, I'm hoping for the win; I would take a draw tomorrow but I have got my feet firmly on the ground for this one, and I cannot predict the team Silva will go for but I would like to see Calvert-Lewin leading the line.
Colin Malone
27
Posted 27/10/2018 at 11:19:22
Bernard is wasted on the flanks. It's Sigurdsson or Bernard for the Number 10 role — or maybe they could interchange positions, like Man City do.
Richard Mason
28
Posted 27/10/2018 at 11:25:16
I would love a win, and I feel we have a squad capable of winning, but sometimes with Everton you just don't know. Teams and players seem to break their duck against us. But all my faith is in whatever team Marco picks.
Steve Ferns
29
Posted 27/10/2018 at 11:25:35
Kim, their front line is right up there: Lukaku, Rashford and Martial. Then they have £100m Pogba, Matic, Mata, and the best keeper in the world. They spend £50m on Bernard's mate, Fred. They've spent a fortune on defenders. They have the players, they just haven't gelled them.
We can't underestimate this side. But judging by the Everton Unseen video, with a brief glimpse of Marco Silva roaring at the players during a training session, there will be no under-estimation done by those that matter.
Note Silva and Mourinho are mates. Both confirmed it in the press conferences. I'm sure Silva would love to beat him in this game and will be doing everything to achieve it.
Brian Harrison
30
Posted 27/10/2018 at 11:30:56
Just what we didnt want — the press making a big thing over Lukaku not scoring in his last 8 games... and we arrive, his ex-club who are famous for letting players who haven't scored for ages break their duck against us.
Some are making out this is the best time to play Man Utd; I am not so sure... they played well at Stamford Bridge last week and were unlucky not to take all 3 points. This followed a comeback from 2 goals behind the week before to Newcastle were Man Utd picked up all 3 points.
Apart from Guardiola, Mourhino is by far the most successful manager in the Premier League. His team aren't playing as well as he would like but, as the saying goes, form is temporary and class is permanent. Can we get something from the game? I think we can but will have to play a lot better than we did last week.
Team selection will be interesting but, with virtually a fully fit squad to select from, it's a nice problem for Silva to have. The one positive is we know Silva will not just go there to defend, and we will get chances — the question will be: Can we take enough of them to win or draw? Let's hope so.
Alan McGuffog
31
Posted 27/10/2018 at 11:44:30
One of those games when the performance will have more significance than the result. A win, hell, a point would be most agreeable.
However, I would be pleased with an attacking performance that gives Man Utd a lot to think about... instead of one of our usual pusillanimous, "let's get away with a two-nil defeat" displays.
To be followed by a resounding win over Brighton next week. And three points at Mordor of course.
Ed Fitzgerald
32
Posted 27/10/2018 at 12:06:34
If we are ever to break our inferiority complex against the 'so-called big six', then we have to start playing without fear and taking the game to such teams. Of course, we might lose tomorrow but there is little or no chance of winning if we 'park the bus' or individuals play without expressing themselves and wanting the ball, à la Allardyce, Koeman, Moyes, Smith...
Jim Bennings
33
Posted 27/10/2018 at 12:29:53
We can beat these, all day long — we can beat these!
Yes, a draw would be a good result in many ways but, as posts from above say, if we are ever to move on to the next level, then winning one of these fixtures away to one of our hoodoo clubs would represent a monumental step forwards.
I don't subscribe to the people who say we can't win these games as we are still a work in progress; we are playing well enough to win that game tomorrow and, with the shit that has gone on at, United it's sitting perfectly for us to get at them.
They obviously have some great individuals but are they a team?
I'm feeling similarly positive to when Martinez took us there in 2013 and knew we could end that horror record.
Richard Mason
34
Posted 27/10/2018 at 12:36:35
I know you don't fix what's not broken. But maybe starting Mina tomorrow might be the answer as it would give Man Utd something to think about at set-pieces.
Gary Edwards
35
Posted 27/10/2018 at 12:41:24
I've liked what I've seen of Bernard but like others feel that he is probably better as an impact sub especially. I'd start Calvert-Lewin up front with the brief to Gomes and Sigurdsson to play balls into the channels and behind for him to run onto.
Tell him in no uncertain terms that we expect him to forget the narcissism, man-up, and chase down everything for 60 minutes or so and to chase every ball.
I also think Richarlison is a better option (than Bernard) on the left and would like to see Lookman start ahead of Walcott (who has struck me as being disinterested / head elsewhere recently).
Geoff Lambert
36
Posted 27/10/2018 at 12:59:11
Steve (#29) — is Sanchez injured?
Bobby Mallon
37
Posted 27/10/2018 at 13:14:22
If we are going to play a counter-attacking game away from home, then we need to not play 4-3-3; it has to be a 4-5-1 formation and we need to stop having everyone back at corners — it's suicide.

Liam Reilly
38
Posted 27/10/2018 at 13:25:16
See Lawro has picked Man Utd to beat us again, along with the RS to continue their 85- or 86-match unbeaten run. Apparently the last time he predicted they'd lose was the last game of the 15/16 season.
How can this biased charlatan be allowed to churn this shite out every week?
I'm thinking a score-draw for this one.
Joe O'Brien
39
Posted 27/10/2018 at 13:35:54
Geoff @36 — yes, he's supposed to be not involved tomorrow.
Colin Glassar
40
Posted 27/10/2018 at 14:02:59
Liam, the same way 30-odd plus former RS players dominate punditry in this country. It seems they are almost guaranteed a media job once they hang up their boots.
2-2 tomorrow but I think we can nick a win.
Jerome Shields
41
Posted 27/10/2018 at 14:08:59
My preferred line-up, considering all things:
Pickford
Coleman or Mina Keane Zouma Digne
Gana
Gomes Sigurdsson
Walcott or Bernard Tosun or Calvert-Lewin Richarlison or Lookman

Reasons:
Coleman or Mina — Coleman is not fully fit or up to speed. Vulnerable in defence and not as good going forward. One of the most ineffective parts of the team is down the right. Also, I expect that Man Utd will have worked out this is the main weakness to attack. Mina has played this position before and will be good defensively and going forward; or else, Brands doesn't know his job.
Keane Zouma — Solid and provide attacking options.
Digne — Fantastic!
Gana — You get what's written on the tin.
Gomes or Davies — Professional; Davies as a tactical change option.
Sigurdsson — Performance.
Walcott or Bernard — Walcott has the least touches of the ball than any other outfield player in the last three games. One-dimensional. Bernard a bag of tricks, the threat is increased on the right, which has been recently below par.
Tosun or Calvert-Lewin — Tosun is the only one resembling a complete centre-forward we have got, with Calvert-Lewin as a tactical change. Tosun ahead of Calvert Lewin because the latter has a poorer 70% pass-completion rate. Tosun could benefit from the new midfield trio providing a central attacking option. Tosun has mastered running into channels at last.
Richarlison or Lookman — Richarlison in the centre-forward role had one shot on target in each of the two games he has played in this role without providing any desirable other centre-forward attributes. Against Arsenal, he had 5 shots, from the left, on target. His weakness is a 70% pass-completion rate and poor pass decision-making – he doesn't use the better positioning of other forwards. Lookman, meaning though of not the same pace, can beat defenders and has superior ability In his passing game in the final third and can score.
Prepared for the onslaught.
Dennis Stevens
42
Posted 27/10/2018 at 14:23:52
Very interesting, Jerome, and thanks for explaining the thinking behind your selections.
Chris Watts
43
Posted 27/10/2018 at 14:26:37
I'm surprised so many are advocating changes from last week. Bernard, Richarlison and Walcott didn't have their best games but introducing Calvert-Lewin... really?
People have short memories. Tosun and Calvert-Lewin missed so many chances in the games against West Ham and Arsenal. We should have been out of sight before they scored and eventually won.
Bernard is one of the most talented players we've had for years — he is perfect against Man Utd. Maybe jig them around though so Walcott is the centre-forward. If there are any changes, I'd swap Walcott for Lookman.
Phil Smith
45
Posted 27/10/2018 at 14:42:54
Well, I would start with Lookman over Bernard and give him his big shot. If he doesn't perform then he'll be okay with the latter starting over him in the next few games, which will hopefully push him on. I, for one, would like to see what this kid can do at places like Old Trafford.
Mike Gaynes
46
Posted 27/10/2018 at 14:47:46
Jerome #41, where did you get the information that Mina has played right back??
To my knowledge, never. At least not as a professional. In fact, I don't believe I have ever seen a 6'-5" right back. Nothing I know of his game would fit that position.
Agree with you on Walcott vs Bernard, although I'm quite certain Silva will keep Walcott in the lineup because of his pace. We don't have much of that.
And Richarlison on the left for me. Advantage over Lookman is his finishing ability.
Fran Mitchell
47
Posted 27/10/2018 at 15:03:30
We have to go for the win. If we get an early goal, the Man Utd crowd could turn on the team, and we could really set a marker, and slam an extra nail into Mourinho's coffin.
I'm torn as to whether it is a good game to bring in Lookman for Walcott, or whether we should play Tosun in the centre-forward role.
Mike Gaynes
48
Posted 27/10/2018 at 16:00:22
Everybody's missing the point on our line-up for tomorrow.
What we really need is a quick one-game loan.
Oviedo from Sunderland.
Steve Ferns
49
Posted 27/10/2018 at 16:08:14
Yerry Mina as a right back? What on earth???
Okay, he's got a good turn of pace. At Palmeiras, he did take the ball up the pitch and has decent ball skills, but passing, crossing, and beating a man are not skills his posses. He's slow over a yard, but quick over 20. He's not a right back.
John Raftery
50
Posted 27/10/2018 at 16:30:05
Manchester United are not a top-six team at present. We are above them in the table, as we were in 2013 before the Oviedo game. We should go there confident of putting on a good performance and getting a positive result.
Our team has changed considerably in 2018. Six of the starting eleven last week were not even here 12 months ago. We have a new look team whereas United appear to have stood still. If, and it is a big if, we can stay solid at the back, we have the pace and quality in attack to trouble their back line.
Jim Bennings
51
Posted 27/10/2018 at 16:30:08
The biggest hope/wish for me tomorrow is that we don't have another game to look back on in regret like at The Emirates last month.
You can accept getting walloped if the opposition is outstanding on the day but the game at Arsenal, we just passed up so many glorious chances to finish the game in the first half.
We have some really good players but the trouble over the years with many of our better players is turning up in the big games at venues like Old Trafford.
Can Sigurdsson do something special tomorrow?
Will Richarlison show the rest of the league at the biggest venue in England just why we shelled out so much money?
Can Bernard dazzle and put on a potentially match-winning show?
Can Tosun, Walcott, Calvert-Lewin be clinical if they see the opportunity arise in front of them?
These are questions that have failed to be answered in a satisfactory nature by so many of Everton's players over the years in the bigger matches.
Kieran Kinsella
52
Posted 27/10/2018 at 16:36:48
To me, this has got a draw written all over it. Everton are kind of hit and miss as they get adjusted to Silva's style. Man Utd look like they're in damage resistance mode rather than gung-ho so I don't see them flying out of the gates in this one. I expect, if it is tied after an hour, both teams will just run the clock down.
Alan J Thompson
53
Posted 27/10/2018 at 16:46:48
Let's play Bernard as an out and out centre forward and see what their big central defenders make of a tricky midget running at them with Sigurdsson playing off him and Richarlison wide left. Gomes, Gana and Davies in midfield. And most importantly, someone pulling tongues while running past Mourinho.
Kev Jones
54
Posted 27/10/2018 at 16:59:36
I'd keep the same team as last week to build confidence and momentum. My main concerns would be that Silva uses his subs earlier if needed, especially Lookman, and that Richarlison looks up and passes to other well-placed Blues in the area. I think the outcome is finely poised and – if we go for it – we can win.
Richard Mason
55
Posted 27/10/2018 at 17:32:00
Lyndon has match down for 4:00, is it not kicking off at 5:00 tomorrow??
Brian Williams
56
Posted 27/10/2018 at 17:37:12
No, it's a 4 o'clock kick-off.
Justin Doone
57
Posted 27/10/2018 at 17:42:25
Without wanting to sound negative, I'm just hoping we are competitive, are able to create chances and be a threat.
We were woeful against them last season so I'm hoping for a big improvement, even if we lose.
Man Utd and Jo Mo have been getting pelters all season and they're certainly not the Man Utd of old but we all know when they want it, are up for a fight and in the mood to attack teams, they have some very capable top class players that can hurt anyone.
I think it's a classic game of two fairly attack-minded teams still trying to find their best team etc. Lukaku has bossed Keane and Zouma in the past so that will be a good battle.
Shaw vs Coleman and Digne vs Valencia — also good battles of attacking full backs.
Paul Birmingham
58
Posted 27/10/2018 at 17:55:14
I'd go with Lyndon's line up, as I don't see why we can't keep the same focus as the last three matches where we've won and good signs of continuous improvement.
Take the game to them but we must be clinical and avoid an Arsenal scenario, where too many sitters were missed and then concentration lapses cost us the game.
Tomorrow is a massive match and a good result is key as there's a gap appearing from the top 6. Our wingers and midfield can do a good job and turn them over but we must take the chances and also not get wound up and be at the beck and call of the crowd and possibly one of the worst Premier League referees.
I've a good feeling better than for some years for this game, and I hope and pray we can win.
It could be a massive boost to this season and bearing the run of aways coming up, a welcome tonic.
Richard Mason
59
Posted 27/10/2018 at 17:58:29
Thanks, Brian, Live Score had it down for a 5 pm kick-off.
Dennis Stevens
60
Posted 27/10/2018 at 19:18:14
Perhaps they thought it would still be BST, Richard.
Mike Gaynes
61
Posted 27/10/2018 at 19:24:45
Horrible moment just now in the Leicester-West Ham game. Broken leg for Amartey.
Dave Abrahams
62
Posted 27/10/2018 at 19:33:37
Justin (57), I don't think we were woeful at Old Traffold last season, the 4-0 score line really flattered Unt, Rooney missed two good chances, Sigurdsson should have buried another and until Ashley Williams made a cock up
of a clearance ( which United scored from) Everton were well in the game, after Williams made that mistake United scored a couple more, but Everton were far from woeful in my opinion.
Dan Davies
63
Posted 27/10/2018 at 19:46:02
We paid alot of cash for Mina. He has to play at some point, what better match than Man U away to prove his mettle?
I would also have Richarlison back on the left with Tosun upfront. Bernard as a supersub for later in the game when their defence is tiring.
Lookman should get a look in too!
Tom Bowers
64
Posted 27/10/2018 at 19:48:52
Maradonna alive and well and playing for Leeds. (new name Roofe)
Enough of that so what can we expect tomorrow ?
If they can get a good result at Old Trafford then we may start to believe that they are halfway to becoming a really competitive team again.
Yes, we know Manure still have some big guns that can hurt you but if they can keep Pogba quiet then they have a real chance of winning as Everton are quietly amassing some big guns of their own.
Gylfi is playing well and the emergence of Gomes could be the catalyst to gird the midfield.
Seamus coming back was also a boost so I anticipate some good results over the next few weeks.
As I keep saying this is a work in progress and although they have 3 wins on the bounce they haven't exactly been totally dominant but have had some good fortune which always helps.
C.O. Y. B.
Jim Bennings
65
Posted 27/10/2018 at 19:51:17
It's interesting to see if we can get over the mental hurdle away to these sides, we have four on the spin at bogey venues and rather than feeling trepidation I feel it's a fantastic opportunity to make a name for ourselves.
If you are a footballer then you surely crave these types of fixtures and the chance to shine in them.
I really thought when we won at Old Trafford in 2013 under Martinez that a psychological barrier had been broken down but five years on it's reverted to type with no wins at any of the top six in that timescale.
Tomorrow maybe we can blow down that barrier once and for all and then progress further.
Kunal Desai
66
Posted 27/10/2018 at 19:58:27
Let's hope the recent good fortune and decisions we have been getting in games continues. I think we are finally finding that luck is now evening itself out which denied us points in some of the earlier fixtures. Just hope I've not jinxed it.
First goal is ever so crucial. Milivojevic's penalty miss and Sessegnon's shot slammed back of the bar, along with Morgan's red card play a significant part in the 9 points gained. We will need luck and bravery as well as some excellent officiating.
Len Hawkins
67
Posted 27/10/2018 at 20:38:08
Richard Mason, don't turn your clock back and it will be a 5 o'clock kick off.
Neil Copeland
68
Posted 27/10/2018 at 20:39:07
Alan 53, I think Duncan should be given the job of pulling tongues at Mourinho.
Richard Mason
69
Posted 27/10/2018 at 20:55:39
Cheers Len, makes sense now 😂
Dave Ganley
70
Posted 27/10/2018 at 21:25:52
Sorry Kunal not sure what games you were watching but we fully deserved the wins against Leicester, Fulham and Palace. Yeah they may have had a couple of chances but so did we.
First half against Leicester we could have been 3 or 4 up, we also had chances against Fulham and palace before we scored. Not sure why people feel the need to denigrate ourselves when we win a few games, you generally get what you deserve in this game and the last 3 games we have been the better team. Anybody can point to ifs buts and maybes from a game but generally the final score tells it's own story.
If we play anything like we have been recently then there is no reason why we can't come home with 3 points.
COYB
Kunal Desai
71
Posted 27/10/2018 at 22:42:13
Dave, I am not disputing the outcomes of these matches as Everton deserved the victories in the end. The point I'm making is that first goals are ever so crucial, these were major moments in the game that changed it in our favour when the scores were level. Leicester were also in the ascendancy when the score was 1-1. Once Morgan received a second yellow, the game swung in our favour.
Luck deserted us earlier in the season with the Jagielka and Richarlison sendings-off.
Neil Wood
72
Posted 28/10/2018 at 01:01:06
Seriously, guys and girls... we have to beat these lot tomorrow. My friend who is a kopite has been ridiculing me all week saying basically we have zero chance. I have taken a photo of every text he's sent so I can ram it down his throat tomorrow at approximately 17:52hrs!!!
For me, boys, please. COYB
Simon Smith
73
Posted 28/10/2018 at 01:51:44
Neil, life as a blue isn't easy, is it? Them fucks are sitting top of the Premier League and their Champions League group... does my head in.
Mike Galley
74
Posted 28/10/2018 at 01:43:24
Neil, Simon, I feel your pain. Take solace in the fact that you'll always be blues and they'll always be red.
Tim Greeley
75
Posted 28/10/2018 at 01:49:43
Jim Benny #65... agreed we are hopeless against the "Big" teams but I have to say we was robbed at the Bridge a few years ago. Like, it still makes me angry and drive 20 mph faster than I should when I think about it. Funes scored that sweet cross from Deulofeu for the lead at 89 minutes, then the ref decided, "Well, I guess I will let them play until Chelsea equalizes" and we all know where that went. John Terry needs to do one!
Steve Brown
76
Posted 28/10/2018 at 02:25:43
Neil, every year is their year yet they win nothing. Bunch of choakers.
Ernie Baywood
77
Posted 28/10/2018 at 02:36:02
There aren't many places up for grabs but you could make a few very specific selections for the opposition.
I'd like to see Richarlison up front. Man Utd aren't going to sit deep and those defenders are just asking for someone to give them the run-around.
I'd consider Lookman on the left. Can he put in a high energy, pacy performance? Happy enough with Bernard there, though.
Lastly, I wonder whether we complement the high-energy press with similar in the centre of midfield? You can make a good case for Gueye and Davies. I could see Man Utd shitting themselves with the pace and industry that midfield and attack would give. Obviously no issue with Gomes but they would give something different.
Anyway, it's going to be interesting. I can't imagine us going there with anything but attacking thoughts... In itself, that's an improvement on how I'd usually feel before these games.
Up the Toffees!
Tony Everan
78
Posted 28/10/2018 at 08:09:49
Jim #65
I have been thinking along the same lines. The psychological barrier is the biggest enemy today, and against any of the top 6 teams. We have a strong squad, overall better players than Man Utd at this point in time. I am hoping Silva can drill it into them the fact that if we play our best football and match them physically we will win the game. There is no doubt about it chances will come for us today, take them ruthlessly and we will get the 3 points.
I think the squad is starting to 'believe' and this match offers an opportunity to cement that.
Jim Bennings
79
Posted 28/10/2018 at 08:23:09
Tim #75,
Aye I recall getting robbed at Chelsea under Roberto when 10 yards offside Terry scored about 20 minutes past injury time.
It's weird that for since the turn of the century our record away to these sides has been awful yet the manager who won one at Old Trafford and all but won at Chelsea was Martinez despite him only being here three years.
I think we have a great chance today if we play our own game and not be overawed.
We are due a win over Man Utd and haven't paid them back yet for snatching that Semi-Final from us a few years ago.
Chris Gould
80
Posted 28/10/2018 at 08:39:34
I don't believe there will be a psychological barrier today. If the manager sets the team up not to lose, then they'll never believe they can win. That's what Moyes, Koeman, and Allardyce did against the top 6, especially away. Silva won't do that. He will have had them working on tactics to win.
The likes of Pickford, Digne, Zouma, Gomes, Bernard, Richarlison, and Walcott have no reason to be tainted by our previous managers' negativity and lack of self-belief.
Jags and Baines et al spent their entire careers not believing. Not their fault, but hopefully we can now look to a brave new era!

David Greenwood
81
Posted 28/10/2018 at 08:43:47
Agree with Jim's posts above.
We are due a win here and it's as much about attitude and mindset today as it is ability. If we get that right we are more than good enough to win.
Richarlison, Bernard or Lookman against Ashley Young is something to look forward to.
The match officials are a big concern. Jon Moss proved last week that match officials on this country will always favour the tv and sponsors favourites. We need to take our chances and defend well enough to take his performance out of it and still get the win.
2-0 win. Theo and Siggy.
Andy Meighan
83
Posted 28/10/2018 at 08:44:28
Lukaku – No goal in 8 games. We all know what's coming next. That coupled with our poor away record. I don't fancy it if I'm being honest.
Jon Withey
84
Posted 28/10/2018 at 08:54:46
Is there any reason not to do the same as last game?
Mourinho's side is pragmatic, so I'm not sure if we can out-work them as such.
A bit of guile from Bernard might be what we need – but I suppose if we switched it around he could come on later on in the game.
Tosun to start and Calvert-Lewin to replace him for energy?
Phillip Warrington
85
Posted 28/10/2018 at 09:04:37
You know what they say — don't change a winning line-up.
Laurie Hartley
86
Posted 28/10/2018 at 09:10:13
Before Z-Cars, the powers that be used to play a marching band tune before the game. When I asked if anyone remembered what the tune was, Ken Buckley suggested it was, and this may interest our American Evertonians, the
The Liberty Bell March
Well, I was at a brass band concert this afternoon and guess what one of the last tunes they played? You've guessed it – The Liberty Bell. It's a lucky omen.
UP THE BLUES!!!

James Stewart
87
Posted 28/10/2018 at 09:19:48
I wouldn't play Keane personally. He is in decent form, yes, but Lukaku always gets the better of him. Mina should come in for me, added goal threat into the bargain.
Gordon White
88
Posted 28/10/2018 at 09:42:36
We're playing well at the moment and confidence is up. This is going to be a hard game for us. But all the expectations will be on Utd.
Realistically, a well contested draw would be a really positive away result. And playing as we are, a win is not out of the question, particularly if we don't have to defend a lead for most of the game.
For me, what's most important is the way we play rather than the result from one game. I think he will stick with the same side, but I can see the attraction of bringing Tosun back, so maybe.
It feels good to be looking forward to games again, rather contemplating whether to watch them or not.
On a separate note, our thoughts and prayers are with those unfortunate people in the helicopter at the Kingpower and Glenn Hoddle and their families. Puts everything into perspective.

Brian Porter
89
Posted 28/10/2018 at 09:43:00
Chris Watts #43,
I agree with you completely. Bernard and Richardson between them could have Man Utd chasing shadows, and would be far more effective than throwing Calvert-Lewin into the mix as some suggest. We need craft and guile to get in behind their defence and these two are the men who could be the key to unlocking their back four.
Biggest problem we have is that we're already playing against 12 men with the totally inept Jon Moss referring the game.
It's time the refereeing panel took a long hard look at this man's performances this season. I've seen him make blatant errors in other games, not just ours and he's surely the worst referee in the Premier League, by far.
Brian Williams
90
Posted 28/10/2018 at 09:51:07
Lauri#86.
It's also the music from Monty Python's Flying Ciiiiiircuus!
Derek Knox
91
Posted 28/10/2018 at 10:04:50
David @81, good to read your post and I would settle for that score now, amongst hundreds of others, like many have mentioned, there is no reason if all play to their potential we can't win.
Laurie @86, hopefully a Lucky Omen for us, we are due a bit. The Liberty Bell, also the intro to Monty Python's Flying Circus, and now for something completely different!
Alan J Thompson
92
Posted 28/10/2018 at 10:11:44
Neil (#68); I said pull tongues at, not from, him.
Sam Hoare
93
Posted 28/10/2018 at 10:35:01
Think the game could go either way and first goal may well be crucial with both teams feeling tentative (them for the pressure they are under and us because we still have a poor record at the big teams).
I'd keep the same team as vs Palace. Think that is a team best set up to counter -attack and the front 4 will get more space and hopefully use it better. Tempting to start Mina against Lukaku but I don't think you can disrupt what is looking like our best centre-back combo in a few years currently.
Pat Kelly
94
Posted 28/10/2018 at 10:35:51
2-0 to Utd, I expect
Dave Lynch
95
Posted 28/10/2018 at 10:39:48
This will come down to our finishing, or lack of it.
You can bet your life Lukaku will score, he's on a barren run and this is Everton, you know where I'm coming from.
Man Utd will score, we just have to be more clinical than them as they will give us chances.
I would start Lookman and Walcott both wide, pace will terrify their back 4.
David Ellis
96
Posted 28/10/2018 at 10:41:32
Let's hope we can pose Man Utd a lot of questions – I doubt they're expecting the Spanish Inquisition.
I'll be watching from the comfy chair.
Neil Wood
97
Posted 28/10/2018 at 10:42:58
Jesus H Christ Pat! How to burst a bubble eh.
Get a grip pal, we are Everton.
We are equals on the pitch, I genuinely believe that, which we have not been able to say for a long long time.
I personally would start Mina. He has a presence and one that is needed in these encounters. Lukaku is a fantastic strong unit but Yerry Mina is an absolute beast of a man.
I watched him warming up last week before the Palace game and he clearly had a good relationship with his team mates. There was a sense of "banter" running throughout with players pushing each other, throwing balls at each other etc but was very clear to see they were a good unit. This kind of camaraderie should not be underestimated.
3-1 to the Blues today. Bernard brace and Richarlison.
COYB
Kim Vivian
98
Posted 28/10/2018 at 10:49:42
I'm inclined to agree Dave (95). Man Utd
WILL
score – I can't see otherwise with their armoury (though of course I hope they don't), and we have to score the same (I'd take that) or more (make my day, boys).
I said before that I think I'd like to see Calvert-Lewin up top for this one. Not sure why but I think he will be gung-ho for this. Looking forward to it as usual – with high hopes but realistic expectations.
I'm going 2-2 for this. 1-1 at half time. What odds on that?
James Marshall
99
Posted 28/10/2018 at 10:54:35
Man Utd will score, but so will we – they have only kept 1 clean sheet all season so there's reason to believe we'll get at least one against them. As others have said, you can bet your life Lukaku will end his goal drought today though.
I can see a score-draw myself.
Gordon White
100
Posted 28/10/2018 at 11:02:35
Let's hope the ref's mistakes are in our favour. It has to break for us sometime.
And that Lukaku breaks his duck... Against Bournemouth next week.
Colin Malone
101
Posted 28/10/2018 at 11:10:16
I would rather us play against Lukaku than Sanchez. The days of a Lukaku type centre forward have gone, unless he starts to move his arse away from the 6-yard box and let other players in.
It's unbelievable that we have a diamond in Bernard one week, then should be dropped the next... FFS, get real.
Jay Wood
[BRZ]
102
Posted 28/10/2018 at 11:17:30
Just read that Man Utd are fulfilling a promise to the Thai boys football team that were rescued from a flooded cave a few months back. They will attend today's game against the mighty Blues.
Hope we give them a performance to win some converts.
Frank Crewe
103
Posted 28/10/2018 at 11:49:54
We could go three at the back and push Coleman and Digne into wing halves to supply width in a 3-5-2:
Pickford
Zouma, Mina, Keane
Coleman, Gomes, Gueye, Sigurdsson, Digne
Richarlison, Tosun or Calvert-Lewin
I doubt this will be the case though as it would mean dropping both Bernard and Walcott to the bench. Although if things were not going well we could put them both on to change the dynamic. My guess is Silva will go with the same line up as started last week with the possible exception of dropping Bernard and moving Richarlison to accommodate Tosun or Calvert-Lewin.
I just want us to play as though we are the better side and not try to make changes to try to stifle them. It never works and we end up losing. Play our own game and let them worry about us.
Andy Crooks
104
Posted 28/10/2018 at 11:53:10
Over the last number of years I have had my expectations raised going into a game like this. Time after time, they have been dashed in the way that we are special at. I have hope but little expectation.
John G Davies
105
Posted 28/10/2018 at 12:06:22
I would leave Bernard out for this one.
Richarlison on left of a three, either Tosun or Calvert-Lewin up front.
Max Murphy
106
Posted 28/10/2018 at 14:43:40
This is Everton FC … and we know what's going to happen … headline tomorrow: " … Lukaku ends goal drought against former club …"
Then again, I don't mind if he scores, as long as we win!!!
COYB!!!
Roy Steel
107
Posted 28/10/2018 at 15:11:31
All the best lads at Man Utd today, get stuck in and don't give them a minute, and we will get a result. They are not that good, and they don't like it up 'em.

Tony Abrahams
108
Posted 28/10/2018 at 15:22:38
Worrying that, Jay, especially because that Lukaku can be a better sub.
Add Your Comments
In order to post a comment, you need to be logged in as a registered user of the site.
Or Sign up as a ToffeeWeb Member — it's free, takes just a few minutes and will allow you to post your comments on articles and Talking Points submissions across the site.