Everton vs Cardiff City
Friday, 23 November, 2018
Match Preview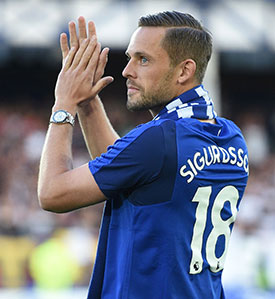 Everton return to Premier League action with a home game against Cardiff this weekend and they have been bolstered by the fitness of Gylfi Sigurdsson and André Gomes.
The duo were doubts for this weekend after picking up knocks in the draw at Chelsea a fortnight ago, with Sigurdsson a particular concern after he left Stamford Bridge wearing a protective boot and missed Iceland's fixtures over the international break.
The midfielder was the victim of a terrible tackle from Jorginho that only merited a yellow card in the eyes of referee Kevin Friend and it looked initially as though he would need to come off straight away.
Sigurdsson ended up playing deep into the second half before hobbling off to be replaced by Phil Jagielka but he has trained this week and is available to face Cardiff.
Gomes, meanwhile, collided with the advertising boards in the same game and took a while to begin moving freely again. He, too, joined the first team in training this week and will be in the squad for this weekend.
"We had some worries during the week about Gylfi but he's okay and that's good," Silva said of the duo. "They are available for selection this weekend."
They will be joined by Richarlison who was also forced off at Stamford Bridge but he shook off a minor groin strain in time to play for Brazil and scored the winner against Cameroon in Milton Keynes.
The positive injury news means that Marco Silva is in a position to name an unchanged lineup if he so chooses but it won't be an easy decision, particularly when it comes to central defence.
Kurt Zouma is eligible again after missing the goalless draw against his parent club but he was in fine form alongside Michael Keane prior to Yerry Mina's recovery from a foot injury.
Mina played in Zouma's stead last time out but made a strong case of his own to remain in the side. Silva has experimented with a three-man central defence before and has intimated that he would not be averse to using it at Everton but it remains to be seen whether he would adopt that approach at home in a match his side would be expected to win.
Elsewhere in the side, Ademola Lookman gave his manager something to think about with an enterprising cameo off the bench at Chelsea and he is pushing both Theo Walcott and Bernard for a place in the starting XI.
Neither winger is enjoying their best form at the moment but Silva has shown a willingness to make as few changes to his team as possible in recent weeks and that could be the case again this time around.
"If you have competition in your squad, you have a good headache to decide what will be the best eleven," Silva said in his pre-match press conference. "I have that at this moment because they are all available which is a good sign for us as well.
Cardiff are come to Goodison Park on the back of only their second win of the season, a 2-1 triumph over Brighton that was secured by Sol Bamba's last-minute goal. They sit in the relegation zone below Southampton on goal difference but have been showing signs that they are getting to grips with life on their return to the top flight.
Midfielder Aron Gunnarsson said: "The first few games we were learning, just to see what the league was about.
"I feel like we are growing into the league. It's coming and I feel like we are progressing as a team and definitely the Fulham and Brighton games gave us confidence going forward."
Despite being praised in the press recently for an expansive style of football under Neil Warnock, the Bluebirds are likely to come to Merseyside looking to keep things tight and to make things as difficult for their hosts as possible.
Warnock has identified Richarlison as a key threat and will, no doubt, take measures to nullify his influence but that will hopefully just open up opportunities for other members of the Everton attack.
Without wanting any over-confidence or cockiness to enter the equation, Everton must be looking at this as a game they should be winning. It would represent a fourth straight home victory and help keep them in touch with the top six ahead of the visit to Anfield looming next Sunday.
Kick-off: 3pm, Saturday 24 November, 2018
Referee: Paul Tierney
Last Time: Everton 2 - 1 Cardiff
Predicted Line-up: Pickford, Coleman, Keane, Mina, Digne, Gueye, Gomes, Sigurdsson, Bernard, Walcott, Richarlison
---
Reader Comments (64)
Note: the following content is not moderated or vetted by the site owners at the time of submission. Comments are the responsibility of the poster. Disclaimer
Kunal Desai
1
Posted 23/11/2018 at 19:47:33
Excellent news. We just need to remain cautious and ensure there is no complacency throughout the 90 mins. I'm sure Silva has drilled this into the lads. We may have to be patient.
Paul Mackay
2
Posted 23/11/2018 at 19:48:13
Such key players for the blues. We need a bit of luck in order to keep them fit.
Les Moorcroft
3
Posted 23/11/2018 at 19:50:56
Early goal. Clean sheet no injuries or red cards. 3 points. Roll on next week. If only. Coyb
Dermot Byrne
5
Posted 23/11/2018 at 20:03:23
May do Les
Jack Convery
6
Posted 23/11/2018 at 20:19:23
Good news. Let's put this one to bed early, eh.

Frank Crewe
7
Posted 23/11/2018 at 20:28:29
I'm not sure Mina and Keane is the best pairing. They both lack real pace. Against Cardiff, this shouldn't be a problem... but, against the Reds next week, with their quick nimble forwards, it could be. Zouma has pace but he's a loan player. It's a tough one. Maybe a three at the back. Could play them all I suppose.
Pickford
Mina, Keane, Zouma
Coleman, Gomes, Gana, Digne
Walcott or Lookman, Richarlison, Sigurdsson.
Bench: Stekelenburg, Baines, Bernard, Davies, Tosun, Jagielka, Walcott or Lookman — depending on who gets the nod.
Marcus Leigh
8
Posted 23/11/2018 at 20:29:23
Nice to have some selection headaches of the right kind. Let's get a good result under our belts tomorrow as a confidence booster ahead of the derby. Which, by the way, I'm not dreading like I was this time last season. COYB.
Derek Knox
9
Posted 23/11/2018 at 20:34:19
Feel a bit for Zouma, who has been very good after settling in, but by the same token it's good to keep players on their toes, and have quality ready to step in.
Can't see them either taking anything for granted tomorrow, after having underperformed in games at home against Huddersfield and West Ham not too long ago. I just hope that Cardiff don't resort to kicking lumps out of our players.
Seems ages since the last game, so really looking forward to seeing our boys in action again.
COYB
Geoff Lambert
10
Posted 23/11/2018 at 20:41:55
Will the new Everton show up?
If so, I can see a good hiding on the cards for Little Old Cardiff. and a hat-trick for Richarlison.
If not, 1-1. Please let it be the former!!
Michael Kenrick
11
Posted 23/11/2018 at 21:26:35
Some very nice comments here from Neil Warnock:
https://www.liverpoolecho.co.uk/sport/football/transfer-news/marco-silva-everton-press-conference-15453902
Paul Birmingham
12
Posted 23/11/2018 at 21:27:34
Tomorrow will be a tough test and I'm sure that Cardiff will have done their homework and will have some plans to stop Everton from playing.
If we can get an early goal, I think we could be in for a few goals, but I'll take a win and no injuries bearing the next few games.
Gordon White
13
Posted 23/11/2018 at 21:28:12
Great news.
On the squad. Zouma made it clear he wanted to return to Chelski. As much as I'd like him to stay – long live Mina.
I'd go with Frank's pick (#7).
Jim Bennings
14
Posted 23/11/2018 at 21:44:57
Hopefully a straightforward win and we can cross over to Amityville next Sunday in really good form.
Bob Boote
15
Posted 23/11/2018 at 22:32:19
I'd like to see
Pickford
Mina, Keane, Zouma
Coleman, Gomes, Gana, Digne
Sigurdsson
Walcott or Lookman etc (Whoever's in form), Richarlson

Laurie Hartley
16
Posted 23/11/2018 at 22:55:26
Michael # 11 - Being a bit of a nutter myself I have always had a bit of a soft spot for Neil Warnock.
I am sure Seamus has a lot of time for him also.
Having said that I hope we batter them.
Up the Blues.
Kev Jones
17
Posted 24/11/2018 at 00:03:35
For the Bluebirds, it will be all over, tomorrow – just you wait and see.
Kev Jones
18
Posted 24/11/2018 at 00:12:13
Three or four at the back – it feels like either could work for us, fullbacks and a midfield that picks itself and perm any of Walcott, Lookman, Bernard, Sigurdsson and Richarlison upfront. Great to have flexibility and options at last.
Start Walcott but sub earlier if it's not working and let Lookman loose.
Dave Lynch
19
Posted 24/11/2018 at 00:27:47
We'll smash these, trust me... I'm a nurse.
Ernie Baywood
20
Posted 24/11/2018 at 01:03:29
I think we have to go with the bloke who we've invested in. Loan players provide cover. Exciting times indeed.
It will be more interesting to see what Silva does on the wings. I fully expect Richarlison to play up top but I think it wastes him against teams that sit deep.
Then there's Bernard, Walcott and Lookman... good to see quality competition for places.
Geoff Lambert
21
Posted 24/11/2018 at 01:17:25
Derek Knox
22
Posted 24/11/2018 at 02:13:15
Good link that, Michael @11, hope his words come true, apart from the "I've always done quite well here as a manager" bit.
Kev Jones @17, have you been on the Vera Lynn?
Phil Sammon
23
Posted 24/11/2018 at 06:18:15
Why on earth do people frequently suggest 3 at the back?
A formation tried, failed and quickly abandoned by 99% of clubs around the world. You get nothing more going forward from your full-backs and they chase back less. The 3 centrebacks get dragged all over the place and the opposition's wingers run riot.
God, I was excited about the game when I came on here. Now I've got steam coming out my ears.
Mike Allison
24
Posted 24/11/2018 at 07:41:39
Got to agree with Phil, there's nothing wrong with any particular formation but our 4-3-3 is working for us. If you've got three good centre backs then you've got strength in depth, why give that up by increasing your need for centre backs?
I doubt Silva will change much, but I'd want Calvert-Lewin leading the line so Richarlison can play in a freer role. I also think this is the game to start Lookman. Bernard and Walcott would drop to the bench to accommodate this.
Peter Warren
25
Posted 24/11/2018 at 07:59:05
I would start Lookman – not for Walcott but in place of Bernard who, in the last few games, I think has struggled.
Tony Abrahams
26
Posted 24/11/2018 at 08:02:46
I disagree with Phil, with my only reservation being it might take a bit of time to implement.
Too open, this Everton team, it's getting better, but let's not kid ourselves that unless we defend from the front, like we did at Chelsea, then – because of the positions our fullbacks take up – the two men in the middle of our defence can become really exposed.
I keep saying I'm intrigued but, with the players we have now got, I just have a feeling this change in formation could really help this team progress. But, either way, I'm just really happy to be going to Goodison again, which is more than enough for me after the last four seasons of pure exasperation and unadulterated shite.
Sam Barrett
27
Posted 24/11/2018 at 08:02:58
Saturday 3 o'clock kick-offs are now only complete with one of George's marvellous posts.
I know there was some bellend on here a few weeks ago criticising him and since then there hasn't been any, but George, if you read this, please keep them coming? To me, I look forward to your wonderful, epic, lyrical posts as much as I await the first drum roll of Z-Cars.

Stephen Davies
28
Posted 24/11/2018 at 08:08:15
Sam @27... Hear, Hear!
Terry Farrell
29
Posted 24/11/2018 at 08:16:56
I'm with you, Phil. We are playing some intricate stuff higher up the park and 3 centre-backs mean a player further forward has to be sacrificed. No thanks and not against a team who will park the bus!
Phil Sammon
30
Posted 24/11/2018 at 08:42:41
Sam @27,
I am that bellend.
Sorry, I didn't like them but it was never my intention to offend George or to discourage him from posting.
If you're around, George, ignore me – I'm a miserable twat. Give the people what they want!
Amit Vithlani
31
Posted 24/11/2018 at 08:52:29
Nice one, Phil @30,
As for the game, it has been international week which always seems to be disruptive.
I will take a scrappy 1-0.
A win and keeping all players fit is the key. Richarlison and Sigurdsson, our two form attackers, have come in for treatment.
Sam Barrett
32
Posted 24/11/2018 at 08:55:42
Haha, Phil, very brave of you to admit it!!
So George, there you go, keep em coming! 👍

Jon Withey
33
Posted 24/11/2018 at 09:00:06
Much as I'd like to keep Zouma – start Keane and Mina as that may have to be next season's partnership anyway. Also, Mina could become a goal threat as a string to his bow.
I don't feel like risking our best players in a physical battle pre-derby but pragmatically we need these 3 points.
Martin Berry
34
Posted 24/11/2018 at 09:01:44
Never in recent times (being an optimist) have I been so optimistic about watching Everton, with the feeling that we are now an exciting creative side. I fear no team and don't think of us having a bad game. Yes, I know they will happen, but the transformation of squad and style of play has been astounding in such a short period of time.
As for Cardiff, I hope they stay up as I really like Mr Warnock, a hard-working no-nonsense journeyman. A Manager who survives on scraps and likes a few too! When he retires, I wish him all the best driving his tractor; however, his team today could get a thumping.
Brent Stephens
35
Posted 24/11/2018 at 09:16:17
Looking for a performance like the one at Chelsea, the best we've played all season. We need to concede none and lash in a few, to set us up for the game at "the other place". I would love to see Lookman (always sounds Welsh to me) start.
Laurie #16: "Being a bit of a nutter myself...".
Phil #30: "I am that bellend".
We've gone all confessional! I have to admit, though, I've never been to confession.

George Mc Kane
36
Posted 24/11/2018 at 10:03:02
I am going to the game today after a long absence - - well 2 home games actually ( on top of a few near the end of last season) - - but with the International Break and such it seems a long time. My absence from the game has coincided with my not posting. However, much as I as a very long lapsed Catholic - - I did once kiss a Cardinal's Ring in Fountains Road - - would never deter a "confessional" - - so Phil ( who I agree with - - not about my posts - - but being a miserable "twat" - - we have all known that for many years Phil - - and still somehow love you for it).
So my non posting has more to do with my health. I am going to The Dark House today and onto the match after missing several games this year due to cancer treatment and latterly serious heart surgery from which I am now recovering and with Doctors advice will step out to Goodison to see the Mighty Blues ( everything can be seen as cliche or if seriously intended is quite lovely and sincere - - depends on your own frame of mind).
This post - - like all my other posts - - is mainly light and lyrical and slightly tongue in cheek - - but with a smattering of goodwill and cosmic grooves.
I was in hospital - - recovering from a serious operation with tubes and pipes shoved everywhere - - when we beat Leicester away and I managed to get the Ward Staff to let me watch MOTD on the Sunday morning from my Bed. The last few matches have been viewed from my settee turned bed at home. I can barely tell you how delighted I am to return to "Live" football today - - and to see my friends and Fellow Blues. As I said some sayings or words can sound like cliches but so what - - I have a saying to myself - - "never take medicine for other people's illness's" - - I have missed the game - - watching it from my settee with a cup of tea and in the warmth of my house was wonderful - - seeing replays of incidents - - close ups of players and interviews - - - all seemed good and very comfortable - - BUT - - as some replacement for actually going to the game - - in the cold - - wrapped up - - NEVER - - there is for me no comparison - - the whole going to the game for me included/includes sitting a reading TW in the morning, music in the background (Hyndford Street in the background just now), walking past my old neighbourhoods, memories being stirred, thoughts and dreams, reading some poetry ( I often stick a book of poetry in my pocket to read on the bus under the Mersey), seeing and talking with friends in TDH - - maybe cliches but for me they carry me and lift me into the very magical world that I want to live in - - -
"Don't it always seem to go,
That you don't know what you've got
Til its gone
They paved paradise
And put up a parking lot"
I do not wish upon anyone missing the match for the reasons I did - - within the last 7 or 8 months Doctor have mentioned "death " to me twice - - laying in bed for weeks on end - - I really know who and what I missed - - including you Phil - - really - - so today I am off out - - well wrapped up - - thermals and long johns - - - to the game - - to TDH - - for me The Pub with no beer from now on - - - It was my birthday on Tuesday - -69 - - among many presents I got the Compete Works of Robert Frost - - the memory of our parlour in Smith Street - - listening to The Paul Simon Songbook on vinyl (still got it) on my little Blue Dansette -- "and for each your Emily Dickinson and I my Robert Frost" - - - so here's a lovely little cliche - -
" I shall be telling this with a sigh
Somewhere ages and ages hence:
Two roads diverged in a wood, and I—
I took the one less traveled by,
And that has made all the difference."
I think ( do that a lot - - think) - - that's enough for today - - but I sincerely pass on my good wishes and cosmic grooves to you all:
"Well I've been too long in this storm
I feel so sad and forlorn
And perhaps I'm counting on you
See me through (yeah)"
One further look over The River from my window and then off to get ready for my first day out in many many months and how right it is that it's to Goodison.
Best wishes Phil - - cosmic grooves to you all - - from New Brighton - - George
Peter Mills
37
Posted 24/11/2018 at 10:16:02
Phil #30 – good post.
This will be a tough game. Despite a couple of away defeats, our progress has been on a steady upward trajectory over the past couple of months, let's keep that going into next week.
I feel sure Mina will play, I hope he can improve our aerial ability at both ends of the pitch. Defensive stability and a bit more steadiness in front of goal and we have the makings of a team.
Dennis Stevens
38
Posted 24/11/2018 at 10:17:51
I hope the boys in blue can deliver your 4-0 result for you, George!
Ajay Gopal
39
Posted 24/11/2018 at 10:18:32
Lovely George, enjoy the game. Wishing you a full recovery and – to paraphrase Frost – hopefully you have "miles to go" before you sleep.
Brent Stephens
40
Posted 24/11/2018 at 10:21:23
George #36, welcome back. A sobering, and at the same time uplifting, post. Enjoy the game today.
Gary Russell
41
Posted 24/11/2018 at 10:22:01
Nice to see your post, George, and enjoy the match. Your one quid bet is looking good today, I reckon.
Ajay Gopal
42
Posted 24/11/2018 at 10:37:03
To those asking for Mina over Zouma because the latter is not 'our' player, let me remind them that Mina is also not strictly 'ours'... Barca have a buy-back option in the summer of 2020. So, if he does well and Barca feel they want him back, he will be off. In that sense, Mina is on a 2-year loan with us (with a decent selling fee of €60 million).
Having said that, I would pick Mina over Zouma for his goal scoring ability plus his none-too-bad performance against Chelsea. For me, I would change Lookman for Walcott.
Peter Mills
43
Posted 24/11/2018 at 10:38:51
Enjoy the match, George. If you can make it to The Midland next Friday at 5:00pm-ish to meet Mike Gaynes and a few of the TW posters, you will be more than welcome (as will anybody else).
Brian Murray
44
Posted 24/11/2018 at 10:42:15
With one or both eyes on next week, is this a defining month in our history where we make sky's darlings sit up and take notice? Not just throw-away comments heavily suggesting our best players should look elsewhere!
C'mon, Blues — let's roar our way to Bramley-Moore.
Derek Knox
45
Posted 24/11/2018 at 10:48:37
Ah Matchday is back, and never complete without a post from you, George. I thought that something more than a comment from Phil had deterred you from posting. I do wish you all the best and hopefully all ills are behind you now.
I also know I am not the only one, mate, who missed your much welcome Matchday posts, which are not only a fillip when skies are grey, but also enthuse a ray of hope, when we are facing a formidable opponent.
For those of us too, George, who are roughly the same age, it is a trip down 'Memory Lane' and many of the verses you include, bring recollections flooding back. Although nostalgia is not what it used to be! (lol)
I sincerely hope your visit to the 'Old Lady' today brings joy to your heart, and to others too.
I hope I am not tempting providence here but our improvement since Marco Silva and Marcel Brands were appointed, is there in abundance, although we are not the finished article, we are progressing and last week but one's performance against Chelsea, was an indication of how far we have come in a relatively short time.
Enjoy George!
COYB
Kev Jones
46
Posted 24/11/2018 at 10:55:39
Silva will tend his sheep
The blues will bloom again
And George's heart will leap
In that old dark room again
Brian Williams
47
Posted 24/11/2018 at 11:07:46
George mate, there are those of us on ToffeeWeb to whom your story is an all too familiar one, from our own perspective, if you know what I mean. Myself and Mike Gaines are cases in point.
I, and I'm sure Mike too, can fully understand the sheer joy of today and being able to "go the game" again. My mum was forever saying "what doesn't kill you makes you stronger" and it's true, mate.
She also instilled in me a remarkable positive attitude which helped see me through my own dark days and you'd have to be blind or daft not to see your own positivity shining through on here. So enjoy today, mate, and enjoy many more days like it.
And at the end of the day, as a particularly dark humoured mate of mine reminded me many times during my dark times, "Death's a doddle."
David Ellis
48
Posted 24/11/2018 at 11:08:11
I feel like I've fallen into a parallel universe. ToffeeWeb is optimistic and crikey so am I. I'm sure we'll win comfortably today in the end.
I'm not worried about going to Mordor either – we may not win that one but I'm sure we'll give a good account of ourselves.
Barry McNally
49
Posted 24/11/2018 at 11:11:53
George, great to see you back in action – have a great day. COYB!
Dave Williams
50
Posted 24/11/2018 at 11:28:49
George, I don't know you and don't understand much of what you post on a Saturday but today's post really got to me. Wonderfully put and great to hear that you are back. I wish you a speedy and complete recovery, George, and many years yet of your cosmic grooves – marvellous stuff.
As for today, it's Mina and Lookman for me with Walcott on the bench. I'm tempted to go for Calvert-Lewin with Richarlison wide left after them both scoring in the week. If we're on it, we will win by two or three; if we're complacent, Warnock will get a point. This is our best team and squad for an awful long time and we can go to the Meccano House next week with confidence.
John G Davies
51
Posted 24/11/2018 at 11:32:41
Great to have you back, George. All the best with your recovery, mate.
I'm sure you will be fine. You've got a great big Evertonian heart that will help you win.
Brian Harrison
52
Posted 24/11/2018 at 11:38:17
George, make sure you wrap up warm today as it's a bit chilly this morning. Looking forward to the game. I hope Lookman starts, I think he deserves it.
I am always more apprehensive when we play a team towards the bottom of the league; they never turn out as easy as some expect. This season, we struggled to create an opening against Huddersfield and only ended up from a game we expected 3 points. Then Crystal Palace, where we only scored in the last 5 minutes to win the game after they had missed a penalty.
Having said that, this team is growing in confidence and an early goal wouldn't go amiss. Good news to have Sigurdsson and Gomes fit and also Lookman who was sent home from the England Under-21 camp at the weekend with a minor injury.
Kev Jones
53
Posted 24/11/2018 at 11:46:12
Dave #48,
There'll be love and laughter
And peace ever after
On ToffeeWeb, when we win the league.
Chris Donnelly
54
Posted 24/11/2018 at 12:02:10
Best wishes to you, George, a good win today will be the tonic you need. As mentioned before by others, your sermon each Saturday has been missed.
George, a gentleman and a true blue.
God bless you.
Tony Everan
55
Posted 24/11/2018 at 12:10:09
George #36
Enjoy the day, may the cosmic grooviness be with you.
Chris Donnelly
56
Posted 24/11/2018 at 12:14:34
High tempo from the off today. Due to the nature of the opposition, I would go with Tosun up top, as a battering ram, and Richarlison flying up the left, jigging his way through their clumsy slow defence.
On the other side, I would have Lookman scaring the life out of them with his electric pace and sublime close control.
So my line up would be:
Pickford
Colemn
Zouma
Mina
Digne
Gomes
Gana
Sigurdsson
Richarlison
Lookman
Tosun
COYB

Sam Barrett
57
Posted 24/11/2018 at 12:20:00
George, welcome back!
Now I can enjoy the rest of the day.
Cosmic Grooves to you.
Fran Mitchell
58
Posted 24/11/2018 at 12:35:17
Warnock is never an easy manager to play against; expect our players to once again be on the receiving end of tough tackles. But, if we have progressed, which I believe we have, we should come away with victory without too much drama.
I'd play Lookman on the left, leave Bernard on the bench and bring Bernard on for 20 mins at the end and allow Sigurdsson some rest. Beyond that, I'd make no other changes.
Zouma for Jagielka on the bench, and personally I'd prefer to see Dowell on the bench to Tosun. Tosun, let's be honest, will be gone come January. Calvert-Lewin is our back-up striker, so an extra midfielder/wide player in Dowell makes more sense, added to the bonus of promoting our young lads to the senior squad. If we're winning comfortably with 30 mins left, is an excellent opportunity to give him some minutes.
3-0
Drew O'Neall
59
Posted 24/11/2018 at 13:22:00
Fran – what the hell has Tosun done to be so vilified? He had a couple of games where he had no service while Richarlison was banned and he was dropped when he returned. When they were both playing together, he was doing well.
Derek Knox
60
Posted 24/11/2018 at 13:30:06
Drew, Fran's got a point with Tosun, in my humble opinion, while the service to him could at times have been better.
But when he has received the ball his first touch has to be better if he wants selection, plus he appears to want to much time on the ball, when he does get it.
I don't think he has got what we need if I were to be brutally honest.
Jon Ferguson
61
Posted 24/11/2018 at 14:48:32
I'm loving this season and am feeling positive but would have thought that today was the day to give Lookman a start; give him some confidence that we are his future and the opportunity to show what he can do. Big love for Silva generally though.
Laurie Hartley
62
Posted 24/11/2018 at 20:45:22
Great to see you back, George.
Tony Abrahams
63
Posted 24/11/2018 at 21:13:57
Great to hear from you, George, just sad that you are having to suffer at the minute, but also glad it isn't affecting your spirit, mate – especially after a trip to your spiritual home today!
Oliver Molloy
64
Posted 24/11/2018 at 21:26:47
Yeah, George, I echo others' comments in saying it is lovely to hear from you.
I hope you are on the mend, we need your cosmic grooves big time for next week. Take it very easy.
Dave Brierley
65
Posted 24/11/2018 at 21:48:47
Hi, George. Sorry to hear you've not been so well. I won't say "Keep smiling" cos I know you will.
The very best cosmic wishes.

Add Your Comments
In order to post a comment, you need to be logged in as a registered user of the site.
Or Sign up as a ToffeeWeb Member — it's free, takes just a few minutes and will allow you to post your comments on articles and Talking Points submissions across the site.