Everton vs Newcastle United
Tuesday, 4 December, 2018
Match Preview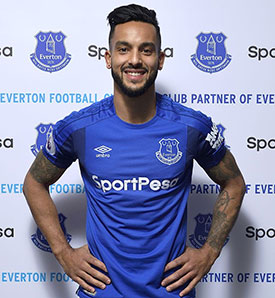 Theo Walcott will be assessed to determine whether he is feeling any lasting effects from the ankle injury he picked up at Anfield as Ademola Lookman waits in the wings
If there is a positive in the aftermath of Sunday's derby defeat — apart from the overall performance, of course, which was largely applauded despite the result — it's that Everton now have two home games in the space of five days in which to quickly re-establish the momentum they took to Anfield and which had lifted them into sixth place.
Erratic and unpredictable Watford are the visitors on Monday but, first, Marco Silva and his side host struggling Newcastle United under the Goodison Park lights tomorrow evening.
The Barcodes come into the game sitting in 15th place, three points above the relegation zone which, without the significant investment for which Rafa Benitez has been agitating, is likely to haunt them all the way to May.
Three successive wins over Watford, high-flying Bournemouth and Burnley was followed by a fairly comprehensive home loss to West Ham on Saturday, a sequence that illustrates both the inconsistency that has blighted Benitez's men but also their ability to score goals when they can get things right going forward.
They took a shock 2-0 lead at Old Trafford in October that was eventually wiped out by Manchester United and it's those defensive frailties that Everton will be looking to exploit as the Toffees look to make it five home wins in a row.
Silva has been keen to field an unchanged line-up as much as possible in recent weeks but, given that next Monday's match will be the third fixture in eight days, he could look to make a couple of changes to the side that started at Liverpool with an eye on keeping legs fresh ahead of the busy Christmas schedule.
The one change that was the topic of much conversation among Evertonians prior to the derby, that of Ademola Lookman for Theo Walcott, could be forced upon the manager by the latter's ankle knock that forced him out of Sunday's game with an hour gone.
Lookman has impressed every time he has come off the bench in recent weeks and many feel that he has more than earned the chance to prove that he is worthy of a regular place in the starting XI. Silva admitted during his pre-match press conference that the England U21 international has already done enough to warrant his first start, a hint perhaps that it will be forthcoming tomorrow?
While he was often overlooked by Ronald Koeman and than Sam Allardyce after him because of perceived weaknesses to the defensive side of his game, Silva appears to have been working with him to ensure he tracks back and against weaker teams on paper like Newcastle, his attacking qualities should come to the fore.
Should it be Walcott who makes way because of injury, Bernard could keep his spot on the left flank but only if Silva does not opt for a natural striker for this one. Both Cenk Tosun and Dominic Calvert-Lewin have been champing at the bit for another start but Richarlison's form in the central striking role, particularly at home, has made it hard for either forward to get a look-in.
It remains to be seen whether Silva will move the Brazilian back out to the left and play one of Tosun or Calvert-Lewin but it is an option.
Elsewhere in the team, it's hard to see many changes being made unless the manager does feel the need to rotate over fitness concerns. Kurt Zouma could come in for Michael Keane to give him a rest, Leighton Baines has been forced to watch from the sidelines while Lucas Digne has been excelling, while Tom Davies hasn't featured in a couple of months but Silva will be wary of making too many disruptive changes unless forced to. Idrissa Gueye could be a doubt after receiving treatment late in Sunday's game. Morgan Schneiderlin is likely to be ruled out through injury.
With Everton's recent form the way it has been, the attacking talent that they possess and Newcastle's problems, this ought to be a game that the Blues win and it would be a big disappointment if they aren't able to. Three points to consolidate their hold on sixth place with one more game at Goodison to come before the daunting trip to Manchester City would be just the tonic after the misery experienced at Anfield.
Kick-off: 7:45pm, Wednesday 5th December, 2018
Referee: Lee Mason
Last Time: Newcastle United 0-1 Everton
Predicted Line-up: Pickford, Coleman, Keane, Mina, Digne, Gueye, Gomes, Sigurdsson, Bernard, Lookman, Richarlison
---
Reader Comments (68)
Note: the following content is not moderated or vetted by the site owners at the time of submission. Comments are the responsibility of the poster. Disclaimer
Liam Reilly
1
Posted 04/12/2018 at 20:44:12
I can't see him changing thing too much here because it's so important to get back to winning ways quickly.
But Lookman deserves his chance.

Will Mabon
2
Posted 04/12/2018 at 21:00:34
I agree. Barring injuries we know nothing of, likely the same lineup, at least to start.
Kim Vivian
3
Posted 04/12/2018 at 21:03:01
We've got to do a proper job on Newcastle tomorrow. Results go against us and we are propping up the top half. Play like we did on Sunday and we'll cream them (assuming we can find the net) – so here's hoping. 3-1, I reckon. COYB
Will Mabon
4
Posted 04/12/2018 at 21:08:56
Er, 3-0. Clean sheet, if ya don't mind.
Jim Bennings
5
Posted 04/12/2018 at 21:15:08
It's not creating the chances – it's the fact that, in front of goal, we are too passive.
Defensively, we are sound and have little to worry about but, while the forward movement is good, the chances we are creating just aren't being gobbled up.
There's always that added pressure to win most of our games at Goodison Park because away wins are pretty scarce for us.
Newcastle and Watford ought to represent 6 points and anything less will be disappointing – especially with Man City and Spurs on the horizon.
Iain Jones
6
Posted 04/12/2018 at 21:21:06
I think Calvert-Lewin should start up front and play with two wingers. We are going to see some fatigue after Sunday so I think a couple of changes might be needed.
Brian Murray
7
Posted 04/12/2018 at 21:25:04
Hope we boost the forward line with Callum Wilson in January. Definitely an upgrade.
Will Mabon
8
Posted 04/12/2018 at 21:27:17
Iain, he may feature – but later in the game, I think, depending on how things go. Jim is right that decisive finishing is the issue, which cost us on Sunday. However achieved though, it's a must-win.
Iain Jones
9
Posted 04/12/2018 at 21:33:19
I agree, we need to win! But, with a really busy time coming up, I think it makes sense to give someone a rest. Perhaps bring on one of the Brazilian wingers for the last 15-20 minutes if we need them.
Anthony A Hughes
10
Posted 04/12/2018 at 21:36:47
Newcastle are a poor side and nothing less than three points tomorrow is acceptable. We were unlucky on Sunday due to a Pickford brain fart but, if we want to start showing we can compete with the top 6, then we've got to start beating them.
Lack of goals is a big problem and I don't see Richarlison as a main striker so it is vital to bring in a centre-forward in January (Callum Wilson?) if we want to maintain the progress we appear to be making.
Jim Bennings
11
Posted 04/12/2018 at 21:38:14
Will
You are right, it did cost us on Sunday but then again we can say the same for our visits to Arsenal, Manchester United and Chelsea.
Even against Cardiff, Walcott missed a great chance and we got fortunate that afternoon that the rebound fell to Gylfi.
There's no point blaming bad luck like on Sunday because the chances need scoring and these are glorious chances we have been missing, there comes a point when you start asking what's going on when professional players keep wasting simple opportunities.
We need to get an early goal tomorrow and not get bogged down overplaying around the box.
Robert Leigh
14
Posted 04/12/2018 at 21:54:59
I think take out Walcott, Keane and Bernard – bring in Lookman, Zouma and Calvert-Lewin.
Still very strong, but a little rotation before a busy period is required.
Derek Knox
15
Posted 04/12/2018 at 22:00:48
I see a few people are calling for starting the game with the same personnel; the only way I would agree to that is if they use Walcott as a striker, and let Richarlison have his left wing slot back, and possibly try Bernard on the right.
Walcott has been nothing short of disappointing in the right wing slot so, if any changes are to made, it has to be Lookman for Walcott.
Like I say before every match, I don't think Newcastle will be an automatic win; we will have to work at it but hopefully spirits (although dented) will be high after the weekend's efforts.
We must learn to capitalise on the chances created, and kill games off earlier than leaving it to the final whistle.
Gordon White
16
Posted 04/12/2018 at 22:09:26
After his recent performances, I hope Lookman gets a start. Exciting player who likes to take on players and create chances.
I'm afraid I like Walcott. He's got pace and a bit of nous. For me Bernard has gone off the boil a little and maybe he should be rested if Walcott is fit to play.
If we play half as good as we did against Liverpool, we should win this. But I'm not taking anything for granted. I think that predicting 3-0 or 3-1 is just tempting fate.
Both Newcastle and Watford will be up for it against us and neither game will be easy. But I feel confident all the same. And I think we have every chance of taking 6 points from these games.
John Keating
17
Posted 04/12/2018 at 22:11:36
Keep the same side apart from front three of Lookman, Calvert-Lewin, & Richarlison.
Hope I'm wrong but I can see us having a bad reaction from the derby...
John Boon
18
Posted 04/12/2018 at 22:15:53
I agree with Derek (15) in that Walcott has been disappointing this season. However I also think that he does have speed, ball control and a decent shot on occasion. I would also like to see him given a chance as a striker.
As regards Newcastle I don't think we can ever take anything for granted. We now appear to have a team with style and ability. Unfortunately we are prone to regularly miss chances and until we solve the long standing problem of striker this will continue.
Len Hawkins
19
Posted 04/12/2018 at 22:42:09
John #17,
The only reaction after Sunday's robbery I expect is the players going out to do a number on the first team they play. If that hasn't got their determination to the highest level, then nothing will.
John Raftery
20
Posted 04/12/2018 at 22:43:36
I think it has been in the back of Silva's mind for a few weeks to start Lookman in this match. In any event, he will need to freshen up the attack with either Calvert-Lewin or Tosun coming in and Richarlison moving out to the left.
Newcastle have had an extra day's rest so it may be a tougher match than many expect.
Sam Hoare
21
Posted 04/12/2018 at 22:44:44
We have a very busy Xmas, the most games in a short period out of any Premier League team. There will need to be rotation and this game is a good chance to do it. But I'd say not more than 3 or 4.
Pickford
Coleman Zouma Mina Digne
Davies Gomes
Lookman Sigurdsson Bernard
Calvert-Lewin
Jay Wood
[BRZ]
22
Posted 04/12/2018 at 22:49:33
I thought both Bernard and Walcott were markedly improved on Sunday in comparison to recent weeks.
Bernard more than Walcott still fluffs easy lines too often for me, but on Sunday we saw a couple of positive things from him:
1) There were numerous first-time touches and lay-offs when tightly marked which opened up space for the recipient of Bernard's pass. Still not totally in sync with the rest of the team, but when it is, there will be some serious interplay between the likes of Bernard, Gomes, Sigurdsson, Richarlison and the overlapping Digne in particular that will pull teams all over the place.
2) He completed near as damn it a full 90 minutes, rather than being subbed after the 60-70 minute mark. He didn't look to blowing for tugs either, so his stamina and match fitness is close to the required levels.
The Derby game was the first of 3 games in 8 days (thankfully, all without leaving the city). We have 4 more games in 18 days after Watford. Silva will have to rotate.
The way he talked in today's presser – 'I am 100% thinking of Lookman as a starter' – when asked the question, hints strongly Ademola could be in the line-up from the off tomorrow.
Other than that, I don't expect too many changes from recent weeks.
John Kavanagh
23
Posted 04/12/2018 at 23:15:54
For me, Lookman must start because he deserves it based on performances. Coleman also seems to get forward more when Lookman is on rather than Walcott.
That is the only change I'd make, although Calvert Lewin should come on early in the second half, especially if not enough chances are being created or taken. The test of whether we really are a good team now is the ability to bounce back after a setback.
I hope everyone gives it full voice under the floodlights for an evening match, when Goodison is at its best and most intimidating.
I want 4-0 – Lookman hat-trick please; especially as there won't be any demonic interference with the ball this time out.
Harry Hockley
24
Posted 04/12/2018 at 23:18:11
I'd try Calvert-Lewin up top with Richarlison on the left against Lincoln in the FA Cup, cutting in and running at defenders which seems more natural to him.
Richarlison as a striker has been dropping deep last couple games then picking it up and running at the opposition backline, hallmarks of a winger.
Bernard and Walcott, although improved against the Red Shite, can get dropped for the Lincoln match for the much awaited Lookman.
Harry Hockley
25
Posted 04/12/2018 at 23:19:20
Oh, and if that goes well, same again against Newcastle.
David Pearl
26
Posted 04/12/2018 at 23:38:53
Well, I think most if not all the team played well on Sunday and would like to see Walcott given a chance up front to also allow Richarlison to drop deep the way he likes to because he needs to be involved. It's the sign of a good team that keeps consistent so this is the test.
Once again, I can't wait for the games to come around. I can see lookman starting tomorrow but not sure there will be any other changes. I agree though that Zouma could possibly come in for Keane but I'd be surprised at this or any other changes.
Let's hope for 6 points from the next 2 games so we can head into the Man City game with confidence and momentum... and also so we can keep looking up.
I see Mourinho has written us off as being able to finish above them. The usual 6 will remain the same, he said.
Phil Sammon
27
Posted 05/12/2018 at 00:20:39
I'd really like to see Richarlison back on the left. Whether than means Tosun or Calvert-Lewin come into the team, I'd be happy with either.
The derby was on at an unwatchable time for me and I can't subject myself to watching the re-run. Reading above, Jay @ 22 suggests that Bernard and Walcott were better than they have been. Either one of them could be rested based on form before the derby.
Walcott's pace seems to guarantee him one golden opportunity per game. His finishing has been really poor though and I don't think he's offering enough in other departments.
Bernard has quality but just seems a little careless at times. I'm still upbeat about him. He's going to be a good player and sitting out a game won't do him any harm.
People are crying out for Lookman but I'm still undecided. He really hasn't shown enough, but that is largely down to him not having the opportunities.
I think my only slight gripe with Silva is that he leaves his subs way too late. We have an abundance of wingers trying to find form. Whether wining or losing, swapping one winger for another is not a terribly risky move. I'd like him to take the opportunity to get some more minutes into players.
Mark Andersson
28
Posted 04/12/2018 at 00:33:44
I just watched 50 goals from Callum Wilson. Natural poacher... cool head... good penalty taker... can score with his head...
I'm surprised that he has not been tapped up by one of the elite teams.
Hope we bounce back against Newcastle. Lookman needs to take his chance if selected.
Jay Harris
29
Posted 05/12/2018 at 04:53:05
I would like to see Walcott for Lookman, Calvert-Lewin for Bernard (Richarlison back to the left) and Tom Davies in for Gueye if he is carrying a knock.
These are 3 lads who are used to playing together and will give it 100%.
Keep Bernard and Gueye on the bench just in case we need them later on.
I would also like to see a quick and determined start to knock the stuffing out of The Barcodes.
Amit Vithlani
30
Posted 05/12/2018 at 06:19:05
Gueye maybe carrying a knock whilst Lookman deserves a starting berth on form.
Those would be the two changes I make.
It is going to be frustrating. Cardiff, Palace and Huddersfield were all stubborn opponents and I expect the same from the Geordies.
Patience will be needed; concentration at the back and no early goal conceded please.
The team has improved defensively since Mina has arrived but goals have dried up.
I think we will need another squeaky 1-0 which I would be happy with.
Peter Thistle
31
Posted 05/12/2018 at 06:35:03
Walcott hasn't done enough to deserve a starting place every game. He always messes up at the vital moment, be it a simple pass or an easy shot resulting in a goal, somehow he bottles it. Drop him.
Also, never drop Gomes cos we'd be screwed without him. Davies and Schneiderlin would take us back to last season's joke team. If Gomes gets injured, we're screwed.
Jimmy Salt
32
Posted 05/12/2018 at 07:14:06
I notice there's talk today of Barca putting a £100million price on Gomes. Barça the Chelsea of Spain...
Mike Allison
33
Posted 05/12/2018 at 08:31:27
No need to rotate at this point, Sunday-Wednesday-Monday is not a difficult spacing of fixtures. I'd basically keep the same side but bring Lookman in for Walcott, which I believe should have happened two games ago anyway.
For home games where we're the favourites, I'd also try to find a way to get Richarlison back on the left and an out-and-out striker in the starting XI. My preference would be Calvert-Lewin in for Bernard but I think this is unlikely.
The 'back 7', so to speak, should be kept the same, which is unfortunate for Zouma, but he'll get games at some point.
Derek Thomas
34
Posted 05/12/2018 at 08:33:24
Walcott carrying an 'injury' eh... yeah right!!!
Dropped.
Jim Bennings
35
Posted 05/12/2018 at 08:34:26
Mark Anderson,
I have been saying the same about Callum Wilson for a few years now and I'm surprised he hasn't been snapped up by a bigger club, probably because he hasn't got an exotic sounding name from leagues abroad.
Even when Bournemouth first came up three years ago he got a hat-trick at the Boleyn Ground when they won 4-2 at West Ham but the lad was cruelly robbed of the season with a horrible injury.
I think whoever gets Wilson is getting a guarantee of double figures in goals along with mobile movement and pace; I'd really love him here.
Neil Wood
36
Posted 05/12/2018 at 08:50:46
I managed to get some time off work today, last minute...
Anyone with a spare ticket going cheap! Text me on 07879551102 if so!
Thanks in advance.
Jim Bennings
37
Posted 05/12/2018 at 09:12:15
Derek #34,
To be fair, since the Chelsea game, Walcott has been holding his calf in each match so he's probably not been 100 percent.
I'm all for giving Lookman game time though I think he's worthy of the next few games as a starter.
Frank Sheppard
38
Posted 05/12/2018 at 09:21:35
Some rotation is a good idea, before a very busy schedule coming up, but he should not be too disruptive. So Lookman for Walcott, and Zouma for Keane makes sense to me.
Lookman in because he deserves it, and to keep Walcott interested and looking over his shoulder, and Zouma in to give him a game, and to rest Keane, who is becoming very important for us, and showing great form.
David Pearl
39
Posted 05/12/2018 at 10:32:12
Neil,
There are plenty tickets left currently on StubHub for around £25. Just scroll up until you find adult tickets.
Neil Wood
40
Posted 05/12/2018 at 11:28:22
Cheers, David. i was just wondering if anyone had any on here to save anyone fees etc selling them on StubHub.
Clive Rogers
41
Posted 05/12/2018 at 11:53:32
Can't understand the clamour to bring back Calvert-Lewin. He has made 54 appearances now for 7 goals.
Mike Allison
42
Posted 05/12/2018 at 12:01:24
Clive, how many of those 54 appearances are as substitute? How many are playing out wide? How many times did he play under Allardyce where the team made little attempt to attack the opposition? How many minutes do those appearances total?
The statistic you quote is effectively meaningless. Anyone who's watched him can see he has pace, technique, nous and can produce big moments in games. Anyone who knows football will know that the more he plays the better he'll get. Also, playing him allows our most important forward, Richarlison, to play a more familiar role which we know he can be extremely dangerous from.
So the two questions are: 'Do you want Richarlison up front or on the left?' and 'Who would you select out of Calvert-Lewin and Tosun?' It's not exactly unreasonable that someone might answer those two questions in a way that ends with Calvert-Lewin in the side.
Jay Wood
[BRZ]
43
Posted 05/12/2018 at 12:45:10
Clive @ 42.
Check Calvert-Lewin's goals to minutes on the pitch ratio to a contemporary of his, a current England international, and a player many on TW campaign for us to sign, Marcus Rashford.
You may be pleasantly surprised.
You may not be surprised that, like Calvert-Lewin, t'net is awash with United supporters dissing Rashford as not up to it and Championship level at best.
We are too quick to judge and dismiss young players so readily.
James Drake
44
Posted 05/12/2018 at 12:47:22
First-time poster, so please be gentle and I do follow some of you on Twitter, so hopefully I won't be a totally new face.
The only point I wanted to make which I think is important is Walcott's record against the Toon. I think he has scored 7 in 16 appearances, his highest number against one club. They may be his lucky side; most players have one.
Ashley Roberts
45
Posted 05/12/2018 at 12:53:22
While a big fan of Richarlison, I believe his best position is cutting in from the left. If Walcott is unfit, it is a no-brainer to play Lookman and maybe he deserves a spot tonight as Theo has not been great the last few games.
I would definitely play Calvert-Lewin in the centre-forward position. How will we ever know what he can do if we do not give him game time playing with the new found confidence and skill we have. He scores goals regularly playing for England when surrounded with quality; so I say give the lad a chance.
I would also like to see Tom given some game time again. Maybe not from the start but let's give him at least 30 minutes. For me, we have to keep the defensive 4 the same.
We have numerous games in quick succession and while we have been playing really well we still do not know the best 11 set up. We are almost there but we all know that there are a couple of permutations Silva has not tried yet.
Geoff Lambert
46
Posted 05/12/2018 at 12:54:54
Neil! I've just been on Stubhub there are a few single tickets still available.
I need two; I am in the doghouse because I forgot to get two for my son and me. It's okay if you are looking for a single seat... but two together? No chance.
Kevin Prytherch
47
Posted 05/12/2018 at 13:00:14
Furthermore, Clive.
You use Premier League stats only. Try including cup competitions, where he has played more up front.
At his age, his career stats are on par with Kane and Shearer, and superior to Drogba.
He does need to push on this season though.
Geoff Lambert
48
Posted 05/12/2018 at 13:02:27
If we are looking at top four, we need to buy a quality centre-forward — not keep giving chances to our woefull current crop of strikers. But, if needs must, I would start Tosun; he's a more natural finisher. If he is not up to it then bring Calvert-Lewin on.
I'm just looking forward to the day we don't have to have this debate and get some quality in up front.
Brian Harrison
49
Posted 05/12/2018 at 13:10:56
As for tonight's game, I think given Marco's comments about Lookman being ready to play will mean he will start him tonight. I would hope seeing both Walcott and Bernard have been given a run of games that Lookman will now be given 4 or 5 on the trot.
I think it is August the last time Walcott scored and Bernard is still to break his duck, so if neither of the wide players are scoring it puts immense pressure on Richarlison and Sigurdsson.
I know a few posters have mentioned him but in the summer I would like us to get Wilson from Bournemouth, he has pace and strength and scores goals on a regular basis. I would also love Wilfrid Zaha and obviously make Gomes permanent.
Mal van Schaick
50
Posted 05/12/2018 at 13:17:19
I am hoping that we will breeze past Newcastle building upon Sunday's performance. Perhaps rest Walcott, give Lookman his chance. Richarlison also looked tired, so get the game in the bag early, take him off on the hour, and give Tosun or Calvert-Lewin a run.
Hoping for 3-0, if we handle any corners or free kicks, we'll win.
Coyb.
Len Hawkins
51
Posted 05/12/2018 at 13:25:46
Harry #24, The Newcastle game is tonight; the Cup game is in January. I don't get your post at all. Picking teams for next month with possible injuries and suspensions is a bit odd or have you got a crystal ball.
Clive Rogers
52
Posted 05/12/2018 at 13:58:21
Mike, Jay, I don't agree that his technique is good, he loses the ball far too often. We'll have to agree to disagree.
Jerome Shields
53
Posted 05/12/2018 at 14:56:27
This is the beginning of a run of two of games that Everton either will be able to bank the progress that the team has made. . . or not.
Everton, season after season for years, have faced this type of situation and have failed. Everton are still in transition and have made good progress in the back and midfield, but there are still questions in forward play in the final third and the need for centre-forward. The wings are on the way to being sorted, though not quite there yet. The right-back position is for future consideration.
I will be looking with interest at the next two games, more hopeful of consistency than before, but I would expect two wins to be banked by Everton to capitalise on the progress made.
Jim Bennings
54
Posted 05/12/2018 at 15:17:53
Good post, Jerome.
For years, we always seem to hit a poor run of results in December and the festive period, so hopefully this year will prove the launch pad to a successful 2019.
At the end of the day we are making steady progress but, since beating Southampton on August 18th, we have won just 5 matches against Cardiff, Palace, Fulham, Brighton and ten-man Leicester so we haven't really beaten anyone of great standing yet to get too cocky.
Get through this month and let's see where we are at.
Jamie Crowley
55
Posted 05/12/2018 at 15:33:51
If you beat the teams below you, you're destined for a very good season. I've always said that. I realize it's not that elementary, but it's true.
A sixth place team beating the teams below them home and away gains 84 points. Focusing in on the teams you should beat is the key to a successful season.
We're doing that, in the main, this season. We must continue to do so moving forward, starting today. It will help heal some wounds inflicted Sunday and will keep us moving in the right direction.
Thusfar we've dropped points to:
Wolves – outplayed them, silly red / never a red on Richarlison;
Bournemouth – that one hurt;
Huddersfield;
West Ham – worst game of the year by a mile. We were awful;
Man Utd – should have gotten a point. Disappointing result, decent application by the team in that game;
From there, we've taken care of business. No more draws against bottom 10 sides, please. Three points.
I think the silver lining to the Sunday-shite cloud is our boys realize they belong at the top. With that confidence, I'm looking to Marco to keep the players focused and put to the sword any and all teams below us. Starting tonight.
Big "bounce back" game. Right the ship and all's well. Lose, and it could be a bit of a tailspin.
Harry Hockley
56
Posted 05/12/2018 at 15:41:43
Len #51 was hoping no-one noticed that I cocked my dates up! I thought Lincoln was tomorrow and The Toon on the weekend — what a plonker!
Michael Mcloughlin
57
Posted 05/12/2018 at 15:43:28
Has anyone got a link or pin please ?
Harry Hockley
58
Posted 05/12/2018 at 15:58:01
Michael, try Hesgoal.com usually works fine for me.
Jay Wood
[BRZ]
59
Posted 05/12/2018 at 16:05:57
As well as the dropped points we can all identify from this season as Silva and the team were bedding in, we need to take into account the imbalance of our fixture list to date.
Curiously, our seven home fixtures thus far have all been against teams in the bottom 10 of the league. The next two home fixtures bumps that to 9 against lower-half teams.
Not surprising, then, that our home record reads a healthy W 5 D 1 L 1.
By contrast, other than the opening day fixture at Wolves (who have only recently dropped out of the top half with a dreadful run of 1 point in their last 5 games), all our seven away fixtures to date have been against teams in the top half, four of them against the usual suspects expected to challenge for a top-four spot.
Not surprisingly given that data, our away form is a poor W 1 D 3 L 3. With City our next away game, that is unlikely to improve very soon.
Now there are different ways to look at this.
1) Wwe have got the bulk of our more difficult away fixtures out of the way early and so in the remaining away fixtures against lower-half teams we can expect a long-overdue improvement on our away record, if the team continues the improvement it has shown to date.
2) The majority of our remaining home games will be against teams that (hopefully) we will be competing with for a European places this season. Again, we can be big beneficiaries of this if the team continues its improvement.
We certainly cannot afford any regression or slip-ups and need to capitalize on the next two fixtures with the Barcodes and Watford, as others have mentioned.
Michael Mcloughlin
60
Posted 05/12/2018 at 16:41:43
Thanks, Harry.
Michael Mcloughlin
61
Posted 05/12/2018 at 16:49:04
No luck.
Michael Spear
62
Posted 05/12/2018 at 17:00:32
Michael (#61), try hesgoal.com again but a bit closer to kickoff. They often show earlier matches from other leagues then flag up Premier League games after the earlier ones have got going. That's what I've found anyway. Good luck to you (and me).

James Stewart
63
Posted 05/12/2018 at 17:16:12
I'd bring in Zouma for Mina, Tosun for Walcott and Richarlison back out to the wing personally.
Len Hawkins
64
Posted 05/12/2018 at 17:24:29
Thanks, Harry, makes sense now, lol.
Harry Hockley
65
Posted 05/12/2018 at 18:09:00
Michael Spear is right, happens a lot, so try that Michael Mcloughlin.
Brian Murray
66
Posted 05/12/2018 at 18:16:25
Jamie Crowley.
Really? Do you actually believe this group of players believe in themselves against the top four? If so, with a couple of well-documented additions, we should have a great second half of the season. Bring it on!
[Been here before... so I'll say no more.]
Michael Mcloughlin
67
Posted 05/12/2018 at 18:19:36
Cheers, boys.
Christy Ring
68
Posted 05/12/2018 at 18:25:44
He has to give Lookman a start tonight. If Gueye isn't fit, Davies will probably start, and I'd like to see McCarthy on the bench.
Kim Vivian
69
Posted 05/12/2018 at 18:40:38
3-1 I'm thinking. For some reason I think they'll find the net. Rafa 'n' all that...
Dermot Byrne
70
Posted 05/12/2018 at 18:41:13
JamieC that comment about us believing we can play with "the big boys" is, imho, bang on after Anfield.
The rest of your post made a lot of sense too.
Idrissa Gueye - important to us now as let's Gomes do his great stuff. Hope he is fine.
COYB
Add Your Comments
In order to post a comment, you need to be logged in as a registered user of the site.
Or Sign up as a ToffeeWeb Member — it's free, takes just a few minutes and will allow you to post your comments on articles and Talking Points submissions across the site.