Off-key Everton have to settle for disappointing draw
Everton 1 - 1 Newcastle United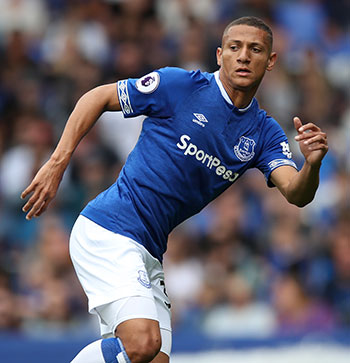 Richarlison scored his seventh of the season but Everton couldn't find another way through
Everton squandered two points with a lacklustre display that ended with Newcastle taking an unlikely point on a damp and frustrating evening at Goodison Park.
Richarlison's equaliser late in the first half which cancelled out Salomon Rondon's opener looked to have set the Blues up to go on and win it in the second period but too many players were off their game while the visitors retrenched and dug in for a draw.
Bernard and Theo Walcott made way in the starting XI as Ademola Lookman was handed his first start and Cenk Tosun led the line. At the back, Michael Keane was rested and Kurt Zouma came in to partner Yerry Mina.
Tosun saw an early snapshot deflect off a defender and behind. The resulting Lucas Digne corner was cleared and Andre Gomes eventually skied one from distance.
Lookman then pulled Manquillo back on a rare Newcastle foray forward, conceding a free kick that ended up being headed well off target by Lascelles.
A decent spell of possession followed and Tosun was picked out by Digne from the left but his header drifted high over the bar in the 14th minute and Dubravka had to intervene from another delivery from the same flank as Coleman arrived in the box.
Richarlison came closest to opening the scoring immediately afterwards but Schar blocked his shot from the angle following Sigurdsson's centre.
Newcastle scored off their first real attack, however, with 18 minutes gone. Jacob Murphy was allowed to surge down the left after referee Lee Mason elected not to award a free kick in Lookman's favour in the other half.
Rondon drifted off Mina in the centre and was not tracked by Digne and the Venezuelan striker rammed home the cross.
Richarlison tried to respond straight away but his shot was gathered by Dubravka while Rondon easily got between the two centre halves to collect Atsu';s pass but dragged his shot wide.
Everton were enjoying the majority of possession but doing very little with it until Lookman drifted in from the right with half an hour gone but sliced his shot horribly into the stands.
A foul by Fernandes a few seconds later gave Sigurdsson an opportunity to send one in from the right but his free kick was overhit and a subsequent corner came nothing as it was cleared and Gueye put a cross straight into the keeper's arms.
Two more corners, this time from the right followed but went begging a couple of minutes later as the first failed to beat the first man and the second was cleared.
A great chance arrived at the feet of Sigurdsson as the ball was worked back in but Fernandes made a superb blocking tackle to prevent an almost certain equaliser.
Everton kept coming, and after Lookman appeared to be fouled in the box but got nothing again from Mason, Sigurdsson's shot was deflected wide. Mina caused havoc stretching for the delivery from the right, the ball broke to Richarlison at the back post and he fired it hight into the net from a couple of yards out.
Denadre Yedlin's shove on Richarlison gave Everton another set-piece opportunity not far outside the Newcastle box as half-time approached but, again, the cross from Digne was overhit.
One of the best moves of the first half almost ended with the Blues going ahead. Digne combined with Gueye and flashed a cross into the six-yard box but the Turk's reaching attempt to turn it home was saved at point-blank range by Dubravka.
The first chance of the second half fell to Fernandes but the Barcodes' defender missed his kick as Atsu's deep cross fell to him at the back post.
And whole the home team huffed and puffed without any end product, Atsu tested Pickford a few minutes later as he cut in from the Newcastle right.
A rare piece of invention on the night saw Sigurdsson back-heel it smartly on the edge of the box, Lookman mis-controlled slightly but the ball broke to Digne who lashed an awful effort high into the Park End.
Yedlin left one in on Digne setting up a free-kick chance from the Blues left, the American picking up a booking in the process but, again, Digne couldn't beat the first man.
Richarlison then put a cross-cum-shot into the side-netting before Bernard came on for Tosun and Walcott replaced the off-key Sigurdsson.
Pickford sent Walcott into the clear but his chest control let him down and his eventual shot once Yedlin had recovered was deflected behind and Gueye made a mess of the shot after the corner was cleared to him.
Silva's final change saw Lookman withdrawn in favour of Calvert-Lewin with 12 minutes left.
Schar's deliberate handball that denied Bernard a cross opportunity presented with a free kick at the byline and Mina tumbled to the turf under big appeals from the Park End for a penalty.
Atsu was penalised for a foul on Gomes outside the box and the free kick was cleared but yet another corner followed which Digne served up but Bernard mis-kicked his shot.
Pickford made a vital save in the dying minutes to keep Everton level, a strong-handed stop to deny Atsu.
A reckless Fernandes tackle was fortunate not to draw a red card from the referee but one more set-piece chance for Everton was wasted by Digne whose free kick flew over from 30 yards.
Atsu was in again but made it easy for Pickford with a tame shot a couple of minutes before the Ghanaian scythed Bernard down near the byline. Once more Digne took responsibility and again his delivery found the first defender's head.
Kick-off: 7:45pm, Wednesday 5th December, 2018
Referee: Lee Mason
Last Time: Newcastle United 0-1 Everton
Everton: Pickford, Coleman, Zouma, Mina, Digne, Gueye, Gomes, Sigurdsson, Lookman, Richarlison, Tosun
Subs: Stekelenburg, Baines, Keane, Davies, Bernard, Walcott, Calvert-Lewin
Newcastle United: Dubravka, Yedlin, Fernandes, Lascelles, Schar, Manquillo, Diame, Murphy, Ki, Atsu, Rondon
Subs: Woodman, Clark, Longstaff, Shelvey, Muto, Perez, Joselu
---
Reader Comments (156)
Note: the following content is not moderated or vetted by the site owners at the time of submission. Comments are the responsibility of the poster. Disclaimer
Richard Duff
1
Posted 05/12/2018 at 18:50:06
The right first 11 for this game. Time to batter someone.
Michael Kenrick
2
Posted 05/12/2018 at 18:53:15
Can't decide which winger to drop?
Drop both! I like it. Watching them has had too many annoying moments for me these last few games.
No guarantee Tosun will produce — he rarely does — but it will say something if Richarlison scores tonight.
Jay Wood
[BRZ]
3
Posted 05/12/2018 at 18:55:42
Interesting that he has 'rested' both Walcott and Bernard.
Tosun must play down the middle, so that's Richarlison back wide left and Lookman on the right.
Harsh on Keane giving way to Zouma, but I guess all our centre backs need proper game time in this busy month and Mina has played less football due to his earlier injury.
Plenty in that team to beat the Barcodes, so don't fluff your lines, Everton!
Pat Kelly
4
Posted 05/12/2018 at 19:05:31
Glad to see both Wally and Bernard benched and Lookman given a start. As for Tosun, perhaps this is his farewell game. We can but hope.
Neil Cremin
5
Posted 05/12/2018 at 19:20:42
Looks like the most balanced side we have put out all season, Keane notwithstanding.
Let's see if they can take their opportunity.

Alex Gray
6
Posted 05/12/2018 at 19:22:01
Alright lads, has anyone got a good free live stream for the match?
Brian Wilkinson
7
Posted 05/12/2018 at 19:24:01
Pat@4, you know Tosun is going to score now after your comment, let's hope so.
Alex Gray
8
Posted 05/12/2018 at 19:26:35
Lookman needs to take his chance tonight and I've no issue with Tosun getting a start tonight. Not sure I would've dropped Keane as he's been so consistent but I think we're due to hammer someone and I've got a feeling we may just do it tonight!
John Reynolds
9
Posted 05/12/2018 at 19:35:02
Spent several hours in a fogbound airport in the west of Ireland today hoping I'd be in Goodison tonight to see Ademola start. Sadly, it didn't happen.
Quite a few Evertonians left disappointed. Hope to find a live stream, but it won't be the same - no post-match scouse in the Dark House tonight.
Jay Harris
10
Posted 05/12/2018 at 19:37:04
I would have liked to see Calvert-Lewin instead of Tosun, who I have completely lost faith in, but otherwise a good selection.
Sunday will have tired Gomes and Gueye so expect some subs second half.
Pat Kelly
11
Posted 05/12/2018 at 19:38:15
Brian, I'll be as surprised as he is if he scores tonight.
John Hammond
12
Posted 05/12/2018 at 19:39:35
Happy with that lineup. The right players rested for this fixture. Lookman's time is now...
Brian Wilkinson
13
Posted 05/12/2018 at 19:40:26
I dunno, Pat... I have a sneaky feeling he will score.
Paul Ellam
14
Posted 05/12/2018 at 19:47:47
I like that line-up, just needs a top-drawer striker in place of Tosun and it's a line-up to compete with the best.
Brian Murray
15
Posted 05/12/2018 at 20:06:30
Looks like another long night with no early breakthrough. In-game subs is, so far, Marco's only downfall but it's a big part of the modern game.
Phil Smith
17
Posted 05/12/2018 at 20:27:00
Get in Richy lad! 1-1 it is. Been coming...
Jay Wood
[BRZ]
18
Posted 05/12/2018 at 20:40:26
That's a very poor half of football by Everton. Poor in possession. Poor in receiving the ball. Poor at dead ball delivery.
I had a bad feeling about their goal as yet again Everton coughed up cheap possession in midfield with our two full-backs pushed on.
Newcastle exploited the space left by Coleman and Mina and Digne between them made a cock up of the cross. Digne is having his poorest game in an Everton shirt tonight.
We finally scored off a corner, more of a gift from the Newcastle defence rather than anything we did.
Silva clearly not happy with things. Newcastle were more than content to sit deep, waiting for Everton to come on to them. Needs more movement, better passing and better control when receiving the ball to shift the Barcodes out of their comfort zone.
Our better players need to grab this game by the scruff of the neck and lift the whole team. I'll settle for any sort of win right now.
Jay Harris
19
Posted 05/12/2018 at 20:51:37
We look a bit hungover and playing Tosun is like playing with 10 men.
His confidence is so low he isn't even showing for the ball or making runs to get on the end of things.
The cross for their goal should have been defended better by Seamus, then Mina, then Digne. Poor all round – especially the official who seems determined to piss us off.
Max Murphy
20
Posted 05/12/2018 at 21:29:39
Rubbish!
Newcastle United at home for God's sake!!!!
Painful to watch.
Ernie Baywood
21
Posted 05/12/2018 at 21:33:49
Dumb decisions. Some poor individual performances. And plenty of unlucky moments.
Worst I've seen Richarlison play.
I wouldn't put Bernard near the team until he agrees to wear studs. Sick of watching him slipping over.
Martin Berry
22
Posted 05/12/2018 at 21:43:38
Lots of the ball but the crosses were appalling.
Some poorer performances out there tonight; I thought Digne was awful tonight which is hard to understand considering how well he has played previously.
I think we need a big target man and presently Calvert-Lewin is the best we have; we need a target when the pretty football doesn't break the other teams down.
A very frustrating night.
Max Murphy
23
Posted 05/12/2018 at 21:43:57
The crosses today were terrible. Most never cleared the first defender.
Dire second half. We could have played for another hour and still not score.
Chris Gould
24
Posted 05/12/2018 at 21:44:54
Thoroughly disappointing performance. Digne was dreadful tonight. Shame he wasn't rested for Baines. He was so wasteful and simply not in tune with his teammates. I can only assume he was tired.
Nobody can seem to cross a ball with any accuracy. I lost count of how many corners we wasted? Our dead ball specialists were dreadful. Digne and Sigurdsson need to sort it out. We have guys that can head the ball but nobody that can bloody well cross it!
George Cumiskey
25
Posted 05/12/2018 at 21:45:32
Absolute dross; they were too clever for us and the referee, and they should've won in the end.
We had all the possession but never looked like scoring again.
Gavin Johnson
26
Posted 05/12/2018 at 21:48:43
2 points dropped. So much for my prediction that we'd easily put Newcastle to the sword tonight.
Jay Wood
[BRZ]
27
Posted 05/12/2018 at 21:52:07
Very, very poor fare.
We didn't deserve more than a point tonight.
I don't think Silva's subs reacted to how the team and individual players were performing.
Digne's performance tonight, I'm sorry to say, was possibly the worst individual game by an Everton player this season. When he took that knock, I thought it was a good opportunity to put Leighton on, to give us some control down the left and the chance of improved delivery from open and dead ball plays, because Sigurdson wasn't much better than Digne.
The poor passing, poor control on receiving the ball and truly woeful delivery into their box was absent all night. Very easy for Newcastle to repel, whils,t in the last five minutes at the other end, they had two great opportunities to take all 3 points.
We HAVE to take maximum points at home against this type of opposition. Two points definitely dropped.
Jim Bennings
28
Posted 05/12/2018 at 21:57:51
Silva will have learnt quite a few things tonight.
I believe Tosun has sealed his fate in the same way Niasse did in September.
The Watford game is huge if we want to still be around that top 6 or 7 come New Year because, after Watford, wins (and goals) will be thin on the ground.
John G Davies
29
Posted 05/12/2018 at 21:59:44
By his standards, Digne had a poor game.
But the worst individual game by an Everton player this season?
Mike Jones
30
Posted 05/12/2018 at 22:07:02
Silva and Brands will do it, given time. This isn't Kenwright and Moyes or Martinez. Moshiri has learnt from the Koeman - Walsh debacle (Allardyce was a necessary evil).
We are heading in the right direction. I think some of us can't see it because the shite are doing well, and we have this inferiority complex that we need to lose. (The fans, I mean; Silva and Brands never had it.)
Steve Mink
31
Posted 05/12/2018 at 22:07:25
What is it with Bernard and falling over?
Andy Crooks
32
Posted 05/12/2018 at 22:08:35
The usual stuff. Hopes built up then dashed. Truly and utterly dire.
Unfortunately, while things are improving, we are so far behind the top four it is demoralizing. Tosun – by all accounts, a good guy –seems, right now, to be a second-rate player, devoid of any hint of ability that would make him a Premier League striker.
Unlike some, I thought the team selection tonight was appalling.
Jim Bennings
33
Posted 05/12/2018 at 22:14:19
I do hope when we are searching for a new striker/s that we try not to go delving into far flung weaker leagues from abroad.
We have rarely ever pulled off a successful striker coup from unknown leagues and Tosun was quite an expensive flop really. At least Niasse only cost £13 million but he was another dud.
Better scouting and a player from a stronger proven League but my first choice now would be Callum Wilson although Bournemouth would have a big say in that no doubt.
Brian Williams
34
Posted 05/12/2018 at 22:28:13
Just in. So frustrating. We're gonna have to learn to overcome teams who basically come for a draw.
We did have chances to kill the game off. Tosun should have scored and is, I'm afraid, not good enough. Walcott was through on goal and showed how lacking in confidence he is.
Richie was a forlorn figure in the second half and struggled. We need a speedy, mobile striker who will make his own space and space for others. Oh and we need an intensive course on how to cross the fucking ball beyond the first defender.
Hangover from the derby? I hope so.
Matt Woods
35
Posted 05/12/2018 at 22:33:50
This was a performance that was not totally unexpected. The derby was a relentless battle and I thought we would struggle to lift ourselves.
Yes, we can all get angry and frustrated but it's difficult to back up a performance like Sunday with only a couple of days break. We are only just starting to become competitive against the big boys. It's going to take longer to gather that consistently and dig out gritty wins when clearly under par.
We are still 6th with Watford at home Saturday. Rome wasn't built in a day, COYB!!!
Jim Bennings
36
Posted 05/12/2018 at 22:34:16
The last three days has just shown in a nutshell the life of an Evertonian.
95 minutes on the clock at Anfield and you think we are heading away from that dreaded bogey fixture with a hugely morale boosting result and clean sheet until our goalkeeper does something that belongs on a Danny Baker gaffs DVD.
Life was looking rosy until Pickford did that, a 0-0 at Anfield very satisfying and we are happy, all set up then with the team and fans confident going into tonight the odds are we probably win this game against Newcastle and march on brimming with the momentum we are building.
But no, as I say, life being an Evertonian just has a habit of kicking you when you are down.
Jerome Shields
37
Posted 05/12/2018 at 22:35:45
The Wagon is still not on the road. Silva seems to have had to rest players. Maybe he should have rested a few more. The Watford game is Silva's priority. But against Newcastle, his team preparation was not good enough.
Tosun is really non-existent and allows teams to maintain a high defensive line, which reduces the space for creativity in the attacking midfield. Players from the wing and midfield are reduced to long-range shots and the defending midfield is reduced to long-range passes.
Everton's finishes are not good enough. Coleman is weak at the back. Passes in the final third have a low completion rate.
Maybe Silva will get his act together for the Watford game. No Tosun please.
Tom Dodds
38
Posted 05/12/2018 at 22:37:15
Steve #31,
I know I'm shouting (again!) at the player on the pitch or the bloody telly at home at his weird, off-balancing acts. Have his boots got studs in them??
Ffs. Every time he is in a commanding sweeping position towards the box as well.
Completely mystified me.
Bill Gienapp
39
Posted 05/12/2018 at 22:42:48
Tosun, who I've defended in the past, was very disappointing tonight – this was a massive opportunity for him to stake a claim in the starting XI and he offered almost nothing.
Lookman was fine, though we needed a little more than "fine" in this sort of match.
Digne was poor, but he's been almost breathtakingly consistent up to this point, so I'll cut him some slack.
Glad to see Pickford come up with a big save late, not that I was in the mood for any nervy moments at that point.
Graeme Beresford
40
Posted 05/12/2018 at 22:46:59
Back from Goodison Park. For all the comments I read on here after the Derby I thought the stadium would've been bouncing tonight, just like the weather, it was terrible.
I don't know what it is lately but every time I visit Goodison I can't help but think the atmosphere gets worse and worse. Newcastle outsung our fans all evening, credit to them for making the journey and supporting their team like that.
As for us, well let's just say, I think for the first time Silva got the lineup wrong. The only player that should of been dropped and replaced was Walcott for Lookman; everyone else deserved their place on merit alone, to drop Keane, Walcott and Bernard was a strange decision to me.
Although I like Tosun I feel we aren't ever going to be the team that play to his strengths, he is at best a Burnley or Brighton type of player. It's important we have Brands in the case to try and find a better striker. Although the Calum Wilson shout is going around, surely there's someone better out there that will bring more class than him upfront for us.
What I noticed tonight was a complete lacklustre performance, especially when getting into the final third. We pretty much had them contained all evening, although they should of snatched the win late on, we seem to be able to play the ball forward and then suddenly we don't know where to go. I suggest our attackers watch videos of Man City or Liverpool who pass, move, pass, move, all the time forward.
Digne had his worst game for us. I can't remember one decent cross for him, and Walcott when he had a chance to run in on one with the keeper, again stumbles his control, Bernard does his usual slip and airbag shot and Lookman to me looks a bit of all huff and no puff.
It's the same old story. We play epic in the derby and lose the game then play terrible at home against a struggling Newcastle. Typical Everton one would say.
The less also said about Newcastle the better. Time wasting from the first whistle should never be encouraged and tactics such as players taking a drink of water then throwing the bottle on the ground so the goalkeeper has to go and remove it before taking a goal kick to me is such unsportsmanlike behaviour and the FA should look into it. How dare Newcastle perform in this way, this is football, a game which we all love being tarnished by time-wasting, throwing the ball forward ten yards for free kicks, flying in with dangerous tackles etc. Just poor in my opinion.
Also they were very lucky to get away with a hold on Mina in the box, I was sat right opposite and it's a clear penalty. Poor from Lee Mason, who is quite frankly an awful referee.
All in all, a horrible evening at Goodison. Promised so much. Let down, dare I say it, as per usual.
David Connor
41
Posted 05/12/2018 at 22:47:17
Lacklustre performance tonight. But it brings home that our squad isn't good enough to break into that 4 or 5 in the Premier League.
Lookman had a chance to stake a claim and, for me, he blew it. He was poo,r as was Sigurdsson and Tosun. We need to invest in a top striker and midfielder asap or we won't move any further forward than we are now. Squad just isn't good enough. Tosun huffs and puffs but he just ain't up to it.
That's 2 massive points dropped in a very poor performance. We need to step it up next Monday – that's for certain... Very disappointing.
Gary Willock
42
Posted 05/12/2018 at 22:52:48
I think sometimes you have to just give some credit where it's due: The fat Spanish waiter, and his 'small team' of thugs, did a job on us tonight.
I think Silva got outsmarted, and made a few mistakes changing people round too much during the game (Richie played left, right and centre at some stage).
We'll learn, he'll learn. We are miles better than last year, and we need to keep the faith.
Kudos too to the crowd for good cheer for England's Number One ahead of the game.
Jim Bennings
43
Posted 05/12/2018 at 22:56:20
Graeme,
Our fans don't sing or do atmosphere anymore.
To be honest, Goodison hasn't "rocked" since the midway point of the Moyes era and the last time it was truly noisy was in the 1990s.
Don't know what's happened to fans now, too busy on iPhones taking selfies probably.
Bill Gienapp
44
Posted 05/12/2018 at 23:04:58
I'm fairly certain Keane was just being rested. When you have a third option of Zouma's quality, rotating players during a congested period is a no-brainer. If he'd been dropped for, say, Jagielka, I would have raised an eyebrow.
Rob Dolby
45
Posted 05/12/2018 at 23:07:38
Poor quality game, they sat behind the ball all game and came for a point which in the end they could have taken all 3.
Not sure why he had to rest players as we aren't playing again until Monday.
Tosen didn't take stake a claim for a spot whilst our quality was poor and passing too predictable in the final third.
Gomes again motm. We are already too dependent on him other players have to take responsibility.
Wes Ray
46
Posted 05/12/2018 at 23:12:19
Silva is an improvement from Koeman and possibly from Allardyce. However, not in any way able to compete with Pep, Klopp, Sarri or Emery. All were proven top managers with track record, and were hired for that reason.
We went for a promising talent hoping for the best. If the plan was to make a serious challenge for top 6 with him, we failed. If the plan was to steady the ship until a proven top manager steps in, we seem to be ready for the next step. Current team is good enough, even with obvious room for improvement. Silva has not managed to bring on any kind consistency nor do I detect any clear mode of play or tactical vision. All we can expect is mid-table mediocrity and 7th (or 6th...if one of top teams fail) place is seemingly more than a challenge for us. With a top-notch squad...
Silva is a decent guy, he needs time, investment etc. The question is how much? We are in the most competitive league and any real success can only be based on results, not wishful thinking.
Paul Hughes
48
Posted 05/12/2018 at 23:12:49
I'm just back home from the match. Pretty dreadful all round.
Tosun barely had a kick in the time he was on. Compare and contrast with Rondon on the other side.
Gana had a bit of a shocker, very slow and inaccurate when on the ball, Newcastle offered so little there was no opportunity for him to do any tackling.
Coleman had one thing to do all evening, which was to cut out the cross for their goal, and he messed it up.
However, the real raspberry goes to Digne. The 'bring back Baines' campaign starts here. Digne must have had 20 or more opportunities to cross the ball, and he made a mess of all of them.
A really disappointing evening all round.
Bill Gienapp
49
Posted 05/12/2018 at 23:19:31
A "bring back Baines" campaign? Really? If Gomes has an off-day, will you be starting a "bring back Schneiderlin" campaign?
Mick Conalty
50
Posted 05/12/2018 at 23:24:13
So we had a derby hangover. Er... hello. Liverpool won away from home. Stop making fucking excuses.
We are still inconsistent and have been for as long as I can remember. Silva must put a stop to it or obviously we will just languish in mid-table at best.
Will Everton ever make us proud of them again? I am beginning to have my doubts.

Paul Hughes
51
Posted 05/12/2018 at 23:25:26
Bill,
In the unlikely event that Gomes stinks out the gaffe as much as Digne did this evening – I doubt it – but you never know!
Andy Williams
52
Posted 05/12/2018 at 23:28:00
We just didn't quite click. Lots of good balls played to players that weren't there and lots of terrible crosses.
Tosun looks utterly devoid of confidence but nobody apart from the majestic Gomes looked good. Mason was awful and they did a good spoiling job on us.
Oh well. 6th, above Man Utd and 17 points from our last 9 games and yet we are still disappointed. Shows how far we have come.
Jim Bennings
53
Posted 05/12/2018 at 23:33:02
I don't think it's so much a case of how far we have come, more that the Premier League is pretty weak; Man Utd are doing their best to get Mourinho out.
This time last season we had just drawn at Anfield and won at Newcastle on the Wednesday night and we had registered 5 wins (against Stoke, Bournemouth, Huddersfield, West Ham and Newcastle)
We have registered the same amount of wins this season by the same date and without Europa League football which hindered us grossly last season.
So whilst it looks better on the eye (at times, not always) — are we really really miles better?

Jerome Shields
54
Posted 05/12/2018 at 23:34:40
Gary #42.
I think you're right. Silva got outsmarted and his selection of Tosun played right into Newcastle's plan.
Jason Leung
55
Posted 05/12/2018 at 23:35:17
Newcastle came for a draw and when they play with all men behind the ball, very hard to score. At most corners, all players were in the box so good cross or not, nearly impossible to get a header on goal without a deflection or clearance.
They were a joke of a team who didn't seem to play football with disgusting and dangerous tackles trying to disrupt our brand of football.
I think we will be much better against Watford who I think will come to play a proper and better style of football.
The fat Spanish waiter should be condemned for the type of football (if you can even call it that) they played.
Jim Bennings
56
Posted 05/12/2018 at 23:44:04
By Christmas Day last season we had 23 points.
We are currently on 23 so we need a win on Monday to be three points better off unless we get furth bonus points (unlikely) against City and Spurs.
Think we are somewhat clouded by this progress thing.
Yes, at times the play is good but it's results at the end of the day – we need to win more games for real evidence of progress.
John Keating
57
Posted 05/12/2018 at 23:44:56
Newcastle and the waiters little comment go hand in hand.
Our performance as I suspected after the derby was dire absolutely dire.
We are totally fixated on giving the ball to Gomes regardless of any other pass that might be on.
Now that might be great if he gave the killer pass but tonight he was like the Portuguese Ray Wilkins.
Absolute crap and a waste of a night. Who got kicked out the jungle? That would have been more exciting.
Sam Hoare
58
Posted 05/12/2018 at 23:50:12
On Sunday, I thought we matched one of the best teams in the division stride for stride but that same team showed how big the difference between us really is tonight. Both teams went 1-0 down whilst playing far from their best but they found a way to win 3-1 while we struggled to break down a stubborn but limited Newcastle.
We need more goals in the team and the likes of Bernard, Lookman and Walcott have got be contributing to that end. Tosun regrettably looks insufficient for a team with top 6 aspirations so a striker is surely top of the wanted list though its very, hard to find good ones available in January.
Kunal Desai
59
Posted 05/12/2018 at 00:07:08
It's work in progress. Still require a few more quality players in that first team to go alongside of Silva and Brands signings of last summer. I'm sure we'll be busy again next summer.
A transitional period in which we were always going to get results like this.
Mick Conalty
60
Posted 05/12/2018 at 00:09:00
Same old same old. Excuses.
Lawrence Green
61
Posted 05/12/2018 at 00:14:58
Gomes is a fine player, but I feel that since his arrival in the team, every other Everton player is looking to him to do everything – win the ball, move the ball and create chances, and inadvertently, this has slowed down the forward movement in the side as a whole, but tonight, Gomes apart, every other player was way below par.
Lookman proved why he isn't first choice, and Bernard has lost his way since he first burst into the team. But the situation is that without a mainline striker – as Tosun, despite his lack of service, is way out of his depth in the Premier League – Everton will continue to have real difficulty in breaking teams down, particularly those who come to stop us from playing.
Jim #53 Everton had played 18 league games by this time last year and had 25 points. That team only took another 24 points from the remaining 20 games. I'm hopeful that we can take more points than that from our remaining 23 Premier League games. Even though tonight was very poor and extremely dissapointing, there was more football played against Newcastle, than in many of the games played last season; unfortunately, the crossing and decision making in the final third let the team down very badly.
Everton are not going to be champions or even Champions League contenders any time soon, and nobody really expected us to be so, but with the right additions, there are signs that this side, providing they keep the likes of Gomes et al are heading in the right direction. Silva got his selections wrong tonight and the players looked psychologically tired and were a yard off the pace throughout and at no time, apart from late in the first half, did they look as if they would win the game.
Sunday was a real blow to the morale of the team and the supporters and unfortunately the hangover from that result continued into the game tonight. Hopefully, Monday will see a vast improvement and a better perfomance and result. If not those naysayers who like to point out the negatives in Everton's team, management and supporters will be out in force to inform us that the Premier League, apart from the top tier teams is crap and that is why Everton are 'doing well'.
Results are everything in the modern game, but there has to be a transition period when a club is attempting to instill a new style of play, with a new group of players; that is where Everton FC is at the moment. Let's see where we are this time next season. If we are still struggling to beat obstinate teams at home easily, then perhaps those naysayers will have a point.
Paul Ward
62
Posted 05/12/2018 at 00:15:06
Four bungling wingers, no full-backs, and a poor centre-forward. A midfield that consistently loses possession and misplaces passes leave the team vulnerable a counter-attack.
Our general play has been good to watch this season but, when it comes to the end product, we are still lacking. We are so predictable using the wings, and when we do get a corner, it usually comes to nothing. Today, I think, was the first time we have scored via a corner this season.

Newcastle just sat back, ate up time, and watched us do what they expected us to do.

Ed Prytherch
63
Posted 06/12/2018 at 00:23:35
On the positive side, Zouma was excellent. I think that he is our best centre-back. And what a ball from Pickford to set Walcott free.
Digne not only gave the ball away all night but he stood and watched Rondon steal in behind Mina for the goal that he could easily have prevented. Let's hope that it was his worst performance of the season.
Lookman and Tosun both failed to take advantage of the opportunity that Silva gave them.
I still think that we are going in the right direction and games like this let our management see our deficiencies, which they probably already know.
Kevin Tully
64
Posted 06/12/2018 at 00:31:38
I've seen some shite on here in my time, but the fact we've matched the RS in a derby is seen as the second coming makes me spew. We used to do that when we were fucking totally shite — every derby game, no matter what. Have you all gone mad?
We are nearly there? Really? The bar has been set so low, we as may be a non-league side. Tell me, how much have we spent over the last two years? £350m I believe.
We played footy in the derby – yee fucking ha!!! Allardyce set a record and some said that'll wind the Reds up. They're challenging for the title; we've got the lights. Fantastic! This club and the fans have lost it. We used to be massive; no more.
Don Alexander
65
Posted 06/12/2018 at 00:34:13
At the risk of seeming as old as Methusalah, I've said for ages that the crock of shit M&M (&M) inherited courtesy of Kenwright in terms of the squad and its appalling psychology would take a few, not the one they've had, windows to change and tonight's lacklustre effort simply confirms it as far as I'm concerned.
If this season ends with us in 6th place I'll be pleased in a way, but dismayed in thereby qualifying for the draining, un-lucrative Europa Farce/Cup. We need that like a hole in the head unless Moshiri finds funds in January to significantly bolster, and also further trim of dead-legs, the squad.
We'll see.
If January sees no meaningful additions or trimmings, the season is likely to be like those of recent memory, and that means boring, predictable and fundamentally disappointing.
Bill Gienapp
66
Posted 06/12/2018 at 00:44:16
Paul (51) – If Digne strings together a few more stinkers, I'll consider joining your campaign. But up to this point he's been one of our most reliable and consistent performers. Even the best players have an off-night every now and again.
John Keating
67
Posted 06/12/2018 at 00:49:45
We were lethargic, pedestrian and so obvious, it was embarrassing at times. We looked like Martinez was still here: sideways, backwards only time it went forward is when Pickford put Walcott through.
Silva needs to spend every training session between now and next Monday practising crosses. Truly awful.
Hate to say it but credit to Newcastle. Wasting time from kick off to final whistle but they got what they wanted, a point.
Poor at best.
Kevin Tully
68
Posted 06/12/2018 at 00:53:00
Apparently, some of us don't 'get it'.
Lovely blue lights – shine on.
Lawrence Green
69
Posted 06/12/2018 at 01:10:27
Kevin, #68, I don't know whether your posts are directed at me or not but I never mentioned the derby, I didn't watch it live, only the highlights.
No I don't think lighting up the Liver Bird means anything at all to those of us who attend Goodison regularly. If Silva, Brands and Moshiri can't or don't get us going in the right direction, then – as you say – we are finished as a club.
However, I'd still prefer to look at things in a positive light, at least for this season, even if it's misguided... else, I may as well find something more rewarding to do with my time and money.

Ernie Baywood
70
Posted 06/12/2018 at 01:16:30
Some time to reflect now... and I guess when a team comes to defend, it's going to be frustrating.
What did we do? Well we went at them over and over again. Defensive walls make you try things that are out of the ordinary but we kept on going. When we scored, we should have just had a penalty and we were on our 10th corner of the half!
Our quality with the ball was a problem, but Newcastle made the game that way. The biggest crime was the goal we conceded. It meant that even a goal to us didn't change the way Newcastle played. They still had something to hold on to.
There were individual errors right through the goal. Lookman was fouled in my opinion but it was still possession given up too easy. Even then, we still had enough men back but the cross was too easy and the defending from Mina and Digne beyond woeful.
Digne switched off and Mina makes you wonder why we wanted a left-footed defender in the first place. I'd rather have one who has two feet.
After that, well I reckon we tired as much as Newcastle did. The effort was there but the legs and brains were gone. Second half was really poor. We just didn't have it in us to keep going at them and force another goal.
Mark Wilson
71
Posted 06/12/2018 at 02:08:20
At least we are going in the right direction.
Mike Price
72
Posted 06/12/2018 at 03:11:38
Thanks to Allaydyce for wasting a fortune on Tosun, Martinez for doing the same with Niasse, and Koeman wasting our budget on the likes of Schneiderlin. Absolutely woeful players we'll be lucky to get anything for. Not to mention the £35 million compensation they got themselves.
We'd have been better going for a short-term fix getting Defoe in for a year last January and just paying his wages.
You're only as good as your strikers and this is going to cost us serious money to fix.
Steven Bencz
73
Posted 06/12/2018 at 04:03:26
After losing the shiites I was worried we were gonna be somewhat deflated and flat, perhaps some of that. Still, worst game in a long time.
We all knew it will take time to fix everything that ails our club. But I don't believe any of us really understood the gap between us and the top six. I mean yes, we are sixth at the moment, but I think it would be a miracle for us to finish here. I just wonder if Moshiri wised up yet and sees the real financial commitment it will take to break into the top.
We need a STRIKER so bloody bad. Like someone said even last year we should have gone for Defoe because it would have been better than nothing. Which is really what we have. None of our real strikers could play on any better team.
At this point Wilson would be amazing, Vardy would be excellent and even Mitrovic would be great.
To fund this need of a striker please Brands further reduce our wage bill. Scneiderlin, Niasse, McCarthy and even Lookman imho would be expendable to fund this. And if you can get 25M from Leipzig to have to get a great striker just do it already.
Work on signing Gomez as well in January and we understand if the rest has to wait for summer.
COYB
Jamie Crowley
74
Posted 06/12/2018 at 04:09:07
Couldn't watch the game, had to listen on radio.
Seemed the first half we dominated? A goal against the run of play hurt.
Second half sounded like frustration personified. I'll watch the 20 min highlights on the OS.
If, (IF) we are 6 points or less off 4th place come Jan 1st, we need to buy a striker. If we're more than 6 points off 4th I'd say save the money, make an FA Cup run best you can, and then look to offload more dead weight to help finance a top striker.
We're clearly missing the tip of the spear.
Jamie Crowley
75
Posted 06/12/2018 at 04:18:01
Kevin Tully -
but the fact we've matched the RS in a derby is seen as the second coming makes me spew.
We've not had a good game against Liverpool in years. Just because many people are happy that we finally, finally, took it to them in a derby and played toe-to-toe with them does not mean it's "seen as the second coming".
People are genuinely enthusiastic about the direction of the Club. I don't think anyone is saying we're "all that" currently. But we are moving in the right direction.
So if people are happy, it's not an overreaction, or that standards have fallen to unforgivable levels.
There's just finally some hope "mate"!
There's going to be days like these. It's not acceptable or preferable, but it is sport. In the main, we're moving forward.
So get it out of your system, and go find your smile ya dour sum bitch.
Paul Columb
76
Posted 06/12/2018 at 04:27:13
I just got a chance to watch the game after work. We were so profligate with dead balls and crosses. Digne had a rare poor display, and it was pretty awful.
Tosun may have pulled the shirt on for his last time as I think Silva has now made his mind up on him. We really need a centre-forward and, until then, it's a run for Calvert-Lewin for me if we're going to play a target man.
It was an off-day with 74% possession and a team and manager that seem to have victory imprinted in the ethos. Next 4 fixtures are far from easy but I remain very optimistic and love the Silva/Brands axis to date.
Amit Vithlani
77
Posted 06/12/2018 at 04:28:01
Dissappointed but not downhearted. We should have been 3-1 up at HT but Tosun and Siggy blew good chances.
We are getting behind full backs and creating chances.
However, so many points have been squandered. We should have beaten Huddersfield and Newcastle, let a 2-0 lead at Bournemouth slip and conceded late at Wolves and RS.
9 points squandered.
Jamie Crowley
78
Posted 06/12/2018 at 04:41:13
Genuine question.
I've just now seen the Newcastle goal.
Forget for the moment Coleman not stopping the (sublime) cross.
Mina was marking Rondon. He left Rondon for the ball, which he misses. Digne was strolling and didn't pick up Rondon. You can hear Digne yell, "Yerry!" (I think) when the goal is scored.
Who's at fault? Yerry for dropping his man for the ball and missing, or Digne for not keeping switched on and not picking up Rondon?
Jay Harris
79
Posted 06/12/2018 at 04:47:43
Let's be fair to some of the lads, including Digne – some of Newcastle's tackling was disgraceful and IMO they should have seen at least 2 red cards.
Digne was subjected to some ruthless tackles and I fear against Watford some will get their wish and Bainesy will be restored due to Digne's injuries.
Newcastle came to spoil the game and hit us on the break, which is exactly what they did, assisted by Lee Mason's laissez-faire refereeing and very poor defending by Seamus.
Frank Wolfe
80
Posted 06/12/2018 at 06:49:46
Watching the game on TV, I could almost predict what was going to happen as we have seen it time and again. We were actually lucky that Newcastle didn't nick it in the end – they had 2 or 3 decent chances in the last 15 mins.
Teams know that if they come to Goodison and park the bus that we will find it hard to break them down and that the crowd will get frustrated. Once that happens, the team gets nervous, tries to force things and mistakes will happen. I am not blaming the crowd as such but it doesn't help the team and I am sure it is a factor that other teams know and use to their advantage.
Contrast this with when a top team comes to Goodison Park midweek – the crowd is right up for it and we generally play much better. Not sure there is anything that can be done about this but more of a general observance.
Paul Birmingham
81
Posted 06/12/2018 at 06:58:07
Overall lack-lustre performance and there's no excuse. Bad refereeing in view of x rate tables and intimidation by the Toon, but no craft or guile to unlock their 5 and 6 man defence. Alas, as so often this season, in key moments, the best chances went astray.
I sense Tosun, whilst getting general poor service, yet again showed the lack of finish. I don't know why he didn't head them cross and Siggy by his level a very piss-poor finish. Tosun I think is gonna be lucky to start again as, like the West Ham game, he failed to capitalise on every good chances. Lookman disappointed and the most rank dead-ball deliveries and crossing this season.
Points lost and back to the game plan for Watford after a night when too many players under-performed.
Brian Porter
82
Posted 06/12/2018 at 07:08:45
I've said it before this season but I will say again, Lee Mason is one of the worst referees in the Premier League. Why the referees panel don't see it and take action, I just don't know. He made similar errors in a game last week and almost every week so either he just doesn't know the rules of the game, he's too slow to see what's going on before his eyes, or he is simply corrupt or an attention seeker.
That man should not even be allowed to be on charge of a Sunday League match.
That does not excuse the very poor display we produced last night but, at the same time, matches should not be effectively decided by poor refereeing on such a consistency as occurs in games controlled by Mason.
As soon as I saw he was last night's ref I feared the worst and, lo and behold, the entire ground saw the foul in the build-up to their goal, except, of course, Lee Mason. I would be hard pressed to select a worse referee in 60 years of watching the game, and I've seen a fair few in my time.
John Malone
83
Posted 06/12/2018 at 07:25:19
Jamie 78, I'll say it now as it is clear to me now as it was in the World Cup — Mina is a cart horse!
He is not a top defender, he is slow on the turn in a flat foot race and in his reactions and anticipation. He is too tall and gangly legged. He has also got a head like a 50-pence piece and struggles to win header's when back-peddling. He got away with a few against Cardiff and one against Van Dijk in the derby when Origi hit the bar.
Not cutting that cross out for their goal last night was shocking defending. Okay, Coleman got outpaced and let the cross in but he had plenty of time to anticipate and deal with it before it reached Rondon.
Zouma is a miles better defender for me and I hope he plays with Keane against Watford.
It's so clear to me: he is not good enough.
Ernie Baywood
84
Posted 06/12/2018 at 08:00:33
I've seen some good things in Mina, but he's got plenty of negatives. The first two that spring to mind are that he insists on passing with his right foot and that he doesn't have a right foot.
He brings a major element of WTF to this team. Capable of the kind of thing that just makes you shake your head.
So basically. No right foot, and no brain. I wouldn't pick him.
Derek Knox
85
Posted 06/12/2018 at 08:03:22
A bit disappointing after Sunday's display, not quite sure where it went wrong for so many, bad refereeing didn't help, but can't be used as an excuse.
As if we needed reminding, Cenk Tosun, is not a Premier League player, another Allardyce - Walsh waste of money for the Club.
I had no pre-conceived ideas that this would be an easy game for us, but I didn't think in all honesty that it would have been a hard fought draw either.
Another two points lost at home to allegedly inferior opposition; did Marco make too many changes? Maybe we are not as accomplished as we thought, but as a work in progress, hopefully we will have learnt another valuable lesson.
As luck would have it, other results went a long way to us staying in 6th position but another lacklustre display against Watford on Monday could tell a different story.
Andy Williams
86
Posted 06/12/2018 at 08:23:25
Why aren't we winning the league! Silva you have had months!
Jim Bennings
87
Posted 06/12/2018 at 08:31:19
If people remember, I posted in May after the West Ham loss on the final day that we needed better quality striker than Tosun but people shot me down saying he was a 15- to 20-goal forward.
He scored five goals when he first came but I kept seeing a lack of mobility, pace and a player too fragile to go up against the burly centre-halves that most teams play with now, I just knew he'd struggle for more than 6 or 7 goals this season.
The lack of striking options is laid bare when people come out with the line "it's time for a run in the team for Calvert-Lewin", another who's better as a late, late sub and rarely produces more than a couple of flick-ons and weak headers.
Obviously we need a striker, but I'll reiterate also what I say yesterday before the match, we have two players that contribute regularly to goals: Richarlison and Sigurdsson; when they don't score, we will struggle.
Laurie Hartley
88
Posted 06/12/2018 at 08:33:53
Jamie #78 – I think Digne was at fault. Mina indicated that he was leaving Rondon to try to get to the ball first which he nearly did. Digne was like a statue.
I have backed Tosun big time but he has been a let-down. He is not going to make it.
Only consolation – I thought Zouma had a good game.
Simon Smith
89
Posted 06/12/2018 at 08:37:44
Ah, the depressing reality that is being an Everton fan. Just when we were starting to believe, a double kick in the teeth.
Let's hope for a much better performance against the Z-Cars stealing B-list Premier League team!
Colin Glassar
90
Posted 06/12/2018 at 08:54:25
I'd rather Marco build something special over several seasons than be a one-season wonder like Roberto. Both he and Brands have said this will take several transfer windows to build the squad they desire. Be prepared to be disappointed as it's going to take time.
Jim Bennings
91
Posted 06/12/2018 at 09:02:13
Colin,
Of course it's going to take time but then again Evertonians have been told for a decade (going back to the Moyes era) that "this time in two years, we'll be the bees knees".
I'm fully behind Silva but I think it proves that every single transfer window from now on is going to have to be absolutely spot on.
We got burned badly with some major poor signings for big money, Schneiderlin, Klaassen, Tosun to name just a few but there's been many more.
Every transfer window needs to see a top-quality signing brought in and a striker that we can hang our hat on, not just one who "might be great when he settles in".
I still think right-back is an area where we need to maybe start looking at over the next 12 months as well, I've loved Coleman but hand on heart is, is he the player he once was?
Clearly there's nothing special coming through our academy in terms of a Rooney, Barkley etc.
Craig Walker
92
Posted 06/12/2018 at 09:33:16
Last night was a bit of a wake-up call. I think we've all been swept along with the improvements that Silva has made in such a short space of time. Some of the proclamations that we would stuff the RS or finish in the top 5 are way off at the moment.
We are definitely heading in the right direction but we're still capable of putting in some below-average performances like last night and against Huddersfield and West Ham at home.
We desperately need a quality striker and, out of all of Silva's and Brands's signings, I'm yet to be convinced by Bernard.
We need a good performance and result against Watford before the daunting trip to the Etihad.
Andy Williams
93
Posted 06/12/2018 at 09:34:09
Jim.
You can't really believe that we are not making progress. Obviously we are not the finished article, and are very unlikely to be after the next window but the football being played is better than anything since the 80s.
The squad, apart from the obvious holes is stronger and younger than it has been since then and although we are still struggling to get the results against the Sky six we are closer to them than we have been. We look like we are only a couple of pieces away from actually beating them on a regular basis.
Kim Vivian
94
Posted 06/12/2018 at 09:39:53
Many were suggesting Rafa as a potential replacement for Koeman when we got the dreadful Allardyce last year (myself included). Just remember, Newcastle are scrapping for whatever they can get near the bottom of the pond and they came here to upset us, knock our natural style of play, and get home with whatever they could.
If that had been an Everton team, managed by Rafa, and playing against whoever was 6th this time last season, we would have been slapping Rafa on the back. He came, he saw and he returned with some spoils and now finds himself a whole 4 points(!) off the drop zone. So we can't really criticise their game plan too much even if it was somewhat Neanderthal.
We are the architects of our own disappointment. We should have won that comfortably with the level of possession we had and the number of chances we (almost) created but a combination of shocking crossing, forgetting to put our teeth in, and an inability to get on the end of anything in their penalty area, cost us 2 points. I was trying to work out if Newcastle had a defence comprised entirely of giants because we simply couldn't get anything past their men.
This was a lacklustre, not entirely unexpected, 'hangover' performance after the derby and it was always going to be unlikely we would retain the same psychological momentum that would have been built up for that, but disappointing all the same.
I expected them to score but genuinely thought we were good for 2 or 3. And indeed we were, if truth were to be told. I quite like Tosun, but said yesterday that I thought this might be his final audition, and think I may have been right. He blew it. So expect to see him move on in January if we manage to attract an out-and-out striker.
Digne was frustrating beyond belief yesterday but I do not worry about him. He is a good player who had an off day. Gomes remains immense (I would love to know his pass completion stat). He reminds me of Howard Kendall, not so much in his style of play although I see similarities, but in that, when I used to attend Goodison regularly back in the day, I kind of relaxed instinctively when he was on the ball because you knew the next pass would likely arrive with an Everton player. I feel the same with Gomes.
Bernard? What can one say. As someone (I think it was Jim Bennings) said further up this thread – I also wondered if he had forgotten to screw his studs in. A tricky footballer with quick feet for sure but reminds me of Deulofeo. Much huff and no puff (again as someone else said).
So – we move on to the the next game. I am away in Dorset on Monday so hope to find a decent stream and hold out hope that we get back on the winning track. I believe we will. The prequel to a couple of very tough fixtures before things (theoretically) get easier again over the New Year.
3 points in the bank on Monday will leave me sleeping much better, and I am not going to dwell or agonise over last night too much because, as I said at the start, Rafa and Newcastle came to do a job which they pulled off with our help, and if that had been us this time last season, we would have been applauding.
It's all down to us at the end of the day.
Justin Doone
95
Posted 06/12/2018 at 09:43:56
A disappointing game in terms of penetrative play but it's another point on the board.
A few players have had off days but it happens. In general, we played fairly well, kept the ball but just couldn't tease a mistake out of them.
I was glad to see Lookman given a start but the fact Tosun played upfront didn't help. Either keep Richarlison or Calvert-Lewin. At least they'll have a go, close down and harras the defenders.
Walcott will never improve as a forward but his pace and running are a big asset when trying to win the ball back. I hope Lookman starts next game.
I think Bernard plays well, he again is full of energy and gets stuck in so perhaps it was more of a rest for him. I'd start him centrally next game and rest Sigurdsson. Richarlison stays left, Calvert-Lewin up front.
I've thought for a few weeks now the set-piece routines are getting worse. Baines and Kenny for me remain the best crossers of the ball. I'd be happy to bring one on for last 10 mins as a Plan B or C and push Mina forward.
It reminds me of what happened under Martinez and he apparently gave set piece routines no thought or time practicing them. A big mistake. There are so many goals scored from set pieces. Does anyone remember the World Cup? All the best teams used them well.
It appears to be the downside to the obsession of keeping possession. Free kicks are kept on the ground, short backwards passing and it annoys me. You have to mix it up to keep the opposition guessing. If an opposing player is stood within 5 yards preventing passing forward then simply whack it into their faces, try and get them booked and annoyed.
A bit of a reality check for some fans. We have greatly improved the playing style but are still very much a work in progress.
I have no belief that a top 6 finish is realistic or wanted this season. It's simply about laying foundations for next season. The way we play with and without the ball, the right personnel and the right mentality for everyone associated with the club.
We remain vulnerable to counter attacks as we lack genuine pace in the spine and have full-backs that both push up. This is something Silva clearly wants them to be doing and therefore will remain an issue.
Dick Fearon
96
Posted 06/12/2018 at 09:46:05
Our strikers were on the recieving end of a good kicking and – Oh dear – we brought on gentle mild wouldn't hurt a fly Calvert-Lewin.
Hard to believe he is a graduate of Big Dunc's school of hard knocks.
Jim Bennings
97
Posted 06/12/2018 at 09:46:43
Andy
"The football being played is better than anything we've seen since the 80s".
I think the football has been decent but that's a bit of a bold statement judging on what I've seen so far; it's been good at times but still feel we are guilty of overplaying and being too pretty and not getting enough end product.
The Moyes teams of Pienaar, Arteta, Cahill, and Osman played some dazzling football with Yakubu up front (7-1 against Sunderland)
Martinez produced beautiful attacking teams going forward in spells (13-14 and 15-16) so it's not like we are seeing something amazing for the first time in 30 years.
I'm behind Silva but let's not get too carried away with what we have seen.
Rick Barnes
98
Posted 06/12/2018 at 10:19:35
Disappointed with the outcomes of the two games this week (like most of us was in a grumpy grey cloud for two days...) but not disappointed by the team or the promise of the future.
I can see positives in every game; even in a loss or a draw, I can appreciate some individual performances and some of our one-touch linkup play is great to watch. So different from the dark gloom of the Allardyce period.
But most of all, what I came on here to mention, was how proud I am of my Evertonian brothers and sisters. When the team lineup was announced, and the announcer said "...and in goal, Jorrrrrrdaaannnn Pickfooord..!" the roar of support from the crowd brought a lump to my throat.
When I thought of the image of Karius, sitting alone on his haunches after the Champions League debacle, only consoled by an opposition player – and the way their fans hounded him out of the club...
Only separated by Stanley Park, but a gulf in class between us.
Phil (Kelsall) Roberts
99
Posted 06/12/2018 at 10:24:06
We have to remember that Newcastle are a small team and came for a draw.
Kim #94 – Monday will be on Sky so find a pub and you won't need a stream.
I lost count of the number of times in this report the cross or free-kick did not get to where it was needed. We all lauded Mina for his prowess in the box and yet has he looked like scoring? All about service?
Burnley (7th last year) are struggling. Everton sacked Koeman after finishing 7th the year before last. 2015-16 West Ham were 7th and got knocked out of the Europa League before the group stage and finished 11th. I'm not sure finishing 7th is that good an idea.
Sam Hoare
100
Posted 06/12/2018 at 10:33:22
Very tight in the league with only 3 points seperating 6th from 11th. You'd have to think we'll finish somewhere in that band with 6th and maybe 7th representing progress and anywhere else less impressive.
Very disappointing second half last night with Newcastle creating the better chances and we're lucky Atsu did not take either of them. Everyone seemed to be off their game bar Gomes and Zouma perhaps and I agree that there are some worrying signs showing with Mina.
The festive period is a challenging one and I'm particularly interested to see the Spurs game. So far, we have performed decently against the top 6 away from home and perhaps not reaped the draws and points we deserved but can we actually beat them when they come to Goodison? I hope so.
Andy Williams
101
Posted 06/12/2018 at 10:35:55
Jim.
I agree that we have had good spells and some exciting football at times but I genuinely think that this is the first time that we have virtually an entire team that can play skillful, exciting football and in virtually every game I have seen some beautiful play. Watching Gomes alone thrills me.
It's not the finished article and there are weaknesses but I genuinely believe that this has the making of a great team and I have never been this confident since those wonderful days. In the derby, their playing out from the back and the confidence they had in doing it against players as dangerous as the RS have was a joy to behold.
John Hammond
102
Posted 06/12/2018 at 10:36:01
Ernie #84: Just so I have this clear. The right-footed Mina insists on passing with his right foot despite not having a right foot? From what I've seen of him he's a very good passer.
Talking of bringing an element of WTF to this team, you can put our keeper in that bracket too.
Brian Harrison
103
Posted 06/12/2018 at 10:53:41
Again, just like Huddersfield, a team come to Goodison and play 9 men behind the ball and we are incapable of breaking them down. Then to add insult to injury the only player looking like he could open them up, Sigurdsson is taken off.
Again the front 3 way below what is needed if we ever hope to challenge for a Champions League place. Bernard instead of improving with every game is getting worse with every game. I was really looking forward to seeing Lookman start a game but he like the other 3 offered very little in the final 3rd of the pitch. Tosun again proved he is not up to it, may as well have played Calvert-Lewin – at least he will give the defenders a physical battle if nothing else.
So again another December and Everton as usual start to fall away, had we held on for a draw on Sunday and collected all 3 points last night we would have started to open a gap between us and the teams directly below us.
I don't expect we will rectify our striker problems in the January window as all you do in that window is buy a player for extortionate money and very few January signings ever prove they are worth the money. But, unless we have better options up front for next season, it will be again another season of us finishing between 7th and 10th.
Clive Rogers
104
Posted 06/12/2018 at 10:55:39
Lookman blew his big chance last night. He was very poor, especially his positional play. He was never in the right place to receive the ball, kept leaving the wing for a more central position. Never really tried to do anything.
Sigurdsson had a second stinker in a row, Tosun was rarely involved, and Digne looked tired. Baines should play on Monday and Sigurdsson should be dropped to the bench.
Amit Vithlani
105
Posted 06/12/2018 at 11:26:45
"Lookman blew his big chance last night". Nonsense on many levels.
Firstly, he has been excellent as a substitute in many games before last night.
Secondly, he will almost certainly get further starts this season – let us judge him at the season's end.
Lastly, other than Gomes and Zouma, no one else really shone last night. All of our attackers had a tough time.
As for his positioning, well, it may have been deliberate. Lookman and Richarlison were both roaming from wide positions to give Coleman and Digne room to overlap. Sigurdsson too went wide. It seemed like a tactical decision.
We have a very good talent on our hands.

Andy Williams
106
Posted 06/12/2018 at 12:14:11
Totally agree, Amit. I understand people are feeling a little raw after the derby but it feels like the slightest falter brings a flood of negativity. Howard Kendall wouldn't have had a hope.
Peter Gorman
107
Posted 06/12/2018 at 12:24:54
It is just venting, Andy. There were calls after Anfield for us to get rid of Pickford, it is just emotion and I don't think anyone should be held to it.
However, I was hoping for a significant result following that debacle, not so much because the players 'owe it' to us fans but more because it would have really set the bar for the team in terms of character and given us an insight into their mentality.
Sadly, it seems there are still too many passengers on this journey. I think Silva will know who.
Neil Wood
108
Posted 06/12/2018 at 12:26:36
Balotelli!
Colin Malone
109
Posted 06/12/2018 at 12:27:57
I've said it many times, come to Goodison, park the bus, and you will come away with at least a point. Why? No Plan B.
Corners, free kicks, the Newcastle defence were like kids in a sweet shop, but we kept persistently pumping the ball into their penalty box with any success, why? We have the players to come short for corners.
Clive Rogers
110
Posted 06/12/2018 at 12:31:10
Amit, I am just saying he won't keep his place in the team. Long term I'm not sure, but a group of fans behind me were saying he's another Barkley – no football brain.
John Keating
111
Posted 06/12/2018 at 12:33:34
There is no argument from me that Gomes is a classy player, the likes we haven't had since Arteta.
Before we spend another shedload of money on buying or attempting to buy him, are there any other options out there?
Hopefully I am proved wrong but the little I have seen of Gomes almost everything is sideways. Very little forward.
There seems to be the need to take that extra touch. A few times last night he almost got caught out keeping the ball. Had he lost it in those areas by a decent team we could have been in trouble.
As I said, hopefully it's just me and maybe, as he gets up to speed, we will see more forward passing but, right now, he looks as if he would fit right in with a Martinez team.
Tom Bowers
112
Posted 06/12/2018 at 12:36:21
Everton still in 6th spot and the only danger will be Man Utd as I see it.
Everton will improve after adding to the squad soon and Man Utd may lose a few players including Pogba.
Whilst Bournemouth and Leicester are close I cannot see them being a danger in the New Year.
Despite the recent disappointments Everton will rebound in a big way.
There! It's optimism all the way.
Jim Bennings
113
Posted 06/12/2018 at 12:50:45
Gomes is a classy Rolls-Royce player but I said a while ago I'm not sure where the Arteta comparisons come from?
Completely different players entirely for me, Gomes reminds me of an elegant but far less aggressive version of Patrick Viera in that he moves the ball around very smoothly and can take the ball under control and hold players off.
Arteta was more of a creative technician, a dead-ball specialist and scorer of goals, a more forward and arguably very versatile player (remember he got Player of the Year when stuck on the wing most of the 2005-06 season).
Gomes is class and he has brought something to midfield we didn't have, but I just don't see where those Arteta comparisons came from.
James Marshall
114
Posted 06/12/2018 at 12:53:01
Nobody was dropped, players were rested; there's a big difference. We have a run of games in December and all teams are rotating - that's why you have a squad. We just happen to have a squad that's a bit thin up top (like a lot of us these days).
If you can't rest a few players in a home game against one of the lower teams in the division, at home, after a derby like we just had, then when can you? It was the right time to do it so I'll defend the manager on that one.
People have every right to be irritated when we don't win, I just wish people would temper things a little bit with the fact we're 6th in the Premier League, which is about where we'd hope to be at this stage of the season (well we'd hope to be top obviously!) given the state of each team in the Premier League so we have reasons to be cheerful.
It's glaringly obvious we need a decent striker. Gomes stands out every game he plays.
Clive Rogers
115
Posted 06/12/2018 at 13:25:49
Zouma has to play IMO. His pace saved us last night when they broke clear near the end and he was excellent all night.
Keane and Mina lack pace and struggled against the RS but fortunately Mane had a bad night in front of goal.
Jamie Crowley
116
Posted 06/12/2018 at 13:41:00
Another thing I believe bears mentioning after most were pleased with the industry and effort at Mordor, and frustrated last night with the inability to get three points at home against Newcastle:
I think we're seriously snake-bit the last two games. There's an element of bad luck presently.
How many times should we have scored in the last two games, only to not score through some insane save, or some heroic defending?
Tosun's point-blank save last night I saw on the OS 20-minute highlights, and I was just like, "What the fuck? How'd that NOT go in?" (Was he offside? Looked it... but I don't believe the flag was raised?)
I can think of 2-3 instances against Liverpool where I said the exact same thing.
We need our luck to turn just a bit.
John Keating
117
Posted 06/12/2018 at 13:43:59
Jim,
Not sure where you're getting the Gomes/Arteta comparisons from.
Jim Bennings
118
Posted 06/12/2018 at 13:48:35
John
Many fans on here, when we first signed Gomes, were going on about him being the new Arteta. I don't know if they hadn't seen Arteta play for us or they hadn't seen much of Gomes but that's what I was hearing regularly.
Very different players.
John Keating
119
Posted 06/12/2018 at 13:52:34
Jim,
Haven't seen those comparisons. However, Arteta was Arteta; so far, Gomes is a classy Ray Wilkins.
Sean McCarthy
120
Posted 06/12/2018 at 13:58:25
A few people on here claiming Tosun was devoid of any confidence. It may be more a case of being devoid of any fuckin ability!! He's not good enough for the Premier League, let alone a side with ambitions to break the Top 6 and beyond. A truly woeful player, every bit as poor as Niasse. A top quality upgrade has to be the Number One priority.
A fair few players had an off night yesterday but one who didn't was Zouma who looks an absolute beast of a player and far more convincing with the ball at his feet than Keane is.
January is coming and, whilst it's never a great time to splash the cash, hopefully that elusive striker can be found and the exit door is shown to a few of those not up to the task. And I'd include Walcott in that list who is approaching 30 and people STILL talk about his potential!! Allardyce's two purchases both look duffers to me and both should be moved on and the incoming funds reinvested.
The Z-Cars derby is next up. After last night, this has to be a must-win game to get back on track ahead of a couple of real tests against Man City and Spurs.
Andy Williams
121
Posted 06/12/2018 at 13:59:29
John,
How much have you seen of Gomes? He is, in my opinion, the best at what he does since my favourite player, Paul Bracewell. His composure on the ball is simply a joy to watch. His ability to find space for himself is wonderful.
Yes, he often looks like he could lose the ball because of what he is attempting to do but so far I have only seen him do it a couple of times. There was an audible gasp last night when he over-hit a pass because it's such a rare event.
The idea that he only passes sideways is totally wrong. Last night, he played a lot more sideways because the movement wasn't there. I think that, at the moment, we would find it extremely difficult to find a player of his quality and we would inevitably have to spend a shedload. And they definitely wouldn't be as magnificently coiffured.
Clive Mitchell
122
Posted 06/12/2018 at 14:11:50
Jay, 79 - couldn't agree more. Lee Mason's refereeing was appalling, licensing Newcastle to kick shins and hack people down with no effective comeback, but you have to acknowledge Mason is consistent. He's always that bad.
Peter Gorman
123
Posted 06/12/2018 at 14:13:02
I've definitely read the Gomes - Arteta comparison on here a few times.
Sean, when Allardyce signed Tosun and Walcott last season we looked much, much better (though that's not saying much) and Tosun converted at such a rate, the best in the Premier league, that I for one cockily predicted he'd thrive on better service under Silva (ha!).
However, the bar has been raised considerably by Brands and Silva, what with three players from Barca, Richarlison, a rejuvenated Sigurdsson and a yet-to-quite-spark Bernard. I no longer think Walcott is quite good enough to take us where we are heading, though he will have his moments of course and remain a useful squad member.
Tosun is a major disappointment. Occasionally, the service to him has been dire but others on TW pointed out a long time before I saw it that he does little to help himself. His performance against the Kenyans was a major let-down and indicative of his lack of confidence or effort. A good man but not one to take us further, I fear.
John Keating
124
Posted 06/12/2018 at 14:14:24
Andy,
I've probably seen as much of Gomes as you. As I mentioned he is definitely a classy player and in my opinion not at all like Bracewell.
Anyway, I hope, with better movement up front, we will see more incisive forward passing but, up to now, nearly everything is sideways. Even folk around me last night were commenting on this.
I wasn't at Anfield, I just watched it on the telly, but all the other games I've watched live and each was similar.
Last night, almost every time we got the ball, the player looked for Gomes. Now that might be good but, if we see Gomes as our only player, teams will suss this out and that'll be us out the game.
I'm sure Gomes can change his game as he is a very intelligent player but, up to now, I haven't seen it.
Tom Bowers
125
Posted 06/12/2018 at 14:42:24
Gomes is certainly a class act but what is beside him is not yet what we need it to be.
Gueye works hard but is missing something – maybe a goal or two or more impact when in possession – and the same can be said about Tom Davies.
Lookman, Walcott and whomever is the other option on right-sided midfield but none have impressed so far; although it has to be said, Walcott cannot play as a midfielder so, if he cannot grab a goal, generally he is anonymous.
Lookman needs a few more games before we can seriously criticize him.
Watford next... and then unbeaten Man City 5 days later. (Ouch!)
Christy Ring
126
Posted 06/12/2018 at 14:53:06
I thought Tosun was disappointing tonight; he has to give Calvert-Lewin a start now as a target man.
We definitely need to fund a striker in the January window, Schneiderlin and Niasse should be off-loaded to raise funds, and to be honest, neither are good enough even for the bench.
Vlasic is attracting plenty of attention; his comments and attitude are questionable, and Silva might let him go, if he got a good offer.
Terry McLavey
128
Posted 06/12/2018 at 15:27:14
I think some of the reasons why we fail include:
1) Bad passing in general, also passing to the nearest player regardless that he may be surrounded by the opposition (you would think the money they get paid they would be able to deal with a situation such as this but apparently not);
2) Free-kicks that achieve nothing (this has been going on for seasons and hardly a new problem);
3) Corners (I refer you to point #2).
Maybe fix this and we could improve?
Andy Williams
129
Posted 06/12/2018 at 15:51:44
John. Obviously depends where you sit. Everybody loves him by me.
One fella shouts out every game, "I love you, André" — that may just be because he has such good hair.
John G Davies
130
Posted 06/12/2018 at 16:03:47
ToffeeWebbers.
Rack your memory for one, just one, defense-splitting pass Arteta made that created a goal for Everton.
Mal van Schaick
131
Posted 06/12/2018 at 16:11:24
Disappointing result.
We have a squad; if the first eleven don't take their chance, then give those on the bench a start. Nobody should have a guaranteed place – they should all compete for their places.
Difficult to criticise the squad because we have made some progress, but the step to the top 4 level seems way off at the moment.
Do we sell some and spend bigger to compete or be happy with top 6? It's hard to call, but at least we aren't struggling in lower half of the table. Coyb.
Peter Gorman
132
Posted 06/12/2018 at 16:38:51
Tricky one, John G – he spent so much time out on the wing.
Does this one count?
Jim Bennings
133
Posted 06/12/2018 at 16:42:55
John G Davies,
If you don't have season review DVDs between 2005-2010, then I suggest you go on YouTube and take a look at Mikel Arteta in an Everton shirt and you'll see what a fine player he was, especially given for a couple of years all he had in front of him were players like Beattie, Beckford,and Bent.
Arteta would have been absolutely top class in this Everton side under Silva.
Derek Taylor
134
Posted 06/12/2018 at 17:05:34
Mal, you do right to pose that question as it is becoming clear -if a little disappointing - that sixth is all we can hope for with the present squad however more attractive their play as compared to recent seasons.
We all assume that it will only take 'a striker' to turn this lot into a winning machine rather than a team capable of a one in three win ratio but I fear it will require a little more than this, particularly at set pieces.
To me, in this latter aspect, our manager suffers from the' Martinez disease' of failing totally to see the value of the exercise as we appear to be clueless 'at both ends,,,,,,,,in spite of having some monster bodies looking clueless as to what exactly their role is 'in the mincer'.
So whilst I love the style in which Silva has them playing, I see him far from the genius manager so many consider him already and can only hope he will not just rely on colleague Brands to save us from yet another also-ran season to be sold to us as progress.
Mike Oates
135
Posted 06/12/2018 at 18:15:39
I think we have a right hand side not performing anywhere near what we need to dismantle defensive teams. Coleman has not even managed to get near his pre leg break form. Not only has the bombing down the wing gone but he's also nowhere good enough defensively. Add on to this Walcott's woeful defensive cover and lack of attacking guile then we totally rely on our left hand side (Digne & Bernard) to get around the back, deliver the crosses you need to create chances.
Last night Digne had his worse game for us, Richarlison and Sigurdsson were shackled and we just couldn't create anything at all. Try as he may Lookman just couldn't perform and Tosun was isolated.
John G Davies
136
Posted 06/12/2018 at 18:40:37
Jim @133.
Does it show Arteta making any of the defense-splitting passes I asked about in the five years you mention?
Tony Heron
137
Posted 06/12/2018 at 18:49:37
I didn't see the game last night, so given that the majority on here who went said that Digne was awful, I'm amazed that the Echo has given him the equal top mark of 7 and Gomes 6!!
Simon Dalzell
138
Posted 06/12/2018 at 19:16:51
Tony #137. I felt for Digne last night. He looked a wreck by the end, and could barely complete even the simplest of tasks. It looked he had a form of the "yips" by then. Not exaggerating, close to the worst I've ever witnessed. Pass after pass, cross after cross, way off target.
The majority of the team was quite poor but poor old Lucas was a standout. I'm sure he'll bounce back to his promising previous form on Monday.
John Pierce
139
Posted 06/12/2018 at 19:44:08
A very underwhelming effort from Everton. Lots of huff and puff; I guess the issues of the team were laid to bare following an encouraging effort Sunday to contrast them against.
But I think this was a very poor effort, similar to the Huddersfield game.
The control was there but the lack of incision was clear, a problem in all games this season even those we've won.
When our centre-forwad cannot occupy a pair of centre-halves then the rest of the team struggle to find a way in, especially at home. Untroubled by Tosun they kept their shape easily.
The game itself, too many players had an off night. Digne's worst game for the club. Coleman deficient for the goal as was Digne at the back post. Seamus still searching for fluidity and form. I think his place needs evaluating, an awkward conversation for sure but time to find competition for his place.
Gomes apart, no-one really played well. Our passing was very sloppy too.
Let's hope the emotional energy from Sunday was the reason we looked spent. Some dilemmas for Silva to work through, one of which is can Calvert-Lewin to get a run as centre-forward? Before we spend the money, let's see if he can deliver in his natural position?
I guess it feels worse than Sunday because we should beat a team like Newcastle every time.

Grant Rorrison
140
Posted 06/12/2018 at 19:52:27
Am I the only one who thinks we played shit football last night and in quite a lot of other 'good' performances this season? How many meaningful chances did we actually create? We might dominate the ball and try and pass along the deck but our crossing was dreadful and we gave the ball away incessantly.
Also, what was Silva doing taking off our most dangerous player and putting Bernard in an unfamiliar position only to then change it around again and put him wide left where he is even more useless?
I don't think the constant alterations to players and positions helped anyone but Newcastle in the second half.
Jay Wood
[BRZ]
141
Posted 06/12/2018 at 20:02:53
I sought out the Echo's match ratings after reading Tony's post.
A journo (I presume...) called Adam Jones did indeed give Digne a 7 (equal with Mina, Zouma and Richarlison, with Gomes top with 8. Jones wrote of Digne:
"Tried his best to get forward whenever he could, and his delivery from the left flank was fantastic when he did find himself in the final third. Was forced to deal with Yedlin's pace on the counter and did that well for the most part."
Jaw-dropping. '...his delivery from the left flank was fantastic???!!!'
I really don't like to call out individual players, but last night Digne was as poor an individual performance as I've seen not just this season, but in a long long time. His was a 2-3 out of 10 performance, at best.
Will Mabon
142
Posted 06/12/2018 at 20:27:18
Jay, sounds like that journo's "Report" may've been composed from info off the wires, a news agency feed. There's a lot of it going on nowadays.
Brian Harrison
143
Posted 06/12/2018 at 20:29:02
Jay,
I don't know where you watched the game but to say Digne was only worth a 2 or 3 at best that is way off the mark, not his best game but if you mark him as 2 or 3, then Tosun, Walcott, Bernard and Lookman must all get a minus figure. He made as many runs forward as Seamus and for me constantly delivers better balls into the box than Seamus. Newcastle's goal came down our right side which both Seamus and Yerry failed to deal with.
But Everton's problems are predominantly with the front men... obviously not including Richarlison.
Joe McMahon
144
Posted 06/12/2018 at 20:35:29
Rose-tinted specs off – Arteta did also put some lazy uninspiring performances in. Off the top of my head: Everton 0-3 Portsmouth in 2008 when we also had a good starting 11. He was awful in that match.
Simon Dalzell
145
Posted 06/12/2018 at 20:35:56
Brian. I watched from the Upper Bullens on about half way, and would say 2 or 3 is too generous. It gives me no pleasure saying this, but he was appalling. The chorus of boos for him obviously doesn't help, and didn't include me. Soon be Monday, and I'm sure he'll be back to his assured self.
Jay Wood
[BRZ]
146
Posted 06/12/2018 at 20:54:51
Brian @ 143, I watched the entire game on an excellent feed.
Digne has been excellent for us. He will continue to be excellent for us, but last night he was awful – but AWFUL! – in pretty much everything he did.
He was very quickly taken off his usual corner taking duty in the first half after his early efforts proved so woeful. His delivery from the either-or free kick routine between himself and Sigurdsson was equally woeful. His crossing in open play all night long was abysmally bad. His usually sharp interplay further upfield was also off. He was co-responsible for the goal we conceded (and tried to shift the blame elsewhere in his reaction).
I said in the immediate aftermath of the game last night, it would have been a kindness to the player and the team, when Digne limped off the pitch early in the 2nd half, to replace him with Baines for us to regain some control and possibly introduce some better delivery into their penalty area.I stand by that assessment.
I think Silva's subs were poor last night, almost part of the pre-match plan, rather than reacting to actual events on the park.
As for your own negative evaluations of the players you compared to Digne last night, none of them were as bad as the Frenchman. I'd say Tosun and Bernard were also poor – a 3 or 4. (Tosun I have some sympathy for because of the total lack of quality service into the box.) Walcott less so – possibly a 5. Lookman not as forlorn as the other two, but still below the standard of his recent cameo performances – a 6.
Andy Crooks
147
Posted 06/12/2018 at 21:20:11
Whether or not Tosun is good enough, I'm not sure. Players need to be judged over time and under favourable circumstances. Harry Kane would have struggled with the abysmal service afforded Tosun.
Digne was spectacularly awful. I was disappointed with Silva here. It seems to me that his subs, as Jay said, were already decided. This was no master class, just a poor performance by the players and a very poor performance by the coach.
I think he is doing a brilliant job but, when he is poor, I see no harm in saying it.
Len Hawkins
148
Posted 06/12/2018 at 21:28:04
How Newcastle scored is beyond me as the ball was tied to Gomes's boot most of the time, he is unreal how when surrounded he just turns and leaves them floundering. No matter how much Barca want, we have to beg steal and borrow to get him.
Max Murphy
149
Posted 06/12/2018 at 21:29:16
We've achieved 5 victories at home which include: Crystal Palace, Southampton, Fulham, Brighton and Cardiff. Such illustrious opponents! Of the home victories, 4 of the 5 teams languish in the bottom six places of the table.
There was 1 away win against Leicester – the highest placed team we've beaten at 9th position in the table. The draws at home were against Huddersfield (4th from bottom) and Newcastle (7th from bottom).
I won't mention our terrific record against the top 6 sides (currently 1 point from a possible 12).
If we beat Watford at the weekend, it will represent our best home victory against a team, which are as high as 11th in the table! What an achievement that would be!
Mr Silva, is this what we call "Work In Progress"?
John G Davies
150
Posted 06/12/2018 at 21:33:29
In my opinion, the defender at fault for the goal was Coleman. Zouma comes out to double-up on the lad who crossed it; Coleman sends Zouma back in.
No cross, no goal.
John Malone
151
Posted 06/12/2018 at 21:51:59
Andy @147, how can you say Digne was spectacularly awful when he was constantly up and down the wing all night trying to latch onto poorly weighted over hit passes?
And it was him who provided the crosses for the two best chances of the game: the Tosun miss from two yards out, and Gylfi's chance he should have buried!
Andy Crooks
152
Posted 06/12/2018 at 22:04:45
John, yes, Tosun missed a good chance. To me, though, it seems that a striker without game time will have a much lower scoring ratio.
Digne has had a lot of game time. He has played well and I guess his confidence is high. Now, I haven't counted but, just watching the game, I thought his delivery was poor, very poor.
Paul Hewitt
153
Posted 06/12/2018 at 22:51:57
We didn't play well last night; it happens. Let's move on to Monday.
Andy Williams
154
Posted 06/12/2018 at 23:19:23
I agree, Len, especially when you look at the price that bog standard players are going for.
Jim Bennings
155
Posted 07/12/2018 at 08:46:07
The reason Tosun isn't getting game time is because he isn't good enough. It's not confidence, it's just a lack of ability at this standard.
He was given many opportunities in the first 8 games of the season and missed so many chances and was offering nothing.
Derek Taylor
156
Posted 07/12/2018 at 11:26:39
Max at 149 is the first on here to tell it how it is. Most of us have got carried away by the improvement in the aesthetic quality of the football after the sufferings under Allardyce last season. But the results are little better – just better footballers bringing very so-so results.
Quite how our record can deserve sixth place is merely indicative of the lack of quality outside the Top Five.
Grant Rorrison
157
Posted 07/12/2018 at 19:28:45
Derek 156. Every time we've finished in a 'decent' position over the last 15 to 20 years, it's been because of the lack of quality outside of an elite group of teams.
Moyes had an excuse. He had no money. We've spent a fortune in the last few years and don't seem any better. Our front four are nowhere near clinical enough to challenge the top sides as evidenced by 'good' performances away to four of those sides leading to just one goal from a penalty and one point.
We don't seem much more potent at home against resilient defences either and have struggled to win games against the might of Palace and Cardiff.
I don't understand the optimism personally. Tried to buy into it for a while but I keep seeing the same recurring theme of 'great football' not really producing a whole lot. I see us 'playing well' at Man City and getting beat and also scraping a win or two against the likes of Burnley 1-0 after another 'scintillating attacking performance'.
Tony Abrahams
158
Posted 07/12/2018 at 21:29:55
We all see a different game, but from my own understanding of football, I think Tosun is cheating the life out of us?
No real pace, so he keeps trying to run down the sides, on a wet pitch. Why would a player do this? If he really wanted the ball, then surely he would keep trying to show to feet?
Digne had his worst game, he looked tired, but he definitely wasn't helped by the system, which had him playing like a wing-back, with no real help in front of him.
James Flynn
159
Posted 10/12/2018 at 23:57:57
God bless Seamus, but we need a right-back. There is no scenario where he returns to the player he was.
Marco sent out Tosun, Calvert-Lewin and Lookman. Agree that he did so to effect the attack, and good on him. Nonetheless, none of that trio good enough for the future of the Club. It's glaringly obvious.
We understand that we're a work in progress. It's showing lately. A work in progress we are Tonight's game proves it.
Silva has built a fighting side, for sure. But also for sure is that we need more talent. Big, athletic talent. It's the way of the Premier League now.

Add Your Comments
In order to post a comment, you need to be logged in as a registered user of the site.
Or Sign up as a ToffeeWeb Member — it's free, takes just a few minutes and will allow you to post your comments on articles and Talking Points submissions across the site.