Silva looks ahead to Watford clash
Friday, 7 December, 2018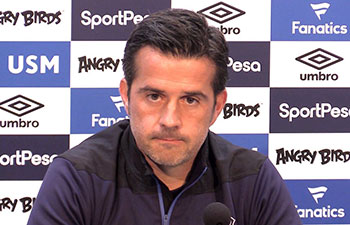 Marco Silva says that Everton's next game against Watford will be another tough match but he is not overly concerned by facing his former club.
The Blues will be looking to get back to winning ways after failing to win their last two Premier League outings and they take on an erratic but dangerous side led by his successor at Vicarage Road, Javi Gracia.
"It's a big game, a tough, tough game for sure but it's big like the last one was," Silva said in his pre-match press conference. "We knew before the match how important yesterday's match was because we had a very good run before — not just the results but also the performances [were good].
"We didn't achieve yesterday so the most important is the next match. It's always our goal to take it game by game.
"It's not the first time in my life [that I have faced my old team] and, for sure, it will not be the last. When you're building a career, it is something that will happen with you.
"It will be good to see some of the players I worked with there. It's not important to talk about [what reception I will get]. What I expect from the atmosphere is the same as what I saw yesterday."
Silva was asked if he and the squad felt as though a degree of momentum had been lost after a defeat and a disappointing draw over the past week but he dismissed the suggestion.
"Of course not," he said. "We know how it is in the Premier League and we know how hard the competition is. We know we won't win all the games until the end of the season.
"What we have to do is to work to win, to do everything we can to win the matches in every game.
"Of course in yesterday's match (against Newcastle) we didn't achieve the most important thing which was the result but we did everything to try to win the match just like we did in the previous one as well (against Liverpool).
"That's football. We didn't achieve and it's a moment to analyse why and get ready for the next one."
Silva was also asked for his thoughts on Everton's lack of goalscoring edge in recent games which has seen them score just three times in four games.
The Portuguese changed his attacking unit on Wednesday evening, bringing Cenk Tosun back into the starting XI, moving Richarlison back out wide and introducing Ademola Lookman in place of Theo Walcott.
Richarlison scored the Blues' only goal of the game but apart from one great chance where he was denied at point-blank range by the visiting goalkeeper, Tosun struggled to make an impact which has led to plenty of talk since of the club's need to invest in a reliable striker in the January transfer window.
"The chances we created in the first half were enough to win the match," Silva explained. "I agree and I understand your question but how many clubs are trying to find a striker to score more than 20 goals, or 25 goals or 30 goals [a season]? I think it's the question for all the managers in the Premier League.
"I'm happy with the players we have. Of course, we are doing our homework, we know what want to do as well. My job is to work with the players we have at this moment, to develop them and to develop our squad."
---
Reader Comments (108)
Note: the following content is not moderated or vetted by the site owners at the time of submission. Comments are the responsibility of the poster. Disclaimer
Jim Bennings
1
Posted 07/12/2018 at 08:43:33
Watford are far better on their travels than they are at Vicarage Road so it's another stern test.
Put frankly, another performance like Wednesday night and we can forget winning it because you just don't get away with lacklustre performances in this league unless you are Man City or Liverpool who are ahead of the rest.
No tinkering should be done and Richarlison should be back up front with Bernard on the left.
Regardless of what we think Richarlison is or isn't, he is at present the only forward player that I back with any confidence to take a chance in front of goal.
Selecting Tosun or Calvert-Lewin just restricts quality from the forward line as we seen in September, neither are good enough to start matches.
We must beat Watford otherwise, with Man City and Spurs next, we will come to Boxing Day and December 29th facing two must-win matches at Burnley and Brighton to keep our place in the top 7/8.
Le'st just not have our usual mid-season collapse and fall so far behind the rest.
Brian Porter
2
Posted 07/12/2018 at 09:02:34
I totally agree with you, Jim. I was worried when I saw the line-up on Wednesday as I felt three changes was one too many. Zouma for Keane, okay; Lookman for Walcott, okay... and that was enough I felt.
Bringing Tosun in proved a change too far as he didn't have the pace or trickery to test the Newcastle defence. Bernard might have given them more to think about and should have retained his place.
Why does Silva think rotation means the need for multiple changes when one or two would be okay without disrupting the squad rhythm built up over the previous run of matches?
I hope he doesn't screw up against Watford or we could be staring at a bleak Christmas after all the previous good work.
Robert Leigh
3
Posted 07/12/2018 at 09:03:34
Back to the XI that played together for so long; we still have some good options off the bench in Lookman, Calvert-Lewin and Tosun.
What to do at Center-Back is the only real question I imagine - though I think Zouma and Mina will be our best pairing going forward I think we should go back to Keane and Mina.
As January approaches, I hope we have deals for Zouma and Gomes lined up already – as well as a possible striker from left-field.
Jim Bennings
4
Posted 07/12/2018 at 09:11:56
No idea, Brian, but, after the League Cup tie against Southampton in October, it proved that you should not tinker unnecessarily. Stick to the strongest team unless injury or suspension dictates otherwise.
Kim Vivian
5
Posted 07/12/2018 at 09:21:21
Keane is a shoo-in for me. He is maturing nicely and did anyone else notice how he was bossing and organising the defensive line at free-kicks and so on against the RS. I hope Wednesday was just rotational rest unless he was carrying a slight injury. Whatever, I hope to see him back on Monday.
Mina or Zouma? Tough call but on the evidence of my eyes so far I'd say Zouma shades it for me, particularly with his Premier League experience. Mina needs a little more work, and more time to settle but remains an excellent prospect.
Up front – it's all been said. We know the need up there and the midfield is sorting itself out nicely. I can see maybe a rather ugly win on Monday, but a win nevertheless.
Important this one.
Kevin Prytherch
6
Posted 07/12/2018 at 09:37:10
I can understand 3 changes, I just think he got the Tosun one wrong.
We can't painstakingly stick with the same XI as they will get tired at some point. Liverpool showed how to do it, they made 7 changes, went away to Burnley and won.
I do feel that our attack has been built on pace and trickery, Tosun has neither. Calvert-Lewin would have been a better choice as he would have opened up the defence more for Richarlison and Lookman.
Hopefully Silva will learn from this.
Niall McIlhone
7
Posted 07/12/2018 at 09:53:55
I know that Oumar Niasse is totally off Silva's radar right now, but to me, he is probably our most capable goal scorer, irrespective of his other shortcomings. I feel he would have buried that chance in front of goal that Cenk Tosun failed to convert against Newcastle.
Taking Kevin's point, Calvert-Lewin is probably best equipped to play alongside Richarlison, certainly in the way Silva sets us up, but I worry that he is simply not clinical enough. Watford will be a big threat, we must start on the front foot, and the crowd have a part to play in lifting the players for what will be a physical game.
I'm in the camp who would like to see Bernard moved inside to No 10 and Siggy slightly wide again; little Bernard could do damage amongst Watford's rather bovine central midfield.

Brian Murray
8
Posted 07/12/2018 at 09:56:44
Wednesday was an off-day? We need quality challenging quality whoever has the first-team shirt.
Case in point: Digne has an off-day and no-one of note to replace him. Same at right-back, despite the emotional "he's one of us" brigade re Seamus.
No sentiment at the very top. Let's hope Marcel has been briefed big time.
Kim Vivian
9
Posted 07/12/2018 at 10:06:17
Whoops...
Brian Murray
10
Posted 07/12/2018 at 10:10:08
Kim.
Yes, Niasse does give us something to talk about... We will continue to talk about us in the Championship if the likes of his level are not long gone asap.
Sam Hoare
11
Posted 07/12/2018 at 10:10:13
Obviously you can't play the same XI throughout the entire Xmas period. There has to be some rotation and this is where we struggle. Defenders aside our squad is not strong enough yet.
If you look at the derby starters as our first XI then the replacement represent a pretty big drop-off in quality. Tosun is a long way behind Richarlison. Davies is not a patch on Gomes, Dowell is probably the closest replacement to Sigurdsson but a long way off. Lookman sadly struggled to reach even Walcott's relatively mediocre level of threat. Calvert-Lewin cannot do the things that Bernard does when playing well.
Our first team is strong, not perfect in any way, but good enough I think to get top 6 or 7. But the depth, especially in attacking areas is not there. We really need more goals in the squad though they are hard to find of course. Hopefully the likes of Davies, Calvert-Lewin, Dowell and especially Lookman may improve and all of them would benefit from a run of starts but it maybe that we are not the best team to afford them that opportunity.
I'd be tempted to give Lookman another start, replacing Walcott in the XI who started the derby game. I think Watford will come to play a bit more than Newcastle did and will carry more threat though hopefully be a bit more open. Back to winning ways at Goodison please.
Derek Knox
12
Posted 07/12/2018 at 10:30:07
I watched the Watford v Man City game the other day for obvious reasons, the observations were that because of the superiority of City, they dominated possession pretty much throughout.
However, with all their possession and attacking prowess, City only managed to maintain a one-goal lead for a good portion of the game, mainly down to good goalkeeping and the woodwork preventing a higher tally.
They did score another later in the second half, but Watford never gave up and managed to grab a goal of their own at the start of injury time. This in turn saw a very determined Watford play out the remaining period, determined to get another goal and equaliser, and almost succeeded.
The point I am trying to make is that they should not be taken for granted, and will be better prepared than Newcastle, and still have some dangerous players.
I can also share our collective concerns for a lightweight frontline if Tosun or Calvert-Lewin plays, we must address this problem come January, as we can't rely on Richarlison and Sigurdsson being pretty much our only source of goals.
The problem wouldn't be so bad if we had regular scorers from other areas of the field but, like I mentioned before, if Richarlison or Siggy don't score, there is little likelihood of a goal.
Jim Bennings
13
Posted 07/12/2018 at 10:45:12
I don't think we'll be seeing Niasse again.
Silva seen enough of him and probably sees him in training and has arrived at the same conclusion that Koeman did.
The comedy of seeing him fall over and the ball bounce in off his arse has worn off now; he's a terrible footballer, can't trap a bag of cement and wouldn't get near another top 10 side. Even his attitude stunk in the games he did play in this season, especially Rotherham.
We need Brands at his best in January.
Dermot Byrne
14
Posted 07/12/2018 at 10:45:29
Tricky re Gomes. Can he shoot? Great if he can. Otherwise, we want a centre-forward who is very fast rather than traditional header of the ball. The future is fast play – not 30-goal Bob Latchford.
Brian Harrison
15
Posted 07/12/2018 at 10:55:23
Many teams have already started rotating players for this busy period, and they will do so right up to the first week in January. The problem for us is our first choice front 3 apart from Richarlison don't score enough goals, so rotating the forwards becomes a problem. We have Niasse, Tosun, and Calvert-Lewin as the main strikers if we move Richarlison out wide and all 3 have been found wanting.
The good thing is that both Marco and Brands have already proved that they can spot a player, and I am sure they have had long conversations between each other over the forward replacements they need. But buying players in general in January is difficult enough, to buy a top striker is almost impossible. So I am quite prepared to wait till the summer when again I think we will see many leaving the club.
My choice for a main striker, if he intends to play Richarlison wide next season, is either Wilson from Bournemouth or Rashford from Man Utd. I would also love Zaha but I think Spurs would be favourite to sign him. But I genuinely believe, if we can sign Gomes and get 1 or 2 forwards, then we will be challenging at least top 6 next season.
Amit Vithlani
16
Posted 07/12/2018 at 11:00:33
Unfortunately, Silva may need to rotate. It would be unwise to flog Digne and Gueye as both play in positions which demand high energy. Coleman too – although as skipper he may need to wait to minimise disruption.
So it would be back to our regular XI with rotations on Gueye and Digne. Then the next game Sigurdsson and Coleman. And so on.
Make 7 changes and win away from home? If only we had that kind of depth.
Brian Harrison
17
Posted 07/12/2018 at 11:20:48
I see Everton have appointed Gretar Steinsson as the clubs new chief European scout and Martyn Glover moves to chief UK scout. Steinsson played for Bolton he had been working as a technical director at Fleetwood Town.
It is understood that Steinsson will work closely with Brands and will manage a team of 7 European scouts; these will be working in Portugal and Spain, as well as scouts in Italy and France and South America.
Derek Knox
18
Posted 07/12/2018 at 11:27:27
Amit, a bit harsh there on both Digne and Gueye, the former had a below par game against Newcastle but, prior to that, has been an able left wingback who has slotted in almost seamlessly well.
I have heard criticism before in the direction of Gana, unfairly in my estimation, and I think he is very much an unsung hero, whose work-rate is phenomenal (not paraphrasing, Bobby Brown Shoes btw). Okay, he may have been a bit below his usual game against the RS and the Barcodes, but he wasn't the only one in the latter example.
He has complimented Gomes wonderfully (and I don't mean about his looks, lol). I remember well too, that when Schneiderlin was a regular, it was always Gana who did the hard work, and Schneiderlin got the plaudits, until people started noticing otherwise.
Admittedly we do have problem areas in the team and squad but, if fit, Gomes and Gana are shoo-ins, and pretty much also Digne.
Lenny Kingman
19
Posted 07/12/2018 at 11:52:49
Just to back up Jim on the Niasse issue.
He is probably League Two standard, though I may be overrating his ability with that ranking. Silva's no fool, he'll be looking to get rid if he can!
Tosun was a poor buy by you know who; Championship standard at best. Won't be missed when he is let go.
Jim Bennings
20
Posted 07/12/2018 at 12:17:52
I have to agree with you Lenny.
Niasse was there last season at a time when Everton Football Club capsized in front of our eyes, we had just sold Lukaku and we needed something and Oumar was there like a Denis Stracqualursi figure.
Reality is he just isn't good enough, never has been and never will be for a club with serious aspirations.
Tosun was a mistake but we never seem to learn in buying these strikers from weaker leagues for big money and it's always with that warning on the tag even Allardyce said as much when first signing Tosun.
We have done it too many times over the years, Niasse, Tosun, Bakayoko, right down to even cheaper signings like Madar.
The best striker signing straight from overseas for me was Tomasz Radzinski but we have had no joy since and the key is to buy from the Premier League when they have a proven record, Saha, Lukaku, Yakubu, Johnson, Kev Campbell etc.
I don't want to see us go out and spend £30 million on someone from the Hungarian league (example) and hear how many goals he's scored in the Europa League and see YouTube videos making him look better than Messi.
It's a totally different kettle of fish to doing it in the Premier League.
Iain Latchford
21
Posted 07/12/2018 at 12:34:10
Madar saved our arse, Jim. Without his goals, we'd have been relegated before we even got to the Coventry game.
Derek Knox
22
Posted 07/12/2018 at 12:39:00
Jim, I have to agree with your assessment of both Niasse and Tosun, as not being anywhere near good enough for the Premier League. I will hold back on Calvert-Lewin for the time being, but not sure if he will ever be anything above being a possible bench warmer.
I know Tosun's opportunities have been limited, but it is clear to see why: he wants too much time on the ball when, and if he receives it; also, his general control when receiving a ball with pace is very poor indeed.
In all fairness to Marco Silva, both were inherited from previous incumbents, and unfortunately in Tosun's case, for a large fee (which will never be recouped) and on massive wages. Which of course, makes it even harder to move him on without major losses.
I don't envy Marcel Brands, who has done a miraculous job thus far, in not only shifting a lot of deadwood out (many only temporarily though) but in his recruitment via the last window.
Like many have alluded to, January has never been a window for bargains, but if he can just pull another piece of magic off for the striking situation, we can survive till summer.
Tony Sullivan
23
Posted 07/12/2018 at 12:46:51
Liverpool bought Suarez in the January window. That would go down as a bargain in my book.
Iain Latchford
24
Posted 07/12/2018 at 12:49:11
They also bought Andy Campbell at the same time.
Jay Wood
[BRZ]
25
Posted 07/12/2018 at 12:53:39
I fully expect Niasse to leave in January.
Don't forget, Silva signed and played him and got a tune out of him at Hull, so it's not as though he is basing his decision about not playing Niasse on his time at Everton alone.
Everton needs goals. Niasse is someone on our books who has a good goals-to-minutes-played ratio, but is not getting anywhere near the matchday squad.
There is a reason for that and one that is not going to change anytime soon whilst Marco Silva is Everton manager.
Jim Bennings
26
Posted 07/12/2018 at 12:56:37
Iain,
I don't think I can ever remember Madar for anything other than that open goal sitter in front of the Kop to make it 2-0 and in Typical Everton fashion they equalised from the resulting goal kick, lol.
Derek Taylor
27
Posted 07/12/2018 at 14:09:26
I never dreamed that we would still be arguing over the merits and weaknesses of Oumar Niasse in December 2018. Honest to goodness that he is, he might make an impression at the likes of Fleetwood Town but he's good money thrown after dross at this level.
Whoever coined the expression 'seventhish', he would have it right with our present squad who repeatedly flatter to deceive. I'm enjoying the more imaginative football but we had all that with Martinez and we had a hot striker in those days – is there any chance we could get him back?
Sam Hoare
28
Posted 07/12/2018 at 14:38:47
Jim B, I think that type of thinking limits us severely. Look at some of the forwards for the top teams currently and the majority are foreign: Jesus, Aguero, Aubemayang, Lacazzette, Lukaku, Morata, Giroud, Firmino, Salah, Son and Mane. With only the likes of Kane, Rashford and Sterling from these shores.
Historically look at the likes of Suarez, Torres, Zola, Henry, Bergkamp, Ronaldo, Van Nistelrooy.
Steve Walsh had a preference like you for 'proven' Premier League players that lead to us signing Bolasie, Schneiderlin and Williams among others.
There are some good players in our league and I'm not adverse to looking at the likes of Callum Wilson but they come at a premium cost and little guarantee. Players should be judged individually on what they can bring to the team and I trust Brands to fulfill that job with good judgement for the most part. He certainly won't be limiting his search to the Premier League – and with good cause.
Andy Osborne
29
Posted 07/12/2018 at 14:47:01
Just a few figures, make of them what you will.
Richarlison has played 1,110 minutes so far this season. During that time the team has scored 17 goals, 7 scored by him.
Tosun has played 588 minutes, during which the team has scored 15 goals, with 2 of them scored by him.
Calvert-Lewin has played 379 minutes, during which the team has scored 4 goals, 2 of which were scored by him. Admittedly 6 of the games Calvert-Lewin has played he only came on the for last few minutes, so not much opportunity to be part of a team that scores.
Richarlison has scored 3 when playing as a striker and 4 when on the wing.
Tosun and Calvert-Lewin have scored the same as Walcott (2) and more than Bernard (0).
So, given these figures and given we don't have a new striker (yet), and given we want to play Richarlison on the wing, then Tosun has to be the striker, even though he doesn't score many himself.
I don't think Tosun is good enough, Calvert-Lewin has potential, but not good enough right now either. But we don't have another option.
Jay Harris
30
Posted 07/12/2018 at 14:52:04
Derek,
Lukaku might be a good goalscorer but him and the likes of Pogba are not a recipe for squad harmony.
Silva is just about restoring the team spirit we had with Moyes and is well aware of our lack of goals throughout the team.
I am sure he will address it sooner rather than later but, in the meantime, they need our full support and I don't mean the atmosphere against Newcastle.
If we want to lift the team we have to lift ourselves to be more supportive even when players make mistakes.
Goodison can be a bearpit but not only for the opposition.
Steavey Buckley
31
Posted 07/12/2018 at 14:57:08
Everton need more quality in midfield because the final ball is not finding feet or heads in the penalty area.
Also, Coleman is not the full-back he used to be when he used to surge forward more often into the penalty area. Bernard should be pushed into midfield to provide better front service because he has more skill than Gueye.
Upfront is of major concern. Walcott has basically stopped playing, while Tosun cannot score freely like when he was in the Turkish league.
The transfer season is not far away and I hope Silva can plug those holes when it opens. Mainly for 2 players who can finish upfront. That leaves Walcott, Tuson or even Lookman needing to find other clubs.
Jamie Crowley
32
Posted 07/12/2018 at 15:11:48
A few folks have forwarded the idea of Theo up top.
I actually think that might be worth a try. Put Theo at striker, Richarlison out wide left, and Bernard out wide right. Lookman off the bench for the time being, as he didn't perform against Newcastle too well, and has been superb as a sub.
I think it's definitely worth a shot.
Andy Osborne
33
Posted 07/12/2018 at 15:33:15
Jamie (32). I agree. He has scored 2 already from the wing. Which is the same as Tosun and Calvert-Lewin. I think Walcott should be given a shot at it. A small, fast striker, might give the opposition defense something different to think about.
Jamie Crowley
34
Posted 07/12/2018 at 15:41:13
A front three of Theo, Rich, and Bernard would be like attack of the gnats.
It's worth a try Andy, if only for the entertainment value alone.
Mike Gaynes
35
Posted 07/12/2018 at 15:47:52
Dermot #14, I've watched Gomes for several years and no, he absolutely cannot shoot. Scored only 3 in 78 at Barca and those were from late arrivals in the box, scoring from 12 yards like this: https://www.youtube.com/watch?reload=9&v=6teU_g95iDE
Derek #18, I partly agree with Amit. I started posting in the first half on the Forum that Digne needed a game off. He has never played this many consecutively in his pro career, and he looked jaded to my eyes. Baines for me on Monday, then Digne back in. Agree with you on Gana, however.
Jamie and Andy, who knows; might be worth a try with Theo. He's certainly not getting it done on the wing right now.
Kieran Kinsella
36
Posted 07/12/2018 at 16:04:04
Watford are similar to West Ham in that they have a lot of players who can look brilliant on their day (Pereya, Docuore, Geri versus Arnau, Yarmolenko, Hernandez). But "their day" comes about once a month. So they could thrash us or be thrashed.
Neil Wood
37
Posted 07/12/2018 at 16:26:54
I love this site's varied opinions, idea's and comments and fully appreciate the differing views of it's contributors. I like to feel I am one of them and I try not to criticise others views; however...
For anyone (Steavey Buckley the most recent) to possibly consider selling Lookman must be deluded. He is one of the most talented and gifted players we have had for a generation. He is 21 years old with literally the world at his feet.
People are lauding over players such as Jadon Sancho etc and we have a player who in my opinion is better than the lot of them. He is quick, skilful and technically gifted with a clear eye for goal. He has until now had very limited opportunities with us and hopefully he will be offered far more.
When he has been offered game time, he has shown his potential and his skill and given regular starts I genuinely believe he will be one of the best Premier League players.
I know he has been criticised for his attitude but despite it gnarling me a little owing to my love of Everton, I actually believe that world class players need a degree of arrogance and spirit. Whilst sulking is not the answer, the desire to play football week in and week out shows me that he thinks he is deserving of this and he believes he is more than good enough.
Apologies for going off on one, but look at some of the greatest sportsman of all time and they all have an air of selfishness and arrogance about them. Yes, there's exceptions but take these as examples:
Best
Cantona
Ronaldo
Shane Warne
Ronnie O' Sullivan
Mohammed Ali
Becker
McEnroe
Players need that extra belief about them. Show your better than anyone else then go out and prove it. Give this lad starts for the next 10 games and I guarantee the opinion of some will change.
I think we have an absolute gem here and to even consider his sale is ludicrous.
Rant over.
Derek Knox
38
Posted 07/12/2018 at 18:19:44
Mike @35, I acknowledge your point regarding Digne, maybe he does need a rest. I can't see Marco only bringing Baines back for one game, though I may be wrong; we will see.
Crazy to think, Mike, exactly 7 days days ago (BST) we were all in the Midland, such is the marvel of modern travel.
Mike Gaynes
39
Posted 07/12/2018 at 18:59:46
Derek #38... "marvel of modern travel" my (*bleep*) (*bleeping bleep*) (*bleepity bleep*). What I went through on this trip at the hands of Virgin Trains, the London train and bus systems and bleeping Lufthansa Airlines would be considered human rights violations if the UN ever got ahold of them. (I truly believe Lufthansa is the transport arm of ISIS.) Being there is great. Getting there and getting back has become a bleeping bleepity-bleep nightmare.
In Neil's words, rant over.
And Neil, speaking of which, forgive my ignorance but who is Ronnie O'Sullivan?
Jim Bennings
40
Posted 07/12/2018 at 19:08:51
I had a thought before when the discussion about set-pieces and our apparent weakness on scoring from corners but here's another one: When is the last time any Everton player scored an actual free kick?
I honestly can't recall the last free kick we scored can anyone else?
One time, not all that long ago, we had the likes of Baines, Arteta who were knocking them in on a regular basis from 25 yards and even Mirallas scored a few but I'm wracking my brains to recall the last time we scored a free kick?
Jim Bennings
41
Posted 07/12/2018 at 19:11:07
Mike #39
Ronnie O'Sullivan pots snooker balls from lampshades, basically he's the Lionel Messi of snooker lol.
David Greenwood
42
Posted 07/12/2018 at 19:14:06
Baines v Newcastle I can recall. Several years ago.
Can't think of any more recent ones, Jim, but there must be some.
Kieran Kinsella
43
Posted 07/12/2018 at 19:17:31
Jim Bennings
There aren't a lot of goals directly from free-kicks these days. It was all the rage in the 90s. I don't know if it is the lighter balls or that goalies wised up after watching 99 free kicks on the "100 Greatest Goals of the season" but they seem to be few and far between these days. Especially, the top corner variety. The ones going in these days tend to be around the wall, (as opposed to over it), or under the wall (when they jump).
Kieran Kinsella
44
Posted 07/12/2018 at 19:24:55
Jim 41/David 42
Further to my comment at 43, I did some digging and the official Premier League website had an article on this topic pretty recently. Funnily enough, it was illustrated with a picture of Baines taking a free-kick.
Seemingly, teams are giving up less free-kicks in goal scoring positions. 600 direct free-kicks in 2005 versus a little over 300 last season. Willian of Chelsea had the 4th most free-kicks on target, not scored, but just on target, and his grand total of on target direct free-kicks was a meagre 4. Sanchez and De Bruyne were joint second with 5 on target, and Erickson was number one with 7 on target.
The percentage of direct free-kicks scored is less than 5 percent. Apparently, that number has held fairly steady but, with half as many free-kicks, the number scored has halved.
Kieran Kinsella
45
Posted 07/12/2018 at 19:28:23
The last one scored was probably Barkley away at Swansea.
David Greenwood
46
Posted 07/12/2018 at 20:06:11
Cheers Kieran.
Bill Gienapp
47
Posted 07/12/2018 at 20:07:19
Jim (40) - Lukaku scored one against Crystal Palace in Koeman's first season. That's the last one I can think of.
John Raftery
48
Posted 07/12/2018 at 20:12:31
Lukaku scored one against Palace in September 2016. The last time Baines scored direct from a free kick was at West Ham in September 2013 when he scored two in our 3-2 win.
Derek Knox
49
Posted 07/12/2018 at 20:34:30
John @48, you never cease to amaze me, John, with your recollection of statistics from games gone by, sometimes longer back than we care to admit to.
I know you do it without the aid of a computer or books as, having met you in person, I can attest that you are a font of knowledge for all things Everton.
Jim Bennings
50
Posted 07/12/2018 at 20:37:45
That's right I remember that Lukaku one now in the Friday night game against Palace!
I agree it's not something you expect to see every other week but we seemed to score at least one or two a season until recent years when it's just dried up altogether.
Anyone remember the unlikely free-kick expertise of Lee Carsley in 2004?
Jim Bennings
51
Posted 07/12/2018 at 20:57:29
Maybe an even more unlikely free-kick scorer I've just found out.
Gary Naysmith in a 3-1 win at home to Spurs in 2004 lol.
I've been a bit disappointed with Gylfi on the free-kicks so far given his record on them at Swansea, he's barely hit the target with one.
Tony Abrahams
52
Posted 07/12/2018 at 21:04:16
What about corners? We scored our first goal this season from one on Monday, but they really are shocking.
Was Mina's header on target, and come to Richarlson via a deflection, or did he not make proper contact, and it glanced across the area?
I ask because I can't believe we never put anyone on the near post, even when the pitch is soaking wet, and it really is frustrating, that we don't cover all angles, in such an important part of the game.
Go back to the Gary Stevens corner and I bet you we would still score loads of goals?
Karen Mason
53
Posted 07/12/2018 at 21:05:52
While I am very encouraged by the improvement in both our team play & individual players, under Marco, I would dearly love to see a little more imagination on free kicks & corners. I'm not big on stats but think we won around 14 corners vs Newcastle, but can't remember us actually winning a header from them.
For all the time the players & coaches spend on training, surely they can come up with free-kicks & corners that ring the changes & keep the opposition defence guessing. If we were a little more creative with set-pieces, perhaps we would see a reward for all that possession.
It would also, IMO, take some pressure off us if we could pop a few goals in from set-pieces. But alas, I watch the same thing happen week-in & week-out on corners particularly. I am not asking that we score directly from a free-kick or corner, but we have enough skillful players with fast feet who could conjure something if perhaps the ball went into the box hard & low sometimes, rather than always the high ball. Just a thought.
Jim Bennings
54
Posted 07/12/2018 at 21:32:48
Andy Hinchcliffe was my favourite corner taker of all time.
When Big Joe took over in 1994, every time we got a corner it felt like a penalty, Hinchcliffe seemed to whip in those inswingers like they were fired from a cannon and all they needed was a deft flick usually from Dunc or Rideout.
I personally hate our corners now, those stupid outswingers and the way we just float them in slowly, like kicking a beach ball, you are then asking for the attackers to that corner to generate all the power with a header.
John Raftery
55
Posted 07/12/2018 at 21:45:25
Derek (49), Cheers mate. Some say I should go out more! There is nothing to compare with living and breathing incidents as they happen, especially goals.
I suspect remembering stuff is a declining currency because people can access so much via the internet. Even for those of us who are fortunate enough to be able to attend every match, our memories are blurred by the repeated television footage of every goal from every angle. So increasingly what stays with us are the TV pictures rather than the view from our seat in the Stand. The introduction of VAR will reinforce that trend.
Jim Bennings
56
Posted 07/12/2018 at 21:54:25
I can never understand why people would deride set pieces. When you think over the years some of our biggest goals scored have come from set pieces.
Big Dunc twice against Man Utd 1995 and 2005.
Dunc against Liverpool in 1994.
Matt Jackson set the ball rolling at Elland Road in the '95 Semi-Final, thanks to a Hinchcliffe beauty.
Can't understand why we have neglected them so much.
Michael Lynch
57
Posted 07/12/2018 at 21:57:21
With regards to our corners, I can only assume that when it comes to working out a few routines in training, Silva turns round and says "sorry lads, out of time, we'll work on this next week", and next week never comes.
There can be no other explanation for us lumping it in time after time, occasionaly beating the first man, and usually plonking it straight on to the head of an opposing defender.
Our lack of imagination against Newcastle was disappointing.
Bill Gienapp
58
Posted 07/12/2018 at 22:20:04
While we haven't scored directly on a free kick this season, we *did* have that excellent one against Southampton, in which we took it short, then Schneiderlin slipped the perfect, no-look throughpass to Walcott, who buried it. Clearly something that had been rehearsed on the training ground. More of that, please!
Mike Gaynes
59
Posted 07/12/2018 at 22:41:14
Quick off-topic note especially to the Yanks on the board: The latest young US forward "hopeful", Josh Sargent, scored just two minutes into his first-team debut at Werder Bremen today. Came on as a sub and tapped in a header.
And there's as Everton connection -- the cross that resulted in Sargent's goal was supplied by... Davy Klaassen.
Mike Gaynes
60
Posted 07/12/2018 at 22:43:05
Michael #57,
Silva clearly does work on them. The routine that produced Mina's early header against the RS was lovely – Mina just missed it.
And I watched us repeatedly running patterns on corners against the Barcodes... but again, the execution just sucked.
Tom Bowers
61
Posted 07/12/2018 at 23:42:03
Every game in the Premiership can be a tough game even if you are at the top and playing the bottom club.
Some of the top teams can struggle early in the game because the lesser club comes out fresh and fighting to stay in the game but when you have the offence of City or RS it's usually a matter of time before you take control.
Everton are as we all know still quite weak up front and without Richarlison or Gylfi on song, games will be hard to win.
It goes without saying that we all want some additions in January to improve the situation but no point going after another Tosun or Niasse type.
Better to wait until the Summer if the pickings are slim in January.
Don Alexander
63
Posted 08/12/2018 at 01:52:05
There's discussion above, and beyond, of how inept we are when it comes to corners and, by inference, free-kicks too.
I wholly subscribe to the view that we, Everton, are appalling! While I'm very much encouraged by M&M in other areas of play, I just cannot get my head around why our hugely and obscenely paid players remain so fucking useless at this basic skill — a skill that should become second nature following enough hours practicing at Finch Farm.
Any response, Marco?
Wayne Maher
64
Posted 08/12/2018 at 02:06:38
Why bring Tosun in to start? I understand Lookman but what has Tosun done to earn a start? He is crap.
And Zouma and Keane should be first choice they were doing okay before the Chelsea game. We had no choice to start Mina cos of the loan deal but Zouma should've come straight back in.
Laurie Hartley
65
Posted 08/12/2018 at 03:03:06
I would start our strongest team against Watford. Don't worry about Christmas – a bird in the hand is worth two in the bush.
Front three: Bernard, Richarlison and Walcott.
I would pick the same team that started the derby with the possible exception of Zouma. His pace saved us on at least one occasion against the Toon.
As far as a striker goes, someone made a shout for Balliotelli the other day, which I don't think got much of a response. He would take a bit of managing but I think Silva could bring out the best in him.
When he is on blob, he is the complete centre-forward, big, mobile and scores goals. I think he would thrive in this Everton team and I think he is only 28.
He is out of contract and Inter are sniffing but he is cheesed off with the fans. I would like to see us go in hard for him.
Brian Murray
66
Posted 08/12/2018 at 03:03:56
It's a bit like that idiot Martinez refusing to practice any defensive play. Set-pieces win you points and trophies plus we have the players to execute them. It sounds dramatic but, if Silva continues to ignore this aspect, it will cost him his job sooner rather than later. Same with in-game management of subs being very weak.
Bill Gienapp
67
Posted 08/12/2018 at 03:23:36
Wayne,
Keane and Mina were on the brink of a third consecutive clean sheet before the derby calamity – that's nothing to sneeze at, particularly when you're playing the likes of Chelsea and the RS on the road. They'd basically played over 270 minutes of scoreless football since being paired together.
I agree that dropping Zouma is harsh, but Mina has the highest ceiling, poses the greatest threat on the offensive end, is exactly the sort of big personality this club desperately needs, and isn't just here on-loan. We would be crazy not to play him.
John Pierce
68
Posted 08/12/2018 at 04:01:00
Set pieces are bonuses. They really are not a staple by which a team gets its goals.
At this point, various people will scream Pulis or another dour relegation escape artist. I hope we are not aspiring to replicate that nonsense.
Somewhere, I think it was Matt Cheetham, stats-man, said teams score on average >2% from set pieces.
Let's be honest, Everton look more dangerous from opponents set pieces than our own!
The point I guess is the football we are developing and aspire to doesn't involve lumping the ball into the box unless we are desperate. I'd rather we critique our passing from open play than our delivery from a corner.
We have the 2nd most corners after Man City. Are they banging them in left right and centre? Nah.
Is Virgil van Dijk turned into Degsy Mountfield overnight? No chance.
A better question is if our play is clearly good enough to win loads of corners, why aren't we converting the shots or passes better that yield those corners in open play?
I think we are looking in the wrong place for improvements.

Jamie Crowley
69
Posted 08/12/2018 at 05:33:17
Laurie @ 65 -
A bird in the hand is worth two in the bush.
Yup.
We need to stop the rot. Now losing at Mordor the way we did – freak occurrence – and managing a point against the Barcodes isn't exactly a certifiable rot. But still...
We need to field a top line-up and grab three points.
If you give up two home games with only 1-2 points and lose to Liverpool? That's a rot.
Stop it in it's tracks.
Henrik Lyngsie
70
Posted 08/12/2018 at 06:17:36
John 68. It is not either or. We should improve our dead balls. And in the same time be better converting some of our nice build-up play to chances and more of our chances to goals. 76% possession, 14 corners and 3 shots on target against Newcastle.
John Raftery
71
Posted 08/12/2018 at 08:18:08
Without checking stats, I guess Phil Jagielka has been our most prolific scorer from corners over the past decade. I seem to recall him scoring two or three a couple of years ago under Koeman including one at Old Trafford when he hooked a finish past De Gea at the far post. He was never the tallest but he knew how to time and position his runs.
Given how poor our conversion rate is from the traditional cross, it is surprising we do not use a short corner more often. Generally we are poor at converting crosses, whether from set pieces or open play. Rarely do any of our forwards make a run to the near or far post. Most of the time they appear to be stationary. The exceptions were the two headed goals scored by Richarlison and Sigurdsson at the Park End earlier this season.
Tony Everan
72
Posted 08/12/2018 at 08:27:39
I am waiting for the ''young guns'' forward line to make a starting appearance. The theory being that they will feed off each other and the buzz will make them click and become more than the sum of their parts. This alchemy is the dream of any football manager.
Good arguments can be made that Walcott, Tosun and Bernard have not been performing to the standard required. So there is an opportunity to try something a bit different, with three quality young players. Imagine the buzz if the three of them do turn on the style and produce the goods.
Richarlison on the left, Calvert-Lewin centre-forward and Lookman on the right.
Chris Gould
73
Posted 08/12/2018 at 09:38:34
Richarlison's shot-conversion rate and shots-on-target rate are right up with the very best in the league.
We are simply not giving him enough service. There are many saying that he's better on the left, but he has everything needed to be a top striker. Everything except decent service. For all of our fantastic build-up play, we just don't create enough clear-cut chances. The final ball, cross, through ball is often just not good enough.
I believe Richarlison is the answer up front, but the service into him has to improve. There have been a few shouts for Walcott to start up front, but he is a very poor finisher and it never worked at Arsenal. All Walcott offers up front is acceleration, but Richarlison doesn't lack in that area and is a far more accomplished finisher and all-round player.
It's actually very hard to see what we're doing wrong. So much looks so good, yet our front 3 are not getting a lot of clear chances. It always looks close, and you think they're going to get in, but then the final pass or decision-making is poor.
I think Silva will keep faith with his front 3 in the belief/hope that this team will really click when given enough time, patience, and belief.
Sam Hoare
74
Posted 08/12/2018 at 10:26:49
Chris, I agree, Richarlison has the assets to be a top striker and I highly doubt we will find better than him in January. Good wingers or wide forwards are easier to find.
I'd stick with Bernard, Richie, Lookman for a few games. Although Lookman was a bit disappointing against Newcastle he still had better stats than Walcott's average at Goodison, read this: Link
Henrik Lyngsie
75
Posted 08/12/2018 at 11:20:02
Whoever plays at the right wing will be handicapped by Coleman's limited passing ability.
The way we are playing, a lot of the buildup goes through the full-backs. And, while Coleman is decent when he is using his speed and overlapping etc, he is very limited in his passing.
Coleman has been serving us well. But his assets are speed, passion, commitment etc which are all useful. But Silva requires also technical ability and passing skills so I think he will upgrade us on the right back as one of his priorities.
Steven Jones
76
Posted 08/12/2018 at 11:21:29
The beauty of Walcott is his running in behind defences and he does create space and room to play for teams – and even some chances. He will still contribute a number of goals this season.
Colin Malone
77
Posted 08/12/2018 at 11:47:36
Give Lookman a chance. Eleven men behind the ball, twice his size, is going to be tough.
I've noticed that when we play totally defensive teams, we don't see the best of Idrissa Gueye. He's a diamond but he's wasted, redundant against these teams.

John Pierce
78
Posted 08/12/2018 at 12:10:13
Henrik, for me why bother improving corners when the maximum ceiling for a return is so low?
What you say is perfectly sensible. But look at Man City: their corners (I believe) are mostly short and they try and immediately engineer open play were they are stronger and more likely to score.
Ultimately, corners and free-kicks are just a throw of the dice.
Corners are an element of football raging against the dying light. With the implementation of VAR, corners will change from their current iteration.
But really what I was trying to say is there is too much emphasis placed on set-pieces to be improved, and far less attention to open play.
Jim Burns
79
Posted 08/12/2018 at 12:32:07
Tony at 51, Karen at 52 and others commenting on our conversions from corners — I've posted on another thread that I believe the goal by Rickie on Wednesday was our first from our last 83 corners, including the 14 that night.
It is mind-boggling that nobody ever seems to get a decent run on the ball and how rarely we work the near post.
We definitely need a half decent striker who can play on the front foot in the 6-yard box in particular – but we have enough height and power in our current centre-halves to have done more.
Watching the corners and crosses coming in on Wednesday was frustrating to the point where I found myself picturing Cahill back in there – it didn't help my sense of despair.
Thomas Lennon
80
Posted 08/12/2018 at 12:47:34
The chance of scoring from a corner overall is about 2% which doesn't sound much until you consider the chance of scoring from open play is around 1%.
Set-pieces have their place even in elite footy – 15 goals and 6 or 7 points a season.
John Smith
81
Posted 08/12/2018 at 13:09:52
Hi there,
Bit of a shot to nothing here. Any chance that anyone is driving over from Newcastle and has space for two people?
Would be greatly appreciated
Henrik Lyngsie
82
Posted 08/12/2018 at 13:32:58
John 78,
Obviously there are different strategies on set pieces. But since we cross it into the box every time I think it would be useful to practice it (which I off course think we do). I read we scored 1 of 93 corners. If that stat could read 3 or 4 goals from corners, that would mean a lot in terms of league position.
I get your point that there is also room for improvement in converting our nice open play to chances and ultimately goals. 76% possession and 3 shots at target is not very impressive against Newcastle. I was at Goodison Park against Cardiff and have not seen the stats but my impression was it was same pattern.
On the VAR, wouldn't that be an advantage for the attacking team? And hence an argument for even more focus on corners.
Interesting article, Thomas @80. That was actually what I referred to on another thread stating that Midtjylland won the Danish League from being best at throw-ins!!!?
Jay Wood
[BRZ]
83
Posted 08/12/2018 at 13:54:30
Thomas @ 80.
That's a fascinating and revealing article: Link.
Thanks for sharing. I've bookmarked the site for future reference.
Did a quick scroll through the site to find Everton-related articles and came across this one that attempts to show that Idrissa Gueye is THE MOST KEY PLAYER in Silva's game plan.
Idrissa Gueye Powers Everton's Surprising Defense
Really great site, Thomas. Thank you again.
Eddie Dunn
84
Posted 08/12/2018 at 15:52:05
Good comment on the corners. Indeed the attacking team are often caught on the break from their own corners.
Man City taking them short is sensible. Today with taller keepers and centre-halves, the corner is less productive.
Jim Bennings
86
Posted 08/12/2018 at 16:15:45
A bit of imagination from corners wouldn't go amiss.
Remember the Teddy Sheringham - Darren Anderton combo playing for Spurs in the 90s?
Anderton used to drill a low corner to the edge of the box for Sheringham to sweep home low and hard.
We don't have any variety, it's just float one in slowly and too high, hope for the best and nothing happens and it's the same end product repetitively.
Mal van Schaick
87
Posted 08/12/2018 at 17:41:54
Dave Thomas for Bob Latchford crosses and goals galore.
Watford may be a Newcastle type game, a combative midfield, with a few chances either side. My best guess is to make a few changes, say give Calvert Lewin a chance, for one and maybe be more patient in the attacking build up and making runs from deeper positions.
I'm just hoping with a good game plan, we will be able to undo Watford.
Barry Connor
88
Posted 08/12/2018 at 19:32:03
I just watched the Chelsea v Man City game and I am convinced that, if we had played an unchanged team vs the Barcodes, we would be 2 points better off.
Momentum and pace are invaluable in the Premier League so we should revert to Richarlison up front, Bernard on the wing for the Watford game in order to get back on track and above Man Utd.
Derek Knox
89
Posted 08/12/2018 at 19:45:02
Barry @88, I understand where you are coming from, but it's hypothetical unfortunately, I was thinking during the same match that this does not appear to be Man City's day.
As has been quoted many times, the season is a Marathon, not a sprint and tends to level itself out come the end of the season.
Our neighbours will be cock'a'hoop now that they are the only team with an unbeaten record, but by virtue of that very fact, they will become 'the target' that everyone wants to knock off their perch.
Okay, they are playing well and getting more than their fair share of luck, or is it some Faustian Pact? Either way, their day will come, when hopefully they go on a downwardly spiralling run, or we will never hear the end of it.
Brian Wilkinson
90
Posted 08/12/2018 at 19:57:11
I cannot believe all the attack on Niasse. Okay, the guy will be on his way and yes we are moving forward and hopefully will bring in a top class striker.
At the same token Niasse does not deserve the Shiite he is getting on here, at a time when we had dark Days, he came out of the wilderness and popped up with some vital goals. He's no world beater and yes he struggles to trap a ball, but he never gives up and owes Everton Football Club nothing.
The same happened when Coleman's form dipped, same with Sigurdsson, Keane, Jagielka, every one of them pilloried to death on here.
It's time you looked back and seen what these players have done for our football club instead of taking cheap shots at them.
We will move forward, we will upgrade on a centre-forward, but the abuse on here about Niasse is wearing thin.
Russ Quinlan
91
Posted 08/12/2018 at 20:53:37
I know some of the crosses and corners this week were awful, but we have at least 4 players well over 6ft (Zouma 6'-3", Mina 6'-5", Keane 6'-2" and Sigurdsson 6'-2" plus Calvert-Lewin at 6'-2") and even when we do get a decent ball in the box, nobody can head the friggin ball!! Look at Minas 'effort' on Sunday ffs!
I had hope when we signed him we would have another weapon to use from set pieces but it's just not happening.
Do they not practice it? Is it the fault of the guys putting the ball in? Or are they all just shite at heading?!!
It's doing my head in when we have had so many brilliant headers of the ball in the past with nowhere near the apparent ability of the current players but they were goalscorer even if they were defenders.
Laurie Hartley
92
Posted 08/12/2018 at 20:54:06
Jay #83 – I followed and read the link about Gueye. Going by that, he has to be the first name on the team sheet.
Mike Jones
93
Posted 08/12/2018 at 22:04:24
Gary Lineker just said the top 6 are on Match of the Day tonight, before the programme starts. That's a lie. Man Utd are 6th now but we're not before play started today.
MotD plays on pretending we don't know the scores, so it was a false statement. That's something to get annoyed about — not that Liverpool are a good team.
James Flynn
94
Posted 08/12/2018 at 22:48:47
Thomas (80) – What Jay said. Great read.
Jay, thanks for finding the article about Idrissa. We know and respect what he brings to the team. Seeing it broken down the way the author did points out just how important a player he is for Silva's strategy.
Mike Gaynes
95
Posted 08/12/2018 at 23:17:53
Jay #83, I've bookmarked that article for my next debate with Darren Hind over whether Gana is merely a "tackling machine", to use his favorite insult.
John G Davies
96
Posted 08/12/2018 at 23:23:25
In my opinion, Gana is and has been more than a tackling machine.
But, to be fair, he has improved a lot in other departments since he had the shackles Schneiderlin put on him removed.
Dick Fearon
97
Posted 09/12/2018 at 08:16:17
If Lookman is in our team and Deulofeu in theirs, we will be able to compare them.
IMO, Deulofeu, who many TWebbers considered a bit of a show pony, is far more effective.
Clive Rogers
98
Posted 09/12/2018 at 10:05:52
It sounds like Silva is going to play three at the back with the fullbacks pushing forward. With Zouma coming in, who drops out?
Andrew Clare
99
Posted 09/12/2018 at 10:32:12
We expect all of the bottom half of the table teams to arrive and play a defensive game hoping to nick a goal on the break. That is usually the case but we shouldn't underestimate them as most have handy players that can cause trouble.
The current top six teams seem to have the knack of holding things together against the defensive sides and then inevitably, after a lot of patience, score in the final minutes to win the game.
When we go a goal down against these sides, it's like we have a mountain to climb.
I would like to see our players attempting to dribble into the box as this always seems to create panic in defenders who are well-drilled at blocking shots and passes but seem to go to pieces when a forward is approaching them doing anything out of the ordinary.
I'm sure everyone will agree that Watford will be far more of a handful than Newcastle were so we really have to be at the top our game to win this match.
James Stewart
100
Posted 09/12/2018 at 12:11:04
@7 I think you are correct. Niasse, clumsy as he is, is the best goal threat we have from the bench. This was evidenced last season.
We wasted a lot of money on Tosun and he has scored less than Niasse. Says it all really.
Jay Wood
[BRZ]
101
Posted 09/12/2018 at 12:41:51
James @ 94 and Mike @ 95.
Whilst personally not surprised at the article that highlights the importance of Gueye to the team, I don't think it tells the full story.
It kinda touches on it without expanding on it when mentioning how high a press Everton make, basically leaving the two centre-backs (and Gueye) to protect our goal.
I think Silva's game plan is more subtle than that.
Yes, when the opposition is in possession from their goalkeeper or across their back line, we are in their faces. BUT! The thing is we don't get 'physical' with them.
I've previously described it as the 'non-contact press'. That is, we don't go in to win the ball which, if we lost that battle, would leave us a man down behind the play with a chance for the opposition to make in-roads on us.
No. Silva has set the team up to cut out the passing lines of the opposition from the goalkeeper or from their own half. This results in two things:
1) They cannot counter-attack on us quickly, so we have time to re-organize our defensive lines with the advanced full-backs tucking back in to fulfil their defensive duties
2) In trying to break the high press, the opposition frequently attempts a higher risk ball out from their half, which either our forwards pick off or, in the rare cases the ball does make it through to midfield or into our half, that is where our very own 'seek and destroy' Idrissa Gueye comes into his own and picks it off.
A consequence of 2) is that we potentially have a numerically overload to attack the opposition's goal.
The defensive organization of this system appears to be working really well, as the numbers of goals conceded since 6-7 games in has radically decreased. The offensive side still needs tweaking and refining as we are not getting the goal return required to ensure a comfortable victory each time.
Now, of course, other teams will get wise to this and work on counters to it. But given time and the right personnel, I'm confident Brands and Silva can get this balance right.
Brian Murray
102
Posted 09/12/2018 at 14:22:07
To do wingback formations or otherwise, we need athletic full-backs with also a bit of savvy. Sorry to labour the point but we need players of that ilk in January – especially if Kenny won't or can't step up that side of his game.
Enough said about Seamus; great servant, like Baines and Jagielka, but a club our size should never be relying on them at this stage of their careers – even as a back-up.
Despite giving the shite one almighty scare, we still handed it to them on a silver platter... partly because of the fear factor as the minutes tick by.
We need winners from somewhere. Including a manager who believes in himself and the team. Silva, we hope, is that man. Not so far...
David Hallwood
103
Posted 09/12/2018 at 14:48:00
I thought I was in a minority of one in wanting Walcott to play down the middle, so I'm pleased someone agrees.
A) he wants to play there;
B) He's got lots of footballing nounce and, if used Vardy-like, would give defenders lots of headaches;
C) Richarlison doesn't seem to want to play up top as he plays everywhere bar.
On to Gana. What do you say? The positives are super positives but the negatives are also super. Like not being able to consistently deliver a 5-yard pass. And don't even mention his goal-scoring or assist record.
Ultimately, I think he should be replaced with someone with a better passing range.
Derek Knox
106
Posted 09/12/2018 at 15:34:42
David, I don't know why you thought you were in the minority, many of us have suggested the same, personally I think with the lack of an effective striker at present it is definitely worth a try at least.
Unfortunately Marco Silva doesn't read ToffeeWeb! I say that obviously with tongue in cheek, but often suggestions from the terraces of TW, do eventually come to fruition with varied successes, or failure.
Like you succinctly say, I remember before he came to us he expressed being in the striking role was his favoured position, there is no doubting his pace and eye for goal, it has to be better than the other alternatives at present.
Jay Wood
[BRZ]
107
Posted 09/12/2018 at 15:45:12
David @ 103.
Re: Gana.
I think you are repeating an urban myth about his passing range.
Opta stats and the like make a nonsense of your claim. And this season he has been spraying accurate long-range passes across the width of the park.
All players will eventually be replaced, but why advocate that NOW for a player who is in the top 3 rankings in the Premier League for his role and what he does?
Fran Mitchell
108
Posted 09/12/2018 at 15:49:47
David, replace Gueye? Aruguably our player of the season so far? Are you mental?
He does give the ball away, but usually wins it back, and his game is not about direct assists or goals. That is what Gomes is for.
Gueye is the first name on the teamsheet. Hopefully Davies can develop into a player able to do Gueye's job, but to simply 'replace him with someome with a better passing range' is basically asking to simply find the best midfielder in the world.
Honestly can't see us getting Kante or Busquets, to be fair.
Paul Richards
109
Posted 09/12/2018 at 16:29:09
"He does give the ball away, but usually wins it back, and his game is not about direct assists or goals."
I think his passing is actually okay but why, in the name of Holy Fuck, is he allowed to take shots at goal the stand behind the goal in almost every game?? Drives me apeshit to see him so wasteful. He has no idea where the fucking goal is.
[Cue some bright spark telling me he's actually scored a goal or two for EFC...]
David Hallwood
110
Posted 09/12/2018 at 16:38:42
Thought I'd need the tin hat!
First Gana; I did say that the positives are super positives and there's little doubt that his closing down, tackling etc is first rate. However and regardless of stats, I'd be prepared to sit down through 5-10 games (yes I'm that sad that I've got them all recorded) and just concentrate on his distribution the amount underhit or stray passes which undoes his good work getting the ball.
BTW, I'm a Gana fan and, since Schneiderlin has left the building, he's been freed to express himself. But to make the point that any holding mid who can pass a ball consistently 15 yards is in the Busquets league, I'd have to disagree with that one.
But I was just asking the question: Do his positives triumph over his negatives? And I'm agonising about that.
Moving over to Walcott; I must be reading or not reading the fan pages, because all I've read is the opinion that Lookman should be given gametime as opposed to Walcott to be switched to the centre. But nice to see people are for it. 'Tis a game of opinions.
Harry Hockley
111
Posted 09/12/2018 at 19:25:52
We're not doing as bad as some are perceiving just now; yes, it was disappointing not getting positive results against the Red Shite and Newcastle, but anyone with a rational way of analysing our last two games will realise we're very much heading in the right direction and quite quickly.
We should've beaten Newcastle but we lack that clinical touch in front of goal at the moment, which is worrying, but not as worrying as when you're not creating any chances at all.
Last season wasn't that long ago and we have come a hell of a long way since the flatline football we were playing back then, we were a mess. I for one am very happy at the improvements and changes that have happened in such a short time and I can only hope Silva and Brands continue to build on their excellent start at Everton.
We're starting to turn the corner at last and there's going to be setbacks along the way, like the Newcastle result, for example... Although I wouldn't really class a draw at home as a setback but the expectations here are so high – too high at times given the situation last season – but we can't win every game and there will be more games like that to come. Teams come to defend against us now and park the bus as such which tells me they fear us and our ambition.
Patience is the winner here and we all need to get on it and not be so negative and irrational when we don't beat a small team. It's not a nice feeling, it's a kick in the wotsits that's for sure. Silva needs to be given time to implement his ideas and get the right players in. If that happens, then maybe we'll lift a trophy; if not, the misery will continue.
Jerome Shields
112
Posted 09/12/2018 at 22:57:55
Silva would be well advised to have a good look at the Newcastle games and workout the Benitez tactics, which he was outfoxed with.
Add Your Comments
In order to post a comment, you need to be logged in as a registered user of the site.
Or Sign up as a ToffeeWeb Member — it's free, takes just a few minutes and will allow you to post your comments on articles and Talking Points submissions across the site.