Richarlison talks goals and squad depth
Wednesday, 19 December, 2018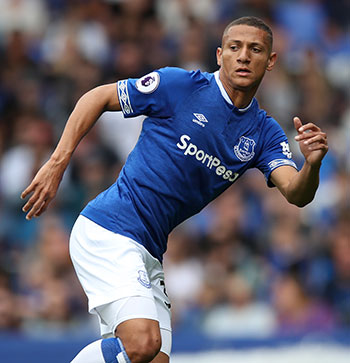 Richarlison says he intends to work hard to remain among the Premier League's top goal-scorers and help Everton get back to winning ways, starting on Sunday against Tottenham.
The Brazilian forward has eight goals to his name from 15 league games but was unable to improve on that tally at the Etihad Stadium where he missed a great chance in the first half as the Blues lost 3-1 to Manchester City.
He says that he wants to keep scoring but insists he is happy as long as the team is winning.
"Every time I go on the pitch I want to score and help my colleagues," Richarlison told evertonfc.com. "But unfortunately that did not happen [against City].
"I would also like to stay among the top scorers in the league but the most important thing is to win matches and I am going to work hard to make that happen.
"The team played well [on Sunday]. We had opportunities to go ahead - I had that chance but unfortunately missed it.
"The next game is Tottenham and we will be aiming to get the three points."
Richarlison and his team-mates are preparing for the visit of Spurs this weekend and then the traditionally hectic Festive programme that will see them play four times in the space of nine days.
That will inevitably require some players being rested and it will give opportunities for those squad members, like Dominic Calvert-Lewin who scored against City, who haven't been a part of what has been a fairly consistent team line-up over the past couple of months.
"There has to be some rotation given tiredness, the amount of games in December – it is busy," Richarlison explained.
"We need some respite, but that creates opportunities for other players to go on the field and send a message. [Strength in depth] is essential for the team.
"Dom is a great player and helps out loads up front. He holds up the ball really well and scores goals.
"He is still very young so there is room to develop. But I think he will be really important in helping us out for the rest of the season."
Marco Silva had indicated after Sunday's defeat that more performances like that from Calvert-Lewin will keep him at the forefront of his thinking as the season progresses.
The 21-year-old has scored five times this season despite having only started six games in all competitions and he will be hoping to bolster that tally over the Christmas period.
"He has to keep working like he is working, keep improving and show to me more desire and the desire to be our first-choice and be ready like he showed on Saturday afternoon," Silva said.
"He is a young player and we have to show some patience with him as well but he is a player we believe in as a club and I believe in as a player.
"In his moments he has his chances like this afternoon and he has to show this.
"He scored once and has a fantastic chance to score a second goal as well. We have to support him and, sometimes, the strikers need the team to create for them."
---
Reader Comments (140)
Note: the following content is not moderated or vetted by the site owners at the time of submission. Comments are the responsibility of the poster. Disclaimer
Ajay Gopal
1
Posted 19/12/2018 at 08:16:20
I will repeat again — Richarlison, Calvert-Lewin and Lookman can be our future front line. They need a run of games together to gel and the important thing is to play for each other – like Mane, Salah, Firmino and Shaqiri for the unmentionable team and Sane, Aguero, Sterling and Jesus for Man City.
Jim Bennings
2
Posted 19/12/2018 at 08:30:59
Ajay,
I'm sorry but Calvert-Lewin and Lookman can be a stopgap at very best.
We can't challenge the top 6 or 7 with that attack, we just can't — and you wouldn't see any manager of a top six club suggesting those two will be the future front line.
We are currently a top 8 side making the mistakes you'd expect a top 8 side to make.
I have no doubts this current squad is not good enough to finish inside the top 6.
The way it can finish in the top 6 is by buying better players in each transfer window — that's how the top sides remain up there, by improving the quality in each transfer window.
Kevin Prytherch
3
Posted 19/12/2018 at 08:38:27
Jim,
Calvert-Lewin, Lookman and Richarlison are all around 21 years of age. How well do you think Salah, Firmino and Mane we're playing at 21?
Those 3 have the potential to be a very good front 3. Play them now and we'll reap the rewards in a couple of years.
Mark Andersson
4
Posted 19/12/2018 at 08:43:21
Young and hungry for success; let's hope they all come of age and become new blue heroes... it's been a very long time in coming.
Martin Berry
5
Posted 19/12/2018 at 08:47:14
I cannot agree with Calvert-Lewin and Lookman being a "stopgap".
I think in Dominic we have a rarity in the Premier League, an English lad who, at centre-forward, is a tall, very fast, physical specimen who can score goals with feet and head and not yet 22. Tell me another player at his age of his type in the Premier League, a potential excellent target man.
As for Ademola we are talking about another 21-year-old who has an amazing future with brilliant quick feet, he was excellent when he came on against Man City and is going to be a star.
These lads are still young, they just need a little time; to say they are stop-gap at their time of development is just short-sighted and nonsense.

Derek Knox
6
Posted 19/12/2018 at 09:09:58
Okay Ajay, I heard you the first time! :-)
Seriously though we are being linked with all sorts of strikers at the moment — Aboubakar, Marega, Augustin, to name but three, and while I appreciate that it has been mooted that it will be very much a one out, one in policy which does makes sense.
The only striker we have, who I think will definitely move, and at a significant loss (what's new?) is Oumar Niasse, although personally speaking, I would not shed too many tears if we moved Tosun on too.
Both nice guys, but unfortunately we are not running a popularity contest; however, should it only be Niasse that moves, I would like to see another Brazilian connection in the form of Gabriel Barbosa, who has a good goals-to-game ratio.
I am not a statto, but I believe he would compliment our other Brazilian contingent, and he is 22 I believe. The workrate of the Brazilians can't be questioned, they do more warming up than Tosun does in a whole game.
Joe McMahon
7
Posted 19/12/2018 at 09:10:01
Martin @5.
Rashford, Lingard, Kane, Dele Alli, for the sake of your argument are all English as well.
Ernie Baywood
8
Posted 19/12/2018 at 09:25:04
Right now, I'd be playing Calvert-Lewin up front. He's never had a consistent run in that position and, while I think we all acknowledge we would prefer a top name, he's capable of playing the role.
He doesn't need to be prolific. He'll be replacing one of our wingers who don't score. Richarlison going back to the left should contribute more in terms of general play (I don't think he could contribute less than he has up front recently) and he seems capable of scoring from either position.
Give him a go. If we find a good striker in January, then so be it.
Shane Corcoran
9
Posted 19/12/2018 at 09:41:05
Calvert-Lewin does indeed score goals but he misses a hell of a lot of chances. Time will tell but I'm in the less-optimistic camp.
Kevin Prytherch
11
Posted 19/12/2018 at 10:07:25
Joe 7
Rashford – similar to Calvert-Lewin;

Lingaard – midfielder who was at Derby on loan at 23;

Kane – has his first real season at the age of 22 (Calvert-Lewin's age now);

Alli – blossomed before Calvert-Lewin, but is a midfielder.

He doesn't hold up bad in comparison, does he?
Jim Bennings
12
Posted 19/12/2018 at 10:26:02
Has anyone hand on heart though in nearly two years playing, seen Calvert-Lewin strike a ball cleanly with power?
People say he hasn't had a consistent run but he played up front most of last season before Tosun signed and he looked like a runner but not a lot else.
I have seen nothing that tells me by the time he's 25 will be a proven goal scorer at this level; for people who say that he doesn't need to be prolific – yes, he does if we are wanting to challenge the top six regularly.
He's probably an 8-goal-a-season player at best, let's be honest.
Joe McMahon
13
Posted 19/12/2018 at 11:09:33
Kevin @11, sorry but I have agree with Jim. I just don't see him leading the line for any top 6 team. He can head a ball but his shooting needs a lot of working on.
I know Alli is a midfielder as you pointed out, but he more effective and scores more than our 3 strikers do, which is why Richarlison keeps being moved to that role in the first place.
Jim Bennings
14
Posted 19/12/2018 at 11:33:34
Richarlison has been playing up front because the management team knows that our striking options are currently pretty pathetic.
Richarlison is not a striker no, but he's scored 8 league goals so far and look at the goals he scored against Brighton, does anyone believe Calvert-Lewin would have scored those goals?
No.
Andy Crooks
15
Posted 19/12/2018 at 11:40:17
Jim @ 12.
I can strike a ball cleanly with power. Your assertion that Calvert-Lewin has made it to where he is without that ability is utterly ludicrous. This is one hobby horse you really should get off.
Fran Mitchell
16
Posted 19/12/2018 at 11:46:04
I think Calvert-Lewin could, be a top player, as many have said, he is still very young. He got put into the team much earlier than he should have, meaning people are now a bit 'tired' of him. Compare him to his peers: Solonke, Rashford, Abraham.
Rashford 143 games 36 goals.
Solonke 46 games 8 goals. (1 Premier League goal, 7 in Holland)
Abraham 90 games 40 goals (5 Premier League goals, 35 Championship).
Calvert-Lewin, in his career has 114 games and 28 goals, For Everton, 71 games and 14 goals.
Statistically, he's on par with his peers. Like Rashford (probably the stand out young English forward), he's often been played out of position, even right back, and mainly as a sub.
Let's look at his attributes: tall and quick, decent in the air. He could certainly bulk up a bit, and with a couple more years, he could be a big, strong and quick centre-forward.
He needs to improve his finishing, which with confidence and a run of games can come to him. And he needs to impose himself more, be more of a nuisance for the opposing back 4. All of this he could learn, he's only 21 after all.
He's certainly a better option than Tosun. I agree that we should give a run with Richarlison, Calvert-Lewin, and Lookman as a front three, with Bernard and Walcott as reserve.
Calvert-Lewin, in my opinion, has the qualities, if coached right and if he improves as he should, to become a regular 15-20 goal a season striker. Richarilson could be 20+ goals, and Lookman, still a bit of a wild card who has had too few opportunities to make any assessments on his potential goal getting abilities, but he is a player with potential.
That is a forward line that in 3-4 years will be hitting their peak together, of course with a couple of additions to offer competition.
No need to write them off yet.
Chris Gould
17
Posted 19/12/2018 at 12:04:51
Fran, you and others may be correct in suggesting that Calvert-Lewin, Lookman, and Richarlison could be a very lethal front 3 in years to come. The problem is waiting for those years to come. The top teams don't wait. They buy the best available.
I would like to see us buy some real quality to push for one of the front 3 places. I would then allow Calvert-Lewin to go on loan. I'm very much undecided on the lad, I don't see him as being anything more than a good young prospect. I'm not excited or enthusiastic by his potential. I think he has a chance, but I don't believe we should miss a shot at challenging the top 6 by developing players that haven't truly convinced. I would rather we brought in genuine quality and allowed Calvert-Lewin to develop on loan elsewhere.
In saying that, if a player of the quality we require is not available, then Calvert-Lewin has a very important role to play this season. Good luck to the lad. He seems a very likeable kid.
Brian Harrison
18
Posted 19/12/2018 at 12:08:53
Richarlison has done everything asked of him: he is scoring goals and has good movement. I don't like how easily he goes to ground but hopefully he will grow out of this. Calvert-Lewin and Lookman are young and have shown potential, but at this moment neither would probably get near a first team place at any of the top 6 clubs.
I have to say that, when I have seen Calvert-Lewin play for England Under-20s, I have been more impressed with Dominic Solankie from Liverpool, and when you consider how few minutes he gets just shows you the gap between us and the very top of the league.
Frank Wade
19
Posted 19/12/2018 at 12:39:29
I'm very much in agreement with Kevin (#3) in that we have to be more patient and realistic. I would agree with Derek that Barbosa may be worth a punt to take place of Niasse or Tosun.
We don't have the attraction or status in the game to go out and buy a Mane or a Dele Alli. Our wages spend has jumped significantly, £61M to £77M, so expect we can't do much in the market due to FFP, which still applies to clubs like Everton. We can't take in any youngsters either.
Like others, I am disappointed that Dom's touch is not better and he is not yet a top player. Most of his appearances have been as a wide player, often just 10 or 20 mins hugging the touchline, so virtually useless for his development, certainly so for his stats. I think it's worthwhile giving him a run of games at centre forward. The back heel flick at the cross towards the end of the City game was an indicator that there is confidence and talent there. Add experience to the mix and who knows.
Lookman did much better in the Man City game and is similar in status to Dom. Needs to be nurtured.
Steve Croston
20
Posted 19/12/2018 at 12:40:38
I think current form dictates that Calvert-Lewin be given the nod on Sunday. Richarlison left, Lookman right and Sigurdsson centre.
Neither Walcott or Bernard have impressed of late and should both be benched. But, I have a sneaky feeling that Silva will start with the same 11 as against Man City.
We definitely need a new striker in January, but that doesn't mean we should just buy anyone. Tosun and Niasse not up to scratch, so let's give Calvert-Lewin a run up front... He might just surprise a few of us. COYB 🎄🍻
Jim Bennings
21
Posted 19/12/2018 at 12:54:51
Andy
With all due respect, there's an awful lot of professional footballers out there and always has been that look like they should be nowhere near a football pitch.
I'm not necessarily saying this is Calvert-Lewin's case but you mention he wouldn't be where he is now without ability... bloody hell — I beg to differ, mate, on that one; I've seen many a shocking footballer at Everton over the years.
Derek Knox
22
Posted 19/12/2018 at 13:21:44
Frank @19, glad you agree on Barbosa, which as any striker who has not played in the Premier League be somewhat of a risk, but I think we could get him for a decent fee without paying silly money.
I don't know with Dom, who I like by the way, is it under instruction or does he have a natural tendency to drift out to the left? If he is playing the striker's role he can't cross to himself?
I do hope we capture someone in the window, and have every faith that Marcel Brands, who has worked wonders in his first window, will deliver again this time.
While on the subject of the last incomers, before the City game, Mina was getting the praise on TW. Okay, he did have a game to forget, and hopefully never repeat, but the stick he has come under is almost unbelievable.
Jason Wilkinson
23
Posted 19/12/2018 at 13:47:33
I would love to see Richarlison, Lookman and Calvert-Lewin given a go for half a dozen games. We need to see if they have a future at Everton or not.
I loathe the loan system and, like many others on here, I don't believe it makes players any better. Brands and Silva need to keep plugging away for the right striker to join the club. Stop shopping in Primark for stop gap players. Do what the Sky Six do and bully smaller teams mercilessly into selling their quality players by hounding them through the media.
As we know, everyone is a gamble of sorts but the higher we aim the more the gamble is reduced.
We don't exactly have a glittering history of buying the top talent. Cottee and Lineker aside, we have always taken a punt. Beattie, Ferguson, Rideout, Jelavic, Sharp and many more were all promising but a punt. You have to go back to Latchford before Lineker came to see Everton buy a proven goal scorer.
But is there anyone that would come? Damned right there is. The wages we would pay, the pull of the Premier League and we have a much respected manager and Director of Football.
Let the youngsters prove themselves or fail in a blue shirt. Maybe that's the problem. We are looking for a messiah instead of improving the squad with better players.
COYBB

Darren Hind
24
Posted 19/12/2018 at 13:52:07
"He (Calvert-Lewin) played up front most of last season before Tosun arrived."
Absolute drivel.
Jim Bennings
25
Posted 19/12/2018 at 13:58:09
IS it drivel Darren?
Have a look at how many minutes he played last season?
The problem with a small minority of fans (of all clubs) these days is nobody is allowed an opinion that doesn't subscribe to the "everything is going swimmingly and every player under 21 is the next Messi" paradigm.
The same people blast someone for not having any evidence to suggest a player won't take off and be great in 5 years time, but I counter that and ask, what evidence do fans have to suggest the likes of Calvert-Lewin is potential legend material?
It's all about opinion. I want every Everton player to succeed, I want Calvert-Lewin to score the winner on Sunday but I won't sit here and wear tinted spectacles that cloud current realistic judgement.
John G Davies
26
Posted 19/12/2018 at 14:04:06
I've just read a stat that said Dominic Calvert-Lewin made more appearances than any outfield player last season? That can't be right surely?
John G Davies
27
Posted 19/12/2018 at 14:09:47
http://www.evertonfc.com/players/d/dl/dominic-calvert-lewin
Its true.
I would have lost money on that one.
Michael Kenrick
28
Posted 19/12/2018 at 14:10:30
You can do the maths here, John:
It's true only because he made an awful lot of sub appearances.
Pete Edwards
29
Posted 19/12/2018 at 14:13:39
Remember when it was Osman who couldn't strike a shot cleanly! I'd advise anyone to look back at the goals he scored over his career — some absolute screamers!
Jamie Crowley
30
Posted 19/12/2018 at 14:15:14
During the busy Christmas schedule, I'd really like to see:
Calvert-Lewin at Striker;
A front three behind him of Richarlison, Bernard, and Lookman
I think Bernard behind the Striker could be a revelation. Problem is, you can't really remove Sigurdsson from the line-up. So, while you rest Sigurdsson during the Christmas busy season, try that front four, Marco!
John G Davies
31
Posted 19/12/2018 at 14:20:04
Thanks Michael. I will look through your link.
I also think a lot of the appearances were not "up front" as mentioned.
Eddie Dunn
32
Posted 19/12/2018 at 14:27:15
I think Lookman shows real quality and did well against Man City, and Calvert-Lewin will develop to be a steady target man, and I'm sure he will carve out a good career in the Premier League.
Over the Xmas period (but not on Sunday v Spurs), I think it may be worthwhile to drop Sigurdsson and play Bernard at 10. I think he could do a David Silva type role knitting things together and popping nice little passes here and there.
Sigurdsson has worked his socks off and looks a bit tired. I would tell him to give everything on Sunday with a rest after.
Dave Evans
33
Posted 19/12/2018 at 14:38:47
Young forwards need time to develop the strength and confidence to win a good share of the physical battles with defenders.
Kane, 25, and Sterling, 24, both needed time to develop this vital 'nastier' side to their game. In my opinion, Dominic and Ademola could still become the real deal.

Charles Brewer
34
Posted 19/12/2018 at 14:55:05
Last season, Sigurdsson, Keane and Gueye looked awful and had hardly a decent game between them. This season, they have all improved to an unimaginable degree. I would suggest that it is not the players who have changed but the manner of play has been changed by the team management and is now much more effective.
I'd love to see Calvert-Lewin, Lookman (I think Richarlison is already there but will still improve) as well as Davies, Kenny and, who knows, Hornby start to form the basis of a team – along with the current successes – which can have rotation and selection based on the opponents.
In the 1980s Everton were shaping up to be the best team in Europe (until our much loved neighbours went in for serial mayhem) and there was not a single 'star' in the team. Lots of good, well-drilled, highly-motivated players but that was it.
Brands & Silva may or may not be the answer but, for now, they are doing fine.
Jay Wood
[BRZ]
35
Posted 19/12/2018 at 14:55:55
Far more accurate and detailed match-by-match history of Calvert-Lewin last season (or any season, or for any player) can be found at the excellent Transfermarkt site.
Here's a direct link to his detailed game time - including position played:
It shows overwhelming he most certainly did get a LOT of game time at centre-forward not only before Tosun arrived in January, but also continued to do so before Tosun was eased into the team.
He was excellent in this time, probably only second to Jordan Pickford as our young player of the season, but quite a few on TW would wish to deny that.
Charles Brewer
36
Posted 19/12/2018 at 14:59:17
Last year Sigurdsson, Keane and Gueye looked awful and had hardly a decent game between them. This year they have all improved to an unimaginable degree. I would suggest that it is not the players who have changed but the manner of play has been changed by the team management and is now much more effective.
I'd love to see DCL, Lookman (I think Richarlison is already there but will still improve) as well as Davies, Kenny and, who knows, Hornby start to form the basis of a team - along with the current successes - which can have rotation and selection based on the opponents.
In the 1980s Everton were shaping up to be the best team in Europe (until our much loved neighbours went in for serial mayhem) and there was not a single 'star' in the team. Lots of good, well-drilled, highly-motivated players but that was it.
Brand / Silva may or may not be the answer, but for now they are doing fine.
PS There seems to be a bit of a typo (or an amazingly bad ref) in Michael's statistics. It shows that Mangala played in 2 matches but got 11 yellow cards. Did he change his shirt 12 times and occasionally resort to a false beard and glasses?
Darren Hind
37
Posted 19/12/2018 at 15:10:05
Yes Jim it is drivel
We know both Koeman and Allardyce didn't play two strikers, so you can rule out the 4-5 games Rooney played up top. then you can rule out the games in which Niasse or Sandro started, then there was the games when DCL didn't even start.
Even when the three players I mention didn't play, many would argue that we didn't play a striker at all - See all those attempt free games where the furthest man forward was left in hopeless isolation.
Those who followed Everton games last season will have seen DCL employed on the right and the left and even back at right back. He'd have had to have been some player to have played up front "most of the time" too.
I don't see where anybody is denying you an opinion and I have never seen anyone on these pages or otherwise compare anyone of our under 21's to a Messi.
Nobody said DCL will be a legend. from what I can see most simply see potential. That will be given a chance to blossom whether you like it or not.
It wouldn't take much to punch a few holes in DCL's game, He's as raw as a baboons arse, but when you have to resort to the sort of drivel you have in order to do so. You lose your argument and any support you will get for it.
John Boon
38
Posted 19/12/2018 at 15:44:34
It is always interesting to read all the posts and find so many different points of view. To me, this shows just how difficult it is for a manager to decide just who should be playing in any particular game. The advantage the manager has is that he can see the players every day to help assess their progress and potential.
I am one who feels that we do have some good young players along with some older and more experienced ones. Rarely do young players immediately and consistently show outstanding form.
I feel that the main problem is that we do not have an adequate system to really help young players to reach their full potential. The old Reserves system worked far better than the Under-23 system. The present system seems to isolate young players in a team where at the best one or two make get a sub appearance once in a Blue Moon. Those such as Calvert-Lewin and Lookman and others never play a game for the Under-23s but make 10-minute appearances on an irregular basis for the first team. To me this means that they hardly ever get to play a full game on a regular basis. And if they do they are thrown into the deep end far too soon, such as Davies last season, and are often faced with unfair expectations.
The only other option is to go out on loan where they often don't make that team. How many young British players,in all Premier teams, have their dreams shattered because they are shunted around and never have a clue how they are going to end up.
Just focusing on one player, such as Calvert-Lewin, I think he has lots of potential and could possibly be far better than some January signing who may come from a European team very willing to get rid for a ridiculous price. Along with the success stories, there are plenty who we are told are superstars, ready-made, perfect for the Premier League. Then we get Niasse or Tosun who, despite their large fees, are not even as good as Calvert-Lewin.
Somehow I think that we should try to give those players with potential a chance to play as much as possible in the Under-23 team as well as playing as a sub for the first team. However, I don't know if the present system would allow for such a process. It is all so confusing!!!

John G Davies
39
Posted 19/12/2018 at 15:57:30
Jay,
I used the evidence of what I watched rather than what a website said. Calvert-Lewin was used in wide positions on many, many occasions.
Whilst I didn't see him play right back as mentioned above I most definitely saw him play right wing back. The lad needs a run of games, at least until we can bring someone in.
Kunal Desai
41
Posted 19/12/2018 at 16:23:12
Personally I think Calvert-Lewin will fall further down the pecking order next season once Everton have brought in another forward.
The potential may or may not be there, but it's all irrelevant if Moshiri, Brands and Silva have the same vision for the club which is to push on for top 6 next season and beyond that over the next few seasons. Everton will go down the proven route and buy those players needed to fit into their 'project'.
Mike Allison
42
Posted 19/12/2018 at 16:28:45
I agree with Ajay in post #1. That'd be my starting front three for a run of games.
Remember that football isn't only about a starting XI anyway, Bernard and Walcott could both be match winners from the bench, as Lookman and Calvert-Lewin were against Palace.
Michael Kenrick
43
Posted 19/12/2018 at 16:30:47
Some good thoughts, John (#38), and we've commented on this before as "outsiders" not involved in the graduation of young players through the current "Development" system at the Category A academies.
I try to track players' usage across the three teams: First, U23, and U18. We have something like 80 players listed altogether for those teams, with 14 of them currently out on loan, leaving around 66, which actually breaks down close to 22 core players for each team — the classic pre-requisite of two players for each position.
But what happens in practice seems to be that, for the young players we are really interested in, those on the fringe of the first-team, they get very few games in either the first team or the U23s. These are the appearance stats, League and Cup (subs), so far this season for three of our most promising youngsters:
Kieran Dowell — 0(0) 2(0) | 3(0) 0(0)
Jonjoe Kenny — 4(0) 2(0) | 2(0) 0(0)
Mason Holgate — 4(1) 1(0) | 1(0) 0(0)
With numbers like that, I just don't understand how they can be expected to progress their careers. Davies, Calvert-Lewin and Lookman are doing better as established first-team players, but their stats so far as we approach the half-way point are moderate at best:
Tom Davies — 5(2) 2(0)
Calvert-Lewin — 5(10) 1(0)
Ademola Lookman — 1(10) 1(0)
Beni Baningime has been out injured but he should be fit now, yet has played only 2 games for the U23s and none for the first team.
Then there are the others who are basically in limbo, rejected from the first team squad and not playing at all for the U23s: Niasse and Schneiderlin being obvious candidates for departure in January.
Silva needs to do a better job of getting these players on the field as substitutes. But we know he is very reticent (putting it politely!) when it comes to making subs. And our painful inability to score goals makes it harder to justify 'weakening' the team if we are chasing the game. So it all comes back to that in the end.
Dave Abrahams
44
Posted 19/12/2018 at 16:42:06
Michael (43), a good time to put those appearances up, for the young lads mentioned, I hope ToffeeWebbers give those miserly appearances a thought when the lads do get a game and give them a bit of leeway.
I've been advocating that Jonjoe Kenny replaces Seamus over the holiday period, to give Seamus a rest; I'd be a bit wary now after seeing how little Kenny has played this season, and that goes for Tom Davies as well.
Some players seem not to get a chance while others are played game after game and seem to stay on the field no matter how they are playing... doesn't make sense or seem fair.
John Pierce
45
Posted 19/12/2018 at 16:42:37
I think if Everton want to recapture the early vibrancy of this season then Richarilson has to go back to left-inside forward. Let's not kid ourselves, he ain't no winger!
That's leaves us with an interestingly shaped whole at centre-forward. Going back to how Silva likes us to press the only real candidate is Calvert-Lewin. Tosun might finish better but he's kamikaze chicken when pressing.
I think given the circumstances it's got to be worth a go. Put Lookman in there and that's three very different forwards, which might gel well, even given their lack of experience. If that's the case, we need miles more from our full backs because that's the only place the width comes from!
I'm gonna say that Sigurdsson needs a rest and Silva should try Bernard there.

Jay Wood
[BRZ]
46
Posted 19/12/2018 at 16:49:59
John @ 39.
"I used the evidence of what I watched rather than what a website said. Calvert-Lewin was used in wide positions on many, many occasions."
Two things:
1) I also based my recall I what I saw, not ONLY what a website said. And Transfermarkt accurately confirms what I saw. You have very poor recall of the games you saw if you don't remember Calvert-Lewin being played as the sole centre-forward in exactly the games Transfermarkt lists.
2) Transfermarkt also, quite correctly, shows the times he did take up wider positions. And it is an exaggeration to say he played right back, or indeed right wing back. That was in Koeman's and Everton's opening game of the season, at home to Stoke, in which he played more right midfield than an out-and-out defender. Indeed, it was his well-executed cross from the right wing from which Rooney scored our winning goal.
John McFarlane Snr
47
Posted 19/12/2018 at 17:01:35
Hi all, I respect each and everyone who voices their opinions on all things Everton, with regard to team selection and tactics; however, it's something out of my domain.
I have often stated that it is my opinion that any two supporters, can watch the same match and see a different game, judging from the diverse comments relating to the two areas I have highlighted; it appears that the manager's task is incredibly difficult.
I try not to get involved in such debates, because as I've said, I know nothing of the behind the scenes occurrences, and I look at professional football through amateur's eyes; I trust that the men in charge of these matters have a better insight than I have.
John Hammond
48
Posted 19/12/2018 at 17:11:22
We need someone in the box to get on the end of Digne's crosses. I'm in the camp of giving Calvert-Lewin a run along with Lookman.
John G Davies
49
Posted 19/12/2018 at 17:15:48
Jay
I didn't look at your link.
But if you do use them...
https://www.liverpoolecho.co.uk/sport/football/football-news/one-stat-proves-how-important-14484661
Duncan McDine
50
Posted 19/12/2018 at 17:25:58
For me I think Dom can certainly become a decent centre-forward (which he currently isn't IMO).
Unfortunately, I have a similar feeling when I watch him to when I used to see Rodwell play... plenty of attributes (without being excellent at any one thing), but a real lack of aggression and desire. I'm not sure if that's something that I've ever seen a player learn.
Hopefully Dom can add that to his game because he certainly needs to.
David Thomas
51
Posted 19/12/2018 at 17:39:00
Jay 35,
Take it from someone who has been to every competitive game Calvert-Lewin has played for Everton — he has never been excellent... and to suggest he was excellent last season is just absurd.
Try speaking to other Evertonians who travel all over Europe watching them and see if any of them agree with your assessment of him.
Kieran Kinsella
52
Posted 19/12/2018 at 17:41:38
Calvert-Lewin improves our scoring. Yes, he is far from prolific but he he gets a lot of assists.
Anyone remember the great Juve team of the 90s? Alen Boksic was the lone striker. Poor scoring record but his hold-up play and use of the ball created so many openings for Zidane and Co.
Calvert-Lewin is the perfect foil for Sigurdsson, Walcott and Co to bang in more goals. I understand goals are always important for a striker but when we had Beardsley and Lineker for England, Beardsley rarely scored but probably had a hand in 75% of Lineker's goals.
If the team is scoring, who cares if the striker is the goal scorer versus the creator?
Darren Hind
53
Posted 19/12/2018 at 17:51:52
I seem to recall Rhino experimenting with Mirallas (later replaced by Niasse) up top at Leicester... Didn't Calvert-Lewin come in for Macca?
And I know for a fact that Niasse played up front at Anfield – i clearly remember the kopites taking the piss out him as their defenders contemptuously passed around him.
But, even if we are to take Transfermarkt as gospel, we know we played 35 games before Tosun made his debut and Calvert-Lewin started less than a third of them up-front... Kinda makes a mockery of the claim that he played up-front for "most" of these games.
David Thomas
54
Posted 19/12/2018 at 17:59:31
Darren,
Do you honestly believe that, if we persevere with Calvert-Lewin then in a few seasons we will have a consistent goalscorer who will rival the strikers in the other top clubs, ie, the teams we are striving to compete with.
Or do you think, like me, that – to have any chance of competing with the teams above us – in the future, we will need a striker far better than Calvert-Lewin?
Chris Gould
55
Posted 19/12/2018 at 18:08:34
John McFarlane Snr, that's a very sensible comment. So many seem to think they've worked out the magic formula, even though they don't watch the players train daily, have no idea what's already been tried in training, and have no real insight into the player's mindset.
So often you hear some shout and shout, and when they get their wish, it fails miserably. Surprise. So many amateur experts, but in fairness, it's all just a bit of fun.
Some are convinced that Bernard can be our Silva? Why? Because he's just as small? I don't see any other similarities.
When Silva plays, it's like he has all the time in the world, he has fantastic control of the ball, and he is incredibly composed. Bernard is nothing like that. He scampers around frenetically and lacks composure. I like him, but he isn't our Silva.
Winston Williamson
56
Posted 19/12/2018 at 18:12:25
Richarlison has been quality so far, when weighted against my personal expectations.
I expected nothing this season. So far, it's been a huge improvement from the anti-football we endured last season.
I agree that the current squad needs pruning still. Yet, we're one window into Brands's rebuilding. It took him a few seasons to build an exciting team at his last club. I'm willing to be patient. I can't imagine his image of EFC includes Tosun and Niasse. Nor Schneiderlin.
I would expect his vision of EFC includes the quality level of Gomes.
Jay Wood
[BRZ]
57
Posted 19/12/2018 at 18:23:39
John @ 49.
Interesting. Your earlier post @ 39 implied that either (or both) your memory of where Calvert-Lewin played last season negated what Transfermarkt lists, or that I was being too dependent on Transfermarkt, rather than my own recall.
Now, you admit to not even looking at the provided link to help jog your memory.
I have long been a strong advocate and defender of Calvert-Lewin, so I'm not the one who needs convincing that he is worthy of starting AND in the centre-forward position.
And Darren @ 53. Semantics, Darren, semantics:
"We know we played 35 games before Tosun made his debut and Calvert-Lewin started less than a third of them up front... Kinda makes a mockery of the claim that He played up front for "most" of these games."
Your argument on this point is with Jim Bennings, but as Dom occupied either the centre-forward position, an advanced wide right or left position, or second striker, that can be interpreted (by a reasonable person...) as playing 'most of the games up front'.
Oh! As for this one: "and I know for a fact that Niasse played up front at Anfield." If your recall is that good, you will also remember that Niasse was substituted at half-time and Dom played the lone forward role for the entire second half (and did so very well).
Should be easy enough to recall: he received the long punt from Rooney, which drew in Lovren to win us the penalty from which Wayne snatched us a draw.
Jay Harris
58
Posted 19/12/2018 at 18:23:58
I understand all the different points of view on here.
The jump from U23 football to the Premier League especially the top 6 is a chasm for the kids and as well as considering opportunities for development we have to ensure their confidence is not destroyed.
That is why the top clubs loan out their top prospects to other Premier League clubs and why clubs use the kids in League and FA Cup games.
With the demand for instant and consistent success these days it is so hard even for the best to satisfy all supporters.
Silva has stated that Calvert-Lewin, Lookman and Tom Davies are the future of Everton so I have to respect his opinion and say the kids will come good but right now if we have top 4 ambitions they are clearly not ready.
Just look at the improvement Gomes has demonstrated over Tom Davies. Seamus is currently operating at 80% of his best but Kenny is still only on par with this at best.
Richarlison is a similar age to Calvert-Lewin but is light years ahead of him in contribution.
Lookman has shown tremendous ability but still has many weaknesses to be ironed out but for me he is the closest to getting a regular berth.
There cant be any Evertonians who believe that right now Calvert-Lewin is the answer to our goalscoring drought (for want of a better word) but, for me, he is the best option we have until January.
John G Davies
59
Posted 19/12/2018 at 18:45:01
Jay, 57.
I didn't imply either.
I just pointed out my preferred method of forming my opinion.
Tom Bowers
60
Posted 19/12/2018 at 18:50:28
If Calvert-Lewin can be the main man then that would mean spending big money in other areas of the team that need to be upgraded.
Like all ''strikers'' if they get enough playing time and opportunities to score then they will but they have to be consistent within reason.
All great strikers miss the easy chance sometimes and some even have a barren spell but are expected to do other things to have an impact. Walcott doesn't seem to fit that bill these days.
Although Everton should have had a few goals at the Etihad, it's likely they wouldn't have won the game anyway but they should have had more points from the previous three games.
Spurs as we all know will also be a tough test but we are due a good home performance and just perhaps three points may come our way.
They really struggled against Burnley and only the late late strike (ala RS) by their talisman Eriksen got the points. They also have a tough game against the Gunners tonight although I suspect, being the Mickey Mouse Cup some players will be rested.
Richarlison and Calvert-Lewin may indeed be the starting duo against Spurs with Tom Davies replacing Bernard who has been disappointing.
Paul Tran
61
Posted 19/12/2018 at 18:58:05
I can't help thinking that part of the problem with the likes of Calvert-Lewin, Davies and Kenny was that they were over-exposed way too soon in a complete mess of a squad. These lads worked tirelessly alongside 'senior' pros that weren't pulling their weight.
I remember a young Graeme Sharp looking a good player, but I used to duck when he took a shot. How much did he learn off the experienced, wily, Andy Gray? Who does Calvert-Lewin learn from on the pitch, or within this squad?
Darren Hind
62
Posted 19/12/2018 at 19:07:13
Oh dear... so playing wide right is the same as playing up front?
I stated that Niasse started up front at Anfield as a matter of fact. Contest that until you are blue in the face.
I don't care if Calvert-Lewin was thrown up top in the latter stages as Big Sam tried to rescue a point by finally coming out to play after ruining the game... it doesn't change the fact that he didn't start there.
You can't put up stats published by Transfermarkt (stop sniggering at the back) dress them up as proof of the position he played... then claim they didn't need to differentiate because playing out wide is the same as playing up top
And what all this "playing as a second striker" – A second striker? I spent most of last season wondering why the first hardly got into the box.
John McFarlane Snr
63
Posted 19/12/2018 at 19:28:26
Hi Chris [55] I'm glad that someone sees my point of view, but unfortunately it isn't a bit of fun to some, I have witnessed outright nastiness at times, over issues that are beyond our control.
Some fans are mistaking opinions for proven facts. I believe that match going supporters know what's wrong, but we are not in a position to rectify the failings. I am certain that Messrs Moshiri, Brands, and Silva are as clued up as we are, and I trust that they have the wherewithal to give us back our pride.
I'm afraid that I won't be in my customary position at the Park End for a while, although I'm being discharged from physical rehab on Friday morning. I don't know which is worse, the pain of injury or the agony of non-attendance, both unpleasant experiences.
Geoff Lambert
64
Posted 19/12/2018 at 19:59:25
"You lose your argument and any support you will get for it."
You have my full support, Jim.
Geoff Lambert
65
Posted 19/12/2018 at 20:01:20
John # 63
Be careful when you mention "match-going supporters" as some on here will take it the wrong way.
Jay Wood
[BRZ]
66
Posted 19/12/2018 at 20:15:08
Darren @ 62.
This is what you're good at Darren. Changing the goal posts to continue to justify an (undermined) original claim, such as the one you made to Jim Bennings @ 24:
"He (Calvert-Lewin) played up front most of last season before Tosun arrived." Absolute drivel.
Now whilst I would agree with you that Jim does talk a lot of drivel (sorry Jim!), his statement in this instance is a reasonable one.
In your last post you have twisted this to become "playing out wide is the same as playing up top". I don't see anybody but you in this thread making that claim.
The labels applied to positions these days loosely correspond to the more traditional labels many of a certain generation recall.
What is commonly called a 'wide man' today is loosely associated with being a winger, even though there is not a direct correlation because the role, the build and the manner in which today's 'wide man' plays is different from A Stanley Matthews-like winger.
Whatever, a winger in the past was considered 'a forward' rather than 'a half-back' – that is, a midfielder today.
Now as much as you may revile it, the Transfermarkt data accurately reflects the default position of each player in each game. Indeed, what many would call a 'wide man' they still label right and left winger. This link points directly to Calvert-Lewin's stats from last season.
On the right, is a very simple 'map' with a table below it showing Calvert-Lewin's 'starting position' (which appears important to you Darren) by number of games. It reads:
Centre forward = 20
Left winger = 7
Right winger = 4
Second striker = 3
Attacking midfield = 1
Right midfield = 1
Now the wee map shows the first four listed positions in the opponents half of the field. As I said earlier, a reasonable person would interpret this occupying a 'forward' position. (Note carefully, Darren: a forward position – not 'as playing up top').
Way out in front is the number of times Calvert-Lewin played as the centre-forward. On that number alone Jim's claim is correct: Calvert-Lewin played mostly up front before Tosun arrived.
If you wish to incorporate all the forward positions Calvert-Lewin played that number leaps to 34 out of 36 total appearances. If you wanted to insist that ONLY the centre-forward role applies to the 'up-front' label, the number of times Dominic played centre-forward still out-numbers the other positions he played 20-16.
Lurve the way you bluster about Niasse and Calvert-Lewin in the Anfield derby last season, rather than quietly concede the point that your earlier claim on that game was exposed somewhat.
Classic Hind.
John McFarlane Snr
67
Posted 19/12/2018 at 20:20:57
Hi Geoff [65],
I gave a bit of thought to the wording of my post, and being mindful of the fact that there are all kinds of reasons that prevent supporters from attending games, I decided that although TV supporters may have a closer view of games, the match attender sees the broader picture.
I don't know which category you fall under, Geoff, but I can assure you that I didn't mean to cause offence; however, it's my experience that the bar-room fan is generally the biggest critic. I find that the match going fan seems to have a more realistic outlook and a greater degree of tolerance.
If my comments have caused offence, this was definitely unintentional, and I'm prepared to offer an apology, to both bar-room and match going fans.
Geoff Lambert
68
Posted 19/12/2018 at 20:31:30
No offence to me, John, Like yourself, I attend every game I can get to. But having stated the same as you about match going supporters like ourselves I have taken some verbals from the non-matchgoing supporters who rely on tv and website statistics to get there point accross.
ps: hope you are well enough to get back to the Old Lady soon mate.
Jay Wood
[BRZ]
69
Posted 19/12/2018 at 20:32:05
Paul @ 61 touches on an interesting subject.
I would add Holgate to his list of names – Calvert-Lewin, Davies and Kenny – as young players who were 'over-exposed way too soon in a complete mess of a squad.'
THEY weren't the problem last season. All of them, to varying degrees, performed extremely well in comparison to the 'senior' pros who should have shown greater leadership, qualities and fight than they did.
As John Boon's excellent post @ 38 also mentions, there seems to be such limited opportunities for players of their age to 'make it or fail'. Too brief an 'incubation period' for them to prove themselves.
As in all walks of life, each individual evolves and blossoms at different times. I'm convinced great talents were lost to the game because they were rejected too early, rather than persevered with.
It does seem counter-intuitive to me that, having nursed and nurtured a young player – some from as young as 7-8 - for 12-15 years through the age groups at the academy, more care, more opportunities, are not given to them to play adult football with seasoned professionals.
I have to be hopeful, given his track record, that Marcel Brands can improve on that for the club.
Jim Bennings
70
Posted 19/12/2018 at 20:44:12
How do you know a baboons arse is raw, Darren?
Can't be through Calvert-Lewin hitting it with a banjo!
Anyway, Merry Christmas, ye miserable bunch of sods (including myself)... lol.
Karl Meighan
71
Posted 19/12/2018 at 20:47:48
I don't buy the young players need years before they show their quality, if players are top quality it shines through regardless of age. All players should get better as they gain experience and become more consistent and there will always be one or two who develop slower but in the main cream rises to the top, and it don't take years, it's evident from the outset.
Kenny, Calvert-Lewin and Davies may well develop into usefull players but, if they were going to be of outstanding top quality, then by now it would have shown itself, imo.

John McFarlane Snr
72
Posted 19/12/2018 at 20:48:01
Hi again Geoff [68] thank you for your good wishes, I offer to buy the 'Public House' pundits an A-Z of Liverpool.
I tell the 'Blue' contingent that there's a roof over the Gwladys Street terracing, and the 'Red' crowd that Billy Liddell has hung his boots up.
Geoff Lambert
73
Posted 19/12/2018 at 20:52:16
Haha John, I like your style.
Darren Hind
74
Posted 19/12/2018 at 20:59:30
Playing out wide for Koeman or Allardyce means chasing back, every time... every single time the opposition full-back goes forward. Most people know that.
Now the "excellent" transfermarkt wont explain that to you, but watching dozens and dozens of Everton games while these two jokers were in charge should have done. Playing out wide for these two meant you spent most of the time in a different post code to the opposition goal. I wonder if Calvert-Lewin would have seen that as mere semantics ? . .especially when he is being criticised for not scoring enough goals.
In post 35 you claim that your "excellent" website demonstrated overwhelmingly that Calvert-Lewin got a LOT of game time at "centre-forward" (your words)... but that's not true, is it? Your link clearly shows he started only one in three of those games in that position – not exactly a lot is it? ... not for a centre-forward anyway.
Niasse started up front at Anfield; that's still a fact, regardless of whether your "lurve" it or not.
Darren Hind
75
Posted 19/12/2018 at 21:01:42
Merry Christmas Jim
Jay Wood
[BRZ]
76
Posted 19/12/2018 at 21:39:55
Darren. Maths really isn't your strong point, is it?
20 out of 36 becomes 1 in 3? O...kay...
The original claim you called Jim out for as 'drivel' was that Dominic 'mostly played up front most of last season before Tosun arrived.'
The numbers and my recall show, in the 22 games DC-L featured in BEFORE Tosun arrived, in 16 games he played the centre forward role. 13 of those 16 games were consecutive. Only in 6 other games did he feature in a different position. A 16-6 ratio.
Lurve to see what your maths make of that.
The rest of your post is your usual deflection and distractors, introducing outliers (or, just outright lies..?) which has nothing whatsoever to do with the original claim you made and the single point that is being challenged.
Derek Knox
77
Posted 19/12/2018 at 22:09:12
Just love reading TW and the diversity of comments, both good and bad; can I just remind everyone that we are all fighting for the same side!
Jay Wood BRZ, see, I gave you your full title there mate, seriously though Jay, I made a reference to Gabriel Barbosa earlier in this thread as a potential contender for the striker's role. Would really appreciate your comments on him, I understand he is on Internazionale's books having not hit it off with them.
He plays for Santos on loan, and has scored 27 in 53 I believe, and it is reported that Inter still see him as surplus. What is your take on him and do you think he may be a good fit for us?
Cheers, Jay, thanks in anticipation.
Darren Hind
78
Posted 19/12/2018 at 22:34:48
Let's just for argument sake suppose this err... website was right (I know, I know).
Suppose we ignore the times they got it wrong and say he did start 16 games up top? That leaves 20 games when he didn'.t
"Played MOST of the games up front"? ... Well, if by "most" you mean nowhere near 50%, then I concede... You were right all along.
Don Alexander
79
Posted 19/12/2018 at 22:36:40
Hello John (#63 and elsewhere), good to hear you're making a recovery and I hope it speeds up. I also endorse your observation that some participants on TW tend to ram their opinion down people's throats in the guise of fact. It gets tiresome for sure.
Moving on, I've posted before on my concerns about so many of our youngsters, if young men of 20 years can still be termed in that way. To me, as others have said, potentially great players have shown more than any of ours have if they're aspiring to the pinnacle.
That said, Calvert-Lewin seems to me to be a potential star IF he can develop a hitherto unseen narkiness to his game. Thus far he's seemed way too nice in the way that so many others are in Finch Farm (Jags/Bainsey being to the fore). You don't get to the absolute top if you lack a bit of nark as far as I'm concerned.
Still, he may become a 21st century David Johnson given his various skills and build and right now I'd have that... but Johnson was a narky so-and-so, wasn't he? Did him well too.
Jay Wood
[BRZ]
80
Posted 19/12/2018 at 22:55:22
Darren. Again, moving the goal posts.
I referenced the excellent Transfermarkt website (and BTW, because you place 'excellent' in inverted commas to denigrate it doesn't by extension mean it is not a credible site; it very much is) to no-one in particular, but only to compliment Michael K's own offered link to the TW database as Transfermarkt offers a great deal more info.
And to answer your latest sleight of hand (and I appreciate it's possibly a difficult concept for you to grasp), but Calvert-Lewin cannot play any position in games in which he is not selected. Capiche?
Simon Smith
81
Posted 19/12/2018 at 23:00:33
Comment 1.
Couldn't agree more mate, Calvert-Lewin has the physicality, heading ability and pace, Lookman has the skill and eye for a pass, and Richarlison has the potential to do anything he wants to be.
Comment 2.
Jim, I honestly don't know why you talk down all our players, you have to be realistic in the modern game, we aren't the Everton of the 80s, the leagues changed and were no longer the big boys.
Mane looked ok at Southampton, nothing more, Firmino looked shocking when he first came the Premier League and Salah didn't look up to the Premier League at Chelsea, it's about the right blend and the right manger. Hate using the shite as an example of a positive but even look at Sturridge, Sterling and Suarez, it's about how the play as a 3 not just a 1.
Calvert-Lewin, Lookman and Richarlison are all young, all have plenty of potential and can all score goals, I honestly think they should be given a run until the end of the season. Bernard should be kept on but Theo, Niasse and Tosun should all be moved on and if the above 3 don't do the damage then we know that we have to replace them before next season begins.
Jay Wood
[BRZ]
82
Posted 19/12/2018 at 23:02:10
Derek @ 77. On your request in the rumour mill story on Gabriel Barbosa I actually did respond to your (and Joe's request) in that thread, but came late to it so you probably never saw it.
I've searched it out and will copy-paste it here:
Joe @ 6 and Derek @ 8.
I've just seen your posts in this thread, having just noticed the title of the thread. The reason being is that the Rumour Mill is not something I usually bother with.
Fran @ 18 – who also lives in Brazil – makes some good points in general about the standard of Brazilian football.
As Fran states, Barbosa is the top-scorer in the Brazileirão this year – 18 goals with just one game to play. As Fran also states, whilst the league is competitive, the standard really isn't very high.
To put things into perspective, last year Corinthians ran away with the title... and scored just 50 goals in 38 games in doing so. FIFTY! Man City have already got 40 this season in just 13 Premier League games!
And do you know who Corinthians' (and the league's) top scorer was, again with 18 goals...? None other than the ex-Everton and Man City player, Jo. Yes... THAT Jo.
He played extremely well and was key to them winning the league. But could you envisage Jo ever being the top scorer in the Premier League, or any major European league?
That said, let's analyse Barbosa's history and his club Santos a little.
Santos had a truly dreadful start to this season, winning just one of their opening six games and losing the other five. At the half-way stage of the season, they were still struggling and had won just 3 league games.
So Barbosa's club was very much in crisis for a large slice of the season. Thanks to his goals – 18 out of 45 goals – they turned their season around are now comfortably mid-table.
Santos are, of course, the club that produced both Pele and Neymar, so it was a big story that they were struggling.
Of the player himself, it is likely Barbosa was at the club as a junior before Neymar moved to Barcelona. As Fran mentions, 'Gabigol' as he is known in Brazil was very highly rated. Indeed, he was given the lazy label of the 'new Neymar'. He was dating Neymar's sister at one stage. Dunno if that is still the case.
On the back of that reputation, he was sold to Inter Milan in August 2016, aged just 20. This was the season that Inter Milan appointed one-time Everton manager target Frank de Boer, who started so badly he was history in two months, and appointed a further two managers that season.
So, not a happy environment for a young footballer, living and playing abroad for the first time to work in an alien culture.
At the start of the 2017-18 season, he was loaned out – still only 21 – to Benfica, but he got virtually zero game time and was sent back to Inter in January 2018, but again, got no game time at Inter as he was sent back to Santos on loan immediately. He has been an ever-present since his return.
Now, the boy has ability. Technically very sound. Good with both feet. Powerful shot. Good turn of speed. And even though 'short' at 1.78m (5 feet 8 inches in old money), a good header of the ball. Not as short as Aguero at Man City, but a similar type of forward.
NB: I am NOT saying he is the new Aguero!!!
Is he worth a punt? If the rumours are true and that Inter are happy to offload at a knock-down price, then maybe he is. Or, as Fran comments, would signing him only block Calvert-Lewin's development?
No idea about his personal life, which Sam @ 10 references, or the validity of this rumour. But, if it proves to have legs, then – given their recruitment to date and how they have got individuals playing and buying into Everton – I will trust Brands's and Silva's judgement and call on this one.
Chris Gould
83
Posted 19/12/2018 at 23:05:31
John McFarlane Snr #63,
Sorry to hear that you're having to miss matches over the Christmas period. Just concentrate on gaining your strength back and becoming pain-free. I'm sure you'll be back in your seat in no time.
Just out of curiosity, how many times do you reckon you've watched us over the decades? I'm intrigued to know. I don't attend matches myself as I live in Surrey and it would be too much of a commitment, not to mention too expensive. That's why I love this site. It allows me the opportunity to read the opinions of match going fans who live and breathe the club.
Another question for you: would you like to see a new striker bought in January, or do you think we should go with what we have? I personally think we should persevere with Richarlison as I think he'll develop into a better striker than we will ever be able to attract. He is already scoring one in every two games.
Hope you feel better soon.

Paul Kelly
84
Posted 19/12/2018 at 23:21:38
Come on Jay,
"As I said earlier, a reasonable person would interpret this occupying a 'forward' position. ",
You, a reasonable person, would also see this, especially under our previous managers, that the role was a defensive roll too, possibly more so, which Darren alludes too,
"Playing out wide for Koeman or Allardyce means chasing back, every time... every single time the opposition full-back goes forward. Most people know that. 
Now the "excellent" transfermarkt won't explain that to you, but watching dozens and dozens of Everton games while these two jokers were in charge should have done. Playing out wide for these two meant you spent most of the time in a different post code to the opposition goal."
Merry Xmas Jim.
Derek Knox
85
Posted 19/12/2018 at 23:35:35
Thanks Jay @82, I just hope Marcel Brands can continue his magic. If Barbosa is part of that, all is well, he may have another even better one lined up.
Jay Wood
[BRZ]
86
Posted 19/12/2018 at 23:50:47
You're welcome, Derek.
As with our own Calvert-Lewin and other youngsters at the club, it's way too premature to make a call on Gabigol as being the 'bees knees' or another lame Pato (meaning duck).
Alexander Pato (you may recall he had a loan spell at Chelsea) was pumped up as the next big thing in Brazil 10 years ago and he was and is a huge flop. Now plying his trade in China.
As I detail, Gabigol was very young when he went to Italy and walked into a club full of turmoil, so there are considerable mitigating circumstances as to why he hasn't (yet...) 'made it' in Europe.
Like you, I'll back Brands's and Silva's call on this one.
Jay Wood
[BRZ]
87
Posted 19/12/2018 at 23:54:09
Paul @ 84.
Methinks you're not quite up to speed with the flow of the dialogue in this thread between Darren and I and have got sucked yourself in to one of Darren's many distractions away from the original issue.
Karl Meighan
88
Posted 19/12/2018 at 00:05:33
Calvert-Lewin might be strong and be good in the air but his first touch is on a level with Lukaku. Even if he does become a good goalscorer, he would still be an average footballer.
I've never seen a top quality footballer with a shite first touch but' hey-ho – that's just my 2 cents worth; I'm sure plenty will not agree.
Steve Carse
89
Posted 20/12/2018 at 00:12:20
I don't think many would agree with you on the qualities of Calvert-Lewin's first touch. His control is good, as is his ability to keep control when running with the ball. I still can't make up my mind though whether he's ever going to be good enough to hack it at the top end of the Premier League.
Paul Kelly
90
Posted 20/12/2018 at 00:39:03
I ain't been distracted by anything, Jay, you can both argue until the cow comes home but, under our previous managers, if you play 'wing', left or right under the previous regimes, you also played defender, more of a left/right mid so to speak, regardless of what position a website says you 'started'?
Karl Meighan
93
Posted 20/12/2018 at 03:42:42
Well I guess I would have to say Calvert-Lewin ain't ever going to be a top class striker Steve@89 as we are playing Richarlison out of position rather than Calvert-Lewin and it isn't like the competition is top class.
I would say we need at least one striker if not two so only see him falling down the pecking order and further away from a first-team spot.
I just believe the lad has gained enough experience that if he was good enough he would be doing enough to keep his place. There won't be many better opportunities to get into the side than there is at the moment.
Paul Kelly
94
Posted 20/12/2018 at 04:29:24
Thing is Karl, Silva seems rigid in his first eleven. Walcott was rank for a while, yet, when Lookman came in, he topped Walcott in touches, passes and chances created in one game (I think) – more than Theo had done all season.
Silva likes his starting eleven, hence why Richarlison is up top and nobody else gets a look-in. Other managers see this and it becomes easier to play against, I think.
Derek Knox
95
Posted 20/12/2018 at 09:04:49
Paul Kelly @94, a point I have made on a few occasions – they say if it isn't broken, it doesn't need fixing, but if it is broken it isn't going to repair itself.
Like you, I sometimes wonder why he sticks with the same formation that hasn't performed that well, and more importantly it gives opposition managers an easy task in laying their stall out.
I am an advocate of keeping everyone on their toes, so a poor performance results in the player realising that his place could be up for grabs.
Okay we don't have that strong a squad to have that luxury, but having said that Lookman has played well when brought in, only to find next game he's back on the bench. While Walcott comes in and has been having a nightmare of late.
Brent Stephens
96
Posted 20/12/2018 at 09:12:34
Jay Wood, very useful analysis as ever, including the Barbosa stuff.
John McFarlane Snr
97
Posted 20/12/2018 at 11:49:54
Hi Don [79],
Regarding the age of footballers, it's my belief that age is no barrier, ability is the all-important ingredient, reference George Best, Norman Whiteside, Alan Ball etc. All that professional footballers have done is play football, and if a centre-half hasn't learned by the age of 24 that there are times to find a team-mate and times to find Row Z, when will he learn?
As for a player having 'fire in his belly' it's either there or not, it isn't (in my opinion) something that can be coached, for example Dave Hickson was a 'stormy petrel' and Alex Young, as 'gentle as a dove' both extremely useful in their own way.
Hi Chris [83], thank you for your words of encouragement, I'm being demobbed
from this physical rehab establishment tomorrow, I shall certainly miss the Spurs and Lincoln City games, after that it's in the lap of the Gods.
Regarding the number of games I have witnessed, allowing for the brief spells when I played for Anfield Boy's Club and my army service, if I base it on an average of 25 games a season I would estimate it would be in excess of 1,500 League, Cup competitions, etc, a mixture of good bad and instantly forgettable. I wouldn't claim to be more knowledgeable, it's just that age has allowed me to see more.
I try not to speculate on team selection tactics etc. my only view on player recruitment, is that any player signed should be an improvement on the player he displaces. Whoever gets the shirt gets my support, old hand or newcomer.
Frank Wade
98
Posted 20/12/2018 at 12:11:24
Jay, a bit late coming back on here but thanks for the Transfermrkt link, plus the Gabriel Barbosa analysis, always good to have a local scout.
Like others, I didn't realise Dom got such a run of games at centre-forward. I see that he had 11 starts in a row as centre-forward from the infamous Southampton 4-1 game at St Mary's in late November to 13th January and Tosun's arrival. I watched almost all on TV or link, is my excuse.
I don't think we approached opposition territory much in that spell, apart from clearances, so I doubt Dom got much proper lone striker experience – 'lone' yes, but 'experience' probably not. at any rate, he needs time in the Silva way.
A Loan to buy might suit Inter and us for Barbosa. Paper talk of going to West Ham, but if Brands wanted him, I'm sure Marco's Portuguese sweet talk would win him over.
John, best wishes for a speedy recovery from your latest illness.

John G Davies
99
Posted 20/12/2018 at 12:12:39
I keep reading that Silva likes to stick with the same starting eleven. Off the top of my head, that's not the picture I have.
Can anyone send a link to how many times he has picked the same eleven this season?
Matthew Williams
100
Posted 20/12/2018 at 13:09:12
Well, my fellow Blues have the jump on me having watched the lads for the past month or so in terms of style of play, wasted chances and pure bad luck, as I have only listened to our live games on Radio Merseyside. Believe me, folks, we still sound like a poor team going nowhere: misplaced passes, over- or under-hit crosses, poor finishing and the same faces getting game time.
I posted on here that I wouldn't watch the Blues again after crashing out early in the League Cup (again... Burton in the Semi's eh folks!) until major changes were made, but it would seem by many posts on many threads of late that I sadly ain't missed much and most Blues seem completely split on our progress.
Just guessing like... our next three games will all end in draws. Please prove me wrong, eh lads!
Darren Hind
101
Posted 20/12/2018 at 14:54:34
At last the penny drops.
I guess most people would have known Jim was exaggerating and making a wildly inaccurate statement when he claimed Calvert-Lewin had played "most" of the games before Tosun arrived up front.
Some, however, were so busy repeatedly searching through questionable websites in an almost irrational desire to prove it so, they forgot to factor in the games when he wasn't even selected... You know, the ones which made it impossible for Jim to be right.
Sorry for referring to your claim as drivel, Jim, but now it's been established that there were at least 20 games where Calvert-Lewin didn't play up top, You hopefully will see the claim you made against him was unfair, to say the least. I know you will jump as high as anybody if he bangs in the winner on Saturday
I'm not against stats, but If they are to be used as proof in a debate, the person using them needs to understand them in their entirety.

Jay Wood
[BRZ]
102
Posted 20/12/2018 at 16:10:08
Darren, you have a remarkable propensity for shooting your mouth off and shooting yourself in the foot at that same time.
Let's establish very clear parameters of what is the ONE THING under consideration here, as contested by you @ 24, where you quoted Jim Bennings and added two words, thus:
"He (Calvert-Lewin) played up front most of last season before Tosun arrived." Absolute drivel.'
This clearly indicates that you consider Jim is wrong in his claim.
Having clearly established both the claim you are contesting and the time frame, the ONLY performance data that should be under consideration are the games in which Dominic Calvert-Lewin played in BEFORE Cenk Tosun arrived at Everton on January 5th of this year. The very day we were eliminated from the FA Cup at Anfield.
All other data – appearances, position played by Calvert-Lewin, the total number of games Everton played post January 5th – is not relevant AT ALL!
From the start of the season – and I am counting from July 27th, the day of our first competitive game of last season against Ruzemberok in a Europa League pre-qualifying game – up to and including the very day Cenk Tosun signed for us – the FA Cup game on January 5th at 'that' place – the fixture breakdown is thus:
Europa League Pre-qualifying games = 4
Europa League Group games = 6
League Cup games = 2
FA Cup games = 1
Premier League games = 22
Grand Total = 35 games
Dominic's participation in those games reads thus:
Europa League Pre-qualifying games = 4 out of 4 (2 starts listed as CF and RW, 2 as sub)
Europa League Group games = 5 out of 6 (2 starts listed as CF and RW, 3 as sub, 1 game not in squad)
League Cup games = 2 out of 2 (1 start at CF, 1 as sub)
FA Cup games = 1 out of 1 (1 start at CF)
Premier League games = 22 out of 22 (16 starts listed as 13 at CF, 1 as SS - 2nd Striker - 1 at LW, with 6 as sub listed as 2 at CF, 1 LW, 1 RW, 1 AM – attacking midfielder)
Some sub appearances do not list the position he took up on the park, presumably because it was too brief.
In other words, he played in ALL BUT ONE GAME OF THE 35 GAMES EVERTON PLAYED BEFORE TOSUN WAS SIGNED.
Of the 34 out of 35 possible games Dominic played in, up to and including the date on which Tosun was signed, he appeared 24 times as the centre-forward and 1 time as the second striker.
I think a reasonable person would conclude that such a ratio rather supports Jim's original claim, and rather torpedos your two-word 'absolute drivel' dismissal.
Has the penny dropped yet, Darren, that some of us can keep our eye on the ball and accurately analyse and disprove the original claim you contested and not be blindsided with the diversionary tactics of total irrelevant data you customarily introduce to a discussion in an attempt to bolster your flawed, exposed position?
Lawrence Green
103
Posted 20/12/2018 at 16:23:34
John G #99
Silva probably hasn't fielded exactly the same line-up too often in consecutive games, however, he does seem to have remained loyal to a core group of players for most fixtures.
Brent Stephens
104
Posted 20/12/2018 at 16:40:25
I've come to this topic late, so a tentative post, genuine question. Do I read it correctly as follows?
In the season Tosun arrived, Calvert-Lewin played in 34 out of 35 first team games before Tosun arrived. And in those games, he played 24 out of 34 as striker at some point?
John G Davies
105
Posted 20/12/2018 at 16:48:41
Thanks, Lawrence.
Much as I suspected. Every manager in the Premier League will use the same principle of sticking to a core of players and using them as much as possible. Silva is no exception.
Brian Harrison
106
Posted 20/12/2018 at 16:54:19
I see Marcel Brands is quoted as saying that if Lozano is priced at €30,000 then Everton won't pay that much, but might be interested at €20,000. Seeing that the FA are still looking into the illegal tapping of Marco, I don't think saying things like this is very clever.
Mind, I am lost as to what the FA view as tapping up and what they don't, so who knows — maybe it's okay to express an interest?
Darren Hind
107
Posted 20/12/2018 at 17:36:35
God loves a trier.
False claim 1 ) The "excellent" website lists two start at CF in Euro qualifiers - nope it lists 1
False claim 2) The "excellent website lists 2 games at CF in Euro cup - nope it lists one
False claim 3) The "excellent" website lists one game in League cup at CF - wrong again it doesn't list any
Falsiest of false claims) That playing ANYWHERE for Koeman or Allardyce other than CF could be construed as playing up front.
That leaves 3 cup games and 13 starts in PL starts (I'll give you the ones where the website clearly got it wrong) . . and I'll also give you the three late entries and call them a full game . . unfortunately it still falls short of half way . . Nowhere near "Most" of the time.
John McFarlane Snr
109
Posted 20/12/2018 at 18:57:08
Hi Frank [98] thank you for your good wishes, you may not know that I generally avoid mainline issues, but being stuck in this physical rehab unit, I'm trawling every thread for entertaining subjects, and I seem to have stumbled into a 'cyber warfare'.
If I couldn't get someone to understand my point of view via two posts, I would abandon the exercise, but I suppose it takes all sorts. No offence to the people involved, but it seems that nobody is prepared to call a truce or withdraw from the action.
Jay Wood
[BRZ]
110
Posted 20/12/2018 at 19:03:28
Oh dear, Darren.
You really do need to read a tad more attentively before tripping over your keyboard.
False claim 1 ) The "excellent" website lists two start at CF in Euro qualifiers - nope it lists 1. Correct Darren! Exactly as I wrote: (2 starts listed as CF and RW).
False claim 2) The "excellent website lists 2 games at CF in Euro cup - nope it lists one. Correct again Darren! And again, exactly as I wrote: (2 starts listed as CF and RW).
False claim 3) The "excellent" website lists one game in League cup at CF - wrong again it doesn't list any. True! I'll give you that one.
But I will counter that by saying the game Dominic did play as centre forward in the league cup was against Sunderland. And - as I wrote on here at the time - it was the one and only Everton game I saw live at Goodison last season. He most certainly did play centre forward that night, scoring two goals. He was also quite clearly the best player on the park. You probably didn't notice. I recall you were too busy rubber-necking at Koeman's reaction when the lesser-spotted Niasse appeared as a scoring sub and 'seeing' things that never happened. A familiar refrain from you.
Back to Dom, in the other league cup tie we played, he came on as sub (again playing up front, which I didn't count), in Rhino's first game as caretaker manager, the 2-1 away defeat to Chelsea. He scored our goal.
So your 'readjusted' figures you read incorrectly don't make a dent at all on Dom's numbers, do they Darren?
And nice try on your final 'falsest of false claims' which you attempt to pin on me: 'That playing ANYWHERE for Koeman or Allardyce other than CF could be construed as playing up front.'
That is your invention, Darren, as is clearly evident in your posts in this thread. I haven't made that claim at all. Nor have I addressed it at all, and I have no intention of addressing it, because that is another discussion altogether, not relevant to the core issue, as already outlined.
You can continue to dispute what position DC-L played BEFORE Tosun arrived and what constitutes 'playing up front' all you like Darren. Unlike myself, you have yet to demonstrate any credible counter evidence to support your claims, other than stomping your feet and repeating 'did not too!'
What is indisputable, as the excellent Transfermarkt site you have evidently studied shows, is that in the time frame YOU referenced in your post @ 24, Dom appeared in 34 of the 35 games Everton played which totally blows out of the water your many (false!) claims about the games he wasn't selected for in this period.
Everyone and his dog familiar with the player knows, by default, he is a forward, wherever that may place him across the front line and that is where he was played. NOT as a midfield player.
Ergo, Jim's claim which you curtly derided, is a legitimate one which stands up to stronger scrutiny than anything you have (failed) to provide thus far.
Alan Bodell
111
Posted 20/12/2018 at 19:21:29
Am I the only one on here is getting fed up with Jay Wood (BRZ)?, correct on every point, wrong on nothing, wants to dissect each statistic.
Get a life, Jay.
John McFarlane Snr
112
Posted 20/12/2018 at 19:36:17
Hi Alan [111] if you backtrack to my post [109] you'll find that you have an ally in me. I would hate to see any form of censorship on this site, but I do think that when two or more people, become entrenched in a subject and are not prepared to give ground, someone has to pull the plug [for want of a better description].
Mike Gaynes
113
Posted 20/12/2018 at 19:37:51
You're reading in the wrong spirit, Alan. Watching Jay and Darren grind their way down to the most miniscule points in their debates -- often to
single words
-- is pure entertainment and well worth the price of admission in my view. Others here can get granular, but Messrs. Wood and Hind eventually entangle themselves in the microscopic, like Raquel Welch in
Fantastic Voyage
. I love 'em both.
John, I certainly wouldn't disagree with your point, but it's not like there's limited space here and Jay and Darren are taking up turf at others' expense. That's why the good Lord invented the scroll wheel for every mouse.
Jay Wood
[BRZ]
114
Posted 20/12/2018 at 19:42:22
Alan, I have never once claimed for myself that I am faultless or correct on any and every point. Not once.
Many of my posts are laced with 'in my opinion' tags.
Nor are my posts only supported by statistics.
Nor do I canvas to deny any poster the right to post what they like.
And I certainly don't post only to bad-mouth a poster without making any contribution to the topic under discussion whatsoever.
I leave that sort of duplicity to folk like you.
Darren Hind
115
Posted 20/12/2018 at 19:42:38
Absolutely not Alan.
Comedy gold. I laughed out loud when I heard Jay's account of the Sunderland game. Waits years to get to the old lady... then two of our players disappear on him – Sandro and Lookman, who clearly played up front on one of those very rare occasions when we played two up top and he doesn't spot them. He was probably checking out Transfermarkt to see what they were making of the game.
Wonderful stuff.
Mike Gaynes
116
Posted 20/12/2018 at 19:50:59
PS... John, I hope you are feeling better, my friend. You
are
going to be out of rehab in time for the holidays, right?
Just promise me you'll take it light on the stairs.
Alan Bodell
117
Posted 20/12/2018 at 19:55:37
And there you go Jay, that small insignificant comment at the end of your #114 post is you summed up, have the last pop mate, always right in your head.
John McFarlane Snr
118
Posted 20/12/2018 at 20:08:29
Hi Mike [113] I didn't get the chance to talk to you at our 'ToffeeWeb' convention, circumstances forced me to make an early retreat. If you still have my e-mail address feel free to use that facility at any time.
You make a valid point when you suggest that I can by-pass the posts of people who are expressing views that do not entirely coincide with mine, but I need to read those posts to establish the contents, citing the legend of 'the boy who cried wolf' a particular post may prove to be interesting, and I may wish to add my two'pennorth.
I have never asked for [nor would I like] censorship, but when it's patently obvious that the opposing parties have no intention of surrendering the final word, someone should make the decision that enough is enough.
On a lighter note Mike if you do wish to e-mail me providing details of your address, I could dig out a few old programmes for you.
Jim Jennings
119
Posted 20/12/2018 at 20:25:36
Alan Bodell #111
You're wrong, Jay is right. His post clearly shows why, beyond all reasonable doubt. The statistics are there to back it up.
The only time Jay was wrong was when he thought he was wrong.
Jay Wood
[BRZ]
120
Posted 20/12/2018 at 20:34:04
Alan @ 117. Do what I do when posting on TW. Take personal responsibility for the consequences of your own words.
In a thread of 100+ posts, have you made comment on any of the various sub-themes within it? No.
Your two posts are written with one intention: to denigrate a single poster. Nothing more.
I don't give a flying fart what you think of me. You express contempt for me. Other posters in this very thread thank and praise me for my contribution. Such is the diverse opinion of the extremely broad family here on TW.
I would respect you (and other posters, similarly inclined to yourself) if, instead of attacking a poster due to personal dislike, you engaged in the topic under debate. But you don't.
Your choice Alan. And I'm a fierce defender of freedom of choice and liberty of expression and wouldn't wish to deny you the right to express what you do. The pay-off is, if you want that right for yourself, you cannot then deny the same right for the target of your ire.
I am not responsible for your emotions. The choices you make. You do understand that you have no obligation to read any and every post on TW, don't you Alan?
As Mike Gaynes suggests, if I offend you so much, you have a very, very simple choice: ignore me. When you see my name, scroll on past. Easy. I certainly apply that policy with some posters on TW.
Darren Hind
121
Posted 20/12/2018 at 20:34:10
I think John Mac is right. This one has run it`s course and nobody is backing down
Time to think about the Spurs game... and Christmas with those who put up with our obsession.
John G Davies
122
Posted 20/12/2018 at 20:48:07
Nothing wrong with robust debate.
If I'm honest, Jay, when I recently disagreed with you on a point (people changing their accents to react to different company) you brought up a high brow mental thought process theory in reply to my calling people who change their accents as phony, then mocked when I hadn't heard of it.
Water off a ducks back, tbh, but what's good for the goose.
Jay Wood
[BRZ]
123
Posted 20/12/2018 at 20:48:23
Darren @ 115.
Comedy gold indeed Darren. Check out this link which shows the line up against Sunderland that night.
Who is that in the - what you call it? The centre forward role? Well! Surprise! Surprise! Dominic Calvert-Lewin.
Check the rest of the team. Lookman was never on the pitch at the same time as either Dominic or Sandro, getting just 17 minutes game time.
Dom and Sandro started the game. After scoring two goals, Dom was subbed out on 66 minutes with Niasse coming on for him. Sandro was subbed out on 73 minutes for Lookman, and Vlasic was replaced by Lennon on 81 minutes.
Any other easily disproved gaffs you want help on, Darren..?
Andy Crooks
124
Posted 20/12/2018 at 20:55:27
John McFarlane, I am so sorry to hear of your troubles. I hope that you and your young lady have a fine Christmas, that you are back at Goodison Park soon and are writing some more of your top articles. All the very best to you.
On another point, I am with Mike Gaynes. Darren and Jay are top posters; I have thoroughly enjoyed this thread. If it were to continue, I'd have to open some popcorn.
Jay Wood
[BRZ]
125
Posted 20/12/2018 at 21:05:35
John @ 122.
I remember the very interesting thread very well - 'Ain't No Scouse'.
And I most certainly didn't mock you. In that thread, I introduced the linguistic phenomenon known as bidialectalism, which resonated with many a poster.
You said that some local Tory MP "... defines the word "phony" and refutes your [my] point." I clarified for you that it wasn't my theory (although I wished it were) and expounded more upon it, agreeing with you that there were some phonies (particularly among politicians, as per your example), but that it was a very real phenomenon.
I most certainly didn't mock you for not knowing about bidialectalism. On the contrary, I would have been surprised and delighted if others were aware of the theory.
Darren Hind
126
Posted 20/12/2018 at 21:05:36
No, Jay,
Your link disproved nothing. Despite what your fan boy website says. Calvert-Lewin played wide right.
One day you may be able to have a normal conversation about football without desperately trawling through fan boy websites to find one that "proves" your argument without "any shadow of a doubt"
Merry Christmas

Jay Wood
[BRZ]
127
Posted 20/12/2018 at 21:14:30
Nice body swerve about your Sandro - Lookman - Dominic claim and the forward line that night when the substitutions 'clearly' demonstrate all three were never on the pitch at the same time.
Ho! Ho! Ho!
Merry Crimbo, Darren.
Darren Hind
128
Posted 20/12/2018 at 21:20:29
I could put a link up from one of your fan-boy websites to "prove it" but then I would become the very thing I find so absurd.
Brent Stephens
129
Posted 20/12/2018 at 21:21:51
Oh, thank you, God. Life is rich. What with the daily comedy in the House of Commons on Brexit, and the non-stop slug-fest on here by Jay and Darren...
I've taken the usual "jokes" out of my Xmas crackers and replaced them with the continuing "discussion" from this thread. Xmas Day at our place is going to be a laugh a minute until the Queen's Speech.
Steve Ferns
130
Posted 20/12/2018 at 21:22:26
Everton v Sunderland highlights
See for yourself Darren. Dom did play that one in the middle of a front three and had a fine game.
As for Transfermarkt.com. I think it's a good website. I often have a look at it as it has features that are not available elsewhere.
That said, I often disagree with it on Everton. They get the formation wrong, and I don't think they always get the positions right either. A lot of that comes down to interpretation though. Is it a 4-2-3-1 or a 4-3-3? Sometimes the different is merely a few yards.
Calvert-Lewin played a lot of last season on a the wing, meaning midfield. Richarlison played on the left for us early this season but that was never deep enough to be midfield, even if he did work his socks off and track back.
What I don't get from this argument is this:
It is started by Jim's comment. Jim doesn't rate Dom, Darren does, and Jay does. Yet Darren and Jay are arguing. You actually have a similar view of Dom and so the argument is about pedantic points.
Why not actually discuss Dom's actual qualities and whether he can force Silva into giving him a run in the side over the next 6 or 7 games before we can get a proper striker in, and if he does, whether he can perform well enough to make Brands delay signing such a player?
John McFarlane Snr
131
Posted 20/12/2018 at 21:24:16
Hi Andy [124] I think I am on the mend, I managed to cut a hole in the barbed wire fence surrounding this establishment, and my escape is timed for 10-00 hours tomorrow.
It's been a particularly bad year for the McFarlane clan, starting with the Sam Allardyce fiasco, leading up to my seven-week vacation in Southport Hospital, my young Lady's complete knee replacement, and my unintentional gymnastics on the staircase. They say that 'You can't keep a good man down' don't believe it, you can. If you would like a bit of advice Andy, "Grow old slowly"
Regarding the online debates, I am all for them, but I believe that there comes a time when the combatants run short of ammunition, and resort to slinging mud.
I have an article in the pipeline, but I don't know if Michael Kenrick will sanction it, although it's the ramblings of a near clapped out Evertonian, I believe that it would be of interest to both old and young 'Blues'.
I'll probably have to play the sympathy card, and trust that Michael is not as stern as he seems, wish me luck.
Steve Ferns
132
Posted 20/12/2018 at 21:30:42
Glad to hear you're on the mend, John. I hope you get your article published.
Alan Bodell
133
Posted 20/12/2018 at 21:32:31
Jay, although you irritate me nitpicking so many posts to a point of being tedious I commend you for your tenacity but what is the (BRZ) suffix, I recall a Jay Wood from Latvia doing the same so it that you? Not knocking ya, mate, you got your views; I got mine.
John G Davies
134
Posted 20/12/2018 at 21:47:11
Jay 125,
Thanks for the explanation, I accept you were not mocking after reading your post. I must add though, your last sentence in post 125 is a little condescending.
Thanks again for your explanation.

John McFarlane Snr
135
Posted 20/12/2018 at 21:56:59
Hi Steve [132] you do realise, don't you, that you are responsible for the 'literary mess' I find myself in? If you hadn't persuaded me to recount the Everton of my younger days, I wouldn't be crossing swords with all and sundry.
You planted the seed in my head which led initially, to an article on my boyhood hero 'Wally Fielding' and then having caught the bug, I knocked the articles as fast as a one finger typist can.
Although it's a labour of love, I seem to submit when there are major stories breaking, and what takes me days to complete is swamped by the news of the day. However they say that God loves a trier; you've caught me in a good mood.
Laurie Hartley
136
Posted 20/12/2018 at 00:01:57
Alan #133 – your question has prompted me to post my "ToffeeWeb what I want for Christmas list":-
The return of:-
Jay Wood (LAT)
Phil Walling
Eugene Rayne
All very different posters but I would have loved to have seen them on this thread.
If you three are out there – I hope you are well and all the best for Christmas.
Jerome Shields
137
Posted 21/12/2018 at 00:42:46
Richarlison is out of position as centre-forward and plays better on the wing.
Lookman is an out-and-out forward. He does not track back or contribute meaningfully to the high press.
Calvert-Lewin cannot hold down a first-team starting centre-forward position and is not considered a good replacement for Tosun, who can't beat his marker or hit a barn door at 3 yards.
That is the current assessment of this trio of players. There is no reason to believe that as a trio they are of top-four standard.
Jay Harris
138
Posted 21/12/2018 at 02:35:16
Laurie,
you forgot to mention Doddy from the Freshy too.
Lets hope they are all doing well and enjoying the return of football to Goodison.
Laurie Hartley
139
Posted 21/12/2018 at 06:57:16
Yes Jay# 138 :- Richard Dodd if you are out there I would like you to come back also.
I also forgot to mention Ken Buckley - I hope you are well Ken. I reckon that if there is one thing that ALL of us would agree on and not have a fight over (wouldn't that be something) it would be to see you back on the pages of the ToffeeWeb.
Amit Vithlani
140
Posted 21/12/2018 at 16:07:37
Laurie – don't forget John Daley. Sorely missed.
Geoff Lambert
141
Posted 21/12/2018 at 17:39:17
Alan #111,
Haha, funny that, mate, but watch out – the ToffeeWeb police will have it in for you.
Laurie Hartley
142
Posted 21/12/2018 at 21:54:10
Amit # 140 - yes John is another one. There are probably quite a few more. Maybe they are unwell or just got fed up with us.
Michael and Lyndon - you would have the contact details of those mentioned. Could you check to see if they are all OK?

Tom Bowers
143
Posted 21/12/2018 at 22:01:46
It is apparent that Everton are not reaping the benefits of this talented striker but it's early days and, if they can get the support for him in a big way, then next season may just be the real turning point. With half a season to go there doesn't seem to be anyone at the club who will be up to it as things stand at present.
Gylfi can score now and again but like Walcott is inconsistent in that role.
If things are to turn around for next season, then Silva needs to have new signings in place so that they can be properly integrated well before next season starts, instead of making desperate buys at the last minute.
Stewart Lowe
144
Posted 21/12/2018 at 23:35:21
I don't think Calvert-Lewin is good enough to be our regular forward. I wish he was but I just don't see it. I think he will always work hard for the team, but he will never score 20+ goals a season.
Lookman is another good player but yet again, I don't think he will be a stand-out player. He is someone who has it in his locker but could lack the all-important application.
Walcott has gone from a quality and proven forward with a lot of experience, to one dimensional, and needs 5-6 opportunities to score a goal, which isn't good enough. Strange how he is now one of our weak links.
Bizarre how last year we had no left-hand side at all, and now it's our right side that is terrible — not that the right side was that much better last year either.
Darren Hind
145
Posted 22/12/2018 at 06:41:43
Interesting looking back on this thread through fresher eyes. I know John Mac got a little upset, but there was absolutely nothing personal in the exchanges.
Jay Wood contributes much to this website. He gets through an amazing amount of research, unlike most of us, he is not shy going about the spade-work... but I can't have websites like Transfermarkt at any price. My main gripe is that there are several like it and they always seem to contradict each other. How on earth can they be taken seriously?
I looked at the first sentence in JGD's post 39 and I honestly thought. That was it, game over, thread ended.... Shoulda known better. TW seldom works like that.
We all need to check our facts from time to time, even if it's only to jog the memory, and I can honestly say, hand on heart, that I seldom leave this website when I'm doing mine.
ToffeeWeb has hidden depths. While many will see it a simply somewhere to exchange views, it offers so much more. I don't know who compiles the information (I suspect most of it is done by Michael) but it is as comprehensive as you will find... a labour of love from Evertonians who will actually care about the accuracy of what they put up there... and they tend to only stick to the pertinent stuff.
Despite this debate, we all know today's football coach changes his formations several times during a game. You have to have seen the game to know that. No daft-arsed stat collecting site will tell you.
I recently asked a question about Big Joe's departure on here. Dave A gave me an almost instant response. Where else would you get that?

Add Your Comments
In order to post a comment, you need to be logged in as a registered user of the site.
Or Sign up as a ToffeeWeb Member — it's free, takes just a few minutes and will allow you to post your comments on articles and Talking Points submissions across the site.