Burnley vs Everton
Wednesday, 26 December, 2018
Match Preview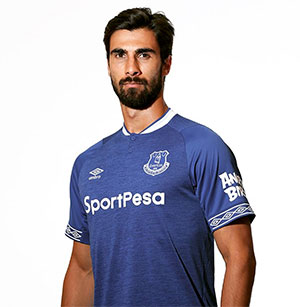 André Gomes will undergo a late fitness test along with Idrissa Gueye and Ademola Lookman
Everton make a mercifully short Boxing Day trip to Burnley needing to offer their fans a response to Sunday's embarrassment at the hands of Tottenham.
Having beaten the Clarets at Turf Moor during Roberto Martinez's second season, the Blues have lost on their last two visits under two separate managers and they can ill afford a third successive defeat there lest their recent slide from sixth to eleventh place continue further into the bottom half of the table.
In Everton's favour is the fact that Sean Dyche's outfit have not been anything like the team they were last season when they finished in seventh place and qualified for Europe, a feat that proved to be the poisoned chalice it so often is.
Despite showing a flicker of improvement with a 1-0 home win over Brighton a fortnight ago, that was Burnley's only win in their last seven since winning at Cardiff at the end of September and they will begin the day in the relegation zone.
Without an away win since the 6th of October, with just one victory in the last seven matches and now a season's nadir reached with the 6-2 drubbing by Spurs, Marco Silva needs to find some answers to a slide in form that meant Everton went into Christmas with fewer points, 24, than at the same stage as last year's debacle of a season.
And his task could be complicated by injury concerns over his first choice central midfield pairing. Idrissa Gueye has missed two games with a groin problem and remains a doubt while André Gomes will also undergo a late fitness test on the knee injury that forced him off on Sunday.
Ademola Lookman, meanwhile, will also be assessed for an unspecified knock reportedly picked up in training prior to the Spurs game as he looks for another opportunity to prove that he can be one of the solutions to Everton's attacking shortcomings of late.
Given the crowded nature of the festive fixture programme, the injury to Gomes and the possible need to make changes following a heavy defeat, Silva is unlikely to name an unchanged line-up today.
Yerry Mina could come back into the side, perhaps at the expense of Kurt Zouma while James McCarthy might finally make his return to first-team action following the double leg-break he sustained last January.
Up front, Dominic Calvert-Lewin has probable done enough to keep his place while Bernard's lively cameo off the bench could be weighed against Theo Walcott's goalscoring outing against Spurs.
Kick-off: 3pm, Wednesday 26 December, 2018
Referee: Michael Oliver
Last Time: Burnley 2 - 1 Everton
Predicted Line-up: Pickford, Coleman, Keane, Mina, Digne, McCarthy, Davies, Sigurdsson, Walcott, Richarlison, Calvert-Lewin
Full details: Match report page
---
Reader Comments (53)
Note: the following content is not moderated or vetted by the site owners at the time of submission. Comments are the responsibility of the poster. Disclaimer
Derek Knox
1
Posted 26/12/2018 at 07:27:32
It will certainly be a blow to lose both Gana and Gomes from the team, it will slightly tempered by the re-appearance of James McCarthy if he does indeed play.
I was dreading to see the name of Schneiderlin there in the absence of our two main men.
As Lyndon has mentioned Burnley are not exactly playing that well this season, but we will still have to be at our best to get anything from this game, hopefully no hang-over from Xmas and the Spurs game.
COYB
David Mosses
2
Posted 26/12/2018 at 07:49:48
Your predicted lineup doesn't make me feel confident of a result, McCarthy in the middle is a yes but Davies as his partner I don't think so. Too many players in that lineup are struggling for confidence, I hope I'm wrong and we get a win but it will have to be a lot better than Sunday to achieve that.
Darren Hind
3
Posted 26/12/2018 at 08:05:18
As I just posted on the LF. There's only one option open to us today guys.

We go again
Jim Bennings
4
Posted 26/12/2018 at 08:19:23
We simply must win both these two away games to get our momentum back that has been lost with Jordan Pickford's Anfield error.
No game in the Premier League is easy of course not but after the money we have spent, would Farhad Moshiri deem any less than six points from Burnley and Brighton acceptable?
It's high time that Everton started flexing their muscles.
Since November 3rd we have registered one win, against Cardiff, that's nowhere near good enough, not six months into Silva's reign.
Get a grip Everton, cut out the schoolboy mistakes and start winning some bloody away games.
Ian Hollingworth
5
Posted 26/12/2018 at 08:30:24
It's time to see what the manager and players are really made of. They surely must be hurting from recent results and the Spurs game in particular?
I also think that we,the fans who support the club also need to do our bit and step up our support.
The modern digital world has changed supporters and it feels like we want more all the time, we get to know more and communicate more but the basics of supporting your team are slowly being eroded away.
We go to the games to support the blues and that shouldn't just mean when it goes our way. Spurs was a disaster but we didn't support the team too many just upped and left.
I know the players don't give us a lot to support sometimes but that's because a lot of modern footballers just don't care. Ok, we don't like that but guess what Everton is our club not there's, we will still be here when they have gone.
We do care and should care and the only way we can really show we care is by the support we give the team.
Don't get me wrong I am no happy clapper and do my fair share of moaning, I have just decided we need to start enjoying supporting our beloved Everton again regardless of the events on the pitch that we can't control.
COYB
Shane Corcoran
6
Posted 26/12/2018 at 08:37:38
I can see Burnley winning this. Apparently they're playing a bit better than they were and Dyche will smell blood. The Blues are odds on to win with the bookies which I find bizarre. Buckle-up for a bumby mid-season lads.
Frank Sheppard
7
Posted 26/12/2018 at 08:57:01
It's concerining that a game like this, and I don't feel confident of a result.
Neil Cremin
8
Posted 26/12/2018 at 09:02:46
Losing here is not an option. If we do lose we are heading south fast and the new dawn shown by Silva is myth. I know that it is not popular to question Pickford which I have done consistently for two years but his rashness, poor kick outs, failure to command the 6 yard box by holding the ball instead of parrying it back into play especially on corners, in my opinion results in a disorganised back four who are not working as a cohesive unit. If he is to become the keeper he thinks he is, he must start taking responsibility for organising the defence instead of throwing his tantrums when we concede. We have been a shambles in defence in the past two years. I remember Seaman of Arsenal was always in the right position at the right time resulting in most of his saves being unspectacular whereas Jordan is th opposite. Until we sort this problem we will continue to struggle.
Jim Bennings
9
Posted 26/12/2018 at 09:11:26
Neil
Pickford needs to learn from his mistakes quick.
I think goalkeepers peak far sooner these days than say 25 years ago, due to the general physical demand for fitness and the way the ball zips about nowadays.
Look at the top keepers throughout the world, most are at the peak of their powers by the age of 26.
The problem with Pickford is he needs to stop making brain farts and start calming down a bit, everything with him seems rushed.
Even that Anfield cock up, it was bread and butter to just remain calm and follow the movement of the ball but he confused the situation, same on Sunday and against West Ham in the 3-1 losses in September and on the final day last season in London, he was awful that day too.
He needs to quickly get his head back on things.
Neil Copeland
10
Posted 26/12/2018 at 09:11:28
Whilst not a happy clapper as such, I am generally an optimist when it comes to the blues and will naturally look for the positives. But other than DC-L I was really struggling to find anything good from the Spurs performance. However, as we have demonstrated at various stages this season we are much better than that.
So, I am hoping that the post match dressing room was a watershed moment for Everton. I like to think that Silva told them in no uncertain terms that any repeat is likely to seriously shorten their EFC playing careers. Hopefully Marcel Brands has had a similar conversation with Silva this week.
Losing today is unthinkable, we have to win - by any means, a 96th minute own goal to win will do.
Time to stand up and be counted blues.
Neil Copeland
11
Posted 26/12/2018 at 09:17:56
As regards to Pickford, he is an excellent keeper but as stated above makes too many unforced errors. I think we need a much stronger number 2 in that position who will truly push him for his starting place and bring him back down to earth. I don't think the plaudits he received from his World Cup exploits have helped him or us, seems they may have gone to his head.
Dermot Byrne
12
Posted 26/12/2018 at 09:18:01
I am a depressed happy clapper!
But agree with Darren, we go again. As we always do.

Neil Cremin
13
Posted 26/12/2018 at 09:19:41
Good to have somebody agreeing. Jim. My previous comments drew the wrath of TWebbers. One other flaw he has is not taking responsibility for his part of the teams poor performance. His explanation for the Anfield cock up was dishonest to say the least, no way did he try to tip it over.
Derek Taylor
14
Posted 26/12/2018 at 09:20:02
Before the Spurs debacle, I said 'Lose today and our season is over.' In respect of today's game, I say, 'Lose at Burnley and Silva's days are numbered.' Whilst Moshiri was led to believe Marco was the second coming, he has proved to be as impatient as most of us are and will not delay in taking action.
I've lost track of what is at stake for each individual point gained but Everton must already be way behind budget and there will be no delay, I'm sure. Trouble is, our benefactor is such a bad judge of managerial talent that whoever comes rest may be no improvement !
Eddie Dunn
15
Posted 26/12/2018 at 09:20:16
This is not the fixture that we needed after that confidence-sapping drubbing.
I heard match reports of Burnley at Arsenal, and they played okay. If lyndon's team forecast is correct then I struggle to see us getting more than a point.
If Gomes and Gueye are missing, the midfield will be under strength and unfortunately the likes of Walcott, Bernard and even (on last week's showing) Richarlison don't slot-in and help out enough.
I fear another defeat. I think we are on the slide.
My own solution would be to bring in Jagielka and Baines. The inclusion of these two experienced stalwarts will help to steady Pickford and give us a platform.

Kim Vivian
16
Posted 26/12/2018 at 09:20:22
If Mcarthy sits deepish and plays the commanding game we know he can allowing Davies the odd foray forwards, I think that midfield could work but with Lookman starting instead of the boss's favourite Walcott.
Mina or Zouma? - It's Zouma for me if fit and I guess Pickford will remain between the jumpers. 'Rest' him against Lincoln.
This will be a tough game especially with our flagging confidence and while we should be winning, I'm predicting a draw today.
Dave Abrahams
17
Posted 26/12/2018 at 09:21:36
Neil (8),Pickford has not only got to take responsibility for
organising the defence, he has also got to take responsibility for his growing number of mistakes, he just shrugs them off or blames someone else, ie, Zouma for Spurs first goal.
I think the game at Burnley will be a dour ninety minutes to watch, hope I'm wrong for the sake of those brilliant
supporters who follow the team everywhere, hail rain and snow, hope the Blues give them some sunshine today.
Just a quick word to George Mckane, hope you are reading this George and you are feeling better, you are missed on here and not just by me, I hope 2019 is a better year for you, very best wishes.
Jim Bennings
18
Posted 26/12/2018 at 09:37:13
Understanding the goalkeeping industry, what defines a goalkeeper is not the saves he makes but the decisions he makes.
A keeper could make four great saves in a game but if he makes one high profile costly blooper then that is the defining moment.
Every keeper will make the odd mistake but it's about cutting out the regularity of such costly errors.
Pickford is obviously strong on penalties but then again so was Richard Wright for example, but there is another guy that had a comedy caper just around the corner.
Neville Southall and Nigel Martyn's were so good for so long because of the command they had in that penalty area and they made telling decisions 99 percent of the time.
That's eventually were Jordan needs to be at.
Jerome Shields
19
Posted 26/12/2018 at 09:49:32
We will find out today, if Silva has a clue.
John Raftery
20
Posted 26/12/2018 at 09:53:25
It was inevitable that we would suffer a drop in form at some stage in the season. The fact it has happened in the busiest month of the season has brought Silva's future into doubt more quickly than might otherwise have been the case. It provides him with an opportunity to prove he has what it takes to be a long term manager of our club. Can he lift the team out of this trough and how quickly?
Losing today and on Saturday will not be surprising given how poor we have looked in the past three weeks. If that happens it will not be a cause for panic but it will obviously put further pressure on a manager who has yet to demonstrate he can manage a team through a full Premier League season.
As regards team selection how many more mistakes will Pickford be permitted to make before he is dropped? A struggling team needs a safe pair of hands. He is far from that. Silva also needs to abandon, for the time being, a formation which leaves the central midfield and defence so exposed.
Neil Cremin
21
Posted 26/12/2018 at 09:56:55
Well said Jim. Agree 100 %. Hope he has the character to recognise this (Silva has a role here too) and takes on that responsibility for the sake of the team. Let's hope today he proves he can.

Dick Fearon
22
Posted 26/12/2018 at 10:02:44
I have viewed recent Burnley games and will wear my brown pants for this one.
Joe McMahon
23
Posted 26/12/2018 at 10:06:39
We have to be 110% switched on, Vokes, Woods will target Pickford long balls will test Coleman. How has it come to this, again?
Robert Leigh
24
Posted 26/12/2018 at 10:18:35
Burnley play two up top normally, and given the lack of options in midfield I'd play three at the back.
Davies was woeful against Spurs, if McCarthy isn't fit I'd rather Schneiderlin play as at least he came and looked for the ball on Sunday. Would also let Seamus have a breather to recollect his thoughts having been given the run around.
Pickford
Mina - Keane - Zouma
Kenny - Sigurdsson - McCarthy - Digne
Richarlison - DCL - Bernard
Stek, Jagielka, Baines, Schneiderlin, Lookman, Walcott, Tosun
John Keating
25
Posted 26/12/2018 at 10:21:21
Can't see much change from the last few games.
Slow lethargic play with questionable tactics.
Burnley will be well up for this.
Fingers crossed for a draw and continuing improvement from young DCL
Simon Smith
26
Posted 26/12/2018 at 10:24:07
Burnley play two up top and with our current injuries I'd do the same.
Richalison and DCL should lead the line in a 4-4-2.
Davies should start, he wasn't fantastic vs Spurs but the team as a whole was awful and Davies was short on game time so I think he'll fair much better today, and I'd play Siggy in there with him, Bernard left, Lookman or Walcott right.
Mina has to return at the back and if I'm honest I'd give Kenny his chance too, Coleman isn't finished but his forms dreadful.
Bob Martin
27
Posted 26/12/2018 at 10:30:00
In my opinion we are crying out for Jags even if it's just a few games in a back four or three... to calm everyone down, get some shape and show everyone's how to defend.. not like school boys.
Christine Foster
28
Posted 26/12/2018 at 10:37:12
Burnley are not Spurs. But jeez lads, you lot must have had a miserable Christmas (bah humbug).
No today may not be pretty but Silva has to be sharper tactically and change the formation as suits and that includes bodies as well.
Baines, Mina, McCarthy, Tosun should be in to tighten and shake things up a bit as well as making a statement of a managers discontent. Leaving it with the same line-up would be a total cop out and. A misplaced show of faith.
Christine Foster
29
Posted 26/12/2018 at 10:38:39
Apart from obvious injuries of course
Gareth Clark
30
Posted 26/12/2018 at 10:44:22
Pickford
Coleman Mina Zouma Digne
Gueye Davies
Lookman Sigurdsson Richarlison
Calvert-Lewin
Stekelenburg, Keane, Baines, McCarthy, Bernard, Walcott, Tosun
Clive Rogers
31
Posted 26/12/2018 at 10:51:21
I don't think this is a good game to introduce McCarthy after a long lay off. They kicked the RS about a few weeks ago and Gomes ended up with a broken leg. This would be a nightmare fixture for Bernard also who seems to be too lightweight for the PL to me. If Gomes and Gueye don't make it, we are really up against it. Our lack of pace in midfield was badly exposed by Spurs.
Anthony Murphy
32
Posted 26/12/2018 at 10:53:16
I said the other day is was a bad time to be playing Spurs and it's similar with Burnley today. We are facing a team whose results lately don't really reflect their play and Dyche feels aggrieved by poor refereeing. We always seem to be the perfect team to play if you want to end a bad run or have a striker who hasn't scored in months.
So, Marco, if you're the real dea,l here is a fantastic opportunity to prove it. A win and it would suggest you can motivate and demand change from a team playing poorly and lacking confidence. A loss and we are left questioning your capacity more than ever.
Richard Mason
33
Posted 26/12/2018 at 11:00:24
Burnley did kick lumps out of the RS and Arsenal, so Everton may expect a physical encounter. The thing is, those teams got results off Burnley.
Neil Wood
34
Posted 26/12/2018 at 11:10:16
Virginia (I know it wont happen but this would be my selection!)
Coleman Mina Zouma Digne
Lookman Gana Gomes Richarlison
Bernard
DCL
Clive Rogers
35
Posted 26/12/2018 at 11:16:21
Bob, #27, that's a good call. I think Jags would organise the back four better. The present ones don't seem to talk to each other. His form was OK when he played earlier in the season.
Raymond Fox
36
Posted 26/12/2018 at 11:17:51
Going off the betting, it seems like neutrals think we are better team than we do!
Their going to be a tough nut to crack and I can't raise much confidence about us getting more than a point out of this game.
Having said that, I hope I'm surprised come 5pm, because, although we were outclassed against Spurs, it was not a 2-6 game, the majority of their goals were put on a plate for the scorer.
Tony Twist
37
Posted 26/12/2018 at 11:25:32
I have no faith in this manager to learn from his mistakes, put it this way he has had a fair few opportunities (as well as in pre-season) for us to see a reaction in the next game and nothing has happened. We are back in the Mike Walker days again. 2-1 Burnley if we score first, God knows if they score first. Prove me wrong Marco.
Eddie Dunn
38
Posted 26/12/2018 at 11:27:29
Despite my doubts about our chances today, I would be more worried if the game was at Goodison with the onus on us to take the game to them, leaving us open to the counter.
At least Burnley will be expected to come out and have a proper go at us, which I think is our best bet. We have pace on the break and can hopefully exploit it.
John Hammond
39
Posted 26/12/2018 at 11:39:09
I'd be surprised if McCarthy starts in a game like this having been out for so long.
So how do we approach the game? Another suicidal high line against a team who'll be pumping long ball after long ball or sit deeper and counter attack with our pace up front? We're terrible defending balls over the top so I know what I'd do.
David Hallwood
40
Posted 26/12/2018 at 12:12:29
After leaking 11 goals in 3 games, I'd like Silva to take a more cautious approach to the game. Despite losing 2 mids I'd like to set up 4-5-1which means asking Charlie and woolcott to tuck in and the backs to play a lot deeper.
Moving on to Pickford; keeper, England international, played for a Merseyside club, great shot stopper but prone to horrendous lapses of concentration. Supporters Nicknamed him calamity, his name is that's where I'm at with Pickford
John Malone
41
Posted 26/12/2018 at 12:22:34
Start with the team that started against Spurs; we'd have beaten a lesser team with that line-up on another day.
Whatever we do, don't play Mina the donkey – Zouma is twice the defender he is!
Ajay Gopal
42
Posted 26/12/2018 at 12:36:24
Too many changes would be detrimental, but the games are coming thick and fast and we need to calm things down a bit.
I would play Holgate for Coleman – he has pace and will give us some much-needed physicality. Coleman needs a break.
Richarlison and Siggy also need a break, but this is not the game for it. Digne has not done much wrong, but maybe a good time to rest him and give Baines a go. I would continue with Keane and Zouma (haven't forgiven Mina yet for having a giggle post-match with Pochettino and Sanchez after that thrashing). If McCarthy is fit, he should play, but worried about husband lack of match fitness. Whatever happened to Beni? Is he still out injured?
Pickford
Holgate Keane Zouma Baines
McCarthy Davies
Lookman Siggy Richarlison
Calvert-Lewin
Subs: Stekelenburg, Mina, Scheniederlin, Niasse, Walcott, Bernard
Frank Crewe
43
Posted 26/12/2018 at 12:38:04
Does it have to be 4-2-3-1? Whatever happened to 4-4-2?
Coleman, Keane, Zouma/Mina, Digne.
Bernard, Gana, Sig, Lookman
DCL, Richarlison.
tony smith
44
Posted 26/12/2018 at 12:58:51
My gut feeling is that we will get bullied out of this today, teams around us have sussed you just have to rough up us a bit and we lose our shape and energy. Think we need to tighten up and try to hit them on the break. I know it's Burnley but these are the games we lose and think a point might arrest the current slide.
Tony Everan
45
Posted 26/12/2018 at 13:06:29
We have got too many good players with plenty of skill for Burnley to cope with , if we match Burnley's physicality, determination and tenacity we will win.
Its all about the midfield again, we cannot be overrun again. The midfield has to be more organised and robust. I am concerned without Gomes to glue it together, without Gana against Spurs we were lost. McCarthy should be played to add some tenacity and determination , positioning nouse and defensive protection.
Time to deploy the young guns attacking line up.
Lookman and DCL must start as they have looked our best attacking options to play with Richarlison. Use Walcott off the bench.
Pickford
Seamus Keane Mina Digne
Lookman Gana Mccarthy Sigurdsson Richarlison
DCL

please.
John Pierce
46
Posted 26/12/2018 at 13:21:59
Whatever the malaise, Silva should resist changing too many unless it's enfir by injury.
Time again Everton are not deep enough to withstand more than 2/3 changes. The rhythm is broken. Nor is it time for radical formation change.
Stabilize, stay familiar and work through it. Whatever our travails, we are good enough to beat Burnley.
Eddie Dunn
47
Posted 26/12/2018 at 13:28:34
Ajay- I saw Mina having a laugh with Potch and Sanchez...just totally inappropriate in the circumstances.
He should have had a chat in the bowels of the stand.
Lewis Barclay
48
Posted 26/12/2018 at 13:53:55
I think bringing Baines and Jags back for the game on New Year's Day at home to Leicester, makes sense.
Until then keep both on the bench and use as needed.
Without Gomez I think we'll look a bit ordinary and it's time for a bit of a shake up.
If Lookman is fit, start him.
Tosun, I don't think can cut the mustard.
Richarlison should play out wide.
I think DCL deserves a few starts but there needs to be a focus on supply and protecting him. He needs someone with strength behind him. Maybe he would play better as part of a two up front.
George Cumiskey
49
Posted 26/12/2018 at 14:05:57
Neil Woods I really like the look of your selection, it's what I would prefer.
Dermot Byrne
50
Posted 26/12/2018 at 14:06:48
Pickford; Keane, Zouma, Mina; Digne, Sigurdsson, Gomes, Coleman; Bernard, Calvert-Lewin, Walcott Subs: Stekelenburg, Jagielka, Baines, Gueye, Davies, Richarlison, Niasse
Dave Abrahams
51
Posted 26/12/2018 at 14:15:14
Is there any news of Lookman, is he injured.
Steve Ferns
52
Posted 26/12/2018 at 14:24:42
Was wondering the same Dave.
Really do not like this side. I hate a back 5. It's not 3-4-3 it's 5-2-3.
Burnley will not be attacking us, that's not the way they play. I can't understand Silva's thinking here. Looks like a 0-0 bore draw.
Ben MacKenzie
53
Posted 27/12/2018 at 02:48:58
Haha Steve Ferns, how wrong can one be?
Add Your Comments
In order to post a comment, you need to be logged in as a registered user of the site.
Or Sign up as a ToffeeWeb Member — it's free, takes just a few minutes and will allow you to post your comments on articles and Talking Points submissions across the site.