Everton vs Leicester City
Tuesday, 1 January, 2019
Match Preview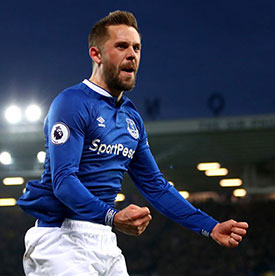 Gylfi Sigurdsson scored a spectacular winner in the reverse fixture in October and is expected to return to the starting XI today
Everton and Leicester play the first Premier League fixture of 2019 when they meet at Goodison Park for the New Year's Day lunchtime kick-off.
The two sides would have expected to be the most likely rivals for the title of "best of the rest" if they aren't able to crack the top six this season but both ended 2018 in disappointing fashion.
The Blues went down 1-0 at Brighton, a defeat that immediately took the gloss off that 5-1 hammering of Burnley at Boxing Day, while the Foxes followed up wins over Manchester City and Chelsea with a surprise home defeat to Cardiff City.
For Everton, it will be their fifth game in the space of 17 days and Marco Silva has already tied to mitigate the fatigue in some of his players by resting the likes of Richarlison, Dominic Calvert-Lewin and Gylfi Sigurdsson while others, like Lucas Digne, Seamus Coleman and Michael Keane, have been ever-present and aren't likely to be given a rest until Saturday's meeting with Lincoln in the FA Cup.
Indeed, the manager's selection for this one might well reflect the need for three points to ease the pressure from a run of just one victory in seven. Sigurdsson is certain to return barring some unforeseen injury concern and, assuming Silva doesn't opt for the same personnel that won at Leicester in early October, Calvert-Lewin would be a good bet for a recall after starting Saturday's defeat at the Amex Stadium on the bench.
That would free Richarlison up to play on one flank, Bernard on the other and allow Silva to perhaps rest Theo Walcott who has struggled to make an impact of late.
At the back, the three-man central defensive unit felt like overkill against Brighton with Idrissa Gueye back in the side so one of Keane, Kurt Zouma or Yerry Mina could make way for an orthodox back four.
Ademola Lookman, meanwhile, remains a doubt with the unspecified knock he picked up in training before Christmas but he will undergo a fitness test to determine whether he is fit enough to play.
For their part, Claude Puel's side is without Daniel Amartey (ankle) and Matty James (Achilles) but Jonny Evans and Wes Morgan could return from illness and Hamza Choudhury is in contention after being rested against Cardiff.
Everton can leapfrog Leicester if they can grab a victory and, hopefully, start to build some more momentum after a disappointing run of results since the body blow they sustained at the end of the Anfield derby a month ago with another home game to follow against Bournemouth on the 12th.
Kick-off: 12:30pm, Tuesday 1 January 2019
Referee: Martin Atkinson
Last Time: Everton 2 - 1 Leicester City
Predicted Line-up: Pickford, Coleman, Keane, Zouma, Digne, Gueye, Gomes, Sigurdsson, Bernard, Richarlison, Calvert-Lewin
---
Reader Comments (34)
Note: the following content is not moderated or vetted by the site owners at the time of submission. Comments are the responsibility of the poster. Disclaimer
Bobby Mallon
1
Posted 01/01/2019 at 01:54:47
Happy New Year — you filthy Bluenose bastards!!!
Love to you all.... let's just beat these fucking foxes... 🦊
Chris Williamson
3
Posted 01/01/2019 at 02:02:58
Happy New Year!!
Neil Lawson
4
Posted 01/01/2019 at 02:06:19
A blue from birth nearly 64 years ago, and I still have no clue what will happen later today.
One of the joys of supporting Everton is the unpredictability. It's a bit like asking the contestants on Popmaster what they will score and being told "Something between 3 and 33".
Just hoping that I will be pleasantly surprised at the very start of the year and that the surprises thereafter won't be limited to birthdays and anniversaries! 250 miles away and without Sky, I will suffer the agonies of regular refreshing on ToffeeWeb and on BBC Sport always fearing the worst but hoping for the best.
And all the best to you all for 2019. Thank heavens that we will never lose our sense of humour even if events are not always great on the pitch.
Jamie Crowley
5
Posted 01/01/2019 at 02:28:51
Neil -
Unpredictability? Oh hell yes! We're a schizophrenic team!
Happy 2019 to one and all.
Dick Fearon
6
Posted 01/01/2019 at 02:42:16
Disappointing that, in times such as this, when Silva is juggling the squad, trying to give some players a much-needed rest, not a single player from our oh so wonderful unbeatable fantastic U23s is good enough even for a place on the bench.
Kase Chow
7
Posted 01/01/2019 at 03:04:14
Dick #6
Fair point.
Would a youth team striker (Fraser Hornby?) really be a worse option than Niasse or Tosun?
If we aren't gonna buy a striker, then please let's at least experiment?
Joe Lockrobin
8
Posted 01/01/2019 at 03:27:11
Happy New Year folks.
(Long time lurker, first time poster).
I can't help feeling massively negative for this one.
Please Everton, confuse me/ prove me wrong once again.
Toffees 1 Foxes 3
David Woodworth
9
Posted 01/01/2019 at 05:35:31
Happy New Year to all the confused and long-suffering.
I see Sílva is saying more investment is needed. Firstly, he should bench the underperforming players, notably Coleman and Walcott, and try and solidify the right-hand side.
I agree with Kase #7, let's try and experiment.
I will be watching the match in Cyprus; it will be interesting to see how the defence deals with Vardy.
Laurie Hartley
10
Posted 01/01/2019 at 06:00:06
Lyndon, I hope you have got the starting line up right.
How this one will turn out I haven't got a clue, but I do believe that we have to beat them if we are to have any chance of finishing seventh (which is the best we can hope for after the December results).
On the subject of seventh, I wish all Evertonians a happy new year, but a special mention for Phil Walling who has gone missing. You were right as usual Phil.
Up the Blues!
Tony Everan
11
Posted 01/01/2019 at 07:39:42
Happy New Year to all Evertonians everywhere!
I went out with my dad and brother for a few pints last night, asked them what their New Year's resolutions were.
My dad 77 and worsening Parkinson's, said '' to stay alive''
My younger brother said he would like to drink more. Said he let himself down in 2018 by not drinking enough.
Anyway, back to the football, Lyndon's team sheet is spot on today and is the best line up I reckon. I much prefer Richarlison wide and Calvert-Lewin is our best option at centre-forward.
I also think there are flashes of renewed promise from Bernard lately despite the adverse results. He seems more switched on and determined to be involved. If he keeps his tempo and work rate up he will get his rewards. It would be no surprise if he got an assist or two today.
Of equal interest will be the functionality of our midfield. Gomes was a bit out of sorts at Brighton and has dipped a little recently. I want to see him on top of his game and want his passing to resume it's previous accuracy. Consistency from him is vital, it sets the tone for the whole team.
It has to be a back 4, I trust them to be solid and think Seamus will be fired up at home for a good performance. The 4 will have to be careful with Vardy constantly looking to win penalties with his infamous leg-tangling tricks.
Finally, I want Pickford to keep it simple and keep communication crystal clear with his defence. If he learns from his mistakes, no problem.
John Dean
12
Posted 01/01/2019 at 08:26:07
Supporting Everton is a bit like making love to a beautiful woman.
Billy Roberts
13
Posted 01/01/2019 at 08:47:25
A "beautiful" after 8 pints sort of woman.
Mark Bruce
14
Posted 01/01/2019 at 08:47:36
John #12 If by that you mean watching it happen on a dodgy internet site then yes, it's exactly like that.
Derek Knox
15
Posted 01/01/2019 at 08:56:46
Happy New Year to all and thanks Lyndon for another good preview of the match, which Everton will turn up for this one?
Kase @7, totally agree with the experimentation scenario, what is it that they say about a man who keeps trying the same thing that has failed time and time again, expecting yo get a different result. I don't know how many posts on here that have suggested Walcott be tried in the striking role, because he has been poor on the right, but no he persists with him doing very little.
I have stopped predicting results, but am always hopeful of a win, Leicester are better than Brighton, Huddersfield and Watford or Newcastle, so let's just see what happens. Would be good to start the Year off with a win!

Martin Berry
16
Posted 01/01/2019 at 08:59:18
Wishing a win for Everton to kick-start our 2019.
I hope the mascots get their money's worth as a newspaper article today says that we charge them (well their parents) £718 for the privilege ! the most expensive in the Premier League which if accurate is shameful. The dark side and several other clubs do it for free.

Brent Stephens
17
Posted 01/01/2019 at 09:15:52
Happy New Year (and as Bobby #1 says!).
I hope for 3 points but above all I hope there are no fecking corners today - either way!
Jim Bennings
18
Posted 01/01/2019 at 09:29:17
Players need to take a look at themselves before kickoff and ask whether they have pulled out their tripe in six of the last seven matches.
The answer would be no.
Silva picks the team but when you have got players like Coleman who can't beat a man anymore, never stops a cross and can't get any of his own crosses into the opponents penalty area there's only so much you can do.
The alternative is Jonjo Kenny and we've seen the lads limitations.
When you have strikers like Calvert-Lewin, Niasse, Tosun it's easy to see why he persists with Richarlison because he's the most gifted by a million miles.
We need a steady transfer window where a new right back and striker is targeted.
The importance on finally signing a proven striker can't be underestimated because we are being burned too often in that position with our poor buys.
John Raftery
19
Posted 01/01/2019 at 09:33:56
We will do very well from now until May to match our points total from the first half of the season. Our return from each of the three groups in the league is as follows:
Top six - 6 games - 1 point
Middle six - 7 games - 9 points
Bottom seven - 7 games - 17 points
But here's the rub. Six of our seven games against the bottom group have been at home with only Burnley still to visit Goodison. Five of our remaining home games are against top six teams.
So our final league position will be heavily dependent on our ability to take anything from the top six at home and improve our away form by beating relegation threatened teams on their own grounds. Easier said than done.

Frank Sheppard
20
Posted 01/01/2019 at 09:47:23
Happy New Year's Day at the theatre of the unexpected, let's hope for an unexpected performance and 3 points.
Brian Harrison
21
Posted 01/01/2019 at 10:17:01
SSN have just brought up our stats for New Year's Day games, we have the worst record of any team since the Premier League began. We have lost 9 times on New Year's Day and the last time we won at home on New Year's Day was 1990. Hopefully we will alter some of those stats today.
Mike Kehoe
22
Posted 01/01/2019 at 10:17:07
John Dean @12
If you mean you realise you are hopelessly out of your depth with utterly inadequate resources at your disposal, with your performance severely impaired by years of stupid senseless choices which eventually makes you impotence which ruins most weekends while Ron Jeremy lives next door and nourishes your nightmares by bringing a succession of stunners to screaming laminate floor splintering orgasms every night, then yes, supporting Everton is exactly like making love to a beautiful woman.
John Raftery
23
Posted 01/01/2019 at 10:17:18
Apparently we haven't won at Goodison on New Year's Day since 1990. Last win on New Year's Day was in 2012 when we won at West Brom, Victor scoring in the final minute.
Leicester and Claude Puel seem to be making a point that this will be their fourth match in eleven days. Well, it will be our fourth in ten days. Both teams will be suffering fatigue to some extent. The outcome may be determined by stamina and the strength of the two benches.
Mark Murphy
24
Posted 01/01/2019 at 10:29:55
Martin @ 16 — that report is totally misleading. Every match a mascot and a toffee lady are selected randomly from season ticket holders and members under the age of 13. Both are free of charge.
Twice a year (this year it's the games v Wolves and Bournemouth) we offer a package, which includes extras such as training with the players and dining, for £718. Every penny of this goes to EitC.
That newspaper and the BBC should be contacted by the club and taken to task about this!
John Keating
25
Posted 01/01/2019 at 10:52:16
I agree with Lyndon's line-up. We have to play Zouma because of Leicester's pace up top. Again, we need Gueye to break up their midfield.
I would like to see a bit more commitment from the players regards 50-50 balls and closing down.
Fingers crossed for a draw and some sort of tactical awareness from Silva.
Jack Convery
26
Posted 01/01/2019 at 10:55:43
Another year of riding the Blue Roller Coaster that is EFC!
To Wembley and Beyond!!
COYBs.
Jerome Shields
27
Posted 01/01/2019 at 11:08:57
Lyndon, I hope your predicted line-up is right.
George Cumiskey
28
Posted 01/01/2019 at 11:17:59
That's nearly our best line-up except I'd have Mina in for Keane as I think he's a weak link.
But then everyone's got a different opinion, fingers crossed.
Darren Alexander
29
Posted 01/01/2019 at 11:21:47
Happy New Year, all... and it would be very nice to start 2019 with a win. I won't be there, but all those who do go to Goodison today are overdue a good home performance result. COYB!
Colin Glassar
30
Posted 01/01/2019 at 11:24:49
Worst January 1st record in the top flight, Darren: 9 losses.
Ajay Gopal
31
Posted 01/01/2019 at 11:25:27
I would rest Coleman, Gomes, Walcott, Digne. Play Davies as a wing-back.
Pickford
Mina Keane Zouma
Davies Gueye Siggy Baines
Bernard Calvert-Lewin Richarlison
Subs: Stekelenburg, Digne, McCarthy, Schneiderlin, Walcott, Tosun, Lookman
Stan Schofield
32
Posted 01/01/2019 at 11:26:08
John@25: What, fingers crossed for a draw? Against Leicester? You mean a win surely?
We'll either be on our game or not. If the latter, we could easily draw or lose. If the former, we should simply outplay them, thrash them.
Leicester are a mediocre midtable side with players of very limited ability. On the other hand, we are a mediocre midtable side when we don't get our shit together, but a side that could beat anybody when we do get our shit together.
Come on you blues, thrash these foxes.
Chris Donnelly
33
Posted 01/01/2019 at 11:26:36
Ellis Simms!!!! Scoring for fun in the Under-18s if he's good enough he's old enough. What hurt will it cause????
Jimmy Salt
34
Posted 01/01/2019 at 11:27:19
Happy new year all, I think this will be an awkward 1-1 frustrating draw. So I'm doing 4.0 :D
John Dean
35
Posted 01/01/2019 at 19:16:14
Supporting Everton is like making love to a boot full of cummin.
Add Your Comments
In order to post a comment, you need to be logged in as a registered user of the site.
Or Sign up as a ToffeeWeb Member — it's free, takes just a few minutes and will allow you to post your comments on articles and Talking Points submissions across the site.