Millwall vs Everton
Friday, 25 January, 2019
FA Cup 4th Round Preview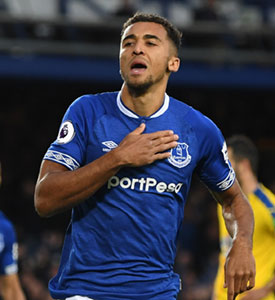 Will DCL get the call this weekend to take the striking burden off Richarlison's shoulders?
Everton head to the Capital to face Millwall in a game that has assumed the mantle of being the most important of the season so far as the Blues seek to book their place in the fifth round of the FA Cup.
Having edged their way past Lincoln City in the previous round and then beaten Bournemouth 2-0 at Goodison Park the following week, there was a sense that perhaps Marco Silva's side had put their miserable festive season form behind them.
The 2-1 reverse at Southampton last Saturday has seen the doubts, questions and recriminations resurface, however, and it means that despite the fact that their opponents this weekend sit in 19th place in the Championship, there is unlikely to be anything routine or easy about this tie.
As Millwall's run to the last eight of the FA Cup two seasons ago showed, the New Den can be a difficult place to go for Premier League sides. Watford, Bournemouth and Leicester all fell there that year and former top-flight side Hull City were the Lions' victims in the third round thanks to Shane Ferguson's brace.
The midfielder is hoping that match-winning double salvo is enough to earn him a start as both Ben Marshall and Ben Thompson are cup-tied. Manager Neil Harris will also be without injured quartet Tom Bradshaw, Tom Elliott, Ben Amos and Conor McLaughlin.
Silva, meanwhile, has the same virtually full pool of players from which to choose as last week, with only Phil Jagielka, who is a couple of weeks away from being available, ruled out with the training-ground injury he suffered in the lead-up to the Southampton game.
With Liverpool already out, one more of the "big six" exiting this round when Arsenal take on Manchester United this round and Tottenham facing a potentially tricky trip to Selhurst Park, the field could be winnowed further in Everton's favour by the time the fifth round draw is made if they can get their act together and perform the way they have demonstrated they are able to.
There is undoubtedly a lot riding on this tie for Everton whose hopes for deriving some success from this season effectively rests on a run to Wembley and a crack at ending a 24-year trophy drought.
Silva wasn't betraying any of that pressure in his pre-match press conference, saying:
"There is nothing more than the pressure we put behind ourselves. At a club like Everton this is normal.
"Since the first day we wanted to, if possible, do a fantastic run in the FA Cup.
"It is always tough to play there against Millwall. We have to go there to do our maximum to achieve a good result."
His team is likely to demonstrate his need to win, with perhaps only a couple of changes likely to the one that started at St Mary's Stadium. Given Richarlison's obvious struggles in the lone striker role and the fact that this is unlikely to be a match for silky football, Dominic Calvert-Lewin is a good bet to be restored to the line-up, with the Brazilian moving out wide. That would see one of Bernard or Lookman dropping back to the bench.
In midfield, Silva's faith in André Gomes will probably see the Portuguese continue despite his uncharacteristically poor display last time but the manager could be moved to change things up in a defence that looked very porous against Southampton.
Millwall have won four of their last six matches and will fancy their chances playing in what can be an intimidating atmosphere on their home turf. Everton should have enough to get past them but their poor recent form and the blow to the confidence it has clearly sustained means that even merely earning a replay, as they did in the same tie 13 years ago, would be deemed satisfactory as long as they are still in the competition come 7:30pm.
Kick-off: 5:30pm, Saturday 26 January, 2019
Last Time: Millwall 1 - 1 Everton (Everton won the replay 1-0)
Predicted Line-up: Pickford, Coleman, Zouma, Mina, Digne, Gueye, Gomes, Sigurdsson, Bernard, Richarlison, Calvert-Lewin
---
Reader Comments (171)
Note: the following content is not moderated or vetted by the site owners at the time of submission. Comments are the responsibility of the poster. Disclaimer
Bobby Mallon
1
Posted 21/01/2019 at 20:19:13
My team for Millwall:
Pickford
Kenny
Jagielka
Keane
Digne
Lookman
Baningine
Gueye
Baines
Bernard
Hornby
Mike Gaynes
2
Posted 25/01/2019 at 06:47:24
I've suggested it several times, and now I'm predicting it. Gomes will finally sit. Sigurdsson drops back to keep Lookman in the lineup.
If Gomes is on the pitch and Lookman is not, we're simply not playing our best 11.
Annika Herbert
3
Posted 25/01/2019 at 07:01:13
To be honest, Mike, I would rather see Sigurdsson drop out. He has been a major disappointment for me. Little or no creativity and the dead ball specialist he is supposed to be has sadly gone missing. Despite his goals, I don't rate him too much.

George Cumiskey
4
Posted 25/01/2019 at 07:13:54
I totally agree with you, Annika.
Mike Allison
5
Posted 25/01/2019 at 07:15:03
Despite everything, we're still in the cup and have a chance of qualifying for Europe through league position. All it takes is the right psychology and man-management to make this happen.
This game therefore means even more than it normally would. I hope the players and manager realise this. One of Silva's perceived frailties is this psychological aspect of the game, turning round struggling form and so on. He really needs to prove himself now.
Kunal Desai
6
Posted 25/01/2019 at 07:28:49
The biggest worry and concern I have with this current Everton side is that there is no desire, committment, passion, heart and fight. Millwall will want this more. I would like to see some of those attributes from our players but I really do fear it will be much of the same of late.
Phil Sammon
7
Posted 25/01/2019 at 07:33:43
Sigurdsson – joint 8th top scorer in the League with 9 goals from centre mid. Works his bollocks off every week in a terrible team where he is responsible for every chance created. He, Gueye and Digne are the first 3 names on my team sheet.
David Mosses
8
Posted 25/01/2019 at 07:35:45
I would play Lookman and drop Sigurdsson, put Richarlison in Sigurdsson's place. Sigurdsson has done nothing at all this season —his goals are great but his work off the ball is non-exsistent, it's like playing with 10 men when he is on the pitch.
Ian Hollingworth
9
Posted 25/01/2019 at 07:38:02
He has to make changes, as using virtually the same players and tactics, week-in & week-out, just isn't working for him.
Gomes in and Sigurdsson out for me. Calvert-Lewinas striker, Lookman and Richarilson out wide and Bernard at No 10. Kenny at fullback and Mina for Keane (just because I think he might be a bit tougher).
But what do I know, and we will just have to get behind the boys Silva puts out and hope something sparks them into life.
Dan Nulty
10
Posted 25/01/2019 at 08:02:29
Sigurdsson's goals have contributed to wins against Leicester, Fulham, Cardiff directly, a goal against Burnley too. Without him, we would be lower down the table without doubt.
If we played a striker who would score as many or more goals than him I would agree. The lad scores, though, and we haven't many who do that.
Andy Osborne
11
Posted 25/01/2019 at 08:12:25
Lookman has to start, he deserves it. Richarlison and Sigurdsson, as our top scorers, also have to start. I would also start Calvert-Lewin. That means Bernard on the bench. I hope so anyway.
Anyone know if the game is on TV over here in Australia? I know it is being shown by the BBC in the UK, but can't find it on our channels over here.
Stephen Bird
12
Posted 25/01/2019 at 08:18:20
In recent weeks, we as a team have failed to give Sigurdsson the ball in areas where he can make a difference; he is left chasing the ball down and that is not his game.
Lack of form and composure is right throughout the team; he shouldn't be singled just because he can't demonstrate his strengths due to lack of meaningful possession in the right areas.
Brian Murray
13
Posted 25/01/2019 at 08:22:03
Take care, Blue boys, if you are going. I witnessed first hand the hiding their cavemen got in the 1973 FA Cup tie and they still harp on about wanting revenge.
Phil Sammon
14
Posted 25/01/2019 at 08:25:45
Andy 10,
According to a friend, you can steam it from the SportsBet website or App.
The way the team are playing, it really doesn't inspire you to get up at 4:30 am.
Charles McCann
15
Posted 25/01/2019 at 08:32:49
I would definitely like to see some changes this weekend. Resting both Gomes and Sigurdsson would be a good idea. I would have Gana in the centre of midfield sitting deep to protect the defence with Baines and Davies either side of him. Maybe try Richarlison back onto the left wing and Lookman on the right. Upfront Calvert-Lewin I feel is our best option at present with Bernard playing in Sigurdson's usual position.
To be honest, unless Silva gets his tactics correct and gets his team to get the ball down and pass it with transitions going through midfield, as opposed to last week where a lot of the play went direct to Richarlison upfront, bypassing midfield, then it'll not matter who plays. We will probably still get beat.
I am sick of seeing us Lump the ball into the box from 40 or 50 yards out from goal in set play situations in hope more than anything. How about taking it short and quickly and work the ball into a better position! It's not rocket science, it's about having the courage to get on the ball and create something, as opposed to relying on a mistake from their defence or a fluke.
Even when we kick off the first thing that happens is the ball is hoofed long in a diagonal direction up the field usually surrendering possession. How about passing it about and getting a feel for the game?
Finally, I'd like to know has Silva got a philosophy or way of playing the game? Reluctant to use the term philosophy as people I think associate it with Martinez! All I've ever heard from him is to play with intensity and speed. Does he even know what way he wants the players to play, ie, pass it mostly on the deck or go the direct style with a big man up front?
I really hope its not the direct style as I can't stand this agricultural style of football favoured by the likes of Allardyce and Pulis. I've noticed this style gradually creeping into our play more and more.
If Silva can't get his players to string some passes together to create opportunities to score, then we need to move him on quickly. I feel that not many others on here seem to be too bothered about how we go about playing the game style wise as long as we win... I don't understand this. Known as the beautiful game what we've watched recently is far from beautiful, it's been horrible.
If we want long term success then we have to stick to the principles of passing the ball and not resort to route one football.
Apologies for the length of post... I had a lot to get off my chest there. : )
Eddie Dunn
16
Posted 25/01/2019 at 08:49:02
Phil Sammon, I concur, Sigurdsson has worked very hard in every game.
He has not always had options to make the passes but in a team awash with players out of form, it is usually he who unlocks defences or scores the goals. Pick on many others who are contributing far less.
If he scores the winner tomorrow, it will only shut the knockers up for another week. If he has rolled-up only costing £20 million, the critics would be less severe, but he didn't set the price.
Anthony Flack
17
Posted 25/01/2019 at 08:49:18
Dropping Sigurdsson is a daft idea – just my opinion, of course.
We need to use him more effectively, especially early in the game.
Derek Knox
18
Posted 25/01/2019 at 08:50:42
I was fairly convinced last Saturday that Southampton, having had a gruelling replay against Derby coupled with a few injuries, that we would have taken all three points.
I am therefore hopeful of a Cup win against Millwall but not in any way convinced that will happen, such has been our erratic form both home and away, that I have almost given up any predictions or expectations, but nevertheless live in hope.
As usual I will be watching the Match with a large box of Kleenex and a bottle of red wine – which one I will be opening first is anyone's guess!
Peter Mills
19
Posted 25/01/2019 at 08:52:59
I expect the atmosphere will be pretty lively and Millwall will be up for the game, so we need to match their enthusiasm. That ought to be a given.
I watched Millwall play at home against Blackburn on the telly a couple of weeks ago, a game which Blackburn won with 2 late goals (Millwall have conceded a lot of goals in the last 15 minutes this season). One of the goals was from the left wing with the player cutting in to shoot with his right foot, something which might appeal to Richarlison.
Millwall's main attacking threat looks to be the high ball to the back post to their centre-back, Cooper, who has an attempt at goal or, more likely, knocks it down for someone to score. It's a pretty basic tactic, but he has something like 10 assists this season. The threat was dealt with successfully by Jack Rodwell, Blackburn's centre-back.
I hope all those travelling have an enjoyable, successful, safe day.

Jon Withey
20
Posted 25/01/2019 at 08:59:34
Only reason to drop Sigurdsson is to give him a rest - he's our best all round player.
I'd definitely start Calvert-Lewin – Richarlison can't lead the line when we are playing like this.
Maybe give Richarlison the left-wing back for a game and give Bernard a rest or bring him on later.
Lookman gives us that missing spark and we need to build his relationship with Calvert-Lewin – so start both.
Ray Roche
21
Posted 25/01/2019 at 09:01:22
Whatever happens re Sigurdsson, Richarlison has to move back to the wing with Calvert-Lewin in the middle. I also think Bernard has the speed of thought and the guile to play the No 10 role.
Gomes needs a break. The lad had no pre-season and was injured for weeks and it's now taking its toll on him.

Ray Roche
22
Posted 25/01/2019 at 09:03:07
Oh, and the reason we're on TV is because the BBC see an upset on the cards. They smell blood. Ours.
Gerard Carey
23
Posted 25/01/2019 at 09:03:12
Hopefully, Silva can get them up for this game. Lose this and the season is over, except to see if we can finish in the top ten.
Only thing is, has this team got the guts to dig out a win here??
Bill Watson
24
Posted 25/01/2019 at 09:10:16
Okay... We're struggling for goals so let's drop our top scorer. Makes sense to me!
Martin Nicholls
25
Posted 25/01/2019 at 09:17:08
Bill #23 - in a similar vein, this is the most important game of our season, so let's play (bizarre) experimental line-ups!
Derek Taylor
26
Posted 25/01/2019 at 09:28:14
If Silva can't inspire his charges to be up for this one, he shouldn't be our manager. End of.
Sam Hoare
27
Posted 25/01/2019 at 10:04:30
Sigurdsson does get goals and, for that, I'd keep him in the team. But a little further back, where his hard running is useful and he can arrive late into the box. Having Gomes and Siggurdsson in the middle makes us too slow there.
Having a number 10 who can beat players like Bernard will give opposition a lot more to think about. Bring Sigurdsson back to play the box-to-box role with Gana told to sit deeper.
I think we are in the top 4 for crosses into the box in which case we need a forward who might actually win aerial battles, which is surely Calvert-Lewin.
Pickford
Kenny Keane Zouma Digne
Sigurdsson Gana
Lookman Bernard Richarlison
Calvert-Lewin
Mark Rankin
28
Posted 25/01/2019 at 10:14:19
I don't think it's about signings, it's about the coach getting the best out of the players; we have quality in all areas of the park so we need a system and a mindset that works for us. Anyone thinking that we just need a Number 9 is mistaken.
Tony Everan
29
Posted 25/01/2019 at 10:38:11
For me the changes have to be a bit more radical.
We lose possession in midfield too easy and we are under immediate pressure because our midfield is too open and is out of position. Normally resulting in a goal chance for the opposition.
Kill me. I would drop Richarlison and go 4-4-1-1
Baines, when he came in a few weeks ago, was one of the best players on the pitch for us; he looked fit, fresh and lacked none of his quality and intelligent play. I'd get him in to play with Digne on the left and fire in balls to Calvert-Lewin.
Pickford
Kenny Zouma Mina Digne
Sigurdsson Gueye Gomes Baines
Lookman (a free No 10 role) Calvert-Lewin
Lookman for me is marginally the best for the role... virtually on a par with Bernard, maybe.

Simon Smith
30
Posted 25/01/2019 at 10:40:49
It would be interesting to see Lookman, Bernard and Richarlison behind Calvert-Lewin and see how that goes, but if I'm honest it would be Gana and Gomes in centre mid and not Sigurdsson.
Sigurdson should be left out on form, imo.
Bill Gienapp
31
Posted 25/01/2019 at 11:03:39
I'd have no problem with trying Bernard at No 10, but you do realize he'd almost certainly need a run of four or five matches to find his groove in the role...
And you know if he even remotely struggles, people on the Live Forum will be screaming for him to be hooked at half-time.
John Raftery
32
Posted 25/01/2019 at 11:19:06
We don't travel well. Our away record is so poor it will hardly be a shock if we lose tomorrow.
It is over two years since we won a match in the southern half of the country. That was at Crystal Palace when Seamus scored the last minute winner. Since then we have won at Newcastle, Stoke, Huddersfield, Leicester and Burnley.
After last week's debacle, something must be done about the midfield. We need an extra body in there but I don't think that should be Sigurdsson. He is ineffective defensively and only comes to life in the final third.
In many ways he is a luxury player but he is our main goal scorer in a team which usually struggles to create many chances, let alone convert them.
While obviously hoping for a win, I will be very happy with a draw.
Andrew Clare
33
Posted 25/01/2019 at 12:10:34
On paper, we should cruise this game. I think we will – contrary to popular opinion. It's about time we did something in the FA Cup. Millwall are just a big standard Championship team.
Dick Fearon
34
Posted 25/01/2019 at 12:22:23
I will upset more than a few by saying that, despite Calvert-Lewin having the physique and skill needed for a centre-forward, he lacks a strikers instinct. If Lookman is to find a place it can only be as a goal-poaching attacking midfielder.
We desperately need a big muscly target man providing an aerial threat and holding the ball up. The only candidate for such a role is Zouma. Mina and Keane could cover his job and Kurt could always drop back to defend against free kicks.

Mark Tanton
35
Posted 25/01/2019 at 12:28:11
If they score first, we're going to have to locate our knackers quickly.
Steavey Buckley
36
Posted 25/01/2019 at 12:56:52
Everton need to revert to a 4-4-2 formation to be more solid and have an outlet not for one striker but two, to harry the opposition.
Rennie Smith
37
Posted 25/01/2019 at 12:57:19
Come on, Dick @33, you seriously can't believe the answer to a striker problem is to put your centre-half up front? That's Sunday league stuff.
Plato Stavrinos
38
Posted 25/01/2019 at 12:58:43
Hopefully not a bad omen but Paul Merson has us as his favourites to win the FA Cup!!!!

Daniel A Johnson
39
Posted 25/01/2019 at 12:59:02
Do you lot watch any of the matches? Sigurdsson is one of our only match winners and, even on a bad day, one of the hardest working players on the pitch. Think of that goal against Leicester – who else in our whole squad could have scored that beauty?
He is capable of scoring goals and its goals that win matches. To say we need to drop him is crazy.
Our problem is that Sigurdsson and Gomes are tired and need resting but our squad is so poor we can't rest them as the replacements in Schneiderlin and Davies are bloody dire.
Jay Wood
[BRZ]
40
Posted 25/01/2019 at 13:11:16
Some truly whacky Football Manager-like suggestions in this thread on formation, positioning and who to select and play where and who to drop and why.
So much unintended comedy gold.
Stan Schofield
41
Posted 25/01/2019 at 13:14:00
Plato @37: That's the kiss of death.
Daniel @38: Spot on about Sigurdsson. Up to December, the midfield three (the three Gs) of Gomes, Gana and Gylfi were cooking on gas, with this combination freeing Sigurdsson up to do what he's very good at. The problem is our overall lack of strength in depth, which is a massive problem given the intensity of games in the Premier League.
Jim Bennings
42
Posted 25/01/2019 at 13:32:49
Derek @25,
Why should our players need motivation from a man on the sidelines to play in a hostile environment in the FA Cup?
Easy to put the blame on the manager but, if my players can't motivate themselves to wear our shirt, then they themselves should not be representing my club.
Derek Thomas
43
Posted 25/01/2019 at 13:37:54
There is only one selection problem for Silva... does he take the cup seriously? If he does, the team, whatever it will be, should see them off if they apply themselves.
That, not men or formations, is the biggest imponderable.
Phil Sammon
44
Posted 25/01/2019 at 13:39:51
Jim @41,
'Motivation' is a broad term. I'd say it's a managers responsibility to create a system where all the players feel they can trust and get the best out of one another. Right now, we are so far from that, we have fans suggesting our centre-half plays up front.
When a few players don't play well, you can question them. When the whole team plays badly for a sustained period, you have to think the problems may run a little deeper.
Duncan McDine
45
Posted 25/01/2019 at 13:40:28
Sam 26, that would be my line-up too. Gomes is stinking the place out worse than Schneiderlin... it's time for Silva to drop him.
David Graves
46
Posted 25/01/2019 at 13:45:12
"Calvert-Lewin lacks a strikers instinct." — Questionable.
So he should be replaced by Kurt Zouma? — Certifiable.
Scott Hall
47
Posted 25/01/2019 at 13:51:06
Massive potential banana skin for a team completely shot of confidence, with no leaders, and no battlers. Everton have this uncanny ability to play just below the standard of their opponent, and another classic Everton trait is to completely blow an opportunity where top sides have been eliminated and a cup actually looks winnable.
A defeat would also set us up perfectly for the Huddersfield game who will have a fresh spring in their step following the appointment of their new manager. I can hear the rusty old shutters on the official Everton charity shop rolling up as we speak.
Please, please prove me wrong Everton.
Rob Dolby
48
Posted 25/01/2019 at 14:04:01
Love it, Dick @33.
Just what we need. Zouma the new Latchford who would have thought it.
I reckon we could get a tune out of swapping Pickford with Bernard.
Bernard would command the 6-yard box with ease and trick his way out of situations. He could wear long studs to bolster his height similar to Cuban heeled shoes.
Pickford could then turn into a dashing winger, probably still have to wear gloves as his hands would get cold.

David Graves
49
Posted 25/01/2019 at 14:07:17
Rennie – I get the Sunday League comparison.
Silva: "FFS, Kurt put that ciggie out. And where'd you get that can of Stella from? Listen, I want you to go up front today. Why? Because you're a big muscly target man. But make sure you drop back to defend against free kicks."
Priceless.
Andy Meighan
50
Posted 25/01/2019 at 14:09:41
Dick @33,
I'm just glad you're not manager of Everton!
Scott Hall
51
Posted 25/01/2019 at 14:16:14
Remember that time Stuart Pearce put David James up front for the last 10 minutes when he was managing Manchester City. Fucking hilarious! He couldn't trap a bag of cement. Air kicks and everything.
Kurt Zouma up front would be totally different though. He'll be coming short, Cruyff turn a la nutmeg, drop the shoulder, step over, step over, rainbow flick and wallop... Top corner.
Derek Taylor
52
Posted 25/01/2019 at 14:17:21
Jim,
Well who is it that selects those players who either can or can't get motivated in the cause?
To expect self-motivation from today's prima donnas is a bit over the top, methinks!
Matthew Williams
53
Posted 25/01/2019 at 14:21:18
The Pros and Cons as I see it...
Cons:
Our current form in general is patchy at best.
Silva still does not know his ideal starting line-up or formation.
Our terrible away form in general.
Our away record verses clubs in the "Smoke", League or Cup.
Our bad record when playing home or away when we're Live on TV.
No current leadership on the pitch.
A general apathy from the Boardroom down that has plagued us for far too many years.
No new faces in January to at least freshen up things, give us a new option or dimension to our play.
A majorly disappointing season so far.
Pros:
The Red Shite are already out!
A replay is still available if we draw this one.
1-1 methinks... and the dream will still be alive, folks!
David Graves
54
Posted 25/01/2019 at 14:28:41
Fantastic, Rob. Love it.
What about playing Schneiderlin but telling him to face the opposite way to the expected norm?
This way when he keeps turning to play the ball backwards he'll actually be passing it forwards.

James Hughes
55
Posted 25/01/2019 at 14:41:18
Derek #51. Talking about player motivation, we are not alone, are we?
Just reading about Hazard, a great player undoubtedly but his response to comments from his manager leaves us in no doubt who's in charge.
After the game, Hazard said: "It doesn't matter what the manager said."
Players can seem to do what they like these days. I would be interested to know how the NFL, NBA etc handle player power?
Jamie Crowley
56
Posted 25/01/2019 at 15:09:50
Don't know if it's been said, but for USA Blues the only way you can get the game is on EPSN+.
It's the ESPN streaming service. You can sign up for $5/month or $50/year.
Kieran Kinsella
57
Posted 25/01/2019 at 15:44:42
I suspect Silva will play
Skeletenburg
Stekelenburg. Not saying I support or oppose that, but he wouldn't say whether Pickford was going to play in the presser. I would bring in Kenny.
I would drop Richarlison because I think his antics would wind up the Millwall players and he will probably end up getting sent off for retaliation or something.
Kieran Kinsella
58
Posted 25/01/2019 at 15:54:39
James Hughes 54
The NFL handle player power but basically kicking out anyone who seems to rock the boat, eg, Colin Kaepernick.
The NBA does nothing about player power. The owners just say "Okay, Kobe, LeBron, Carmelo... I will go ahead and fire the coach and sign your mates."
Clive Rogers
59
Posted 25/01/2019 at 16:23:58
If Silva can't motivate them enough to beat Millwall in a cup tie, then he is not the man for the job. The same goes for the slump we are in. If he loses this game, he may be gone sooner rather than later after what the owner said at the AGM.
I would bring Kenny in for some spirit and fight and give Mina another chance. I would also find a place for Baines who at least can still pass to a blue shirt, as he showed against Lincoln.
Clive Rogers
60
Posted 25/01/2019 at 16:27:15
David, #53, you do realise that with his shit passing he would probably play them a perfect through ball!!
Mike Gaynes
61
Posted 25/01/2019 at 16:43:52
David #7,
"his work off the ball is non-existent"
-- that's pure craziness.
Sigurdsson works relentlessly, always up among the Premier League leaders in miles run per game. He defends all over the pitch, marking attackers in his own end and closing down on opposing defenders at the other end. He's continually moving off the ball, making himself available for passes, getting himself into the area to score. Lots of folks here question his effectiveness, but you're the first I've ever seen question his work rate. And Richarlison at the #10? Uh-huh.
Rob #47, David #48, Scott #50, you took all the best jokes already.
Jamie #55, it's free if you subscribe to ESPN The Magazine.
Kieran #56, "Skeletenburg"? Really skinny guy?
Brian Patrick
62
Posted 25/01/2019 at 16:43:59
I would play Kenny and, if fit, McCarthy. Push Richarlison wide right, play Bernard as a No 10, Gomes and McCarthy as central midfielders, Gueye as the defensive midfielder, and we will win.
We have to be physical on and off the pitch and that means getting stuck into the chavs at London Bridge...
Mike Gaynes
63
Posted 25/01/2019 at 16:47:09
Brian, Macca hasn't even made the bench yet. All he has managed since the injury is one appearance with the U23s some months ago.
John Pierce
64
Posted 25/01/2019 at 17:02:14
Sigurdsson is the symptom of the bigger issue.
Everton are constantly over-worked in midfield. Gana wanders and doesn't hold. It forces Siggy to work in areas a No 10 should hardly ever venture to.
His main role is to service and be available for the attacking players, in the attacking third. Because our midfield is very poor, he not only gets sucked back but pulls the two wide forwards with him. One isolated centre-forward, which turns to frustration and ineptitude. Everton's goal output just falls away.
If I was Sigurdsson, I'd tell the rest to fook off and hang up the park. His nature is too selfless and as such he helps out too much, masking the real issue. Gana, and the fact we have no ball-playing centre-back.
As for the game, anything less than a comfortable victory will leave me disappointed. Tick tock.
Annika Herbert
65
Posted 25/01/2019 at 17:29:34
Well, I do watch games but I must be watching a different player compared to some of you because I have not seen Sigurdsson light up a game form us yet. As a senior player, shouldn't he be one of the keys to an upturn in our form? So why has his form dropped off so much?
Being a hard worker does not equate to being a world class player, which he certainly isn't
Obviously, though, I have missed all these world-class performances Siggi has been producing. . . nor did I realise that he is playing poorly because all the players around him are of such low quality. I will watch with bated breath whilst he produces such magic against Millwall. . . . Not!!
Martin Nicholls
66
Posted 25/01/2019 at 17:45:15
Off topic but more games switched to ridiculous 4:15 Sunday afternoon kick off. About time we match going fans let Sky and BT what we think about the contempt in which they hold us?
Tony Twist
67
Posted 25/01/2019 at 17:57:18
Tough going this game, not confident at all with these players.
My team would be:
Pickford,
Kenny, Zouma, Mina, Digne,
Gana, Sigurdsson, Baines,
Richarleson, Lookman,
Calvert-Lewin.
Querky line up, Calvert-Lewin in a centre-forward role; if Baines ain't working then replace him with McCarthy.
Kim Vivian
68
Posted 25/01/2019 at 18:01:19
Jamie -55. Can't you get BBC online over there?
Forgive my ignorance - never been across the pond.
Gerry Ring
69
Posted 25/01/2019 at 18:09:29
Brian#61 I totally agree in relation to playing McCarthy. He was on the bench for the previous cup game. Silva says he's fit. He has to be a better option than Davies & Schneiderlin, he's still receiving a salary. Play him or at least give him a run. If Silva came out & said he wasn't ready then that would be fine but we're told Macca is fit. Play him & put me out of my misery!!!☺️☺️
Darren Hind
70
Posted 25/01/2019 at 18:17:03
Just Stumbled across Gators fans honouring Tom Petty + Penn State doing Sweet Caroline...
We need more Yanks!
John Pierce
71
Posted 25/01/2019 at 18:20:50
Kim, BBC available apart from iplayer. You'd need a VPN to sort that out.
Works fine if you have an address to anchor it from in the UK.
The espn + is a superb deal. Get loads of stuff not just footy a stack of documentaries which are well done. Cup and Europe
NBCSN gold offer a similar service for the league games. However the streaming quality and reliability is knocked into a cocked hat by ESPN.
Ironically the streaming on NBCSN good was better before they put up a pay wall.
They charged $50 last year, but such was the poor reliability I ground them down to a $40 refund.
Much better this year. Really very lucky, and unlucky at the same time to get all the Everton games 😵
Darren Hind
72
Posted 25/01/2019 at 18:24:36
Wisconsin "jumping around" ? WTF's all that about ??????
We ned to move away from the arms folded " warra ya got for me. ?"
Those yanks start the party long before the game .

Mike Gaines . .Jamie C ? wanna explain yourselves ?

Jay Harris
73
Posted 25/01/2019 at 18:28:24
Jamie,
I had coe to the same conclusion.
Its crazy that ESPN don't put it on cable but put it on the internet. Same shit with NBC and Gold but at least we get some games on TV.
Thanks for the tip Mike. I had already subscribed to ESPN for the CAraboa cup but will look into the magazine aspect after the game tomorrow.
As for the team it would be crazy to drop either of our 2 leading scorers Richy and Siggy and I think DCL has done enough to warrant a start in this one. Bernard does not do it for me especially in a game like this one.
Gomes may not enjoy the intensity of the FA cup so I would give Tom Davies a run out if only for his energy.
I would also complete the U20 world cup winning players with an appearance by Jonjo who at least will be familiar with each others game.
I cant imagine the fear factor entering the players minds as its not exactly Old Trafford but with our bunch you never know.
At least I hope we play to our dtrengths rather than theirs.
Jay Harris
74
Posted 25/01/2019 at 18:37:44
Darren what the hell are you watching?
David Pearl
75
Posted 25/01/2019 at 18:44:59
The game is on BBC so you can watch live for free (you just have to sign up to a 'free trial week' with a VPN provider.
Silva has lost the players and lost the plot. If Sigurdsson plays he should be part of a midfield 3 and not in no-man's land behind a wandering striker. That's why he runs around so much instead of being able to have any control of the game.
I think we have a good top 14/15 players that are just not being coached right. We should still have enough to best Millwall... but this is the FA Cup!
Mike Gaynes
76
Posted 25/01/2019 at 18:52:45
Darren, I can't explain anything about Americans at the moment. We've all gone a bit bonkers over here. Must be something in the water.
Ian Bennett
77
Posted 25/01/2019 at 19:01:07
I haven't been so pissed off with Everton since 1995. Hope it's an omen.
Jeff Armstrong
78
Posted 25/01/2019 at 19:03:58
Martin #65
fans have been saying that for 25 years now pointless
Jamie Crowley
80
Posted 25/01/2019 at 19:12:42
Kim @ 67 - As Sir John points out, not unless your IP address is British, and I don't do those "sling" IP address thingys. If I did, I could "appear" to be in the UK, and I'd waste my entire life away - gluttony and sloth embodied - at PokerStars trying to win a fortune playing poker online. ;0)
Sir John @ 70 - Never, ever had an issue with NBC Gold / their streaming service. Been absolutely 100% reliable and fantastic for me.
Darren @71 - That Wisconsin thing in particular is one of the single coolest USA sports "things" in the country. I lived in WI and actually had a good friend who was at the game in (I believe) 1994 when "Jump Around" started. Wisconsin was going into the 4th quarter, and the temperature - not that poos-whah barometer called "wind chill" - the actual temperature was -2!! That's Fahrenheit, converting to -19 Celcius! That . . . is. . . fucking. . . COLD!
So at halftime, they played "Jump Around" and everyone started jumping like wild men just to stay warm and get their blood pumping.
It took off from there. Before every 4th quarter they do it, and it's like a 70K people mosh pit. It's the coolest thing ever.
I actually posted a vid of it here at TW when we won, and Laurie Hartley posted that he was traumatized by seeing all those people in red jumping with glee.
Never felt so stupid in my life. But colo(u)rs be damned, it's very, very fucking awesome at Camp Randall Stadium just before the 4th quarter starts!

John Pierce
81
Posted 25/01/2019 at 19:20:49
JaC - are you a Badger?
Kieran Kinsella
82
Posted 25/01/2019 at 19:26:59
John 63
Exactly. Sig gets frustrated, drops back, wins the ball but there is no one to play it to since he is the one who should be receiving not retrieving. It is the same thing that happened with Saha, Naismith, Johnson etc under Moyes. No service coming in, the run out wide into the channels, get the ball and have precisely no one in the box to pass it too.
I feel this is something that shows Silva's weakness rather than Sigs. The manager should say "I appreciate your work rate Sig, but we need you to stay in the number 10 role to use the ball when we get it. Gomez, etc get your $#it together so he can do his own job instead of everyone else's."
Kieran Kinsella
83
Posted 25/01/2019 at 19:28:20
Ian Bennett 76
I hope to tempt fate the same way year after year after year but it never works.
Paul Birmingham
84
Posted 25/01/2019 at 19:32:28
As we've all stated since this draw was made 3 weeks ago, this game is this seasons, catalyst.
The BBC must feel that Everton will get rolled. I hope Everton show guts and determination on the pitch and every player wins his battles, and we take any chances presented.
Take care and good luck those travelling from near and far to the match tomorrow. Typical BBC take no account of the last ordinary back to Lime Street and staging this game so late.
Tomorrow we must win this game, coming back to GP is not a good option for Everton.
Let's kick start the season tomorrow.
Kieran Kinsella
85
Posted 25/01/2019 at 19:37:14
We have finally hit rock bottom!! Just searched "Everton" in Google news and learned the following:
Humansville girls rolled to a 45-28 win at Everton Tuesday night, Jan. 22, in a battle of the Lady Tigers.
Jamie Crowley
86
Posted 25/01/2019 at 19:37:45
Sir John -
Born in Boston, MA. Lived in 11 different places in my life.
WI was two days before my Sophomore year in high school at 16 until I graduated at 18 years old - 3 years in WI.
Great place, great people, Bambi lives in fear, too fucking cold mate.
Steve Croston
87
Posted 25/01/2019 at 19:40:42
I hate it when managers say "We want a good run in the cup". How about "we want to win the cup"? Sick of getting beat in semis and finals.
No predictions for tomorrow apart from there will be no place to hide on that pitch. Get stuck right in, lads, and show everyone what you're really made of.
Derek Knox
88
Posted 25/01/2019 at 19:50:57
Paul @83, the outcome could be in the name of the opposition. Mill-Wall.
It (hopefully) will be Run of the Mill, if he doesn't gamble too much on team selection, remember Southampton, in the Carabao Cup?
Or, it could be backs to the Wall, because they are in in their own intimidating Lion's Den, and at the end of the day they have everything to gain, and little to lose.
So over to you Signor Silva, show us that this FA Cup means something to everyone at EFC, don't dilly dally and dither with team selection in a one-off game.
Finally, I don't know whether it's a good omen or portent of doom, but Paul Merson has made a very bold statement in he believes that Everton has their name on the Cup this year!
Pat Kelly
89
Posted 25/01/2019 at 20:00:18
This will be a psychological battle for Everton tomorrow. Not with Millwall but with themselves. Confidence is brittle at best. Lose an early goal and it'll be a long haul back, as we know too well. On the other hand, a good start and the confidence will return. Let's get at them from the start.
Brian Wilkinson
90
Posted 25/01/2019 at 20:06:00
Be happy if that predicted line up is the starting 11, however I think he will start with Baines again at left back, also see Gaye not starting with a last minute bid by PSG possible.
If we do not make a raft of changes, I see a comfy 2 or 3 nil win.
John Pierce
91
Posted 25/01/2019 at 20:10:22
Kieran,
Absolutely a feature, a weakness of the manager. It's a system ill suited to our current midfield roster. Any no10 would struggle and end up helping out as the midfield gets ruined by all and sundry.
Weak in midfield we need a system that recognizes that and protects the team in transition with numbers since the quality isn't there yet.
Perhaps 3-4-3 is the way forward, I'm afraid bin Gana too, his lack of position discipline pulls at the thread of any formation. Until we get two all-round midfielders 4-2-3-1, needs to go back in the drawer.
JaC. How is Wi cold when you were brought up in Ma? Love the snow me. 🥶
Jamie Crowley
92
Posted 25/01/2019 at 20:17:11
Sir John -
Canadien airflow dips south, no warming factor of the Atlantic, way colder in WI.
Pat Kelly @88 - I couldn't agree more about the psychological test tomorrow. Millwall, I have to believe, will be a bear-pit.
And I'd expect some aggressive play from them. Not only will we see how mentally strong this group is, but we'll also see how tough some of our players are. If Richarlison does his "roll over and act like my shin is snapped in half" act, he'll get kicked off the park.
Time to toughen up Everton.
Jamie Crowley
93
Posted 25/01/2019 at 20:19:25
I'd add, I believe this game will be like a game of chicken.
Whomever flinches first will lose. The strongest team will prevail. We simply can't back down.
Derek Knox
94
Posted 25/01/2019 at 20:39:32
Jamie, that's what Colonel Sanders said, and it seemed to work out okay for that dude!
Let's just hope and pray that we don't get KFC'd.
Christy Ring
95
Posted 25/01/2019 at 20:41:15
Whatever about playing Siggy in his present role, where he is effective, can't understand how a lot of the comments want to play him beside Gana. He played in the centre against City, totally lost, brought back against Southampton, we were completely exposed. Millwall will be in our faces tomorrow, would start Gomes, but if not going well, Mccarthy has to be on the bench.
Eddie Dunn
96
Posted 25/01/2019 at 22:01:50
Just had a pint with a Millwall fan, an old lag from the old Den. He reckons Everton will win by 3 or 4.
Conor Skelly
98
Posted 26/01/2019 at 01:35:30
Tomorrow is our last televised game before the Window closes.
Will the manager play his strongest eleven? Or will he be tempted to put a few in the shop window?
For this reason, I think Tosun will start tomorrow.
I feel for Tosun. It's hard to judge a player if the team is playing poorly. He's been feeding off scraps, usually coming on when we're playing shite. His conversion rate must still be quite high.
The goals he's scored he's taken very well. His last goal against Brighton was a good finish. He had plenty to do. He's had other attempts that have been heading towards goal with venom only to be blocked or fizz over. I hope he does well tomorrow and earns an extended run in the side.
Prediction 1 - 3 (Tosun 2, Baines pen)
Stekelenburg
Coleman
Keane
Mina
Baines
McCarthy / Schneiderlin
Davies
Lookman
Bernard
Richarlison
Tosun

Dick Fearon
99
Posted 26/01/2019 at 01:35:36
Seeing as my Zouma suggestion has been laughed off the park, I will let the experts carry on with their never-ending desperate game of move the same deck chairs back and forth ad nauseum.

Will Jones
100
Posted 26/01/2019 at 01:44:32
Stupid manager cannot win. He cannot win with his best team. So if he looses with a B team, he still looses. Such a shame, the start of the season had such hope.
To be below the likes of Watford, like a dagger... Oh and to pay them for the privilege.
Si Cooper
101
Posted 26/01/2019 at 02:35:19
So if Jagielka is the only one not available due to injury, does that mean everyone thinks Beni Baningime is not in Silva's broader reckoning for the rest of the season?
Apologies if I've missed any official announcement from the manager or the club.
Bill Gienapp
102
Posted 26/01/2019 at 03:03:52
I do find it amusing that people claim our entire season literally hinges on this match and then immediately start throwing out zany lineup suggestions, such as starting McCarthy even though he literally hasn't played in a year or simply throwing Baines into the midfield and hoping for the best.
Drew O'Neall
103
Posted 26/01/2019 at 04:40:34
I don't understand the 'unlikely to be a game for silky skills' so pick Calvert-Lewin argument.
Surely if you have better players and you are playing an inferior team, you pick the superior players and play to your strengths, not find a Championship-level player from your squad to match up for a physical contest?
Tomorrow is a game for our best, most creative players to find their mojo.
Millwall won't be able to live with Bernard, Richarlison, and Walcott or Lookman and Gana is going to make sure there is no space in behind.
Back to Silva's first-choice line-up for me and save the out-of-the-box thinking for when we play Man City, Tottenham et al.
Martin Faulkner
104
Posted 26/01/2019 at 07:11:37
Pickford
Coleman Mina Keane Digne
Lookman Siguurdson Gana Richarlison
Tosun DCL
Subs
Stek, Zouma, Baines, Gomes, Bernard, Walcott, Hornby
Stephen Brown
105
Posted 26/01/2019 at 07:35:11
Very simple today! Pick the best, most in form players!
This game is everything for the season. Please don't be season over in January again!!
Must match their passion!
John Raftery
106
Posted 26/01/2019 at 08:05:35
Silva's first choice line-up has performed very badly. If he doesn't change it today and we go down to another defeat he will be guilty of dereliction of duty.
Martin Berry
107
Posted 26/01/2019 at 08:40:29
I have always thought the team with the best player and the silky skills should win the game, how many times has that been proved wrong in the cup ?
The FA Cup is eleven against eleven, this will define Millwalls season as well as ours, you can bet your life we are in for a struggle.
We need to win the midfield in which we has been seen to be far to light outnumbered and overpowered in recent weeks.
Personally I think Zouma moved in there could make all the difference.
DCL must play and forget this Richarlison as the centre forward nonsense, how much more affirmation does Silva need to know it does not work !
Bob Parrington
108
Posted 26/01/2019 at 08:55:50
Live in Adelaide South Australia
Can anybody please suggest how to watch coverage of Millwall vs Everton live or even recorded?
Ray Roche
109
Posted 26/01/2019 at 09:14:24
Dre@103,
If DCL is a "Championship level player, what is one goal, injured, £19m Solanke?Is he better than DCL.As I have said on here before, we should be giving encouragement and backing to our younger players.
I believe that DCL would blossom if he had a run in the team as a CF and not a winger.
Bob Parrington
110
Posted 26/01/2019 at 09:17:23
James Hughes #55. Good point but doesn't matter if it is high end pro or decent end amateur, same thing can happen. Some years ago I took over Managing/Coaching a potentially decent side, languishing in Div 4 and in the next 4 years took them through to Div 1, Nr 2.
Some players (EGO) started to say they didn't need a manager and so, at the end of the season I resigned. 3 years later they were back in Div 4. Does this mean I was a good manager? No! Does this mean we built a good team of players? No! But is does mean we had a great team of players and manager working towards a common goal!
Just what we need at Everton. So we need to get rid of the bad eggs! My suggestion would be to start with those who have been in the playing and coaching staff for the past 5 to 6 years and cut! Start afresh! Something is rotten and it goes back quite a number of years.
As far as the Millwall game is concerned, I think we will win 3 - 1.
Frank Sheppard
111
Posted 26/01/2019 at 09:17:37
I don't know why Siggy gets so much stick on here, he is crucial to us. Be nice to see LB get a start today, giving Digne a rest.
Neil Cremin
112
Posted 26/01/2019 at 09:26:39
It was well down the thread befor Macca was mentioned.
It is obvious that our current midfield does not have any steel and is as porous as a sieve.
Macca must be given the opportunity to show his value or otherwise because we have no hard core in the team.
We have an erratic keeper, we have an attacking defence which is totally exposed when we eventually lose possession going forward because none of our forwards have ball retention skill or take a high percentage of the chances which we create. None of our current midfielders have the ability to boss midfield. Hopefully Macca could be the answer as he and Barry were in the past. We need to know if he can do the job.
Anthony Murphy
113
Posted 26/01/2019 at 09:31:29
Must win for Silva today. He's already on borrowed time with many fans. A draw would be accepted although if we turn up we should beat them. Strongest 11 and early goal needed. I hope Calvert-Lewin starts as the lad can handle himself - just a bit inconsistent. We need to give him a run of games leading the line starting today as Richarlison isn't a good fit and Tosun is surplus to requirements.
Brian Harrison
114
Posted 26/01/2019 at 09:52:39
Wow have you ever seen such an array of team selections, from Zouma as the main striker to starting McCarthy who hasn't kicked a ball all season. These are the same people saying Silva better take this game seriously.
Eddie Dunn
115
Posted 26/01/2019 at 10:12:39
Playing Zouma in midfield! Possibly the craziest thing I have seen on ToffeeWeb.
I watched him warming -up the other week, he can barely control a ball and pass it, is not particularly mobile and a tad too heavy for the job.
He is perfoming well at his proper job, so let's just be thankfull for that and leave the tinkering to a minimum.
Brent Stephens
116
Posted 26/01/2019 at 10:29:26
Bob #108 the following links is showing our game as 21.30
Link
Jon Ferguson
117
Posted 26/01/2019 at 10:53:47
Full strength team please:
Richarlison Calvert-Lewin Lookman
Bernard
Gomes Gana
Digne Keane Zouma Coleman
Pickford
Michael Smith
118
Posted 26/01/2019 at 11:00:36
Bob #108
I live in Spain and watch any BBC live games / MOTD via TV Catchup (no VPN needed). Find it more reliable than most streaming sites. COYB!
Andrew Clare
119
Posted 26/01/2019 at 11:15:49
Is it possible to watch on the BBC iPlayer 'live' or is there a delay?
Brian Patrick
120
Posted 26/01/2019 at 12:12:39
It says something about the state we are in, but a draw would be an ok result, as we would thrash them at goodison. I mean we SHOULD win but these players have no fight in them. Prove me wrong will ya ?!
Jamie Crowley
121
Posted 26/01/2019 at 12:25:20
While looking at ESPN+ yesterday, the game was listed at 12:25 p.m.
I assumed that was BST, and awoke 10 or so minutes ago at 7 a.m. here, ready to watch, only to discover the listed time was EST.
Five hours until kickoff!
Unbelievable. I could have slept in today. . .
John Pierce
122
Posted 26/01/2019 at 12:33:26
You plonker JaC! 🤣🤣🤣
Jamie Crowley
123
Posted 26/01/2019 at 12:35:54
No, really Sir John, I wanted to watch Accrington v Derby!
What else would an American do on a Saturday morning?
So stupid.
John Pierce
124
Posted 26/01/2019 at 12:45:38
Got to love the pitch. Almost makes me miss England!
Tony Abrahams
125
Posted 26/01/2019 at 12:49:58
I remember Evertonians, doing the conga one afternoon against Aston Villa I think, because it was freezing cold, so maybe it's a good job we never had all seater stadiums in those days Darren!
John P, very good point about the formation, and the at times selfless Sigurdsson, doing too much work further back, which also helps to isolate the centre-forward.
I think the bigger problem, is high and wide fullbacks, which make the pitch too big, when we lose the ball, but either way we have got to tighten ourselves up, because the first thing a team must achieve is to be hard to play against.
Good luck today Everton, go and fight, then go and play, and this should make us all feel a lot happier at 7pm tonight?
John Pierce
126
Posted 26/01/2019 at 13:04:56
Tony, I think you'd be proven correct about the shape. If we froze the picture at the moment we lose the ball I suspect we'd see the team strung out, no pressure on the ball and teams can pick their passes.
It can feel at times we play 4-2-4! I think Richarlison's move to CF has many issues but we forget when he plays left, he's actually a very good two player offering the full back cover. Just another element we lose playing him upfront and makes us less compact.
I think 3-4-3 would make us more compact, but I expect Silva just to put the same old out today.
Matthew Williams
127
Posted 26/01/2019 at 13:10:08
Crunch time and Everton never seem to mix it seems... well, today is simple, Marco: play your strongest side, stick to a plan, but be flexible to change if needs be.
Fire up the lads to perform and give our superb away support (stay safe, Blues) a reason to cheer and be proud of our team. But, most of all, believe that we can win this tie and then the Cup itself!
COYBB
Brian Wilkinson
128
Posted 26/01/2019 at 13:16:34
Bob@108, it is live on bbc1 5.30 uk time so might be able to view it live if you go to the bbc website on your computer.
Eddie Dunn
129
Posted 26/01/2019 at 13:17:49
John, it will be interesting to see how Silva sees this. His formation, more than his selection will determine the result.
Paul Tran
130
Posted 26/01/2019 at 13:43:03
I saw a great quote from a former US basketball player this week. "Good teams are accountable to the coach. Great teams are accountable to each other."
Any kind of accountability from these players would be an improvement today. A game that should be won by a team that struggles to win.
My punting head is tempted by the 4/1 for Millwall. We have another horse, Parody, running in a bumper at Doncaster today. Watching rather than backing today.
Neil Wood
131
Posted 26/01/2019 at 13:47:02
Big shout, I know, but Millwall to have one sent off and the Blues to win 6-0. Calvert-Lewin to get 4.
Derek Taylor
132
Posted 26/01/2019 at 13:50:04
Poor as we've been recently, this game should be a stroll in the park for our lads. As for 'taking a draw', as suggested above, I think such a result would be a bloody disgrace.
Silva has not had much experience of this competition but I suggest Moshiri has indicated he wants us to do well, which will ensure that a near 'first team' will take the field.

Dave Abrahams
133
Posted 26/01/2019 at 13:57:58
Neil (131), good shout that 6-0, I've risked 20p on that.
John Pierce
134
Posted 26/01/2019 at 14:06:41
Jon Moss misreading the game as per usual. Thank fook he retires this year.
Ashley Roberts
135
Posted 26/01/2019 at 14:08:02
The 4-2-3-1 formation is just not working. I bet, however, that will be the formation again today. If this is the case, it will mean Sílva either does not have a clue or is so stubborn to make his formation work.
This formation may work in the future but not currently with the personnel we have. It was clearly shown last week that we were totally out-fought and out-played in midfield which is the engine of the team. This I believe is the major problem at the moment.
On top of that, we really only have 2 or 3 goal scorers in the team so I do not see how we can drop Sigurdsson. For me, if we play his normal formation with the same players as last week I think we will lose.
I am thinking of a 3-5-2 formation. If we have 5 in midfield, at least we should dictate play and with 2 up front, maybe more opportunities in front of goal. While I am thinking this formation would be the best for today, I am not sure who I would play...
My possible formation would be Keane, Zouma and Digne at the back. Then, across midfield, Bernard, Sigurdsson, Gana, Gomes and Richiarlison. Then up front I would have Calvert-Lewin and Walcott.
I like Lookman but, until he finds the position of the onion bag, he pretty much is a luxury. At least with Sigurdsson, Richarlison, Calvert-Lewin and Walcott, you have all of our goal scorers on the pitch.
Tony Everan
136
Posted 26/01/2019 at 14:10:40
It will be a dirty old affair... bookings, maybe a sending off, high balls, and blood on the pitch. I think we will have a bit too much quality for them and we will win narrowly.
Milwall 1 Everton 2
Dave Lynch
137
Posted 26/01/2019 at 14:10:44
No way will this be a stroll in the park!
We've been here too many times before... Millwall will smell blood today and give us a proper test.
Jamie Crowley
138
Posted 26/01/2019 at 14:14:05
I'd not disagree, Ashley, regarding the formation, but to that end the starting players. I'm fearing a marching out of the same formation with the same 11.
If that goes south and we lose, to me that'll be the last straw. There'd be no difference between that and the stubbornness of Martinez.
If I see Richarlison up top and Gomes in midfield, I might lose my mind. Richarlison isn't effective there, and Gomes clearly needs a rest.
Even if I'm wrong, we need some change. A shake-it-up as it were.
I think we'll find out a lot about Silva today.
Ian Bennett
139
Posted 26/01/2019 at 14:20:08
Pickford
Coleman
Mina
Zouma
Digne
Baines
Gomes
Sigurdsson
Lookman
Richarlison
Bernard
Jamie Crowley
140
Posted 26/01/2019 at 14:25:56
Twitter feed showing highlights of Tim Cahill.
How in the world did that guy score so many headers? Aussie with kangaroo legs. Insane. Loved to watch him. We need a player with the same spirit Cahill had in this side.
Jerome Shields
141
Posted 26/01/2019 at 14:30:41
Lyndon, your predicted line-up is probably right, but I would play Lookman before Richarlison. I also would play Kenny instead of Coleman.
But Everton need someone tougher than Gomes in the midfield. I would drop Gomes and play Sigurdsson deeper, bringing Bernard inside into the No 10 role. I would have Richarlison and Lookman on the wings and Calvert-Lewin leading the attack.
This would sort out the midfield problem, but making it less static, since Sigurdsson would be less likely to be isolated and it would bring more play into Everton's central attack. The obsession that Silva has with wing play without link passing allows the opposition to play a high defensive line and pin the wingbacks back. Coleman is now too much of a weakness.
If Silva names the same starting eleven set-up as last week, he really doesn't have a clue.
Jim Bennings
142
Posted 26/01/2019 at 14:52:52
Jamie
Cahill was quite simply a unique footballer and it was his never-say-die attitude and difficult upbringing that lead to his mentality as a professional footballer.
The reason he was so good at headers, well the answer is in Tim's very own autobiography.
Cahill said he would always make sure he kept his eyes open and on the ball when connecting with heading it, as it's not about just luck when scoring a header, it's a skill that is worked at.
Brilliant player with a mentality that should be bottled.
Brian Murray
143
Posted 26/01/2019 at 14:56:15
Ian Bennett,
Coleman and Baines in your side spells no pace and a disaster waiting to happen. Time and time again, the old guard have proved they wilt at the first sign of pressure.
Neil Cremin
144
Posted 26/01/2019 at 15:05:23
If we don't play Macca today, when do we play him? He has to start sometime or we sell him. That would be a mistake in my opinion. We need to evaluate if he can do the job he used to do; so when better than against a lower league side? We desperately need to make the midfield more abrasive and not be the soft belly it has been.
Paul Tran
145
Posted 26/01/2019 at 15:08:33
I'm almost always against the idea of whinging for ex-Everton players the moment we hit a poor run of form.
I'd make an exception for Tim Cahill; a half-decent player who worked himself into a very good player, making the most of everything he had.
I'd pay whatever takes to get him back at the club. He embodies the mindset, attitudes and personal standards we are desperate for. Mind you, judging by the ex-players we do employ, I can see why he isn't with us!
Kieran Kinsella
146
Posted 26/01/2019 at 15:22:08
Neil Cremin @144,
Silva said McCarthy isn't match-fit yet in the presser as he "needs more game time" which is an ironic reason not to play him. Also, a bit weird given he was a sub a few weeks ago. Even weirder when you consider we could easily have given him game time with the U23s over the last few months.
Paul Tran @145
We haven't had anyone like Tim since he left. He was fearless. Who in the current squad would have the balls to try and overhead scissor kick to earn a point at Chelsea? Even if he wasn't having a great game, I always felt like we had a chance to get on the score sheet when Tim was on the pitch.
Chris Gould
147
Posted 26/01/2019 at 15:25:24
I would take a draw today. Millwall and their fans will be confident and bang up for this. We don't have the quality or winning mentality to brush them aside.
I fully expect a nail-biting encounter and would happily accept a draw and return at Goodison Park. This lot beat 3 Premier League teams at home 2 seasons ago. They have no reason to fear us. We are an inconsistent shambles.
Kieran Kinsella
148
Posted 26/01/2019 at 15:29:12
Chris Gould @147,
I don't know if I fancy a replay at a nervy, half-empty Goodison Park.
Neil Cremin
149
Posted 26/01/2019 at 15:35:55
Thanks for the update, Kieran. Doesn't make much sense that he is supposed to be fit, was a sub. We need his steel in midfield if he still has it.
Jay Wood
[BRZ]
150
Posted 26/01/2019 at 15:36:39
The weekly calls to promote McCarthy to the starting XI continue to ignore a very stark fact:
Since his career-threatening leg break a year ago James has barely played any match football. Just a single 90 minutes for the U-23s against Man City at the end of October, then 2 weeks later just 30 minutes as a sub in the exhibition match against Gor Mahia. That is a full two months ago now.
Since then, the closest he has got to the first team was on the sub bench against Lincoln. He didn't cross the white line to play at all.
Don't you think, given the team's form in that time, if he was close to being match fit and showing some of the ability he undoubtedly possesses, Silva would be looking to give him some game time and easing him into the team?
That he hasn't suggests to me James, in Silva's eyes, remains well short of either the fitness or ability levels required to force the manager to play him.
On a similar note, I've recently read on TW the assumption that Beni Baningime cannot be rated highly by Silva as he is not getting a look in.
This ignores the fact he has been injured pretty much all season and is only now on the road to recovery. He is back training with the first team again, as this photo gallery from training at Finch Farm this week shows:
Both players can be assets to the first team, but only if they are fit for purpose. The game time they are NOT getting strongly suggests they aren't ready and able.
Mike Gaynes
151
Posted 26/01/2019 at 15:37:12
Jim #142 and Paul #145, amen.
Jamie #121, have another bagel and enjoy the fact that it'll be a bit safer to fly next week.
Ray Roche
152
Posted 26/01/2019 at 15:42:39
Jay (Brz)
Finally, some considered and intelligent comments on McCarthy. If the lad was ready, he'd have been given a chance before now.
Mike Gaynes
153
Posted 26/01/2019 at 15:49:46
Nine FA cup matches happening right now, all at halftime. Three goals total in the nine games, two of them Swansea against Gillingham. Seven scoreless games.
James Marshall
154
Posted 26/01/2019 at 15:59:51
Of course play Macca, that makes perfect sense in a game away at a very difficult place to play, against a team that have won their last 4, are live on the BBC and will be 100% up for beating Everton. Also, given that our form is woeful, and the manager is under more & more pressure, what better game to play the injury prone, unplayed James McCarthy who has barely kicked a football for about a year?
Yes, the exact game he should be playing in.
I do wonder if some people have any knowledge at all about football.
Play your strongest team, whatever that is, and try not to lose the game. I never agree with Lawro (the RS bellend) but today I do - he has us down for a 1-1, get them back to Goodison and win the replay. I'd take that, which shows how shit we are of late.
Craig Walker
155
Posted 26/01/2019 at 16:01:46
Potential banana skin this one. We should be too good but a hostile away ground, the TV cameras, confidence shot to pieces and our entire season resting on it make me wary of this fixture. Let's face it, the BBC sense a shock, hence their coverage. Hopefully we can get through, get an easy home tie and see the remaining big teams get drawn against each other. Knowing our luck, we'll scrape through and get Man City away.
John Pierce
156
Posted 26/01/2019 at 16:04:32
John Ruddy. 👀
Kieran Kinsella
157
Posted 26/01/2019 at 16:05:46
James 154
"I do wonder if some people have any knowledge at all about football."
I think that's a bit harsh. The likes of Neil Cremin are pushing McCarthy based on the fact about two months ago the manager said he was fit. If he isn't playing games to get minutes for the under 23s that suggests he is indeed match ready. Given his attributes and the struggles of the team, it is a reasonable suggestion to play him -- based on the aforementioned info. However, I suspect that there is more to the story than we know. Perhaps he has had a setback with his fitness and maybe the club want to keep it on the downlow because they are sensitive to his "sicknote" reputation.
Iain Johnston
158
Posted 26/01/2019 at 16:05:48
Jay #150. An assumption not without merit I agree.
However...
Silva has reiterated on many occasions now that James McCarthy is fit, an answer which triggered the call for his inclusion in the first place...
Surely his response would be that he's not ready thus ending the speculation and discussion on whether or not to give him a place on the bench or game time?
Kieran Kinsella
159
Posted 26/01/2019 at 16:08:17
Iain 158
Jay has the advantage though because he is able to deduce all kinds of information about fitness and player relationships by looking at publicity stills of training or video snippets of people celebrating goals.
Darren Hind
160
Posted 26/01/2019 at 16:09:10
Nerves gone here. This is massive for us.
Those who are not already stocked up. You've got just over an hour to get yourself enough booze to get you through this.

COYB

Tom Bowers
161
Posted 26/01/2019 at 16:09:33
It doesn't matter what eleven starts we, as Evertonians have one motto these days-- Hope for the best but fear the worst no matter who they play.
They have no leadership either on or off the pitch currently and that suggests a very tough game to win today.
James Marshall
162
Posted 26/01/2019 at 16:09:37
I hadn't seen any comments from the manager about him being fit, so my apologies if that is indeed the case. One thing to note, rarely is it worth even attempting to read any truth into anything managers say about anything these days.
A match fit McCarthy, is about as match fit as me!
Kieran Kinsella
163
Posted 26/01/2019 at 16:11:51
James 162
"One thing to note, rarely is it worth even attempting to read any truth into anything managers say about anything these days."
I absolutely agree with that sentiment.
Mike Gaynes
164
Posted 26/01/2019 at 16:13:33
Silva did say McCarthy was fit. Once. He did not say he was match-ready. If he thought so, we'd have seen him.
James Marshall
165
Posted 26/01/2019 at 16:14:41
Hasn't Silva also intimated that we need to trim the squad? I'd suggest McCarthy is not much more than a trimming...
Neil Cremin
166
Posted 26/01/2019 at 16:20:02
Kieran, James,
We are getting worse week by week. Gomes was the new saviour a few weeks ago now he cant last the pace. My point is we do not have a solid midfield. We need somebody with an engine (as per Macca of old). If we are told he is fit then why is he not getting game time. I agree with Kieran we are not getting the full story.
If Macca is not the answer then send on loans but we still we need somebody who can drive the team forward or hold the midfield together in the transfer window. What we have now is not good enough. We may hope for a good run in the FA Cup but I would be more concerned that our upcoming league games have playing the top 6 teams at home and those below us away in general. Worrying time I fear.
Jay Wood
[BRZ]
167
Posted 26/01/2019 at 16:22:59
Kieran @ 159.
"Jay has the advantage though because he is able to deduce all kinds of information about fitness and player relationships by looking at publicity stills of training or video snippets of people celebrating goals."
I did no such thing. That's your own invention.
No psychic powers are necessary to take known facts and make reasoned deductions from them.
Try it for yourself sometime Kieran. You might come up with something intelligible and intelligent for once.
James McCarthy is clearly fit to train.
So am I.
There is a considerable difference being fit to participate in physical exercise and being fit to play in a PL, or FA Cup tie.
Kieran Kinsella
168
Posted 26/01/2019 at 16:26:24
James Marshall @165,
Silva has said he wants to trim the squad and logically an unfit(?) unwanted(?) McCarthy would seem to be the first out the door but Silva also said
"If you ask me what I want, I want James to be part of our squad. To answer directly to you," Silva told the Echo.
"Even if it looks strange because he is not playing often or he is not making the squad list often, but if you ask me directly I will tell you it is something I want, for him to be part of the squad until the end of the season and then let's see in the future because he has a contract (beyond that).

"To be honest, he has never knocked on my door to go until now."

James Marshall
169
Posted 26/01/2019 at 16:27:32
Fair enough Kieran - you clearly have a much better memory than me for quotes, though to be fair, so do most goldfish.
Chris Cole
170
Posted 26/01/2019 at 16:28:59
Biggest game of the season. Manager should pick his best 11.
No-one should be rested, only left out because they aren't in his best 11.

Kieran Kinsella
171
Posted 26/01/2019 at 16:29:11
Jay
I'll try it. I know Cardiff just fired Bellamy for bullying, I am trying to figure out from pictures if they have replaced him with someone who has similar qualities :)
Kieran Kinsella
172
Posted 26/01/2019 at 16:36:50
James
Sadly, most of the quotes are useless information anyway so I probably need to spend less time listening to the crap managers speak.
Neil Cremin
173
Posted 26/01/2019 at 16:37:52
Lads,
We are all true Everton supporters here airing our opinions on what we want best for the team. No need for infighting we have enough problems on the pitch.
Add Your Comments
In order to post a comment, you need to be logged in as a registered user of the site.
Or Sign up as a ToffeeWeb Member — it's free, takes just a few minutes and will allow you to post your comments on articles and Talking Points submissions across the site.