Huddersfield Town vs Everton
Tuesday, 29 January, 2019
Match Preview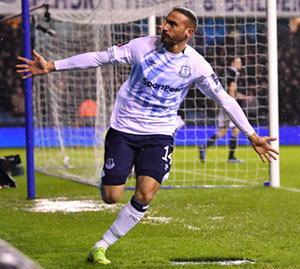 Cenk Tosun will be hoping his goal at Millwall was enough to convince Marco Silva that he should start this evening
Everton look to pick up the pieces of their broken season this evening as they travel to bottom club Huddersfield Town.
The game comes on the heels of the Blues' humiliating cup exit at the hands of Millwall on Saturday, a result that marked the nadir of a season that has derailed spectacularly and thrown up a number of questions about the team, it's coaching and mental fortitude.
Marco Silva will be looking for a reaction from his players and some answers to those questions as it won't be lost on him that he and many of his charges will be heavily scrutinised in the coming weeks, starting with this trip to the John Smith's Stadium.
The game will mark the first match in charge for the Terriers' new boss, Jan Siewert, the man who succeeds David Wagner and who has been charged with pulling off a miracle to save the Yorkshire club from demotion back to the Championship. Huddersfield come into the game on just 11 points — by way of comparison, during his time at Hull City three years ago Silva's Tigers had 17 points after the same number of matches — three behind Fulham and 10 from safety.
One of their points was, of course, collected at Goodison Park in what was, for Everton, a disappointing 1-1 draw back at the start of September but their goalscorer that afternoon, Phillip Billing, is one of two players almost certainly ruled out, the other being Danny Williams.
Siewert expects to be able to call on Talismanic midfielder Aaron Mooy, however, now that the Australian is fit again following a seven-week layoff with a knee ligament injury and Abdelhamid Sabiri should also be available.
As far as Everton go, it will be interesting to see what changes Silva makes for this one in response to Saturday's debacle at The Den. Having endeavoured to name as settled a starting XI as possible prior to December, the Portuguese has struggled to find his best line-up in recent weeks and Saturday's performance won't have helped the cause of some of his players.
Having picked up an apparent ankle problem, Yerry Mina is a major doubt after failing to reappear for the second half against Millwall and Phil Jagielka is still out injured himself which should make the manager's decision over which central defensive partnership to employ fairly straightforward. Michael Keane and Kurt Zouma should start but there could be a place on the bench for someone like Morgan Feeney in Mina's absence.
Cenk Tosun, who scored in this game last April, will be hoping his goalscoring cameo off the bench will get him the nod over Dominic Calvert-Lewin which would see Richarlison remain wide left and one of Ademola Lookman and Bernard starting on the opposite flank.
Gylfi Sigurdsson and André Gomes were disappointing in the cup defeat but it's hard to see either being dropped while Silva looks for a quick win to ease the pressure on his shoulders. That just leaves the question of Idrissa Gueye who reports now claim has handed in a transfer request in a bid to force through a move to Paris St Germain.
Silva went on record yesterday as saying that he had no desire to lose the Senegal international but he will have to evaluate whether or not Gueye will have the necessary focus to play. Tom Davies is a potential deputy if the manager feels he isn't and there is also the option of dropping Sigurdsson back into central midfield and using Bernard in the No.10 role.
Whichever line-up Silva employs, Everton are going to have to be significantly more artful with the ball than they were three days ago and show equally substantial improvement at the back. Huddersfield, who made life very difficult in the return fixture and could benefit from the "new manager bounce", will have studied the Blues' glaring weaknesses at set-pieces and will surely look to exploit them.
Kick-off: 7:45pm, Tuesday 29 January, 2019
Referee: Stuart Attwell
Last Time: Huddersfield 0 - 2 Everton
Predicted Line-up: Pickford, Coleman, Keane, Zouma, Digne, Davies, Gomes, Sigurdsson, Lookman, Richarlison, Tosun
Quotes sourced from ToffeeWeb match page
---
Reader Comments (108)
Note: the following content is not moderated or vetted by the site owners at the time of submission. Comments are the responsibility of the poster. Disclaimer
Derek Knox
1
Posted 29/01/2019 at 06:32:21
Can't say I'm looking forward to the game by any means, but I will watch it. After Saturday's pathetic showing, it is a case of which Everton will show up.
Huddersfield are desperate for points and will smell the possibility of a scalp. How poor have we become when you worry about a result against the likes of Huddersfield?
All due respect to them, they do try harder than we have done of late. With all the speculation regarding the future of Gana, I am surprised that we have not sought the services of Aaron Mooy, a player I have always admired and think he would suit us in midfield.
I watched the Barnet v Brentford FA Cup tie, and both sides gave their all, and I barely remember a pass going astray from either side. Considering Barnet are in the Conference, and Brentford in the Championship, it says a lot about Silva's coaching at Finch Farm.
Bobby Mallon
2
Posted 29/01/2019 at 06:39:56
Another defeat away from home. All season, Huddersfield have played okay but couldn't score — that's about to change and I think they have a new manager. Cue The Everton Giveaway.
Bob Parrington
3
Posted 29/01/2019 at 06:40:24
Am I too scared to watch this game? Lately, it's not been exactly good for Everton supporters' mental health.
Try this starting line-up:
Pickford
Kenny Keane Zouma Baines
Davies Sigurdsson
Bernard
Lookman Tosun Richarlison
Bench: Stekelenburg, Digne, Calvert-Lewin, Walcott, Feeney, , ? ?
Frank Sheppard
4
Posted 29/01/2019 at 06:54:04
I would expect several different team selections than Saturday, very interested in seeing who is out and who is in. Away to bottom team in the league, yet optimism in short supply.
Karl Jones
5
Posted 29/01/2019 at 07:07:32
Huddersfield Town Home record...W.1 D.2 L.9 Scored 5, conceded 19..Worst Home record by a mile .Surely not. Even Everton couldn't lose this one..
Jimmy Salt
6
Posted 29/01/2019 at 07:08:21
Im not a doom and gloom merchant. Ive thrown far too much money at the bookies in favour of us this season.
But I am seriously worried about tonight.
It seems you only need a bit of passion and the ability to cross the ball to beat us nowadays.
Jim Bennings
7
Posted 29/01/2019 at 07:35:43
Time to bring McCarthy, Baines and possibly Kenny into the team tonight.
If we don't WIN this one then it's impossible to see where the next win is actually coming from.
David Mosses
8
Posted 29/01/2019 at 07:46:44
I agree McCarthy instead of Davis, my god what have we come too to consider replacing Gana with Davis, even Banigime is a better option.
Kunal Desai
9
Posted 29/01/2019 at 07:54:24
Probably our only hope of picking up something here. I can't see us picking up anything from Wolves,City and Watford.
Neil Cremin
10
Posted 29/01/2019 at 07:58:35
In TW we have talked every game as crucial but this game is certainly a barometer for the rest of the season.
If we do not get three points here how do we hope to get the 10 points to guarantee safety.
As for team selection, I would love McCarthy or Banigme but every time I suggest McCarthy I get shot down. TW say that if Silva says he is not match fit yet why is he not getting a run in the U23.
Also with the team, it is time to drop Pickford and see if Stake offers more stability in the defensive set up.
Tonight will tell us how fare we have slipped this season.
Jim Bennings
11
Posted 29/01/2019 at 08:00:31
McCarthy was interviewed in early November and apparent said that if he's called on then he's ready to play, that was nearly three months ago, he simply must be ready.
Bobby Mallon
12
Posted 29/01/2019 at 08:17:23
Wow James McCarthy I'm flabbergasted that a player with such a bad injury record before his leg break is now considered a midfield must.
Laurie Hartley
13
Posted 29/01/2019 at 08:25:34
Preparing myself for the worst here. I posted that I thought we would bounce back after the derby. I couldn't have been more mistaken so I can't see us bouncing back from Saturday.
However we have to keep going so I am hoping for a team with experience and a bit of pride.
Pickford
Coleman, Keane, Zouma, Digne
Sigurdsson, Gomez, Baines
Bernard, Tosun, Richarlison
If that team can't beat Huddersfield it will be good night nurse - then again Huddersfield are a superior team to Millwall aren't they?
Kevin Prytherch
15
Posted 29/01/2019 at 08:36:29
It won't happen but I'd like to see a kick up the backside for a few players...
Pickford
Kenny
Baines
Keane
Mina
Davies
Beni
McCarthy (I know he won't last a full game)
Richarlison
Lookman
DCL
Either Davies, Kenny or Baines captain.
Martin Berry
16
Posted 29/01/2019 at 08:37:55
It will say if Gana is staying or going I suppose if he is in the team.
I am also with Derek #1. I am a big fan of Aaron Mooy, a modern day Peter Reid, albeit with more pace, would sign him in a heartbeat
Jim Bennings
17
Posted 29/01/2019 at 08:47:21
Bobby
Does that you mean you are also flabbergasted that Seamus Coleman is still our number one right back then?
Or even more flabbergasting that no sooner than Seamus suffered that horrific injury (same as McCarthy) our board thought it was a great idea to hand him a new five year contract?
Tony Hogan
18
Posted 29/01/2019 at 08:48:13
Laurie (13) god tram selection mate, my choice exactly
Paul Birmingham
19
Posted 29/01/2019 at 08:52:47
I expect Baines, and McCarthy to come in and try an£ stabilise the team and focus on the game and the whole team fights and competes!
It's very hard to see how we'll get the next 12 points based on form across the last 9 weeks.
If I was having a bet tonight, tonight then to win money it's a nap in by gone times that every team gets their first win for x games, or breaks a duck of a type after x games against EFC.
I hope there's no mention of fixture schedules, bearing the City game being brought forward.
Time to show some true grit and fight.. I hope we win to ease the pressure but I fear that Huddersfield will fight with all they've got and could etch out a result.
I'd take a draw but we need pints and players should be playing for their futures, as next season can't be another calamity.
This summer will be tough trading and I don't see Everton getting the necessary good players to bolster this team due to cost, book balancing and prospects of playing in UEFA.
Back to tonight, let's win and let's see some guts and passion.
Craig Walker
20
Posted 29/01/2019 at 09:26:05
Lose this and the atmosphere at the Wolves home game could be toxic. Defeats in both of those matches and I don't see Silva surviving. It says it all that we are visiting the bottom team in the division and I'd put Huddersfield as favourites. When a team/goalscorer are/is on a bad run then you can always count on Everton to be charitable.
It amazes me how much a role confidence plays in football. The same team looked really promising in December. One flukey goal conceded in injury time against the RS and we now look one of the worst sides in the division.
We should be looking at a transfer window and considering who to bring in. Instead we're looking to handle a wantaway midfielder and to ensure we don't post a record loss at the end of the financial year.
It's never boring as a Blue is it? Frustrating and depressing at times but rarely dull.
Tony Waring
21
Posted 29/01/2019 at 09:29:46
Paul (19), "Pints" could be a freudian slip or what you really intended to say !
John Keating
22
Posted 29/01/2019 at 09:34:03
I wish we could replace the entire team just to send them a message that what they are giving is unacceptable, however I know it is not possible.
Stek
Zouma, Keane, Mina
Kenny, Davies, Sigi, Gana, Baines
Tosun, DCL

Derek Taylor
23
Posted 29/01/2019 at 09:44:04
Silva selects from only 14 of his squad so it will be the usual deckchair rearrangement for tonight.
I can't see any team he picks losing to the favourites for relegation whose new manager appears anything but an improvement on the .guy he replaced.

Truth is Everton need only to see a return of 10 points from the remaining games to be well clear of the drop and thus ensure another season of the remarkable Marco Silva.
James Marshall
24
Posted 29/01/2019 at 10:01:08
Why are so many people talking about bringing it other players? Have you not noticed how stubborn the manager is? He won't change anything - it'll be the same lineup, same formation, same everything.
John Kavanagh
25
Posted 29/01/2019 at 10:35:18
So poor tired, nervous, defenceless and toothless Everton take on the mighty Huddersfield, themselves on an awful losing run and unable to find the net but with the bounce of a new manager. It will also probably be cold and snowy and their crowd will be right behind them.
What could possibly go right?
Derek Cowell
26
Posted 29/01/2019 at 10:51:02
'Only need 10 points'! But where will we get them from? Teams at the bottom fight for their lives and one always manages to survive at the expense of a team that falls like a stone. We have absolutely no fighting spirit so we are usually beaten before we even get on the pitch. Huddersfield have scored 5 goals at home and are already doomed but they will definitely score against us as everyone does so easily! Those 10 (maybe less) points are going to be hard to get but it absolutely MUST start tonight although I cant see it happening! Pessimism? No just realism based on what we've been seeing for months!
George Cumiskey
27
Posted 29/01/2019 at 11:06:56
I'm flabbergasted people keep picking Siggy in there teams when he's been rubbish for months.
Paul Birmingham
28
Posted 29/01/2019 at 11:15:55
Tony@19, well spotied ma8, a Freudian slip, and I'd changed it before posting. These iPads!
Nb then again fare to say, it will take plenty of pints of ale to get through this season.👍🍺⚽️
John Raftery
29
Posted 29/01/2019 at 11:16:42
This site has been renowned over the years for moaning. Well now we really do have plenty to moan about.
Tonight's game will be played by two very poor teams in what are likely to be tricky conditions. Given our defensive vulnerability we are unlikely to keep a clean sheet against any team. Throw in our inability to create many chances against any team and a scrappy draw looks like the best we can hope for tonight.
The list of scapegoats is growing by the game. Doubtless one or two more will be added tonight.
George Cumiskey
30
Posted 29/01/2019 at 11:21:29
John @ 29 scapegoats mate ? Strange word for a team who doesn't seem to be bothered to put a shift in.
Paul Birmingham
31
Posted 29/01/2019 at 11:21:29
Also there's a few rumours to the rounds Gana has put in a written transfer request.
If the monies right he'll be gone, and if he wants out he should go.
Let's see how the next few days pan out.
John Hammond
32
Posted 29/01/2019 at 11:22:56
Let's give Tosun a go after his goal and bring Bernard in for Sigurdsson at No 10. He can press and against Bournemouth he made the most successful tackles out of anyone on the pitch. Southampton he wasn't great but the previous games against Brighton and Leicester his tackles were up there.
I have a feeling we'll get 3 points tonight. There's clearly something very wrong with me.
Geoff Lambert
33
Posted 29/01/2019 at 11:29:03
James #24 That saved me from posting mate. spot on
Derek Knox
34
Posted 29/01/2019 at 11:31:11
Martin @16, I'm glad you agree with my choice of Aaron Mooy, they have another player who has caught my eye on several occasions, in Philip Billing. I think he may be injured for tonight's game but worth a watch if he is available.
Geoff Lambert
35
Posted 29/01/2019 at 11:32:49
Gana out Mooy in??
John Raftery
37
Posted 29/01/2019 at 11:54:09
George (30) What I mean is precisely what you say. It is the team as a whole plus the coach and his formation at fault. That is why I think it pointless at present to be focusing on individuals such as Coleman, Davies, Gueye, Walcott, Calvert-Lewin, etc when they are all at fault. Some people write as though replacing one or two players will solve our problems. A recent example was Walcott. Lookman replaced him. I had no problem with that but our results have not improved.
Scott Hall
38
Posted 29/01/2019 at 12:06:42
This game has classic Everton written all over it. We'll be overwhelmed by a buoyed Huddersfield with a spring in their step and with something to fight for.
Huddersfield 2 - 0 Everton
I wish it wasn't so. But Everton have specialized in this sort of charity shop giveaway for 25 years. Tonight will be no different.
Ian Edwards
39
Posted 29/01/2019 at 12:20:25
John 22
You want our only width to come from a 35 year old Left Back and and a rubbish Right Back?
We need to go 442:
Pickford
Coleman Keane Zouma Baines
Lookman Gomes Davies Richarlison
DCL Tosun

Brian Harrison
40
Posted 29/01/2019 at 12:23:58
I was suggesting some weeks back that Silva should give Lookman a run of games, and to be fair he has done. But in all honesty he really hasnt set the world alight as I hoped he would. Maybe give him a break and put him on the bench tonight. I think it must be a nightmare trying to pick a team with so many playing well below their best. Some say he wont change, but he has played Richarlison down the middle and out wide. He has done the same with DCL and brought Tosun on in games, also has left out Bernard and Walcott but no matter what formation or players selected this massive lack of confidence means he doesnt know who he can rely on to put in a performance.
Ian Bennett
41
Posted 29/01/2019 at 12:34:43
Laurie's team #13. Superior passing, goal threat and hopefully 3 at the back that can stop conceeding.
John Keating
43
Posted 29/01/2019 at 13:00:38
Ian 39
Ian my point was to drop everyone associated with the crap we've witnessed since the Wolves game where we possibly can.
Those remaining are only there because I can't see any alternatives.
Baines has proved in the one game he's played he can still turn in a decent performance. Regarding his crossing it is still as good as anyone else's in the squad.
Also regarding crossing, if Tosun plays it's pointless firing in crosses. He is far better on the end of through balls as witnessed so far this and last season.
Believe me if we had a squad where we could bin 11 then I'd go for it.
If the manager and coaching staff could be dropped I'd do it in a heartbeat !!
John Audsley
44
Posted 29/01/2019 at 13:01:38
I'm thinking of flying a plane over Huddersfield tonight with a banner saying "Everton Players - please try and remember your getting paid for this" gutless set of twats that they have been. It's time to stand up and be counted.
Mark Burton
45
Posted 29/01/2019 at 13:09:25
If we don't win tonight it could be "bye oh silva"
George Cumiskey
46
Posted 29/01/2019 at 13:27:45
John at 44 I enjoyed that post mate, if only you could do it. Lol
Jon Withey
47
Posted 29/01/2019 at 13:37:11
Pretty difficult to pick a team - the general lack of performance is across the squad.
I guess you can say that Richarlison, Bernard and Tosun have contributed positively recently. I can't dislike Coleman or Digne either. Lookman has also been ok and Zouma has his moments (I prefer him to Mina at the moment).
Pickford no longer looks in control in the box and the defence hasn't helped.
Simon Jones
48
Posted 29/01/2019 at 13:38:45
Huddersfield, new manager and bottom of the table, if ever you wanted the ideal team to play then it's us, especially right now.
Iain Johnston
49
Posted 29/01/2019 at 14:04:45
I fancy going a bit radical and capture a bit of the old Stevie Watson vibe, I mean, our current wingbacks are better going forward anyway.
Try a diamond.
JJK, Keane, Zouma, Baines
Gana
Coleman, Digne
Gylfi
DCL, Richarlison.
I'm sick to death of us having a meek, pretty midfield who don't tackle or compete.
If Richarlison wants to spend half the night up here in Yorkshire sitting on the grass waving, get him off and give Lookman a go up with DCL, Hasslehuttl did it at Leipzig,
Bernard for Gylfi later on
Neil Cremin
50
Posted 29/01/2019 at 14:15:49
Jon
I am Like a broken record but I don't believe Pickford has ever been in control of the box. He is a good shot stopper and a showboater at that. He never catches or holds a shot and if he does gather a simple ball his first reaction is to run out to the edge of the box to launch a long ball attack (thats if he can keep it from going out over the sidelines). In TW team discussions we have seen criticisms of every player on the team and omitted by one TWebber from preferred selection. Yet Pickford is always on the team. I think he is a destabilising influence on the team and it should be tested by seeing how Stakes does, starting tonight. How many goals has he conceded in the past three years between Sunderland and Everton. We complain about our strikers return rate, it is now time to look at our defensive record and his role in it.
Rant over
David Hallwood
51
Posted 29/01/2019 at 14:34:44
I hate it when Everton are in the super 6 selection, because I can't put us down to lose-but lose we do.
He cannot, repeat, cannot play Gomes & Siggy, both of them look like they're running on empty; replace with Davies & Bernard.
Up front I'd play Lookman-Woolcott-Charlie and give it a good go.
Not looking forward to tonight's game, especially if Siggy &Gomes start, so I'm hoping there will be changes in midfield.

John Malone
52
Posted 29/01/2019 at 14:42:23
Sigurdsson bench, Lookman left, Bernard ten, Tosun or Dcl up top and Richarlison on the right.
This team will park the bus and counter so Lookman and Bernard will be key to finding a way through.
James Lauwervine
54
Posted 29/01/2019 at 15:00:24
I think we'll win tonight and go 7th, though perhaps I'm only saying that to throw a little positivity into the mix. However, there should be some changes after last Shaturday (not a typo). I also think we should go for it in this type of match.
Here's my team:
Pickford
Coleman, Jagielka, Zouma, Baines
Gana
Lookman, Bernard, Sigurdsson, Richarlison
Walcott

John Pierce
55
Posted 29/01/2019 at 15:20:22
The mediocre mufflers are at it again tonight versus a certified relegation candidate.
I expect to win, but we won't do with any comfort or with any panache. It's a game we'd expect to win too, but will we?
A very basic hard working side, so will
sAilva realise he needs to equal that to win the game? Put the hardest working players in and bring no the show ponies later.
Schniederlin in for Gana, Baines for Digne, Tosun for Calvert-Lewin. Play a horrible 4-5-1 and get a fooking win.
Kieran Kinsella
56
Posted 29/01/2019 at 15:29:37
I would bring in Baines. Digne has done well but last weekend was unacceptable. Give him a kick up the backside.
Lenny Kingman
57
Posted 29/01/2019 at 15:30:02
Huddersfield are utterly hopeless and doomed to certain relegation, but Everton will freeze in the snow and give them false hope.

Eddie Dunn
58
Posted 29/01/2019 at 15:41:16
for me it's time to drop the worst offenders of recent weeks.
my team would be...
Stek
Baines, Zouma, Keane, Coleman
Bernard, Davies, Gomes, Gana, Lookman.
Tosun.
Bring on Richarlison/Sigurdsson/DCL against tired legs.
Benjamin Dyke
59
Posted 29/01/2019 at 15:43:09
We need a British spine IMHO. Tired of foreigners namby pambying around in midfield. This is Huddersfield away Marco in a British winter and a must win game that we need to see fight in, get on players that are British. Everton are so predictable and so boring. End of rant.
Jay Wood
[BRZ]
60
Posted 29/01/2019 at 15:44:47
The most intriguing thing I'm waiting on for this game is the selection, or rather, non-selection of Gana Gueye.
If he doesn't play tonight (and despite the doubters, he really should start every game) that could be a very clear indicator that once again we are prepared to sell one of our best players, rather than retain him, to build a side around, rather than continually dismantle one.
Neil Wood
61
Posted 29/01/2019 at 15:56:51
If anyone has a spare ticket then please let me know!!!
07879551102
Franny Porter
62
Posted 29/01/2019 at 16:01:46
Id be happy with a change in formation for a start.
This 4 2 1 3 or whatever it is, just doesn't work.
Robin Cannon
63
Posted 29/01/2019 at 16:13:21
@Franny (62) - I agree. All the talk is about lineup changes, and yet there's no deviation from the formation.
It's not an easy solution. I honestly don't know our best formation, and I'm less sure of what I'd choose as our "best XI" than I think I have been for year. But continually playing one striker, and doing some vague permutations of personnel, clearly isn't working right now.
Mike Gaynes
64
Posted 29/01/2019 at 16:24:28
Kieran #56, correct. Digne's a great young player but such spectacular idiocy must have consequences.
Never has the outcome of a game mattered less, unfortunately. I think Silva is already toast and will be canned right after the season ends.

Alan J Thompson
65
Posted 29/01/2019 at 16:26:18
I just don't know how to line this up. Not quite really started transition versus six months into transition. Modern day football, eh.
Neil Wood
66
Posted 29/01/2019 at 16:28:09
If people play poorly they should be dropped. Sigurdsson has been poor for a while now and offers nothing. Like someone mentions above Bernard should play in the 10 role with Richarlison and Lookman flanking. Think we should stick with DCL up front with protection from Beni if fit and Gomes. Gueye is as good as gone I think.
Keane and Zouma with Digne and Coleman.
I would also despite it being controversial have Virginia in goal also. Stek is garbage and Pickford, despite being a good shot stopper is not even half of what people think he is.
Steve Ferns
67
Posted 29/01/2019 at 16:29:24
Here you go then Robin:
Pickford
Kenny Keane Zouma Digne
Gueye Schniederlin Gomes
Lookman Tosun Richarlison
Narrow 433, with Schneiderlin sitting in and deep to cover for Gueye and Gomes. The front 3 all playing narrow. I expect Gomes to get forwards into the positions Sigurdsson would inhabit and Lookman to also drift into there.
Sigurdsson himself will be a sub for the second half depending on the score. If we can't control the midfield, then I'd send Davies on for Gomes, to add a bit more bite.
Tosun would be better as the 9 against these central defenders.
However, I expect:
Pickford
Coleman Keane Zouma Digne
Gueye Gomes
Lookman Sigurdsson Richarlison
Tosun
Neil Cremin
68
Posted 29/01/2019 at 16:41:02
Neil 66
Dont know much about Virginia but would agree to dropping Pickford. Everybody else has been dropped without much improvement. Time to drop Pickford and wake him up to the fact that his Englands place is in jeoprody unless he starts commanding the box and marshelling the defense.
Mike Gaynes
69
Posted 29/01/2019 at 16:44:17
Neil #66, if people who play poorly must be dropped, then Digne must sit. The most horrendous 15 minutes that any Everton player has produced this season was Digne's final quarter hour at Millwall. And Beni is not fit.
Steve #67, you must be kidding. The concepts of "Best XI" and "Schneiderlin" cannot possibly exist on the same plane of reality. Let alone in the same post.
Danny Baily
70
Posted 29/01/2019 at 16:47:35
I'm amazed there's such interest in the starting line-up.
Dave Loweth
71
Posted 29/01/2019 at 16:51:43
I'm with Scott@38. This game has Huddersfield win written all over it. Freezing conditions, a new manager, a home crowd well up for it and the fact that they haven't won for yonks will mean nothing when the Everton post-Christmas club bowl up with a gift of three points. The defending at Millwall on Saturday was shambolic and would disgrace any ale house team. But there hasn't been time to do enough training to try to combat the kind of set pieces that did for Everton at the weekend. I'm not convinced that Silva will have even tried to address that issue. He's probably still thinking about the handball and the lack of VAR, rather than sort out the multiple failings on the pitch. I hope to hell I'm proved wrong, but sadly I don't think I will be.

James Hughes
73
Posted 29/01/2019 at 17:00:23
Mike, not very often I disagree with you but drop Digne for a bad 15 minutes. What's the expression? 'Give your head a wobble'
We need to go back to ( hate myself for this) the old 4-5-1 and possibly KITAP1. We need three points tonight and we can't allow them to run thru' the middle like our two DM's don't exist.
Silva needs to demonstrate that he can can coach, because if we lose tonight we are in the mix for real. We may have 30 points but we need at least another 8 more. Lose this tonight . well
Eddie Dunn
74
Posted 29/01/2019 at 17:03:11
Dave, I have hoped with every passing game that suddenly things would click, like they did fleetingly at Burnley but this group have continually let us down.
Silva has openly said that zonal marking was not to blame at Millwall and a combination of man-to-man and zonal is what everyone else plays.
He is clearly blaming the players.
The question is after the humiliation in front of the BBC cameras and another season without hope of a trophy, can he inspire his charges to perform against the worst team in the PL?
I just can't see them gelling, but will watch in hope.
Tom Dexter
75
Posted 29/01/2019 at 17:15:22
Travelling in Switzerland on my lonesome - does anyone know if this game will have a live stream video anywhere?
Neil Wood
76
Posted 29/01/2019 at 17:18:56
Mike, whilst I see your point Digne has had a bad 15 minute spell. Sigurdsson for me has been consistently poor most of the season despite weighing in with a few goals.
Bernard all the way for me.
Ray Roche
77
Posted 29/01/2019 at 17:21:47
Tom, on the Huddersfield v Everton heading on the ToffeeWeb web page it gives a list of sites showing where you can find the match. Global TV.
Jimmy Hogan
78
Posted 29/01/2019 at 17:22:06
I'm predicting 1-2. Bernie to tear them apart.
Jamie Crowley
79
Posted 29/01/2019 at 17:22:42
I don't want to see the same 11 trotted out.
I don't want to see the same formation trotted out.
I want to see a team giving an effort to exorcize the demons of Millwall - an effort worthy of the fans and the Club. A Herculean effort.
That's it. The rest, for me, are just insignificant details.
Run through the brick wall. Play like your life depended on it.
Derek Taylor
80
Posted 29/01/2019 at 17:34:47
Not much originality in all these line ups. But to beat Huddersfield it matters not as they are one of the weakest teams we have seen in the Premier for years.
Another 'Burnley result' is likely which will bring relief all round as there is nothing to play for except dignity and that's just a halfway spot come May.
Raymond Fox
81
Posted 29/01/2019 at 17:35:37
This game sure to be on, prime place for snow and ice is Huddersfield, the pitch will be ok but will the surrounds be?
Lyndon already mentioned that we can be sure of one thing, they will be trying to put high crosses into our box every chance they get.
You can count on it, our best means of defence will be to play an attacking game and keep them under pressure. Dont laugh.
Paul Armstrong
82
Posted 29/01/2019 at 17:42:30
Type or paste your comment here. PLEASE capitalise initial letters of proper names and use proper grammar. No txt-speak; all-lowercase posts are likely to be deleted
Paul Armstrong
83
Posted 29/01/2019 at 17:44:21
Any suggestions as to which gives the best live feed?
Neil Wood
84
Posted 29/01/2019 at 17:46:57
Paul, I downloaded this app called Liveplayer the other week and it has been far and away the best feed I've had. It's on my iphone
Neil Copeland
85
Posted 29/01/2019 at 17:47:50
Despite how poor we have been since December I think we will win this one comfortably. Can't see Silva making too many changes though other than Zouma staring in place of Mina and Tosun in for DCL.
Ganas place will probably depend where his head is at, if he doesn't play I think Silva will select Siderlin.
Paul Armstrong
86
Posted 29/01/2019 at 17:52:12
Thanks Neil. I will watch the match through my fingers!
Dermot Byrne
87
Posted 29/01/2019 at 17:59:12
I see a huge win. An early goal and on we go.
Then we may suddenly change views and have another new beginning.
EitC will be so great and developed by DBB brilliantly and all the "patience" brigade will dare to return. (I never left!)
Me? Aah fuck, it will be a WD or L and together we will spout usual shite until next game.
And there is football for 95% of fans across this great game. It is capitalism in action as we know.
Bit like a sore tooth we keep poking but never take out.
Mike Gaynes
88
Posted 29/01/2019 at 18:04:46
James #73, sorry but I think moronic play that damages your club should have consequences. There were lots of reasons we lost at Millwall, but #1 in my view was Digne's idiocy. And with Bainesy having played so superbly a week earlier, there's no reason in the world not to sit Digne and let him ponder the concept of professionalism.
Neil #76, I would point out that Sigurdsson made the sweet touch pass to set up what should have been Tosun's gamewinner. And it's not just a "few" goals -- he's the top scoring midfielder in the Prem with 9. Plus it's not like Bernard or Lookman is going to score those goals. So he stays in the side for me.
Jamie Crowley
89
Posted 29/01/2019 at 18:07:24
Ouch. I'm back.
Ouch. I'm back.
Ouch. I'm back.
Like that, Dermot?
Gavin Johnson
90
Posted 29/01/2019 at 18:11:15
I can see Tosun given the nod over DCL but I wish Silva would give Bernard or Lookman a go in Sigurdsson's No.10 role. I don't care whether it's Sig or Gomes paying as a No.8. They've both been passengers recently.
Dermot Byrne
91
Posted 29/01/2019 at 18:12:24
Lol Jamie! I am flitting between a live Brexit debate on TV and TW. Cannot resist just having fun. Childish 58 yrs old? Granted!
Brian Williams
92
Posted 29/01/2019 at 18:13:22
It's so Everton to be playing a team who play their first game under a new manager. If a striker comes back after 7 years out and plays against us he scores.
If a team hasn't won at home/away/ in this particular calendar month/ever and plays us, they win.
You get the gist?
I wish I had the faith of those saying we'll win comfortably. I don't think we will and much to my shame I don't think we'll win full stop.
Jamie Crowley
93
Posted 29/01/2019 at 18:16:43
Dermot -
I'm a member, since college, of the Sigma Chi Fraternity.
Ignore the hideous "frat boy" tag.
One of our mottos was, "Endeavor to retain the Spirit of youth."
Keep it up.
Dave Abrahams
94
Posted 29/01/2019 at 18:18:35
Can't ask for more than Jamie (79), that will do me, lets be honest we beat ourselves at Millwall, mistake after mistake, three efforts on goal, we've got to do better than that, the players pride should demand it, give us a win and ease those worrying clouds that are gathering.
Tom Bowers
95
Posted 29/01/2019 at 18:22:58
Brian Williams, all those little things usually come to fruition against Everton more than any other club oddly enough. They are suckers for that kind of thing.
Notwithstanding that, it would appear that this is another game that we would expect to win like so many this season only to be cruelly awakened to the fact that Everton are a poor side these days.
However they could win if they score the first goal in the 96th. minute or thereabouts.
One thing for sure we need a strong defensive performance for the whole match.
Neil Lawson
96
Posted 29/01/2019 at 18:30:51
So much disagreement. So many opinions. The crucial factor required tonight is fight. So yes to McCarthy. Yes to Baines. Possibly yes to Kenny as much as I love Seamus. Gomes needs a rest. Gana wont play. He has probably had enough and who would blame him. All will be revealed in 30 mins and there will be moans and groans whatever. Please, just do the business on the pitch and avoid more woeful embarrassment. I am going out. Can't bear the agony and misery.
Darryl Ritchie
97
Posted 29/01/2019 at 18:33:20
A lot of people picking Gana to start. If he's on the bench and doesn't get selected, then we will know he's off...right?
Phil Greenough
98
Posted 29/01/2019 at 18:47:26
Brian@92. It will come as no surprise then, that Mooy will probably play tonight 😀
Duncan McDine
99
Posted 29/01/2019 at 18:47:49
Gana's as good as sold then
Derek Taylor
100
Posted 29/01/2019 at 18:48:37
Team news ?
Darren Hind
101
Posted 29/01/2019 at 18:48:54
Bet these sneaky fuckers try to surprise us by pumping long high balls into the box
Phil Greenough
102
Posted 29/01/2019 at 18:52:30
1 Pickford 23 Coleman 4Keane 5 Zouma 3 Baines 26 Davies 8 André Gomes 20 Bernard10 G Sigurdsson 30 Richarlison 14 Tosun.
The team for tonight, according to the BBC.
Tony Everan
103
Posted 29/01/2019 at 18:55:40
Pickford
JJK keane Zouma Baines
Sigg McCarthy Gomes Gana Digne
DCL
Bit more of a combative and organised midfield, designed to be able to outbattle Huddersfiled who will be trying to bully us out of it from the off, but still with two excellent crossers of the ball to feed DCL
Richarlison Lookman benched
Ashley Roberts
104
Posted 29/01/2019 at 18:55:44
Huddersfield will be up for this and unless we can match their endeavour this will pan out the same way as Southampton where we were out fought in every department. The Huddersfield players will be wanting to impress the new coach while our players have nothing to play for cos they know they are going to be picked week in and week out!!
Ashley Roberts
105
Posted 29/01/2019 at 18:55:44
Huddersfield will be up for this and unless we can match their endeavour this will pan out the same way as Southampton where we were out fought in every department. The Huddersfield players will be wanting to impress the new coach while our players have nothing to play for cos they know they are going to be picked week in and week out!!
Darren Hind
106
Posted 29/01/2019 at 18:57:43
See ya Idrissa
Tony Everan
107
Posted 29/01/2019 at 18:58:23
Phil, If it is it will be interesting to see how that team performs, midfield looks a bit lightweight to me, I am not filled with confidence.
Eddie Dunn
108
Posted 29/01/2019 at 18:59:43
The selection is okay, Gana going?, Digne punished, Mina injured, lookman benched, however the formation is the crucial element. Are we simply going to see more of the same virtual 4-2-4, because if so, we will simply lose again.
Brian Williams
109
Posted 29/01/2019 at 19:00:18
Gana's not in the squad!
Tony Everan
110
Posted 29/01/2019 at 19:03:40
Gana a Gonner
Tony Everan
111
Posted 29/01/2019 at 19:04:57
Eddie 108
My fears too, but this is Everton, expect the unexpected .
Jay Wood
[BRZ]
112
Posted 29/01/2019 at 19:20:53
As I speculated earlier, with no Gana in the starting XI or even on the bench, and no mention of him carrying an injury, it means one of two things to me:
1) his head with the pursuit of PSG is not in the right place to play
2) he has played his last game for Everton and will be off before the weekend
As ever at Everton, "plus ça change, plus c'est la même chose" - "the more things change, the more they stay the same".
Nothing less than a win tonight please Blues.
Brian Williams
113
Posted 29/01/2019 at 19:31:00
Gana's injured.....well that's the official word!
Add Your Comments
In order to post a comment, you need to be logged in as a registered user of the site.
Or Sign up as a ToffeeWeb Member — it's free, takes just a few minutes and will allow you to post your comments on articles and Talking Points submissions across the site.