Everton vs Wolverhampton Wanderers
Saturday, 2 February, 2019
Match Preview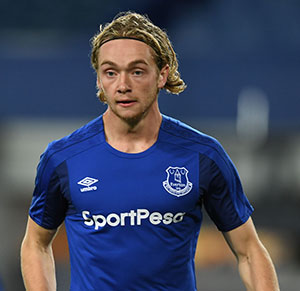 Tom Davies could start again in midfield regardless of whether or not Idrissa Gueye is passed fit after his display at Huddersfield
Everton are back at Goodison Park after three straight away games to welcome Wolves as they look to build on the win at Huddersfield.
The hard-fought victory at the John Smith's Stadium was a welcome sign that the Blues can get back on an even keel following hugely disappointing performances against Southampton and in the FA Cup against Millwall.
However, Marco Silva will have to deal with the fallout of the 1-0 win over the Terriers in the form of Lucas Digne's suspension following his red card and a rib injury to Leighton Baines that forced the veteran off in the second half and is likely to sideline him this weekend.
Baines's movement was clearly restricted after he pulled up challenging for the ball with Jason Puncheon and it would be a surprise if he were passed fit when he assessed before the game.
If he isn't, it would leave the manager without a fit natural left back and, with both Yerry Mina and Phil Jagielka injured and Mason Holgate out on loan, unable even to field three centre halves instead.
As he did against Huddersfield, Jonjoe Kenny is the obvious candidate to deputise at left back with Seamus Coleman in his customary position on the opposite side.
In midfield, Idrissa Gueye will also undergo a late fitness test on the minor groin problem that kept him out of Tuesday's win. The Senegal midfielder saw a deadline-day move to Paris St Germain fail to come to fruition and there will inevitably be question marks over how he will react given his rumoured disappointment.
Then there is the question of whether Tom Davies deserves to lose his place again after his impressive display against Huddersfield.
Up front, Silva is likely to keep things unchanged, with Cenk Tosun and Bernard also putting in an energetic display at the John Smith's.
True to their pre-season billing, high-spending Wolves emerged from the first half of the campaign as genuine contenders for that seventh placed, best-of-the-rest mantle that Blues fans hoped would be the bare minimum of our club's aspirations.
Nuno Espirito Santo's outfit come into the weekend sitting in seventh, two points better off than Everton and on a three-match unbeaten run in all competitions that included a thrilling 4-3 win over Leicester two weeks ago and a comprehensive 3-0 win over West Ham last time out. They also beat Liverpool in the third round of the FA Cup after finishing 2018 with a 3-1 win over Tottenham at Wembley.
As such, they will travel to Goodison Park with plenty of confidence, knowing that, their meetings with the top two in the League this season aside, they usually score goals and Silva will know that his defence can't be as open as it was against Southampton a fortnight ago or as weak defending dead balls as they were at Millwall.
If the Portuguese is able to use the platform of Tuesday's win to get his team back to something approaching their form prior to the Anfield derby then there's a case for being confident of what would be a rare instance of Everton recording back-to-back Premier League wins, something they have managed just once all season.
In many ways, this could be a good measure of the Blues' response to their recent adversity — a potentially open game against a talented but beatable team where they can get the ball down and play in the way that we know they can but have proved singularly unable to over the past couple of months.
That's also what makes any kind of result feasible — another disappointing defeat, an entertaining but frustrating repeat of the opening day 2-2 draw at Molineux or a confide narrow defeat to a tight home win another confidence-inspiring home win. It's hard to know which Everton might turn up…
Kick-off: 3pm, Saturday, 2 February, 2019
Referee: Lee Mason
Last Time: Everton 2 - 1 Wolves (19 November, 2011)
Predicted Line-up: Pickford, Coleman, Keane, Zouma, Kenny, Gomes, Davies, Sigurdsson, Bernard, Richarlison, Tosun
---
Reader Comments (44)
Note: the following content is not moderated or vetted by the site owners at the time of submission. Comments are the responsibility of the poster. Disclaimer
Robert Leigh
1
Posted 02/02/2019 at 07:35:06
I'm sure you're right with your predicted side Lyndon.
I'd like to see DCL start though given they play three at the back as he'll keep them occupied much more than Tosun.
Would also put Walcott back in to run behind said back 3, leave Bernard on the bench.
Pickford
Coleman Zouma Keane Kenny
Gomes Davies Sigurdsson
Richarlison DCL Walcott
Steak, Galloway (has to be on the bench given no other CB/LB), McCarthy, Gana, Bernard, Lookman, Tosun
Alan J Thompson
2
Posted 02/02/2019 at 07:40:04
Just as a matter of interest, who is the U-23s left back, Galloway? I've always thought he was a central defender who just happened to put in some good displays when asked to cover when Baines was injured a few seasons ago.
Sam Hoare
3
Posted 02/02/2019 at 07:43:29
Tough game and I agree anything could happen. Wolves certainly seem to have more goals at them at present and our record of coming back from a goal down is worryingly poor.
Wolves are pretty strong all over the park but especially in the middle where Neves is a talent bound for the top and Moutinho has arguably been the signing of the season for just £5m.
Alot could depend on which Gomes turns up and how well his midfield partner (no idea whether that should be Gueye or Davies) plays.
Would really like to see some more end product from Bernard. I think he's a cracking player but there's no doubt if you play that far forward you need to be weighing in with more goals and assists. Felipe Anderson has 9 goals and 2 assists by contrast.
Jim Bennings
4
Posted 02/02/2019 at 07:48:12
Why anyone is stillvagig o about starting DCL I don't know.
If anything gives Tosun the nod or at least Richarlison who scores more often than any of them.
Starting Calvert-Lewin the lad can't offer anything yet, his impact is as a sub when teams are tiring.
This will be a really tough game without a doubt and a loss today we can basically wave goodbye to 7th.
Derek Knox
5
Posted 02/02/2019 at 07:56:38
Good preview Lyndon and again very much a question of which Everton will turn up?
As has happened so many time this season, you think a win wiĺl trigger a run of games, only to find the opposite happens.
Although Wolves have not exactly been a model of consistency themselves. So will it be 'Dances with Wolves' or 'The Untouchables'?
Laurie Hartley
6
Posted 02/02/2019 at 08:03:18
I am a bit worried about Kenny starting at left back but hope he does well. Lyndon's team will probably start but it looks out of whack to me.
But you just never know with Everton.
Up the Blues.
John Raftery
7
Posted 02/02/2019 at 08:04:59
It will take a significant reversal of form on the part of both teams for us to win this one. Wolves have looked a very good team going places. We have looked a very poor team going nowhere. The crowd will be sulking after last week's debacle at Millwall. So the team need to start quickly, get people off their seats and turn the library into a bear pit. May hope triumph over experience.
Joe Lockrobin
8
Posted 02/02/2019 at 08:05:11
It would be harsh to drop Davies, after his display in West Yorkshire on Tuesday. Silva could really build or shatter his confidence here.
Tosun's similarly gutsy performance could be just what the Goodison crowd needs to get excited.
I'd, as Lyndon suggested, keep them in.
Wolves are on a run of excellent form, and I don't feel massively confident (yet again).
Just really hope we can do it.
Tosun to score. Solid performances from Zouma, Keane and Pickford and a glorious victory for the Toffees!
Phil Sammon
9
Posted 02/02/2019 at 08:20:08
Tosun should start. He shouldn't be written off because the team can't create chances.
Last game, Davies seemed to play ahead of Sigurdsson which is something I haven't seen before. He started the game like a house on fire but I'm still not sure about him.
I wouldn't say 'no' to Gomes being benched this week. He needs a rest.
Bernard, Lookman, happy with either - just keep Walcott off the pitch.
Really hope Baines is fit enough to start. Very unlucky for the lad if not.
Tony Abrahams
10
Posted 02/02/2019 at 08:21:32
Laurie, if Jonjoe starts at leftback, his first priority will be to defend, and that will be a first for an Everton fullback this season.
Not going today, I chose to give my ticket away to one of my sons mate's, but waking up to a cold and frosty morning, the first thing on my mind is football, or more importantly a game that might just be worth watching, so let's hope everyone gets a very good game of footy today.
Tony Everan
11
Posted 02/02/2019 at 08:22:18
Who is the better manager? Nuno Espirito Santo or Marco Silva ?
Games like this will give us a clue, its an extremely balanced game Everton are 6/4 to win, Wolves are 2/1 .the game earlier in the season was a draw. Maybe the better manager can make the difference today with team formation/sysytem/subs and tactics. It is going to be an interesting day and I think it is an important day for Marco if he wants to cement his position .
For the most part against Hudderfield it was more of the same from us, disjointed, loose with posession, unable to control the game and unable to create chances. The difference was that the opposition was as poor as it gets in the league. Wolves are better, we will need a better performance.
Some positives were the strength and committed play of Zouma, sign him up !
Tom Davies and his best game for us for ages, was a livewire and adds energy to our largely pedestrian midfield . His energy and desire gives us something we are missing, I am desperate to see Tom build on that performance. We need that type of player. He needs to produce that week in week out .
Finally Cenk, like Tom he was up for the game and the challenge on Tuesday . He had fire in his eyes and worked his socks off . If he finds consistency , his luck will turn and he will get goals. I hope Marco recognises that and picks him today .
Pickford
JJk Zouma Keane Baines
Bernard Gomes, Davies, Sigurdsson, Richarlison,
Tosun
Sam Hoare
12
Posted 02/02/2019 at 08:24:05
Jim @4, it's like you're already preparing for a large moan!
"a loss today we can basically wave goodbye to 7th."
Why?! If we lost today they would be 5 points ahead of us with 13 games to play. Hardly uncatchable! I'm not saying that I think we'll get 7th necessarily but no result today would render it impossible. All of these midtable teams win some and lose some, all our capable of going on a good run or a bad run.
Too many on here make every match a must win and then end up with their knickers in a twist.
Colin Leckey
13
Posted 02/02/2019 at 08:34:57
Reading that link to the last time we played this fixture in November 2011 made me laugh. Could have been written today. Nothing ever changes with Everton!
Frank Sheppard
14
Posted 02/02/2019 at 08:40:31
Hope Bainsey is fit to start. I have a funny feeling that Silva will pull a couple of selection surprises today.
Tony Cheek
15
Posted 02/02/2019 at 08:41:04
I thought Tosun showed class in his last game and should definitely get another chance. If he is not in Silvas plans then he should get games now to bump up the price. But then again, is Silva in Evertons plans?
Duncan McDine
16
Posted 02/02/2019 at 08:41:19
There's no glory in finishing 7th anyway! We're out of the cups and will finish somewhere between 7th and 12th... all I want to see is some good performances between now and the end of the season - starting with a good one today! COYB
Alastair Kelly
17
Posted 02/02/2019 at 08:44:44
Can't believe after the last few games were only a couple of points off 7th.
Tough game today. I think a three man midfield is way to go, wide front players can also come back when need to. Agree that Davies should keep place ( he has to be in 3 man midfield though) and Tosun too- he'll score a few goals given service.
Our back four will need to be on it today and do much better defending the set pieces. Jimenez is in great form but I hope Keane & Zouma can keep him quiet.
Whatever happens we need to be patient with Marco and this team.
Neil Lawson
18
Posted 02/02/2019 at 08:48:38
It's all a little puzzling to me. Silva keeps sending out his "best side" but they underperform and keep losing. Forced to make changes on Tuesday they battled to a well deserved win. Is there a connection? I would prefer that we find out. So, give Davies another outing whatever the fitness of Gana. Hope that Kenny can cope sufficiently on the wrong side and battle to another ugly 3 points. If along the way someone produces a pearler from 25 yards then great. If it is a 90th minute bobbler then almost as good. But most importantly let us hope for a brave and fully committed performance based on solid and competent defending and the hope and expectation that our so called flair players can produce something worthwhile. At this point in the season it is about results and confidence building. Nobody wants us to be on the wrong side of a 7 goal thriller.
Paul Smith
19
Posted 02/02/2019 at 09:09:49
We're guaranteed inconsistency with Everton, the midfield looks weak to me so they're bound to have a blinder.
Looking forward to this one Wolves aren't a bad unit. Fancy us to knick it with some nervy moments.
Tony Abrahams
20
Posted 02/02/2019 at 09:22:34
Duncan@16, thanks very much, we could have just kept Allardyce if this was the limit of our ambitions.
Alastair@17, if we wouldn't have had such a bad dip since the Liverpool game, we might have still been in the running for 4th place, which shows you how badly the wheels came off.
Reading T/W, loads want Silva gone, and loads still willing to give him a chance, and although I've still got massive reservations because of "our openness" it's not easy playing a season without a proper centre-forward, so I'm hoping Silva, can still be the man, and can get us playing the type of football we crave, instead of what we're witnessing right now.
Jerome Shields
21
Posted 02/02/2019 at 09:38:46
Hope things go well. This is an important match for Silva. Pushes him up the table.

He took a stance over Gueye and can put more pressure on the Board and backroom management if he wins today.
Jon Withey
22
Posted 02/02/2019 at 10:09:01
Thing is, if we can't beat Wolves at home - why should we be contenders for 7th ?
They seem a decent side so hopefully this is a good battle.
You have to be concerned about us defensively - the are better than Huddersfield.
Eddie Dunn
23
Posted 02/02/2019 at 10:14:33
We are only capable of playing well for short periods and I expect another patchy performance against a decent Wolves side.
A score draw, perhaps repeat of the Molineux game, 2-2.
Derek Thomas
24
Posted 02/02/2019 at 10:15:50
Derek @5; if a thaw sets in it could be waterworld, but every week we hope for the field of dreams whatever the weather.
Derek Taylor
25
Posted 02/02/2019 at 10:24:50
Arguing over whether we can finish in 'Seventh Heaven' is a sign of how far our ambition has fallen since Moshiri's Magic Money made Kenwright a very rich man. The club is still losing money hand over fist and in hock to another chancer. Progress they call it.
Trevor Peers
26
Posted 02/02/2019 at 10:56:53
What Silva should be working on is our inability to produce chances, which is chronic, three shots in the last match against the bottom of the table club doesn't represent entertainment or give us a glimmer of hope that he is the man who can lead us to better things.
Of course we have other problems, the midfield leaves the defense exposed far too often, this is where the game will be won and lost today. Wolves are a good counter attacking team, Silva has to employ his tactics to stop them, if he knows how, we will find out a bit more about our manager today.
Paul Birmingham
27
Posted 02/02/2019 at 10:58:28
Tough game and Everton need to have the mental strength to cope with a good Wolves team and their own demons.
Which Everton team turns up today, is an indication of the way it is. It's a rare chance for us to get x2 b2b victories, which in this season is a milestone for this team, as it doesn't happen often.
Hopefully the squad left will play for their professional pride and give all for Everton in the remaining games.
Should be a good atmosphere and we know some of the Wolves players, have a good dig. Hopefully not today and JP has done his homework.
I'm expecting a few goals, and may be it's the ale from last night, but I sense the best of 5 goals today.
As long as we win..🍀🍺
Brian Patrick
28
Posted 02/02/2019 at 10:59:46
There has never been, under Kenwright, any other ambition than to remain in the Premier League. The project hasn't changed in that respect but we have EitC saying they will sort out 'equality and diversity'. Fantastic?!
Thanks, Kenwright, and Barrett-'dodgy CV'-Baxendale!
John Keating
29
Posted 02/02/2019 at 11:06:48
I think Lyndon's team will start but would have preferred Calvert-Lewin up front.
Wolves will not show any fear playing us and I doubt they'll defend like Leicester did...
Draw.
George Cumiskey
30
Posted 02/02/2019 at 11:15:58
Sam @12 — isn't every game in the Premier League a 'must-win' game, or do you think it's okay to lose?
Brian Harrison
31
Posted 02/02/2019 at 11:26:00
I think any team from 7th to 13th can beat each other on any given day, so for me this game can go either way. Wolves are playing well and will come full of confidence, we need to build on the Huddersfield result and hopefully the fans will feel a little more confident about getting a result today.
I would love it if Baines was fit for this game, as he showed against Huddersfield he is still a very good left back. Seems if Baines doesnt make it then it will be Kenny in at left back, not easy to switch to playing on the other flank. Also Wolves tend to bring on Traore a real pace merchant who usually plays on their right, so might be another problem for young Kenny to handle.
I think Gueye will be left out to get over his disappointment at not getting his move to PSG. So looks like Tom Davies will partner Gomes, and as Marco Silva said Gomes is not really a defensive midfield player but we don't have a lot of options at present but to play him there.
Up front is where the real problem lies apart from Richarlison who has 11 goals in 20 games which is a very good return. Bernard despite starting many games is still to open his account in the league, and neither Tosun or DCL have many goals between them. The same lack of goals is also a factor for Lookman and Walcott. So to have 2 out of any of your front 3 not scoring would be a major problem for any team. Then also add that apart from Sigurdsson we don't have many goals from midfield increases the problem.
Strange because for the first 10 league games we created a lot of chances and the main criticism was of not being clinical in front of goal. Now we don't seem to create many chances and I don't understand what has changed, obviously the lack of confidence since the Derby game has become so apparent.
So lets hope today we play with the confidence we had at the start of the season and get back to winning ways before our tough encounter with City on Wednesday.
Raymond Fox
32
Posted 02/02/2019 at 11:29:53
With injury doubts and suspension to Digne weakening our best squad, I am hard pressed to see us winning this game.
The most likely result is a draw for me. We have the advantage of it being a home game, but performance-wise this season they probably shade it so it's very difficult to come up with a favourite.
I'll have everything crossed, it's sure to be a nail-biter but conversely, as others have said, you never know with Everton – so I hope I'm pleasantly suprised.
Anthony Murphy
33
Posted 02/02/2019 at 11:32:17
This is a big game for them. Best of the rest and all that. In their desire to take that mantle, they'll come at us which doesn't actually happen all that often at Goodison. This should allow us to play like Silva would prefer.
I think we will win and I'm going to stick my neck on the line here and say we will see a (rare) solid performance with us winning with a bit to spare.
Anthony Dove
34
Posted 02/02/2019 at 12:04:08
Apart from Spurs this is the first home game where at least the opposition should be worth watching. Hopefully we will raise our game and it could be an entertaining afternoon for a change.
Dick Fearon
35
Posted 02/02/2019 at 12:20:41
Wait for the commentator to name a Wolves striker who has not scored for months and plonk a bundle on him. If one has not scored for years plonk twice as much on him.
It is a matter of fate y'see.
Mark Andrews
36
Posted 02/02/2019 at 12:32:13
I'm afraid I can't see anything other than an away win for Wolves, I hope I'm proven wrong but based on what we've witnessed in Silva's tenure, that's what we'll get.
They'll defend deep and play for set-pieces. We'll be unable to break them down and will concede from corners or free-kicks. Kind of like a Silva Groundhog Day.
The "give him time" brigade will repeat their mantra, whilst the rest of us realists will point at the truly awful stats Silva has in this country and puzzle at what his proponents see in this charlatan of a coach.

Jim Bennings
37
Posted 02/02/2019 at 12:38:06
Who knows we might be surprised, not really expecting so but who knows?
We can't afford to lose both of these home games in the next four days and I'd put my
Mortgage on City beating us knowing one more slip up closes the curtain on their league hopes.
Today is bigger for Silva than it is for the actual club.
As people say, we probably are finishing between 8th and 12th, anything in that zone Moshiri won't be pleased with regardless but for Marco Silva he desperately needs to start hoping these players can get him a run of positive results.
We have seen first hand that Everton managers don't last long anymore.
Adam Carey
38
Posted 02/02/2019 at 13:26:53
Does anyone else on here think Cenk gets a raw deal? He had 1 attempt against Millwall and scored. His last league goal (can't recall the opponent but came from a Keane long ball) was also one of few chances created for him.
He is not a hold-up, battering-ram, header-of-crosses type of player in the Alan Shearer mold, but a finisher. I'm not saying he is world class, (you don't get that for £27M), but the guy can find the net when chances are made for him.
Marco Silva needs to find a way to feed our strikers, not try to tiki-taka through a congested midfield or playing cross-field passes to our striker who is now out on the wing hoping he has support arriving through the middle.
Justin Doone
39
Posted 02/02/2019 at 13:36:08
I'm hoping for a win, a good display and a good match off between Gomes and Neves. Both good on the ball with vision and passing ability to unlock teams.
Problem being they have runners that manage to find time and space, we have Richarlison who is often doubled up on so I'm hoping Lookman is brought back in ahead of Bernard.
Davies deserves to keep his place he got forward well last game but he may be asked to help out the full backs a bit more today. Left back could be a problem area for us.
David Milner
40
Posted 02/02/2019 at 13:38:20
Your predicted side looks about right Lyndon but I can see a DCL/Tosun & Bernard/Lookman swap possible. Alan @2 Galloway is a left back/central defender, although a bit lightweight, but is just coming back from long term injury & Unsy says he is a few weeks away from action.
I don't think Gana or Baines should be risked if not fully fit. Subs should be interesting:-
DCL/Tosun
Lookman/Bernard
McCarthy
Stekelenburg
Walcott
Feeney
Hornby/Adeniran/Markelo/A.N.Other
Fran Mitchell
41
Posted 02/02/2019 at 14:02:19
I think DCL as a sub is best for time being. I think he has great potential, but think he fares better as a sub, with less pressure and a the opposition getting tired. Similar with Lookman.
Bernard is influential for 45 minutes but fades, so would bring Lookman on at half time.
Alan J Thompson
42
Posted 02/02/2019 at 14:02:37
David(#40); Thanks for that update and it brought a little smile thinking that with all those out on loan (incl Garbutt and Robinson) it seems we haven't even got a true left back for the U-23s.
David Milner
43
Posted 02/02/2019 at 14:10:35
Alan @42. Yes we have Lewis Gibson, England youth international, I think he is 17 years old. Also Matty Foulds, 6 foot 5 inches I think & only 20, who has just returned from injury & can also play centre back.
Tom Bowers
44
Posted 02/02/2019 at 14:22:36
I suppose any game is a tough one for us these days and it will be just as hard to get three points today on current form.
Wolves are playing well and we need a big improvement to match them.
Add Your Comments
In order to post a comment, you need to be logged in as a registered user of the site.
Or Sign up as a ToffeeWeb Member — it's free, takes just a few minutes and will allow you to post your comments on articles and Talking Points submissions across the site.