Watford vs Everton
Friday, 8 February, 2019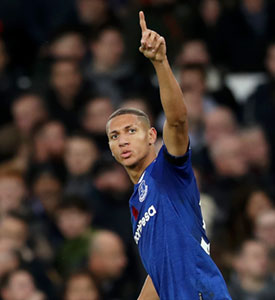 Richarlison returns to Vicarage Road for the first time since he had Marco Silva left last year
Everton are back on their travels this weekend as Marco Silva faces a reunion with Watford at Vicarage Road just over a year after he was relieved of his post as the Hertfordshire club's boss.
The Portuguese has endured in recent weeks a similarly traumatic run of results to that which prompted owner Gino Pozzo to fire him but he will be looking at the positives to be taken from Wednesday's game against Manchester City as signs he can turn things around with the Blues.
Everton lost to the Champions 2-0, conceding goals in stoppage time at the end of each half, one of them the kind of routine set-piece that has been their undoing for so much of Silva's first season in charge.
Silva indicated in his post-match press conference in midweek that he would no longer be addressing the issue of his side's set-piece vulnerabilities in public but it's one that Watford, who scored following a free-kick in the reverse fixture in December, are likely to try and exploit.
Indeed, if Troy Deeney's comments are anything to go by, the Hornets won't be rolling out the welcome mat in any way for Silva. The striker said that, "the people at Everton are fantastic; not the manager," but he has urged his supporters not to goad their former boss but to let the players make a statement to him.
"We'd prefer it if you left him alone," was Deeney's message to Watford fans. "It'll only motivate them more. Leave him alone, let us kick the shit out of them."
Even without that call to arms, there was always likely to be some spice about the encounter from the Watford side with their supporters seemingly intent on fomenting a rivalry between the two clubs on social media following Silva's acrimonious split in January last year.
How the Blues deal with what promises to be a more physical game and hostile atmosphere remains to be seen, as does Silva's team selection. Some of the five changes he made against City could just as easily have been passed off as a response to the disappointing display against Wolves last weekend as they were a nod to the fact that this will be the fourth game in the space of 11 days.
However, what looked to be a more effective midfield unit of Tom Davies, Idrissa Gueye and André Gomes, combined with the industry and aerial presence of Dominic Calvert-Lewin, may have given him pause for thought over starting the likes of Gylfi Sigurdsson who was rested in midweek.
Richarlison is likely to return to the starting XI, however, either at the expense of Theo Walcott or Bernard while either of the wingers who played against City could be sacrificed if Sigurdsson is restored to the team to play off Calvert-Lewin at the expense of width on both flanks.
While there were glimmers of optimism to be taken from the spirit and character that was on display from Everton on Wednesday evening, the fact remains that a failure to win this weekend would extend the recent sequence to just one Premier League win in eight games.
Defeat would be a fifth in the last six games and regardless of Farhad Moshiri's recent vote of confidence in the manager, it would make for an uncomfortable 17-day spell until the next match, an away clash with Cardiff City.
Kick-off: 3pm, Saturday 9 February, 2019
Referee: Lee Probert
Last Time: Watford 1 - 0 Everton
Predicted Line-up: Pickford, Kenny, Keane, Zouma, Digne, Gomes, Gueye, Davies, Bernard, Richarlison, Calvert-Lewin
---
Reader Comments (197)
Note: the following content is not moderated or vetted by the site owners at the time of submission. Comments are the responsibility of the poster. Disclaimer
Kenny Smith
1
Posted 08/02/2019 at 07:28:21
A must win. Simple as that really! An improved performance is no good if we don't get 3 points there.
Kunal Desai
2
Posted 08/02/2019 at 07:28:29
Watford won't win this on the quality they possess, they will win it purely on fight and determination and the added spice of there there old manager returning.
Denis Richardson
3
Posted 08/02/2019 at 07:29:46
Surely if we lose this, this will be the beginning of the end for Silva and will mark 3 defeats in a row and our 8th in 11 league games. We then have a two week gap until Cardiff away.
I expect us to lose tomorrow as Watford will be mad keen to win against Silva. Cardiff is then anyone's guess given the current circumstances there.
Gerry Quinn
4
Posted 08/02/2019 at 07:47:30
If Deeney's comments don't wind our players up, then nothing whatsoever will.

GIVE US A PERFORMANCE, BLUES!!!
Kim Vivian
5
Posted 08/02/2019 at 07:48:55
I worry that we cannot string two 'improved performances' together on the bounce. However, Lyndon's starting 11 above looks a good fit to me although I didn't really see what Richarlison brought to the game on Wednesday but he remains more of a threat than Theo.
The Watford fans will be laying into Richie as much as they will Silva and I just hope he has the mental fortitude to be galvanised by it rather than becoming even more impetuous.
I'm seeing a draw written on this one – so long as we can find the net, because I can't see us keeping a clean sheet against their inevitable aggression.
Andy Meighan
6
Posted 08/02/2019 at 07:50:42
Let us kick the shit out of them. What a charming chappie young Troy is...
I'd like to see us keep the same side as on Wednesday with the only change being Lookman for Walcott. But I think he'll bring Richarlison back and possibly the ponderous Sigurrdson. I hope not because, even though we didn't really threaten Man City we looked more fluent without them two. As soon as Sigurrdson came on on Wednesday, he slowed the game down.
Also, I can imagine Richarlison getting kicked from pillar to post tomorrow and retaliating so best to leave him on the bench I'm going for a score draw because we sure won't keep a clean sheet.
Sam Hoare
7
Posted 08/02/2019 at 07:56:50
Should be a real fight! Both teams have been inconsistent in recent weeks but if they have Doucoure back that will be a huge boost for them and he dominated us last time.
A lot may also depend on the referee and playing him right. We cannot afford to keep giving away cheap free-kicks in wide positions. No doubt Watford will be looking for these and expect to see the likes of Deulofeu and Peryra going to ground easily. Our vulnerability from set pieces is obviously well known.
I hate the oft used 'must win' phrase, especially in a season that has so little left to play for, but this is undoubtedly a big match for Silva's future. I think the seeds of Moshiri's admiration for him were set when his Watford turned up at Goodison and played us off the park (we were very fortunate to escape with a draw). Hopefully his Everton might do the same at Watford.
James O'Connell
8
Posted 08/02/2019 at 07:56:50
Sad times when you can't see any points from Watford or Cardiff.
Derek Knox
9
Posted 08/02/2019 at 07:57:56
As I have mentioned on here a few times recently I have given up predictions, but not hope. While an improved effort from most players against Man City resulted in defeat (again) there were signs that a similar performance could yield a result against Watford.
There will also be the added spice to the occasion of Silva returning to the ground where he is so fondly remembered (ahem), intimated by that class act, Troy 'Gargoyle' Deeney, "Leave him alone, let us kick the shit out of them" is his battle cry.
Just a closing thought: have Deulofeu or Cleverley ever scored against us? I think you know where I'm coming from on that one!
Keith Gleave
10
Posted 08/02/2019 at 08:02:25
A much-improved performance on Wednesday will hopefully be built on at Watford. They will undoubtedly be up for it but sometimes that can work against you as the skill is lacking for over physicality.
The main thing missing on Wednesday was more quality with the final ball and making the correct decision.
Philip Jeffries
11
Posted 08/02/2019 at 08:18:33
After Troy Deeney's comments about wanting to "kick the shit" out of us, that should be all Silva needs to motivate his squad. First player on the team sheet: James McCarthy. Only player in our midfield with any backbone and happy to mix it.
On a side note, could you imagine Deeney saying that before playing Everton with Southall, Watson, Parkinson, Horne, Ferguson... He wouldn't have made it out of the tunnel! COYB!
Anthony A Hughes
12
Posted 08/02/2019 at 08:20:52
Come on, Blues — let's slap these upstarts down. We need to be up for it from the first whistle. Pity we haven't got a hard man to introduce himself to Deeney early on...
Jim Bennings
13
Posted 08/02/2019 at 08:21:26
I don't know but this trip to Vicarage Road just seems to have the trips to Brighton, Southampton and Millwall written all over it.
One thing that is certain is we all know we will concede a set-piece, at least one.
I just don't see a good enough amount of match-winning quality in our team at present to convince me we can win tomorrow.
Hard working performance against Man City but one of very little threat or attacking intent.
The reality is our performance level of hard work will drop tomorrow because it's "only Watford" and that's where we lose the game.
Martin Berry
14
Posted 08/02/2019 at 08:45:56
Let's hope that the Manager picks the same side that he started with against Man City.
We need three in the middle to compete; otherwise, I see a defeat on the cards.
James Marshall
15
Posted 08/02/2019 at 08:54:26
There's no point trying to predict anything this Everton team/squad will serve up from week to week. None of us can have a clue what the hell is going to happen, or how they're going to perform.
Expect us to win 5-0, lose 5-0 or draw 0-0.
Jim Bennings
16
Posted 08/02/2019 at 08:56:31
We can compete all we like but, if we don't defend crosses and set-pieces, then we will lose the match.
We know Deulofeu will whip the ball into the box as it's a always been a real strength in his game.
We know Watford have big characters and players with vocal leadership qualities that will ruffle our feathers and if we don't defend on high balls they will punish us.
We need to grow out of our timid little shell and start manning up, I'm sick of rallying calls on the Monday after we lose, I want someone pointing the finger and laying the blame on specific areas. Watford have a straight-talking character in Troy Deeney, that's what we need here in a Blue shirt, not just little timid lambs beating around the bush.
Man-up and show me you can get the wrong things right — starting tomorrow.
Eddie Dunn
17
Posted 08/02/2019 at 09:01:12
Well, as for Deeney's comments- I think that the football powers-that-be should consider if he is bringing the game into disrepute. Also, if Lee Probert has read them then surely he will be ultra-keen to punish any nonsense.
Deeney is certainly good value -the media love his outbursts. I reckon that the only guy who would really give him a whack is Jonjoe Kenny. Shocking and symptomatic of our lack of aggression that I am struggling to think of a tough guy in our ranks.
Neil Halliwell
18
Posted 08/02/2019 at 09:01:55
Anyone know what has happened to Ademola Lookman? Walcott is not producing for us.
Jim Bennings
19
Posted 08/02/2019 at 09:08:04
Eddie,
Behave and don't be a snowflake.
It's banter mate, I'd love one of our players to say something similar before the Merseyside derby in March but actually back it up!
In years gone by, there would never have been any characters in football or any sport if every word they spoke was reported.
If I was in the Everton team and read that today I'd be thinking "Right, bring it on, boys".
John Keating
20
Posted 08/02/2019 at 09:11:07
Pick and play as many youngsters as we can, including the bench, where I'd put young Virginia rather than Stekelenburg.
Lyndon's team looks as if it will start, however, if fit I'd play Lookman rather than Bernard.
Our "improvement" on Wednesday from the last few months wouldn't register on the Richter scale so it's all relative.
Deeney is right, I wish we had someone with his bottle; they will kick shit out of us.
Praying for a draw; expect to lose...
James Marshall
21
Posted 08/02/2019 at 09:14:26
I agree on the Deeney thing -– I quite like him, he doesn't care and says what he thinks which is way more interesting than every other robotic footballer nowadays. Good luck to him, and fair play to him for his comments.
Tony Abrahams
22
Posted 08/02/2019 at 09:17:02
I hate picking teams but, if tomorrow is going to be about competing first, then I would make one change from Lyndon's team, and bring Sigurdsson in for Bernard, and push Davies outside to work the flank with Kenny.
Win the battle, because this is what this game looks like it's going to be, then introduce the players with a bit more flair when things calm down and the players legs begin to get tired?
If Silva is to turn this around, then he's got to change a few things quickly. Zonal first, closing the gaps and making us hard to play against is second, and getting the crowd onside is number three.
Do the first two things and the third will follow, and maybe then people might be prepared to give the manager more time?
James Marshall
23
Posted 08/02/2019 at 09:17:54
Neil,
Lookman doesn't really produce for us either, does he? I agree on Walcott, his crossing is shocking and he's been running down blind alleys his whole career.
As for Lookman, I get the feeling a lot of managers don't really trust him, and that there are possibly some application/attitude issues behind the scenes. I can't back that up but it does appear that way in my view.
Mark Murphy
24
Posted 08/02/2019 at 09:24:49
I predict a red card apiece: Deeney 1st half; Richarlison 2nd half — 2nd yellow card for taking off his shirt after scoring his third!!
Coyb!!
Eddie Dunn
25
Posted 08/02/2019 at 10:08:57
Jim, I'm melting!
Eddie Dunn
26
Posted 08/02/2019 at 10:11:58
Jim, which members of our squad would you think are like you and think "Right, boys, bring it on"?
I suggest Kenny and Davies but who else?
Jim Bennings
27
Posted 08/02/2019 at 10:17:52
That's just it, Eddie.
I wish we had some hard cases and big characters in our squad that relished a good bruising brawl... exactly why I knew we'd crumble at Millwall under shitty conditions.
Annika Herbert
28
Posted 08/02/2019 at 10:20:11
Tony @22, push Davies out wide?!! Isn't that more of the old square pegs in round holes talk?
Plus, Sigurdsson doesn't deserve a starting spot, for me.

Kevin Prytherch
29
Posted 08/02/2019 at 10:34:45
Although Richarlison hasn't been setting the world alight, I feel out of the 4 wingers we have 2 different types.
1 – The pact direct goal threat (Richarlison and Walcott)
2 – The tricky creative type (Bernard And Lookman).
For balance in the team, I feel we have to play one of each: either Richarlison or Walcott, and either Bernard or Lookman.
Pete Edwards
30
Posted 08/02/2019 at 11:03:05
Nah, Deeney is a prick of the highest order, I wouldn't want him or anyone similar anywhere near the club!
You think he's a hardman because he spouts shite like that!! He's nothing but a blagger who only says what he says to try and scare people, the typical school-ground bully. Stand up to him and show him for what he is... SHIT!
Colin Malone
31
Posted 08/02/2019 at 11:04:24
Marco Silva was happy with the attitude of the players and the vocal support of the crowd. Marco, I have never doubted both. It's your team formation and the square pegs in round holes that has fucked it up, unhappy Gylfi Sigurdsson's creativity is wasted in the Number 10 role.
Like the other Portuguese fellow, my way or no way, which causes unrest at every club you both manage.
David Graves
32
Posted 08/02/2019 at 11:15:25
Jim Bennings, I'd rather be a snowflake than a gammon.
We're scraping the barrel when we start saying we want a thug like Troy Deeney in our team. FFS, he did 10 months for his significant role in battering 3 young students outside a Birmingham nightclub, didn't he?
We've had tough hard men that didn't have to resort to his level of "Gobshitery".

James Marshall
33
Posted 08/02/2019 at 11:19:46
I wouldn't want him in our team, I just think he's more interesting than the dullards you see standing in front of the cameras every week. Football has zero character anymore, and although Deeney isn't exactly a character, I'd rather listen to people like him than the rest of the robots.
Rob Halligan
35
Posted 08/02/2019 at 11:25:09
Anthony #12. You say pity we haven't got a hard man who can introduce himself to Deeney early on.
Now I know Kurt Zouma looks like a giant, and I'm sure he can take care of himself, and I certainly wouldn't like to be up against him, but is he the hard man in question we need against Deeney, or is he the all soft and wouldn't hurt a fly type, a bit like John Coffey in the film The Green Mile?
Jim Bennings
36
Posted 08/02/2019 at 11:28:10
Zouma is a big tough-looking lad but he seems like a gentle giant type and not really a hard case.
Keane too timid and confidence always comes across as very fragile.
Mina again like Zouma, big strapping guy but seems like a laughy jokey type of personality rather than a real nutter.
Tommy Surgenor
39
Posted 08/02/2019 at 12:00:33
Jim, I have the opposite opinion of Mina.
I think he is laughy and jokey with our squad but he is a complete nutter with the opponents. He is somewhat of a liability and wants to nutt opposition players. He is also strong in the challenge.
In saying that, I had high hopes for him in his early appearances. He seemed to rally the troops and encourage them. He was full of confidence. Then he got caught ball watching once too often.
Denis Richardson
40
Posted 08/02/2019 at 12:04:25
Hope it's not a sunny day tomorrow. Our vampire defence already has enough crosses to deal with...
Derek Knox
41
Posted 08/02/2019 at 12:05:03
Kevin @29, I like Bernard too, he has a certain guile about him, even though he has the stature of a 'Bonsai Lumberjack' and I don't think we have seen the best of him yet in a Blue shirt.
Jon Withey
42
Posted 08/02/2019 at 12:13:18
Difficult to see anything but a Watford win, just because of our defence really – it's not like you go through a Premier League game without a number of set pieces.
I'm happy to be proved wrong of course.
Jamie Crowley
43
Posted 08/02/2019 at 12:13:41
Listening to Tom Renney (sp?) and Tommy Smith on a satellite radio show yesterday, they both said they thought Silva would get sacked if he failed to beat Watford.
I found that interesting. Not sure it'll actually happen, but if pundits out there are starting to take notice of our slide, surely the heat will get turned up if Silva doesn't manage a few wins.
Drew O'Neall
44
Posted 08/02/2019 at 12:33:52
If we're talking about putting one on him in the tunnel, surely big Dunc is more than capable of doing so.
If I were Silva, I'd be encouraging just such a course of action to shake some of our players out of their comfort zones.
Len Hawkins
45
Posted 08/02/2019 at 12:53:11
Unfortunately, football has become sanitised – it is akin to ballet dancing although I would think ballet dancers work harder than footballers.
In Alan Balls biography he describes his idea of retribution against Peter Storey the talentless animal that somehow kept Howard Kendall out of the England team. He said they played Arsenal on the Saturday and Storey went over the top, gashing Bally's shin which required stitches.
On the Tuesday Everton played Arsenal again in a Cup replay and the trainer told Bally that he wouldn't be able to play, Bally blew his top and TOLD him in no uncertain terms that HE was not going to stop him playing. As the game got going Bally waited for Storey getting the ball; as soon as he did, he wiped him out.
Oh for the days of excitement and value for money instead of excrement and waste of money.
Steavey Buckley
46
Posted 08/02/2019 at 13:03:36
Everton need to abandon any system where they don't have 2 strikers. Against Man City, Everton had just one shot on goal by Gueye in the whole match with one striker upfront for most of the match.
If Everton play a 4-4-2 system, they could hit Watford on the break and have Richarlison and Calvert-Lewin picking up any through balls. Gueye and McCarthy would be my 2 players in midfield to give Everton a more solid defensive shield to protect Keane and Zouma. The full-backs should be Kenny and Digne. I would play Davies on the right and Bernard on the left because these two players are full of running.
So tomorrow Everton should abandon all attempts to play pretty football and grind out a result.
John Pierce
47
Posted 08/02/2019 at 13:20:04
We are aware that, even if we had anyone to 'smash' Deeney, then their attempt would in all likelihood fail, resulting in a season-ending injury.
That would sum us up perfectly.
Mark Murphy
48
Posted 08/02/2019 at 13:23:24
"Bonsai lumberjack"
Love it!!
🤣
John Raftery
49
Posted 08/02/2019 at 13:26:23
I thought Walcott did more than Bernard against Man City. Richarlison did nothing after he came on while Lookman has yet to make a convincing case for inclusion. Meanwhile Sigurdsson gives us something inside the final third but is otherwise a passenger in a struggling team.
Given our improvement on Wednesday, like Lyndon, I would play only two of those five and stick with the same three in midfield, assuming they are all fit. I hope we prove hard to beat and can snatch a goal at some stage.
Kevin Turner
50
Posted 08/02/2019 at 13:41:46
I wouldn't give Walcott the job of kitman, tbh. When you look for players to stand up and be counted, poor old Theo goes Missing In Action.
Bernard might be little and struggling to get 90 minutes under his belt but at least he's narky enough to be a darned nuisance, unlike Walcott.
Sam Hoare
52
Posted 08/02/2019 at 13:50:21
Its pretty staggering how little end-product the likes of Lookman, Bernard and Walcott have managed; with around 40 league starts between them and a further 20 or so appearances from the bench they have managed 3 goals (all Walcott) and 7 assists. That's pretty woeful from wingers who are playing so advanced.
They are all decent players I think, capable of influencing games and I'm particularly hopeful that Lookman and Bernard will become key assets for us but the lack of end-product is very concerning. You can have all the nice touches in the world but, as an attacker, you need to be scoring or creating goals.
And another thing, I know we are conceding from set pieces but we should be scoring more. The likes of Zouma, Keane and Mina are all massive and should all be hoping to get 4-6 goals a season if playing regularly. Especially with so-called set-piece specialist, Gylfi Sigurdsson. We need more aggression in the air in general!
John Davies
53
Posted 08/02/2019 at 13:54:38
Good for Deeney. I don't have a problem with his comments at all. What I'd like to see is 11
MEN
in blue shirts tomorrow kicking the shit out of him and Watford. Will that happen with our shrinking violets?
Nah, didn't think so either.
Eddie Dunn
54
Posted 08/02/2019 at 13:55:53
If you were in the trenches and you looked around to see who's going to watch your back, then you wouldn't want pretty-boy Walcott next to you, or cry-baby Richie.
You would want Jimmy Mac, Seamus, Jonjoe and young Tom though. And, for a wee little bonsai (Derek!!), Bernard has a bit of Jack Russell about him.
Dick Fearon
55
Posted 08/02/2019 at 14:00:46
I dream that Calvert-Lewin rallies our troops with "Let's go out and kick the shit out of them".
Never likely to happen though.
James Stewart
56
Posted 08/02/2019 at 14:01:43
If scoring a goal is the objective, Calvert-Lewin should be the last name on the teamsheet. He is the kind of "striker" you play in games you hope to get a 0-0.
Walcott, like many have already discussed on here, is just not good enough, so I see zero point in playing him.
I would like to see 4-3-3 and something different:
Pickford
Kenny Zouma Mina Digne
Gomes Gueye Lookman
Bernard Sigurdsson Richarlison
Sigurdsson as a false nine would be interesting. He has very similar attributes to Firmino.
Sam Hoare
57
Posted 08/02/2019 at 14:23:38
James @56, that's a very intriguing team!
A few people have posited Sigurdsson as a false No 9. It's an interesting idea and though he does have the work rate and technique that Firmino has he certainly lacks the pace. Firmino is not rapid but he's quick enough to stretch defenses with his runs whereas Siggy is not. Still, I'd be up for seeing it given a shot, it does get a goal threat into the team up front and I think his playing at 10 is hampering us severely.
Lookman in central midfield is another interesting choice. I do think we could really use a ball carrying player in the middle but I'd probably opt for Bernard over Ademola as the Brazilian seems to have more work rate and game intelligence, he also makes twice as many tackles per game so I'd put Lookman back on the right wing and bring Bernard into the middle.
Tony Everan
58
Posted 08/02/2019 at 14:46:49
Away from home, we need to get back to the basic formula of keeping it tight and nicking a goal.
Being too expansive with our set up just gets us rolled over without causing any pain for the opposition. We need to win the battles all over the pitch with Watford, then win the war with our quality in the last 20 mins.
Our midfield needs to be compact tight and aggressive, fight Watford and font give them an inch. Forget the wide men until late in the game. Watford will tire and we can take advantage.
Peter Gorman
59
Posted 08/02/2019 at 14:57:31
Deeney's comments suggest Silva left a very, very, bad impression there. Perhaps we should have taken note.
Jay Harris
60
Posted 08/02/2019 at 15:01:49
I think this should be a game of skill v brawn and hopefully superior skill will win.
We will need the application and commitment of the other night though and I can see us getting a few against the Neanderthals.
Our formation and set piece defending needs to be spot on though and that is the main area of concern.
We certainly do not suit 4-2-3-1 and I thought our midfield looked far more effective in a 4-3-3 the other night.
In this game if Mina is fit and up for it I would go 3-5-2 to win the midfield battle and have some big defenders for the inevitable long balls over the top.
That would mean Pickford, Keane, Zouma, Mina, Kenny, Digne, Davies, Gomes, Gueye, with Calvert-Lewin and Richarlison up front.
Bring Sigurdsson on second half for Calvert-Lewin and have two false nines for the winner.
Mike Gaynes
61
Posted 08/02/2019 at 15:06:28
Personally, I wish we had a captain like Deeney. Not much of a player anymore, but when he's on the pitch there is absolutely no doubt who the leader is. For all the debates about whether we need a striker or a #10 or a deep-lying midfielder, what we need most is leadership.
Jim #36, I'm with Tommy #39 on Mina. He has plenty of aggression to go with his talent, and he plays angry. Unfortunately, he is raw and will make more mistakes as he matures.
Kevin #29, that's the first time in a long time I've seen the words "Walcott" and "goal threat" in the same sentence. Or even on the same page.
Paul Cherrington
62
Posted 08/02/2019 at 15:07:58
I cannot believe that the FA have not charged Deeney over his comments. I certainly do not think he should be allowed to play against us after them. He is basically signalling his intention to hurt our players and endanger opponents before a ball has been kicked.
When you can get sent off on the pitch for less now, why is he being allowed to get away with it? They talk about cleaning football up and setting a good example to kids, it is a joke.
Christopher Timmins
63
Posted 08/02/2019 at 15:11:25
Let hope for a much improved performance from the game just before Christmas when we were very luck to get 2 - 2 draw with a last gasp goal.

Mike Gaynes
68
Posted 08/02/2019 at 15:23:41
Ben, it's only 7am here but I already know you've given me my best laugh for the day.
See you on the Forum tomorrow.
Rob Halligan
69
Posted 08/02/2019 at 15:29:48
Paul # 62. Give them time. Isn't Deeney still facing a charge for comments he made at the recent Bournemouth v Watford game? I think it was a comment made about the referee for bottling it regarding a possible sending off for a Bournemouth player.
Then again he may have already answered that charge and served any sanction.
Anthony Murphy
70
Posted 08/02/2019 at 15:34:04
We can't even contemplate another defeat...Millwall. Didn't like the rough and tumble. Wolves. Couldn't deal with the quick movement and pace. Man C not st their best etc. What next? Deeney will pull our hair and call us names
Stephen Meighan
72
Posted 08/02/2019 at 15:36:47
Paul charrington 62 .get real will you.Troy Deeney is just trying to wind the Everton players and manager up fair play to him.don't really rate him as a player but at least he,s got balls unlike most of the cowards mascarading as Everton players at the moment .as for setting a bad example to kids don't think so its called psychology.
Andy Meighan
73
Posted 08/02/2019 at 15:43:09
Tony @58...
We haven't got any quality.
Simon Smith
74
Posted 08/02/2019 at 15:45:24
Fuck me it would be impossible to pick 11 players if ToffeeWeb fans had a shout !
For me we have to get some of the younger lads in the side, JJ Kenny is a must at right back, Davies has earned his start with his performance too v city, DCL or Lookman need to start along with Richalison in the side without Walcott.
Bernard also needs a run of games imo.
Raymond Fox
75
Posted 08/02/2019 at 15:55:53
It all points to a tight game; we have scored 3 more goals than them and have conceded 4 more than they have. Having said that we scored 8 of that total in the Burnley (a) and Fulham (h) games that's barely one a game over the other 24 games.
The betting is also saying its likely to be a close game, 6/4 Watford 2/1 Everton and 12/5 the draw.
The way we have been defending lately you'd have to fancy them to score, so we are going to have to score at least one if we are to get any points.
Calvert-Lewin is our best chance of a goal if you take minutes played into account, followed by Richarlison and Sigurdsson. I've left Bernard and Lookman out of minutes per goals due to lack of game time. I'd start with Lyndon's team but be inclined to play Jagielka instead of Keane if he is fit and Coleman instead of Kenny because of his experience.
My head's saying it looks like a draw or a Watford win, I'm afraid.
Kieran Kinsella
76
Posted 08/02/2019 at 16:05:42
Simon Smith 74,
No Kidding. Dick Brody would want Luke Garbutt, Jim would refused to select anyone homegrown or under the age of 25; Bobby Mallon would just pick the entire under 18 team; and Tony Marsh... well, who knows who he would pick but he would slag them off all the same.
Kieran Kinsella
77
Posted 08/02/2019 at 16:08:08
John Davies @53,
I don't have a problem with it either. A few journos have been running the story from the angle that Everton fans will be offended by Deeney. From my perspective, he is clearly having a go at Silva, not the club. That is Silva's problem, not mine.
Jim Hardin
78
Posted 08/02/2019 at 16:09:20
James Marshall,
Managers don't trust Lookman? Well except for Aidy Boothroyd, Paul Simpson, Ralf Rangnick, and Ralph Hasenhüttl. Ralph played him while at RB Leipzig and Ralf wanted to buy him over the summer. But you are right.
Sam,
Lookman has started just 3 games in the EPL (started three Cup competition games and had a goal) and has been a sub 11 times. As a sub, he has played 30 minutes or more only three times and less than 20 minutes three times. His total minutes played is 519. He has an assist as a starter and would likely have more if he had anyone decent in the box to finish.
Walcott has started 21 times and has a whopping 3 goals and two assists in 1,748 minutes played. His minutes between goals is 583. Lookman hasn't even played 583 minutes yet! In fact, he is at less than half that number as a starter. The lack of production from that spot is down to two people, neither named Lookman, Walcott (isn't good enough) and Silva (for putting him in the starting 11).
David Graves,
I agree. Anyone with a prison sentence should never be part of the team. Wait, we have Duncan Disorderly so a prison sentence cannot legitimately be a disqualifying factor. Maybe we can go by the length of the sentence as the deciding factor.

Darren Hind
79
Posted 08/02/2019 at 16:30:41
I can't believe all this admiration for Deeney. The man's a complete gobshite. A fat useless, gobby, fucker. If somebody follows through on him tomorrow, he'll be whining like a bitch to the referee for the rest of the game, like he always does.
Idrissa! ... fetch!!
John Pierce
80
Posted 08/02/2019 at 16:35:15
I have it agree about Lookman. This lad can see passes so far in front of him it's telling most of the team are well behind it in thought and deed.
I'm slightly over-egging this but remember when Beardsley came to us. He was so far ahead of the his teammates the stick he'd get for a sweet through ball only for nobody to read it.
Now Lookman is no Beardsley yet, but the echoes are there. The shimmies, body swerved and reading of the game.
If we don't get players in to help this lad, he will be off for a song and go onto to massive things. That's my prediction.
He is the player who excites me most, he often attracts 2/3 players to the ball. Meaning there is space somewhere. Not sure he is a No 10, but a player-maker from wide.
I really hope whoever coaches the club understands him and gets the best from him.
John Pierce
81
Posted 08/02/2019 at 16:39:40
Darren, you asking Gana to go ground... mmm? Hehehe!
Darren Hind
82
Posted 08/02/2019 at 16:40:48
I can't be having all this 'surrender monkey' lark either.
If we lose, they will be posting with increasing regularity on the Live Forum as the game enters the final stages. Then they will put up the 5 of the first ten posts in the after match thread proclaiming "I told you so."
But if we win, it will be like after the Huddersfield game... after a brief post, you'll need a sniffer dog to track them down.
John @81,
He's never needed a second invitation to do that. I just want him (or somebody) to hurt Deeney; I don't care how.
A goal would be nice from him though... He`s about due!
John G Davies
83
Posted 08/02/2019 at 16:47:02
Darren, 79
Youre onto him.
A bluffer of the highest degree.
An I will bully you (if you let me type)
Soon as it gets put back on him a sharp jib and a taking seconds follows sharply.
Darren Hind
84
Posted 08/02/2019 at 16:52:23
Haha John G,
I've just opened a bottle of Mahatma. Now I've got cause to raise a glass. It may have taken about 5 years, but me and you are finally in agreement.
Let's call it quits while we're ahead.
Tony Everan
85
Posted 08/02/2019 at 16:53:59
John #80,
I agree with your comments on Lookman, he is the player who excites me the most too. He is a player who will burst onto the scene in a season or two and we will have Man City dangling £80M for.
Lookman has a brain. One that can be used in the heat of battle and doesn't go into syntax error mode when under pressure. He is young and still makes mistakes; he needs still to listen, learn and improve aspects of his game.
Most of all, he needs some game time. It makes sense for the club to give him a run in the team ahead of Walcott.
Sam Hoare
86
Posted 08/02/2019 at 16:54:09
Jim @78, yes I was aware that Lookman has had much less game time than Walcott and Bernard. But still one assist over 520 minutes does not speak of someone with loads of end product.
I appreciate it's hard to find your best form without starting a run of games and I genuinely think Lookman has talent but nonetheless currently he is a (small) part of our ineffectual winger situation.
Steavey Buckley
87
Posted 08/02/2019 at 16:58:41
Walcott needs to find another football club where he finds football interesting again. All he is doing at Everton is picking up his wages every week.
Jim Bennings
88
Posted 08/02/2019 at 17:09:49
Sad thing is, though, Steavey, you could say that about half the squad really – not just Walcott.
Most of our players look too nervous or just disinterested.
Anthony Murphy
89
Posted 08/02/2019 at 17:10:49
Sam, just out of interest given who we play tomorrow... Deulofeu? Not saying we would be better with him but he probably possesses a bit more intent than some we have.
Eddie Dunn
90
Posted 08/02/2019 at 17:14:57
On Mina... I think he is a hard nut and he likes to intimidate his opponents. If he is fit, I would play him tomorrow.
John G Davies
91
Posted 08/02/2019 at 17:20:15
Let's not, Darren. I reckon we are a pair of stubborn twats with the same agenda but a different way of expressing it.
Bottom line? We both love the Blues unconditionally.
Enjoy your bevvy, lad. 👍
Jim Bennings
92
Posted 08/02/2019 at 17:20:31
Out of Deulofeu and Lennon in 2015-16 (just a mere comparison) and Walcott, Bernard and Lookman (jury's out on what Richarlison actually is yet, winger/forward).
Who was more effective really?
I'm not sure Bernard has offered enough yet and has no end product to date, Walcott and Lookman are either bang out of form or just flatter to deceive.
Deulofeu was very inconsistent but he could be very devastating in equal effect and he struck up an immense rapport with Lukaku in that first half of 2015-16.
Lennon came in the side and worked his bollocks off and scored 6 goals in the second half of that season.
Our wingers now just look quite mediocre with no potential to score many or create much havoc in opponents areas.
Steavey Buckley
93
Posted 08/02/2019 at 17:32:12
On Wednesday against Man City, while effort was put in by all the players, Walcott was the least interested. Everton could have played without him and the other 9 outfield players would have not missed him. Calvert-Lewin was doing his work and his own.
David Hallwood
94
Posted 08/02/2019 at 17:51:16
Lots of negativity about Wallcott and with good cause, but why not play to his strengths? Wolves midfield put how many balls over our defence for the wide players to run into? Man City & Liverpool regularly dink balls over the defence rather than pass, pass, pass.
Just try 3-4 a game for Walcott to run onto; ain't rocket science.
Slightly off piste. Interesting live debate on Sky midweek. Liam Rosenoir gave a new twist to the "Evertonians expect too much" argument by pointing out that this is a new team. Gana is our longest serving and take out Davies and Kenny – the rest came here last season or this season. Compare that to Man City, Liverpool, Spurs etc, so we shouldn't expect to hit the ground running.
Valid point, with the next one being, if we change the manager, we're back to Square One.
Rob Halligan
95
Posted 08/02/2019 at 18:05:32
Interesting points there, David. We need to utilise the pace of Walcott, so yeah, throw a few balls over the top for him to run onto, get to the by-line and throw a few decent crosses over. I'm getting really fed up of either Walcott or Lookman coming inside and slowing the game down. If the idea for that is for our right back to run down the space left open, then it's not working.
Also right about Silva. So we get rid of him and all his coaching staff. We then need to get another manager, with another shed load of coaching staff. Give them a few months to put their ideas into practice, they don't work, get rid etc etc etc. Silva needs time, providing he dumps this bloody zonal marking lark.
Lev Vellene
96
Posted 08/02/2019 at 18:14:20
Are there any more in the U23s who could use a run in the first team? If for no other reason than to shame our seniors' lack of guts and will to fight for the fans?
Feeney is still there, I think. Who else?
Mike Gaynes
97
Posted 08/02/2019 at 18:15:29
David #94, that is a good point Rosenoir makes, one I hadn't considered. In fact, Kenny would pretty much qualify as a newbie to the first team by that standard, since he had only two brief appearances as a sub before last season.
Darren #79, I wasn't praising Deeney, just wishing we had someone like him in terms of leadership, a captain whose teammates would follow him through a brick wall. We lack that. I hated John Terry more than any player I've watched in the last 15 years, considered him a cheat and a shit, but his mates would have fallen on grenades if he said so.
John #80 and Tony #85, amen. Nobody on this club makes me sit forward on my chair like that kid does.
Rob, I think it's time to give up on the faint hope that Silva will ever install an effective system of defending dead balls. His past record seems to indicate that he simply doesn't know how.
Christy Ring
98
Posted 08/02/2019 at 18:19:09
I don't see a problem with Deeney's comments. Hopefully we'll go out with an aggressive but fair game plan.
Kieran Kinsella
99
Posted 08/02/2019 at 18:21:35
Lev,
I think Feeney might be too "old school" for Silva. Seems decent but I don't know if he is enough of a "ball player" to suit Silva's approach. He might be one to flog to Burnley or Cardiff where the arts of heading and tough tackling are still revered.
Jamie Crowley
100
Posted 08/02/2019 at 18:29:15
I found my crystal ball! On the floor, back left hand side of the closet behind the gun safe. 😉
So I pulled it out and gave it a whirl.
Seems we are destined to draw the game 2-2. We will dominate play and score a couple pretty goals.
But we are going to commit two brain dead fouls in stoppage time of each half, and concede on the following free kick from two set pieces.
Oh well. At least we will be "the better side".
Mike Gaynes
101
Posted 08/02/2019 at 18:31:48
Wow, Jamie, pretty daring prediction there. On a par with the sun coming up in the east.
Martin Nicholls
102
Posted 08/02/2019 at 18:35:12
No-one "kicks the shit out of" anyone in football today and to describe Deeney as a "hard man" must have the likes of Johnny Morrissey dying with laughter.
Lev Vellene
103
Posted 08/02/2019 at 18:45:52
Martin #102, Deeney might have watched some of our games this season... They'll probably be allowed to do some 'shit-kicking' tackles before the ref feels he'll have to act impartial!
Nah, I don't truly believe that, but it sure feels like it too often!
Paul Hewitt
104
Posted 08/02/2019 at 18:47:26
Can't believe people are upset by Deeney's comments. Wish we had someone with half his fighting spirit. Never seen such a bunch of cowardly looking players, that call themselves Everton players.
Jamie Crowley
105
Posted 08/02/2019 at 18:53:59
Mike, with that crystal ball I can also predict your future as well.
Just send a self-addressed, stamped envelope, with payment for $200 made out to "Crowley Futures R Us" to the following address. . . .
Jamie Crowley
106
Posted 08/02/2019 at 18:56:18
Regarding Deeney, good for him.
He could use some praise. He fell out of the ugly tree and hit every branch on the way down.
I'll be here all week, try the veal.
Lev Vellene
107
Posted 08/02/2019 at 19:17:12
Jamie, I just love your eloquence! Where did that 'ugly tree' reference come from, by the way? I read a lot of English language books /being a Norwegian), but that is the first time I heard that one! I'm still chortling!
Mike Gaynes
108
Posted 08/02/2019 at 19:22:40
Damn, Jamie, you're on a roll today, man! Check is in the mail.
Lev, that's an oldie here in the US... we have a endless variety of ways to describe ugly people, probably because we have an endless supply of ugly people.
Mark Tanton
109
Posted 08/02/2019 at 19:45:45
It's clear when people like Deeney say stuff like that, we're well known in the game for being spineless with a glass jaw. But we are all know that anyway.
Andy Riley
110
Posted 08/02/2019 at 19:56:18
Martin #102 - Johnny Morrisey, Bobby Collins, Sandy Brown, Bruce Rioch, Kevin Ratcliffe, Barry Horne. Oh for just one like one of them in our current squad!
Billy Roberts
111
Posted 08/02/2019 at 19:58:06
Paul Cherrington @62, simply embarrassing.
Tony Abrahams
112
Posted 08/02/2019 at 19:58:25
Annika @28, other than maybe Richarlson, what players has Silva played out of position this season?
I think Davies can play on the right; I remember him being Everton's best player imo, when he played this position at Old Trafford, early last season, and I just think that we need all our hardest working players out on the pitch tomorrow.
You don't want Sigurdsson to play; you might have a point but, if he does play, I hope it's not as a Number Ten, because I think the formation Silva used the other night, gave us a lot more balance, than we've had for ages.
The old square pegs in round holes must have been used by one of our "old" managers, but that's what happens when things go wrong, because people start accusing you of everything?!!
Phil Smith
113
Posted 08/02/2019 at 20:13:59
I can see a sending off coming in this one...
Stephen Meighan
114
Posted 08/02/2019 at 20:15:02
Billy Roberts @111.
My sentiments indeed.
Christy Ring
115
Posted 08/02/2019 at 20:17:07
Tony @112,
We'd have a strong midfield with passion and drive, if we played Davies on the right, and bring in McCarthy, it would give Deeney something to think about.
Kieran Kinsella
116
Posted 08/02/2019 at 20:19:04
Billy Roberts
"Paul Cherrington @62, simply embarrassing."
I think Paul's point is that within the context of this era, it is surprising if Deeney gets away with it. I imagine if Joey Barton said something similar he would be hauled before the FA for bringing the game into disrepute. It isn't a matter of whether WE think what he says is OK or not, it is just surprising that if you take of your shirt, post something iffy on Social media 10 years ago, or in anyway query a refereeing decisions you get the book thrown at you. So it would seem to follow that the FA would get up in arms about Deeney's comments too.
Jamie Crowley
117
Posted 08/02/2019 at 20:20:52
Jim @ 92 -
I'd argue that Delo, in my 10+ years watching, was the best winger (Americanism, just go with it) Everton have had.
When he finally got his shit together, that kid was dangerous as hell, and I was always so impressed with the way he could snap off a lightning-quick cross into a ridiculously dangerous position. He was a blast to watch in my opinion.
And yes, before someone comes on and starts pissing all over my corn flakes, I fully realize that wasn't always the case. Captain Stepover had a lot to work out before he morphed into that deadly threat out wide.
But when he put it all together that season and was on his game, I for one loved watching that kid play.
But he is made of glass.
David Graves
118
Posted 08/02/2019 at 20:23:10
Jim Hardin – he did his time for stamping on and breaking the jaw of a young man outside a nightclub. He was "seen kicking out at the "defenceless" students, one of whom received repeated blows to the head as he lay injured on the ground". Yeh, real tough guy he is.
Tony Hill
119
Posted 08/02/2019 at 20:31:11
I expect us to win tomorrow and indeed I think we will win quite a few of our remaining away games. The City game was a turning point and Kenny's comments on that game are significantly mature. He is not going to be the greatest technical right back we've ever seen and I wish he had half a yard more pace, but I think he will be key to the team's and club's revival and will make the very best of his talent. He has a leader's, and a winner's, mentality and spirit.
Tony Abrahams
120
Posted 08/02/2019 at 20:37:47
I can only assume that Everton want to give McCarthy as long as possible to recuperate, Christy. I think he broke his leg around twelve months ago, and because it was such a bad break, then maybe he's well ahead of schedule with his recovery, and this is the reason that no chances are being taken with him?
I hope he comes back soon, and if he does, I'm also Interested to see if Silva, can get a bit more out of him, because if he can, he could become a very important player for us again, especially if he could add a little bit of craft, onto his excellent workrate?
David Graves
121
Posted 08/02/2019 at 20:41:56
An illustrious list of Everton's captains; Vernon, Labone, Ball, Kendall, Ratcliffe, Watson, Stubbs... and er... someone like Troy Deeney?
For fuck's sake, show a bit of class. He's a no-mark.
Don Alexander
122
Posted 08/02/2019 at 20:46:49
It's pretty sad that we have some us, quite rightly in my opinion, recognising Deeney as something of an old-fashioned "warrier" type, a type we're seemingly bereft of among the various millionaires at Finch Farm who to me seem mostly to come from the shallow end of the gene pool.
Maybe Jonjoe Kenny can galvanise the pseuds who get selected. Here's hoping.
Stephen Meighan
123
Posted 08/02/2019 at 20:50:56
David Graves @118, Troy Deeney has done his time for his crime. I'm pretty sure he's not proud of that. We've all done things in life we're not proud of. But are you some kind of angel? I personally think you're missing the point.
David Graves
124
Posted 08/02/2019 at 20:58:28
Stephen Meighan, the man does time for a violent crime then starts talking publicly about kicking the shit out of us. What point am I missing exactly?
Stephen Meighan
125
Posted 08/02/2019 at 21:11:45
David Graves. If you want to start winging about everyone who's been to jail for doing wrong then we could be here all night FFS. Everyone deserves a second chance and Deeney has taken his whether, you like it or not. So he point I'm making is man-up, Everton, and boot the fucker up the arsehole.
David Graves
126
Posted 08/02/2019 at 21:16:32
Where am I "whinging" about everyone who's been to jail? Stop making shit up ffs. If you can't see the issue about his crime, his sentence, and now his ridiculous mouthing off, then you're free to go ahead and hold him in such esteem.
Tony Abrahams
127
Posted 08/02/2019 at 21:17:45
Imagine years ago, he'd have been booted up the arsehole and asked if he'd learned to like it up the arse whilst he was in the jug... but it all seems so different now.
Kieran Kinsella
128
Posted 08/02/2019 at 21:19:04
Stephen @125,
"Everyone deserves a second chance"
Tell that to Tony Kay...
Christy Ring
131
Posted 08/02/2019 at 21:25:48
Tony @120, I know what you saying, and I fully agree, but there's no way he'd be on the bench, if he wasn't ready for first team action?
Kieran Kinsella
132
Posted 08/02/2019 at 21:26:02
David
From The Telegraph
"In February 2012 he found out his father was diagnosed with cancer of the oesophagus and the following evening Deeney went out in Birmingham city centre where he got into trouble. He was sentenced to 10 months in prison, serving two after showing remorse. His father died that summer, a short time before Deeney went to jail.
Deeney's "colourful past" is well-documented – "listen, all the bad things, all my dirty washing is already out there. I've already spoken about it," he says – while he maintains that going to prison himself was "the best thing that ever happened to me because I was 'a little dick'.""
Personally, the context and his acceptance of fault makes me give him the benefit of the doubt.
Stephen Meighan
134
Posted 08/02/2019 at 21:33:12
Keiren Kinsella @128,
A different era; wouldn't've happened now. I sadly never had the pleasure to see him play, he was just a bit before my time.
Rob Halligan
136
Posted 08/02/2019 at 21:43:19
Never say die attitude shown by Aston Villa tonight. 3-0 down with about 8 minutes to go and drew 3-3. Just shows what a bit of commitment can do for you.
Tony Abrahams
137
Posted 08/02/2019 at 22:09:02
Fair point, Christy, but he surprisingly hasn't played many games for the Under-23s, and I was even more surprised that he wasn't allowed to be sent on loan considering Everton are yet to use him.
Then I thought about the length of time he's been out and maybe just for once, that Everton are doing the right thing for the player and hopefully it won't be long before we see him again? Especially if he reproduces the form he showed during his first season in a blue shirt.
Kieran Kinsella
139
Posted 08/02/2019 at 22:24:15
Tony #137,
Maybe Macca has been playing but they have been sending him out in a series of disguises so Eire don't call him up the minute they find he is off crutches.
Mike Gaynes
140
Posted 08/02/2019 at 22:56:41
Jamie #117, that snap-crackle-pop you hear coming from your bowl is me peeing on your cereal.
It's also the sound of my various body parts hitting the floor with laughter at the description of Deulofeu as a "deadly threat."
Mike Gaynes
141
Posted 08/02/2019 at 23:02:08
Horrifying.
Ten top youth players aged 14-16 killed in a fire at Flamengo's youth academy.
http://www.espn.com/soccer/flamengo/story/3769738/flamengo-training-centre-fire-in-rio-de-janeiro-kills-10-people
Mike Gaynes
142
Posted 08/02/2019 at 23:10:43
Alumni of the Flamengo youth program include Zico, Ronaldinho, Gerson, Julio Cesar, Zinho and current Real Madrid player Vinicius Junior.
Brazilian football youth dormitories are infamous for their poor living conditions, but Flamengo just completed a major expansion and upgrade.
Eddie Dunn
143
Posted 08/02/2019 at 23:14:47
Okay, all those people who think Deeney is cool threatening to kick the shit out of our players. It may well be tongue-in-cheek (which is what I suspect) and personally, I am no angel myself so I am not trying to take the moral high ground, but imagine if one of the managers said the very same thing really, the only one who would get away with it would be our lovable, neighbouring fruitcake Herr Klopp.
Now I am a hypocrite, and I would love it if one of our lads came out with similar fighting talk ahead of our trip to Vicarage Road but so far Richarlison hasn't said, "Hey you can tell those mofo's that they gonna get their fuckin toes tickled as I flip on my back and squeal as I win us another free kick."
However, if big Dunc went to the Echo and said what Deeney said, he would deffo be on a charge.
Billy Roberts
144
Posted 08/02/2019 at 23:17:38
There is no relevance to what Deeney is saying about the match and his well-recorded past. It's pathetic and lily-livered to link the two.
I abhor the lack of care and respect victims of violence receive compared to the perpetrators. Deeney served time quite rightly, but let's not cheapen the crime with some good old-fashioned fight talk.
I like the challenge; I hope like the majority of Evertonians our players do also and give the cheeky bastard a fuckin good kicking, maybe I'm out of order but I remember chants of "Die, you bastard, die!" ringing out when Marwood, McMahon etc were stretched off. I was joining in; they lived.
Don Alexander
145
Posted 08/02/2019 at 23:30:26
Never been to Rio Mike Gaynes but the construction of those dormitories looked, as best, jerry-built. Very, very sad whatever.
Dick Fearon
146
Posted 08/02/2019 at 00:07:41
I hope all the anti-Deeney derogatory remarks shown above are not proved wrong. Credit where it's due – he has more basic football nous than any half-dozen of our lot.
Brian Williams
147
Posted 09/02/2019 at 00:18:36
Deeney, I believe, was speaking at a Watford fans forum? He was "engaging" with his own supporters and "light heartedly" telling them the sort of thing supporters want to hear.
I honestly can't believe some of the over the top offended reactions on here. Some people appear to be made of glass ffs.
David Cooper
148
Posted 09/02/2019 at 00:21:56
Anyone got any ideas how to watch the game tomorrow?
Not on in the UK. Supposed to be on Sportsnet Now+ but almost impossible to logon onto this app and blood expensive. Not on any channels in Canada!
Would I be better off just listening to Everton commentary!
Nick Lacey
149
Posted 09/02/2019 at 00:32:28
Negativity everywhere. Why do some of you people support Everton? Is it just so you have have something to moan and complain about?
Andy Crooks
150
Posted 09/02/2019 at 00:34:29
We really should not be going into this game with trepidation. My God, this is fucking Watford. In the name of God, there are some Evertonians praising and giving an admiring glance to Troy fucking, talentless sack of shite Deeney.
If talking the utterly cretinous bilge that this fuckwit has talked makes him, somehow, be the type of guy we need, then, I suggest that I should be at Marco's side at his next presser because I can talk more shite than Troy and, when he starts to play walking football, like our back four, by the way I can out-talk and out-walk him.
Also, while I am on, a just back from the pub, rant, can any tell me when Lookman, Bernard, Calvert-Lewin, Keane, Mina – in fact, the whole fucking lot of them – will start being the players I believe they can be, the fine players they have sometimes been, and stop being a useless, timid, scared pack if cunts.
James Stewart
151
Posted 09/02/2019 at 02:32:56
Sam @57,
I think you have actually improved my team with that tweak. Bernard could definitely be an option in the middle. Very similar to the two Silvas at Man City.
I don't think Sigurdsson is actually that slow, I remember him causing us no end of problems when he was playing for Swansea up front against us. Definitely worth a try when you look at the other options available.
Mike Gaynes
152
Posted 09/02/2019 at 02:46:01
Andy, somehow I could tell that you were just back from the pub even before you said something!
Darryl Ritchie
153
Posted 09/02/2019 at 02:56:16
David @148, Sportsnet World is showing it in Canada, but they aren't carrying it live. It's delayed.
Bobby Thomas
154
Posted 09/02/2019 at 03:09:51
Can anyone honestly see this spineless bunch of shitehawks, and I'm talking about the whole squad, showing the requisite fortitude to get anything here tomorrow? I honestly can't.
Over the last few years only Burnley has a worse away record isn't it?
I can't quite remember but its got to be in the region of 10 wins and 50 losses (I can't remember the figure for draws) over the last 3 seasons or so. And if we go behind, that's it. I mean, just look at it.
Lets face it. There's a deep problem at the club in general. You can shuffle gaffers as many times as you like. There's something almost intrinsic and can't be sorted quickly. There's a character and mentality problem.
Pickford's comments after the Anfield derby were very revealing for me. "It's the Everton luck at Anfield." What is? Completely fucking up and handing them the points? There's a supine, loser mentality that's engrained in the place. It can't be eradicated overnight and I will be stunned if we start tomorrow.
I thought Silva had made a good fist of addressing this early on, with an almost New Everton quality to the performances at Man Utd, Chelsea and Anfield, both in terms of style of play and mentality. I knew we wouldn't get beat at Chelsea and had money on the win.
But the dressing room cancer runs deep and it seems the Anfield knock back and a couole of bad results were all it took for the dressing room cancer to spread again. Let's be honest, there's problem personalities. There's loads of players just hanging about, nowhere near the first team, probably just going through the motions. Indifferent. They don't care. Dressing room cancer. By mid-season it seems to have affected the new signings and the whole starting 11.
To be even handed, as Silva seems to be operating on a self-imposed squad of about 18, then why should those out in the cold give a shit? But that kind of thing can spread. For example, to people like Mina who's grid when on the bench at Millwall and the cameras went on him screamed trouble to me.
Any team can put in an improved performance against the champions at home. Anyone can raise it for that. This kind of thing has been going on for seasons now. After a season of utter shite in Martinez's 2nd season (I think) I remember we found a performance against Man Utd at home in the spring. Won 3-0. Stones got a header from a corner. The whole thing was an fraudulent anomaly.
Its games like this and Wolves at home that are a better indicator of where we are at. I have very little confidence this side can win any games of football right now. I'd have taken a draw at Millwall beforehand. Just based on the players attitude and body language I knew it was trouble. Mentally and tactically they've been gone for weeks. At least Silva, 6 weeks too late mind, changed the system against Man City. It needed freshening up, the players were begging for it, so hopefully that will inject a bit more life into them. Although whether it will solve the chronic lack of goals & threat is debatable.
Anyway, we seem to need to score 2 goals to even think about getting a point at the moment as we are conceding far too many goals and have become very Bobby Brown Shoes without the ball. Keane's confidence has totally gone again. At different times, he's panicking and freezing. Either doing nothing through fear or just making a plain bad decision.
I hope I'm wrong but I just can't see us doing anything. They'll get done 3-1.
Derek Knox
155
Posted 09/02/2019 at 03:13:50
Aye Mike G, his English teacher would have run out of red ink marking Andy's post there, but equally hope he enjoyed his 'refreshments'.
As someone mentioned before there is very poor coverage of the game tomorrow, NBC Gold is listed as one, but I don't think that anyone outside the US can get it. Although it may change a couple of hours before the game, Canada nearly always have at least one Channel (ie, Sportsnet/world/Ontario or TSN 1-5) but up to now, zilch!
Shows how popular we have become of late? Keep us posted Mike of Channels at your end if you don't mind, with a bit of tech wizardry you never know, cheers!
Paul Mackay
156
Posted 09/02/2019 at 03:29:01
Troy Deeney, all 5'-11" of him. Sit yourself down lad, you're embarrassing yourself.
Kristian Boyce
157
Posted 09/02/2019 at 03:49:46
Deeney's had a pretty eventful career, still remember him being the star of the Goonies.
Jamie Crowley
158
Posted 09/02/2019 at 06:02:20
Andy Crooks @150 -
You're fast asleep by now.
I just got back from "a night on the Brown". . . . Jamesons. . . .
I concur with everything you say.
Annika Herbert
159
Posted 09/02/2019 at 06:34:46
Tony @112, sorry I probably did, nt explain myself too well there!I was, nt suggesting Silva has played any players out of position, more that previous managers have done. It being a subject mentioned a few times here on TW.
Darren Hind
160
Posted 09/02/2019 at 06:45:54
I motion Andy Crooks do the team talk today.
Fantastic post
John Malone
162
Posted 09/02/2019 at 07:07:31
He has got to change the shape, it has been so obvious for a while that the 4-2-3-1 is killing us.
The game against City showed that a 4-5-1 is the way to go until we have the better forward player's to play the attacking style Silva want's.
Away from home against a decent Watford team I'd like to see him start the same shape as Wednesday but obviously drop Walcott a one nil and a clean sheet away from would be a massive result for us at the moment.
Jonathan Tasker
163
Posted 09/02/2019 at 07:47:24
How is that charlatan Silva still in a job ?
The only reason he's being kept on at all is that his early demise would reflect badly on the kenwrights
Another certain defeat beckons
What a disgrace our club has become
Henry Lloyd
165
Posted 09/02/2019 at 08:03:02
I think if Silva gets humiliated today then there will be no alternative to actually finally sacking him.
All the talk about we can finish 8th and it's not so bad and all that
It's shameful to see Everton like this and the same shit week in week out listening to that Cretin Silva making excuses!
Moshiri will have to wield the axe if we take a heavy defeat today at Watford and I think that is what will happen
Watch this space!
Frank Sheppard
167
Posted 09/02/2019 at 08:41:05
Impossible to predict the team at the moment,impossible to predict our results, but also impossible to stop having optimism . I obviously didn't like Alex Ferguson, but he did give us one of the best ever footie quotes " footballl eh bloody hell🙂".
David Greenwood
168
Posted 09/02/2019 at 08:44:41
Andy @150,
Well said.
Paul Jeronovich
169
Posted 09/02/2019 at 08:57:22
Go for the jugular today Everton. Zero respect and no room for pussies on that pitch.
Dermot Byrne
170
Posted 09/02/2019 at 09:05:48
Frank 167: agree. Saturday mornings should always be a time for optimism. Always.
Eddie Dunn
171
Posted 09/02/2019 at 09:06:34
Jonathan, I think you're right. If today's result goes as expected then surely it is all over. The club used to take pride in sticking with the manager but their gentleman's club etiquette will go out of the window once the investment starts to look less profitable. The first sign was the block on spending, the second sign was the "we need to hold our nerve" comment and all he needs next is the dreaded vote of confidence.
Boy does he need a win at Watford.
Mark Tanton
172
Posted 09/02/2019 at 09:09:27
Marco seems to have upped the ante by suggesting our players are well up for it! Well I'd take that with a pinch of salt going by the pathetic spineless performances this season. Perhaps he has more confidence in them than me, but I wouldn't be shooing my mouth off back about over Deeney's comments.
Neil Halliwell
173
Posted 09/02/2019 at 09:10:08
James,
I agree that there must be a fundamental attitude problem with Lookman. I am still not convinced he actually wants to play for us and that his heart is actually elsewhere. That is a pity. If he had a long run in the team he might change his mind. He does show the ability to make things happen but it never seems to come off for him. He probably blames that on the movement of his team mates so it is always someone else's fault. Hence the attitude.
Derek Knox
174
Posted 09/02/2019 at 09:13:51
Paul @ 169, the chances of a black cat interrupting play for the second week on the trot is highly unlikely oh you mean the players? . point taken!
This is a match that has everything written over it, revenge being at the heart of it, but it seems ridiculous when you look back, that so much clamour has been made over a man most want to see the back of, from either side.
Just checked again and there is hardly any coverage for this match, even Brighton v Burnley has 3 times more broadcasters than we do, I suppose that just about exemplifies how low and uninteresting (apart from Evertonians) we have become under Silva.
I can just imagine the live forum now being continually asked for 'link's, fingers crossed as usual, but more than just hope is needed.
Alexander Murphy
175
Posted 09/02/2019 at 09:20:33
Two things needed today:

Performance

Three points
No more half arsed "I'll be happy with .".

No.

The works. Let's see us perform and take the points.
That'll shove the toxic vomit back down the pumpkin headed brawlers craw.
Stan Schofield
176
Posted 09/02/2019 at 09:39:27
I'm not sure why this thread is focused so much on a mediocre Watford player, regardless of whether or not he's an oik. Watford are supposed to be shite compared to us, so let's just go out and show it.
COYB
Jon Withey
177
Posted 09/02/2019 at 09:40:45
Glad there is a bit of drama around this match - not much else to play for !
I can't imagine why you would sack a manager and his entire backroom staff mid-season unless there was something to play for or lose.
If you care about money, it makes even less sense.
Better managers won't be available right now by default - better managers will still be competing for something.
So - what would we do ? Get David Moyes and hope we make some money back by climbing a few places ? I suppose it might be worth it at a stretch...
We don't want Unsworth back, we'll give him a nervous breakdown.
Ryan Holroyd
178
Posted 09/02/2019 at 09:50:06
Totally agree Bobby Thomas. When are these spineless players going to show up for once? I'd sell any single of one I we got a suitable offer. Not saying Silva is perfect (far from it) but the majority of these players are spineless.
Geoff Lambert
179
Posted 09/02/2019 at 09:52:18
Just can't see where our next three points are coming from!
Peter Mills
180
Posted 09/02/2019 at 10:06:10
I visited my daughter in Sheffield yesterday. Her husband, a keen Sheffield United fan, was anxiously awaiting their evening game at Aston Villa.
Around 8 o'clock the family received a WhatsApp message that, having put the children to bed, the son-in-law was watching the match having paused it for 20 minutes, and was incommunicado. So, later, while the lad was ecstatic at his team being 3-0 up in the 80th minute and heading for the top of the league we, including his wife in the same room as him, knew that the final score was 3-3.
The message? It's not just Everton who break hearts.
Incidentally, his take on Kieran Dowell so far is that he is talented but prone to giving the ball away in dangerous areas and drifting in and out of the game. Not much new there.
John Boswell
181
Posted 09/02/2019 at 10:09:48
I believe that this performance will say a great deal about future planning. If the men selected by Silva can't produce a serious effort today against Watford, with the ill feeling around the game, then significant surgery is required OR the coach goes at the end of the season.
My preference is to keep Marco Silva, I hope he can grow into the job and leave his mark on our club's history but he needs time.
I believe that Marcel Brands will prove to be an excellent surgeon during the summer.
Here's to a good performance today with a result, COYB.
John Boswell
182
Posted 09/02/2019 at 10:09:48
I believe that this performance will say a great deal about future planning. If the men selected by Silva can't produce a serious effort today against Watford, with the ill feeling around the game, then significant surgery is required OR the coach goes at the end of the season.
My preference is to keep Marco Silva, I hope he can grow into the job and leave his mark on our club's history but he needs time.
I believe that Marcel Brands will prove to be an excellent surgeon during the summer.
Here's to a good performance today with a result, COYB.
Ken Kneale
183
Posted 09/02/2019 at 10:23:25
Andy Crooks in. Duncan Ferguson out. Great post. Only thing that could be added is a Kendall like "are you going to let the fans down again"
Chris Gould
184
Posted 09/02/2019 at 10:31:38
Andy Crooks #150,
Post when you're pissed more often. The passion and honesty drips from every word.
Deeney's comments are meaningless and boring. There's no place for wannabe hard men in today's game. The laws no longer allow for them. You can't even take the ball and then follow through on a player any more. Zouma more than matches Deeney physically.
The only thing our players need to be nervous about is set-pieces.
Watford will be looking for cheap free kicks anywhere near our box. Hopefully the ref won't be shite.
Stan Schofield
185
Posted 09/02/2019 at 10:32:22
Neil@173: He's in a midtable team, and obviously has higher ambitions. If we can't supply those ambitions sooner rather than later, he'll be off to a top club, just like Stones and Lukaku.
In this respect, if we don't start showing dramatically improving results very soon, I'd be surprised if Lookman was here beyond next season. The money would be just too tempting for a feeder club like Everton.
Kim Vivian
186
Posted 09/02/2019 at 10:34:16
Am I right in thinking from reading a couple of these posts that we will be unlikely to find a link to a stream thisavvy?
So 'll miss our 2-0 win. Typical.
Dick Fearon
187
Posted 09/02/2019 at 10:35:10
Let it be known that arse kicking from Deeney will result in Calvert -Lewin being put on his case.
Bobby Mallon
188
Posted 09/02/2019 at 10:35:52
This game is crying out for this defence 4.
Kenny Zouma Jags deign. Did everyone see the name jags. To have not played because he was sent off for a great tackle is scandalous. He is such a good professional and needs to play in this game
Laurie Hartley
189
Posted 09/02/2019 at 10:36:17
Geoff # 179 - I can - in just over 8 hours from now.
John Wells
190
Posted 09/02/2019 at 10:58:29
I had a job interview yesterday and was asked to provide an example of loyalty. I asked the guy if he follows football and he said he did, I said I have followed and stuck with Everton since 1982! He laughed his ass off, Man U fan. I then answered his question seriously but after the interview he told me it was one of the best answers he's got! Do you know what else he said "What's the story with your defence?" .
Steven Astley
191
Posted 09/02/2019 at 11:04:44
Funny feeling it will be 1-3 today. Richarlison brace and Bernard. Heard it here first.
Laurie Hartley
192
Posted 09/02/2019 at 11:14:09
Steve # 191 - "En la vida, hay que creer" - "In life, you have to believe." Diego Simeone.
John Keating
193
Posted 09/02/2019 at 11:17:58
Steven 191
Steven if you go on google you can find your nearest mental health hospital
Hope you're right by the way!
Colin Glassar
194
Posted 09/02/2019 at 11:20:09
I've got a funny feeling that we might've hit rock bottom against Wolves. The turnaround will be slow and excruciating but we'll dig ourselves out of this hole, yet again.
I haven't got a clue how this four year nightmare ends but I'll look forward to the next season as I always do. Rainhill, where are you when most needed?
1-2 today.
Brian Harrison
195
Posted 09/02/2019 at 11:27:26
What really puzzles me is that Brands and Silva have made some good signings between them namely Zouma, Digne and Richarlison the rest have question marks against for me.
When they first got together before any signings were made surely they must have looked at our strike force did they really believe that in Tosun, Niasse and Calvert-Lewin would be able to score the goals to help challenge the top 6.
We must have one of the worst attacks in the Premier league, Bernard yet to score a league goal, Walcott 1 goal since August. Lookman yet to score in the Premier League this season and just a handful of goals for Calvert-Lewin and Tosun.
Raymond Fox
196
Posted 09/02/2019 at 11:41:00
Agree Chris G, they give yellow cards for black looks nowadays.
It's players who give 100% each and every game, have a winners mentality and display an aggressive attitude in games, they are the ones that teams need. Oh, and add mouthy with it.
That's as far as you dare go, though; beyond that, you become a liability.
Derek Knox
197
Posted 09/02/2019 at 11:49:51
John @190, we are all on tenterhooks here, did you get the job?
Like most of us, if you can put up with the crap we have witnessed and had placed before us, and still remained loyal to the cause, surely that is testimony to your allegiance, and would be an asset to the Company. It wasn't working in an Effluent Plant by any chance was it?
Ah well you can still go through the motions!
John Wells
198
Posted 09/02/2019 at 12:06:57
Derek, don't know yet!
It has been some life following this club wouldn't change it though!
Derek Knox
199
Posted 09/02/2019 at 12:11:04
John @198, thanks for keeping us to speed, like you say it's not easy, especially of late. You can only look on the bright side, and think, can it possibly get any worse?
Oh and best of luck mate with regards to the job!
Fran Mitchell
200
Posted 09/02/2019 at 12:18:03
I hope for a solid, confident 2-0 win.
I fear a demoralising 3-1 defeat.
I expect an excruciating 1-1 draw.
Andrew Clare
201
Posted 09/02/2019 at 12:26:49
I am hoping Everton will turn into the great team they were when I was a boy. I will always support them.
Unfortunately Fran I think you are optimistic to expect an excruciating 1-1 draw. A demoralising 3-1 defeat is more likely.
Bad times but hopefully a brighter future.
Tony Everan
202
Posted 09/02/2019 at 12:38:58
I fear:
Deeney scores from a corner; we will huff and puff, the ref will give us nothing, and we will lose 1-0.
I hope:
We drop Walcott and play this team:
Pickford
Kenny Zouma Keane Digne
Richarlison Davies Gomes Gana Lookman
Sigurdsson
I like the false 9 idea that is being touted; something needs to change so give it a go.
Final score: Watford 1 Everton 2
Martin Nicholls
203
Posted 09/02/2019 at 12:42:18
John#190 - I once interviewed for a promotion when the chair of the interview panel (who I knew reasonably well) was a Man Utd fan. He asked for "an example of something you've done that's helped another team?".
He liked my response "sold Wayne Rooney to you lot for under value" but I still didn't get the promotion! Good luck to you!
Dermot Byrne
204
Posted 09/02/2019 at 12:50:48
Just watched Football Focus (BBC pre matches prog for those who don't know).
At the end of it it confirmed how much of the game I hate now. Talk about watching pigs around a trough.
For ages now I turn commentary off when watching games and try and just watch a game. Wish I could turn off the commentators but still hear noise of the fans.
Hope my club silently score a couple today.
Justin Doone
205
Posted 09/02/2019 at 12:53:26
Easy 0-2 away win. Clean sheet in a poor dirty game that doesn't flow and someone is sent off.
Pack midfield first half hit them on the counter.
Then we can use subs to keep the energy and closing down as players tire. No backing off. In the faces all game lead by the excellent Davies.
Well done boys!
Anthony Murphy
206
Posted 09/02/2019 at 13:04:19
Laurie, I read the BBC website article on Simeone. If only eh? What a perfect fit that would be. Talk on another ToffeeWeb thread about identity, we would soon rediscover ours with him in charge. Not saying he would come to us, just that his drive and character is what we need.
Rob Hooton
207
Posted 09/02/2019 at 13:12:27
We have followed up every half decent "performance" or victory with a complete sack of shite and as they seem to think they played well against City (1 crappy shot on goal) I guess shite it is.
We have no fight in us, Watford do, reckon they will win 3-1 with 2 soft goals from set pieces. Hope I'm wrong but if I'm right think the axe will be close to falling.
James Hughes
208
Posted 09/02/2019 at 13:12:59
Dermot, what did they say to upset you?
Dermot Byrne
209
Posted 09/02/2019 at 13:18:53
Aah, don't worry James. It is the overall smugness of it that does my head in. Nobody ever says that guy is lazy, another overpaid, another rubbish (like all fans do).
It's just me, mate.
Roger Helm
210
Posted 09/02/2019 at 13:31:09
Two things I read in the Telegraph today; Maggie Alphonsi (ex England Rugby player) says that players only ever remember coaching instructions in the first half of each half - in the second half of each half the players are on their own, and it's all about having leaders on the field, especially when things are going against you.
And Neil Warnock (he of eight promotions, before you start sniggering), says he never signed players, only people; for him, character was what he looked for.
It seems to me that lack of leadership and strong character says a lot about Everton's current plight.
John Wells
211
Posted 09/02/2019 at 13:35:55
Jay Wood
[BRZ]
212
Posted 09/02/2019 at 13:38:27
Laurie @ 192.
If you're quoting Diego Simeone I can only presume you have also read this excellent article on the Beeb.
If you want a definition of the word 'driven', Simeone is it.
The man himself, or someone just like him, is EXACTLY what we need at Everton.
Don't forget also, 18 months ago David Prentice in a podcast on the Echo was adamant that Simeone's reps approached Everton (NOT the other way round...) about the 'project'.
If only.
THAT is the manager profile we desperately need at our club.
Derek Knox
213
Posted 09/02/2019 at 13:42:18
Justin @205, have you been on Hopiate based substances?
Laurie Hartley
214
Posted 09/02/2019 at 20:32:58
Jay # 212 – yes I did get that quote from the BBC link you posted.
A man can only prove himself in adversity – a situation Marco Silva finds himself in at the moment.
For his, and our good, I wan't him to come out of the other side of this.
As Diego says – "In life, you have to believe."

Add Your Comments
In order to post a comment, you need to be logged in as a registered user of the site.
Or Sign up as a ToffeeWeb Member — it's free, takes just a few minutes and will allow you to post your comments on articles and Talking Points submissions across the site.